The first cool breeze blew into town this week and I must admit, I wasn't too mad about it. I also spotted a few changing leaves and lots of busy squirrels. With not so subtle signs like those, it's hard to deny the reality of autumn's impending approach even if I don't want summer to end yet. To get myself in the fall mood I've been organizing my closet, unpacking my cold weather favourites and consulting my fall Pinterest boards for inspiration. A glass or two of red wine might have also been involved! Slowly but surely I'm easing myself into the mindset that a new season is on its way and being ready for it might make summer's close a little easier to accept.
As you might have seen, Everlane launched their new Clean Silk collection this week and announced an inspiring 4 year plan to convert to 100% recycled water and energy for their silk dying and washing process. You can learn all about the initiatives right here. To celebrate, they kindly sent me a silk piece of my choosing and as tempting as the whole collection was, I knew right away that the Relaxed Stripe Shirt was the one for me. In fact, it was already on my fall wish list (I'll be sharing that next week!).
It turned out to be just the boost I was looking for to get me properly on board with this transitional time of year. So for today's post I'm styling my new addition into 3 autumn ready looks that might help you get into the mood for layers, knits and fall palettes too! Let's take a look.
---
LOOK 1 – VINTAGE VIBES
---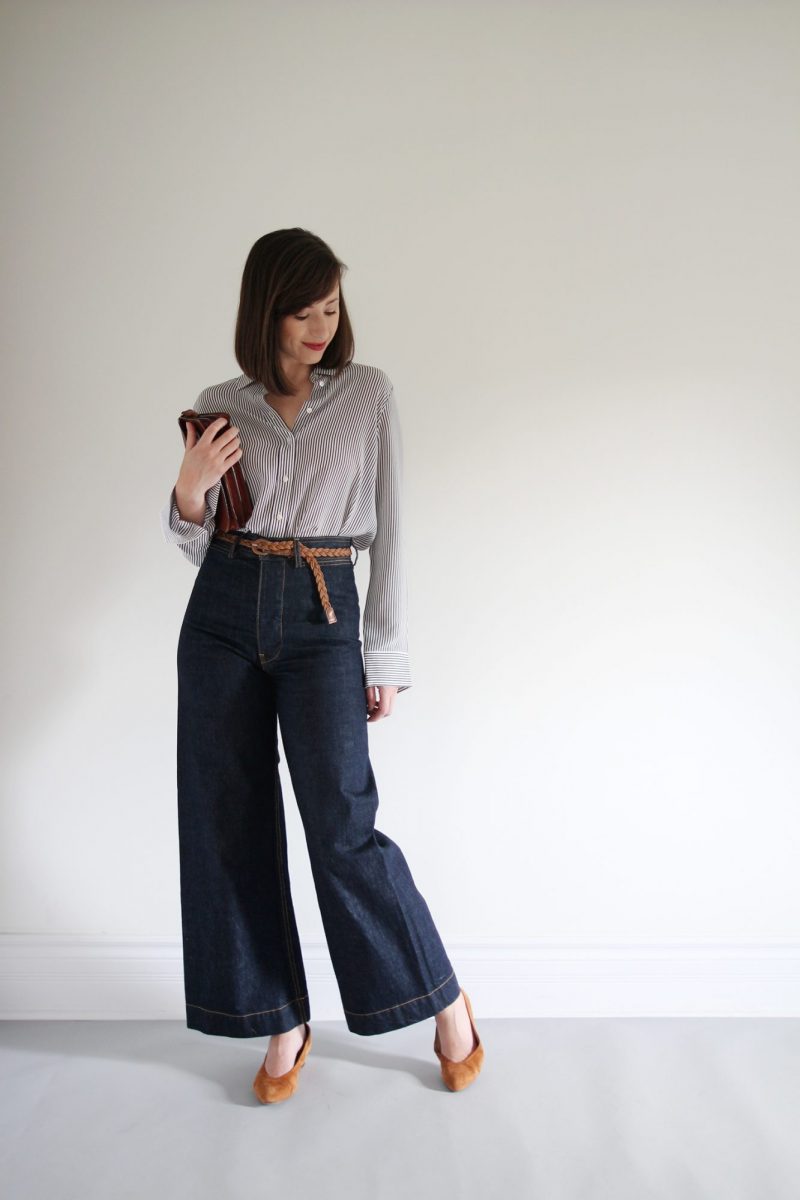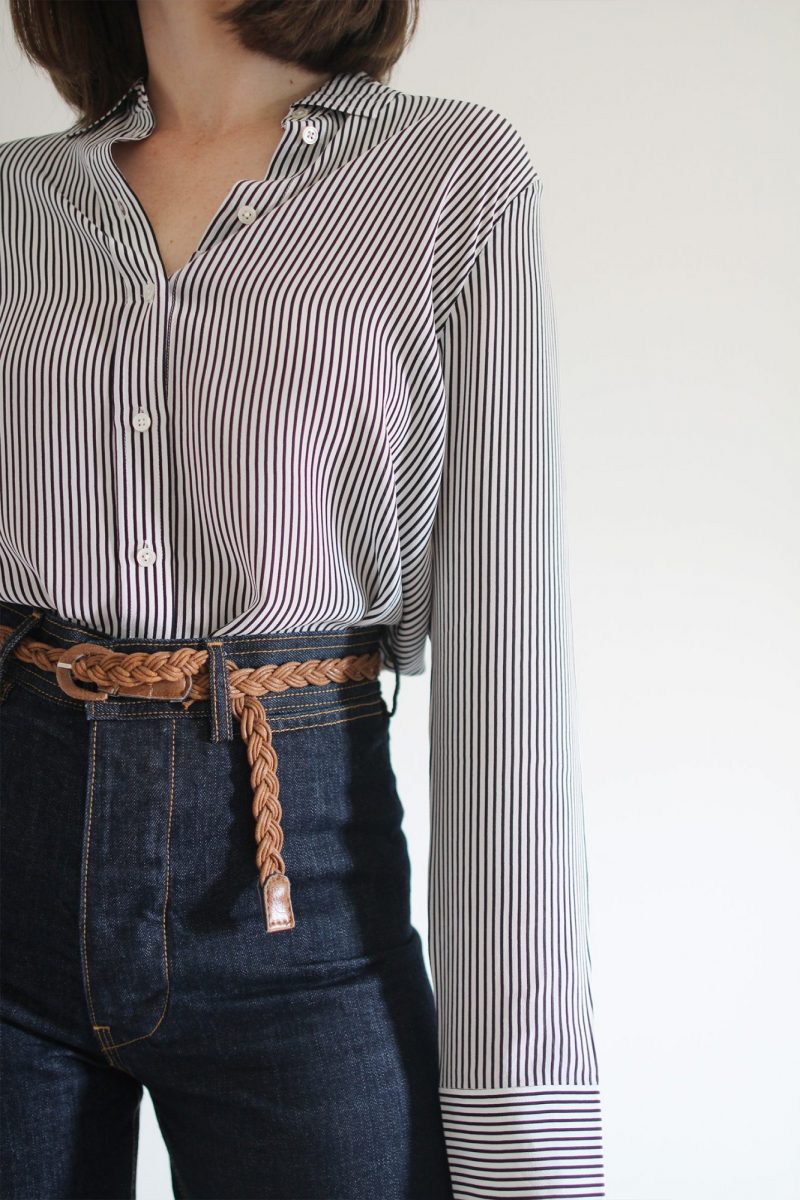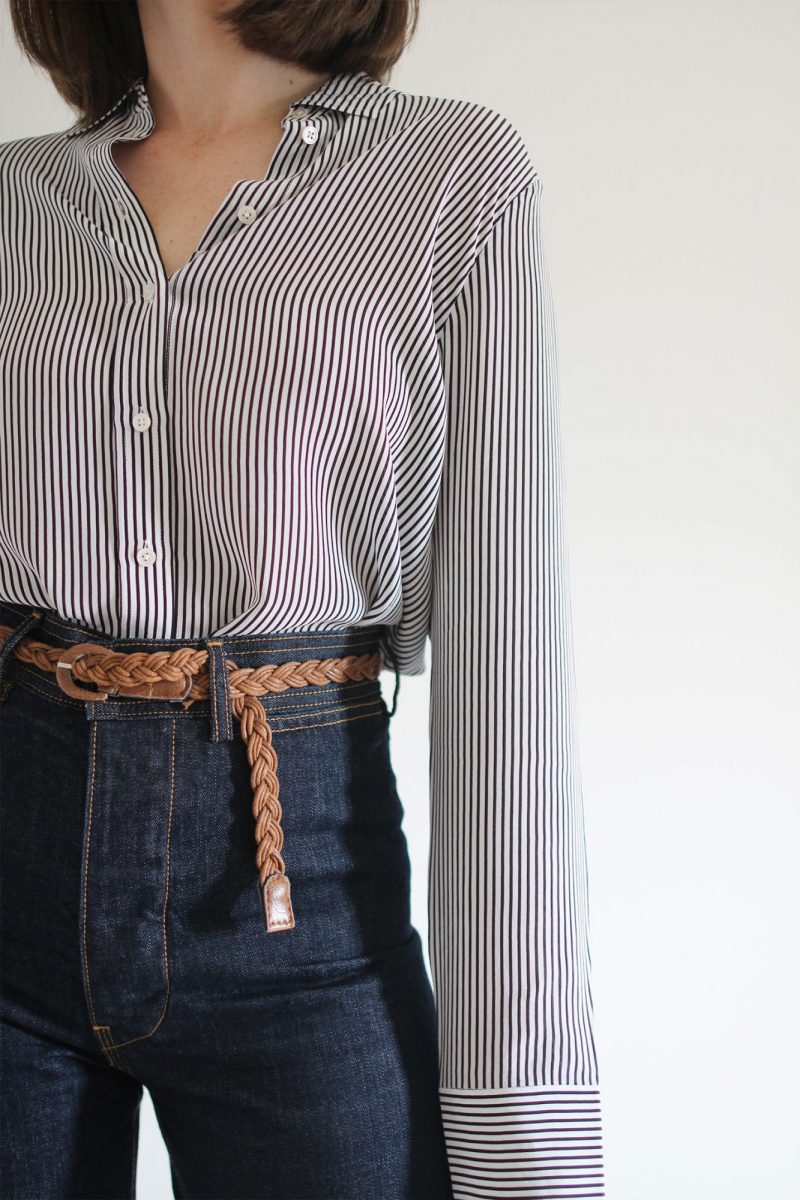 ---
INITIAL THOUGHTS
---
This look was precisely what I'd been hoping to create when I first discovered that this shirt was part of Everlane's Clean Silk collection. After eyeing oversize striped blouses for ages on Pinterest (like this one and this one, oh, and this one!) I knew it would be the perfect addition to my pre-fall repertoire. I wanted something that would tuck into my denim Kamm Pants and other high-rise jeans and billow out over the top in that perfectly fluid way that only silk can.
I love this look as is for these warm late summer evenings but it will be just as good with ankle boots and a camel coat or leather jacket once the temperatures dip further. I'm really into this modern medley of Diane Keaton meets Jane Birkin with this one and know it'll be perfect for work meetings, studio days, visits with friends and dinners downtown!
---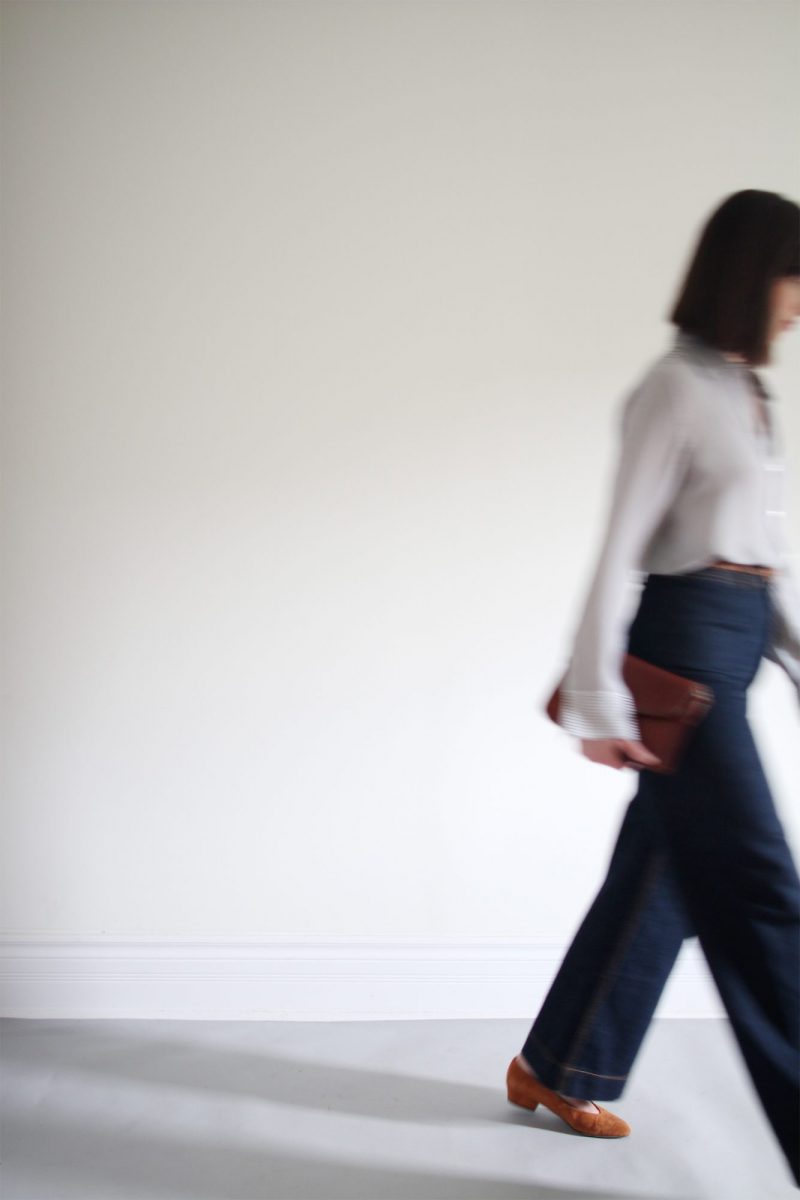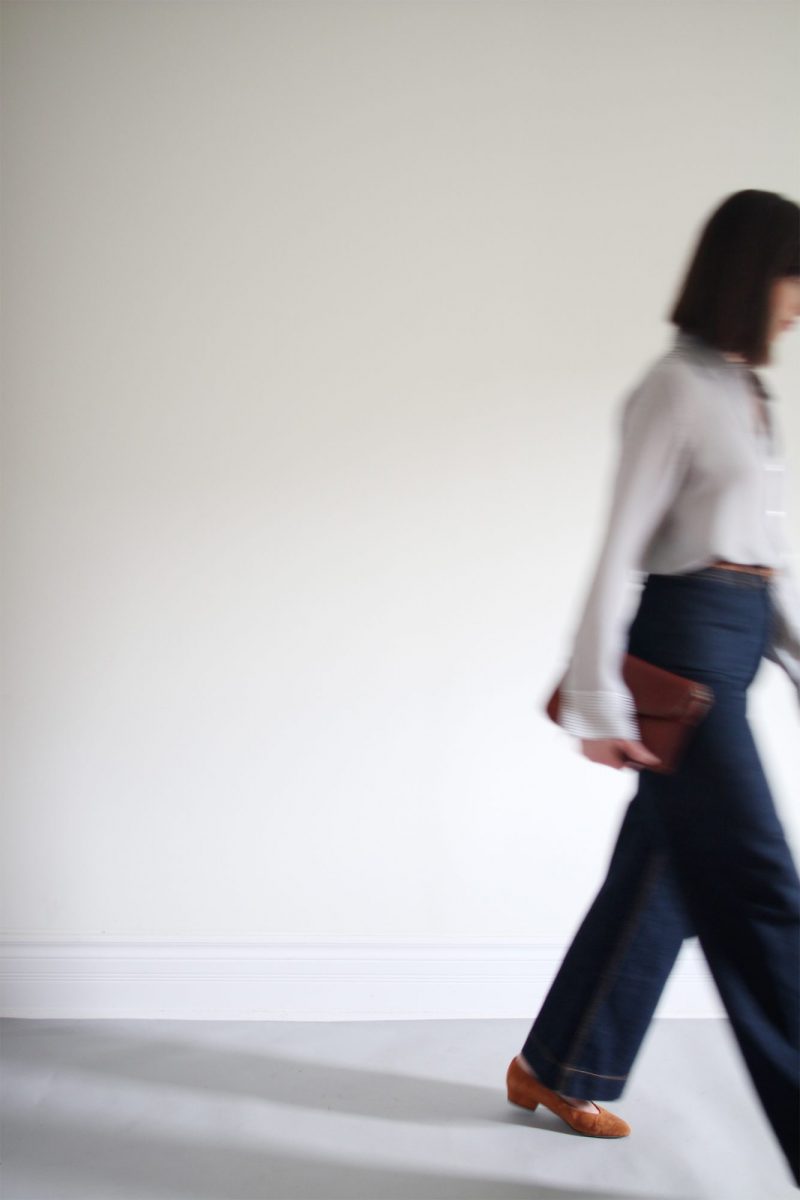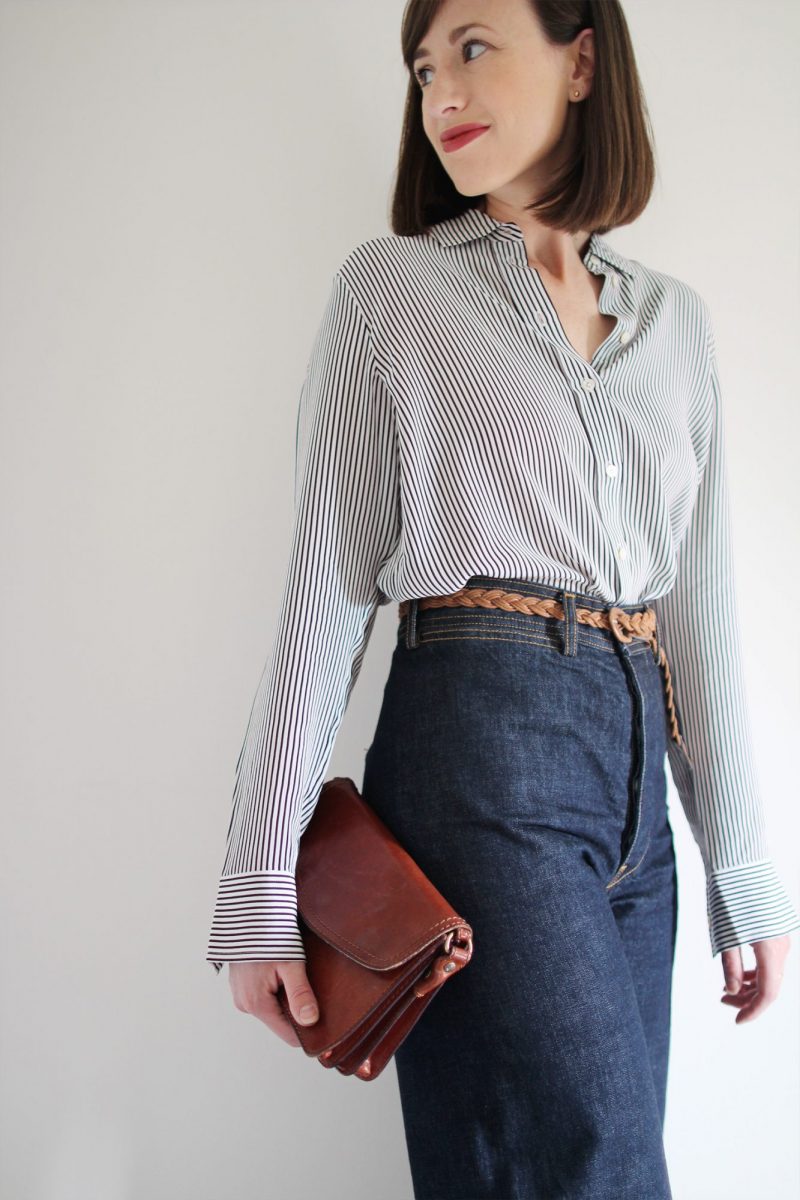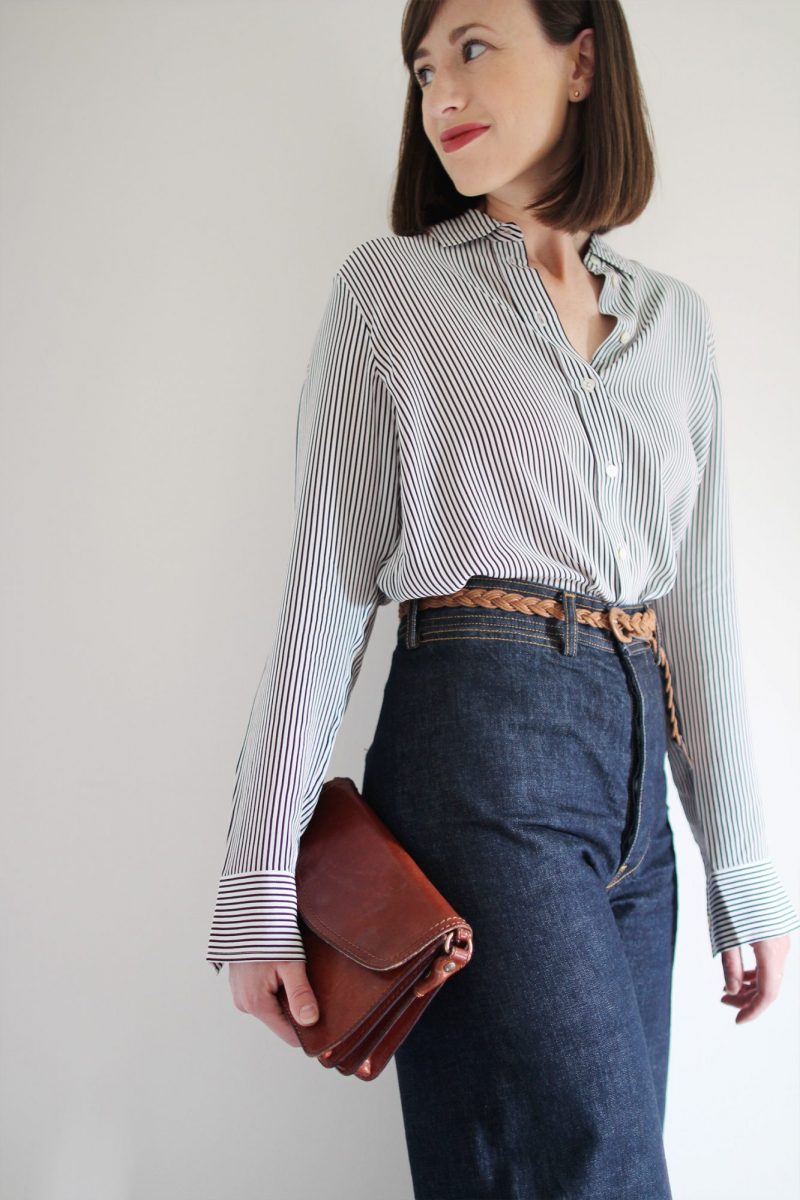 ---
STYLING TIPS
---
UP SIZE – If you're looking for a shirt to fit more oversize and loose, order a size up! I went for the size 4 even though the shirt is designed to be relaxed (and a 2 would have been my usual choice) to ensure that the sleeves would be long and the fit through the torso would be really roomy. In a stiffer material this might end up being boxy but in this slinky silk it's just the fit I was going for!
MATCHING ELEMENTS – I intentionally matched my belt with my shoes in this look to tie things together but the different textures keep them from feeling too much like a set. I also love that the contrast stitching on these jeans matches the cognac colour of the accessories for some subtle continuity.
LET LOOSE – I opted to let the sleeves hang long and opened the buttons for a slightly dramatic cuff and really like how it turned out. It has a little borrowed from the boyfriend feel to it and looks great when paired with a clutch.
---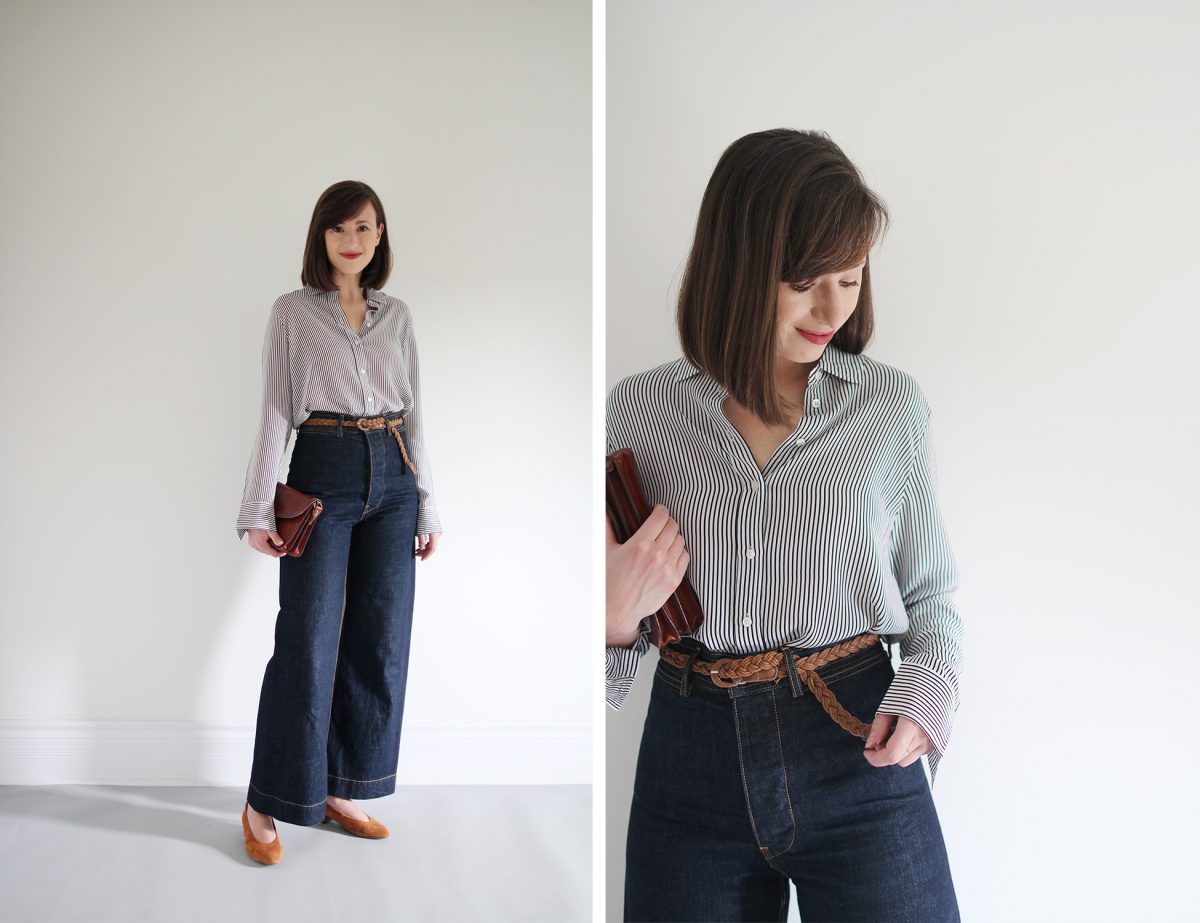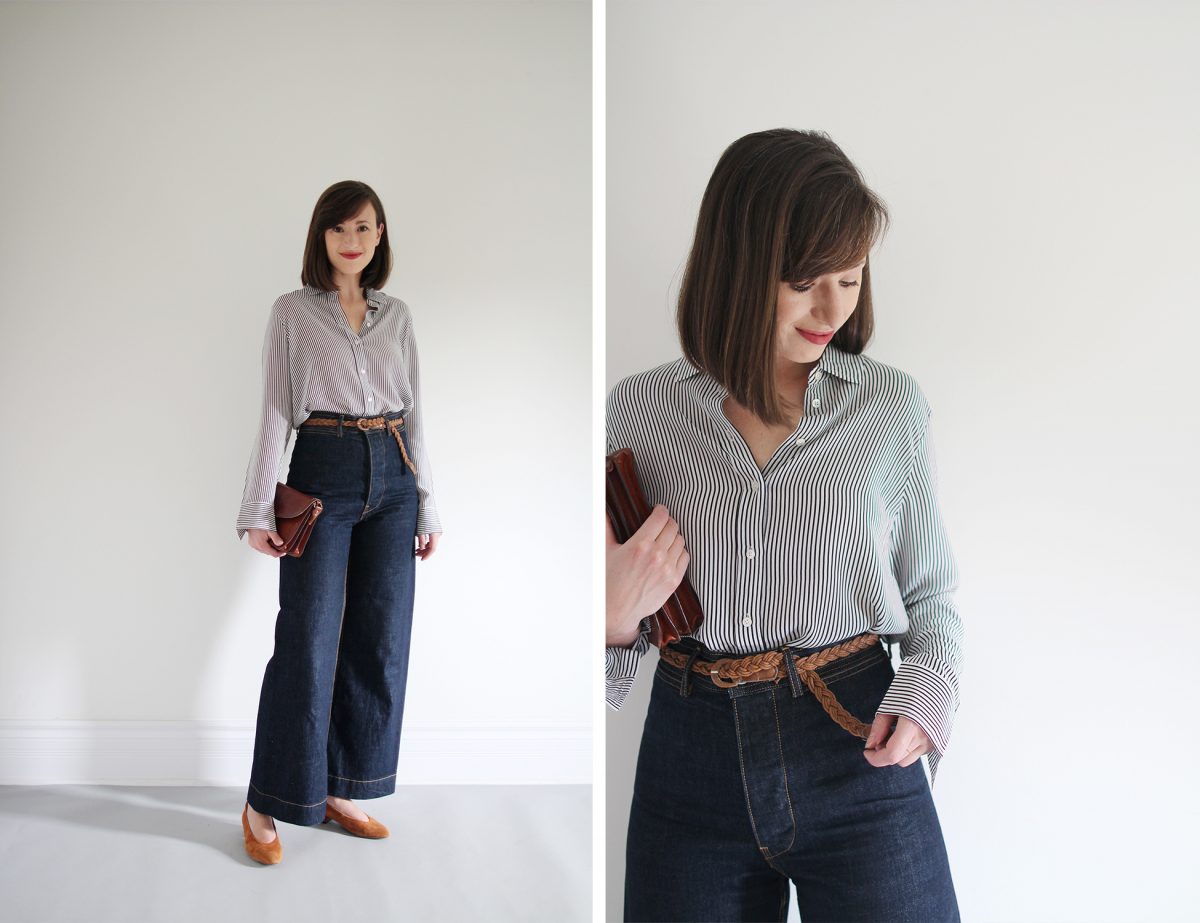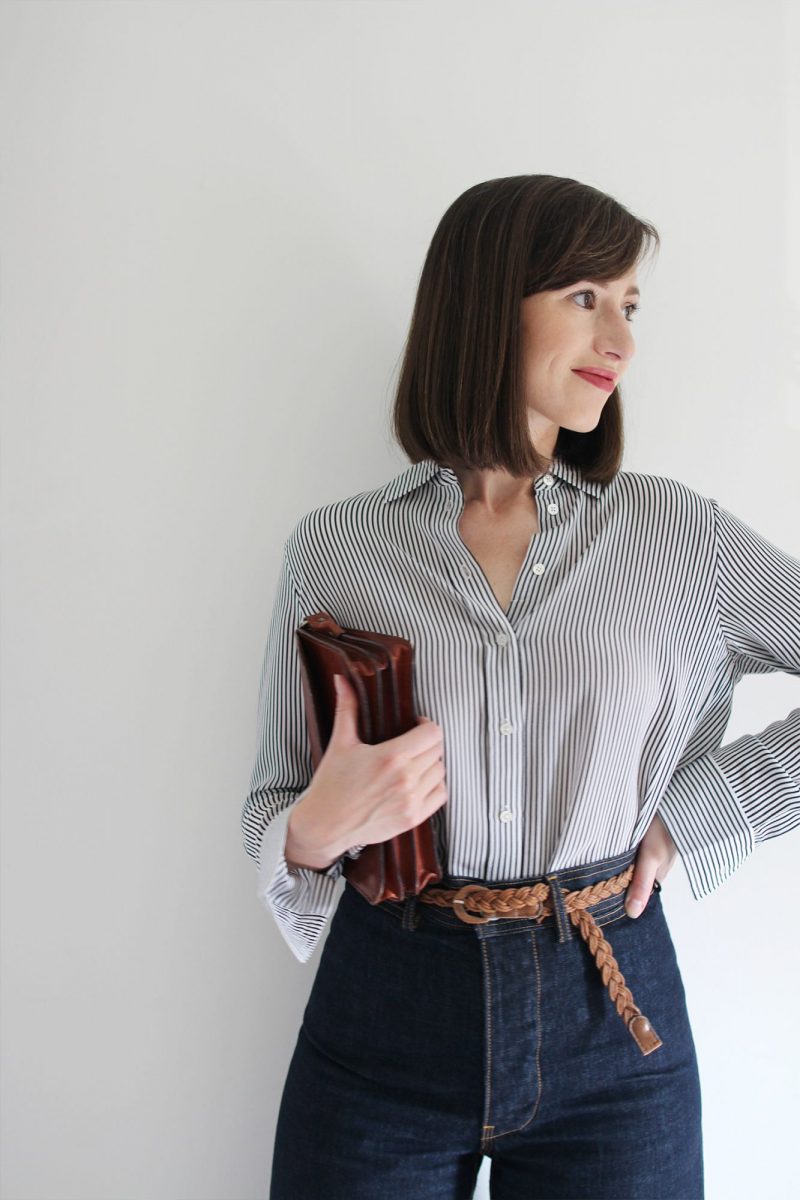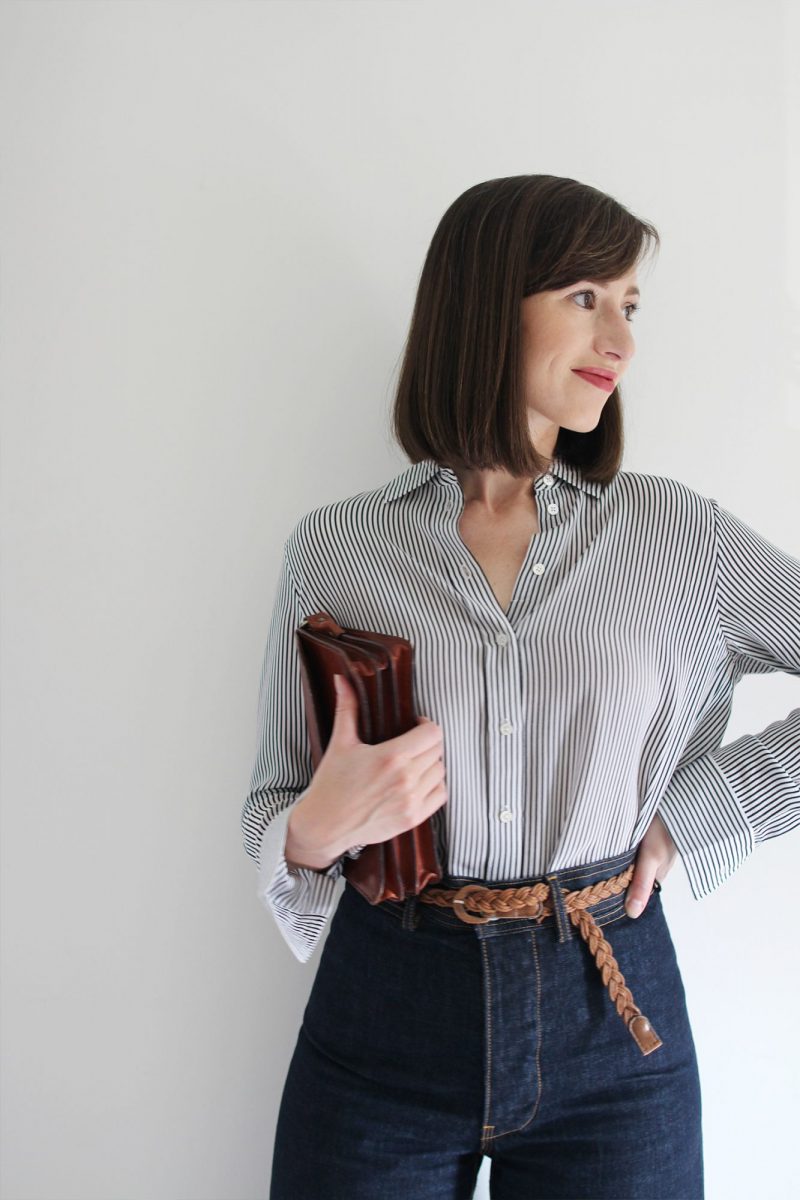 ---
SHOP LOOK 1 
---

---
LOOK 2 – COZY CHIC
---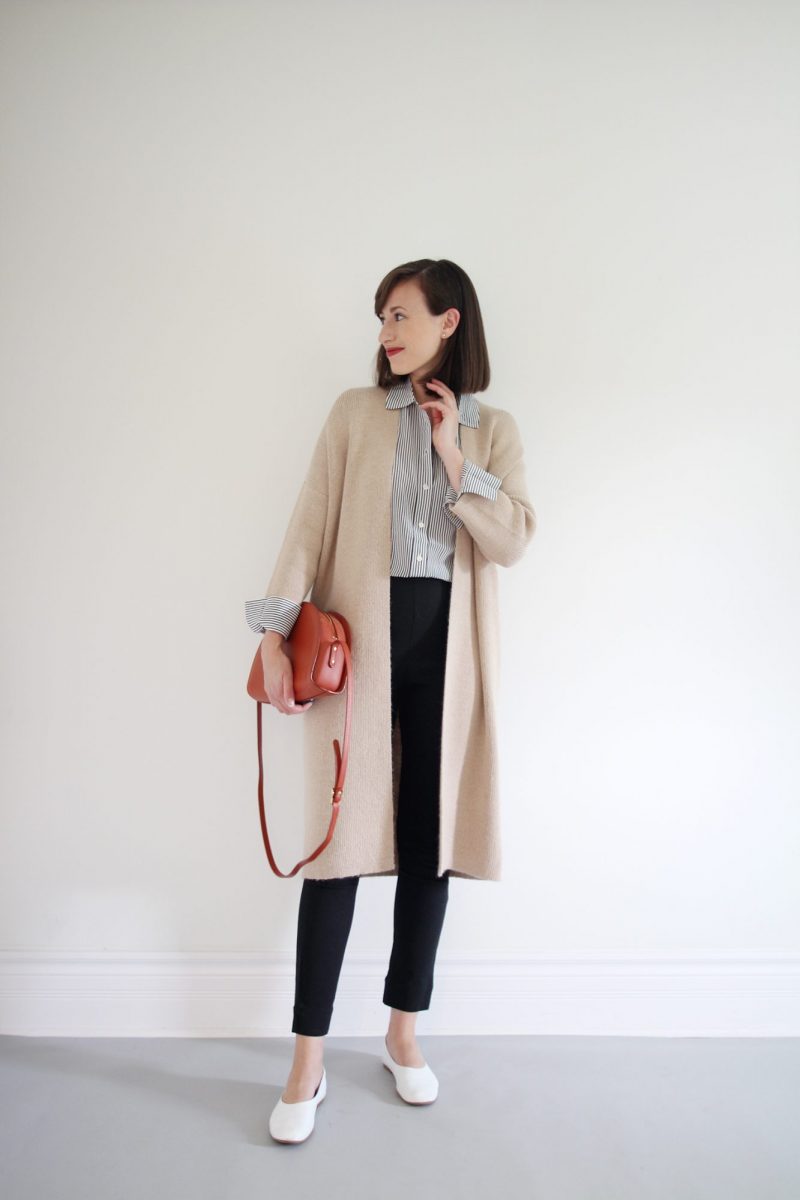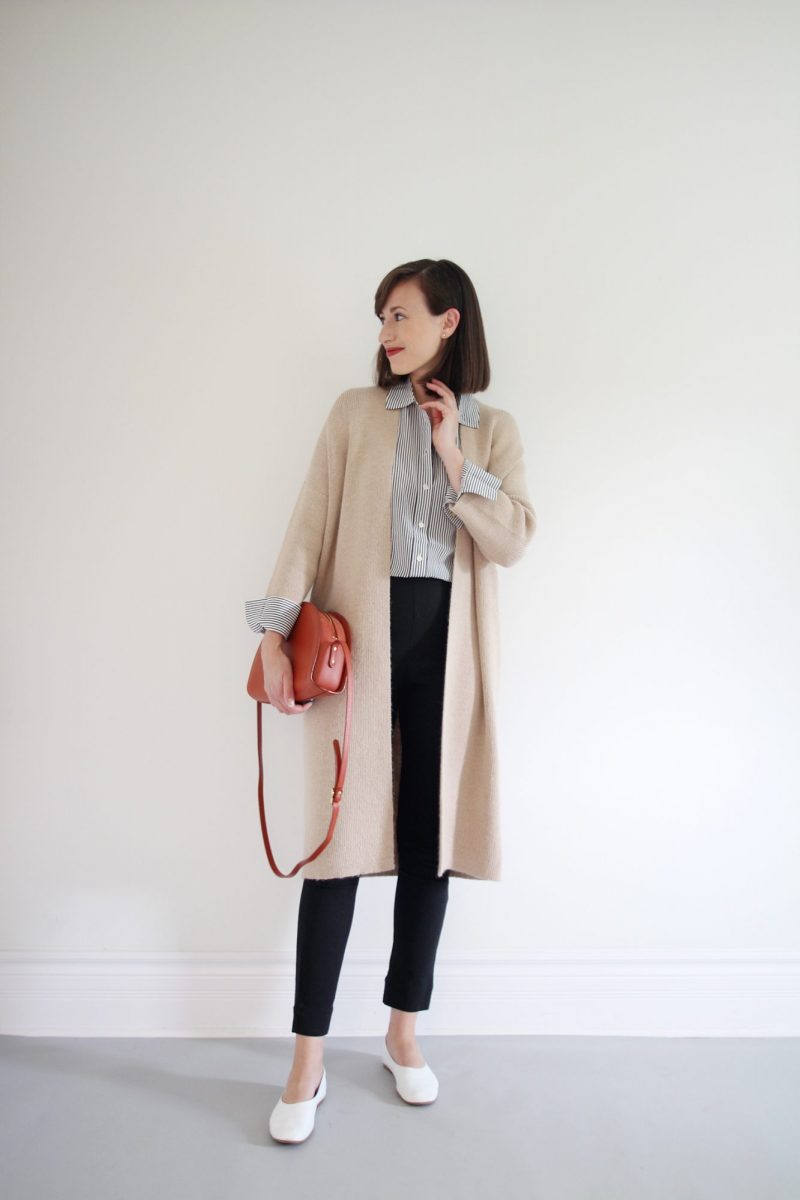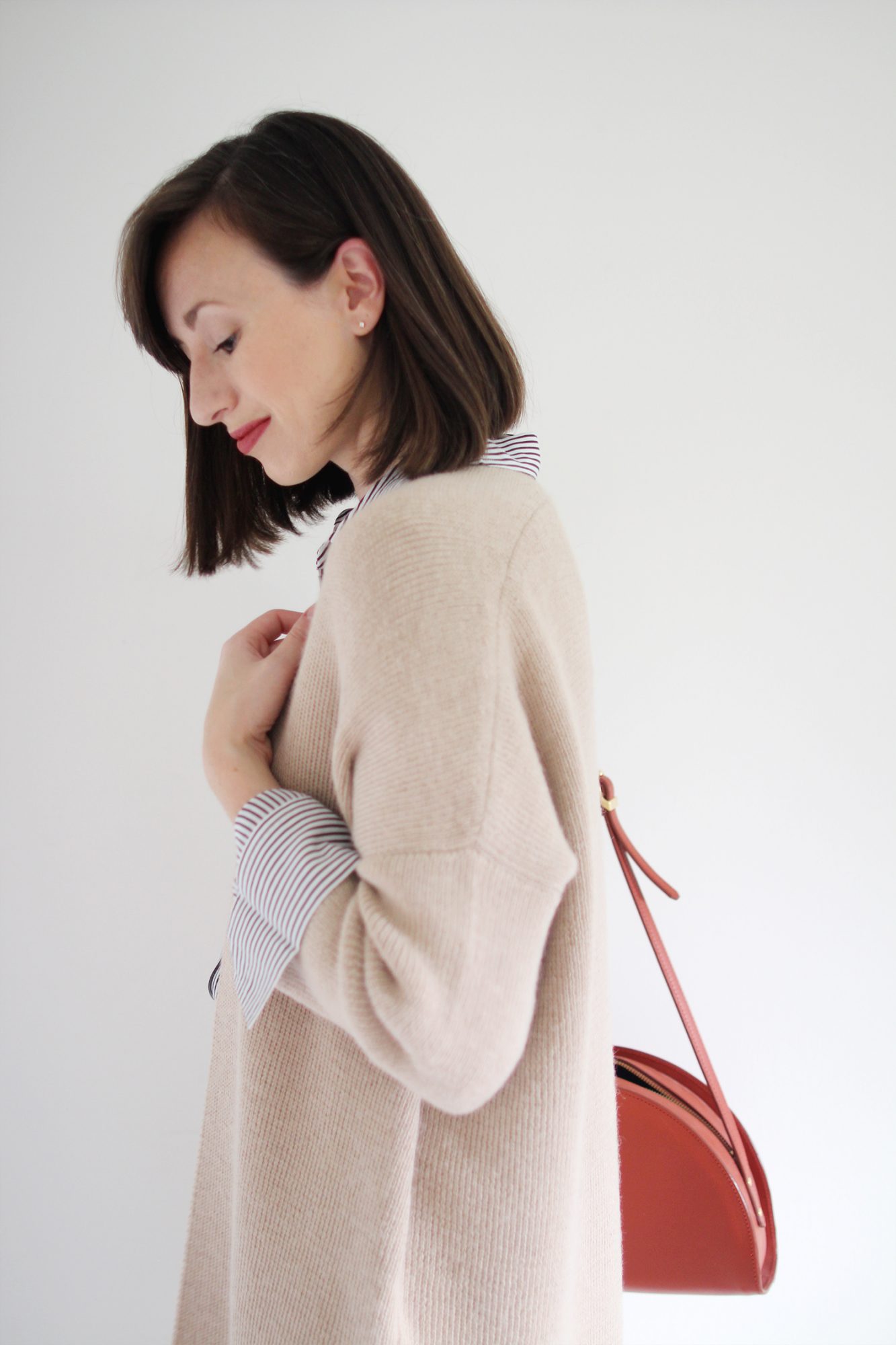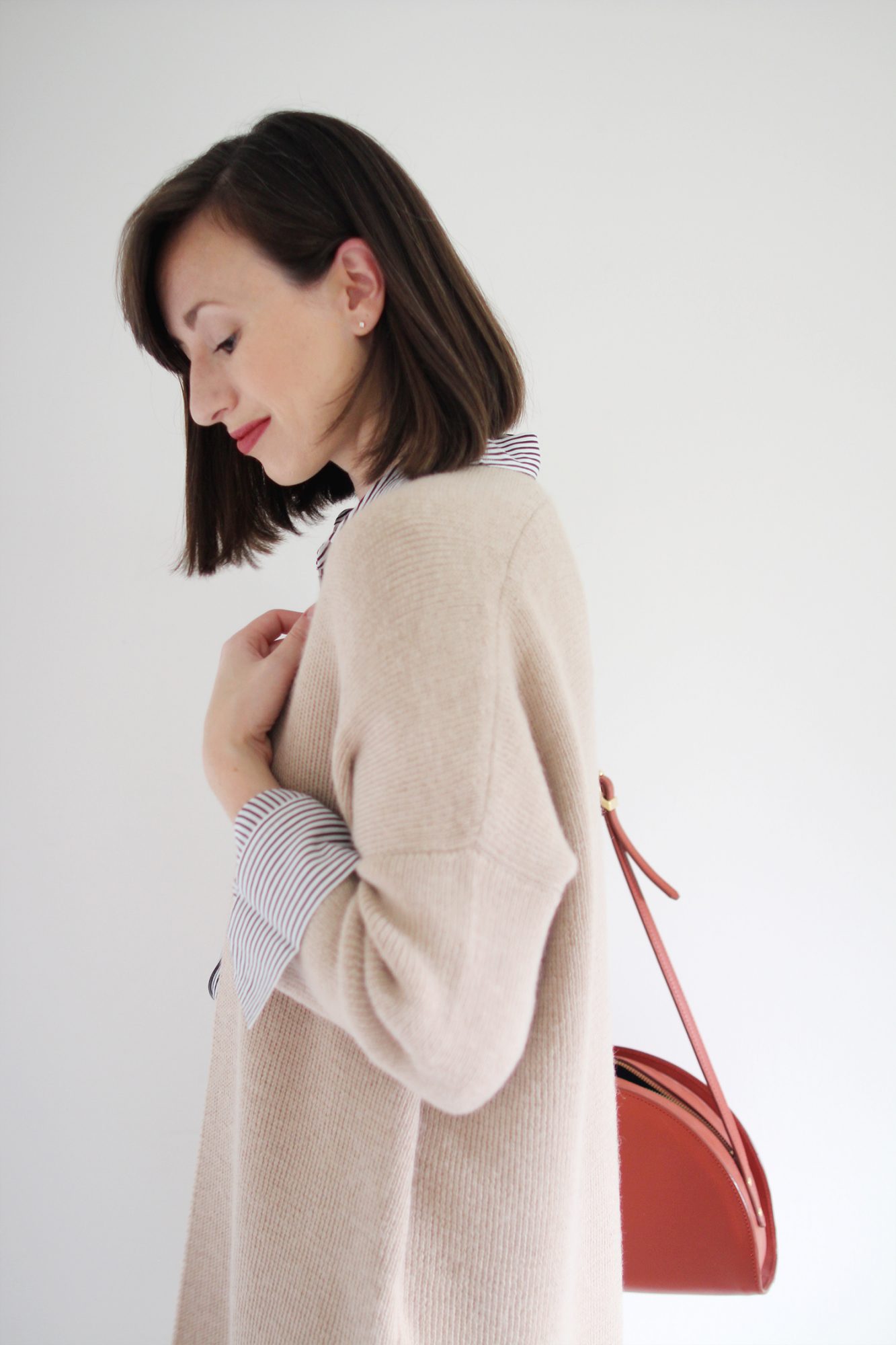 ---
INITIAL THOUGHTS
---
I've been dying to bring this long sweater/cardigan/coat out from summer hibernation and this look was the perfect reason to do just that. I'd been trying to find a way to make it feel a little more polished and this base of a silky button down and slim black pants did the trick. I left the shirt collar out, letting it fall over the neck of the sweater and flipped the cuffs up for an easy styling solution that keeps the stripes peeking out from any angle.
I love this one for a cozy work day at a café or in the office and think it will be perfect for just about anything my average agenda calls for. Not to mention my tendency to get cold the moment the temperature dips below 26 degrees!
---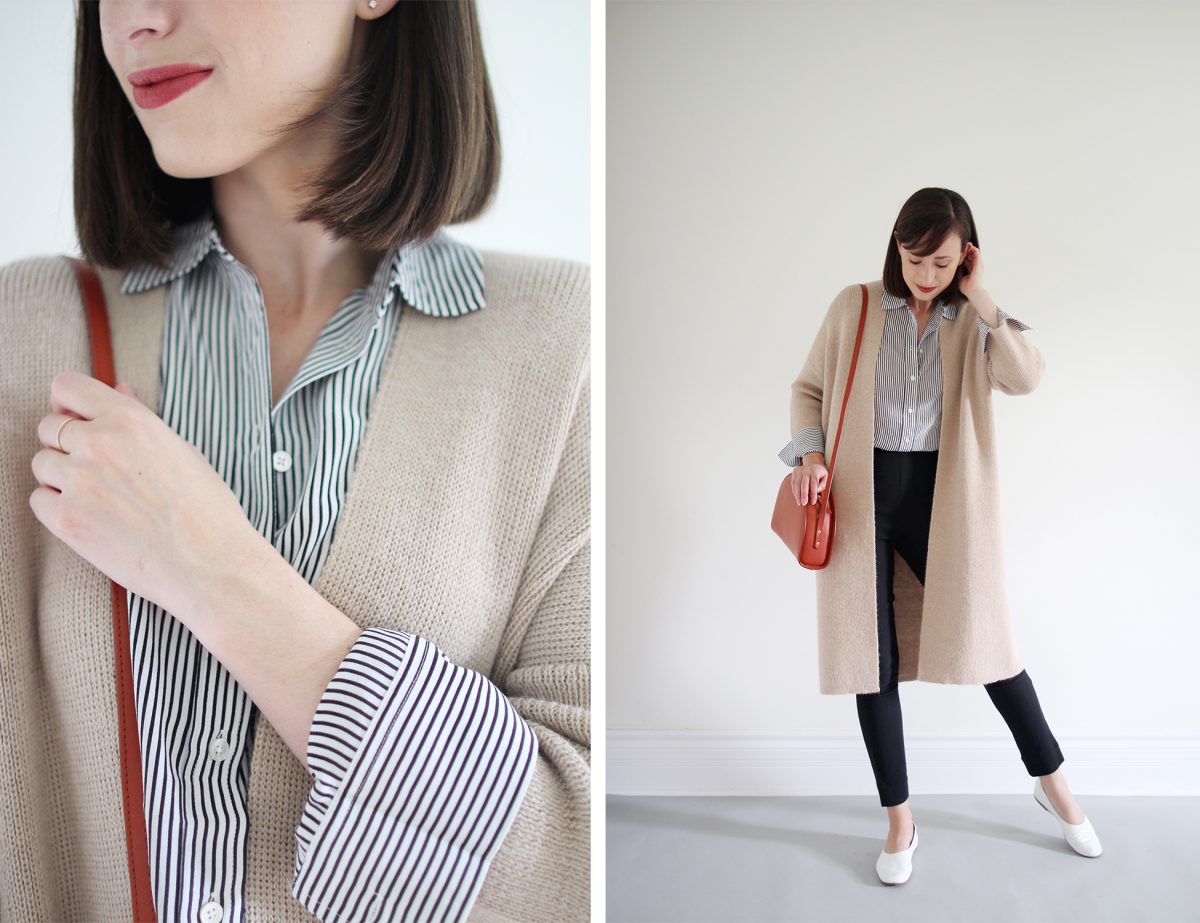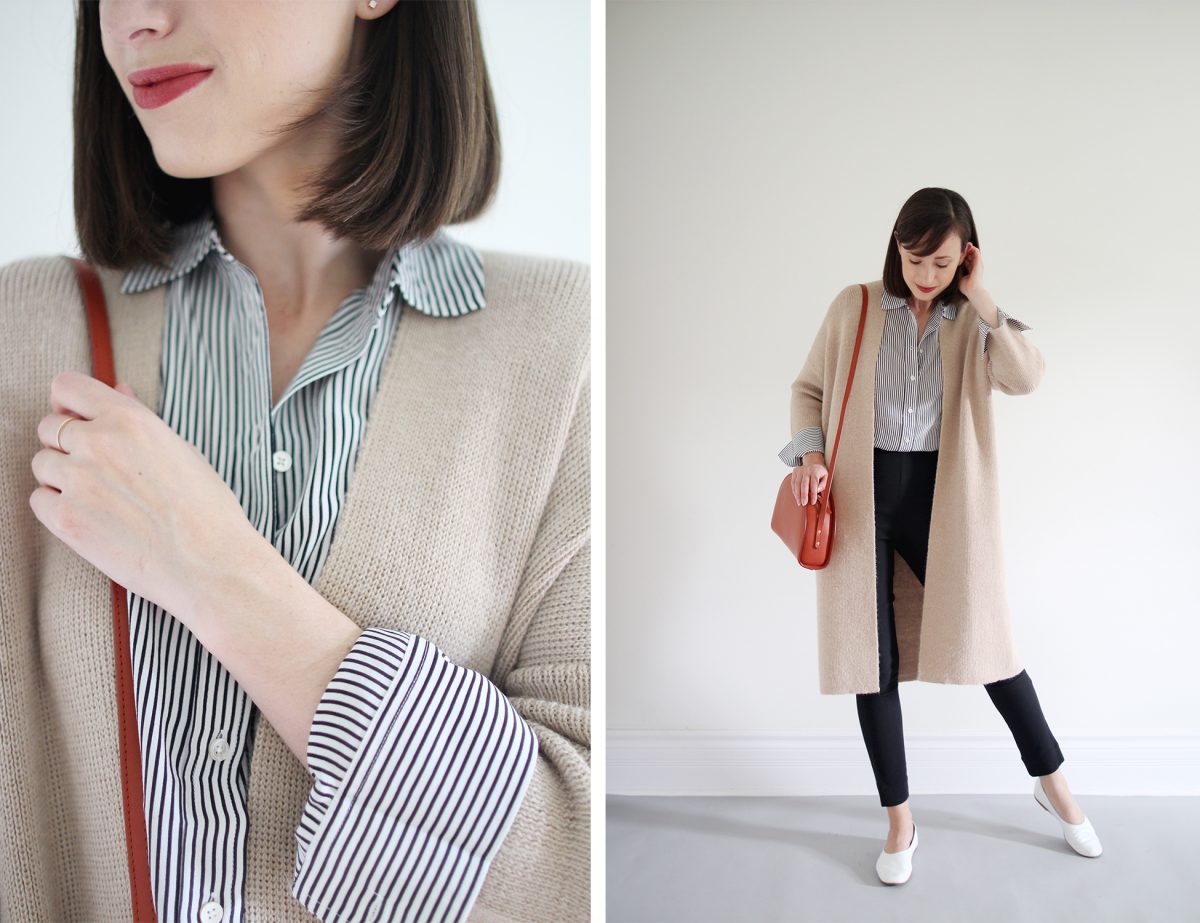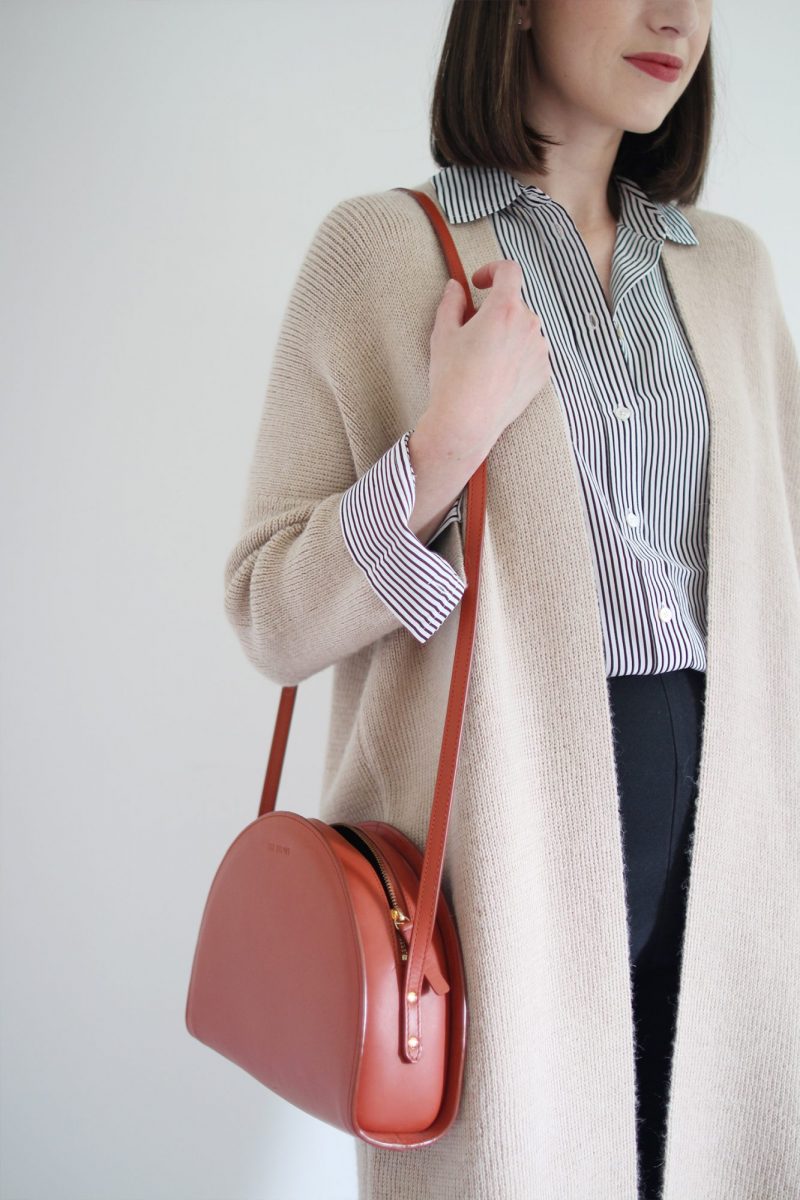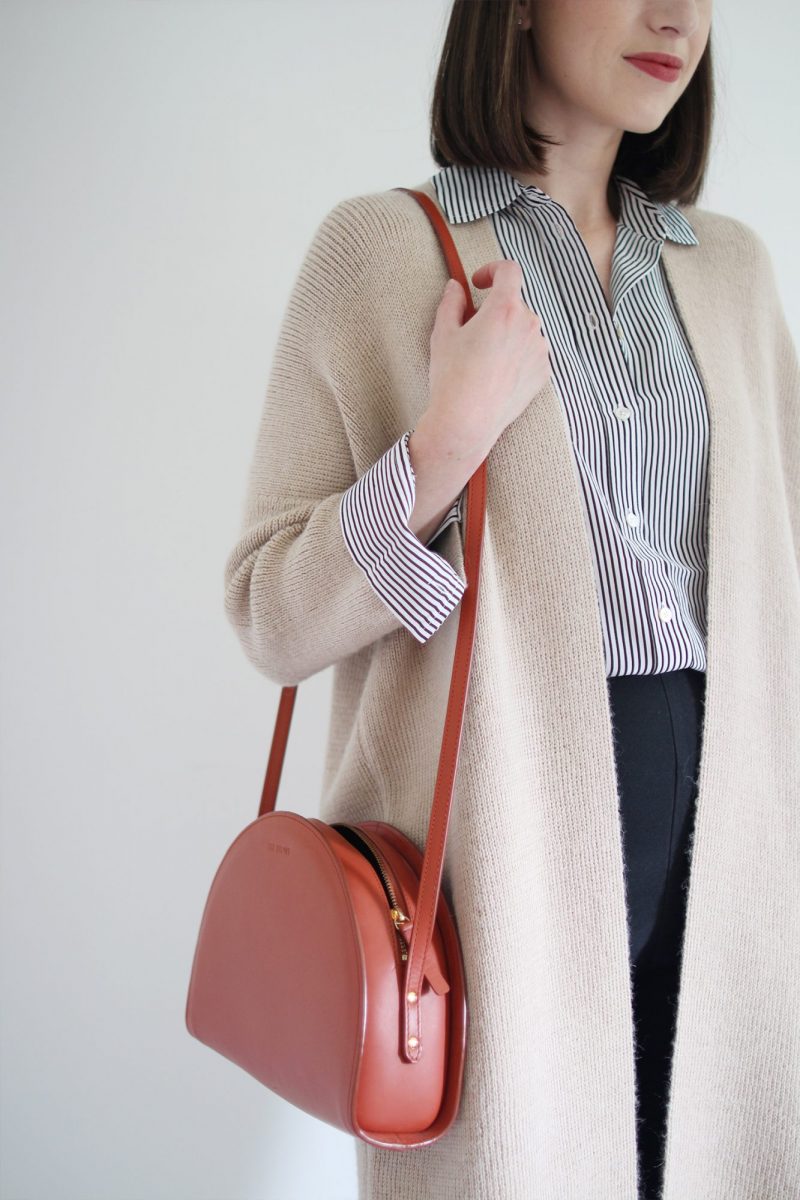 ---
STYLING TIPS
---
BIG CUFF – I was fussing and fidgeting with how to make the sleeves on this sweater (they're not full length) work with the cuffs on this shirt when I finally just let them both out and flipped the cuffs of the shirt up and over. It worked perfectly and I like how it mimics the way the collar lays over the neck of the sweater as well!
BOLD BAG – Whenever I'm wearing a look with all neutrals like black, white and camel I like to inject it with a little dose of energy and this persimmon red bag was the way to do it. At this point I don't have a whole lot of colour in my closet but by choosing accessories in bold tones that are still very versatile (like a muted red) I'm able to add some interest to the palette whenever I feel it's needed.
LIGHT SHOE – There are few outfits that these white flat don't go with but sometimes they're the perfect touch to keep things fresh, which is exactly the case in this look. I'm becoming a fan of how a shoe in an unexpected colour can update an otherwise classic combination of items like a skinny pant, silk shirt and cardigan.
---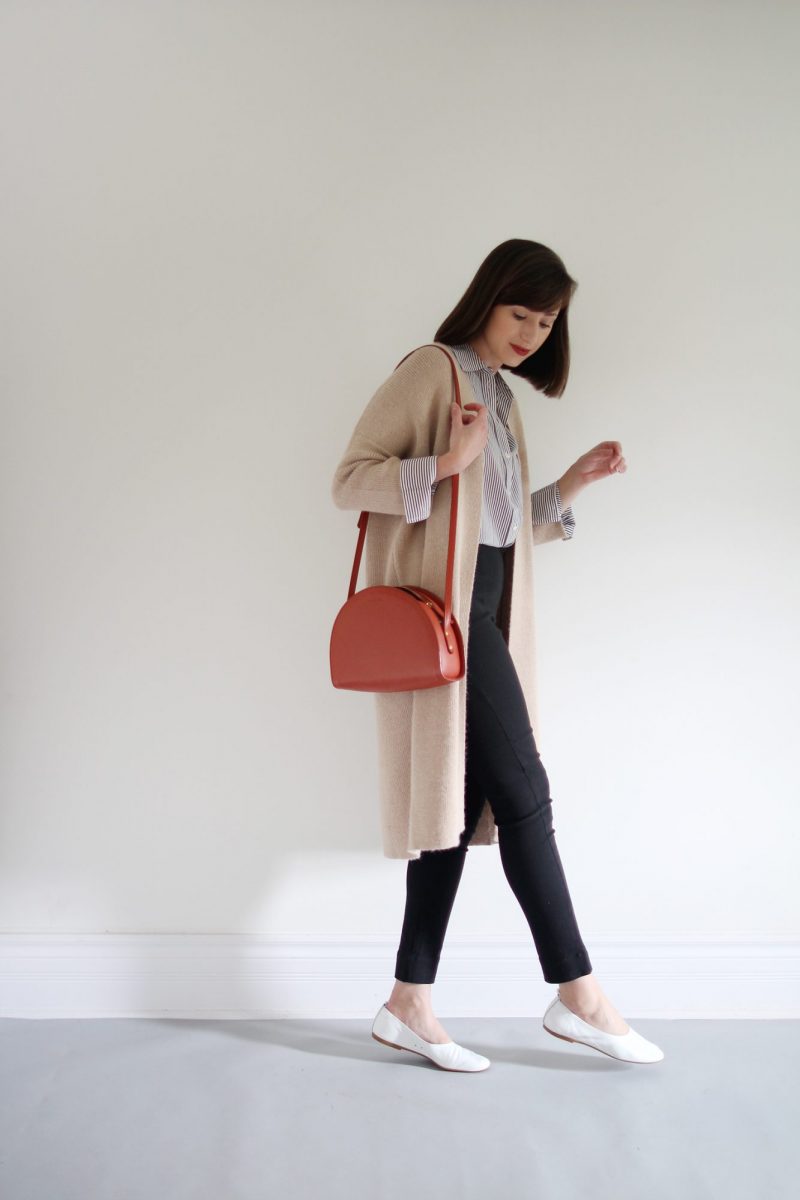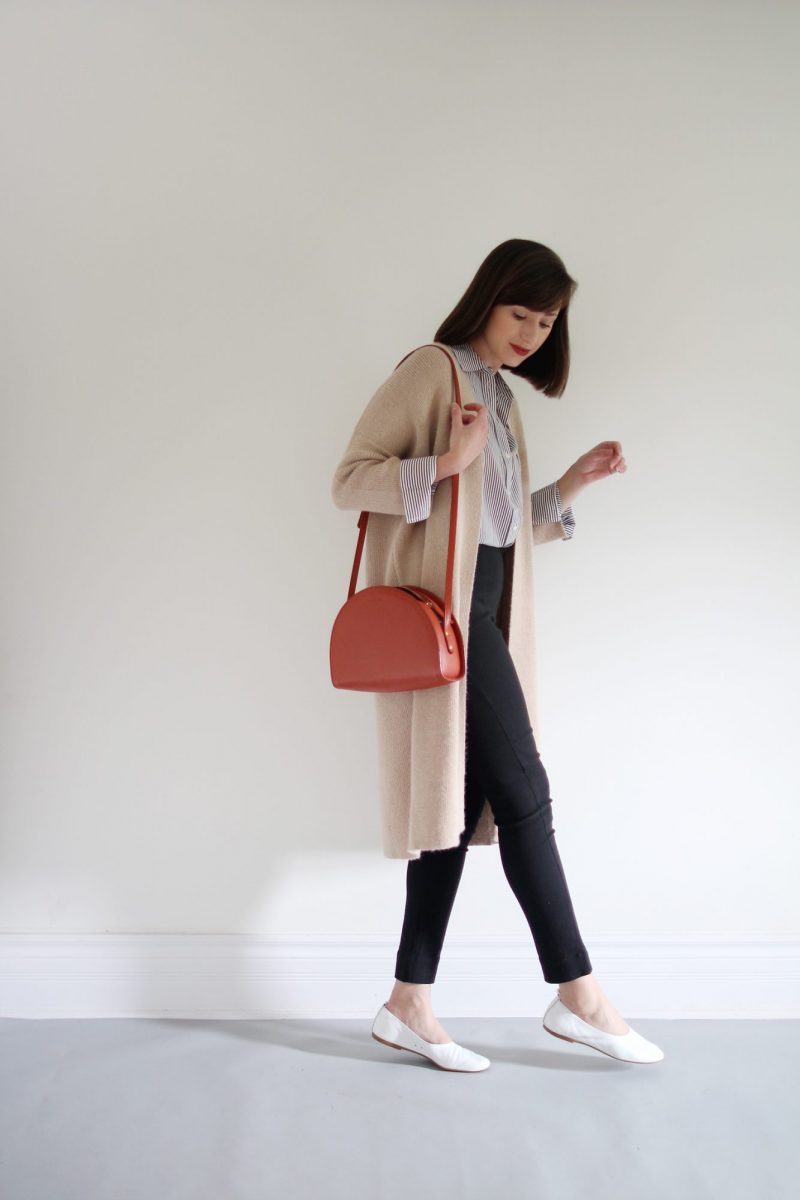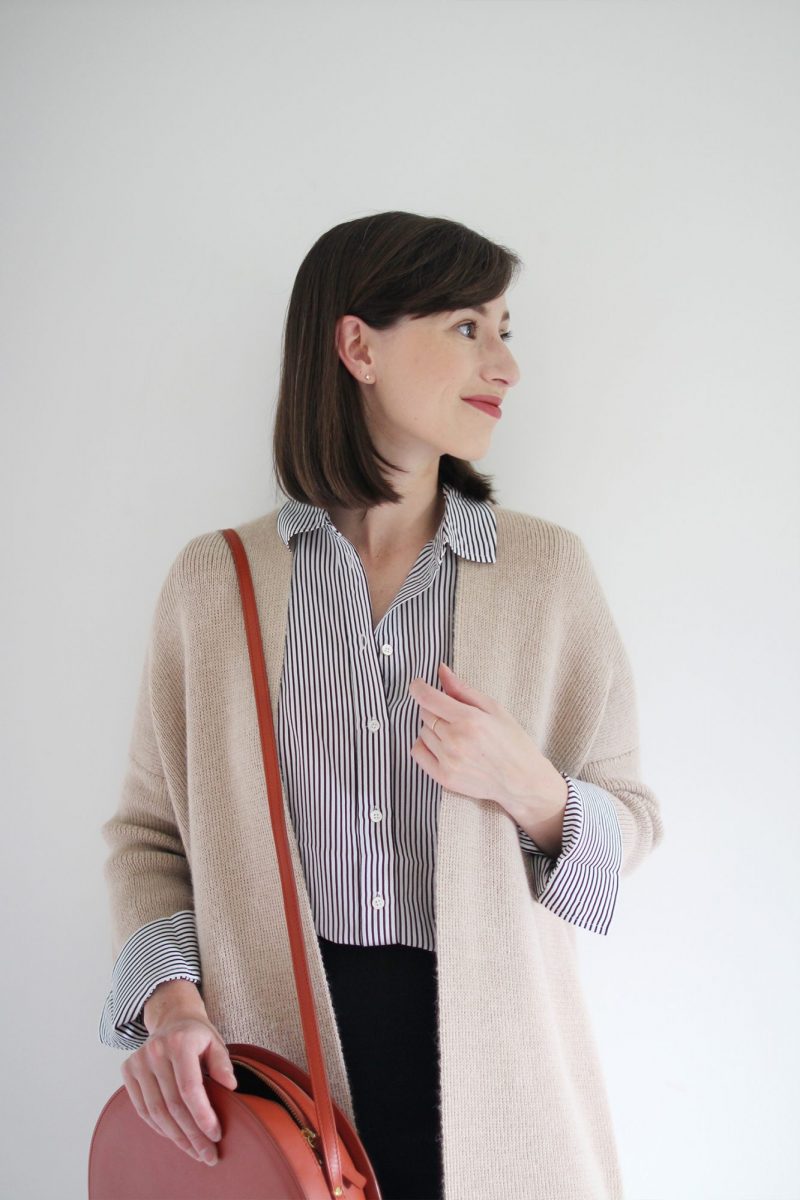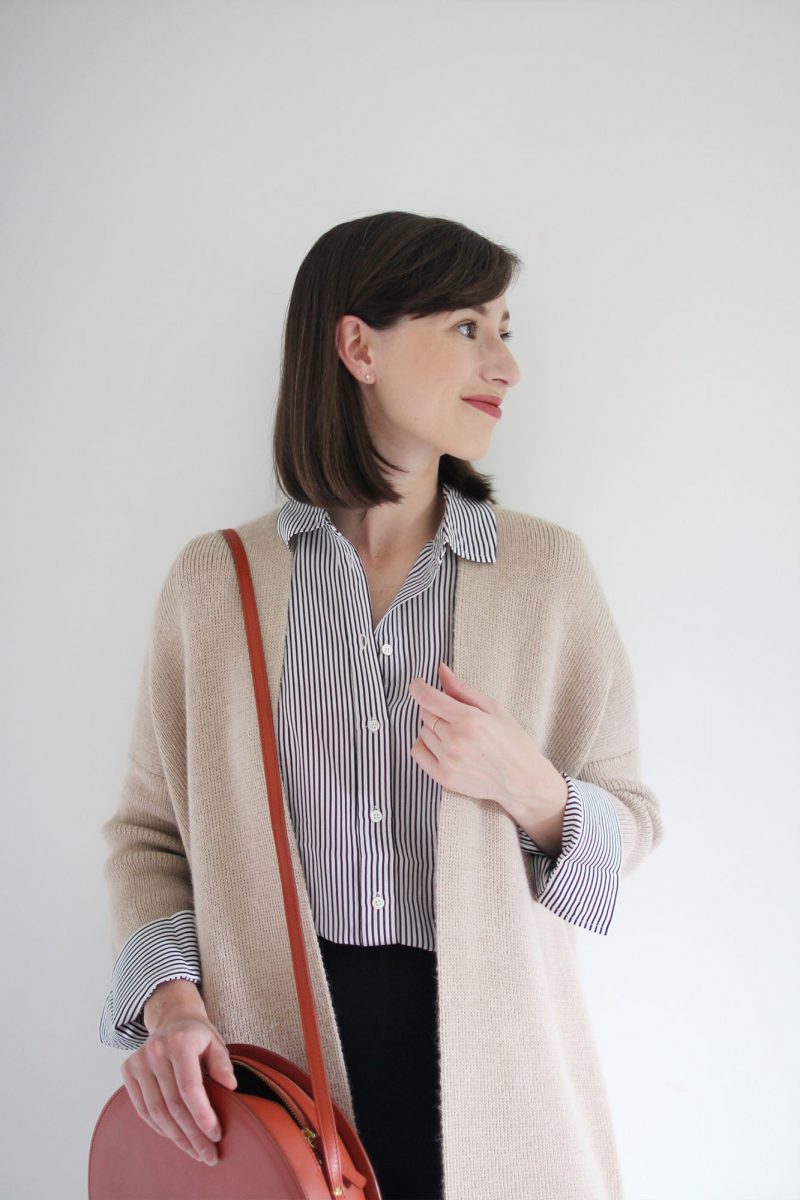 ---
SHOP LOOK 2
---

---
LOOK 3 – THE GALLERY GOER
---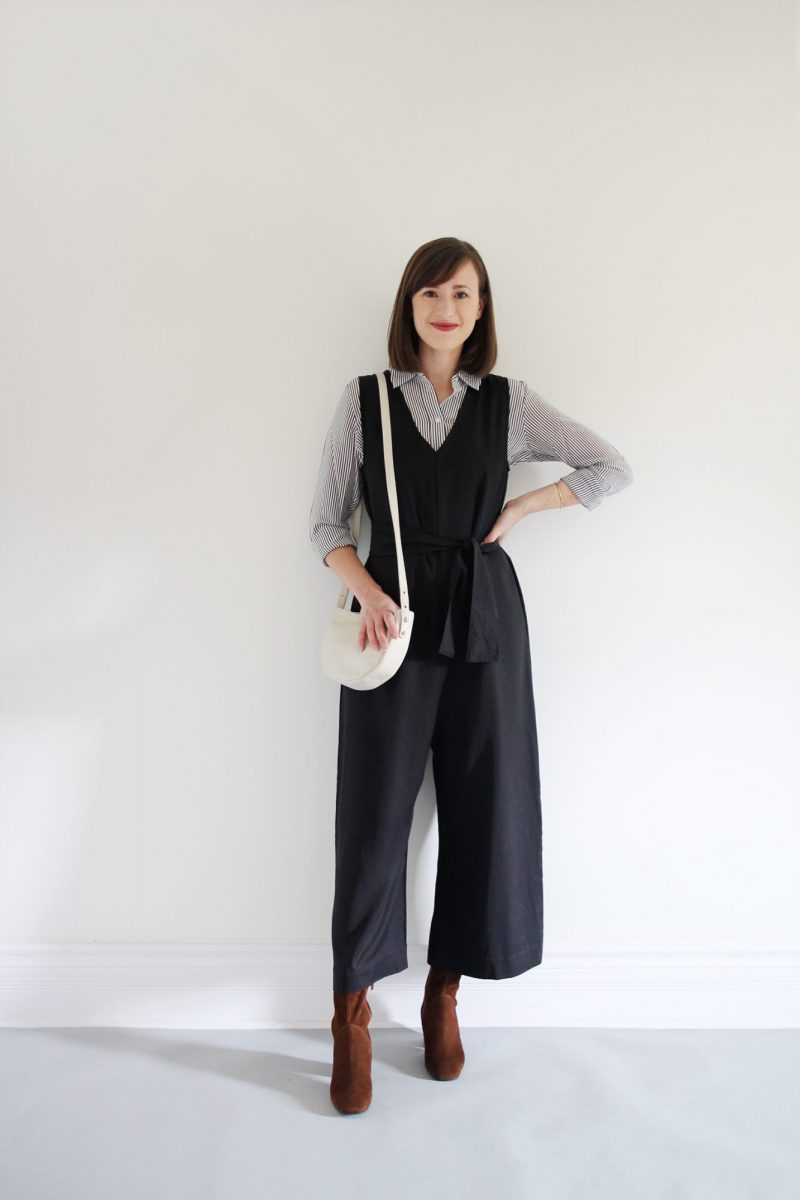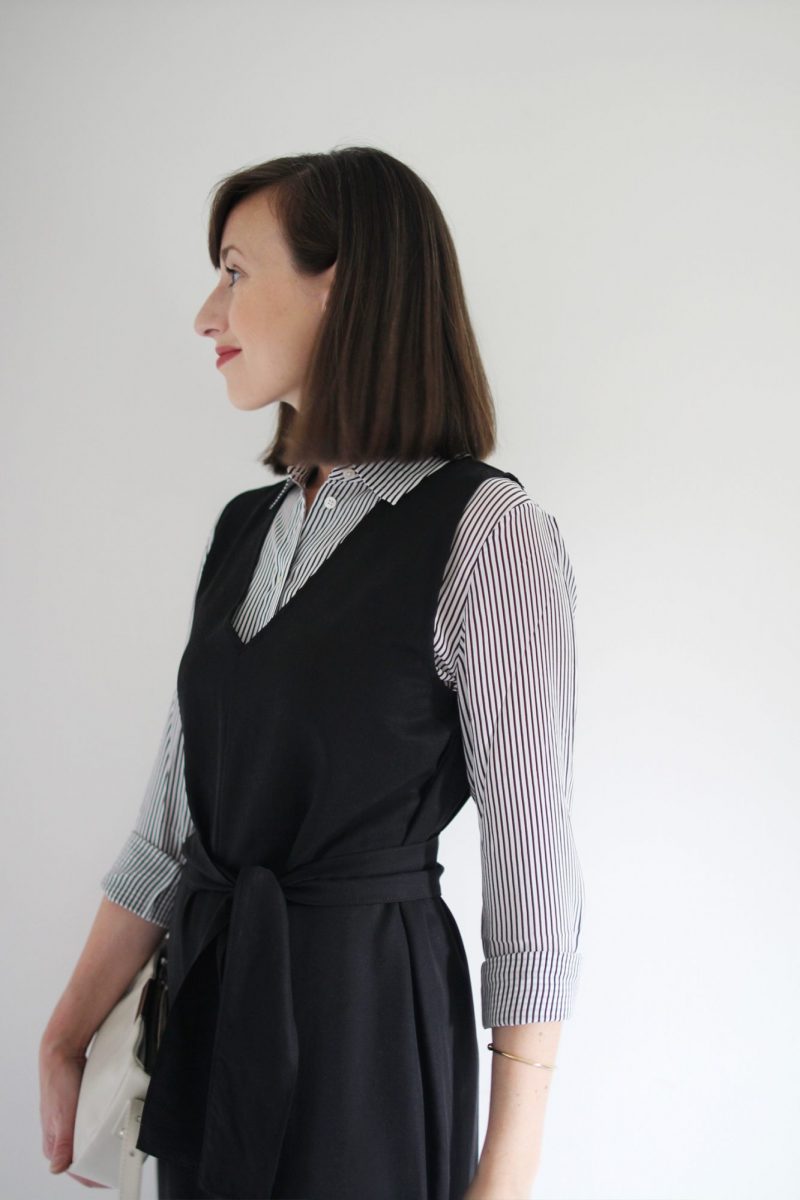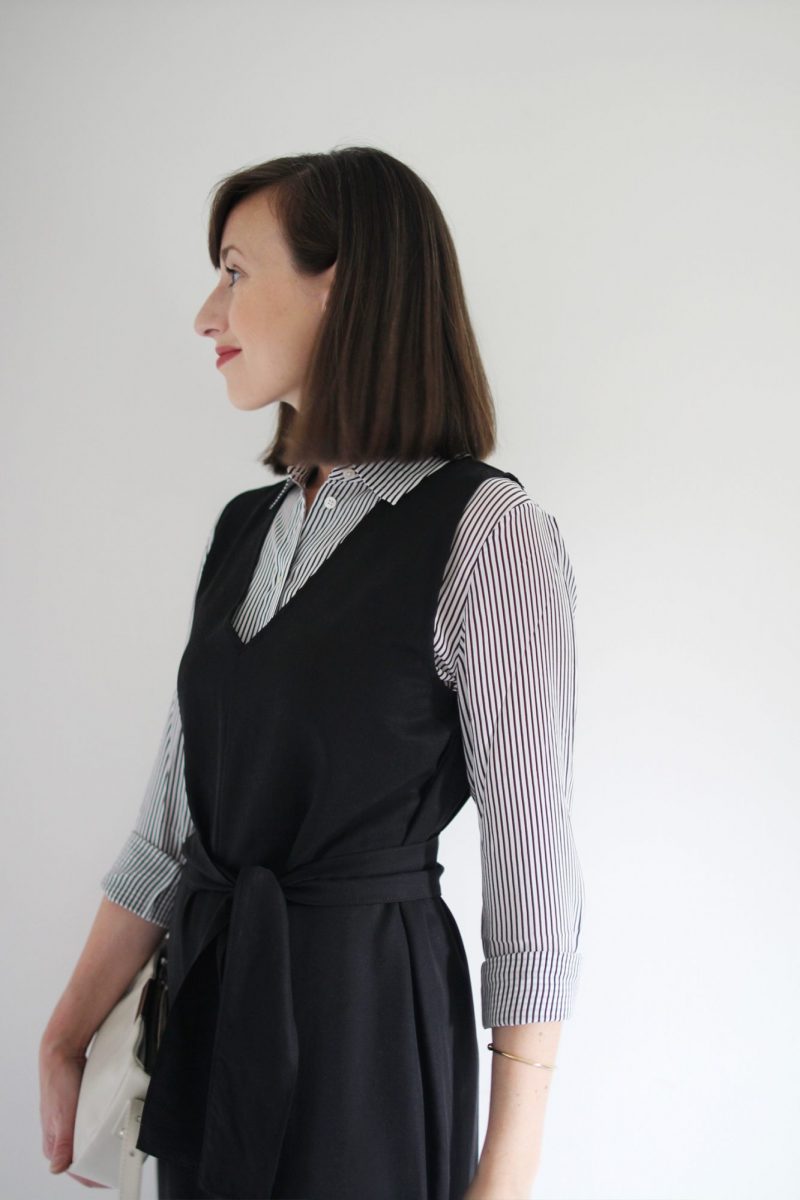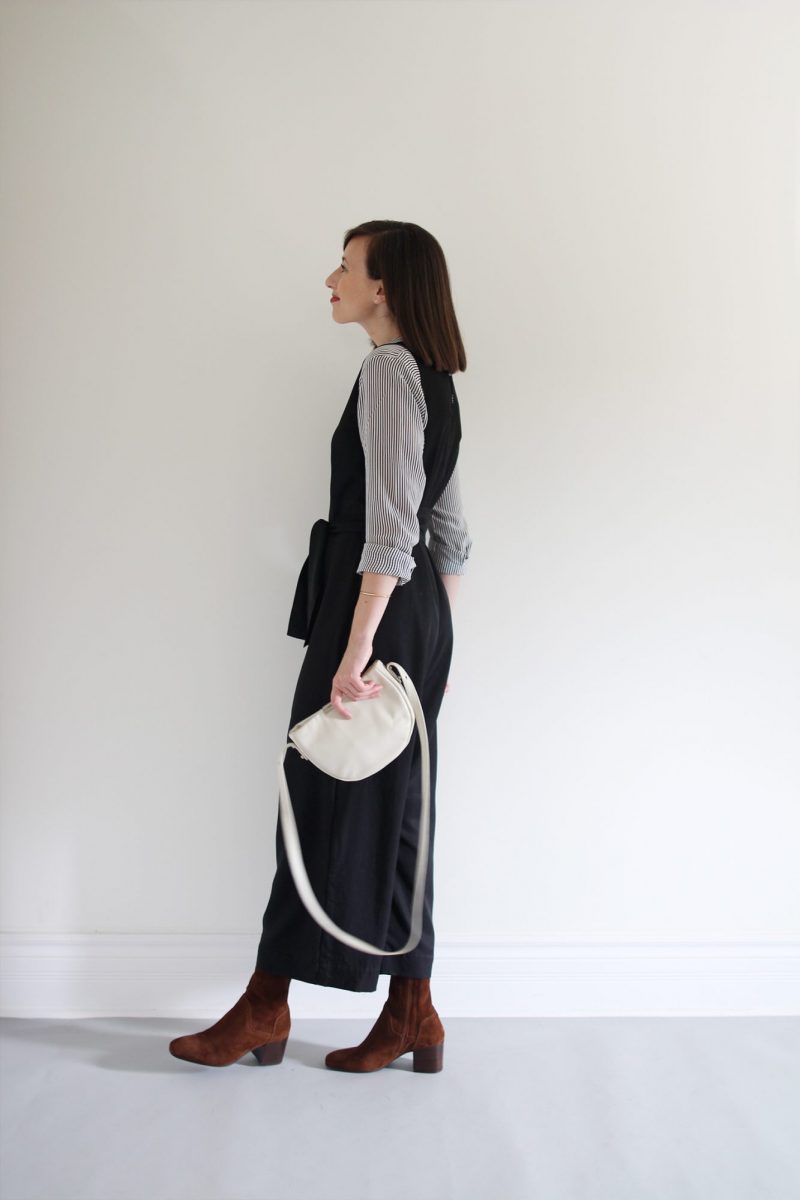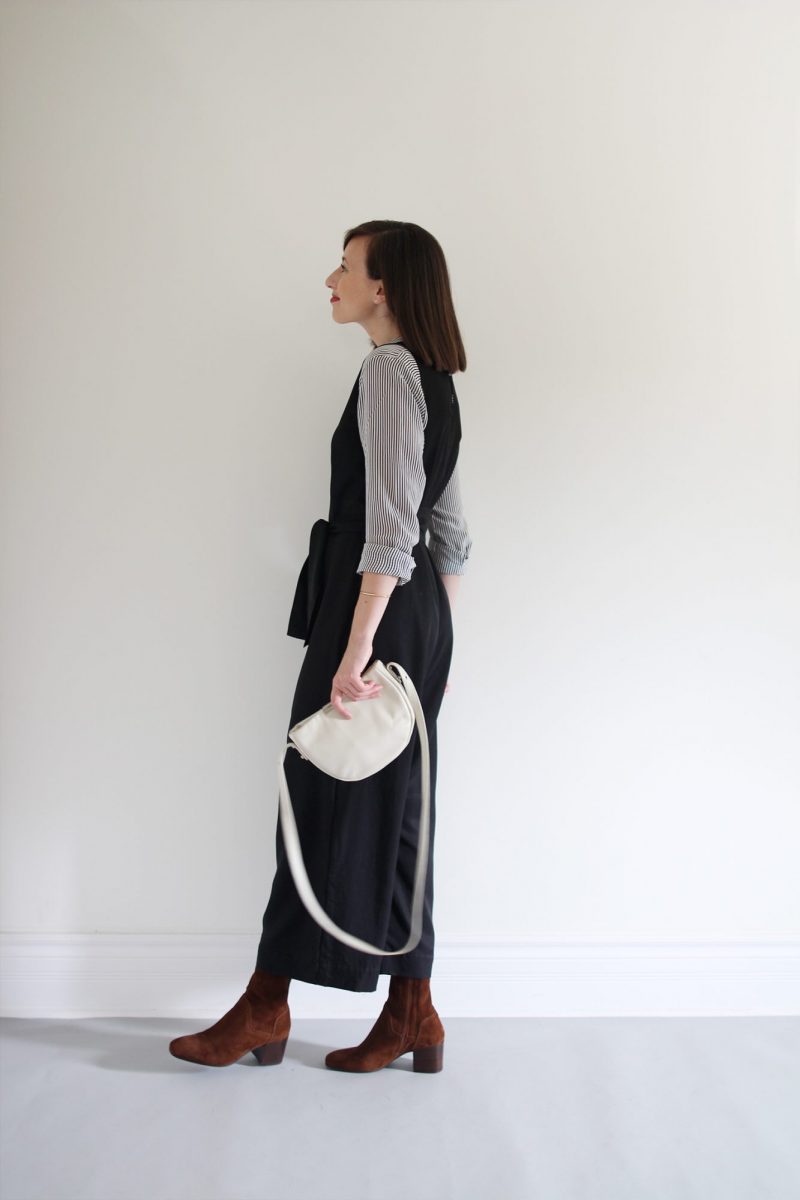 ---
INITIAL THOUGHTS
---
This rendition was inspired by my recent Sex and the City re-binge. There are so many amazing outfits (and an equal number of atrocious ones) in that show that it's near impossible to watch without new styling ideas popping up. But the particular one that gave me this idea was Carrie's jumper look for jury duty. It was flirty and funky but basic enough that I felt I could adapt to my own style. I decided to give the button-down meets jumpsuit combo a try and I kind of…LOVE it. It feels inventive, sassy, fun and a little bit artistic too!
This one makes me wish I was visiting New York City, taking in the streets, the sights and the galleries followed by a fabulous dinner and long walk through Central Park. Now I'm dreaming of pigeons bobbing, people bustling and the incomparable energy that makes NYC so enthralling. Dave and I have been hankering for another visit so I'll definitely be keeping this outfit in mind when we finally go!
---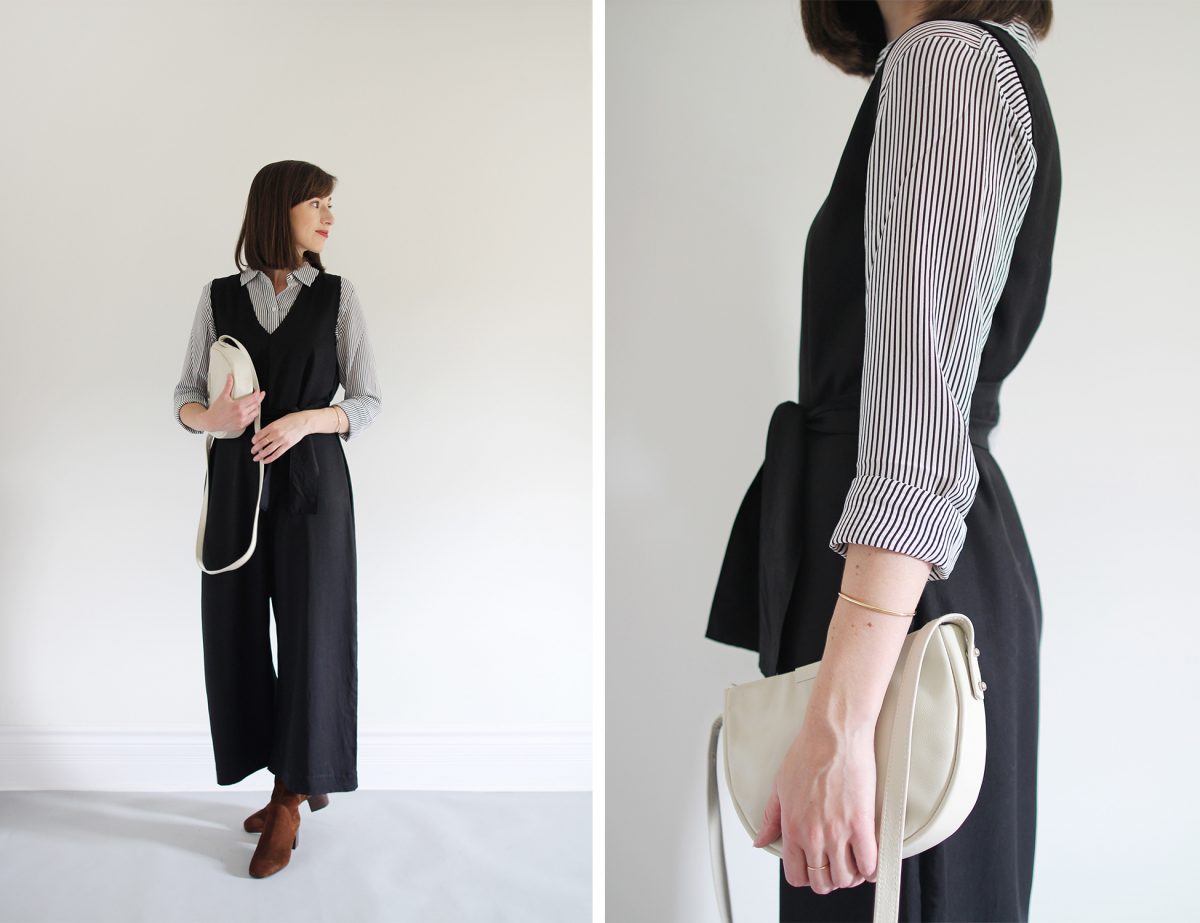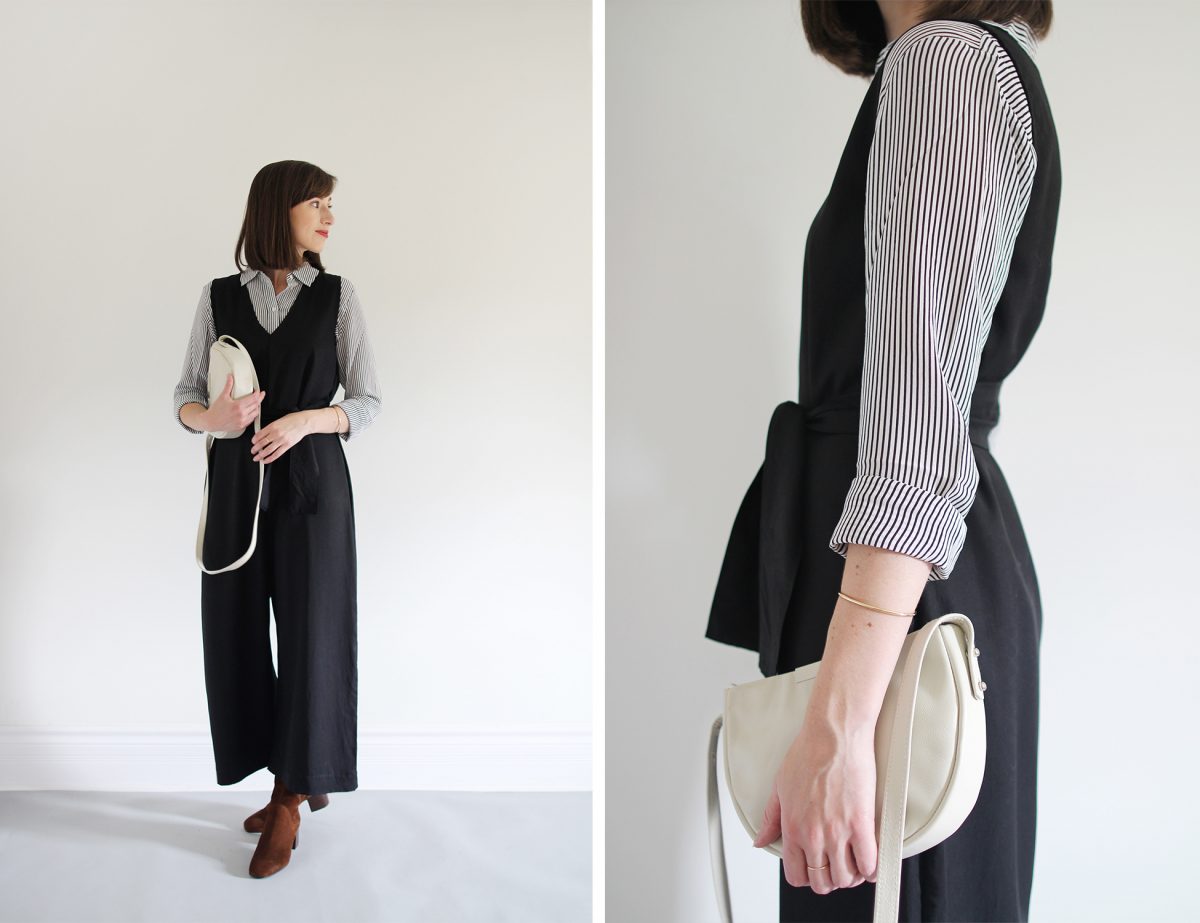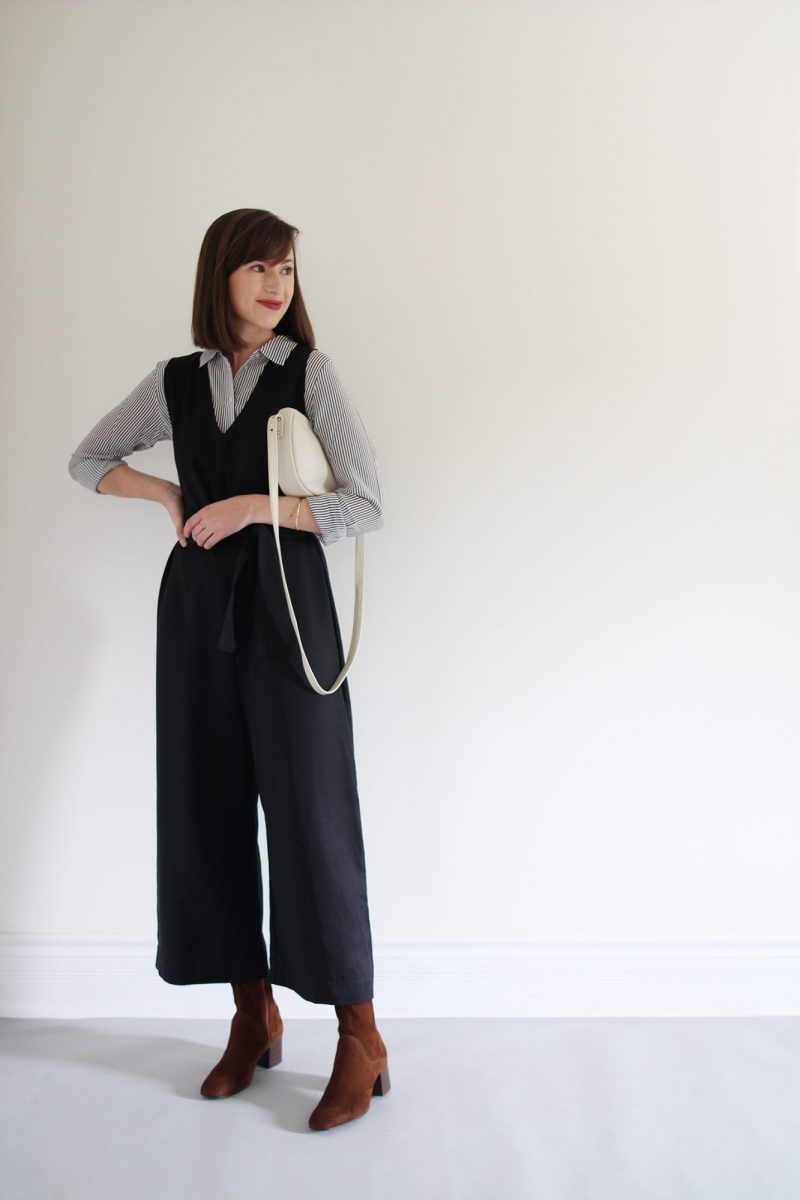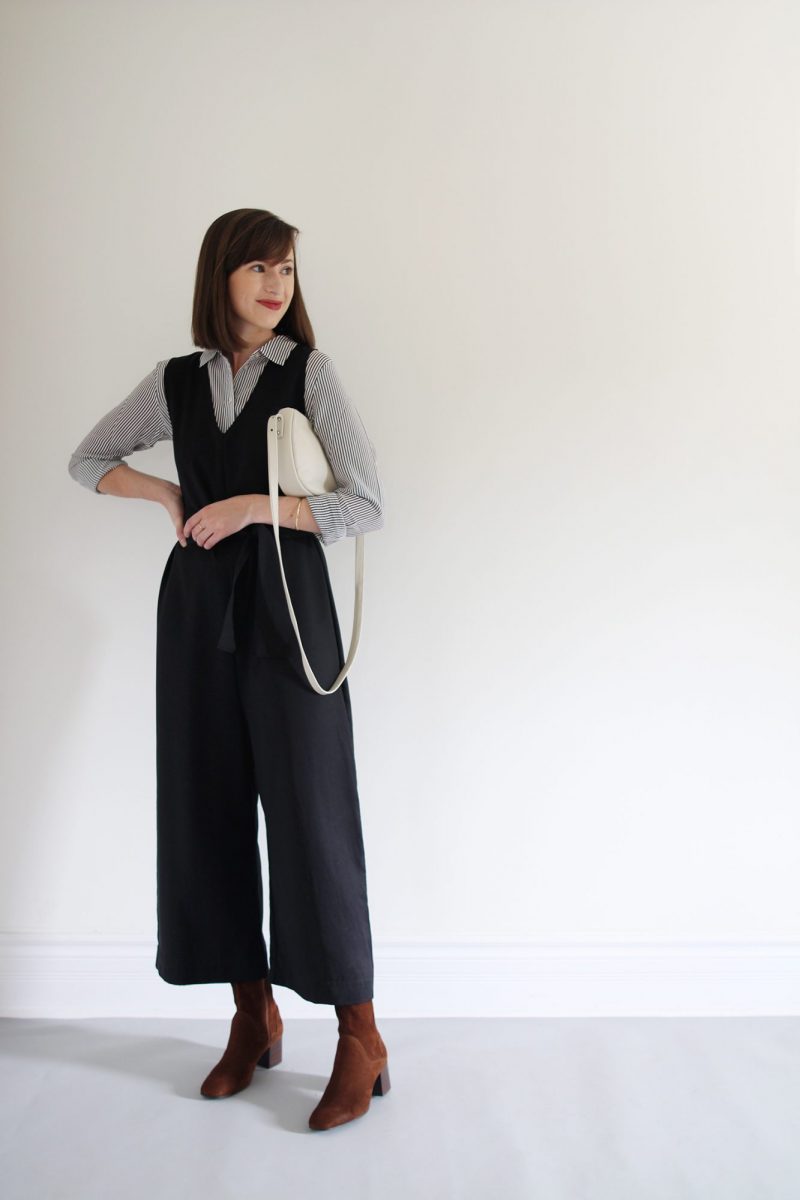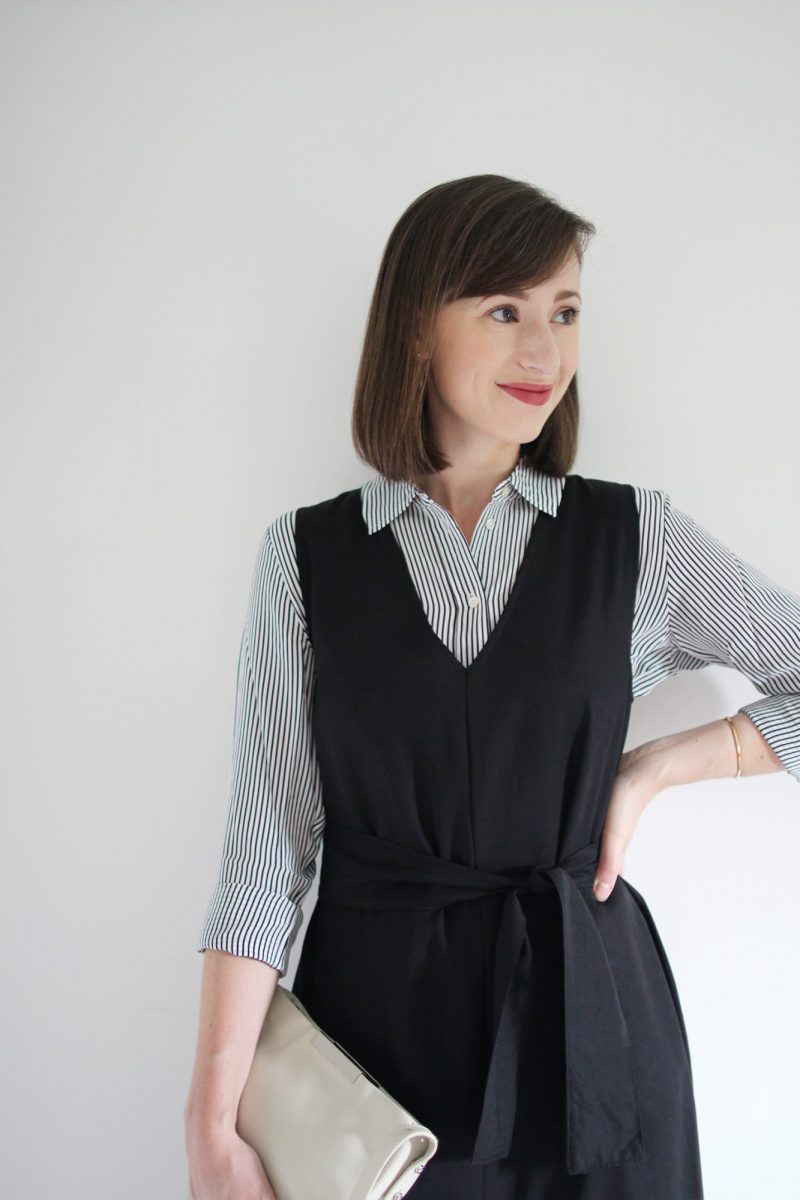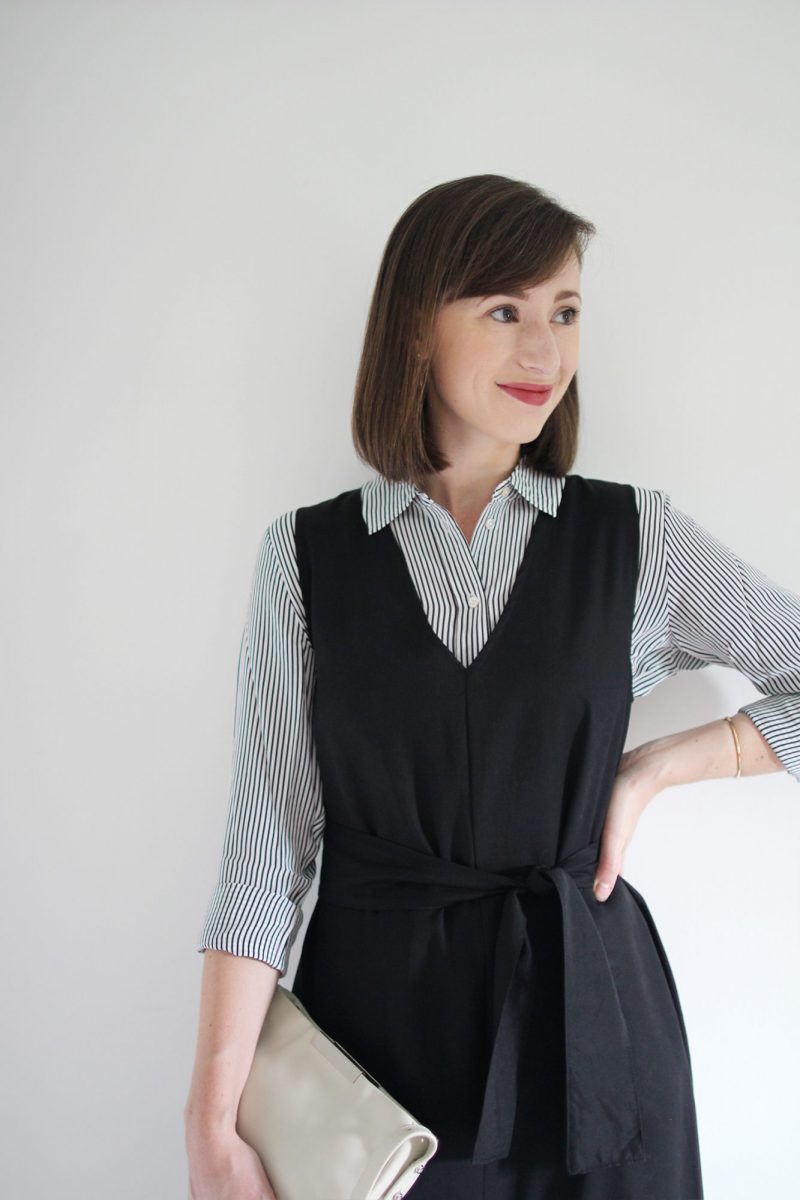 ---
STYLING TIPS
---
KEEP IT MINIMAL  – Whenever I'm trying an outfit that's a little outside of my usual comfort zone, I like to keep it as simple as possible. In this case, wearing this jumper over a striped silk shirt felt pretty bold so I kept the styling a straight forward as I could with a rolled cuff, a simple knotted belt and sleek accessories like these suede boots and a low profile cross-body bag.
TENCEL ON SILK – I love these two textures together. Silk shirts always feel great against the skin and so does tencel. The slightly heavier weight of the tencel also makes it a great top layer and the lack of friction between the two materials helps to the pieces lay flat without any bunching or twisting.
TALL BOOT CROPPED PANT – This fall I'm saying so long to cold ankles thanks to these tall ankle boots (which I scored during the Nordstrom Anniversary Sale)! I have lots of cropped length pants that need a particularly tall boot shaft in order to overlap. I'm so happy this pair worked out in the fit department and can't wait to wear them with all my usual ankle baring inseams!
---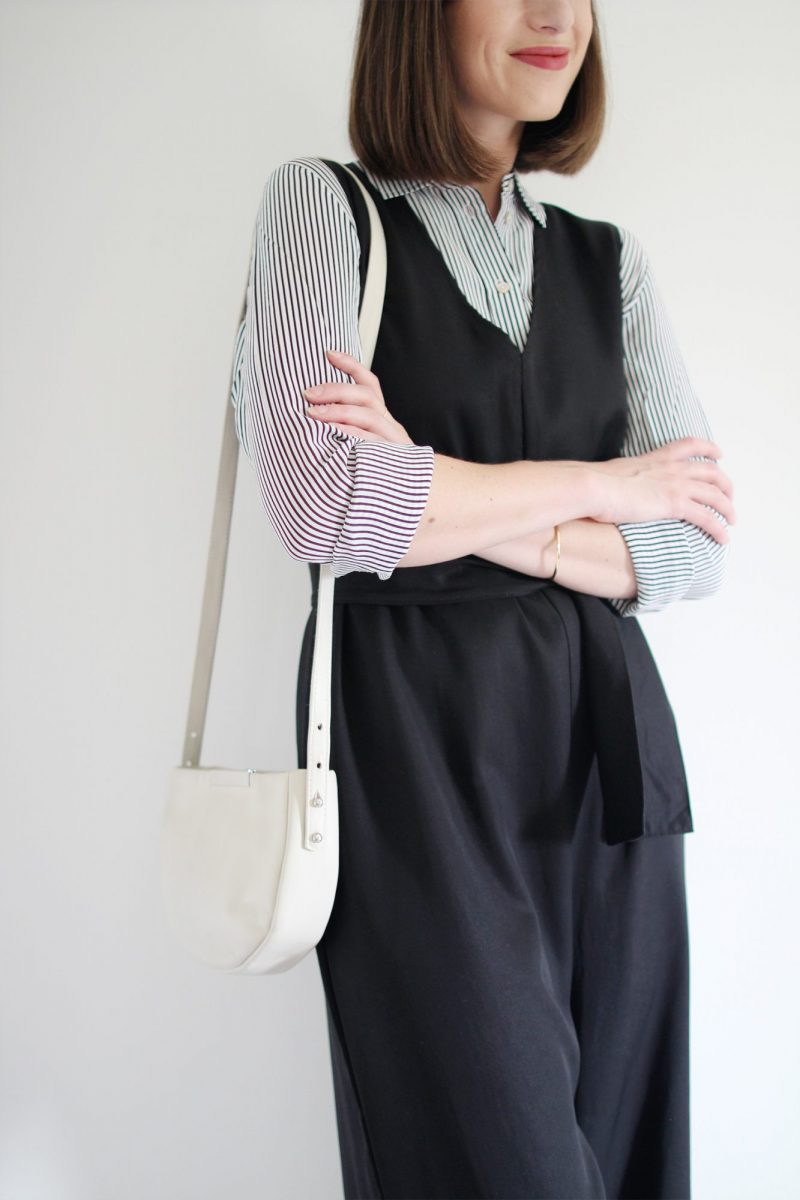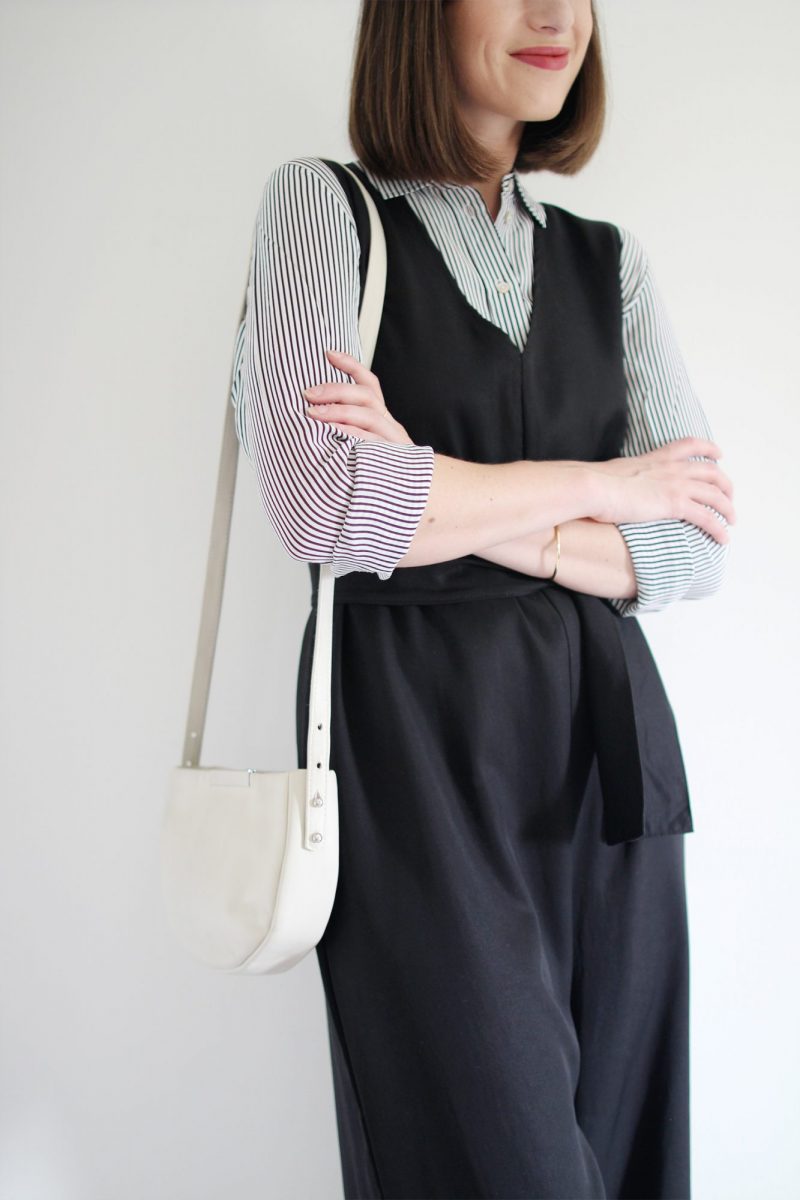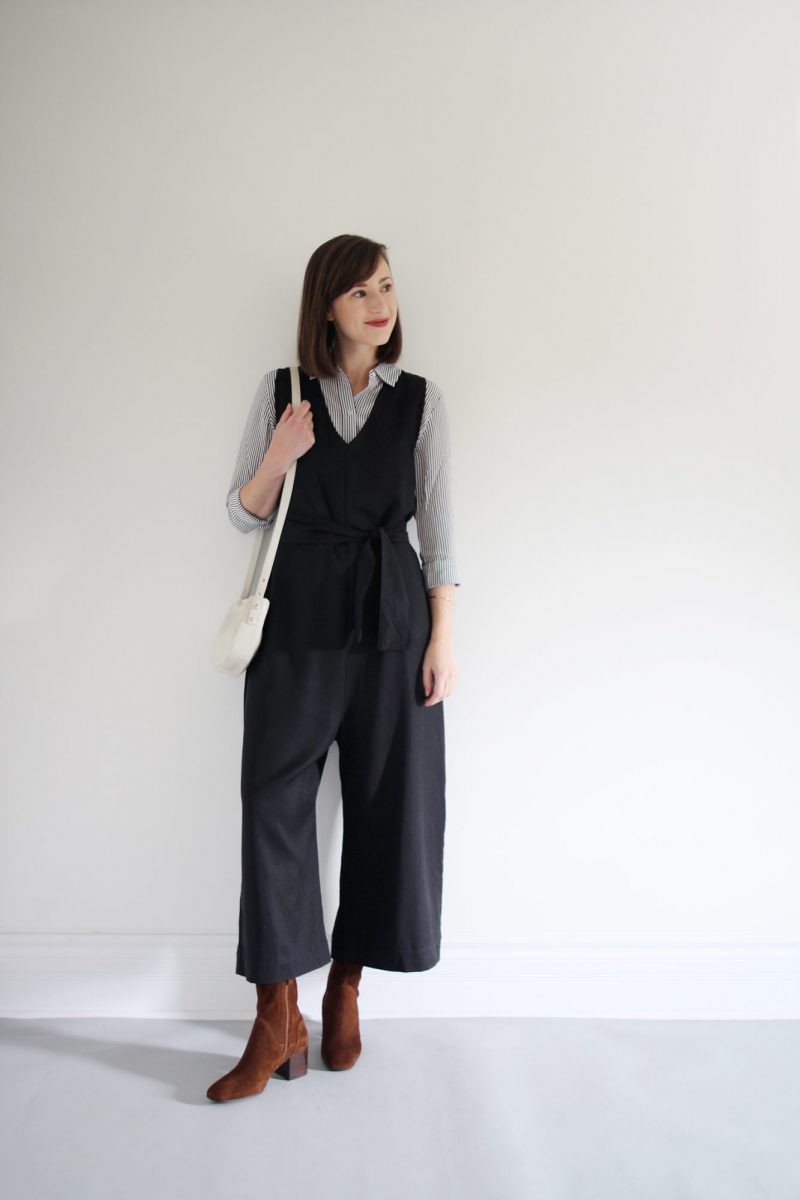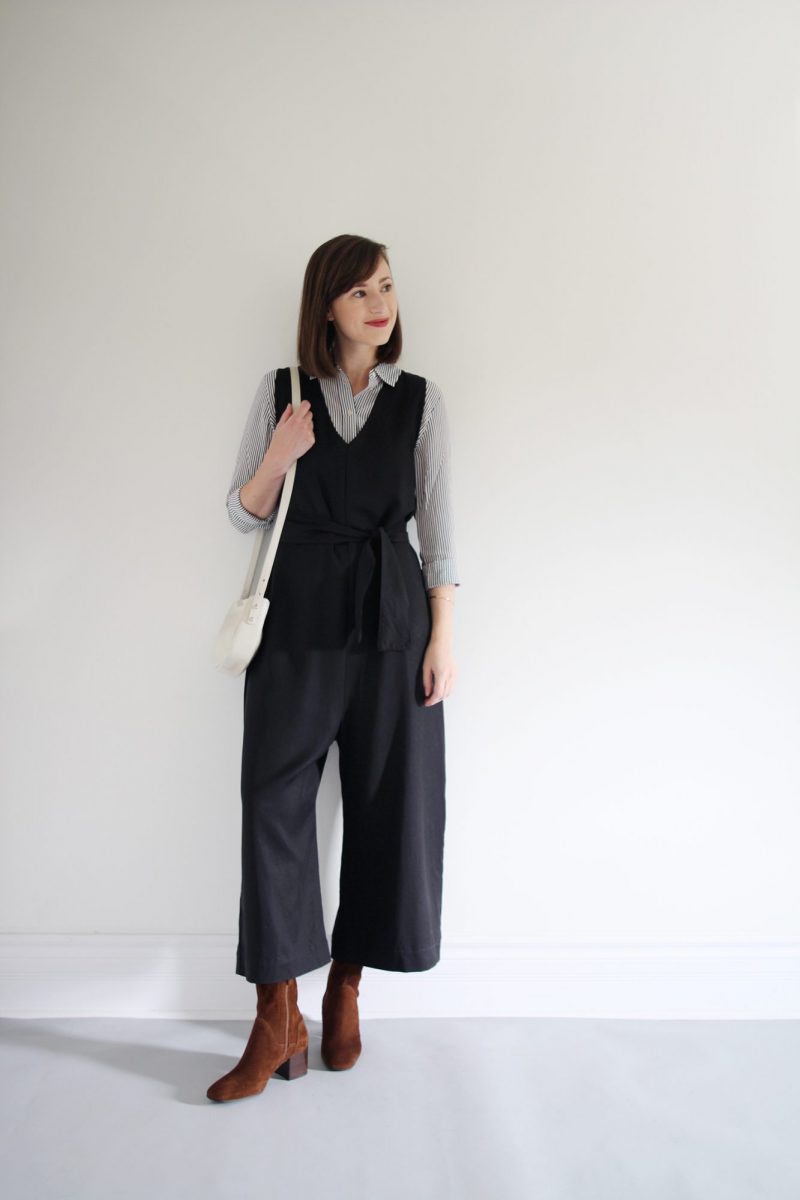 ---
SHOP LOOK 3
---

---
I HOPE THIS POST GAVE YOU A LITTLE NUDGE TOWARDS FALL STYLE!
DO YOU HAVE A FAVOURITE OUT OF THESE LOOKS?
WHAT ARE YOU EXCITED TO STYLE FOR THE COOLER DAYS AHEAD?
---
WISHING YOU A WONDERFUL WEEKEND AND LOOKING FORWARD TO SHARING SOME MORE FALL FUN NEXT WEEK!
---
This post is not sponsored but contains affiliate links. When you shop via the links above I may make commission on a sale. Thanks for supporting Style Bee! All opinions are always my own.