I'm back after a long weekend with something a little bit different from my usual style which is, a summer camping look!
Dave and I are canoe trip enthusiasts and spent this past weekend in Algonquin Park camping on beautiful Lake Louisa with our little trooper Dobby. On the way in we hauled our gear over a 3 km portage (complete with fallen trees, mosquitoes and massive mud patches) and even out-paddled a thunderstorm. It was all well worth it when we managed to find the perfect site just in time for a fireside dinner and a hazy sunset.
We spent the next 48+ hrs in the park trying our best to de-stress and unplug in the nature. It took a full day for the anxiety to wear off but was a much needed escape from a non-stop summer schedule and I'm so thankful we made it out there.
Today I'm sharing my go-to camping outfit, a list of what I always pack and some shots from the weekend, so let's take a look!
---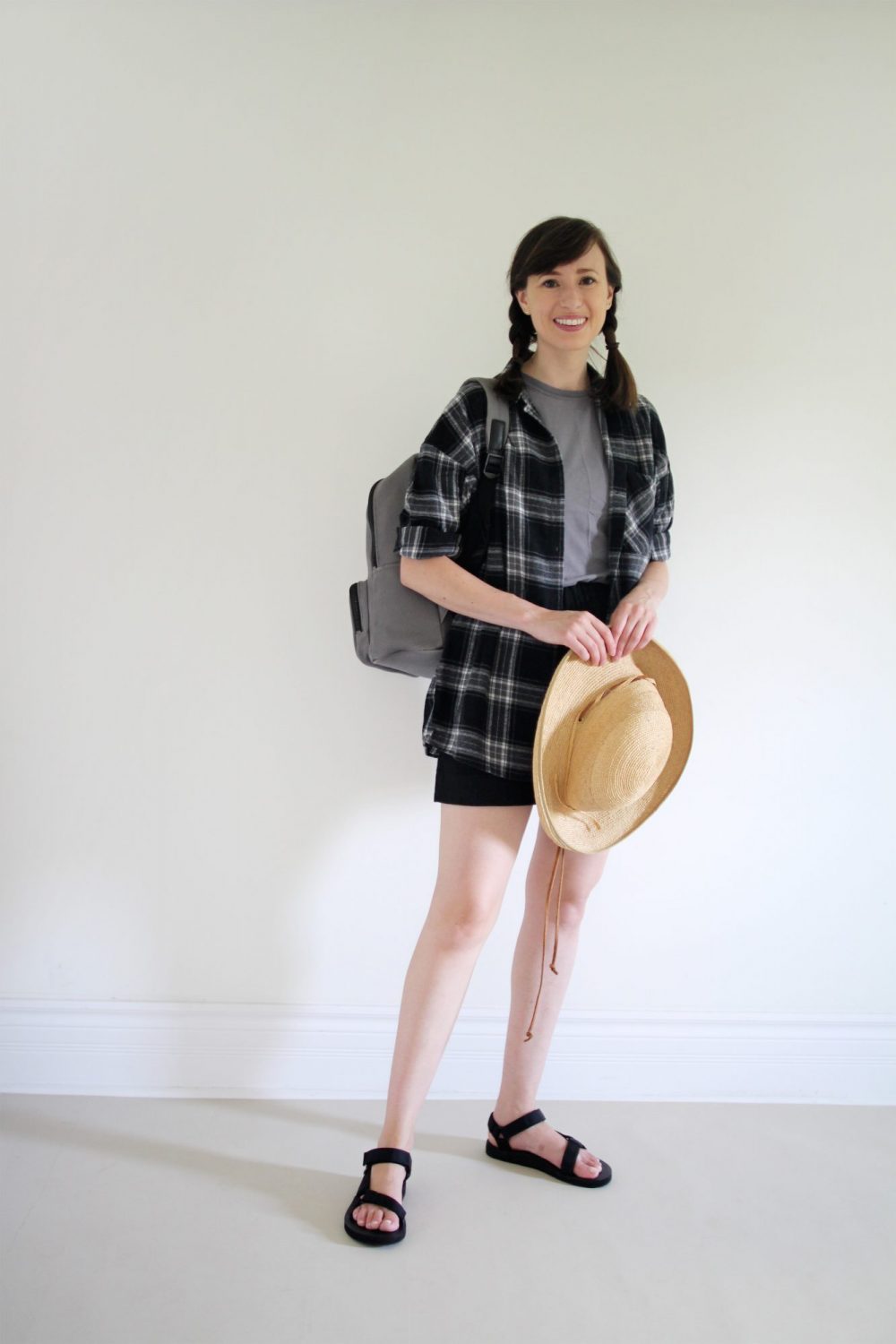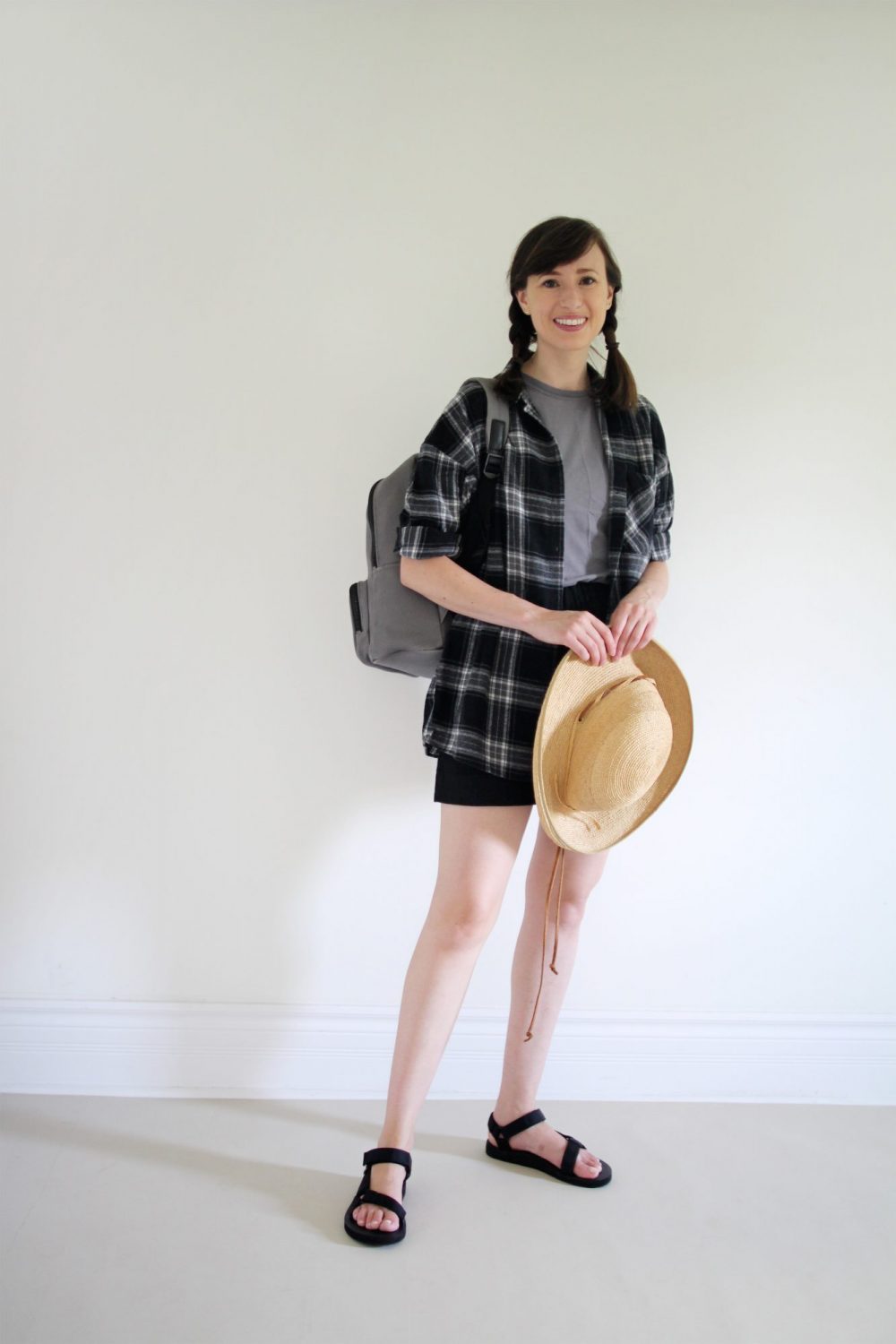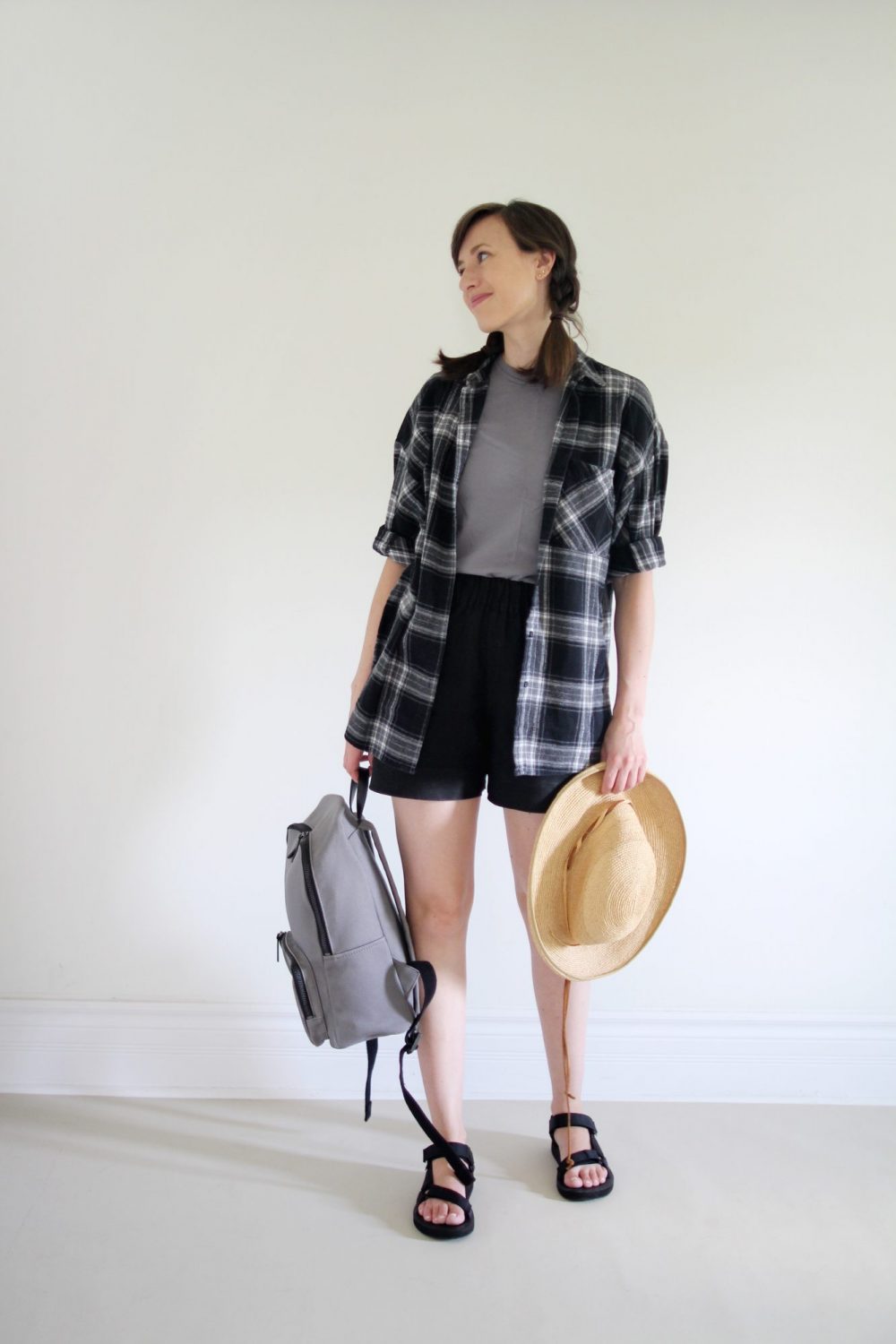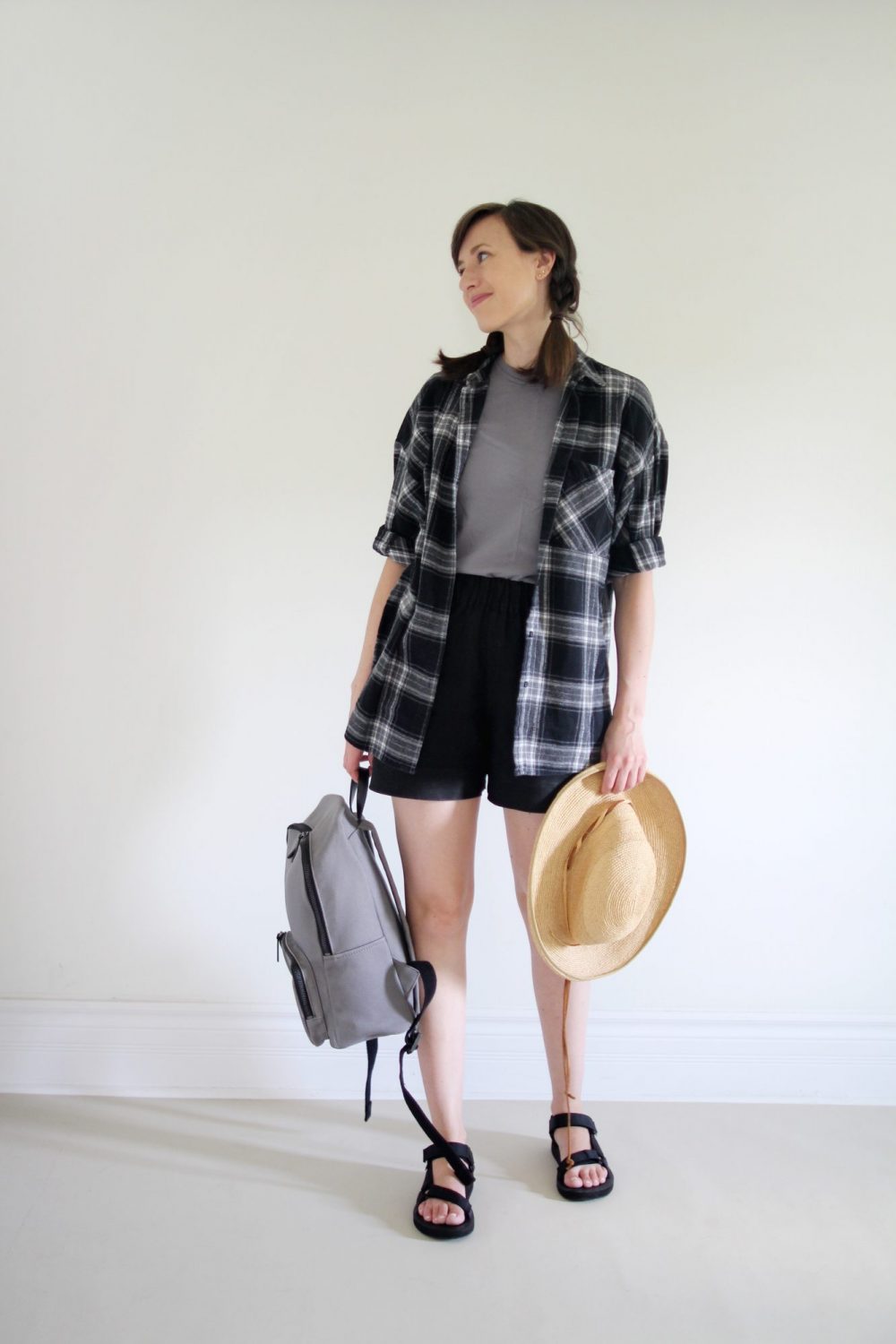 ---
TODAY'S TOPIC: CAMPING STYLE + PACKING LIST
This look is essentially my camping uniform. I like to dress comfortably and feel prepared for lots of physical activity without completely throwing my personal style out the window. I used to have a camping capsule of sorts, but now I simply pull from my loungewear and activewear capsules for pieces I know I'll enjoy wearing and always feel good in. For me that's neutrals, easy layers and timeless classics, like black Teva sandals, and plaid flannel shirts.
This weekend the only differences from this outfit were that I swapped my linen shorts for these leggings and this cute grey backpack for a massive one (my exact pack is no longer available).
The items I always pack for camping are:
Layers, layers, layers! The park gets chilly at night so long-sleeve tees or turtlenecks, big sweaters, flannel shirts and knit beanies are key for staying cozy.
Camp socks to keep my toes toasty for morning coffee by the lake and evenings fireside.
A comfy pair of vintage jeans for post portage relaxation. This might not be the popular opinion but I swear by denim in the park. The main reasons being that jeans are thick enough to block bug bites and durable enough to withstand branch snags, rock scrapes and most ember encounters from a roaring fire. Plus, you can pull on jeans when you're cold or ditch them for a dip in the water!
A sun hat for time spent in the canoe with a broad enough brim to cover my neck and most of my shoulders. My Mum lent me this Tilley hat years ago and I think she knows by now that she's probably not getting it back. Sorry Mum!
Teva Original sandals are a great budget-friendly camping shoe for trekking through the woods, navigating rocky shorelines and swimming. They dry fast, grip well, feel great and haven't let me down yet. Even on slippery terrain with a 75 lb pack!
A head lamp for when the sun goes down and you still want to see where you're going or what you're eating!
---
OUTFIT SOURCES: T-SHIRT gifted (colour n/a more options via link) (I wear XS) | SHORTS (I wear an S but they run a bit tight in the waist) | TEVA ORIGINAL (runs TTS) | FLANNEL SHIRT* old (easy item to find at your local thrift store) | BACKPACK* gifted old | HAT* old | *linked to similar
---

---
A FEW SNAPS FROM OUR TRIP
---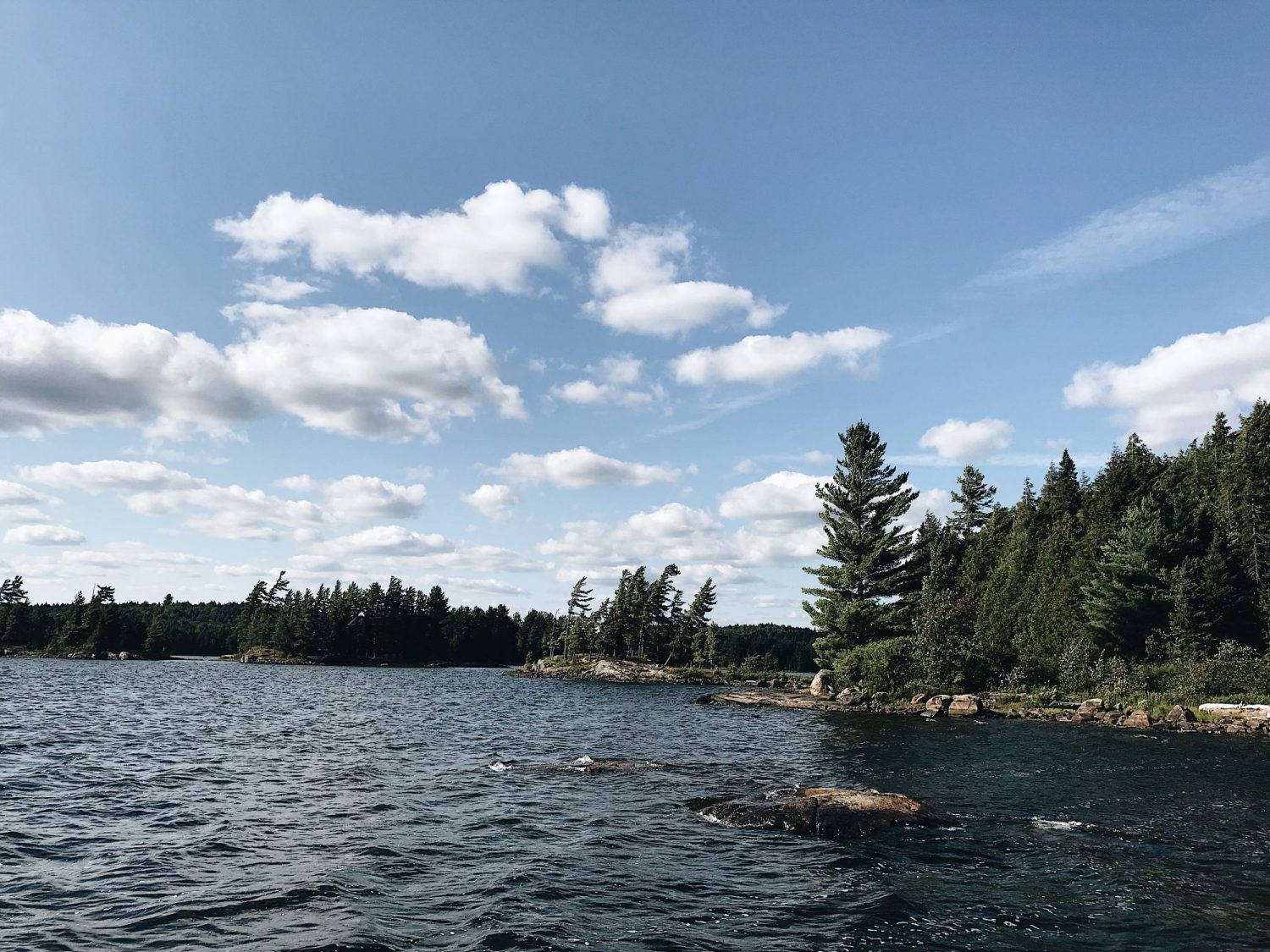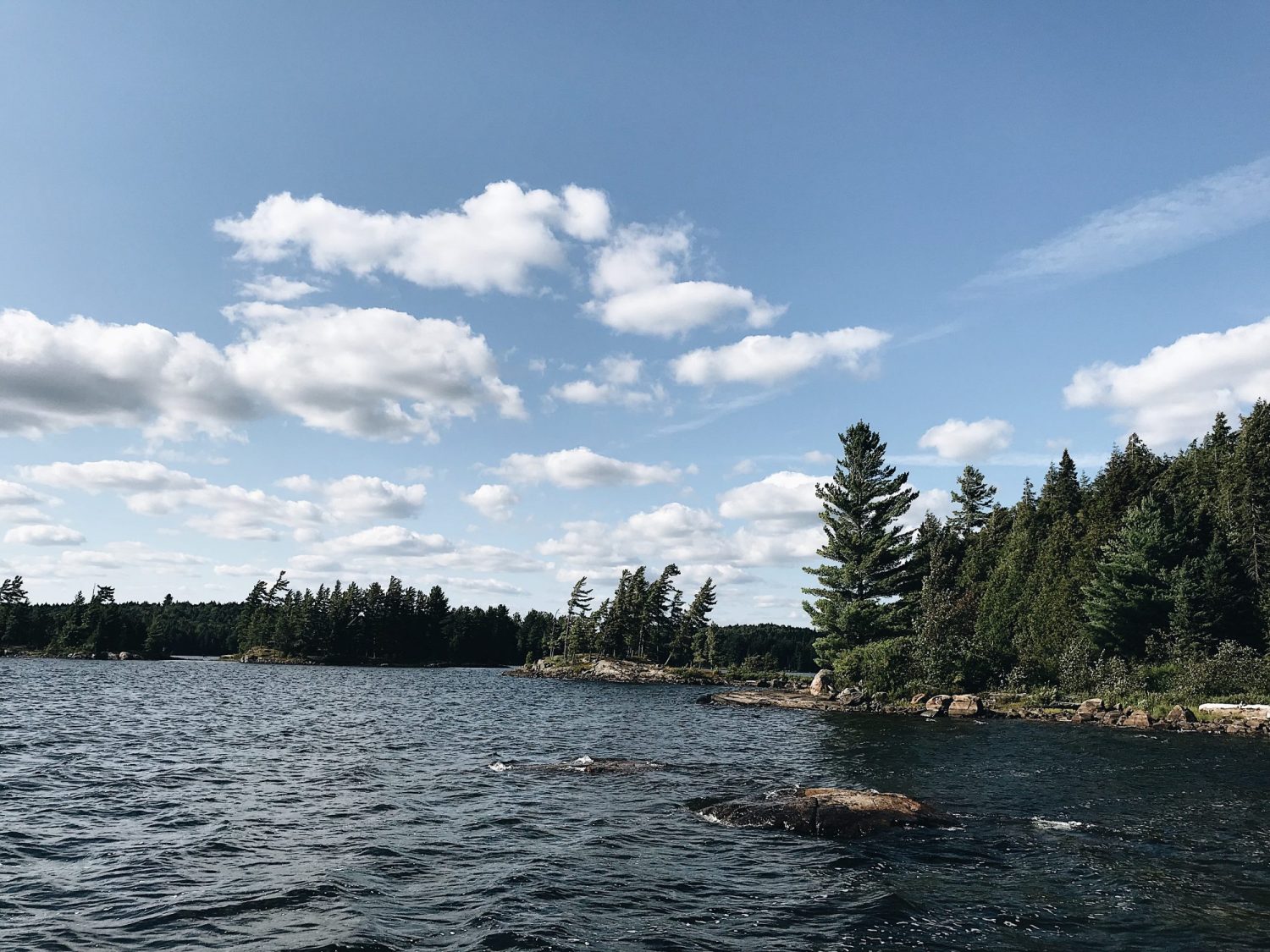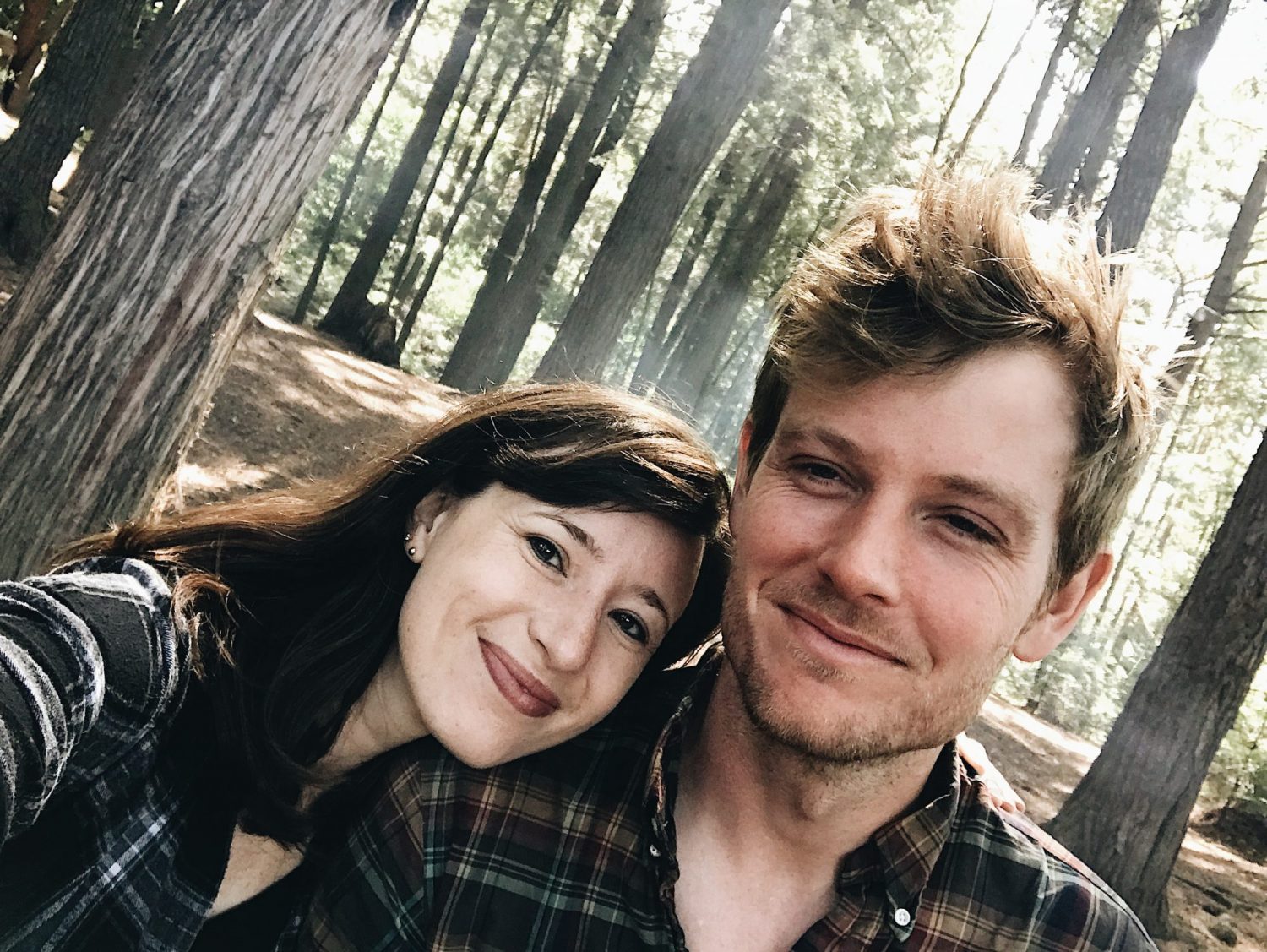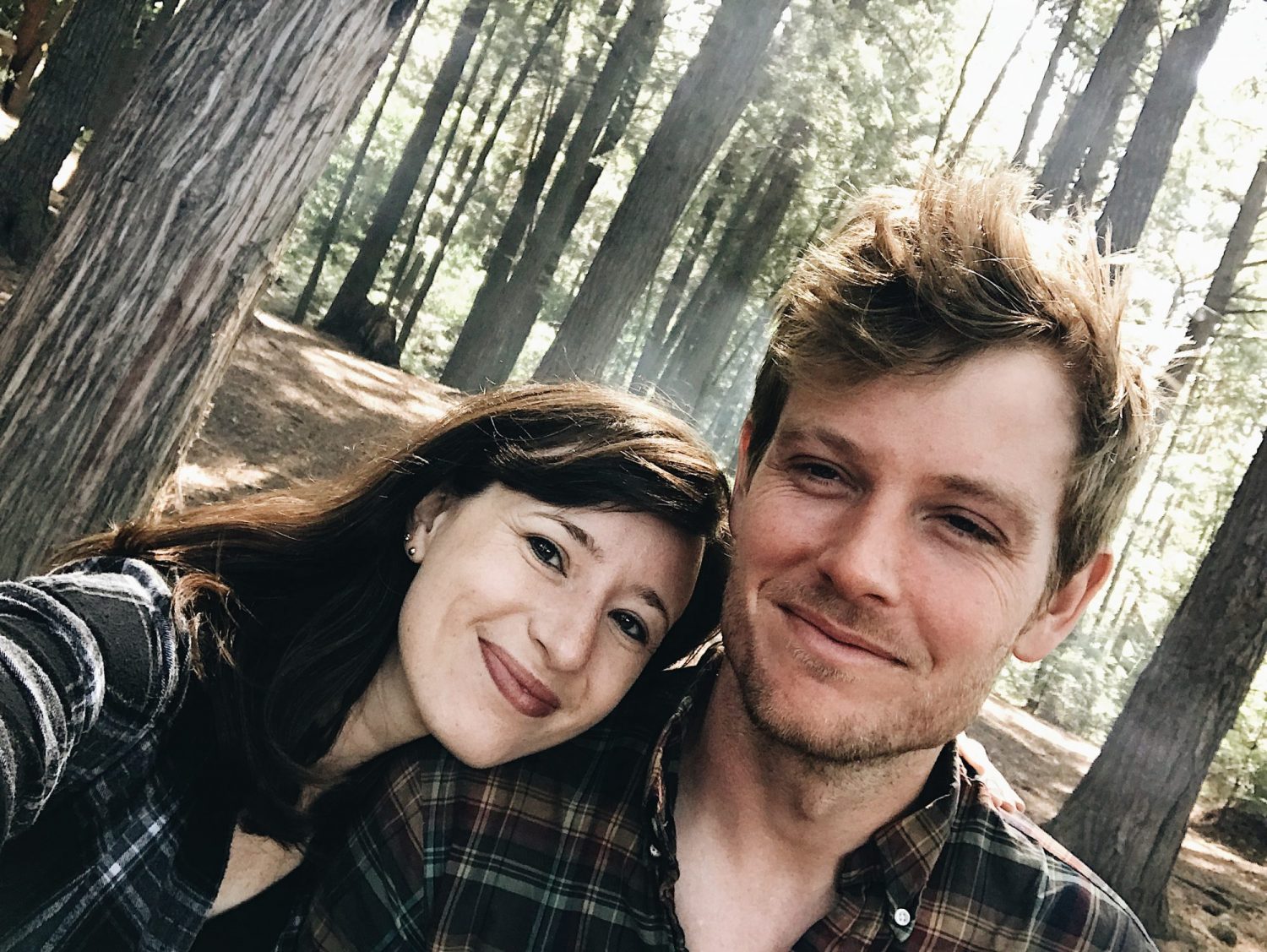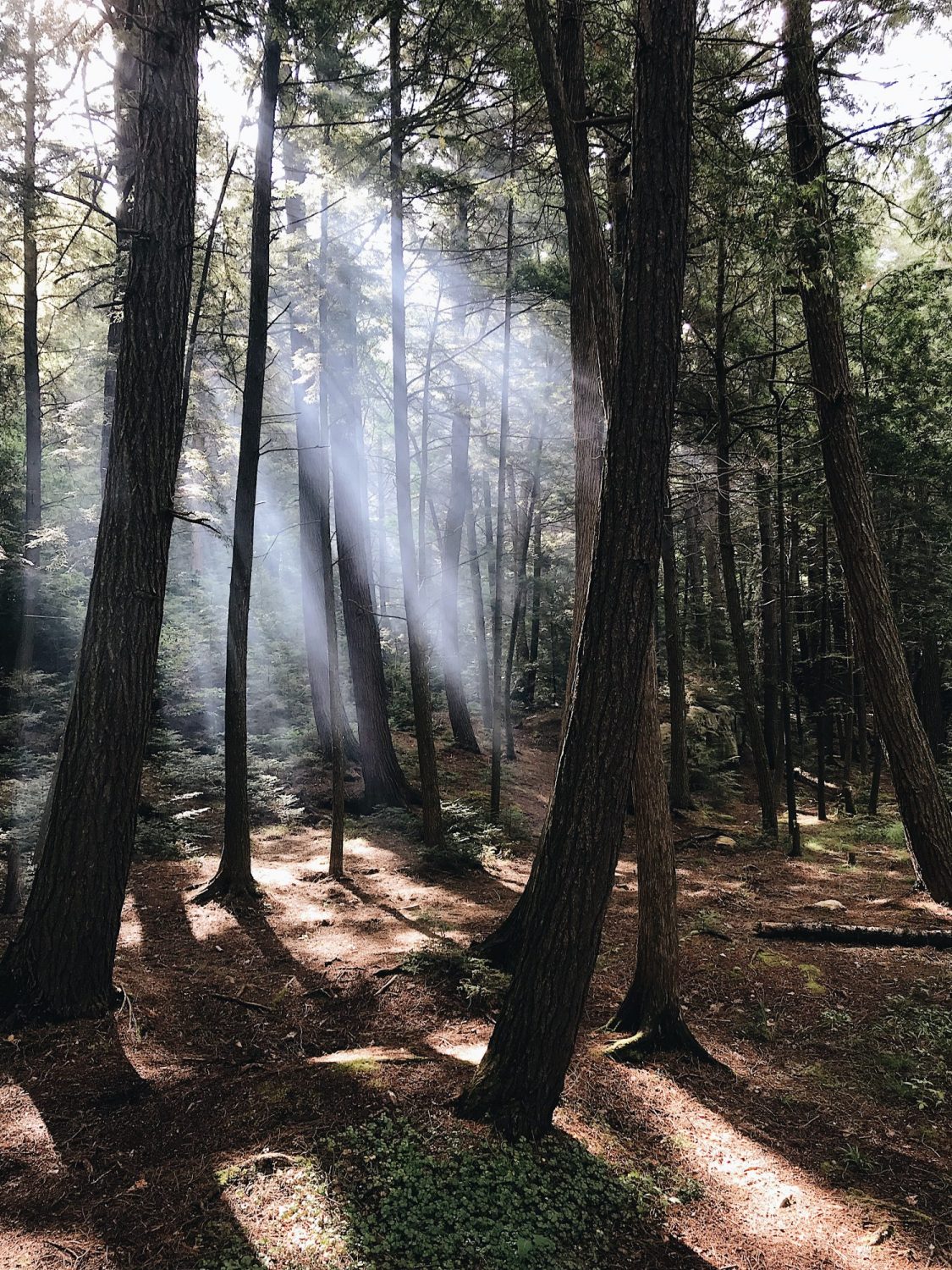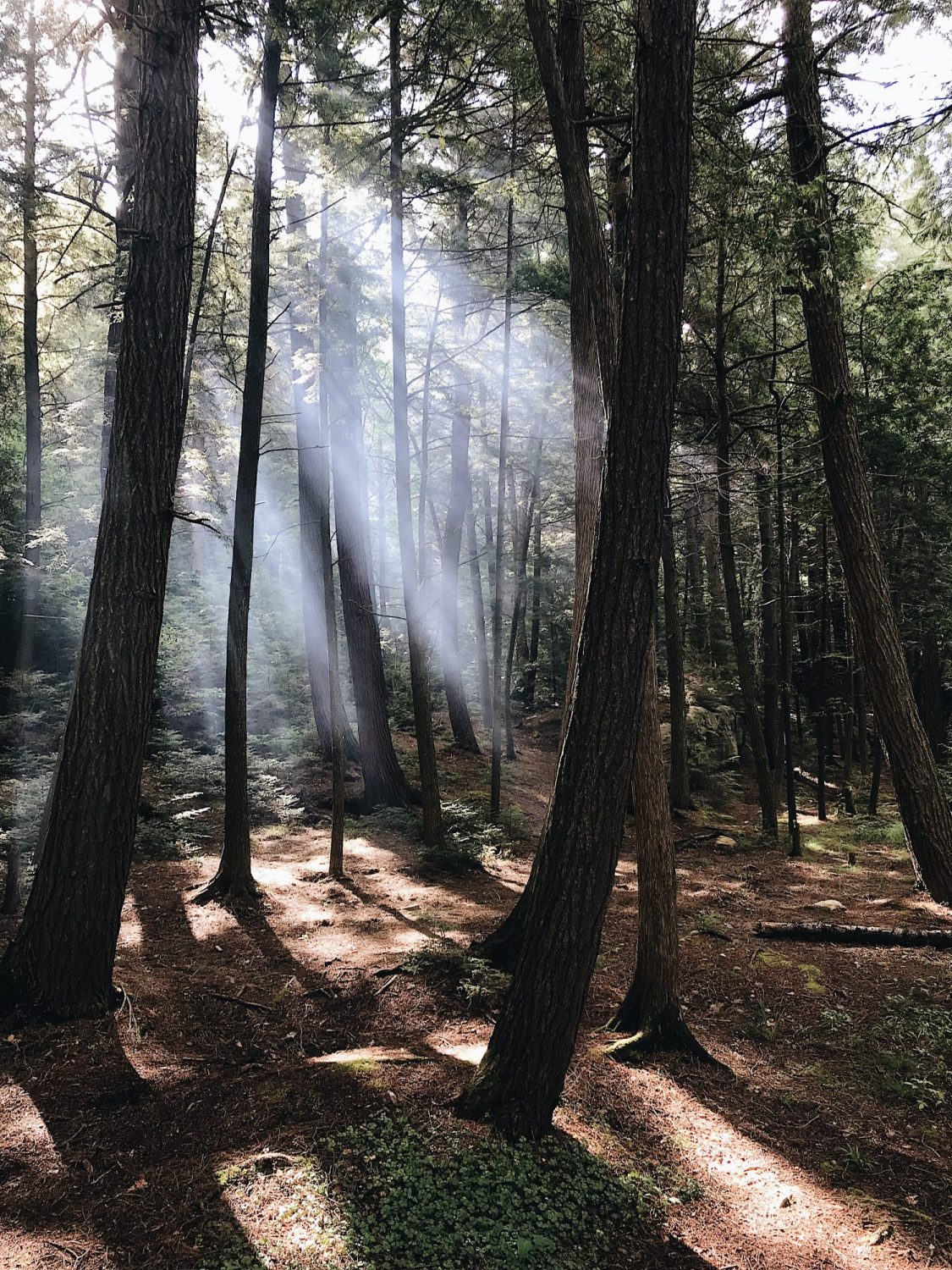 ---
ARE YOU A DEEP WOODS CAMPER OR MORE OF THE GLAMPING TYPE?
I'M DEFINITELY DOWN WITH EITHER SO NO JUDGEMENT HERE!
---
THANKS FOR READING!
SEE YOU TOMORROW WITH HOW I STYLE ONE OF THESE CAMPING ITEMS FOR A REGULAR DAY.
---
This post is not sponsored but contains some gifted items and affiliate links. If you see something you like and decide to shop through the links above I may make commission on a sale at no additional cost to you. All opinions are always my own. Thanks for supporting Style Bee!