Friday's finally here and I'm in disbelief that this was a 4-day week up here in Canada, because it felt a lot longer! But kind of in a good way. The days were long but chock full of good stuff. I've been loving your thoughts on my looks so far and so inspired by the outfits and insights those of you who are participating have been sharing. Really, it's such a treat to explore the #stylebee10x10 feed.
If you missed the start of this challenge please don't let that stop you! You can absolutely jump in at any time. Plus, there's a winter remix in the works with my girl Caroline at Un-Fancy and there's already a few other fabulous bloggers at the ready too, so you'll have another chance to join in then. We'll try and give lots of warning before it starts. 
Now let's take a look at #5 and come to terms with the fact we're at the halfway mark already!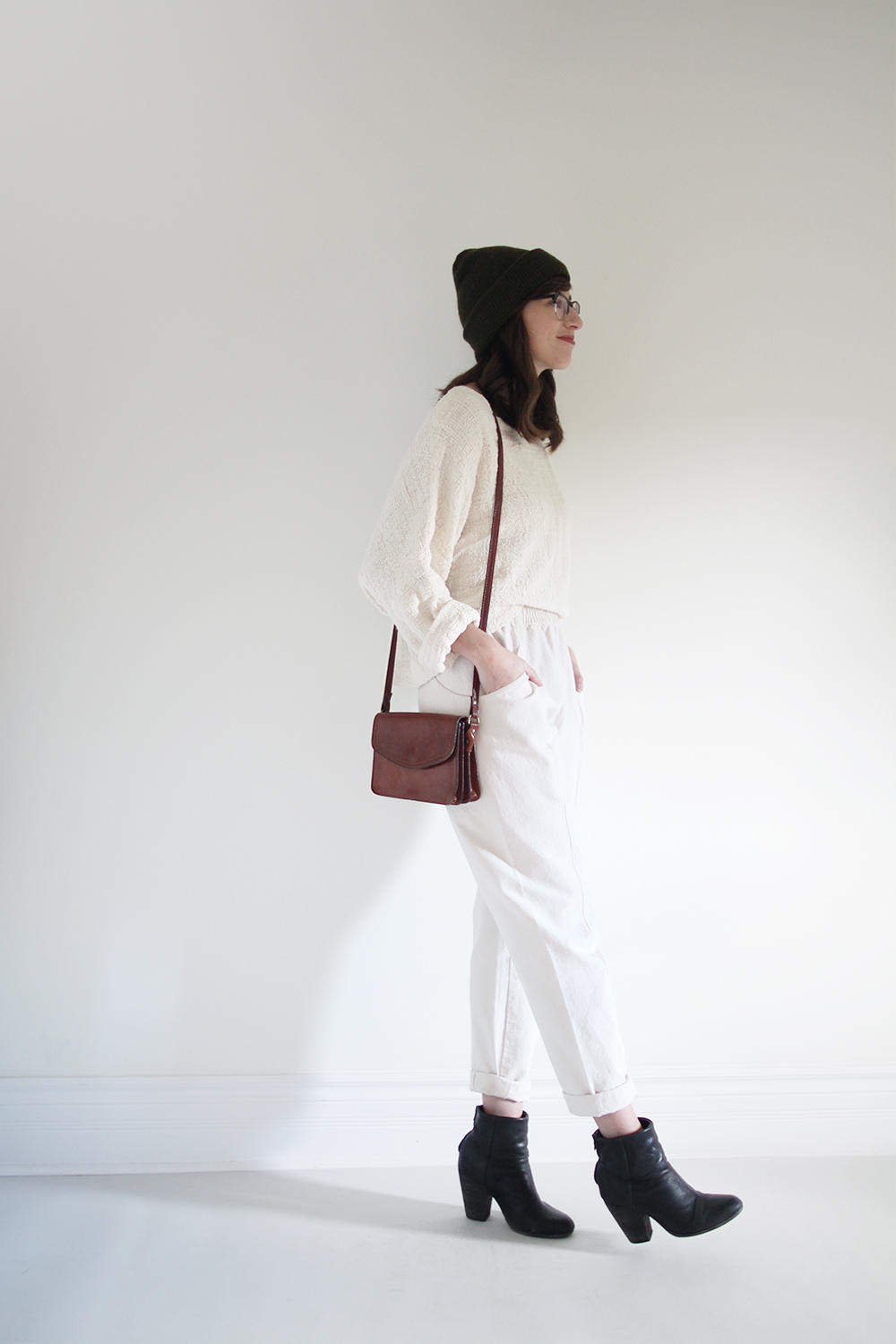 ---
INITIAL THOUGHTS
Compared to yesterday's look, it's hard to believe this outfit is derived from the same 10 x 10 closet! Yet, as different as they are, I like them both. This one is definitely outside my typical style comfort zone, whereas yesterdays' was well within, to the point where I felt it was almost too safe. So it's good to turn the tables a bit.
I'm undeniably cozy in this one, that's for sure. It's perfect for a chilly Friday spent hunkering down at my desk trying to polish off layouts and return emails before the weekend begins.
I started the day a little concerned with keeping these pants clean but then I figured, if they get dirty, I've got the weekend to wash them. So far they're on their 3rd or 4th wear since the last wash and still looking great!
Will I wear this outfit again? Probably not, but I'd wanted to try it long before the challenge was even underway, so I'm glad I did. I decided not to worry about how flattering, slimming or whatever else I've been thinking an outfit 'should' be and just went with what felt right. Thanks for the confidence boost on Tuesday friends!
I'm already tempted to switch the boots for my oxfords and then the purse for my Eloise bag and I just might. Even if I do, I quite like how this look came together and know the heeled boot definitely gave me the extra height I felt I needed to try this pant and sweater combo to begin with.
I'm loving the look of this beanie (toque if you're Canadian) with these glasses and a few waves in my hair. Might become a go-to look for Winter, so that's definitely a worthwhile discovery! The great thing about this 10 x 10 challenge is that sometimes you uncover elements unrelated to your clothes, that are still just as helpful to your lean closet and personal style.
---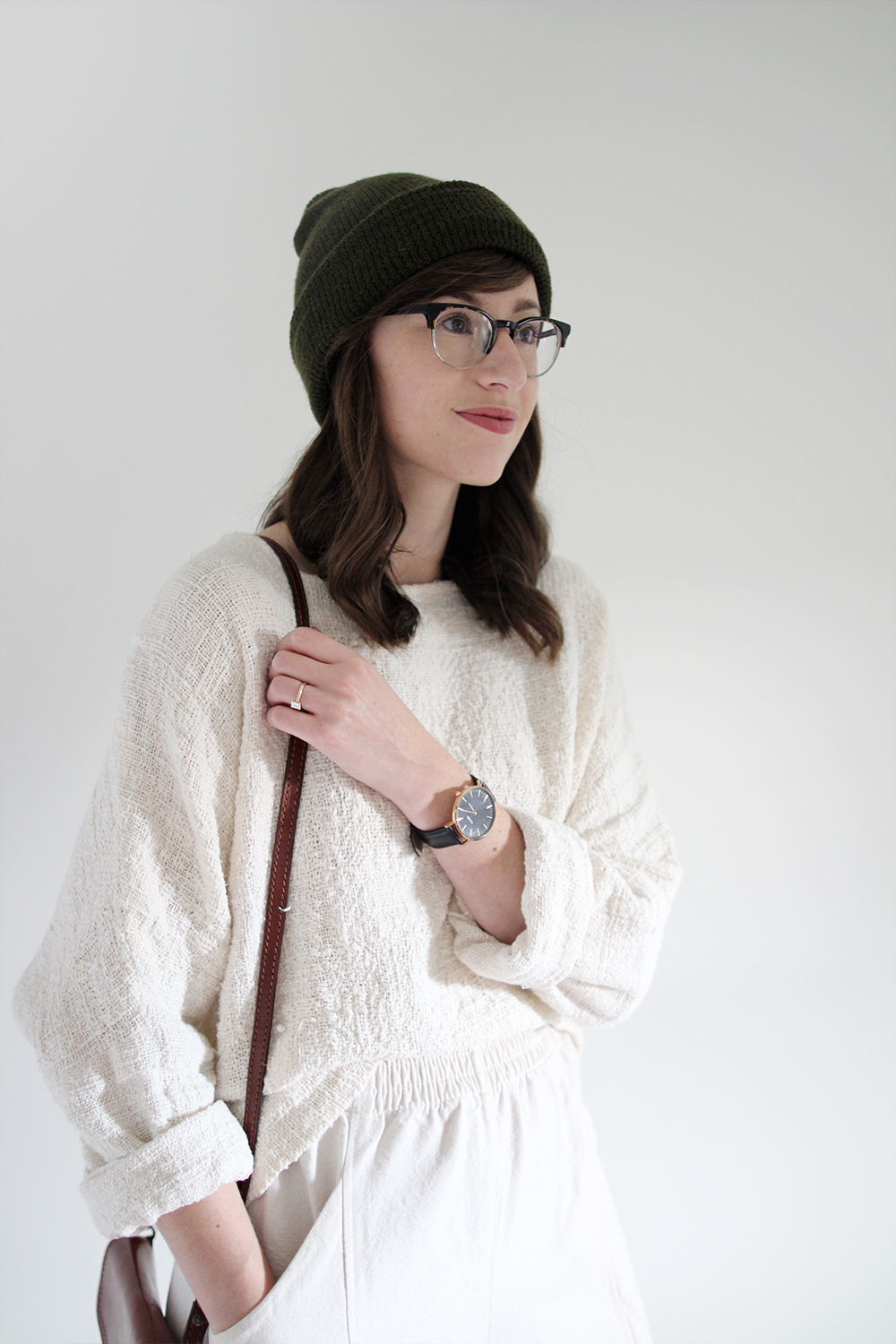 ---
It is indeed time to take a look at the Clyde Work Pant! I know I featured pants yesterday, but since I always get lots of inquiries whenever I feature these I thought we should explore them now (rather than wait until next week). I bought this pair when they were first released during the Elizabeth Suzann Spring Collection of 2015. I thought they were genius and was immediately drawn to their utilitarian qualities. Since then I've worn them on the blog a few times (here, here and here) but they get a lot more use in real life. So how about another belated review?
Do they soften, stretch or shrink? – Soften, yes, a lot! When I first got them they were proper cotton canvas, so pretty tough and sturdy. But now they've softened up a lot and feel better than ever. Stretch, not so much. Shrink, not a bit, I always air dry though.
What size am I wearing? – I bought a size Small at the time. I would say these are probably how a size 2 or 4 Regular would fit now. I have a pair of wool Clydes in a size 4 Regular and they're quite slouchy, see the fit here. For reference I am 5'7" and 125 lbs.
Is the elastic waist stretchy? Yes, but it's quite sturdy on these but perhaps they've adjusted it since. While it's elastic it doesn't stretch out or loosen up too much. The new band looks a little softer on the model and it's got more give on my wool pair.
How much are they? – $245 USD
Where are they made? – Nashville, TN.
How do you keep them clean? – They're certainly a lot more resilient than you'd think for a while pant. The tough canvas fibres seem tough for stains to penetrate so I can usually get away with a spot clean or scrape. For something more serious like mud or wine I simply use stain remover and wash them to bring them back. I let them air dry and iron them for a super smooth finish.
Do they ship to Canada? Yes
Did you need alterations? No.
OVERALL RATING – 9/10
---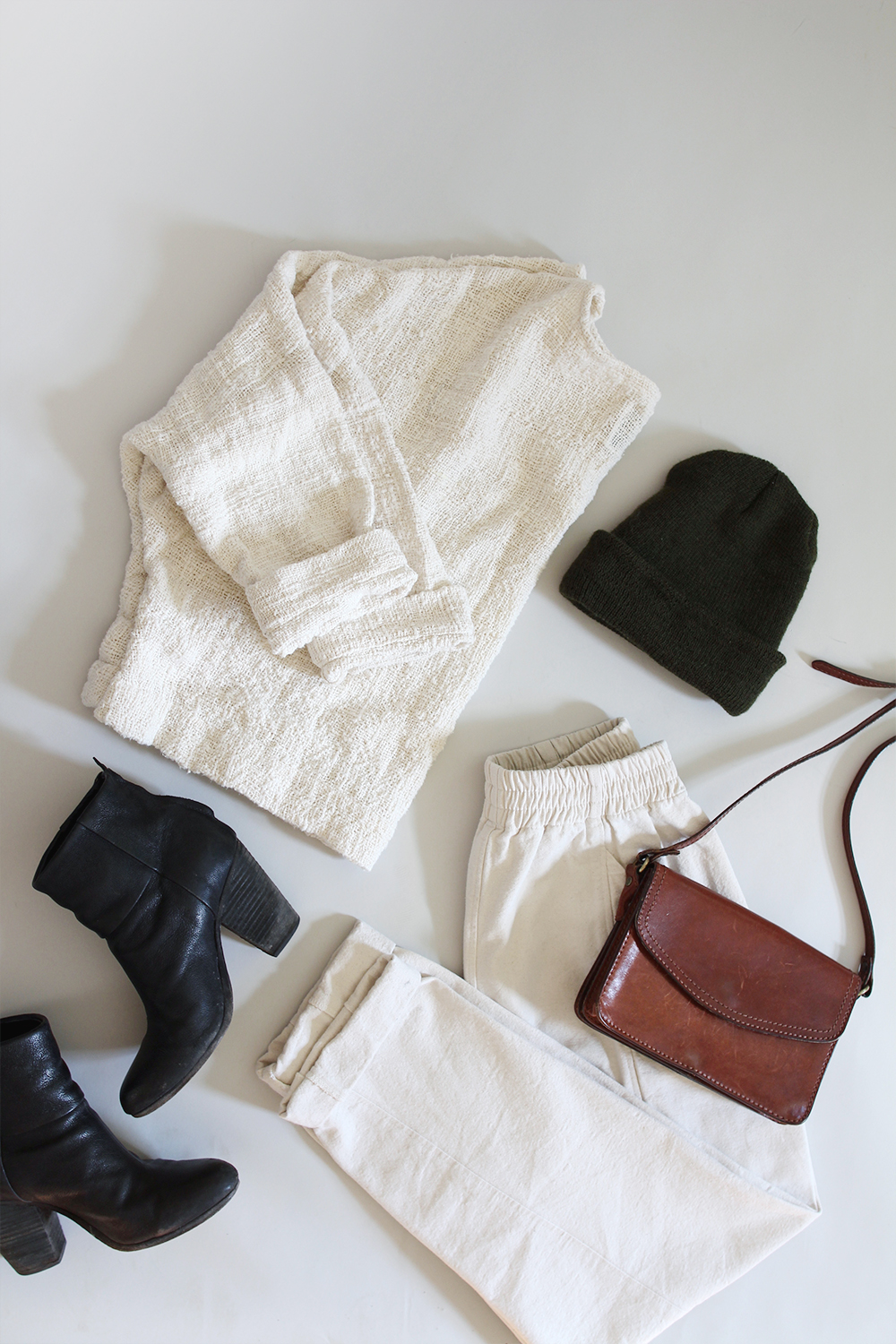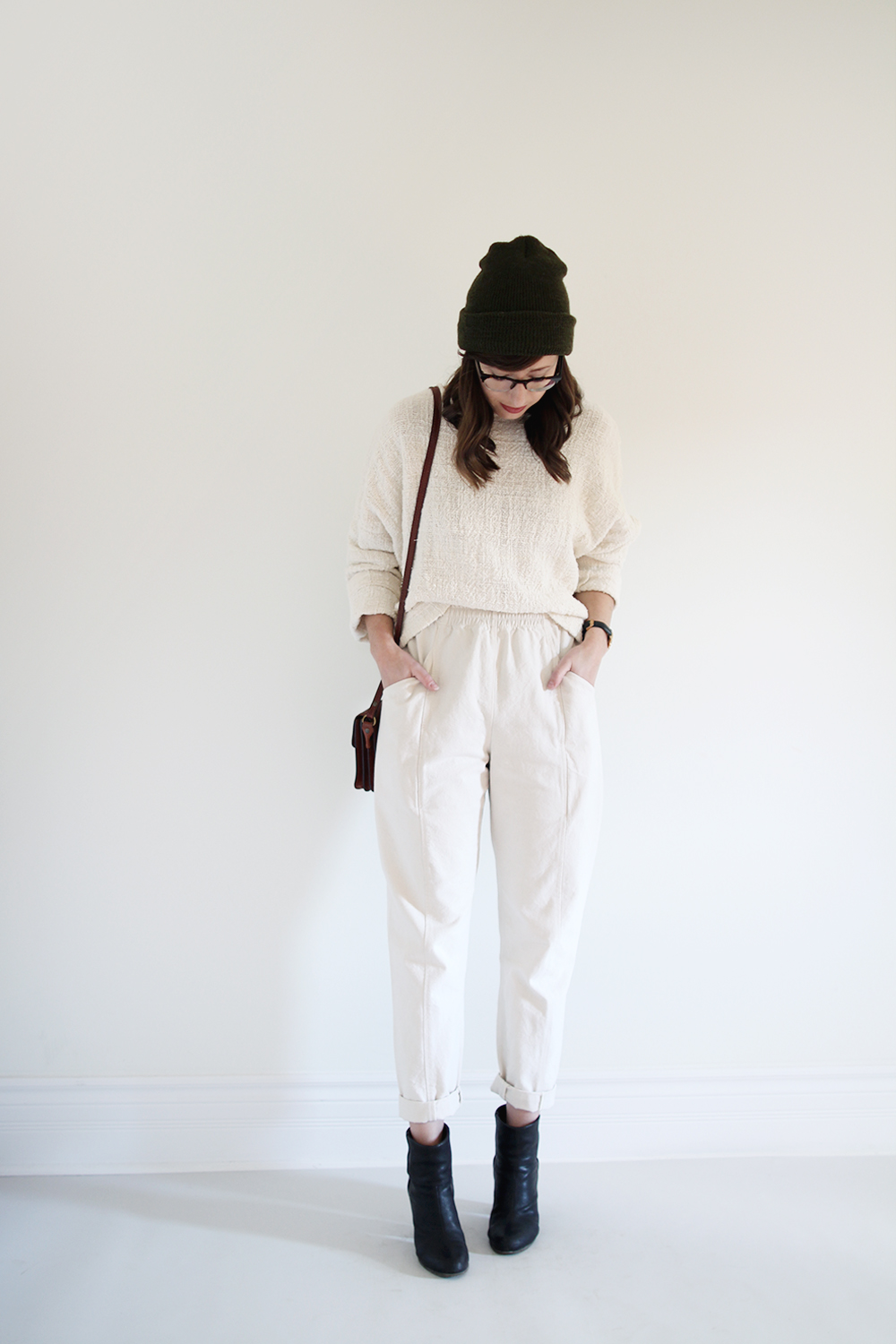 ---
STYLE + FIT DETAILS
I'll confess, I really didn't think too hard about this look, I just wanted to see it through, but now that I take a closer look there are definitely some elements that stand out.
1 | TEXTURE | Whenever I pair two items of the same colour I do try to mix the textures to create interest and contrast even though it might not stand out immediately. The thing about this sweater and these pants is that they're both made from beautiful, highly tactile materials that are quite visible, especially in person. I even think the bit of waist band that's showing helps to create a third texture and subtle border between the two.
2 | FULL COZY | I definitely went 'full cozy' with this look. I didn't try to offset the soft sweater with something sleek, instead I opted to add another knitted element with the wool beanie. I didn't attempt to Even though the boots are high heeled the leather is soft, well worn in and the heel is sturdy and stacked. All these items work together to create a seriously comfy vibe.
3 | VERTICAL LINES | I know these pants aren't conventionally slimming but they do have one element that I'd previously overlooked, which is the center seam on each leg. This detail is critical, and to me, creates a visual focal point that counteracts their baggy tendencies. The same seam runs down the back as well.
4 | LIGHT + DARK | While the base of this look is obviously a natural off-white, I wanted to steer it away from being too 'precious' so I added the black leather boots, dark green hat and oxblood bag to infuse some fortification throughout.
5 | FRONT TUCK | I've been dabbling with full tucks throughout this challenge but this outfit was begging for a good ol' front tuck. This sweater is so slouchy that it lends itself well to this styling detail and creates a very necessary visual mid-point.
---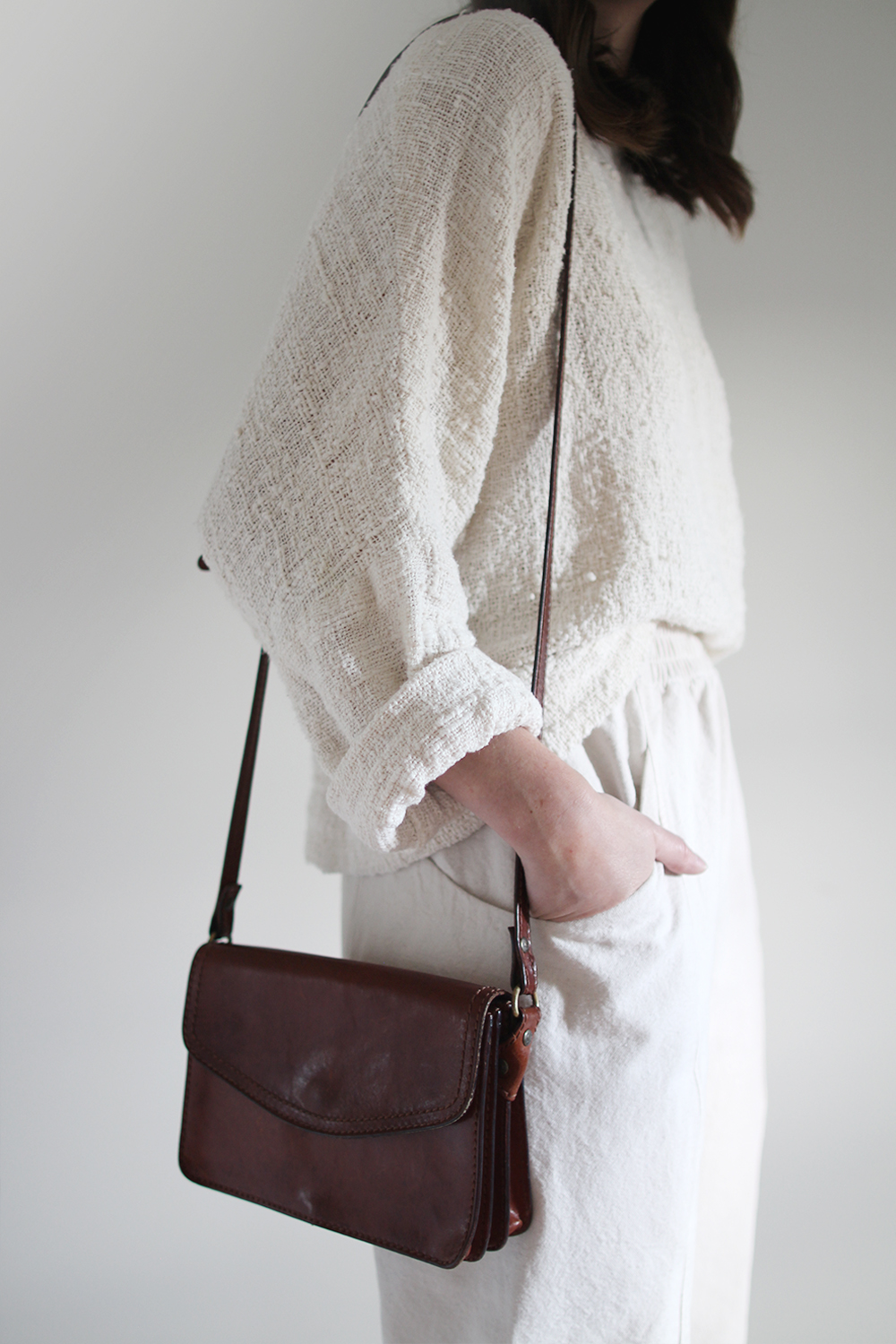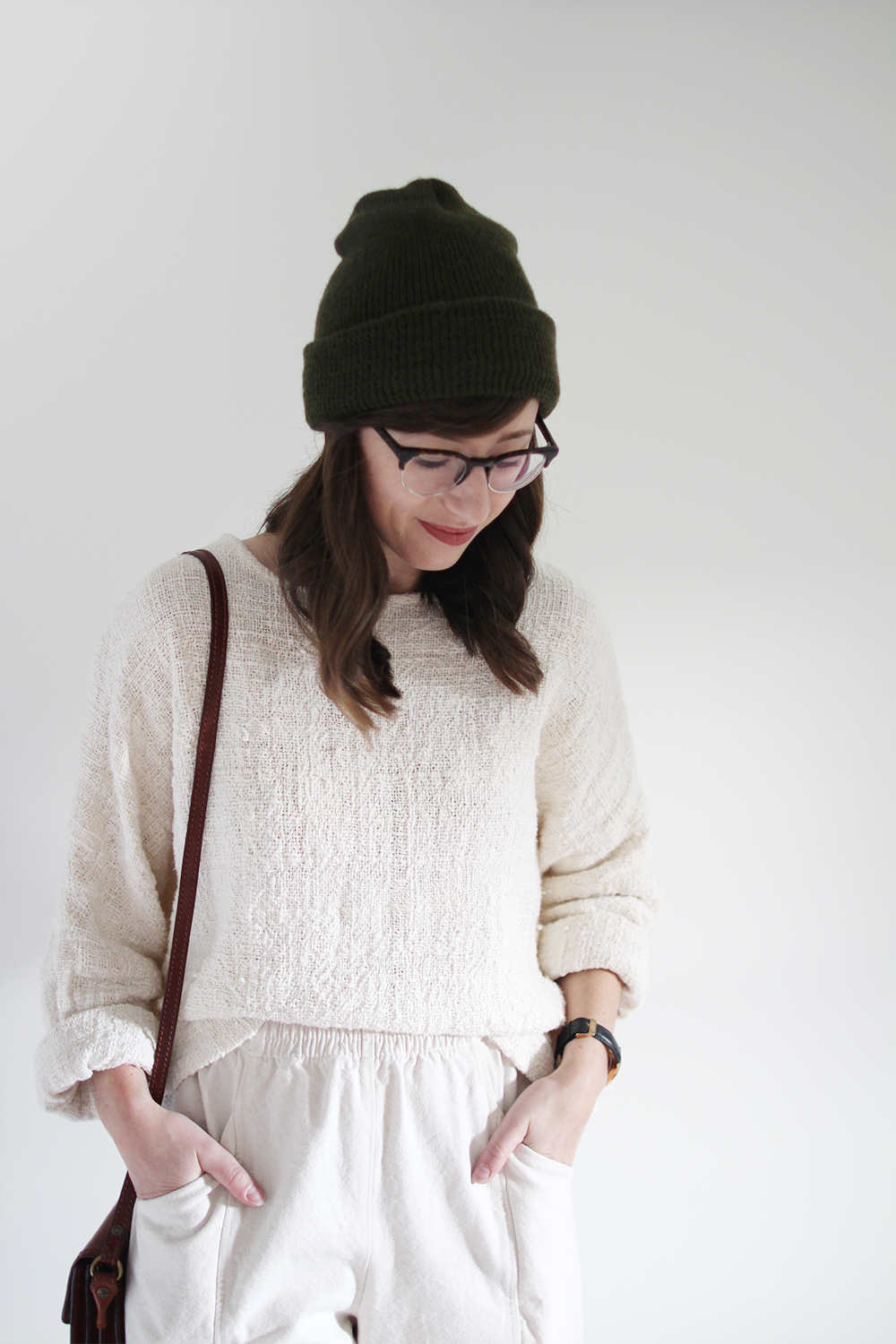 ---
And that's just about all I have to say about that!
Wishing you all a wonderful weekend! See on Monday with Look #6.
---
---

---
This post is not sponsored but contains affiliate links. When you shop via the links above I may make a small commission from a sale. All opinions are my own. Thanks for supporting the brands that support Style Bee!