These days I've been gravitating towards simplicity. Instead of creating a new outfit everyday, I'm finding that repeating items with a quick swap here and there makes for a fresh look with minimal effort. I've also been living in my favourite warm weather pieces because as much as I love fall, I'm not ready to bid summer adieu entirely.
When it comes to fashion we've been trained to always look ahead for what's next and what's new. Here on Style Bee I try to resist that urge and the stress it can bring with it. I love fall as much as the next blogger but I've also learned that savouring the season I'm in means I wear more of my closet and this helps me appreciate what I already have so much more.
Scroll on for 7 late summer looks to inspire your style right now & you'll also find:
One pair of quintessential flats I've been testing.
A minimal, made-in-Toronto, reusable face mask worth considering.
My new office rug that you'll be seeing more of. (+ a sweet discount code that never expires!)
Let's tuck in!
---
This post features a few gifted pieces, discount codes and affiliate links from some independent brands I love. If you're in the market for any of the items mentioned, great! If not, I hope this post gives some helpful information or inspiration either way.
---
LOOK 1
---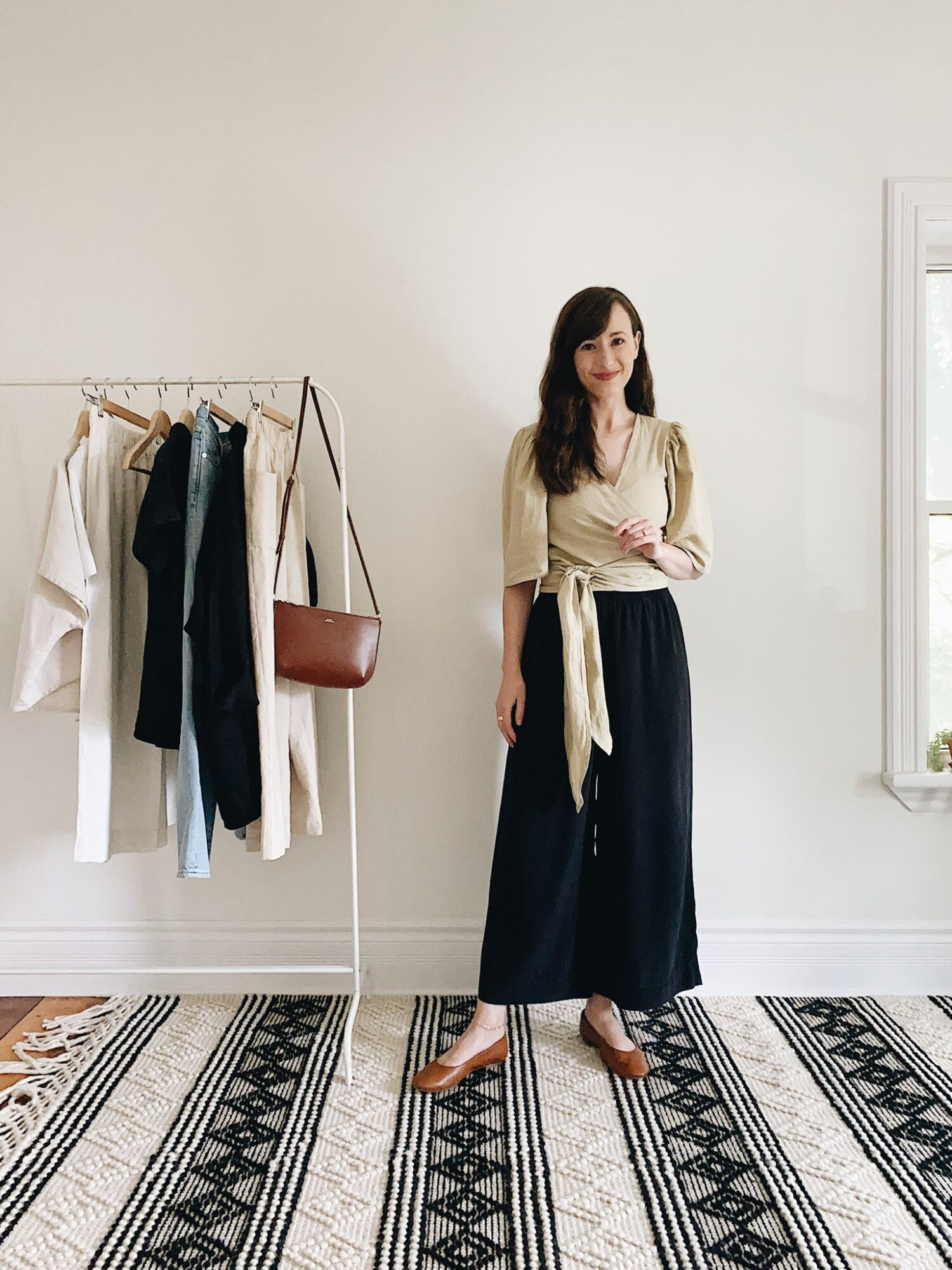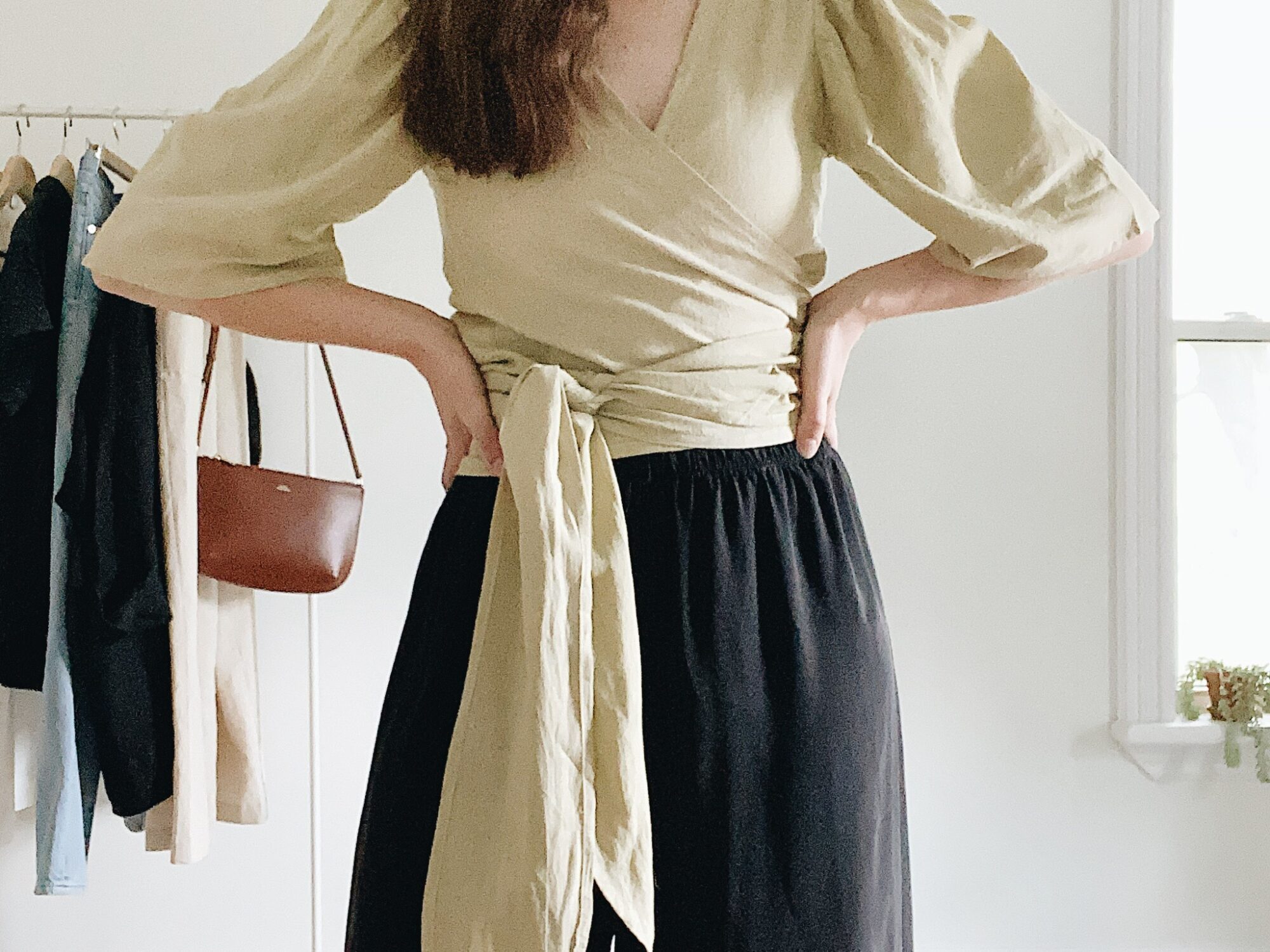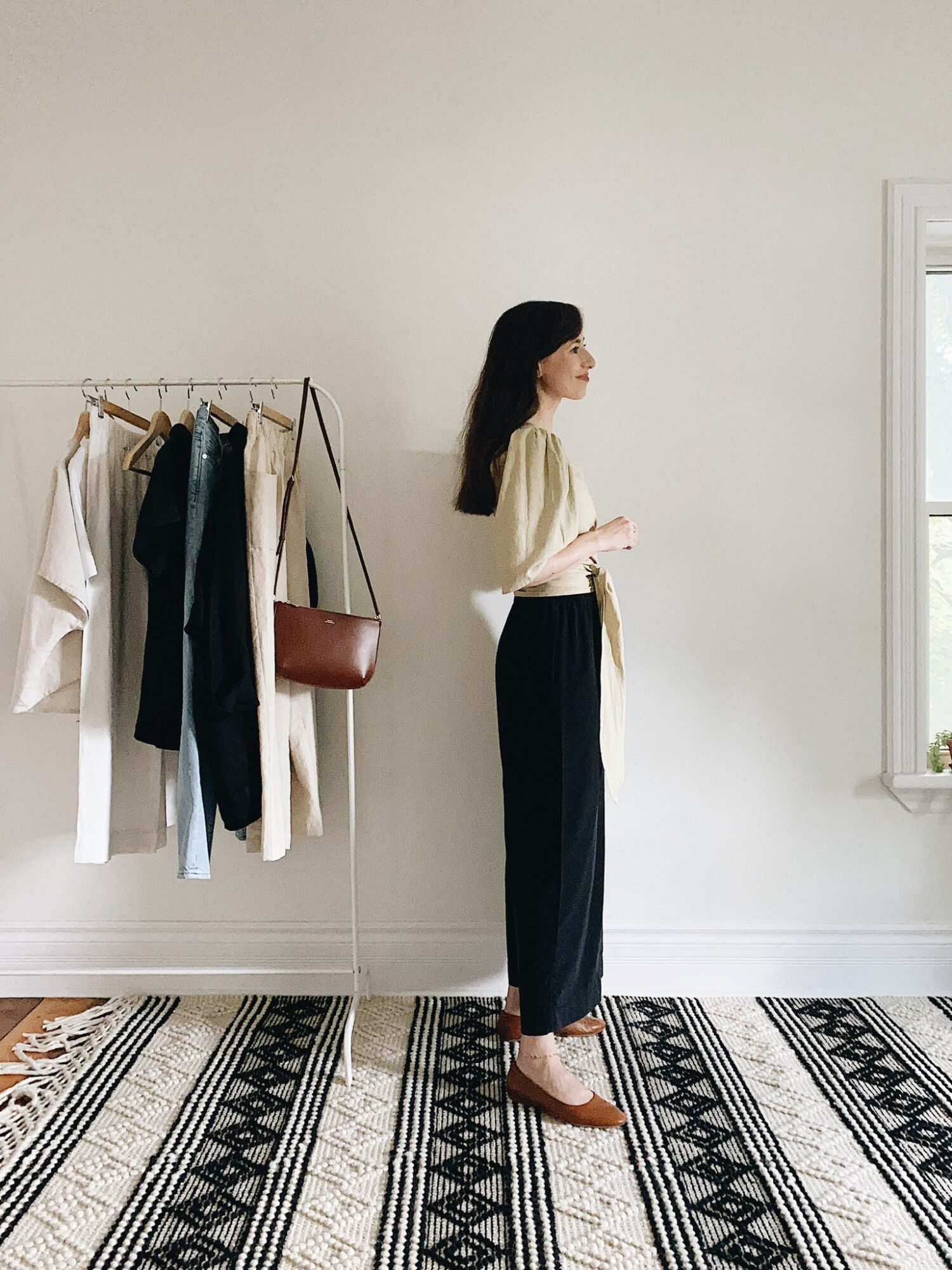 ---
I've been wearing the SB x EMLEE Reah Wrap Top every chance I get and it's been the perfect piece for late summer (#sorrynotsorry if you're sick of seeing it lol). I love pairing it with a flowy wide leg pant for an oh-so-fabulous yet oh-so-comfy look when we host friends for a visit outdoors. I thought the thrill of wearing this piece would have started to wane by now but not even a little bit!
---
---
LOOK 2
---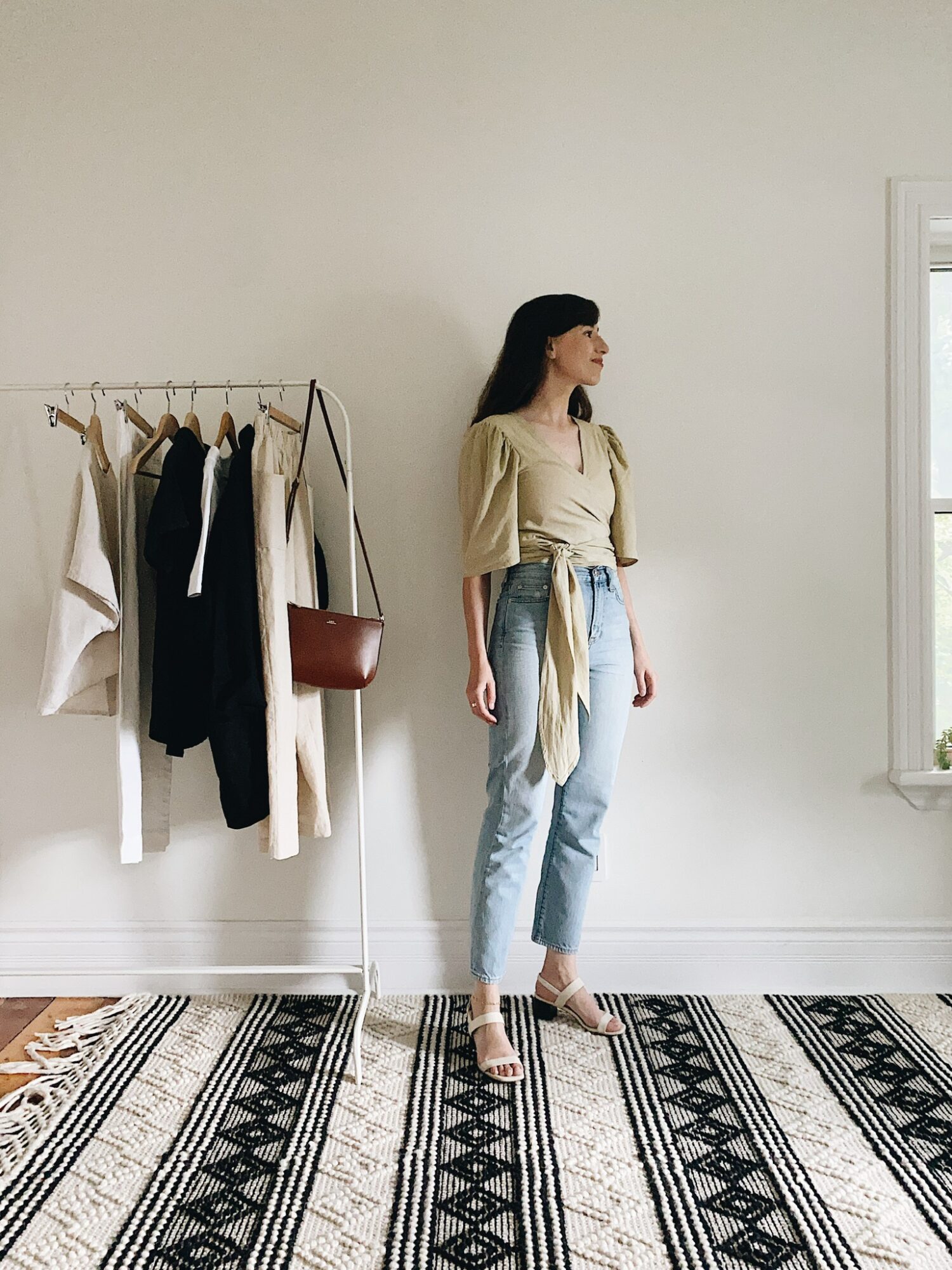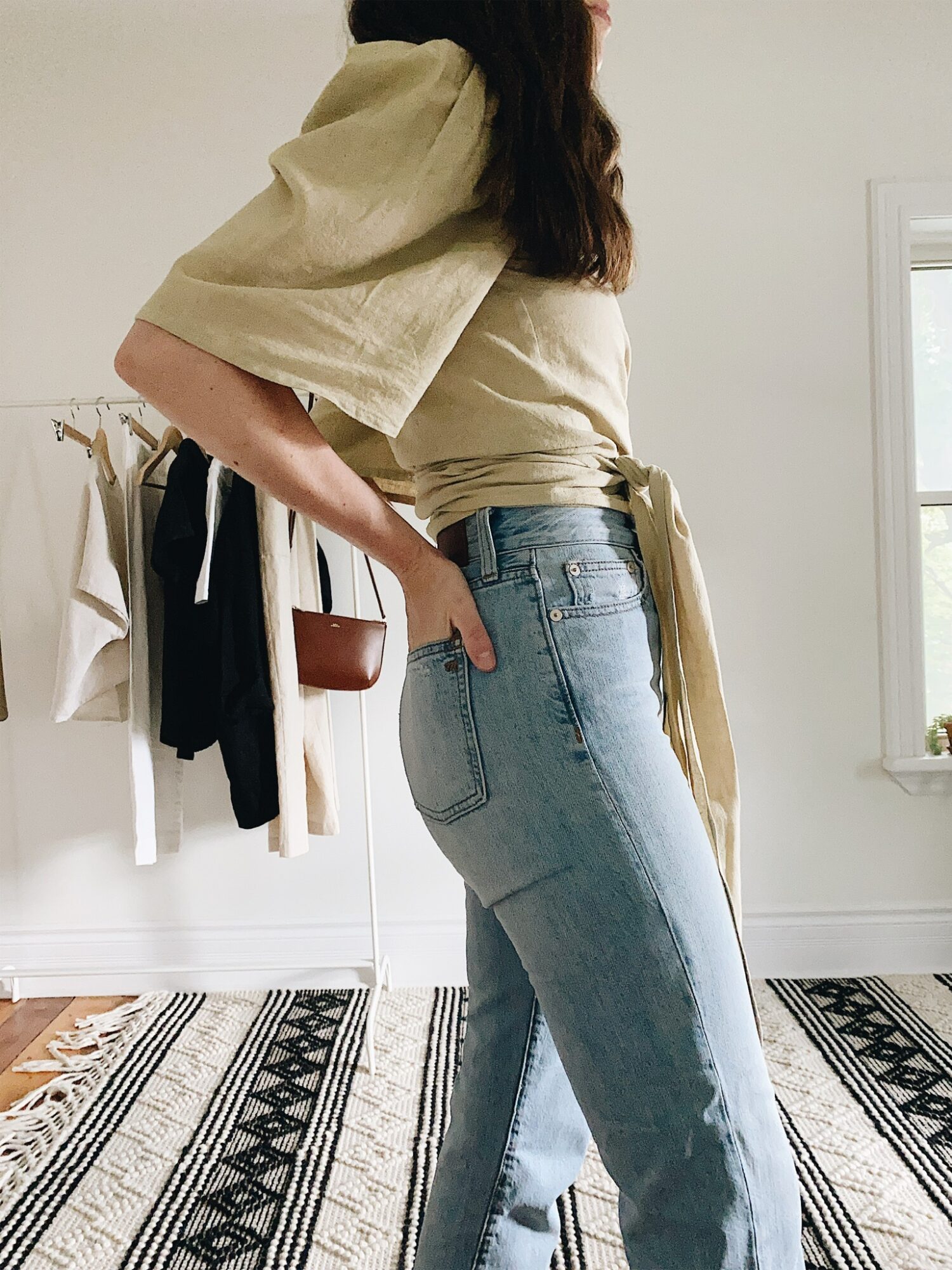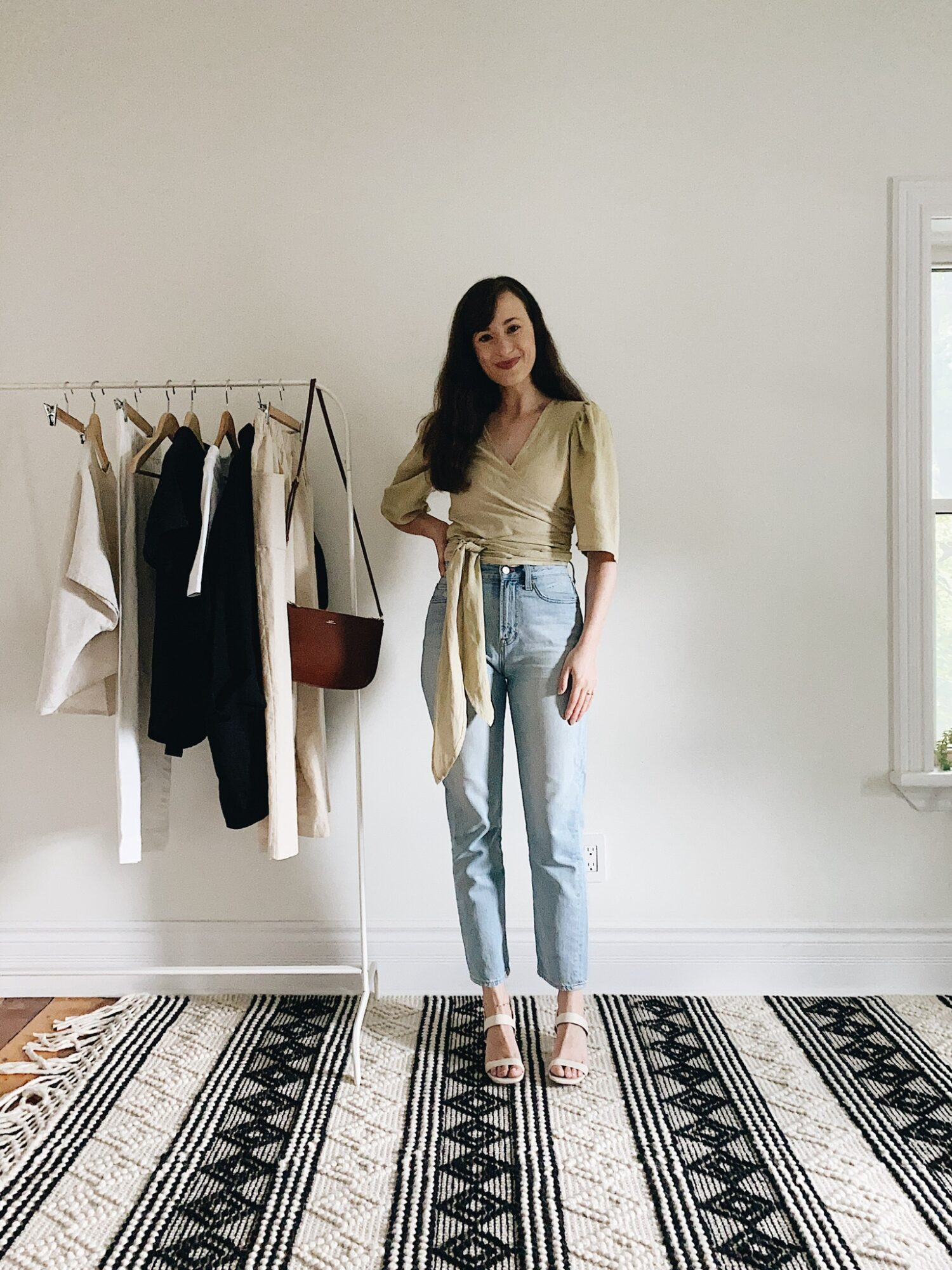 ---
With a quick switch from wide legs to classic jeans and a pair of heeled sandals, this top serves up a totally different vibe. This combination of sage green paired with light washed denim has such a lively energy to it! Who says you need somewhere to go in order to wear a cute outfit?
---
---
LOOK 3
---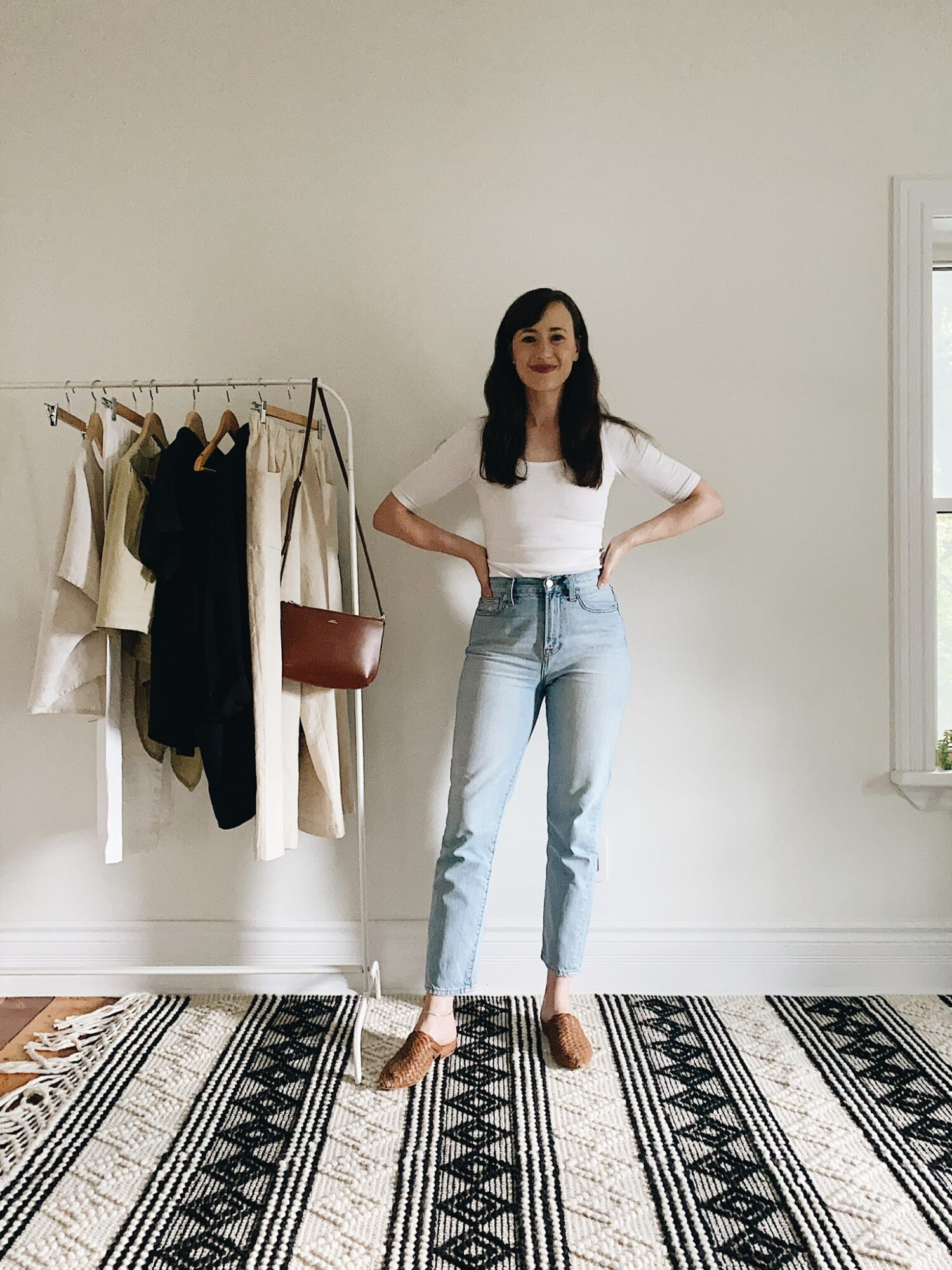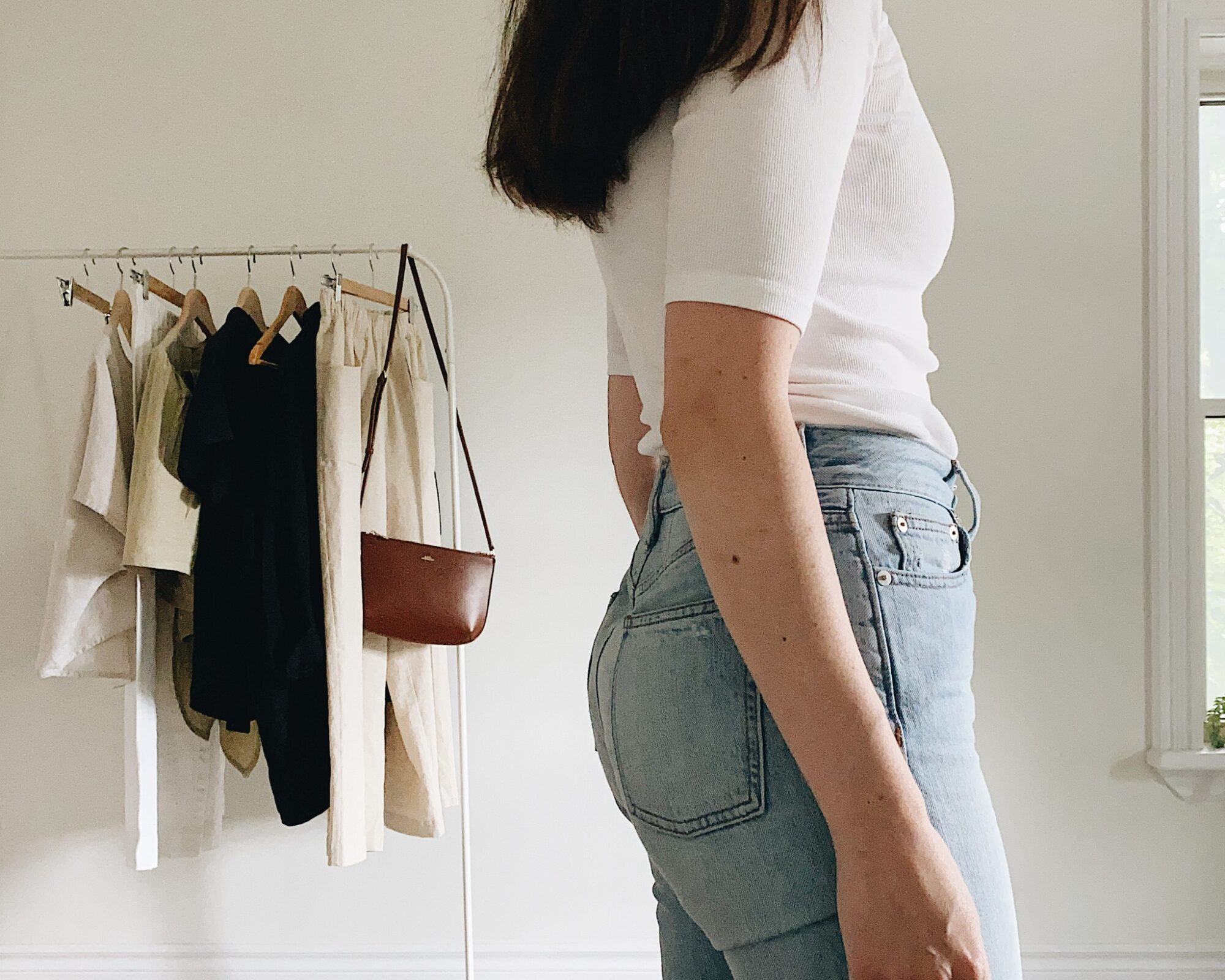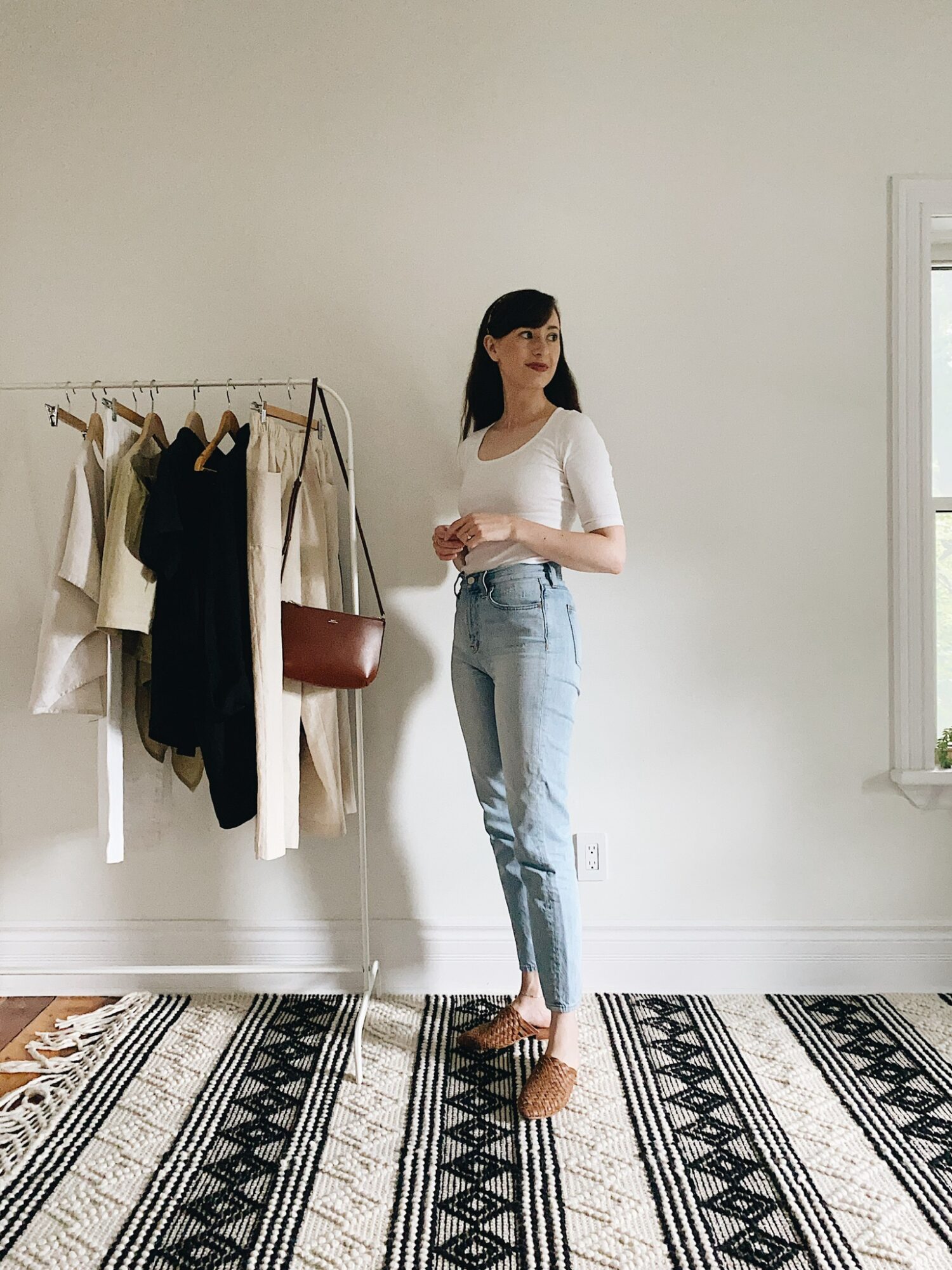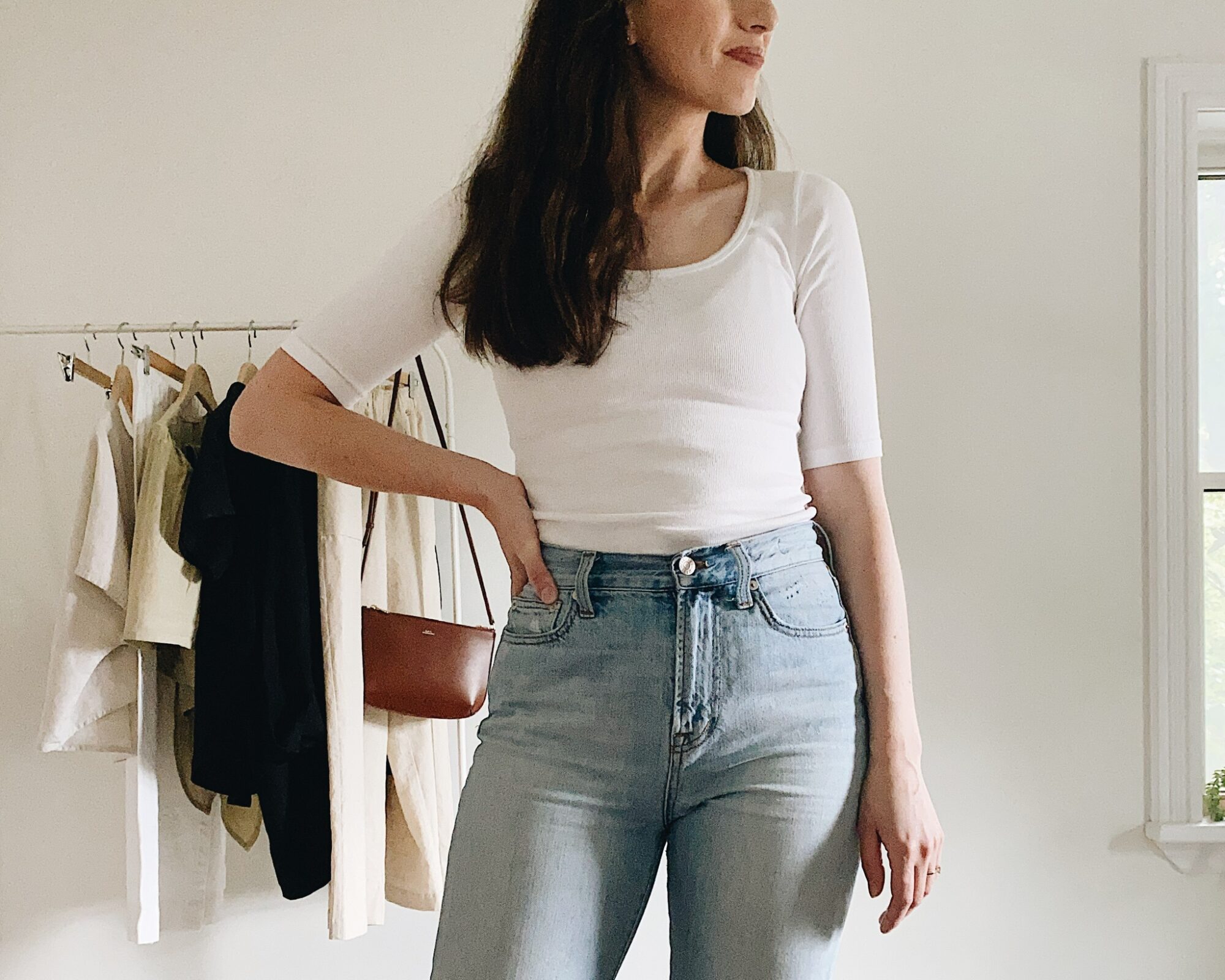 ---
When I get into a rhythm with these jeans (in my closet since 2015) I can wear them for several days in a row. My favourite way to style them is with a crisp white tee and this one is a longtime favourite. A midi sleeve is so elegant and always adds a perfect touch of uniqueness to a simple outfit.
---
---
LOOK 4
---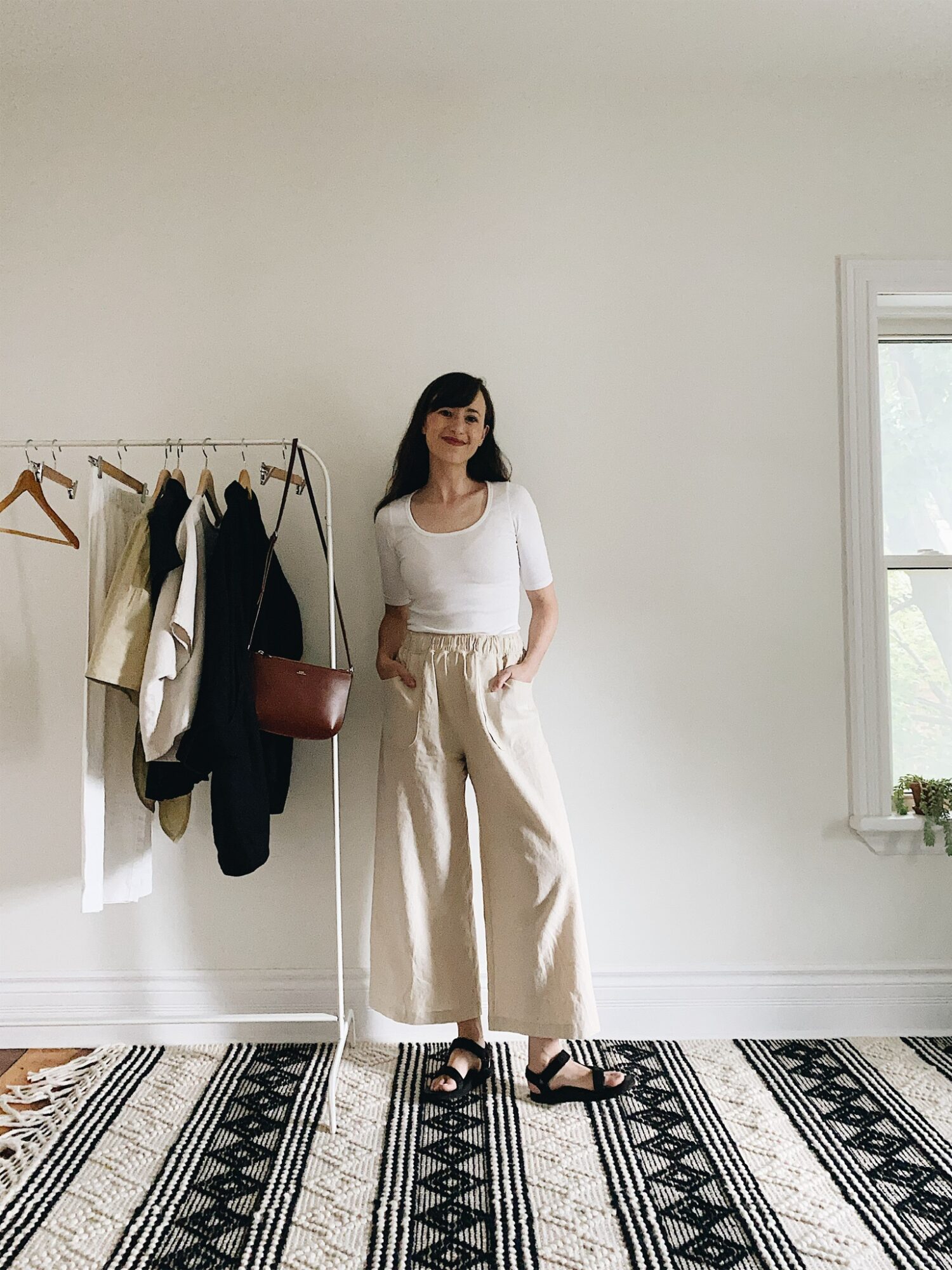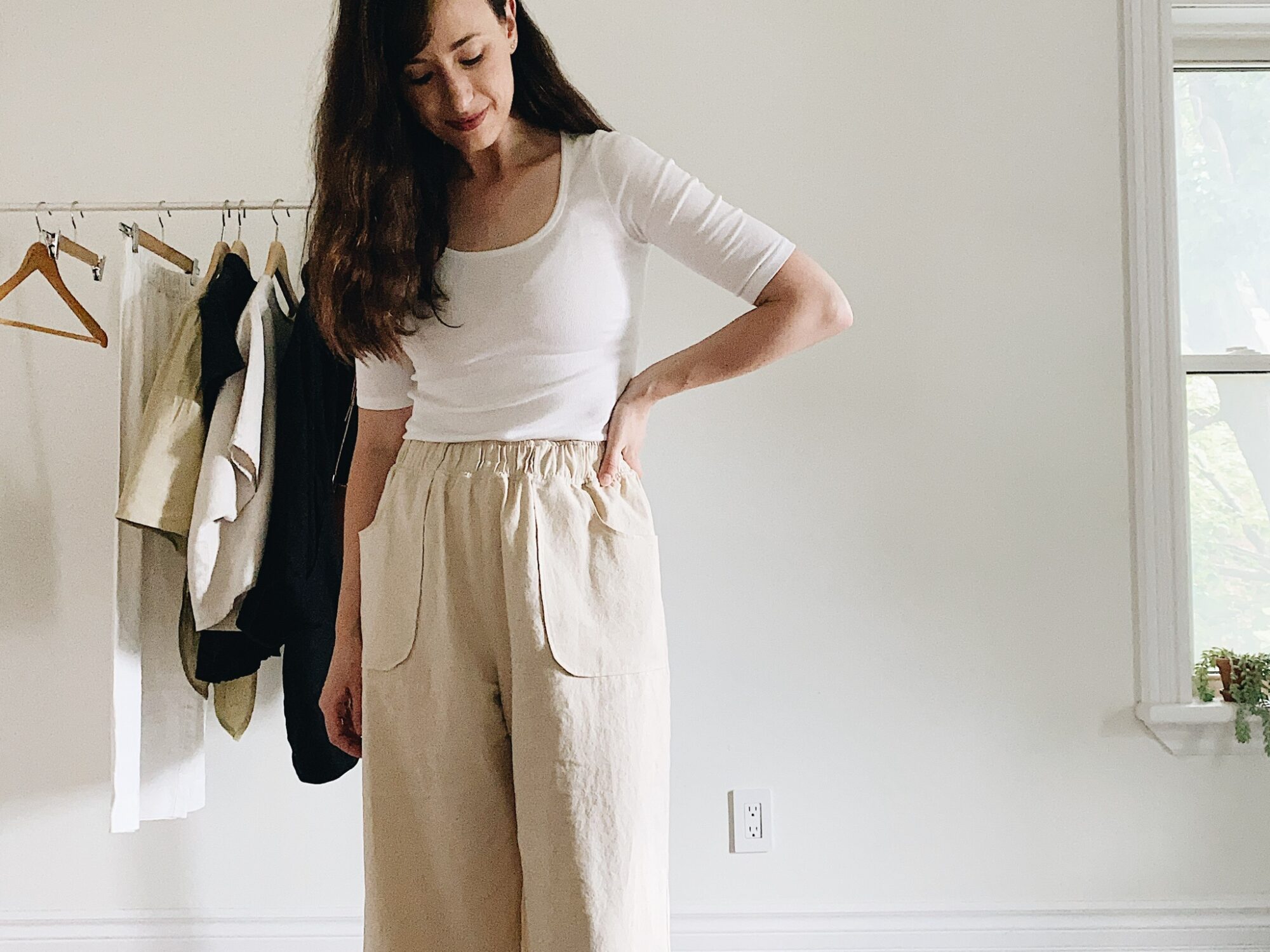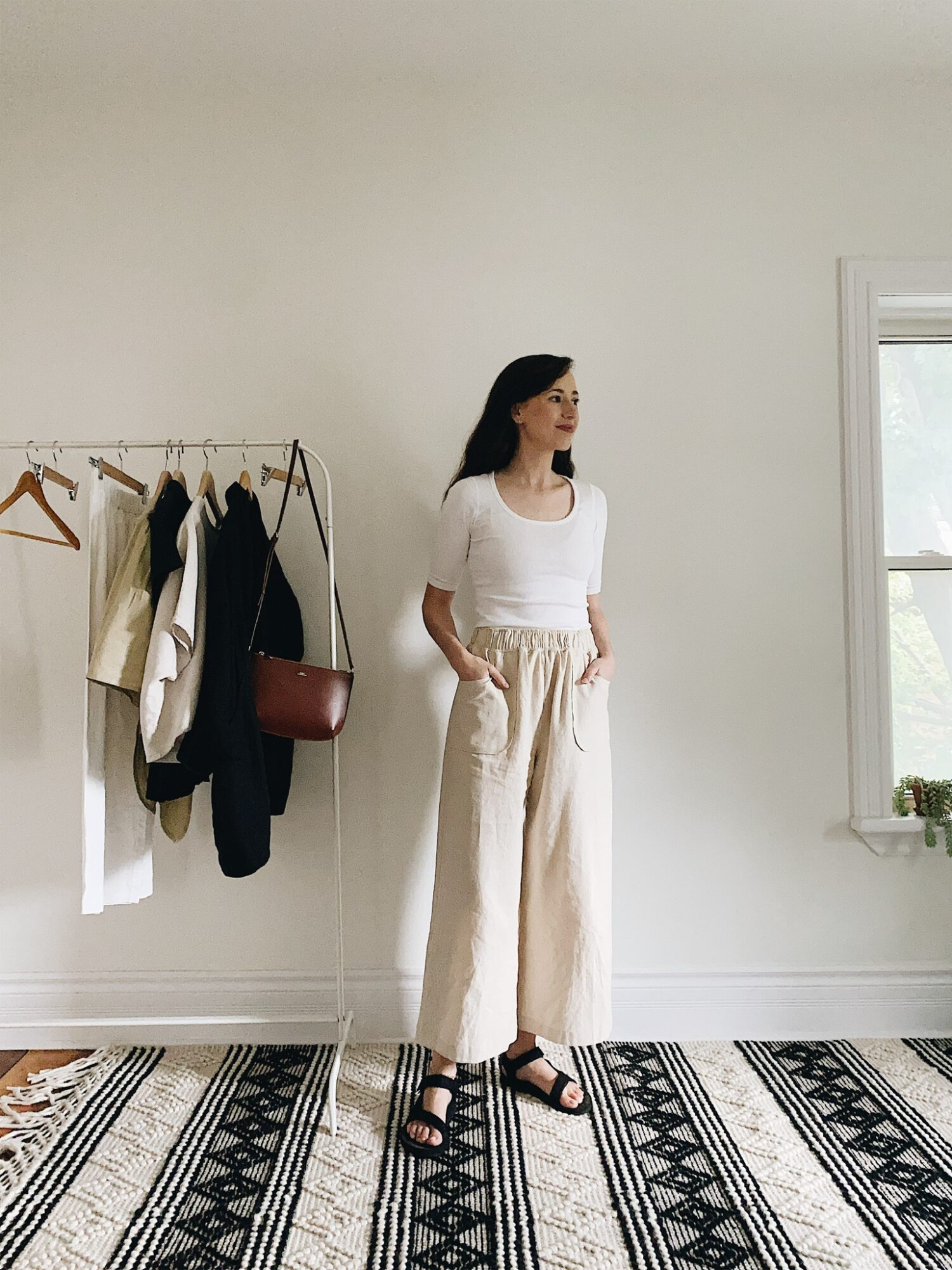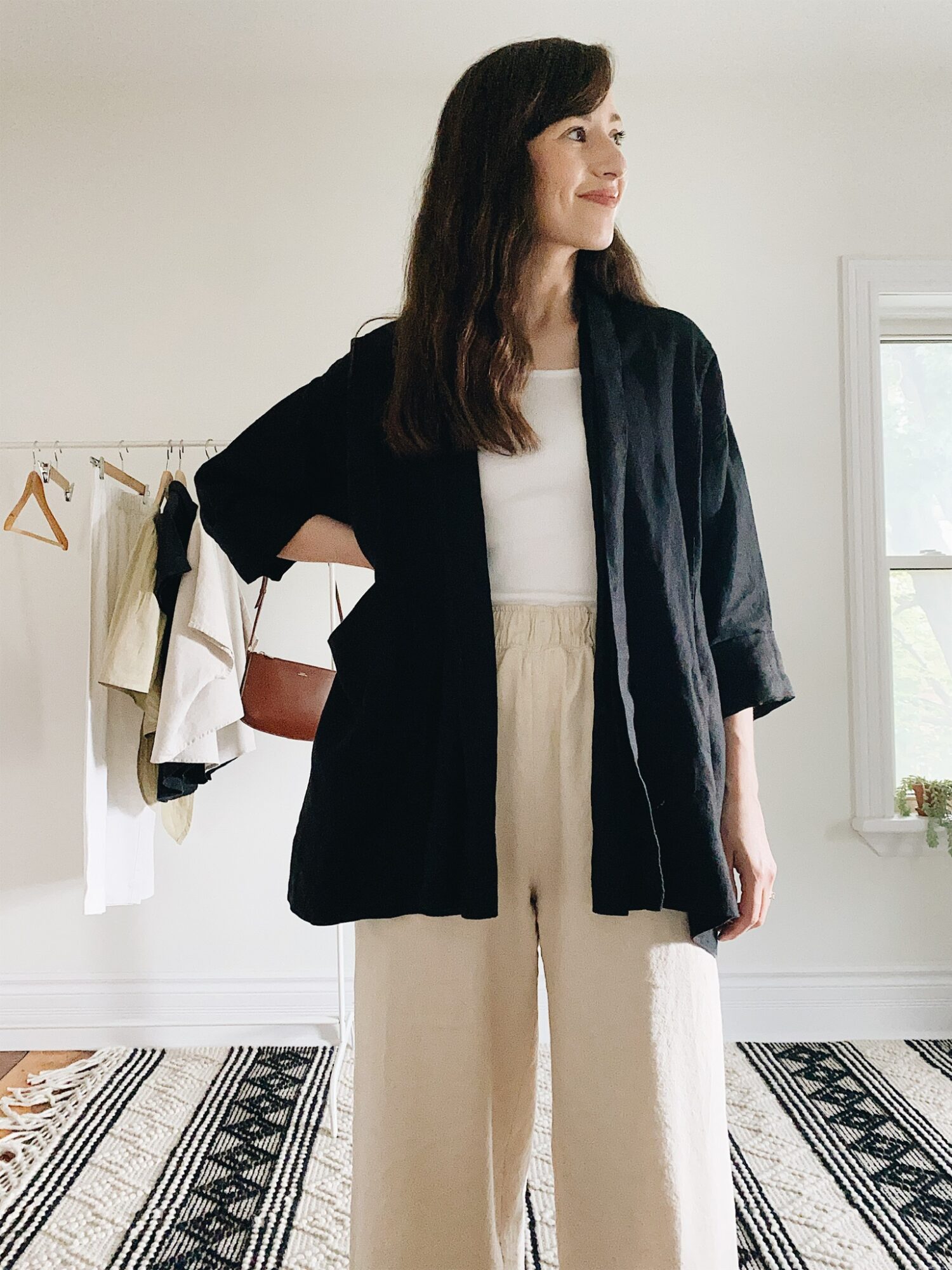 ---
The Avery Pant has been such a pleasant addition to my closet. I really like how Emily designed the pocket and the way the waistband is sewn means the inner elastic never twists and always falls flat. The organic linen/ organic cotton blend is the perfect transitional weather fabric and gets softer with every wear. These are going to be perfect with light knits for the early fall!
---
---
LOOK 5
---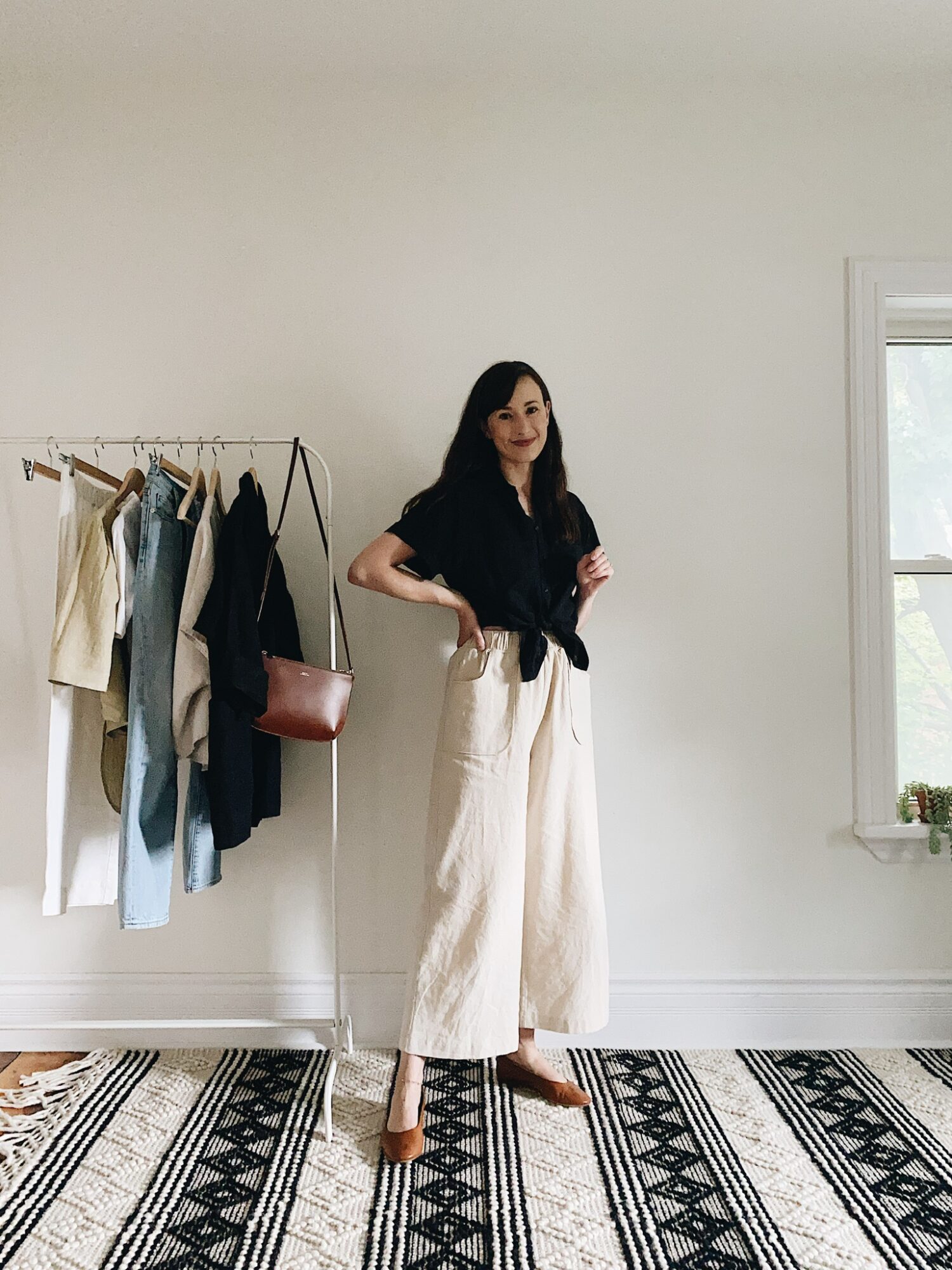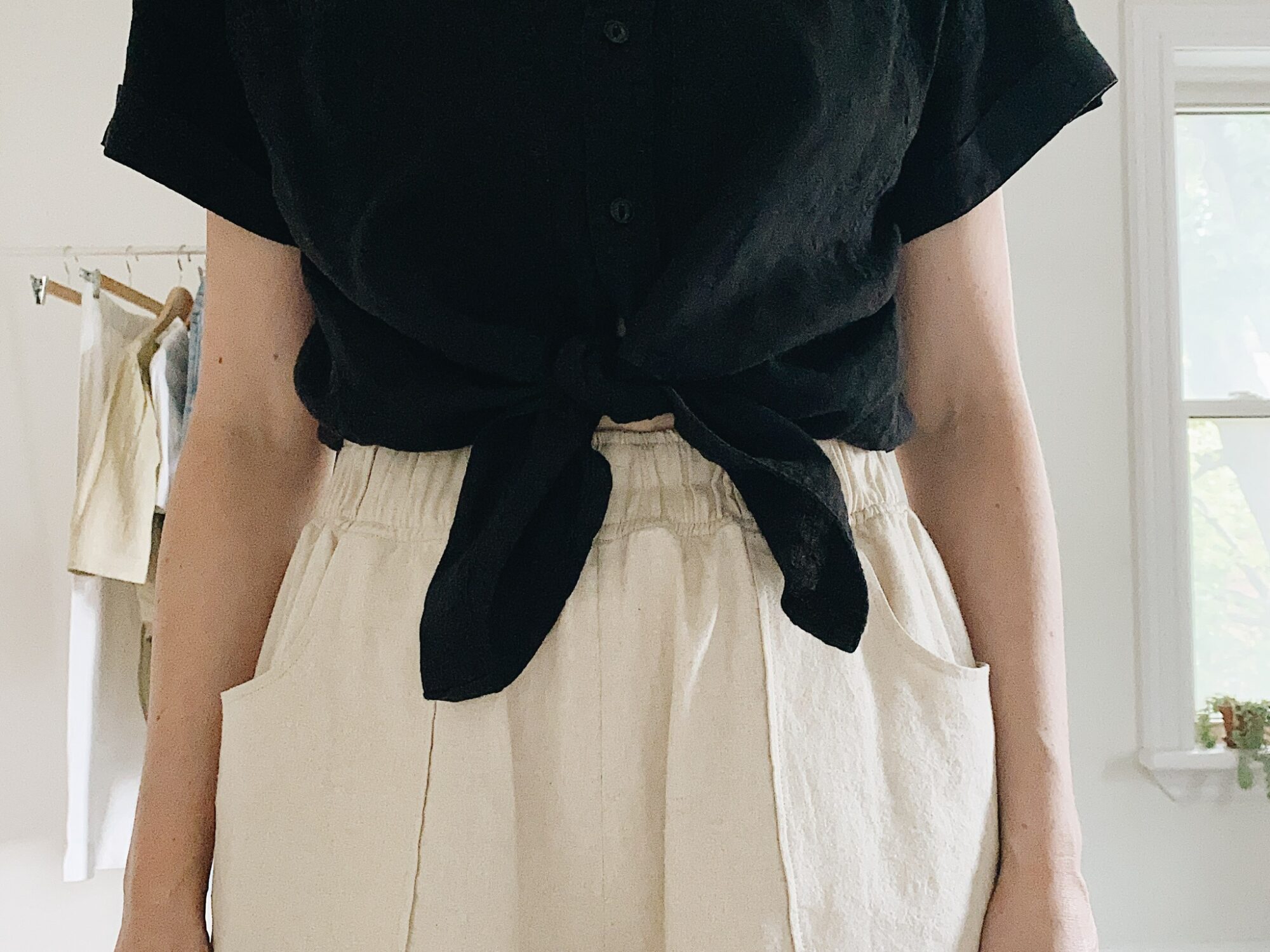 ---
One really easy way to guarantee and outfit will work is to simple swap out anything white or black for the opposite. In this case my white tee swapped with a black shirt and with a quick front knot, it's all set to go! Not exactly rocket science but when you're low on bandwidth for getting ready it's a good trick to employ. Also an easy way to pack for travel (if that's something we'll ever do again *sniff) and a reason why I buy lots of my favourite pieces in both colours.
---
TOP – Philosopher Shirt | Runs roomy, wearing an xSmall |Made in Canada! | Save 10% anytime with STYLEBEE10 at checkout
PANTS – Avery Pant in Sand | gifted | Wearing a Small / Standard length inseam (I'm 5'7) | Save 15% with code LEE15 until EOD Friday.
SHOES – Dream Flat | Gifted | TTS | Mini review below.
BAG – Sarah Bag | Hands down my favourite classic cross-body.
---
LOOK 6
---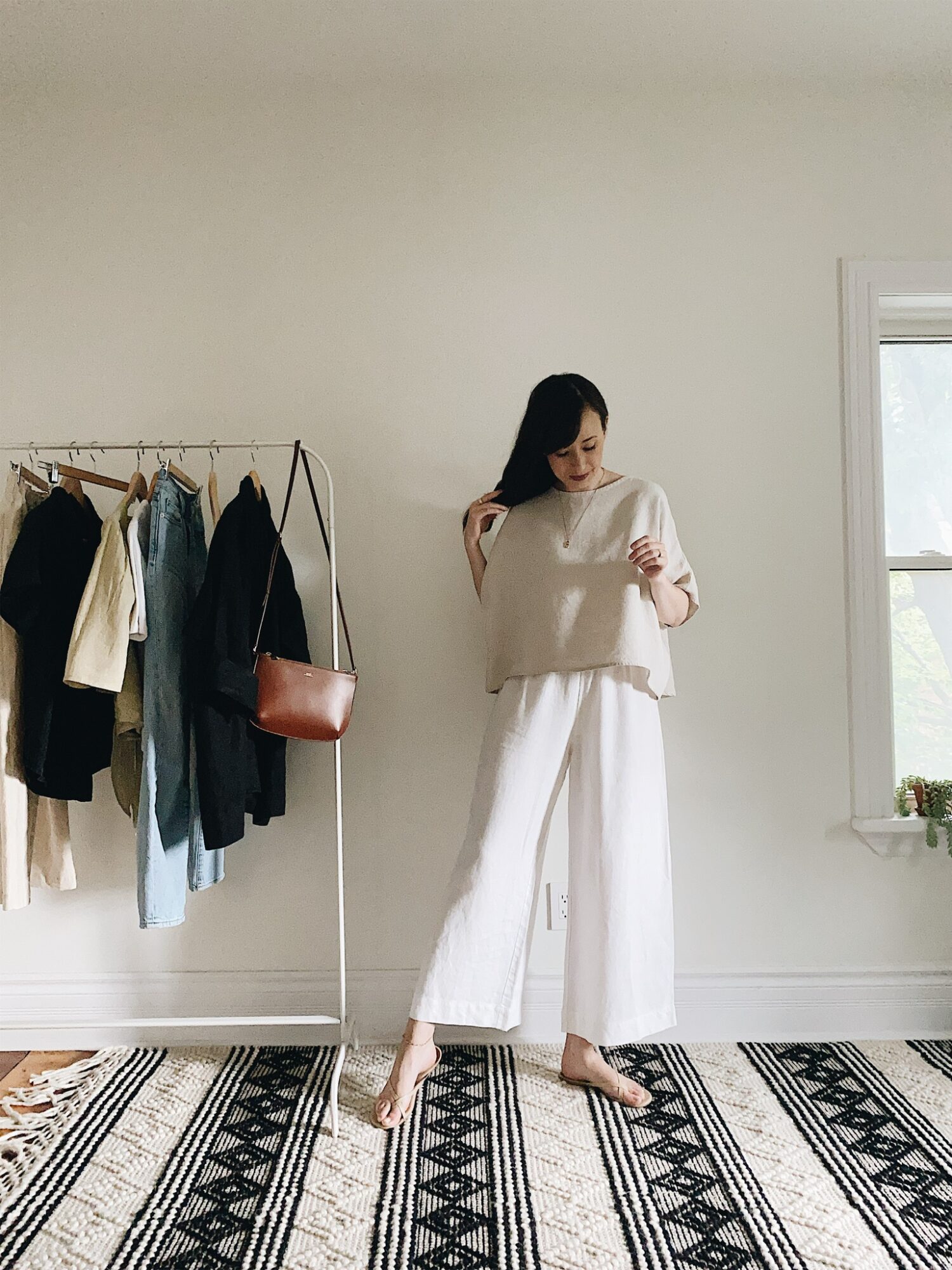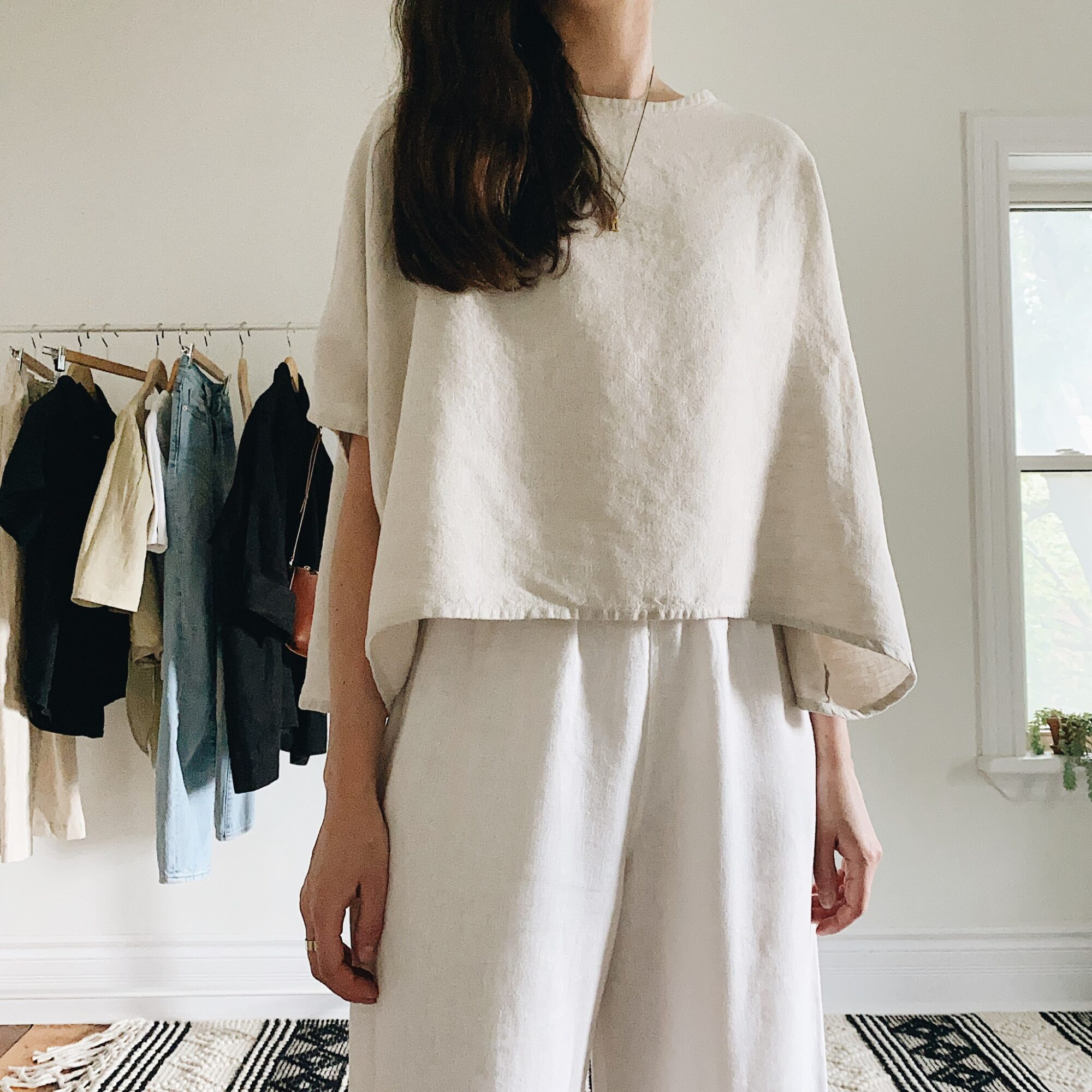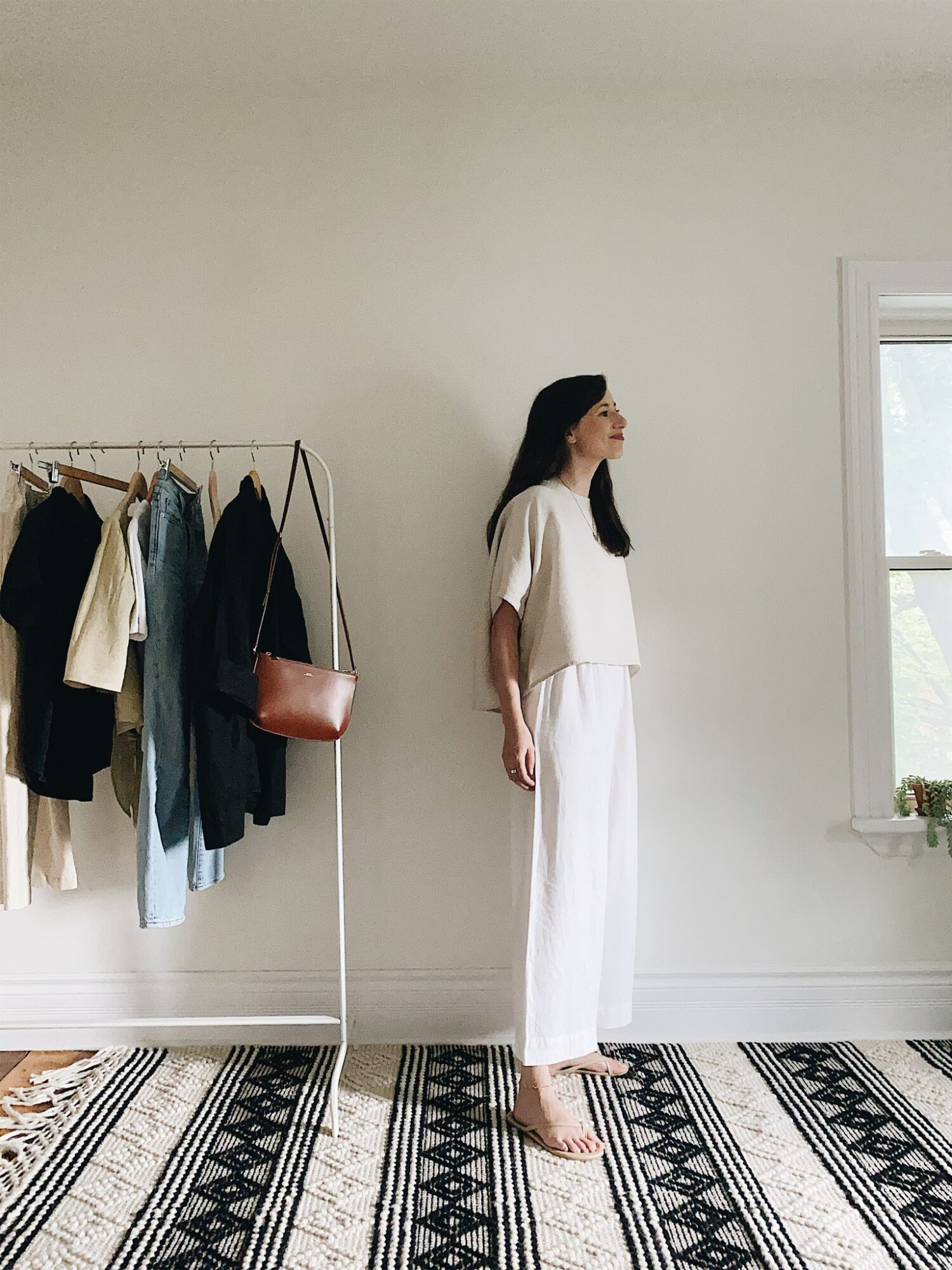 ---
Gosh I love this voluminous combo for humid days. These pieces have been in my closet for years now and they only get better with age. Isn't flax and white a positively dreamy colour combo? When I want to keep the outfit ultra minimal I slip on my nude flips flops for a barely there shoe solution.
---
---
LOOK 7
---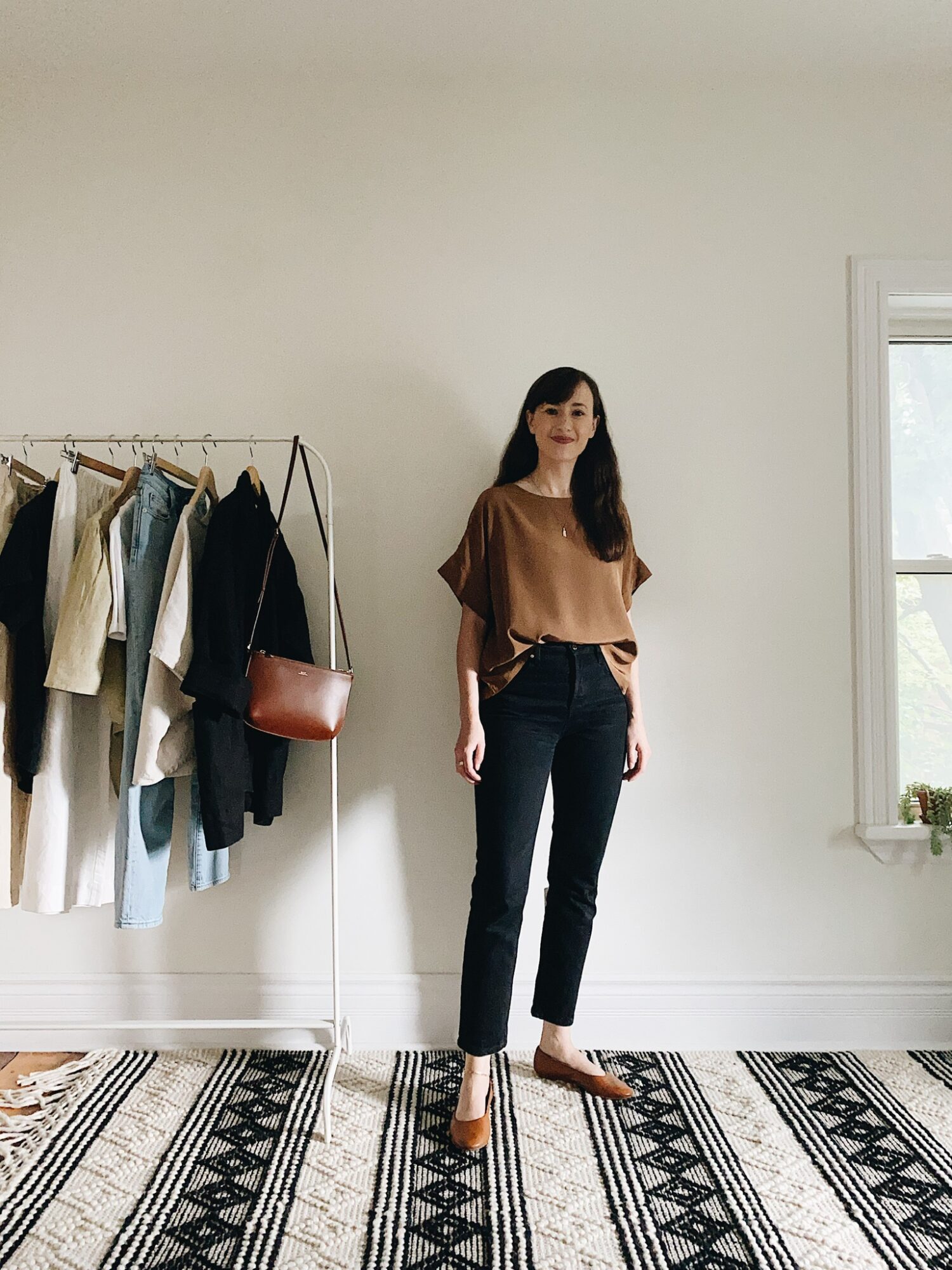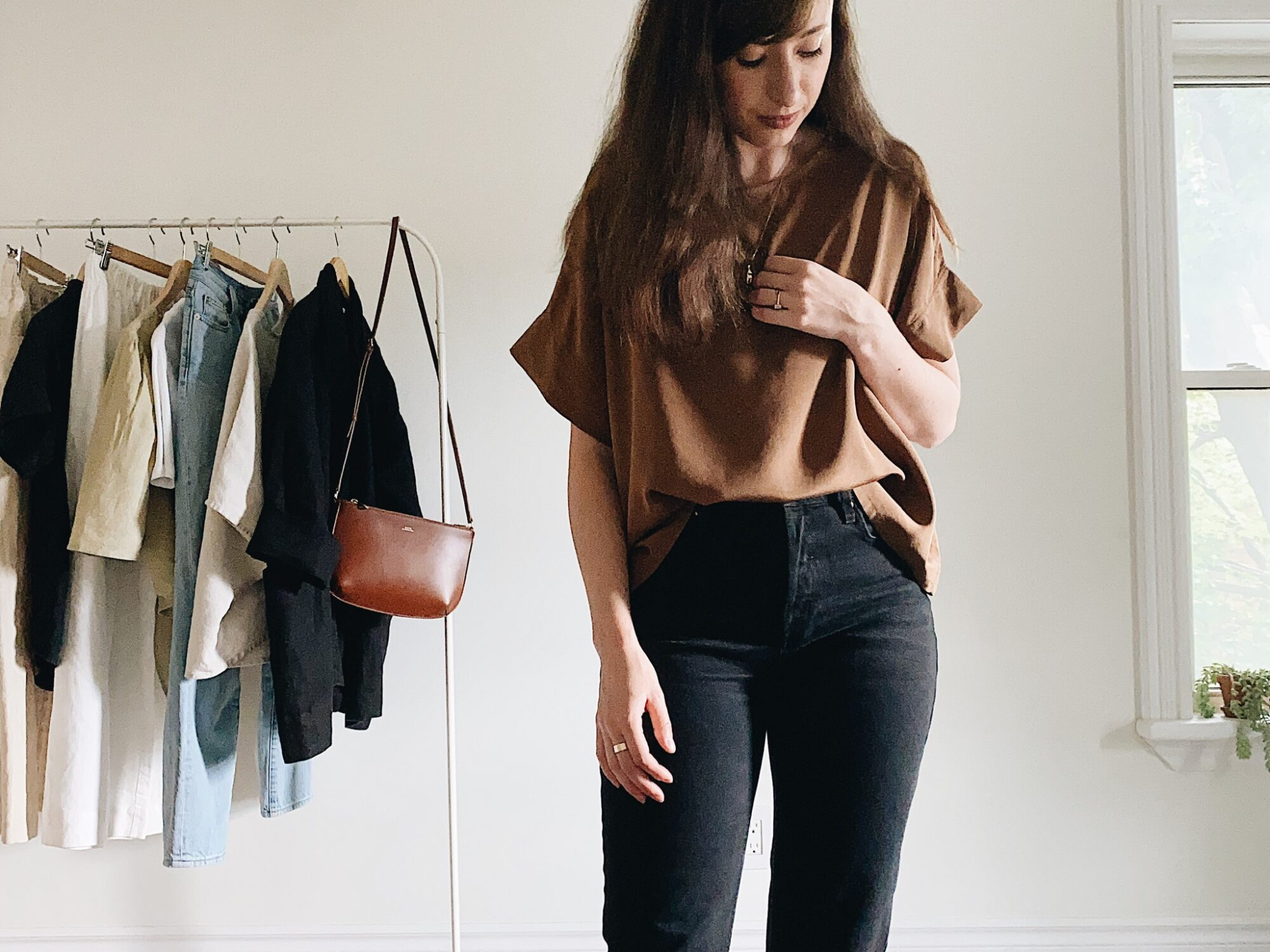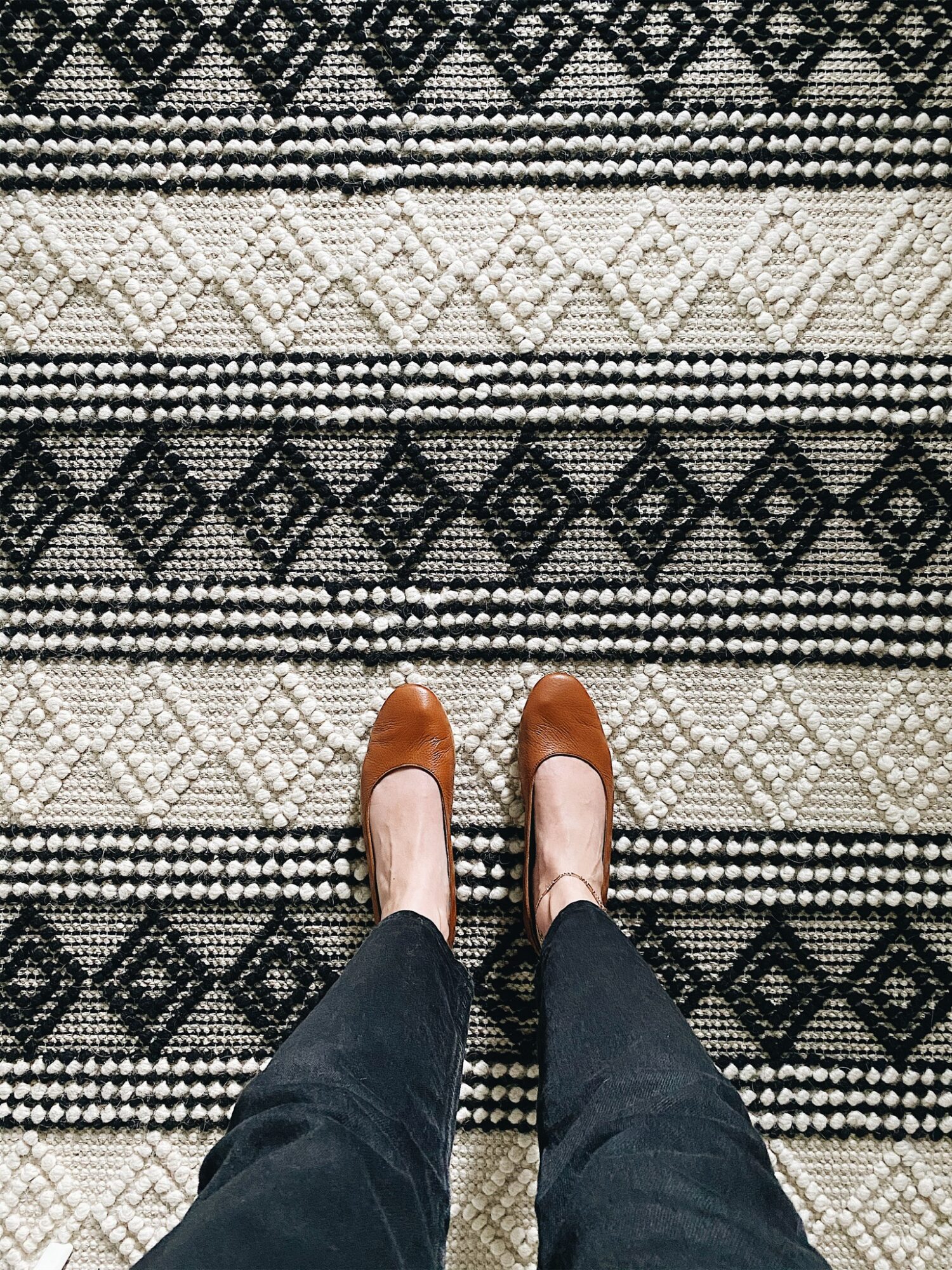 ---
And last but not least, something a little more autumnal for those who might be chomping at the bit.
These jeans are one of my absolute favourites (and recently improved!). The fit is just spot on for that classic vintage look and they're very comfortable. Looks like the new version has a touch of stretch, which I'm sure is a plus. Since they're pretty heavy I find they aren't ideal for summer but we've had a few cool days here and there. This was the first time I wore them with my moss silk tee and the combo is so good!
---
---

---
From Oliver Cabell / Gifted / Affiliate
---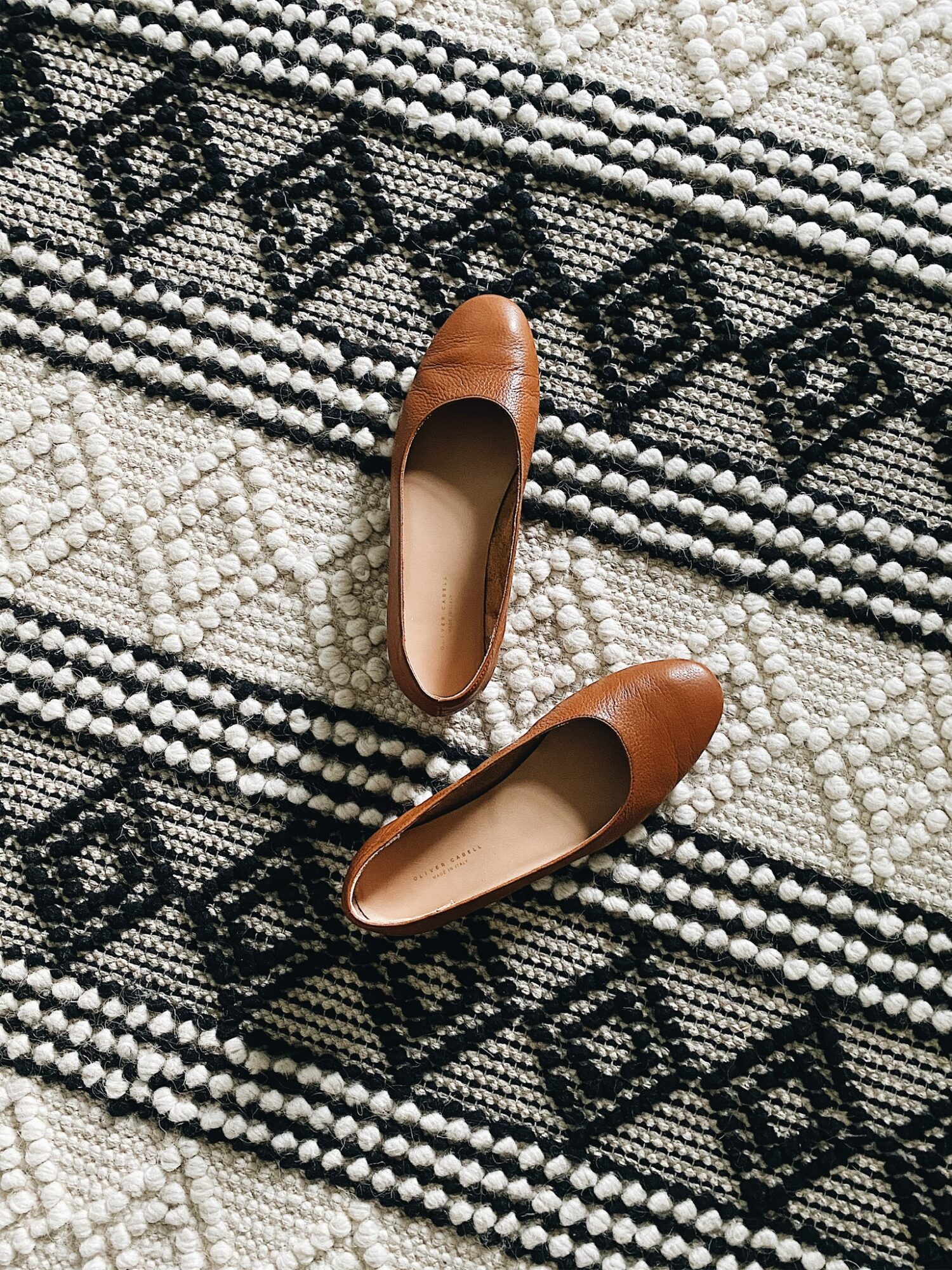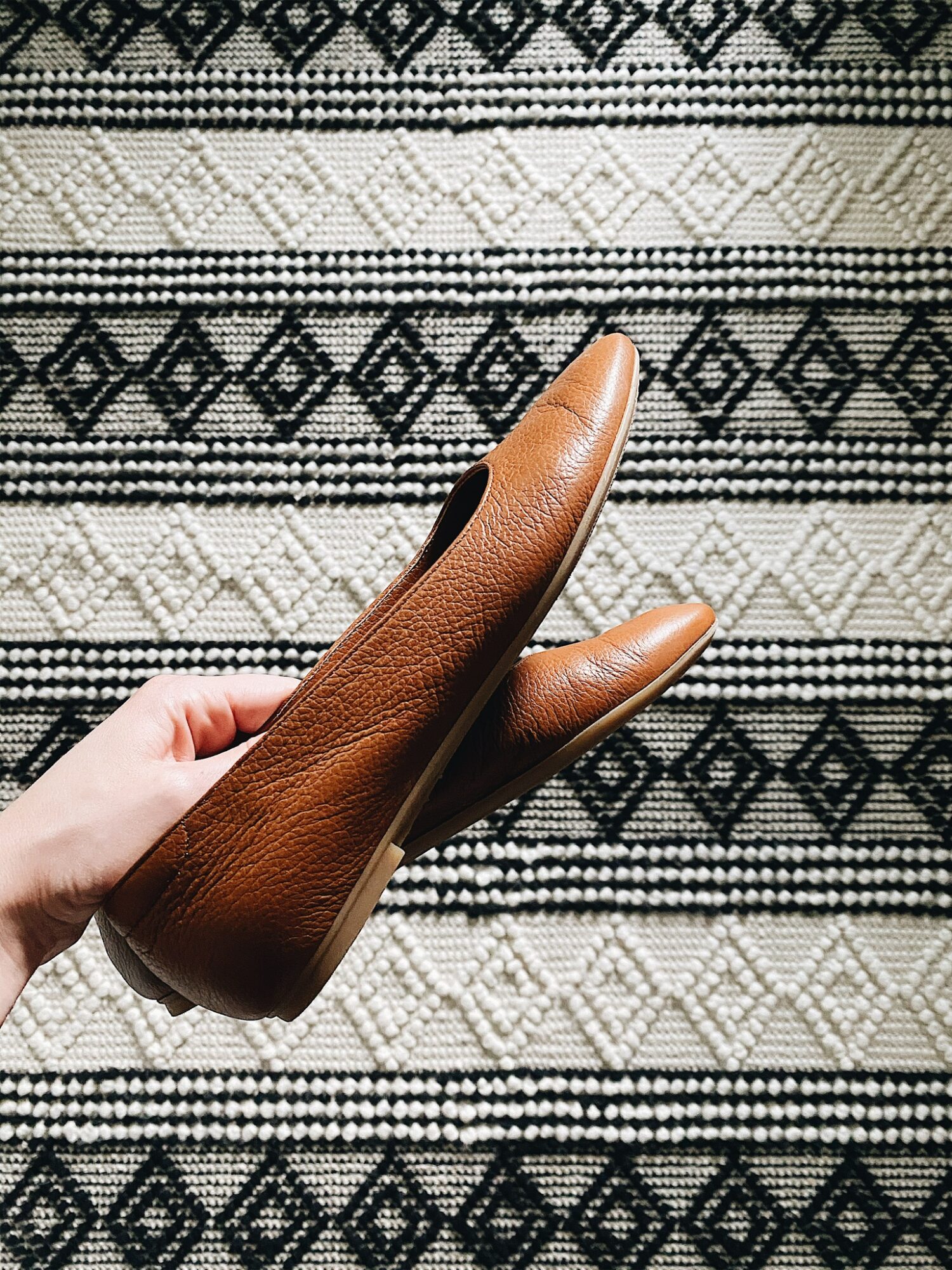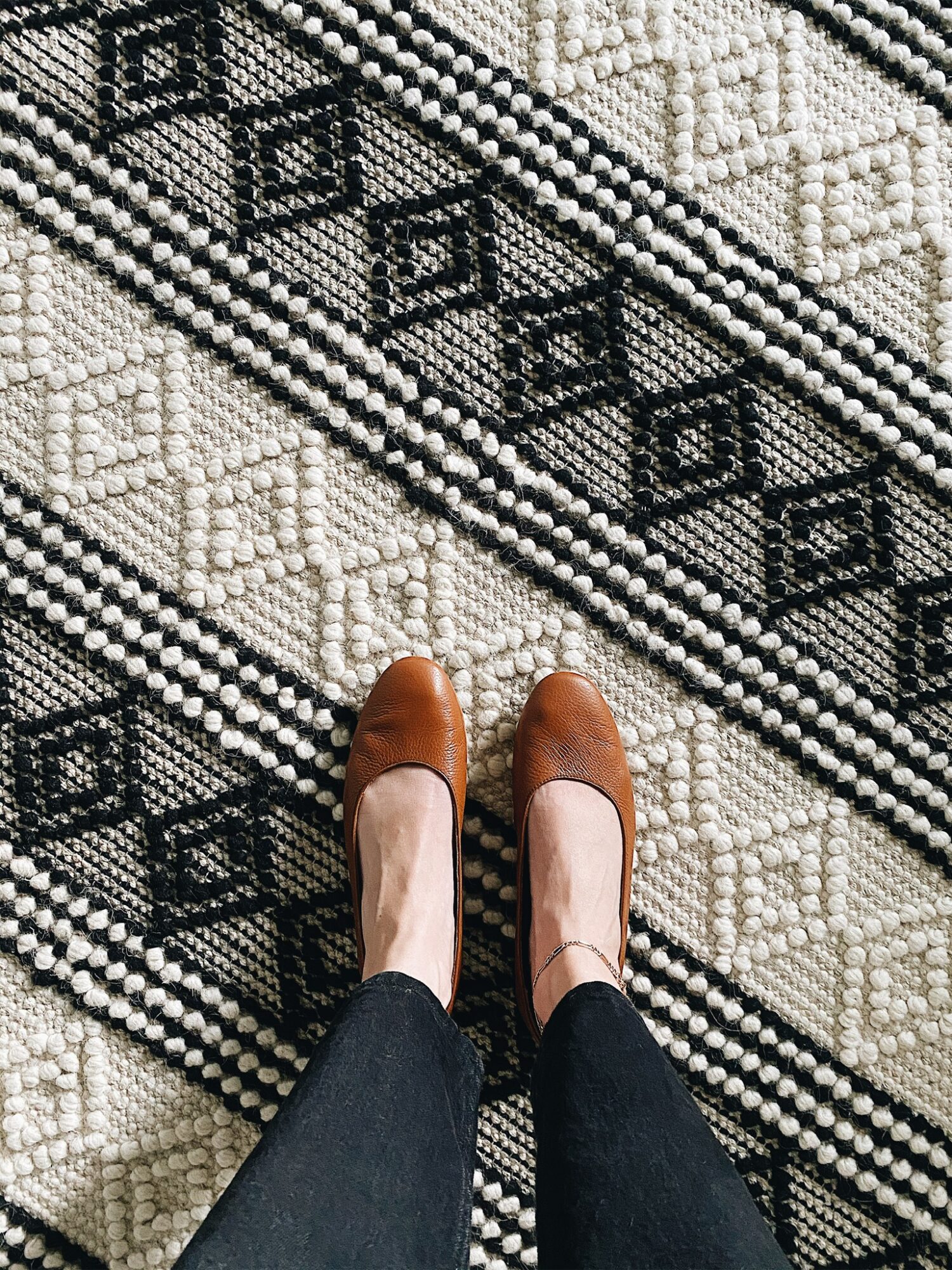 ---
I've been testing out the Dream Flat (in saddle) from Oliver Cabell and I have been so impressed with them. Here's a super quick bullet-point review:
practically zero break-in (slight rubbing on heel)
no blisters to date
super soft leather warms & molds to foot where needed without stretching out too much.
great TTS fit / roomy width / I wear a US 7 (sometimes 7.5) and got the 7 which fits my narrow foot well with some room in the toe.
saddle is a gorgeous deep caramel brown (also available in black, blush & white)
slightly pebbled texture that cleans up easily
made in Italy
$135 USD $114.80 USD for a limited time.
Free shipping worldwide
I find them more comfortable than the Day Glove (break-in was WAY easier) and the overall feel seems of slightly higher quality. I like the cut of these a lot as they don't show any toe cleavage and they don't come as far up the top of the foot.
If you'd like, I can do a more in-depth review of the Dream Flat, just let me know!
---
From HOIBO / Gifted
---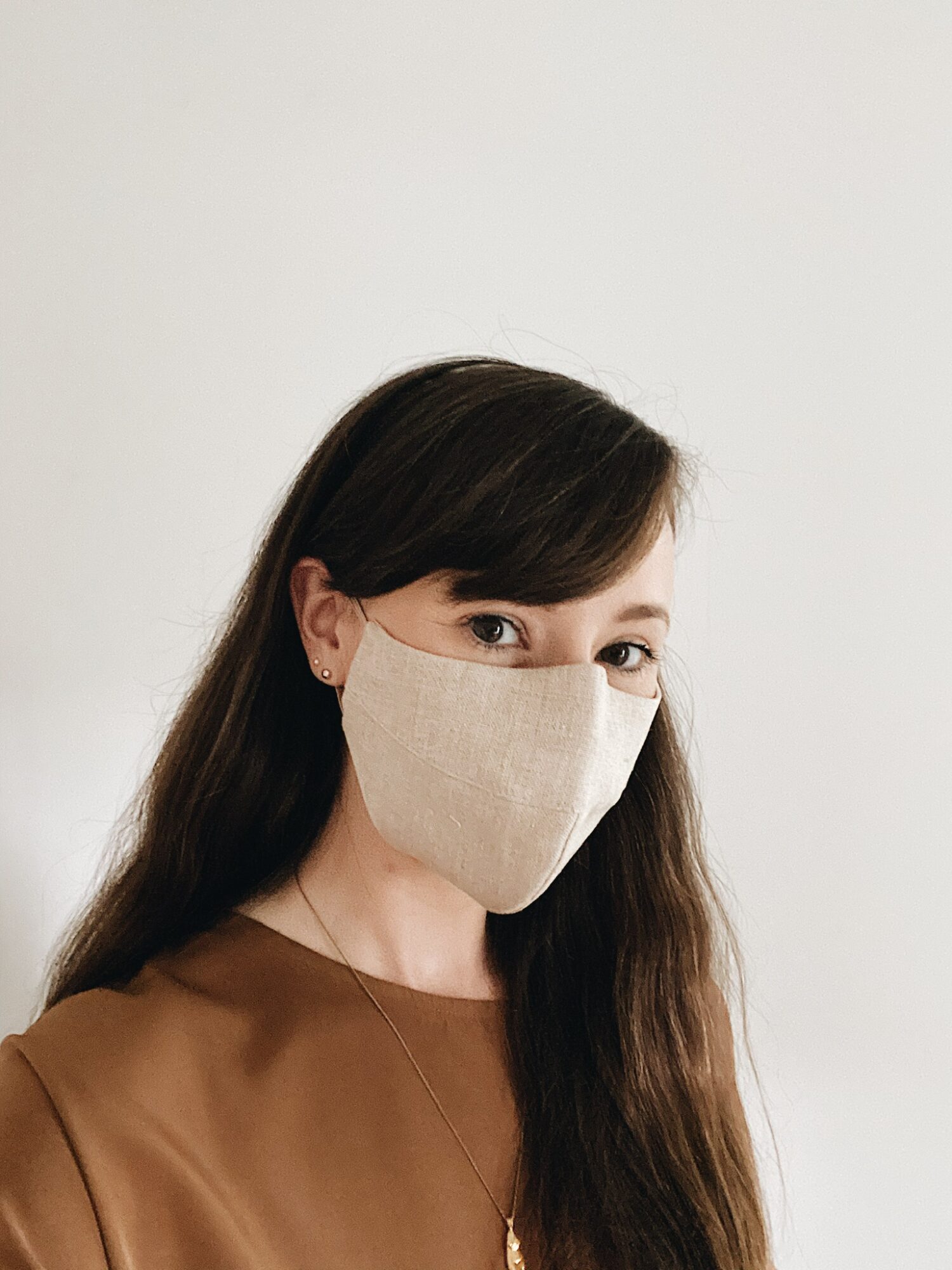 ---
I mentioned the face masks from HOIBO in my post on Where to Shop for Reusable Face Masks and they kindly sent one my way. I really like it and here's why:
Comfortable, minimal ear elastics
Excellent coverage and elegant shape
Soft inner layer of 100% cotton
Adjustable wire nose bridge
Quality 100% linen exterior
Multiple size range available (XS-XL / I wear a Small)
Beautiful colour range
Made in Toronto
$40 CAD
---
Gifted / Affiliate / 15% OFF with LEE15
---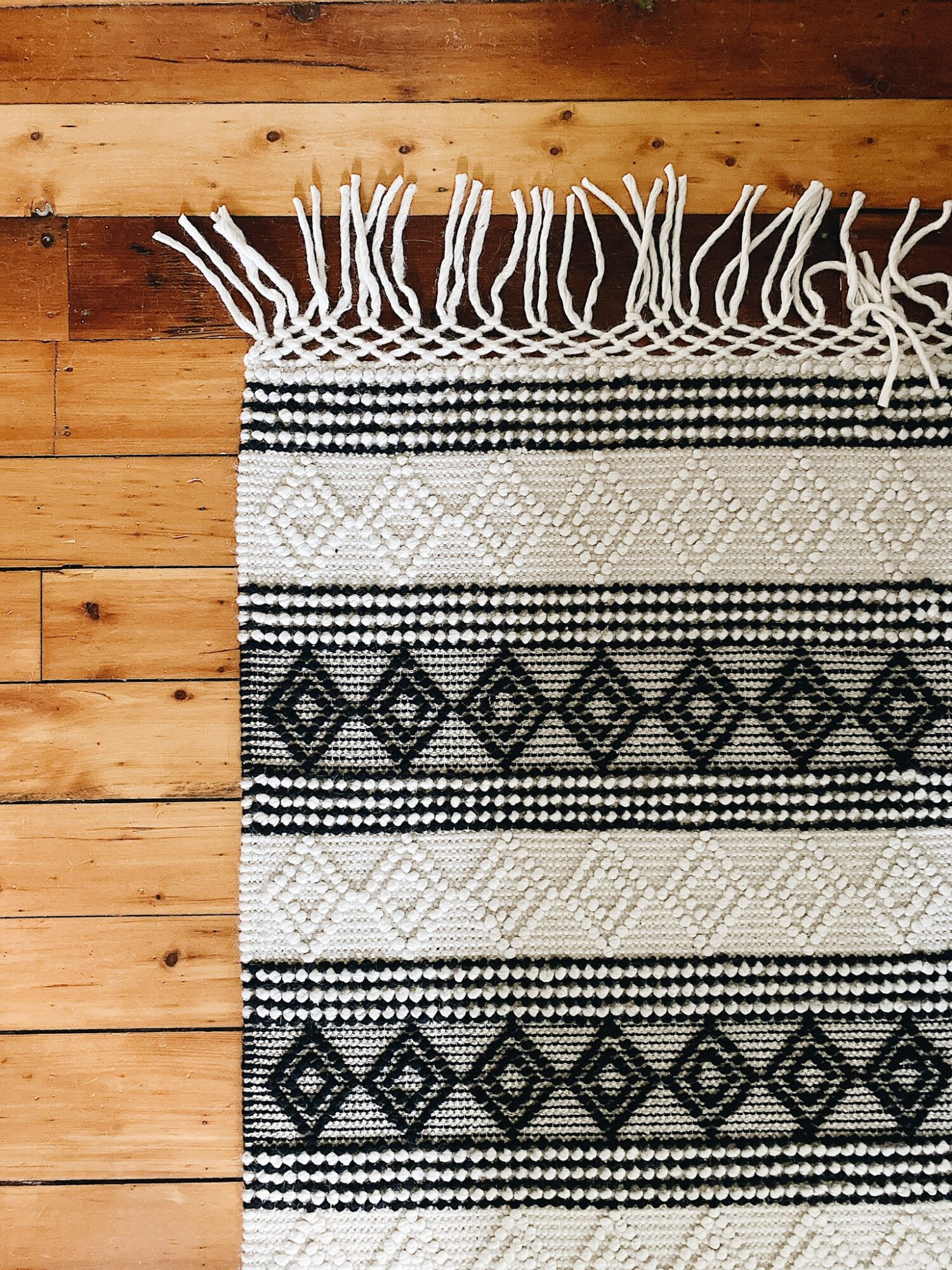 ---
I was really itching to change up the rug in my office for shoots and Rug & Weave was my first stop to look for a new one. They're local to Guelph and carry a beautifully curated range of home goods, furniture, textiles, art and lots more (with free US + CAD shipping over $150 CAD). If you know me, you know I LOVE Rug & Weave lol.
This new beauty is the Holloway Rug and it has such a gorgeous texture and softness. I love the bold pattern and it's already made the space feel way different. It has an intricate handmade quality at an approachable price point with lots of sizing options. Can you guess who else is a fan of it?
They kindly gifted me this one to feature in some upcoming outfit shoots and are offering Style Bee readers 15% off with 'LEE15' on any order, anytime! Definitely give this shop a perusal if you're making some interior updates.
Explore the Rug & Weave online shop here.
---
---
That's it for this Wearing Lately, thanks for reading!
We're heading north for the long weekend and looking forward to getting a few more dips in the lake before autumn arrives here in Ontario.
Wishing you all a wonderful weekend!