Is anyone else finding it extra hard to leave their bed these days? As the leaves drop and the daylight hours shorten, I can't help but squeeze in a few more minutes under the covers.
One item on our household wish list this year was a bedding upgrade so I set out to discover some options. As it turns out we have lots of Canadian-based companies to choose from and I shared a roundup of Canadian Bedding Brands, along with which one I'd be testing out first, earlier this year.
Now that I've finally got something to report back on, I can share my review of the linen bedding set from Flax Sleep!
This bedding review will cover:
Why Flax Sleep
My thoughts on:

Softness
Fit
Temperature Regulation
Design
& more

Would I order from Flax Sleep again?
Now let's tuck in!
---
The product under review in this post was not gifted and I do not earn affiliate commission on it. This post was not produced in partnership with any brands mentioned but does contain affiliate links. If you see something you like and decide to shop through the links included, I may earn commission on a sale at no additional cost to you. All opinions are always my own and I only share items I love. Thanks for supporting Style Bee!
---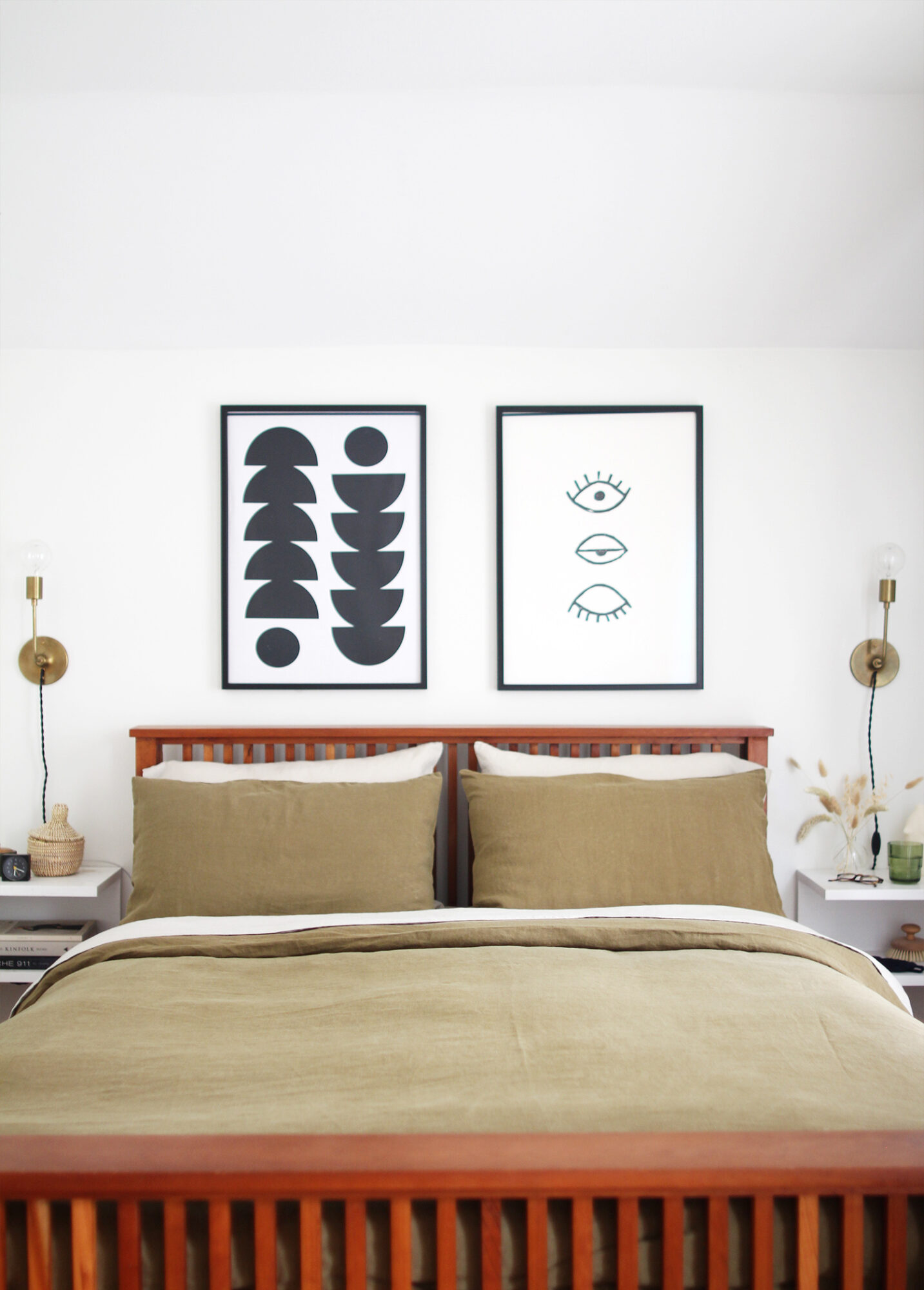 ---
Why I ordered from Flax Sleep
---
Flax Sleep had been on my radar for a long time and after some research into Canadian Bedding Brands, I felt that they'd be a great place to start. They offer a lovely range of colour options and I like to support a brand that's female-founded when I can too! Our budget along with all these factors played into my decision to give them a go.
ABOUT FLAX SLEEP: Founded by Anna Heyd, Oana Papuc and Vivian McCormick in 2017, Flax Sleep started as a fun side hustle for three friends with a deep love for linen and has since grown into a favourite amongst conscious Canadian snoozers.
WHY LINEN (according to Flax Sleep):
"Short answer: linen is just better."
"But allow us to elaborate, because linen has a lot going for it. It's the oldest textile material in the world, for one thing. First used 8,000 years ago in the Mediterranean, it made its way around the world until the 18th century, when mass-produced cotton came along and provided a much cheaper option."
"Linen takes a little more time and care to produce. That's also why we love it. What makes linen so great for bedsheets is that it breathes cool in summer, while keeping warm and cozy in winter. And the longer you own your sheets, the softer they'll get. That all adds up to better, more comfortable sleep."
---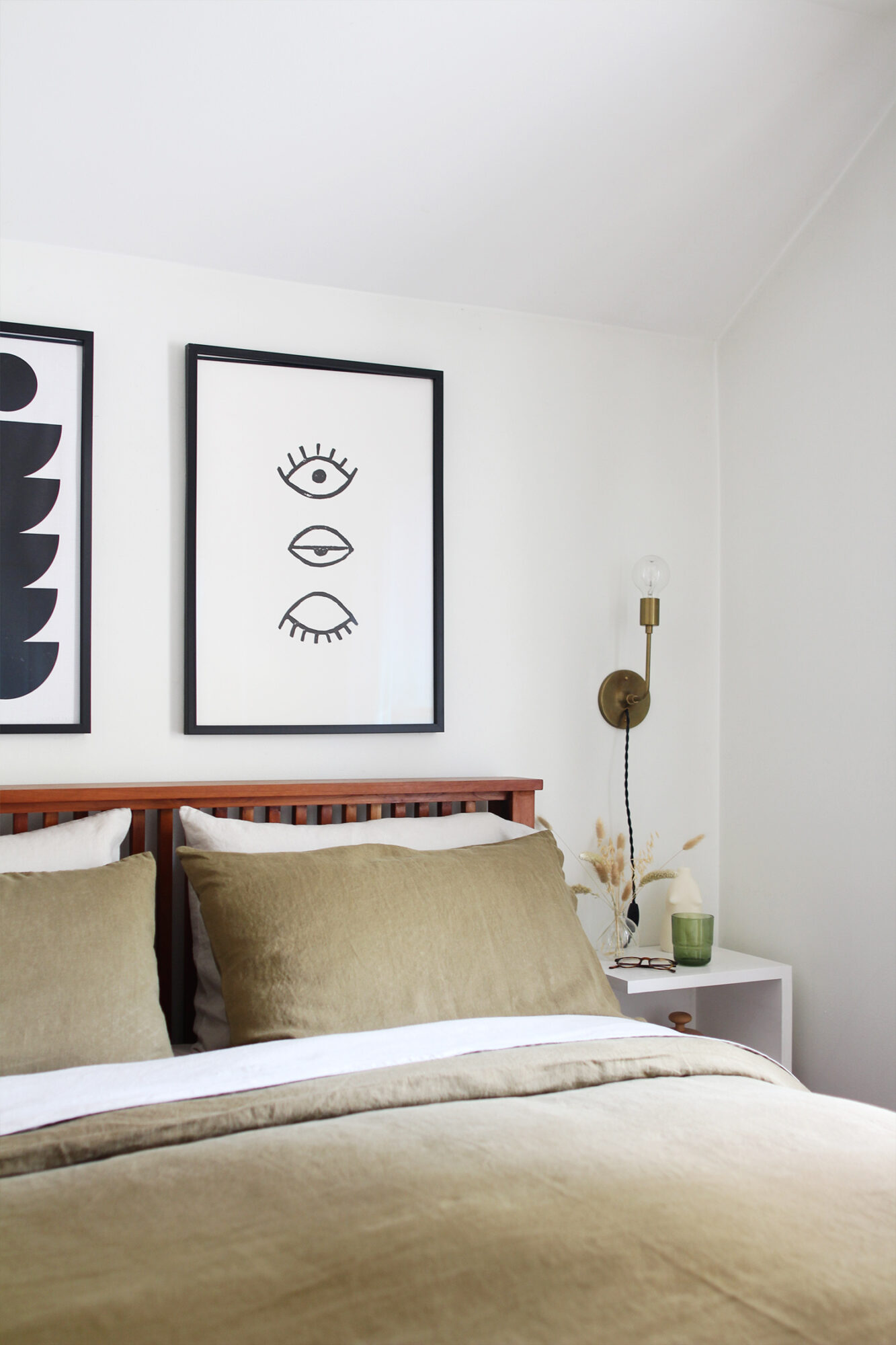 ---
BASIC INFO
---
MATERIAL: 100% French Linen (All Flax Sleep Bedding is 100% European Linen)
PRICEPOINT: $490 CAD
(Includes 1 fitted sheet, 1 flat sheet, 4 pillow cases, 1 duvet cover)
GET 10% OFF THROUGH THIS LINK.
AVAILABLE SIZES: TWIN / QUEEN (size we ordered) / KING
COLOUR OPTIONS: Flax Sleep has a lovely array of colour options. 7 including a white & a grey stripe.
When I ordered in the summer, I went for the Olive duvet cover and Fog for the flat and fitted sheet. I love the combo and how it looks in the bright white bedroom and with our cherry wood bed frame.
Olive is not available directly from Flax Sleep anymore (sorry!), however king size duvet sets or sheet sets are available from Indigo. I would be ordering Charcoal/Fog or Pebble/White if I was ordering now.
SHIPPING: FREE on orders over $250 CAD in Canada, INTL shipping calculated at checkout.
Flax Sleep linen sets arrive in a drawstring dust cover (shown above) and there was no plastic in the parcel I received.
MADE IN: Shenzhen, China
There isn't a lot of information about Flax Sleep's production, however, the brand states:
"Our products are made with quality materials, high production standards, and ethical manufacturing practices. We've met all of our production partners in person and pride ourselves on these relationships with quality manufacturers around the world."
---
If you'd like to shop from a linen brand that's sewn in Canada (we don't produce linen domestically so it all comes from overseas) check out:
If you're US based I'd check out:
The Citizenry (they have a full set that looks nearly identical to the one in this post.)
---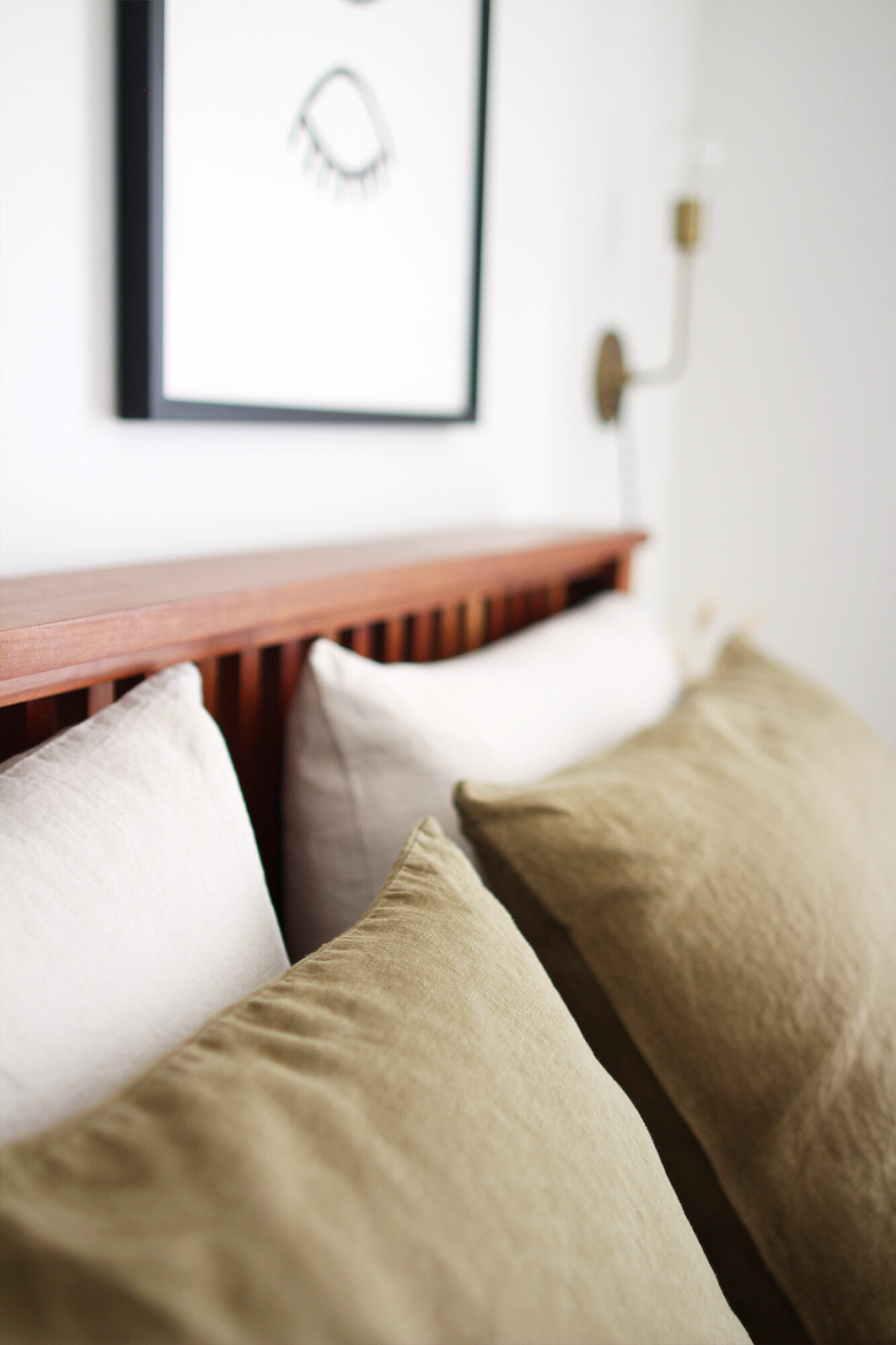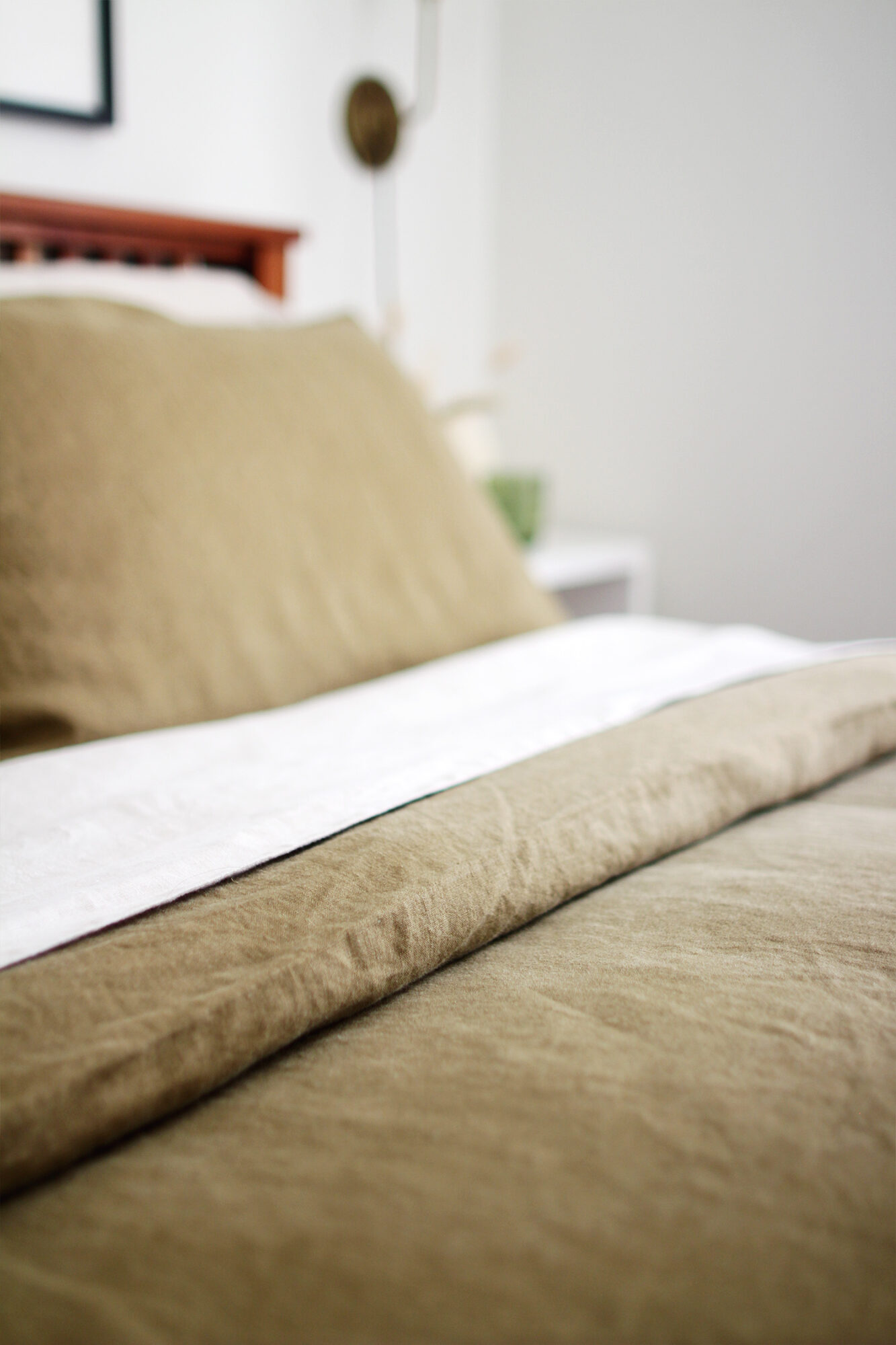 ---
MY THOUGHTS ON:
---
SOFTNESS
It seems the claim to fame of these sheets is softness and that definitely holds up. They are considerably softer than any linen sheets we've tried previously (ie: IKEA & MATTEO). We washed them before the first sleep (which is recommended by Flax and something we would do anyway) and they were a delight to sleep on right away. In the past I've found new linen sheets to be slightly scratchy, however, this was not the case at all.
It was like sliding into a lovely little cloud and we've had great sleeps on them/in them for sure!
(Texture shown below)
---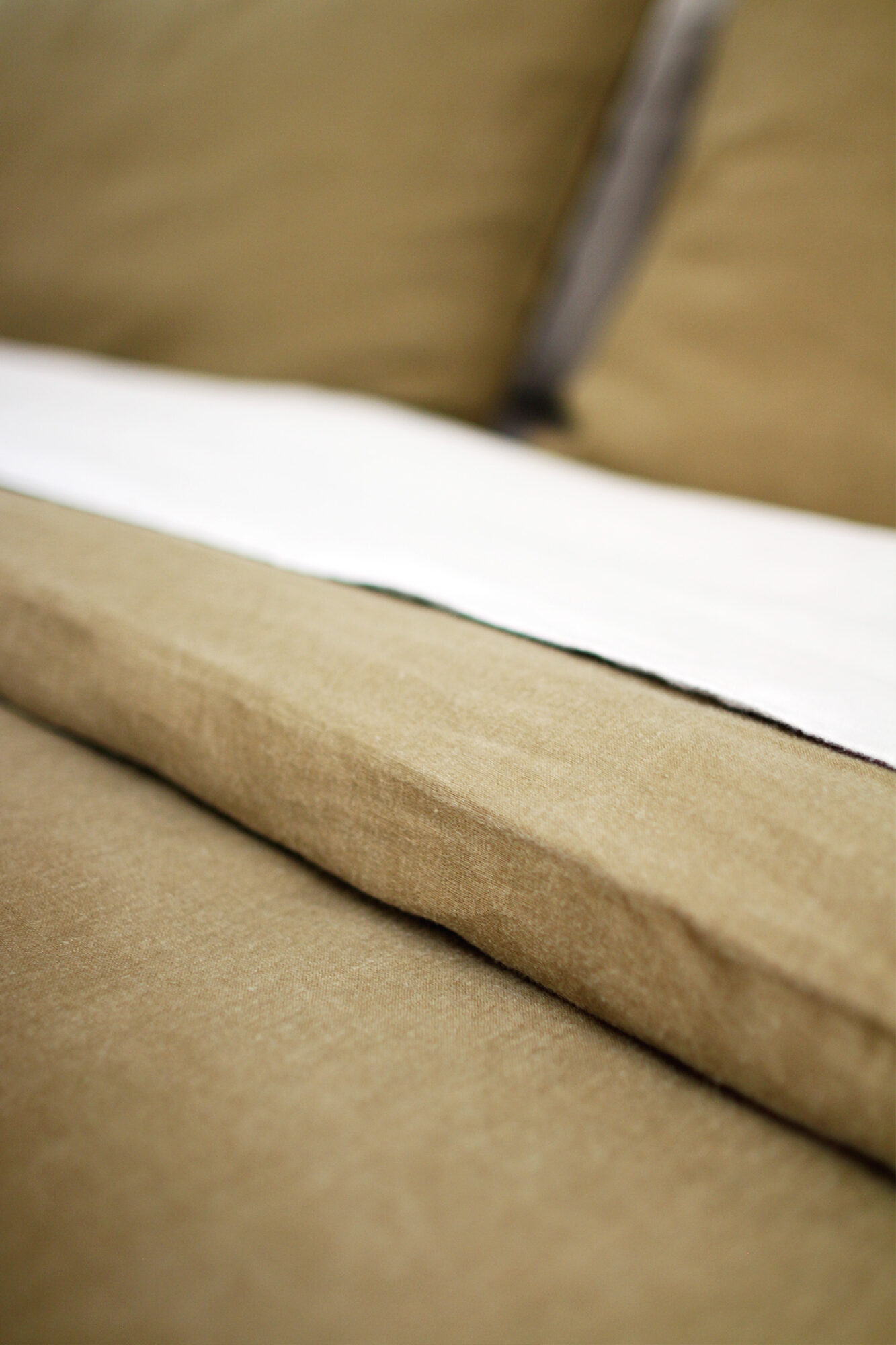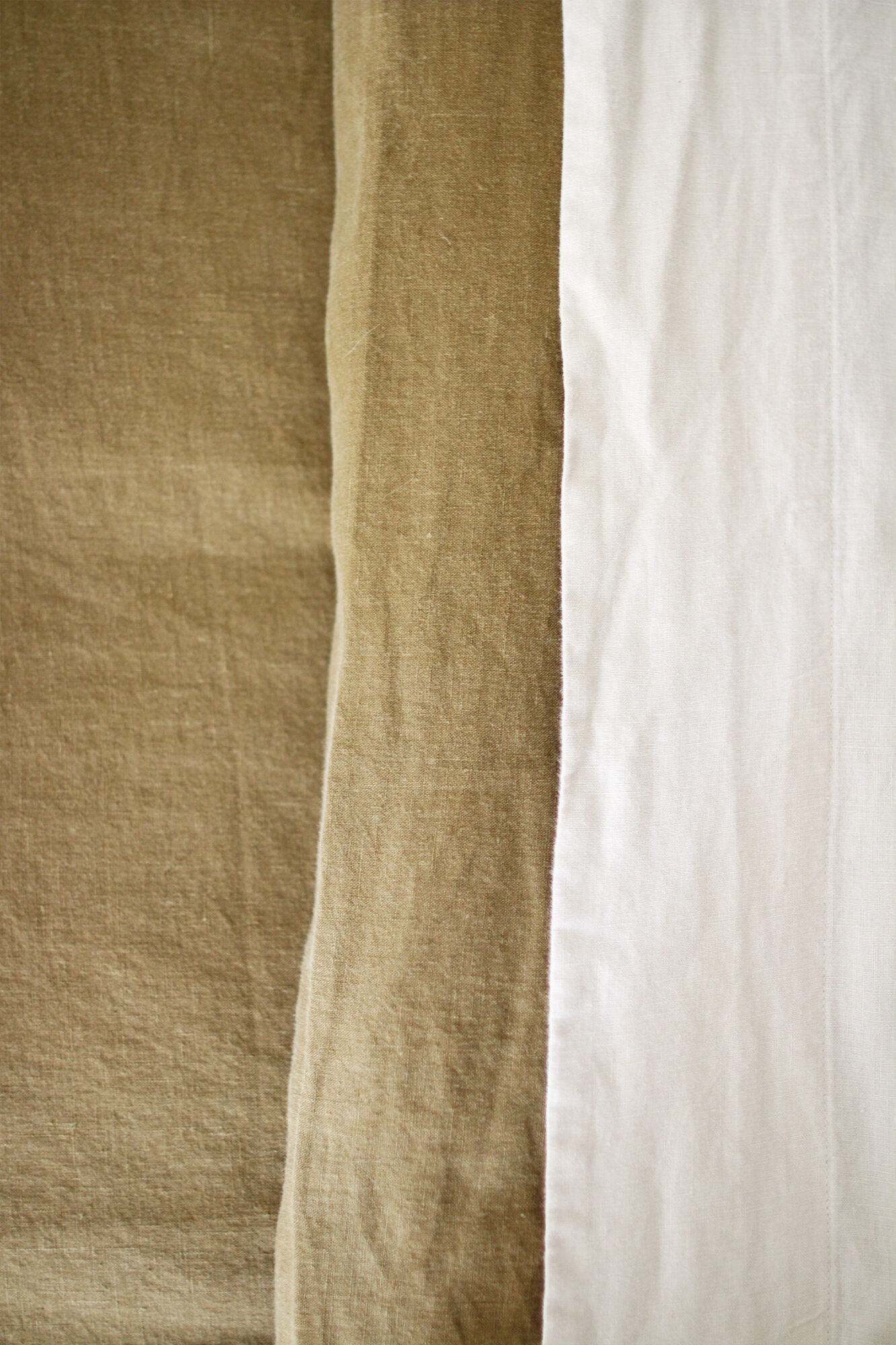 ---
TEMPERATURE REGULATION
My husband and are a both relatively hot sleepers and while the sheets didn't make us any hotter than usual, they weren't as cooling as I'd expected either. That said, I haven't found myself hanging a limb out to cool down throughout the night either. Now that we're into the fall and winter months the sheets feel perfect. The outside definitely stays nice and cool, while the inside feels more snuggly.
---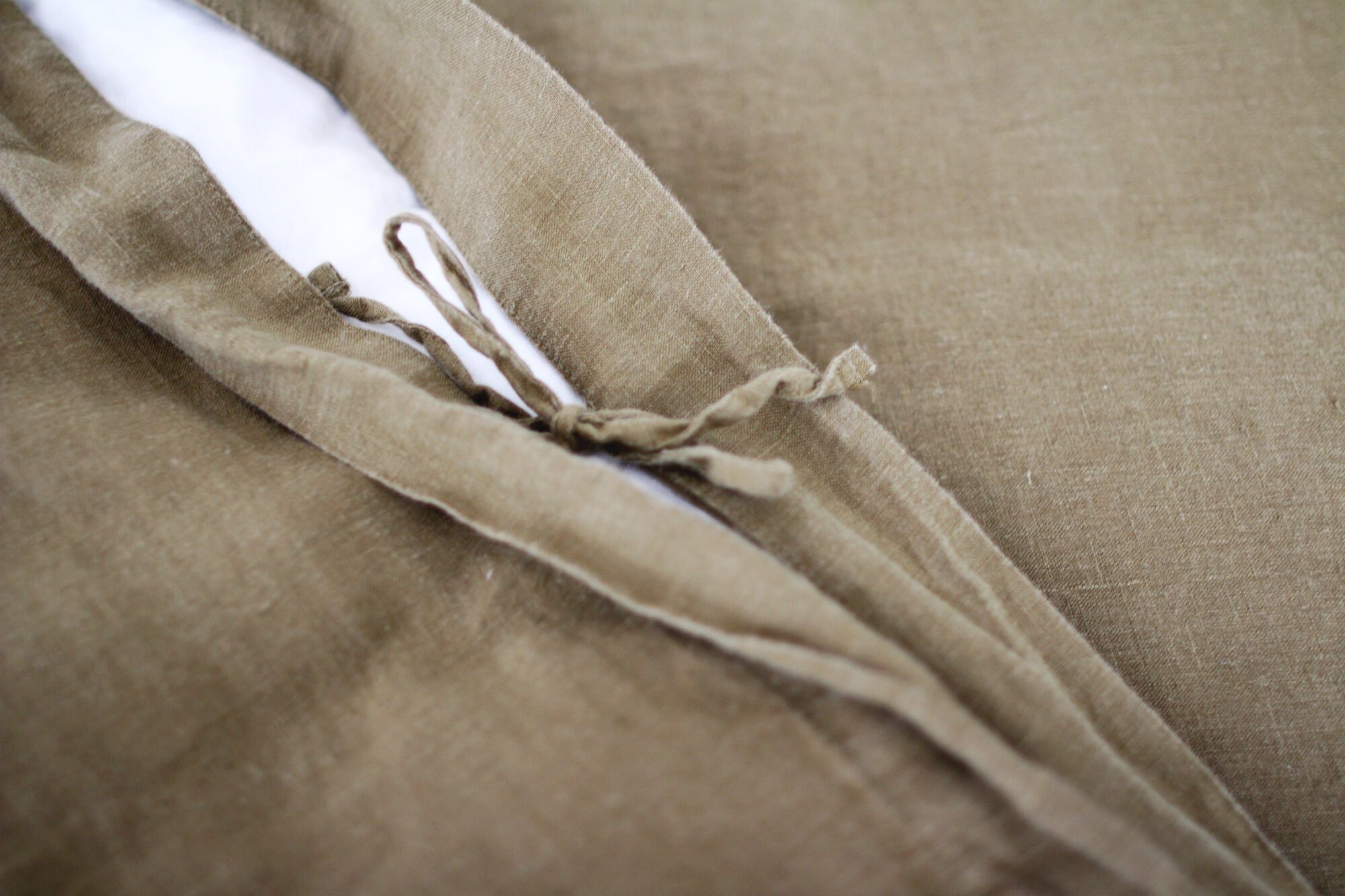 ---
DESIGN DETAILS
I love the simple tie closures on the duvet cover. There are no snagging zippers or finicky buttons to fuss with. (shown above)
The pillow cases have an envelope design so the insert stays concealed. They fit nicely over the Casper pillowcases we have. (shown below)
---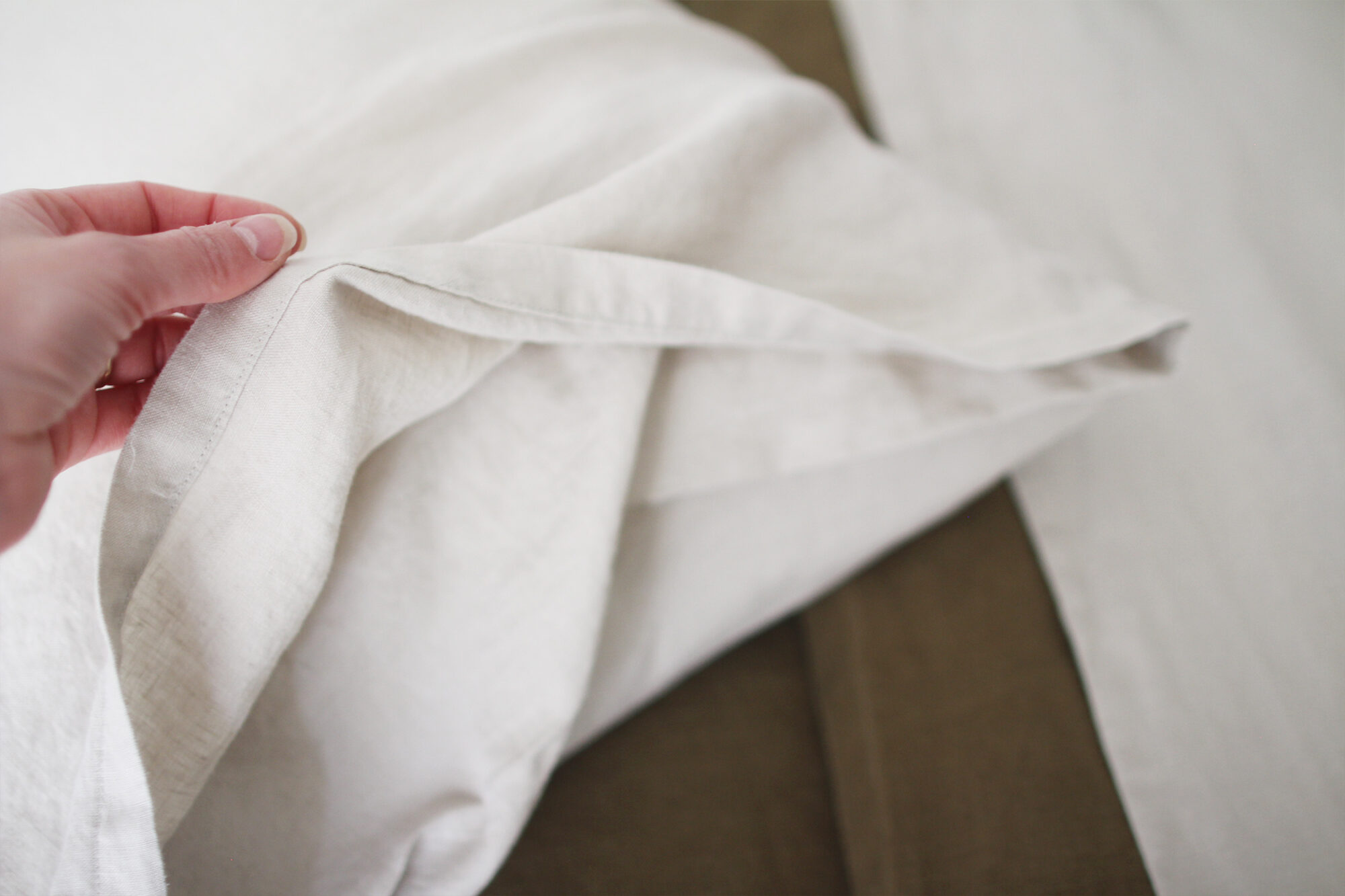 ---
ADDITIONAL NOTES
Linen wrinkles, and these sheets are no exception. If you don't like a slept-in vibe and prefer a crisper look, these might not be great for you. For this shoot I pulled them right out of the dryer so they were reasonably smooth. After a sleep or two they look more rumpled.
Expect lots of lint in the dryer, which the care instructions note. I haven't found that they leave much lint when in use though.
---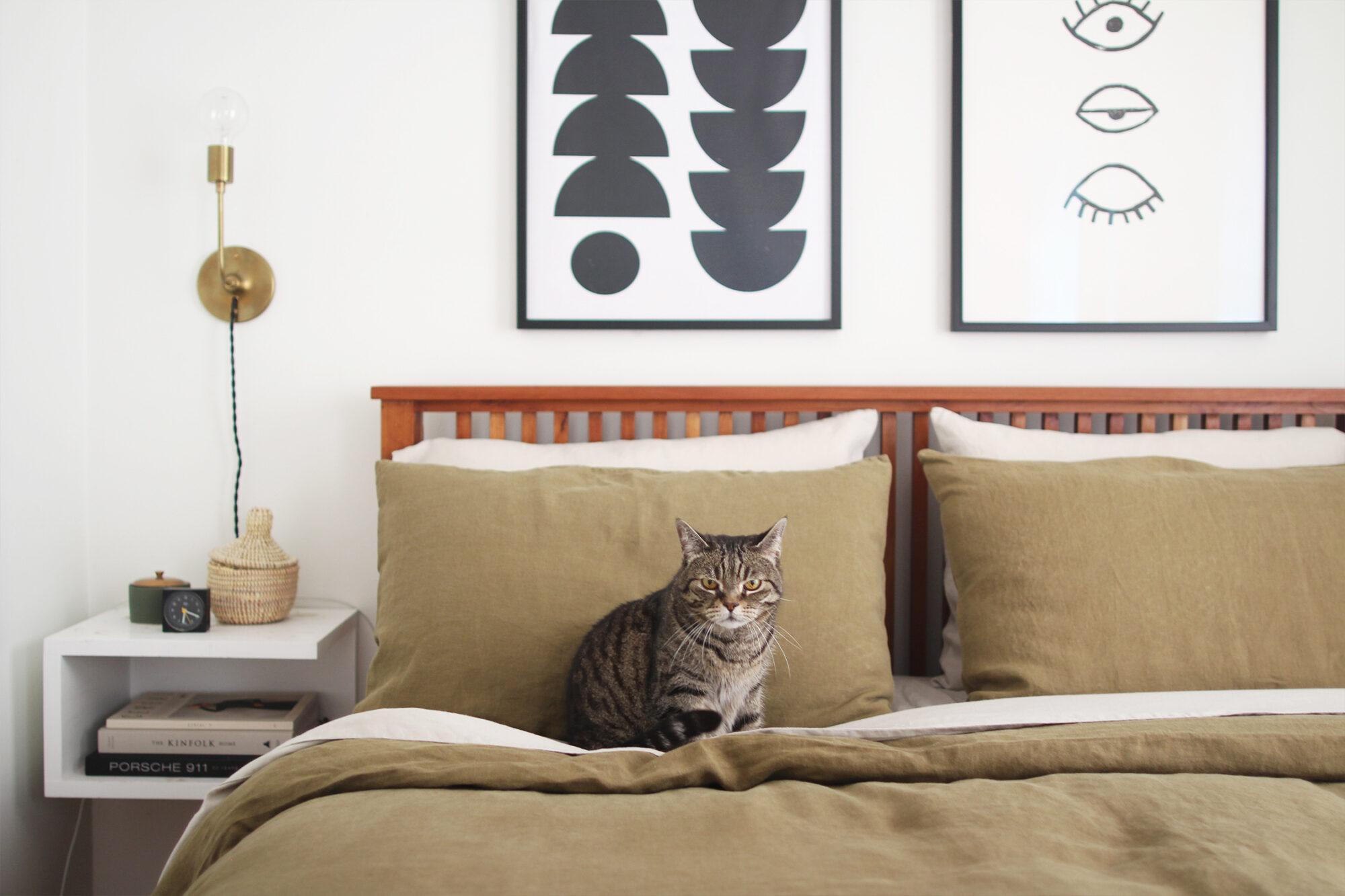 ---
WOULD I ORDER FLAX SLEEP LINENS AGAIN?
You bet! I think they're worth the price for how soft and high quality they feel. They've definitely improved our sleep experience and I expect to have them for many years. That said, I'll update if anything changes my opinion of the quality/longevity.
If you're considering new bedding for the new year or a holiday present (to yourself or otherwise!) I definitely think Flax Sleep is a worthy option.
Have any additional questions? Ask away and I'll do my best to answer.
---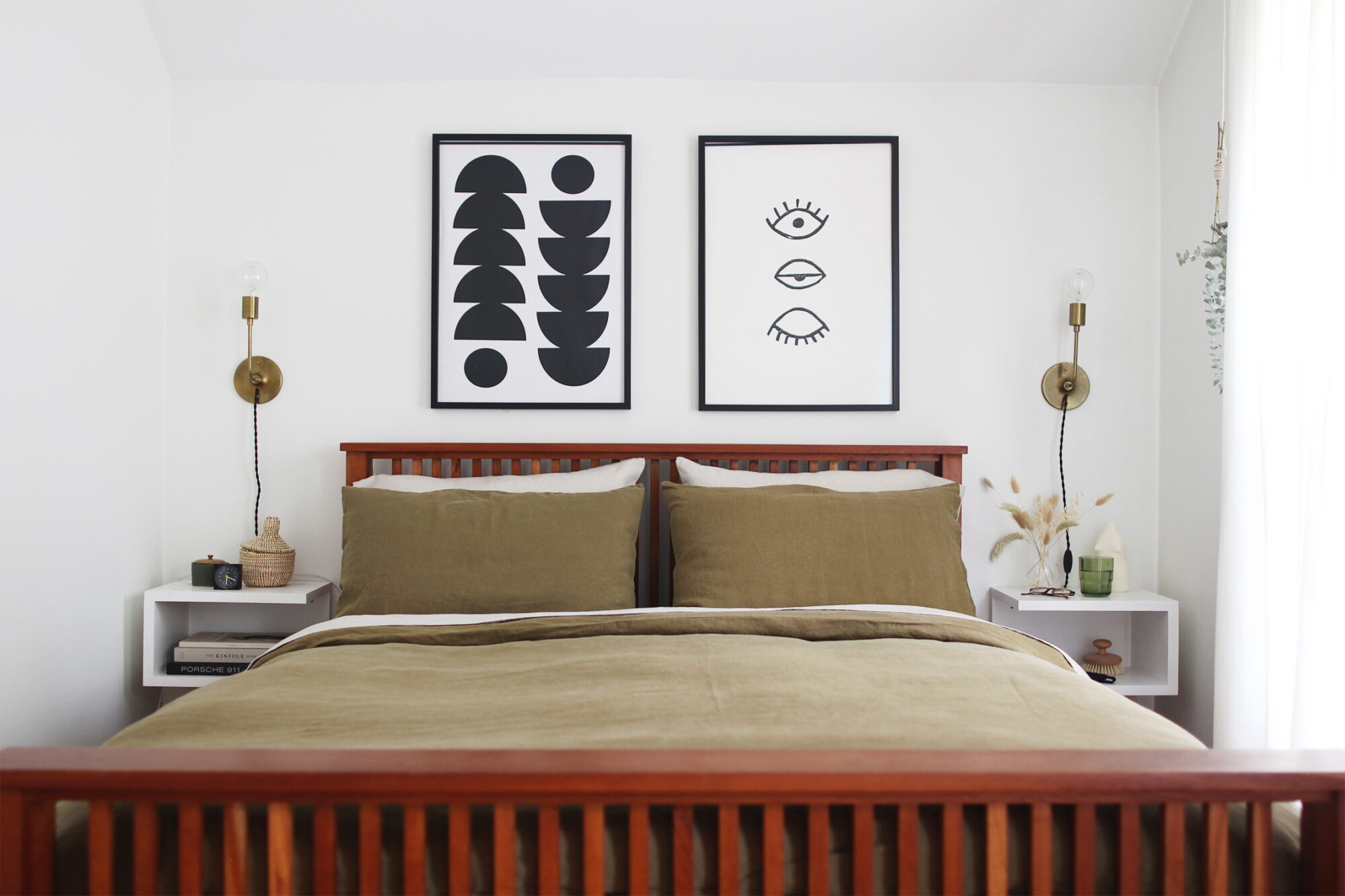 ---
SHOP OUR BEDROOM
ARTWORK THE POSTER CLUB // BED FRAME & SIDE TABLES CUSTOM MADE (linked to similar) // WALL SCONCES SCHOOL HOUSE ELECTRIC // SMALL BASKET (linked to similar) // GLASS VASE BROOKE DRABOT GLASS // GREEN TUMBLER gifted OUR PLACE // FLAX SLEEP SET FLAX SLEEP (olive set discontinued)

---
I hope you found that review helpful! I'm planning to try out more brands from the Canadian Bedding Brands list and will continue to share my thoughts.