I haven't always had an easy time going to sleep. In fact, it's taken years of testing out different tactics to create a bedtime routine that really works for me. For a long time I thought I was destined to be a chronic night-owl and getting a good night's sleep would always be elusive.
Now, it's not a perfect science but there are few things that have helped to improve my relationship with going to bed and have greatly increased my ability to sleep well and wake up feeling rested. As we can all attest, waking up from a good sleep, can make or break the whole day!
I'm excited to delve into this topic a little bit today and share some of the steps I take to give myself a better chance at a good night's sleep. I'm also thrilled to introduce a Canadian-made sleepwear line known as The Sleep Shirt and take a closer look at the best-selling Long Black Linen Sleep Shirt. I've even curated a little Style Bee collection of my favourite styles!
Shall we tuck ourselves in?
---
Enter code at checkout anytime.
---
This post is produced in partnership with The Sleep Shirt, an independent, woman-owned, Canadian-made brand. The featured piece was gifted and Style Bee earns a commission on sales made using the links below and reader code (at no additional cost to customers). Thanks for your interest in supporting the brands that support Stye Bee!
---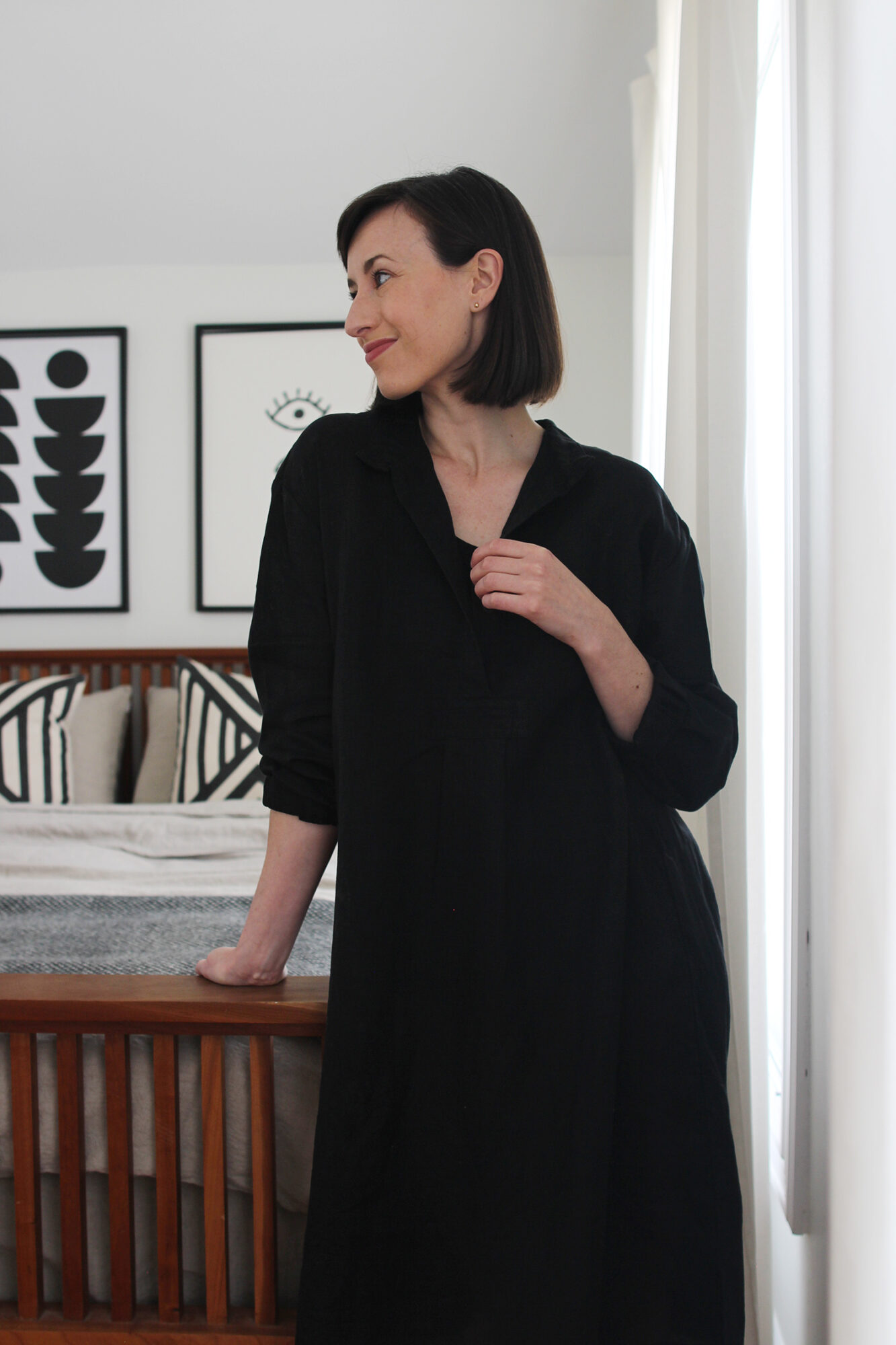 ---

Enter STYLEBEE at checkout for 15% Off anytime. More details on this Canadian-made line below.
---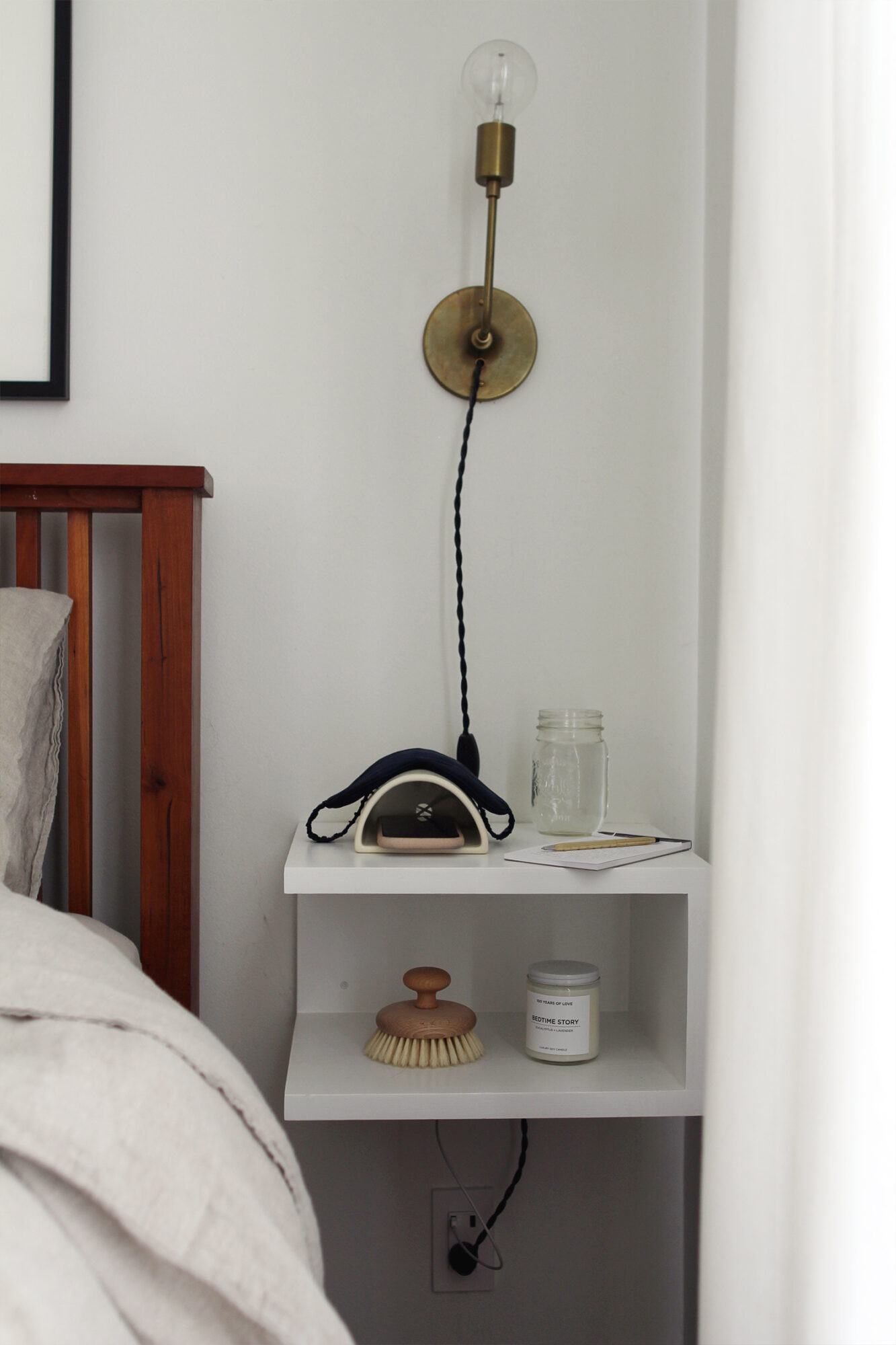 ---
MY BEDTIME ESSENTIALS
6 ways I set myself up for a better night's sleep and a fresh start.
---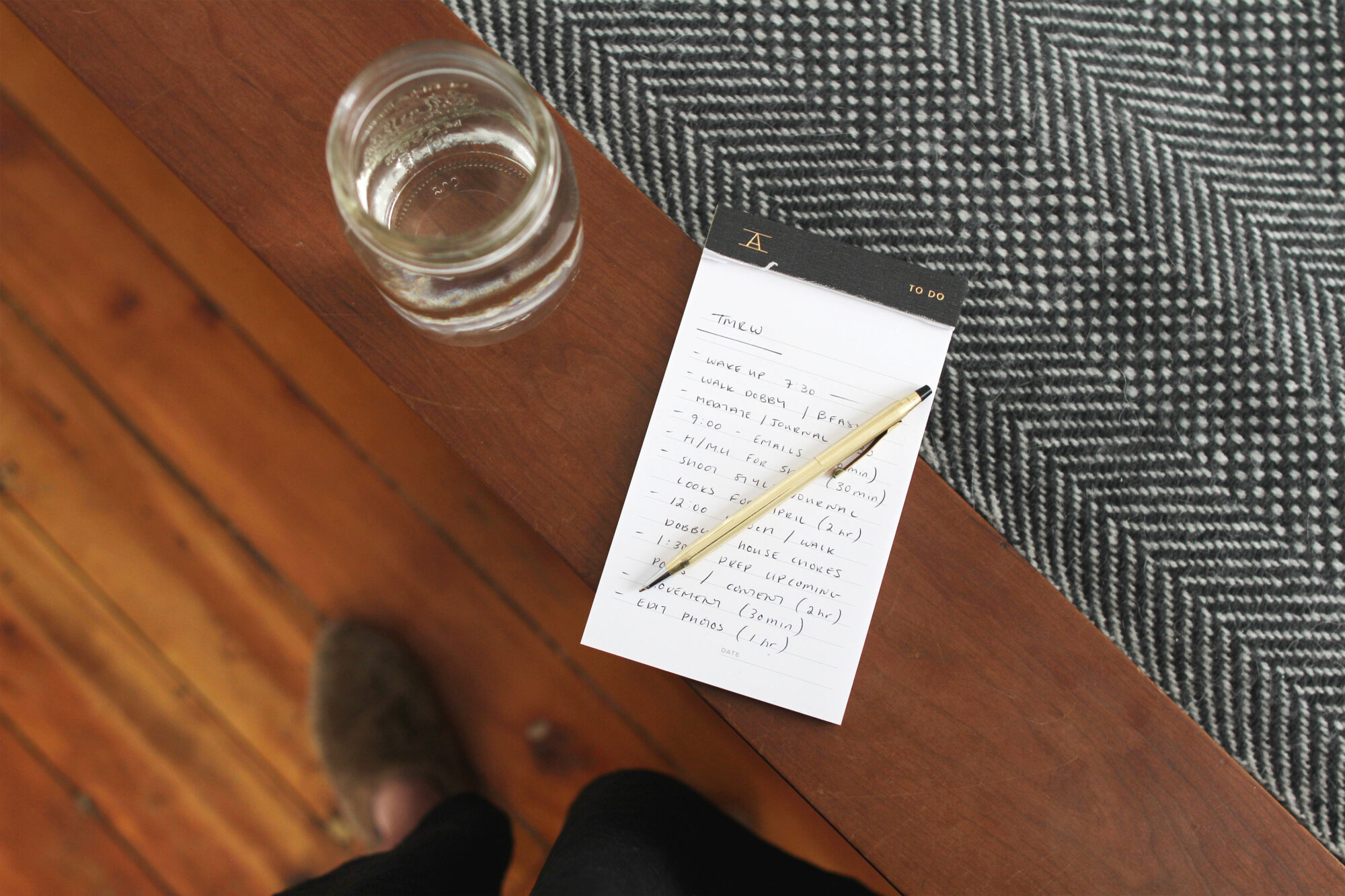 ---
1 | TOMORROW'S TO-DO LIST
Before bed or at the end of my work day, I find it really helpful to quickly jot down my schedule for the following day. I start with my wake up time and write out the key tasks I need to accomplish with an optimal time allowance included. This process helps to reduce the nighttime anxiety that can arise from feeling like I have too much to do the next day. It also helps my productivity immensely.
My favourite to-do list is by Appointed Co.
---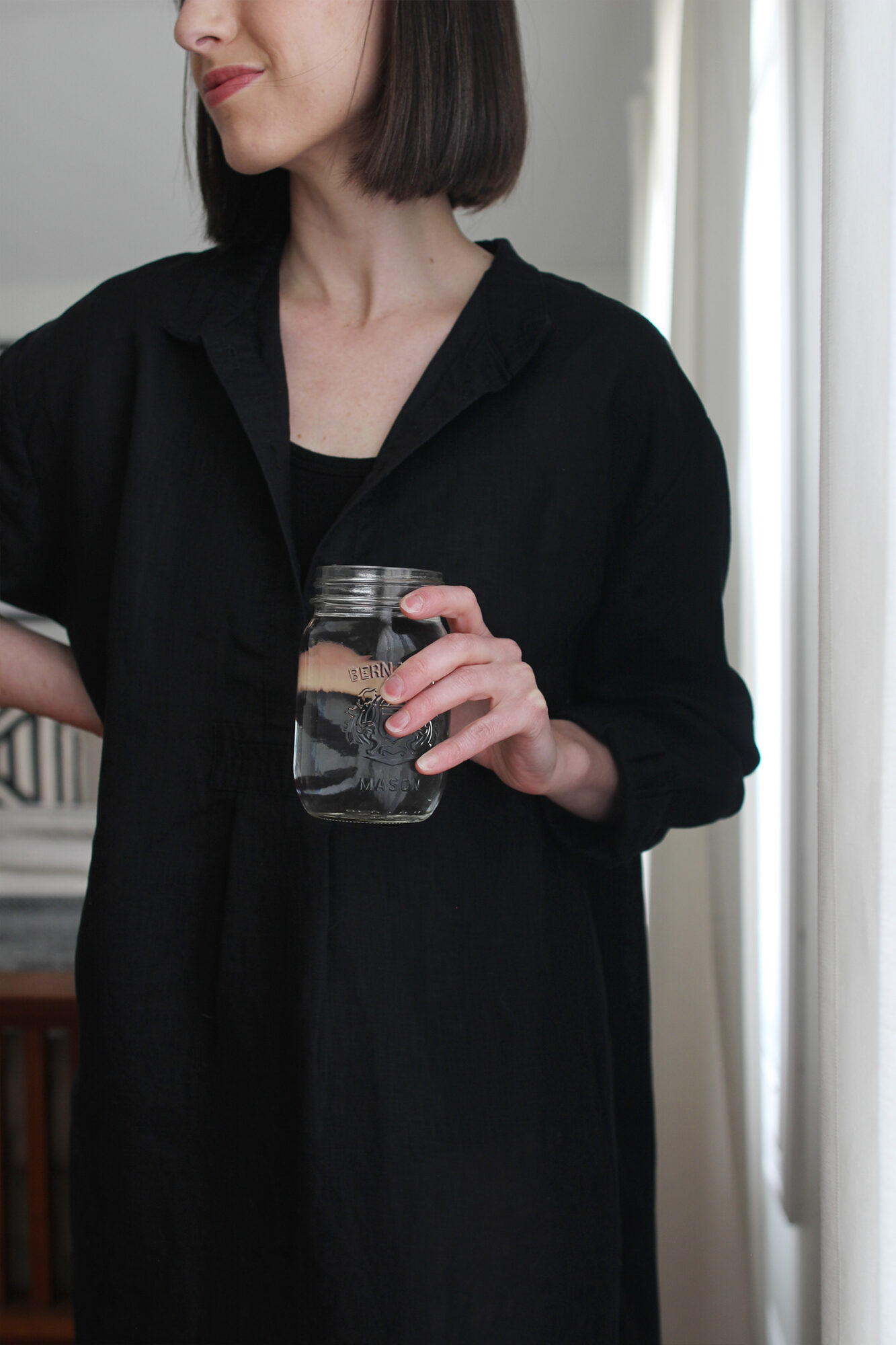 ---
2 | A FRESH GLASS OF WATER
I'm bad at staying hydrated during the day. So it's usually not until the evening when I realize I have some catching up to do. Once I've guzzled a big drink before bed, I pour another one so I can at least start my day with a full glass of water. It's amazing how this can brighten my attention and help me feel physically refreshed.
---
3 | PUT MY PHONE TO BED
Earlier this year, I bought The Phone Home from Canadian ceramicist Rachel Saunders and it has already made a vast improvement to my sleep routine. Before I wash the day off my face and slide into my sleepwear, I tuck my phone into its little home for the night. Just this simple act of putting the screen away signals my brain to start settling down.
---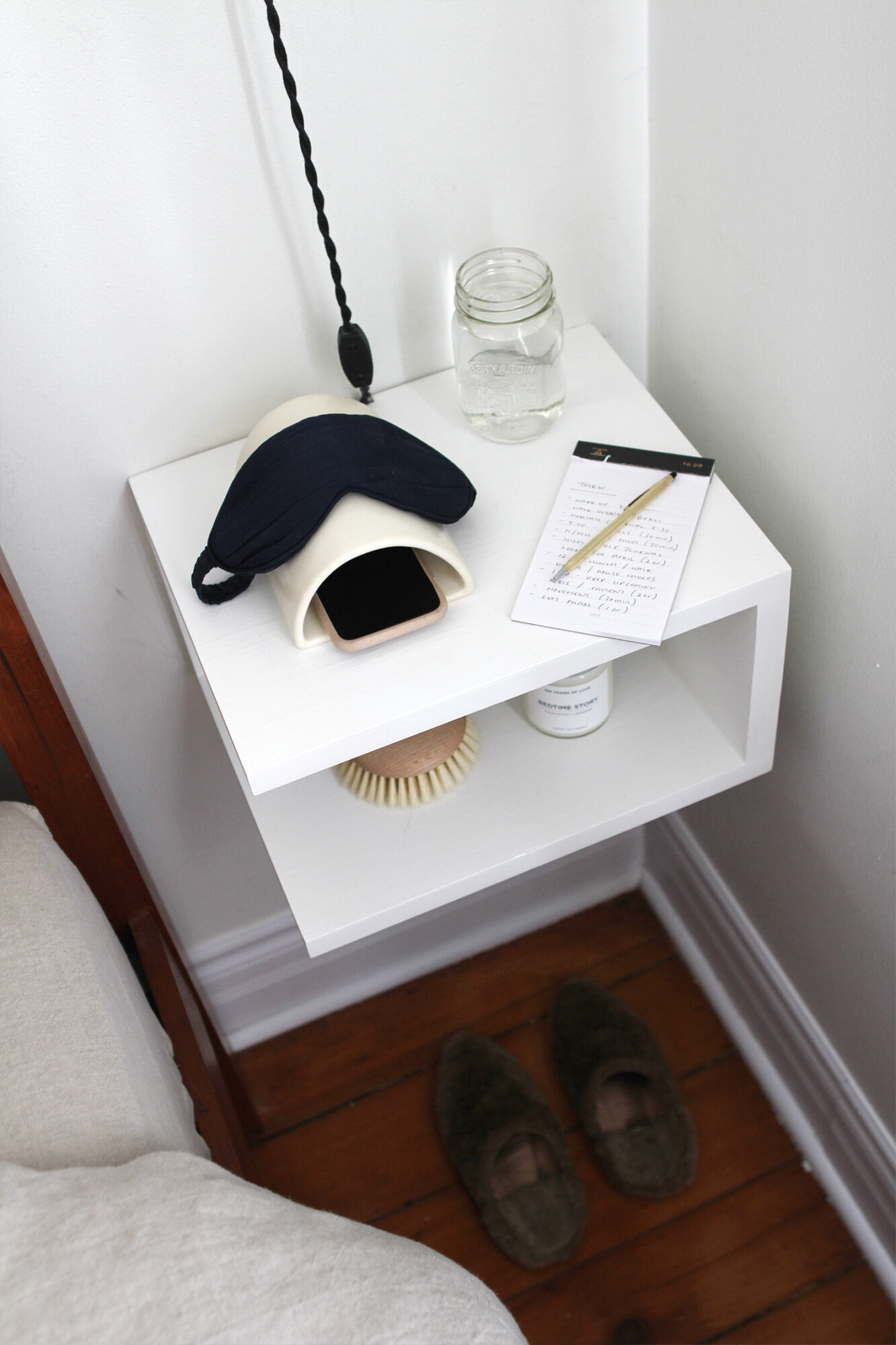 ---
4 | SLEEP MASK AT THE READY
I started using a sleep mask last year and it's been nothing short of life changing. I find I sleep so much more soundly and wake up way more well-rested.
Mine is no longer in production but The Sleep Shirt does some cute ones.
---
5 | GUIDED SLEEP MEDITATION
On nights when my mind is buzzing and I'm having a hard time quieting things down, I find it helps to listen to a short, guided sleep meditation. I just play it on my phone and set the sleep mode to when the episode ends so I don't need to be awake to turn it off.
Mindful in Minutes offers some of my favourite relaxation meditations.
---
6 | COMFY SLEEPWEAR
Last but not least, of course, is sleepwear that feels really good. It's also important for me to have pyjamas that I can wear right out of bed and feel somewhat functional for the mornings. I always do a few pet-related morning chores, make coffee and enjoy breakfast in my sleepwear, so a night shirt over a cotton set with cozy slippers is the perfect uniform.
More on my Sleep Shirt below!
---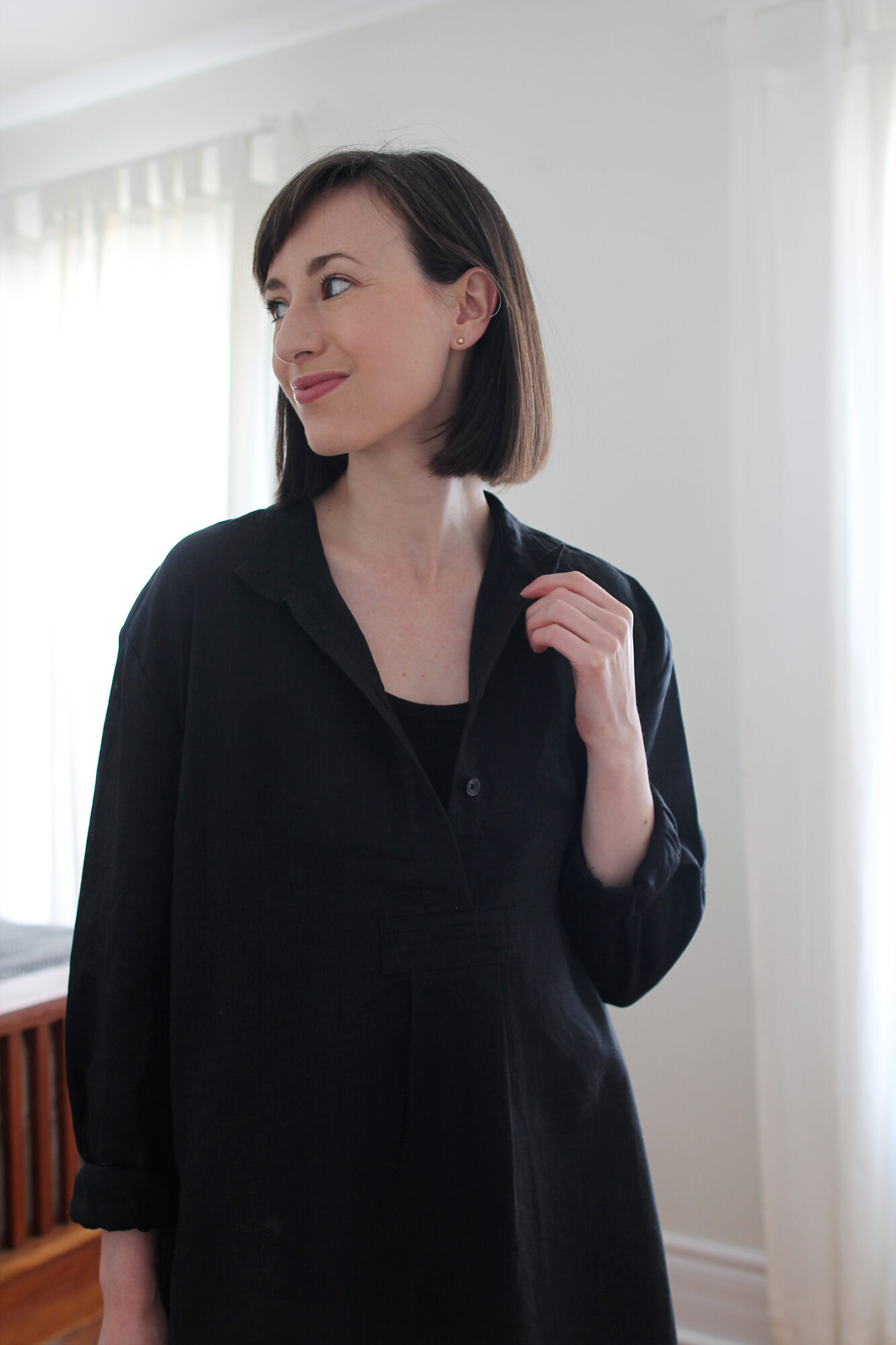 ---
ABOUT THE SLEEP SHIRT
---
For those new to the brand, The Sleep Shirt is a contemporary line of sleepwear, all made in Canada from a range of high-quality cottons and linens. The line was created in 2012 by Alexandra Suhner Isenberg, a Canadian living in Sweden, who was looking for sleepwear option somewhere between the usual (but not terribly functional) sultry silk tank sets and traditional (but bulky) pair of pjs.
Simply put, The Sleep Shirt is made for those who don't want to sacrifice style for comfort.
---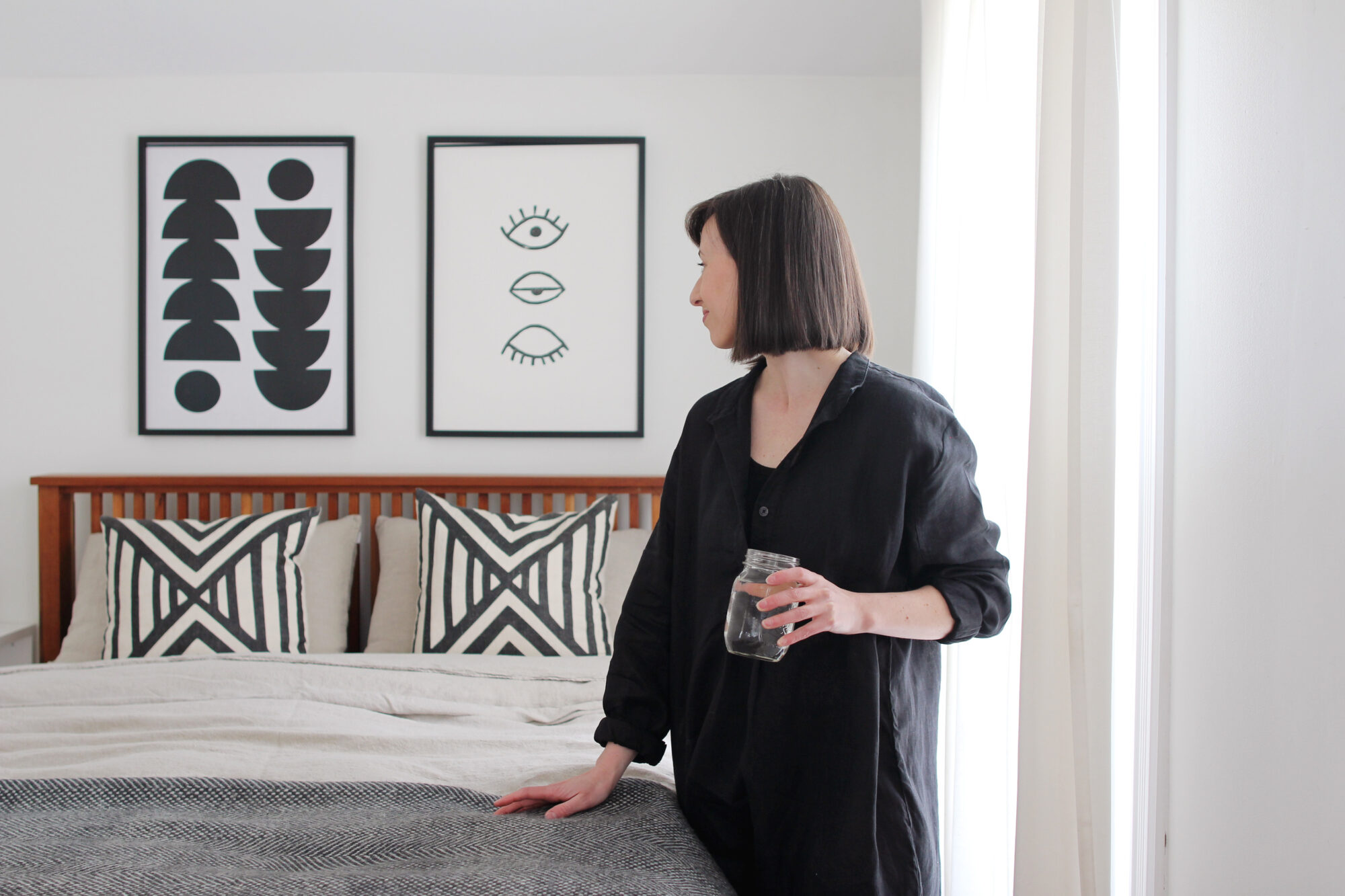 ---
SOME GOOD-TO-KNOW FACTS
---
PRODUCED IN CANADA: All Sleep Shirt products are manufactured in Canada, by people employed under safe working conditions and paid above minimum wage. By keeping production local the brand is able to ensure that the supply chain, materials, and packaging are as sustainable as possible.
MADE TO LAST FROM NATURAL MATERIALS: The Sleep Shirt uses exclusively natural materials for many reasons – but primarily for comfort, quality, and the environment. The brand believes that sleepwear should be made from natural fibres, due to their breathability, absorbency, and durability. Then, when a Sleep Shirt reaches the end of its life cycle, it will biodegrade naturally.
Learn more about The Sleep Shirts manufacturing and how the brand gives back.
SIZE INCLUSIVITY: The Sleep Shirt offers a size range of XS through 3X with more sizing on the way. The Long Black Linen Sleep Shirt featured in this post is available in both OS regular and OS extended, developed specifically for sizes XL to 3XL.
PRICE POINT: $205 – $305 CAD $170 – $260 CAD – with STYLEBEE for 15% Off.
There are many contributing factors to the price point of The Sleep Shirt line. Canadian manufacturing, natural, high-quality materials and a focus on a sustainable supply chain all play a part. The bottom-line is that these shirts are made to last and to serve discerning sleepers for many, many, years.
WIDE RANGE OF STYLES & COLOURS:

---
Enter code at checkout anytime.
---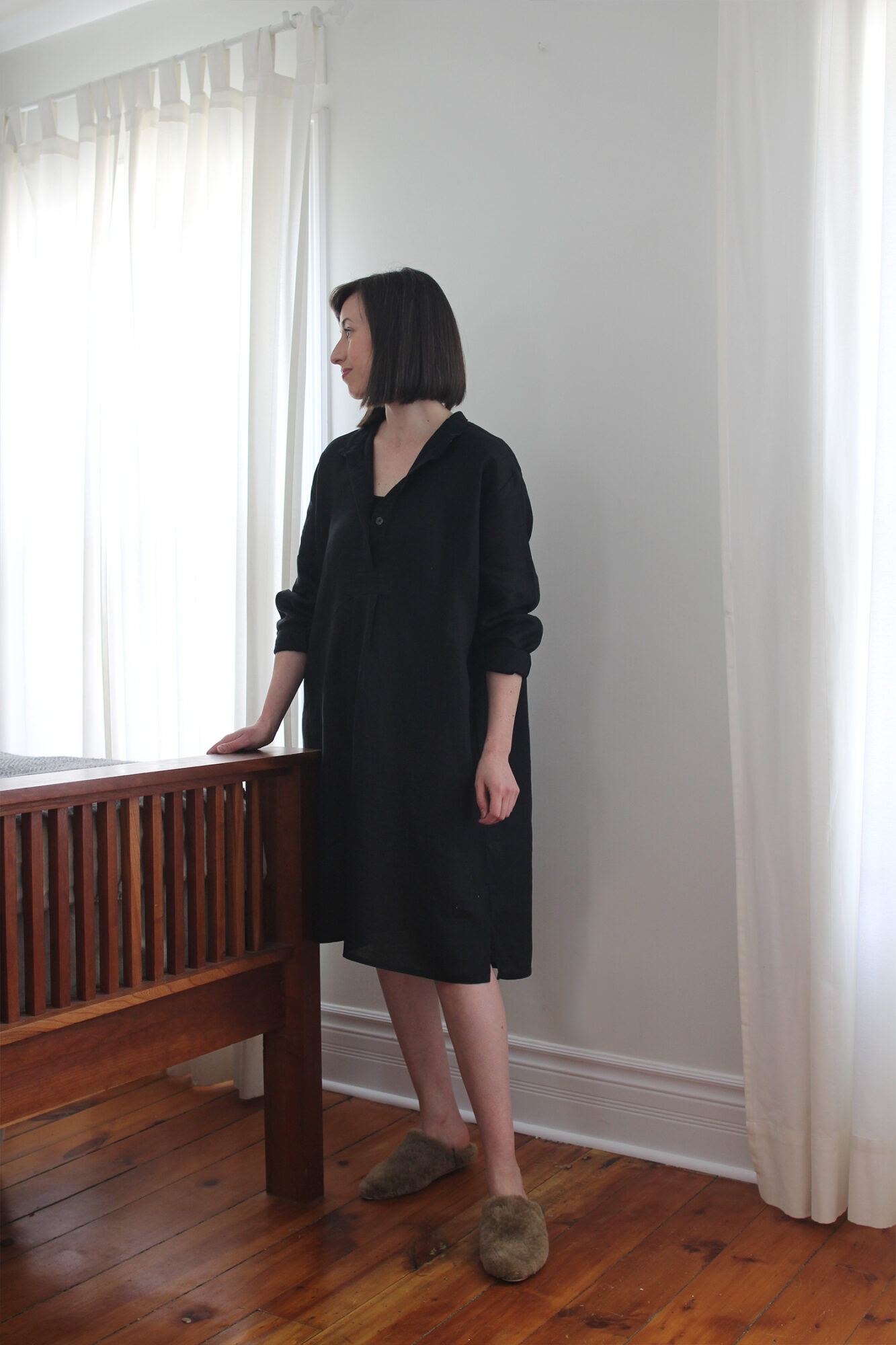 ---
THE DETAILS THAT STAND OUT TO ME
---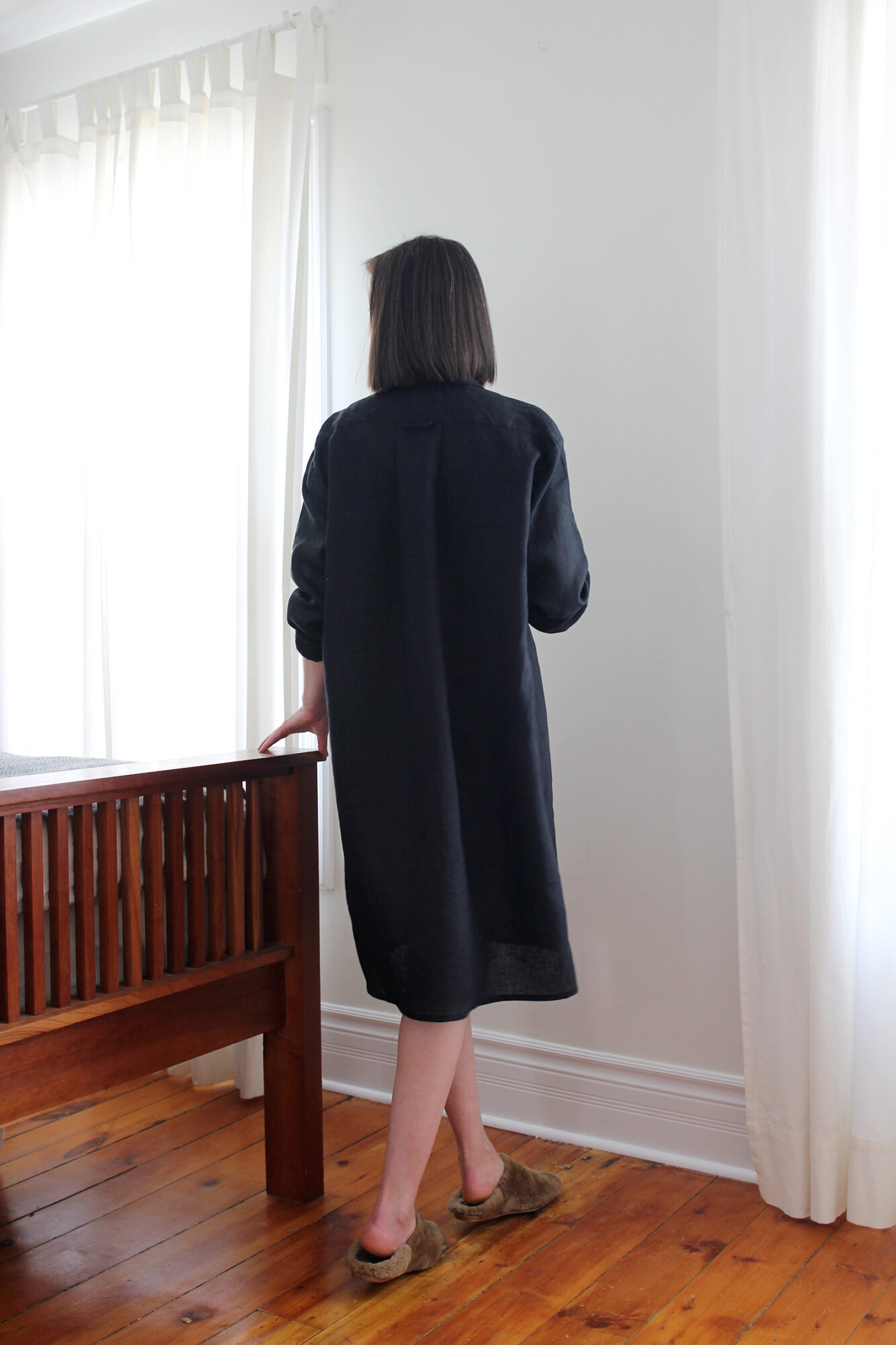 THE PERFECT LENGTH
I love the Long Sleep Shirt length because it offers plenty of coverage for use in front of guests but isn't so long that you'll get tangled in it at night.
---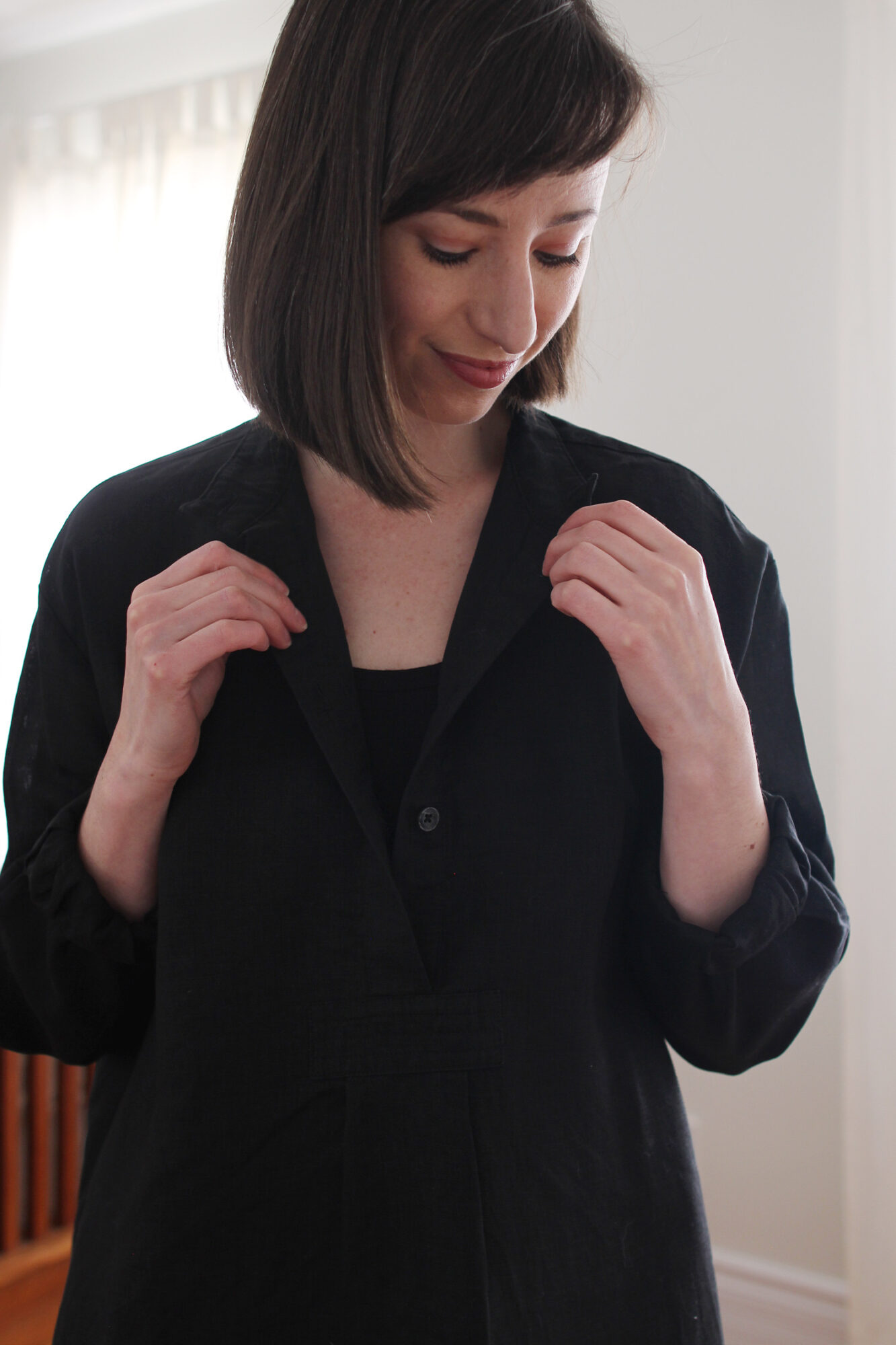 STANDING COLLAR & BUTTONED PLACKET
This design gives the sleep shirt it's "shirt" feel and makes it easy to pull on or off. It's also a beautifully sewn detail.
Shown below.
---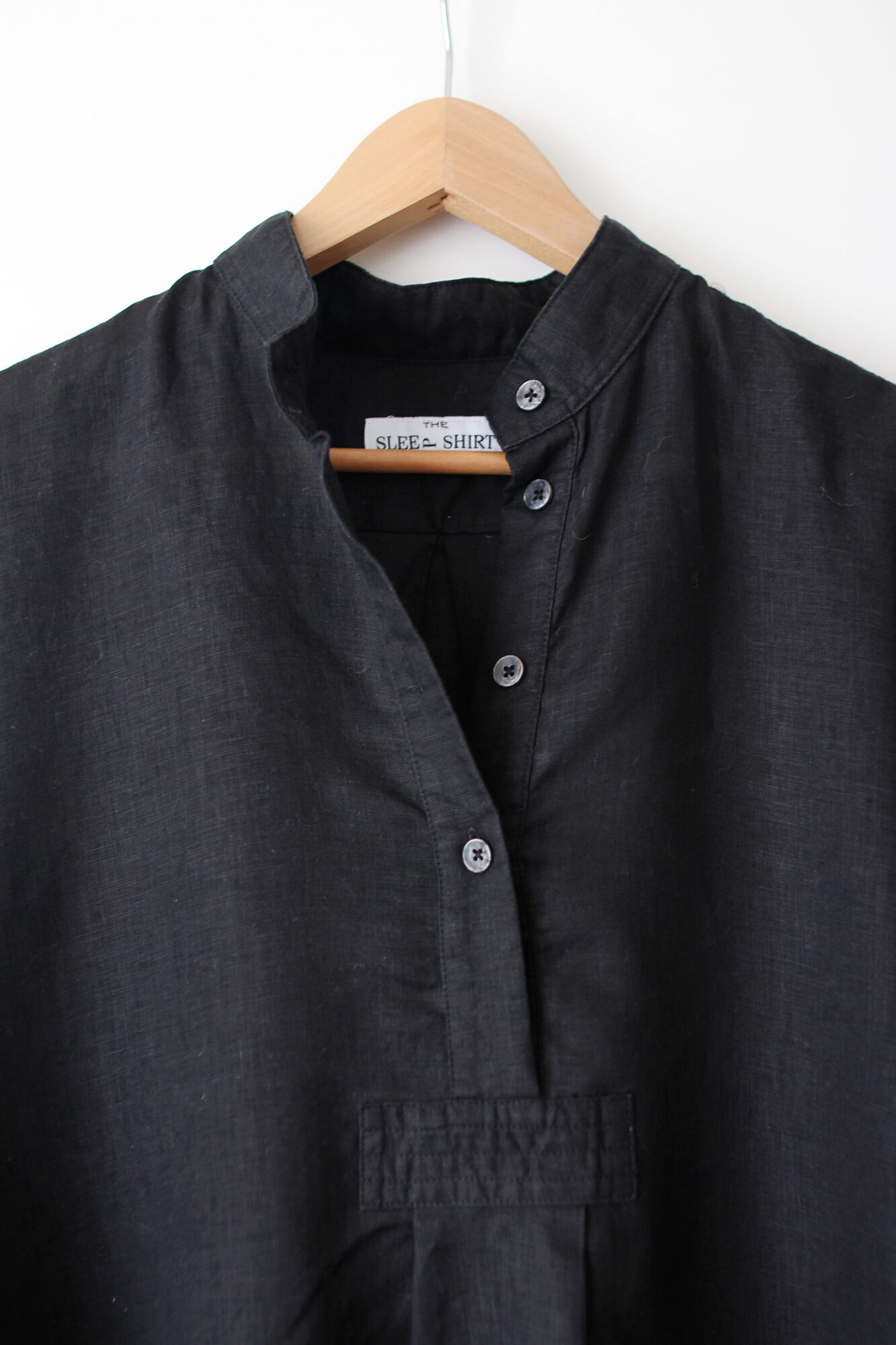 ---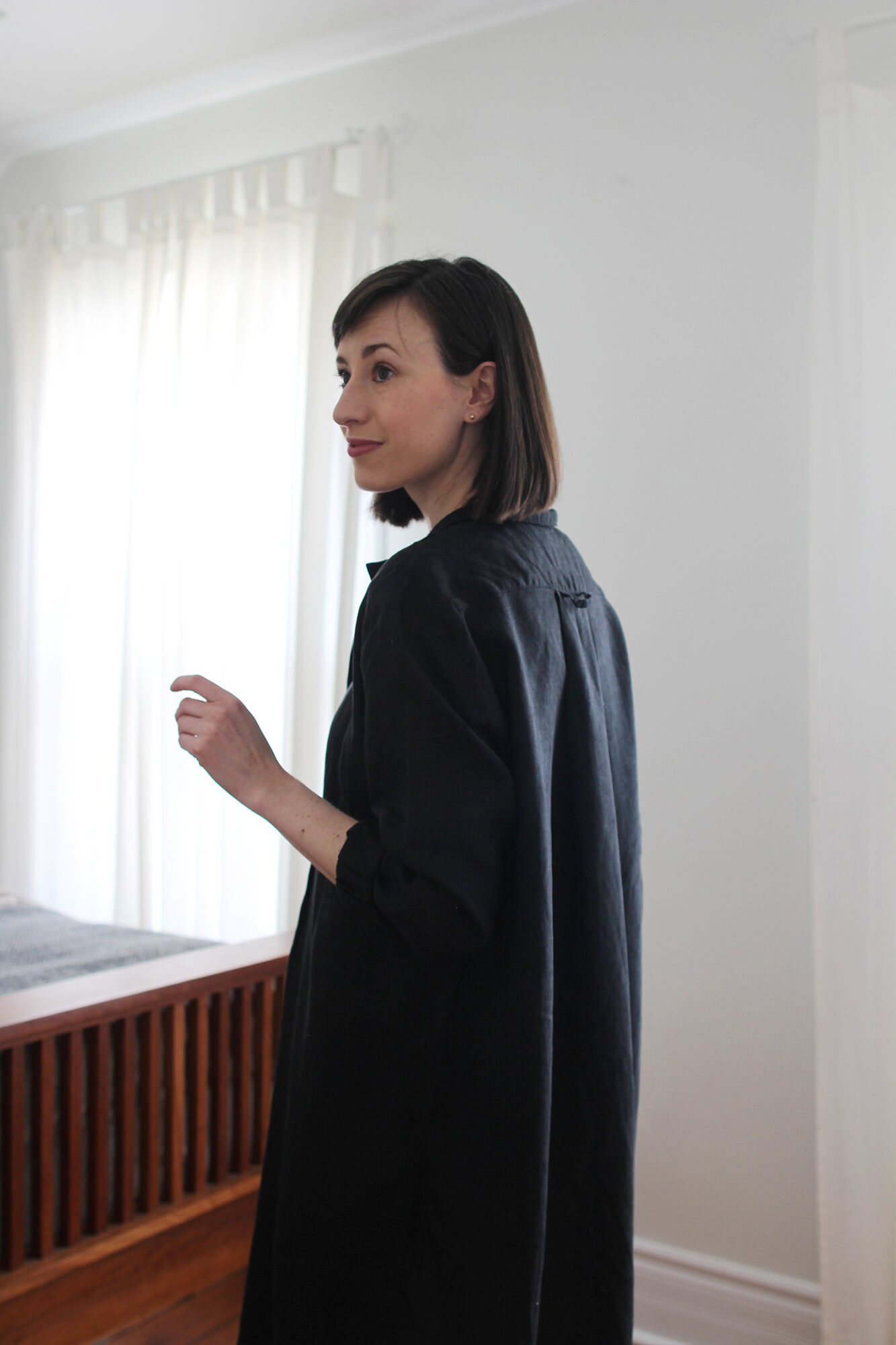 PLEATED BACK AND FRONT
This clever design element gives the shirt some dimension and a loop for hanging the shirt up keeps its super handy.
---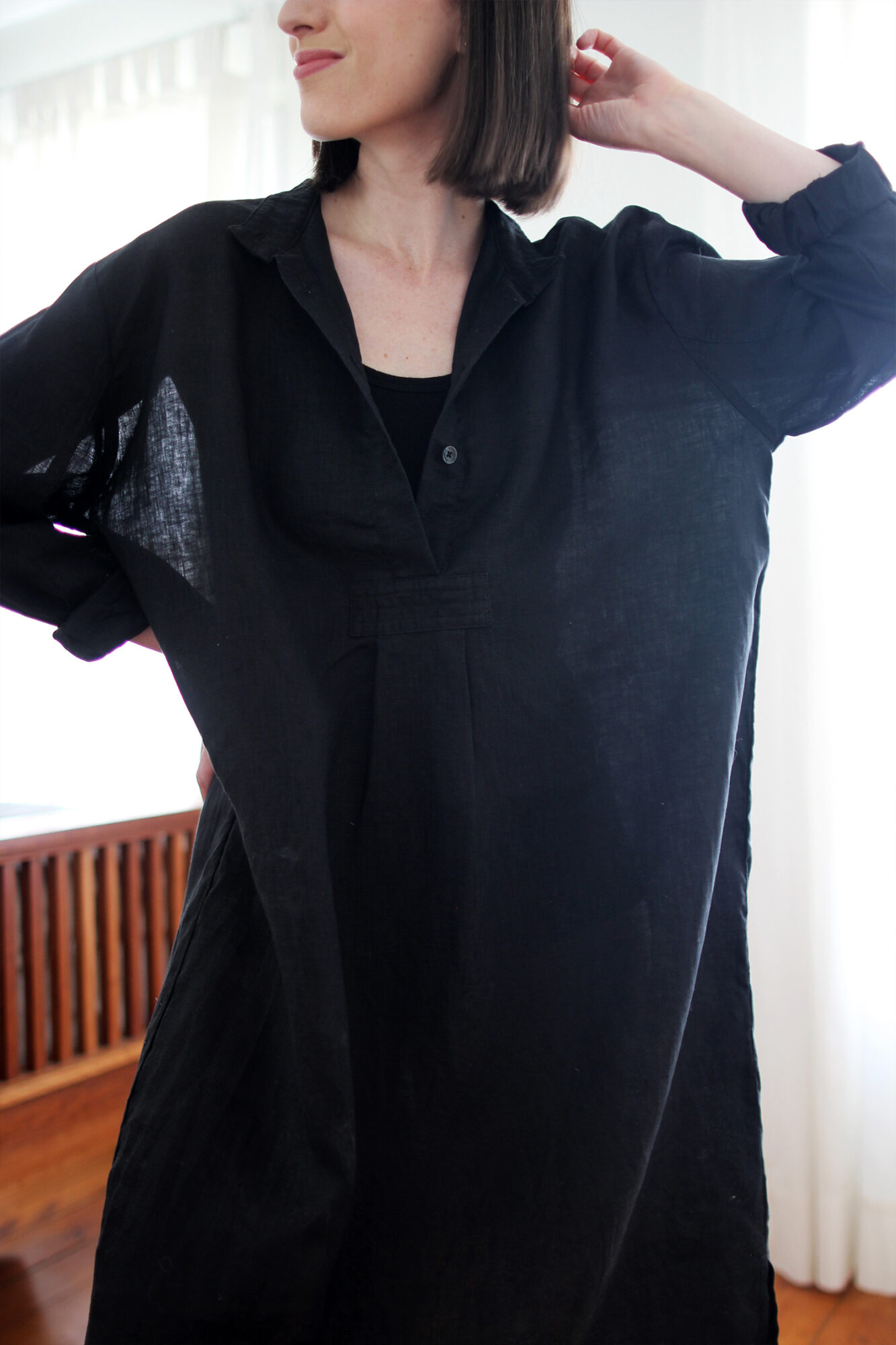 BREATHABLE LINEN
Linen is super adaptable to different sleep temperatures. It's semi-sheer but over a comfy tank and brief it doesn't feel at all revealing to me. There are lots of colours and fabrics to explore if you want more opacity.
---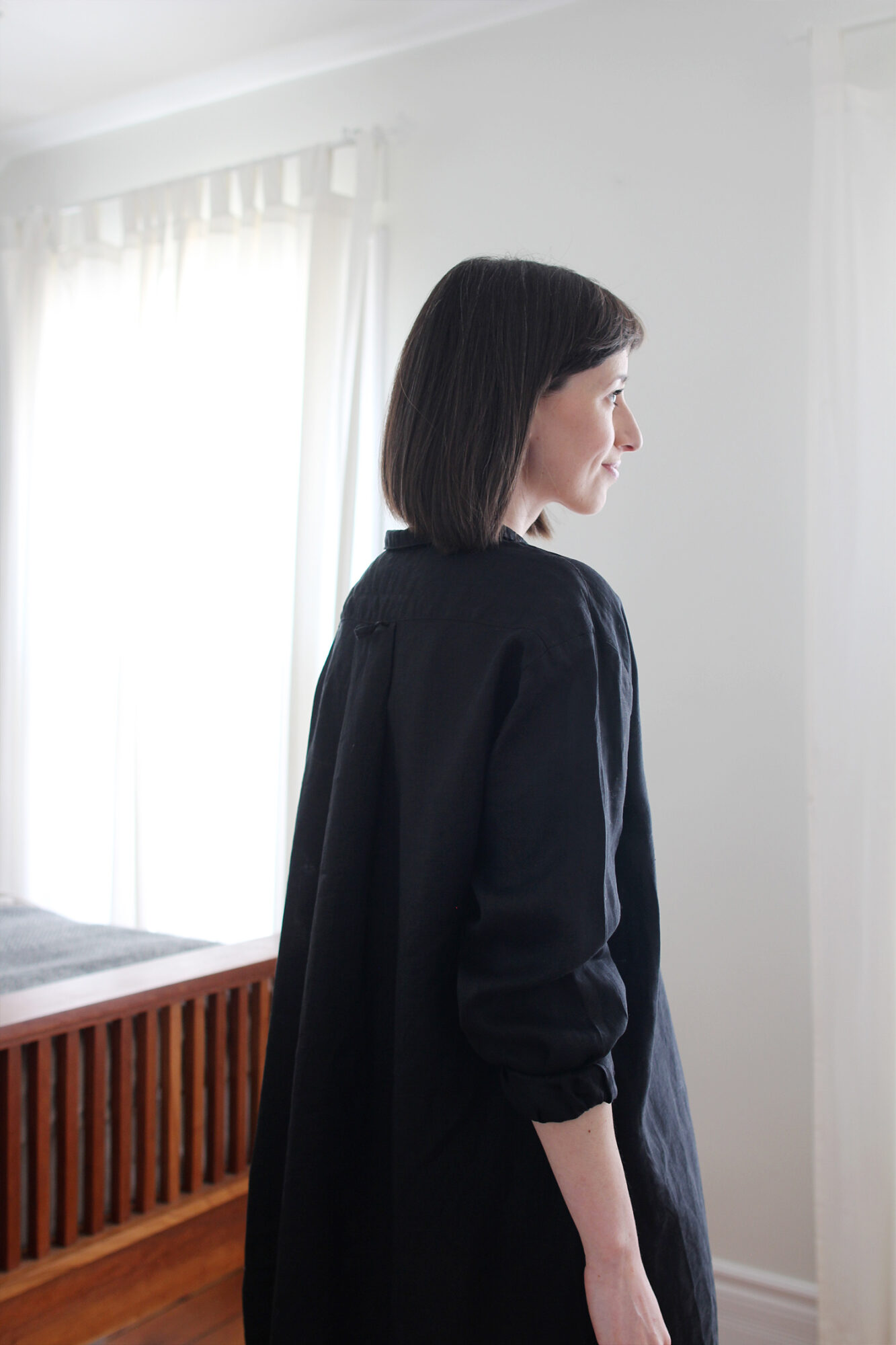 LONG SLEEVES AND ROLLABLE CUFFS
You know I can't help myself when I get near a cuff I have to roll it! You can also wear the cuffs long and unbuttoned for a more easy-going sleeve look.
---
ADDITIONAL NOTES
The linen is a medium weight, which isn't too heavy but it does feel a bit crispy at first. Once you've washed it a few times you'll find the fabric softens and feels great. I've washed it 3 times now (it air dries overnight no problem) and already notice a big difference.
Being linen it will wrinkle and end up with a rumpled, lived-in look. Go for the cotton sleep shirt if you want a crisper look.
If you toss and turn a ton throughout the night, the sleep shirt may ride up or twist around. I do find I occasionally need to adjust it if I've been having a restless sleep.
---
A FEW WAYS TO WEAR THE SLEEP SHIRT
---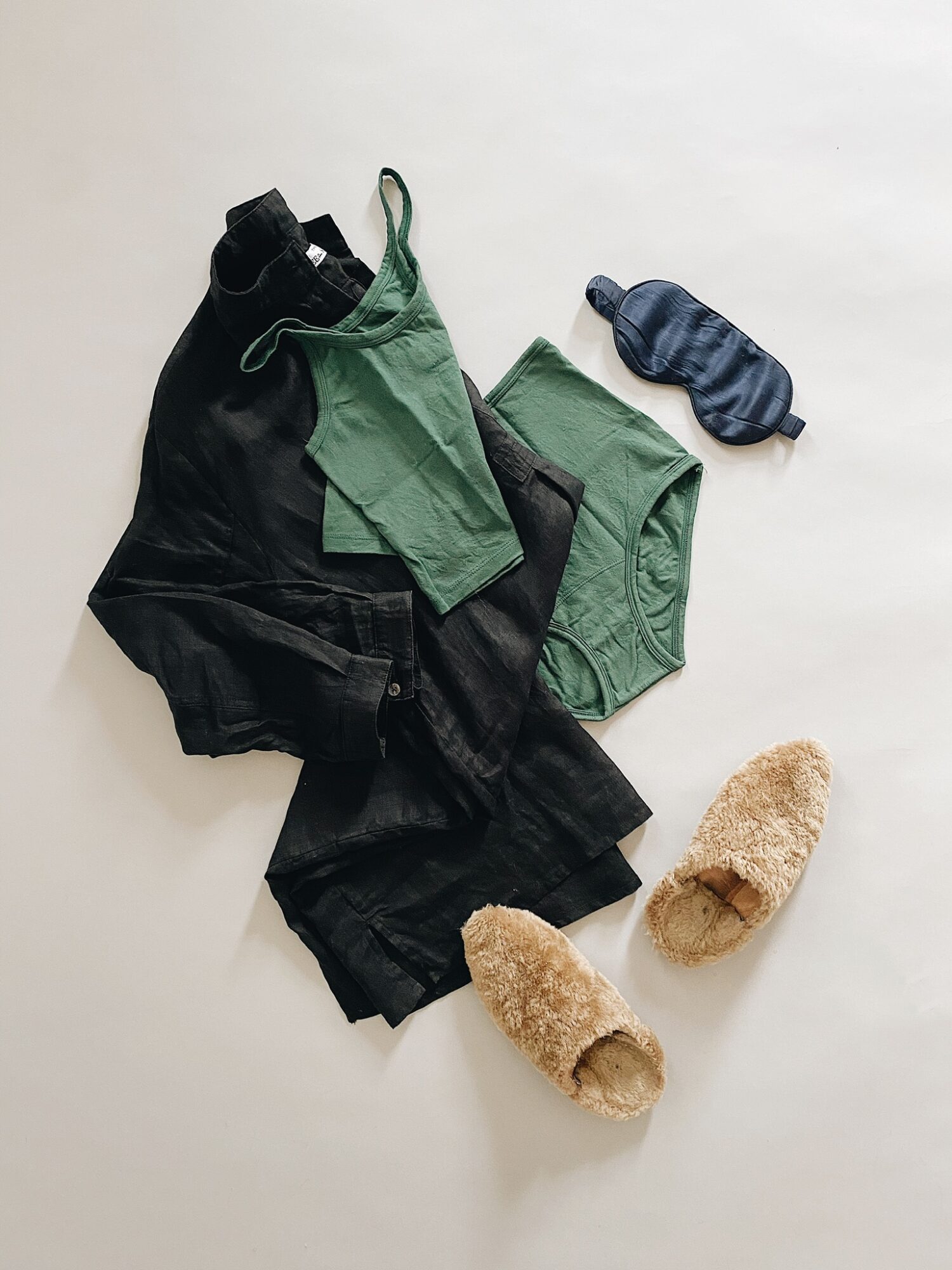 ---

---
Enter code at checkout anytime.
---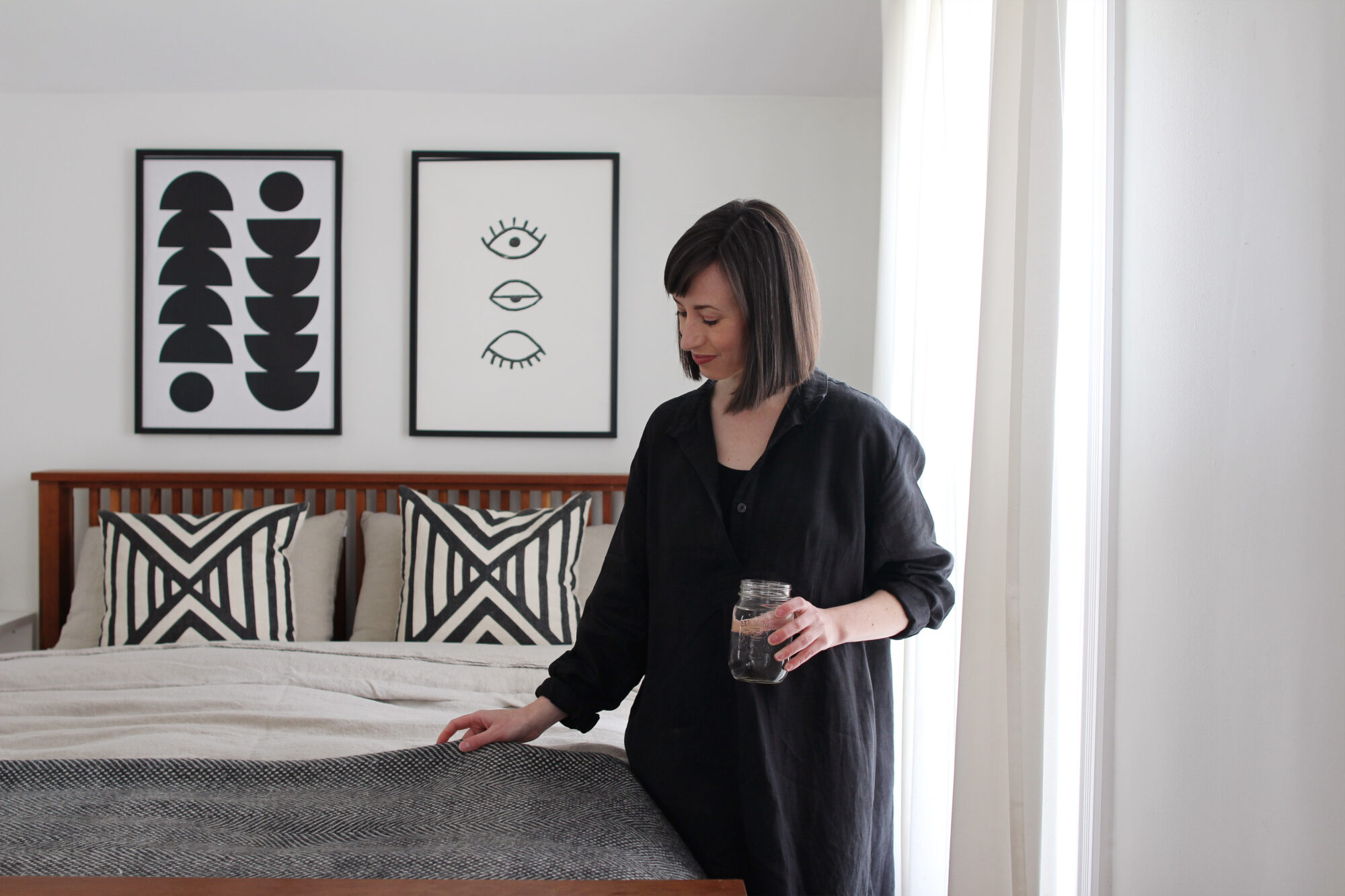 ---
Thanks for tuning in! I hope this post gave you some ideas for a better bedtime and perhaps a new option for your sleepwear collection!
Have a great weekend folks!