After nine years of blogging about style with a focus on closet staples, I consider myself something of a t-shirt connoisseur. So naturally, when one of my all-time favourite Canadian-made brands released their take on the perfect tee, I was first in line to try it out.
Power of My People (known for their shirting expertise) recently launched The Pinnacle Tee, in both black and white, and I had the chance to take it for a test drive. As we well know, not all t-shirts are created equal so I've made note of the details that make this one stand out from the many I've tried.
Read on to see my notes on The Pinnacle Tee and see how I styled both the black and white to build a week's worth of timeless looks!
---
Code will automatically apply at checkout. Valid on all regular priced styles through July 14th, 2022.
[ Use STYLEBEE10 for 10% Off any order after that date.]
---
This post is a paid partnership with Power of My People. The Pinnacle Tees were gifted for me to test out and all opinions are my own. Some of the links included are affiliate, which means if you see something you like and decide to shop, I will earn commission on the sale at no additional cost to you. Thanks for supporting Style Bee!
---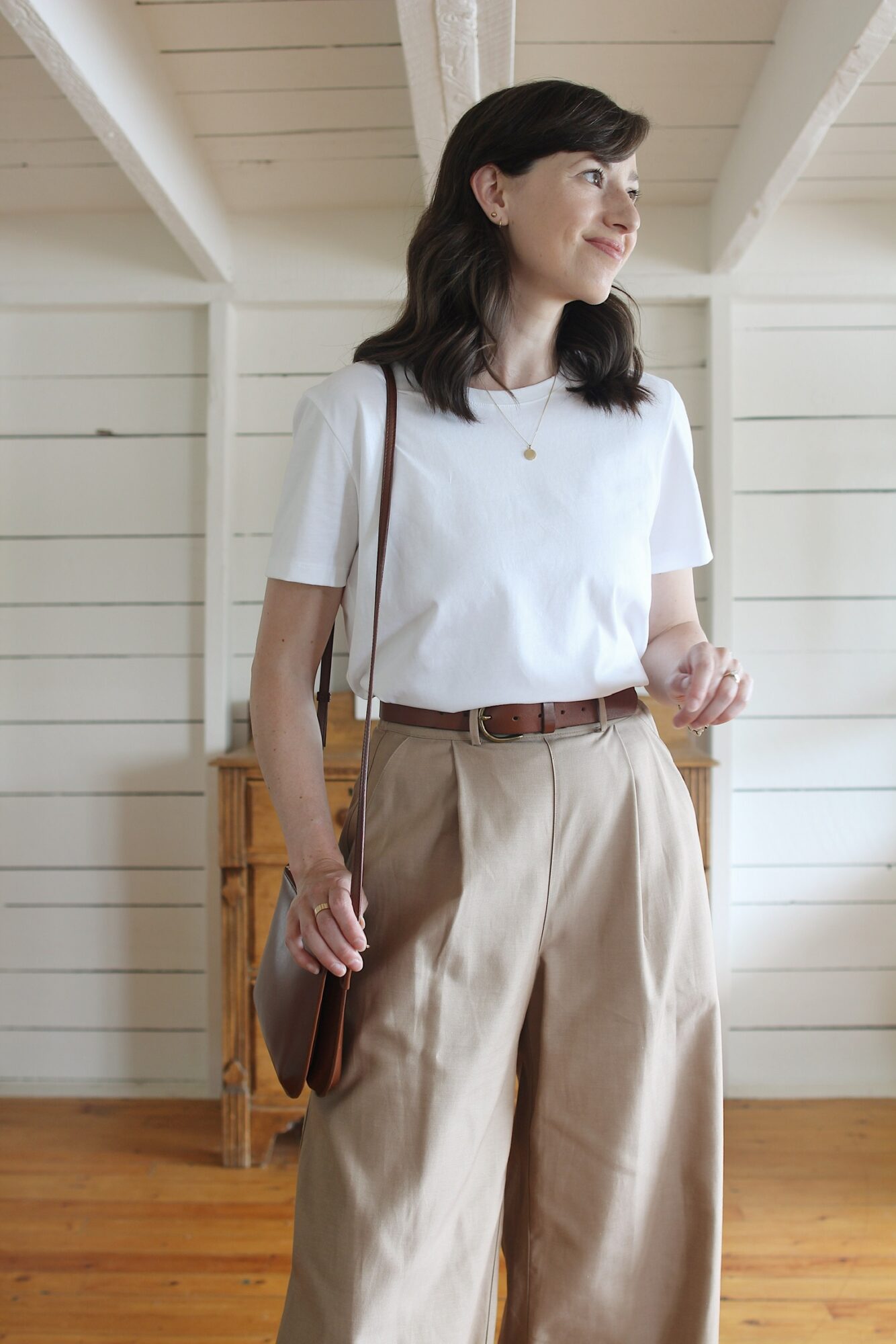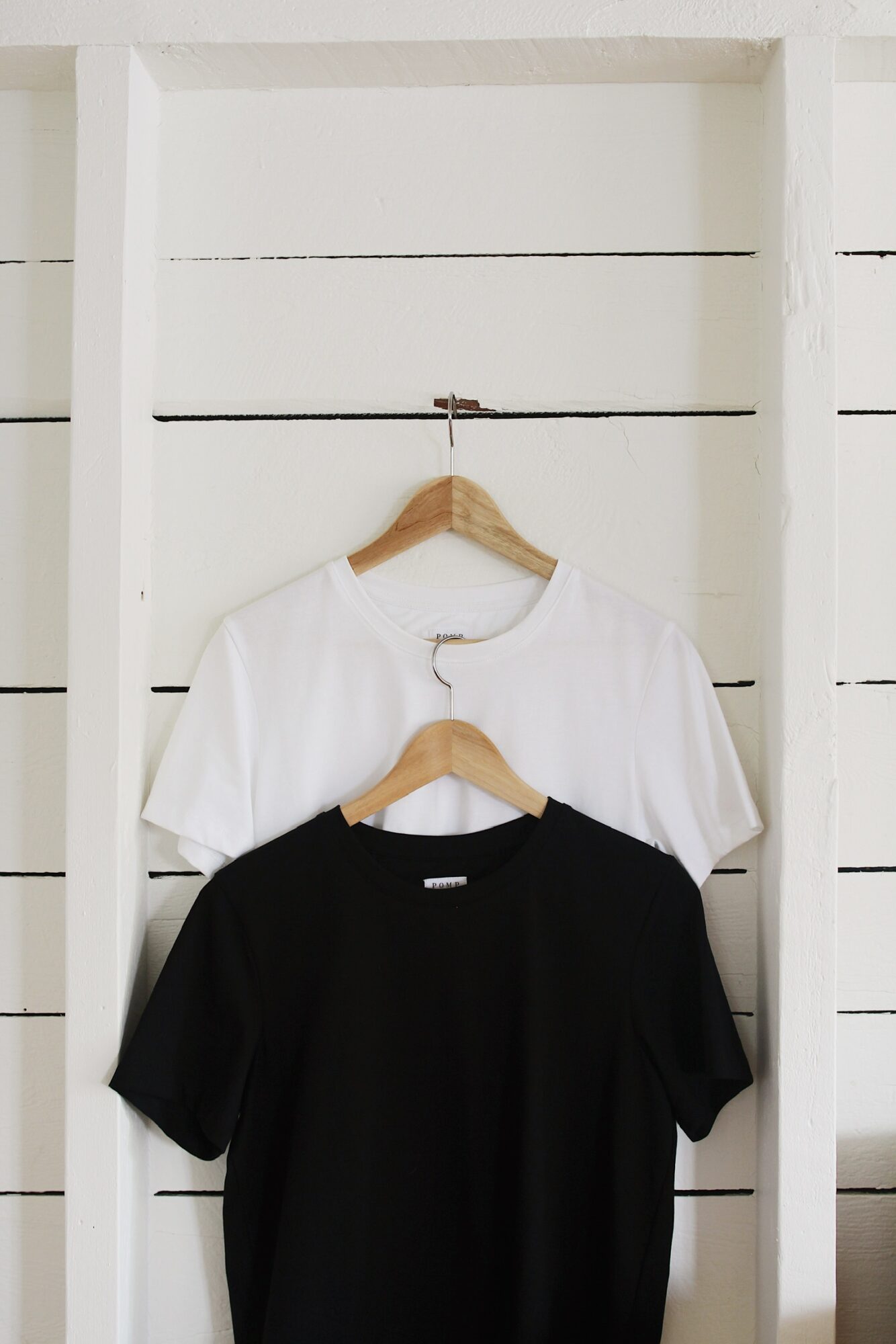 ---
A FEW QUICK FACTS ABOUT THE
PRICE POINT: $95 CAD $80.75 CAD – with LEE15 for 15% Off through July 14th!
Use STYLEBEE10 for 10% Off anytime after that.
SIZES AVAILABLE: XXS | XS | S | M | L | XL | 2XL | 3XL
MATERIAL: 100% Organic Cotton, 6.2 oz. Milled in Portugal. Power of My People selects their fabrics very carefully and this densely knit jersey is woven to withstand years of wear and has an incredibly smooth hand feel. This cotton is a perfect weight, not too flimsy but not too thick either.
SHEER FACTOR: One reason I LOVE the Pinnacle is that it's fully opaque, which, for a white tee, is very rare. I still wear a nude bra with it but there is no show through, giving it a very high quality look and feel.
COLOUR WAYS: Black (a true, rich, deep black) and White (a bright, crisp, fresh white)
CARE: Wash cold + hang dry or tumble dry warm. Allow for up to 1/2″ shrinkage on the length and 1/2″ total shrinkage on the width, something to keep in mind when selecting your size. I hang my tees to dry on a hanger so there are no drying rack lines to deal with and it's ready to go into my closet no folding or steaming needed.
FIT: I went with my usual t-shirt size, which is a small, in both the black and white and I love the fit. It's relaxed but not oversized, easily layers under a cardigan or blazer, and the bottom hem just skims the perimeter of my hips. You can see more on the fit below.
MADE IN CANADA.
---
DESIGN DETAILS THAT MAKE THE PINNACLE TEE AN INSTANT STAPLE
---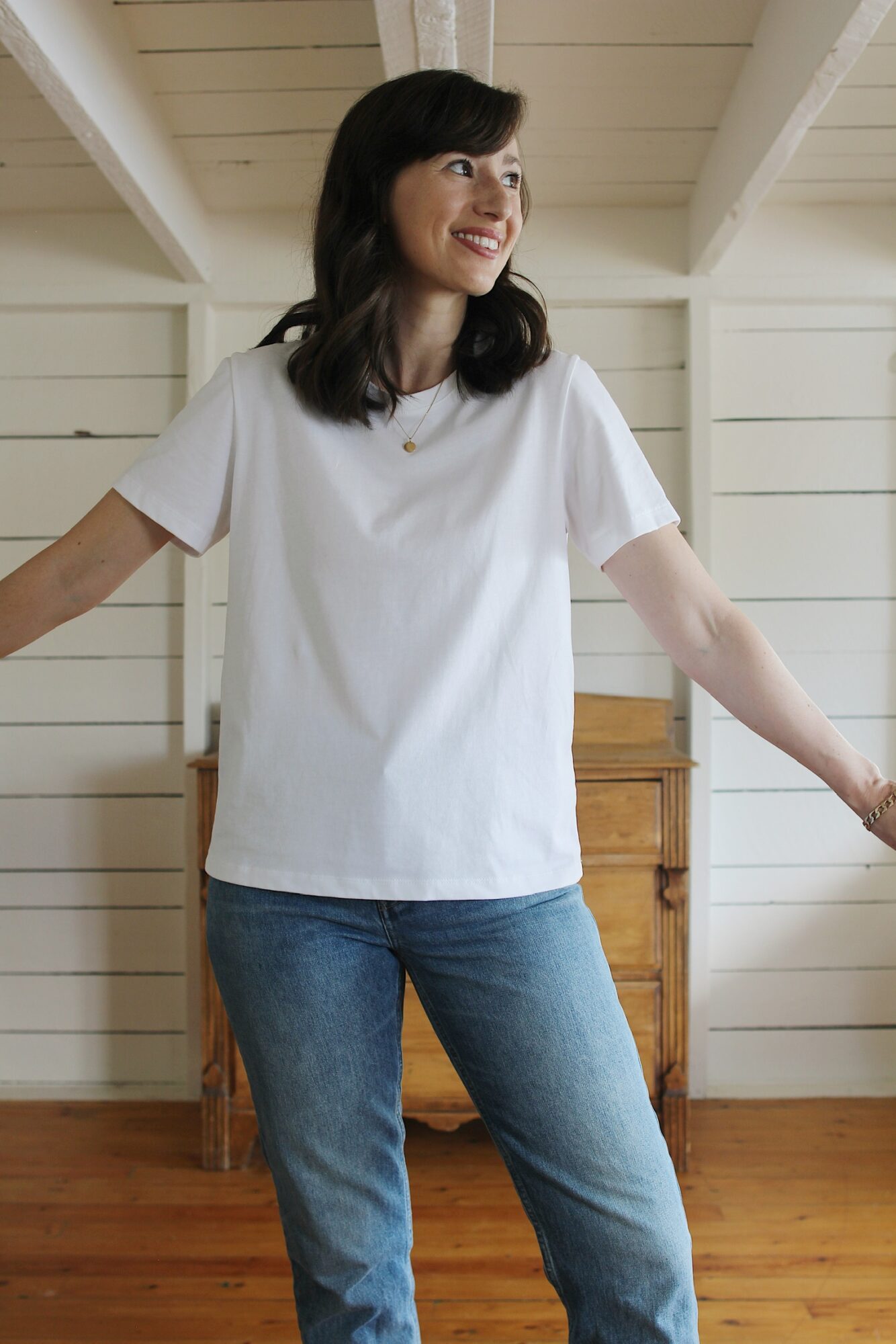 ---
A WEEK OF OUTFITS STARRING THE PINNACLE TEE IN BLACK & WHITE
---
MONDAY
---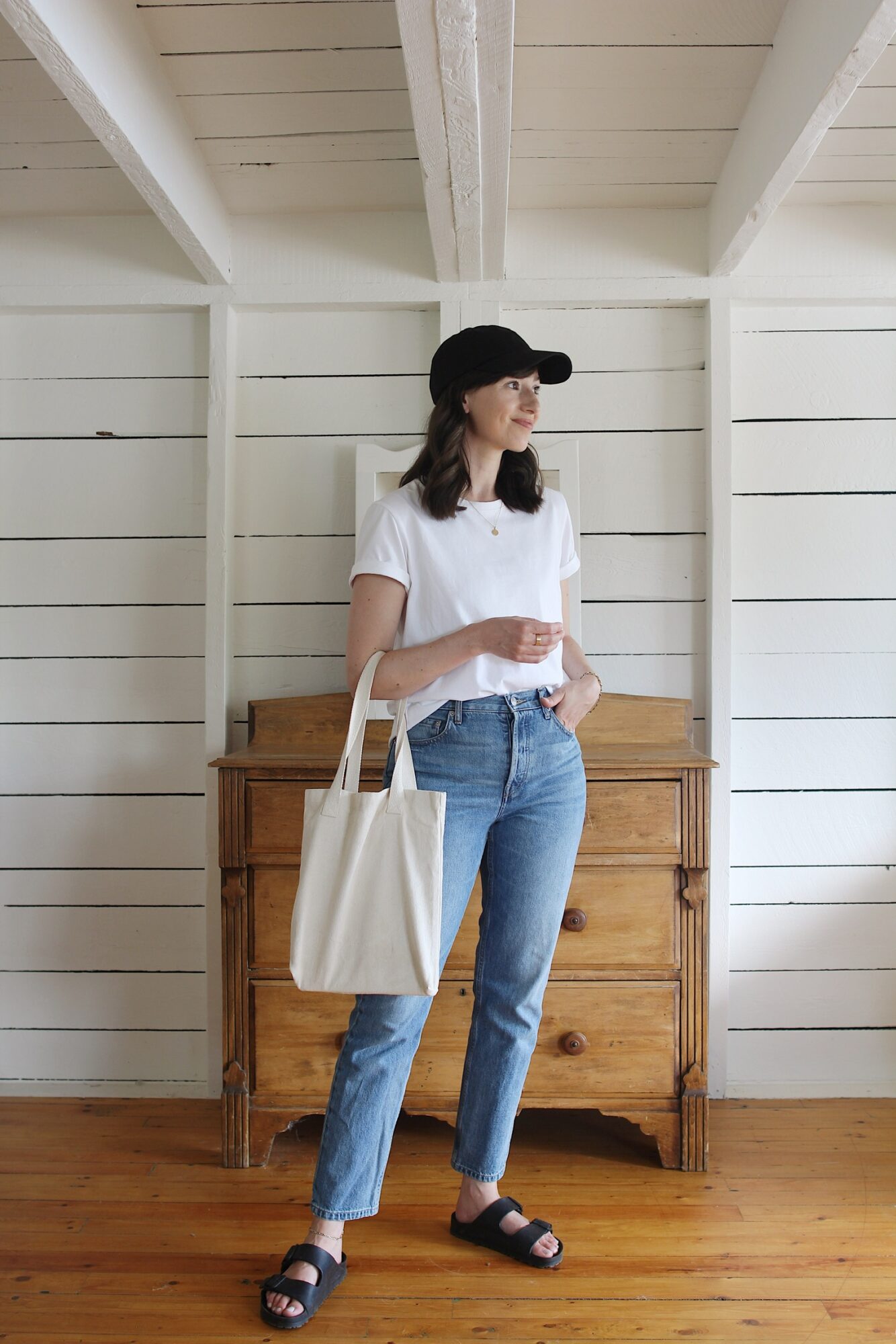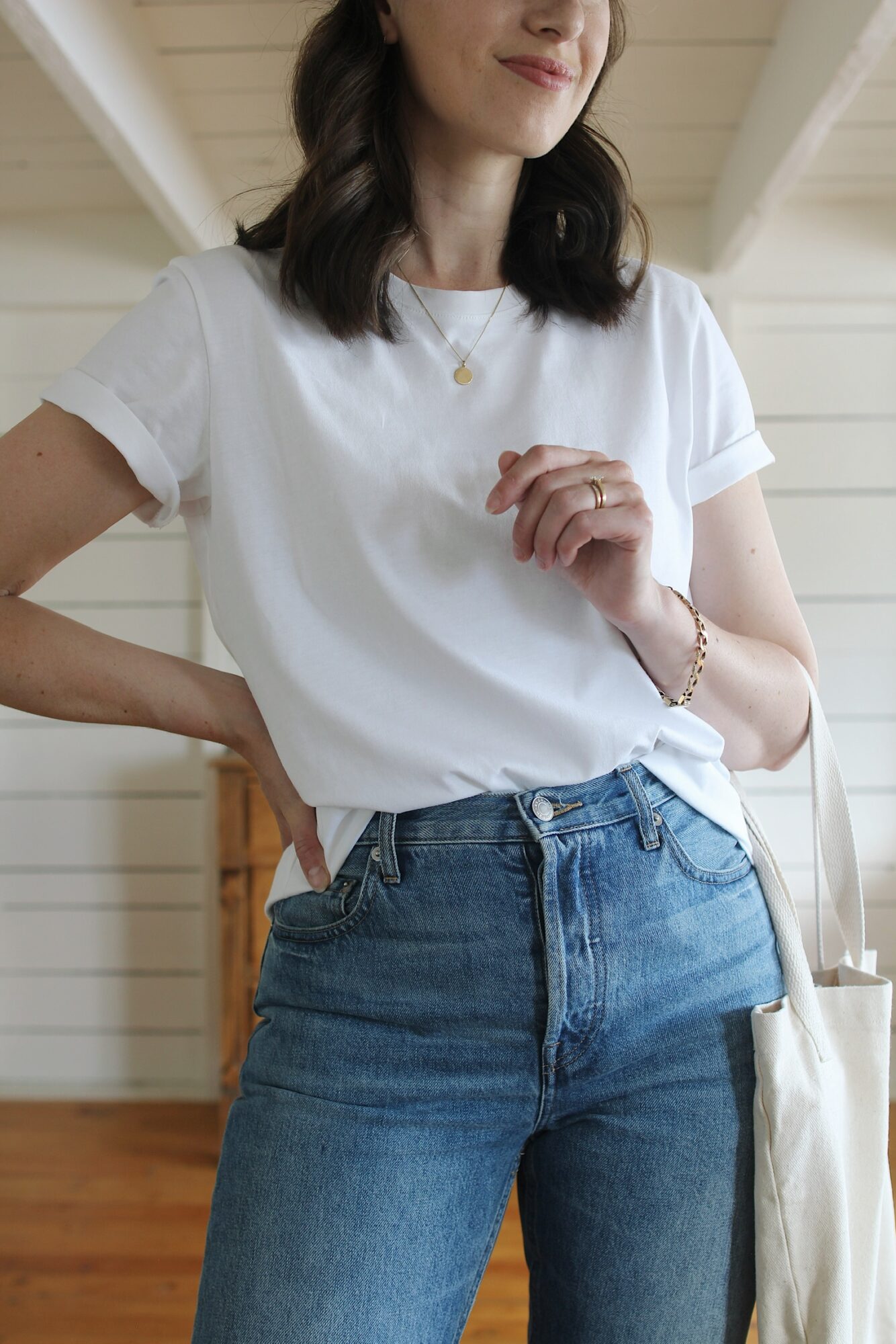 ---
PINNACLE TEE WHITE | 90'S CHEEKY JEANS | BLACK EVA BIRKS | BLACK BASEBALL CAP | CANVAS TOTE old | GOLD BLUE MOON PENDANT
---
Monday's are often an errand running, catch up on life kind of day for me and a white tee with comfy jeans is a regular combo. The Pinnacle Tee front tucks into my 90's Cheeky Jeans perfectly and a quick roll of the sleeves creates a quintessentially easy-going but chic look.
In this case I added black Birkenstocks and a black baseball cap and grabbed my usual canvas tote to toss my wallet and keys into.
---
TUESDAY
---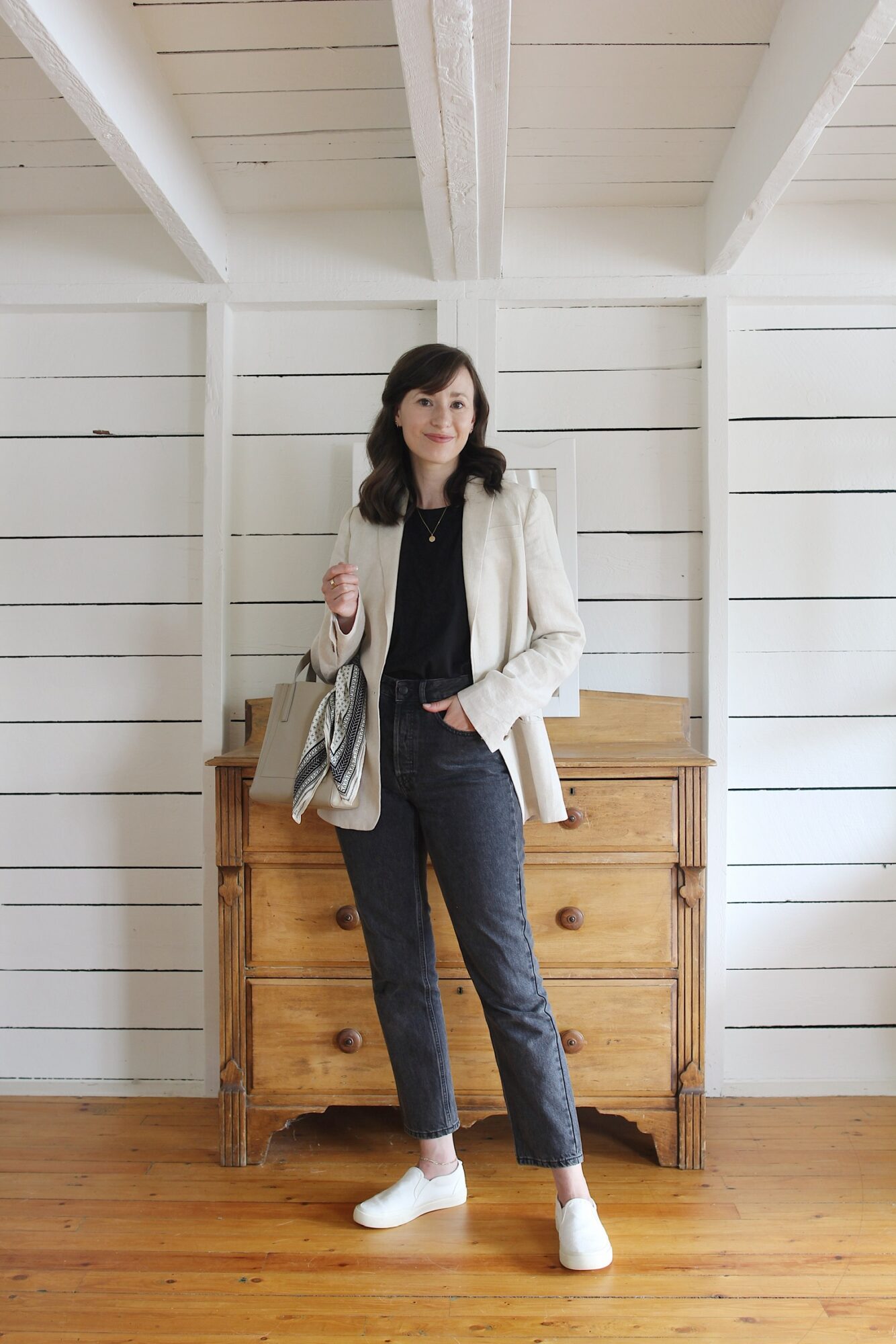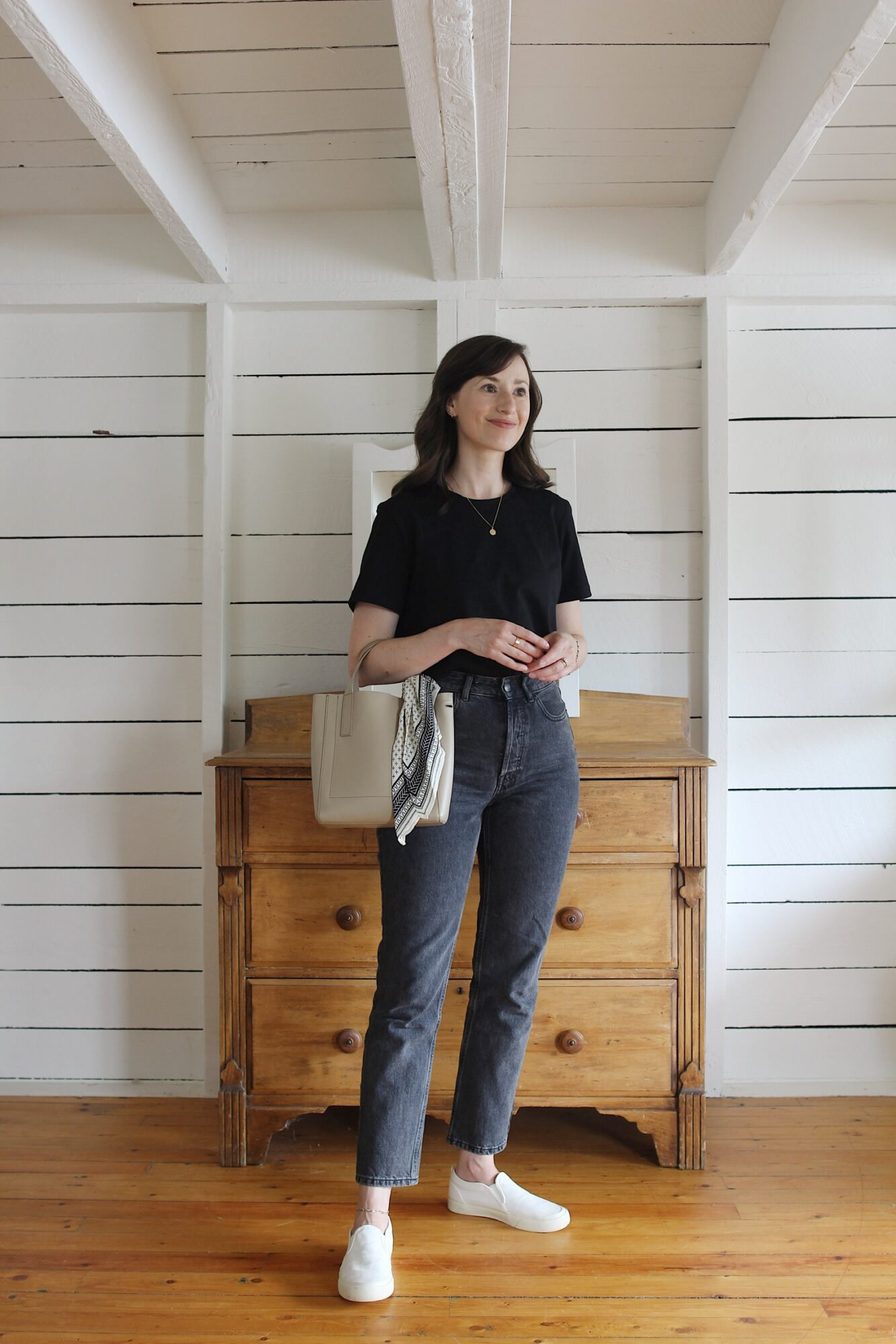 ---
PINNACLE TEE BLACK | 90'S CURVY CHEEKY JEANS (Fit comparison here) | FOREVER SLIP ON | LINEN BLAZER old | SMALL TOTE old | SILK SCARF old | GOLD BLUE MOON PENDANT
---
Tuesday's are when I really dig into office business and get into productivity mode. I love a look that feels confident and empowering on days when I'm making plans and decisions.
In this case I paired the black Pinnacle Tee with my washed black jeans, a strong classic combination. Then I added an oversized linen blazer for a bit of structure and a pair of minimal slip on sneakers to keep things feeling relaxed. A mini tote with a patterned scarf tied on the handle is the perfect final touch to add a bit of interest.
---
WEDNESDAY
---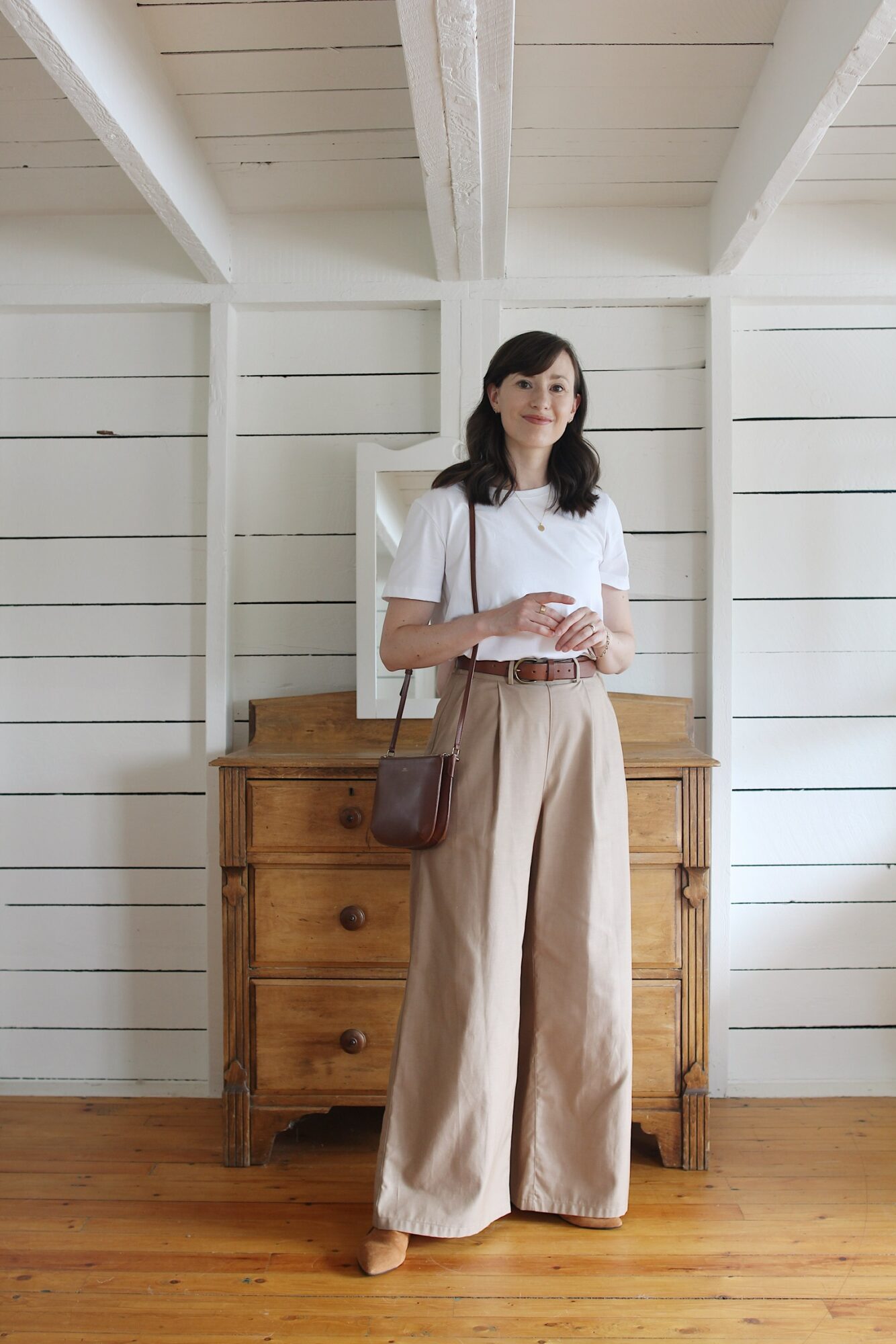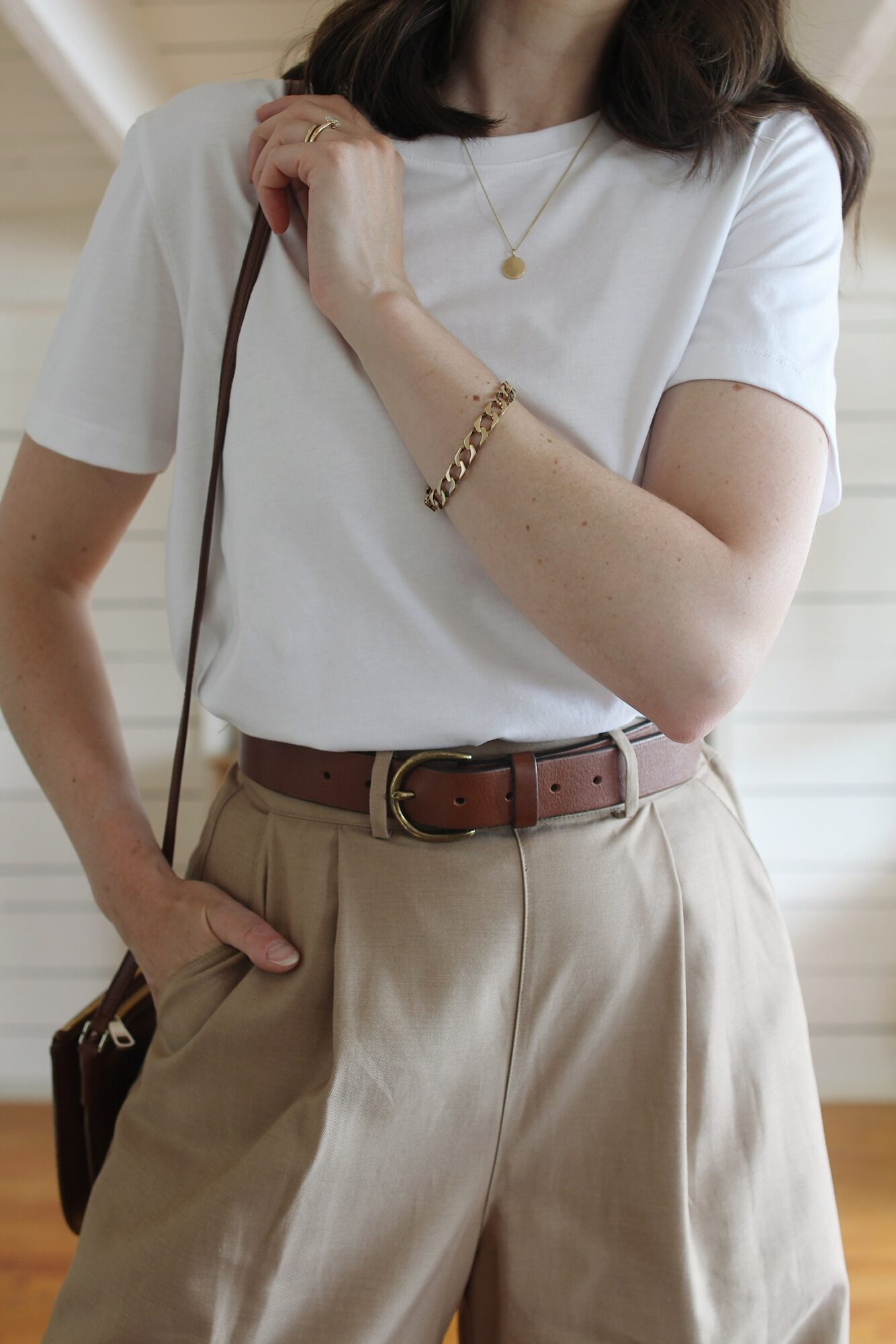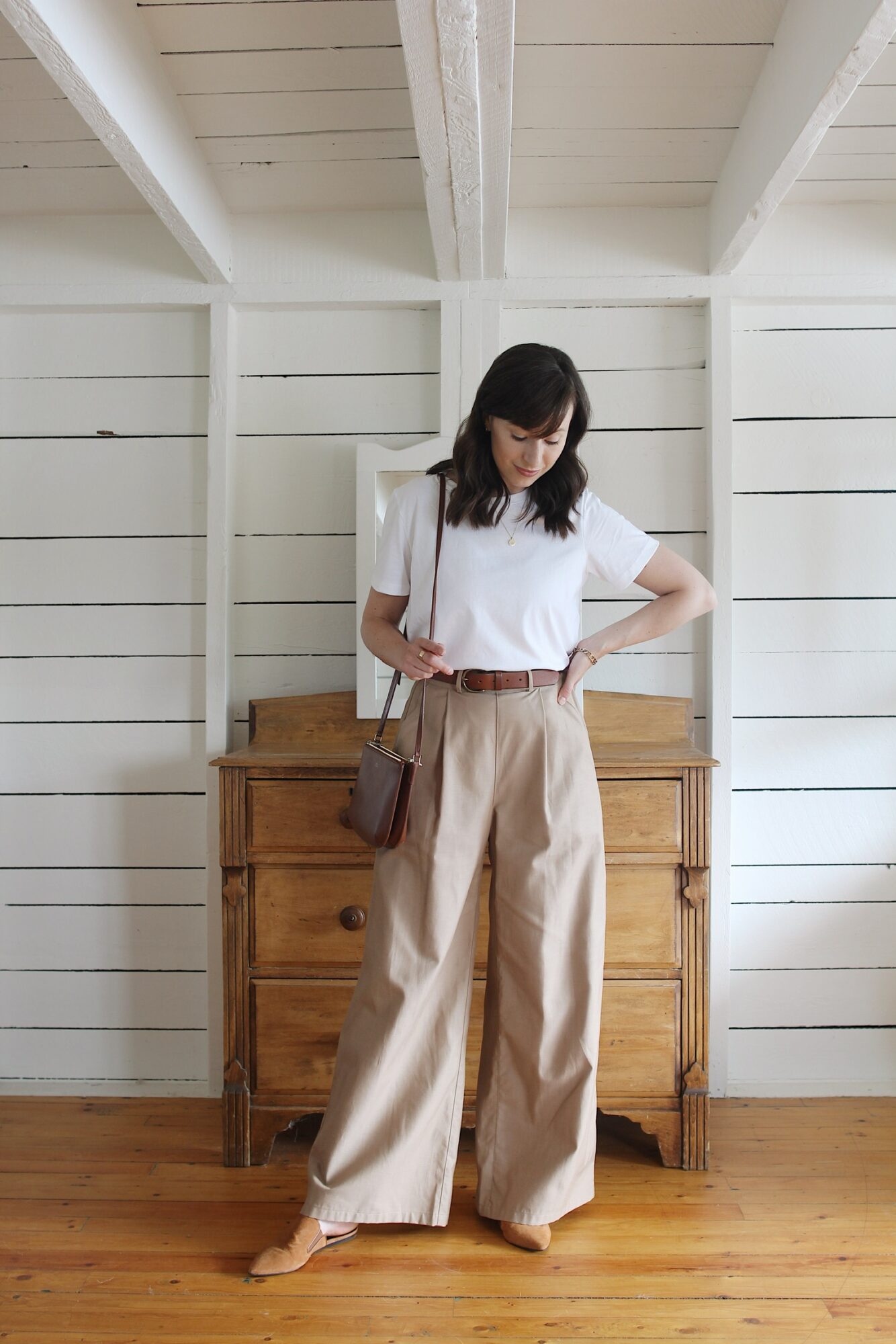 ---
PINNACLE TEE WHITE | MAXIMALIST LONG PANT (Full review here) | BROWN LEATHER BELT | SADDLE SUEDE MULES (Use LEE15 for 15% Off) | SARAH CROSSBODY BAG (on sale!) | GOLD BLUE MOON PENDANT
---
Wednesday's are when I usually get into creativity mode and I love this minimal but elegant look for a day of content creation and writing.
I've wanted to put together a classic look like this for ages and love how the crisp white Pinnacle tee pairs with the The Maximalist Long Pant (also by Power of My People). I had these pants hemmed slightly so I could wear them with flats and I love how they turned out.
I think this look could work for a casual-corporate office environment, especially with the addition of a blazer.
---
THURSDAY
---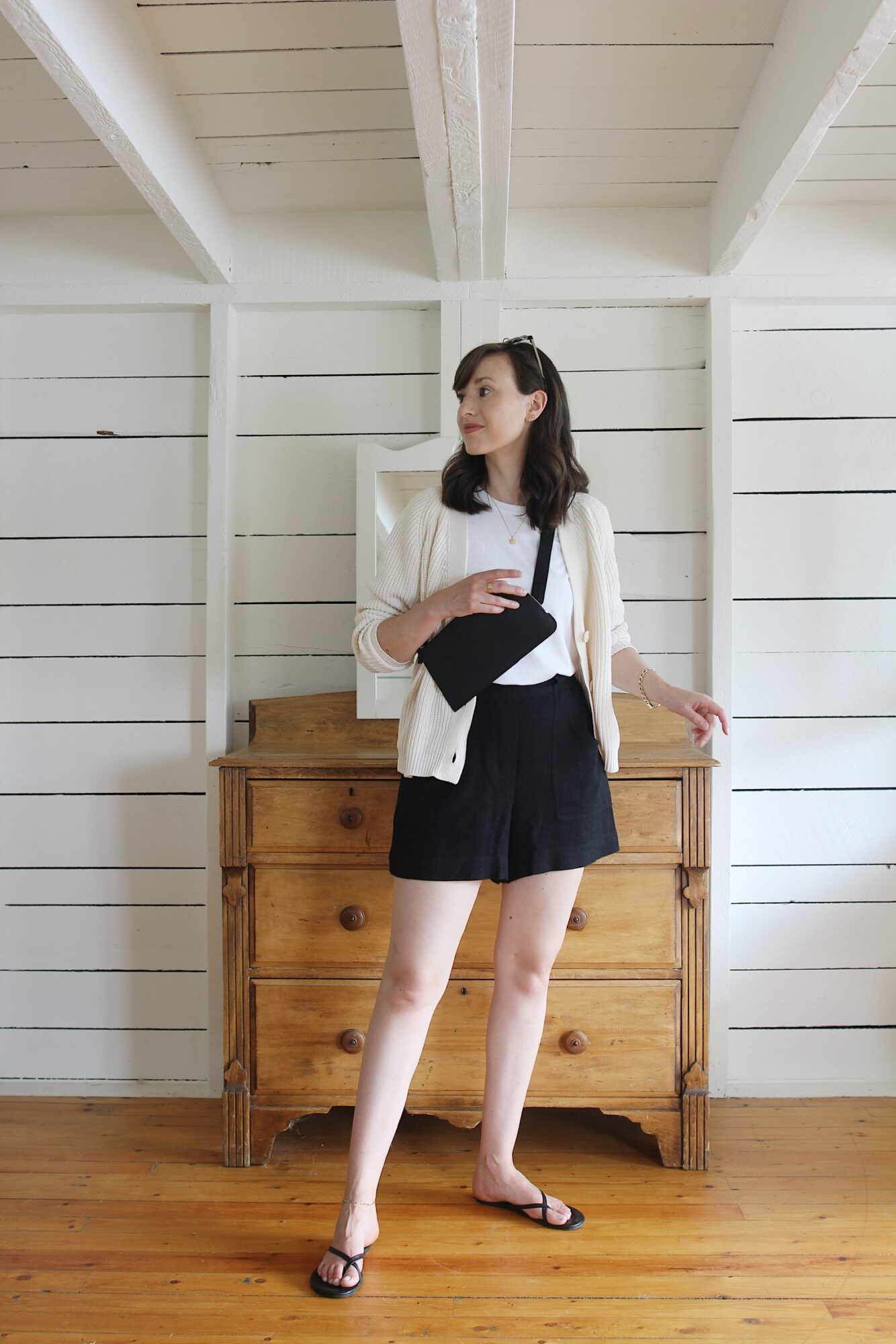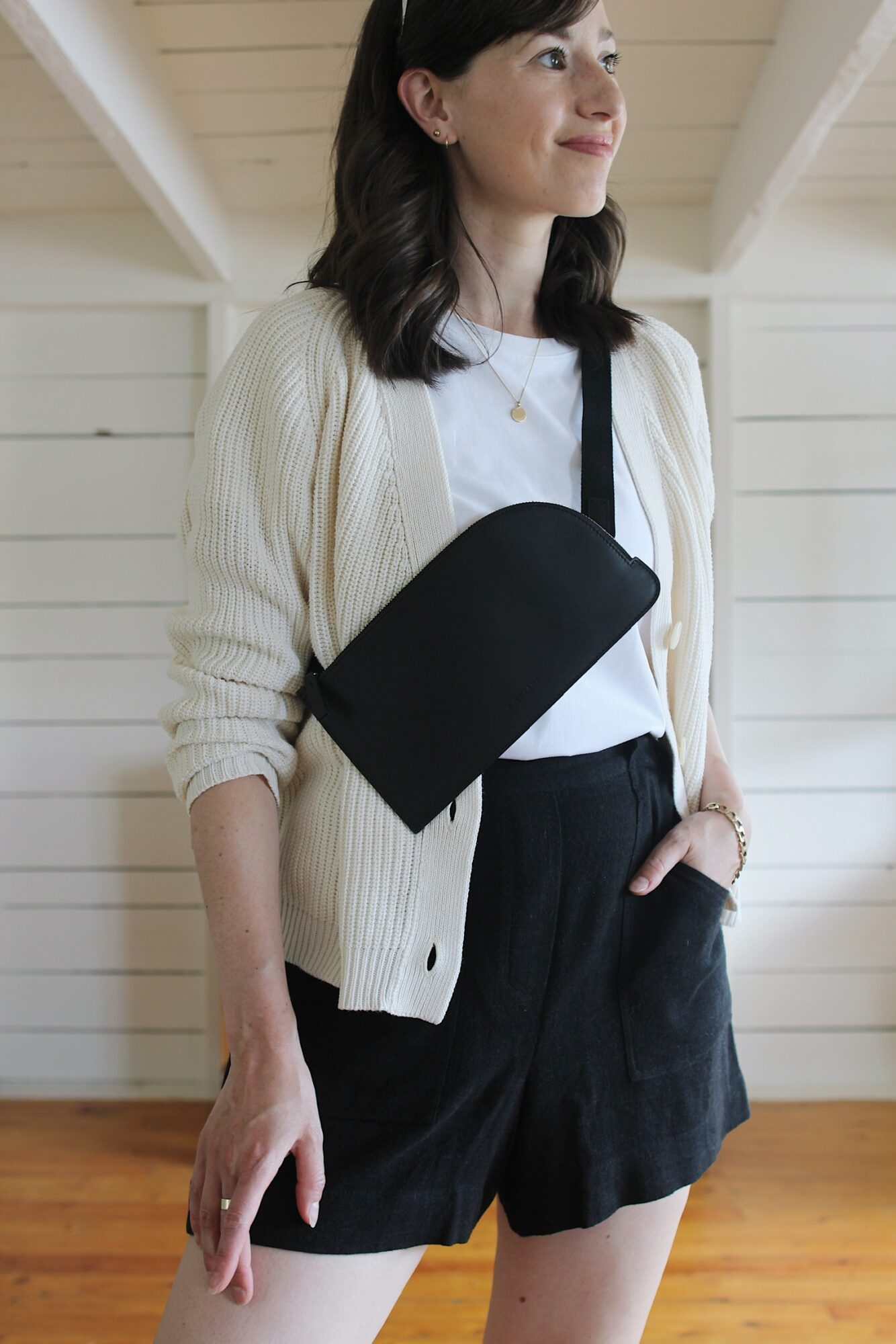 ---
PINNACLE TEE WHITE | COTTON ANNA CARDIGAN (similar for less here) | RILEY SANDALS BLACK | BLACK PULL ON SHORTS old | BLACK SLING BAG | GOLD BLUE MOON PENDANT
---
By Thursday I've usually got a shoot day on the schedule so I opt for an outfit that's going to be really comfy and easy to slip into and out of between shooting. Cue the white Pinnacle tee and some casual pull-on shorts. I added a cream cardigan. and black accessories to keep the palette minimal and sophisticated.
I also love this look for summer travel days or outdoor adventures like nature walks with Genie, weeding the garden, boat rides to visit a project with Dave or to grab dinner on a patio.
---
FRIDAY
---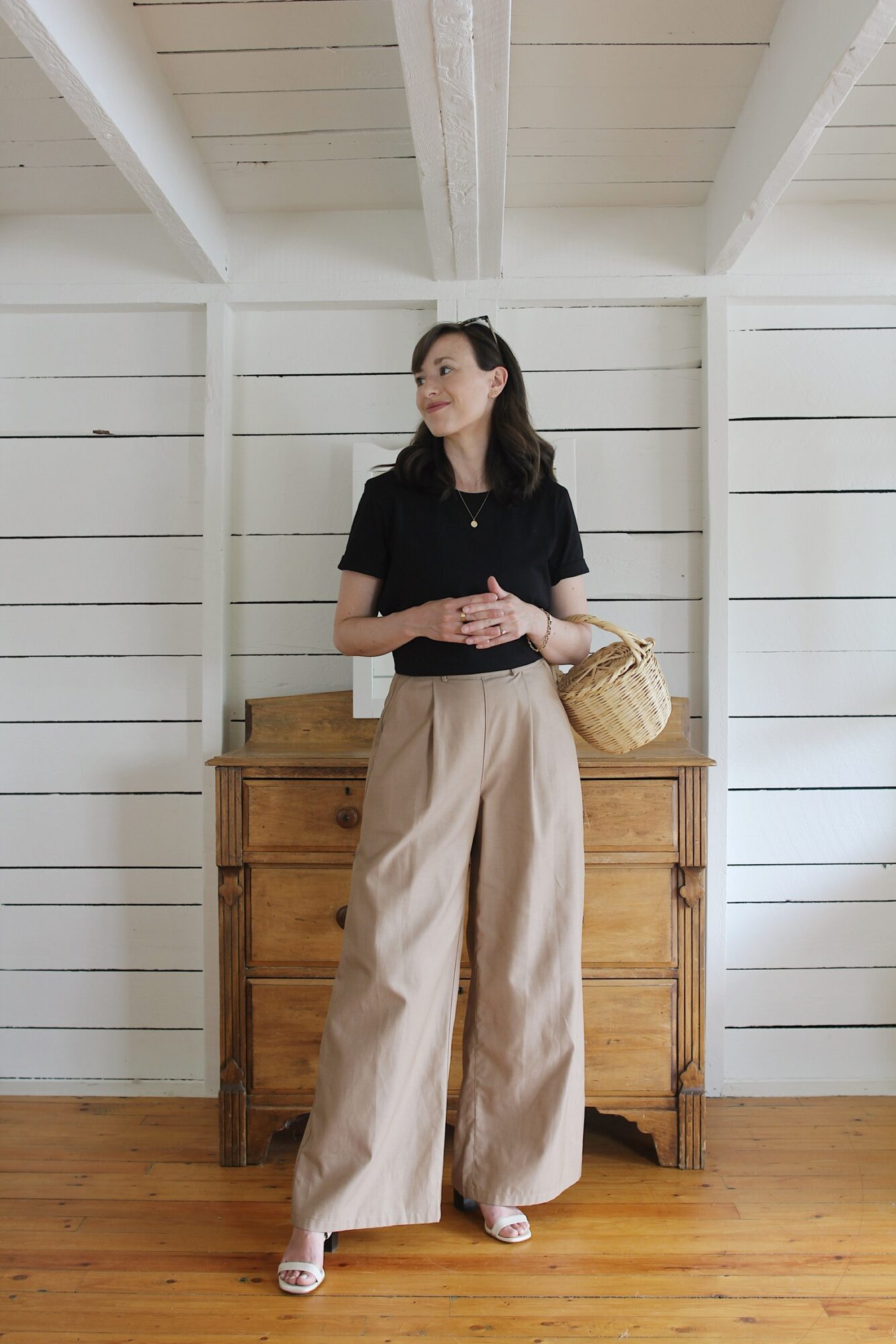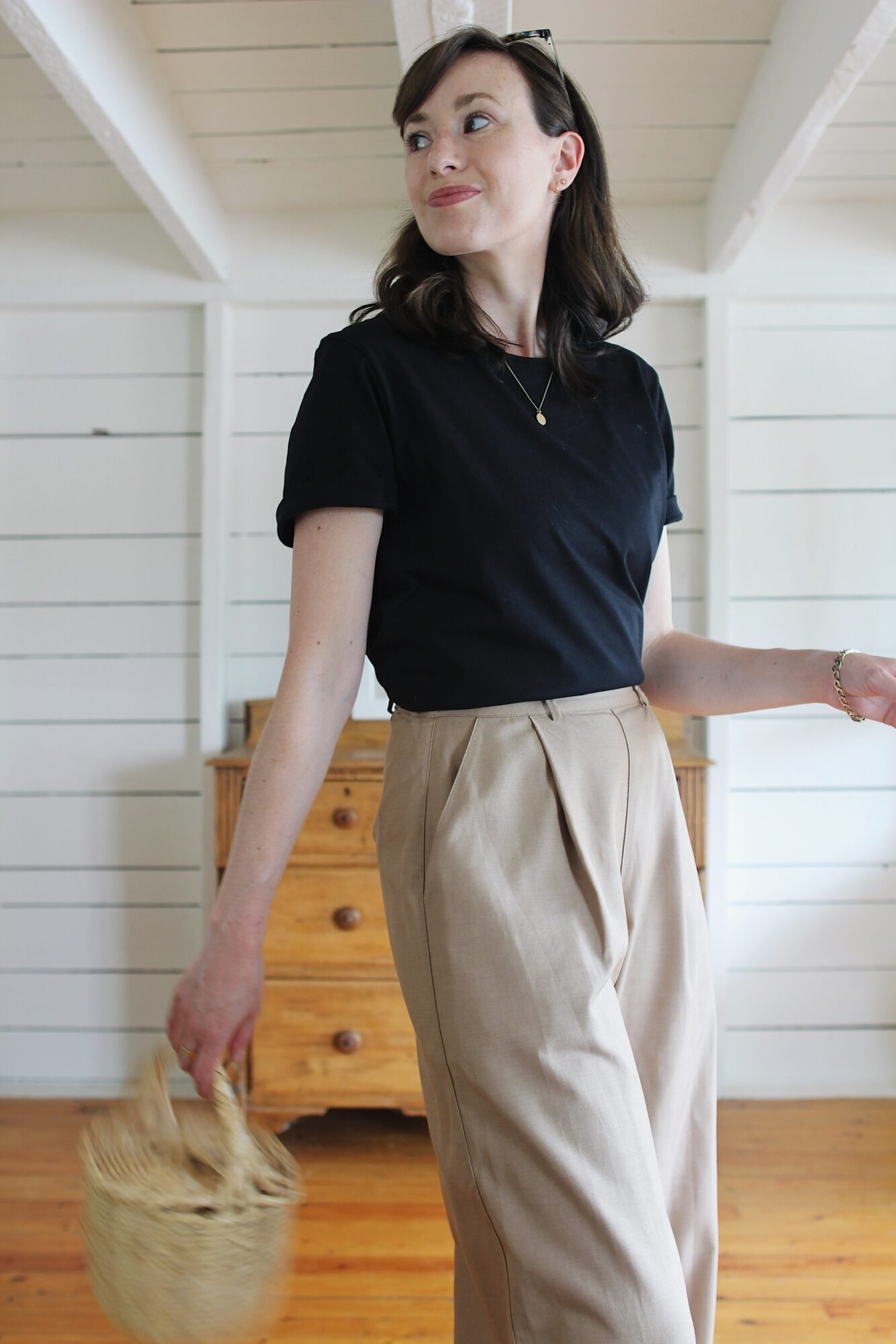 ---
PINNACLE TEE BLACK | MAXIMALIST LONG PANT (Full review here) | CREAM SANDALS old | SUNGLASSES | BASKET BAG old (linked to similar and I love this one) | GOLD BLUE MOON PENDANT
---
I love to have a little more fun with my style on Fridays, especially in the summer. For this look I folded the hem of my black Pinnacle tee under a couple of times and pulled the fabric to the back. Then I just twisted the excess fabric until it's snug around my waist and tucked the tail up and into the band of my bra. It's my go-to hack for creating a cropped tee and you can see how I do it in this video.
In this case I chose the same trousers from Wednesday's outfit and paired them with a block heeled sandal for a bit of height and grabbed my favourite basket bag to give the look a distinctly summery vibe. With my sunnies handy I'm ready for some fun!
---
SATURDAY
---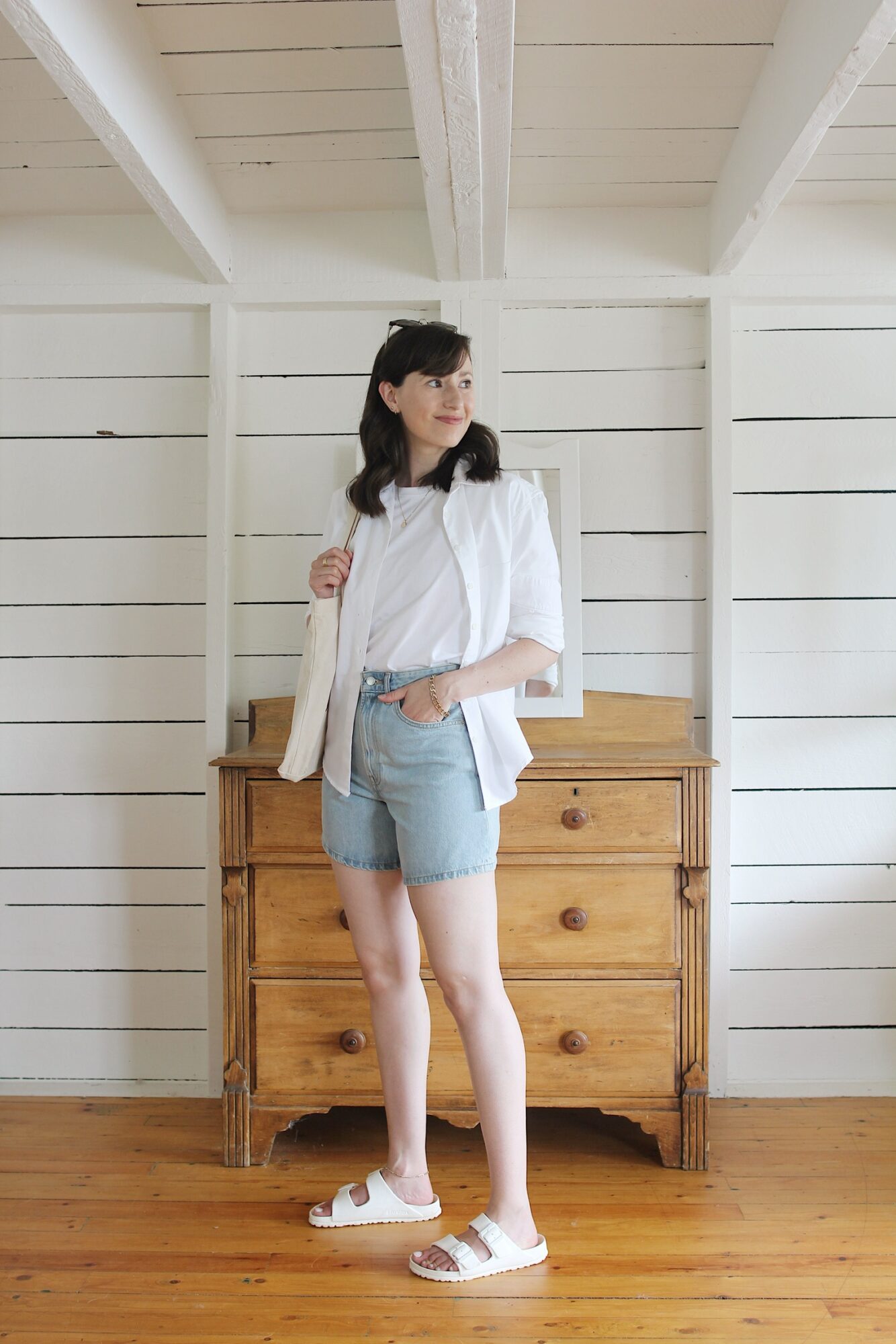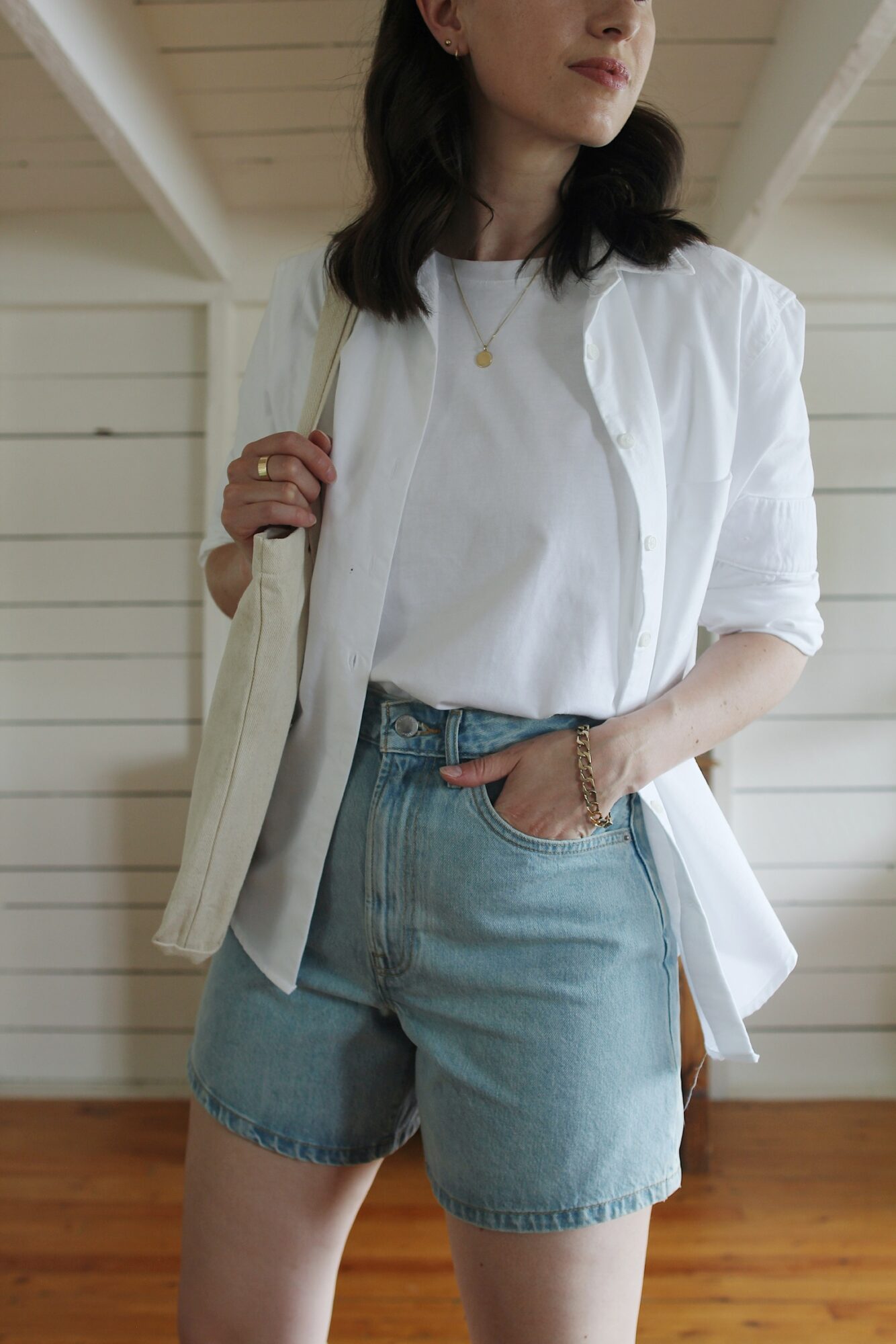 ---
PINNACLE TEE WHITE | THE TAILOR SHIRT (Full review here.) | A-LINE DENIM SHORTS | SUNGLASSES | CANVAS TOTE old | GOLD BLUE MOON PENDANT | WHITE EVA BIRKS
---
This outfit is great for weekend business like tidying up at home, stocking up on goodies from my favourite bakery, prepping a meal for dinner with guests, or hitting the local nursery. It's also perfect for boating around the lake and I've usually got some sunscreen and a swimsuit stashed in my tote.
A third element always seems to pull a look together and during warmer weather I like to use an open button-down as that final piece. In this case I've added The Tailor (another gem by Power of My People) over the Pinnacle tee. They're both a true bright white and a pair of all white Birkenstocks keeps the palette crisp and fresh.
---
SUNDAY
---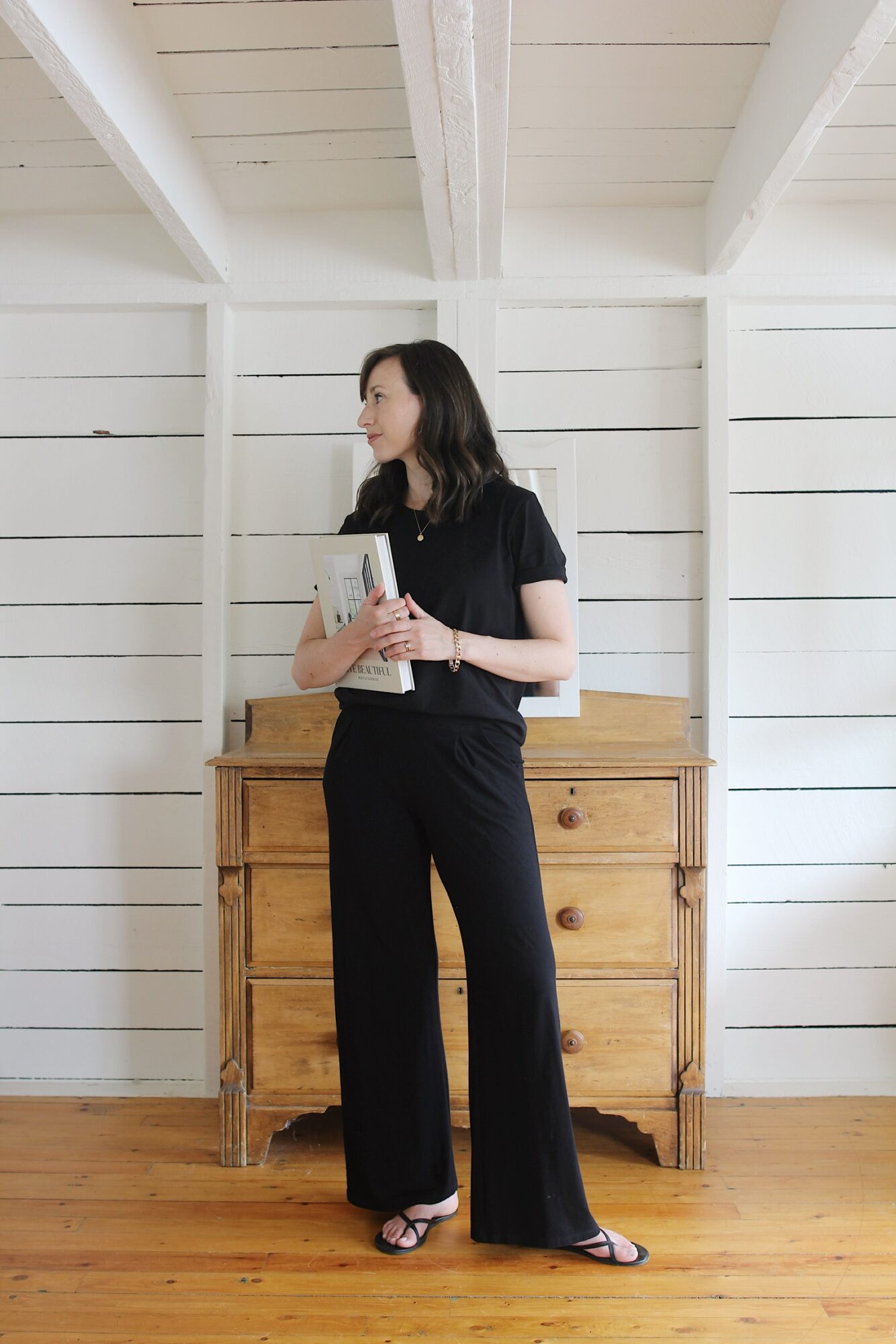 ---
PINNACLE TEE BLACK | THE COMFY WIDE LEG PANT (Use LEE10 for 10% Off) | RILEY SANDALS BLACK | GOLD BLUE MOON PENDANT | LIVE BEAUTIFUL BOOK
---
And finally we have a super chill Sunday outfit. I love a simple, all black lounge look and the black Pinnacle tee pairs perfectly with my go-to lounge pants (also made in Canada), and a pair of black flip flops. Of course a good design book never hurts.
Just get me into a comfy couch corner with an open window nearby, a cute friend to cuddle with, and I'm in my version of heaven!
---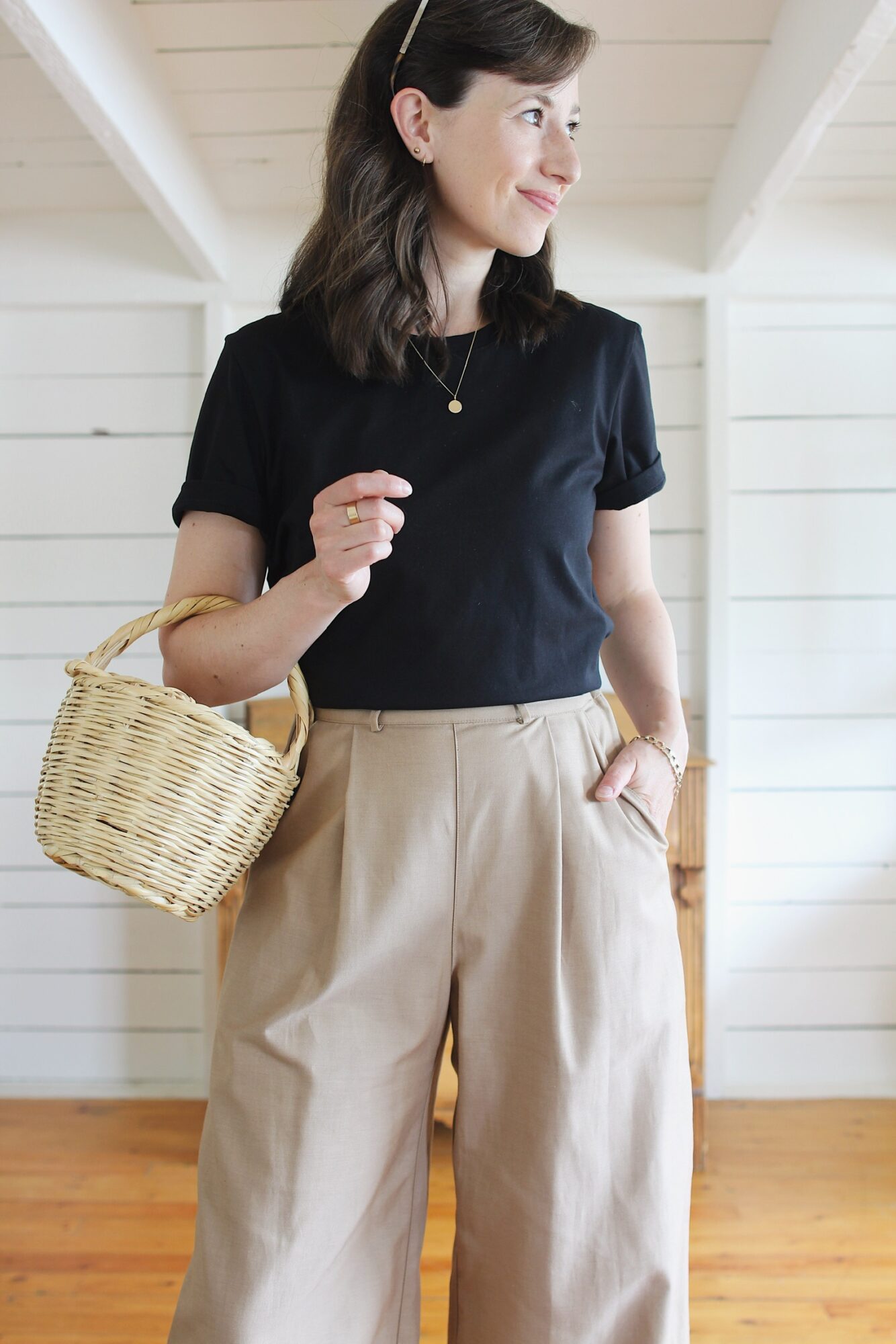 ---
THANKS FOR TUNING IN & DON'T MISS ALL THESE LOOK IN MY LATEST REEL, GOING LIVE TODAY!
I hope this post gives you some ideas for your favourite tees or perhaps points to in the direction of one you'll love!
---
BE SURE TO USE
AT POWER OF MY PEOPLE
Code will automatically apply at checkout. Valid on all regular priced styles through July 14th, 2022.
Use STYLEBEE10 for 10% Off any order after that date.