At the end of May, Dave and I packed up our lives and made our way north to start a new chapter on the lake. Even as I type this, it's still sinking in that we're really here full-time, and will be for awhile!
Over on instagram I opened an Ask Me Anything box for folks to submit questions about this move and so many good ones came through! Today I'm answering the most frequently asked ones, which I think it'll be a great way to introduce this next chapter and what it all means.
Plus, I've got a little photo dump of some scenes from lake life so far!
So grab a coffee, tea or matcha, and join me on the dock.
---
ASK ME ANYTHING
About our move to the lake/cottage
---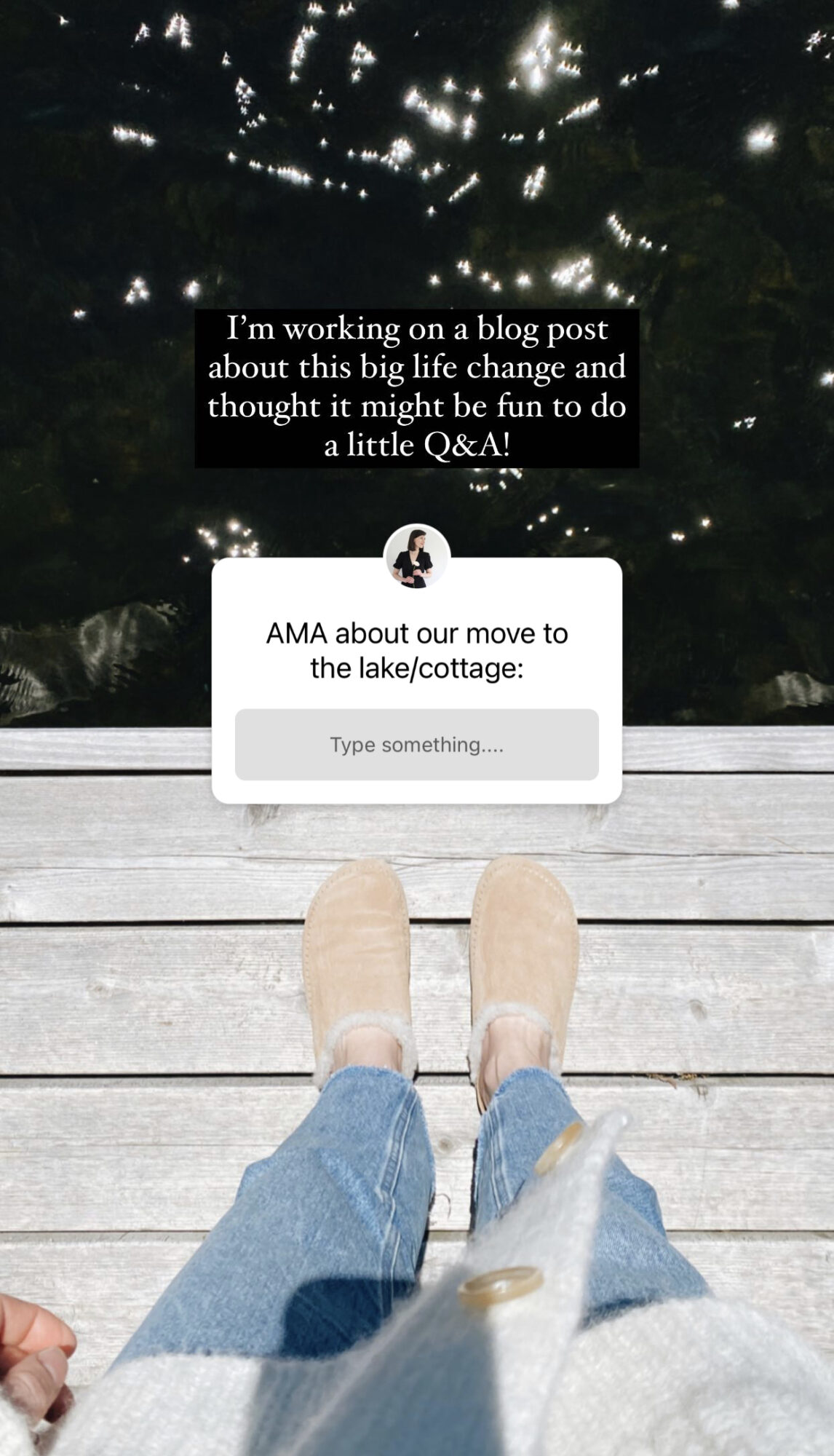 ---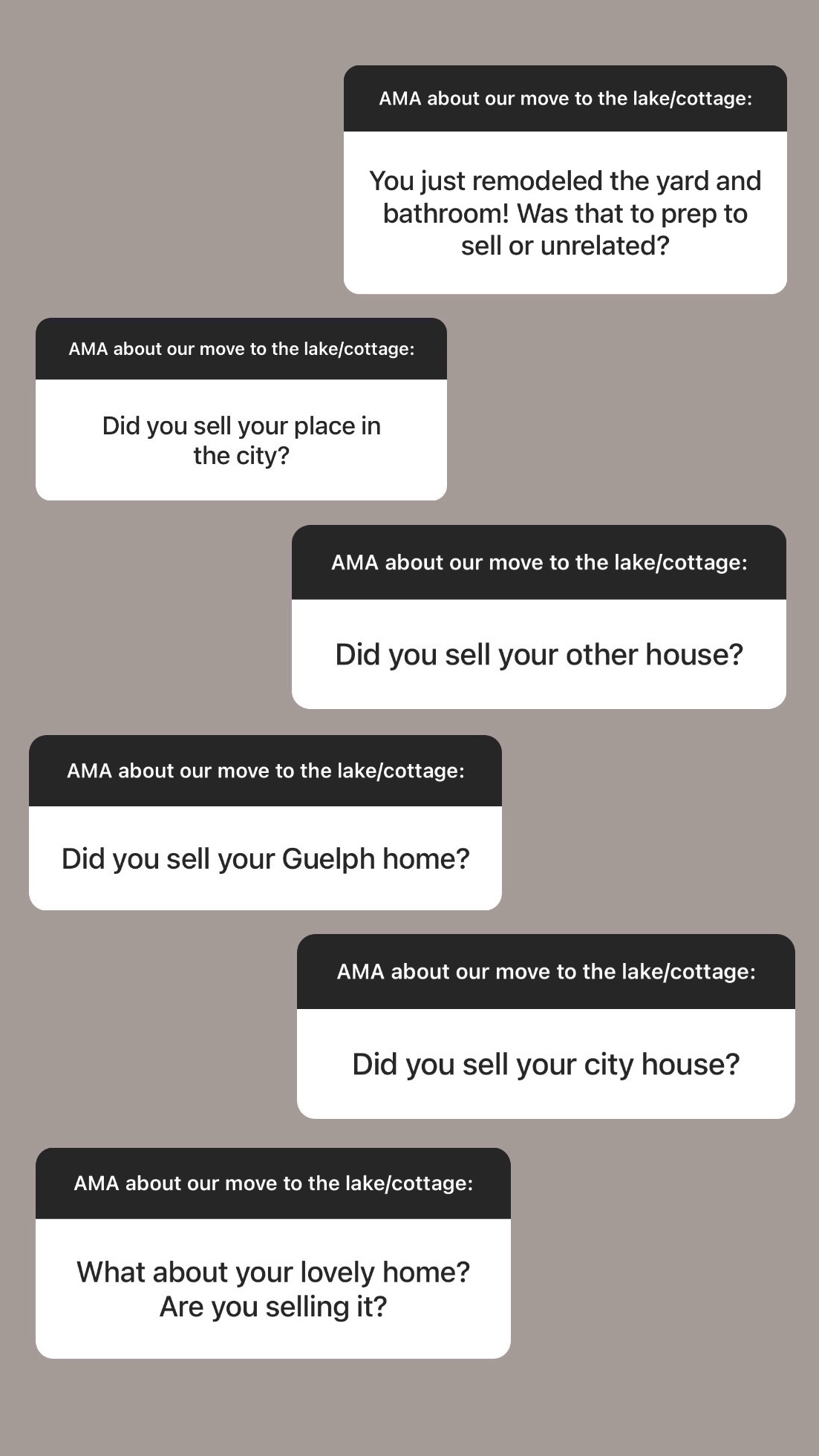 ---
Yep, we sold our home in Guelph, Ontario. It was a bittersweet decision at first since we'd worked so hard on the place and it was finally all done after 7 years of renos. At the same time, having completed all the renovations meant we were uniquely poised to list while the market was hot.
You best believe that I savoured every moment in our lovely backyard, cooking in a functional kitchen and doing my evening routine in a beautiful bathroom before we said goodbye.
I'm so grateful to our first home for all the incredible lessons it taught us and the life it gave us space to live. However, it was never going to be a forever home for us. She's in very good hands now, so I've found peace in knowing that our old home's next chapter will be a good one too.
You can find a mini home tour and learn a bit more about the renovations philosophy Dave and I share in this Guelph Today article.
Need a Realtor? If you're local to Guelph and looking to sell or you're interested in moving to Guelph I cannot recommend Nick Fitzgibbon and his team enough. We couldn't have hoped for a better experience.
Here's the last photo I took of the Guelph house:
---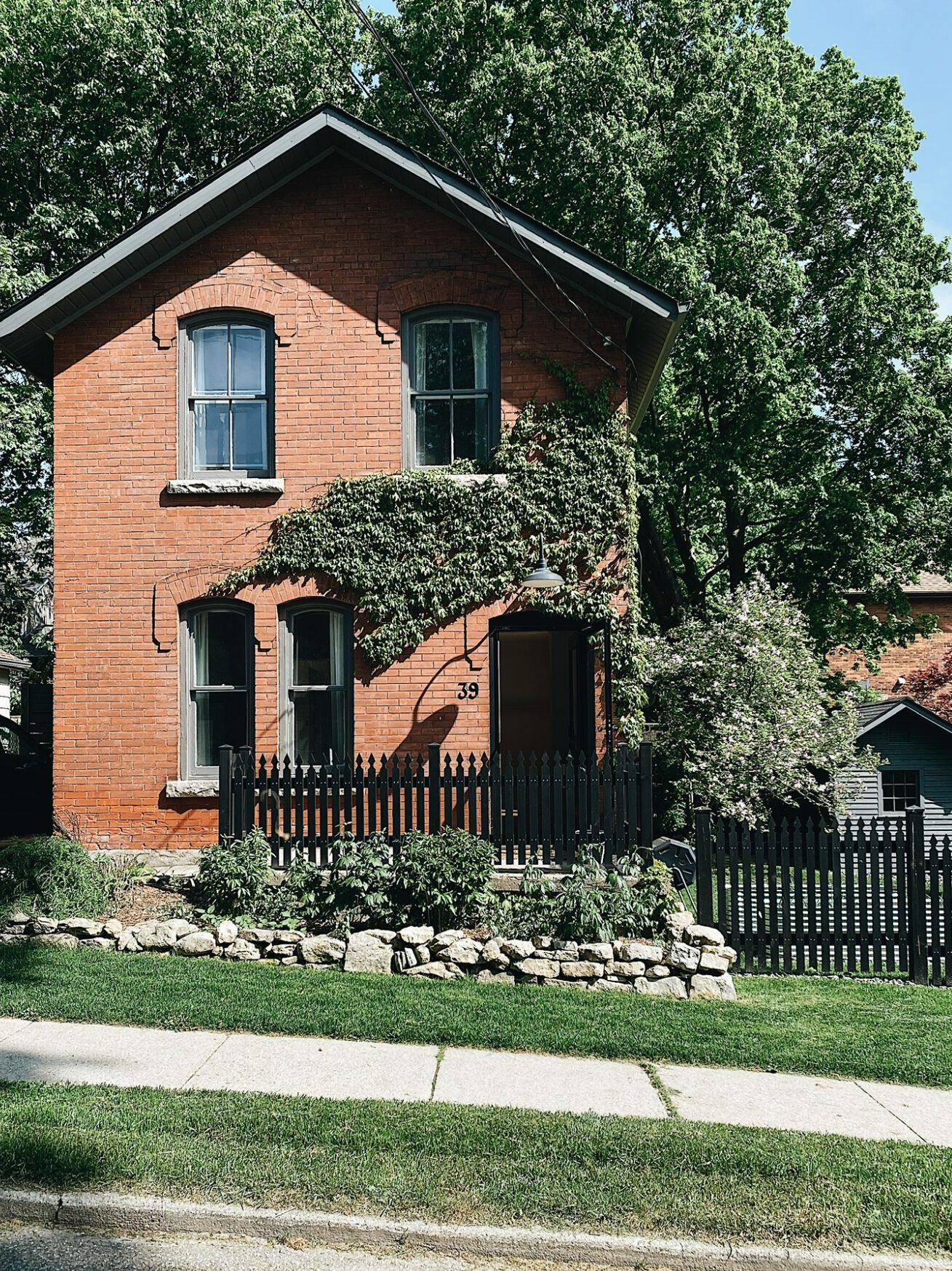 ---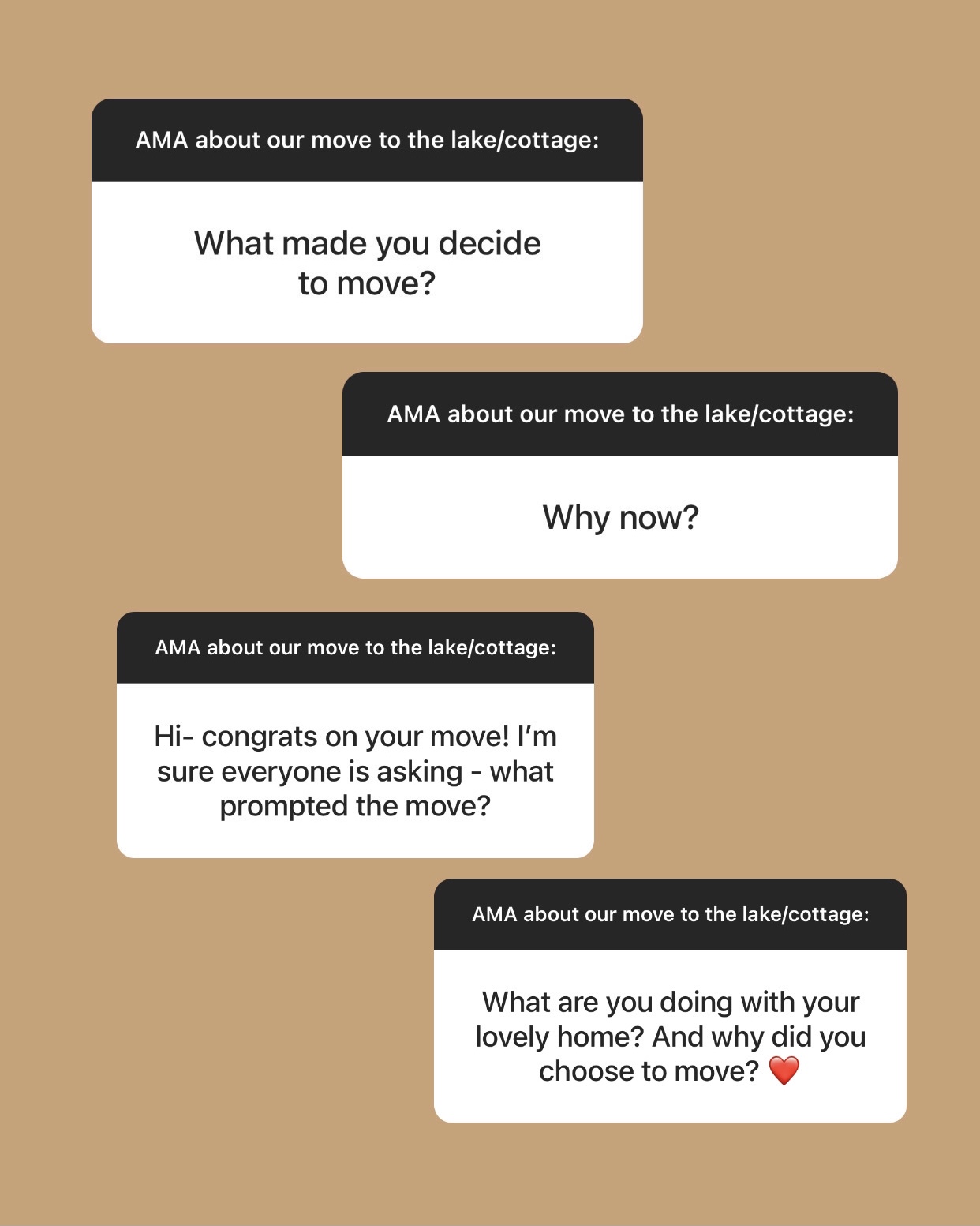 ---
Living on the lake full-time hadn't been our intention when we first bought Steep Hill (the name of our cottage) last fall (you can read all about that here). However, the more time we spent by the lake over the winter, the harder it got to leave (even during some seriously cold and snowy visits).
Luckily, the stars began to align in such a way that proved a path to lakeside life was actually possible. I can work from just about anywhere (we made sure that we could get internet from day 1) and Dave had opportunities presenting themselves at the lake and surrounding area (he's an engineer/builder and runs Ruhl Builds).
We've been ready for a new challenge and this step felt right to both of us. It may sound cliché but I've never felt so at home or at peace as I do here.
---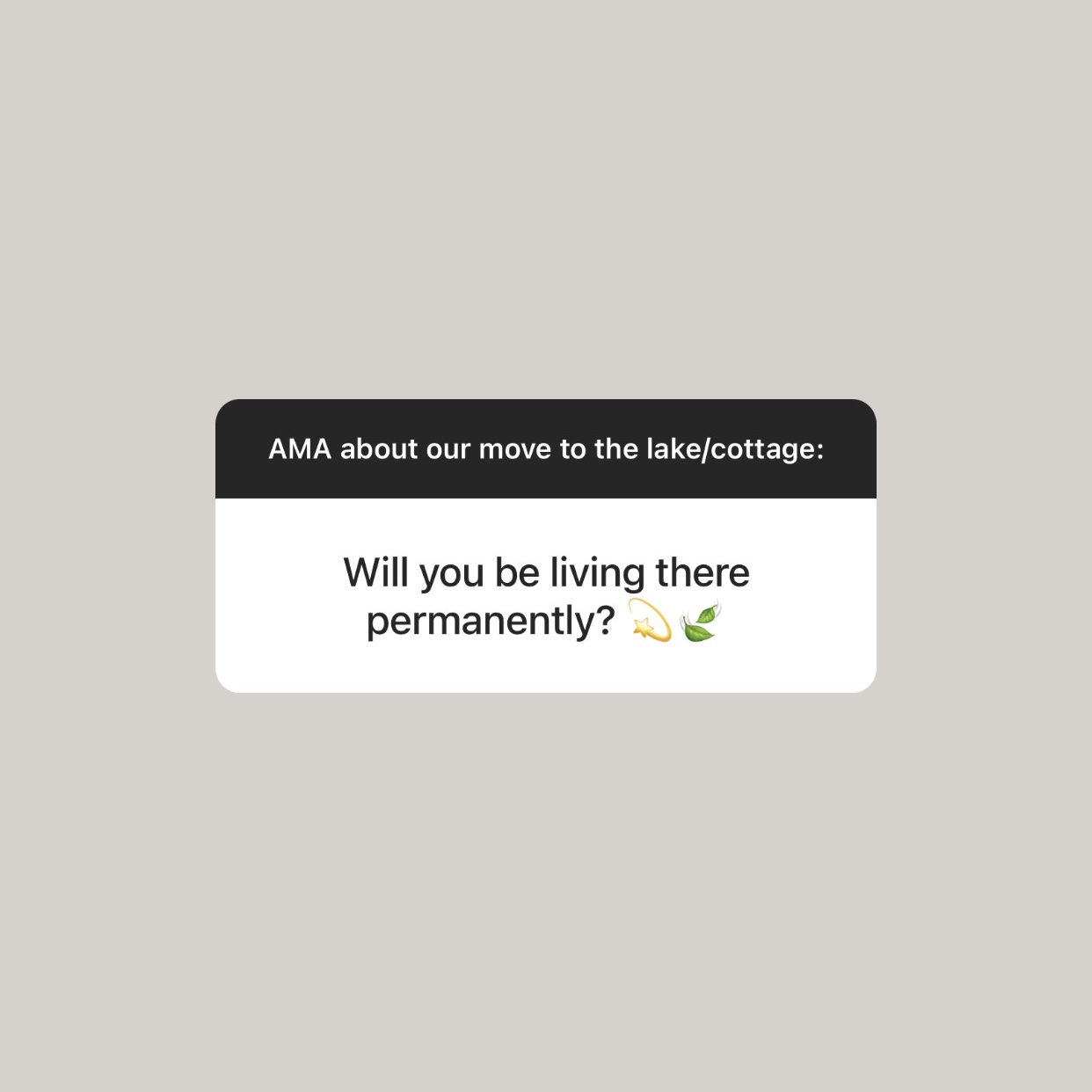 ---
We plan to call Steep Hill home for at least the next couple of years and to have this place in our lives for many, many years to come.
---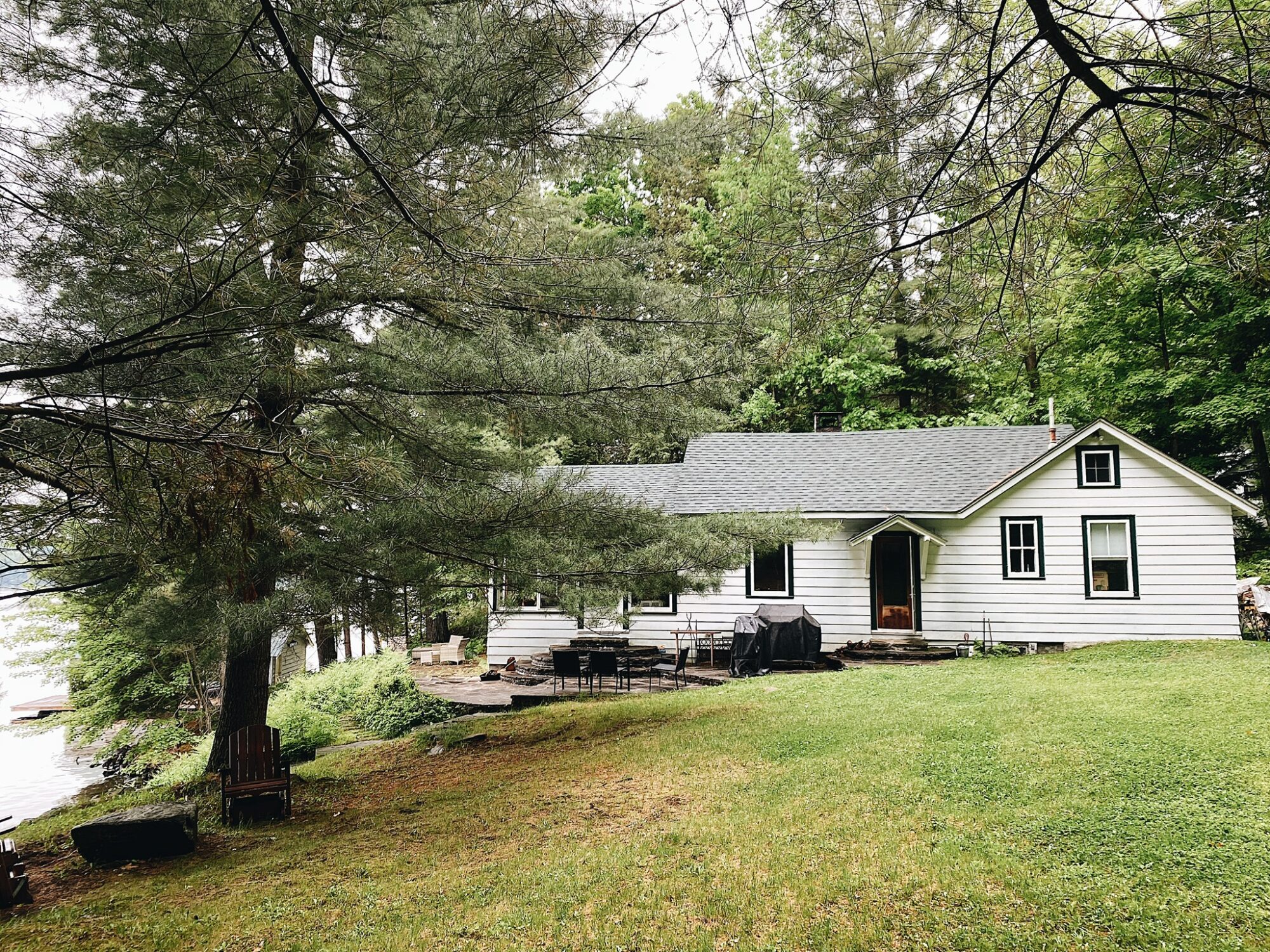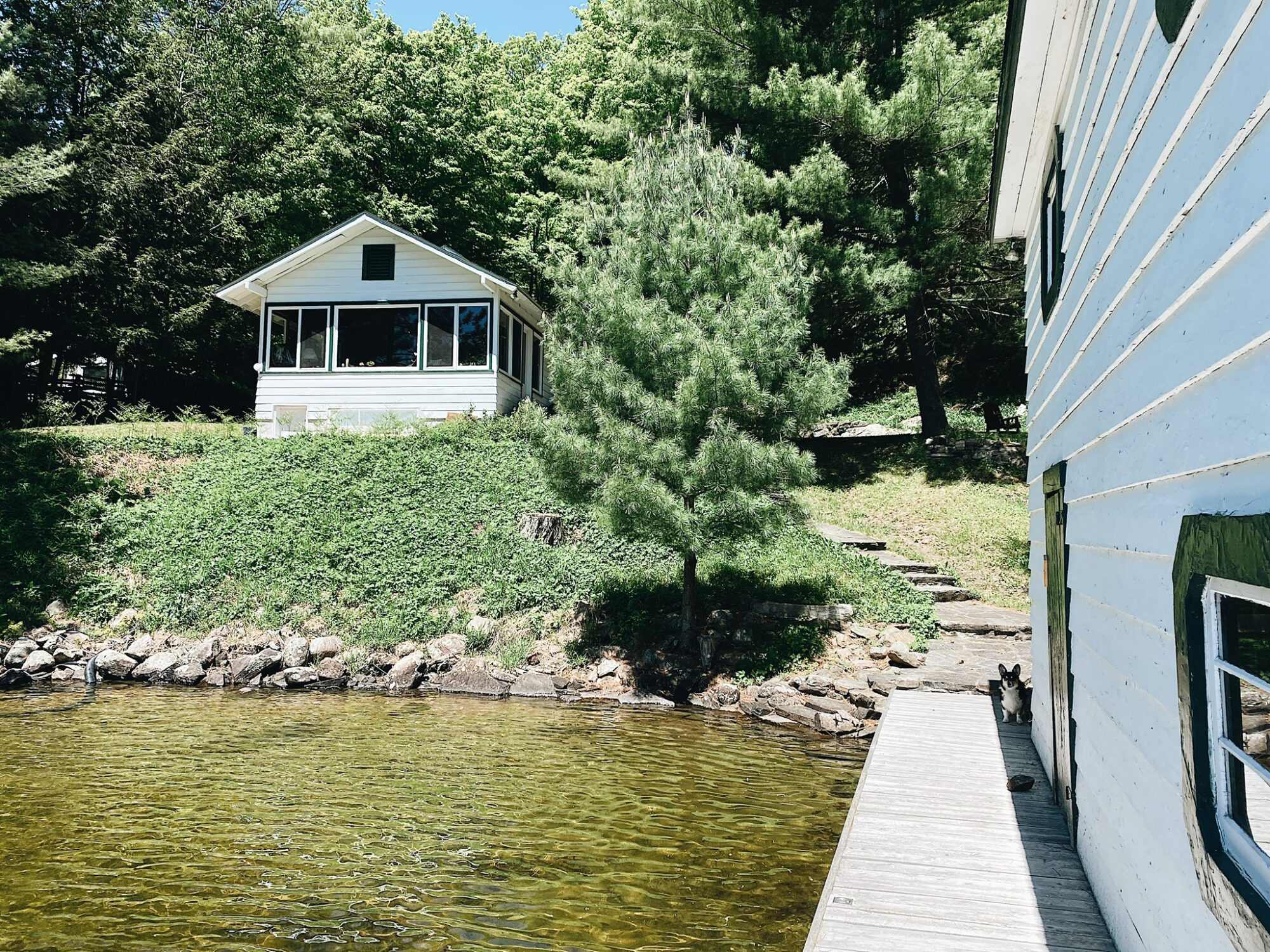 ---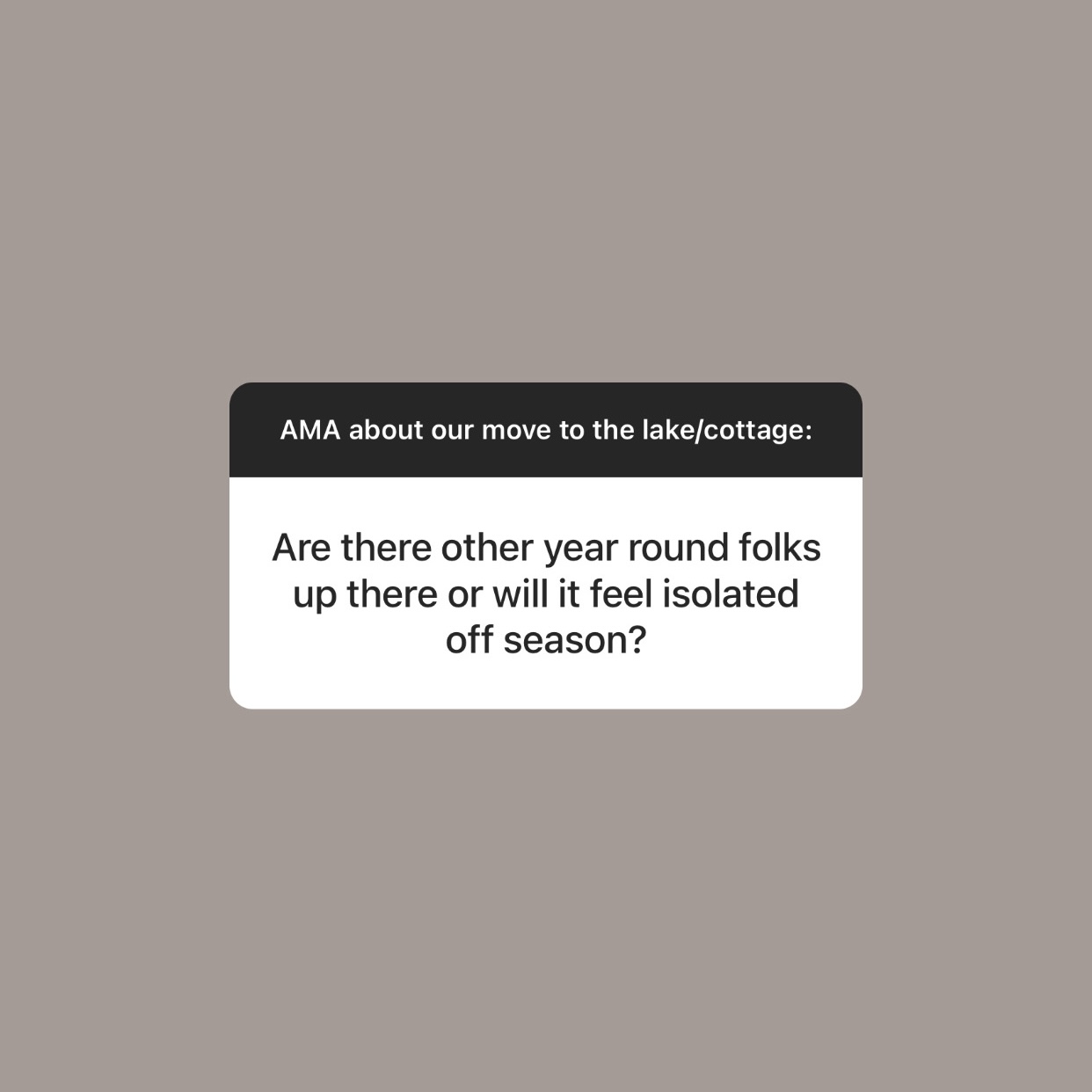 ---
A few of our neighbours are also up year-round or if they don't live at the lake they visit regularly. When we were up in the winter there was still lots of activity on the lake such as ice-fishing, now-mobiles, skating and cross-country skiing.
It's definitely quiet in the winter but with it being so busy in the summer and fall I think we'll be ready for a couple of quieter months.
---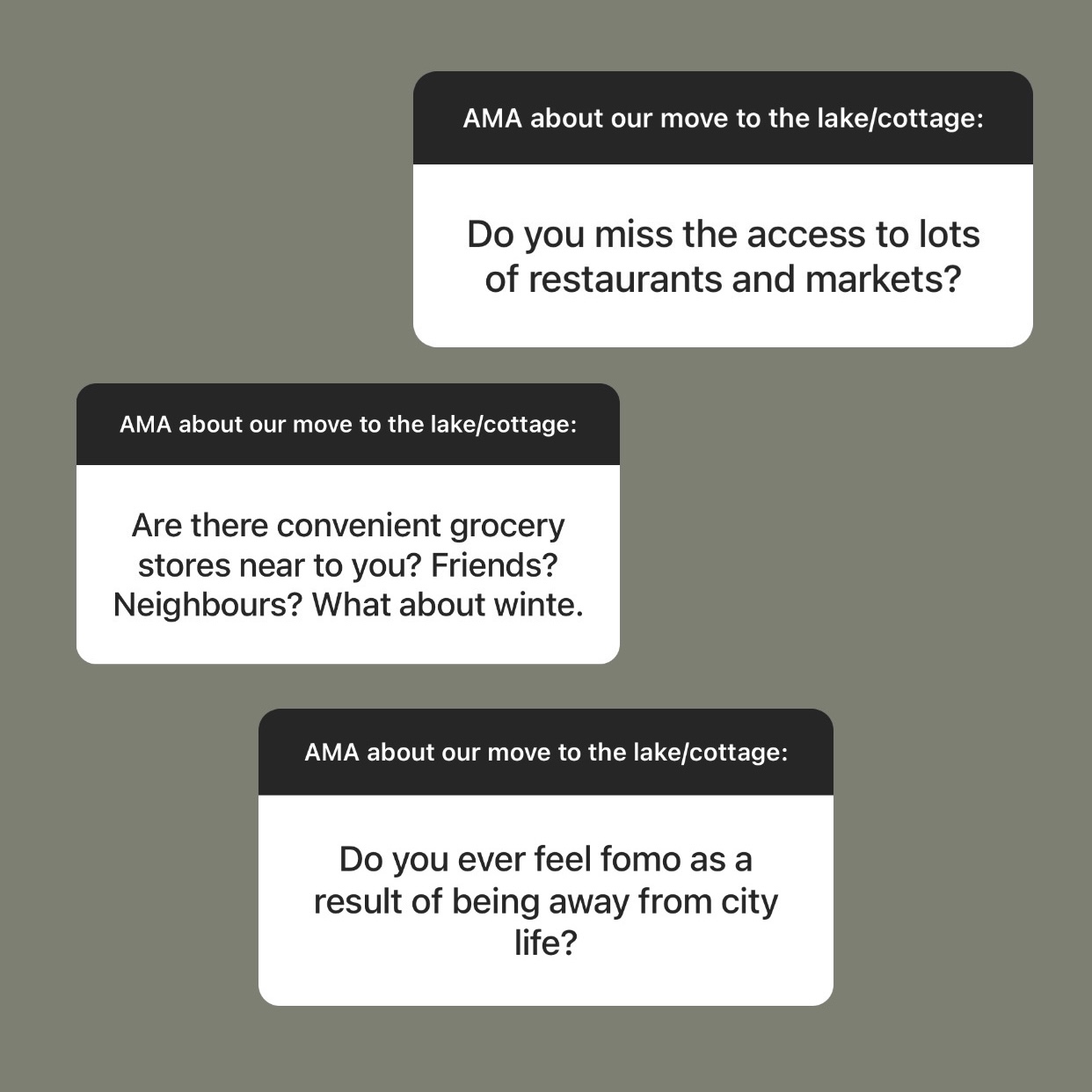 ---
Luckily there are all the essentials within a 10 minute drive (liquor store, post office, pharmacy, hardware store, grocery, auto-repair), and then everything you could ever need is about 30 mins away. For instance, Hello Fresh still delivers to our driveway so we're not too far away from civilization.
There is also a garden nursery and a really great bakery nearby (we've already frequented that spot a lot) and some farmer's markets in the area too.
Without a close proximity to these essentials I may not have felt so confident living more remotely but knowing they're just a winding road away helps a lot.
As for FOMO being out of the city, time will have to tell on that. We're lucky to have lots of close friends on the lake so we'll probably have a more active social life in the summer here than in Guelph. Plus, with friends in Toronto, we'll be able to visit them (once we're all vacc'd up) and get our fix of good restaurants and city life. I'm usually good for a long weekend of downtown adventure and then I need my quiet time to regroup. #introvert
Here's a peek at the local bakery:
---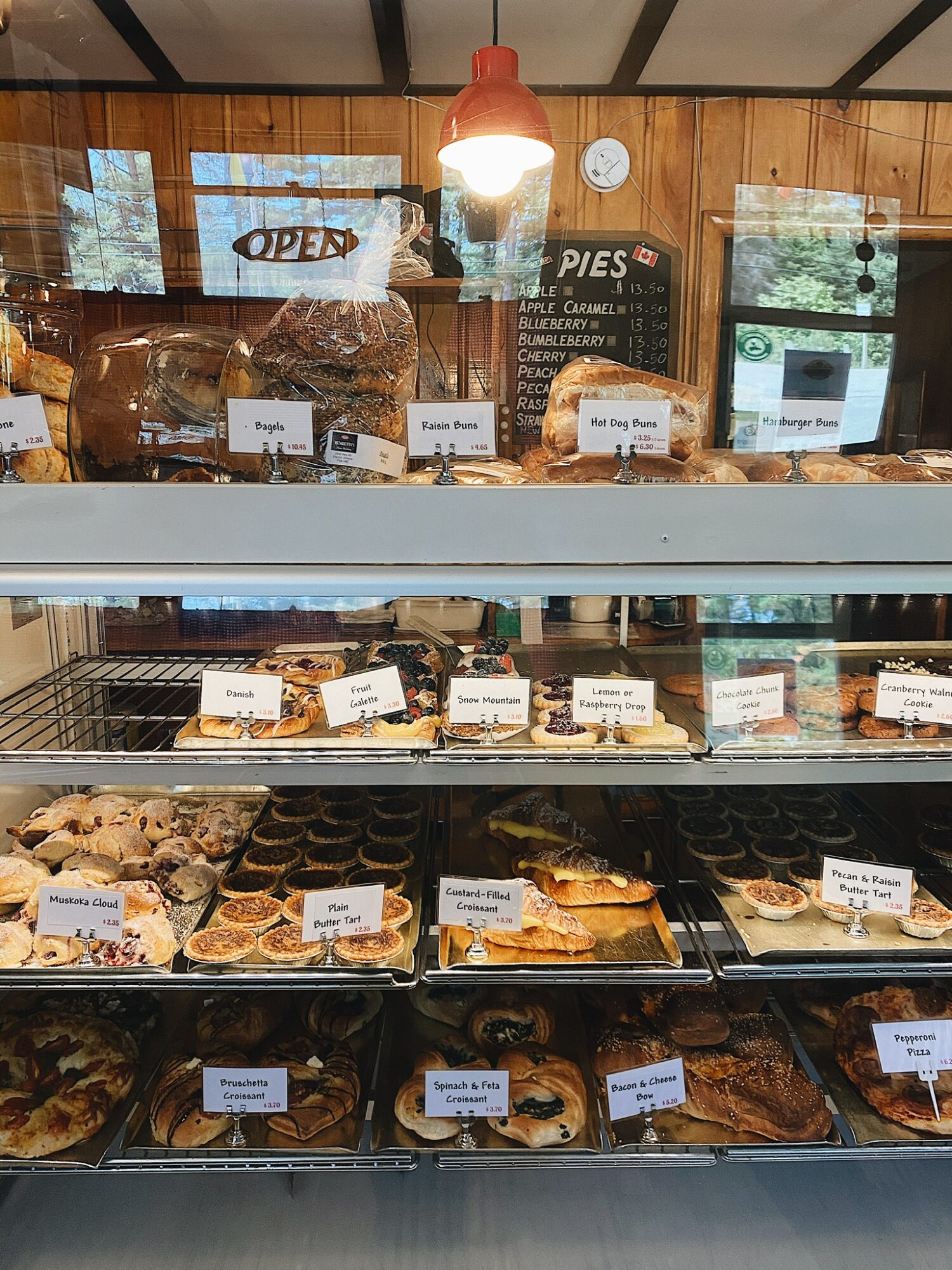 ---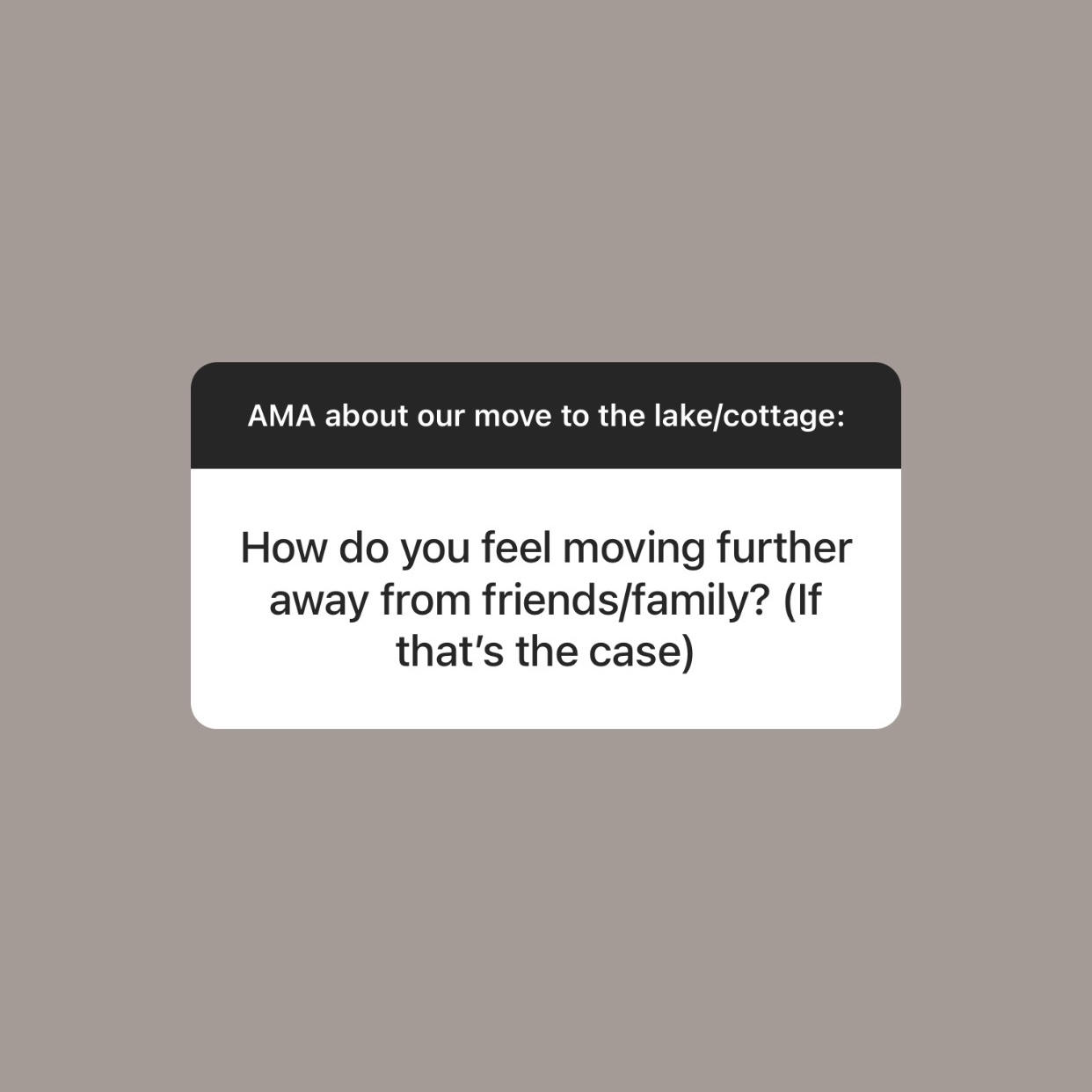 ---
This is the case and it was what I had the hardest time with initially. The pandemic has given us a good taste of what it's like to stay in touch when we can't be together and that helped us wrap our heads around what the distance would mean.
We're lucky to have a group of our closest friends, who are essentially family, with cottages here on the lake so that really helps when it comes to having a social life and feeling connected.
Plus, we're still only a few hours away from everyone so I'm sure we'll get lots of good visits in. Not to mention the fact that everyone loves visiting the lake!
---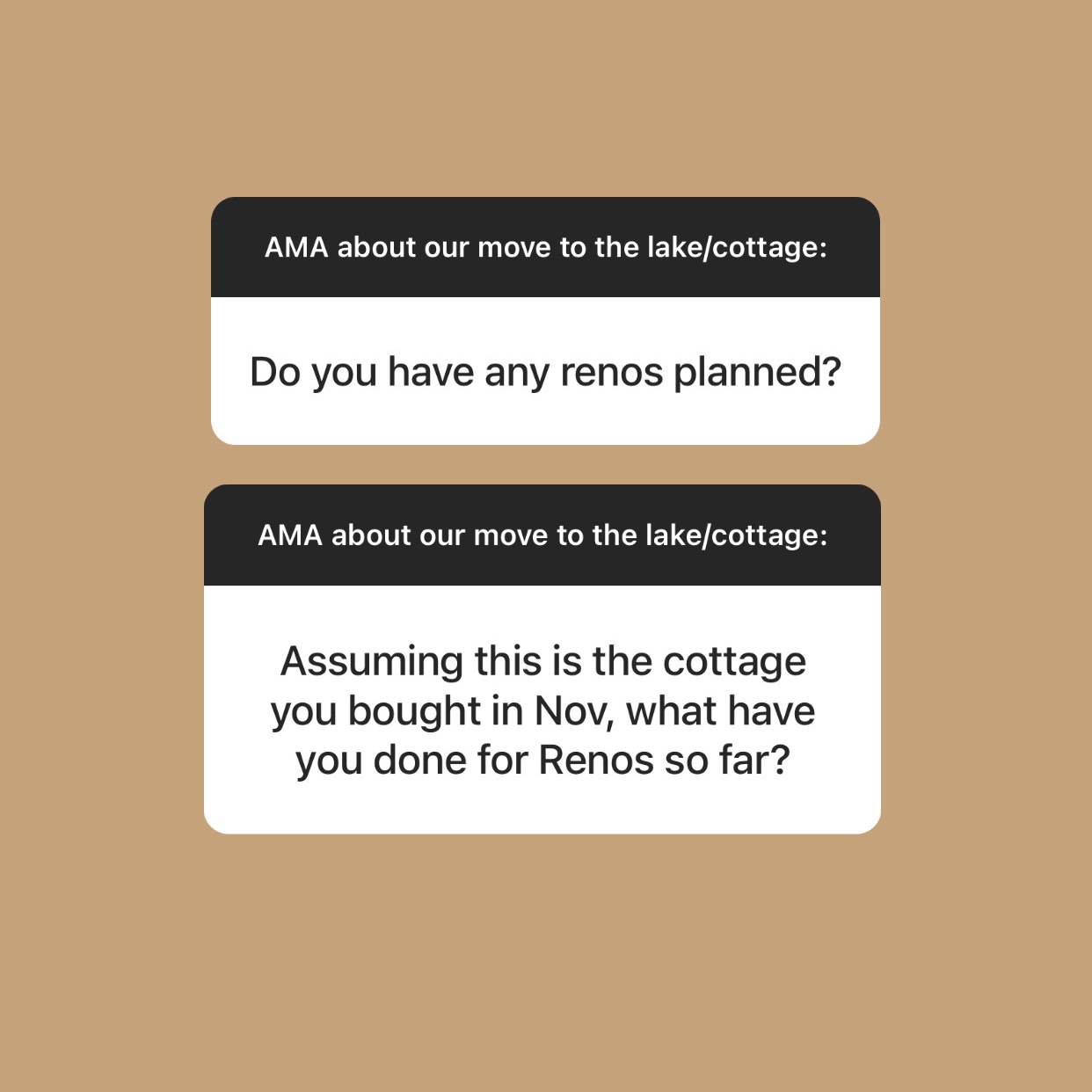 ---
YES! Lots of renovation planning is in the works. She'll be getting a full makeover and I'm so excited to share it all along the way.
Most of the major work will begin next year but we've already had one big win on the renovation front. Dave opened up the attic in the living room to find that the ceiling could be vaulted! It's going to give this room the grand ambiance it deserves! Here's a before and after.
---
BEFORE: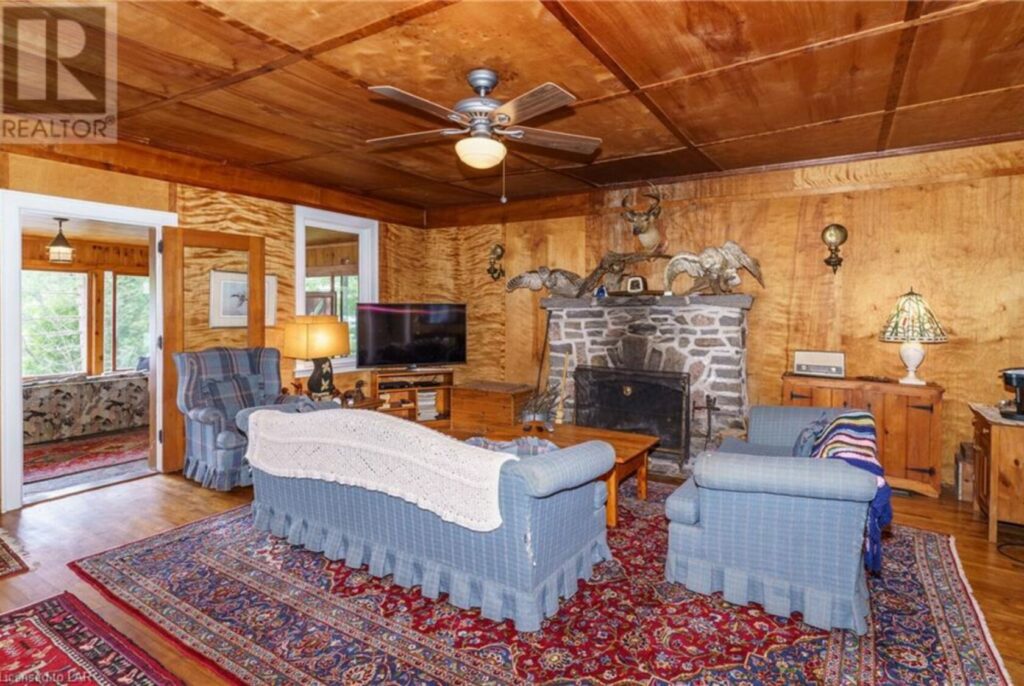 ---
AFTER: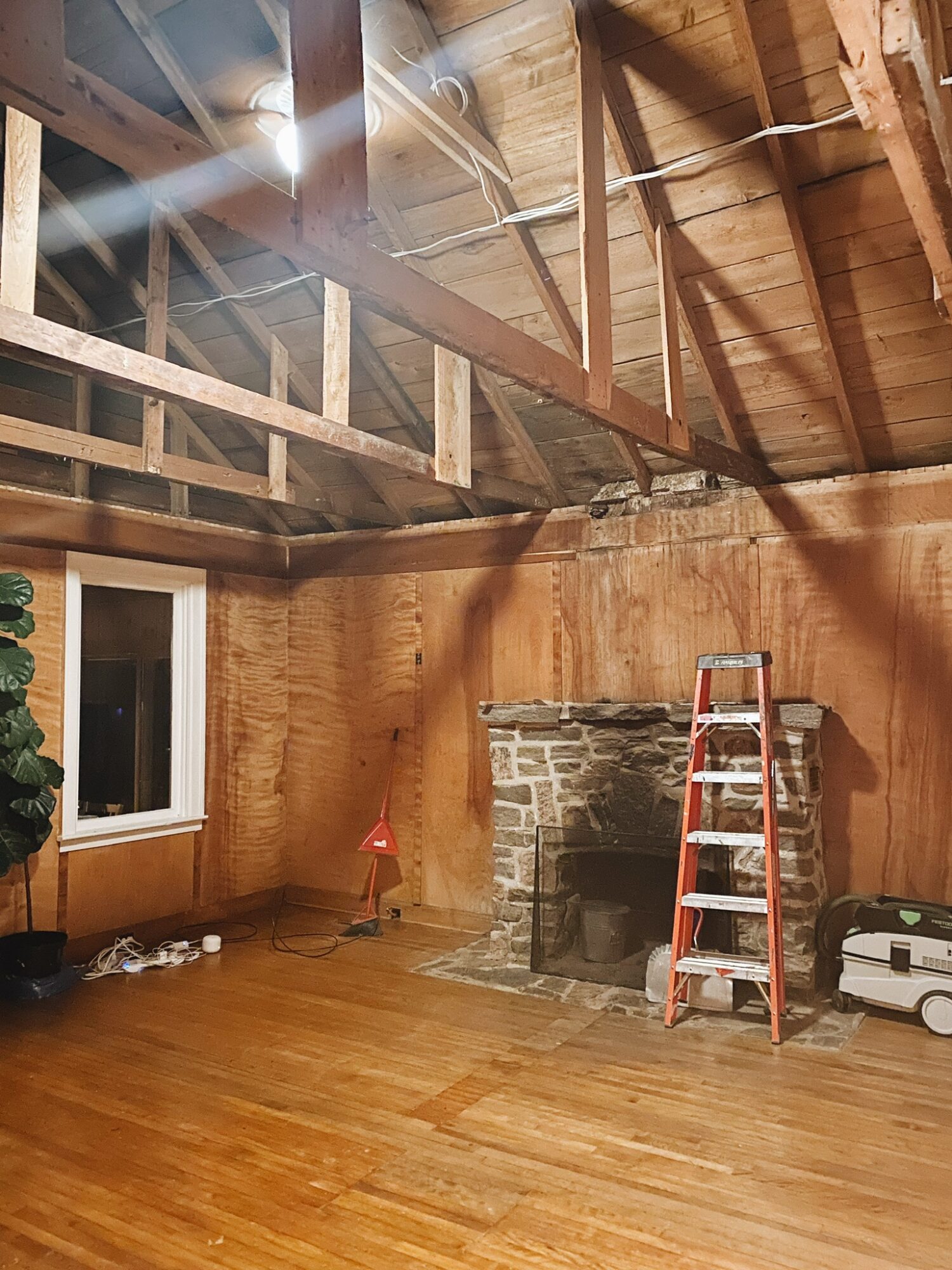 ---
I'm also loving how our outdoor furniture has translated from our downtown deck to the Muskoka room!
---
BEFORE: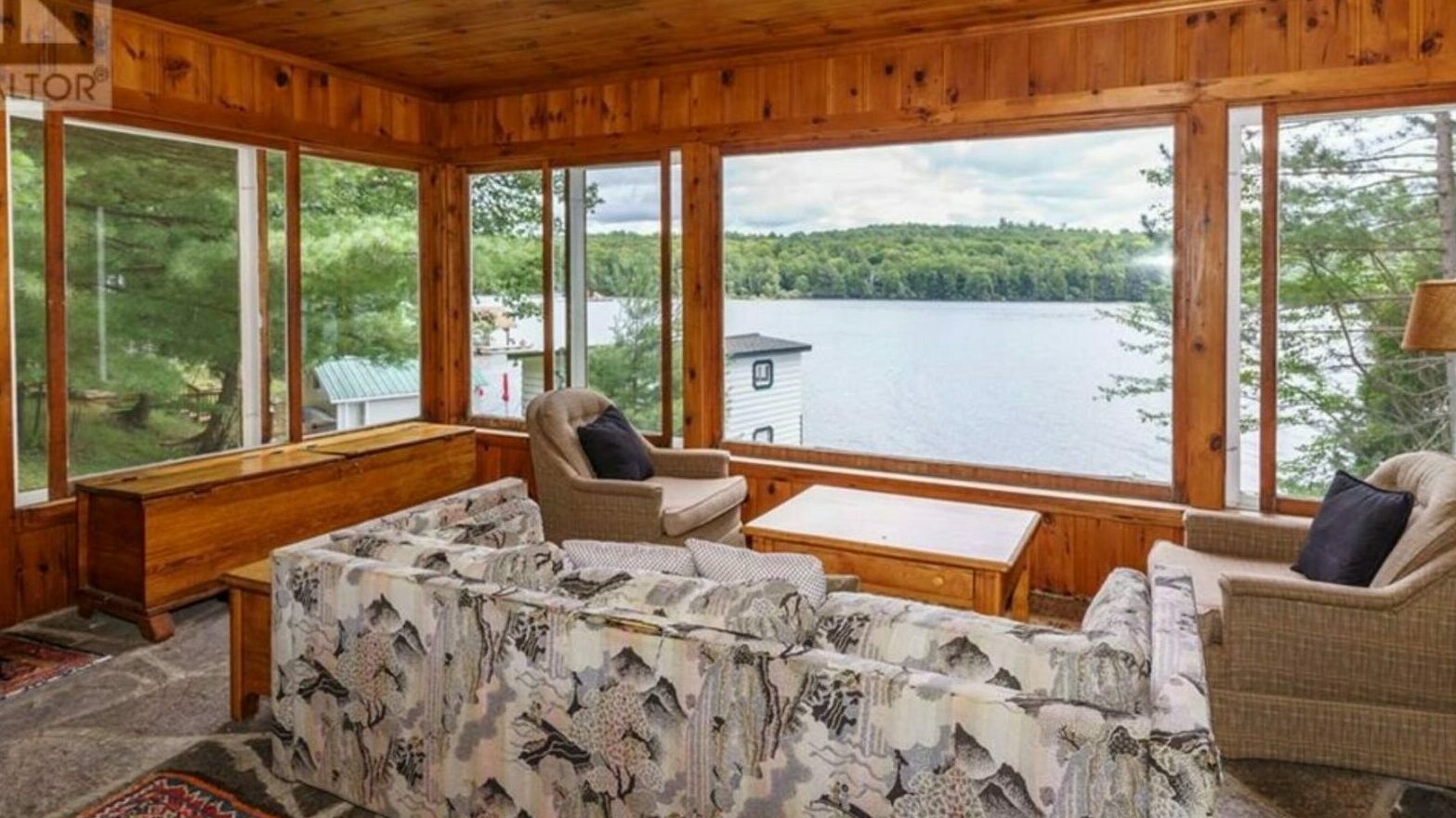 ---
AFTER: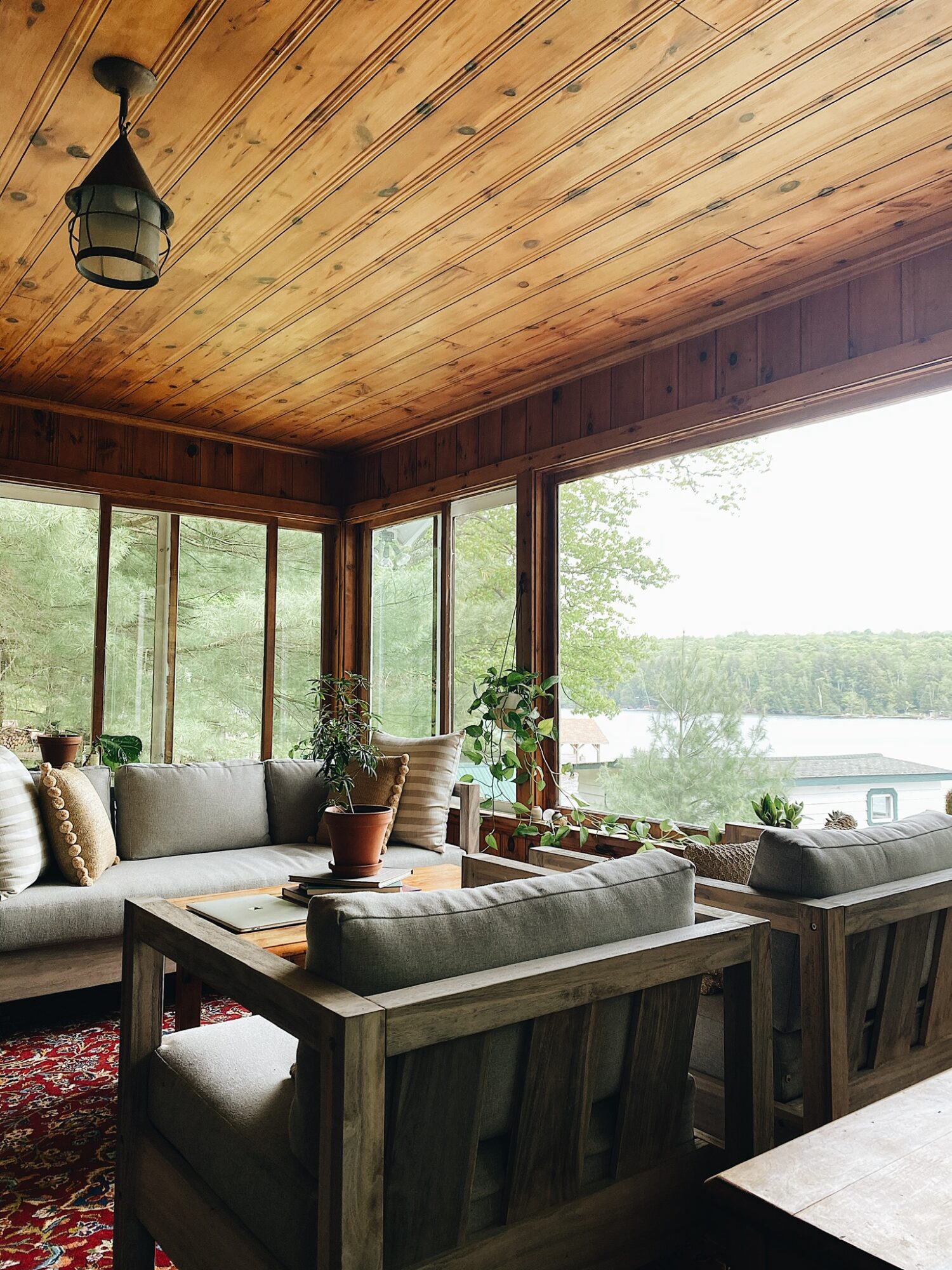 ---
These are just the tiniest tip of the iceberg in terms of what's to come!
---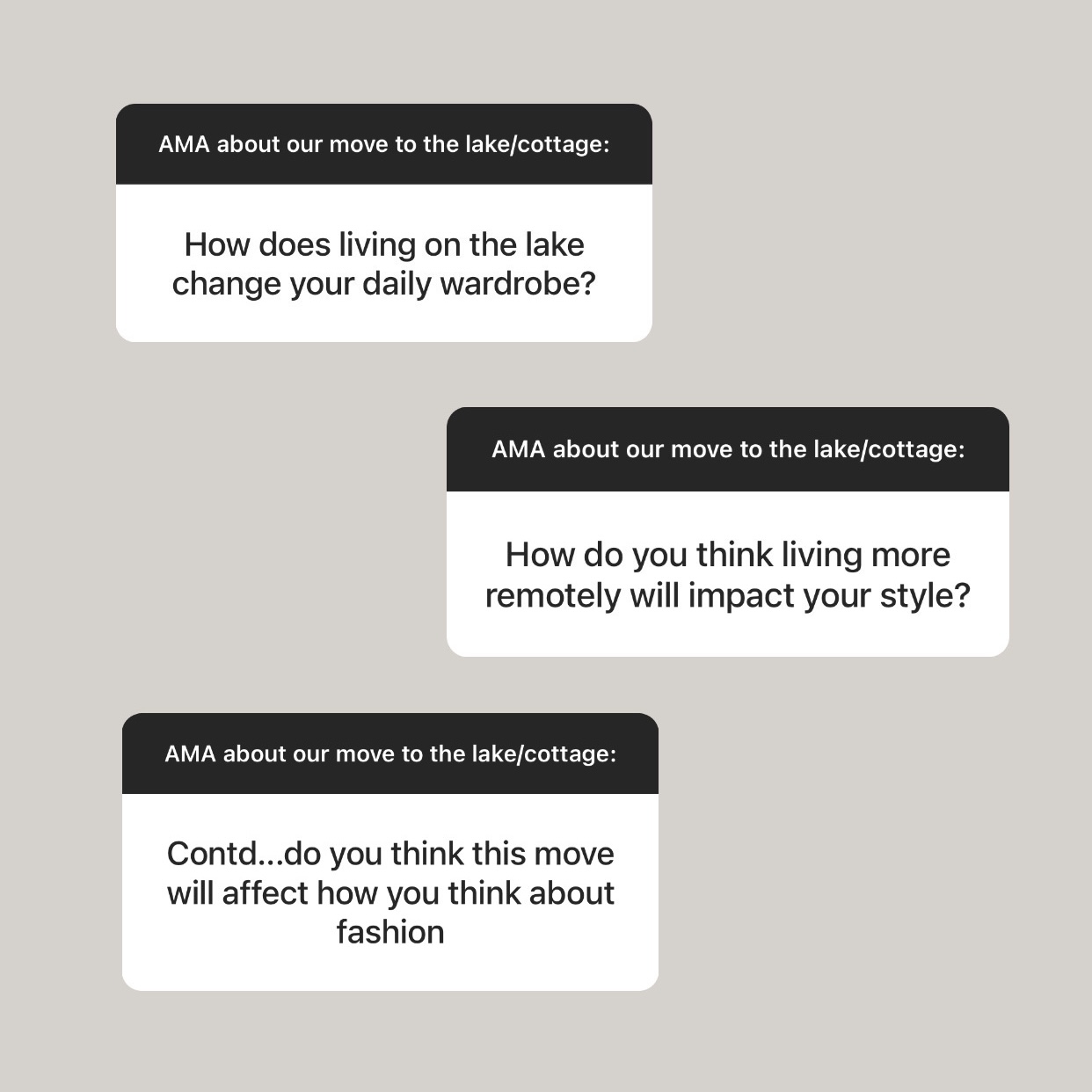 ---
This question came up a lot and I've been asking myself the same thing since we decided to move out of the city.
I think this new location and adjusted lifestyle will definitely impact my style, closet, relationship with fashion and even my approach to style blogging. I'm not sure exactly what it will all look like yet but I'm welcoming these shifts and changes.
I'm feeling more myself than ever these days and leaning into how that translates into my work here on Style Bee is something I'm very much looking forward to.
---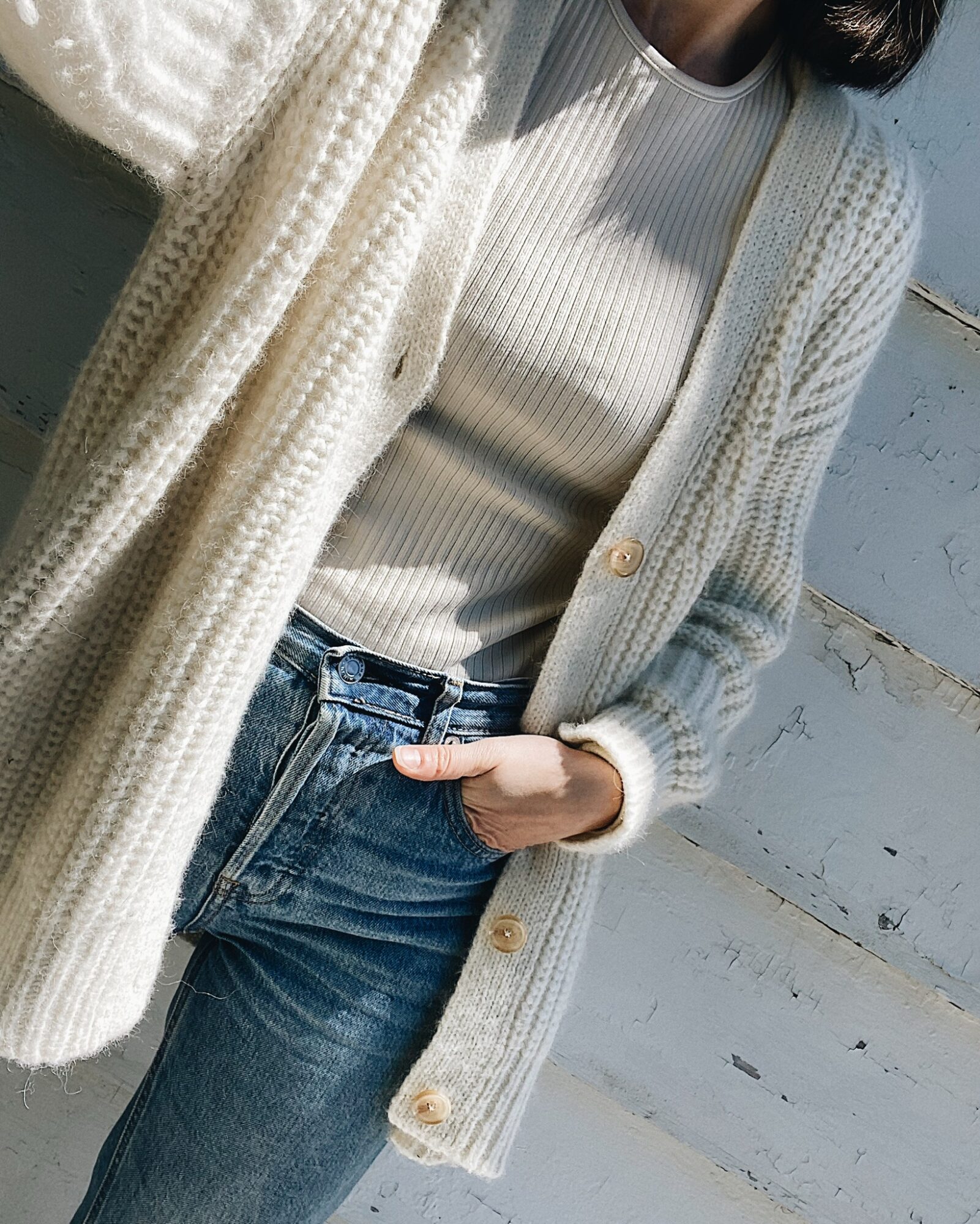 ---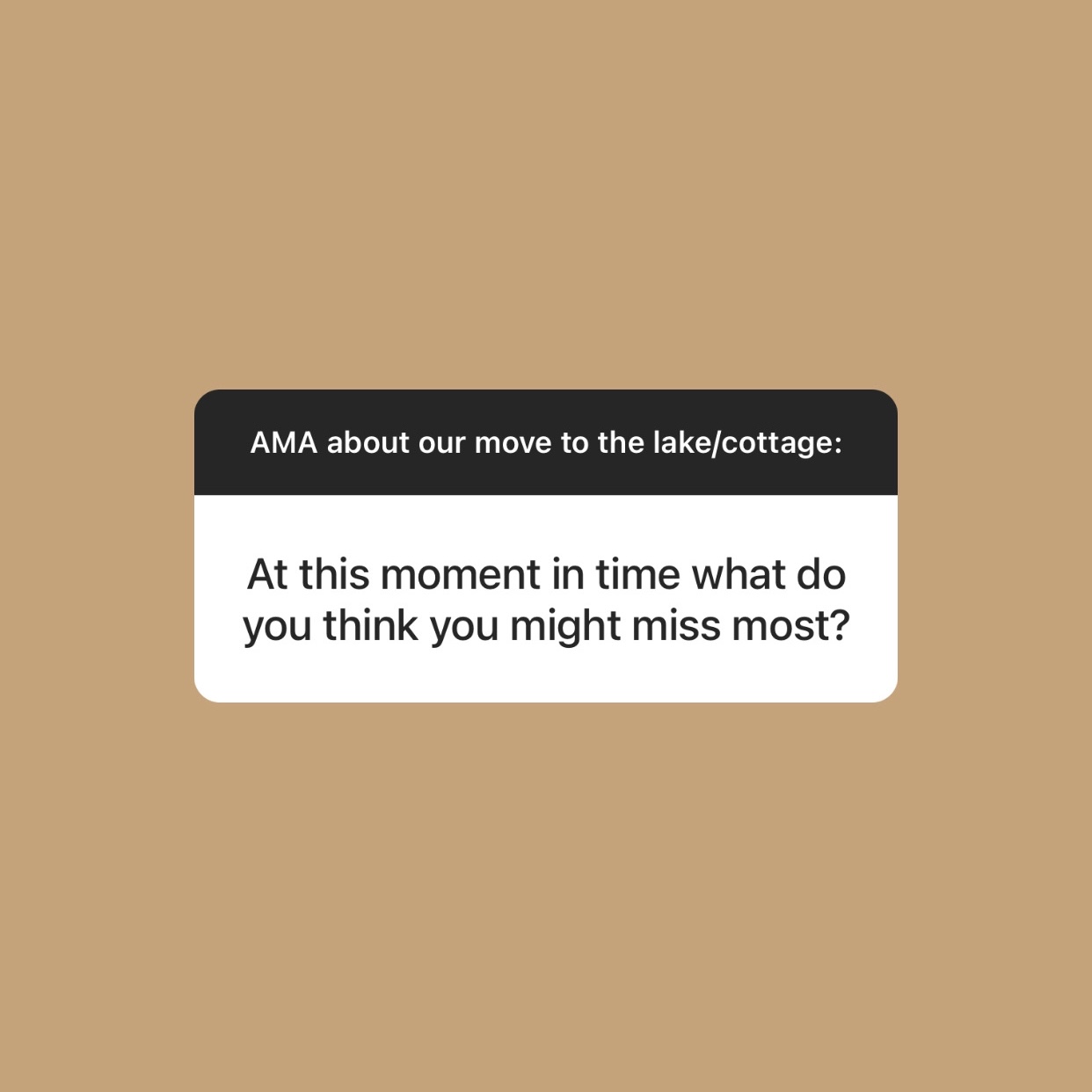 ---
I think I'll miss taking Dobby for walks and seeing all the lovely gardens and blooms in our old neighbourhood. There is so much natural beauty up here though and there's no reason I can't grow some of my own beautiful blooms and bushes.
These white bleeding hearts and lush green ground cover were waiting for us when we arrived and there's even a small patch of peonies getting ready to bloom!
---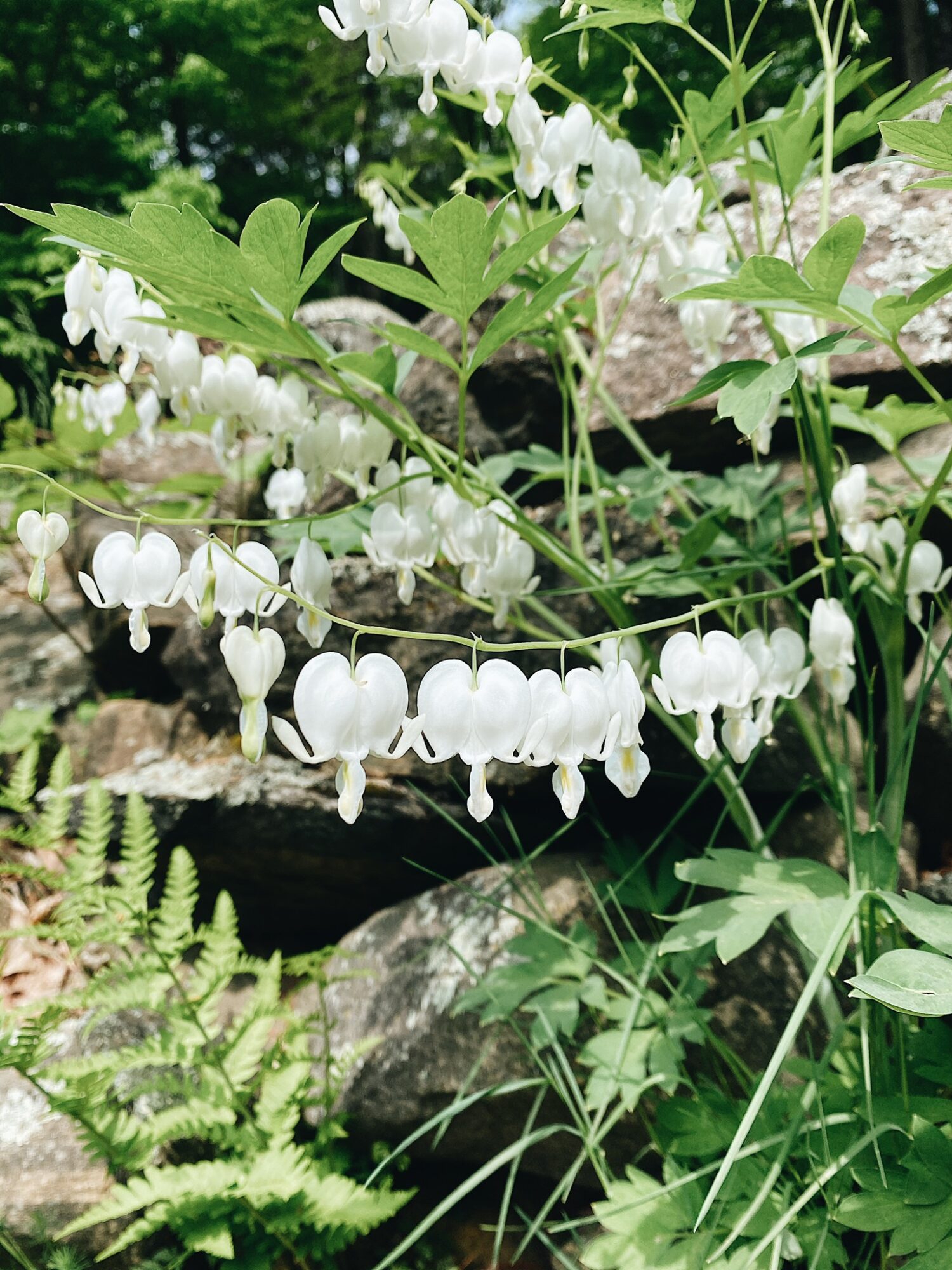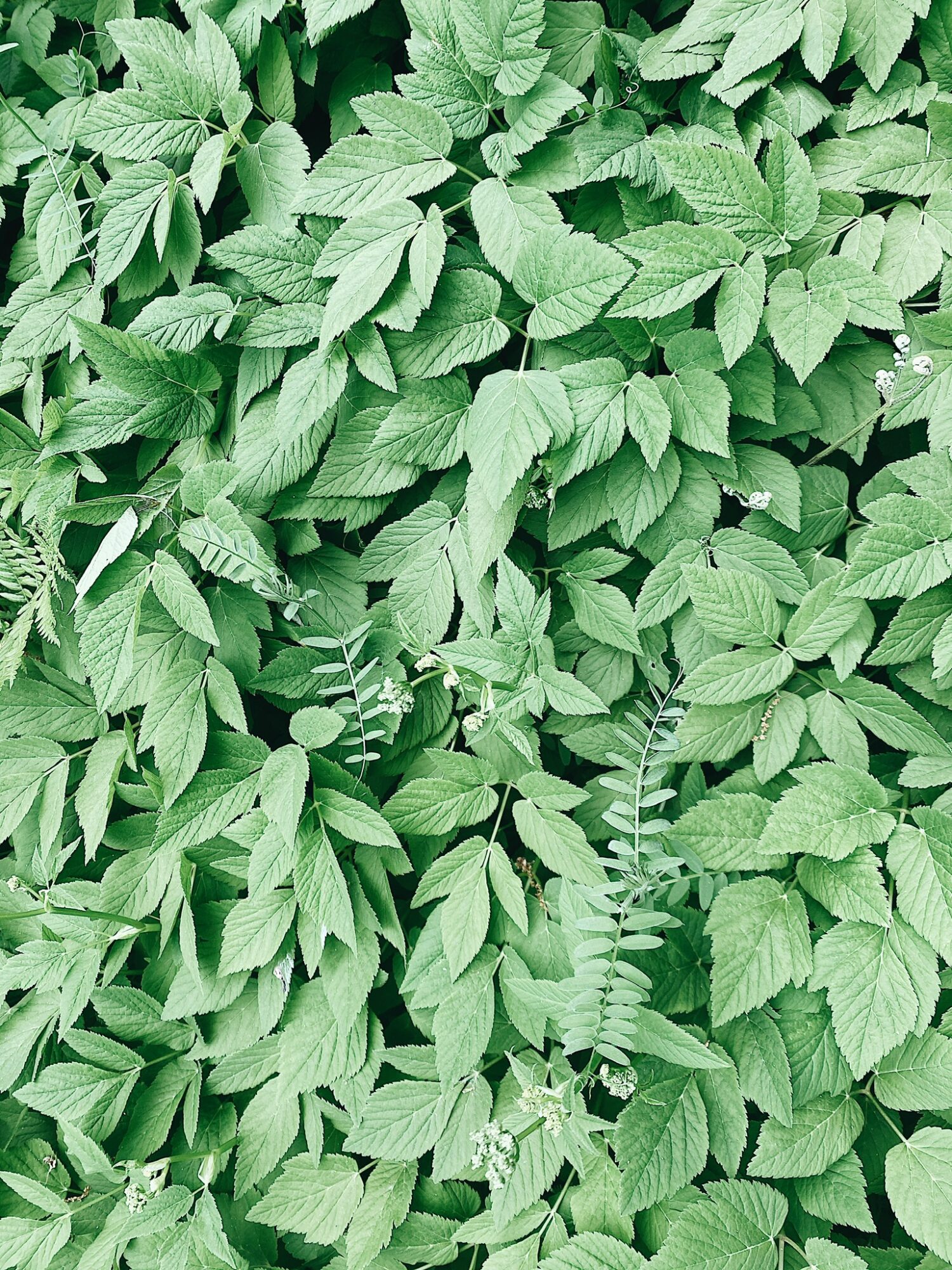 ---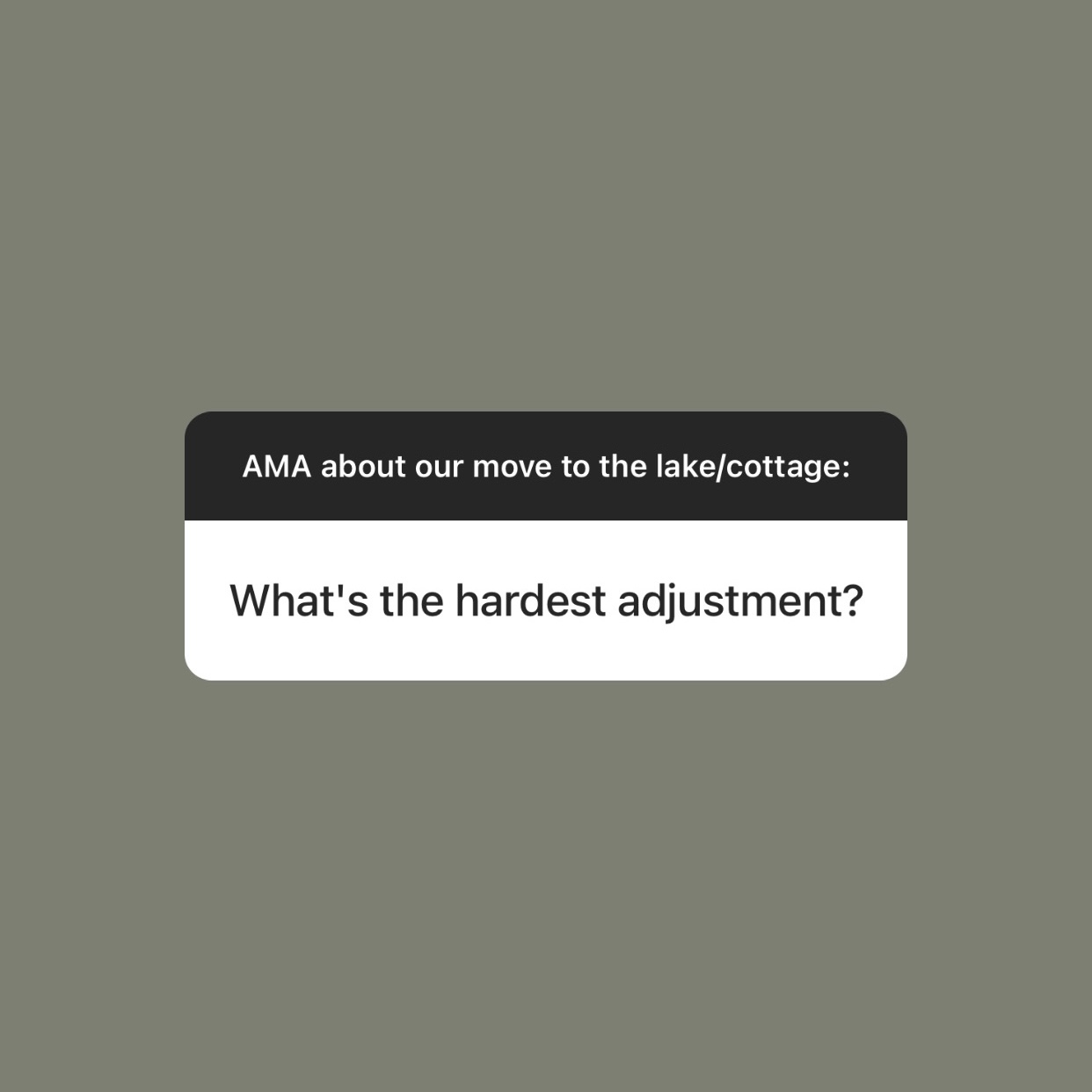 ---
This is a good question but I don't really have an answer for it yet. The transition into life on the lake has been even more seamless than I expected. Of course, adjusting to a house that needs a lot of work after life in a completely finished space is one thing but I'm so happy to be here that it doesn't feel like a sacrifice in any way.
Oh, actually, I know! We don't have municipal garbage or recycling collection here so I have to take everything to the transfer station (aka. the dump). Certainly not glamorous but it's making me more conscious of our waste, which is ultimately a good thing.
---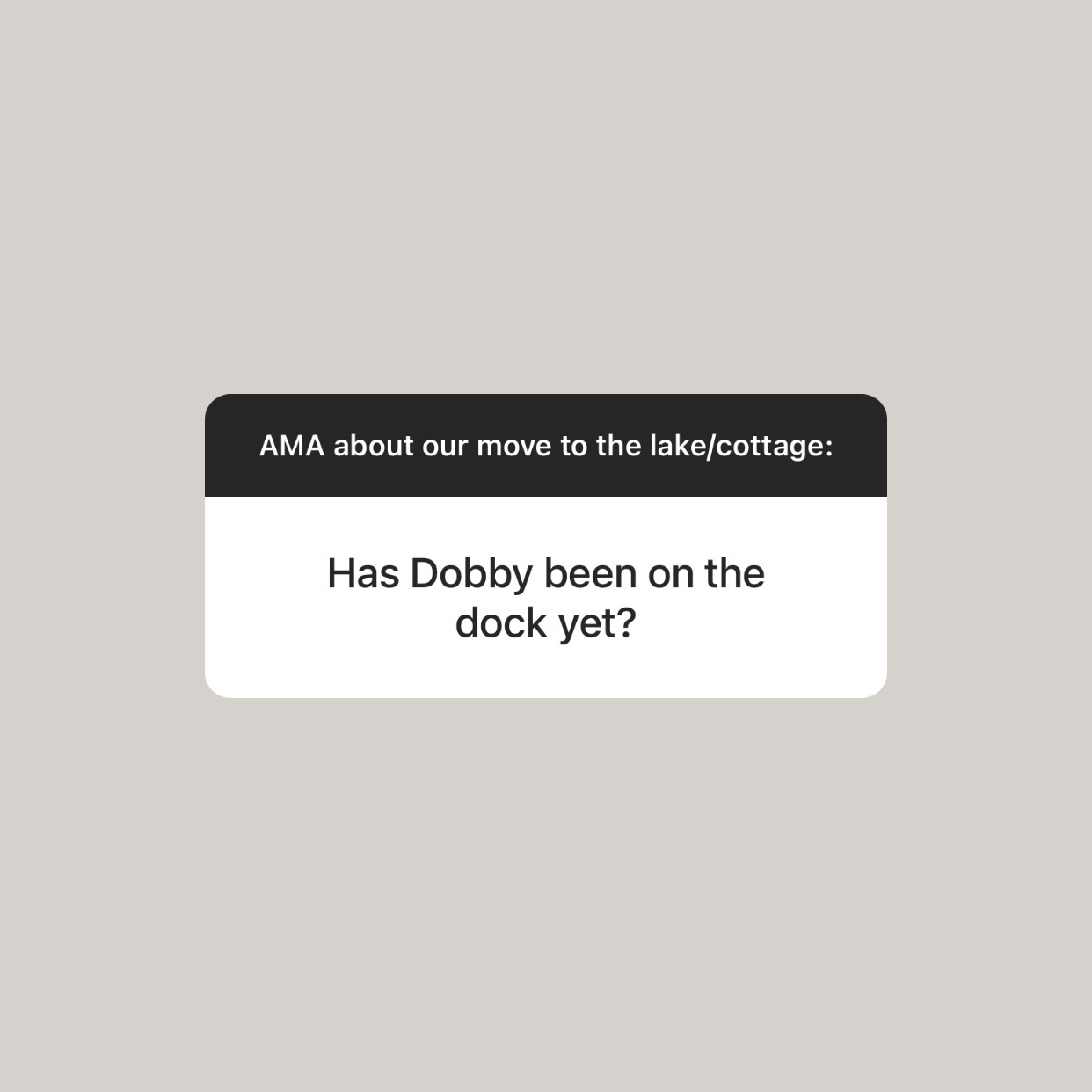 ---
I love how invested we all are in Dobby's dock progress. While he will venture as far as the boathouse door now, he's still very unsure of the dock's structural integrity.
I've managed to get him all the way out once or twice but he promptly trots back to the safety of shore.
---
---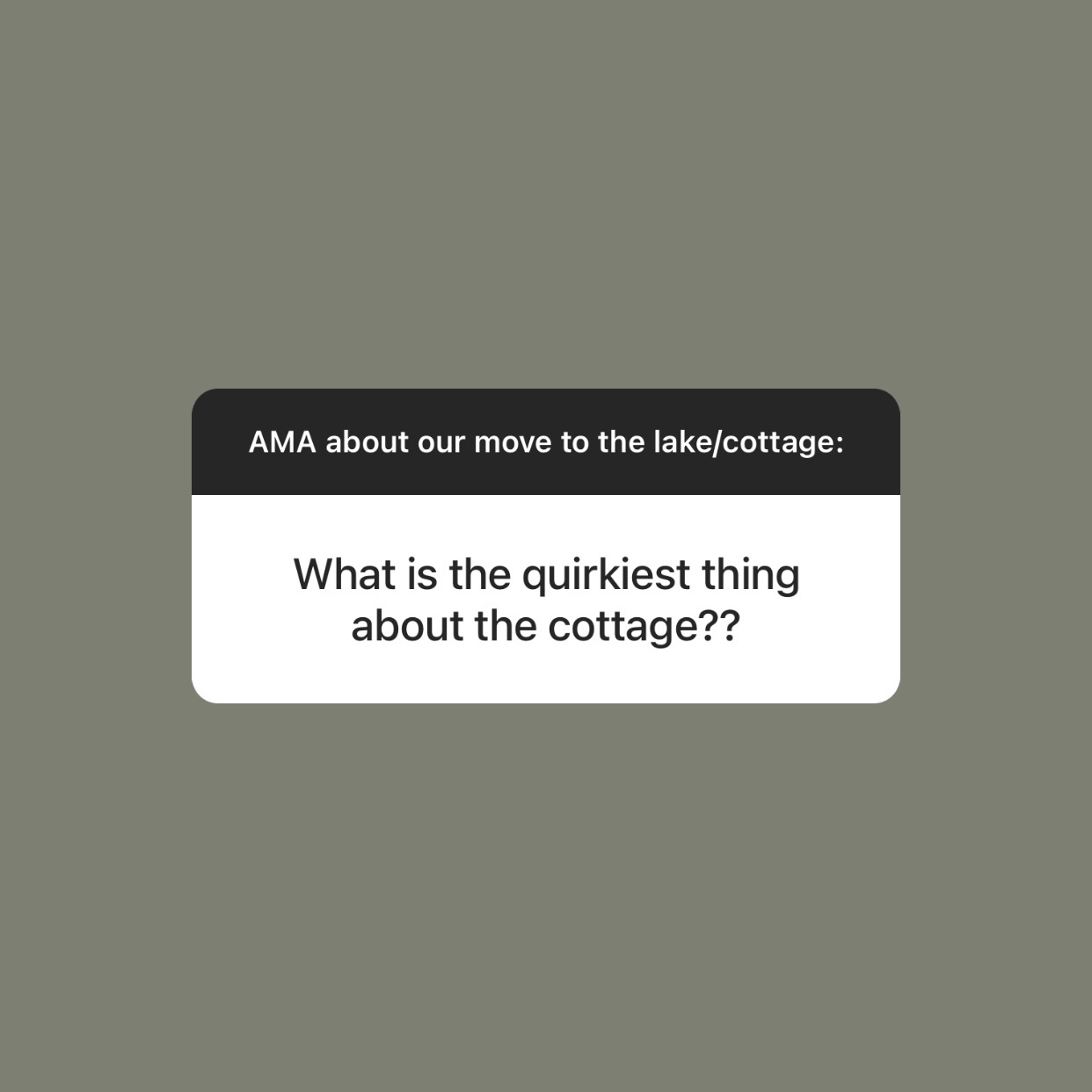 ---
This is a fun one to end on! There are infinite quirks up here but I one I can easily show you is the red interior on the open kitchen cabinets.
Not exactly sure what inspired those but they're definitely a vibe!
---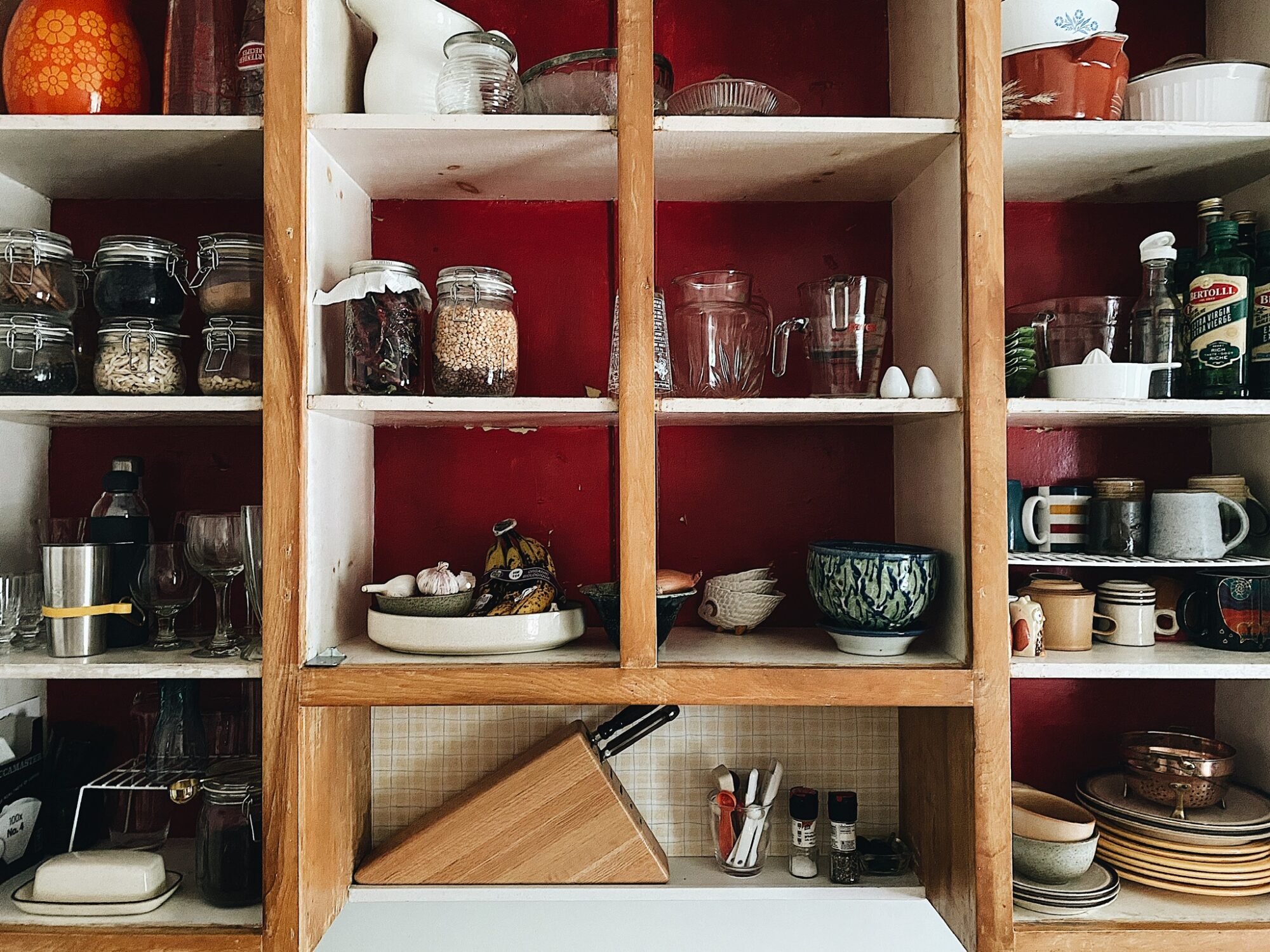 ---
NOW FOR A LOOK AT LIFE ON THE LAKE SO FAR
---
---
Thanks for tuning in and to everyone who submitted questions!
I didn't get to all of them so maybe we'll do another round sometime. I'm looking forward to sharing lots more as we get going with all sorts of fun and exciting projects. Enjoy the rest of your Sunday folks!