Today we're taking a look at The Milliner Shirt and The Maximalist Pant, both made in Canada by a longtime Style Bee partner and favourite, Power of My People.
These two pieces inspired a look that is reminiscent of one of my personal style icons, the one and only, Katharine Hepburn. Known for her affinity for suiting, she was one of the very first women in Hollywood to don trousers during a time when they were strictly relegated to menswear. Thankfully, Hepburn balked at conventional expectations of a "lady" and helped to pave the way for modern, independent folks, like you and me, to dress with autonomy!
If I had to pick a word for the pieces I've styled today, it would be "empowered". I'm grateful to Hepburn, and so many others, whose individuality could not be thwarted and in turn, opened doors for others to express themselves too. To me, that's what personal style is all about and Power of My People offers some beautiful tools to do exactly that.
Now onto the post!
---
Partnership Disclosure: This blog post was produced in partnership with Power of My People. The featured items were gifted and Style Bee earns a commission on sales made using the reader discount code (at no additional cost to customers). Learn more about why Power of My People is a Style Bee favourite and how this Canadian-made brand approaches thoughtful design and production here.
---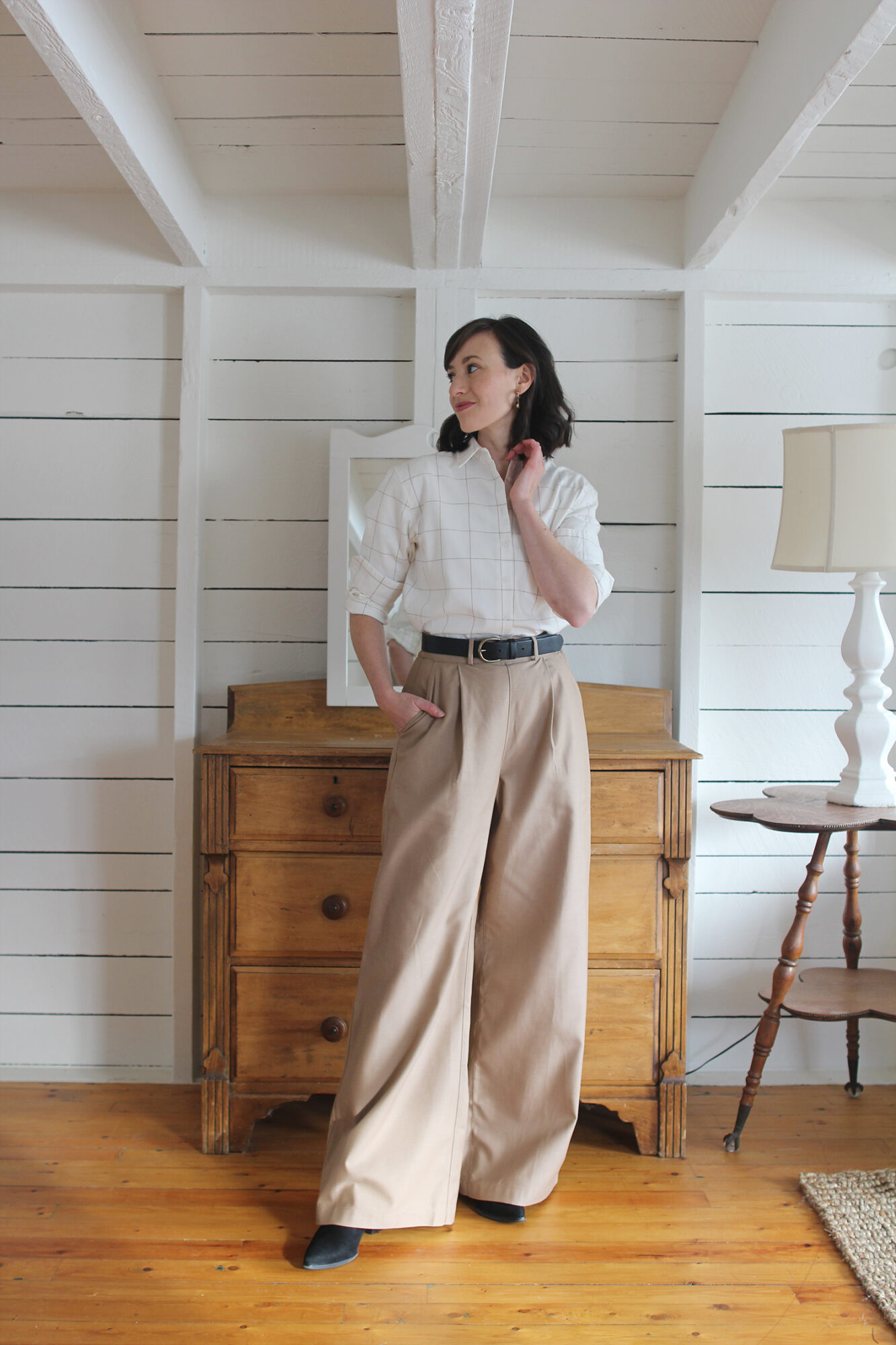 ---
QUICK LINKS TO SHOP THE LOOK
The Milliner Shirt* | The Maximalist Long Pant* | gifted
Use LEE20 for 20% Off through December 23rd.
Use STYLEBEE10 for 10% Off any time.
Black Leather Belt | Black Pointed Toe Boots (similar) | Kate Hoop Tortoise Earrings
---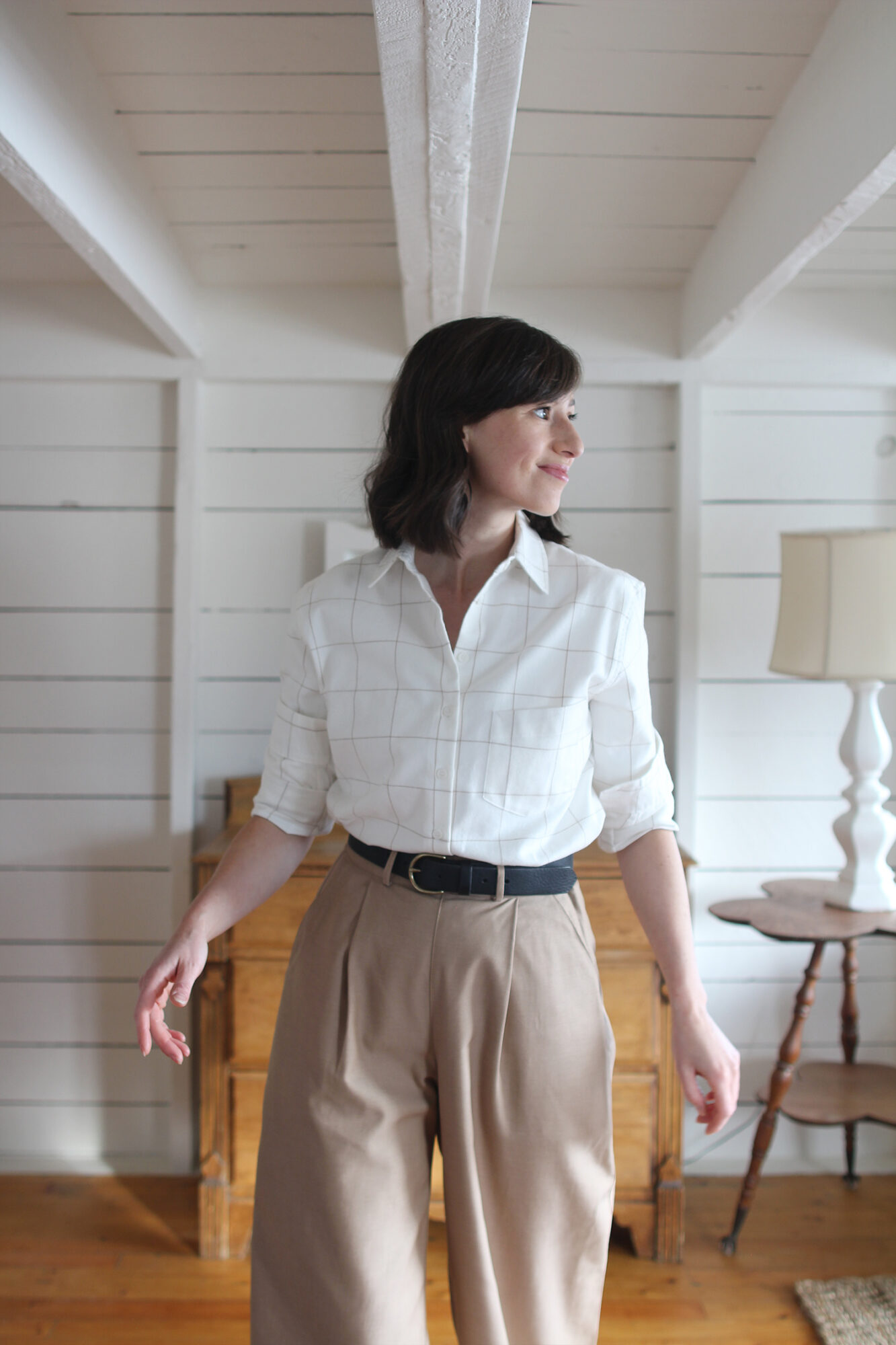 ---
First we'll take a look at
---
I'd initially intended to style these pants with The Tailor Shirt, however, I decided to seize the opportunity to try another style and fabric from Power of My People. And boy, am I glad I did!
This cotton cashmere blend has a truly splendid hand feel and offers a subtle warmth and softness that The Tailor does not (it's still a staple, just better for warmer weather). I think The Milliner would make for the perfect addition to a winter work capsule. It's akin to a refined flannel and the timeless windowpane grid offers an elevated nod to the plaids that we Canadians love in colder weather.
---
PRICE: $185 CAD $148 CAD with LEE20 for 20% Off through December 23rd
MADE IN: Canada
MATERIAL: 95% Cotton, 5% Cashmere 4.3 oz, White & Beige Windowpane Plaid Fabric with a brushed surface on both sides. Fibres sourced from Turkey, milled in Portugal.
This Cotton/Cashmere blend shirt might be POMP's softest flannel yet. A minimal windowpane plaid pattern gives it a modern geometric feel that is still simplistic enough to pair well with a diverse range of styles and colours.
Fabric approved by the Better Cotton Initiative (BCI) and Oeka-Tex Standard 100 approved.
CARE: Wash cold + hang dry. Allow for approx. 1/4″ shrinkage on width and 3/8″ shrinkage on the length.
SIZES: XXS – 3XL
FIT: I'm wearing a Small in this style for a classic fit that's relaxed, however, I wear a Medium in The Tailor for a more oversize fit. I'm typically a Small in most tops unless I want a bit more room.
SHOP THE MILLINER – PROPER FIT SHIRT – Discount should automatically apply.
---
DETAILS TO NOTE
---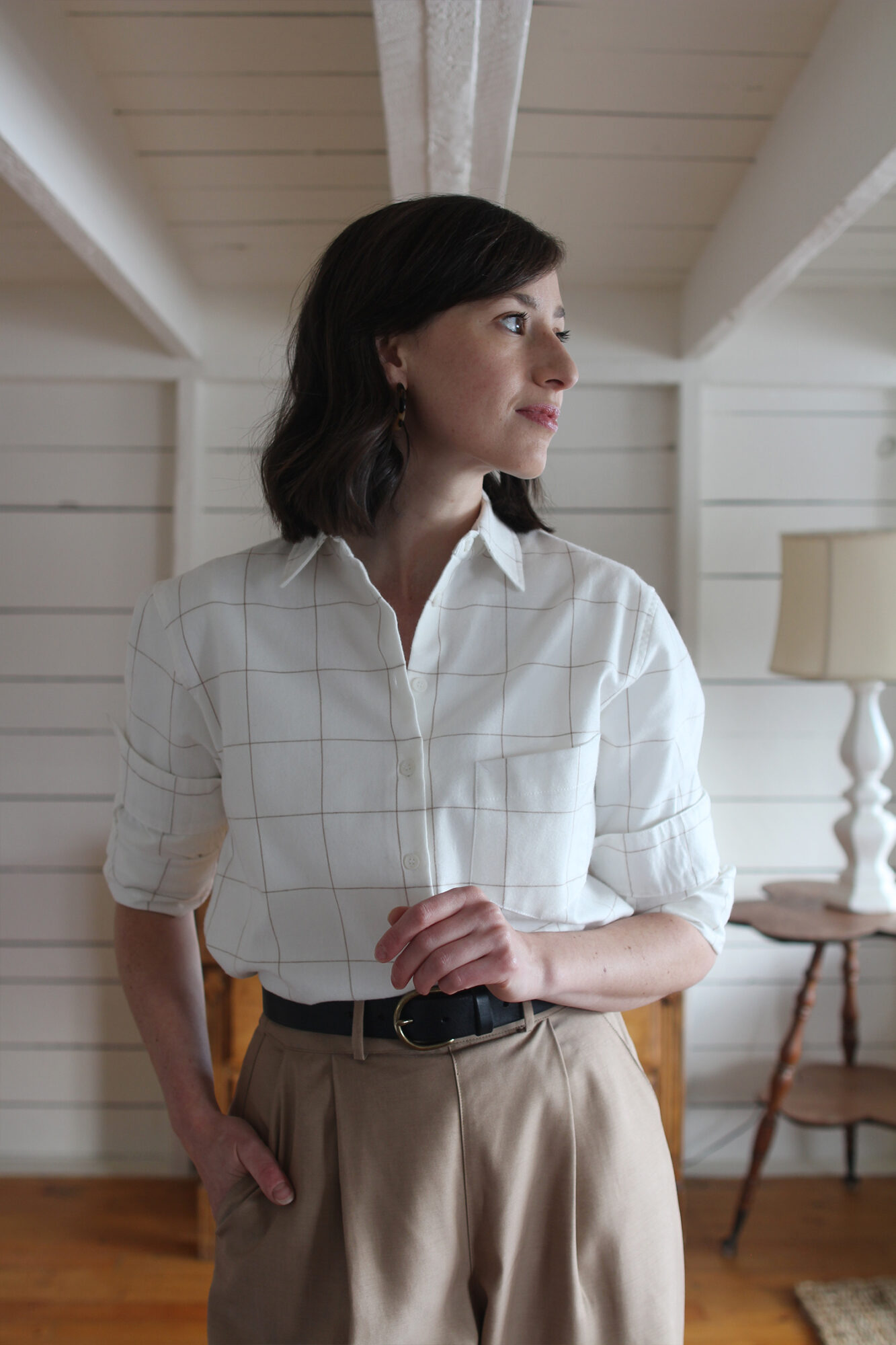 CLASSIC BUTTONLESS COLLAR & ANGLED SINGLE BREAST POCKET
The collar is easy to layer over crew neck sweaters and under blazers. The single breast pocket adds subtle interest and a nod to workwear.
---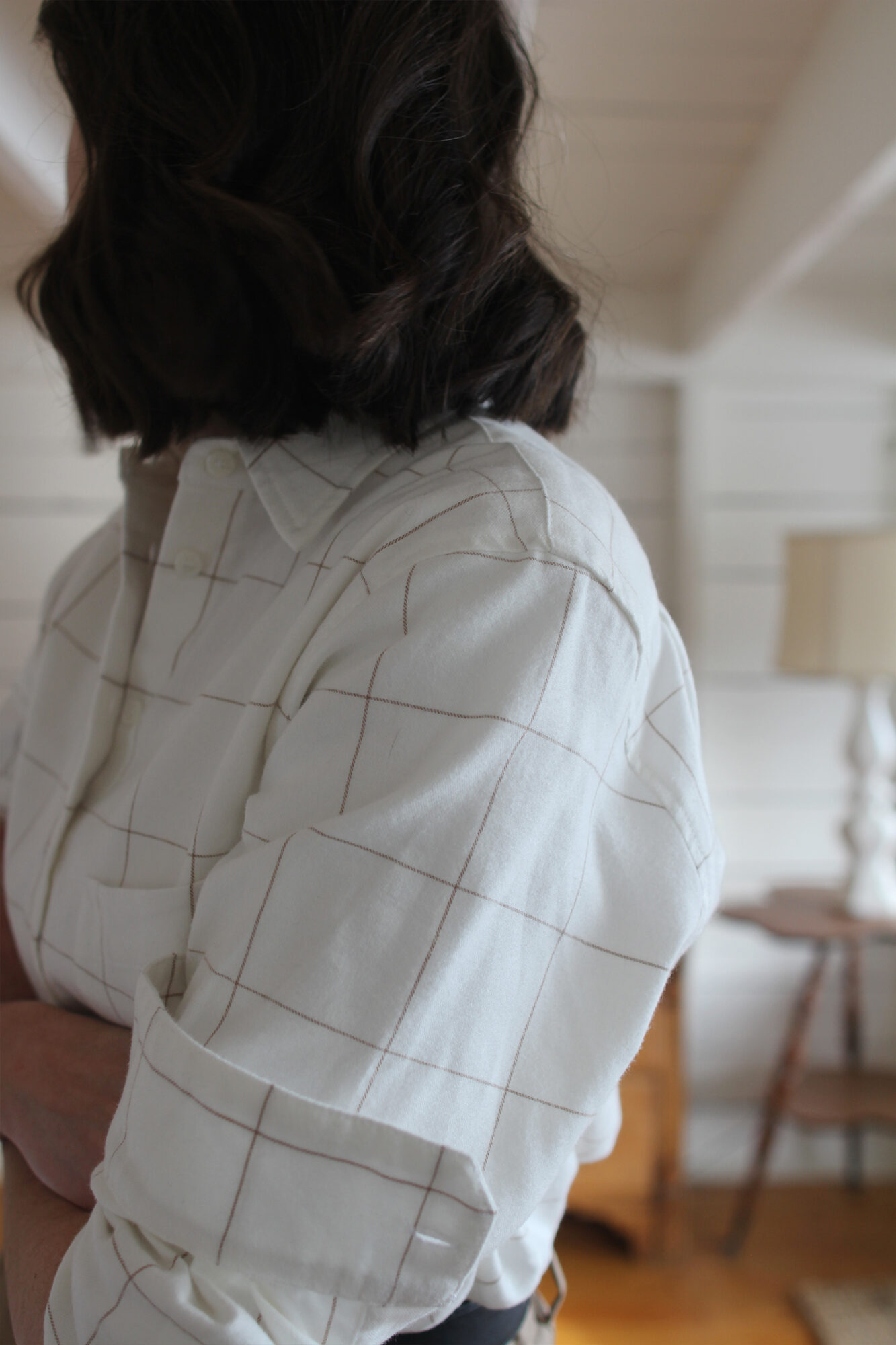 SUPER SOFT FLANNEL FEEL
The difference of 5% cashmere added to a double brushed cotton is easily noted. It's incredibly soft, without losing it's crispness. Warm without feeling at all bulky.
---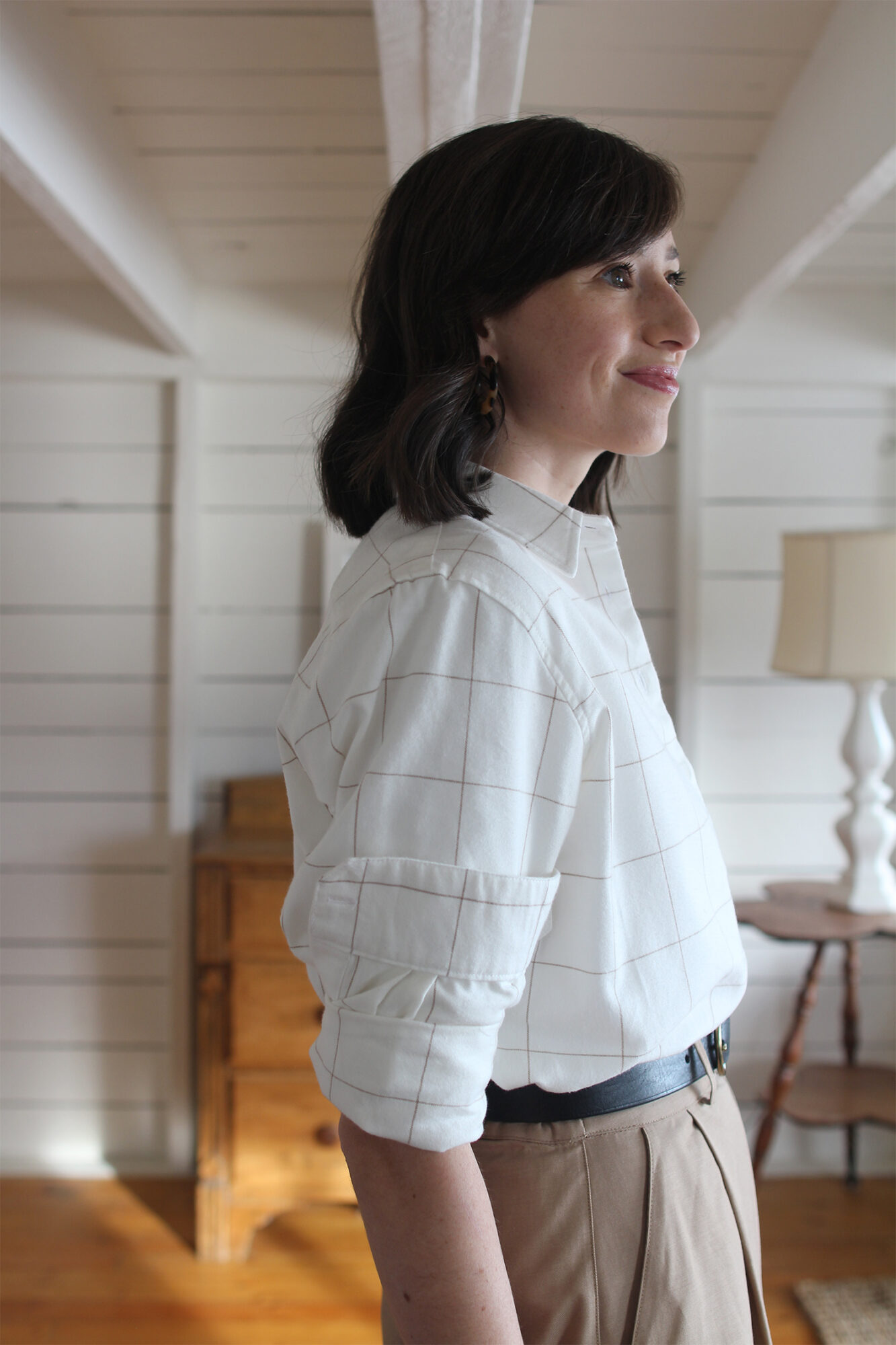 SLEEVES MADE FOR ROLLING
I love how Power of My People designs their shirt cuffs. Double buttoned and mitered at the wrist with a short buttonless sleeve placket to keep styling easy and minimal.
---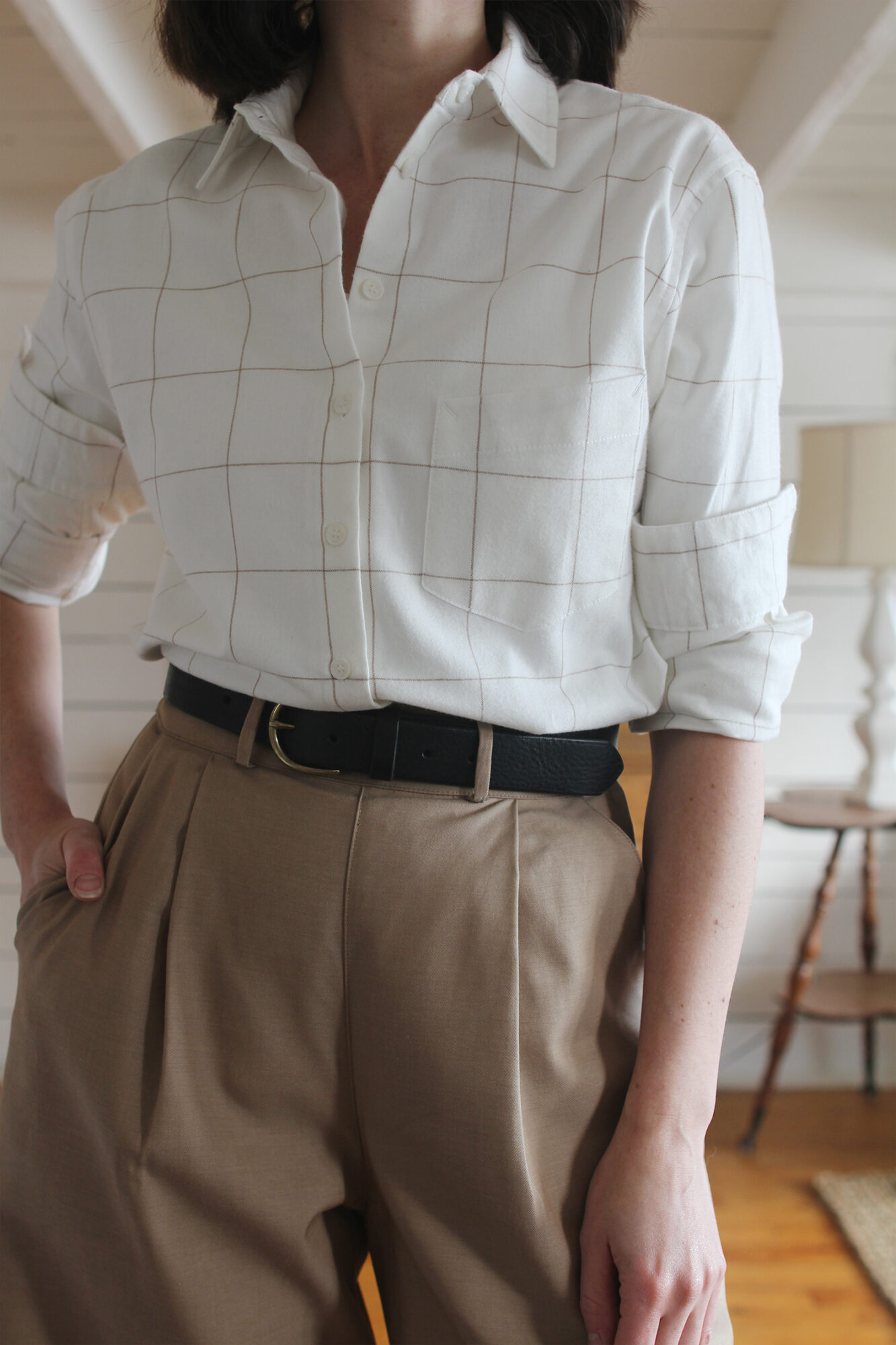 NO SHOW THROUGH OR BOOB GAP
I'm loving the opacity of this fabric. You'd never know I had a white t-shirt on underneath in these photos for extra insulation!
Thoughtful button placement also gives this shirt a great fit across the chest with no worry about gaping.
---
There you have my notes on this instant classic with a winter twist!
Use LEE20 for 20% Off through December 23rd / Use STYLEBEE10 for 10% Off any time.
---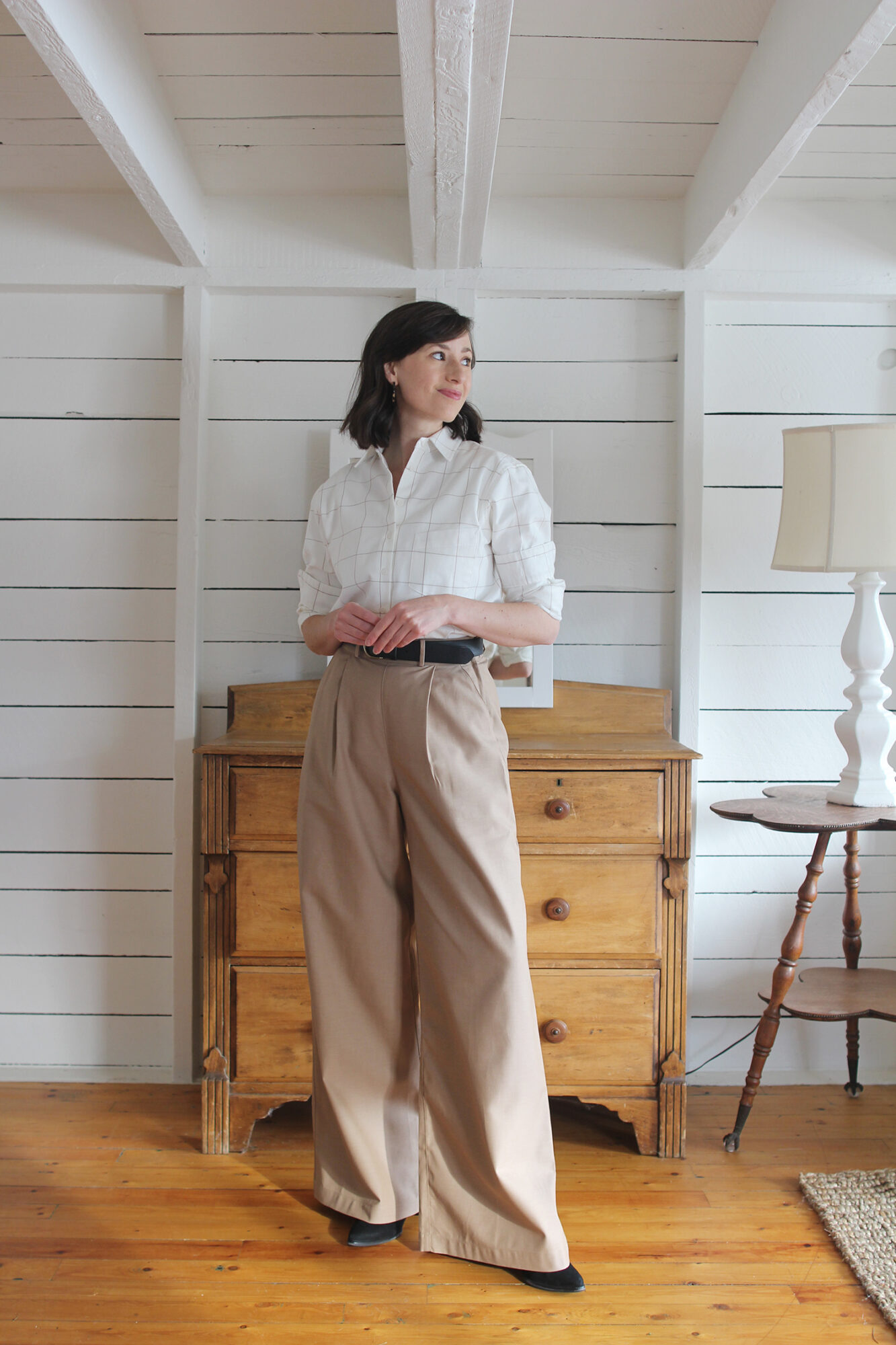 ---
Now for
---
I'd been patiently waiting for these incredible trousers to be released after loving their shorter inseamed predecessor, The Minimalist Crop Pant, which came out last year. Several readers reached out to ask if I'd be testing them out and despite my temptation to do so, I decided to wait until a full-length option was available as that was the style I really wanted to explore. Today I'm excited to finally be able to share my thoughts on them!
---
The Quick Facts
---
PRICE: $248 CAD $198.40 CAD with LEE20 for 20% Off through December 23rd
MADE IN: Canada
MATERIAL: 51% Tencel, 49% Cotton, 5.6 oz, tan twill fabric. Fibres sourced from Turkey & milled in Portugal.
CARE: Wash cold + hang dry. Allow for approx. 3/8″ shrinkage on length.
SIZES: XS – 3XL
FIT: I'm wearing the Extra Small in the pant. I first tried the Small but found they were too big in the waist and very voluminous through the hip. The Extra Small is still roomy through the hip and seat but I like this fit better for sure.
For reference I'm 5'7 and typically a size 26/27 in denim or a 4/6 in pants.
INSEAM: The inseam is 31 inches on all sizes, however, the rise varies slightly across sizes.
See the detailed size chart (located next to the size selection drop down) for more details.
FOR FOLKS UNDER 5'7: There's no question, The Maximalist is a lot of pant, which is part of what makes them so special. That said, if you're under 5'7 you'll either want to plan to wear them with a 3 inch + heel or you'll want to have them tailored (hemming is usually quite reasonable, just ask for the 1 inch hem to be maintained). I'm wearing them just above my natural waist with a 2 inch heeled boot and the hem almost grazes the ground.
For those on the petite side of the spectrum or simply looking for a shorter inseam length, the Minimalist Crop Pant is definitely worth a look!
---
DETAILS TO NOTE
---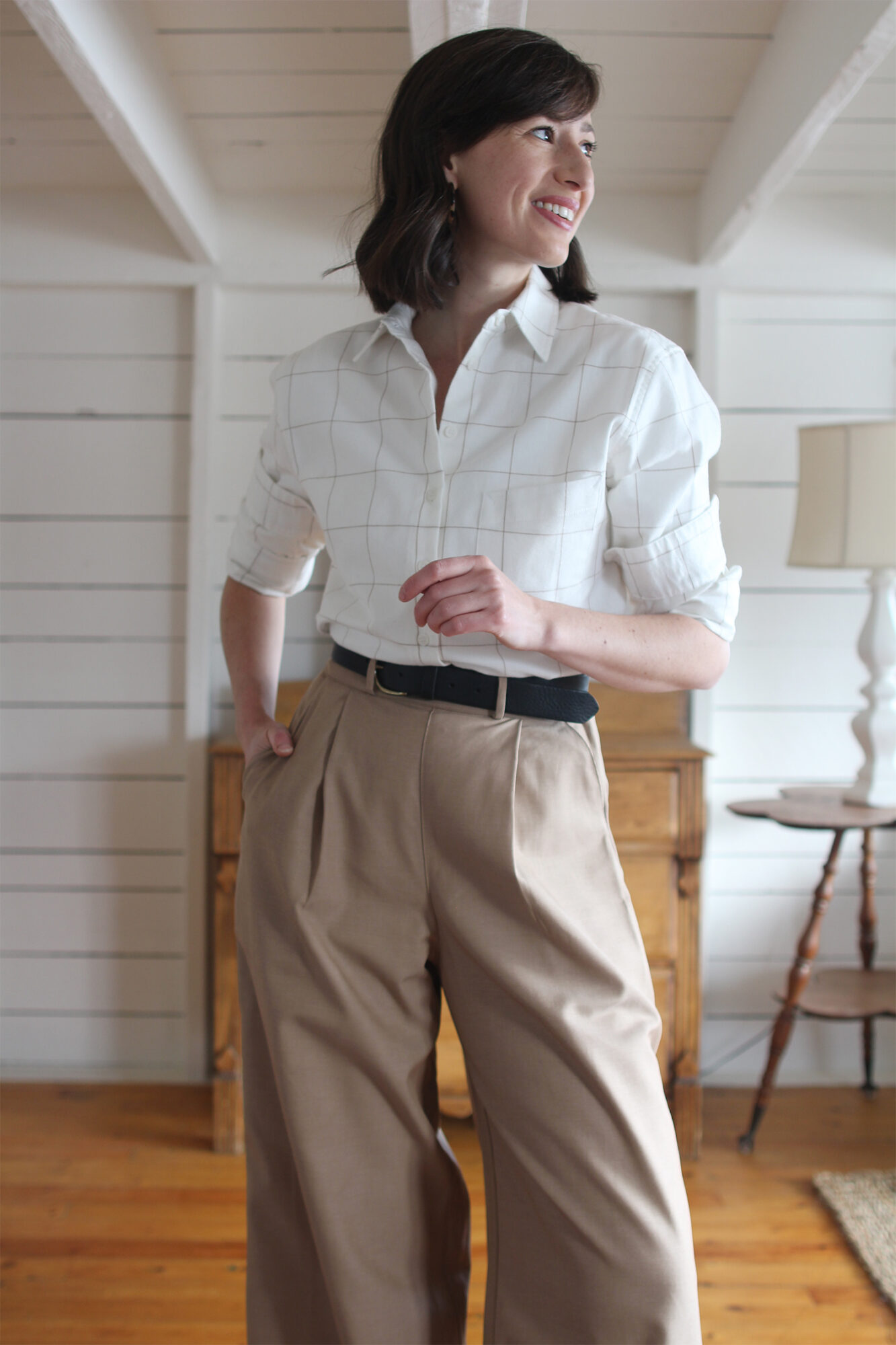 FRONT PLEATS
These perfectly placed single front pleats are what give these pants a tailored, trouser-like look.
---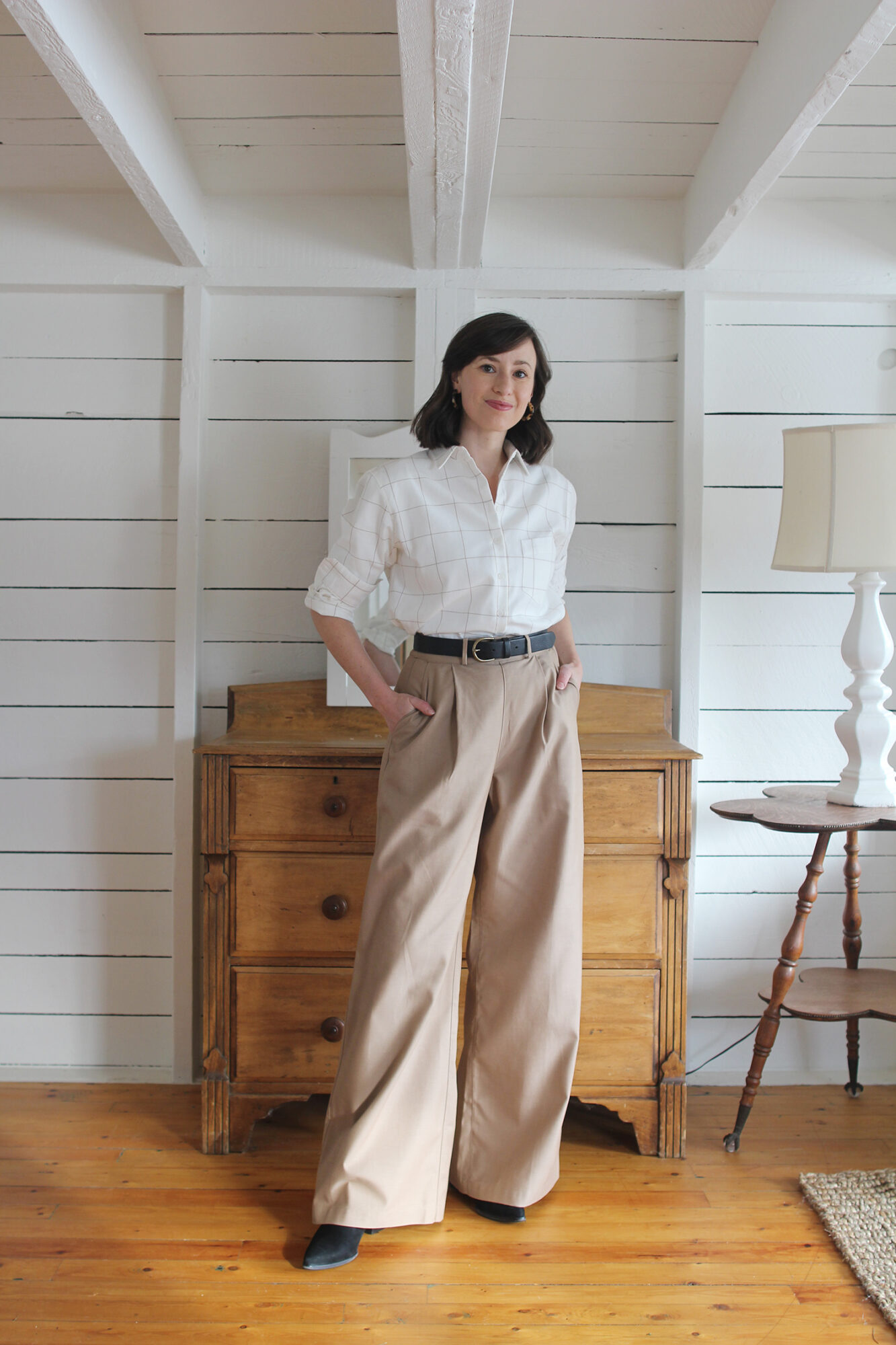 CRISP FABRIC WITH A SLIGHT DRAPE
This Tencel/Cotton twill fabric was the perfect choice to offer structure without feeling too stiff. I expect they will soften over time too and I've found that once steamed or pressed they aren't terribly prone to wrinkles, however, expect some creasing.
---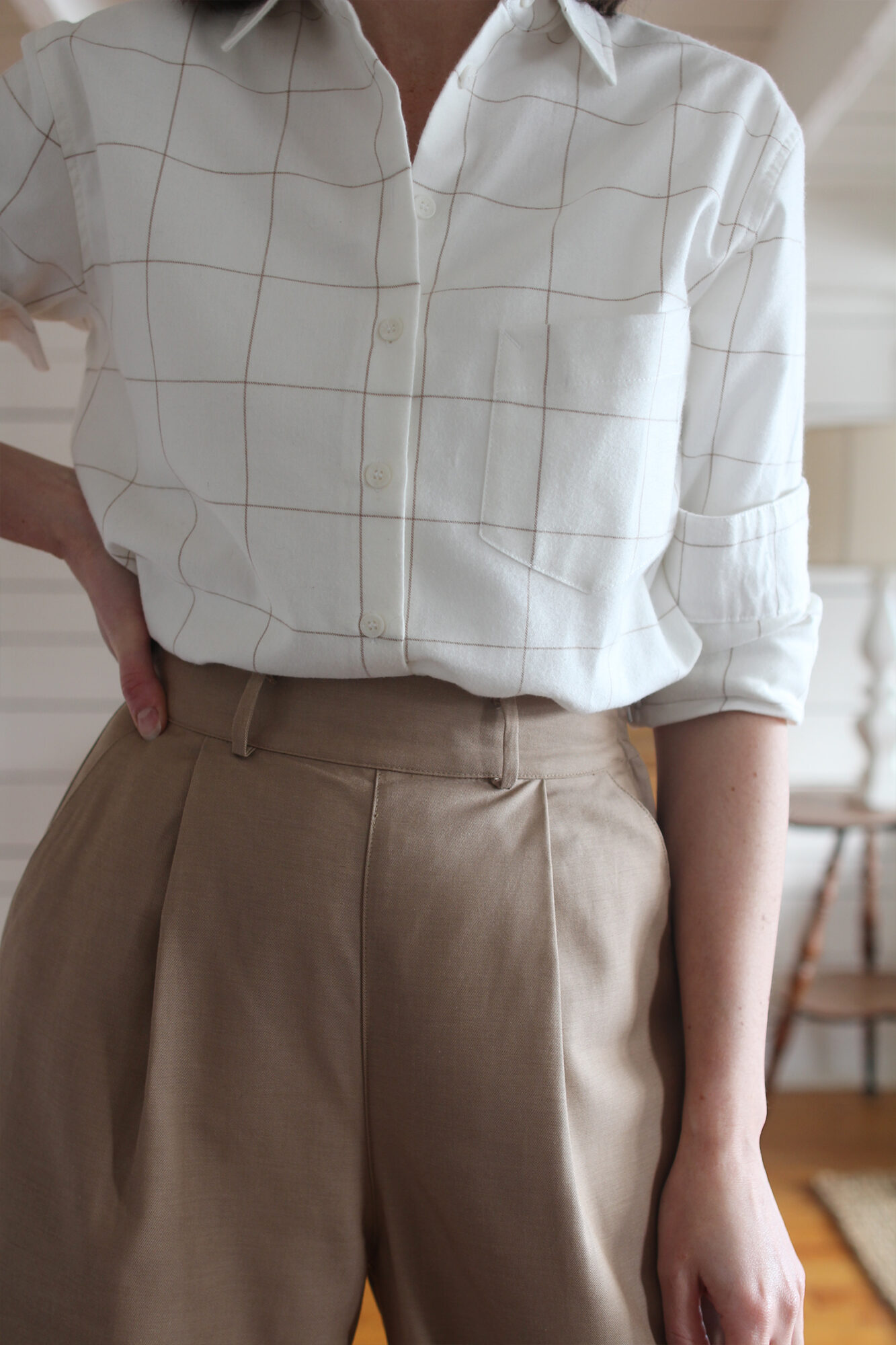 TAILORED LOOK WITH COMFORT IN MIND
The waistband is smooth at the front and elasticated at the back (shown below) to give the appearance of a tailored pant, while offering the flexibility to fit as many waist to hip ratios as possible.
5 belt loops help your belt stay in place.
---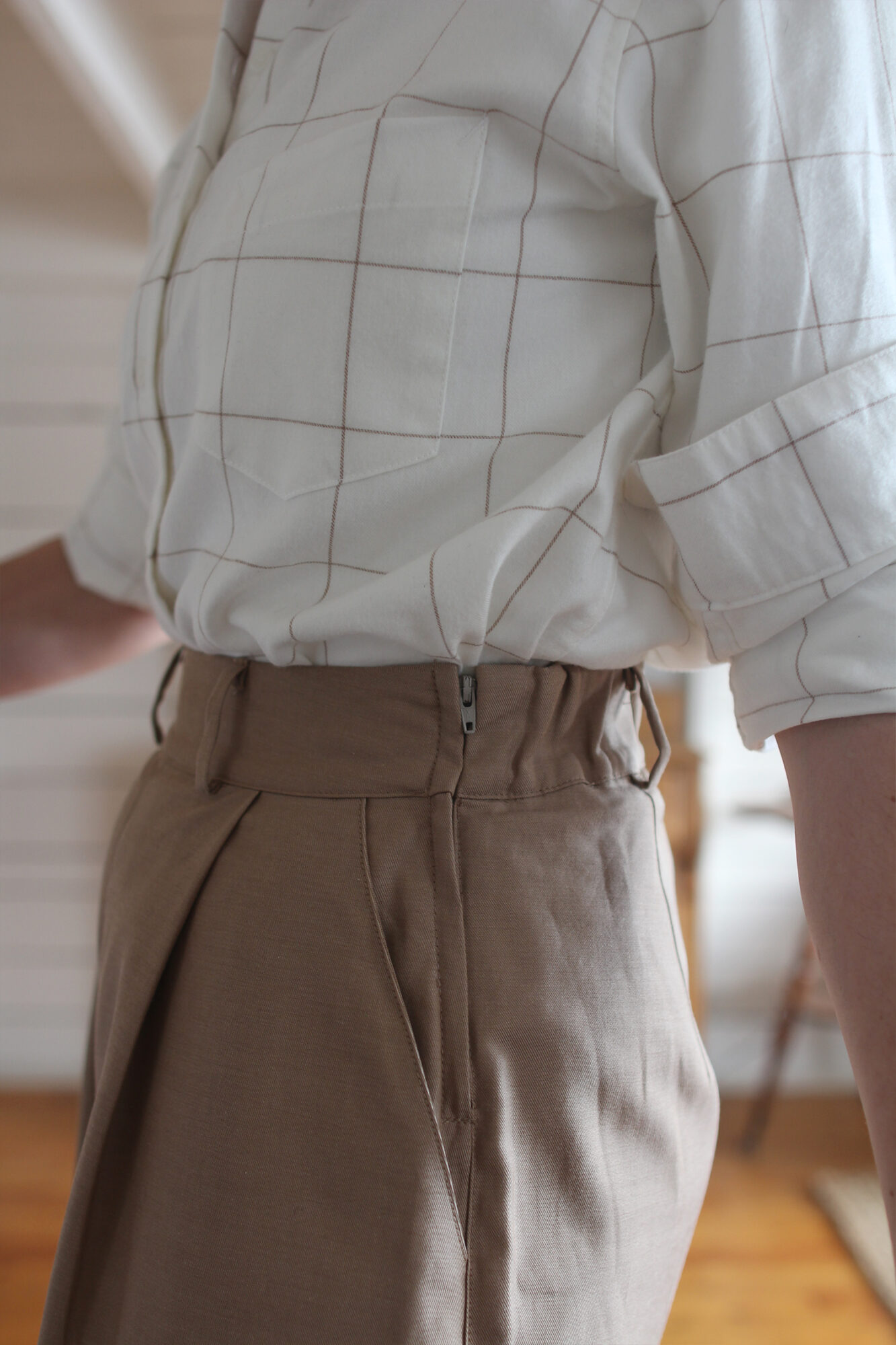 DISCRETE ZIPPER & POCKETS
Easy to pull on an off with a concealed zipper on the left side seam. This detail also makes for easy shirt tucking!
I love the deep side-access pockets that don't add bulk but offer practicality.
---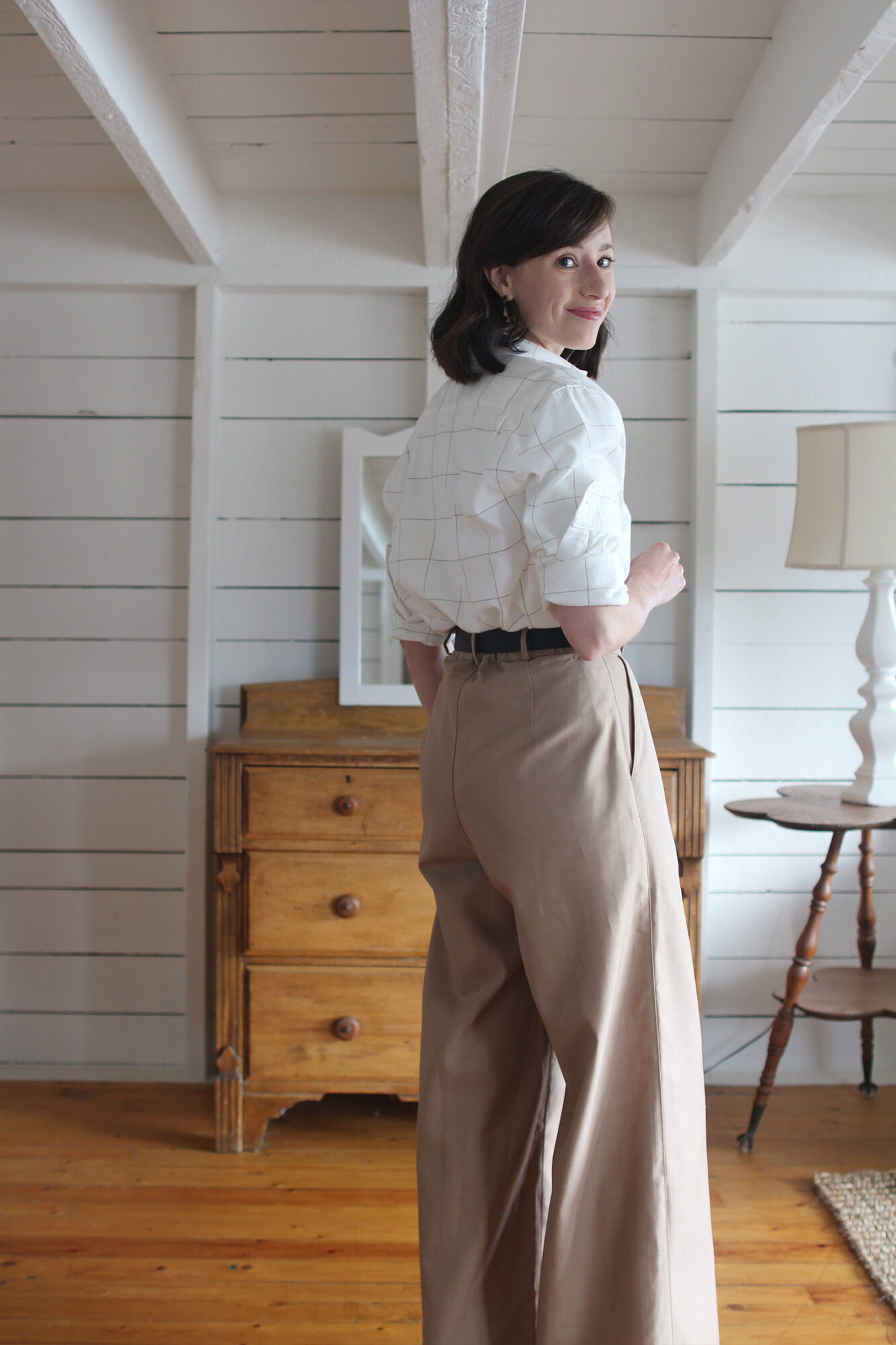 FROM THE BACK
Power of My People has kept the back of these pants minimal and clean with no pockets and two simple darts to help the fabric fall smoothly across the seat.
These pants don't "hug" your behind the way some trousers are inclined to. Instead the generous fit through the hip lets them elegantly skim your frame.
---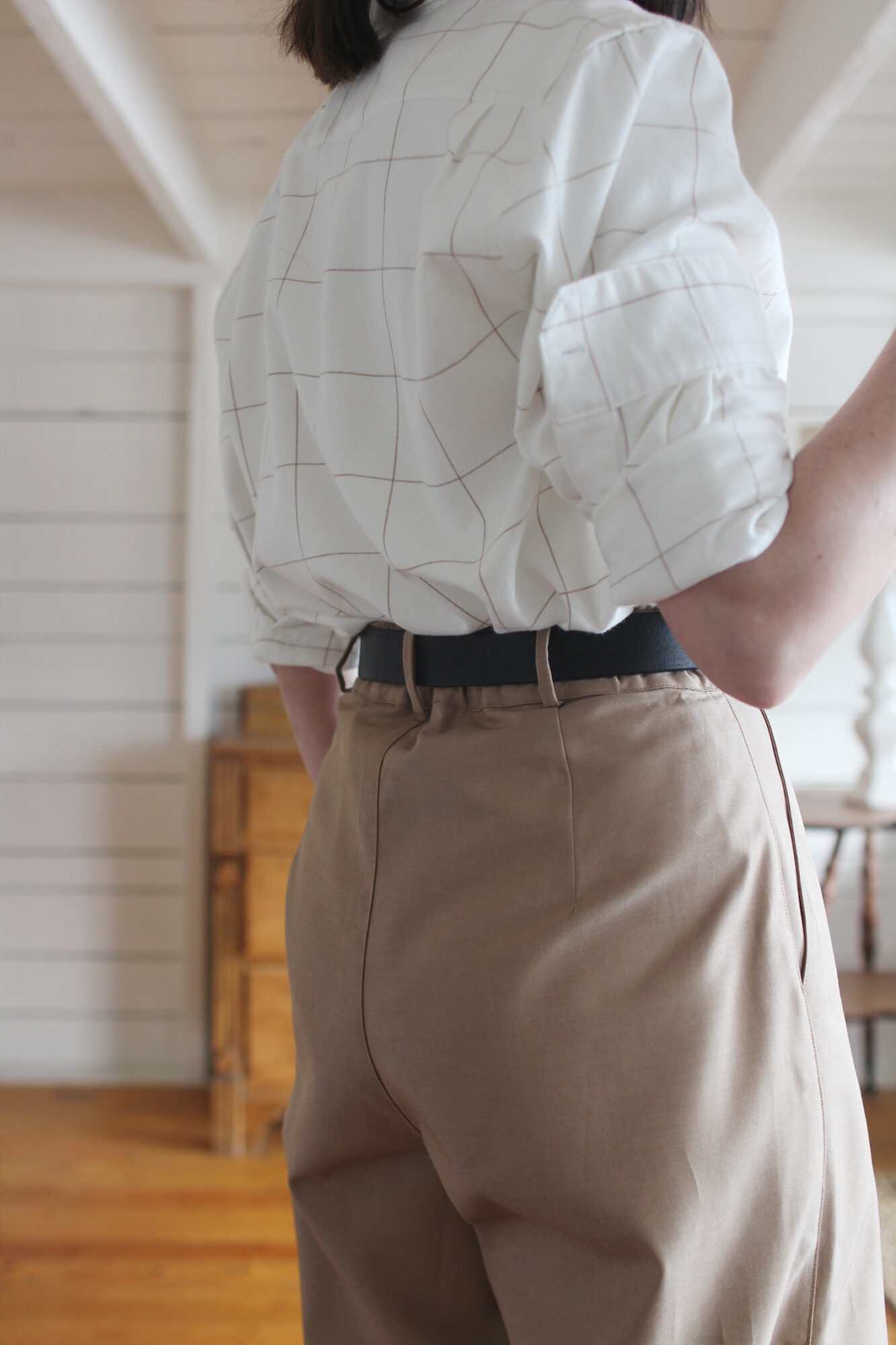 ONE THING I'D ADJUST
On me, the back seam tends to pop out below the waist band, ever so slightly. I'd love if that wasn't the case and perhaps my tailor can adjust it.
This could be due to where the waistband sits on me, perhaps if worn lower the back would fall flat. However I felt this was worth noting in an effort to be entirely thorough.
---
There you have my notes on these incredible pants!
Use LEE20 for 20% Off through December 23rd / Use STYLEBEE10 for 10% Off any time.
---
HOW I'M STYLING THIS LOOK FOR A WINTRY DAY
---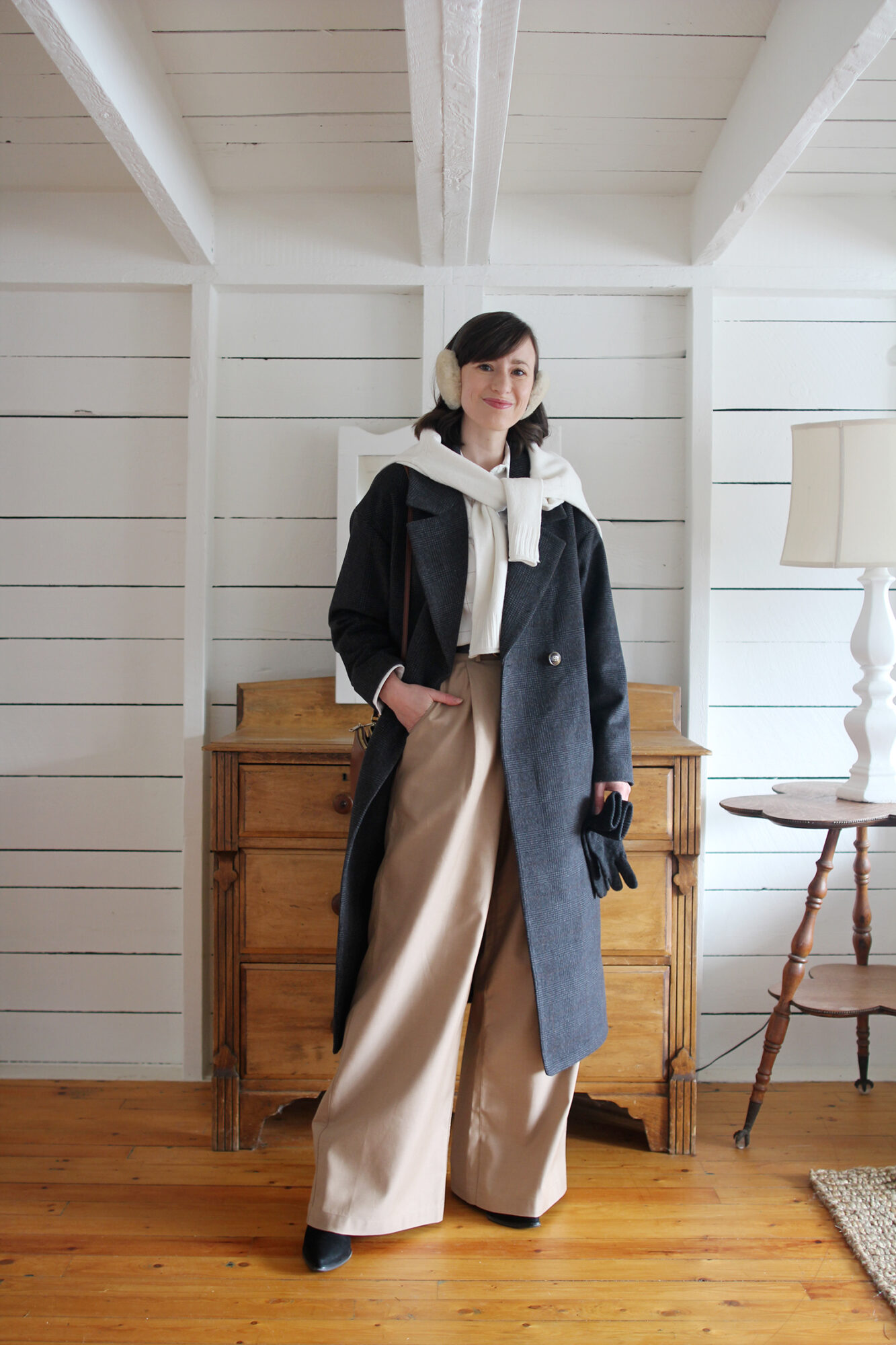 ---
The Maximalist Pant layers over my leggings with ease and I've got a fitted scoop neck tee on under the Milliner Shirt. Warm socks slip into sleek black boots and with these critical insulation layers I'm set for super cold days.
Over top I'm wearing my wool, charcoal plaid London Coat, with an ivory sweater as a scarf (which can then be worn indoors as needed too). I've got a cozy pair of cozy ear muffs, knit gloves and my go-to cross body bag to finish the look!
---
---
See how I build this whole look in a new Reel going live tomorrow!
---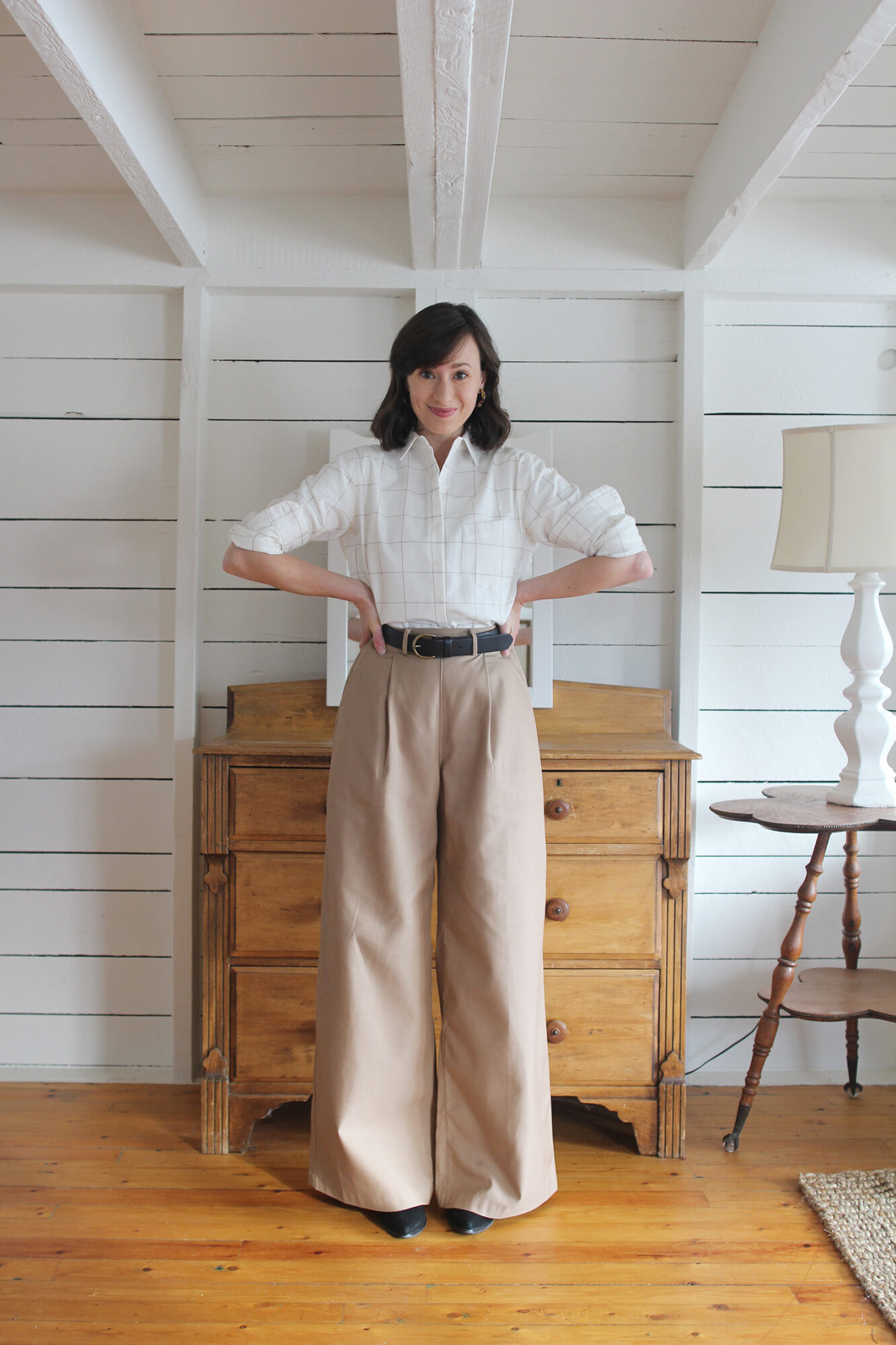 ---
Discounut will auto-apply and is valid on all full-priced styles through December 23rd. Free Shipping on orders over $200 CAD.
Use STYLEBEE10 for 10% Off any time!
---
Thanks so much for tuning in folks!
I hope you enjoyed this review and it offers some things to consider should you be in the market for these types of garment. Feel free to share any questions you might have.
Wishing you a wonderful rest of your week and hopefully I'll catch you with the Style Bee newsletter this Sunday (sign up here)!