Whether you're heading south for a winter reprieve or you have a vacation planned for the summer, it always helps to have a packing list at the ready. I've been traveling with only a carry-on for many years and while it can take some strategic planning, it always makes life easier.
Today I'm sharing the 12 items I always pack for warm weather holidays and two looks I love to wear when I'm on vacation. These will all fit easily into a carry-on and can make at least a week's worth of outfits for most sunny destinations.
Read on for some getaway packing ideas and a little break from winter style!
---
This post is not sponsored but does contains affiliate links and features a gifted product. This means if you decide to shop through the links included, I may earn commission on a sale at no additional cost to you. All opinions are always my own and I only share items I love and think you might too. Thanks for supporting Style Bee!
---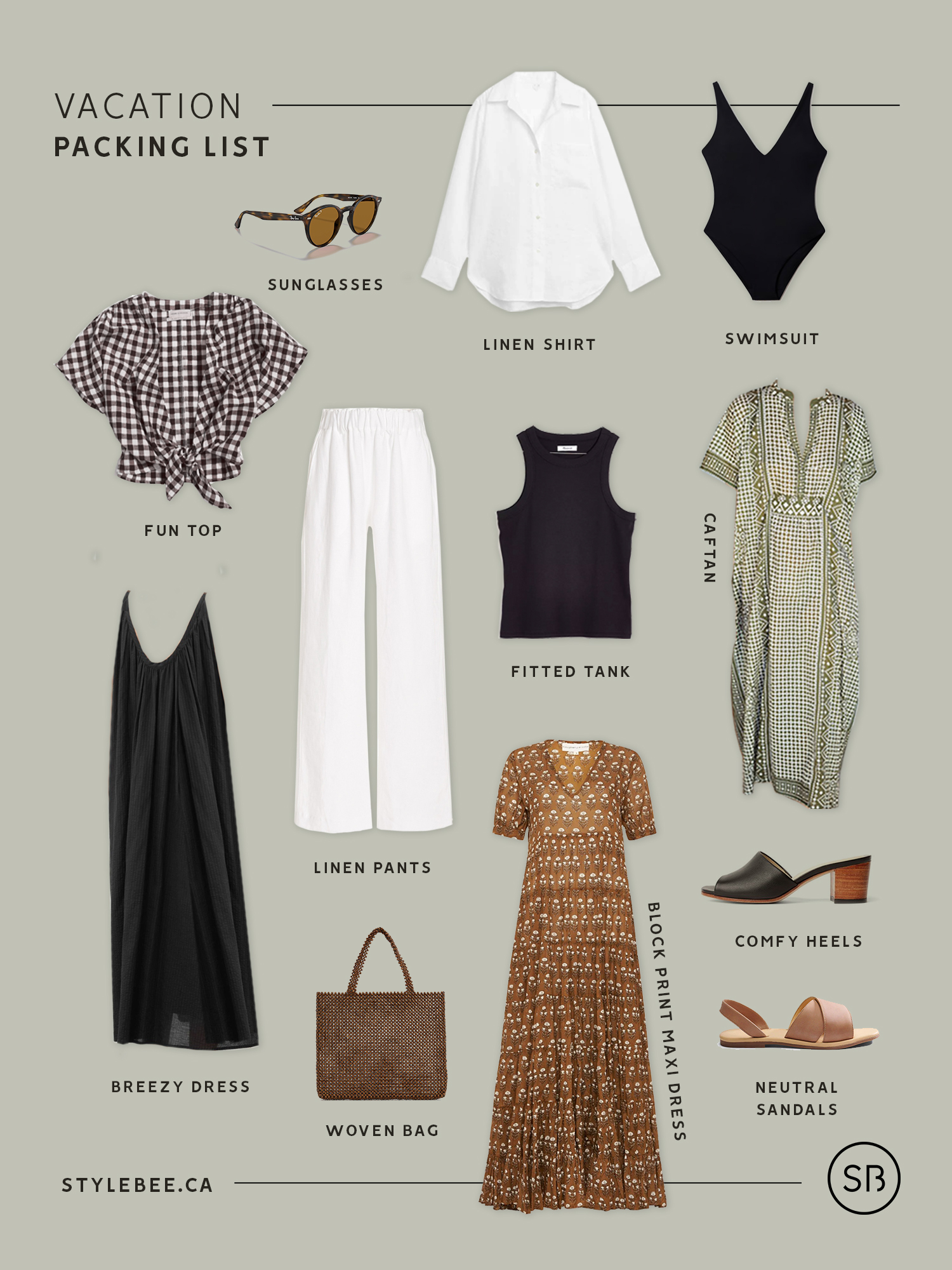 SUNGLASSES | LINEN SHIRT | SWIMSUIT | FUN TOP (old, linked to another option) | LINEN PANTS | FITTED TANK | CAFTAN | BREEZY DRESS (old, linked to similar option) | WOVEN BAG (old, linked to a similar option) | BLOCK PRINT DRESS | COMFY HEELS (old, linked to similar option) | NEUTRAL SANDALS (use LEEVOSBURGH for 20% Off)
---
12 PIECES I ALWAYS PACK FOR VACATIONS
---
1 / SUNGLASSES (+ a backup pair) – My favourite pairs here (timeless and comfortable), here (iconic and dramatic) and here (an inexpensive classic).
These are a given but I've been on plenty of group adventures where someone forgot their sunnies. I always pack at least one extra pair.
2 / A LINEN SHIRT – My favourite long sleeve here and my favourite short sleeve here (use STYLEBEE10)
A linen shirt is a quintessential holiday piece. They're easy to style in a bunch of ways (tucked, loose, tied, left open) and work with any type of bottoms you like to wear.
3 / BLACK SWIMSUIT – My favourite two-piece here and here, my favourite one-piece here.
Another obvious one but I usually bring at least two black swimsuits on holiday. I also love a black one-piece because it can double as a bodysuit as needed. Wear it with your linen pants and a linen shirt open over top for a dinner or on a boat trip.
---

---
4 / A FUN TOP – My favourite Bobbie tie top is old but there are others available and this option and this option are similar cuts and available in lots of colours.
I don't have a chance to wear fun, flirty tops much so when I get the chance I love to wear my favourite gingham tie top (shown below). It's the quintessential vacation top to me and it's been with me on trips all over the world.
5 / WIDE LEG LINEN PANTS – My Florence Pants from Elizabeth Suzann are a longtime favourite. Similar options here, here and here, in case you missed the pre-order. I also really like my linen Vesta Pant from Reformation if you prefer a more tailored option.
A pair of wide leg linen pants are an absolute essential in not only my holiday style but my closet overall. I don't leave home without them on any warm weather trip.
6 / FITTED TANKS – I love a high neck racer back tank. I have this one and this one and like them both a lot. I also have a couple of these are waiting in my cart.
When I went to southern Italy last year, I brought 1 pair of linen pants and a bunch of black fitted tanks and just wore the same outfit each day. It was such a great way to save space and make room for the formalwear I needed to bring for wedding events.
---

---
7 / CAFTAN – The Emerson Caftan changed my summer life (see it on here). The Sleep Shirt (use STYLEBEE for 15% Off) does some beautiful options in plus sizes too.
A beautiful caftan to wear over a swimsuit to the beach or as a dress during day trips is so essential for holidays.
8 / BREEZY LONG DRESS – I love the currently sold out Drift Dress (shown below) from Jenni Kayne (use LEE15) and found a very similar cut and style in linen on ETSY for much less.
When it's super hot and humid and you basically just want to wear a breeze, a billowy dress in a lightweight fabric is key. See the one I have below.
9 / A WOVEN BAG – The tote I have is old but I love this one, this one and this option is a great price.
A cute woven bag that can pair with all your outfits is perfect for holidays. I like the touch of texture it adds to any look. If you want to keep your belongings more secure, opt for something with a closure.
---

---
10 / A BLOCK PRINT MAXI DRESS – I still adore my old Basil Dress from Christy Dawn (seen here) and The Brooklyn and The Katarina are similar styles. I'm also infatuated with all the dresses from Daughters of India and the price point is much more approachable.
I love a block printed maxi dress for vacations. With a pair of fun earrings and cute heels you're ready for a night of dancing, a nice dinner out or even an informal wedding event.
11 / COMFY HEELED SANDAL – My block heeled mules are old now (shown below) but the same brand just released this style and this style, which both look like great options.
I always bring a wearable block heeled sandal on vacation and try to limit myself to only a couple of shoes. They often take up the most space in a suitcase so the fewer you bring the better. Opt for one in a neutral tone that will work with all the outfits you have.
12 / NUDE SANDALS – I'm a big fan of The Riley Flip Flop by TKEES and will be trying out The Cross Strap Sandal from Nisolo this spring (I like that they have a heel strap).
A neutral sandal that you can slide on and feel good wearing all day is so essential. Walking, walking and more walking, is one of my favourite activities on holiday so a cute, comfy sandal that goes with everything is a must.
---

---
TWO OF MY FAVOURITE LOOKS TO WEAR ON VACATION
---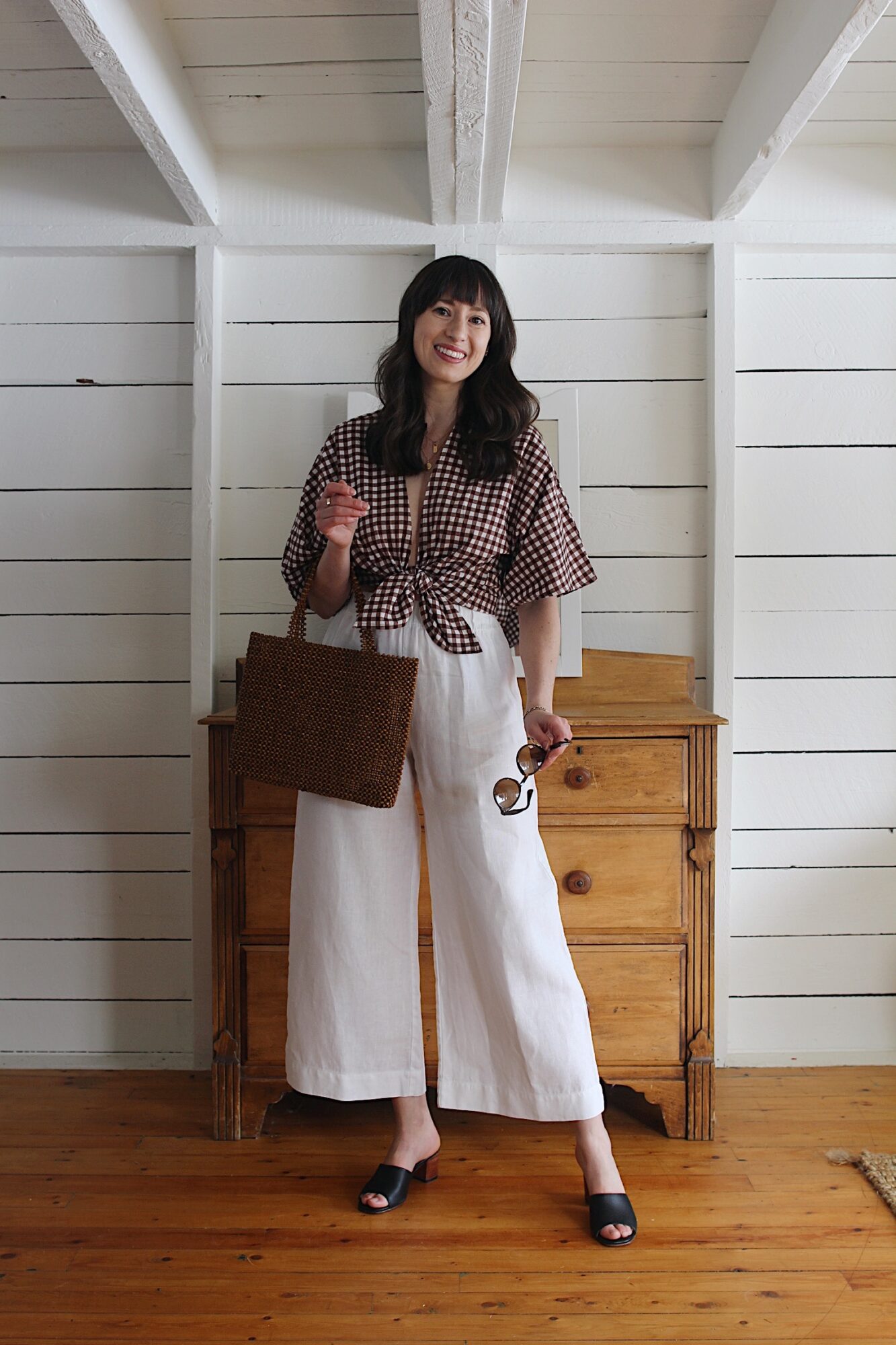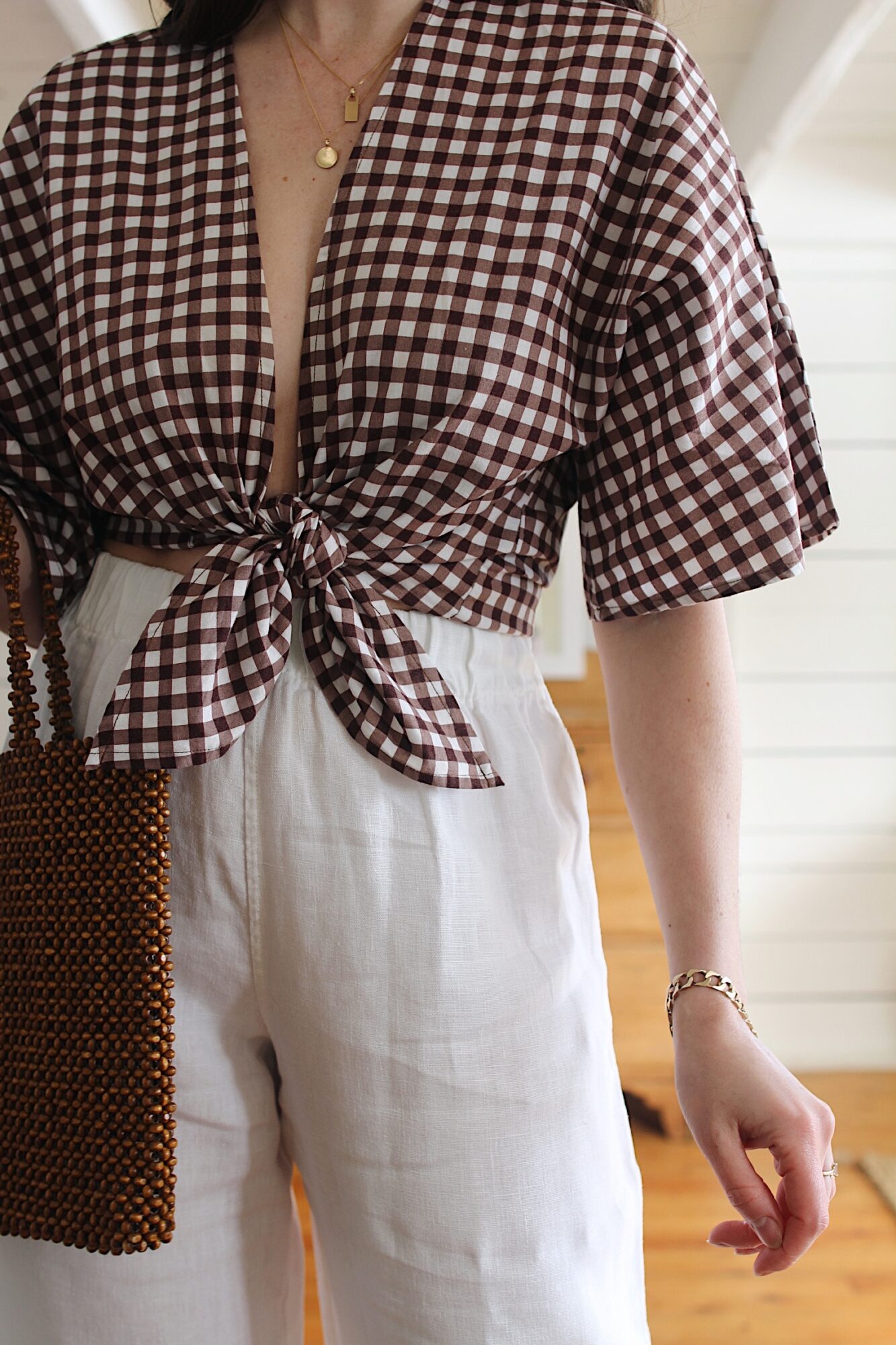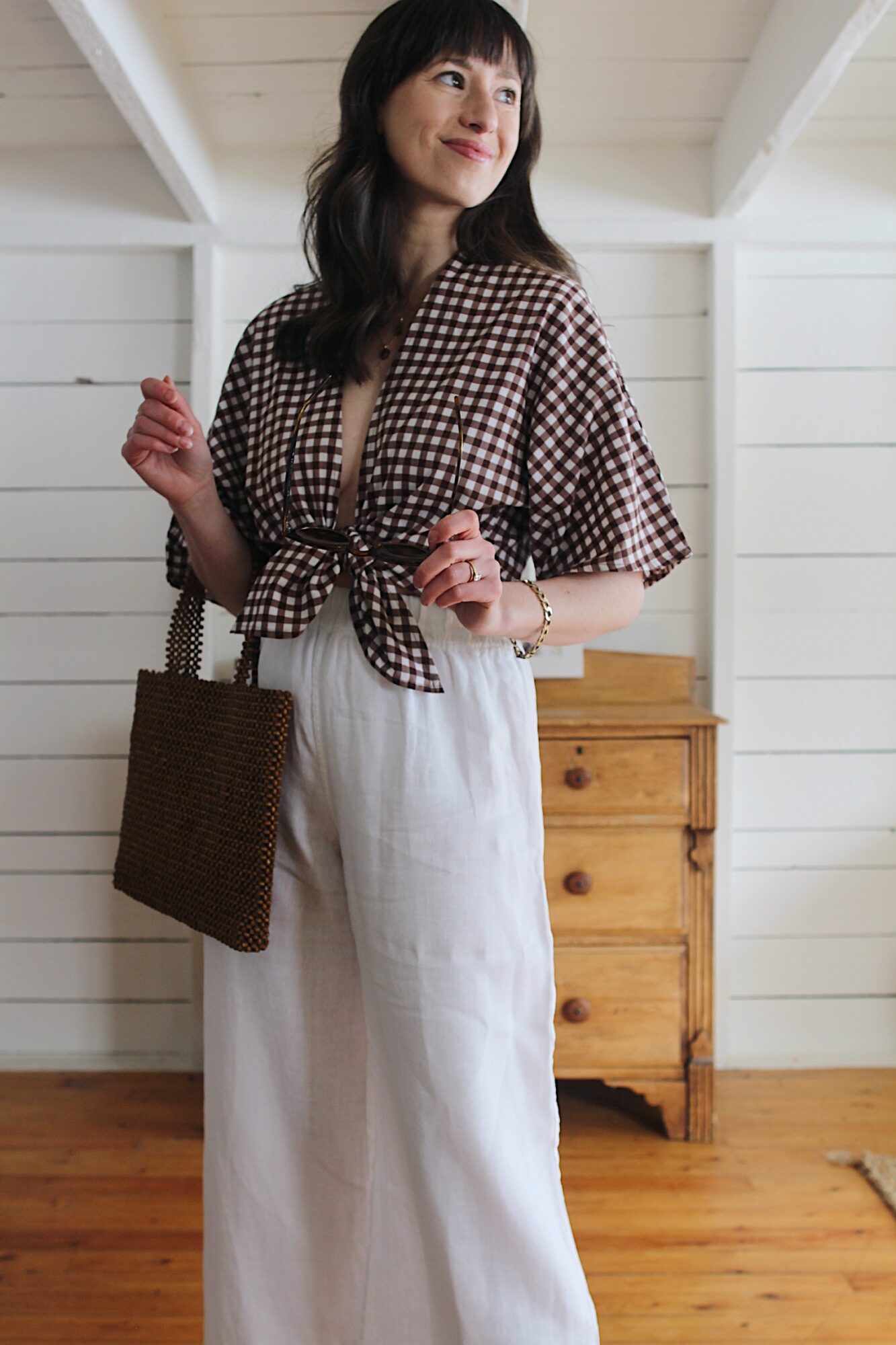 SHOP THIS LOOK: BOBBIE TIE TOP old print, solid colours still available (similar here and here) | FLORENCE LINEN PANT (similar here and here) | BEADED BAG old, linked to similar | HEELS old, linked to similar | SUNGLASSES

---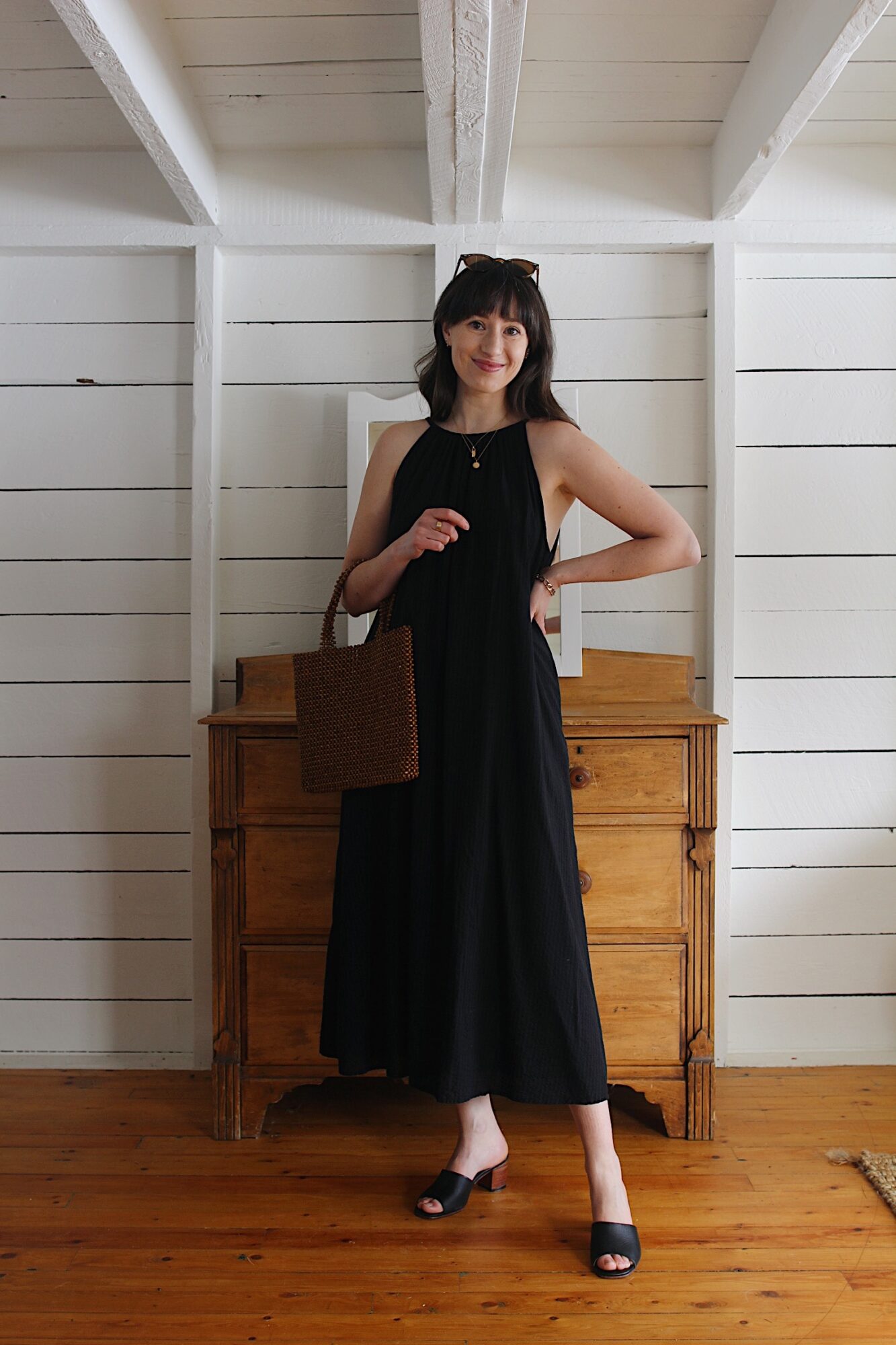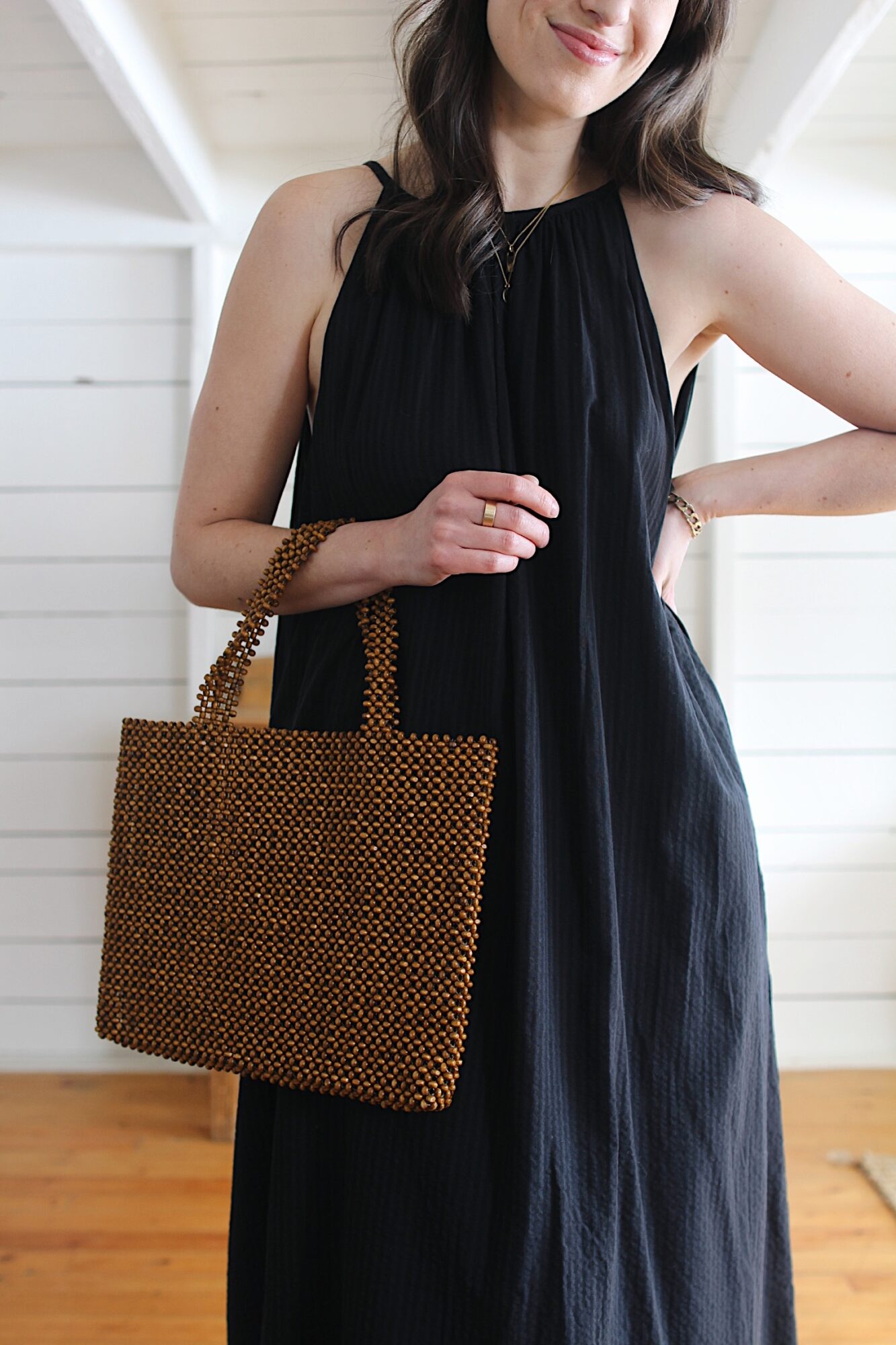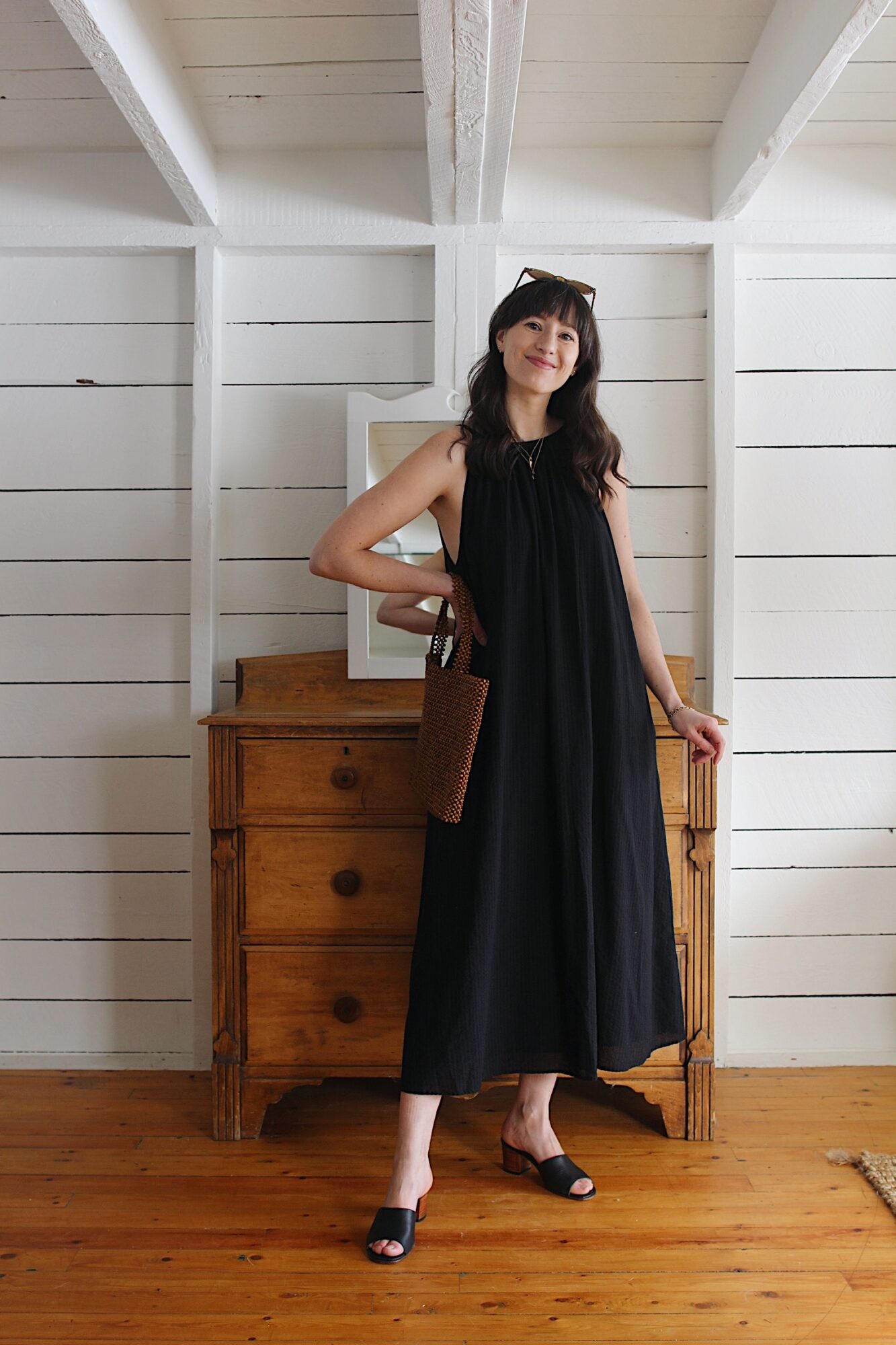 SHOP THIS LOOK: Drift Dress gifted Jenni Kayne (use LEE15), sold out, very similar cut and style in linen on ETSY for much less. | BEADED BAG old, linked to similar | HEELS old, linked to similar | SUNGLASSES

---
THANKS FOR TUNING IN!
I hope this post was helpful for anyone planning a trip and considering what to pack.
What are some of you favourite things to bring to warmer destinations?