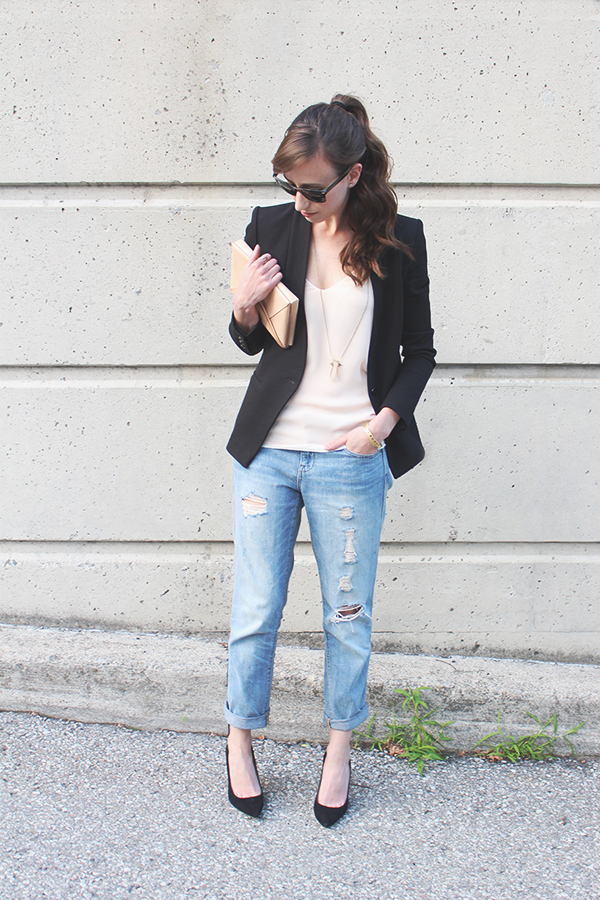 Can I just say that the word 'boyfriend' makes my teeth clench and my lip curl. For whatever reason it just conjures up images of ditzy teens and scenes of juvenility from a previous life. Nowadays, I much prefer 'partner' or even just 'man'. Anyway, now that that's out of my system, onto the actual post.
The following comparison may come across as a trivialization though I promise that is not how I see it. Finding the right pair of boyfriend jeans has many parallels to finding the right boyfriend. "Oh please!" you might have just thought to yourself, or more sarcastically "How long did it take you to come up with that one?" But hear me out as I run down the top 3 ways in which the two are uncannily similar:
1 – The right pair is not easy to find. Rarely, if ever, do we find the right person on the first try. In many cases, we even try to convince ourselves they're right with notions like "I can make it work." or "I just need to change this." but when it comes down to it, they've got to go. The same goes for jeans that don't quite work. It takes time and patience and often trying a few options on to know what doesn't work for you. Then, just when you're not even looking, they seem to appear.
2 – The fit must be juuuuust right. Just as the right guy needs to fit in with your family, your friends, your lifestyle, your fur creatures and most importantly, you, a great pair of boyfriend jeans need to fit just so. Where they sit at the hip, how baggy the leg is, where rips are and how they hit the ankle are critical elements. Just like we find a certain chemistry with our partners we find the same thing with style and the pieces we choose.
3 – They need to make you feel amazing. This is the biggest factor. Before I met Dave I'm not sure I had ever been able to let my guard down 100% and truly be myself with anyone (save for a very small handful of friends). A great pair of boyfriend jeans should make you feel great, just being yourself, without trying to be super slimming or butt boosting or anything but comfortable and easy.
So what it all comes down to, for me anyway, is that a good boyfriend and their denim incarnation should make you feel like the most awesome and honest version of yourself.
Now back to the pants specifically, I thought I'd found the right pair many times but in the end all but 1 pair were returned. I never thought I'd say this about jeans, but they just weren't tapered enough! At long last my time on the J.Crew waitlist was up and the perfect pair made their way to my doorstep. After weeks of casual occasion wearing, I decided they had earned a night out. I added my pointiest black pumps and a structured black blazer to chic things up but kept it feminine with a silky tank and nude clutch. Et voila! My latest go to date night look was brought to life.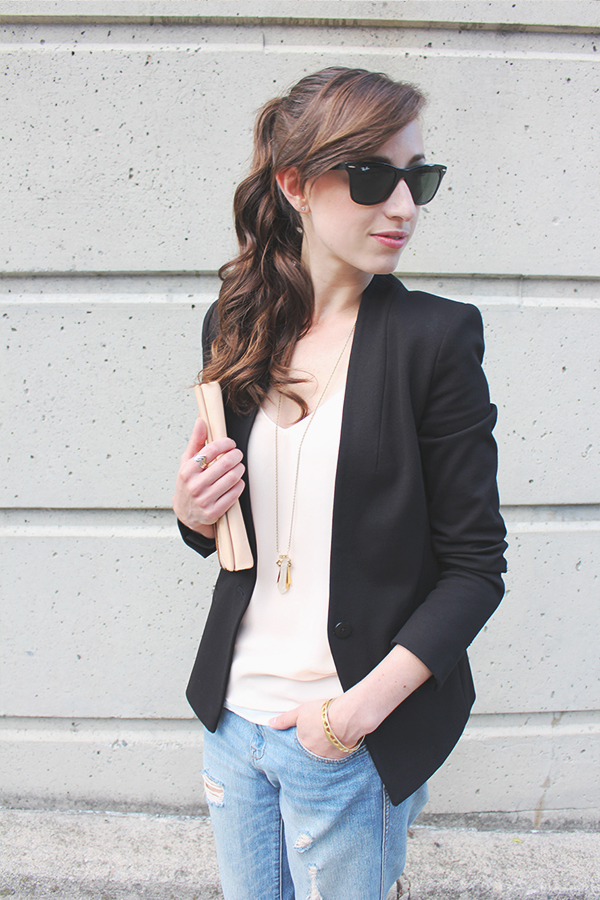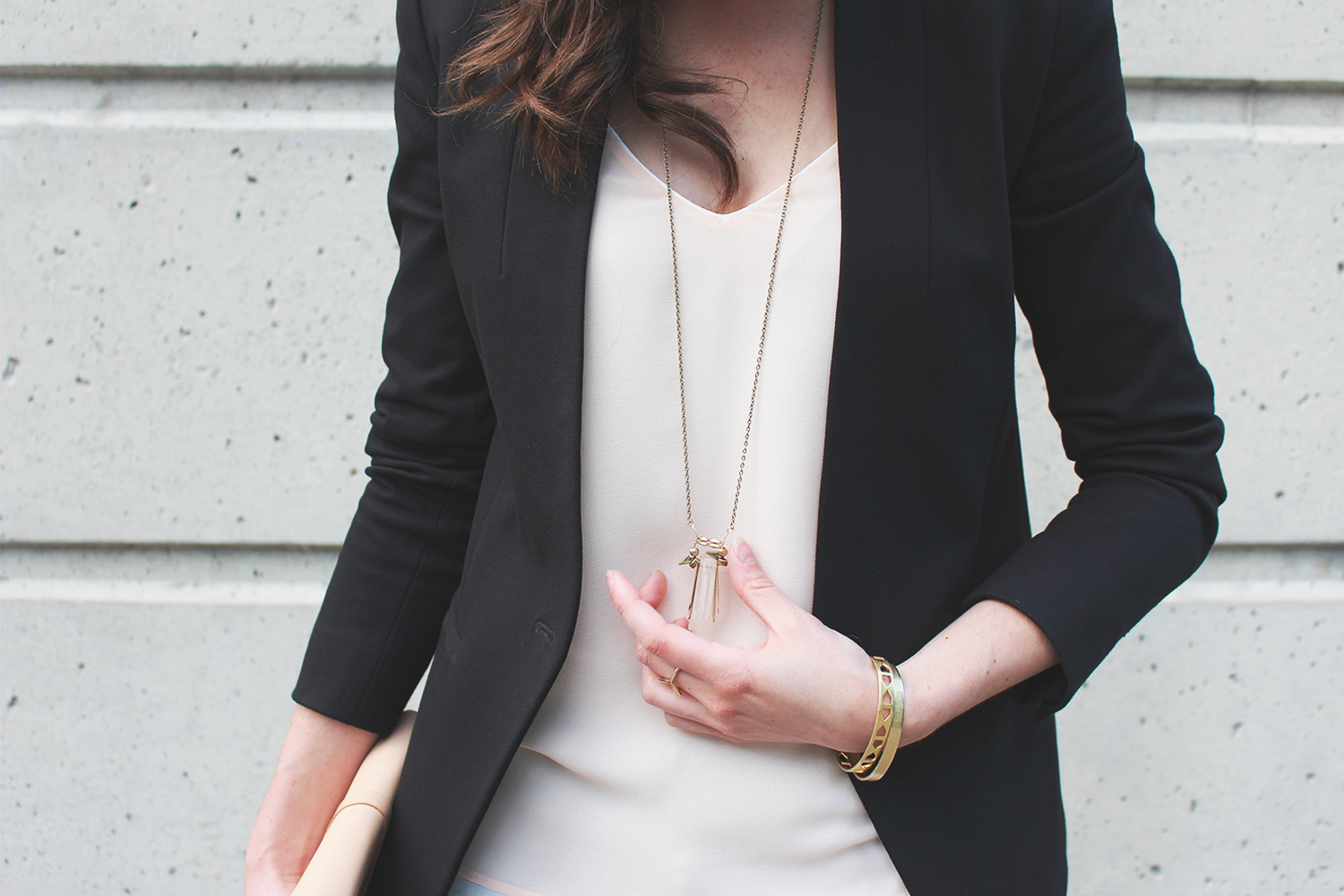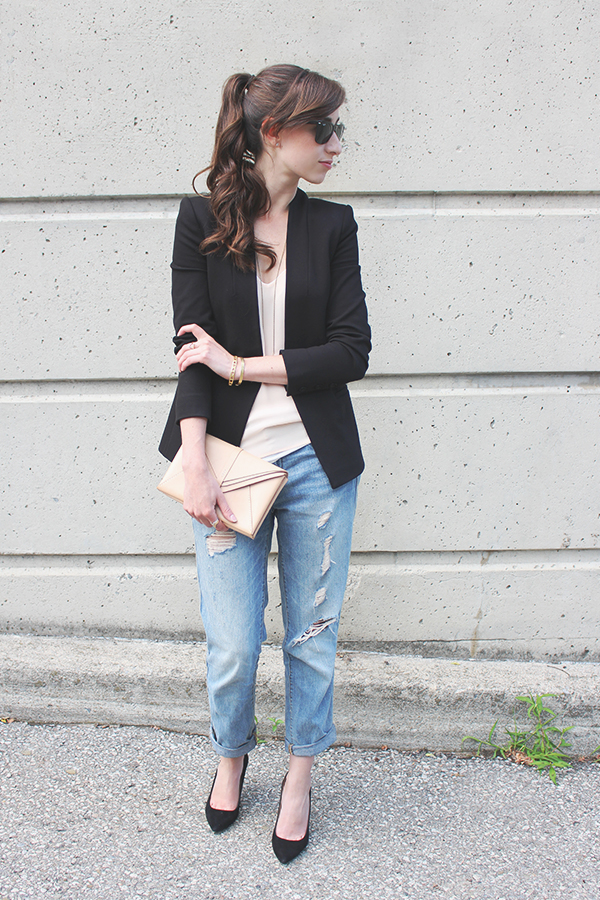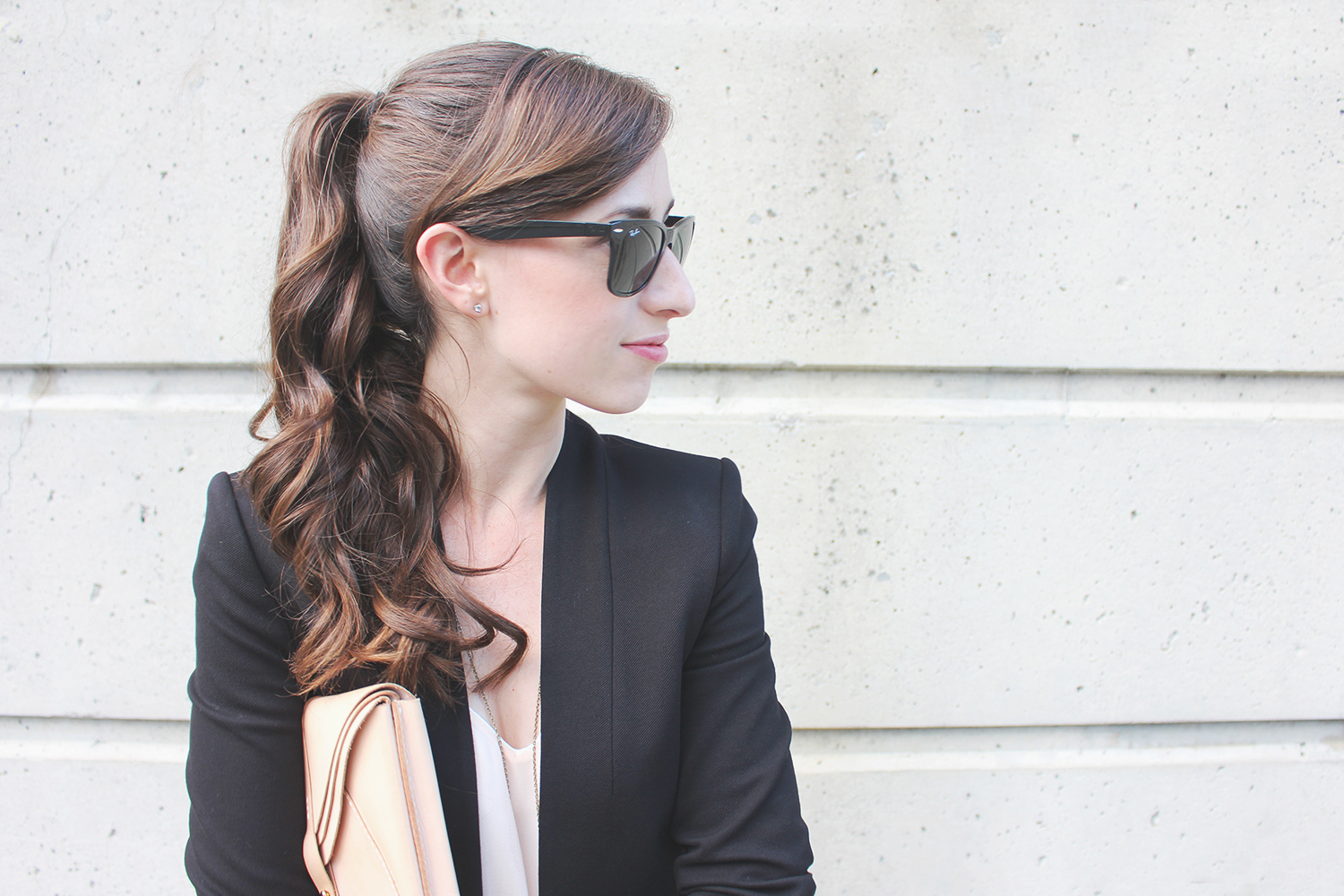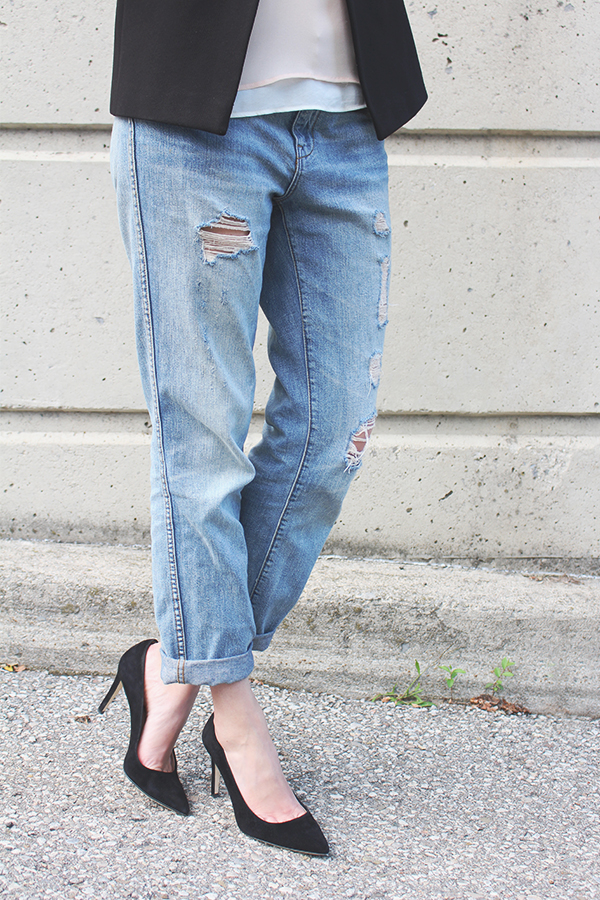 Whether you feel my denim analogy or not, boyfriend jeans are a hot topic and I'd love to know your thoughts on them!
Boyfriend Jeans n/a J.Crew (Similar from J.Crew, Madewell, JBrand) // Tank old from Zara (Similar from ASOS, Club Monaco) // Blazer old from Madewell (Similar at Zara,  ASOS) // Clutch // Pumps // Bangles // Rings // Sunnies // Necklace
Photos by my amazing partner/man Dave Ruhl.