FRI-YAY indeed! How have the first few days of Summer been for you? We welcomed the new season in on Wednesday with a solstice feast in the yard and it was the perfect way to step into what's promising to be our most hectic summer yet. Few things calm my soul like a home-grown, home-made dinner with a glass of cold rosé, my fella's company and a corgi by my feet. I hope you had a chance to savour the longest day of the year too!
When I was staring down the barrel of a really busy work week last weekend I opted to take the uniform approach to planning my outfits. The formula I went with was a slim, high-rise pant, a simple top and a relaxed but structured outer layer. The forecast was forgiving compared to last week, with lots of low 20s temperatures and a bit of rain thrown in too. It turned out to be the best approach for comfort, peace of mind, practicality and feeling put together despite a busy schedule.
So here's a look at how that formula worked in 4 different outfits! 
---
LOOK 19 – MONDAY JUNE 19
---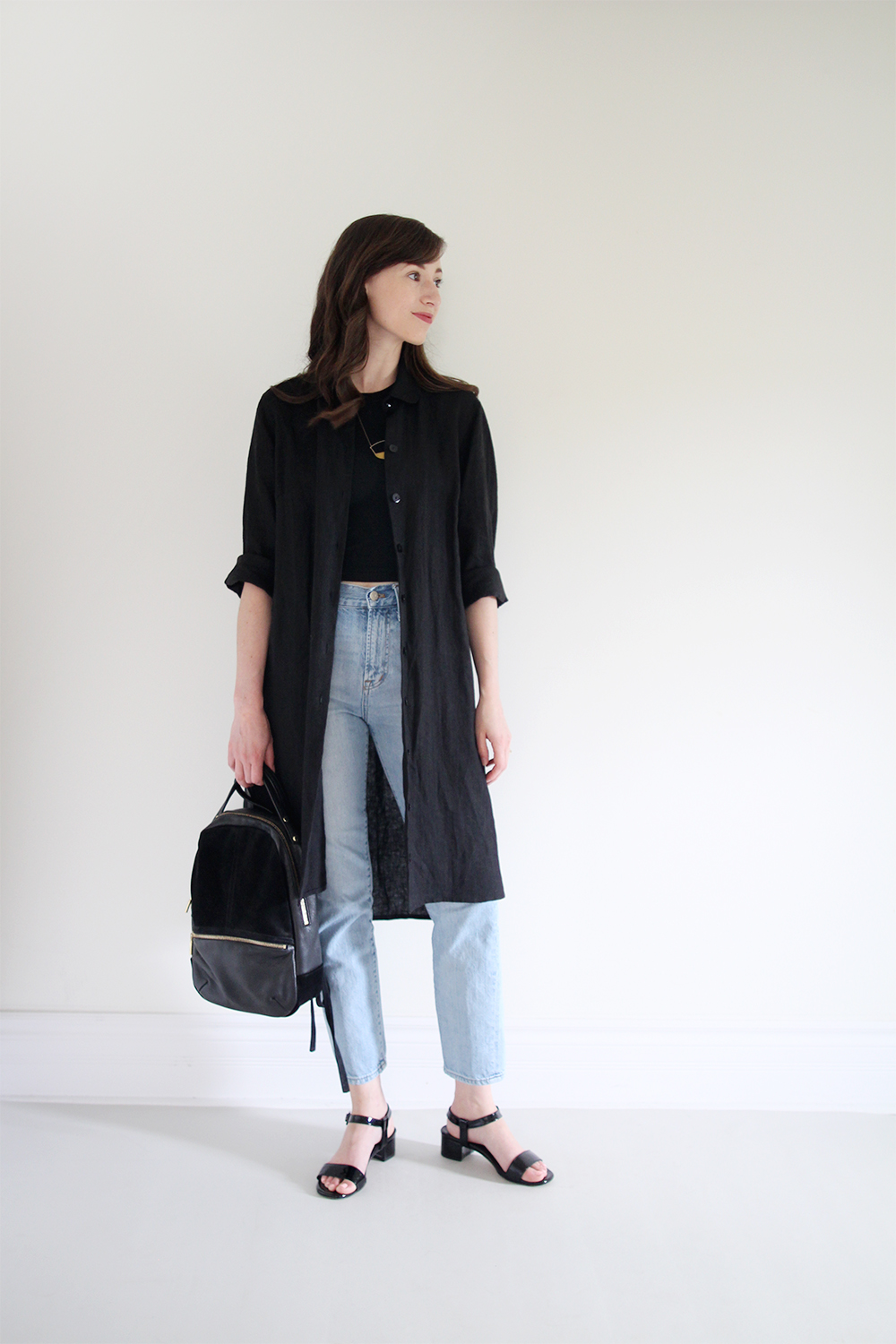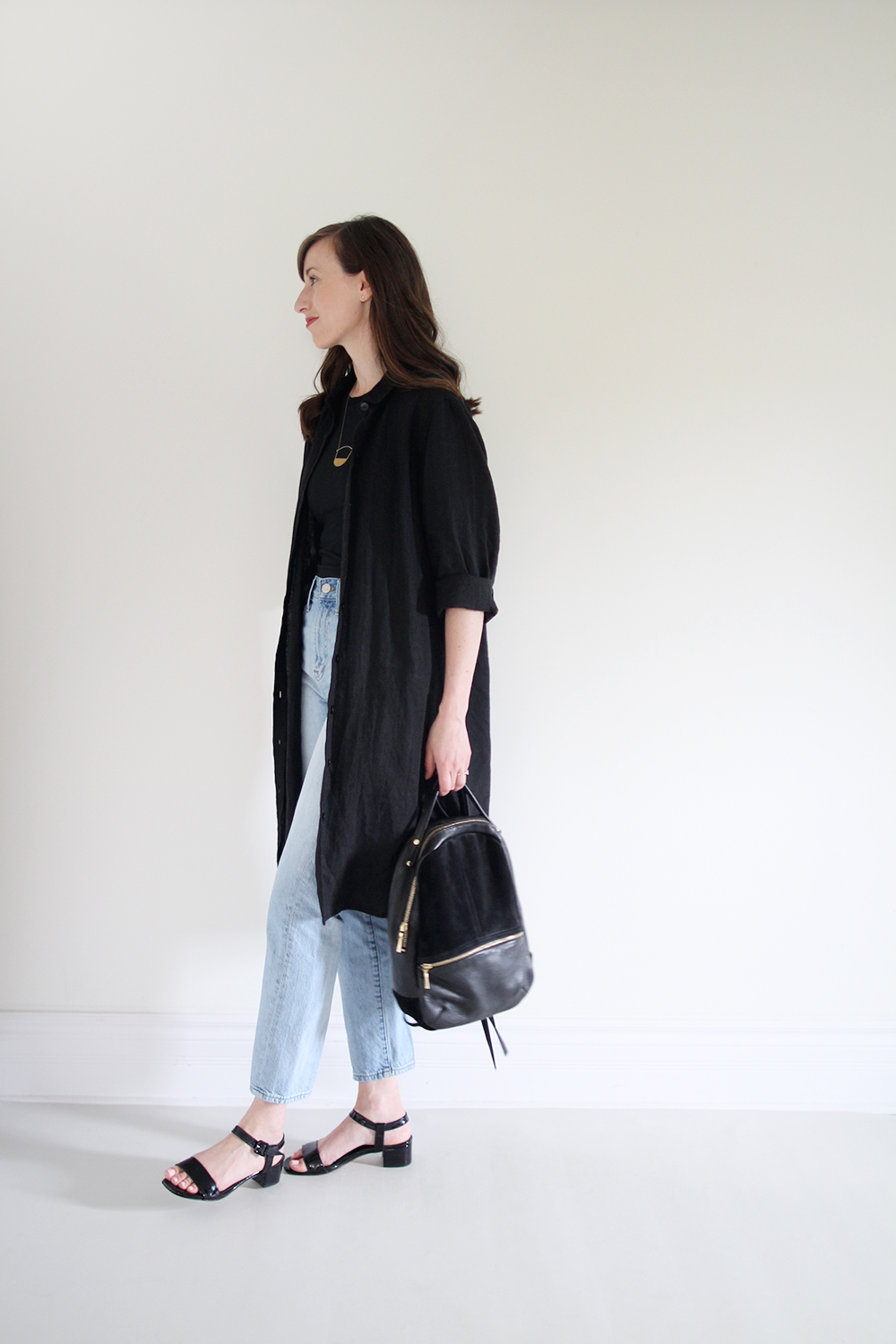 ---
TEMPERATURE – High of 25º C and cloudy.
ACTIVITIES – No surprises here. I was working in the studio most of the day/evening but snuck out for a long walk with the pup. It was my favourite kind of Monday, distraction free and highly productive.
ITEM PERFORMANCE – To be honest, these items just kind of fell into an outfit because they were close to each other on the clothes rack. But once I tested them out in real life I was pretty pleased with the result. I love the look of light wash denim with black and these sandals never fail to take the look up a style notch. With a couple of carefully chosen accessories like my necklace and backpack I was totally ready to zip out and about.
---
---
LOOK 20 – TUESDAY JUNE 20
---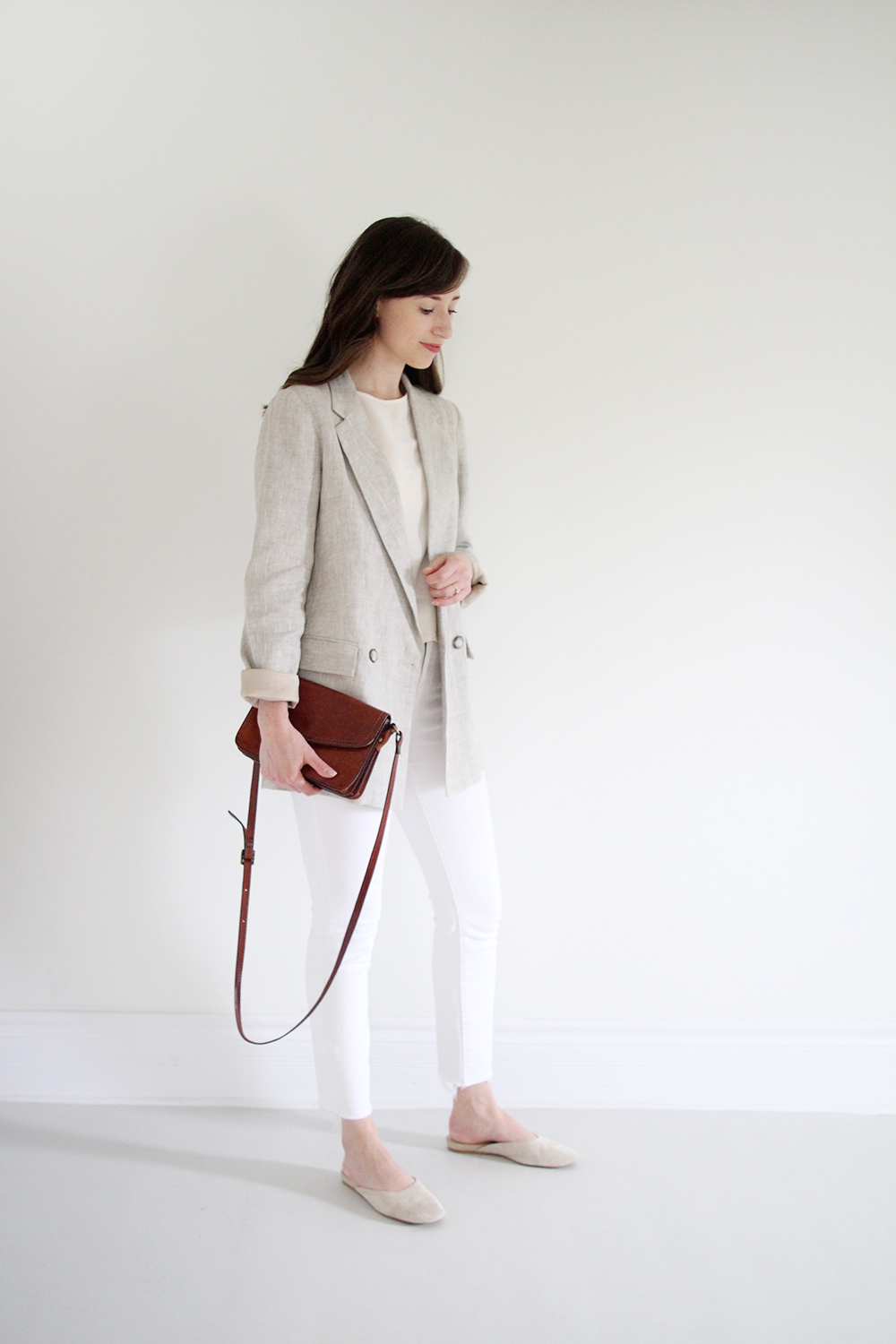 ---
TEMPERATURE – High of 22º C with a medley of sun, rain and wind.
ACTIVITIES – Haircut in the morning, followed by a planning session at a local café, a few errands and an afternoon/evening of office time.
ITEM PERFORMANCE – I LOVE how this look came together. It might be one of my top three favourites from the whole challenge. I was inspired to try pairing my cream Georgia and white skinnies together after seeing that combo a lot lately. I went almost full monochrome by adding my linen blazer (hands down best buy of the season for me) and my suede flats but added a pop of richness with my oxblood bag. This is one outfit I cannot wait to repeat soon!
---
---
LOOK 21 – WEDNESDAY JUNE 21
---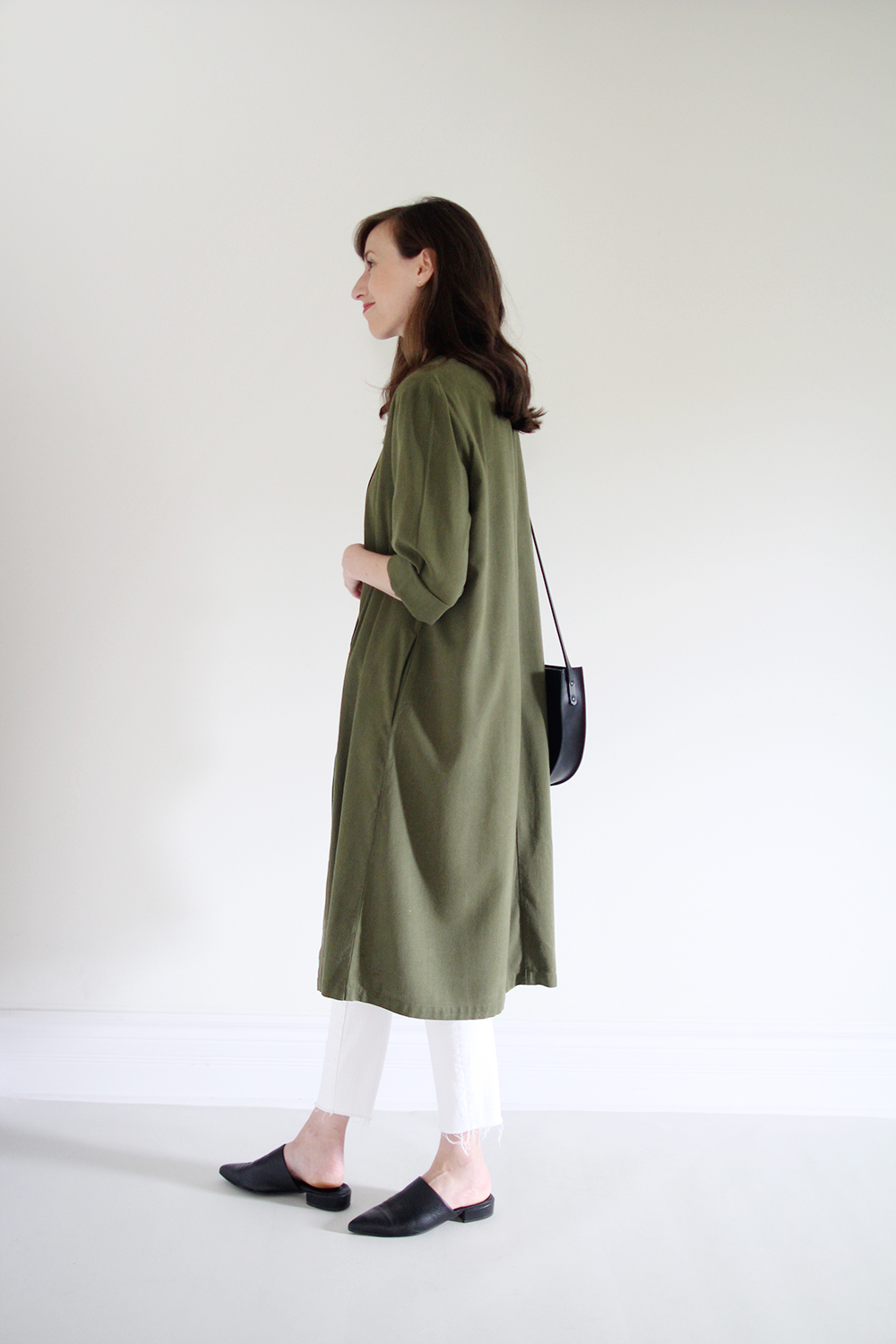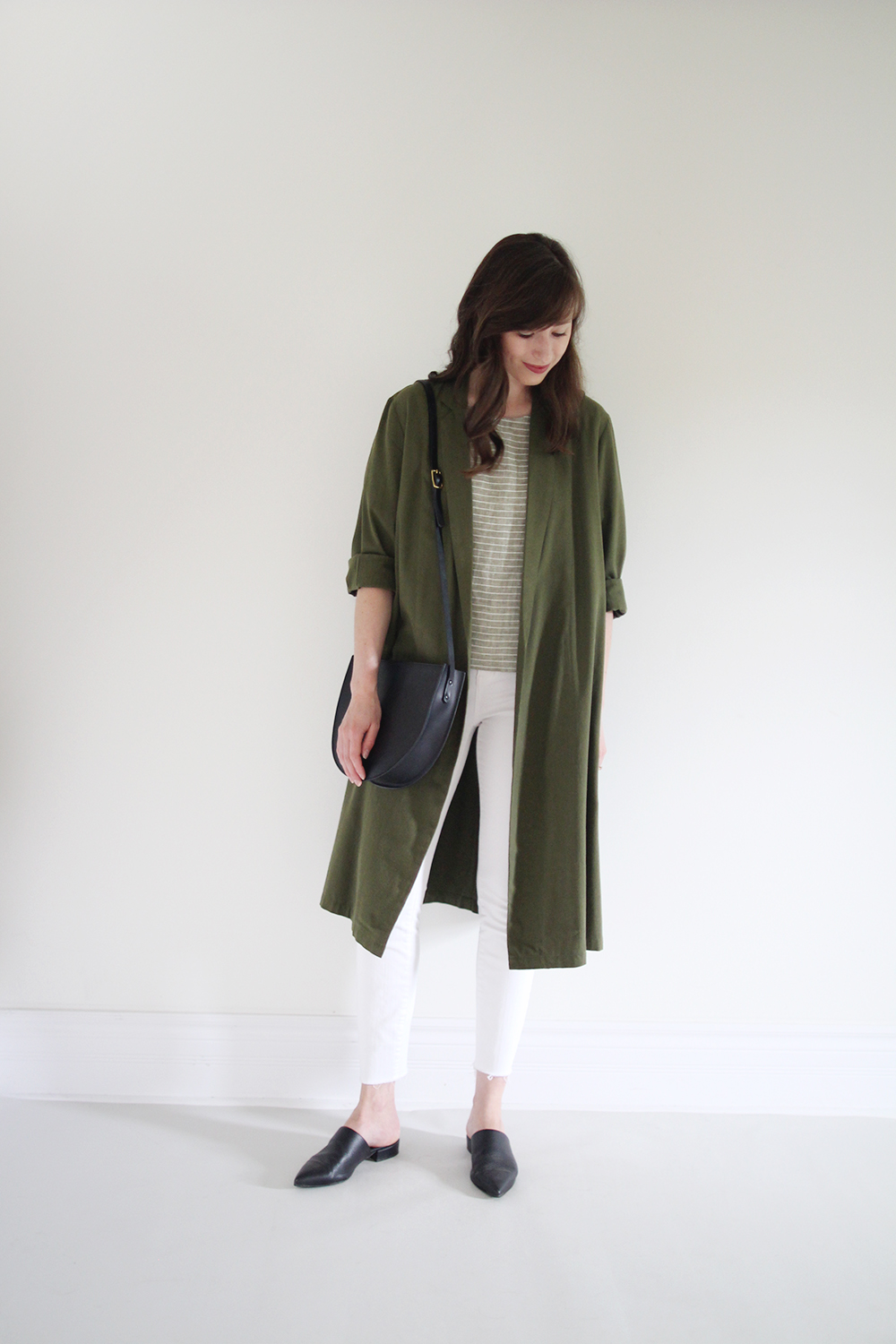 ---
TEMPERATURE – High of 22º C and perfect.
ACTIVITIES – Lunch meeting to brainstorm some creative projects and an afternoon/evening in the studio (again!). I managed to sneak out for a nice walk with the pup and finished up in time for a summer solstice feast in the yard.
ITEM PERFORMANCE – This look was perfect for the day's events and I was super comfy in the office but still felt presentable enough for the outside world. I love the colours in this look and the tonal shades of green paired with white skinnies feels fresh, while black leather accents keep it grounded.
---
---
LOOK 22 – THURSDAY JUNE 22
---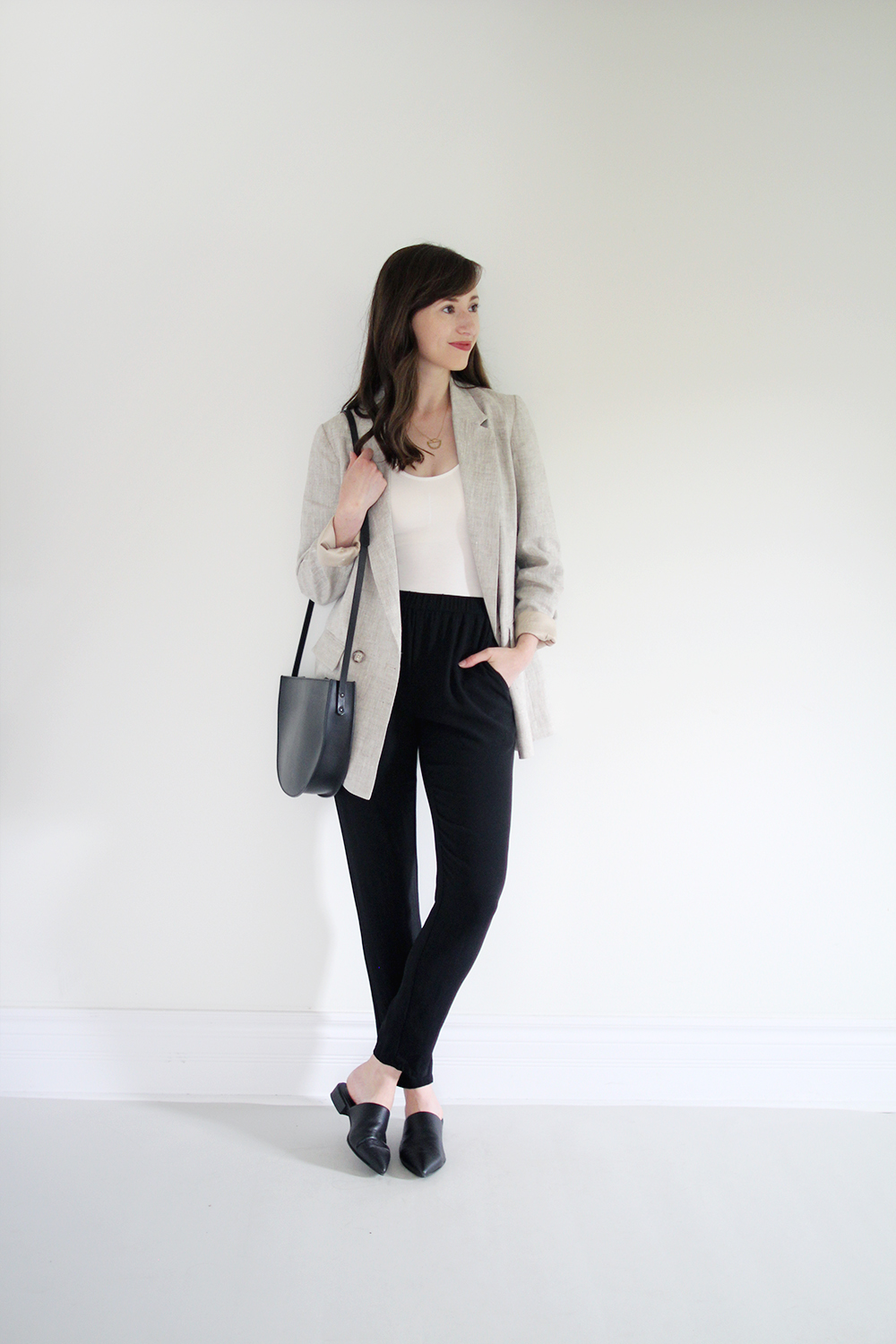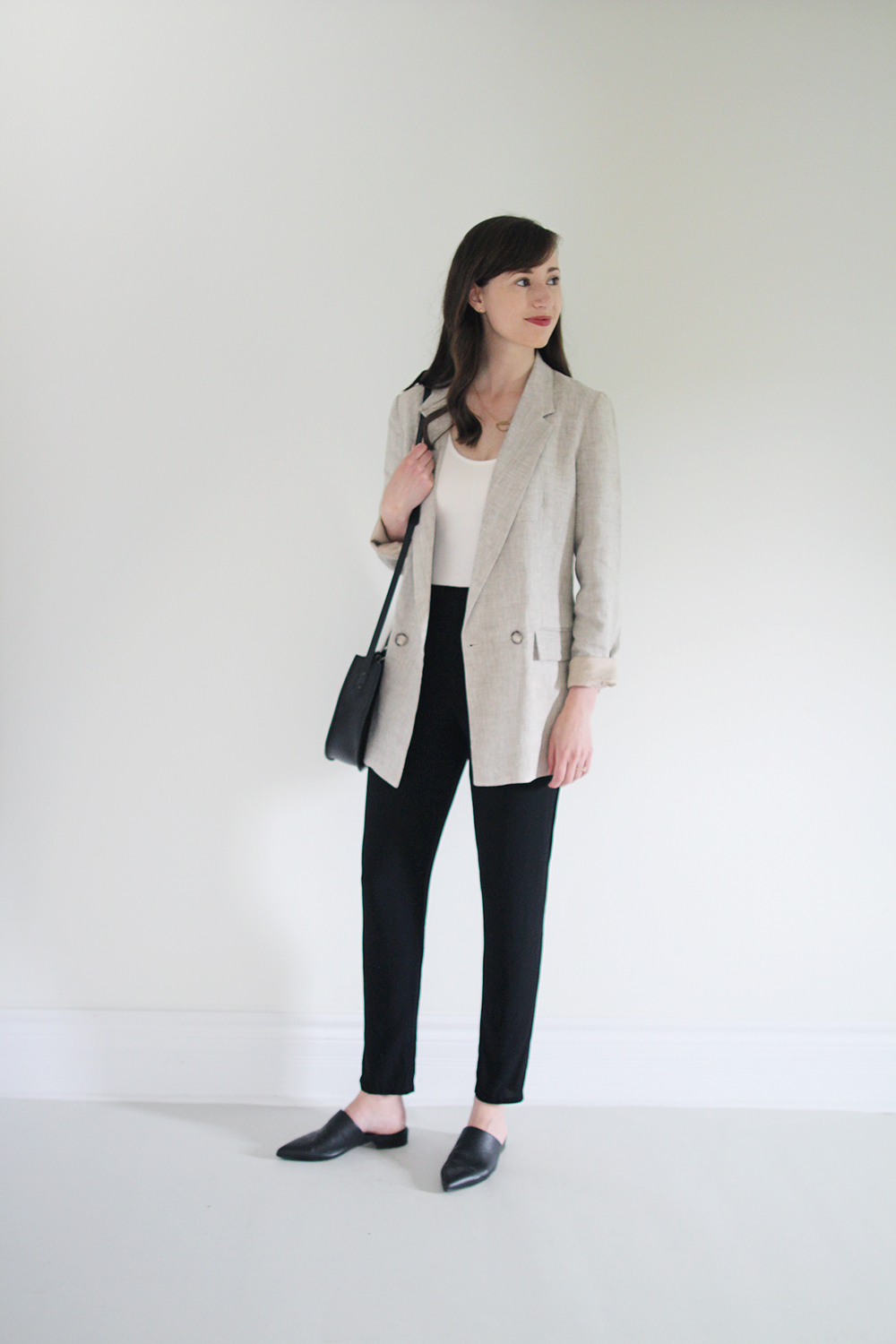 ---
TEMPERATURE – High of 25º C and stormy.
ACTIVITIES – I spent the day glued to my computer screen for the most part, which was just fine thanks to the rain. The skies cleared in the afternoon so I took Dobby for a stroll, squeezed in a workout and returned to my studio for an evening of work. Dave and I did manage to escape for a late dinner downtown but I just threw on jeans and my T-Top for that.
ITEM PERFORMANCE – This look seems pretty corporate but it was actually very comfortable. Overall I quite like this outfit but this was the first time I wore the white bodysuit as a top and it felt a little scant in terms of coverage. I love it as a base layer under other items but it's a tad too tight and sheer at the same time to be worn as a top, at least for me. Under a blazer, cardigan or duster it's OK and it is a super soft cotton that feels great on.
---
---
I had to forego the style tips section today since I was short on time but I'll be sure to include them in the next post! With only 1 week left in the #JUNE30x30 Challenge I'm looking forward to pushing myself to make the final 7 days the best yet! I'll definitely be tuning into the hashtag feed and revisiting the looks my friends Andrea (Seasons + Salt) and Paige (Style This Life) have shared so far for inspiration. Looking forward to finishing the challenge strong!
---
DO YOU HAVE A FAVOURITE LOOK OUT OF THIS WEEK'S FORMULA?
---
WISHING EVERYONE A WONDERFUL WEEKEND!
SEE YOU ON MONDAY WITH LOOKS 23, 24 AND 25!
---
This post is not sponsored but contains affiliate links. When you shop via the links above I may make a small commission from a sale. This income helps limit the amount of sponsored content that appears on Style Bee. Thanks a lot for your support!