Lately I've felt like I'm spinning my wheels. As soon as I check one thing off my to-do list two more tasks appear to take it's place. The earlier I start my day the less I get accomplished. The harder I try to catch every detail the more they escape me. Well, you get where I'm going with this. As frustrating and exhausting as it is to be in a constant state of 'catch-up' I know it's ultimately a good thing. The blog is becoming a bigger part of my professional life and I really don't want to hold myself back, but a girl's gotta sleep, right? I'm just trying to be strategic about how I use my time, selective about the projects I take on and conscious about getting away from my desk (Dobby helps a lot with that). Oh and eating something other than leftover halloween candy, although that needs some work!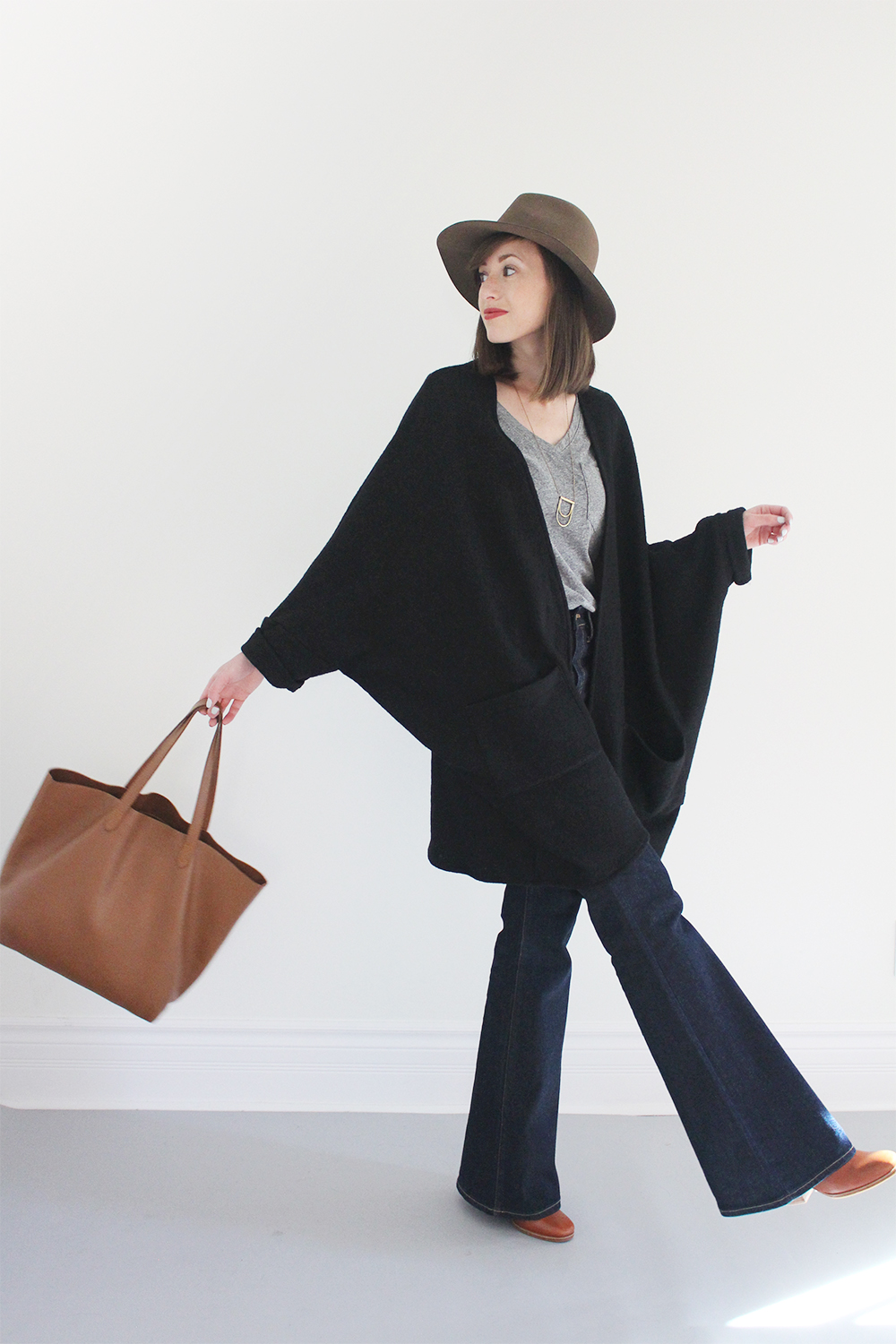 With all that's going on I appreciate this Fall Foundation wardrobe more than ever. Since starting these mini 'capsule' closets, one of the biggest takeaways has been recognizing that what I'm really looking for in my style is peace of mind. I want to feel good, literally and figuratively, about what I wear. I used to think it was frivolous or superficial to have such an appreciation for materials things but now I'm seeing it a bit clearer. The more I unabashedly pursue my love for blogging, unique style and beautifully made goods, the more fulfillment I get from it. Sometimes you've just got to trust those instincts, even when it's late and you're debating between a good night's sleep and creative satisfaction. One quote that always reminds me to continue pursuing my passion is by Elsie De Wolfe, who said, "I am going to make everything around me beautiful – that will be my life." I just love that sentiment.
So I guess today's post turned into a sort of pep talk to myself and whoever else might need some encouragement. Maybe it's fashion, maybe it's interior design, cooking, photography or DIY projects that really get you going. But whatever it is, if it makes you happy, it's worth pursuing.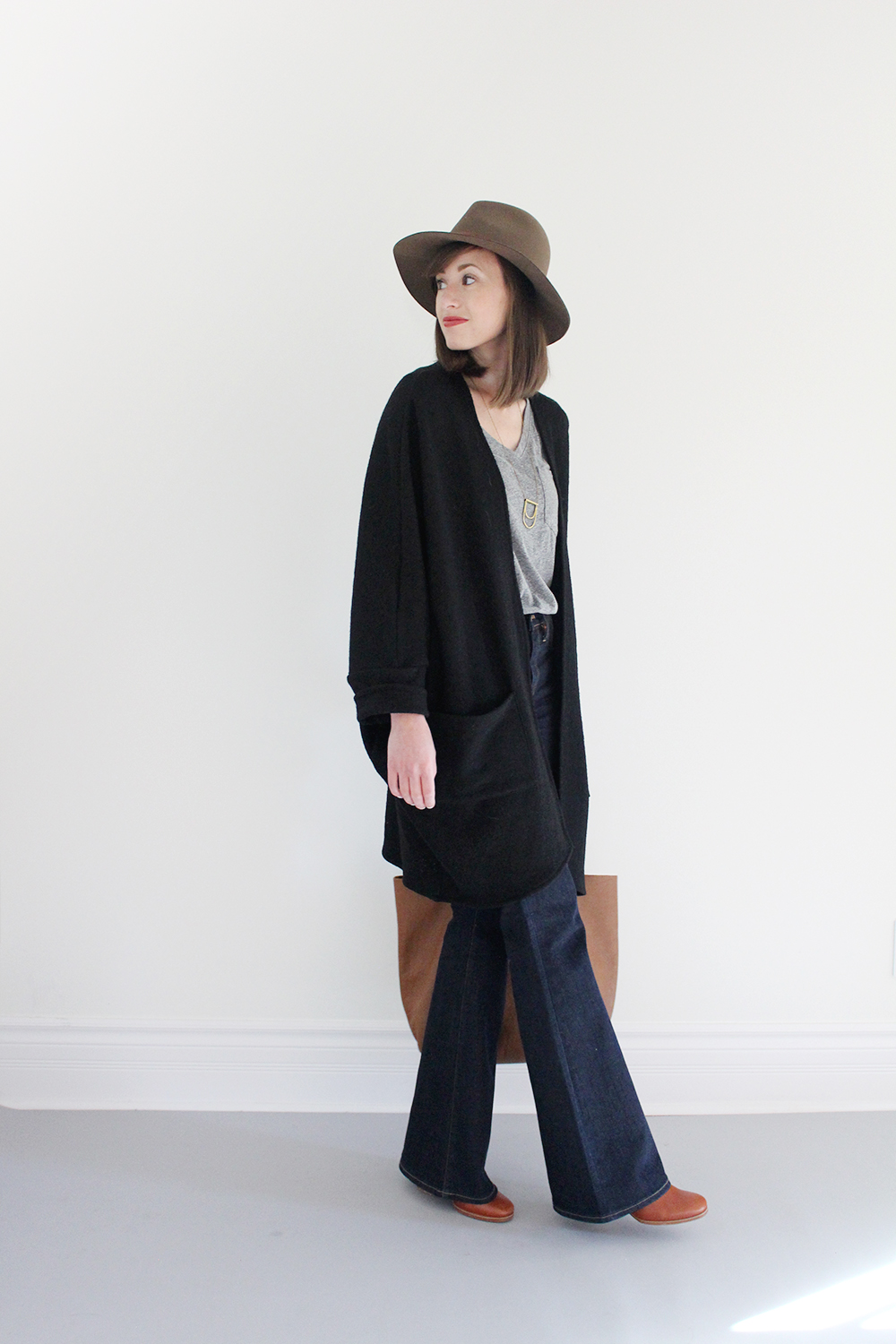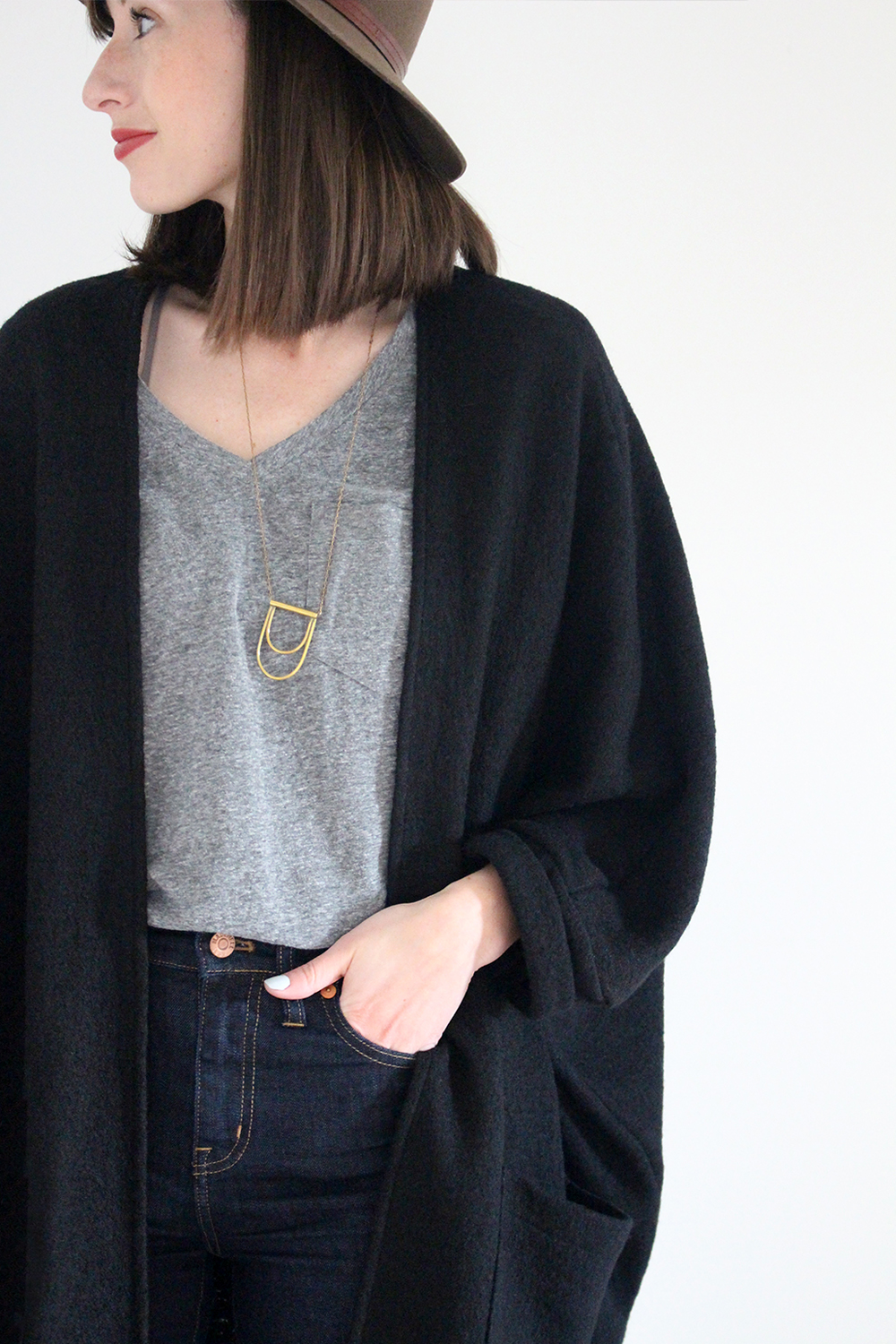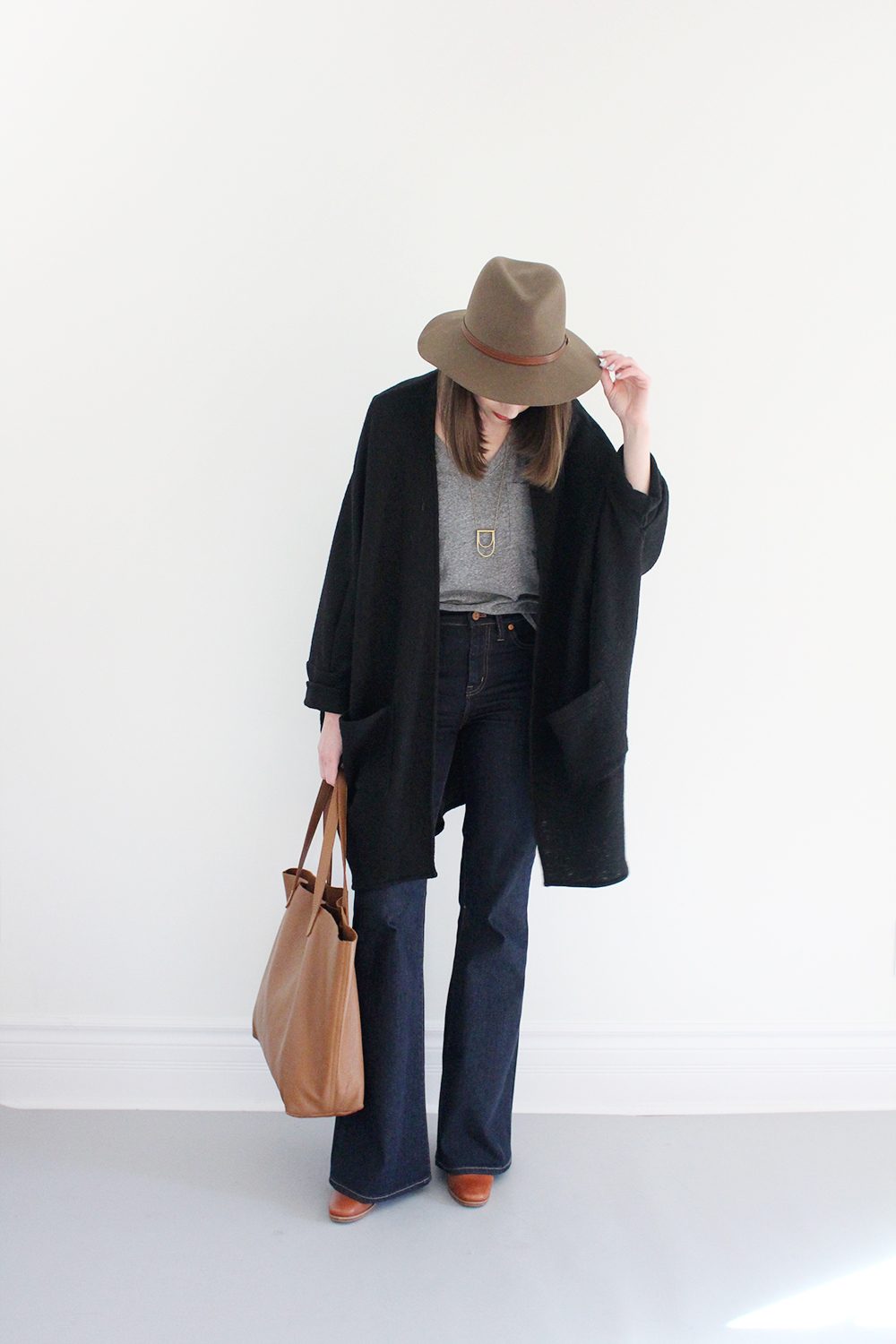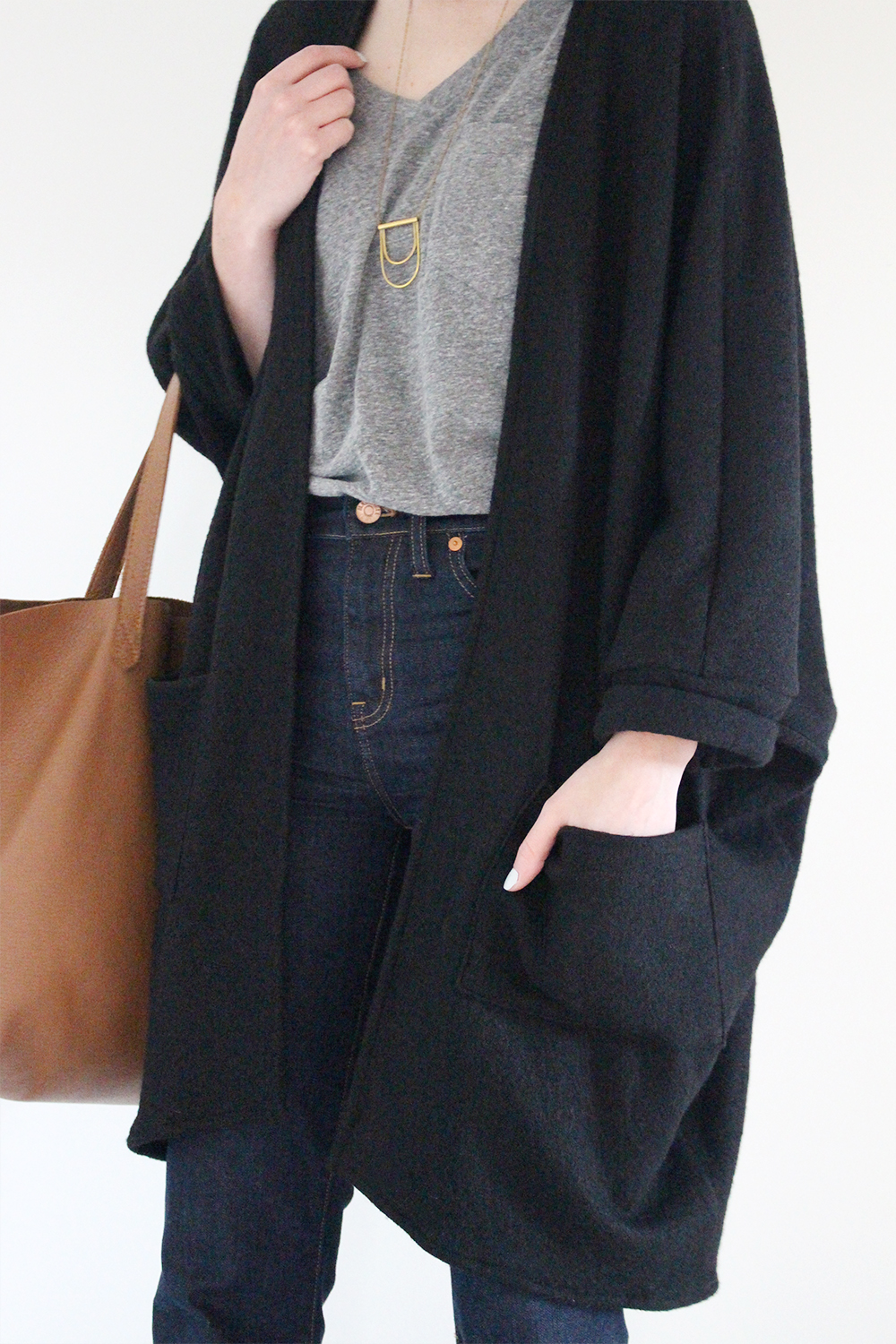 MAIN INGREDIENTS

First Rite Cape Sweater via NA NIN (also in grey and loving this one) | T-Shirt c/o AMVI | Flares Madewell | Rachel Comey Boots (black and grey suede) | Hat Rag & Bone | Another Feather Necklace | Tote Cuyana | Nails RGB Dove 
---

---