Before shooting Look 4 and 5 I ran out of contact lenses so you'll find me four-eyed for the rest of the week. Of course I'm not at all opposed to wearing glasses I just don't like to for shoots as there is a glare/reflection that's hard to avoid thanks to my lovely office windows. Personally, I find it distracting so I typically opt to wear contacts on shoot days. But enough about those, let's talk 10 x 10!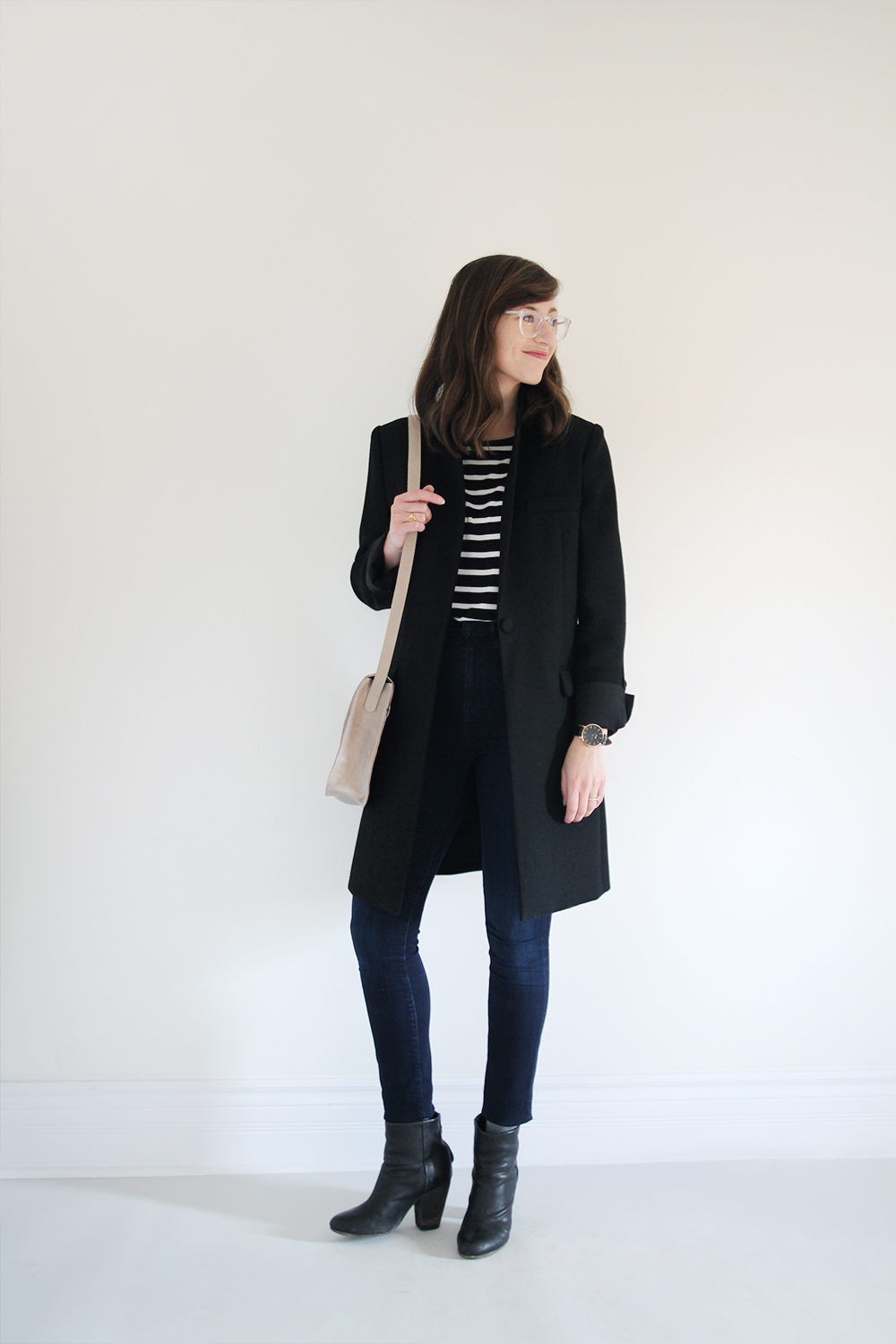 ---
STYLE + FIT DETAILS
I'm going to skip over the initial thoughts today and simply say, this one is definitely a contender for favourite look so far. It may not be pushing any style boundaries or feel particularly 'new' but I'm okay with that. Overall I feel chic and stylish in this number and that's a good sign indeed! Here's a few reasons why I think that's happening.
1 | SUBTLE SLOUCH | I don't often wear a skinny bottom with a fully tucked top but what I love about this top so much is that it has a slim but relaxed fit and the fabric drapes so nicely. I'm making a mental note to keep this fit and fabric in mind. If only I hadn't cut the tag out ages ago! This one looks super similar though.
2 | STRIKING STRIPES | These classic black and white stripes add a powerful jolt of energy to this look which it might otherwise lack. No need for additional accessories like a necklace, especially with the glasses too. It's a good reminder that less is better for me when it comes to stripes or bold patterns. 1 focal element is enough.
3 | FAUX CROP | I had these jeans cuffed outward but the inside of these pants is quite blue and I found it a bit too distracting so I turned them under, rather than tucking them into the boot. I'm sort of wishing I'd worn short (invisible) socks and cropped the pants slightly more for a more deliberate effect but I still prefer this option as it creates a clean finish.
4 | BUTTON | The single button of this coat hits right at my natural waist where the top of the pants also falls. This subliminal focal point is very flattering and creates the illusion of super long legs. Never a bad thing!
5 | BLACK + NAVY | Is a colour combo I would never normal settle on but I'm ok with it in this instance. Ok, I secretly wish these jeans were black right now. But shhhh.
---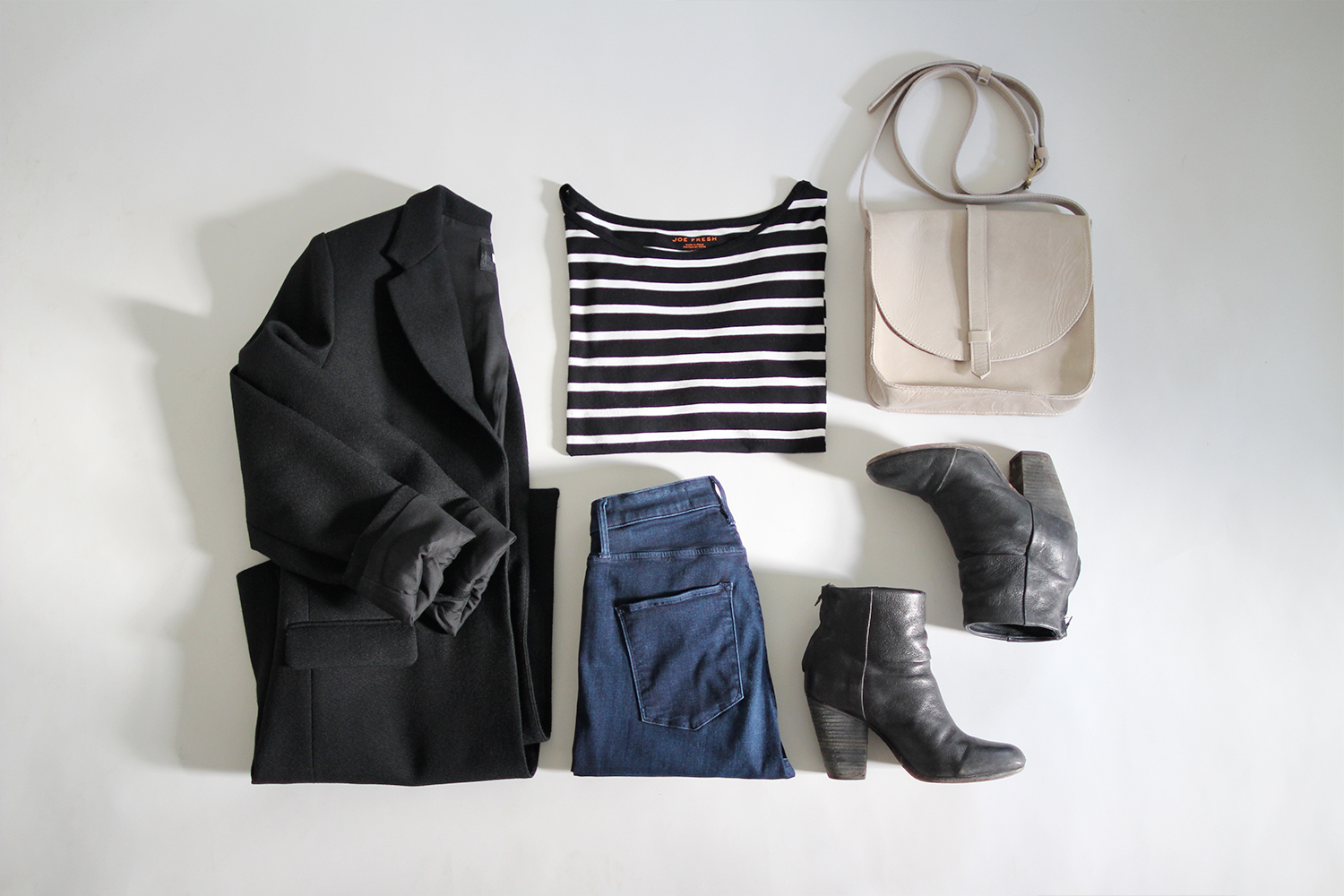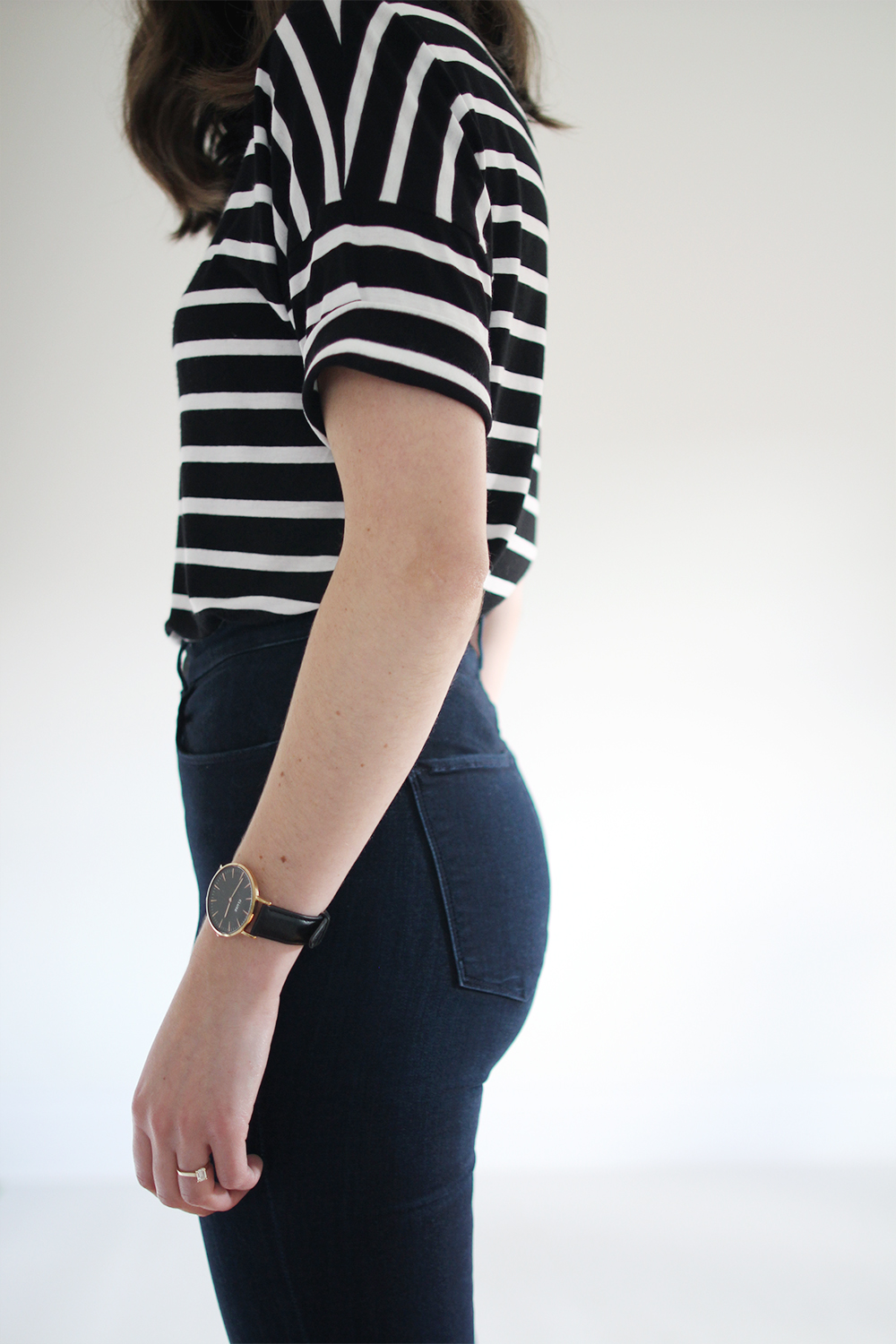 ---
ITEM # 4 – THE SKINNY JEAN
As much as I'm a nut for a good wide leg pant, the skinny jean will probably always remain a key part of my lean closet. Especially when the weather gets chilly. Nothing pairs easier with leather boots and chunky sweaters than a comfy pair of high rise skinny jeans.
AYR sent me this pair of their Made In LA denim to test out last Fall and I've loved them ever since. They're definitely my go-to pair when I want to feel long and lean without being restricted.
Truthfully I LOVE the look of everything that AYR makes but I'd feel better supporting them if they were more transparent about their manufacturing/production. As far as design goes though, SERIOUSLY. ON. POINT. Back to these jeans though. Here's a mini 1-year later review.
Do they stretch out? – No. But the right size will give as much as required to fit snug but not super tight. I have worn these at least 50 times and have only felt the need to wash them twice. They are magical!
What size am I wearing? – 26/30 for reference I'm 5'7 and 125 lbs and usually a 26/27 in denim. US based folks can use their $1.00 Home Try-On to test them out too!
Are they a jegging? Not quite. They're a proper jean as far as I'm concerned, nearly as comfy as a legging, definitely as soft but more substantial.
How much are they? – $185 USD
Where are they made? – LA
Does the colour transfer – Yes. But not much since their first wash.
Do they ship to Canada? Not directly. BUT you can order this particular pair through Nordstrom (30 in inseam only) along with a wide selection of other AYR styles!
Did you need alterations? No. I usually need the waist taken in on most high waist pants but not these!
Overall Rating 9/10
---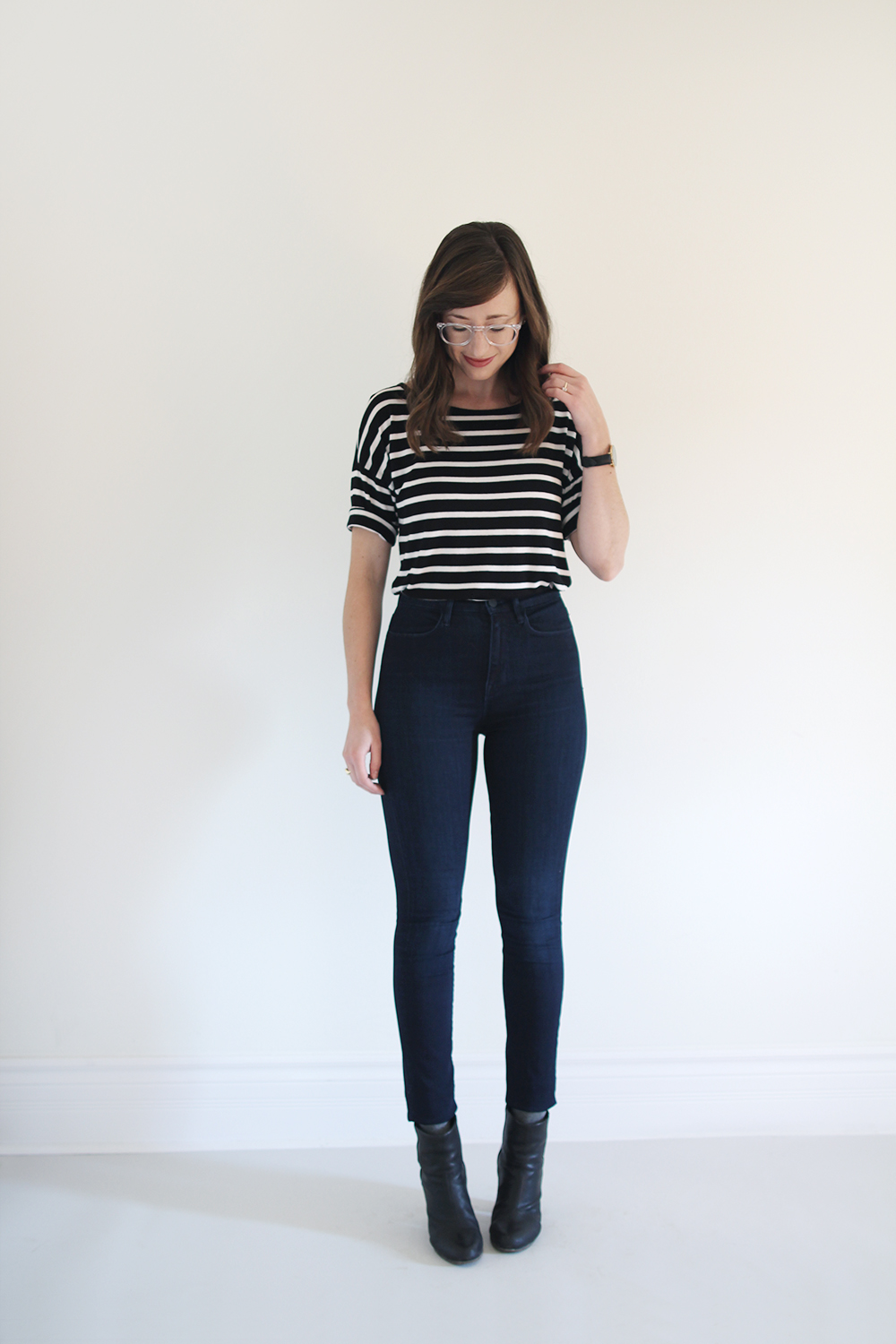 ---
OTHER INDIGO SKINNY JEANS WORTH A LOOK
1 | Imogene Slim | Imogene + Willie – $195 USD | This denim line has a major cult following and it's pretty clear why. I'm personally obsessed with the Elizabeth in Black but the Imogene in Indigo looks perfect if you're more of a mid-rise girl.
2 | Margot Skinny Jeans | PAIGE – $189 USD | I've heard really positive things about PAIGE denim and these inky skinnies look super slimming. Currently 25% OFF with MAINEVENT16 at ShopBop.
3 | Chrissy Jeans | Citizens of Humanity – $218 USD | This Midnight City wash is a perfect worn black that is begging for some oversize cable knit sweater action. Currently 25% OFF with MAINEVENT16 at ShopBop.
---
SHOP

---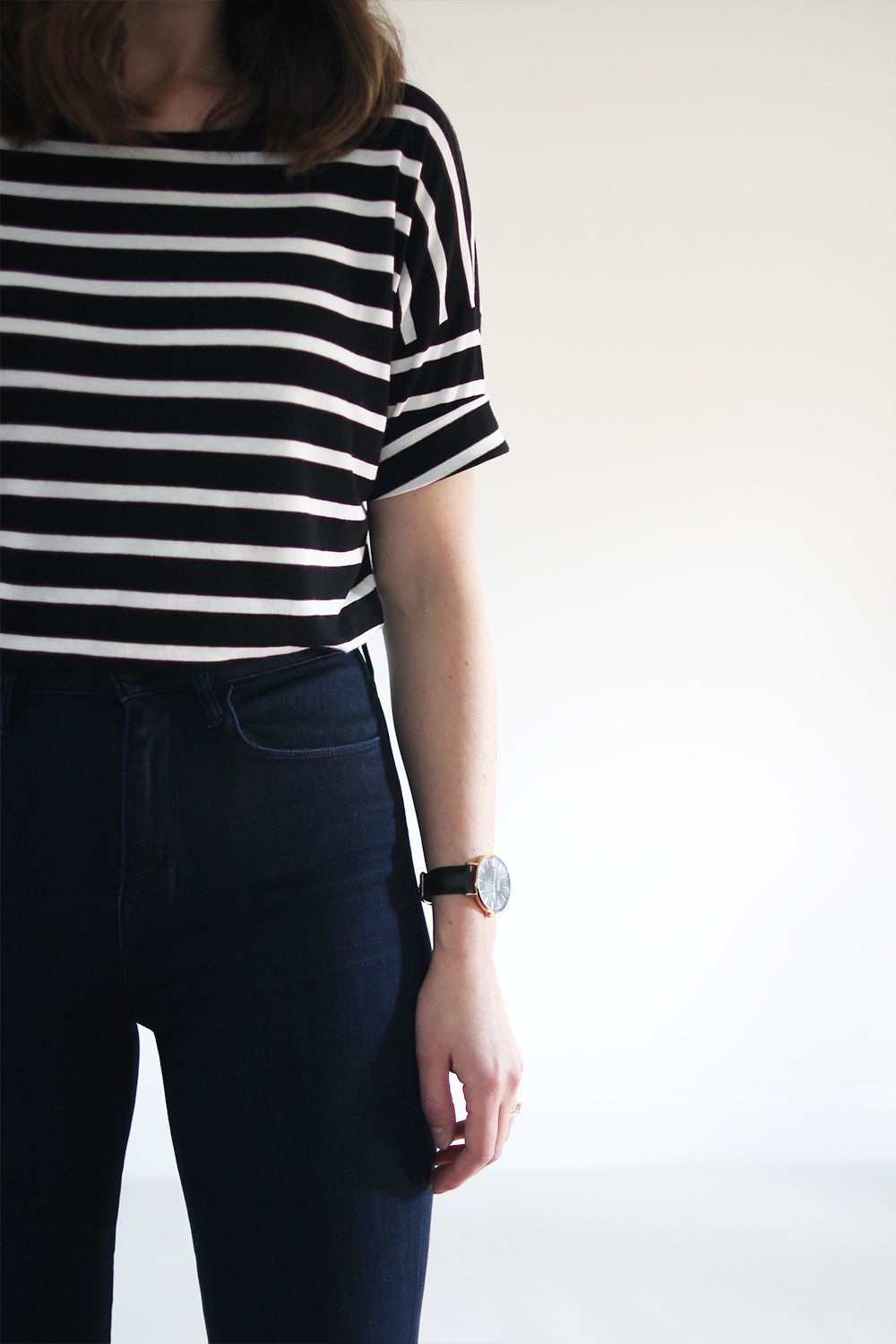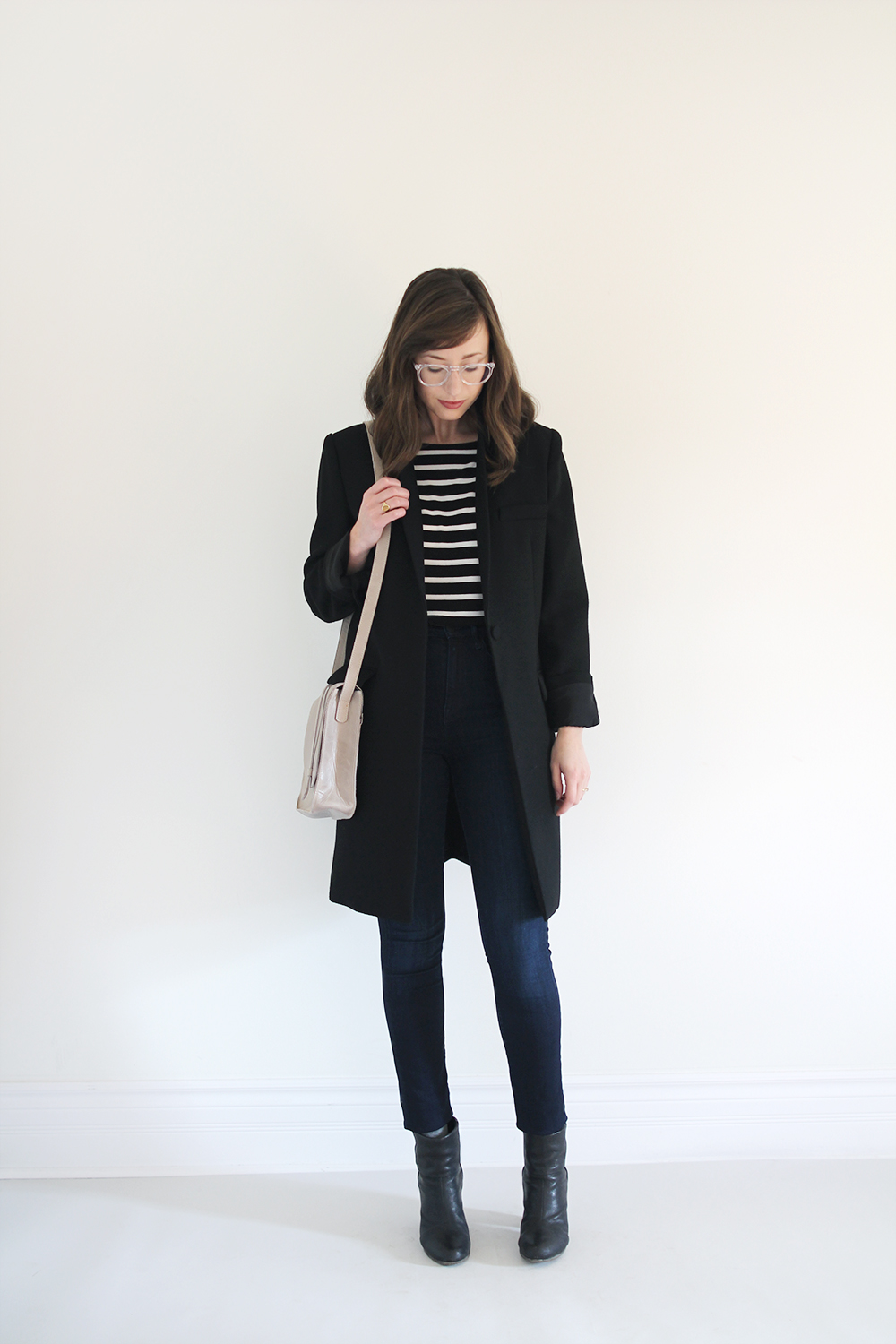 ---
Look 5 and the halfway mark are on their way tomorrow! Despite the short week, I'm oh so ready for Friday.
---
---

---
This post is not sponsored but contains affiliate links. When you shop via the links above I may make a small commission from a sale. All opinions are my own. Thanks for supporting the brands that support Style Bee!