I'm honoured to be sharing the beautiful work of Jamie + The Jones on the blog today! The Nashville based apparel brand and design studio was founded in 2009 by Jamie Frazier and Hannah Jones. Jamie + The Jones was brought to life when Jamie and Hannah decided to use their individual but complimentary talents and follow their creative instincts. The result of their most recent efforts is a stunning spring collection of silky soft tops and gauzy cotton sweaters in the most elegant silhouettes and muted tones.
The three pieces I'm lucky enough to have in my closet are easily some of my favourite tops ever. The fabrics are out of this world, the fits are everything that dreams are made of and the attention to detail is incredible. But honestly, what really struck me was Jamie + the Jones' philosophy, which is 'We create simple, wearable art to live in.' The thing is that this credo actually comes through in the final product. When you're in one of their pieces you feel like you're wearing something completely unique, timeless and truly special.  I personally feel connected to all the effort, time and talent that went into creating the garment.
Today I'm sharing three looks I styled wearing the new Blank Canvas Top in a perfect olive green, the T Top in a rich black and the T Sweater in cream, all from the beautiful spring collection. I've also asked Jamie and Hannah a few questions about their creative influences and how they bring their ideas to life with colour, design choices and collaborative spirit. Scroll down for a huge dose of creative and style inspiration!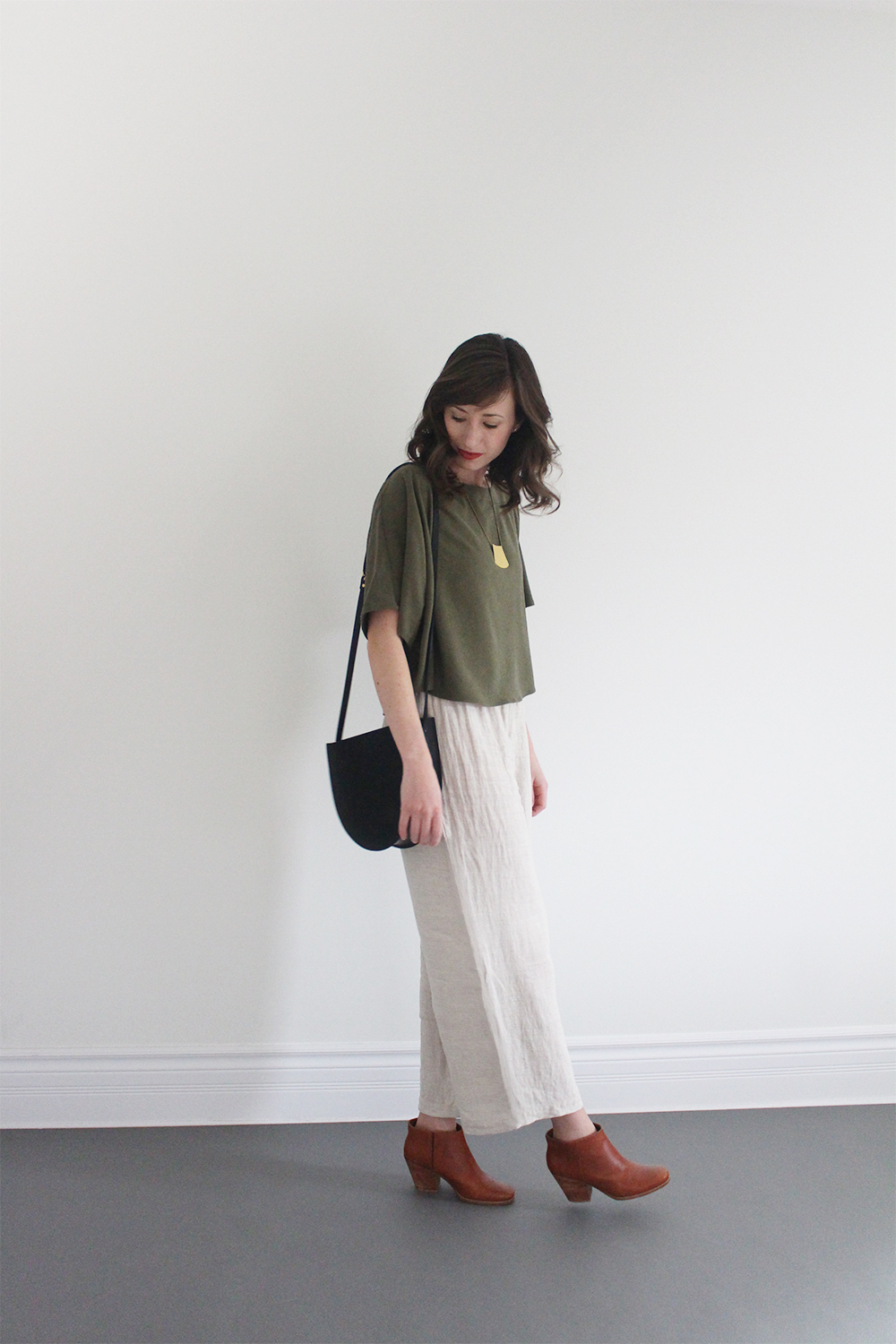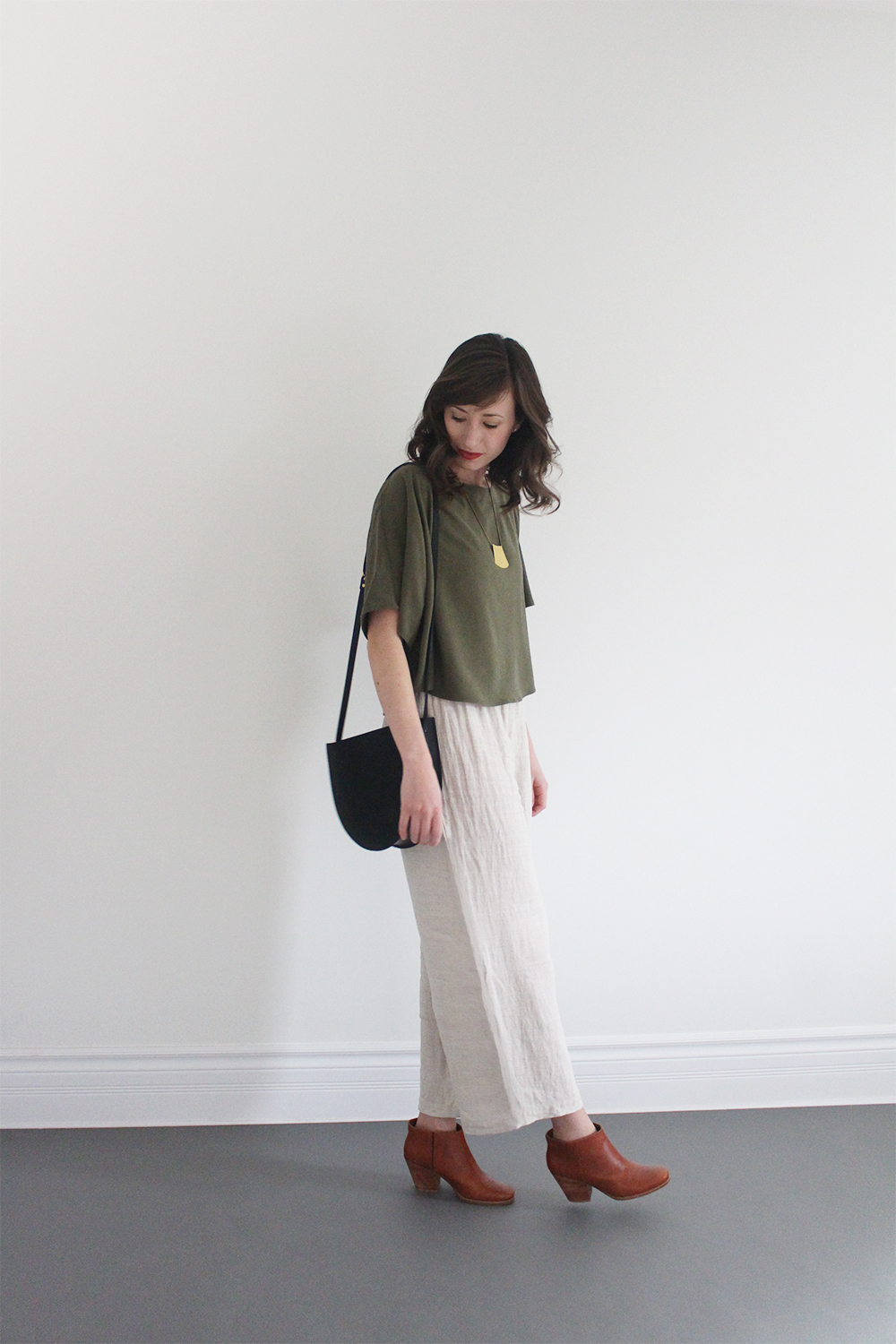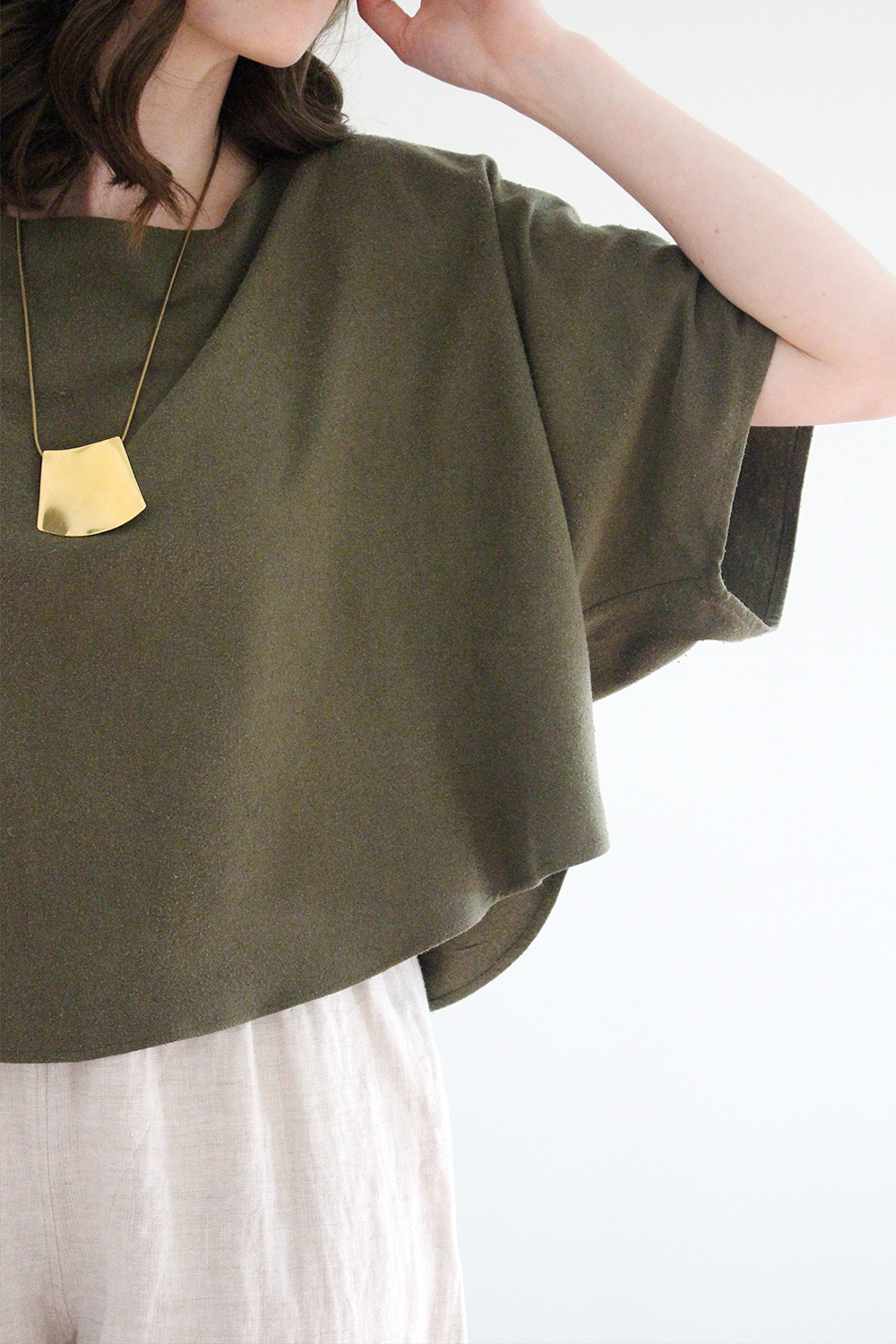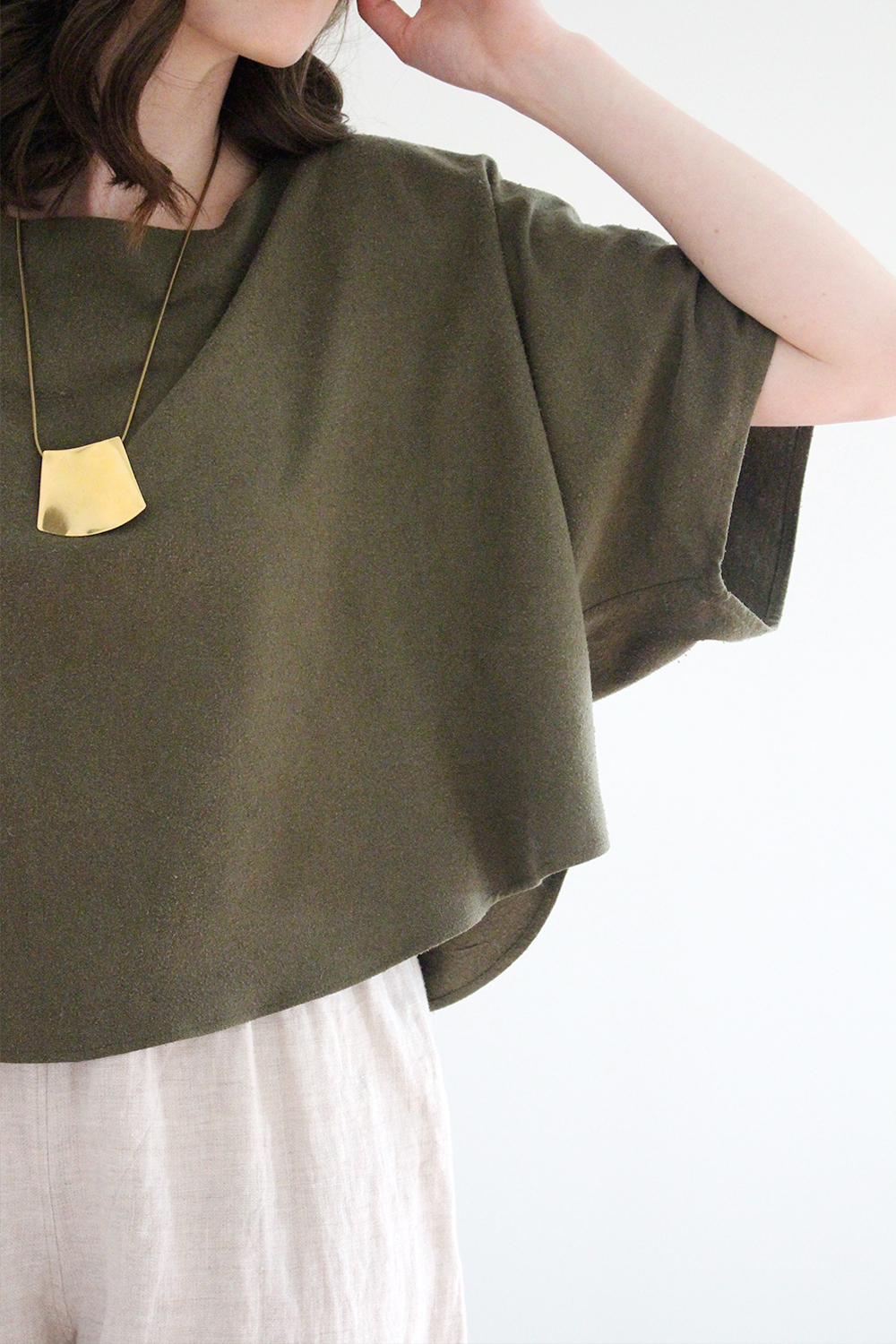 1 – It's clear that collaboration is at the heart of J+J. What does a successful collaboration look like for you? 
We see collaboration as a way for two separate entities to merge together and create a product that would seem impossible to do without the other… We love finding artisans who are able to bring something to the table that we have never thought of, and those who really know and understand their specific craft. We love the challenge of having to take very different concepts and join them together, while still staying true to the point of views of each brand involved. It creates a dialogue and is essential to our business so we can push our own limits.
Our collaborators have included Shutters & Shuttles for hand woven fabric, Little Seed Farm for our current Hair + Body Serum: Potion #1, our long time collaboration with The Teresa Hays Textile Studio for our marbled fabrics, and we are now in the works with Acorn + Archer for awesome jewelry, and artist Mary Mooney who will be working on notions for garments we create this year. 
Two other exciting projects we are currently working on are a marbled leather bag collaboration with Ceri Hoover and a continuation of working with a local dance collective, New Dialect where we create the outfits for each dancer in specific productions.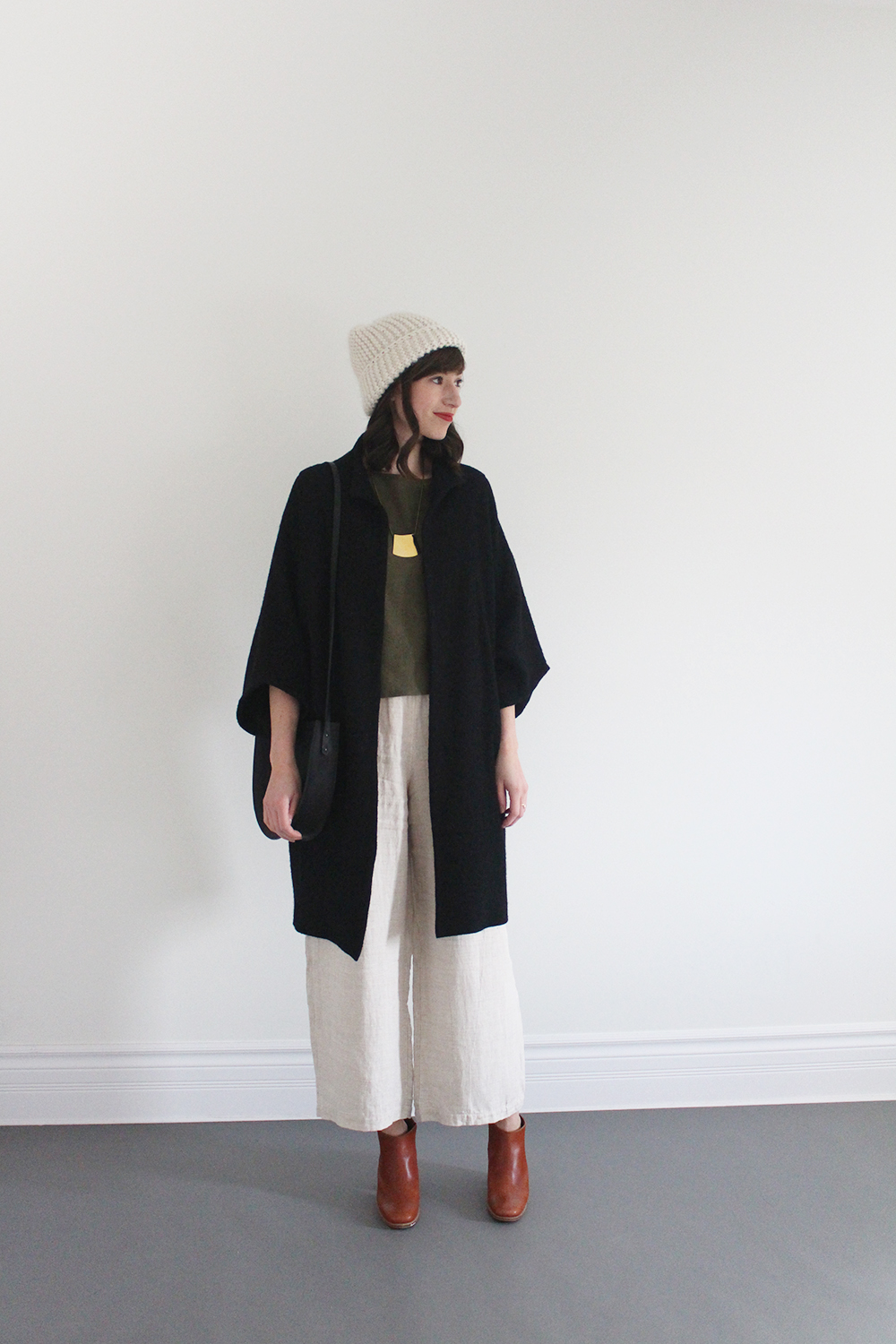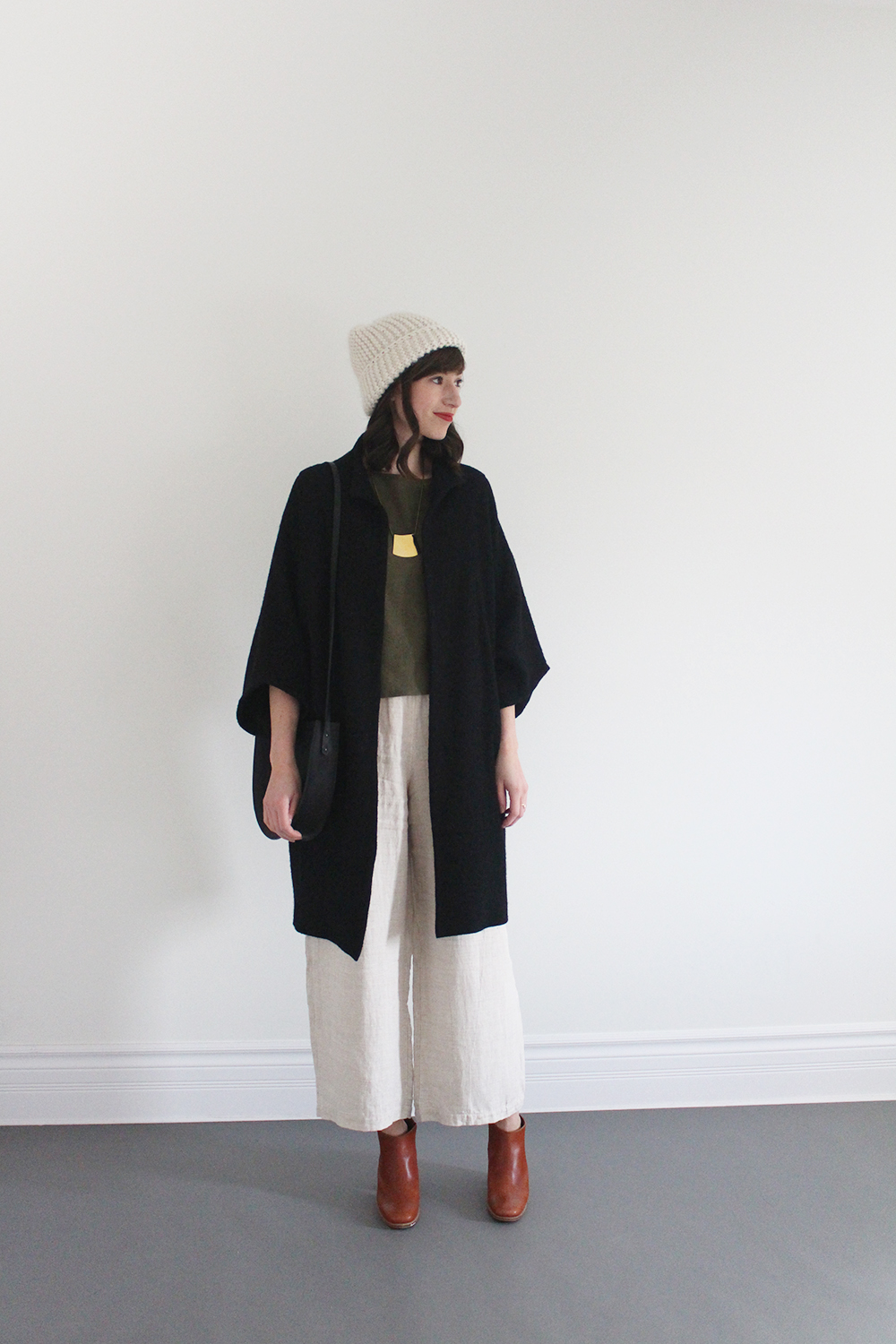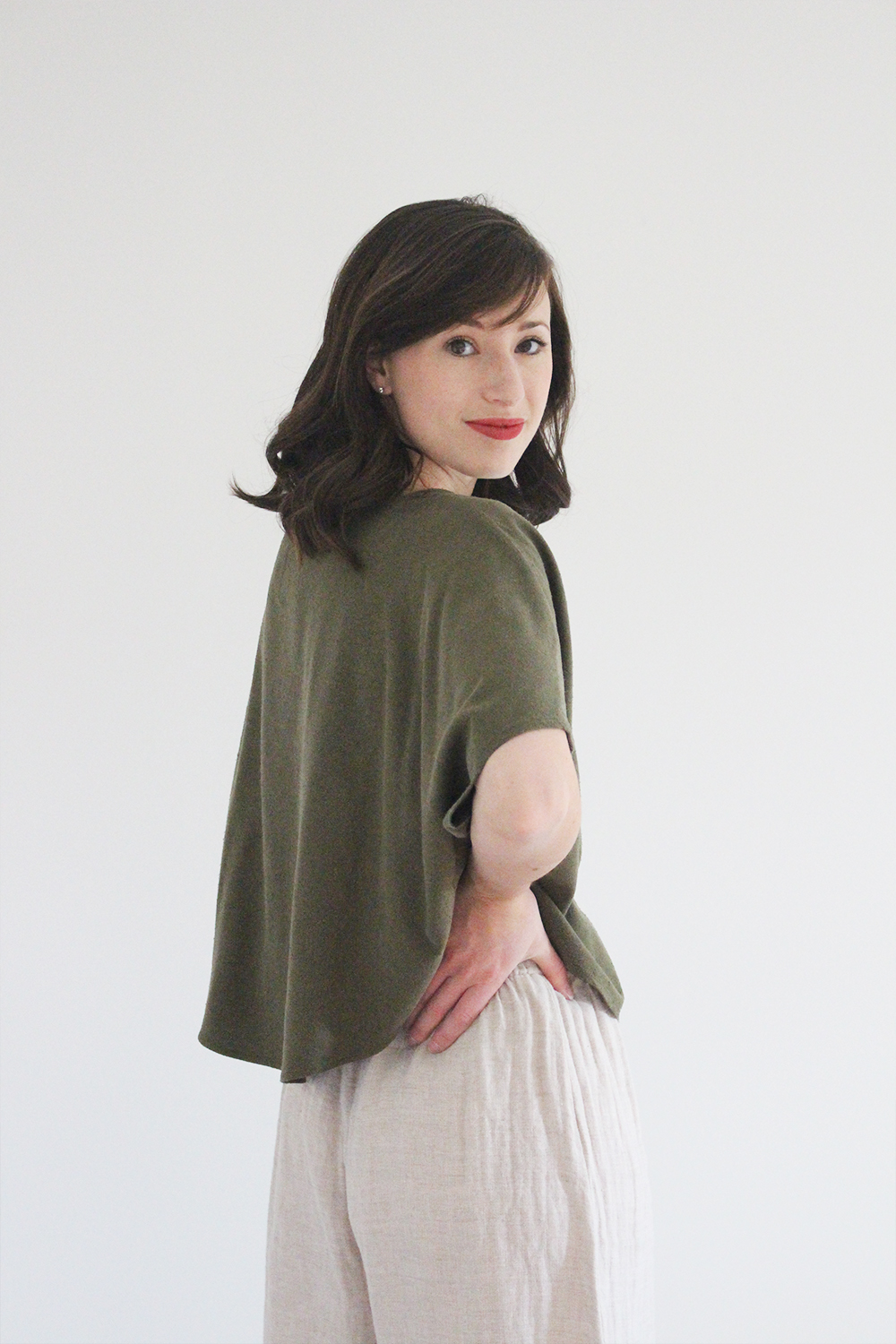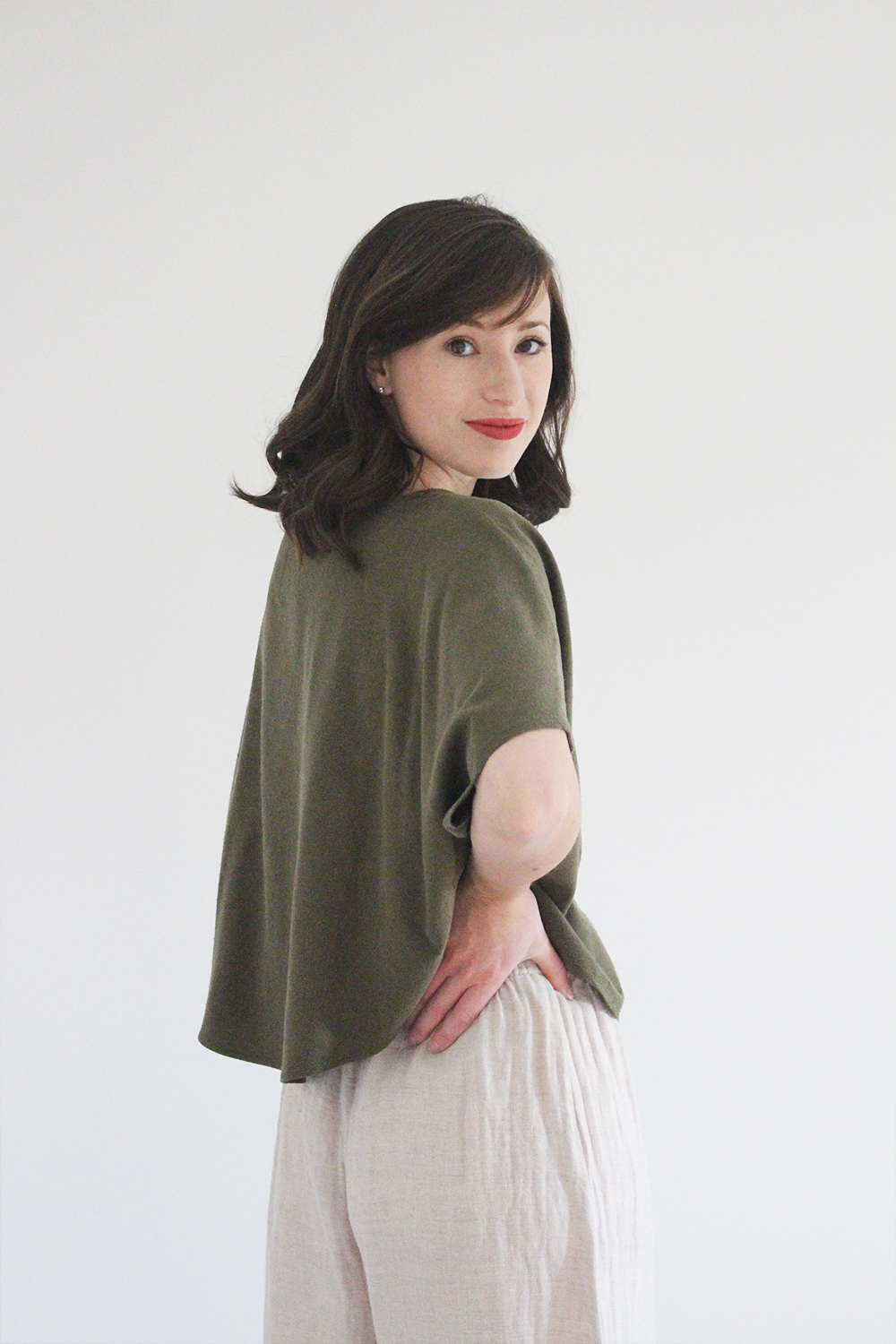 2 – What really stands out to me about J+J pieces are the fabrics and fits. I've never worn anything like them! Can you tell us a bit about how your fabric choices and styles evolve from each collection? 
We have always been consistent with our fabrics, only because we are really cautious about the fabric content when we source materials. Since the beginning of Jamie + the Jones, our go-to has been Raw Silk because to us it is like a luxurious cotton… Lightweight, but with a little texture.  
We use 100% Silk, 100% Cotton, or Silk/Cotton blends only, because it is just easy. Many people aren't aware that silk is one of the most durable fabrics out there – One that you can wash and dry, and really get the best wear out of because of its durability. We make sure to pre-wash and shrink all of our fabrics- even our dyed and marbled textiles – so we can make sure our customers feel at ease when caring for their garments. 
The styles have kind of emerged from silhouettes we like to wear, with small details to make them unique.  We like to be utterly comfortable in everything we wear, so many our looks our unfitted and use pattern details to create movement and form for the wearer.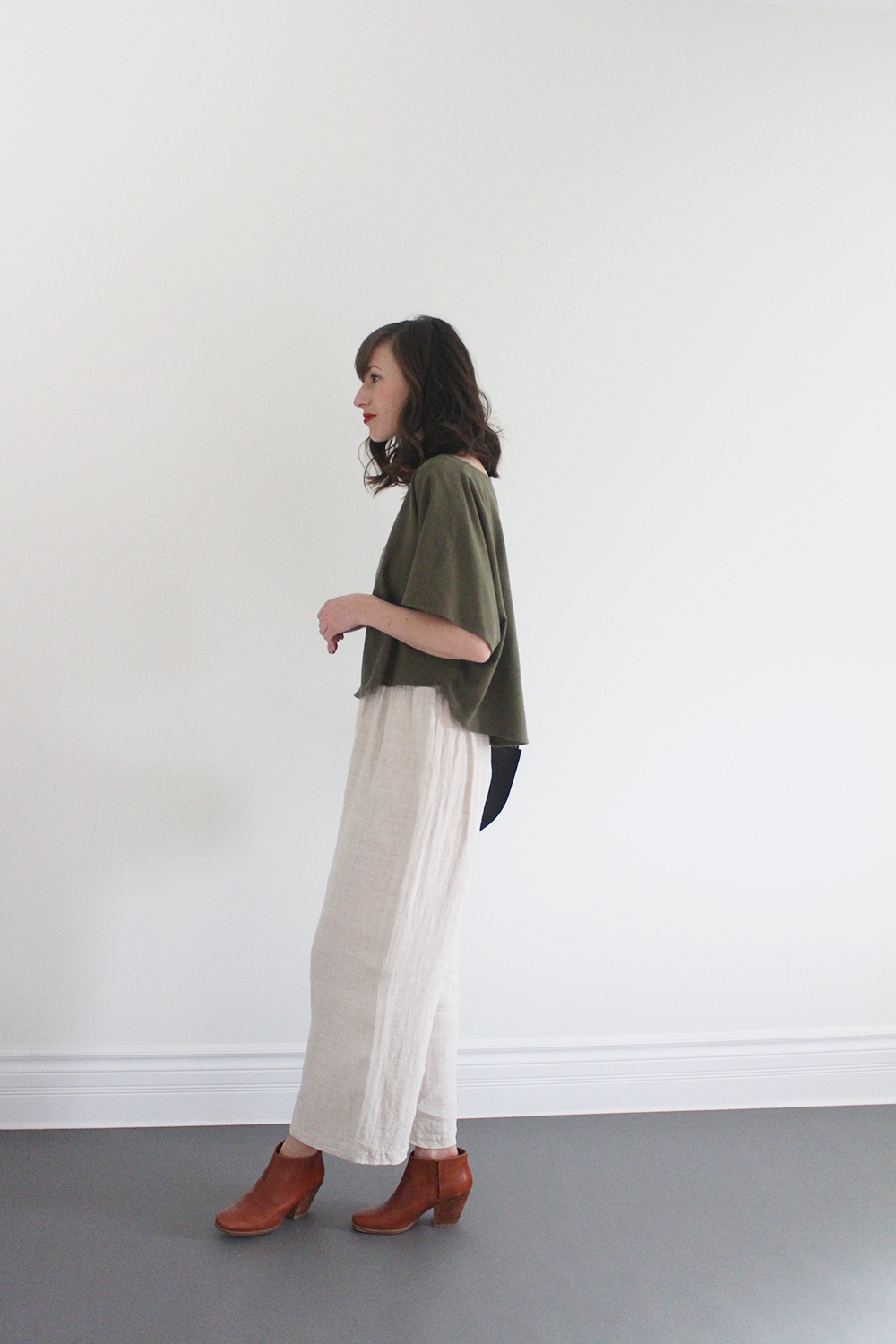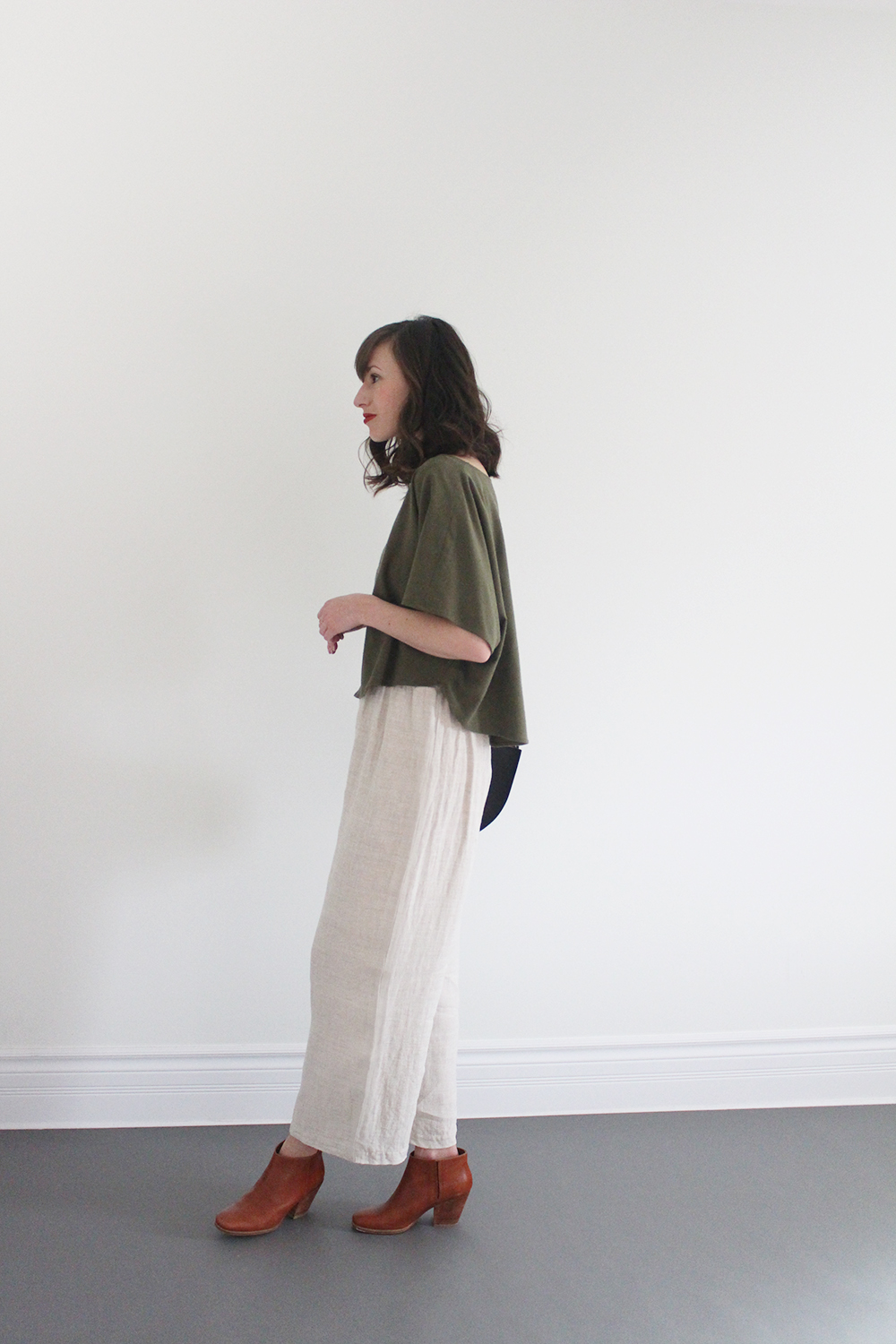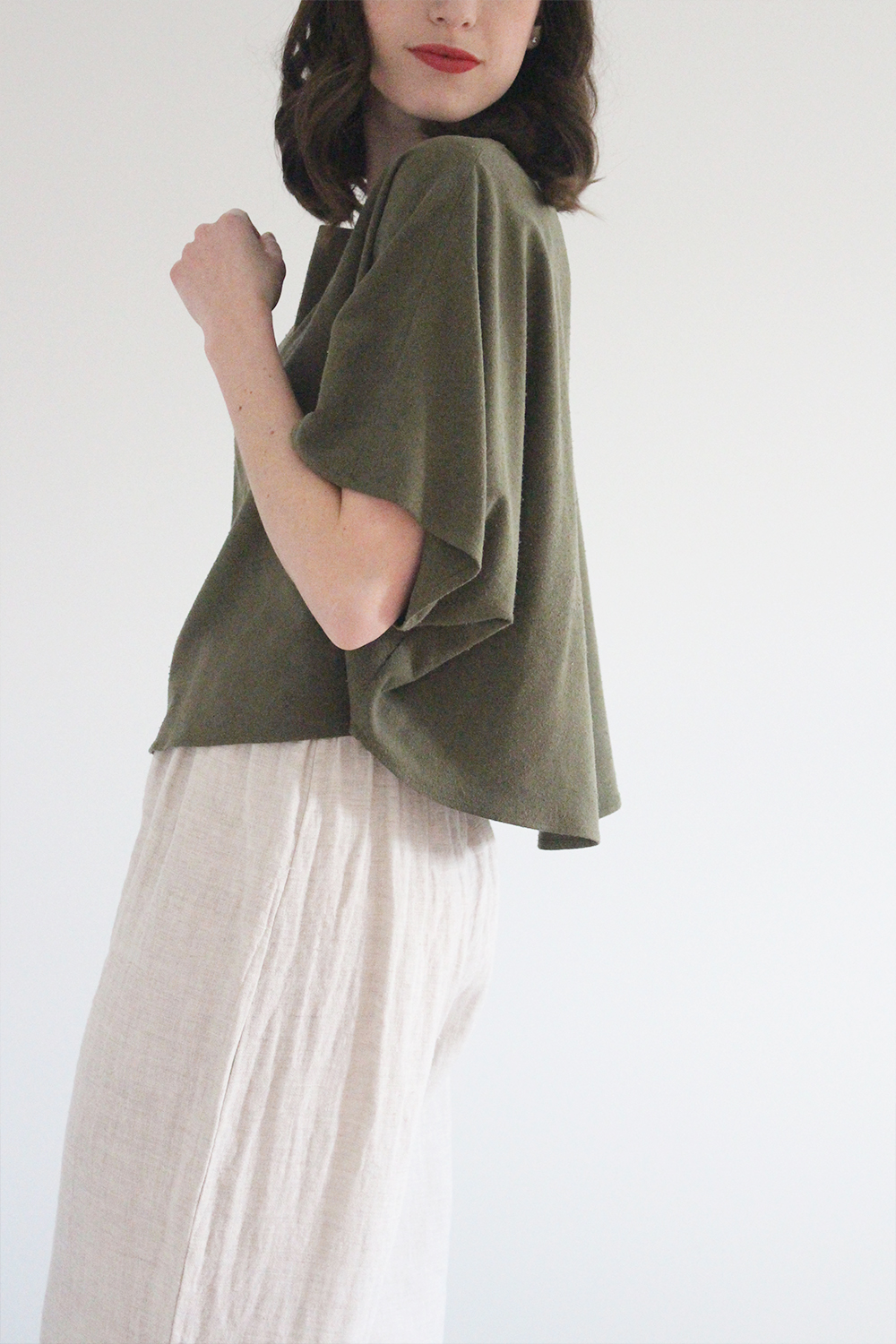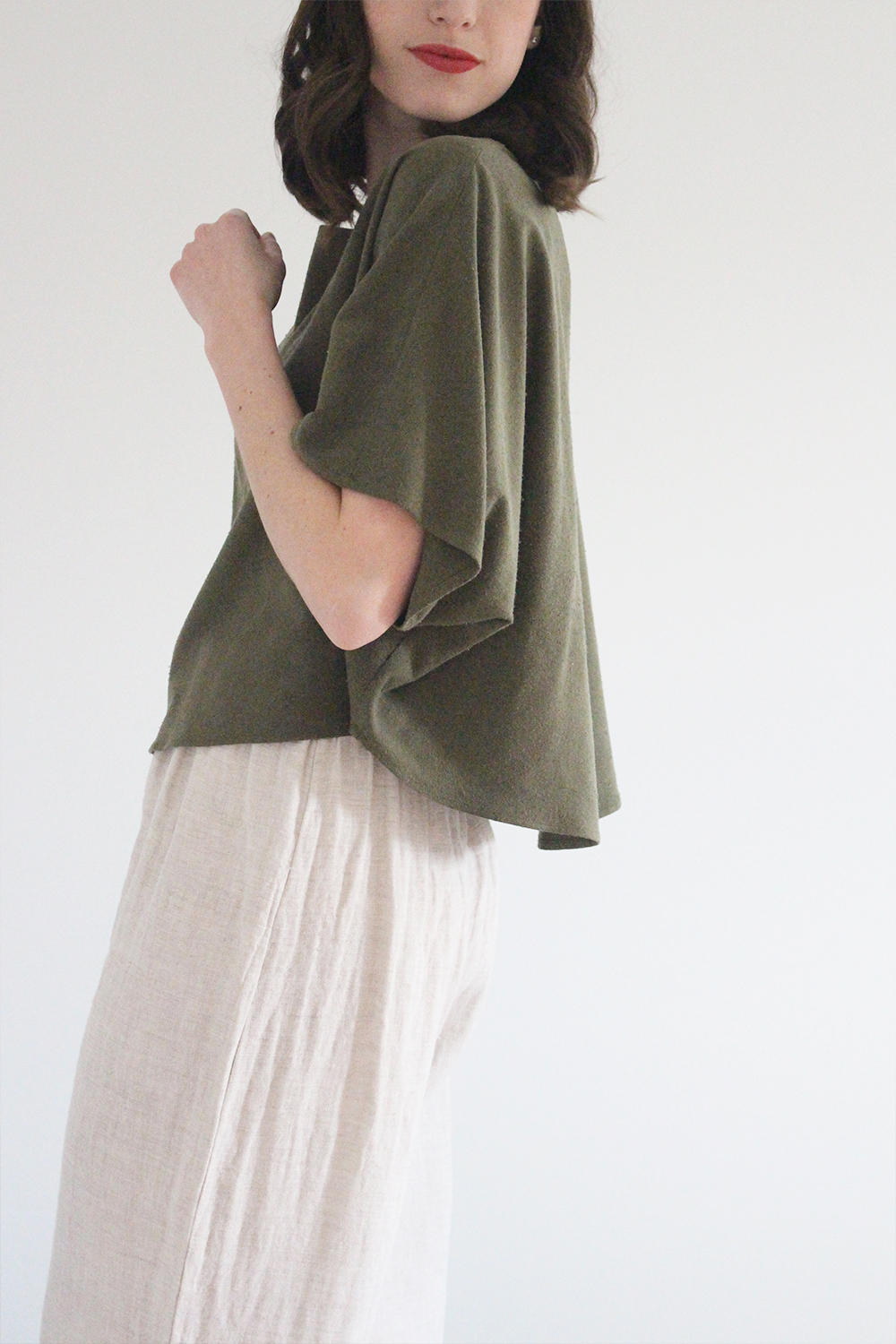 Look 1 | Blank Canvas Top in Olive | Florence Pant in Flax Linen | Mars Boot in Whiskey | Plate Necklace old Young Frankk (similar) | Eloise Bag | Cocoon Coat (similar) | Mitch Hat | Burt's Bees Lip Crayon in Redwood Forest
---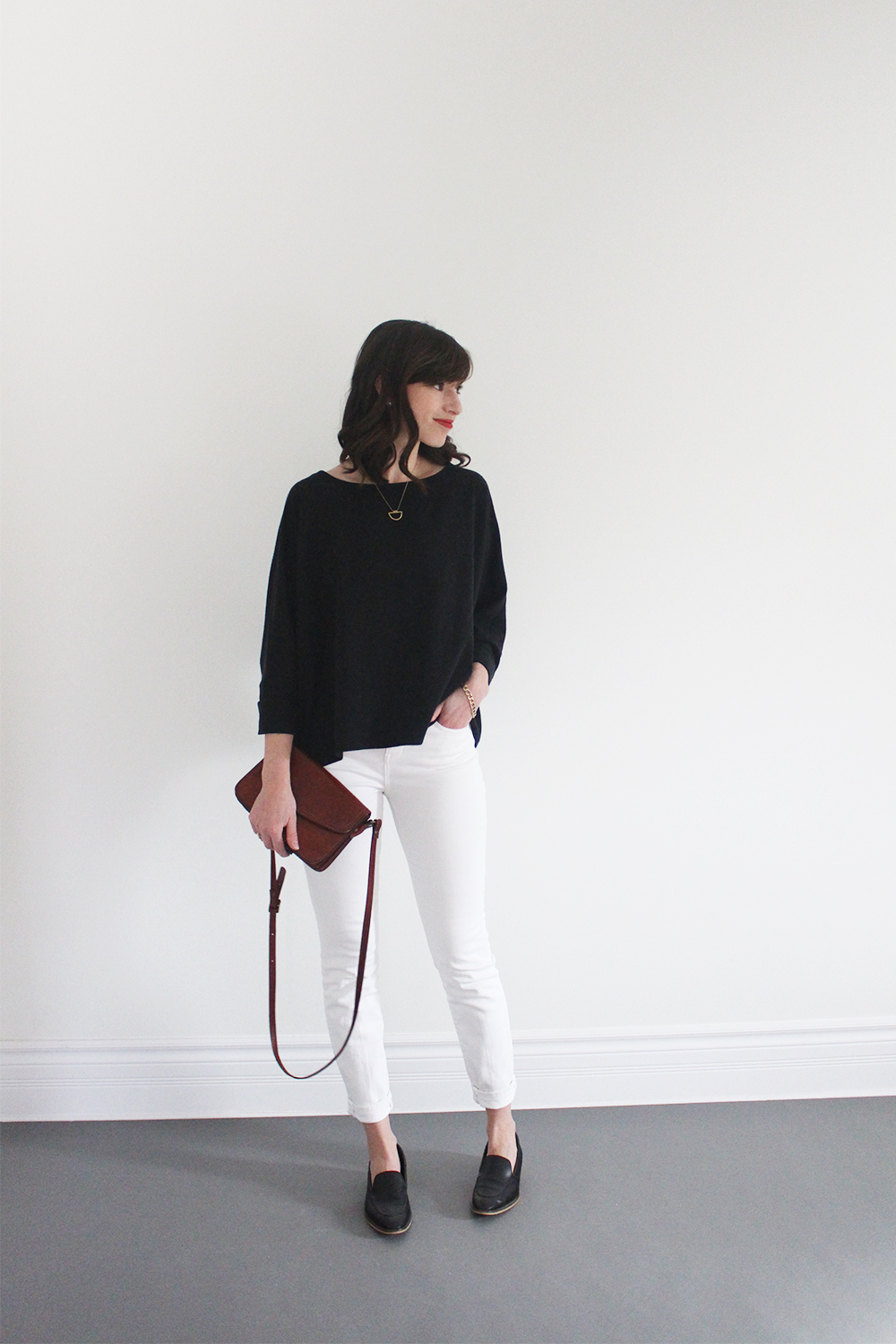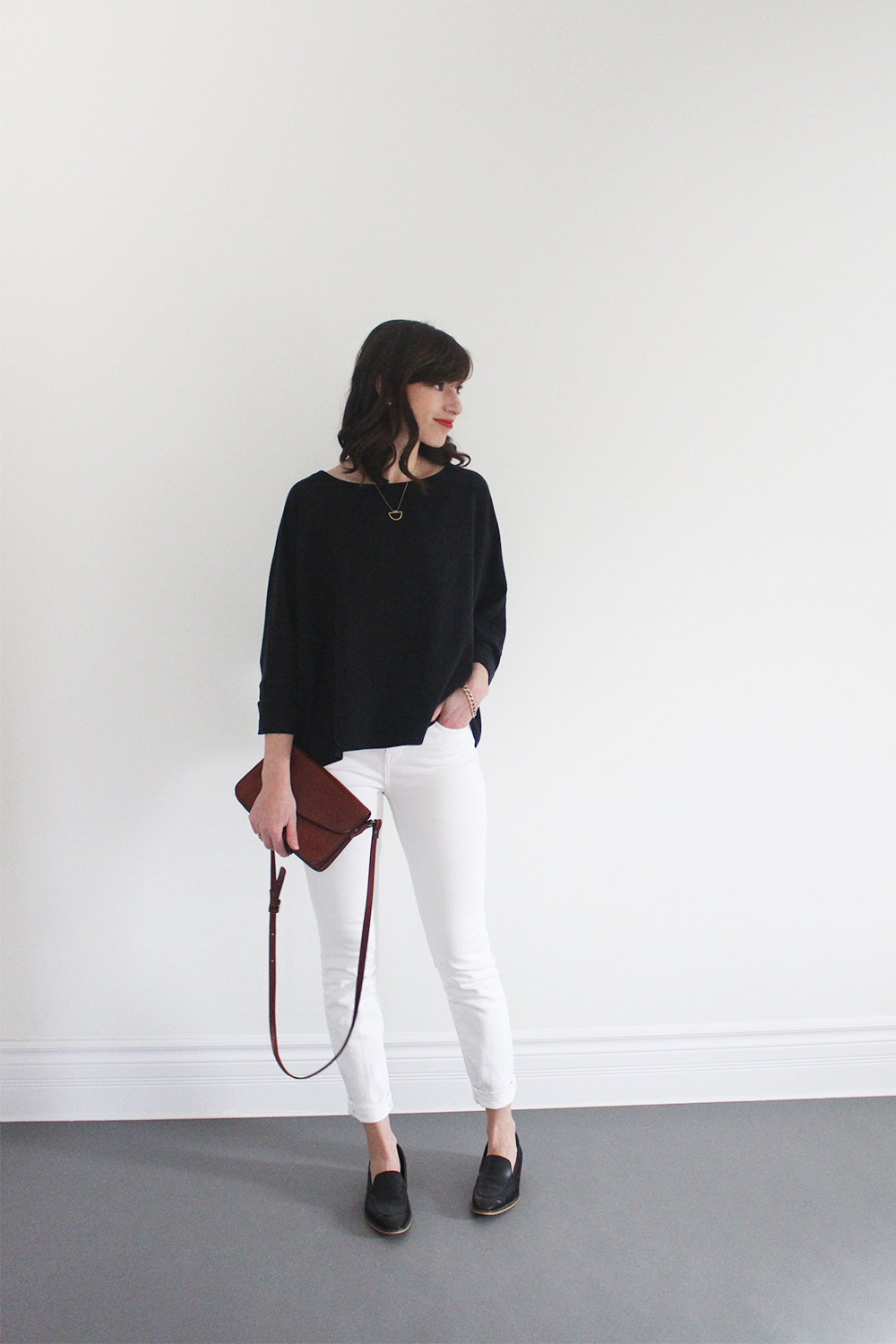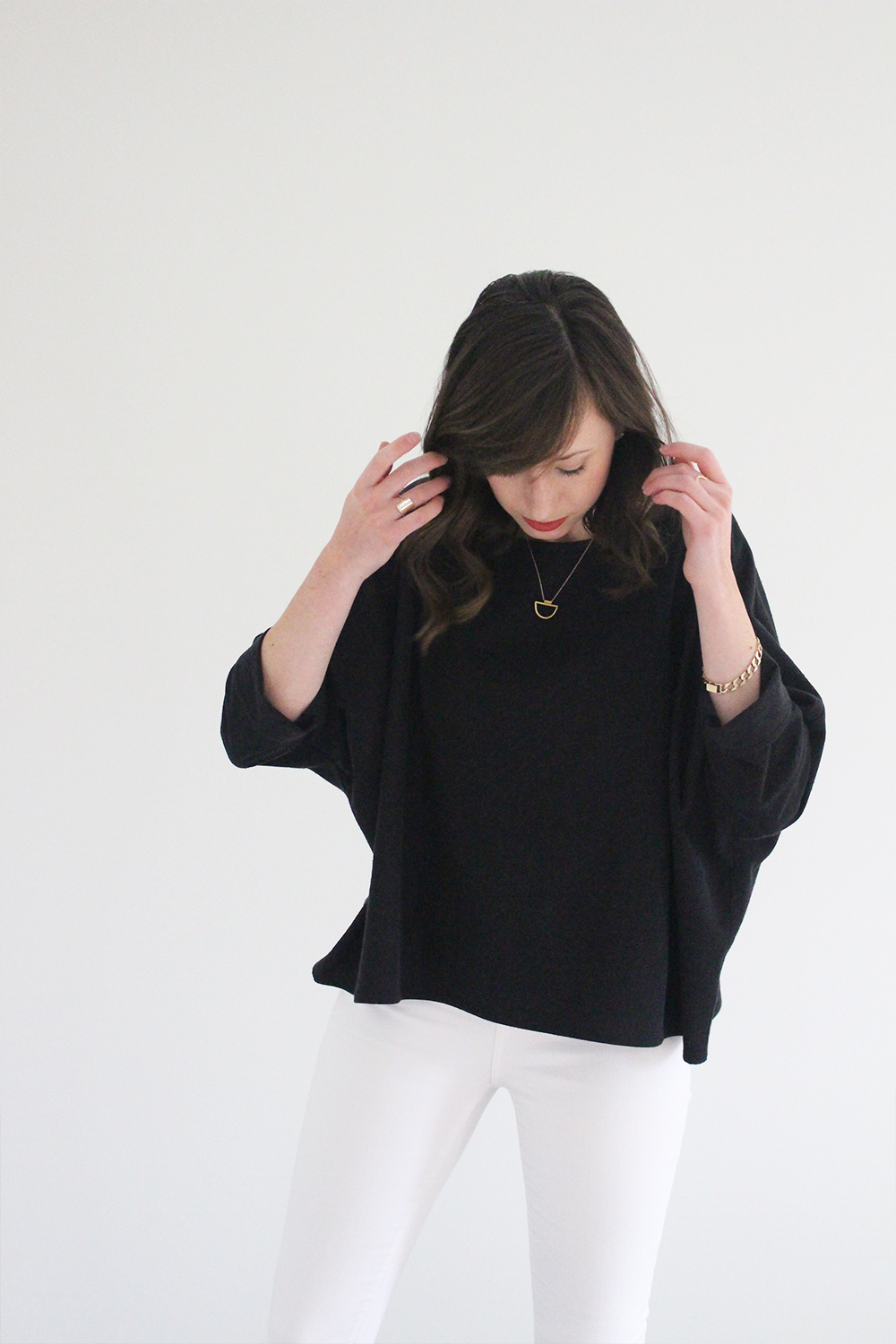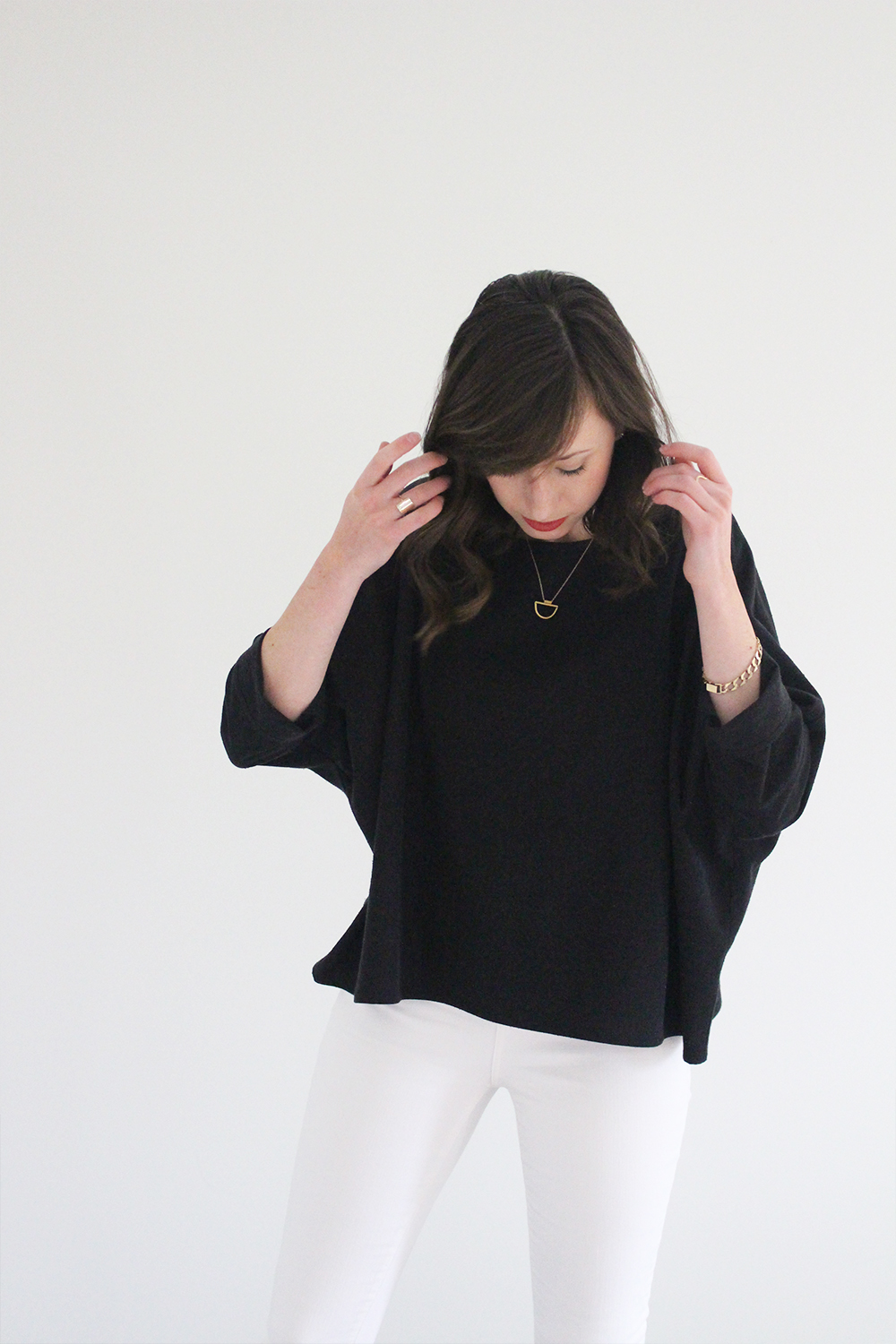 3 – You've mentioned that colour is a key source of inspiration for your collections. How do you decide which ones make the cut each time? 
We typically create a color board and see what will work best across the spectrum of J+J… Colors that we can replicate through marbling, dyeing, and the fabrics we source. We love odd color combinations and how they can be paired with neutrals. Right now we have Raw Silk that ranges from milky blush + gray to deep umber + olive. Paired with our natural + black items, they seem to just create a harmony for us that gives options for any skin tone, which is really important for our customer. 
We want to show versatility in color and pattern – That even if you wear a pop of green (hint for our next collection!), you can always pair that item with a neutral piece or layer over our marbled and dyed items for depth in your wardrobe and an artistic flair.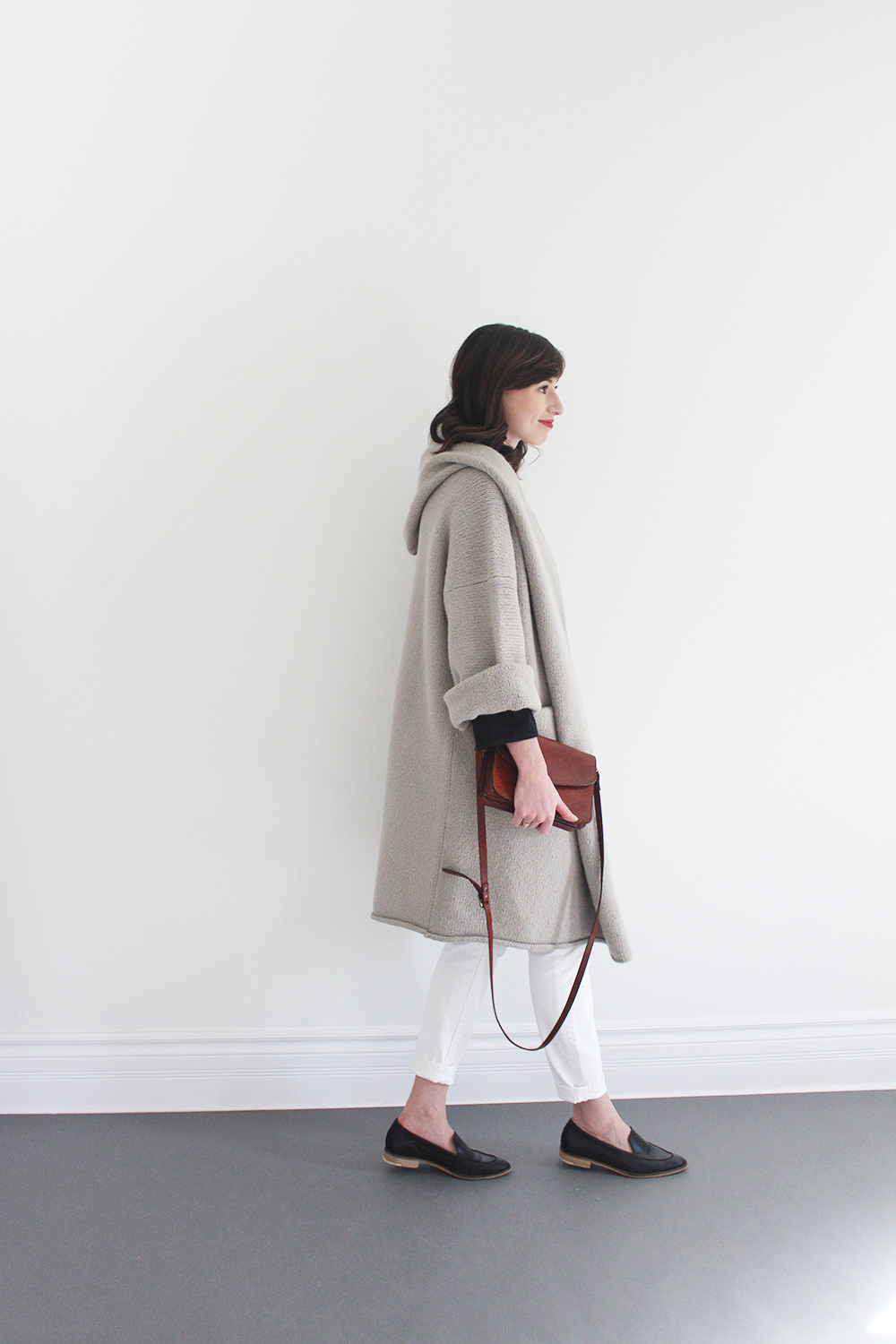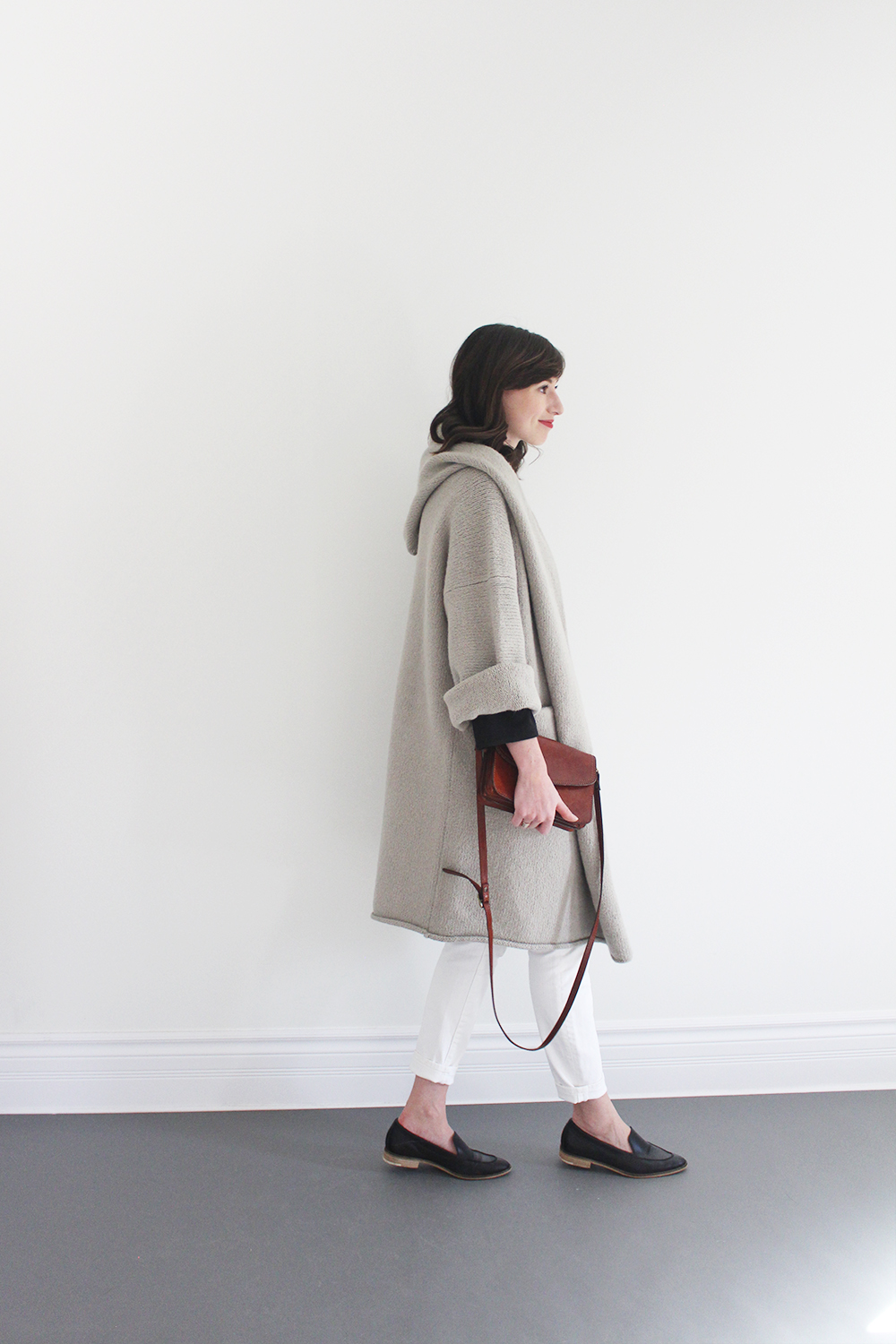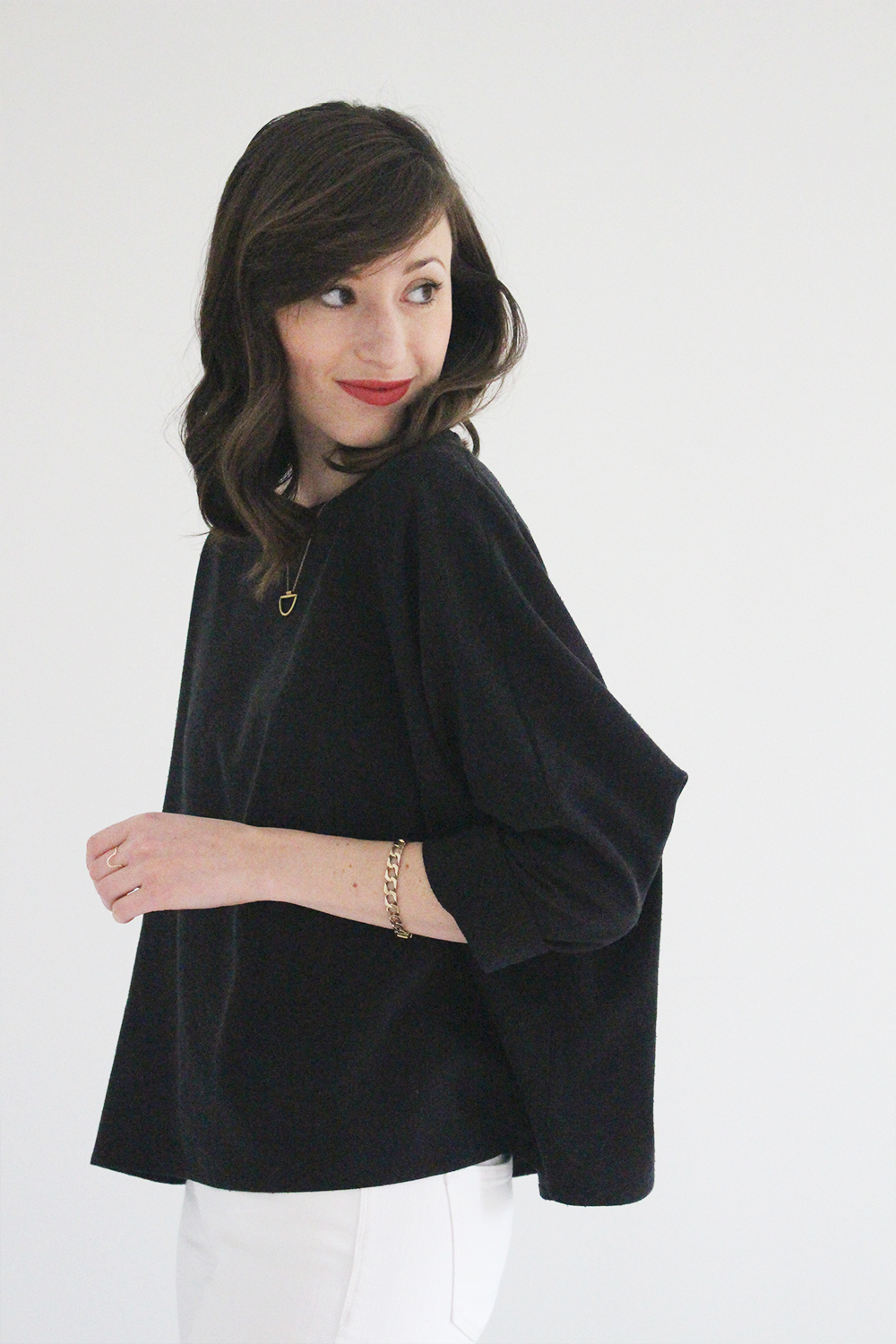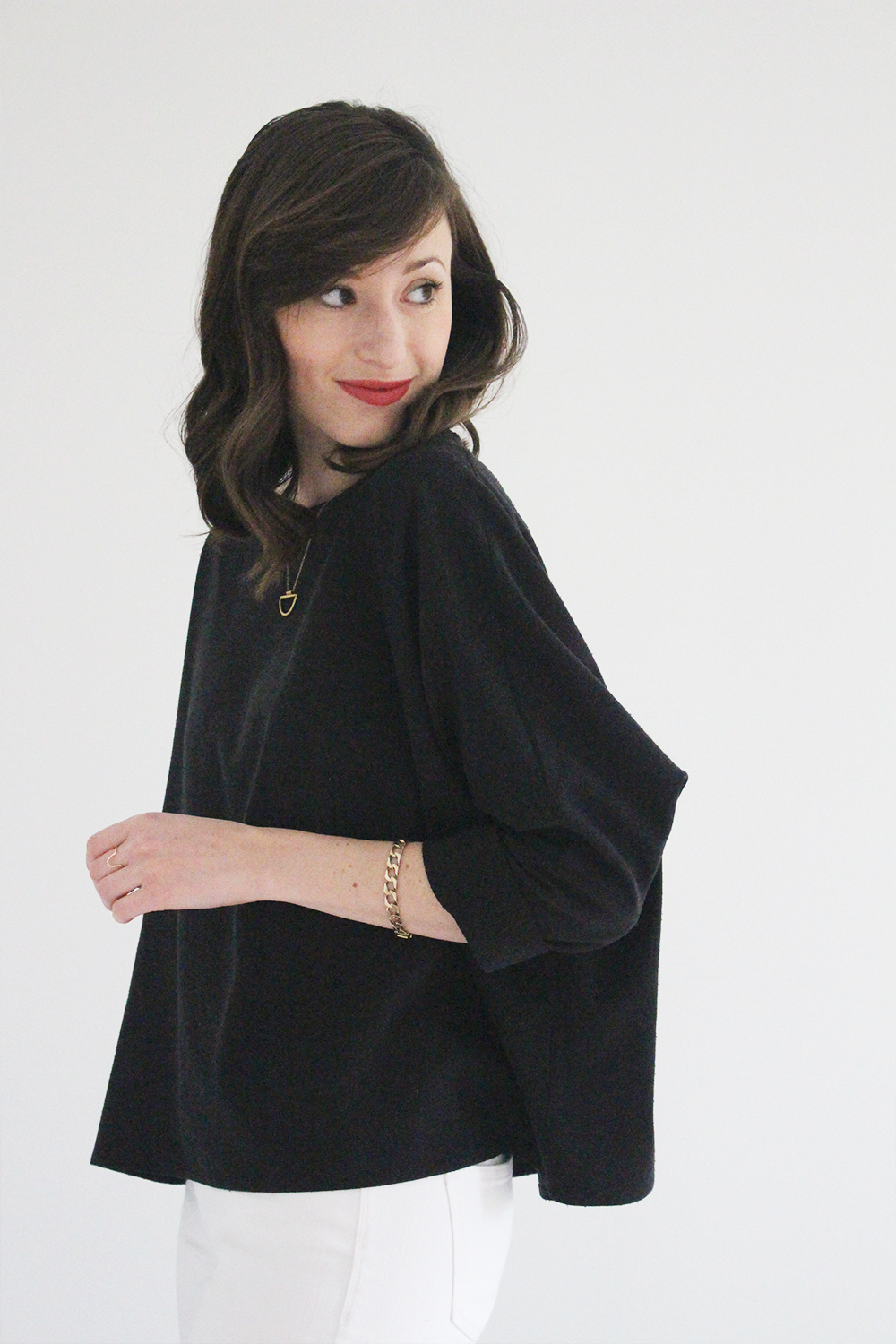 4 – What does a perfect day in the studio look, feel and sound like for your team? 
We are both fairly laid back and like to keep an easy going atmosphere in the studio.  We crave natural light and have our large warehouse door up or doors open as much as possible. The whirr of the machines is heard throughout the day, coupled with our ever changing music tastes. One day we may be listening to some Golden Oldies, the next Beach House.  Sometimes books on tape or podcasts may be playing (Hannah especially), or silence while patterning and planning is favored (Jamie loves silence). 
We have a small team including us, a head seamstress, an intern and pattern maker. A perfect day may start with answering emails over some tea or coffee and planning out our day and future projects. Next we may have a meeting planned for an upcoming collaboration and then continue with our day to day tasks such as cutting, shipping and collection updates. 
Another version of a perfect day would be when we are not in our studio, but in the marbling studio of Teresa Hays where we get to design our fabrics and lay the yardage on the marbling bath, then bring it outside to hang on the line. In the spring and fall, it is so relaxing to be creating in the marbling studio.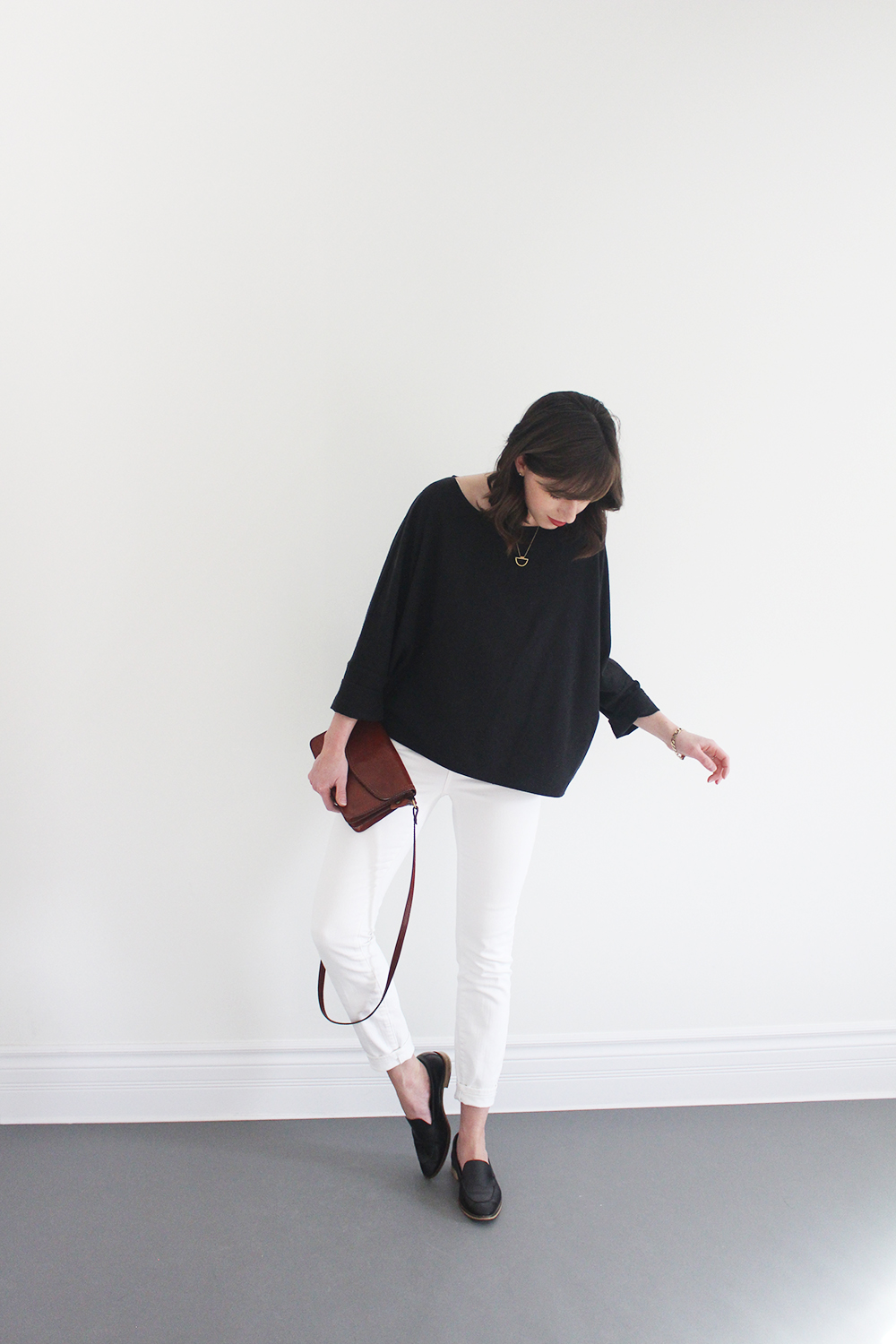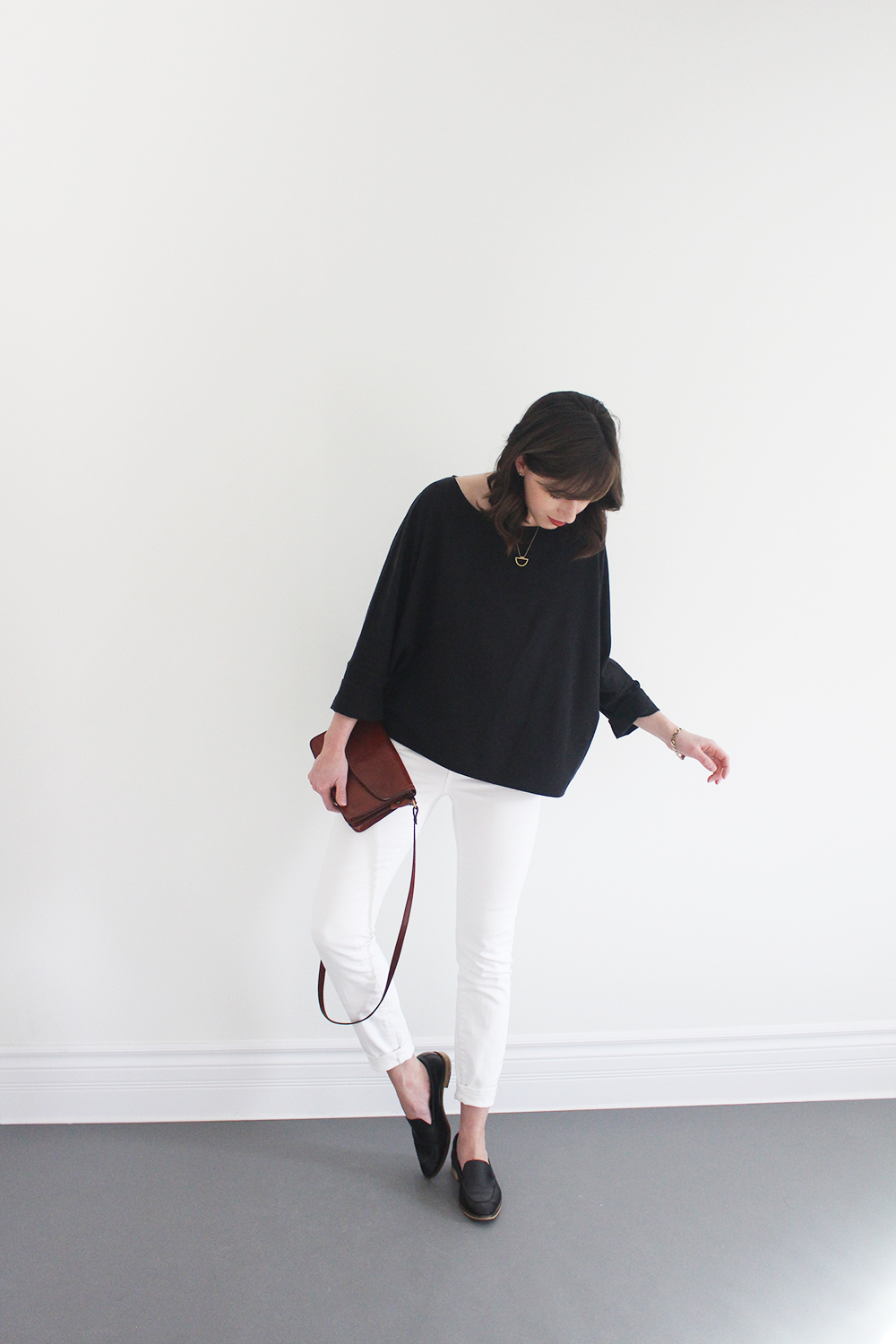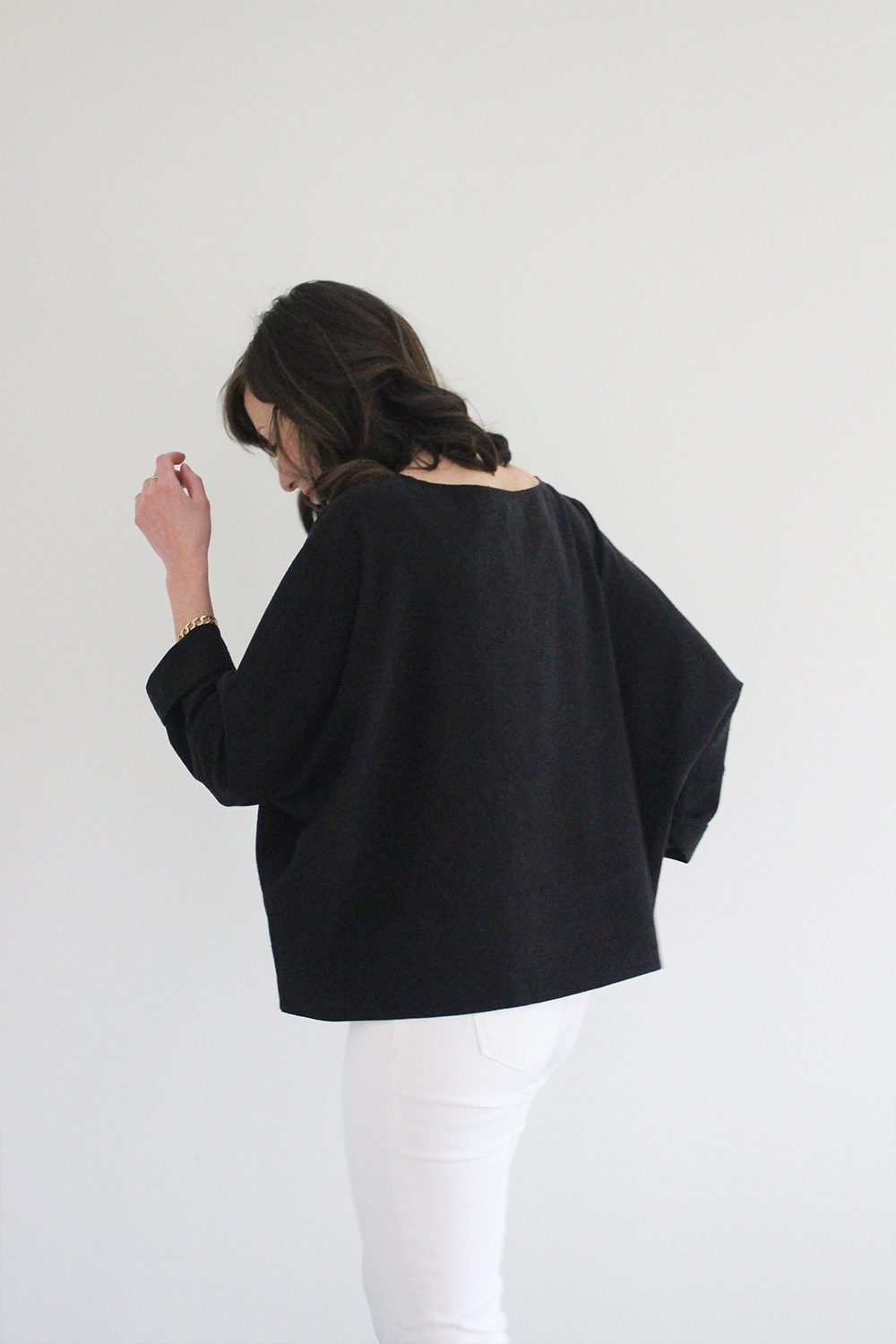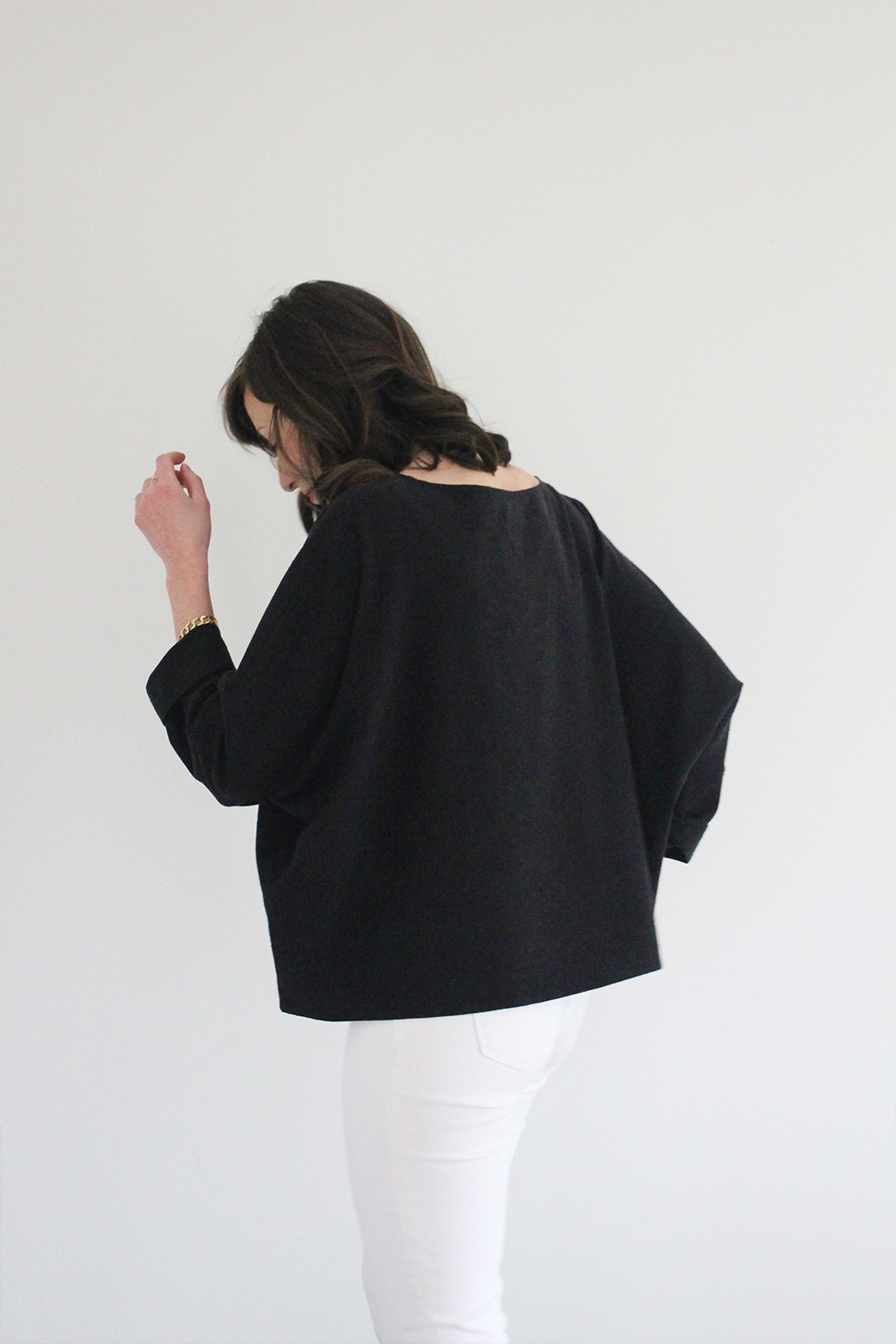 Look 2 | T Top in Black | White Jeans | Black Loafers | Capote Coat s/o (cream) | Arch Ring s/o (similar) | Bow Necklace | Vintage bag (similar) and bracelet
---
Psst! You can win your own T Top in any colour by entering the giveaway happening on Jamie + The Jones' Instagram. Contest runs now through Friday. Don't miss out!
---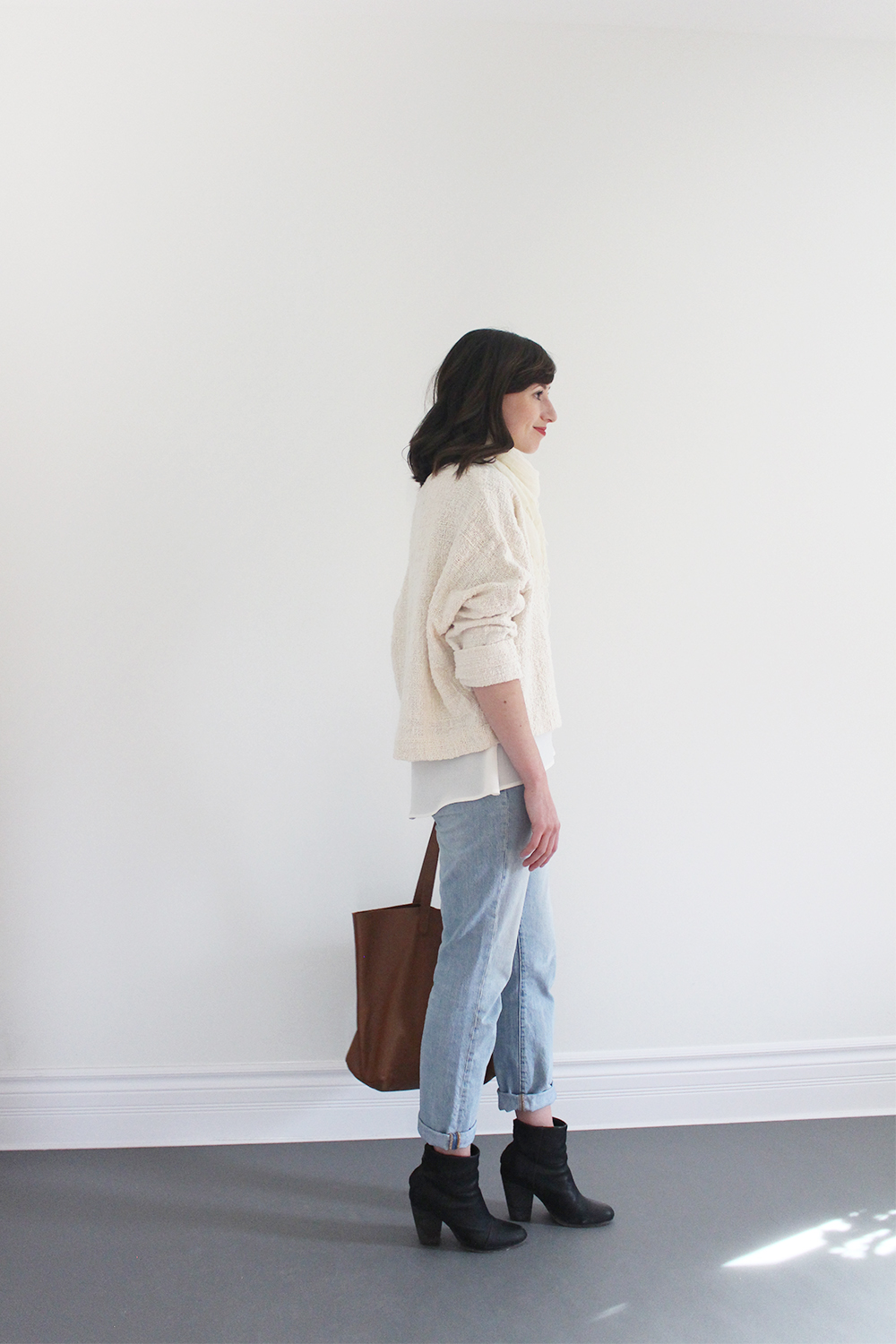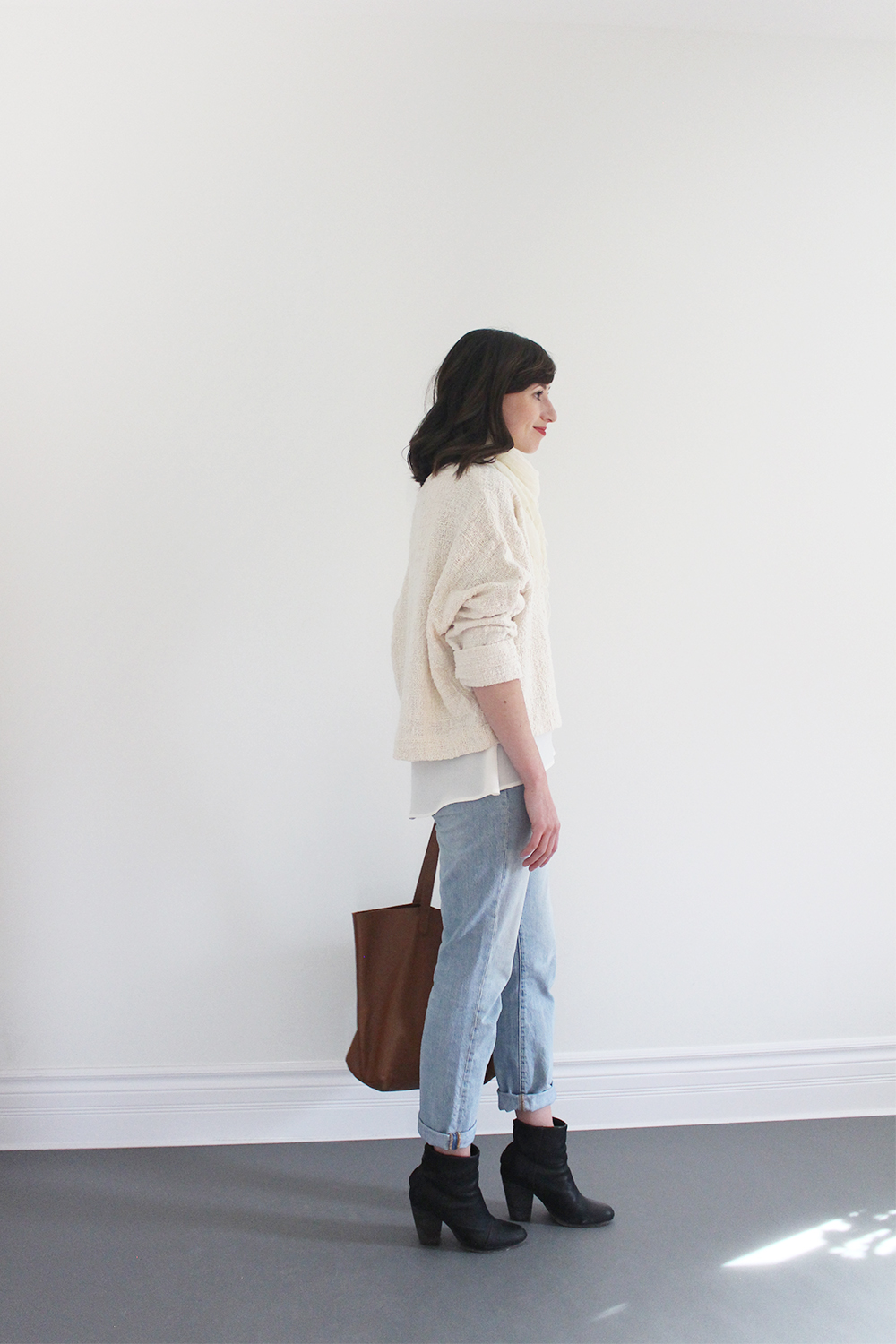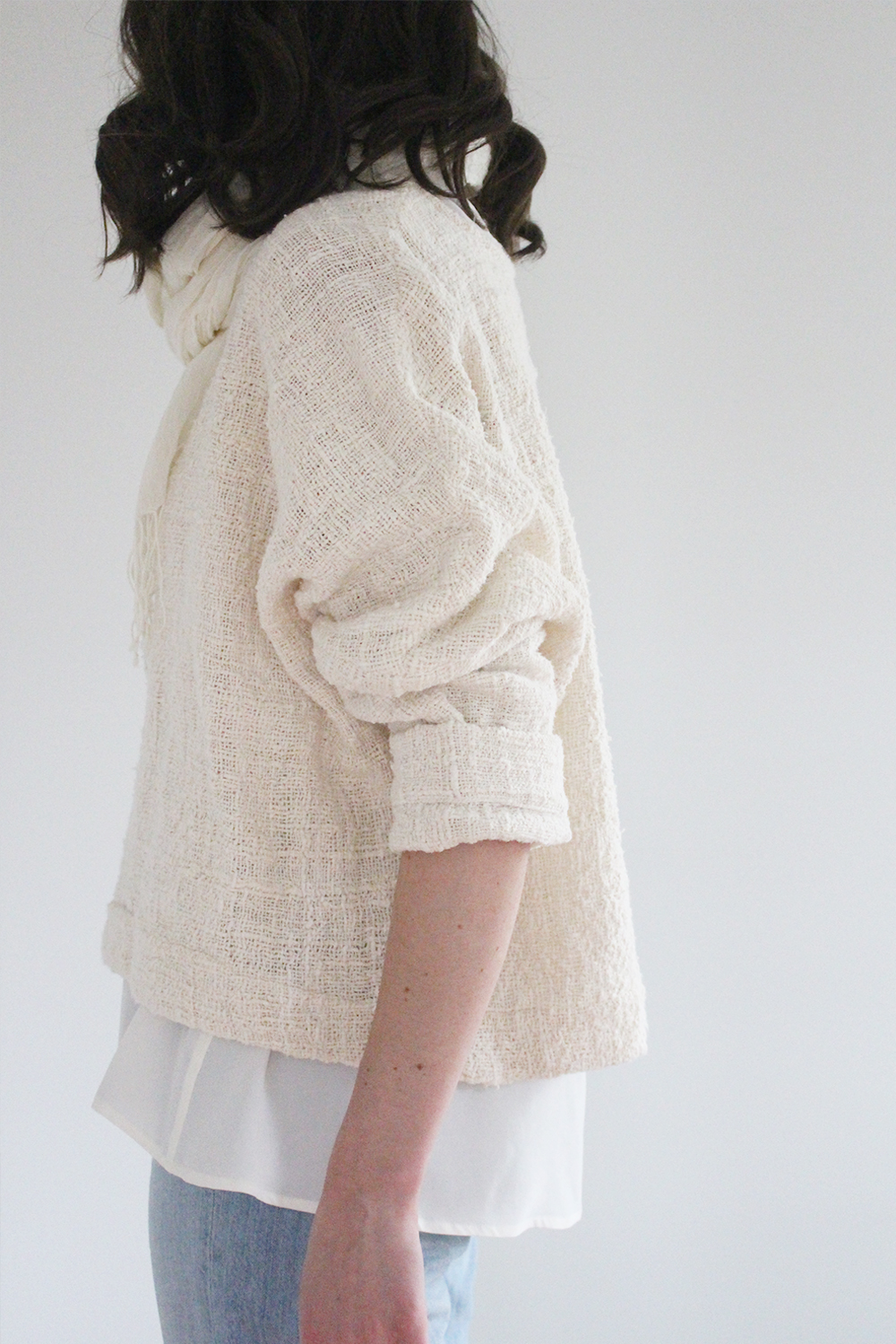 5 – What is your go-to piece from the current line and what do you love to pair it with? 
Hannah: I tend to wear a lot of black, so my favorite item right now is our Pocket Box Top in Black Denim because it has a modern structure that is just different from your normal shirt. I am typically wearing jeans and have somehow acquired a terrible (great) obsession to Vince shoes, so I would consider those my day-to-day items I can't get enough of. Recently, I have been layering a Black + White striped shirt under The T Sweater, and I am not afraid to admit how many times I have washed either of them – not at all, never…Oops. I use our Potion #1 as a scent refresher – a couple of drops in the hand, rub all over T Sweater, toss in the dryer – and I go. Confession: Complete. 
Jamie: Currently I am 7 months pregnant.. haha. Yet since our silhouettes lend themselves to so many different body types, I am still able to wear my J+J garments. I tend to lean more toward comfort at any stage in my life, and I want something I don't have to think or fuss too much about.  In these colder months here in Nashville, I have been wearing our T Sweater layered with my maternity jeans or leggings and a tank underneath.  It is the epitome of comfort while still feeling put together.  I also love the T Top in Marbled Black + Cream. It is such an elegant statement piece when I need to be little dressed up, and it is still incredible to me (even after years of marbling) that each piece is different, and I know I am the only one wearing this one unique print.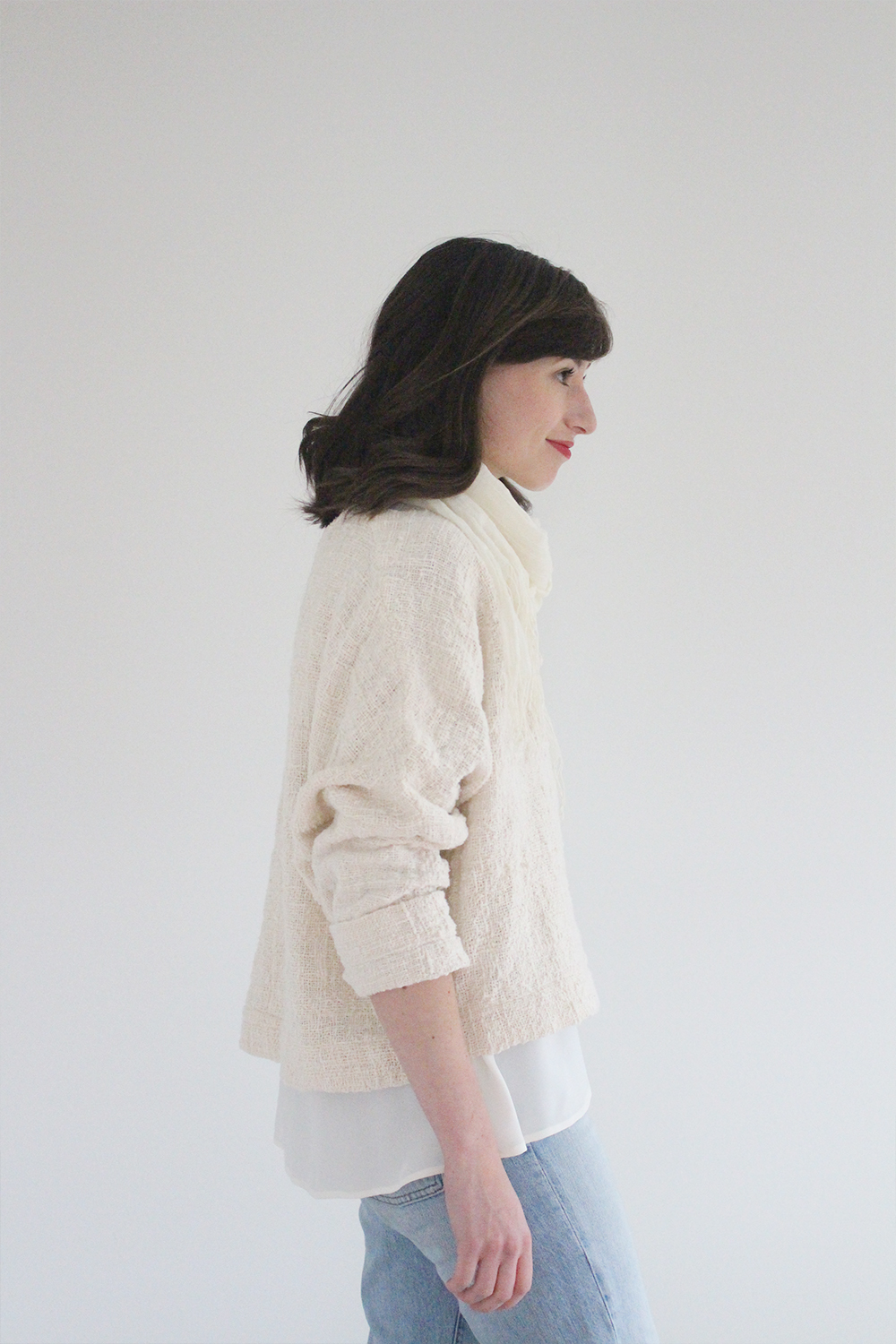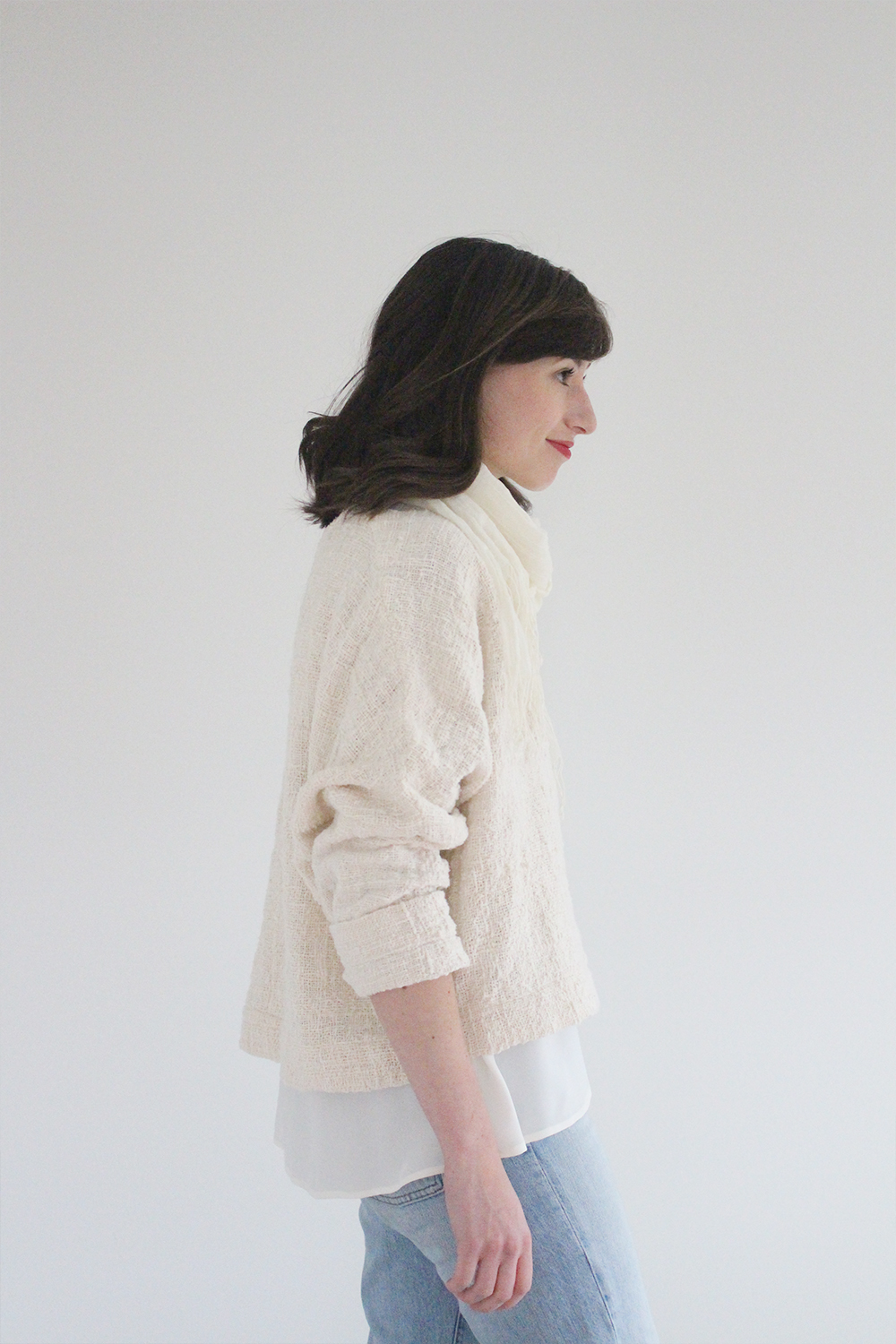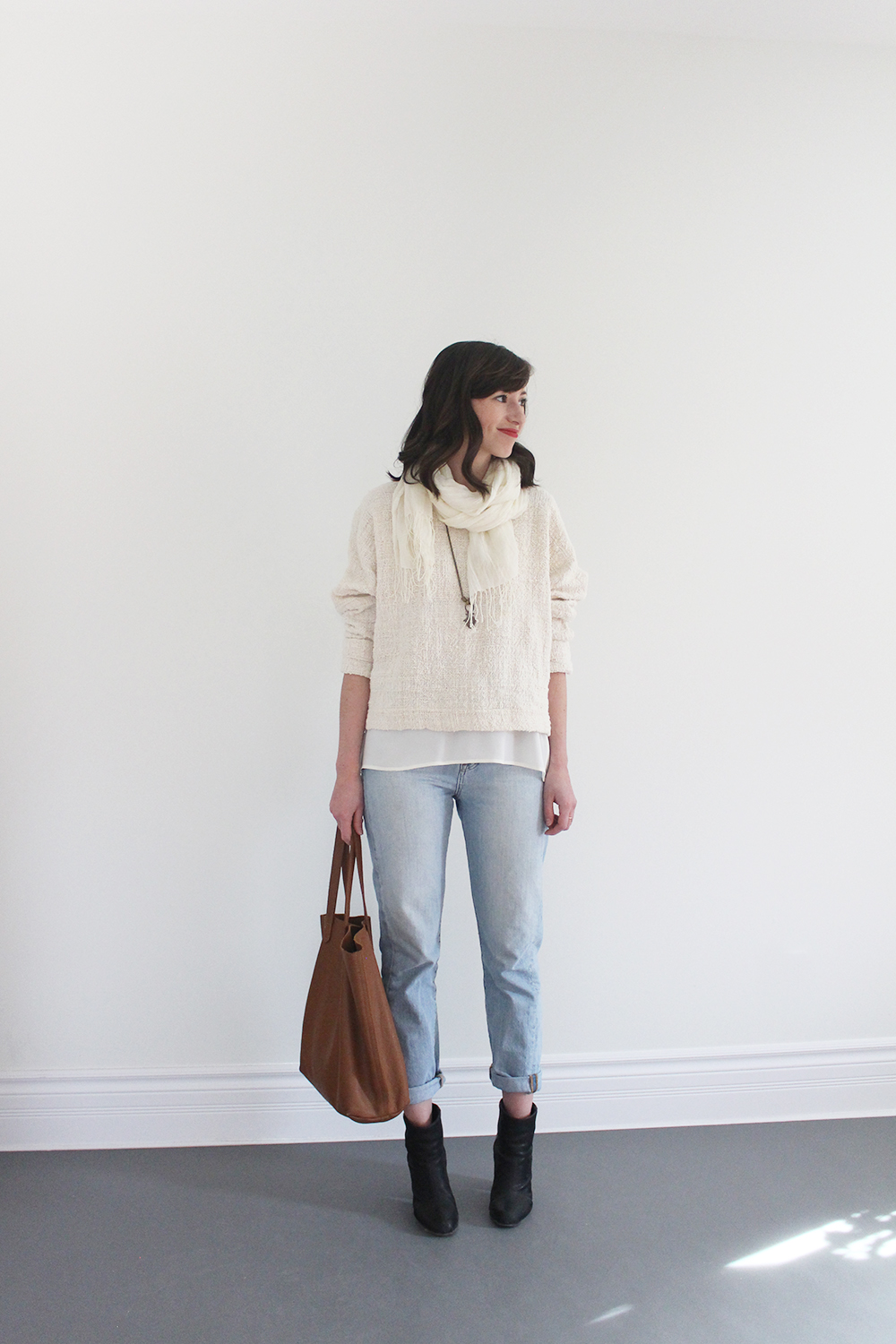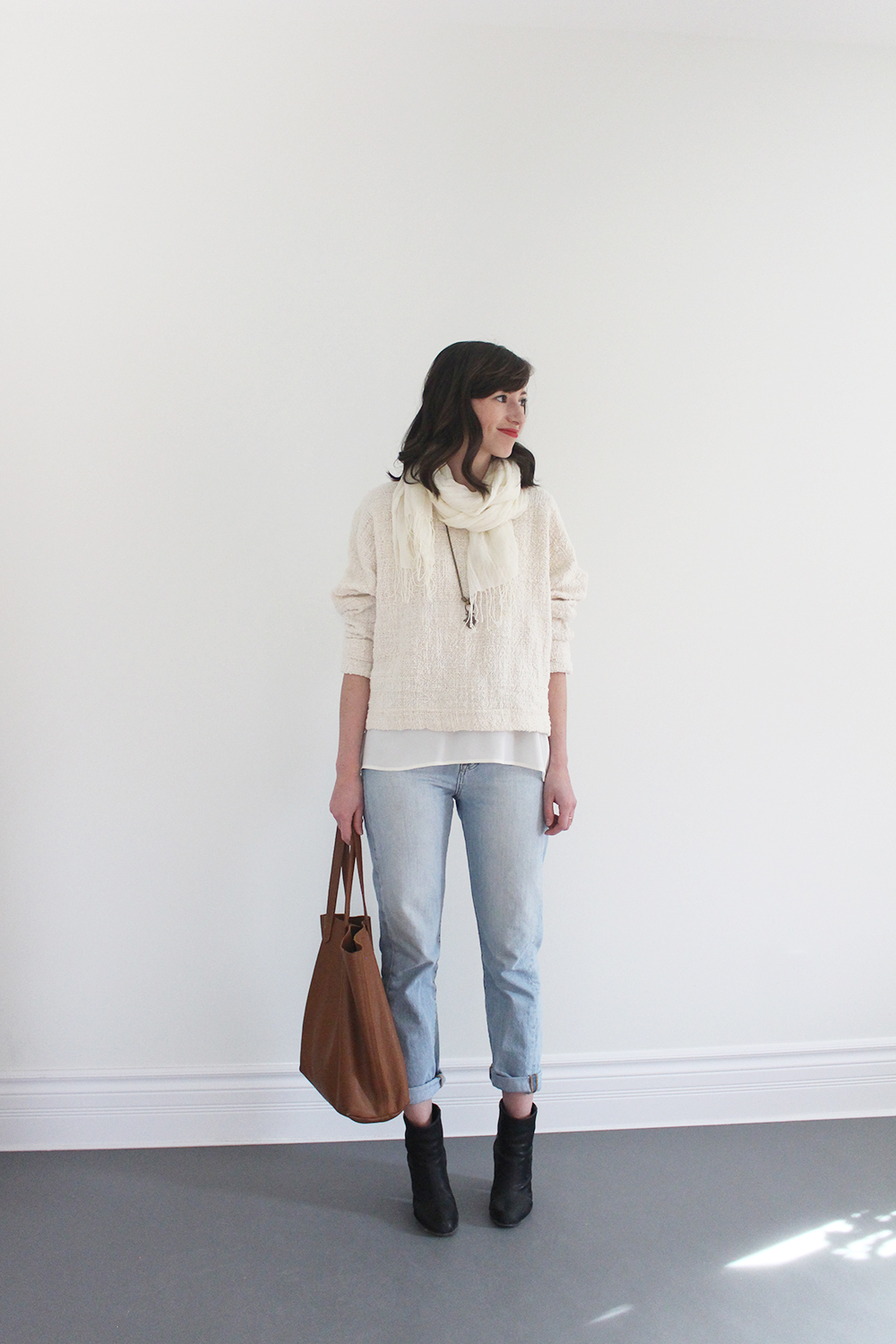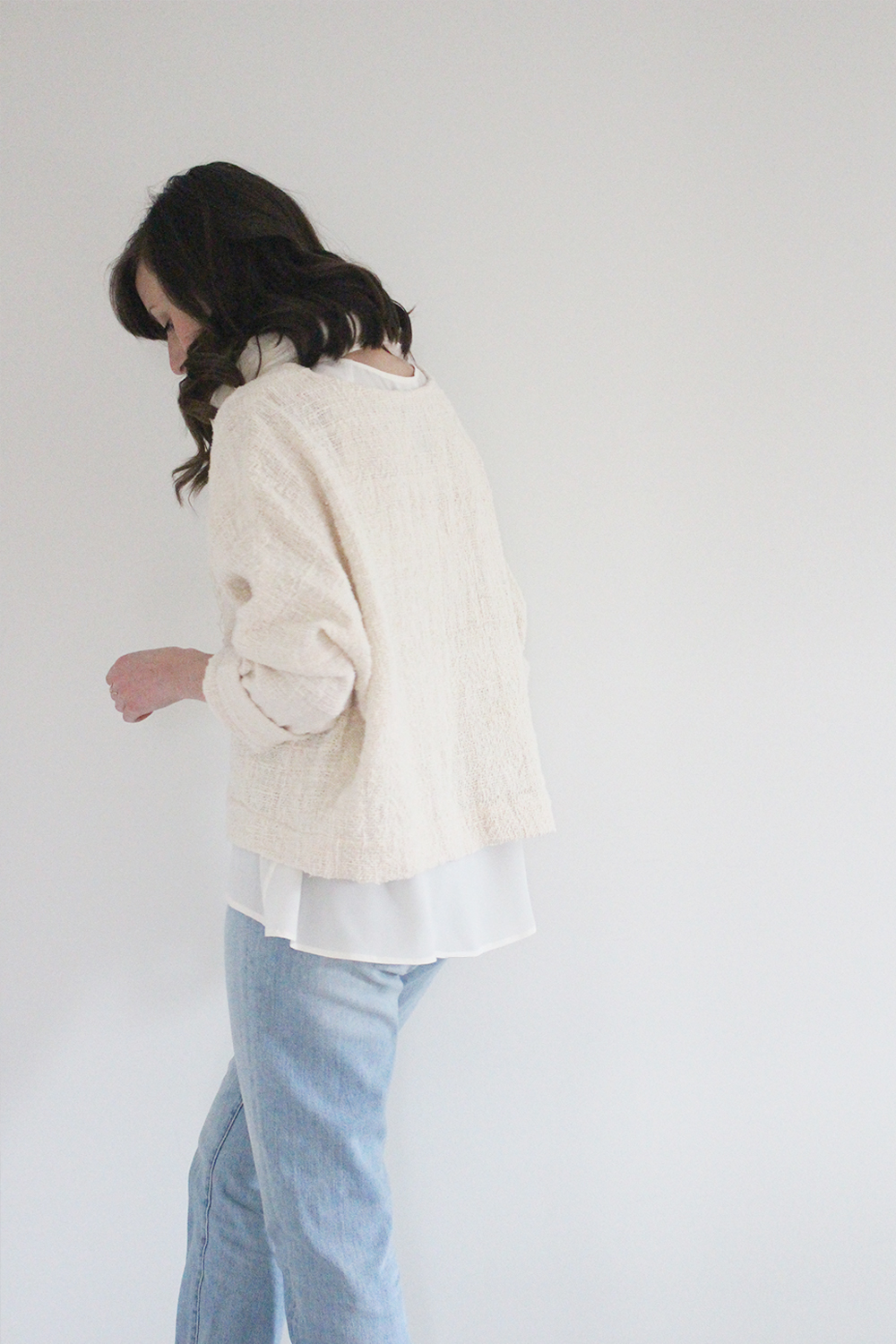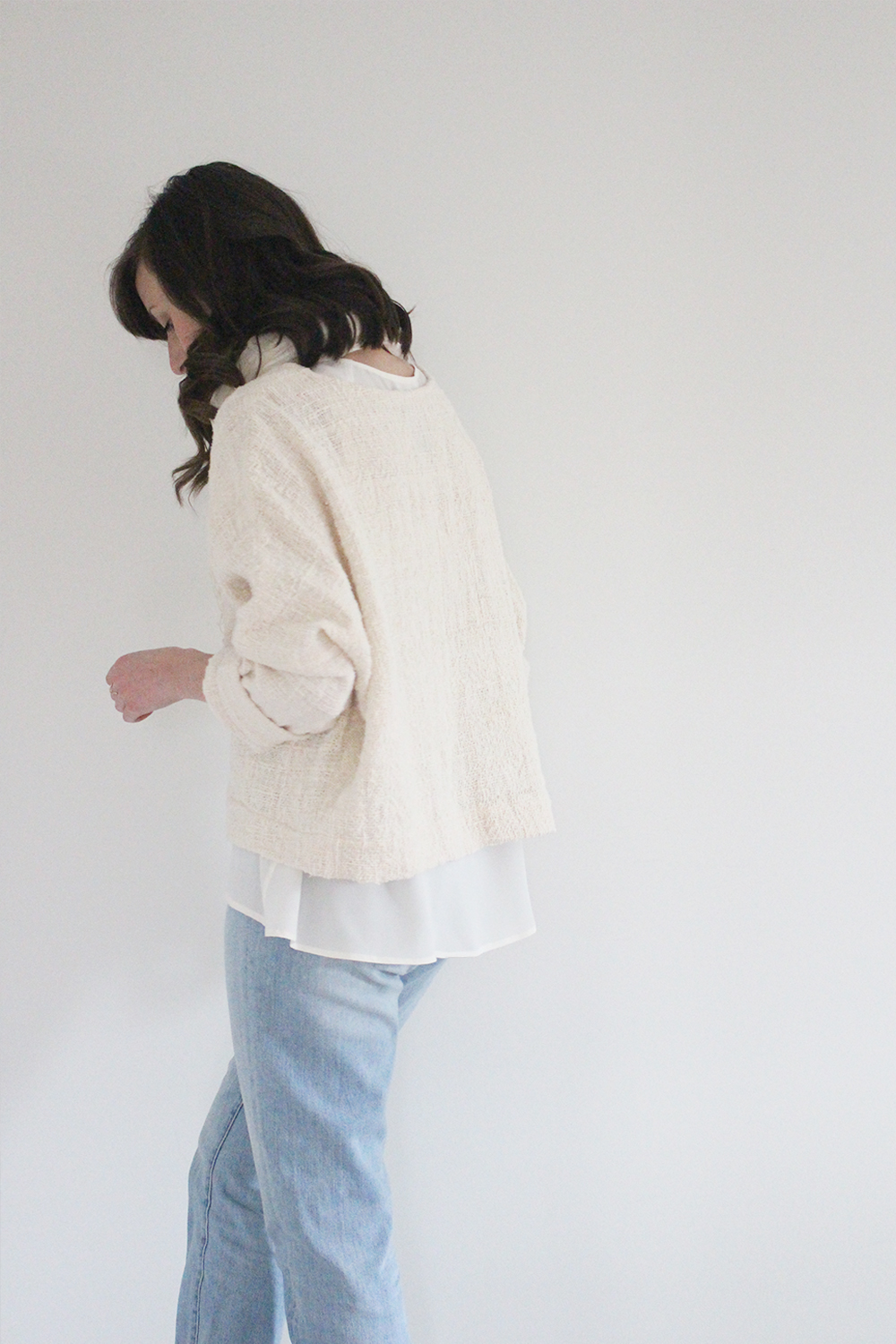 Look 3 | T Sweater in Cream | Silk Tank | Summer Jeans | Newbury Boot | Tote | Necklace | Scarf old (similar)
---
Huge thank you to Jamie + The Jones for partnering on today's post! As always all opinions are my own.