Judging by the endless stream of pie photos in my feed, I gather it was American Thanksgiving yesterday. Happy belated Turkey Day friends! I hope everyone enjoyed some time with family or friends and that you now have the day off to digest. We got our fill of turkey, pie and all the fixings in October so it's been business as usual here this week but I've had a few moments to start thinking about the upcoming holidays a little more.
This year we don't have any office Christmas shindigs to endure enjoy but there are still a few fun festivities worth planning an outfit for! I'm trying to take a casual approach to dressing this holiday season by sticking to easy silhouettes, luxe fabrics with subtle nods to the colours and textures of the season and this outfit happens to fit the bill just right!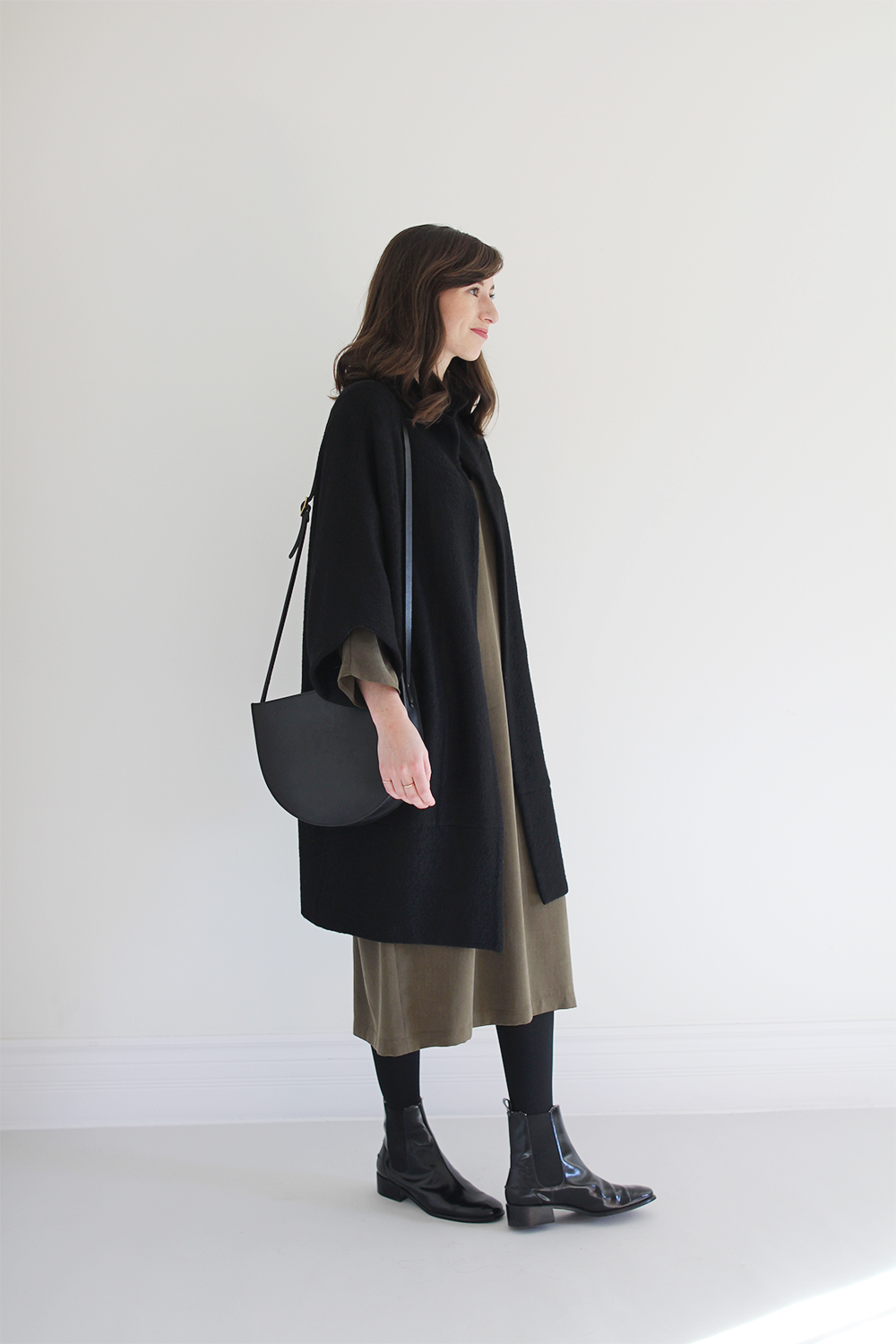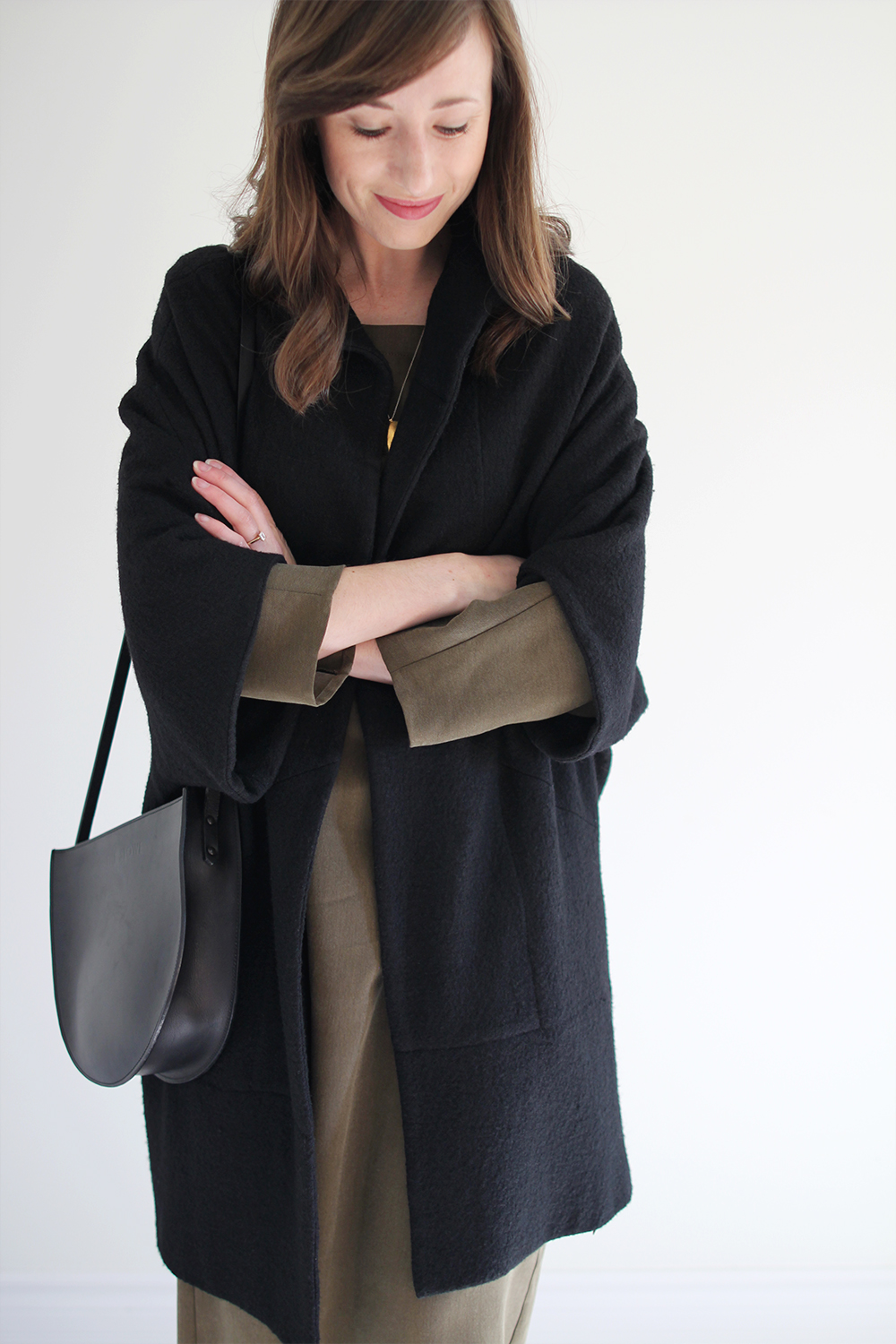 ---
INITIAL THOUGHTS
I love the contemporary, minimalist vibe this look exudes. It's the perfect amount of both polished and laid-back for a family dinner, drinks out with friends or a holiday house party. Heck I'd wear this to a matinée or a festive brunch too!
For once I feel like I'll be comfortable all night whether we're sat at a table, out for a snowy stroll, swinging on a dance floor or cozied up on a couch. Too many times I've felt like I'm in a 'standing only' outfit or constantly self-conscious of the infamous post-dinner food baby. Not in this forgiving number though!
Not everyone is into oversize dresses I know, but I am, as long as they're made of something super slinky that moves with you, to give hints at your figure and doesn't just baloon out. This one does just that. The open neckline, deep back slit and sensual material make it feel very feminine to me without being in your face about it. That's my kinda 'come hither' for sure.
---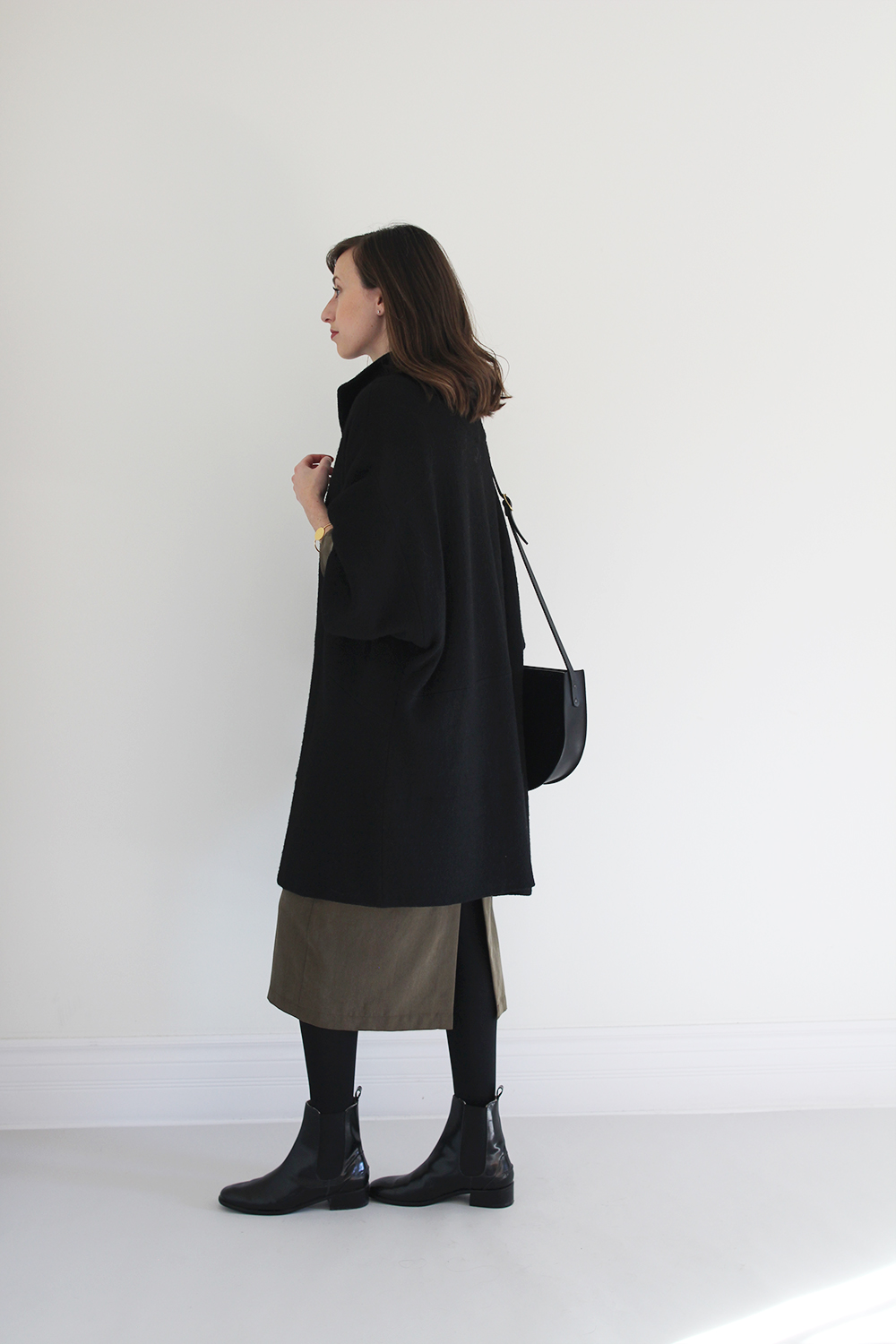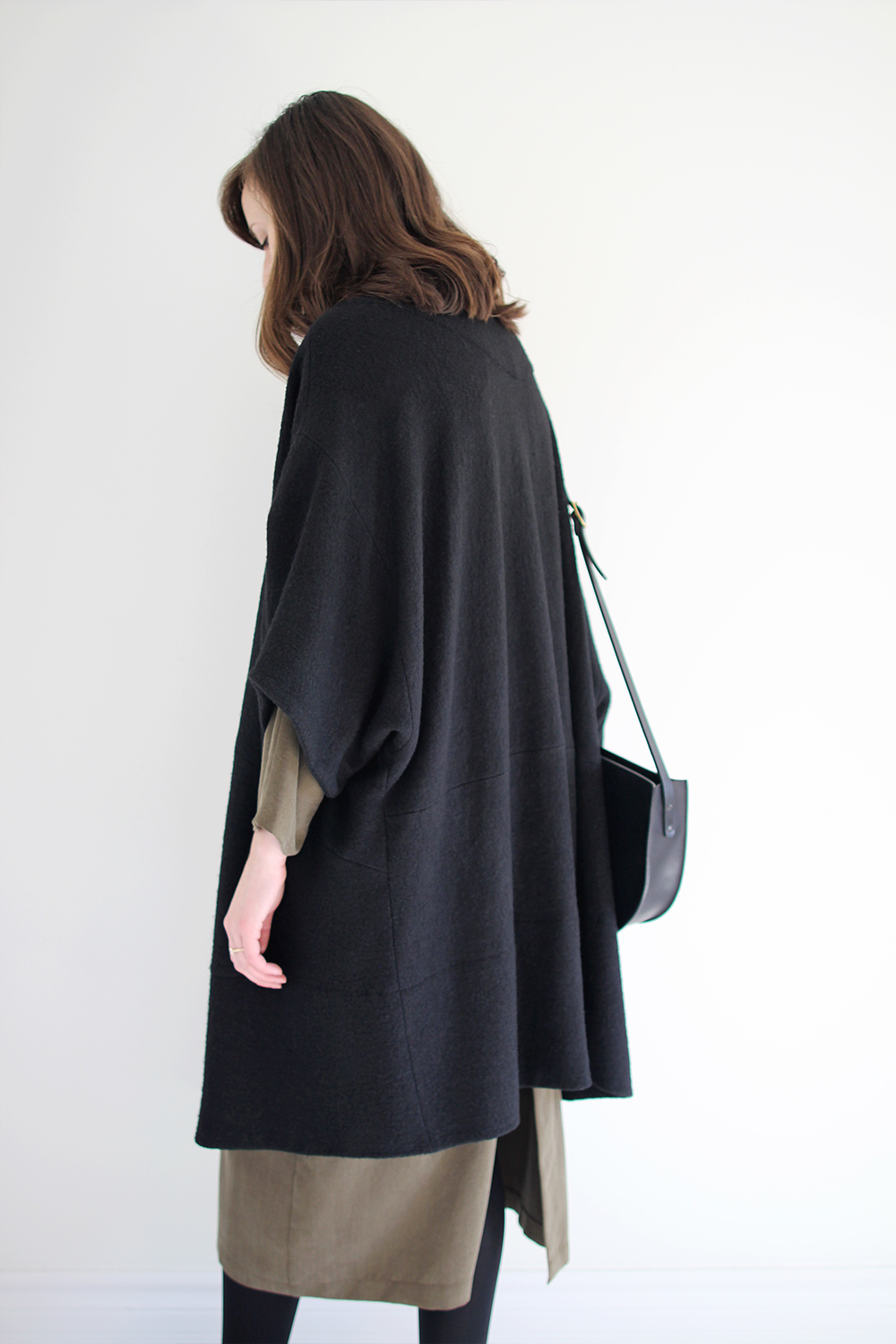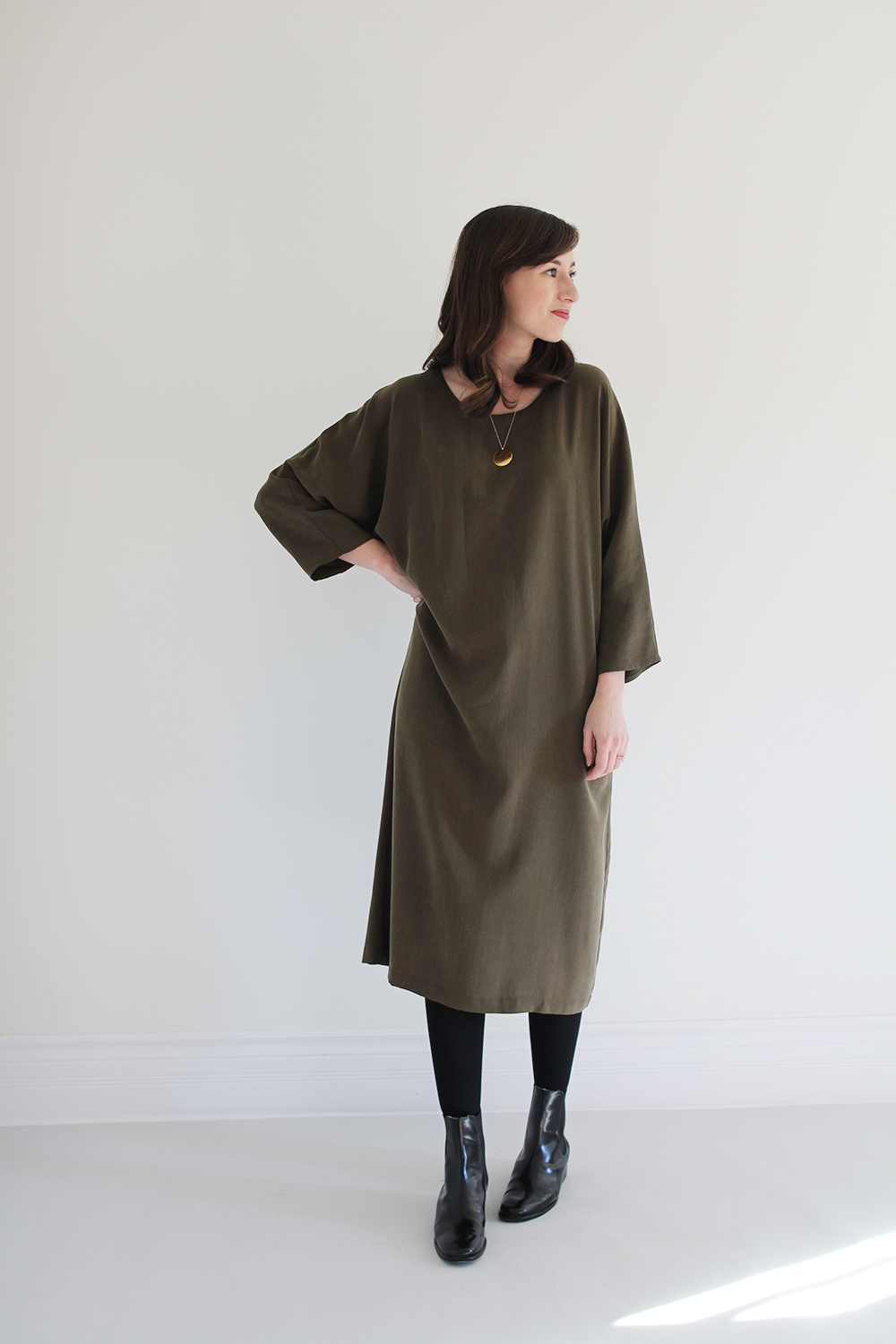 ---
STYLE + FIT DETAILS
A | LAYER LOVE | I think my favourite element about this look is how the layers are working together. This dress and coat were a match made in sartorial heaven and even though they're both quite loose, they don't feel bulky at all. I'm kind of obsessed with long sleeves that peek out under a top layer as it adds the perfect amount of interest and dimension. The way the bell shape on both these sleeves creates a tiered effect is so dreamy too (see below for a good close-up).
B | GO WITH THE FLOW | I didn't consciously intend to keep this look so relaxed and flowy but I love that it is. Loose curls, silky Tencel and draped wool make for a romantic vibe that tells a sumptuous textural story. To me this proves you don't need a lot of fussy extras like zippers, belts, straps or buttons to achieve an elegant shape and fit.
C | ADD SOME EDGE | The gentle curves are balanced by a couple injections of fun geometric shapes through the circle pendant and half moon bag. The shiny utilitarian boot also adds a hit of functionality and maybe even a little masculinity, which I'm into.
D | HAPPY FEET (finally) | It's really nice to finally have a pair of boots that look sleek and refined but are also extremely comfy and WARM. Nothing gets me out of the holiday spirit like frozen toes! The semi-gloss leather has totally won me over and I think it adds the perfect touch of subtle glamour to any look, whether it's a dressy one like this or a pair of jeans and a sweater. I also love the slim fit through the ankle to keep the leg looking long and lean.
E | CATCHING LIGHT | I absolutely love how the Tencel fabric of this dress catches the light and has a muted, almost suede-like sheen to it. You can't help but want to touch it. The fact it feels AMAZING is a given. The boiled wool coat has a similar effect and a beautiful weight that makes it feel just as cozy as it looks.
F | A TOUCH OF DRAMA | The one thing I might play up a little more for a evening outing is my lip colour. I love this one for day but a deeper tone like this one would totally up the drama anti on this outfit! I'd also try to manage an oxblood nail colour like this for an ever so subtle nod to theme of red and green.
G | CAREFUL COLOURS | It's easy to let a 'holiday' look veer into the glitzy/gaudy lane but will a bit of subtlety you can still get into the spirit without going too far. The muted green and black colour palette, rich textures and hits of gloss and gold are just festive enough to feel fancy without being weird!
---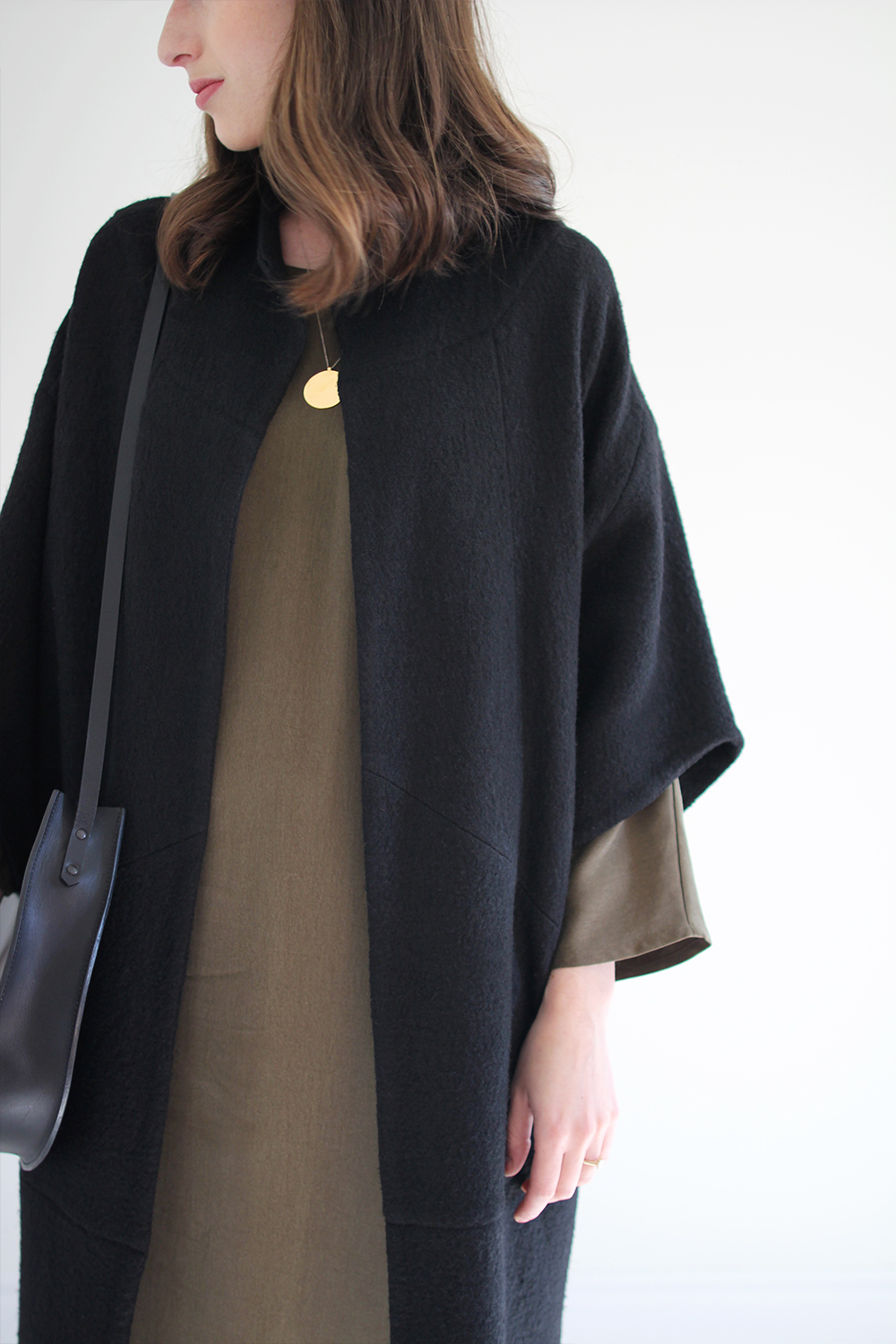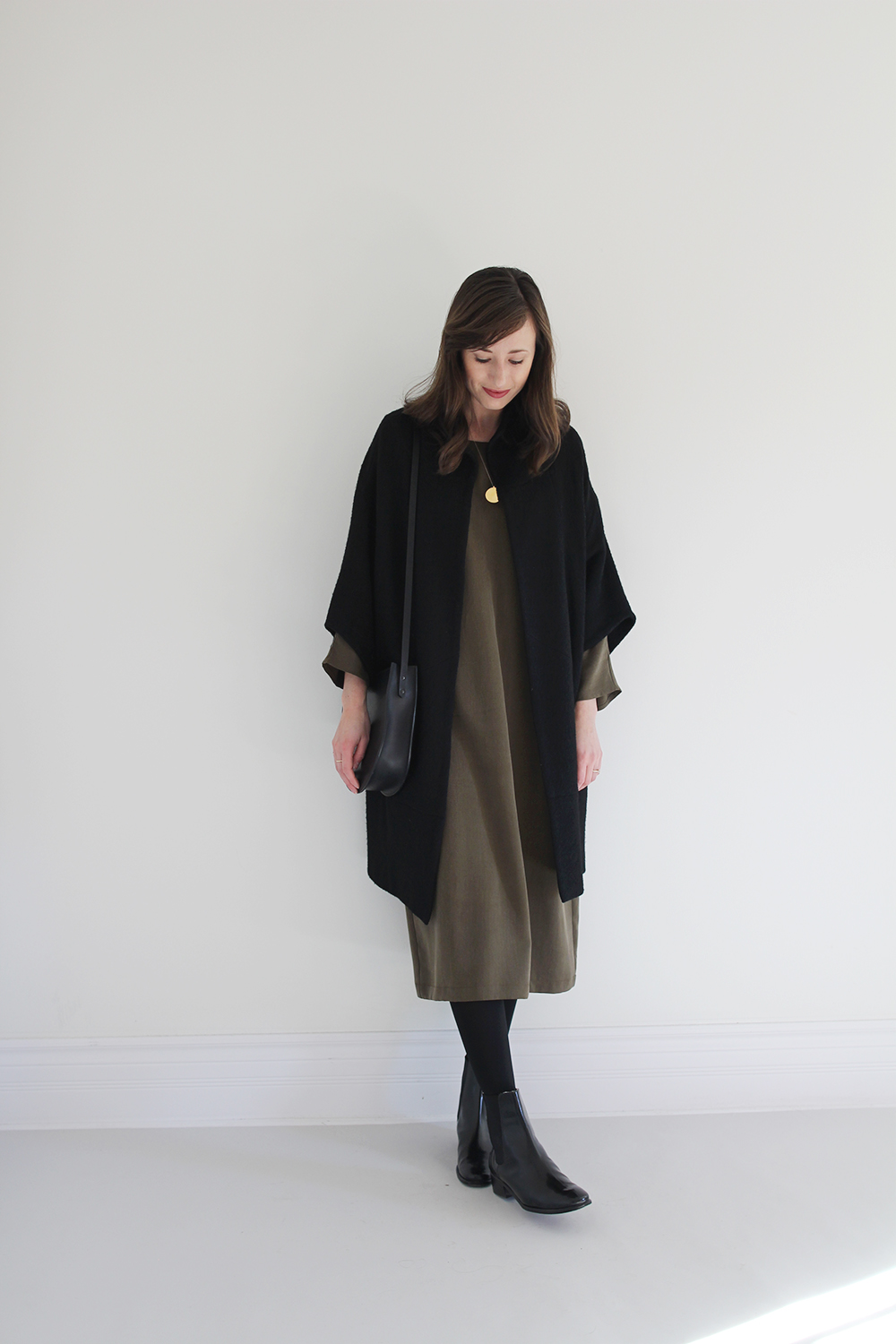 ---
That's all she wrote for this week folks. Hope you have a fun weekend ahead of you and maybe a great sale find in there too! See you on Monday Tuesday with an easy silhouette done three ways. 
---
1 | COCOON COAT – old Elizabeth Suzann (new version $1,125 (restock soon)/similar style here $365)
Hackwith Design House has a similar style ($370 + 30% OFF with 'THANKS30')
Beautiful dark navy option from OWM (on sale! $506 $430 + 20% off)
Black option with buttons by Everlane $265 (proceeds go to the #blackfridayfund)
2 | 19th AVE DRESS – c/o LLOYD (made in Vancouver)
3 | MINIMAL NECKLACE – old c/o Young Frankk (linked to similar $106 and THIS ONE is in my cart! ($96)*
4 | ELOISE BAG by The Stowe (Made in Montreal $375)* – also in WHISKEY
5 | THORA BOOT by Rachel Comey $469 ($20 OFF your first purchase here)
All Rachel Comey Boots on sale at SHOPBOP (use code GOBIG16)!
6 | OPAQUE TIGHTS from American Apparel $25
*NEED SUPPLY typically does a one-day only site-wide on Cyber Monday sale so keep your eyes peeled!
---

---
All prices above in USD.
This post is not sponsored but contains affiliate links. When you shop via the links above I may make a small commission from a sale. Thanks for supporting the brands that support Style Bee! All opinions are always my own.