By now I think it's safe to say that versatility is probably the key component to a lean closet. Having a small selection of things you can wear lots of ways is much more useful than a giant wardrobe of unique stand alone items that don't lend themselves to different occasions or looks. Plus, when you love a certain piece you want to wear it as much as you can, right? So with good lean closet practice in mind, today's post is all about this simple little cocoon dress by Sotela and how I'm wearing it a few different ways for this season.
But before I get too far ahead I'll just share a bit about Sotela, a new made in America clothing line that's currently two weeks away from completing it's Kickstarter campaign. The campaign is already over 75% funded, with over 100 backers and I have no doubt it will be a success. I had the pleasure of connecting with the company founder, Hanna Baror-Padilla, back when I announced my plans to shop responsibly. Hanna is a delight and has fully immersed herself in the world of ethical fashion and is truly passionate about making it a bigger and more accessible part of our daily lives. She created Sotela as an answer to one of our most common struggles as women getting ready each day, the struggle to have something that fits. 
Sotela is taking the lean wardrobe concept to a new level with a line that consists of 3 dresses that each span multiple dress sizes. The intent is to invest in a well-made dress that you can wear for years and years, even if your size changes. The styles are minimal, elegant, flattering and oh-so timelessly chic. Sotela dresses ring in at a reasonable $79 – $89 and they're also made with eco-friendly Tencel and Modal materials! To take a look at the full collection of styles, pledging rates, and additional info about manufacturing and the mission behind the campaign please visit Sotela's Kickstarter page. Now, let's talk about this 1 dress I'm wearing 3 ways, shall we?
---
LOOK 1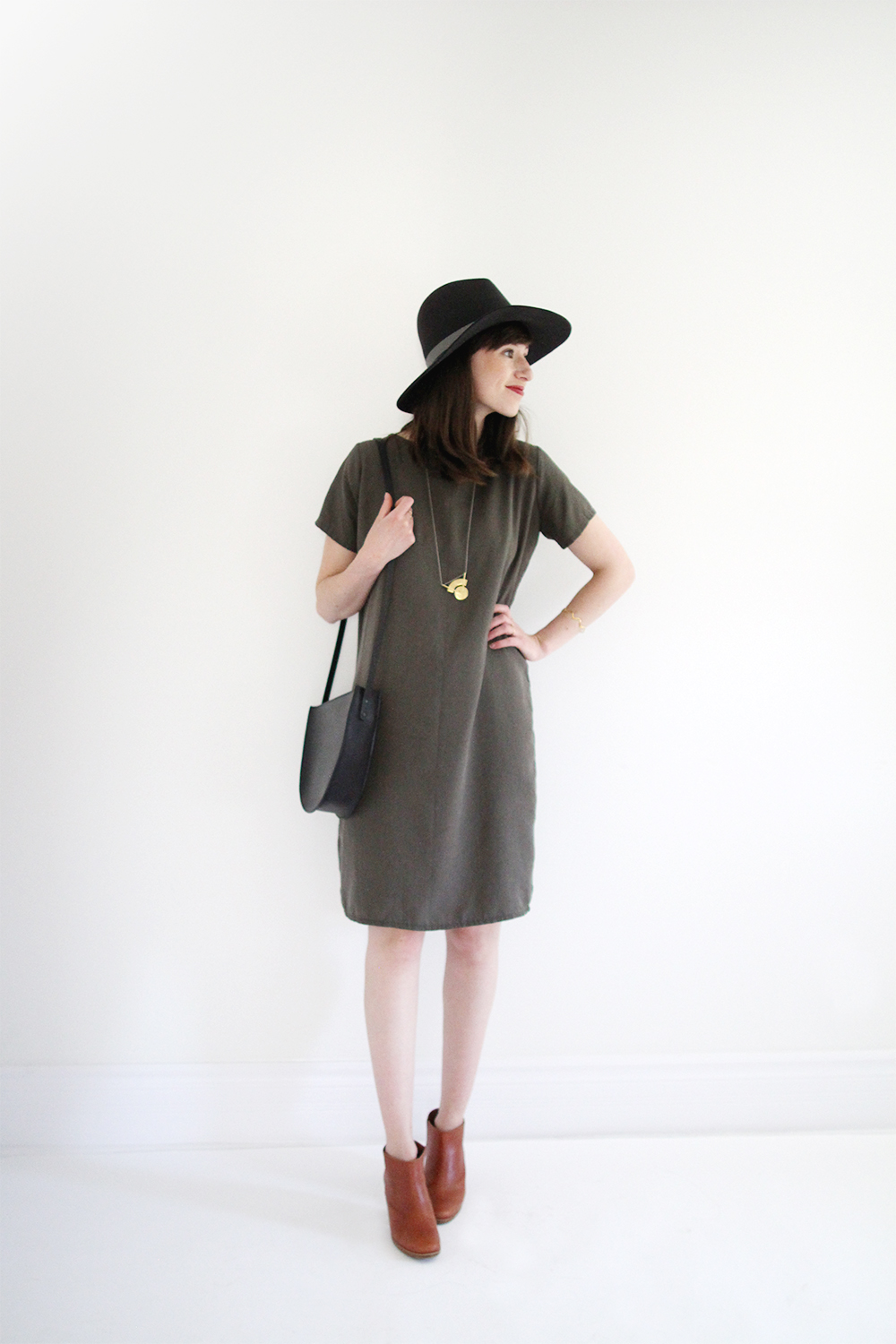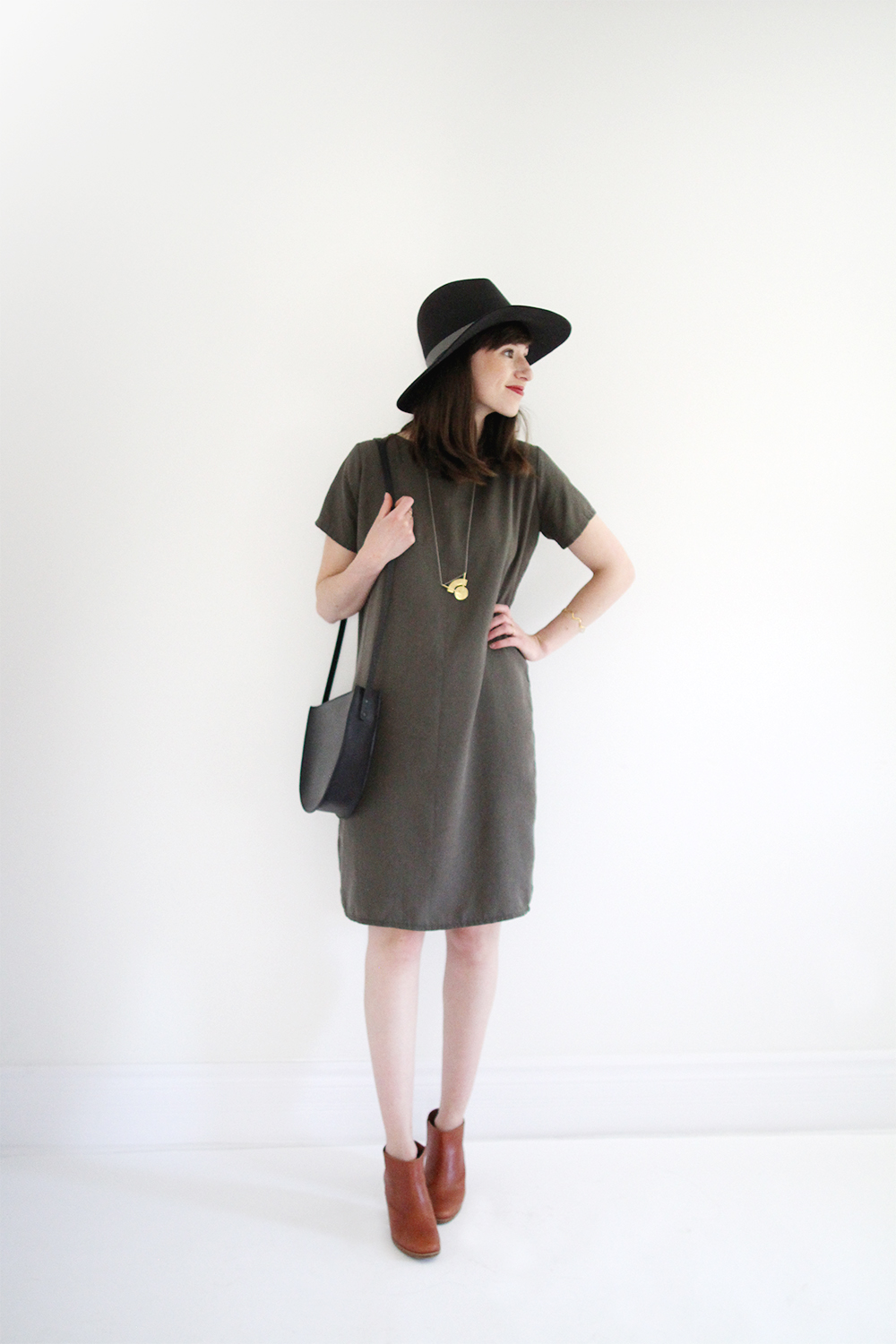 This was the most obvious solution to me when it came to styling the Sotela Cocoon dress. I love the combination of a simple shift paired with ankle boots and a few minimal statement accessories like this black felt hat and geometric black bag with an explicit focal point like a big gold pendant. This look is totally timeless, ageless and could easily transition into Fall or Winter with a pair of tights, a peacoat and a big scarf. Right now it's perfect for catching lunch, a work meeting or a night out with friends.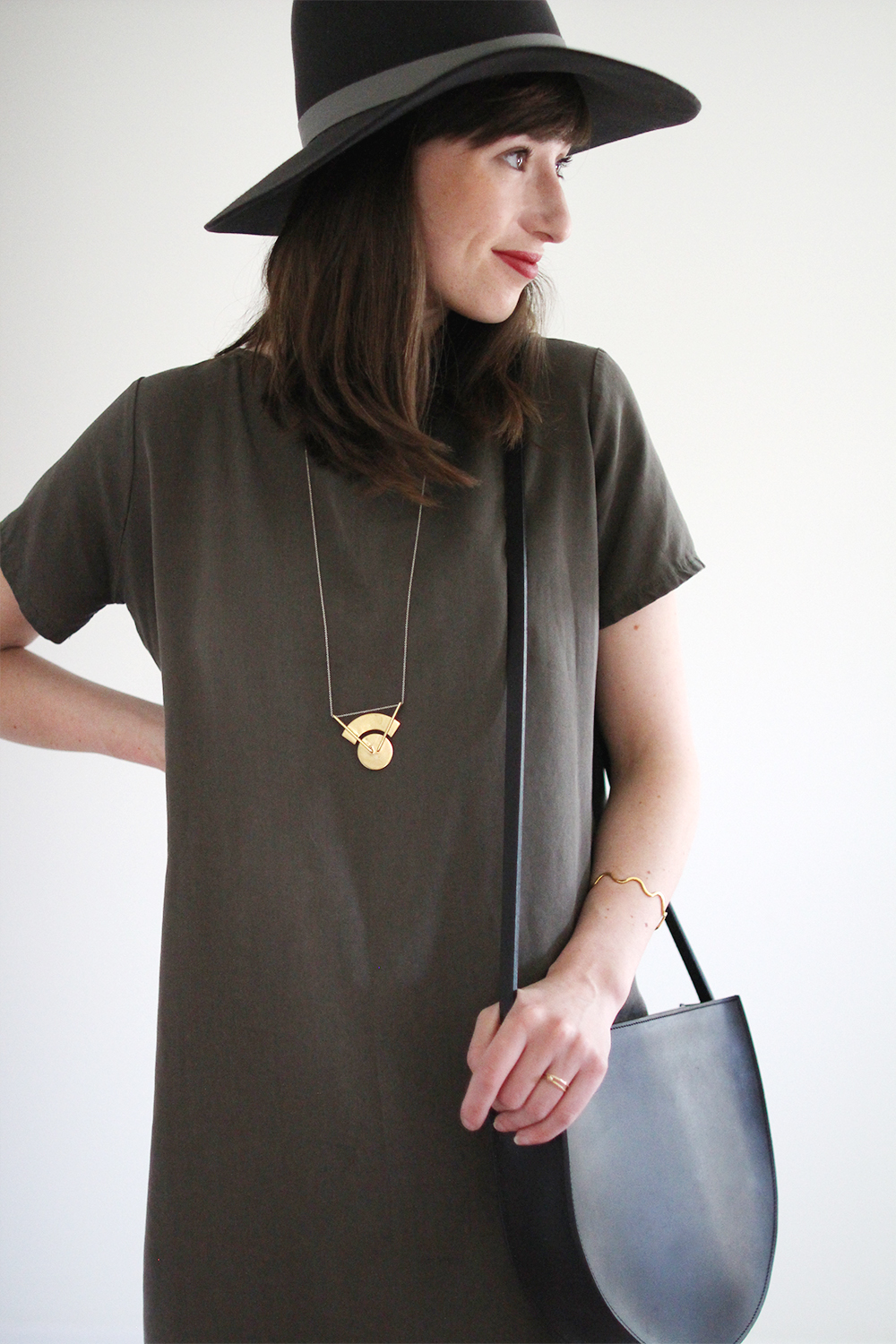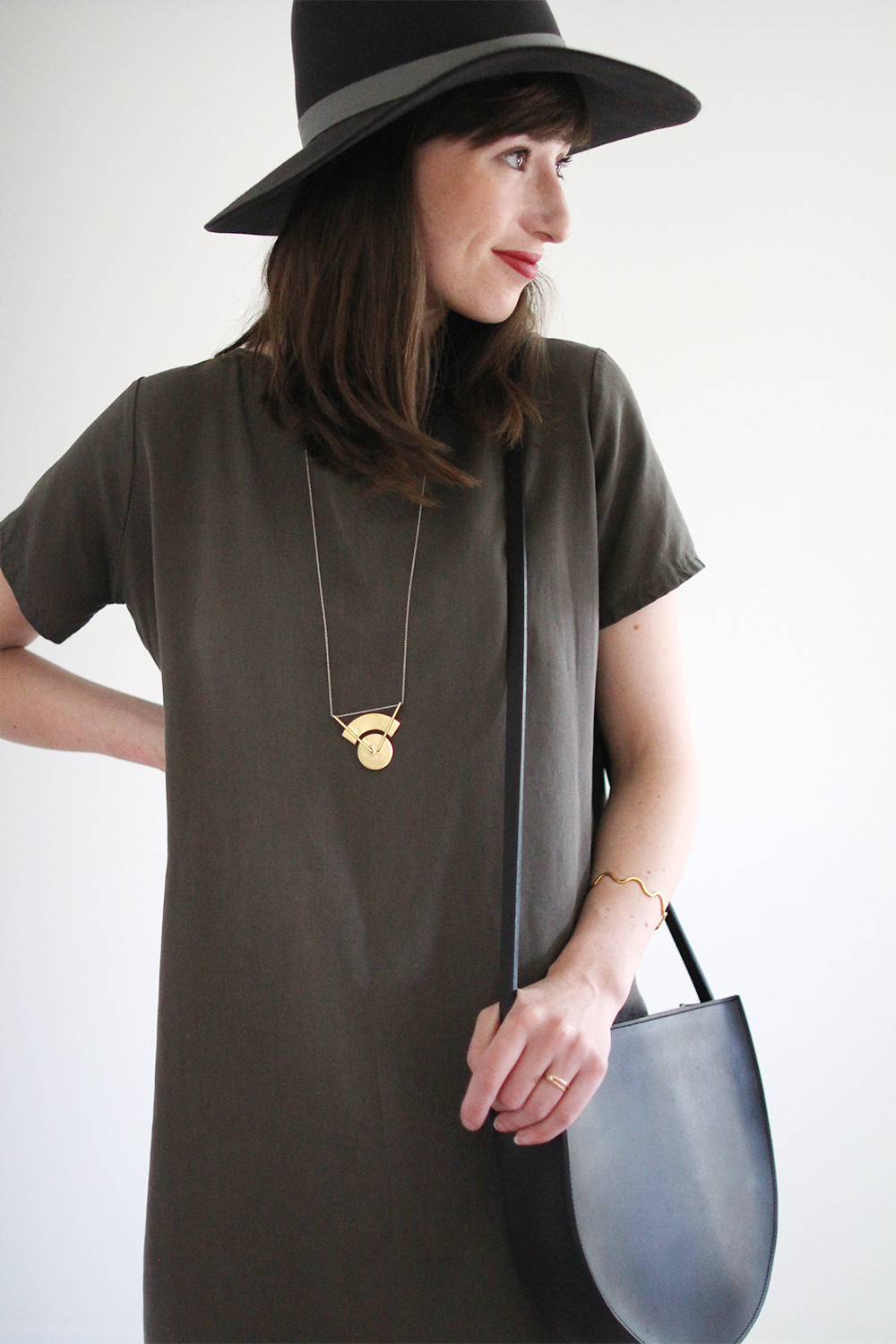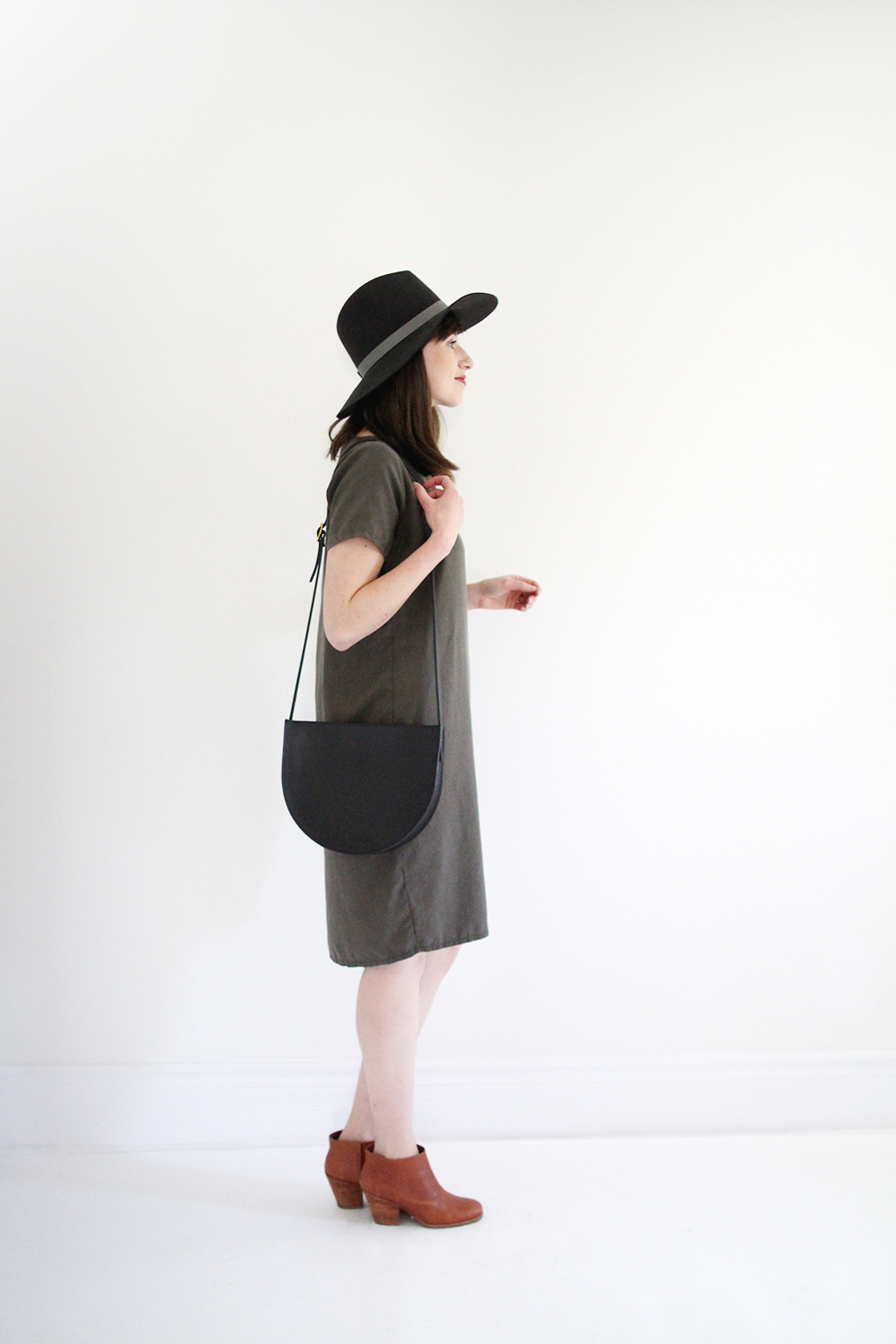 Cocoon Dress in Marsh from Sotela (size 1 fits 0-6) $ 89 USD | Hat Janessa Leone | Necklace c/o Bibelot + Token by Stvdio Brooklyn | Eloise Bag The Stowe | Boots Rachel Comey | Wave Cuff old c/o Young Frankk
---
LOOK 2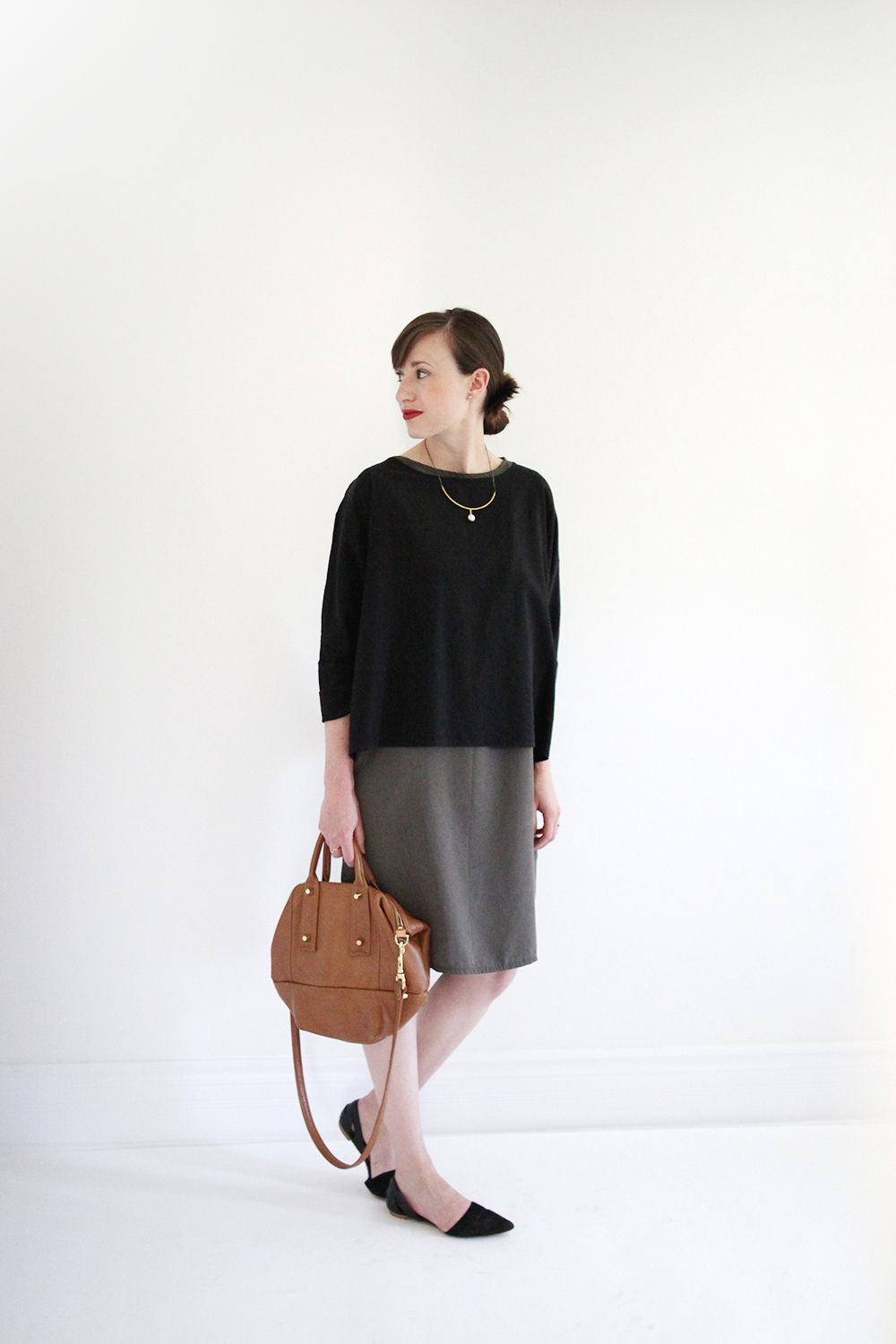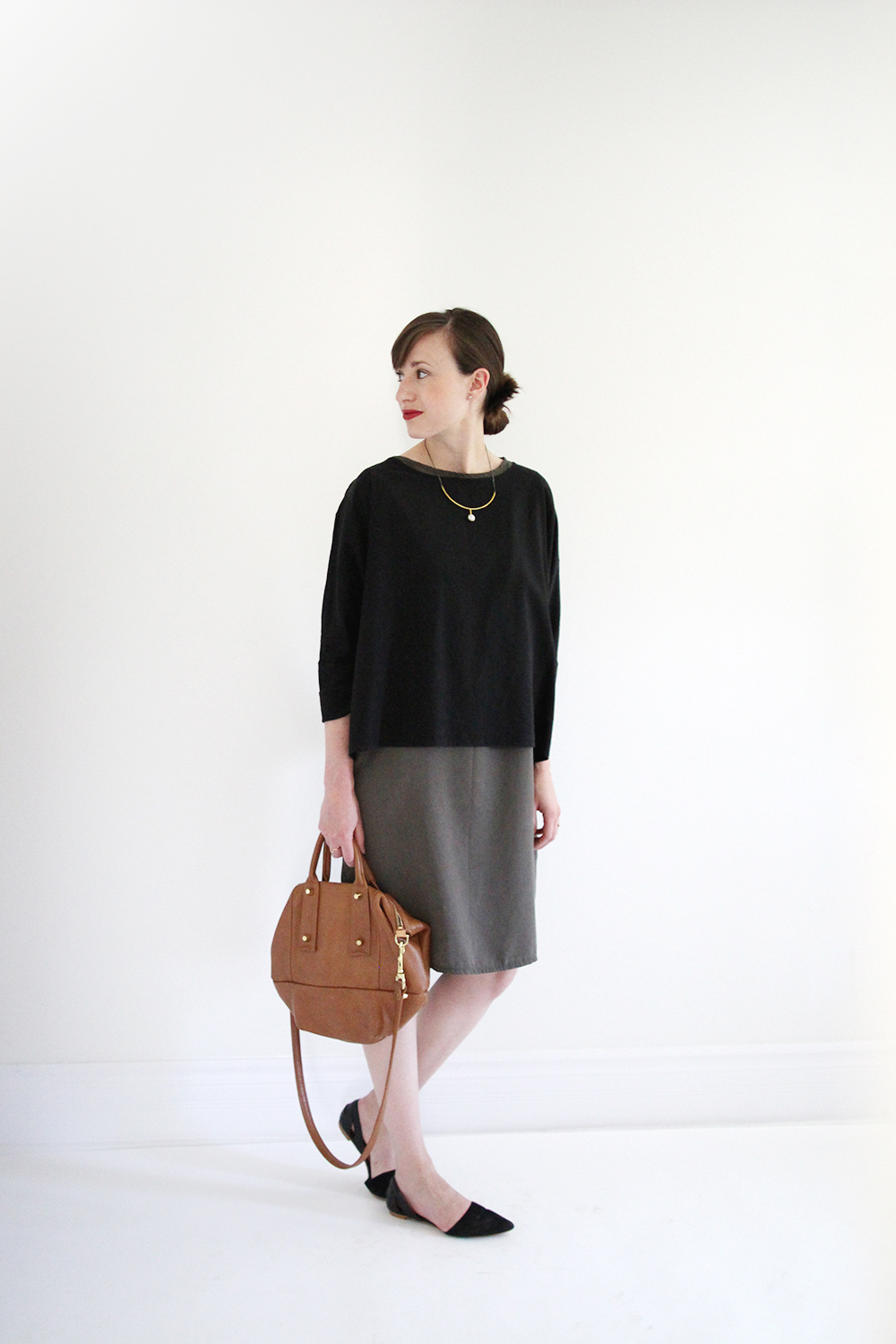 I'm totally addicted to layering tops over dresses and this situation was just begging for it. This is a great option for a more conventional office setting and is seriously so comfy I could wear it to bed! The Tencel fabric Hanna chose for the Cocoon Dress and the Shift dress wears like a beautiful blend of soft cotton and crepe silk and yet it's got such a substantial feel to it. It moves elegantly with you as you walk keeping it from feeling too boxy or oversized as some shifts can appear.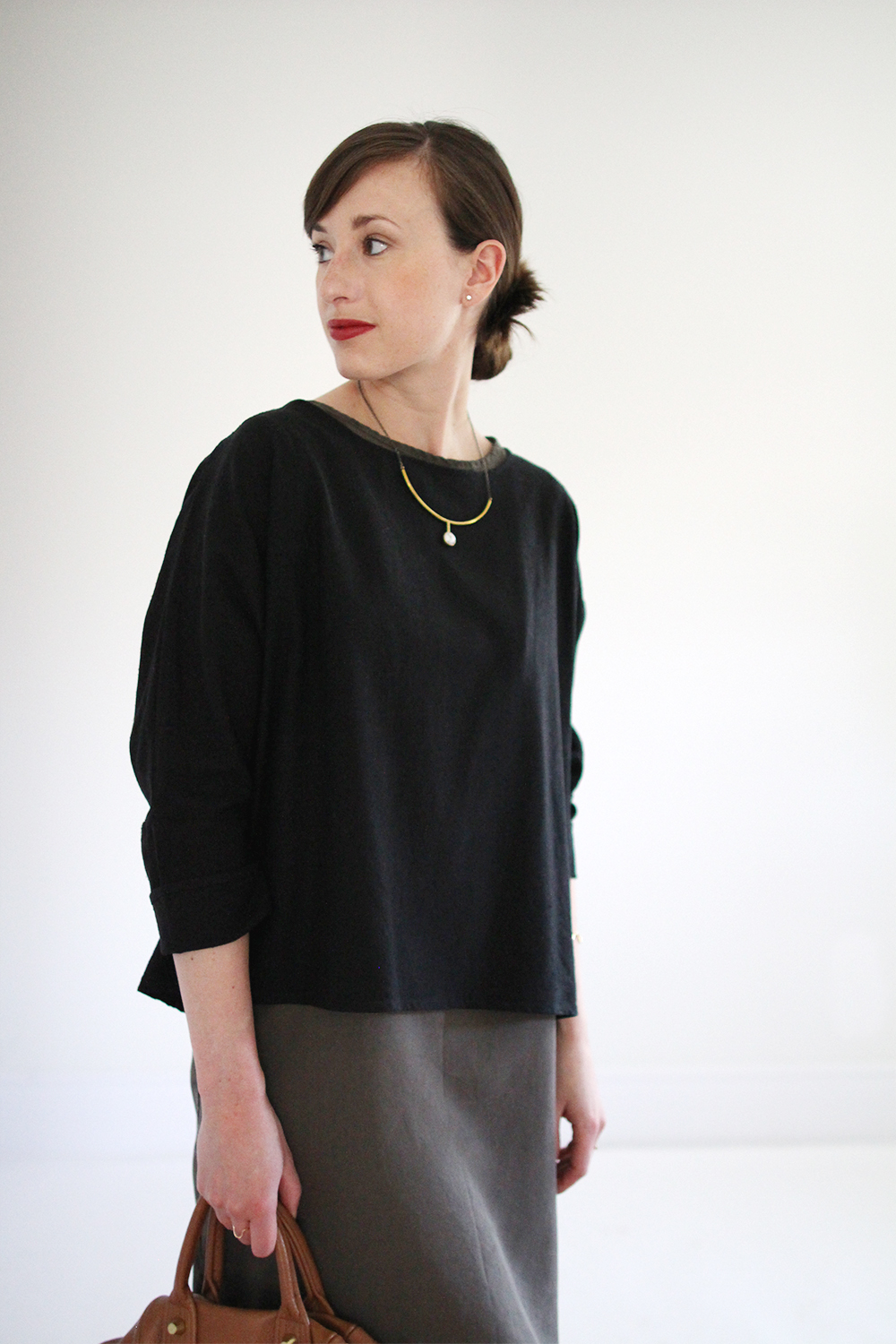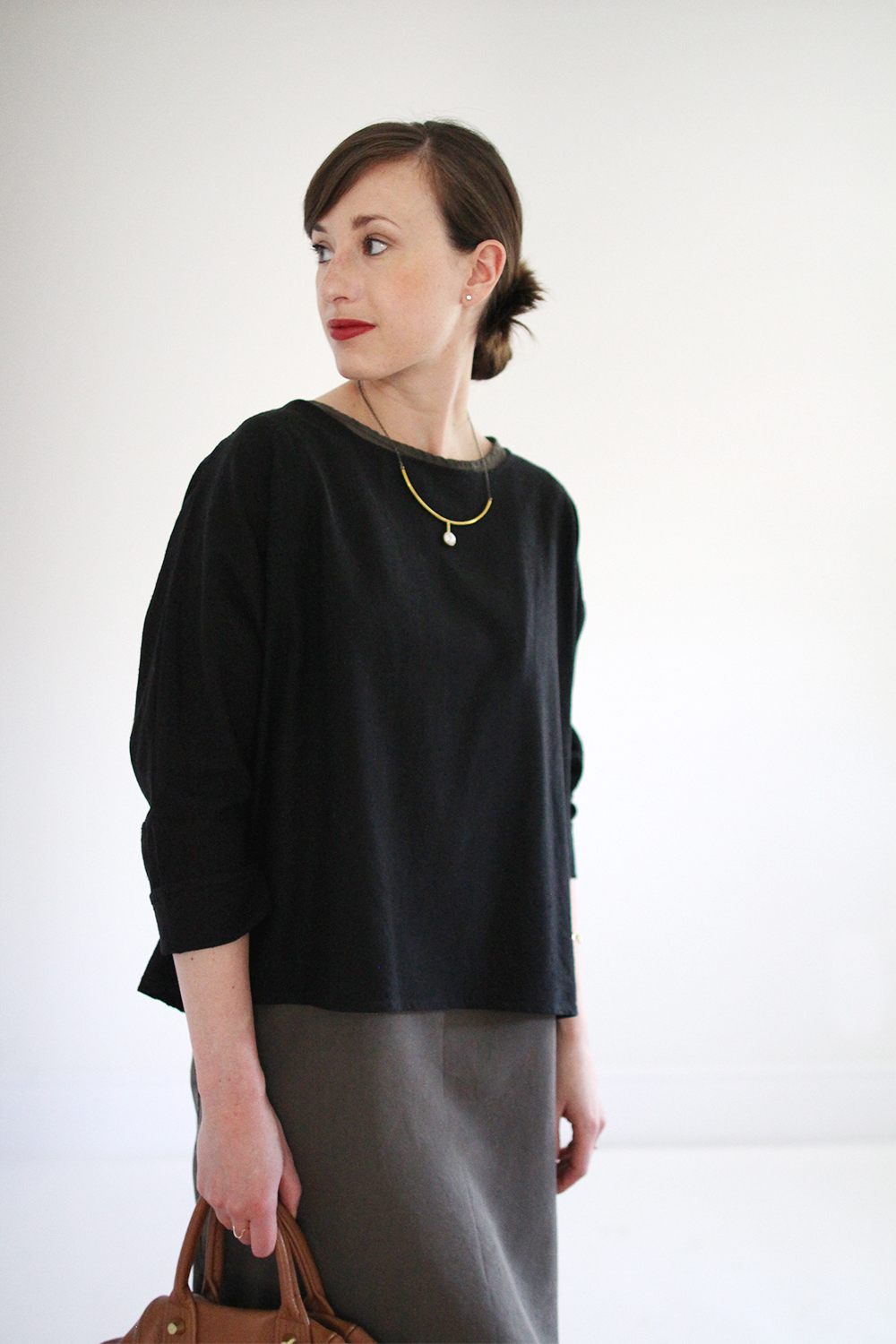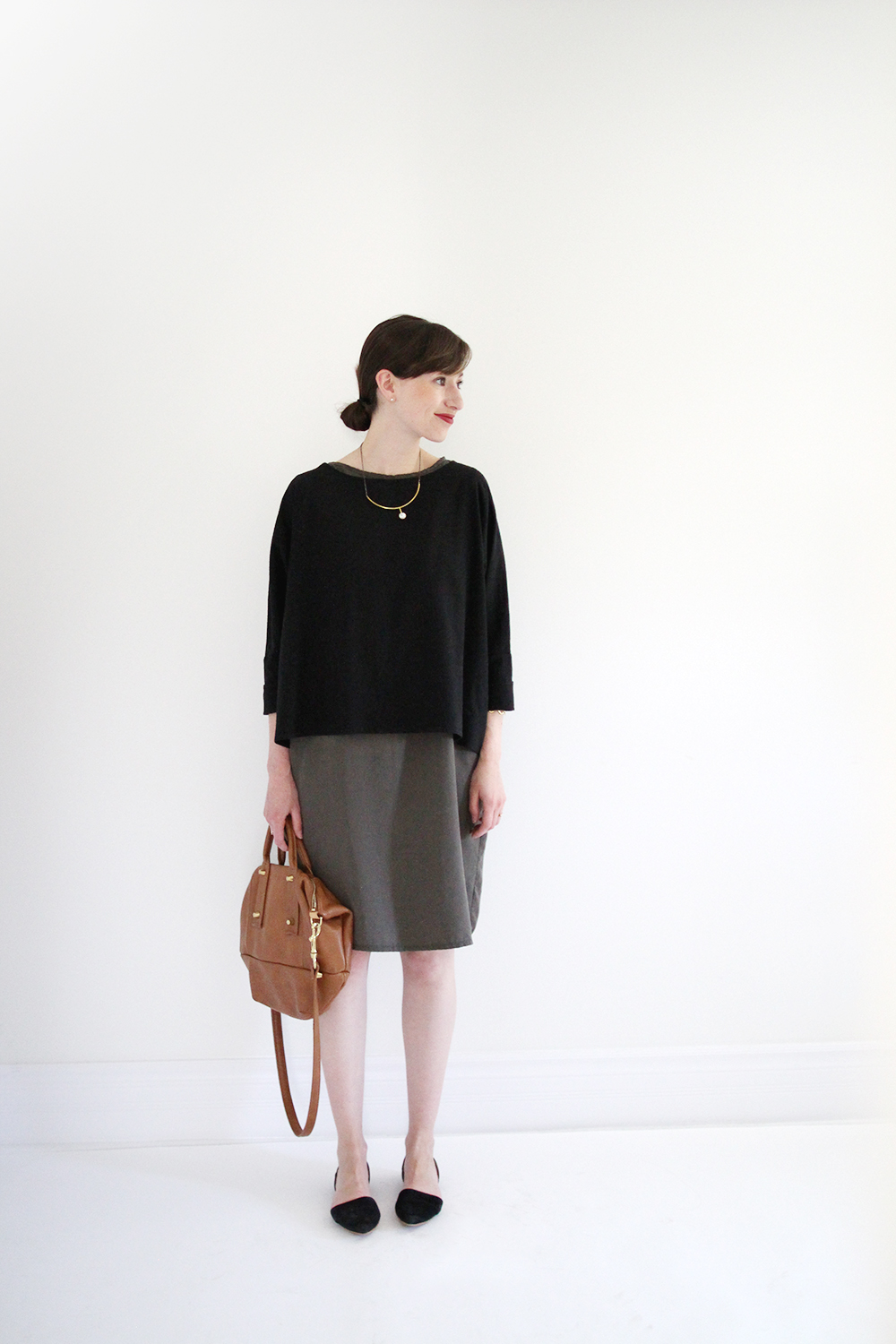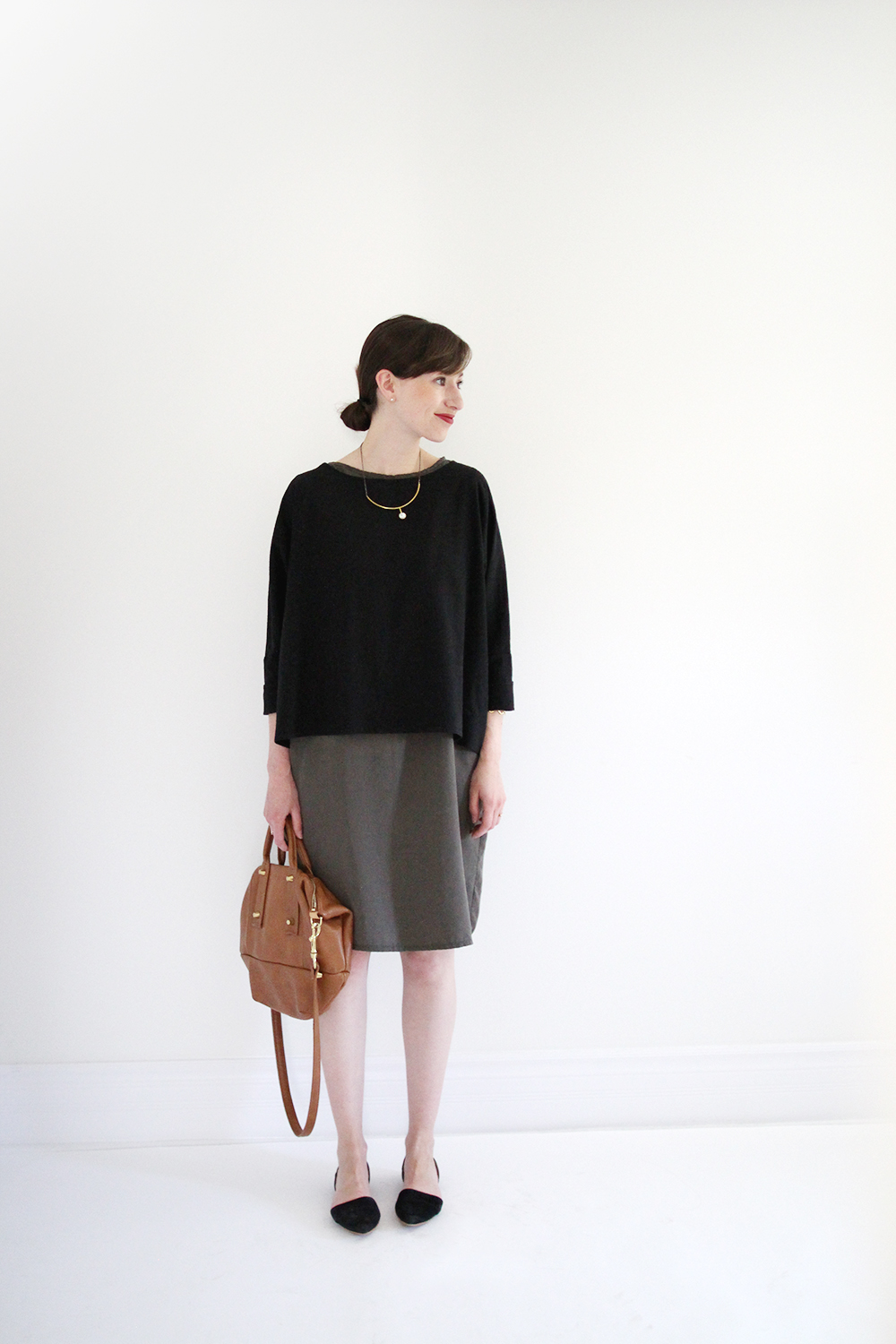 Cocoon Dress in Marsh from Sotela (size 1 fits 0-6) $ 89 USD | T Top in Black Raw Silk c/o Jamie + The Jones | Oasis Collar c/o Claire Green | Mini Vanda Bag c/o Opelle | Shoes old Madewell (these are on my wish list)
---
LOOK 3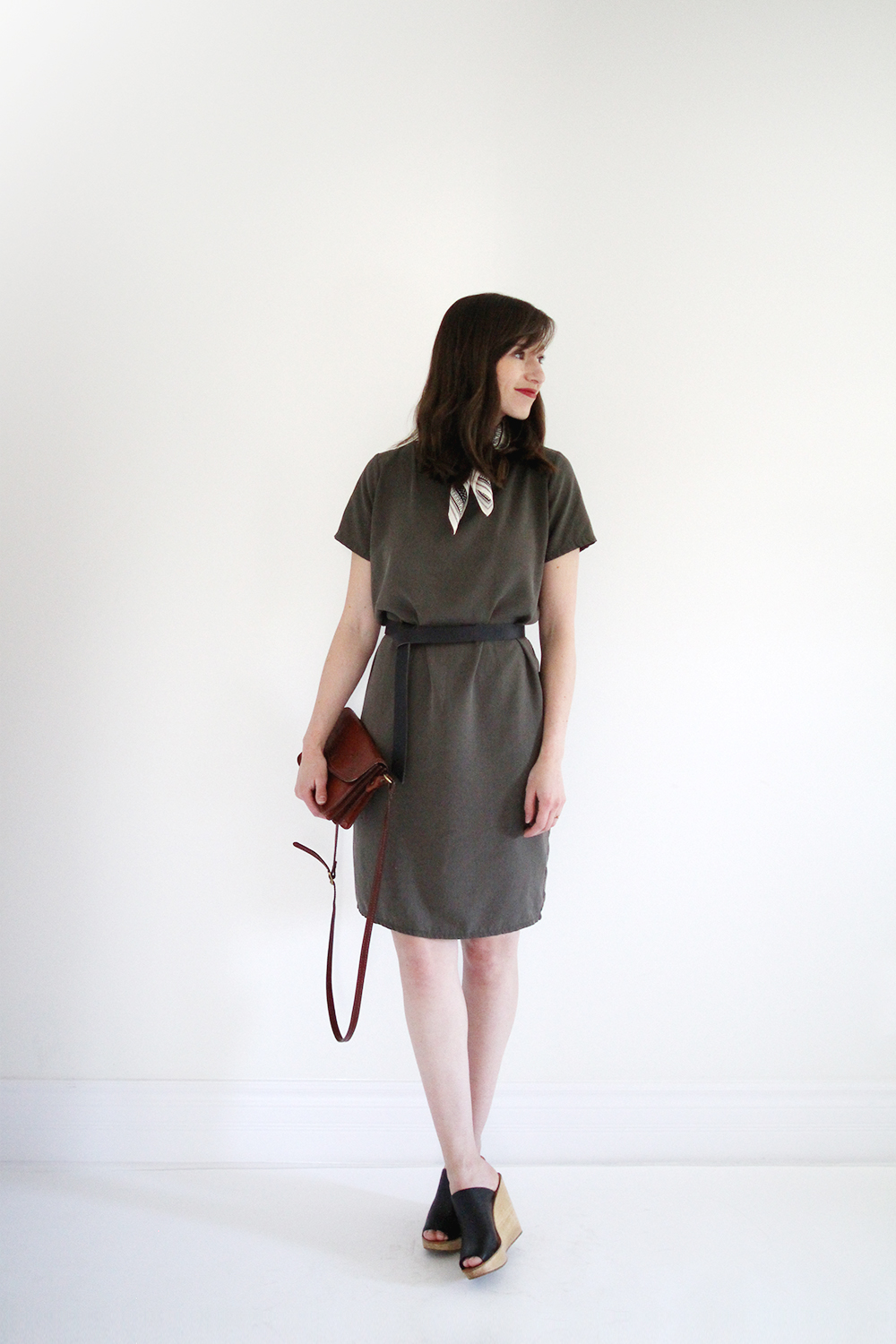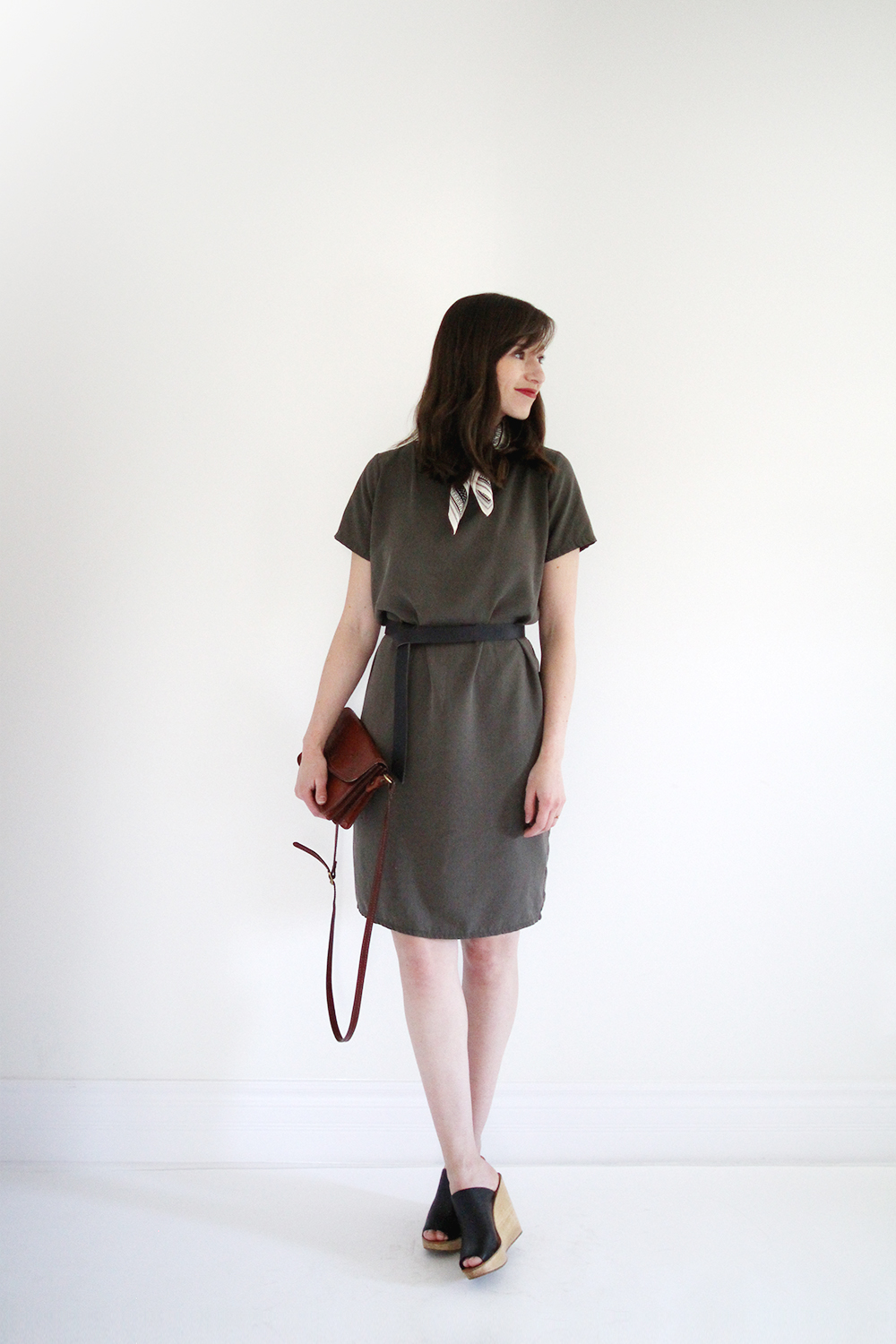 Sometimes I find belts can over complicate things but when your look is simple and you have an opportunity to define your waist, I'm all for them! I love this wide leather, minimally designed one from Elizabeth Suzann and it pairs perfectly with the beautifully fluid fabric that this dress is made of. I went for a trendier, more youthful feel with this look that's perfect for a night out on a patio with cocktails and good tunes or even a backyard shindig complete with card games and hot dogs.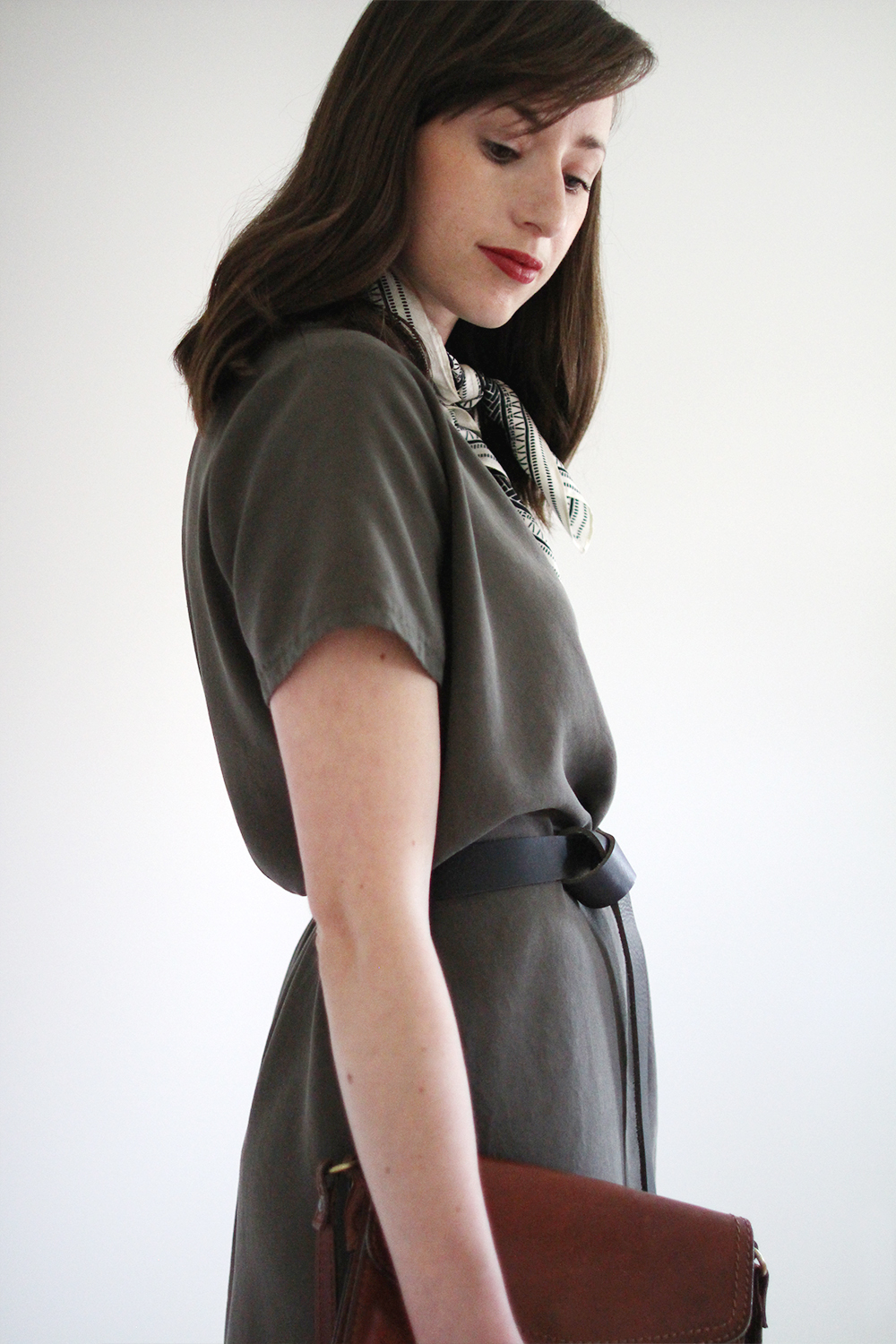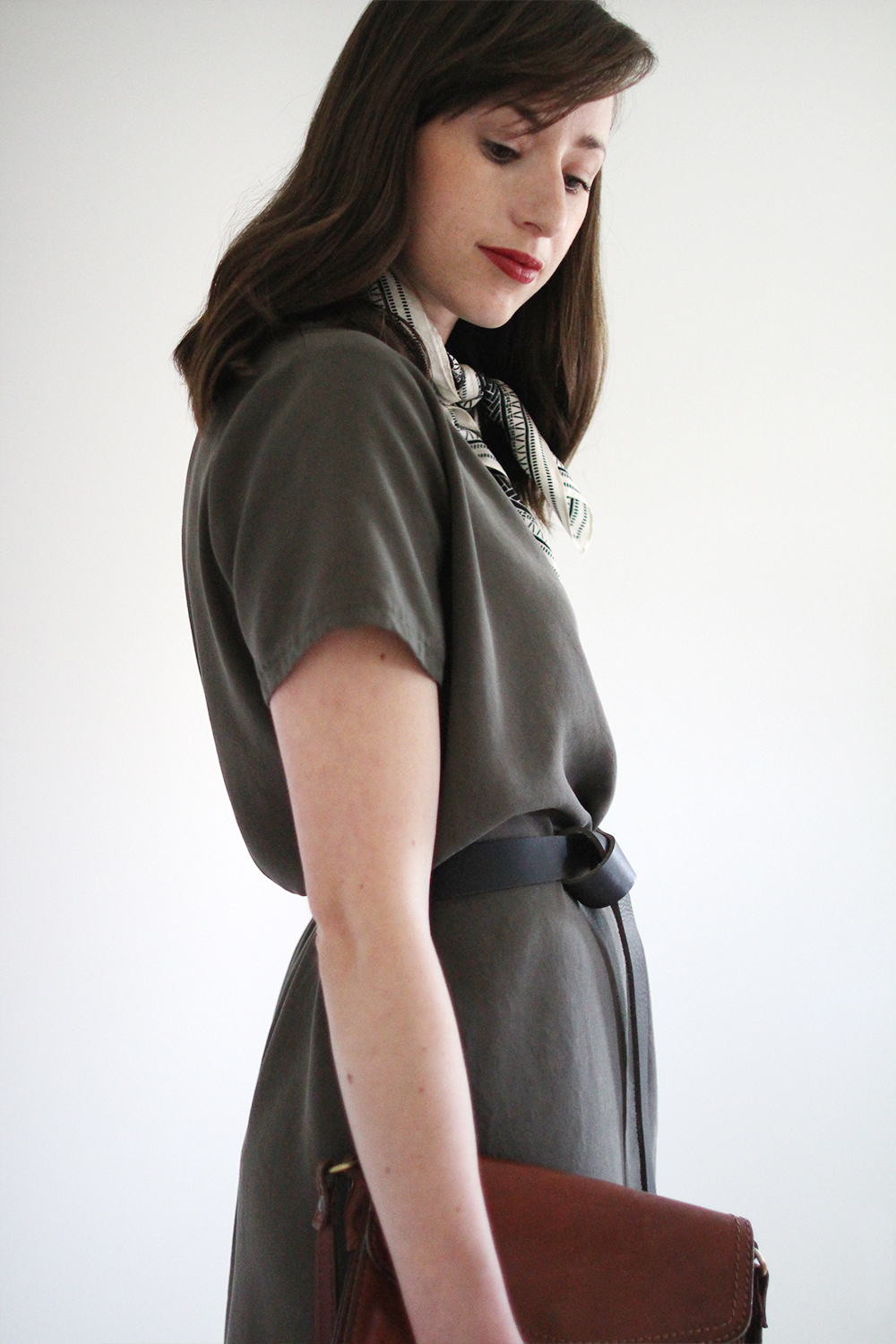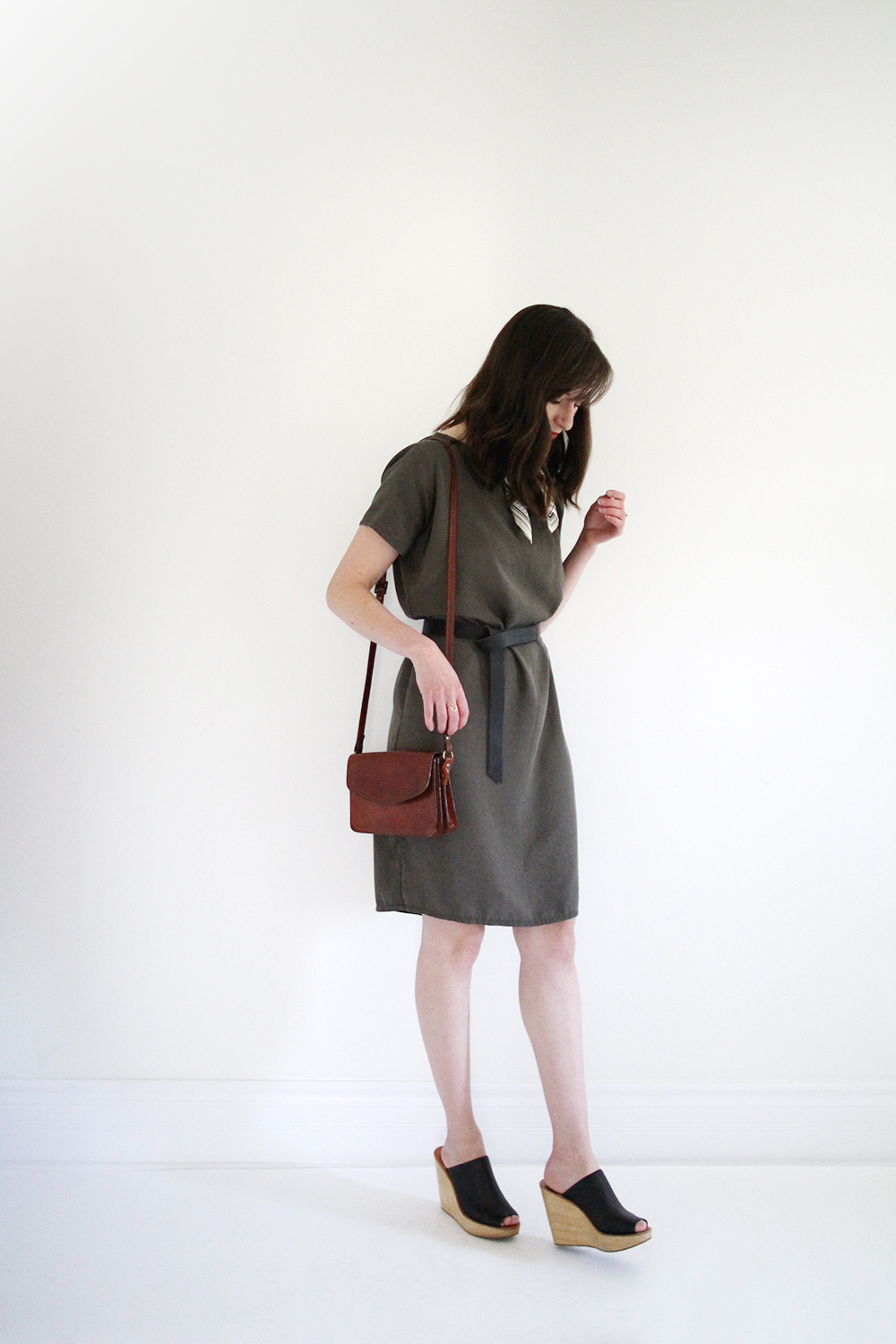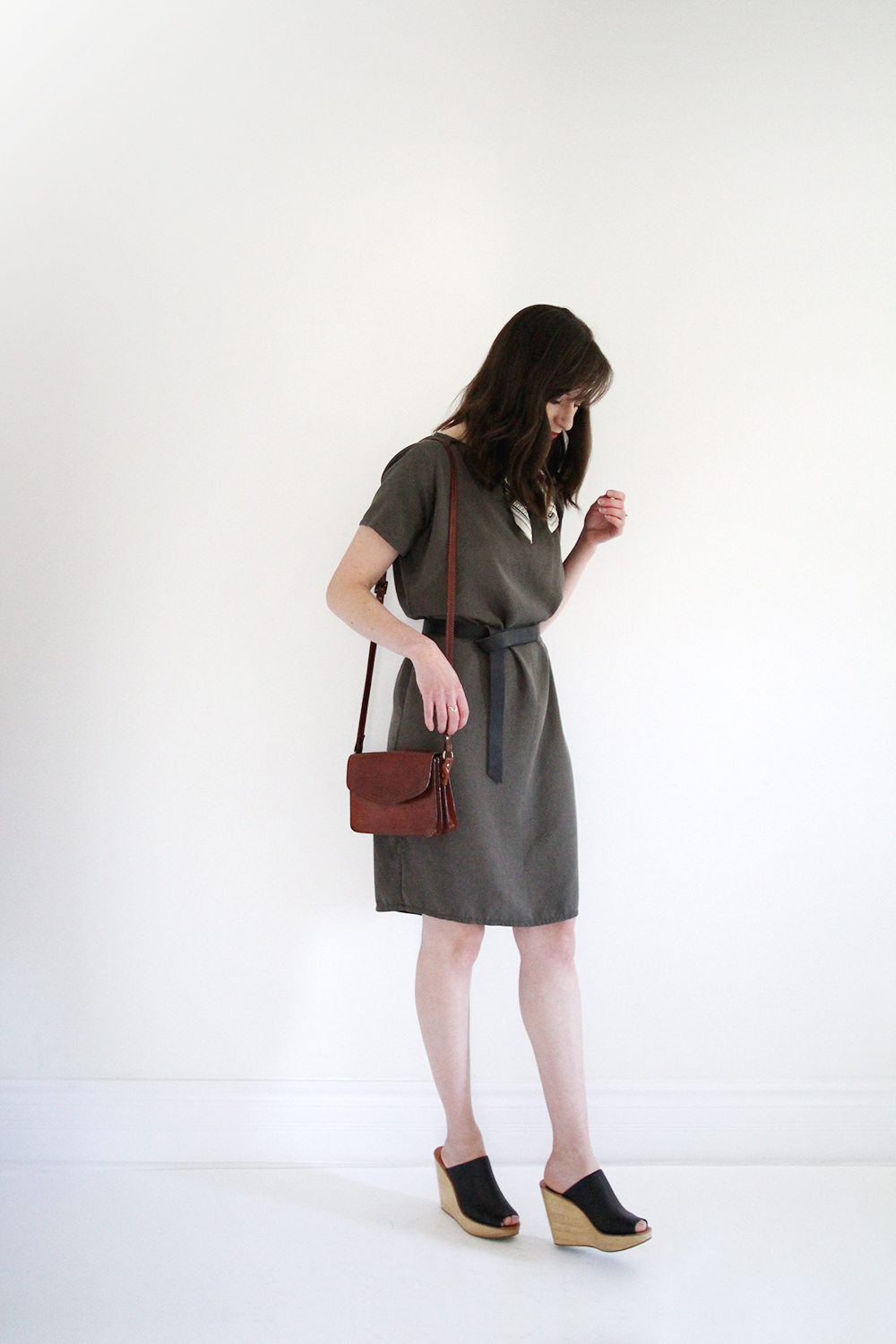 Cocoon Dress in Marsh borrowed from Sotela (size 1 fits 0-6) $ 89 USD | Bandana A Peace Treaty | Belt Elizabeth Suzann | Bag Vintage (adore this option) | Wedges old Rachel Comey (lower option here and I love these)
---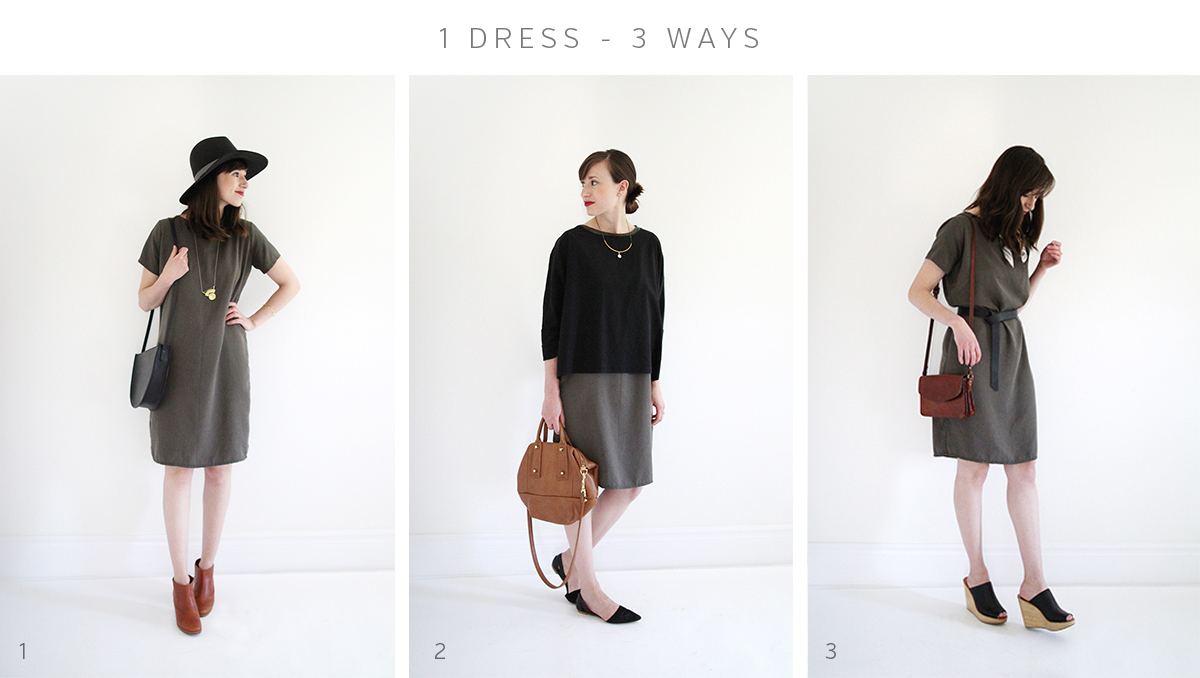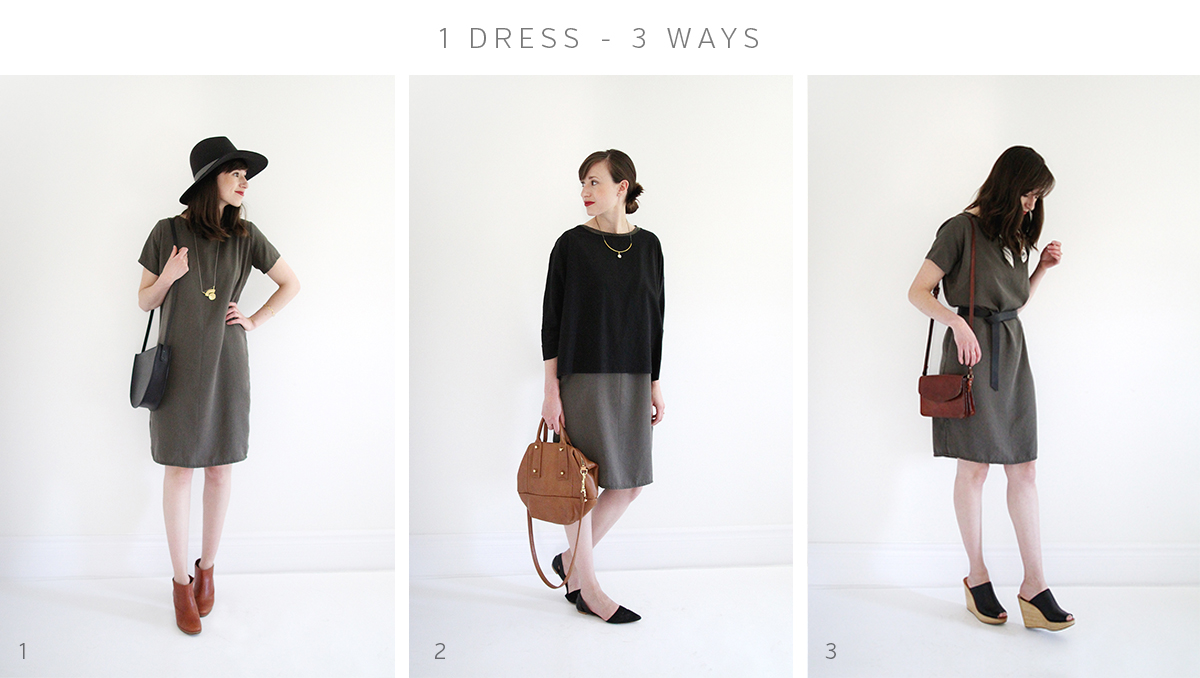 Do you have a favourite look? How would you go about styling this dress?
---
Thanks to Sotela for partnering on this post! All opinions are my own. Thanks for supporting the brands that support Style Bee and make a positive difference!