Well, it's been raining all morning, the sky is grey and the temps have dipped but I'm not complaining one bit. Something about the odd gloomy day is so comforting and calming. Everything seems quieter and all I want to do is cozy up with a coffee and a good book. Since I can't do exactly that, I'm going to cozy up to my computer with some toasty layers and coffee instead. Here's Look #9 from the #stylebee10x10 challenge, ready for just that!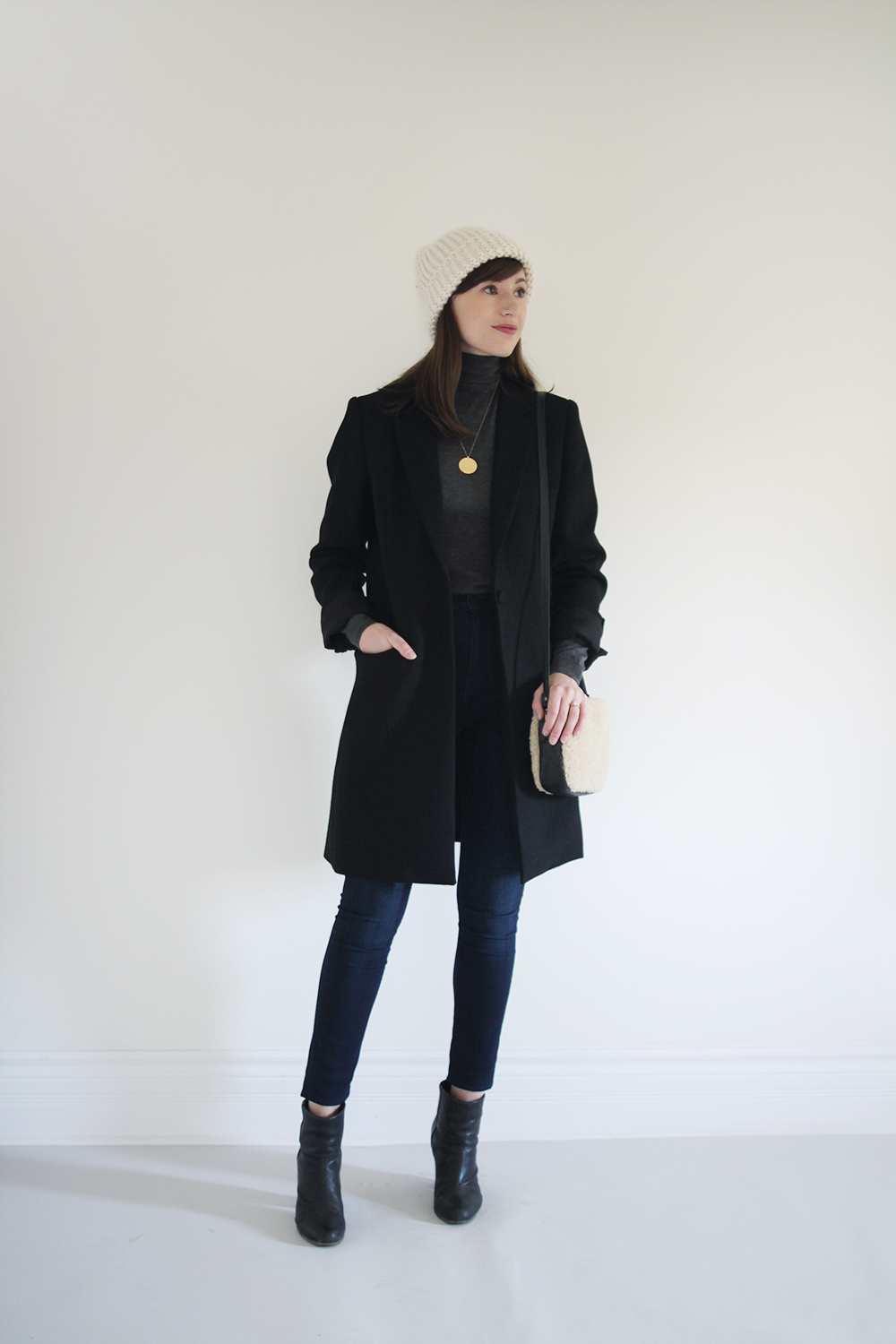 ---
INITIAL THOUGHTS
I can't believe it took me this long to come up with/share this one. It's definitely the type of uniform I'll be gravitating to as the temps keep dropping.
Toque + Turtleneck + Jeans + Boots + Coat + Hat + Bag + Bling = Cold weather ready!
I really do love neutrals more than anything. I always feel at ease and completely myself when I'm in a look comprised of all neutral tones.
A toque goes a long way when it comes to staying cozy. I used to pile on sweaters when I was cold at my desk but wearing a beanie keeps me WAY toastier without the extra bulk.
To me this look is ageless, timeless and accessible to a very wide range of body-types. Which makes me happy!
I love the simple focal point of the pendant and the pop of texture added through the bag and hat.
---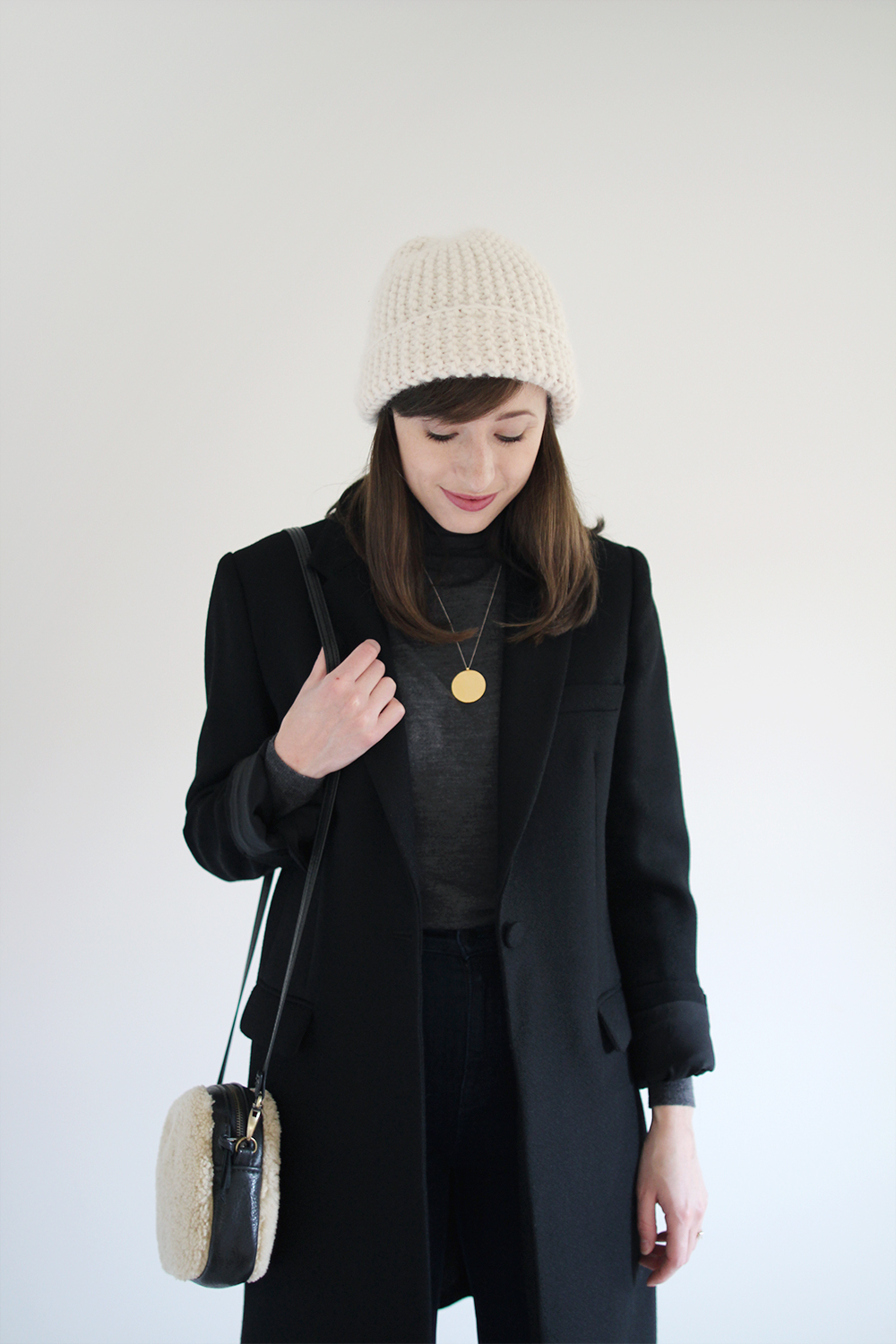 ---
ITEM #8 – THE FITTED TURTLENECK
For anyone that lives in a climate that gets properly cold you'll likely agree, that turtlenecks are a lifesaver. I love them for lots of reasons but practicality is probably first. If made of the right material (I personal really like: 100% cotton, 100% merino wool, cashmere or a modal blend for sensitive skin) it will feel great, keep you warm and need not be bulky.
If you find one you like, buy it, wear the hell out of it, and before it's too late, buy a back up. That's what I did with this one from Zara that I got years ago now. I have it in Charcoal and Black and honestly alternate between the two constantly throughout the winter months. I've already added a couple more this winter and feel extra prepared for the approaching frost.
Here's a few basic options I'd recommend trying out:
1 | EVERLANE | Everlane has some really good turtleneck options right now. Both fitted and not. The Luxe Wool Mockneck is probably closest to the one I'm wearing. The Pima Stretch Turtleneck is a great lighter option, the Ribbed Turtleneck has a beautiful texture and, of course, there is always the Cashmere option!
2 | FLANNERY TURTLENECK | This is a great option for anyone that's looking for a super soft fabric. It's by Amour Vert, made of modal and spandex and comes in 2 striped options and black. ($78 USD)
3 | FITTED TURTLENECK | Another SUPER soft option by Splendid (made in USA) that I personally own in both colours (Black and White). It's a 50/50 Pima Cotton and Modal blend and seriously feels like a dream. They say it's super fitted but I bought my usual S and it was actually a bit more relaxed than I anticipated. It got a little stretched after the first wear but after a wash and low tumble dry its back to a fitted form. They are quite long in the sleeve and torso just FYI. ($54 USD) | Also available in Grey and Black via ShopBop
4 | ZADY TURTLENECK SWEATER | Zady makes a seriously stunning knit, whether it's super fine gauge wool or chunky alpaca. They use the highest quality fibres, sourced sustainably and made in the USA. This turtleneck is a bit more relaxed in fit but still sleek. It's available for pre-order in Navy and Light Grey. ($165 USD)
5 | 2×2 RIBBED TURTLENECK | American Apparel is always a good source for closet staples and their turtleneck selection does not disappoint. I particularly like the 2×2 Ribbed Turtleneck (Rayon/spandex $35 USD) and the bodysuit (cotton/spandex $39 USD) looks like a great option for those who hate tucking in (that's me!).
6 | VIVIANE TURTLENECK | I love the look of this Made in Canada option by Betina Lou. I can only imagine it feels great and holds it's shape as it's made of 66% rayon from bamboo, 28% cotton, 6% spandex. It's available in 4 colours, including a bright red and a neutral stripe! ($95 CAD)
---

---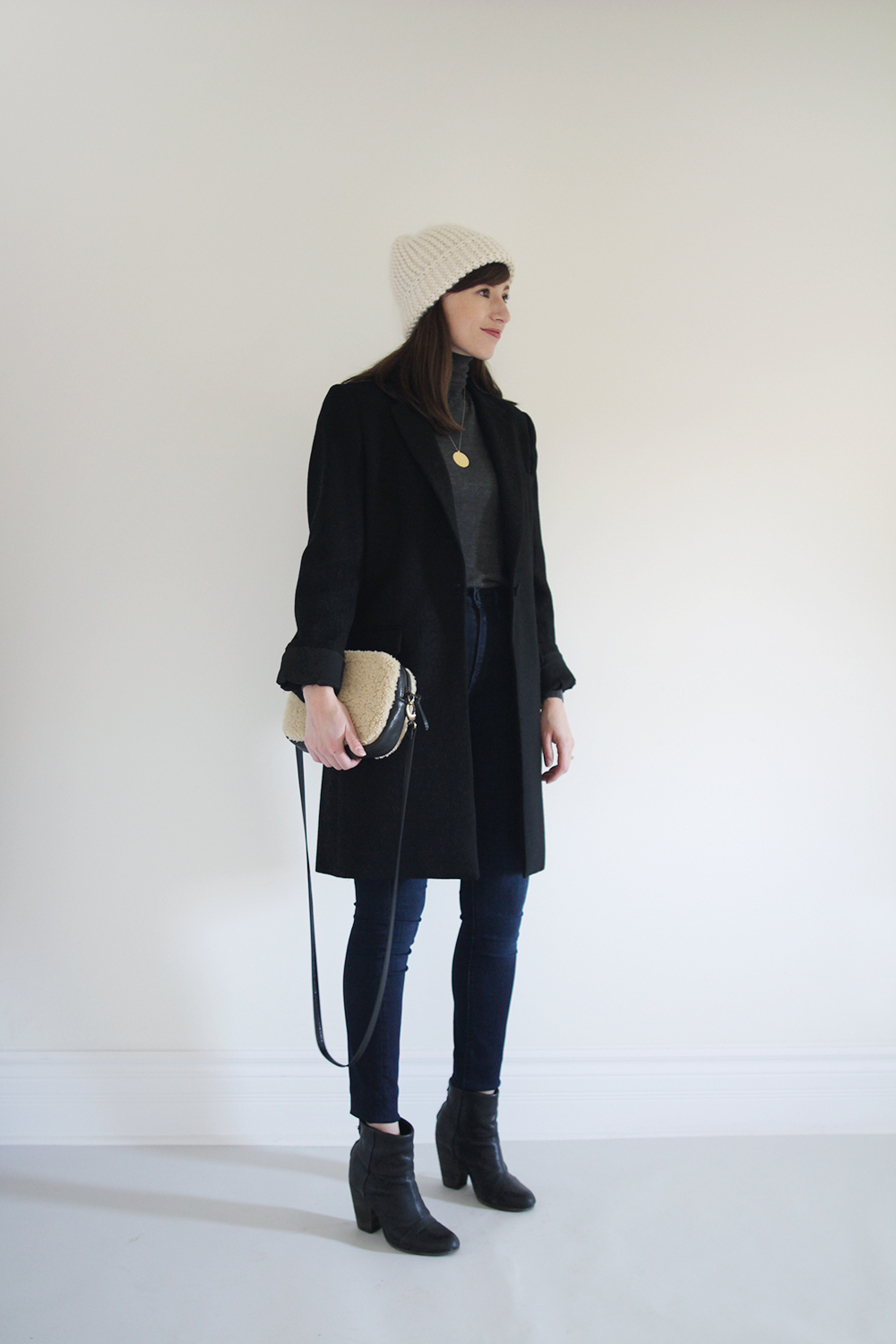 ---
ITEM #9 – THE BASIC BLACK COAT
I'm catching up on items in this post since I had to skip one on Monday but it's time to talk about arguably one of the most timeless, classic closet essentials, the Black Coat. Really though, there is no argument in my mind, it's a must-have. I personally looked for one for a long time but it wasn't until earlier this season that I spotted this one on super sale from Reformation. I pulled the trigger and I have been smitten ever since. Unfortunately it's no longer in stock but I've got a few great options listed below.
The tricky part about finding the right Black coat is all in the details. I knew it needed to be a mid-weight wool, with super minimal detailing, which was apparently a TALL order.  I needed a closure but didn't want too many buttons. I wanted a proper collar but not huge lapels. Pockets were key but not too bulky. Finally, I had to take length into account and wanted it long but not past my knees. After way too many late night hours spent searching, I found 'the one'. As much as I love it, there are plenty more that have come out since that meet the same criteria, here's a look:
1 | .08 THE WOOL COAT | I totally would have ordered this one by ZADY if they'd had my size. It's almost identical to the one I have but I know the material would be of a higher caliber for sure. ($450 USD M, L, XL still available)
2 | The Cocoon Coat | Everlane JUST launched some new coats and they are perfect. The cocoon coat in Camel ($265 USD in Black and Camel) is already in my cart (not that I really need it) and the Belted Wool Shawl Coat is a longer option that looks chic as hell ($265 USD in Black and Grey). The Wool Overcoat is probably closest to my coat but a few inches longer with two buttons.
3 | STAND COLLAR JACKET | Eileen Fisher makes a washable stretch crepe jacket, great for anyone who's not facing super chilly temps. ($312 CAD available in Black, Ash and Clove)
4 | Loro Piana Wool One-Button Coat | Fleurette is a brand I discovered during my latest black coat hunt and it looks like they make some seriously stunning coats (in the USA too!). The Wool One-Button Coat looks a lot like the one I have but the wool fabric is obviously higher quality. It's an investment for sure but a truly timeless staple. ($935 USD Available in Black and Camel)
---

---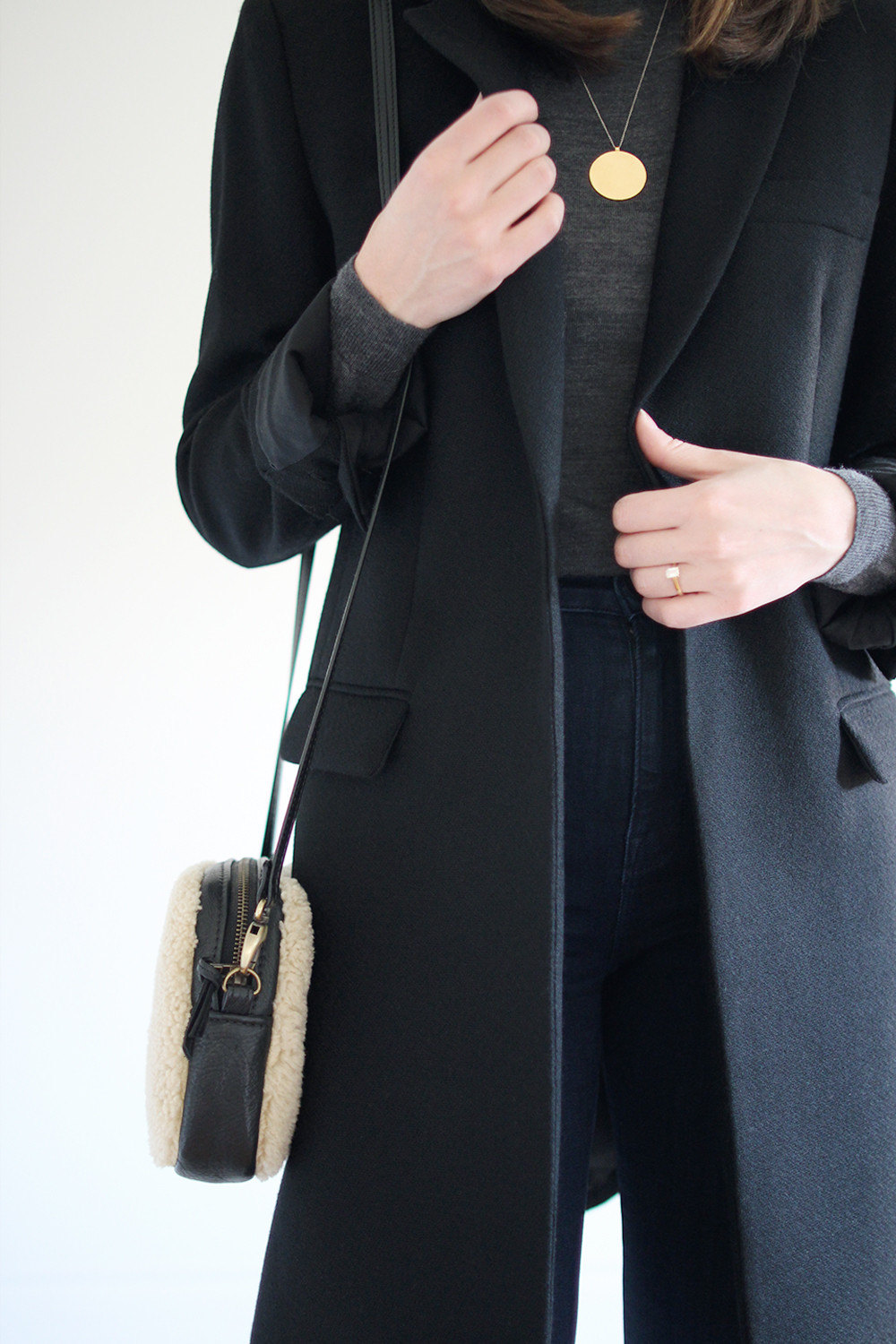 ---
STYLE + FIT DETAILS
| LIGHTEN UP | This look was feeling a little bit dark overall before I added a white (well, cream) beanie and a lighter bag. These two elements are just enough to soften things up.
| MINIMAL BLING | This outfit would be just fine without any jewelry but I love the jolt of interest this minimal, geometric circle pendant adds. It's definitely a focal point and even though it's super simple it seems to elevate the look from basic, to chic.
| CUFF vs STUFF | I initially had my jeans stuffed into my boots for this but it was feeling just a tiny bit too sloppy so I cuffed them to just above the top of the boot. I rolled my socks down a bit so they don't show and I really like the clean and tidy ankle that's happening as a result.
| NEVER TOO MANY NEUTRALS | This look is reminding me that you really can't combine too many neutrals.
| TOUCH OF TEXTURE | The textures throughout most of this look are fine, such as the merino turtleneck, smooth denim and wool coat. Adding a chunkier texture via the knitted beanie and sheepskin bag make the outfit a lot more cozy and I love it! I'm continually inspired by the impact of well chosen accessories. 
| SLIM + SLEEK | There is nothing particularly oversize about this look and that's OK! The sweater is fitted, the jeans are super slim, the coat is sleek and the boots are simple. Sometimes it's ok to keep the proportions all in the same category and I quite like this result. Noted! 
---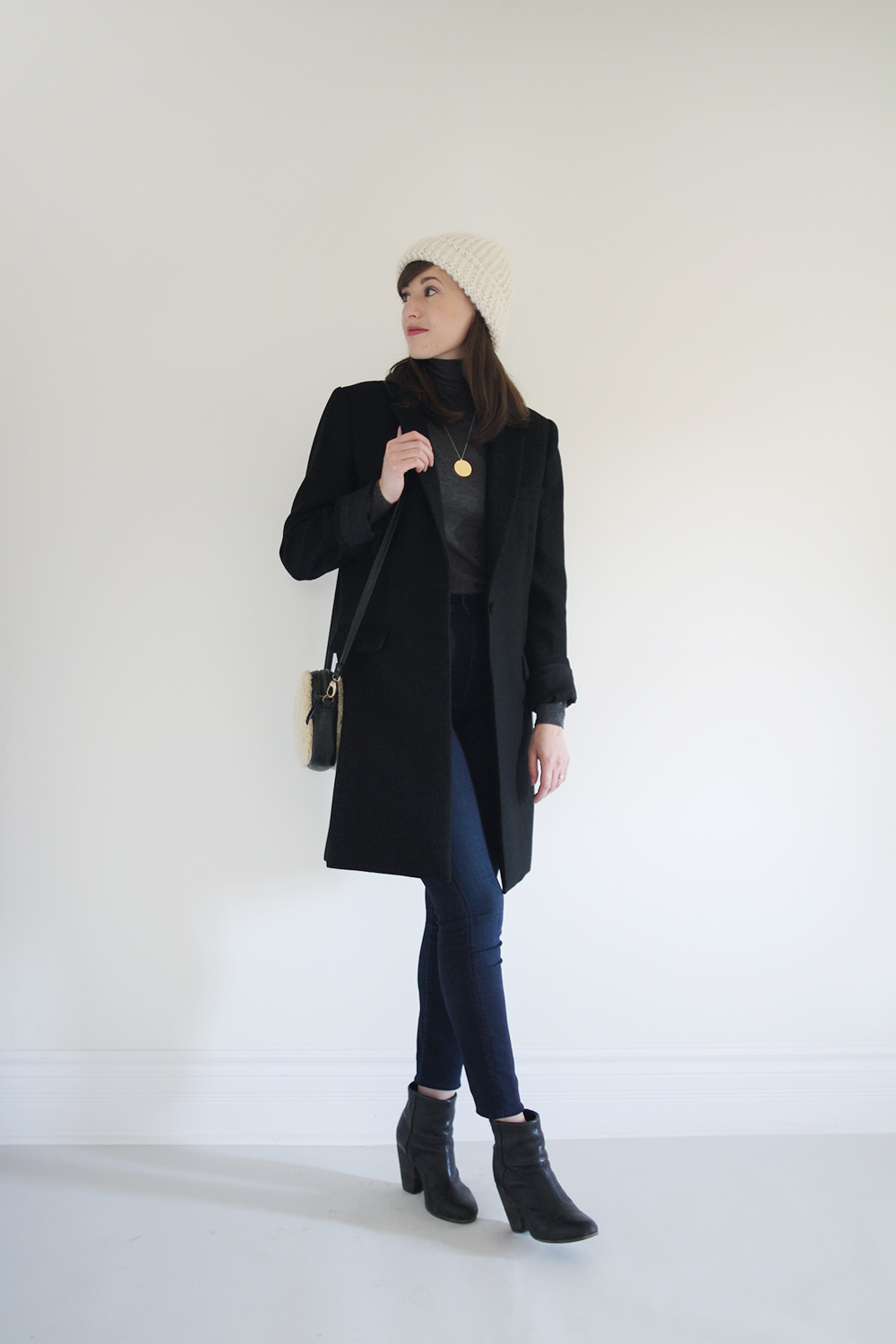 ---
Can you believe tomorrow is Look #10!? Lot's of you are wrapping up your 10 x 10 challenges and it's such a pleasure to read about your different takeaways on the experience. One I discovered this morning reads:
"I can tell you that it's not super easy to create 10 different outfits with only ten pieces – but it's not that hard either ????  Let's get more creative with what we already have rather than buying new stuff every week!" – @atleastblog
Next week I'll dig into my thoughts about the supportive little creative community that's resulted from this challenge, but it's safe to say I'm feeling the best sort of proud about what we're creating! Thanks again for reading and participating! 
---
---

---
This post is not sponsored but contains affiliate links. When you shop via the links above I may make a small commission from a sale. All opinions are my own. Thanks for supporting the brands that support Style Bee!