Yay! Friday has arrived, it's a long weekend here in Canada and I'm so excited to be kicking off a Fall edition of the 10 x 10 Challenge! I'd really wanted to do a Summer series but the season got away from me so I'm extra psyched about this one. I've done quite a few variations of this challenge before (Spring 10×10 2015 | Summer 20×20 | Fall 12×12 2015 | Spring 10×10 2016) but I keep coming back to it each season because I find it super useful and a ton of fun. I've got all the details below about what's involved, my 10 items, why you should try it, other blogger inspo and how to participate.
Now let's get started!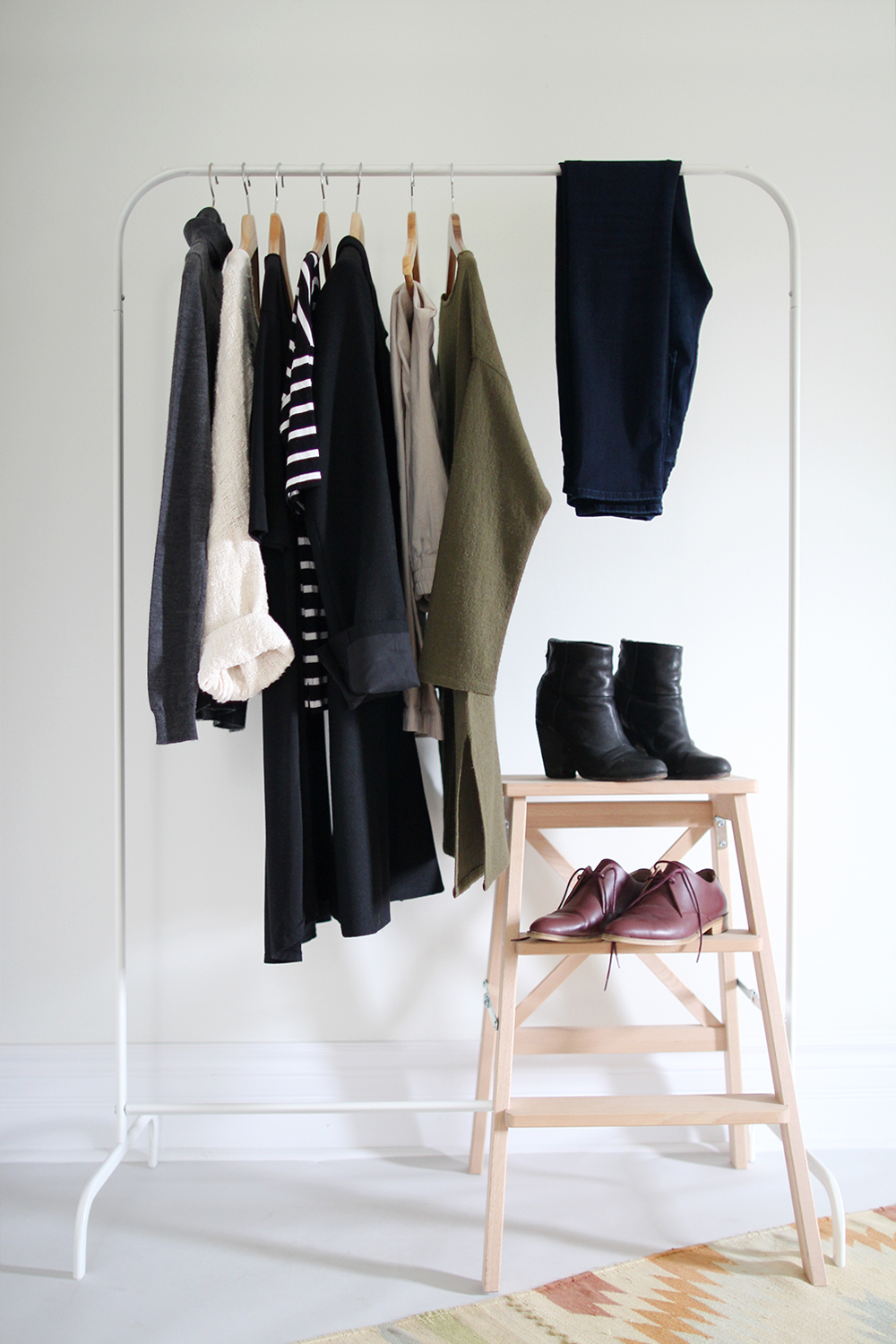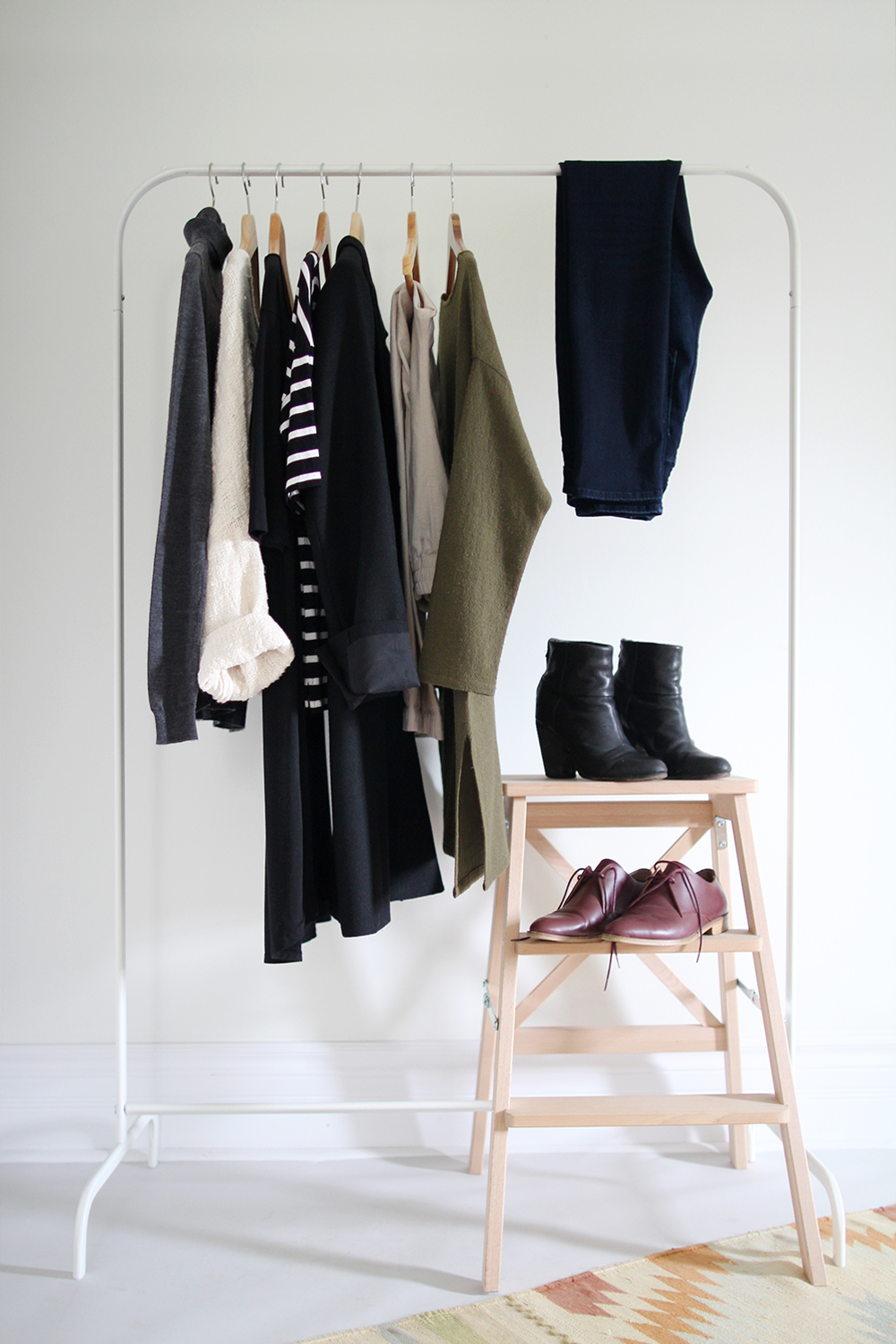 ---
GENERAL RULES
The best part about the 10 x 10 Challenge is how simple it is. 
Pick 10 items from your closet.
Style them into 10 looks.
Give yourself 10 days to do it. 
That's it!
Now, no one's going to be jumping down your throat if you bend these rules a little. It's supposed to be fun, enjoyable and thought provoking not frustrating or confining. It's really just about about getting creative and pushing your style boundaries a little more than you normally would.
Accessories like jewelry, bags, hats and scarves are extra and you can totally keep your workout gear separate too.
---
THINGS TO CONSIDER
The only part that takes a tiny bit of consideration (like less than 10 minutes) is the initial items you choose. It's entirely up to you but a good starting point would be something like:
4 TOPS
2 BOTTOMS
1 DRESS
2 SHOES
1 TOP LAYER
Don't overthink it or it will feel forced. Add another shoe and ditch the dress or switch a top for a skirt! You should definitely pick the pieces you're excited to wear!
COLOUR: I usually opt for neutrals with 1 pattern and a pop of colour from 2 categories like a top and a pair of shoes. But if you want to get cray with tones, patterns and prints, go for it!
WEATHER: Check that forecast. I've had some seriously chilly times when I underestimated mother nature's fickle ways. Not this time though!
LIFESTYLE: You're much less likely to cheat if you pick items that suit the activities you do most. For me that's working in the studio, running errands, walking Dobby, casual meetings and dinner with friends/family. Nothing super glam or overly formal. If you work in a more corporate office setting that's ok too! Consider trying a 10×10 for work and then let loose in the evenings.
SHAPES: Lastly, you'll just want to opt for items that interchange well in terms of silhouettes. Keep in mind whether something is high waisted, tucks in, layers easy etc.
WORKSHEET – Use the simple 1 page worksheet to jot down your thoughts and takeaways from the experience!
---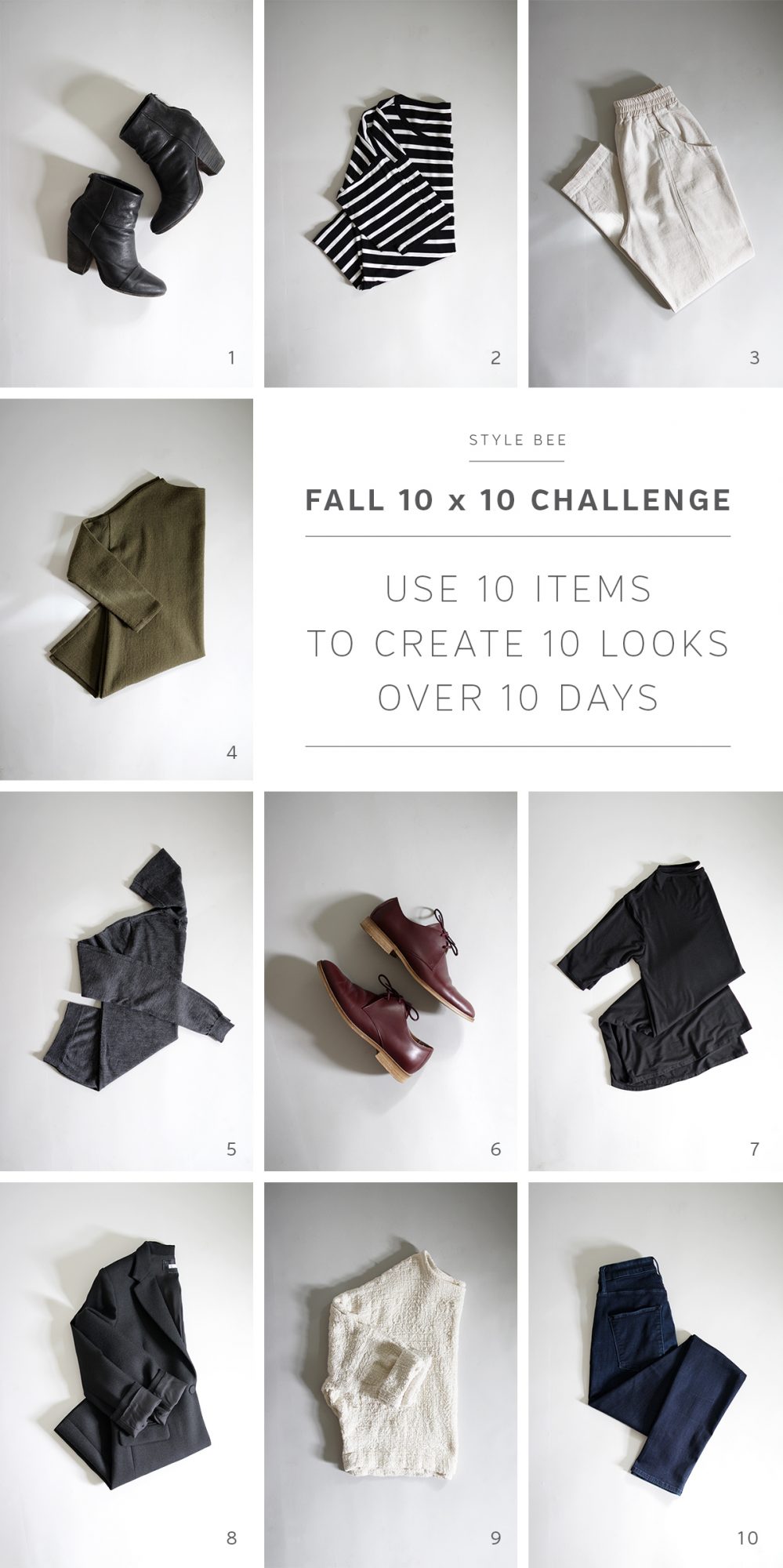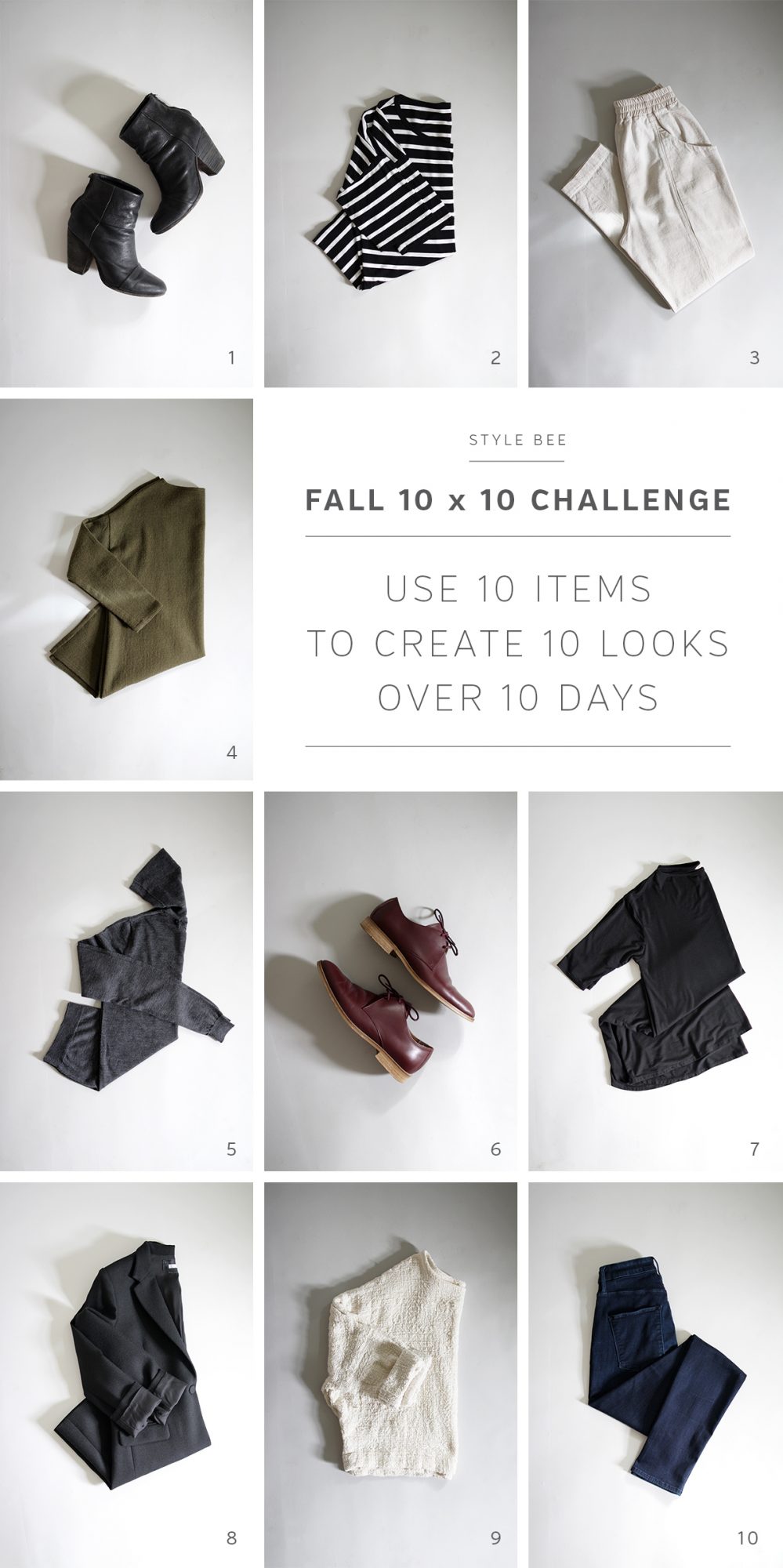 ---
MY 10 ITEMS
While I didn't want to overthink my choices, I did try to focus on pieces I would actually wear on an average day (like this outfit). Items that are currently weather appropriate and would be comfortable during my day-to-day activities. The weather here fluctuates a lot so I tried to grab items that would be easy to layer and give me flexibility with varying temps. Looks like highs will range from 20ºC to 14ºC (which is gorgeous Fall weather for us) and lows will range from 11ºC to 6ºC (which is definitely chilly!).
Confession: I found this challenge the hardest one to choose for yet. After 2 years of this lean closet mission I think I might actually be close to a point where I love everything in my wardrobe, so I really felt like I was leaving things out this time, whereas before it was much simpler. I digress…
So here's what I chose: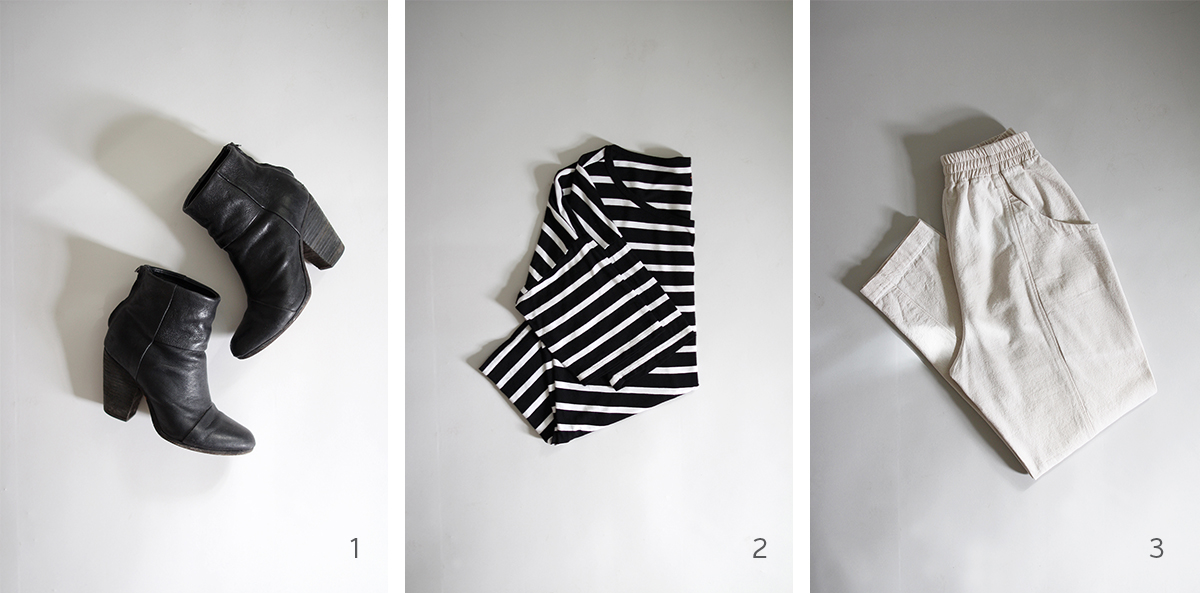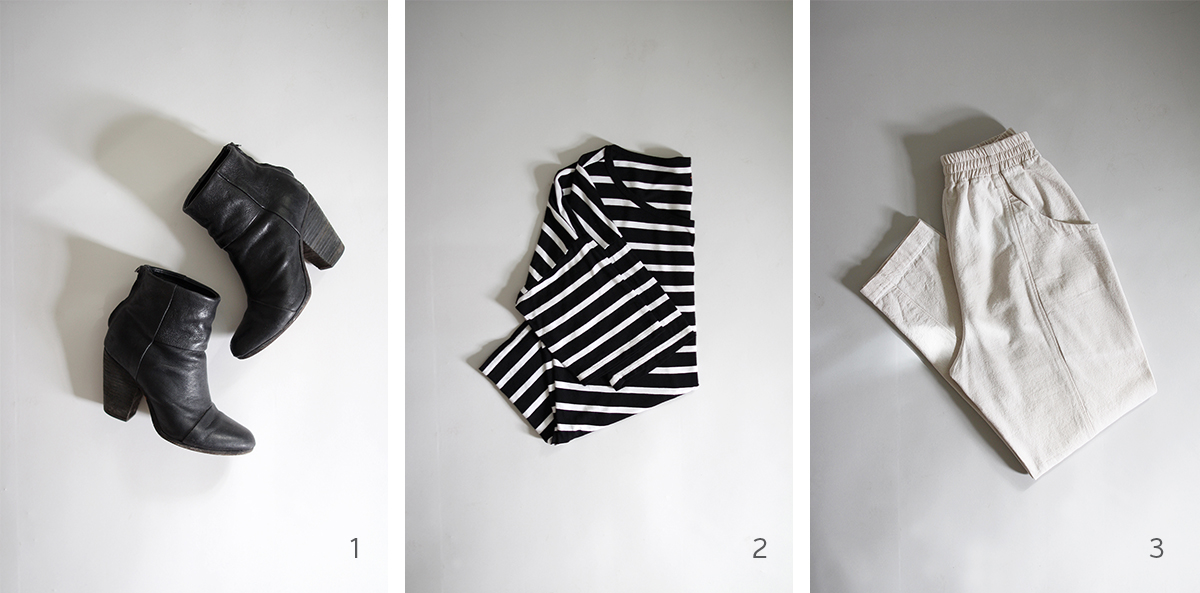 1 | NEWBURY BOOTS (OLD 4 yrs +) by Rag & Bone – I've had these boots for so long now and they're still a favourite of mine. They're classic, super comfortable and give you legs like a ballet dancer. I bought them when they were made in the USA but they're now made in China (same price though of course). Similar Responsibly Made Versions: Everlane | Fortress of Inca | Rachel Comey | ATP Atelier 
2 | STRIPED 3/4 SLEEVE TEE (n/a OLD 2 yrs +) from Joe Fresh – A cheap old impulse buy that turned into a closet hero. To be honest I'm surprised this top is still in such good shape but I hand wash and hang dry so that might be why. Here are a few responsibly made versions worth looking into! Responsibly Made Versions: Everlane | Amour Vert | The Great
3 | CLYDE PANTS (OLD 1 yr +) by Elizabeth Suzann – I love these pants and wear them all the time but I find myself feeling self-conscious about my hips when I wear them in photos, time to remedy that! I'll get into sizing and fit in the outfit post.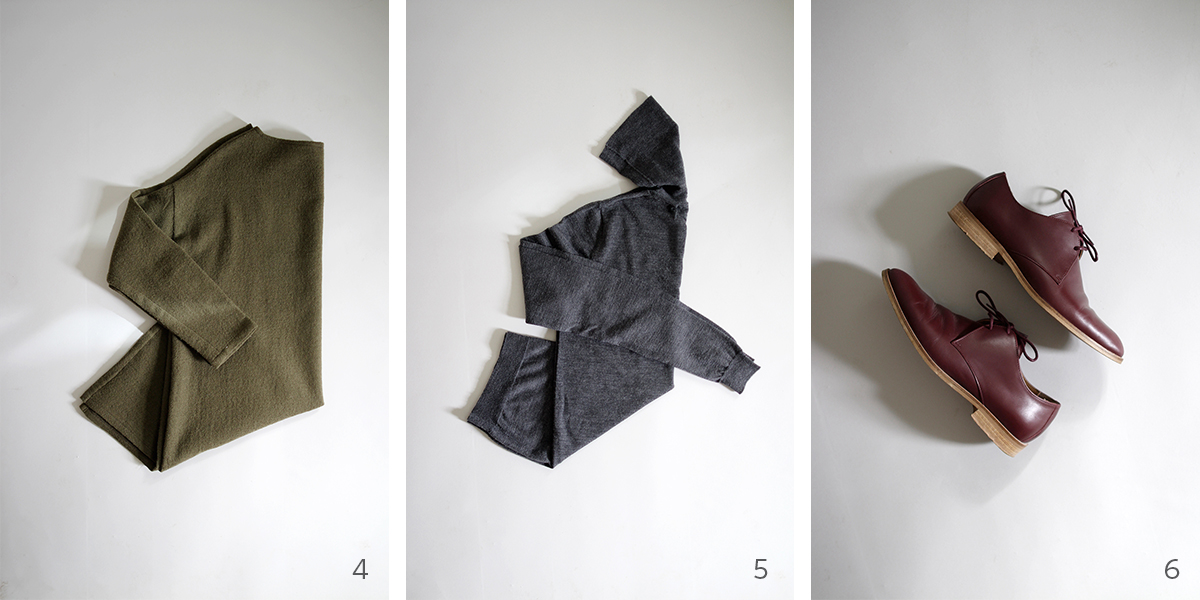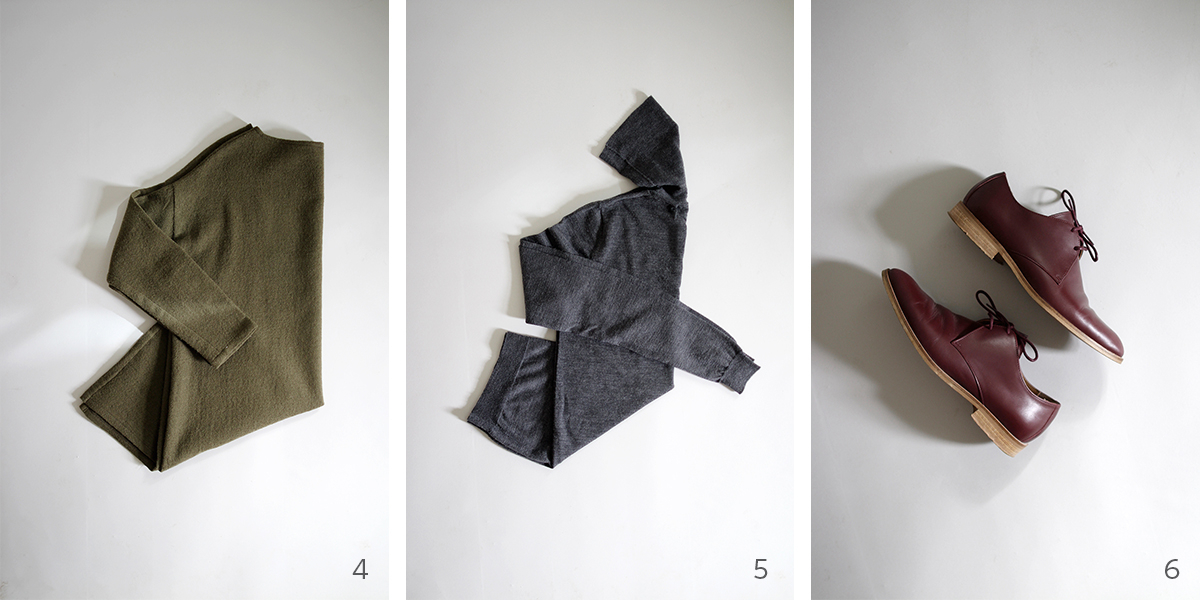 4 | OLIVE TUNIC (n/a OLD 1 yr +) by Elizabeth Suzann – Favourite cold weather item. I wore this in last years Fall 12 x 12 and had to bring it back for this one. Lots more to say about this hero soon! Responsibly Made Versions: Everlane (in Grey and Navy) | Eileen Fisher (many colours) | Jamie + The Jones (olive tunic with short sleeves) | Black Crane (beautiful shape and cement colour)
5 | TURTLENECK (n/a OLD 2 yrs +) from Zara – I have this sweater in 2 colours and wear it A LOT during the FW months. It's great for layering and staying cozy without any bulk but it's on it's last legs so I wanted to give it some limelight. Responsibly Made Versions: Betina Lou (love these and made in Canada!)| Everlane | Amour Vert (black and striped)
6 | MODERN LOAFERS (NEW) c/o Everlane – LOVE these shoes so much. They're the perfect touch of menswear chic that my closet needed. More on fit and such in the post.

7 | SWING DRESS (NEW) c/o Sotela – I can't get enough of this amazing dress. It's seriously SO comfy and versatile. I'll divulge more when I style it.
8 | BLAZER COAT (n/a NEW) by Reformation – I looked for a structured, but not too structured, simple, black coat for so long and I managed to nab this beauty on mega sale. I'm calling it a blazer/coat because it's the perfect in-between layer. Other Responsibly Made Versions: Everlane (very similar overcoat) | Everlane (unstructured coat) | Objects Without Meaning (long and navy) | Rag & Bone (blazer) | Soft Joie (light + casual) |
9 | T-SWEATER (currently n/a OLD 1 yr +) by Jamie + the Jones – It's my personal belief  that everyone should have this sweater in their closet. I honestly can't go a week without wearing it. It will be back in stock soon but here are a couple Responsibly Made Versions: Elizabeth Suzann (Eva Top) | Amour Vert (cable knit) | Base Range (sweatshirt) |
10 | SKINNY JEANS (OLD 1 yr +) c/o AYR – Easily the most slimming pants I've ever worn. Thicker than a jegging but softer than a jean and I love the super dark indigo blue.
---
For this challenge I really wanted to test these looks in real life but since I can't shoot an outfit post every day this is what I decided to do:
Shoot outfits 1-5 this weekend. 
Post about 1 look each day during the week with all the details, deliberations etc.
Share the 'real-life' version on my Insta Stories each day as proof that I'm really wearing it. There is a good chance it won't look identical to the post but I'm alright with that.
Repeat for looks 6-10 the following week. 
Full recap to be published on October 24th.
My goal is to wear only these 10 items all the way through (starting Monday), even on days when there is no post. So technically my 10 items will have to stretch over 12 days unless I cheat on the weekend, but I'm cool with that. Hope that sounds good!
---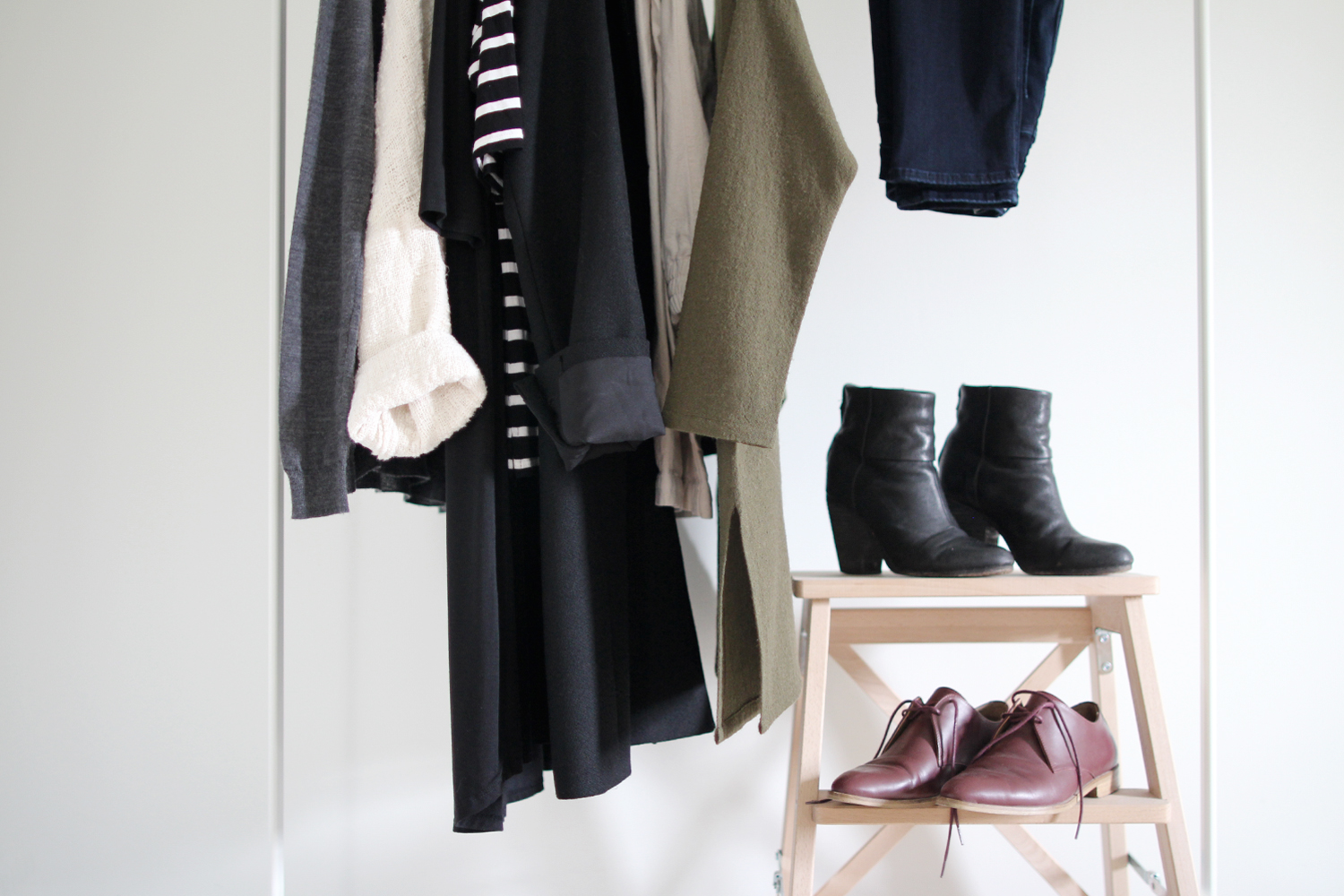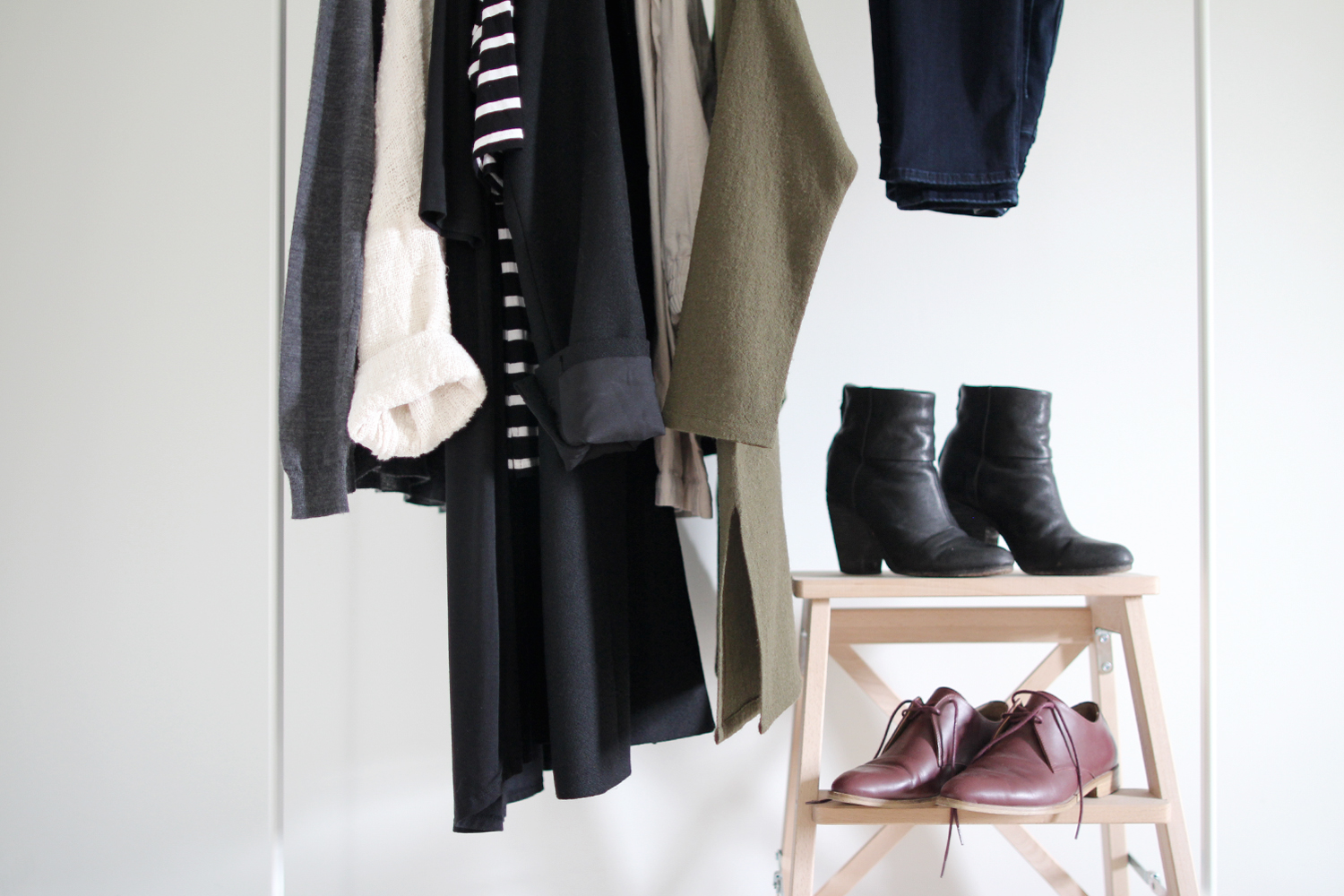 ---
WHY BOTHER DOING THIS CHALLENGE?
Good question. I love this exercise and think it's absolutely worthwhile for everyone, whether you're into capsules and lean closets or not! Here's why:
CLARITY – It's remarkable that everyone I've seen take this challenge has noted how much it helped them streamline their sense of personal style. You will quickly see how little you really need to have a distinct style that feels genuine and unique to you but still offers a lot of versatility.
CREATIVITY – This little exercise forces you to get creative without feeling confined or spending any money. The time frame is short so there's no stress about missing out on other outfits and you get to really test the limits of the ones you have. I've yet to come across someone who didn't discover an outfit they would have never tried otherwise but ended up loving.
INSIGHTS – It's a super simple way to reaffirm the looks you love to wear, discover 1 or 2 new ones that you can return to and rule out anything you've been tempted to try but didn't love. It's also a great way to approach packing for travel or to try your hand at a mini capsule closet.
WORKSHEET – Use the simple 1 page worksheet to jot down your thoughts and takeaways from the experience!
Need more convincing? These ladies have all done a 10 x 10 Challenge and shared tons of wonderful insights and takeaways from their experience. Check out Caroline's Fall Closet Remix over on Un-Fancy (can't wait for our winter remix!), a great Summer 10 x 10 from Andrea of Seasons + Salt and Paige of Style This Life and I loved how simple Bay to Baltic kept her looks too. All worth a look and definitely peruse the #stylebee10x10, and #unfancyremix hashtags for more real-life documentation.
---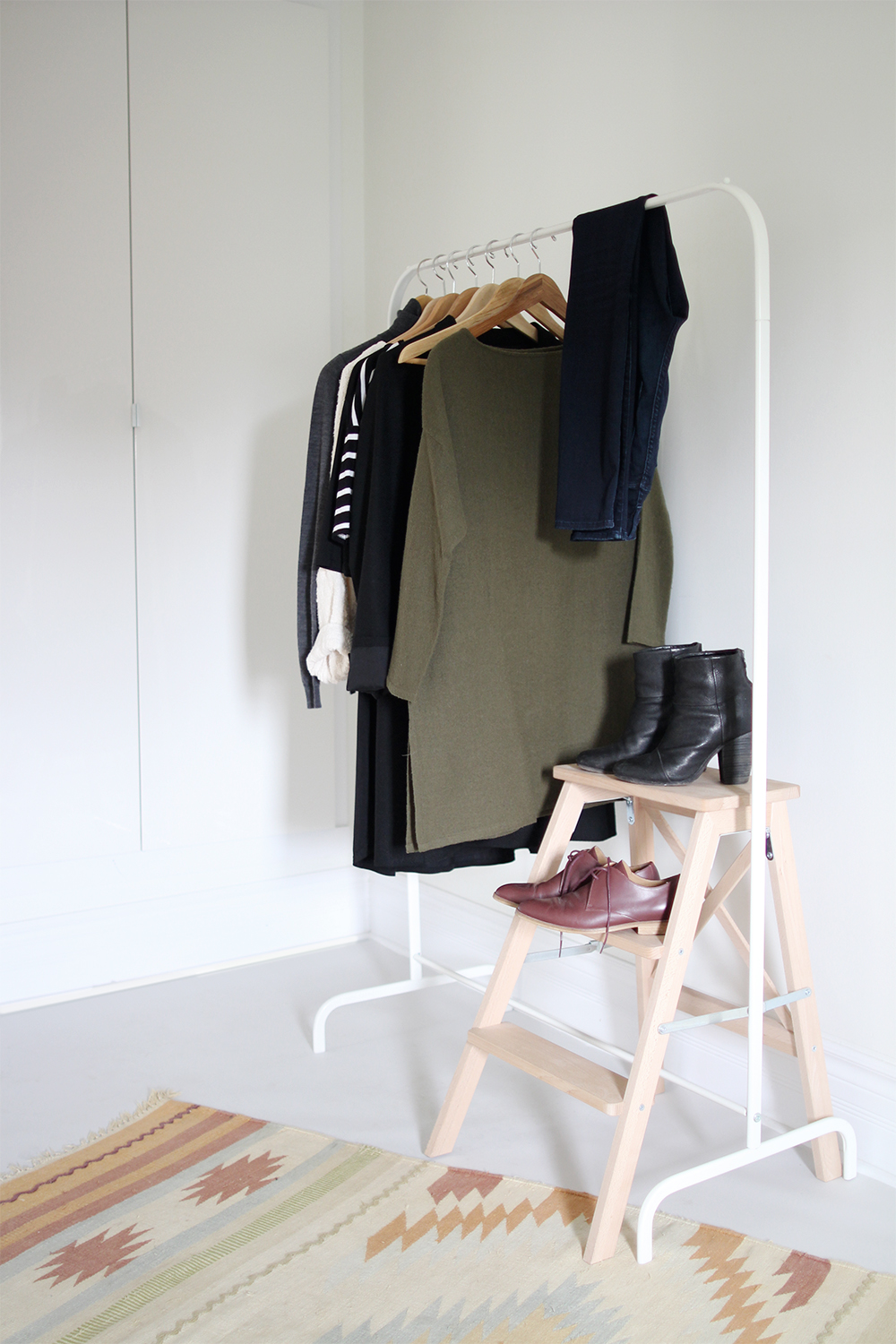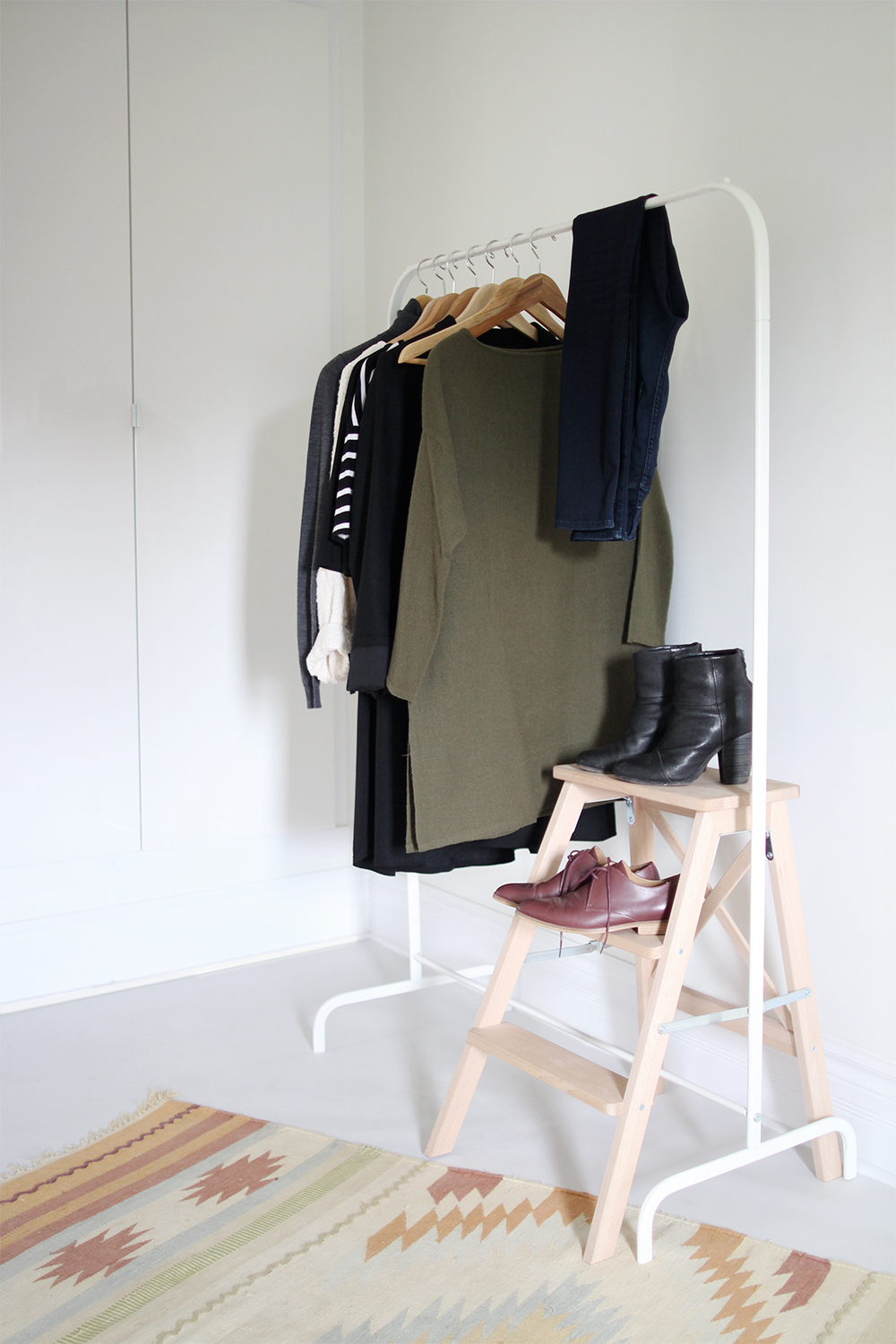 ---
JOIN IN!
This challenge officially kicks off on Monday October 10th so you've got all weekend to decide if you're going to join and, if so, which 10 items you're going to include. If you do decide to try it, which I hope you do, be sure to tag your posts with #stylebee10x10 so I can find you and share some favourites when I wrap up at the end! It's a great way to connect with other lean closet-ers doing their own 10 x 10 and such a fun source for inspiration. Hope to see you there!
---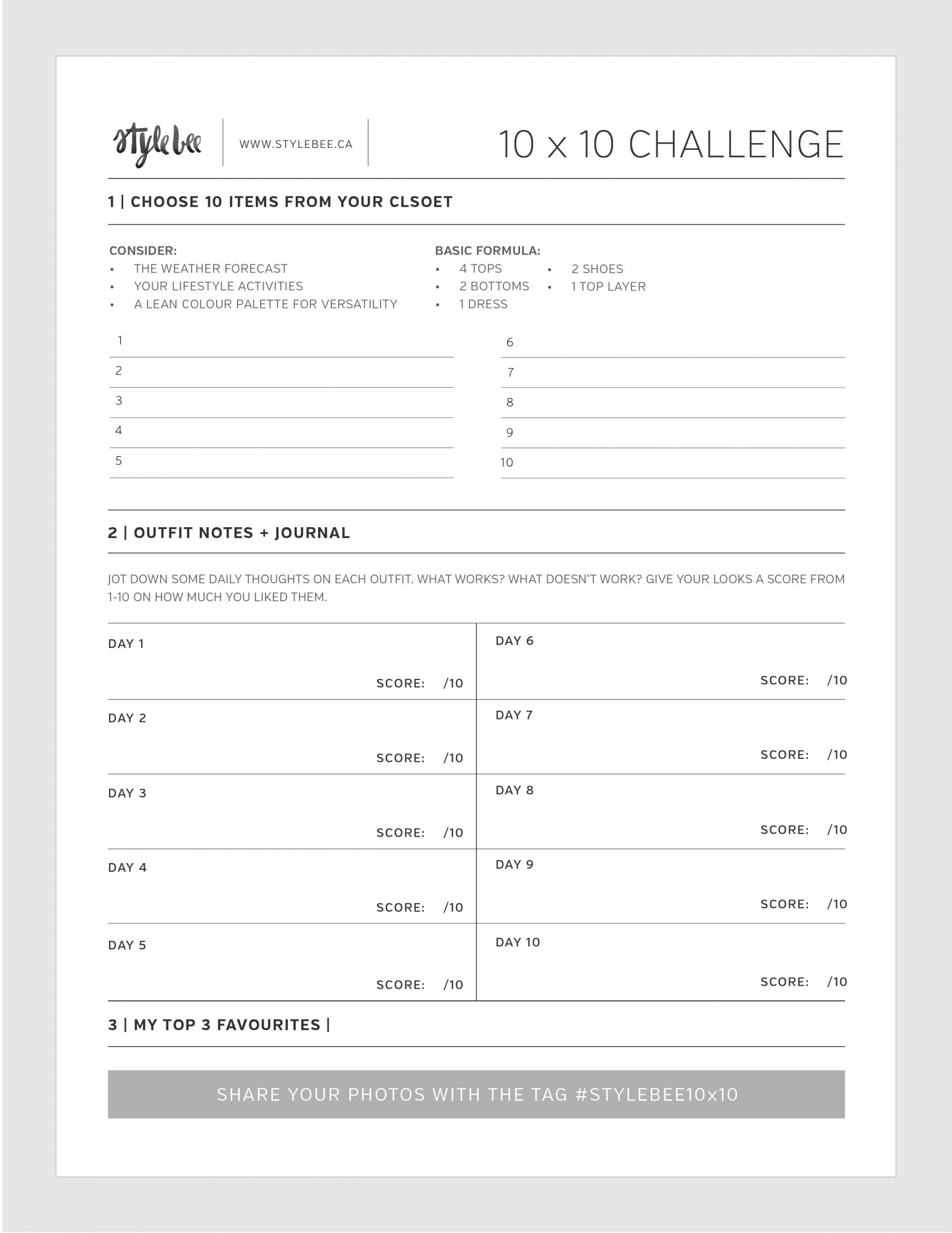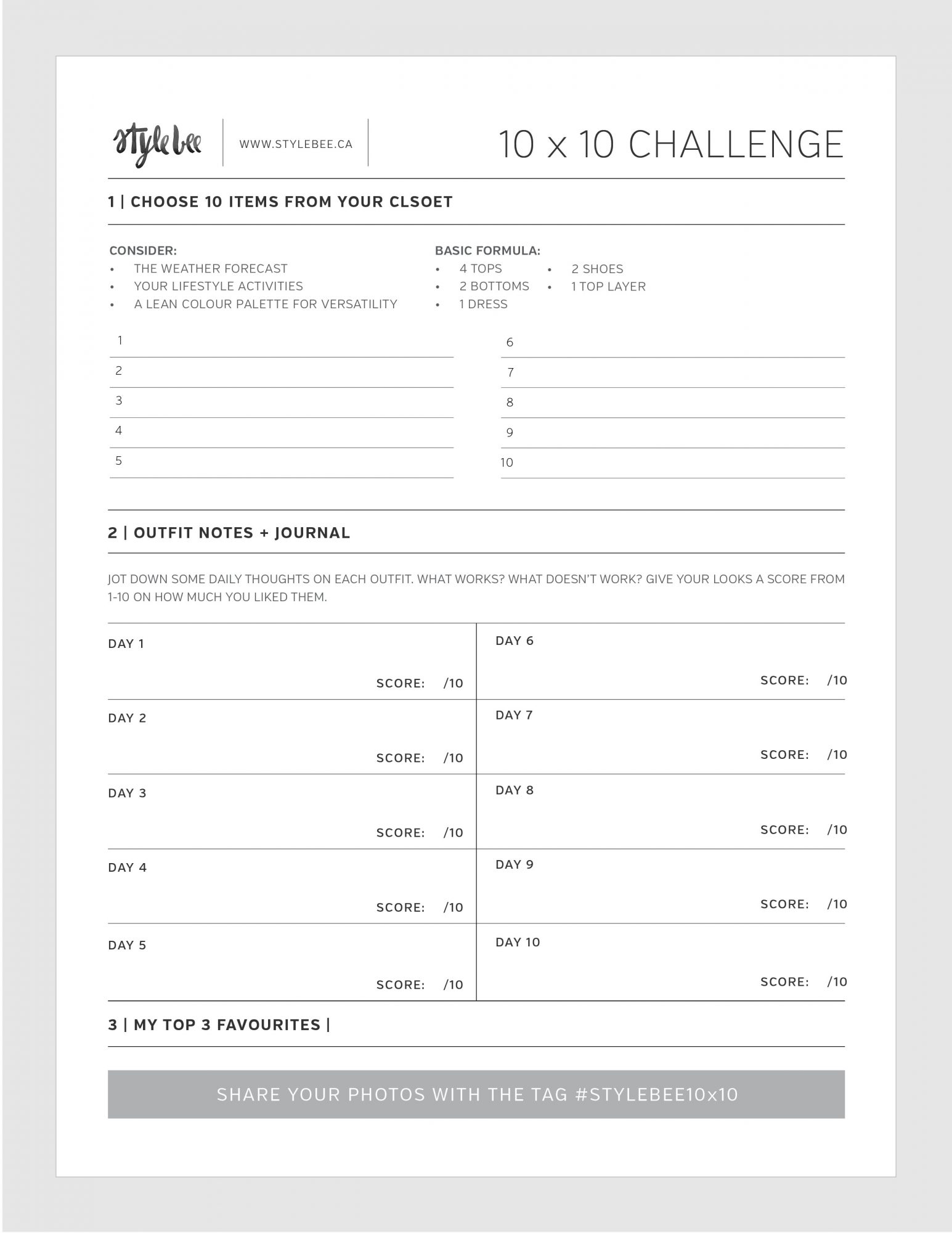 ---
SHOP MY 10 PICKS RESPONSIBLY

---
HAVE A WONDERFUL WEEKEND + HAPPY THANKSGIVING TO EVERYONE HERE IN CANADA!
---
This post contains affiliate links. When you shop via the links above I may make a small commission from a sale. Thanks for supporting the brands that support Style Bee!