Today I'm thrilled to be kicking off a two-part series in partnership with one of my favourite responsible clothing brands, BRASS. If you're not familiar with them already, well, you're in for a serious treat! Jay Adams and Katie Doyle are the best friend founders of this industry shaking, no-nonsense speaking, real women championing line of beautifully designed, expertly made and accessibly priced clothing. We've been collaborating since early 2015 and I've loved watching the BRASS community grow and their collections expand.
I'm a big fan of the pieces they create but two additional things about the company really seal the deal for me. The first is how much they genuinely listen to their customer and create extremely useful products that answer her requests and needs. The second is that BRASS produces their collections ethically and responsibly while maintaining complete openness about the people and the factory they work with in Hangzhou, China. 
For this series I asked Jay and Katie to help me shine some light on what ethical manufacturing looks like, regardless of where the factory is located and to share their experience in choosing a production partner. I have been devouring every insight they've sent my way and couldn't be more pleased to share all of them along with a couple of their beautiful new pieces with you today too. So here goes!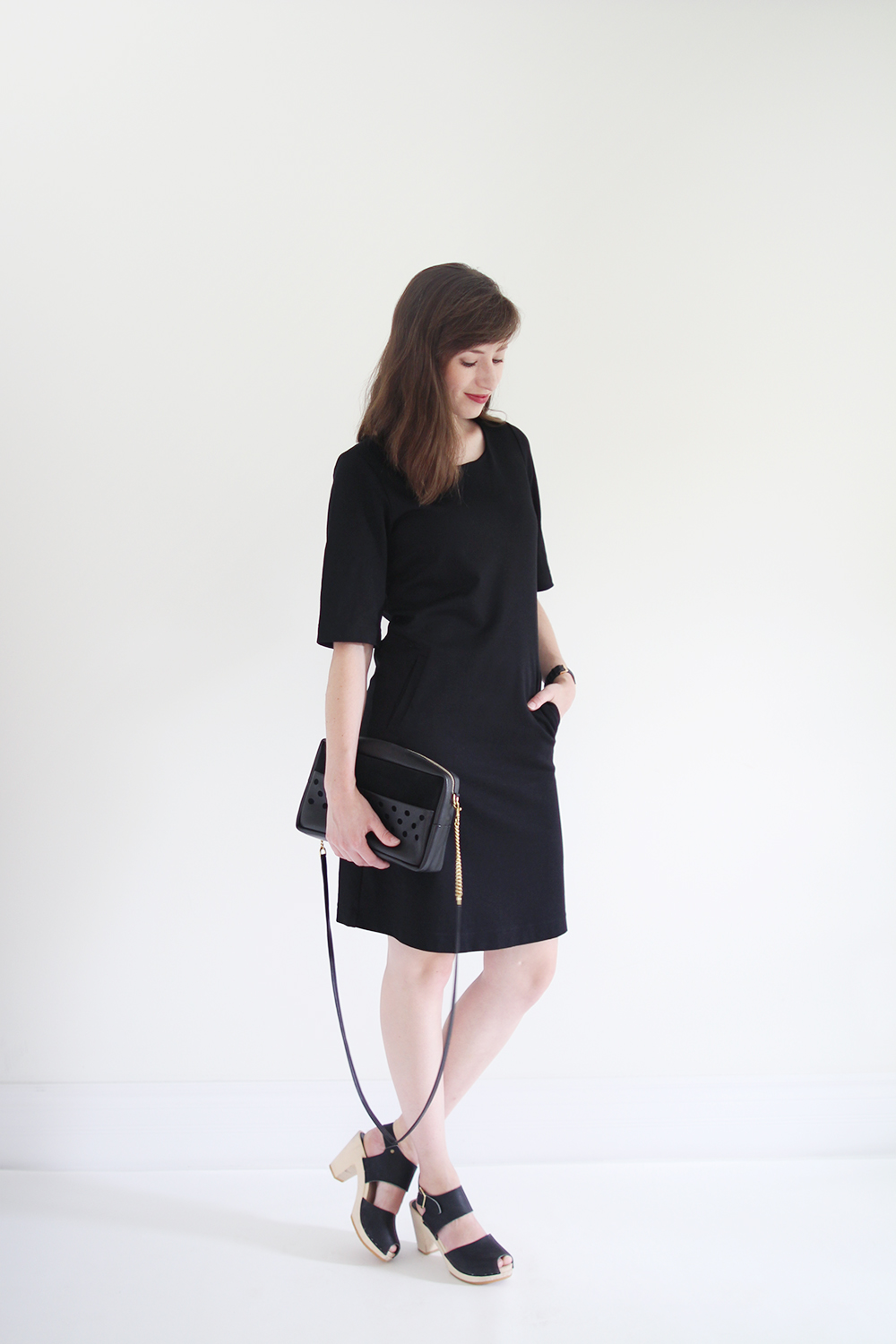 ---
STYLE BEE – Can you share a bit about your experience working with a factory in China? Why did you choose the one you work with and why is it so far from the typical stereotype?
BRASS – One of the major catalysts in starting Brass was my (this is Jay) previous experience in sourcing and manufacturing. I had worked for 4 years, as a project manager, connecting companies in the USA to reputable factories throughout China. Then, we would oversee the entire production process from design to delivery for our customer. This job taught me a lot about the production process and the wide range of factories that exist.

I toured and visited our cut and sew factory before we started Brass. Having seen dozens of factories in the past, I instantly knew that they would be a dream to work with. The facility was spotless, down to their notions room where every single box of buttons and zippers was clearly labeled and accounted for. The quality of the clothing and the fabrics they were using were far superior to most. And most importantly, the people. The managers, the sewers, the sales people were so smart, experts at their craft and thoughtful about the apparel industry and how it is changing. They understand why we want to use dead-stock fabric to eliminate waste. They are at the forefront of adapting to China's increasingly stringent fabric dying regulations and improving environmental standards. And their employees are paid above minimum wage. Being located in Hangzhou, this is among the top 10 highest minimum wage levels in the country. Employees are provided with housing (if desired), health insurance, and time off. We were always motivated to work with this factory, not based on location or price, but rather based on overall quality. They just happen to be in China.

This is the portrait of an "ethical" factory. The location of a factory, whether in the USA, Canada, Italy, or China does not necessarily indicate if a factory is "ethical" or not. It is the people and how the factory is run which determines whether it is "ethical" or not. Unfortunately, there are people exploiting workers all over the world. You'll also find fabulous, expertly-run factories all over the world. The danger we run in labeling certain locations as "ethical" or not is that the people who are running above-board operations and providing opportunities for local workers will get overlooked. The hard part for consumers is that there is no clear indicator for what makes a brand "ethical" or not. You cannot simply rely on where on item is manufactured or the price of the garment to decide if an item was made ethically. However, if the price is alarmingly-low and seems too good to be true, it's fairly safe to say someone was exploited in the production process. Luckily, most brands that have expert manufacturing partners are very proud of this and will likely have some information about their production facilities on their website.
---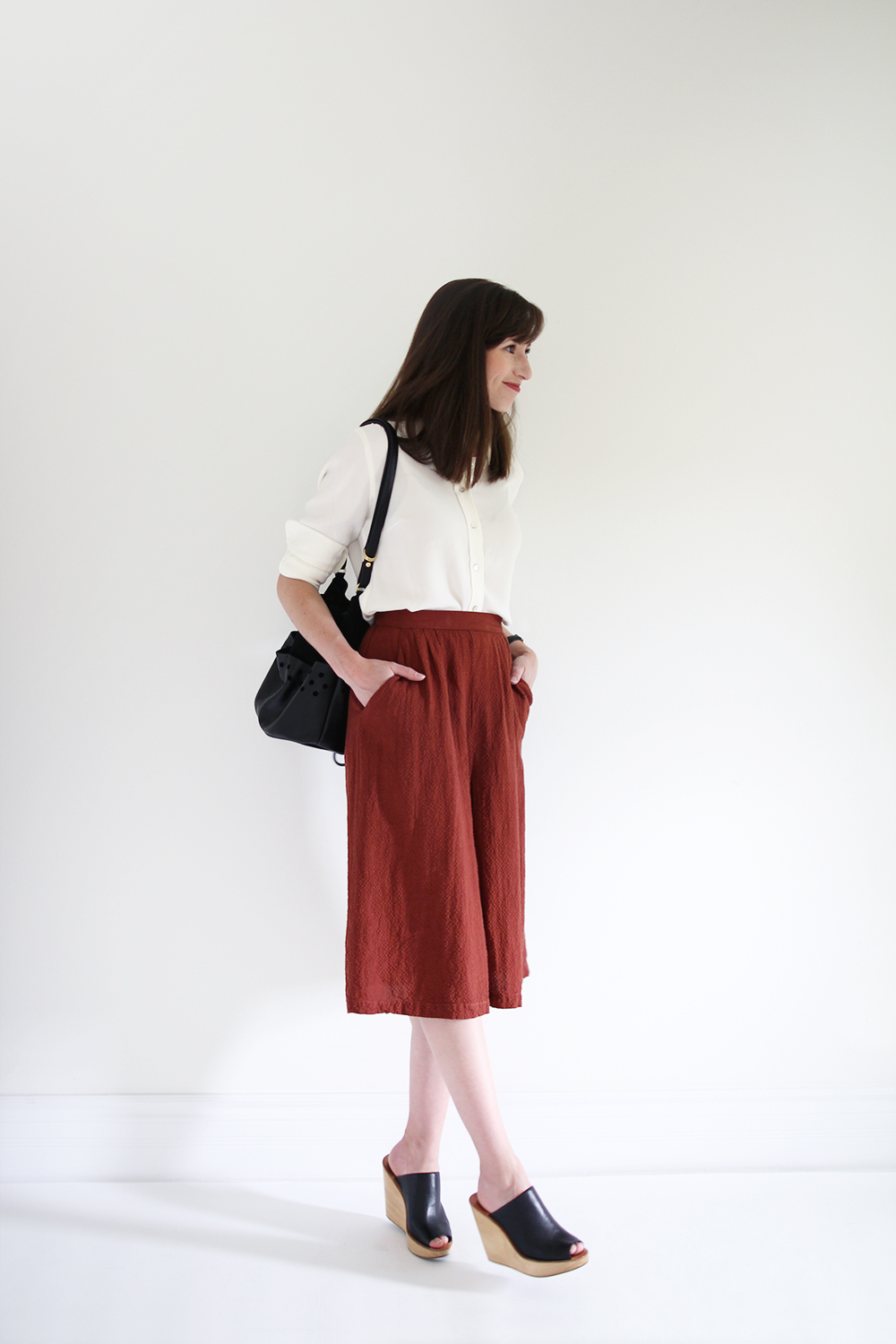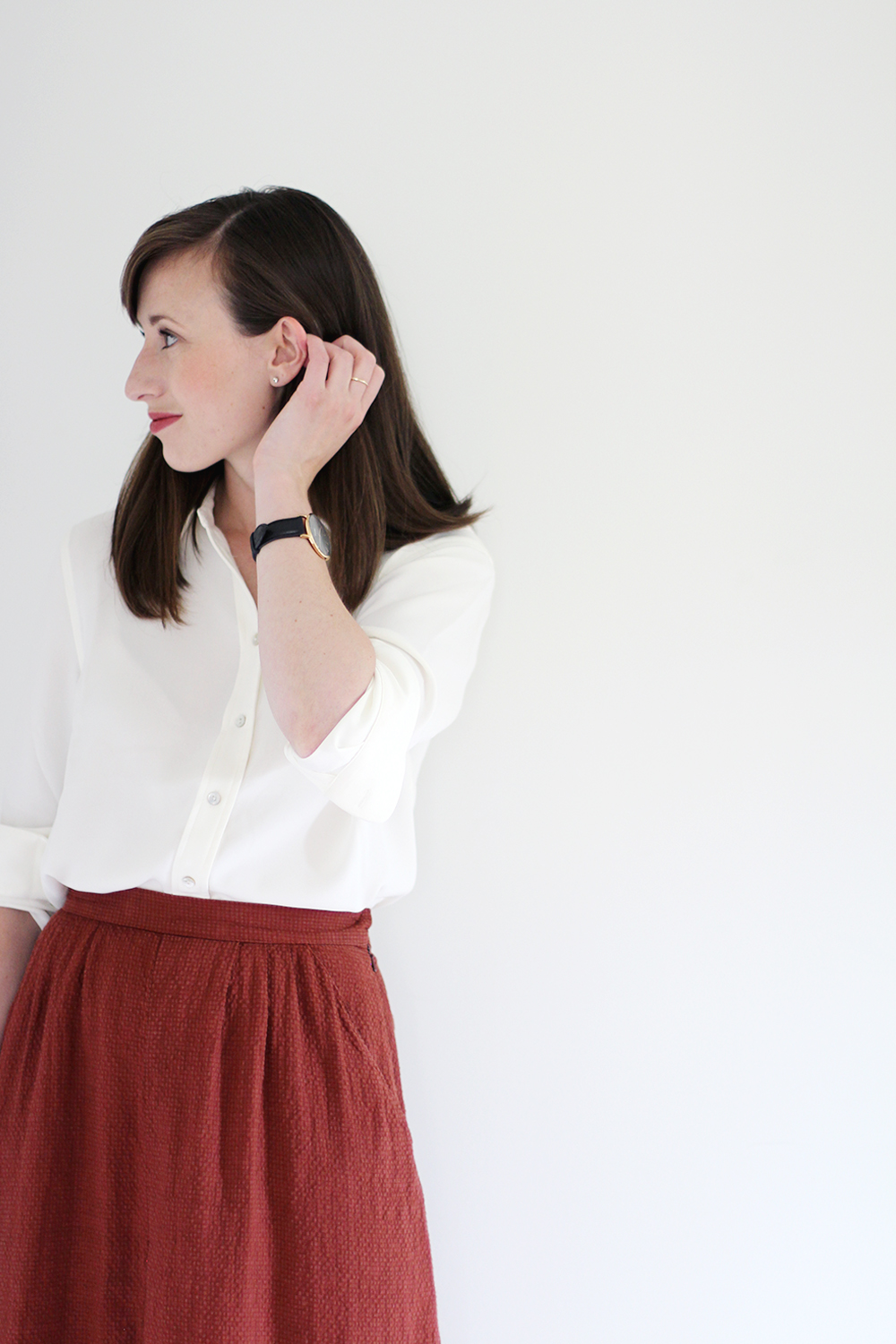 ---
STYLE BEE – You've talked a bit about how your factory partners are also your mentors, that's wonderful! How have they helped guide your choices in terms of design, construction, fabric and fit?
Producing clothing is a collaborative process, shared between the designer and the manufacturer. The designer has the product vision and creates the initial drawing and tech pack (a blueprint for clothing). The manufacturer then takes this tech pack and applies their knowledge from years of producing apparel to create the piece of clothing.

A great manufacturer will advise on ways to improve fit or function. For example, we produced our A-Line Dress in white last summer. We knew that the pockets were integral to the design because our customers love a dress with pockets. The pattern-maker knew that we would be unable to use the same fabric for the dress as the pocket lining. So, he proposed we use a lighter weight white fabric to reduce the outline of the pocket. We are lucky to be able to rely on Mr. Jin, our pattern-maker, to make suggestions that improve our clothing. His attention to detail in the sampling process produces a higher-quality product for our customer.
---
Of course, ethical practices and responsible manufacturing are an integral part of what BRASS is offering, but the end goal is to provide customers (like us) with really well designed and made products that we love to wear again and again. BRASS's latest collection features new shirts, pants and dresses that are excellent style workhorses for all those lean closet enthusiasts out there. Today I've style the new Button Down Blouse and A-Line Dress into two simple, functional and totally chic looks perfect for either work or play. See below for my thoughts on both items.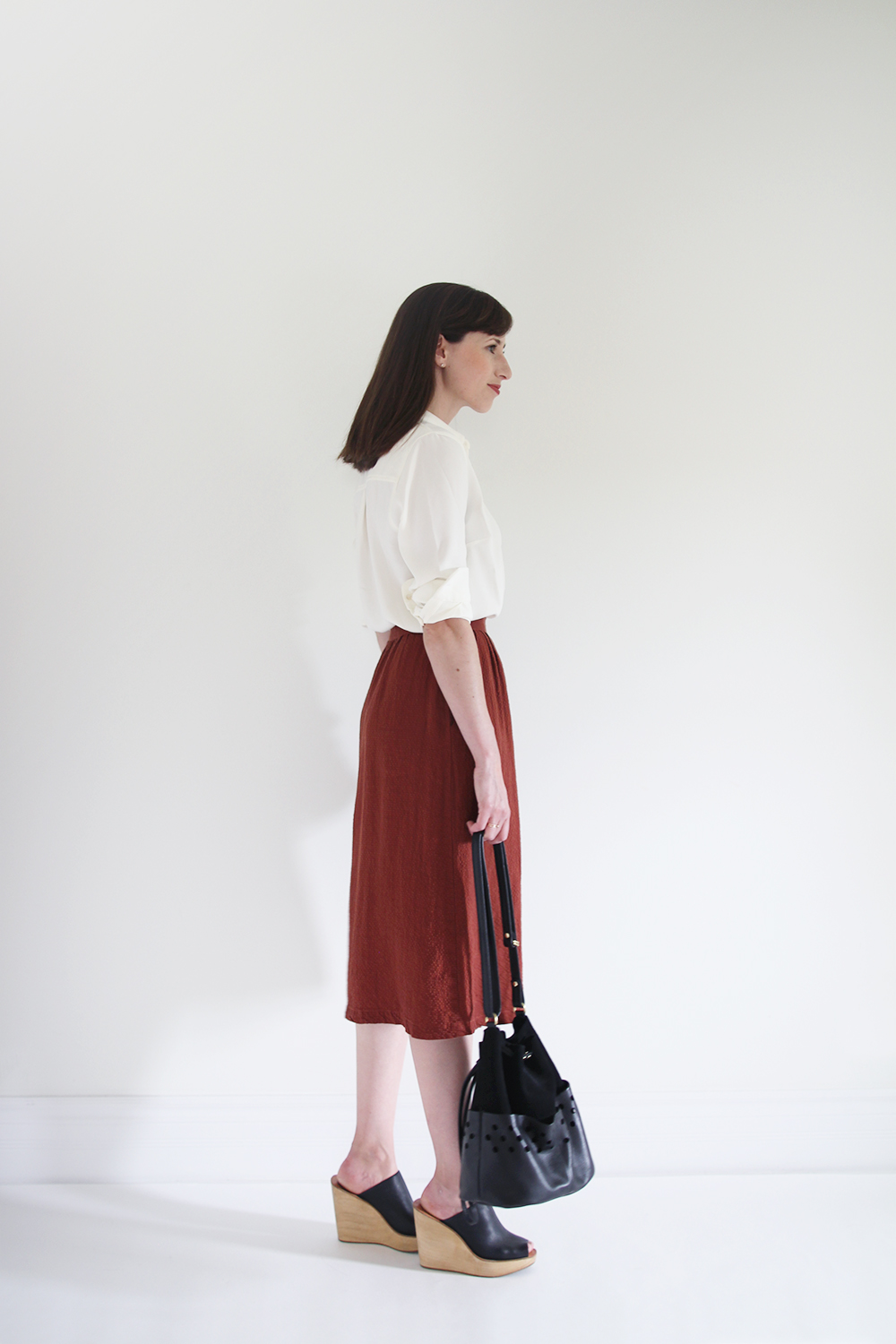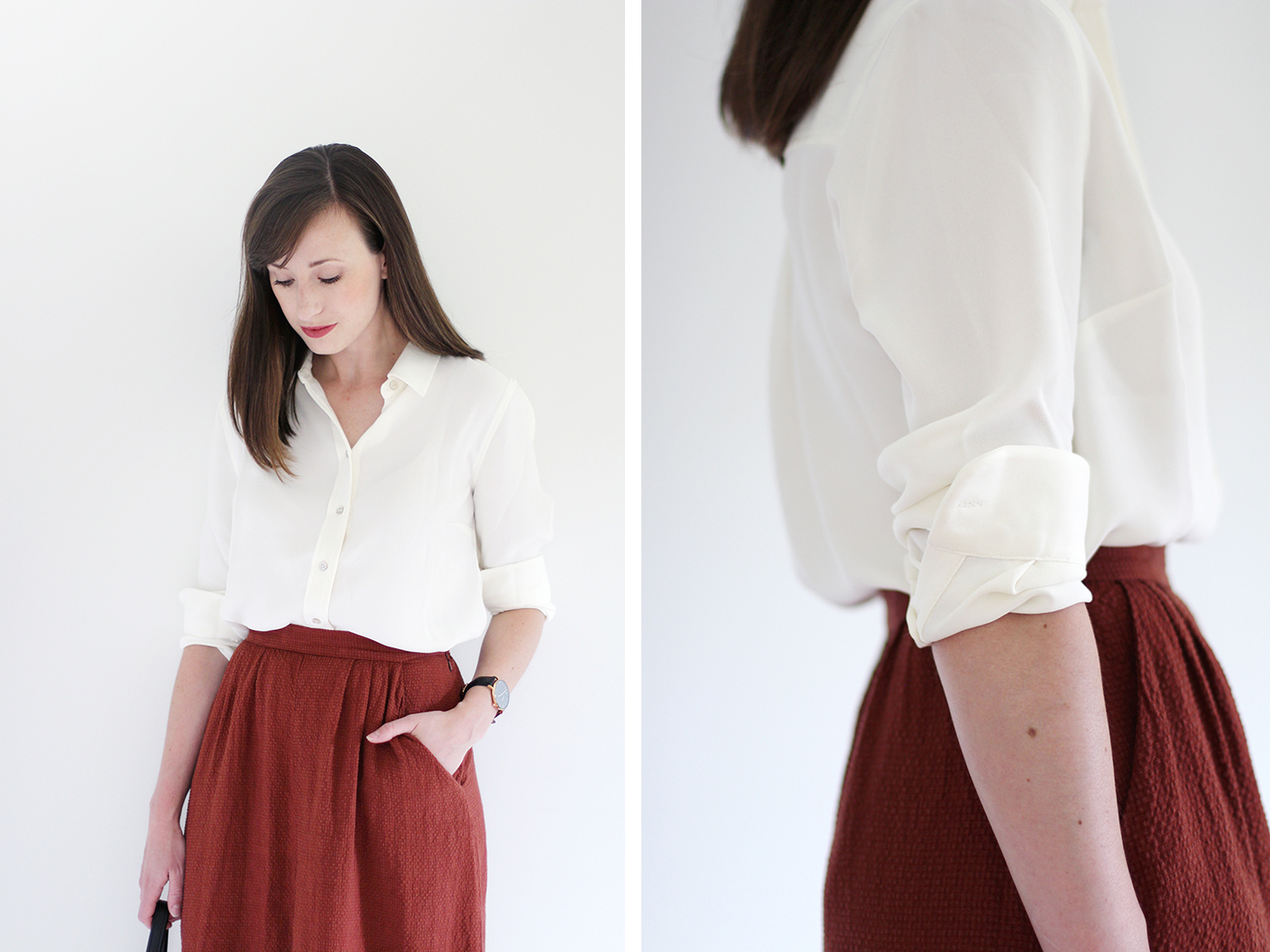 THE BUTTON DOWN BLOUSE ($ 85 USD)
A white button down is probably one of the most essential closet items out there. Nothing says, 'I'm chic as hell, sophisticated as it gets and I don't even have to try.' like a crisp white blouse. Now, I've bought and worn many a silk button-down in my day and while they look good for the first hour or so, they usually end up creased and crumpled by the end of the day. Not to mention the upkeep, even if you can swing for the dry cleaning bill. This one is polyester, which isn't a material I usually opt for, but this one feels amazingly fluid and drapes so beautifully. It's also a nice mid-weight fabric that's not see through as so many white shirts can be. I love the long length for wearing it loose over skinny jeans or black pants but I couldn't help but pair it with a pretty Summer skirt, rolled cuffs and wedges for this easy, elegant look.
I'm wearing a size S and wear a 32 C bra and didn't find it too slim around the bust as a few reviews have noted. That said, I wouldn't want it much tighter so if you're ample chested I would consider sizing up for the intended relaxed fit. I washed it before this shoot and hung it flat to dry and it cam out perfect, no ironing or fussing needed! That alone makes this #1 on the white shirt charts for me. Please don't judge (or do) but I'm already excited to layer this bad boy under chunky knits and simple sweaters this Fall!
---
Button Down Blouse c/o BRASS | Skirt s/o by First Rite via Garmentory (similar here in 3 colours and here in cream and I love this denim one) | Wedges old Rachel Comey (similar) | Bag s/o Opelle (similar here and here) | Watch c/o CLUSE
---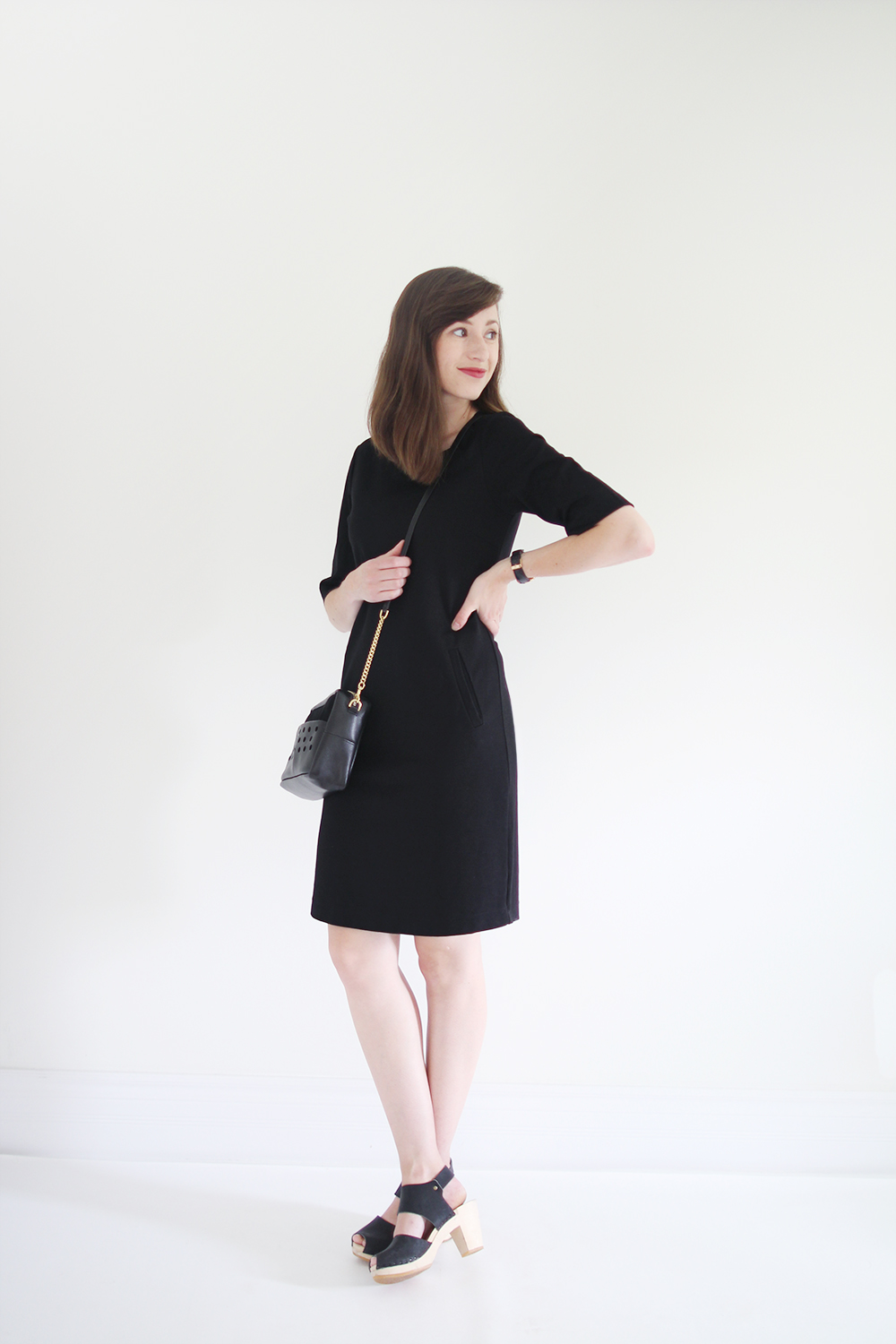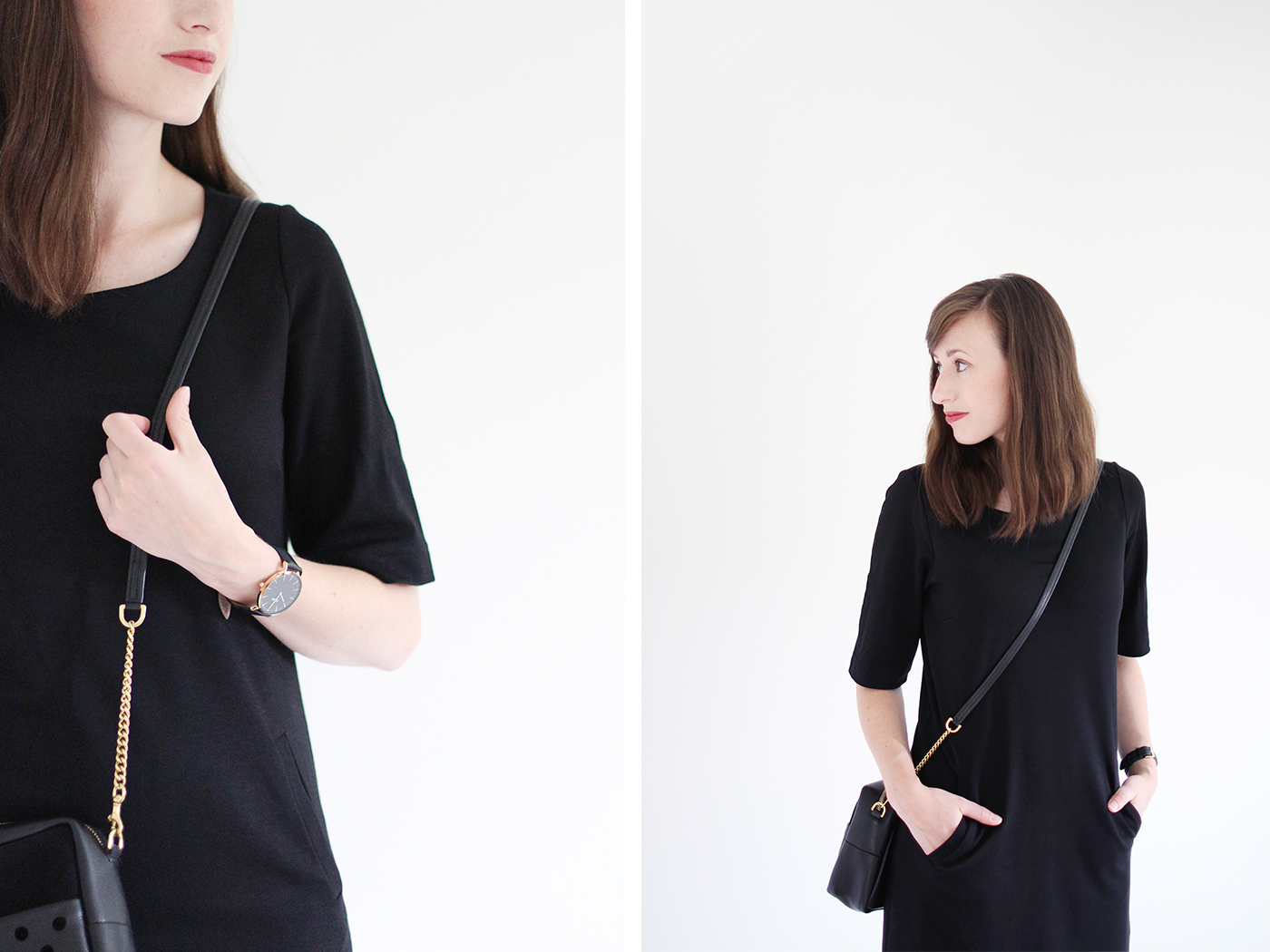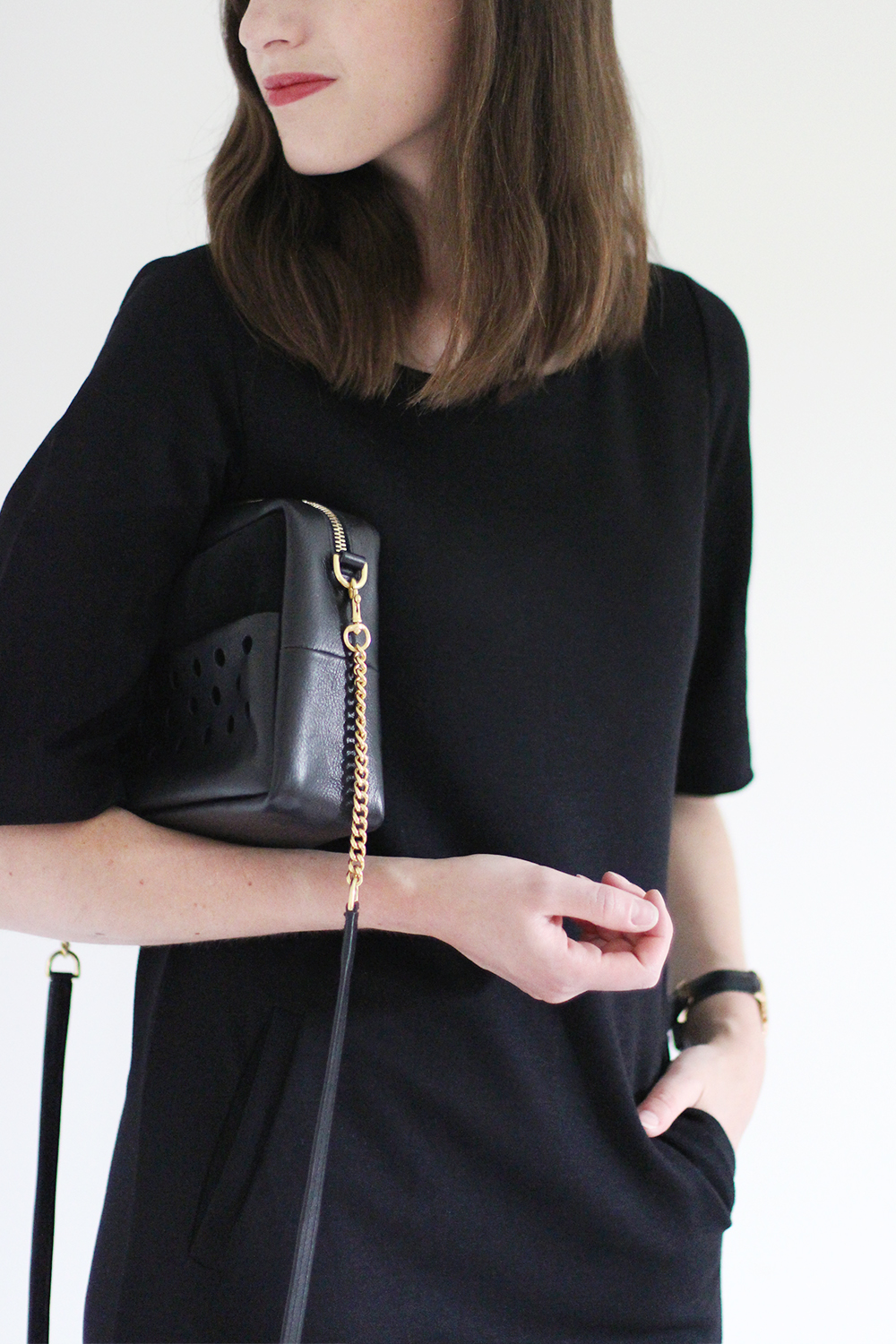 A-LINE DRESS IN BLACK ($ 72 USD)
I loved the A-Line in white that BRASS released last summer but missed the boat entirely and by the time I was ready to commit it was too late. Thankfully they released a new and improved black version this season and it's absolutely perfect. The reviews alone were enough to convince me to try it out (over 80 of them are 5 stars) but it's definitely the type of dress you need to see in person to fully appreciate.
I'm wearing a size S and love how it falls just off my frame without feeling too boxy or bulky anywhere. The mid-weight fabric feels amazing and is the deepest dark black (even after washing it!). The front pockets add some functionality and flatter the lower tummy region very nicely. I have to say though, the bell sleeves are what sets this one apart from other shift dresses and they're my favourite detail. I brought this beauty on my recent trip to Paris and Amsterdam and felt like a modern day Audrey Hepburn strolling the streets and sitting in cafes sipping rosé. If you're in the market for a great black dress that's ready for literally anything, this is the one to try first!
---
A-Line Dress c/o BRASS | Clogs by BRYR | Bag c/o Opelle | Watch c/o CLUSE
---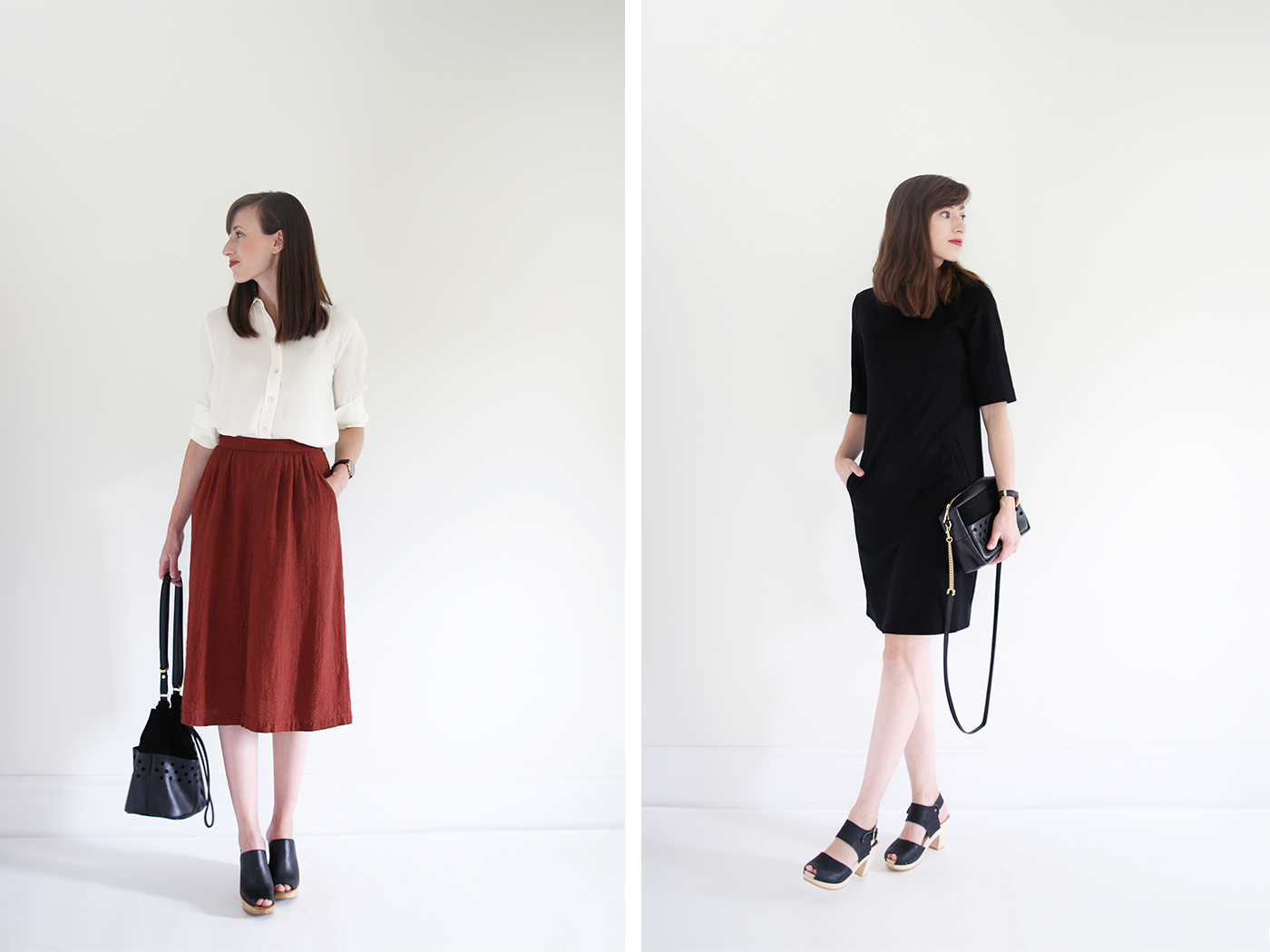 ---
So there you have it! Ethically made, beautifully designed pieces that ring in under $100 USD are certainly not easy to find these days. I hope you found this post helpful and be sure to tune in on Monday for Part 2, when I style the Chambray Shirt and the Ponte Pant and ask BRASS how sustainability and fabric choice plays a part in their collections. Have a great weekend everyone!
---
ADDITIONAL RESOURCES
Be sure to check out BRASS's Our Factories page on their site for more some great resources and details about their overseas partners.
If you haven't already, you simply must watch THE TRUE COST. It's an excellent documentary that exposes the very real and detrimental impacts of the fast-fashion industry on both workers and the environment. (Ps. It's on Netflix!)
Check out the NRDC's Clean By Design program and learn how this initiative is striving to improve efficiency and waste reduction in developing countries where many large corporations are producing garments. I learned so much from their downloads section and found this pdf on fibre selection particularly interesting.
---
Thanks so much to BRASS for sharing their insights and for sponsoring this post. All opinions are my own. Thank you for supporting the brands that support Style Bee!