I hope you all had a great weekend! We had a little backyard shindig to celebrate Father's Day last night and despite a downpour chasing us inside we had a blast. I'm very lucky to have the best Dad a girl could hope for and it was a pleasure to treat him to a BBQ for once, since he's usually the one manning the grill. Chips were dipped, drinks were sipped and burgers were flipped, all making for a perfect summer feast!
Now, onto the task at hand, this #JUNE30x30 challenge I'm working away on with my pals Andrea (Seasons + Salt) and Paige (Style This Life). I honestly thought that by now I'd be bored with my options and anxious to get back to the rest of my closet and while I have felt waves of temptation to shop or to dip back into my wardrobe (last Friday I did play a bit of dress up before dinner), overall contentment seems to be holding strong.
I think this is thanks to a medley of things such as: choosing pieces I love to wear, being super busy at work, having a wide range of June weather and most of all, having gone into this challenge with a relaxed mindset. Approaching it with no expectations other than to slow down and take it easy has definitely led to a holistic style experience and I feel the calm working its way into other areas of my life too. It's pretty cool how a simple change can make such a difference!
If you missed the boat on this #JUNE30x30 don't worry because I'm very excited to announce that the Summer 10×10 Challenge with be starting on July 7th! YAY! See the 10×10 page for more details.
So here's a look at the outfits I wore over the weekend! 
---
LOOK 16 – FRIDAY JUNE 16 – DAY
---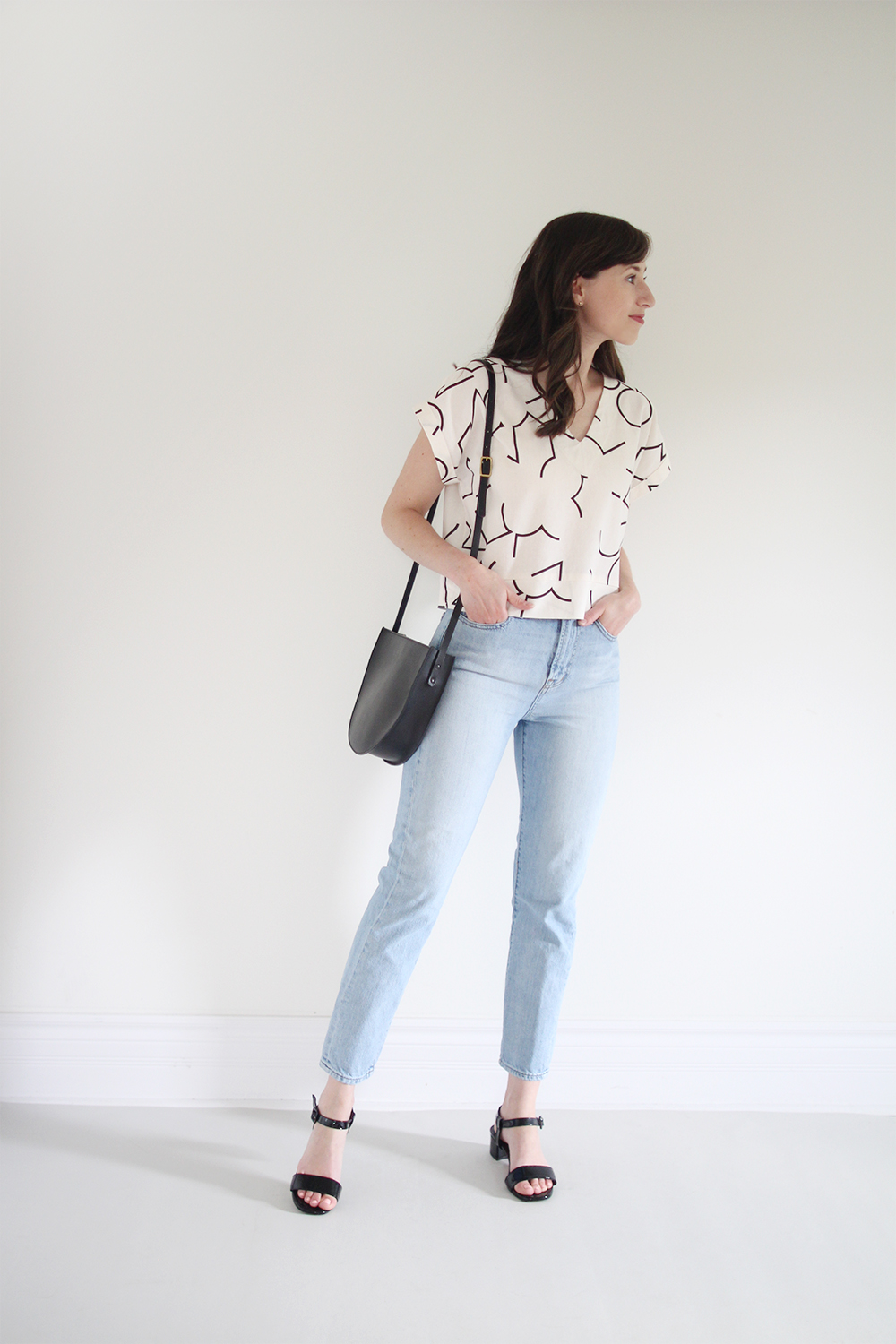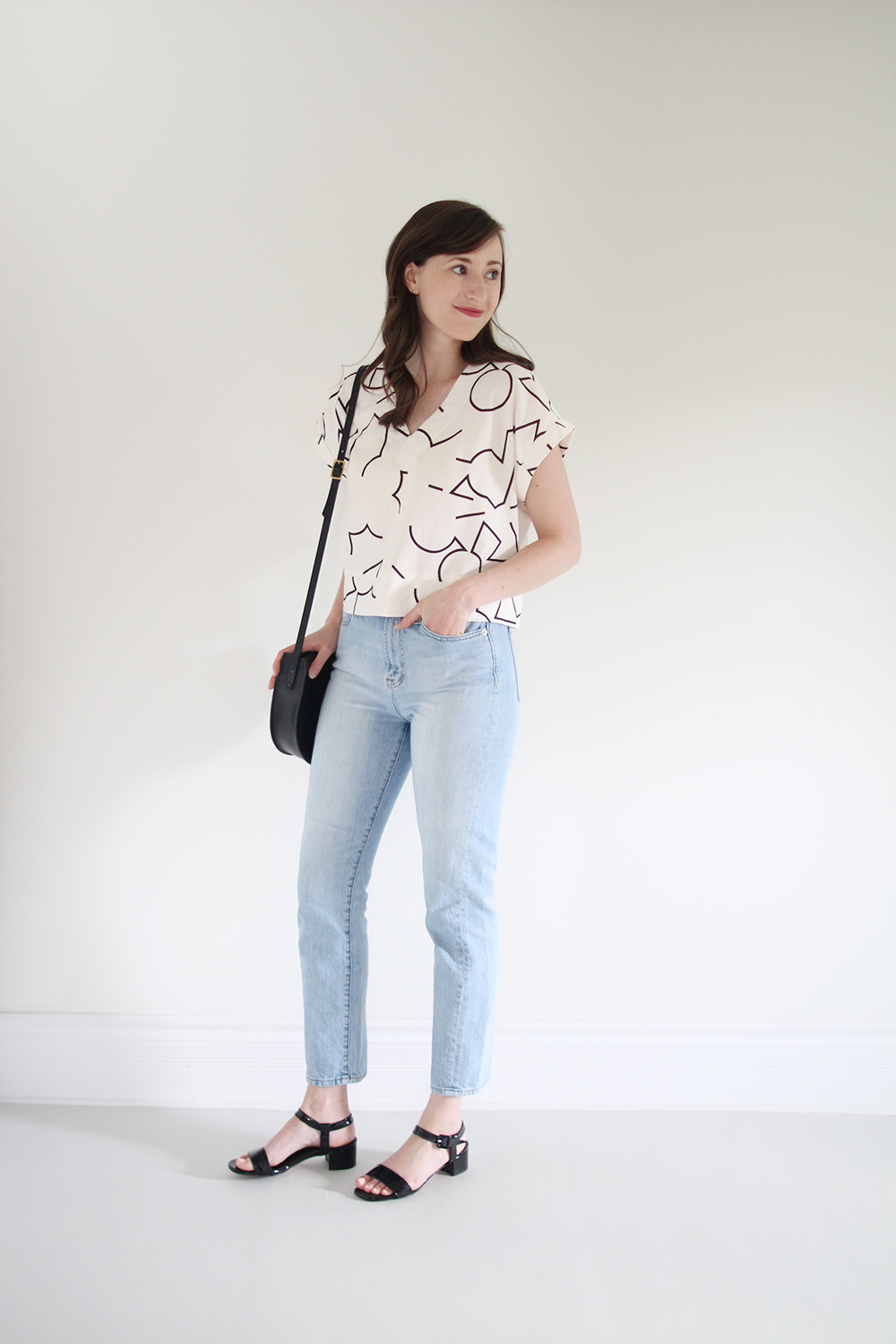 ---
TEMPERATURE – High of 30º C and sunny.
ACTIVITIES – Running errands around town, grabbing a quick lunch out, a pedi refresh and then doing some planning and prep for the weekend.
ITEM PERFORMANCE – It took a lot of willpower not to wear this top again before now. It's such a fun print and great for hot days because it's loose, linen and let's the air flow nicely.
These jeans wear a bit hot for the day but my shorts were drying and I'd already worn my florence pants with this top and shoes so I went for it. I really like how the light wash works with the graphic print top and these sandals too. It's definitely channeling some 90's vibes but in a low-key way I can get down with.
These sandals have been AMAZING. They were a mega splurge for my 30th b-day and I have zero regrets. They're so wearable and comfortable to walk in for long periods. Not to mention the timeless shape and style. If all goes well, I'll be rocking these for many summers to come!
STYLE TIPS: 
If shorts aren't your deal, opt for a light-weight, light-wash, cropped denim for summer months.
Let a bold print do all the heavy lifting in a look. No need to add much else in terms of interest, just keep it simple.
Complement the sharp lines in a graphic patterned top with a super minimal sandal and bag.
---
---
*BONUS LOOK* FRIDAY JUNE 16 – NIGHT
---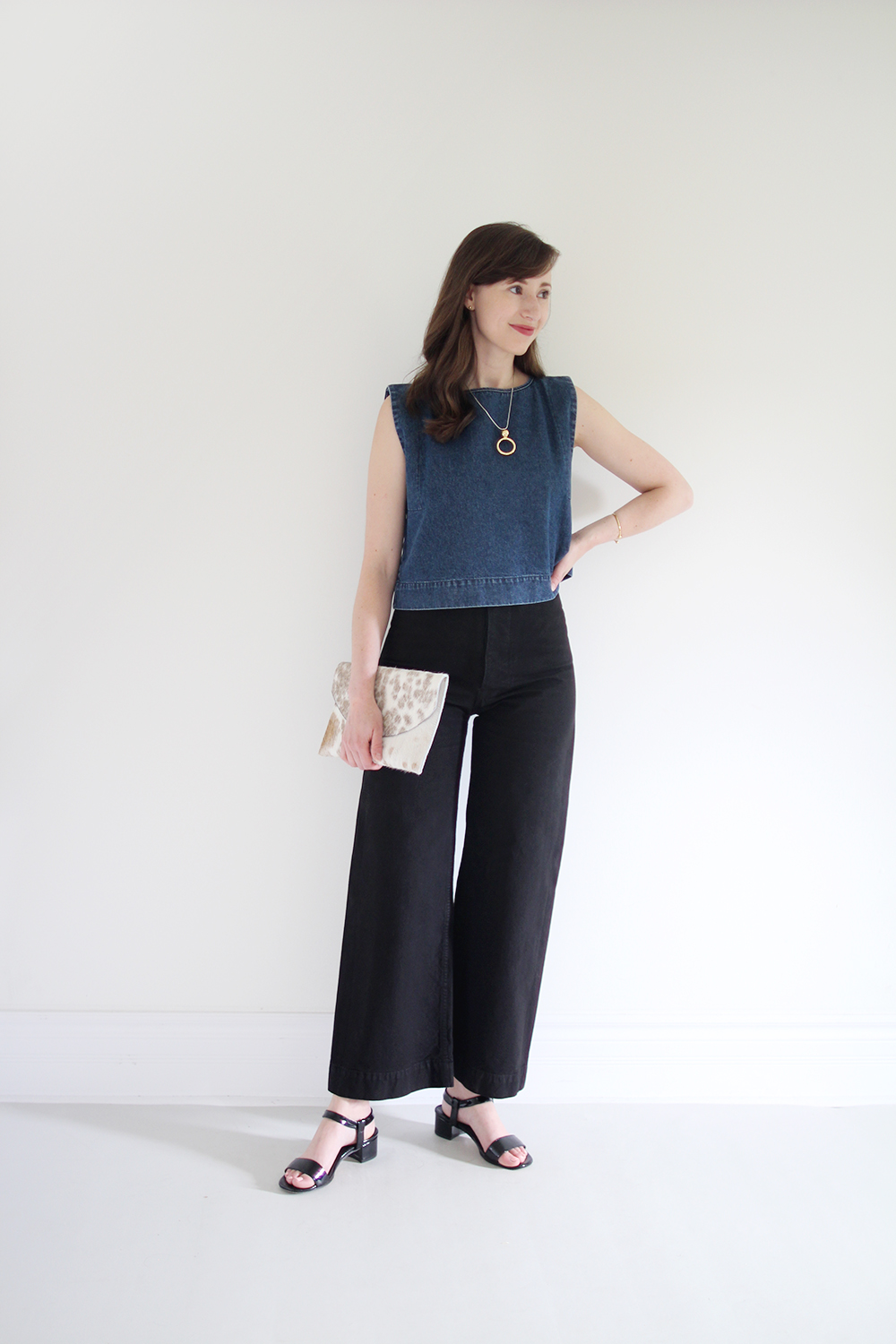 ---
TEMPERATURE – High of 30º C and sunny but it cooled right down for the evening.
ACTIVITIES – Surprise dinner date with Dave at a great spot called Glen Tavern, which is well worth the trip to Glen Williams (near Georgetown).
ITEM PERFORMANCE – I can't seem to help myself but whenever I have a reason to dress up, even a little, these are the pants I reach for. I just always feel fabulous when I wear them. They're not the most forgiving when it comes to accommodating food babies but they make up for it in many other ways.
I bought this top at the same time as these pants but I hadn't worn them exactly like this before. I really like the structure that's happening in this look and the how the powerful, bold shapes compliment each other.
This would have been way too hot for the day but since the evening cooled down a lot I was totally comfortable in a heavy canvas pant and mid-weight denim tank.
I grabbed my trusty spotted clutch and my favourite block-heeled sandals for an evening on the town.
---
---
LOOK 17 – SATURDAY JUNE 17
---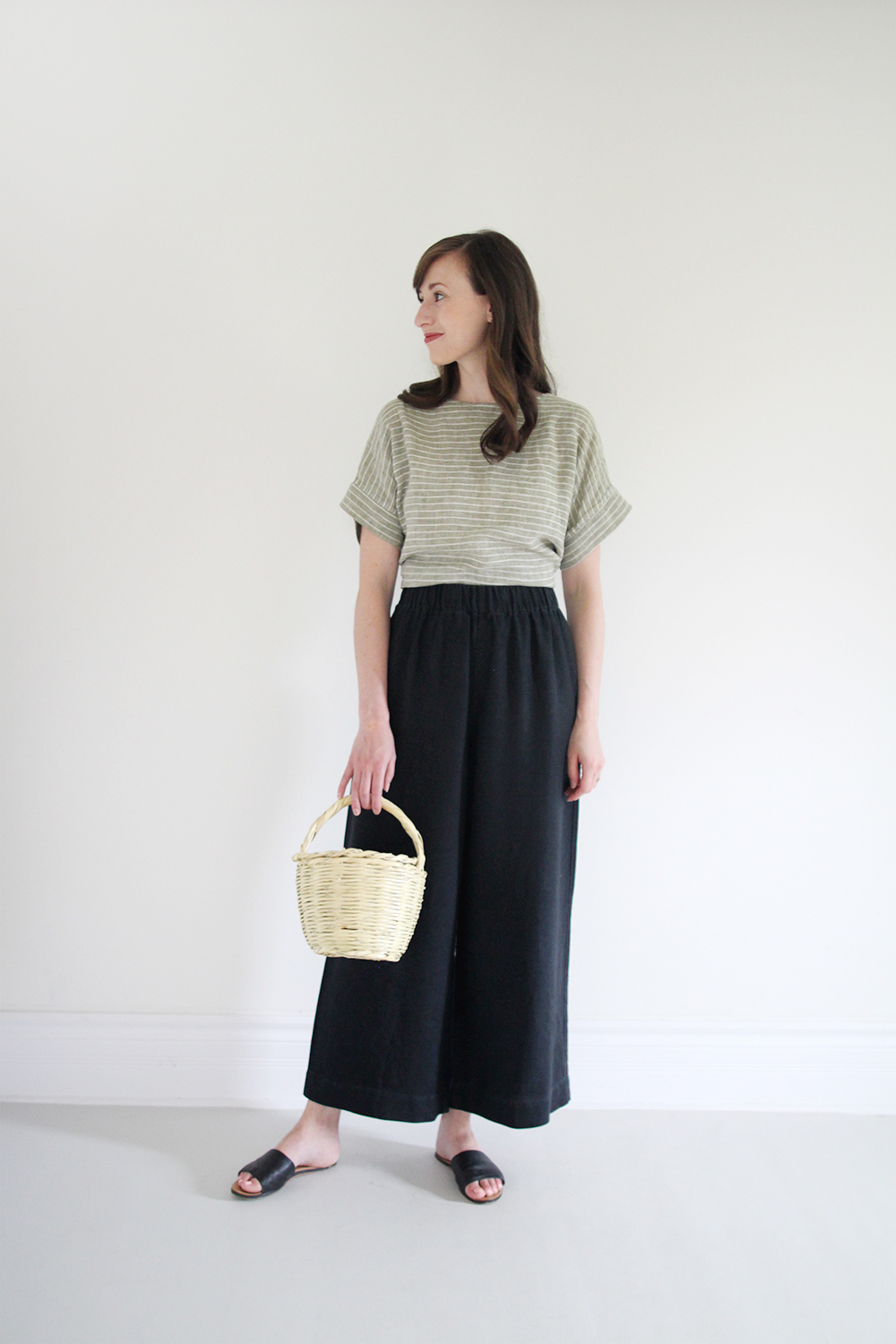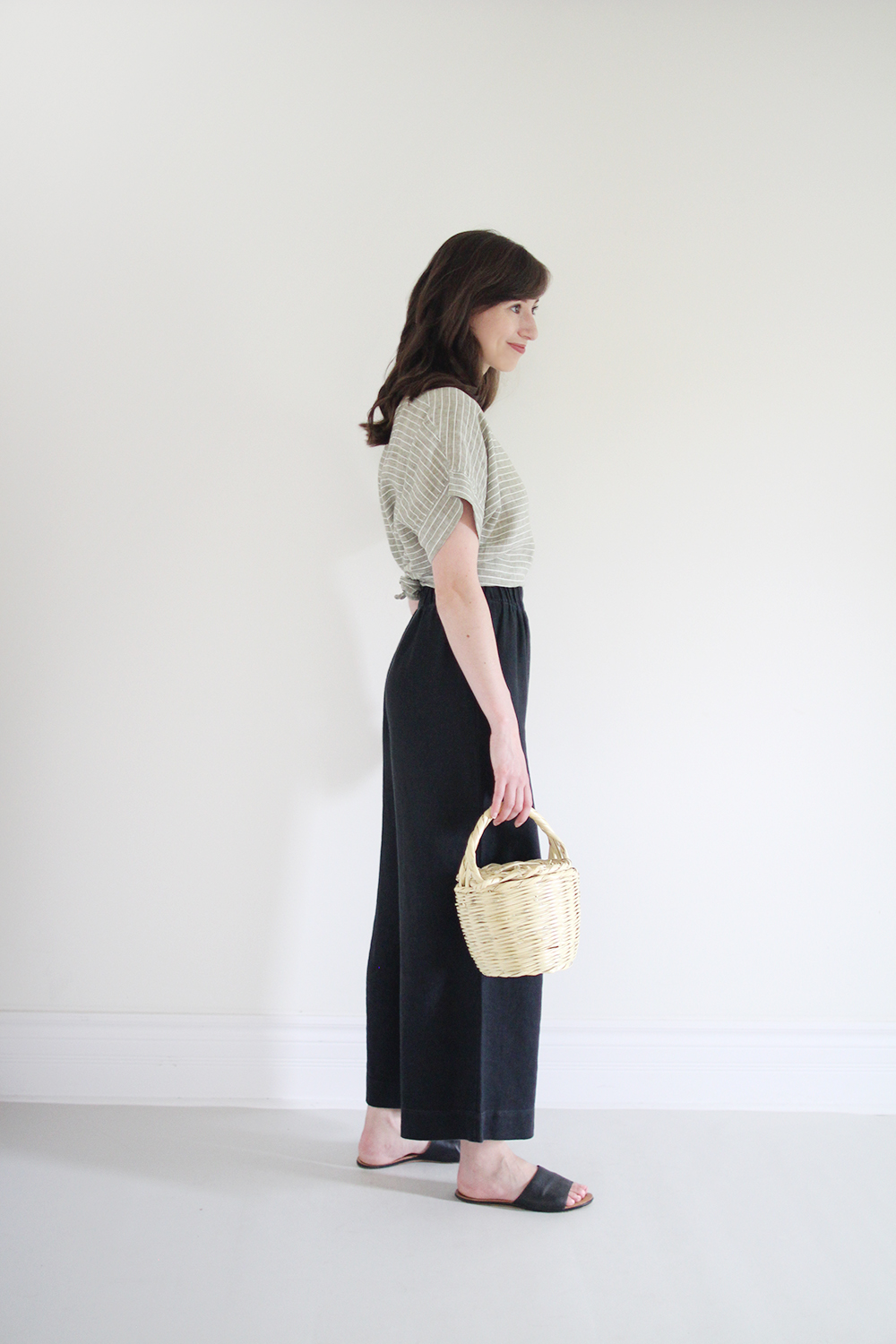 ---
TEMPERATURE – High of 30º C, humid and rainy for most of the day.
ACTIVITIES – I spent most of the day shooting for the blog so when it came time to finally get dressed I wanted to be super comfy and this look was just the ticket. I made Dave and I some blueberry pancakes, we took the pup for a long walk around the hood and then settled back into an eve of work and a night in. We probably seem super lame (and we mostly are) but we have so many events on the horizon that a low-key Saturday was much needed.
ITEM PERFORMANCE – There's no question that these items are all closet heroes for me. I love this striped Georgia tee from a collection way back (I found something super similar, linked below) and usually wear it loose, front tucked into my Florence pants but I felt like trying something a little different this time. I opted for a back crop knot and quite like how it turned out. This styling trick keeps things simple but accentuates the waist and as a result the sleeves have an even more pronounced flare, which I love. With my easy slide sandals and a basket bag, I'm definitely summer weekend ready in this one.
STYLE TIPS: 
Turn pretty much any boxy tee into a cute, fitted crop top with a simple twist and knot of the back fabric. Fold the hem under a couple of times so it hits where you want and then pull the fabric back, twist and knot it as best you can. 
When considering linen weights, remember that the lighter it is the easier it will wrinkle. These pants are a midweight and while they wrinkle it's much less than their lightweight counterparts which I have in flax linen. This Georgia tee is a lightweight linen which makes it easy to style into this crop knot and awesome for even the hottest summer temps. It also creases quite easily but the stripes help to camouflage it. 
---
STRIPED TEE | old ELIZABETH SUZANN | Very similar option by Eileen Fisher ($138 USD)
FLORENCE PANT | c/o ELIZABETH SUZANN | $205 USD | WEARING S REG | Made responsibly in USA
SLIDES | PALATINES | MADE IN LA | $260 USD
Save $20 off your first order from Garmentory! 
BASKET | Le Birkin Basket | $120 USD | Handmade in Portugal | I have the size Small.Similar option also Available on ETSY for less in the size shown.
---
LOOK 18 – SUNDAY JUNE 18
---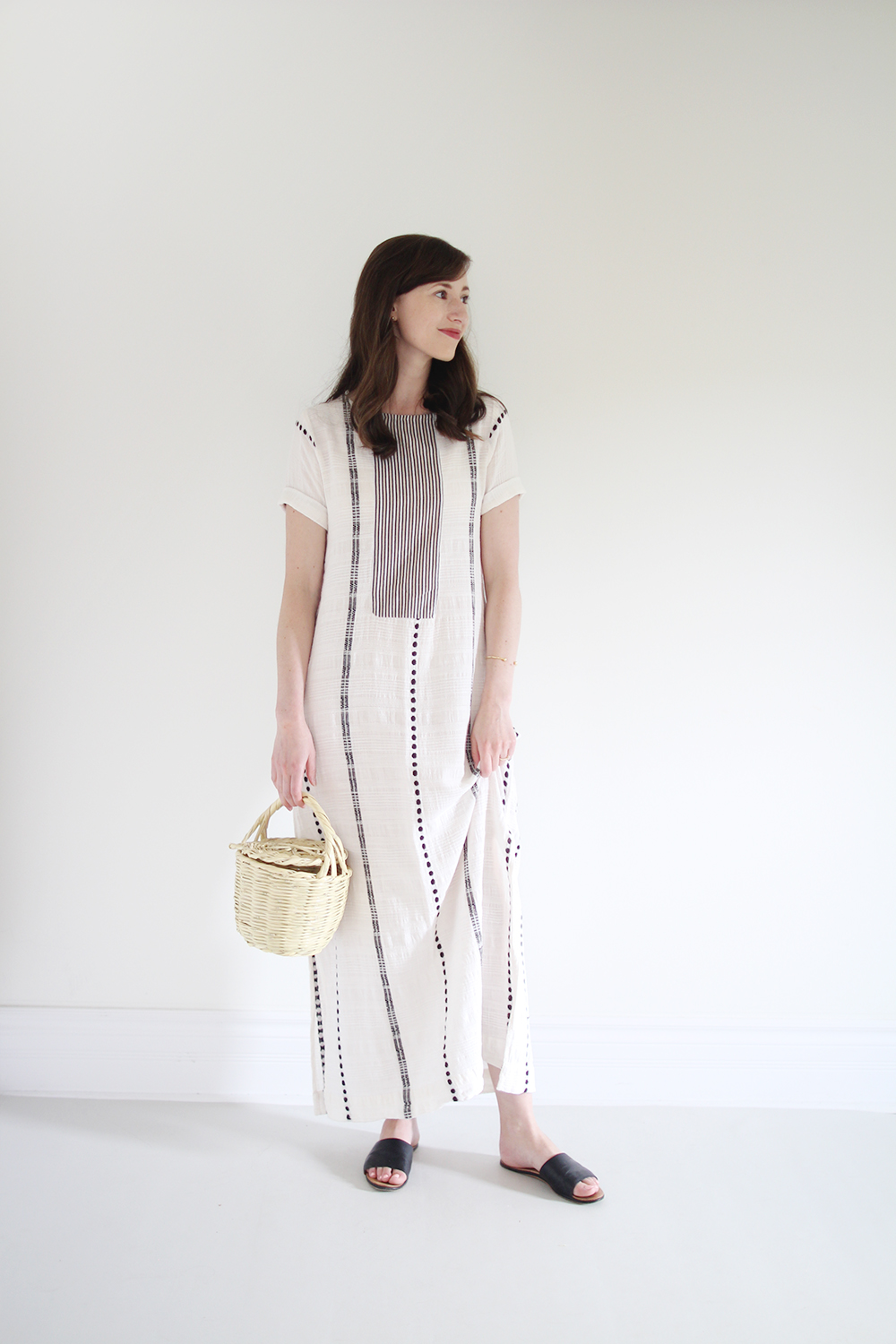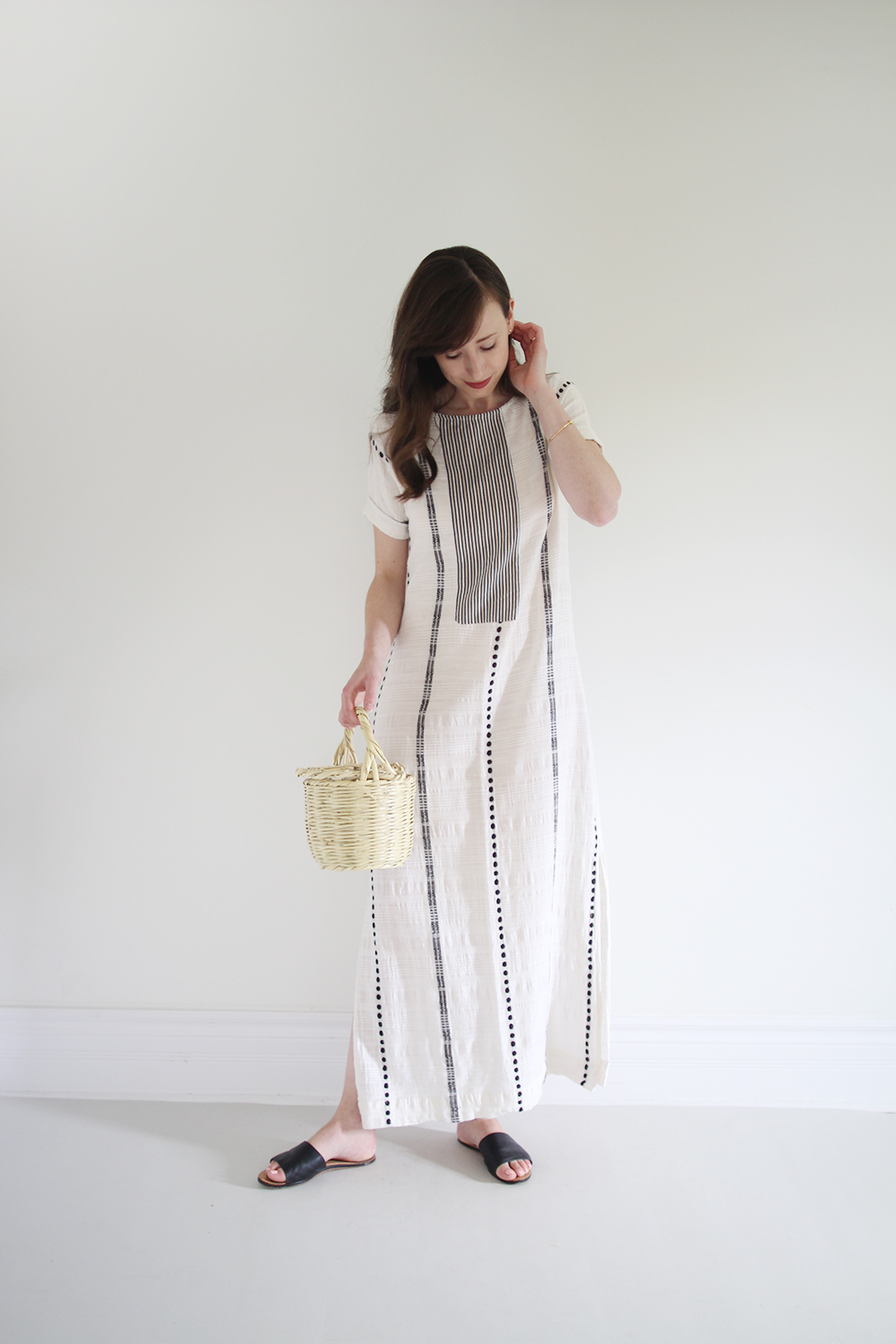 ---
TEMPERATURE – High of 28º C with cloudy skies and intermittent storms.
ACTIVITIES – Running errands around town, prepping the house, this post and hosting a Father's Day BBQ.
ITEM PERFORMANCE – I wore my jeans and t-shirt for the morning since we were running around getting dinner supplies and cleaning up the house but once I'd showered off the remnants of a muggy morning, I put on my favourite gauzy cotton maxi dress for the evening's festivities. I actually added a brown woven belt to this look for the eve as I was feeling like something was missing.
This will be my third summer with this Ace & Jig dress and I'm hoping it'll be around for many more. It's super lightweight and soft so it's great for hot, humid temps. A&J creates the most amazing textiles, that's for sure. I like that it has some deep side slits for extra airflow and the vertical pattern also creates a visually lengthening effect which I find quite flattering.
STYLE TIPS: 
TO DRESS DOWN (as shown): Simply roll your dress sleeves (if it has them) a couple of times, slide into a simple, flat sandal, grab a basket bag and leave your hair long and loose for a breezy boho vibe.
TO DRESS UP (like this from 2015, I can't wait to chop my hair post wedding!): Slip into a cute pair of clogs or chunky heels, cinch a braided belt at your natural waist, keep your hair sleek or pin it up and grab a cute vintage bag for a chic beachy look.
When wearing a light gauzy fabric be sure to wear nude undies so there's no undesired show through. I love this bra and these undies. 
---
MAXI DRESS | (old) Ace & Jig | Linked to similar pattern in a shorter length. | Made responsibly in India.  
SLIDES | PALATINES | MADE IN LA | $260 USD
Save $20 off your first order from Garmentory! 
BASKET | Le Birkin Basket | $120 USD | Handmade in Portugal | I have the size Small.Similar option also Available on ETSY for less in the size shown.
---
3RD WEEKEND DOWN, 1 TO GO!
DO YOU HAVE A FAVOURITE LOOK OUT OF THESE?
---
WISHING EVERYONE A GREAT WEEK AHEAD!
SEE YOU ON FRIDAY WITH LOOKS 19 to 22!
---
This post is not sponsored but contains affiliate links. When you shop via the links above I may make a small commission from a sale. This income helps limit the amount of sponsored content that appears on Style Bee. Thanks a lot for your support!