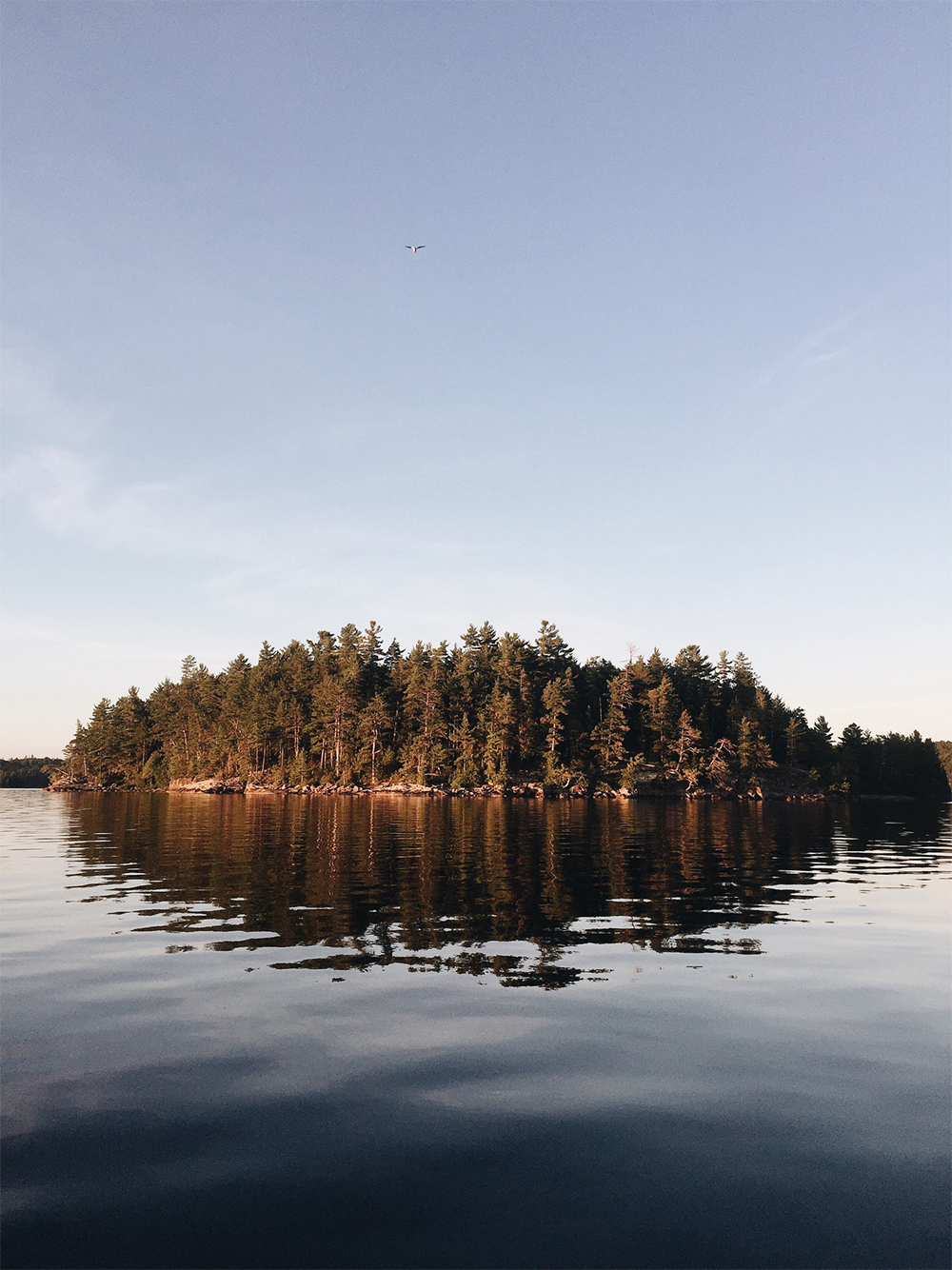 ---
Over the August long weekend Dave, Dobby and I filled our packs, strapped the canoe to the roof and hit the road for Algonquin Park, our yearly escape into nature. Dave had a doozy of an adventure planned and while I knew it was going to be good, I had no idea just how good! We started on Opeongo Lake and took the water taxi (a boat that takes you, your stuff and the canoe to a portage up the lake, which is enormous) to the north end where we proceeded to endure a grueling and humbling 6 kms of portage (that's when you carry all your stuff and the canoe on a path through the woods until you reach the next lake) and about 10 kms of paddling. By the time we reached our Lake Lavieille site (home for the next three nights) we were exhausted, exhilarated, hungry and thrilled to be finished our trek.
---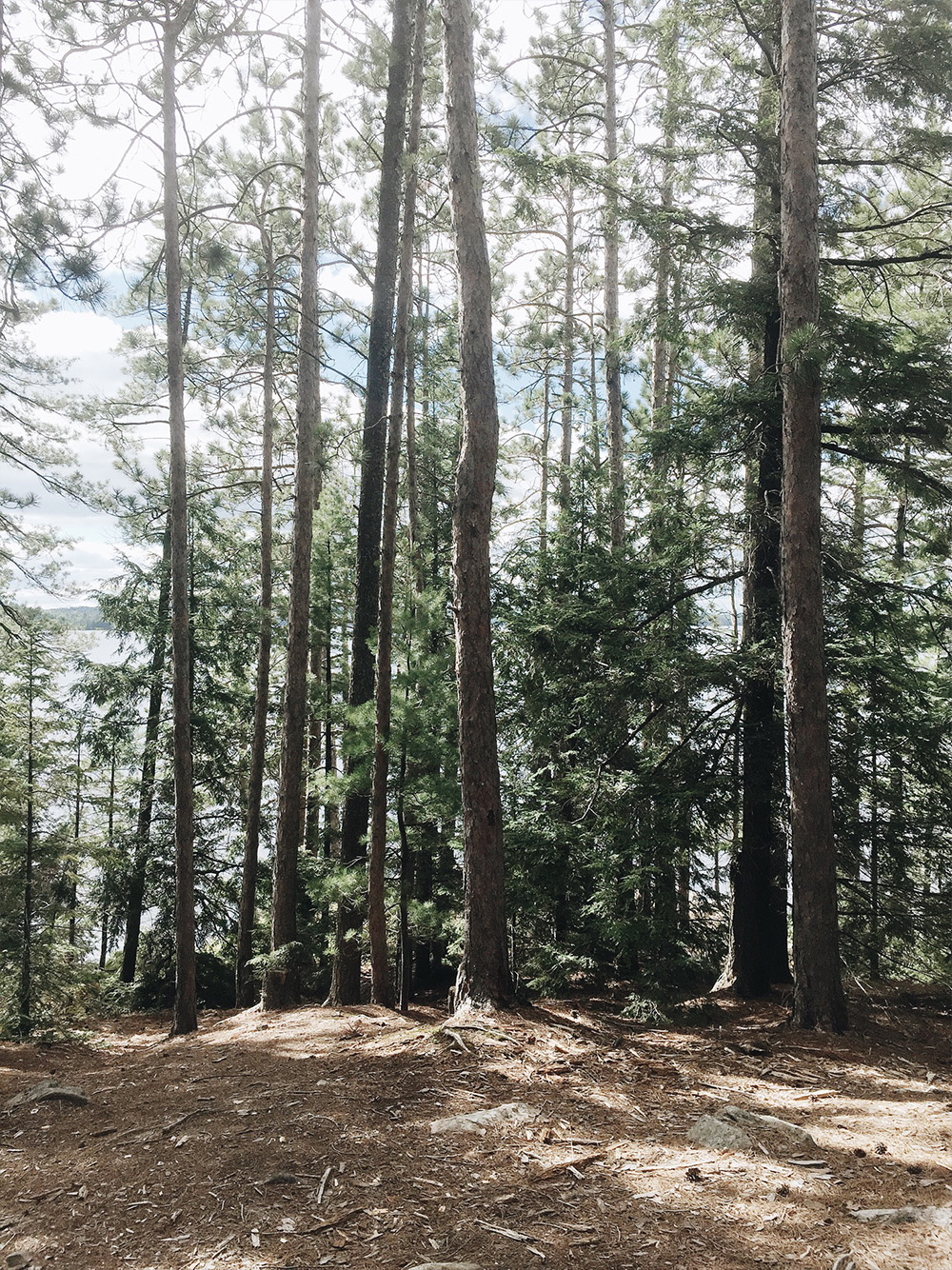 ---
DAY 1 | We paddled up to a stunning island site overlooking Lake Lavieille with expansive, 180 degree views over the water. We were considering other spots but after surveying the site we knew it couldn't get much better and began setting up camp. My favourite part about arriving in Algonquin, is taking in all the smells, sights and textures of the park. It's amazing that we could start the day on an eight lane highway, with only concrete in site and end it surrounded by such an incredible expanse of natural beauty and not a soul nearby.
We got our tent set up, took a dip in the calm, ridiculously warm lake and began cooking up our well-deserved dinner. We gorged on a delicious fresh asparagus and pasta feast and finished the day by a blazing fire as the sun went down. Pure bliss.
---
Here's a quick tour of the island site interior:
---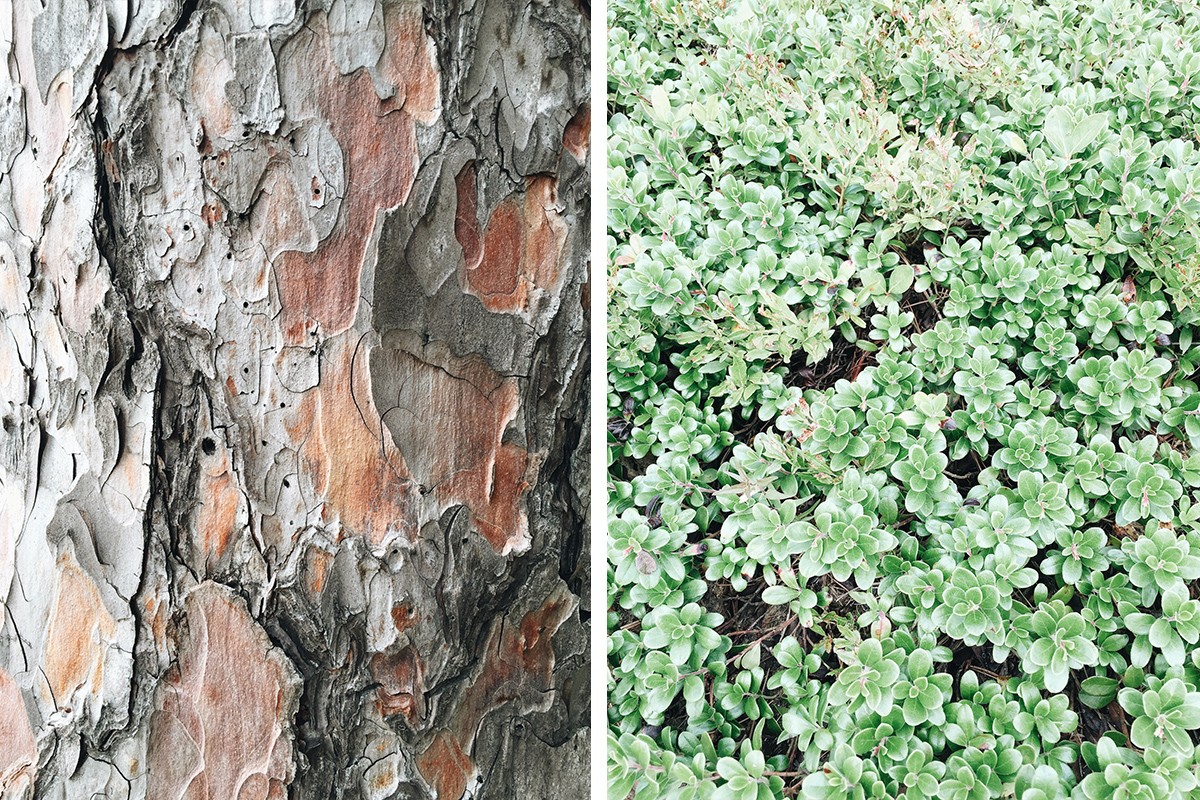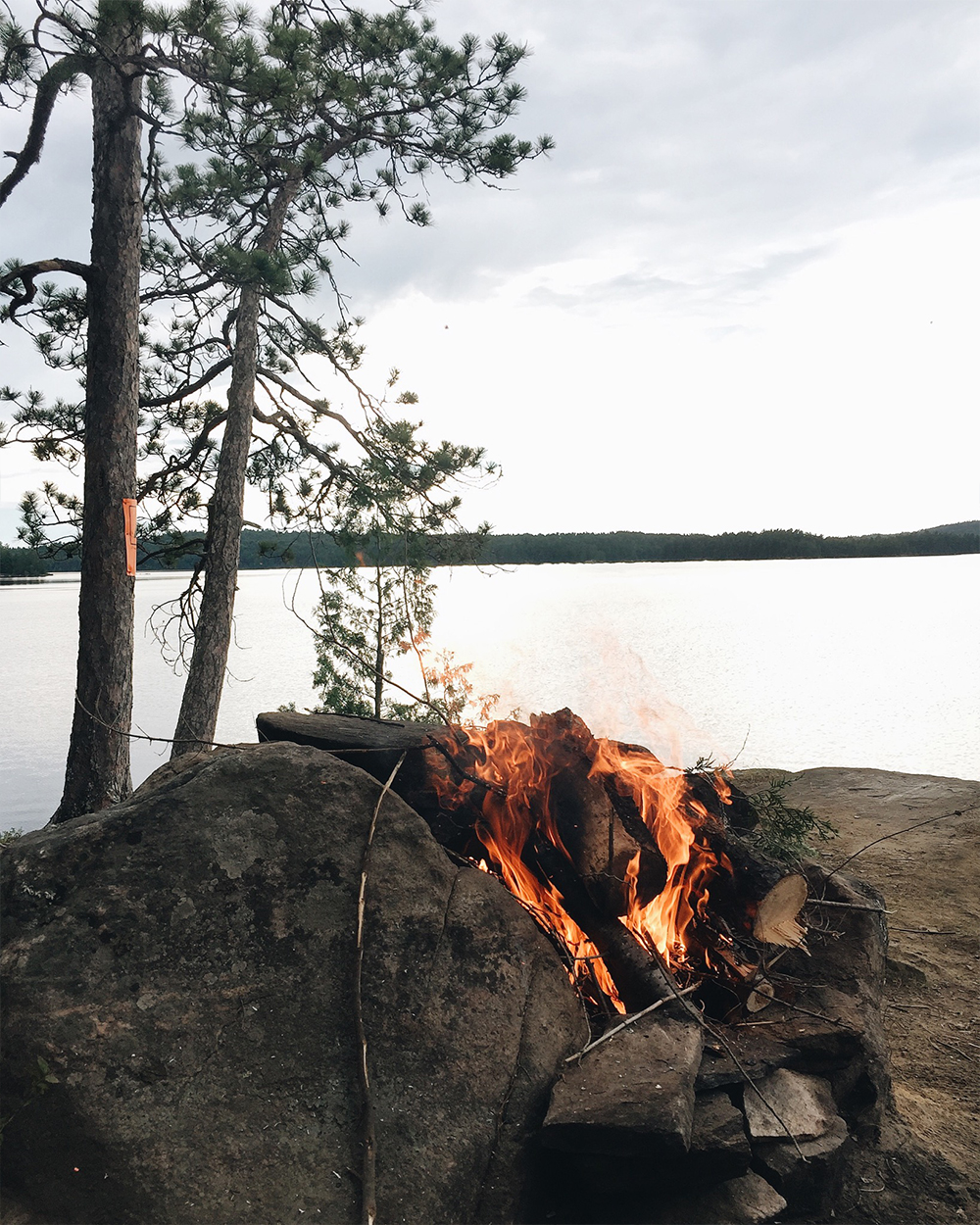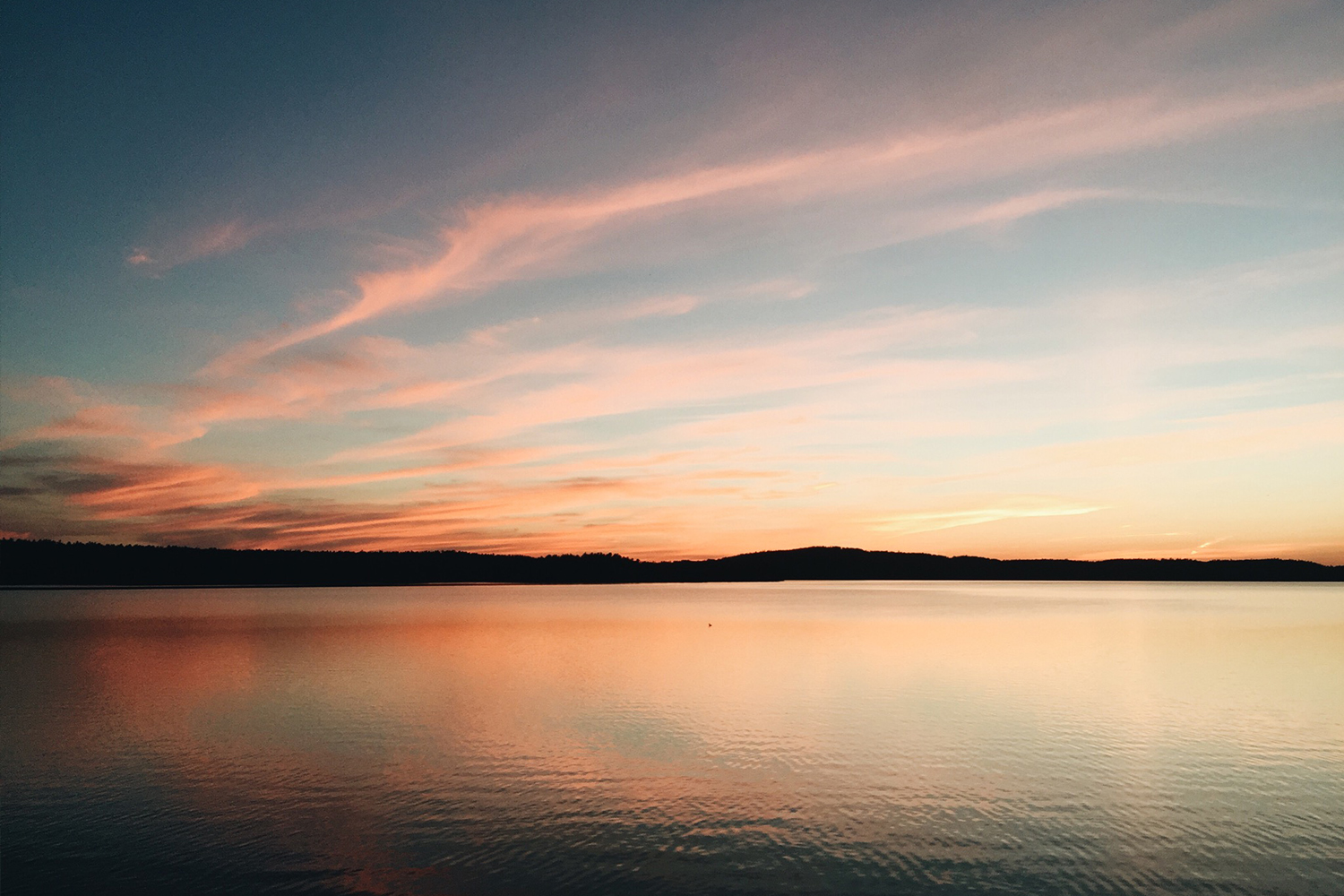 ---
DAY 2 | The next morning started with a big sleep-in, a morning dip and a breakfast feast of fresh eggs (not a single crack from the trip!), roasted potato hash (made in the previous night's fire) and spicy sausage with hot, albeit instant, coffee. It was seriously the tastiest meal I've had in ages. Sadly, I neglected to capture a single shot of any meal, likely because we were scarfing them down every time! But you get the idea.
---
Here's a look at the gorgeous lake from my morning perch.
---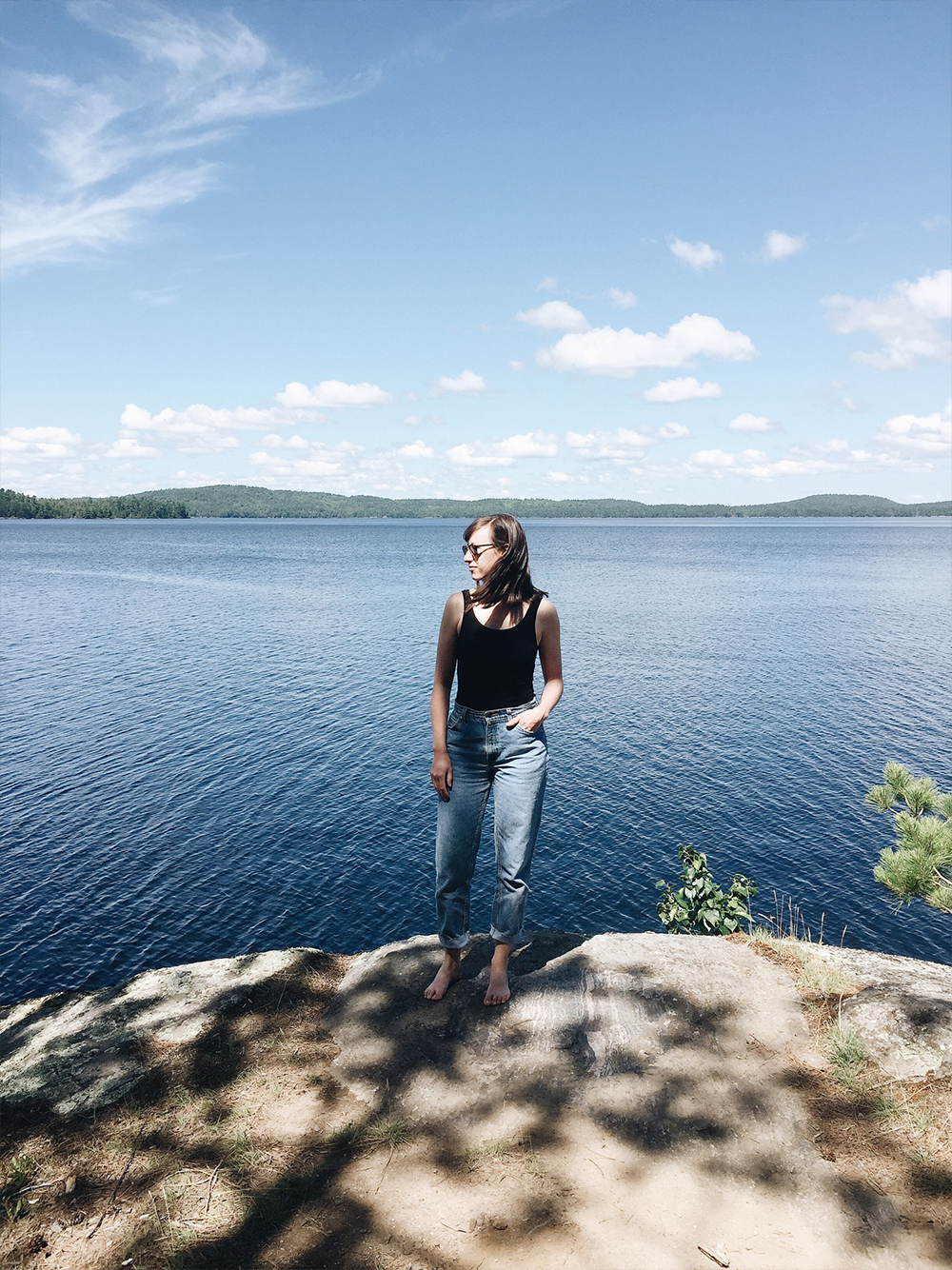 ---
CAMP STYLE | I lived in my vintage Levi's all weekend and started with a bodysuit underneath and a linen shirt (borrowed from the fella) to throw on when the wind picked up. I was so comfortable all weekend and decided this is going to be my go-to camping outfit from now on. I used to live in my yoga pants when camping but they make it way too easy for mosquitos to sting through. So super soft, slightly loose, mom jeans it is!
---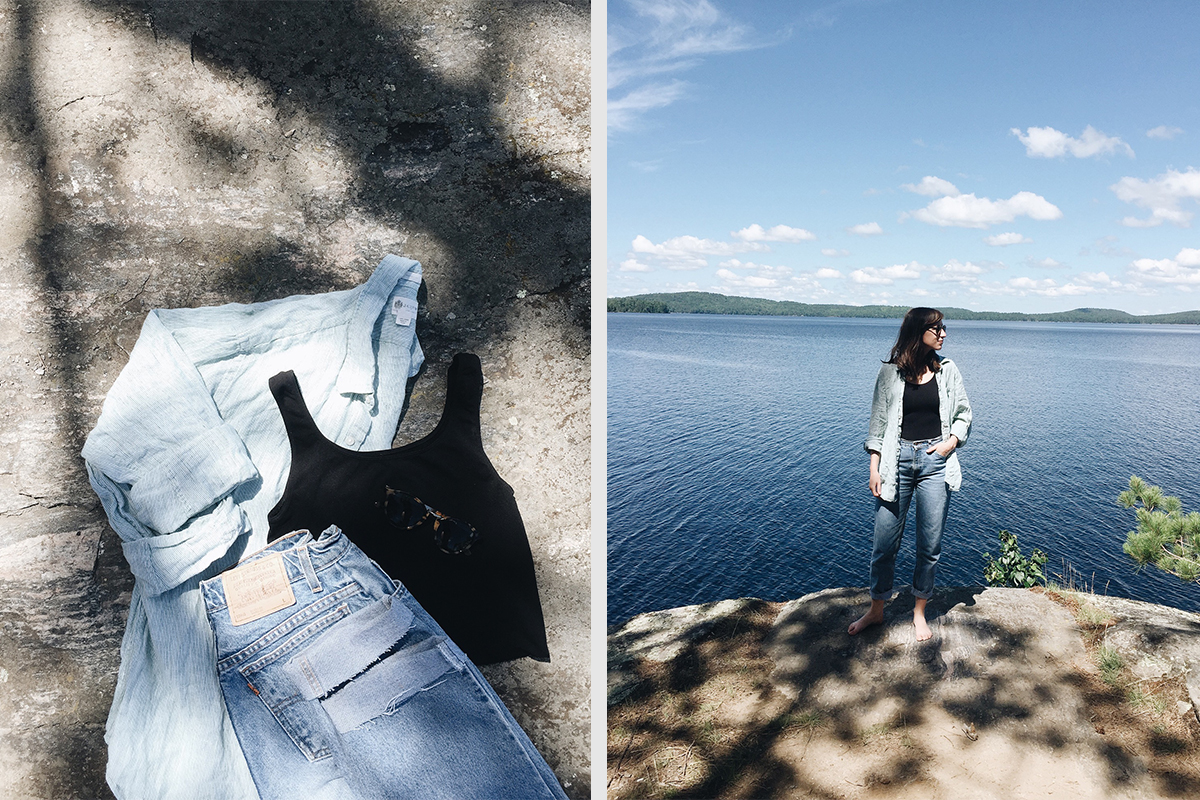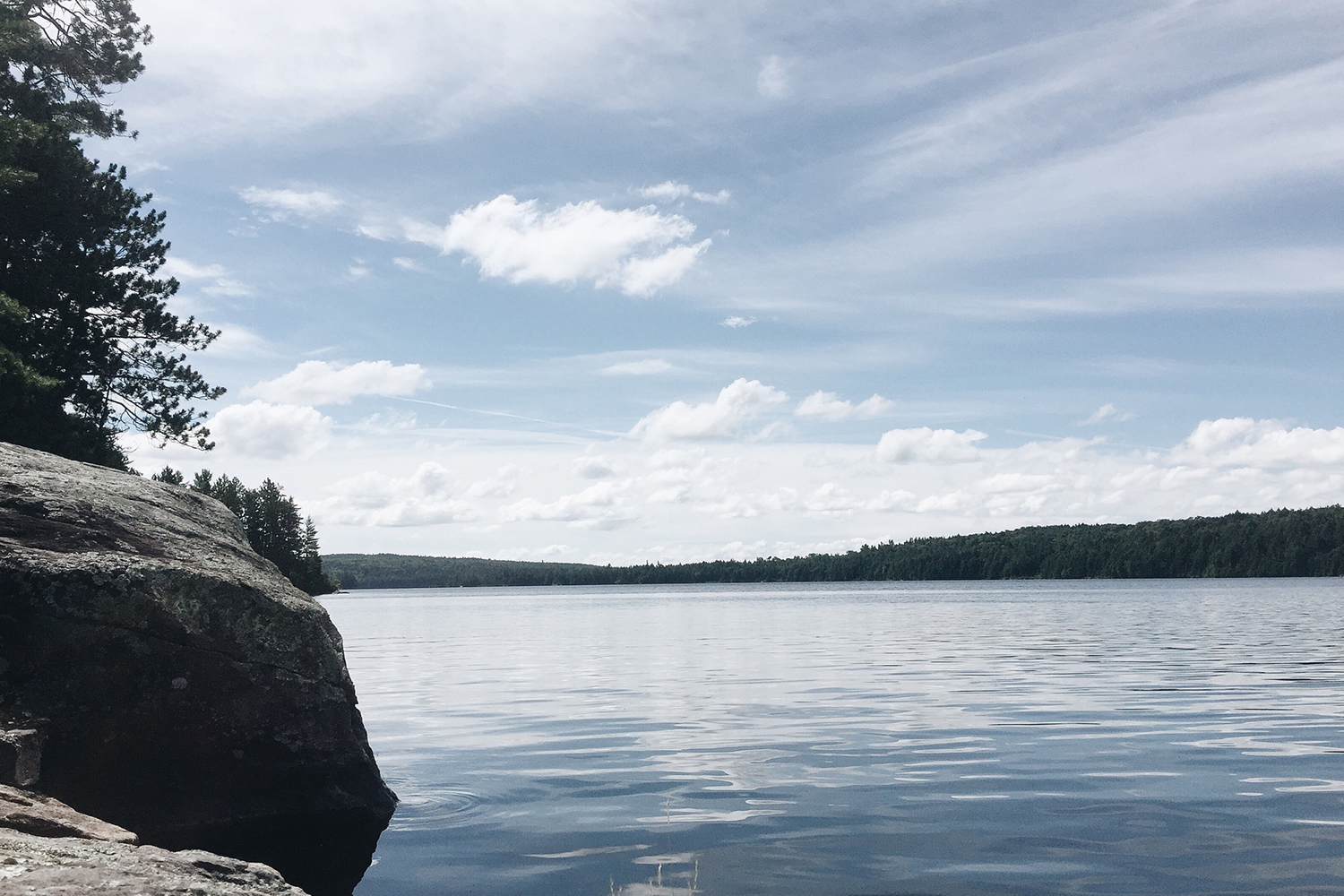 ---
After a short cruise around the island to grab more water and check out the scene we sat down for a few rounds of cards with Southern Comfort shots at stake. Dobby decided to settle down for his midday nap and we just let time melt away and took deep breaths of clean, fresh, Algonquin air.
---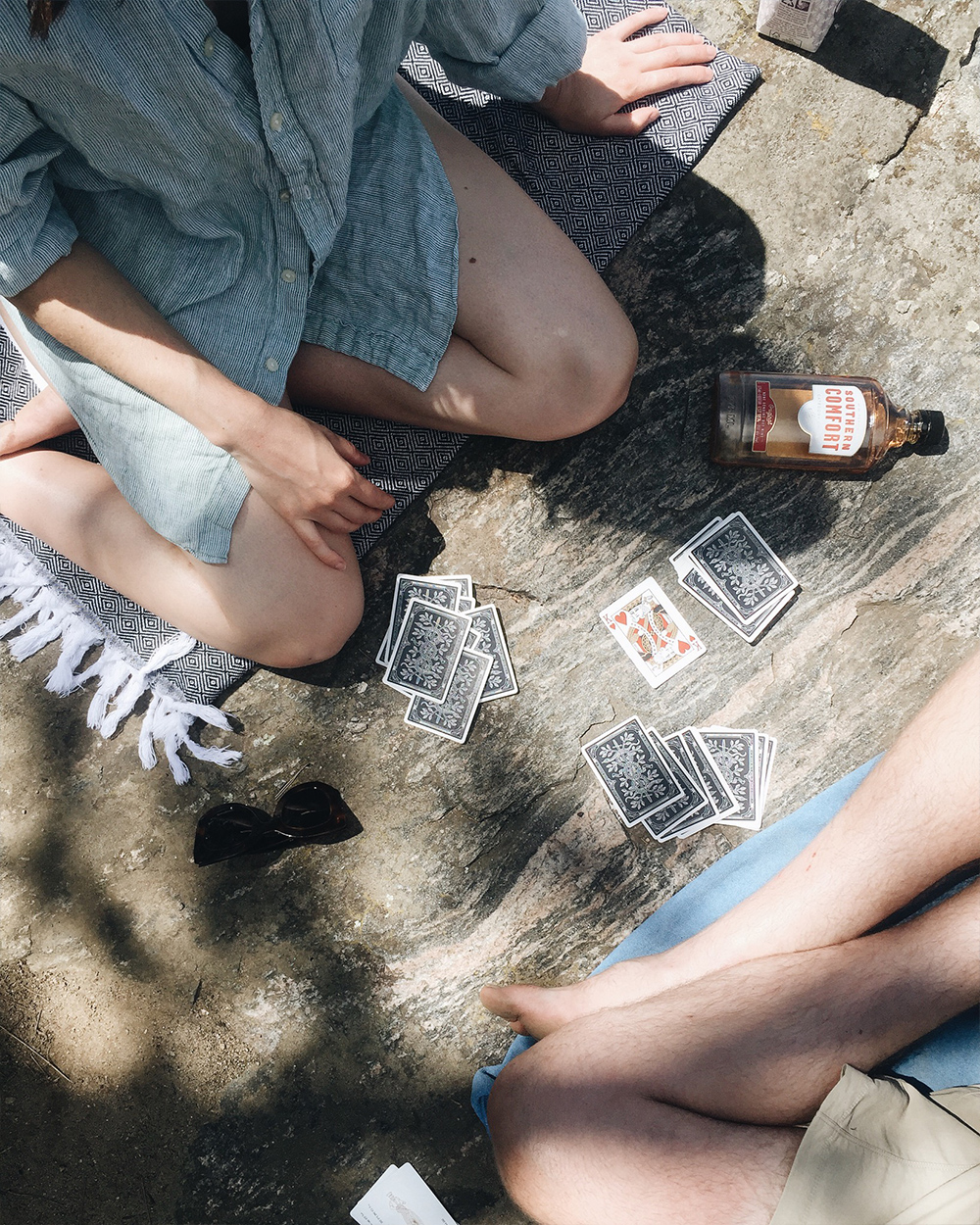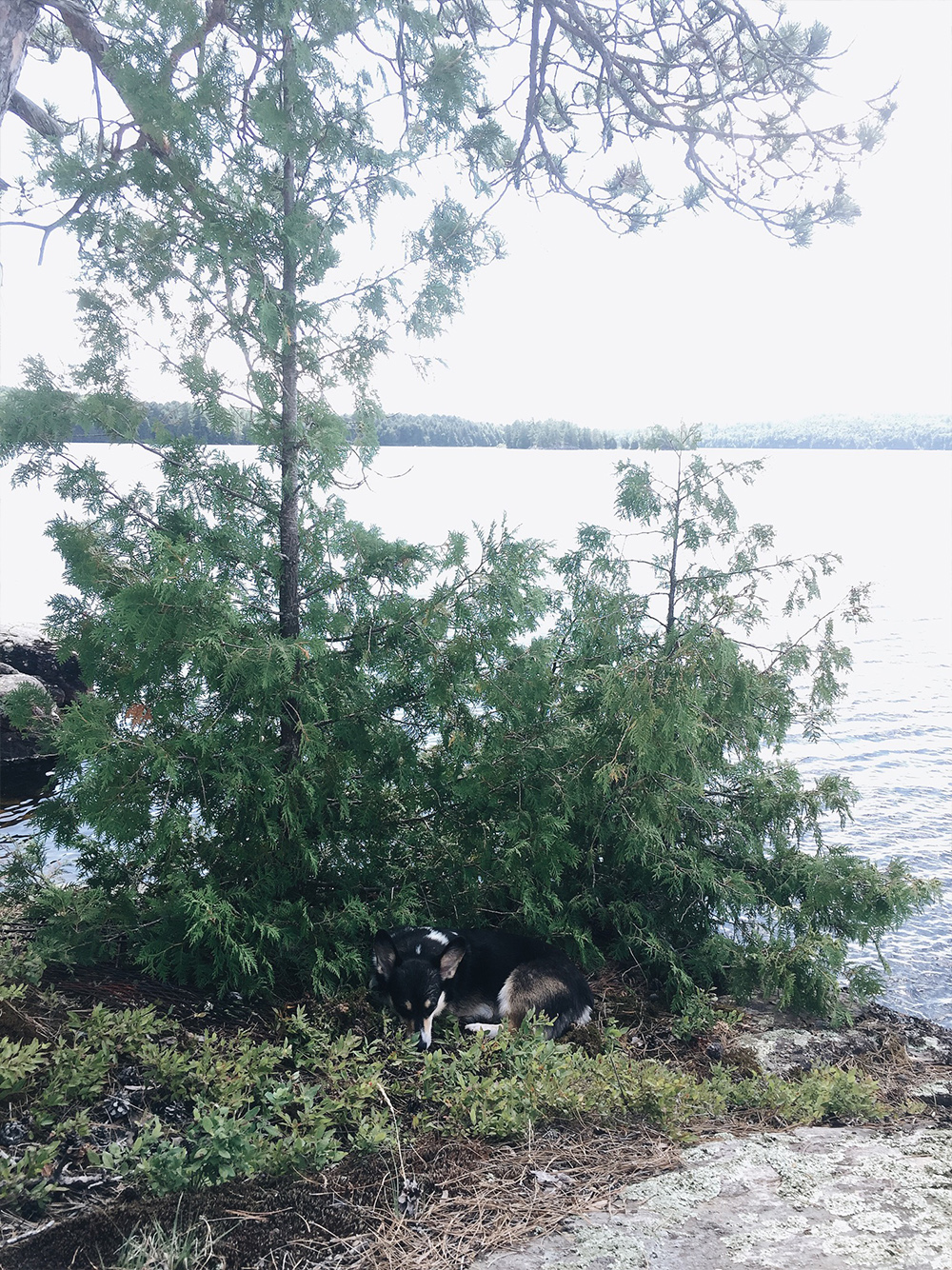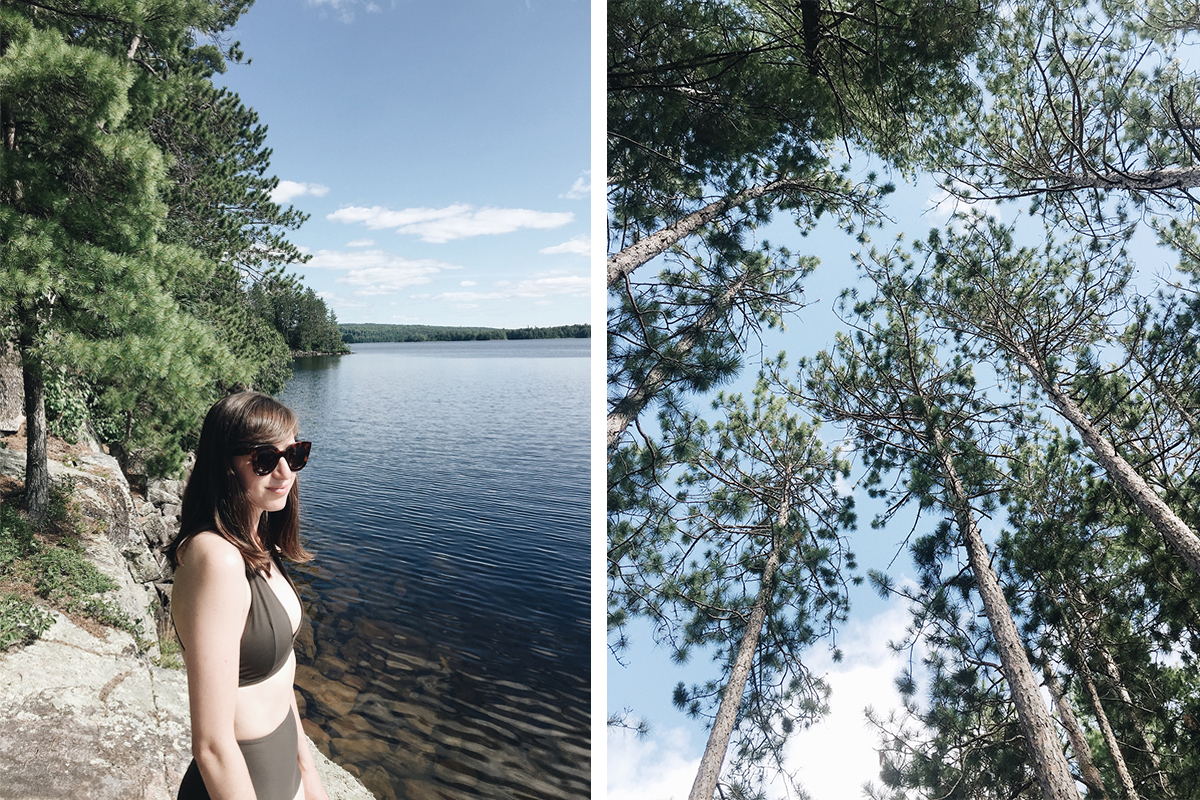 ---
After a few hours in the sun it was time for another dip in the incredibly clear, miraculously warm lake. Our site had the perfect jumping rock, so naturally so we had fun making some slow-motion videos.
---
---
---
After we got our fill of refreshing lake goodness (and shot way too many videos), we sat ourselves out on the rocks to enjoy the late afternoon sunshine and some snacks.
Dave ducked out for a bit to grab the treats but instead, came back with a little velvety grey box. I was in shock but I dare say he said something along the lines of, 'Marry me, babe.' and I said something along the lines of, 'Of course!' and we kissed and Dobby was just as excited as we were about the whole situation! So yes, we're engaged! WOO!
Once the jitters and excitement settled a bit, we took the canoe out before dinner to grab some more fresh water and let the whole situation sink in. Dave was obviously very relieved that the big event was over and he could finally relax. The water was so calm and the sunset was so stunning it was almost cheesily perfect but we loved it.
Dave had secretly smuggled in some champagne so we said cheers to the nature and drank it all in.
---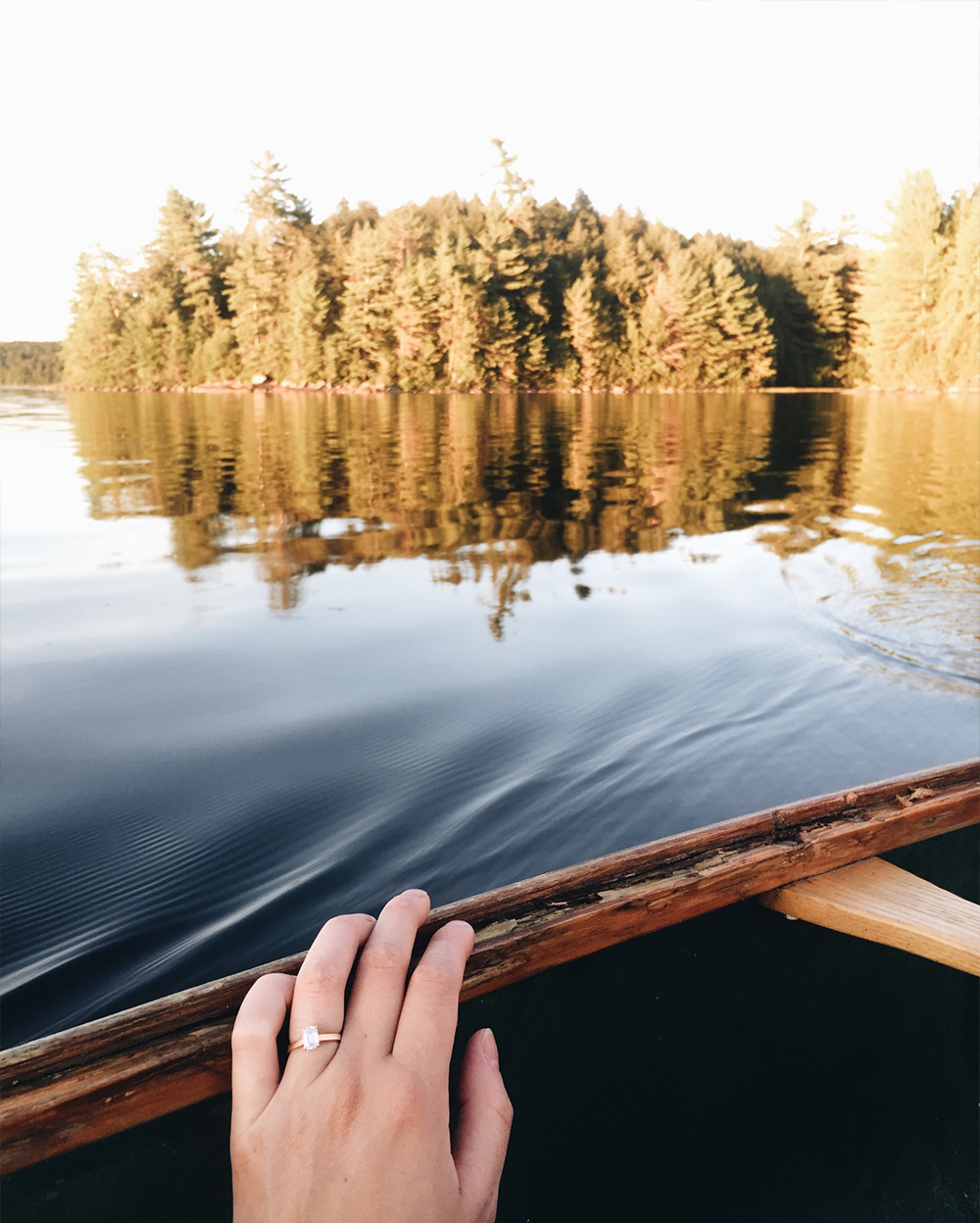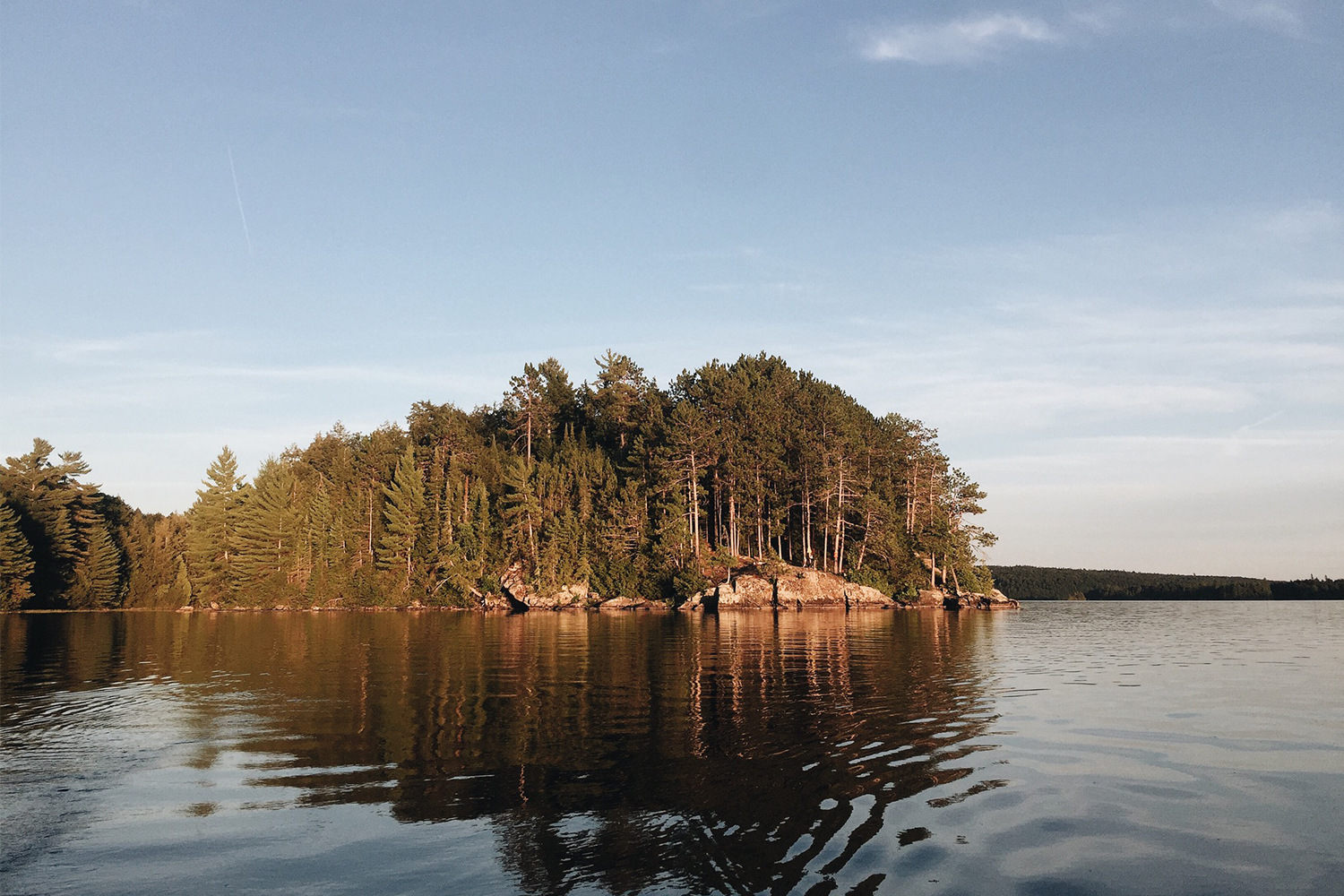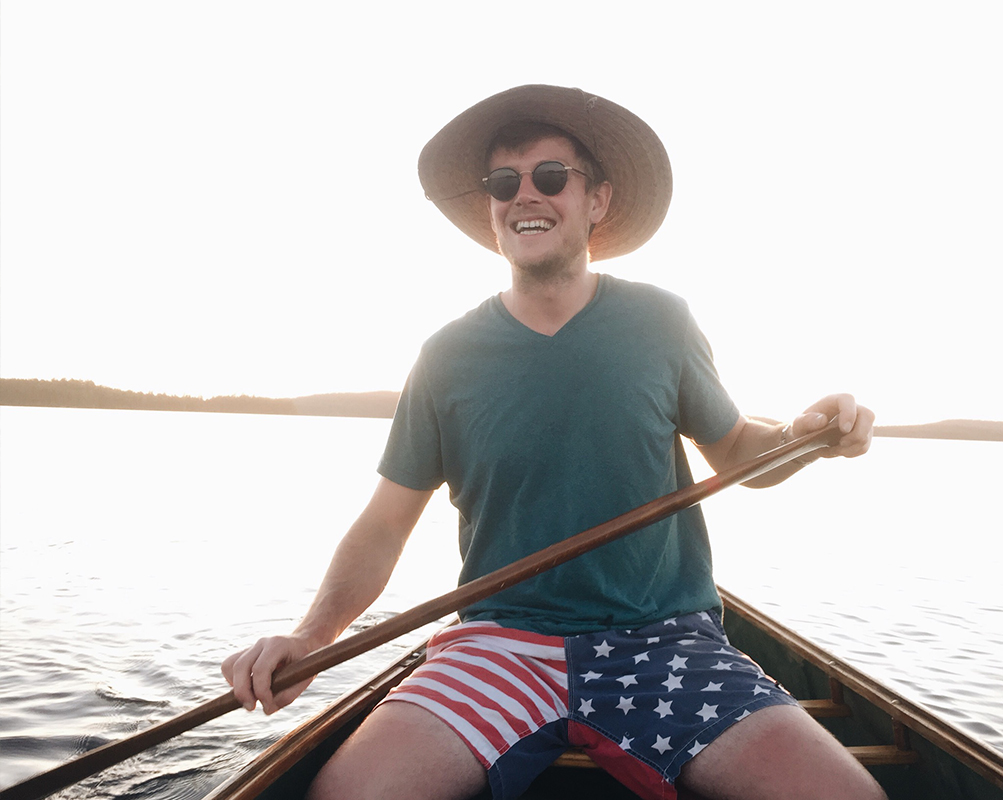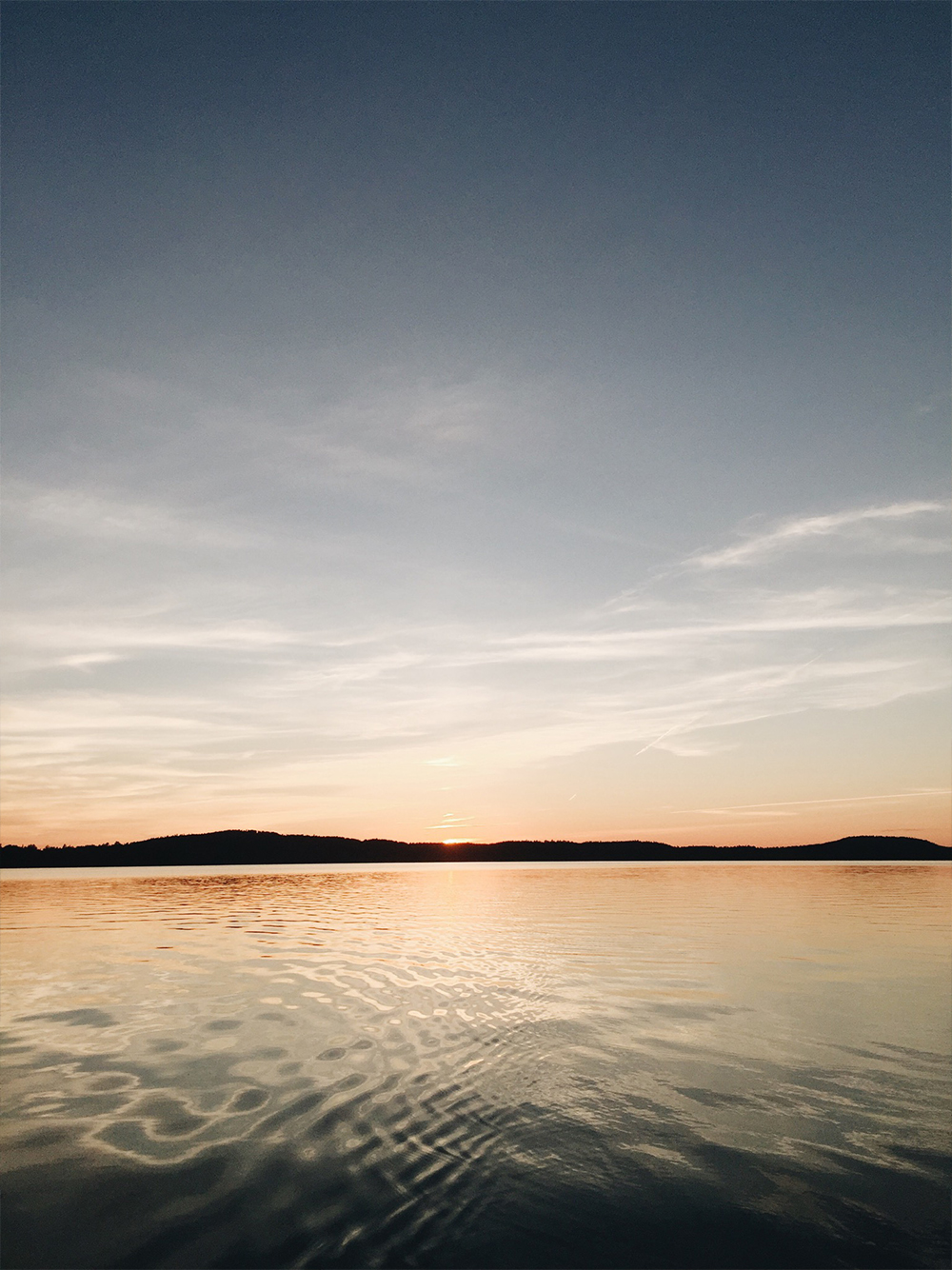 ---
DAY 3 | It was such a perfect place to wake up, newly engaged, sun-kissed (and bug bitten) and ready for one more big day of lakeside and canoeing adventures.
Our little corgi bear is in his absolute prime out in the park which is always so much fun to see. He just sniffs around, rolls in random stuff, grumbles at the passing Loons and has a constant grin on his little face. It's just the best!
---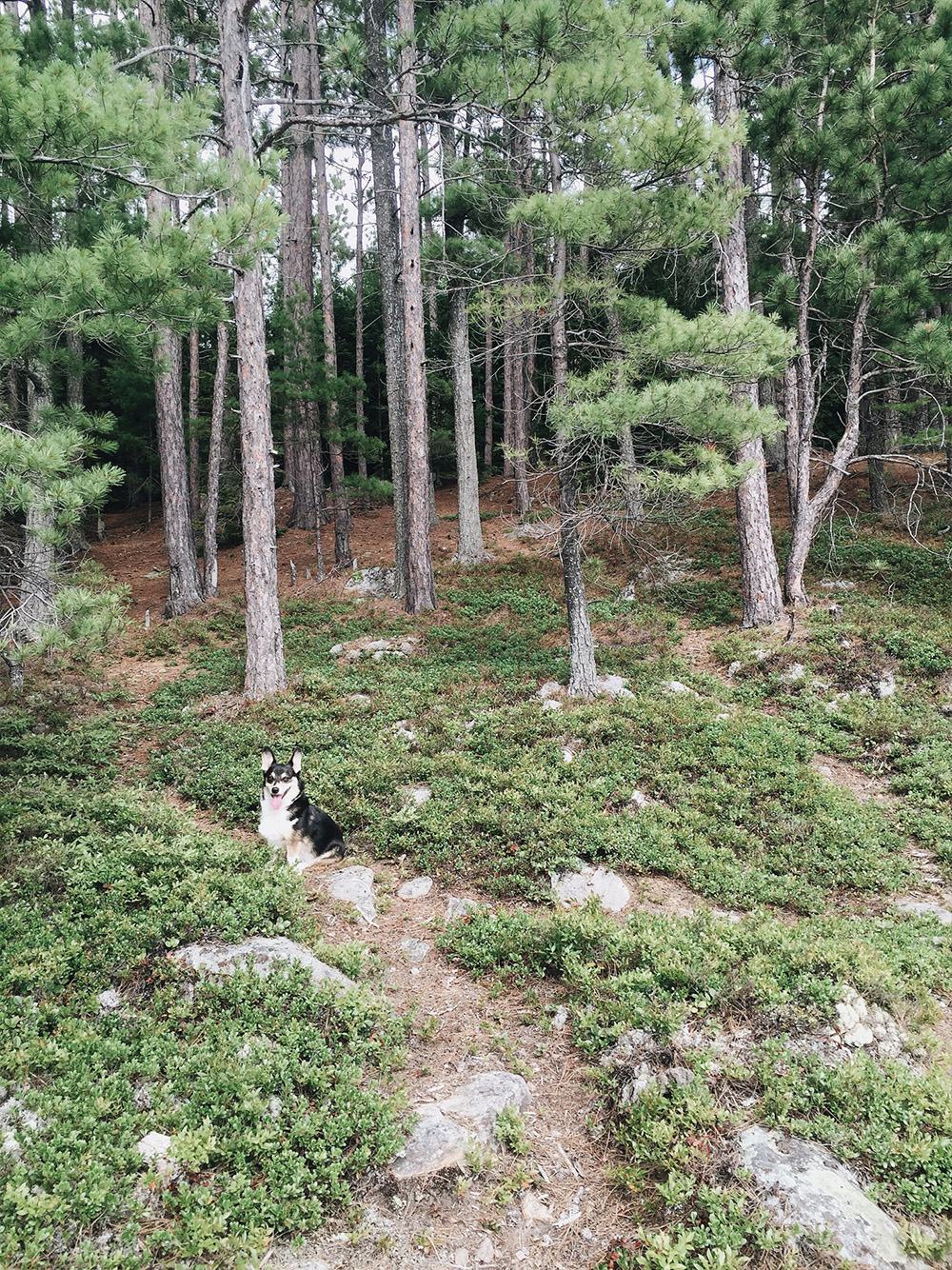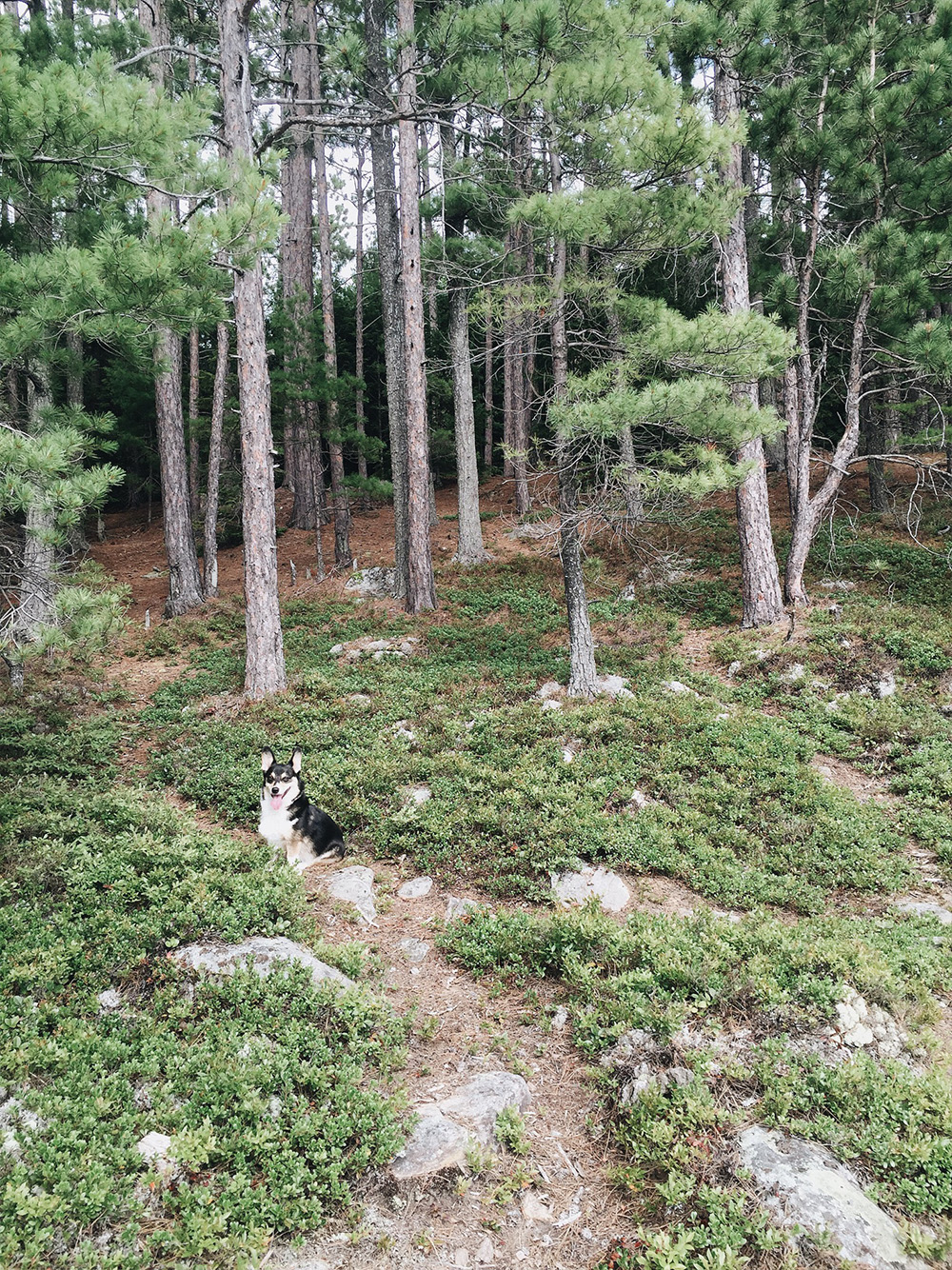 ---
CAMP STYLE | I opted for full-on vintage cub scout vibes for the last full day of the trip and loved it. Next time we go, I'm just bringing a pair of workout pants, a sports bra and a tee for the trek in and out, then it's bodysuits, vintage tees and jeans for the rest of the time. A sweater and a beanie also come in handy when the sun goes down.
---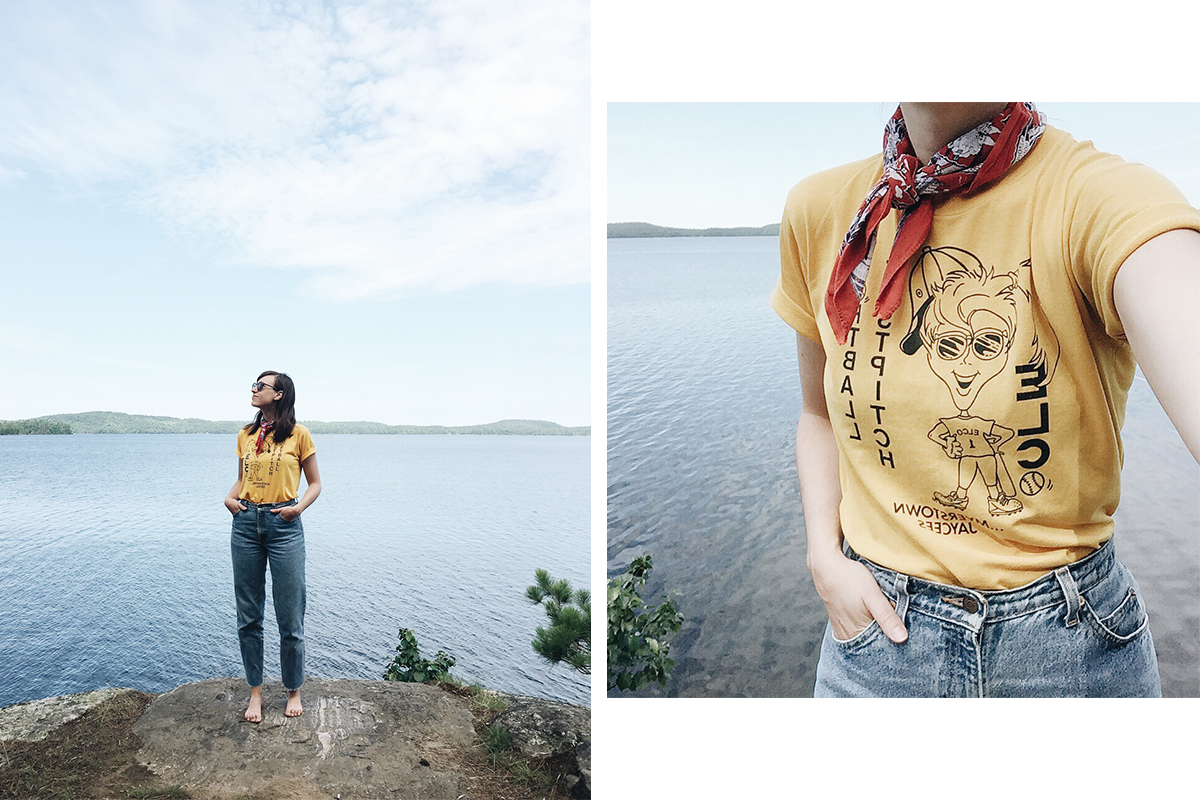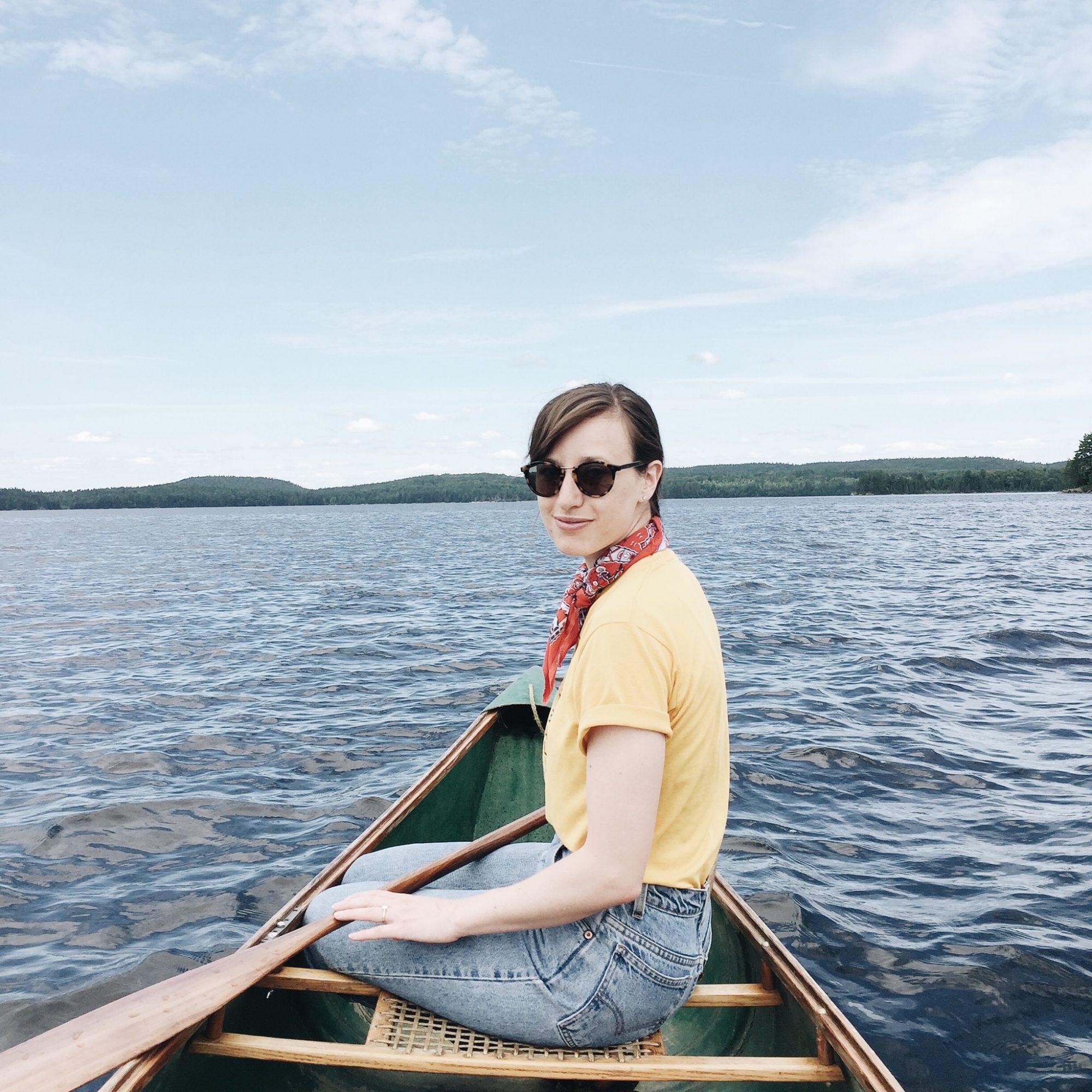 ---
BEACH TRIP | We heard there was a sandy beach on Lake Lavieille so we consulted our map and set out to find it. Turns out it was directly across from us, about a 1.5 hr paddle, and it was perfect!
Dobby also LOVES the canoe, way more than the car, which he hates, and I can never get enough of him in his little life jacket sniffing all the scents in the breeze as we paddle.
---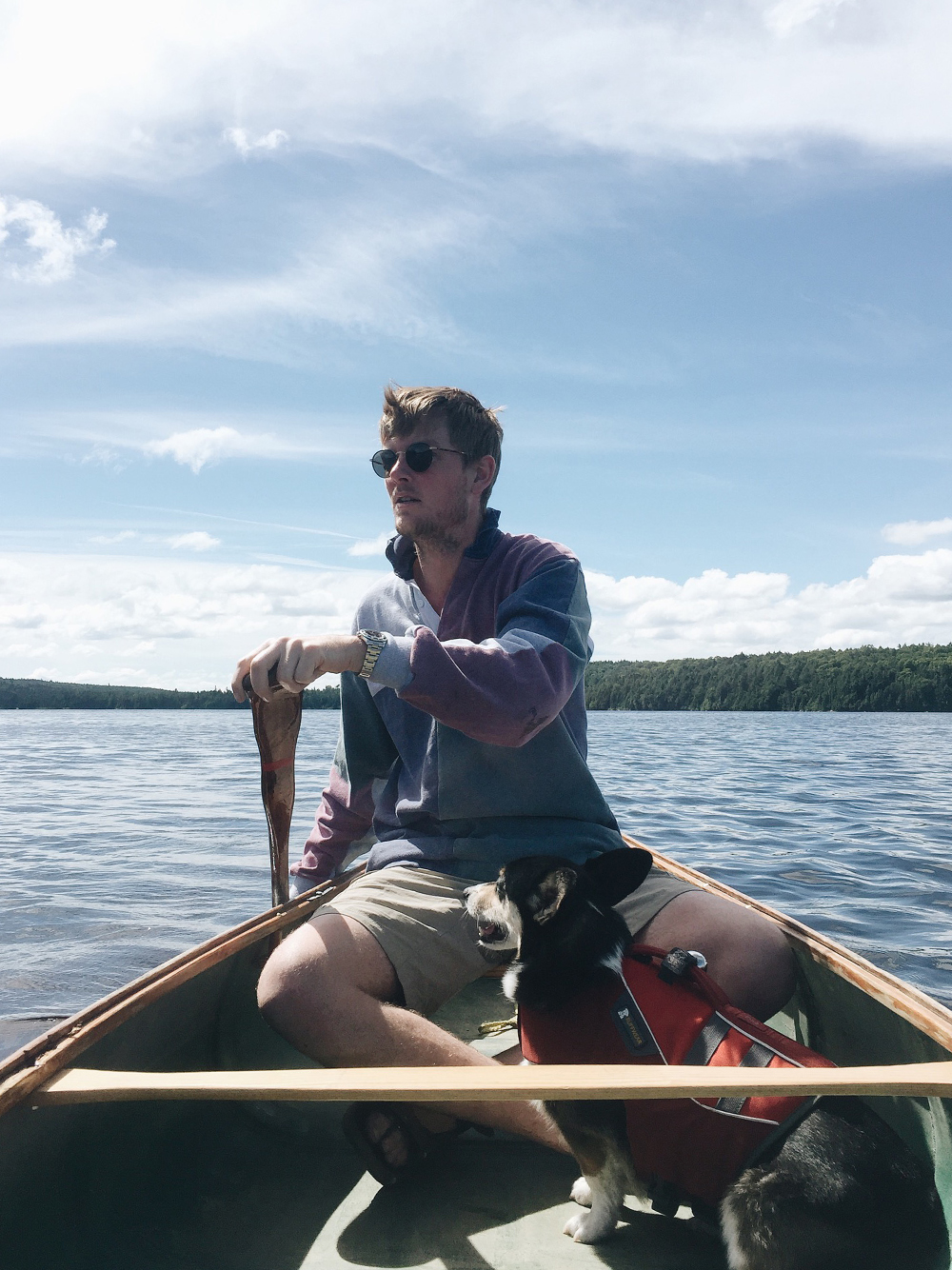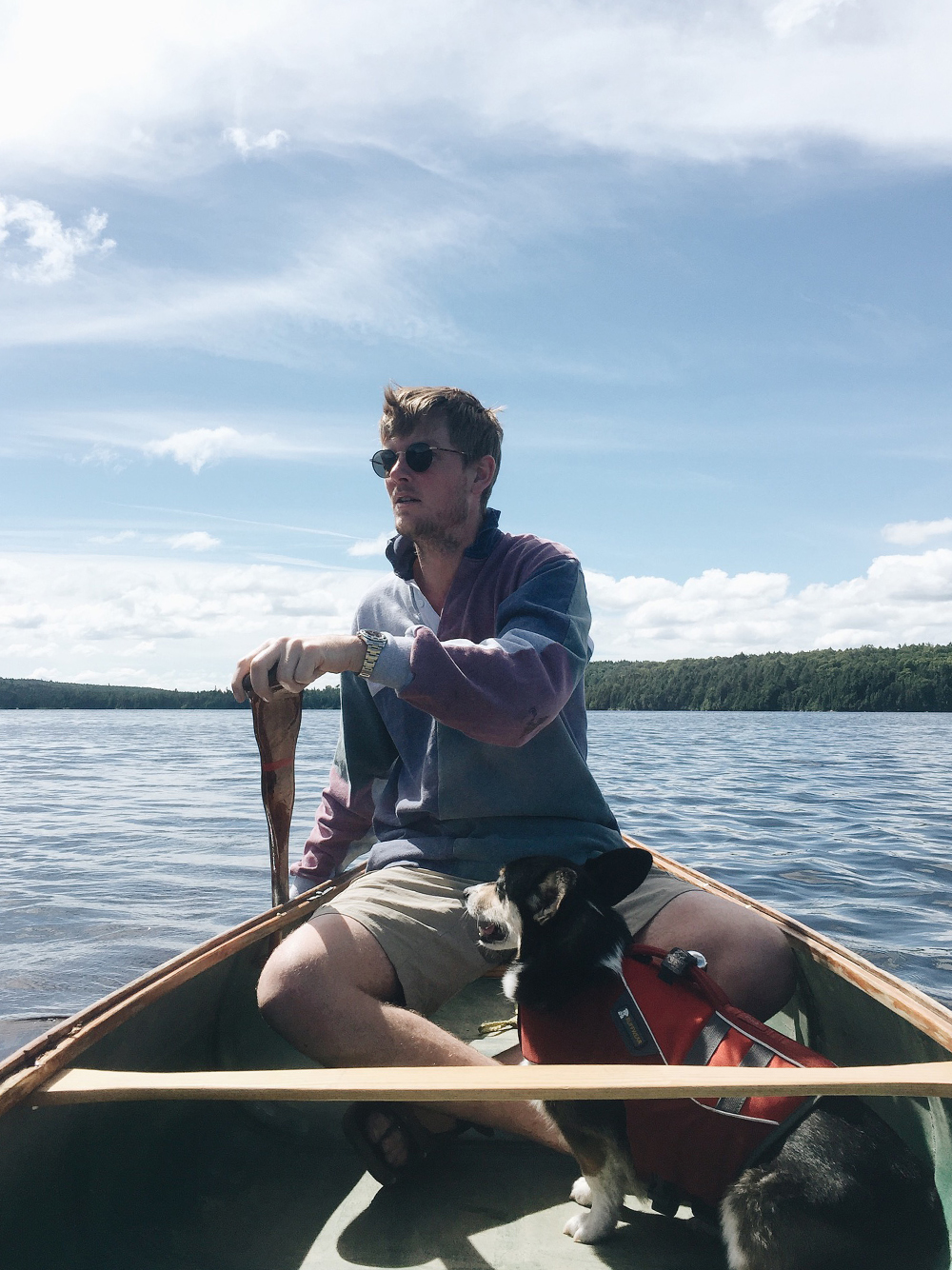 ---
---
Once we found the beach, we explored the shore for a while and I picked up a few treasures to bring home. I have a weird obsession with driftwood and found some great sticks, a giant feather (potentially belonging to an eagle), some white quartz and birch bark. We went for a long, lazy swim and tried our best to convince Dobby to join us but he'll really only brave the water for fetching purposes. Video below.
---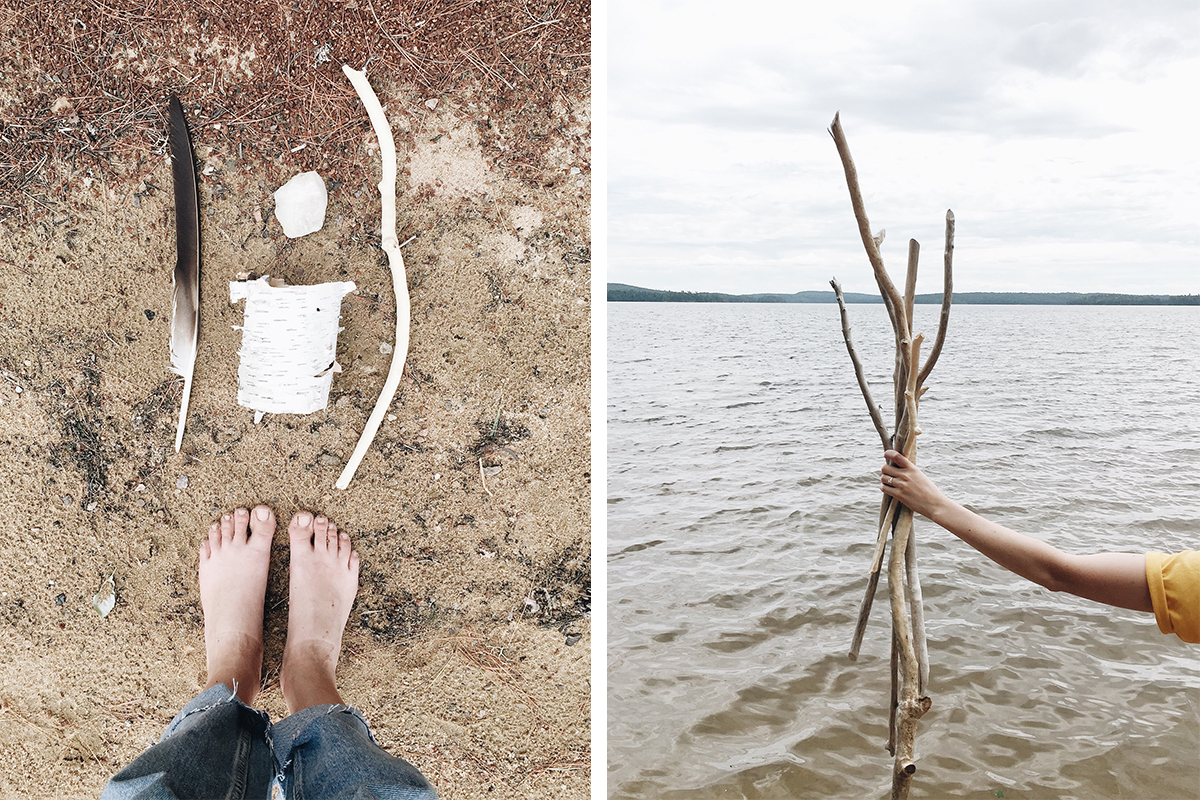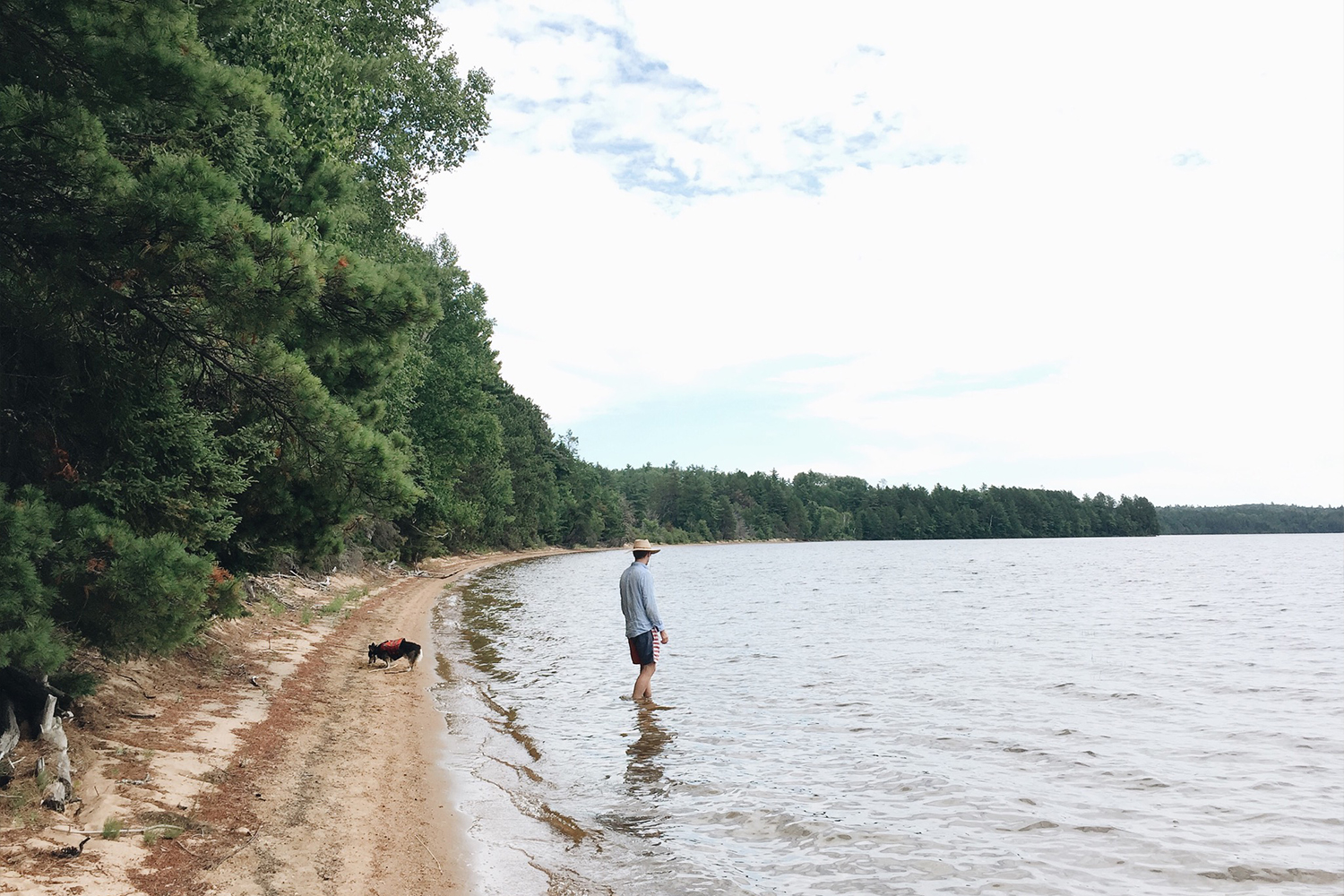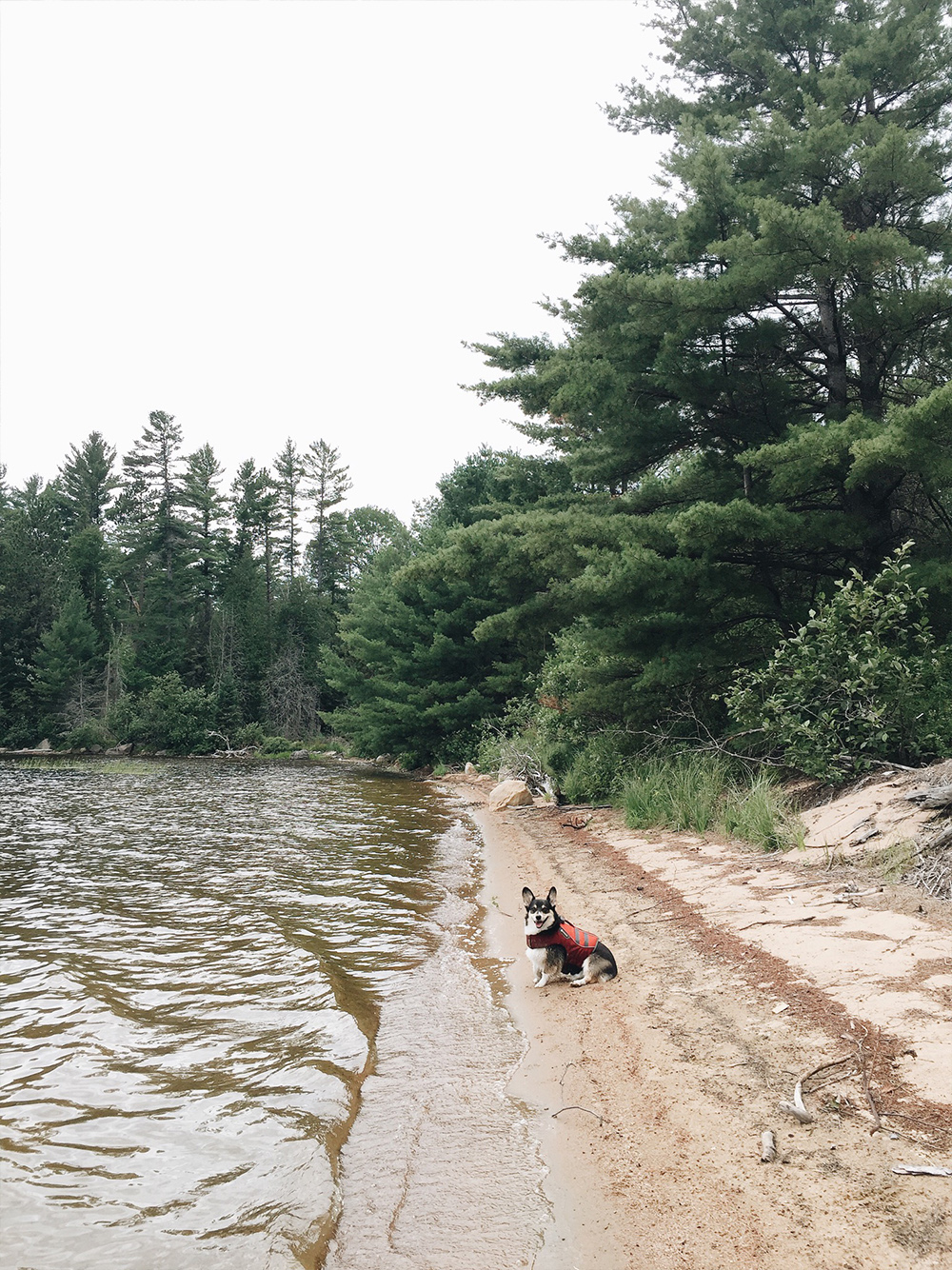 ---
---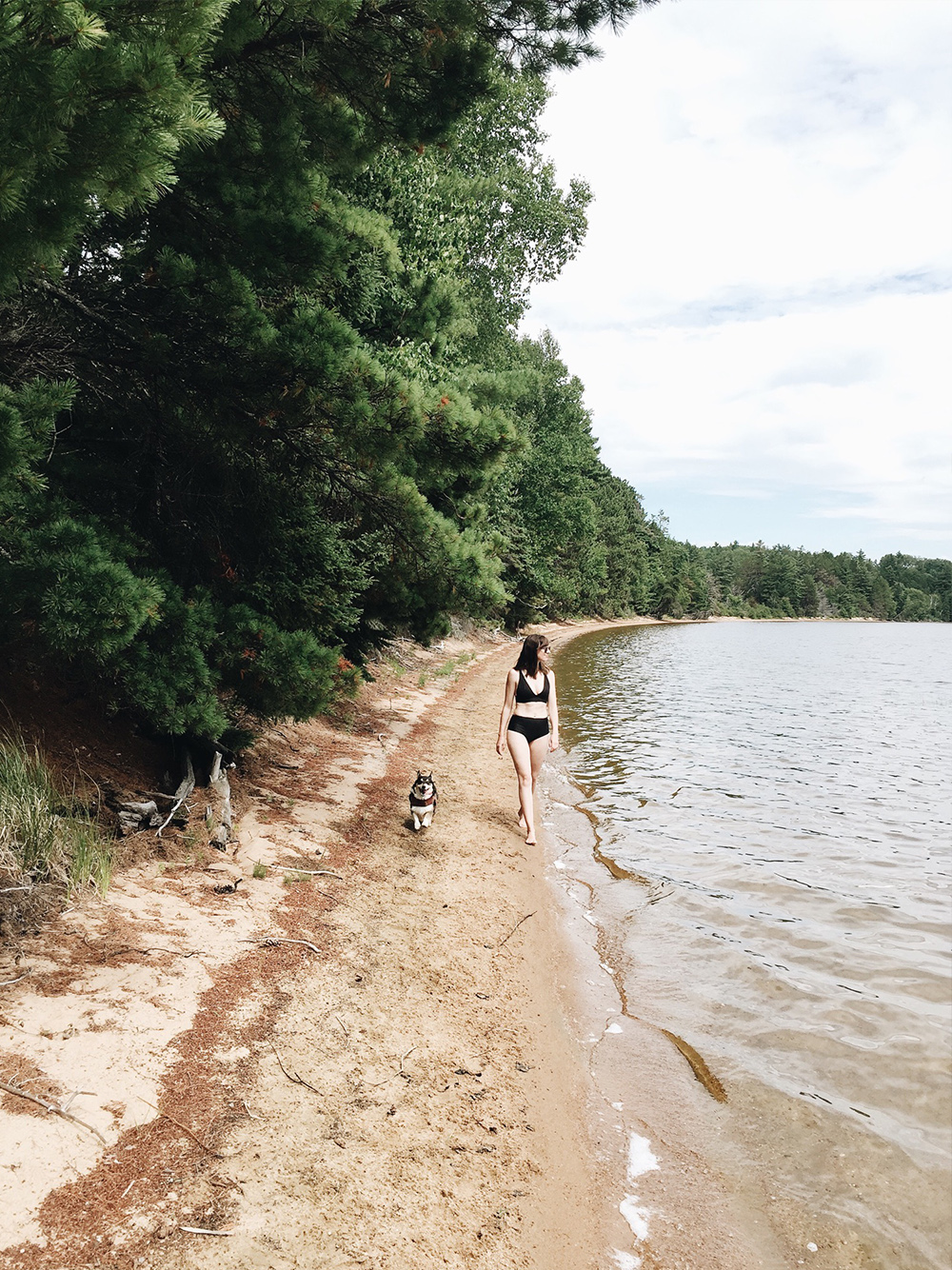 ---
CAMP STYLE | I brought my favourite HDH swimsuits with me and they were great. The tie top and hipster set is my favourite but I also love the sexy retro vibe of the crisscross and high waist set. Both are currently available:
Suit #1 – Crisscross Top in Forest | High Waist bottoms in Forest
Suite #2 – Tie Top Black | Hipster Bottoms Black
---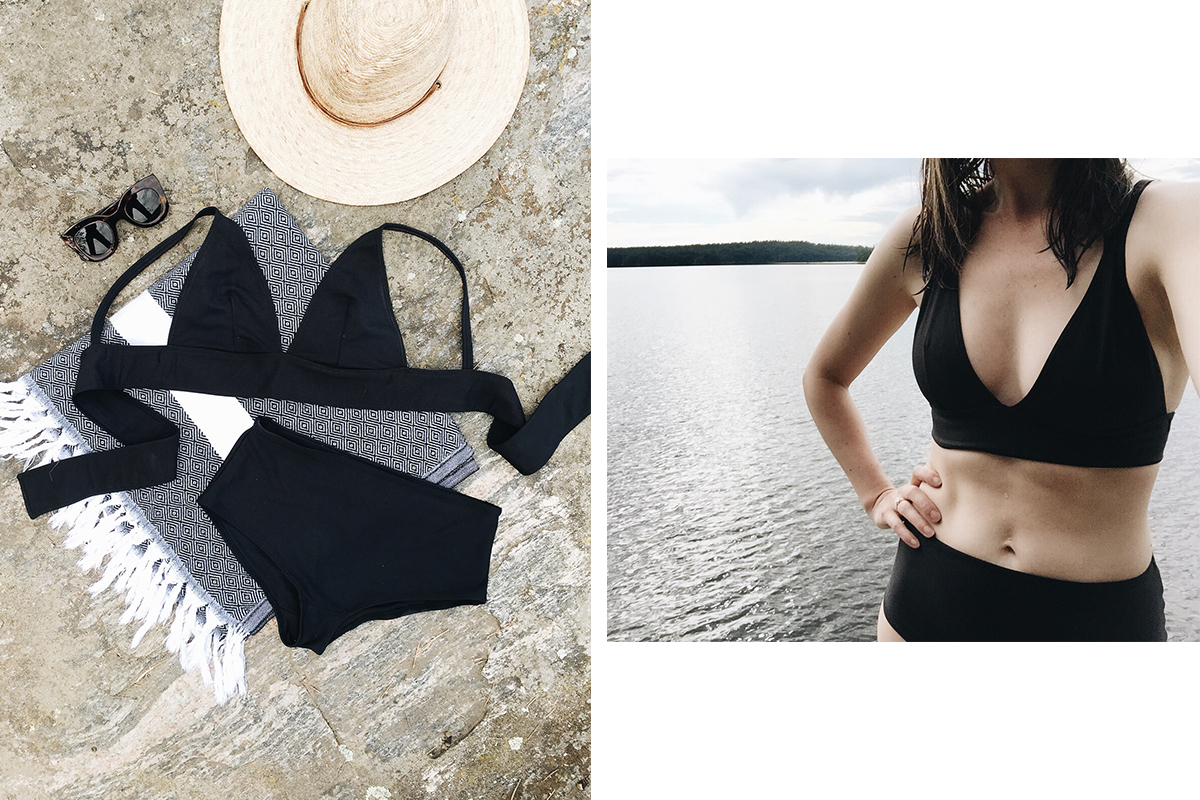 ---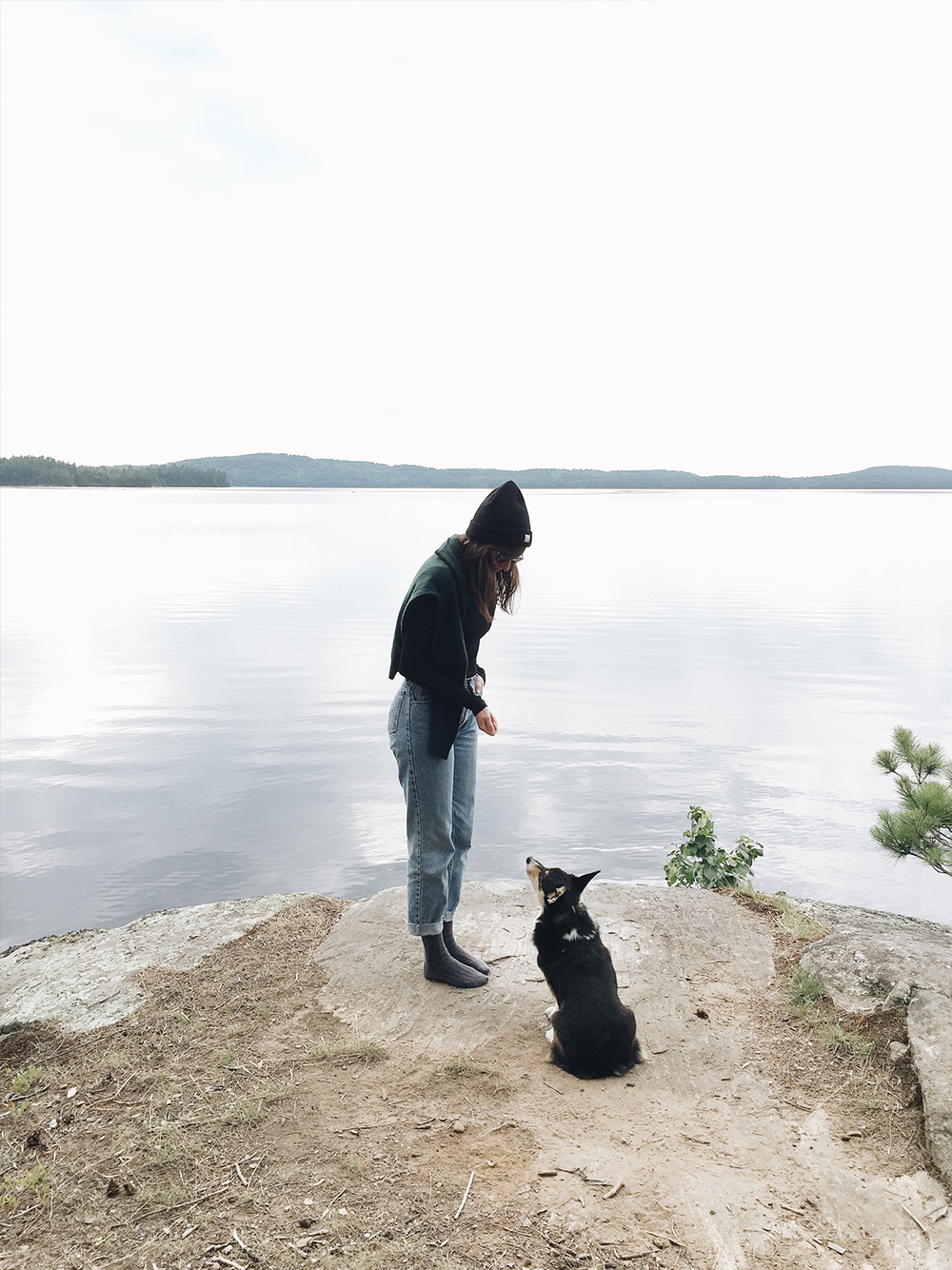 ---
LAST NIGHT | We spent the last evening jumping in the lake, cooking up another feast of fresh corn, pasta and made an epic s'mores treat using rice crispy squares, topped with Nutella, sprinkled with M&M's and garnished with a perfectly roasted marshmallow. So ridiculously good! We watched the sun go down and hit the hay early to rest up before our big trek home.
---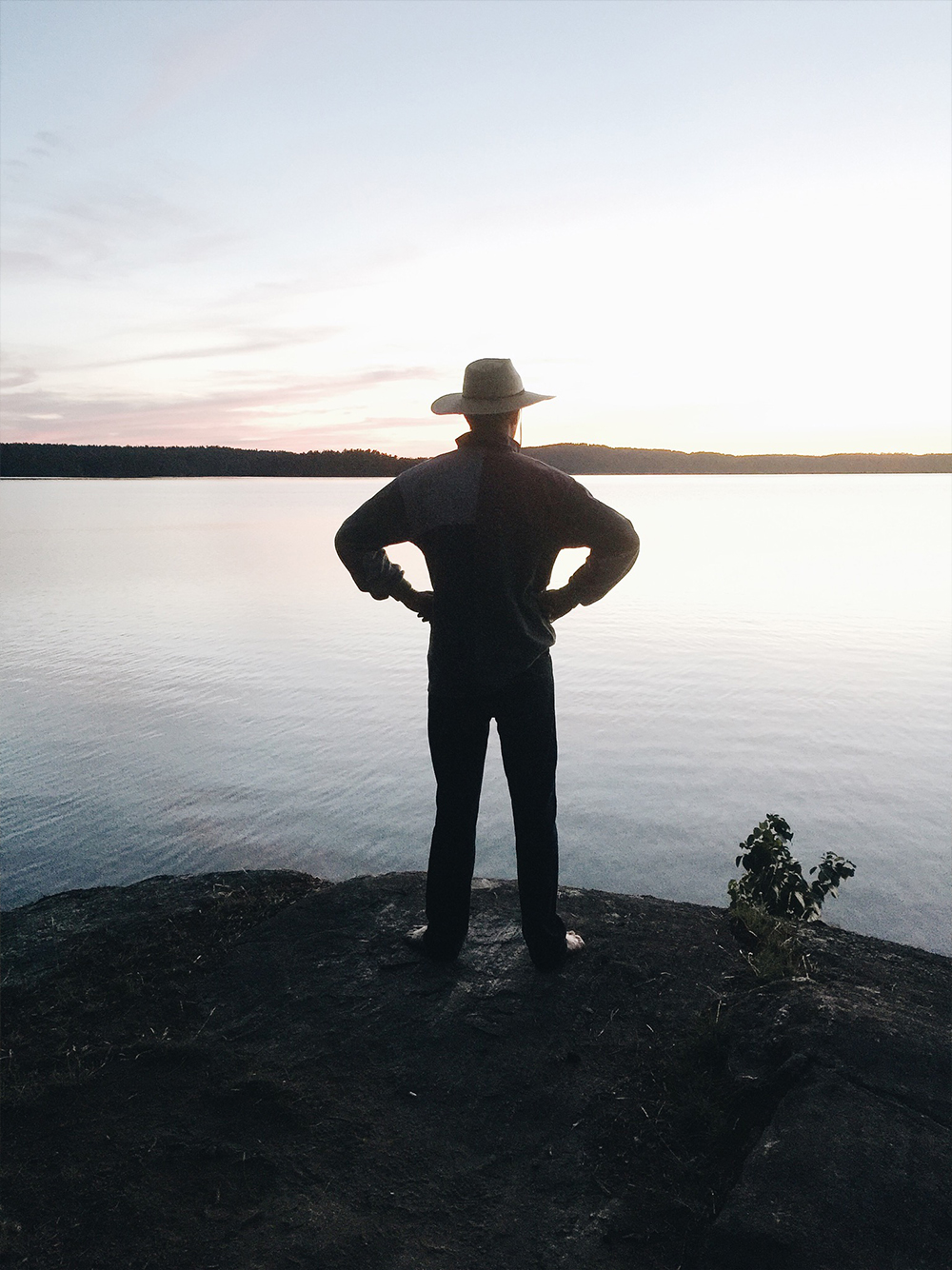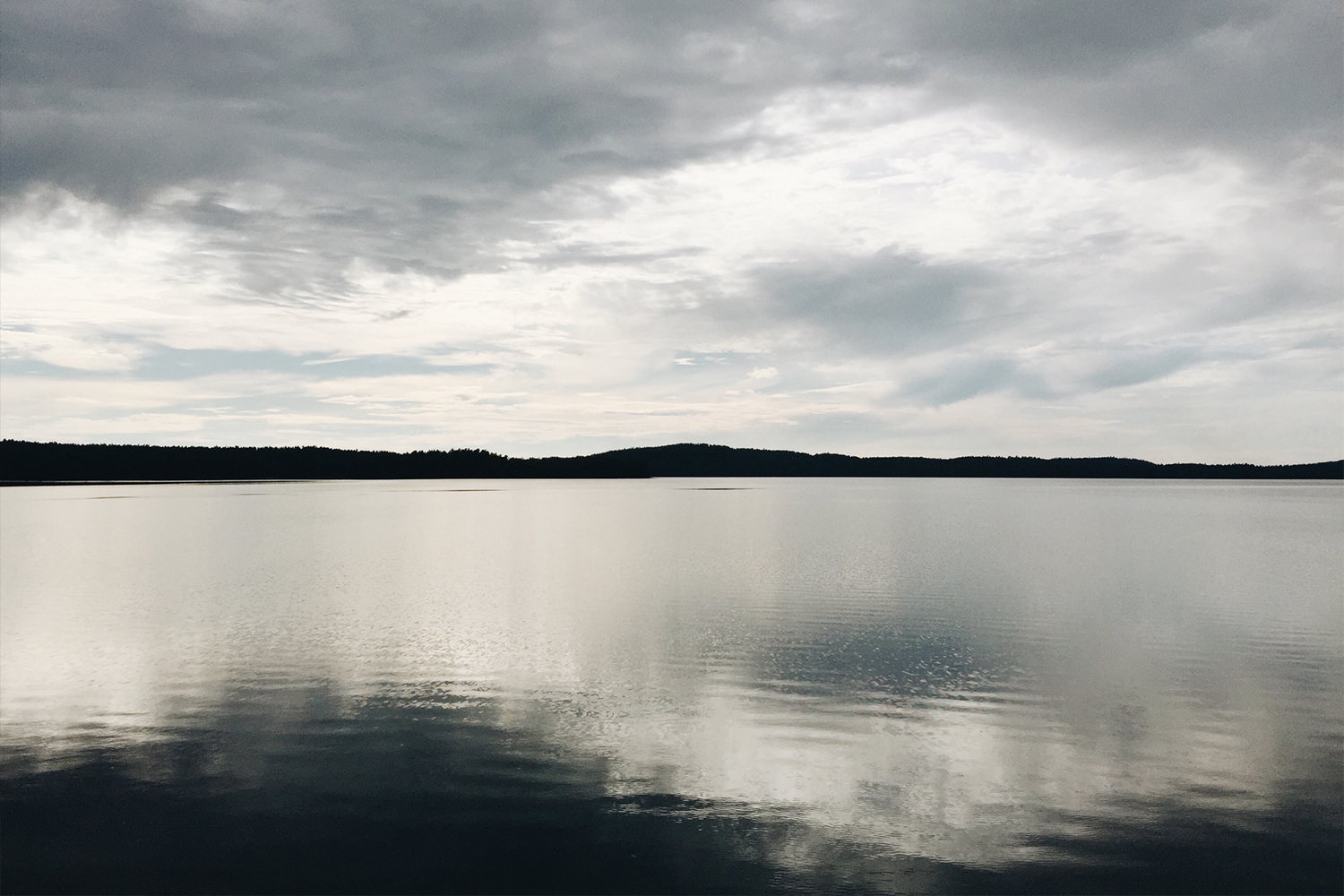 ---
It was seriously the perfect trip, the weather was incredible, the site was a dream and it was the best way to start the next phase of life with Dave (and Dobby of course!). We'll never forget this particular journey and already can't wait to go back again next year! 
---
All photos taken with iPhone 6+ and edited using the VSCO app.