One of the top questions I've been asked recently is, 'How do you travel with so much linen?' and today I'm here to answer exactly that! Linen is one of my favourite fabrics to wear in the summer but it can be tough to embrace it's natural tendency to wrinkle.
Luckily, there are ways to pack this crease-inclined material that can help prevent you from looking like a rumpled mess on your first foray out of the hotel room.
Traveling with linen has been a closet conundrum that involved a bit of practical problem solving and a bit of creative thinking. Today I'm sharing how those two approaches have led to a packing system that helps me bring my favourite linen pieces all over the world and wear them with confidence. The best part? No travel steamer required!
---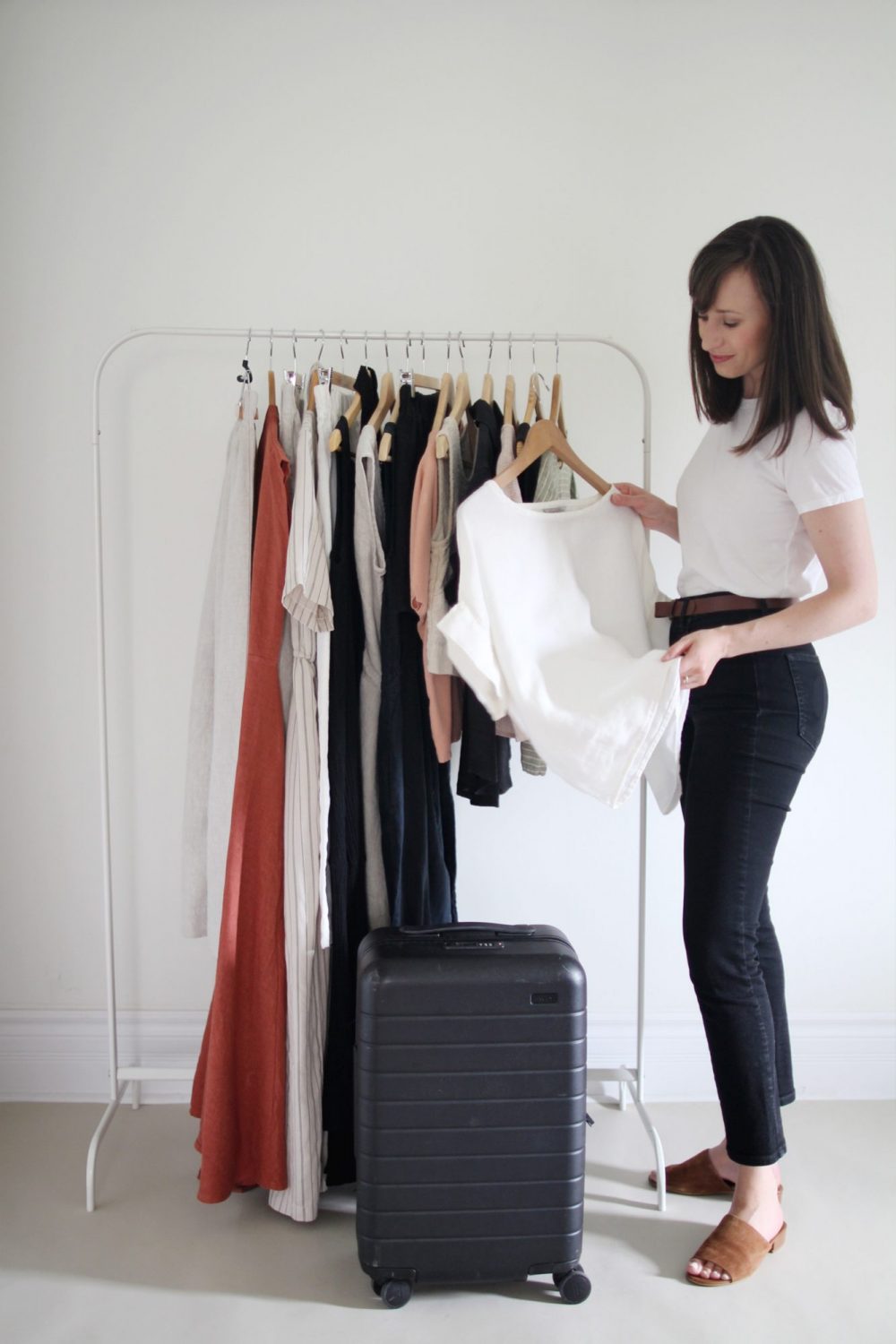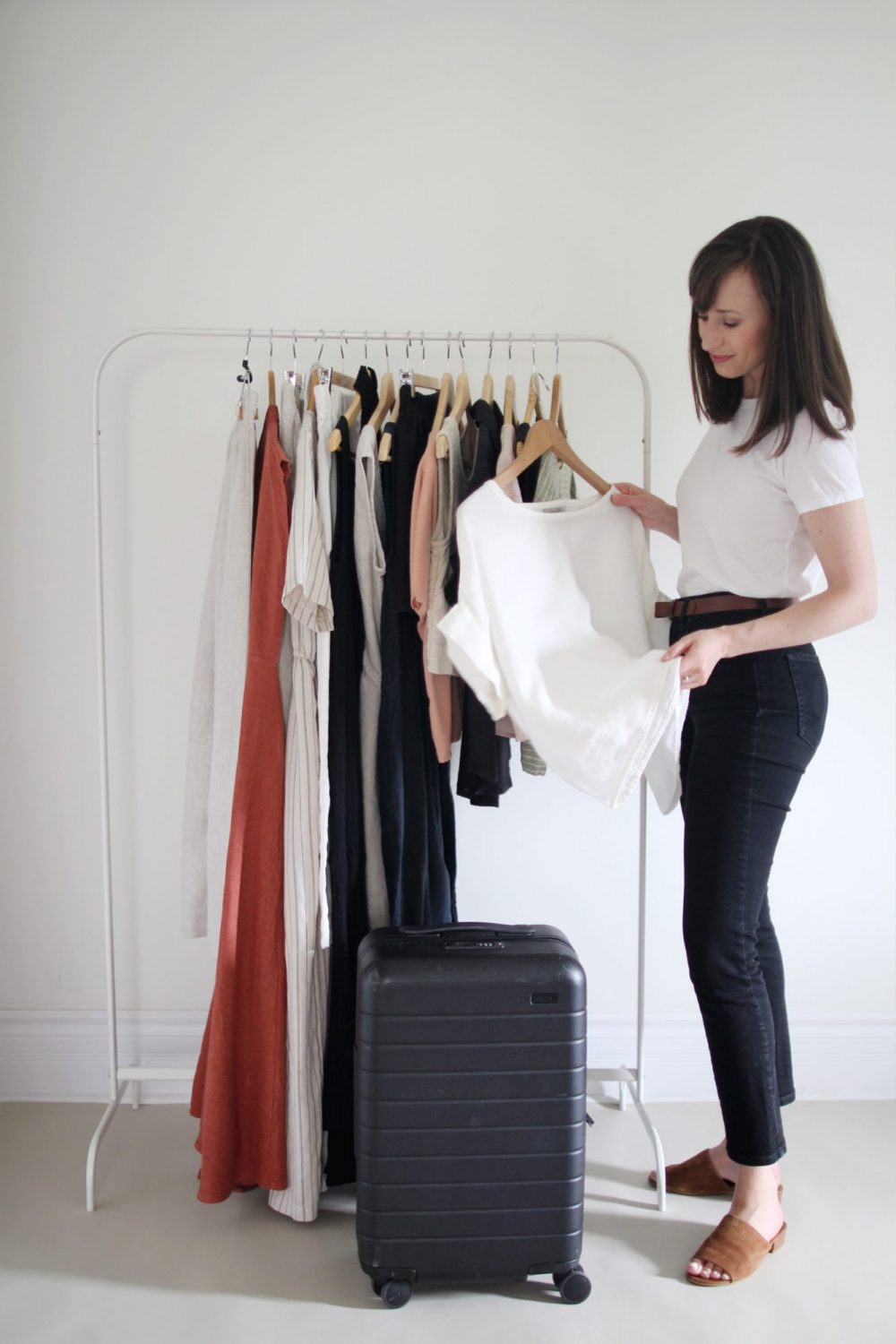 ---
STEP 1 – Start with all your pieces pressed/steamed ahead of time.
I usually iron/steam all my linen items the day before I pack or far enough in advance that they'll be able to cool down. Linen creases easier when warm and those lines can be tough to get out.
---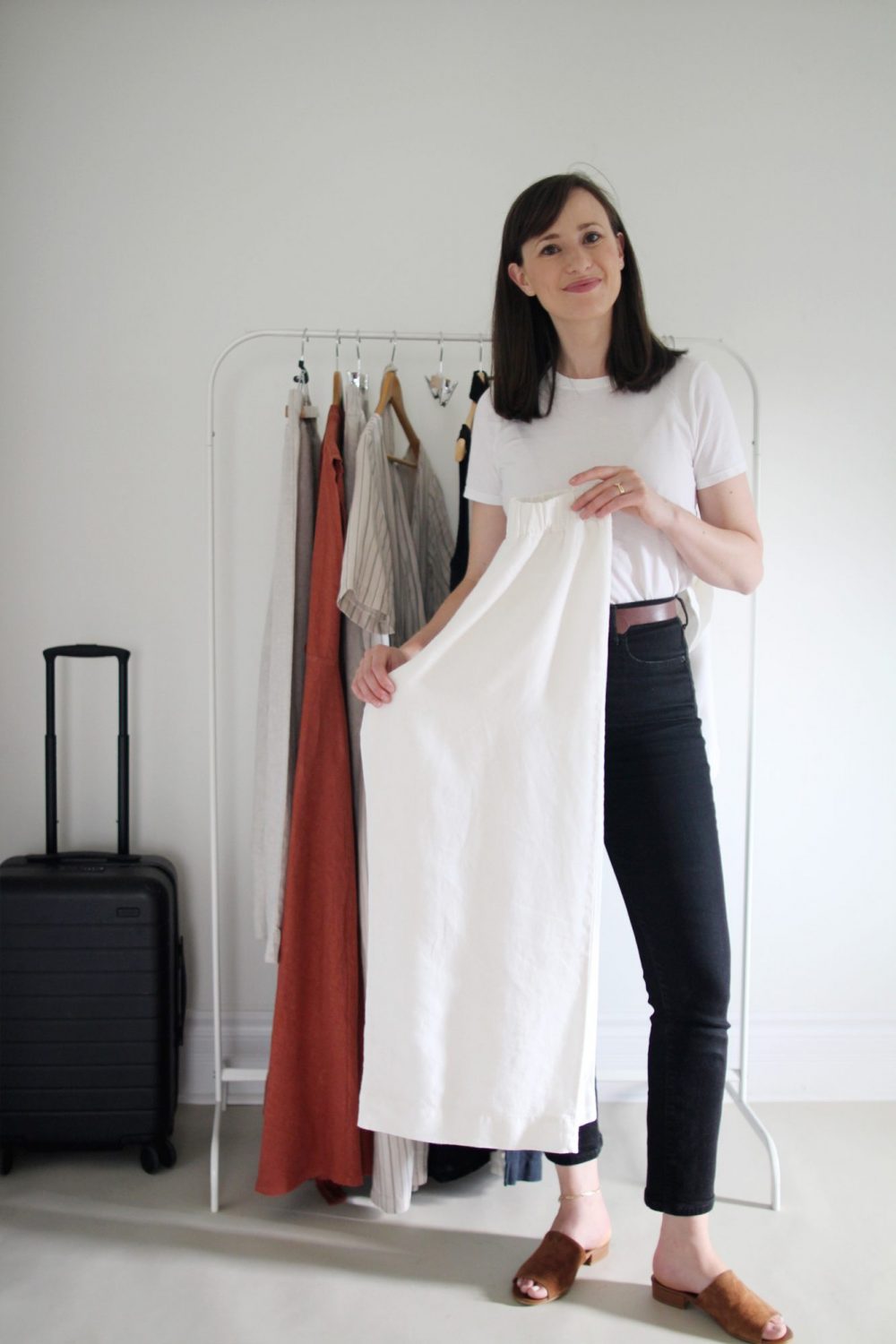 ---
STEP 2 – On a clean floor or surface, begin by laying large items flat.
---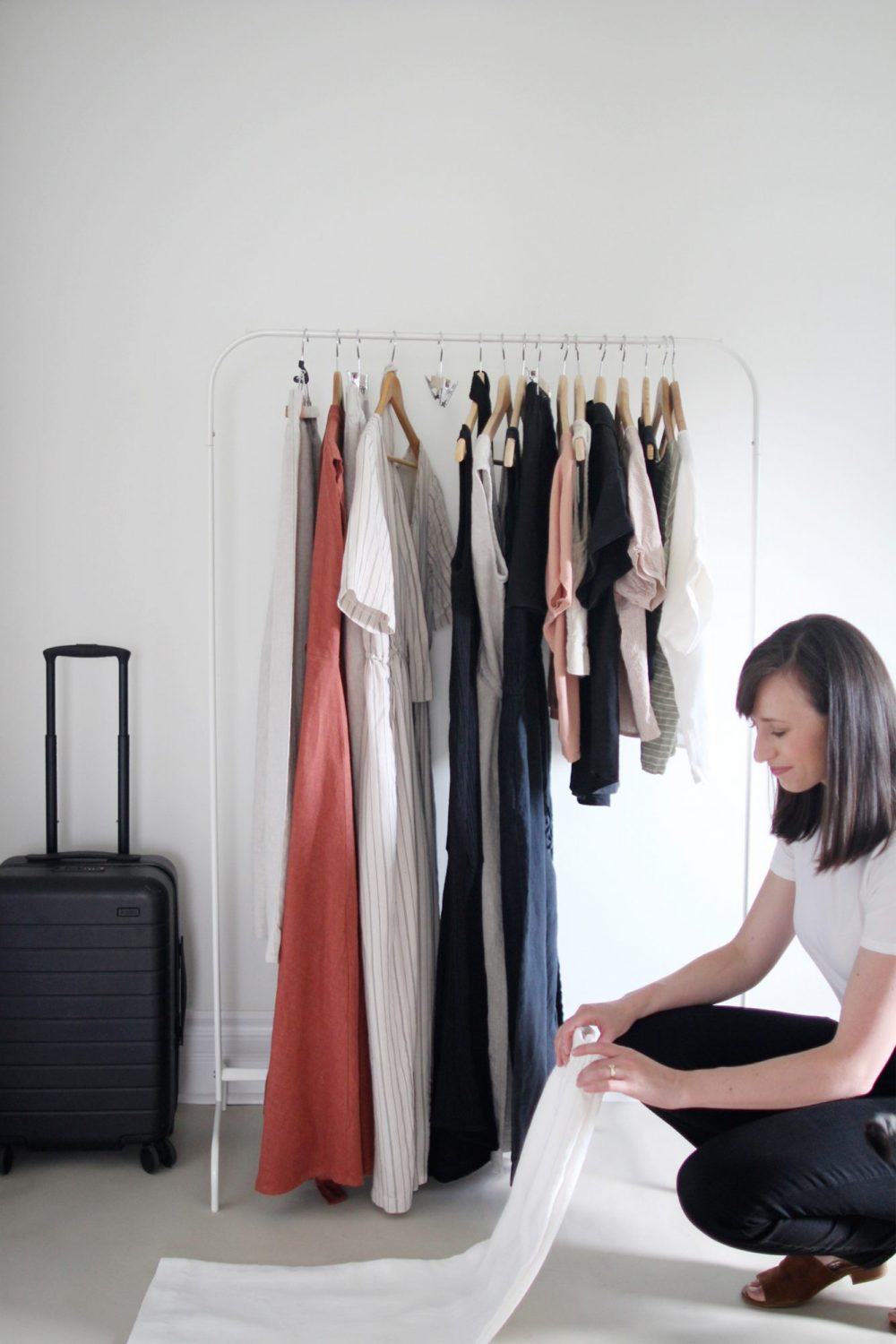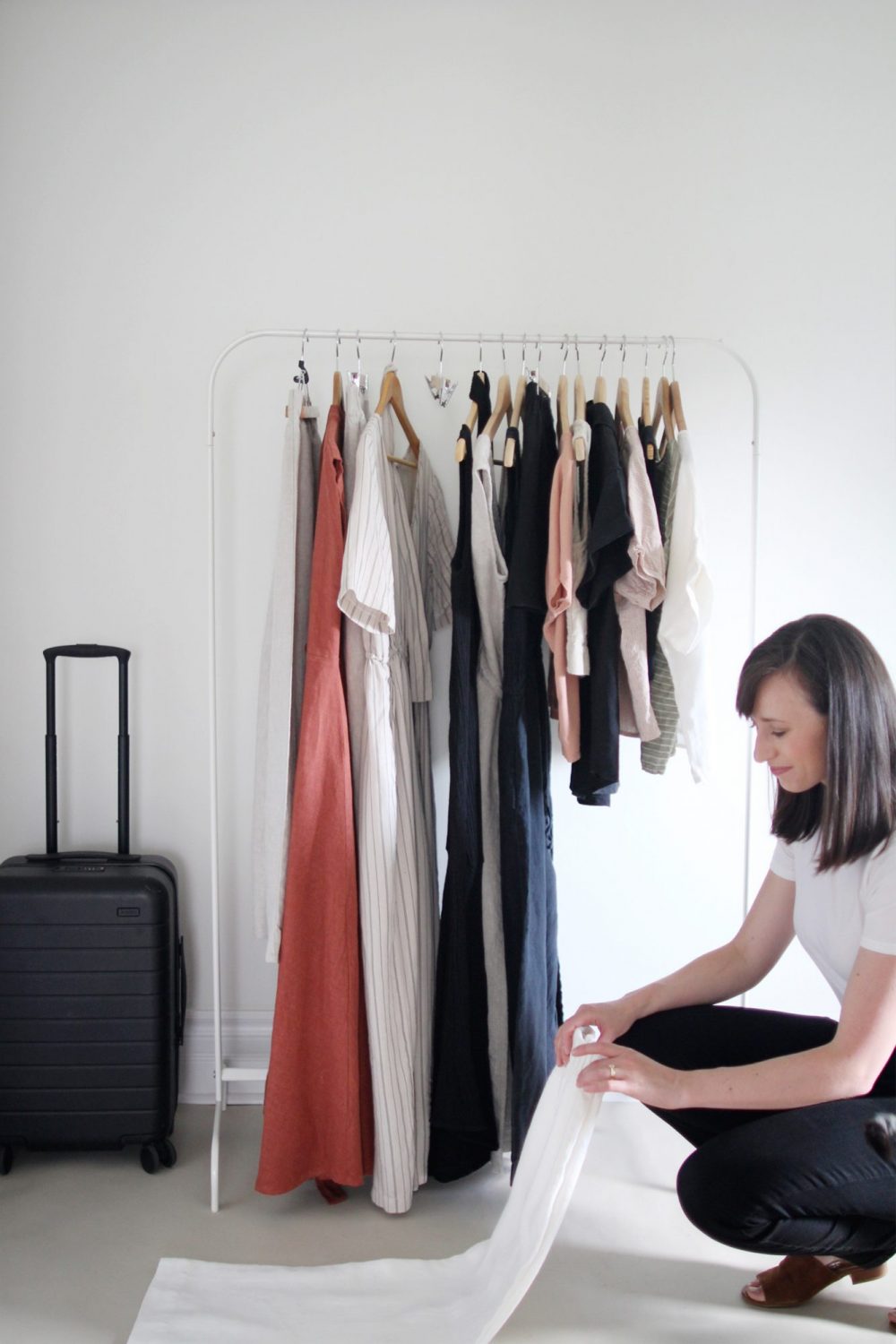 ---
STEP 3 – Create a stack of 2-4 Similar items.
I often start with my wide-leg linen pants and skirts and then move onto dress, jumpsuits, tops.
---
---
STEP 4 – Align the top edge of the items & gently roll them all at once from waist to hem into a cylindrical shape.
TIP: Place the pieces that easily crease or the ones that show creases the most on the bottom of the stack. Put pieces that don't crease as easily on the top of the stack. This way when you roll them the most easily wrinkled piece is on the largest edge of the roll.
---
---
Smooth out lumps and bumps as you roll the items up.
---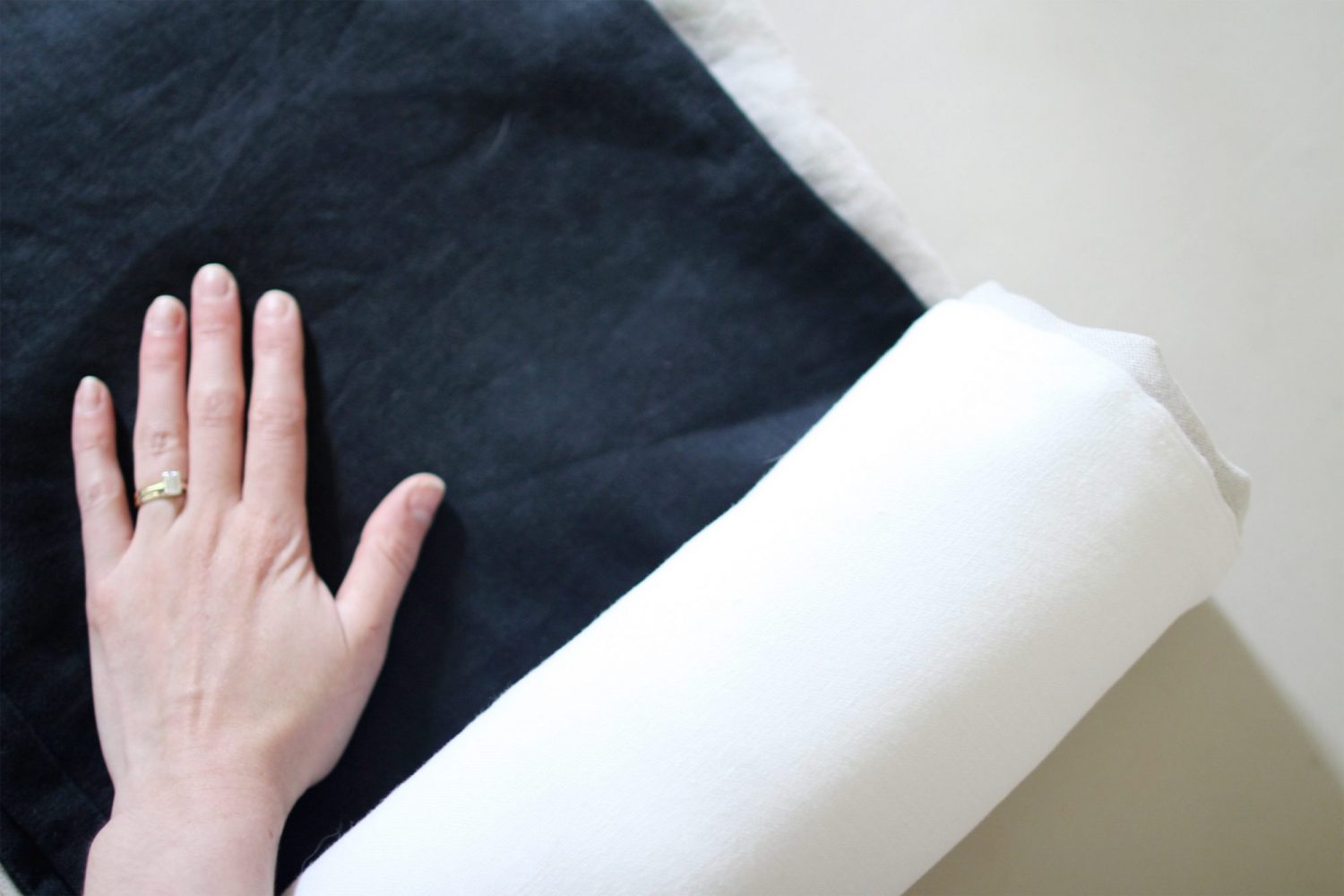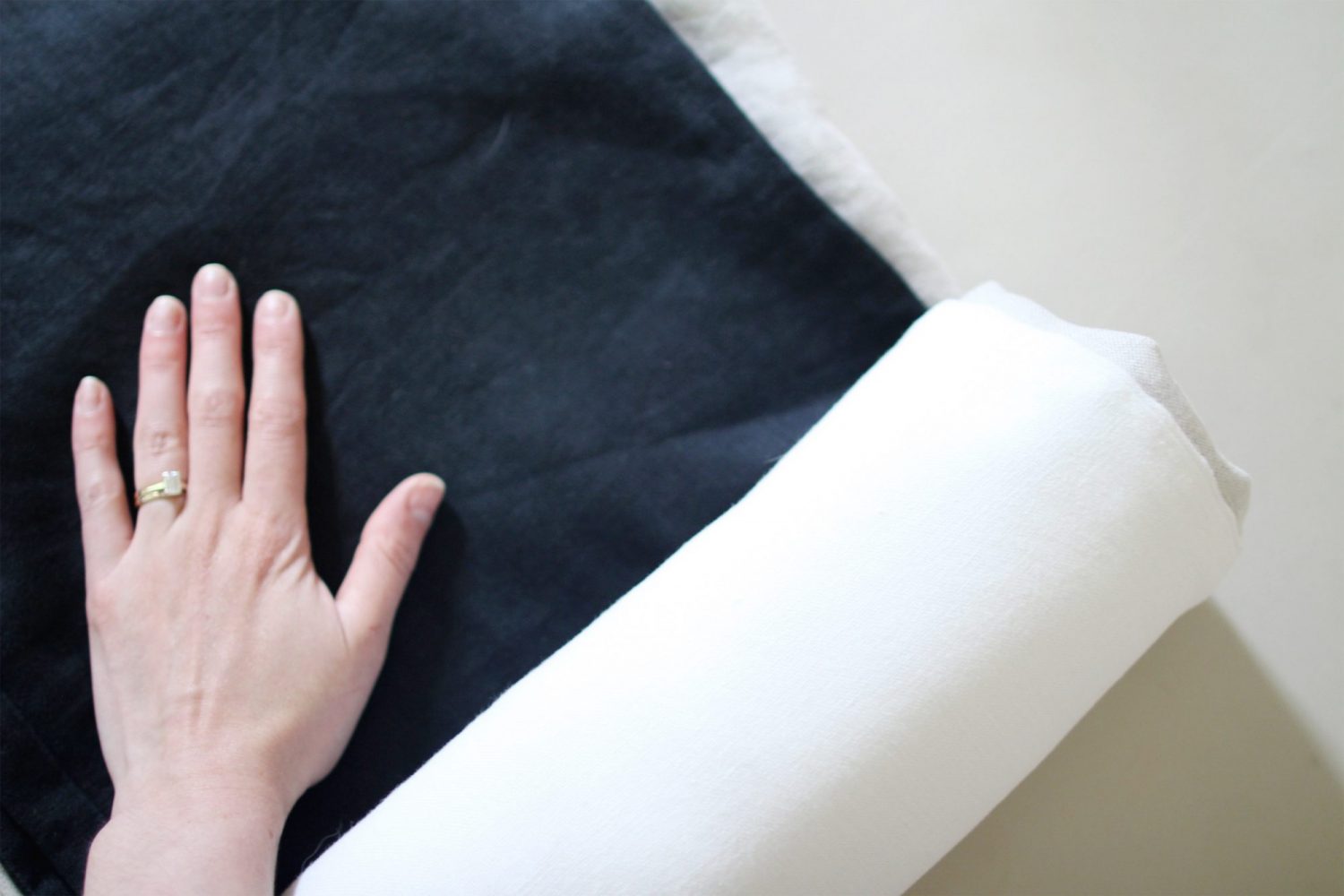 ---
FUN FACT: I originally discovered this rolling technique when searching for ways to pack more efficiently in a small suitcase. Turns out it has the added benefit of not creasing your clothing like folding does, takes less time to pack and lets you bring more pieces overall!
---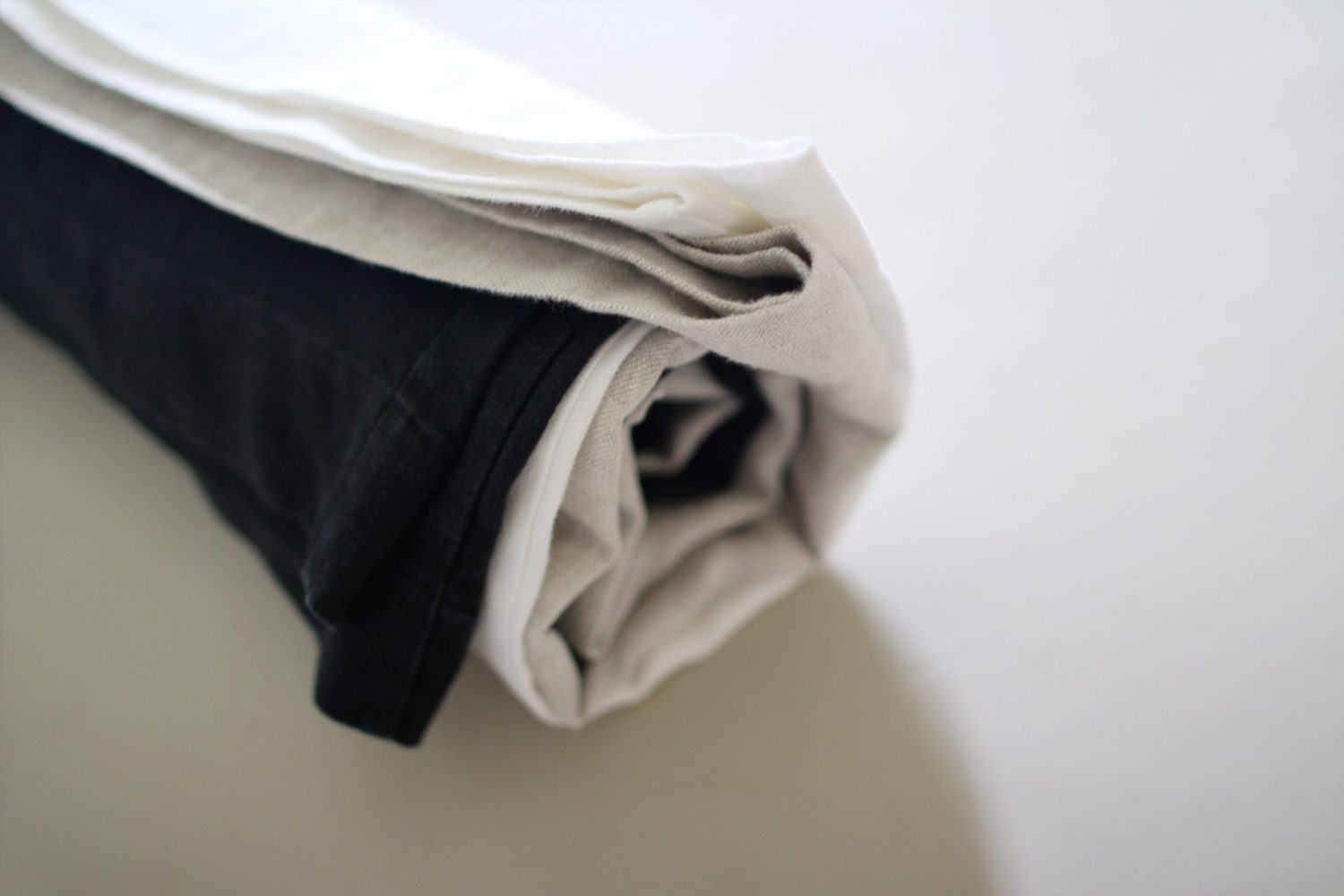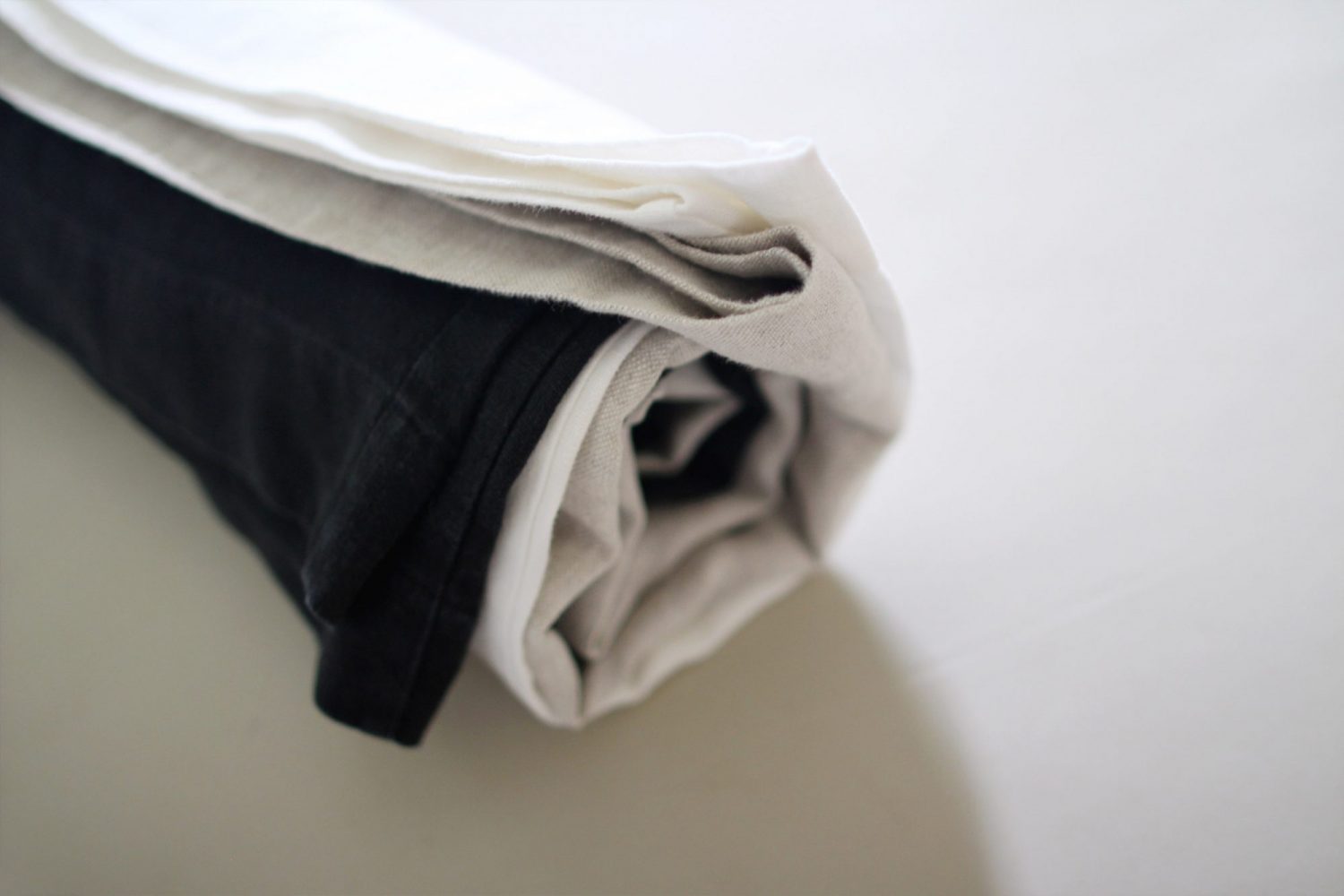 ---
REPEAT STEP 4 FOR DRESSES & JUMPSUITS, First folding at the waist.
---
---
& AGAIN FOR TOPS & SHIRTS
---
---
STEP 5 – PLACE ALL YOUR LINEN ROLLS IN ONE SPOT BECAUSE IT'S TIME TO PACK UP!
---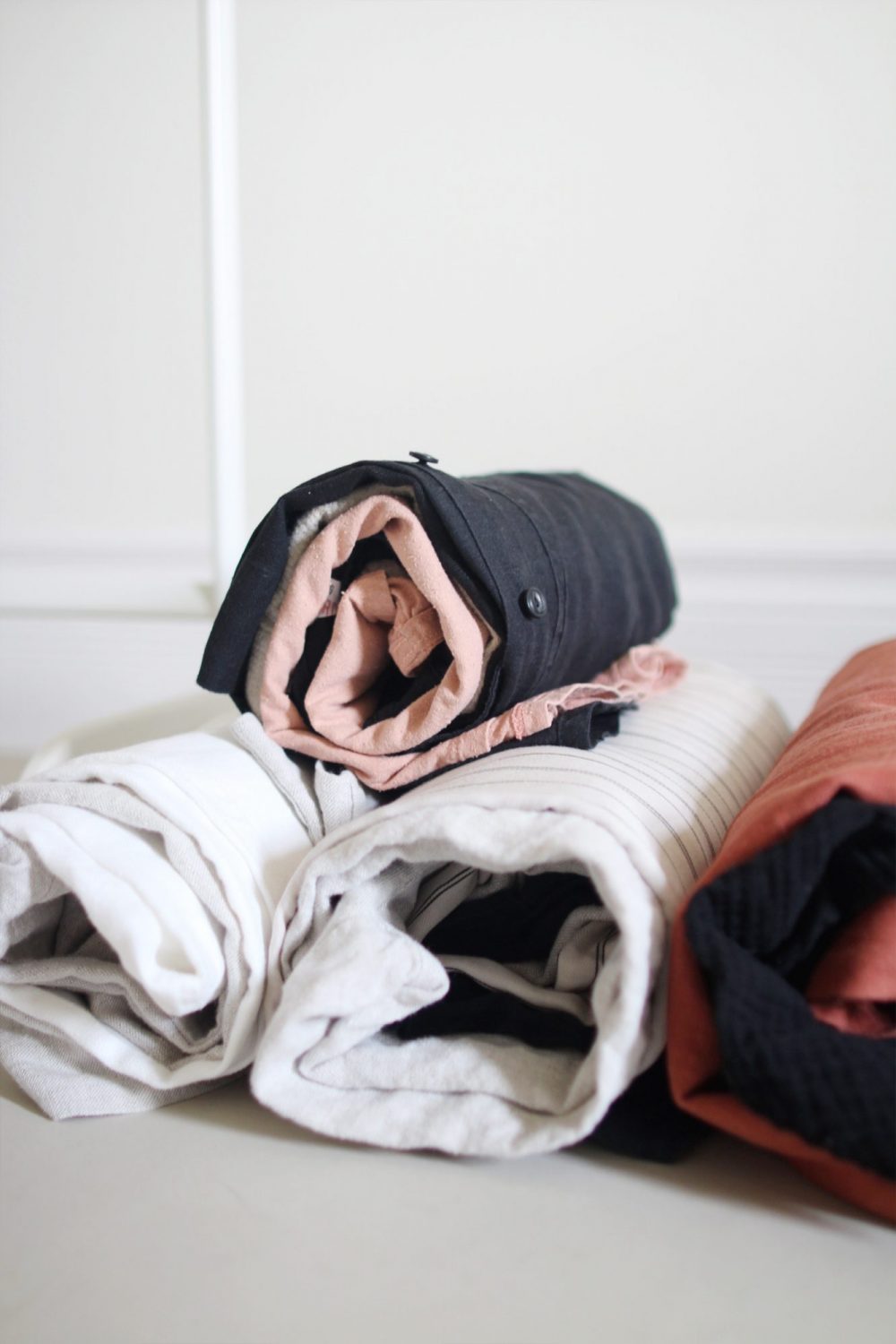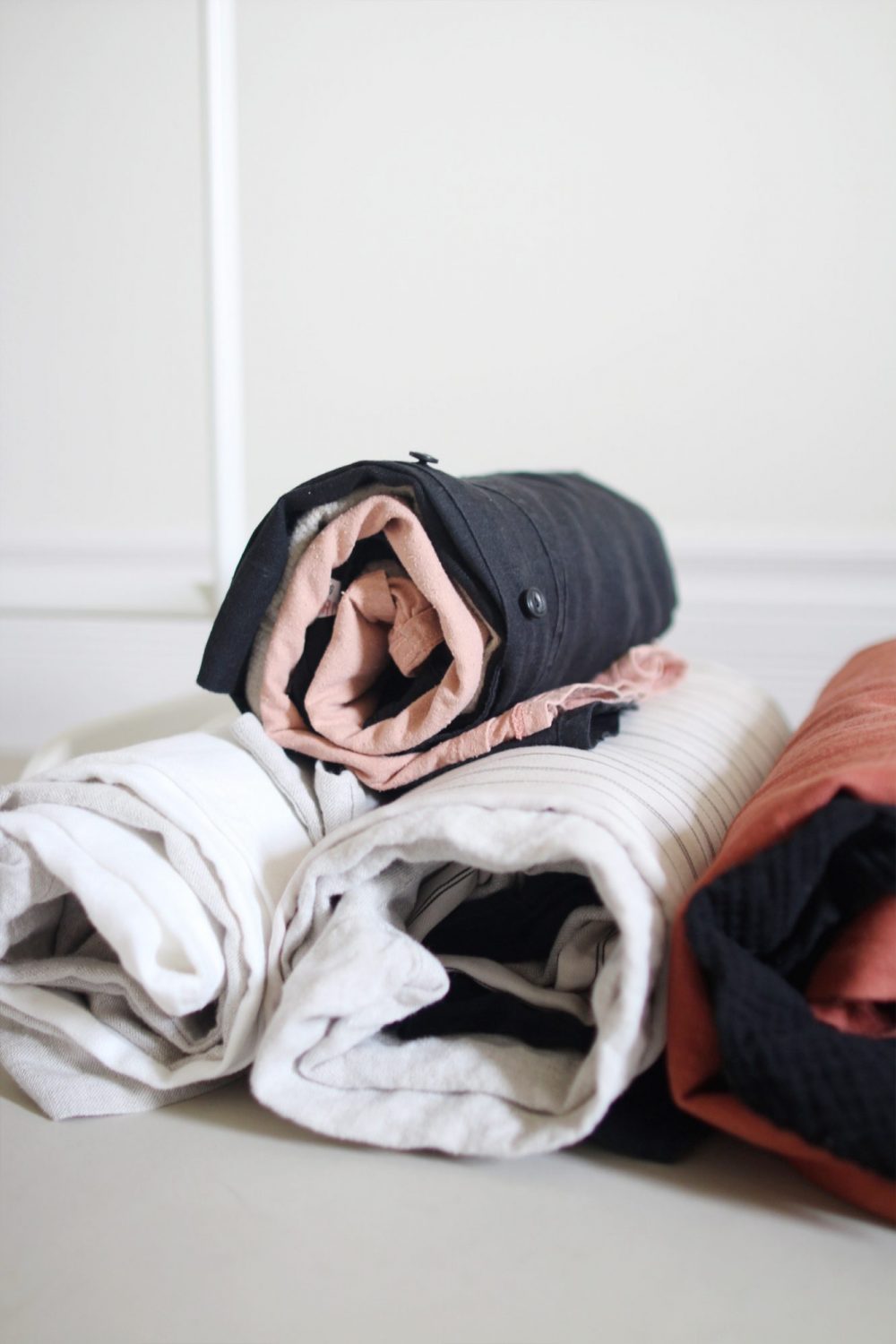 ---
STEP 6 – IN A ZIPPERED SECTION OF YOUR SUITCASE OR LARGE PACKING CUBE, PLACE THE LARGE ROLLS SIDE BY SIDE.
TIP: Try not to overcrowd or pack too tightly but they can be quite snug and that's ok.
---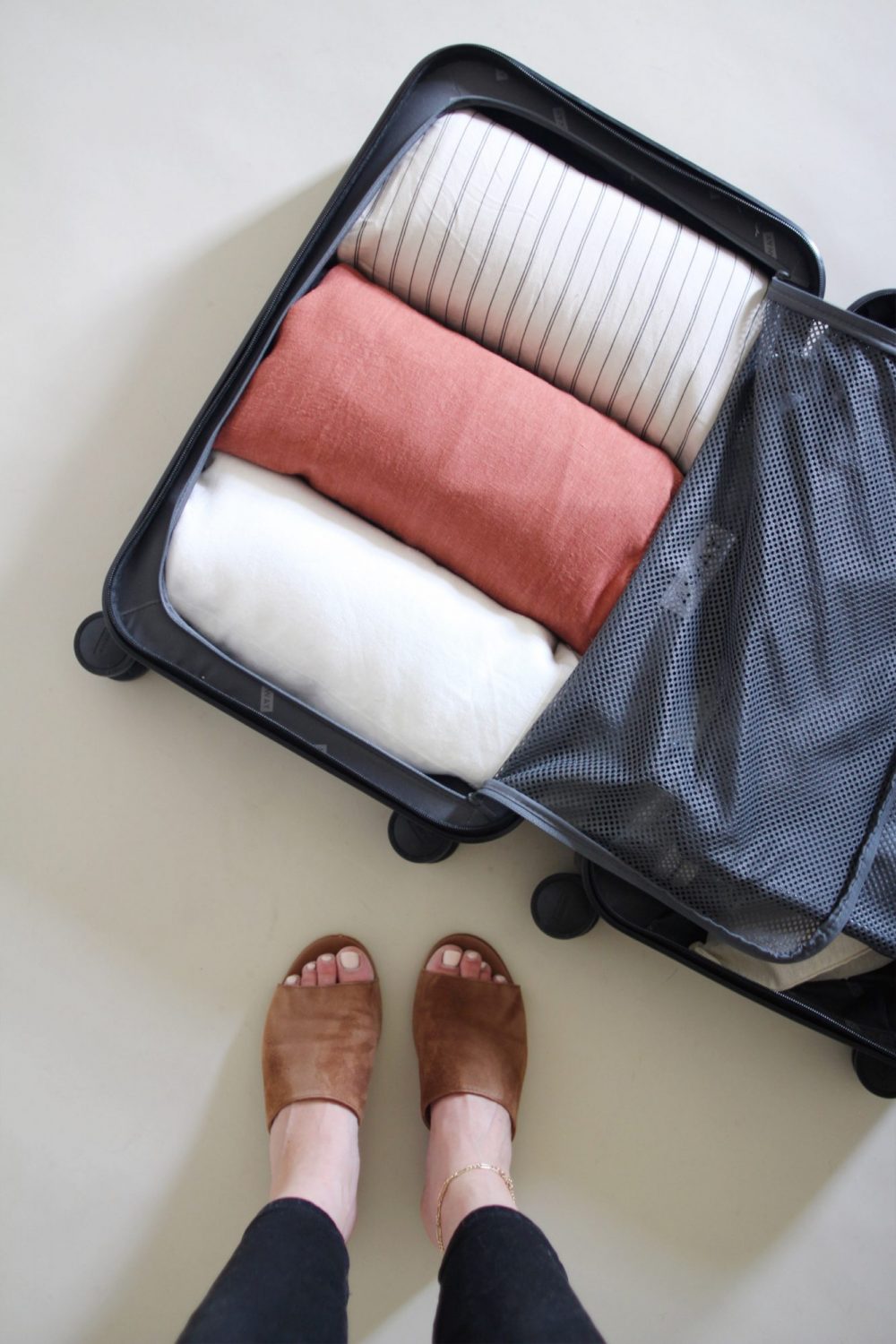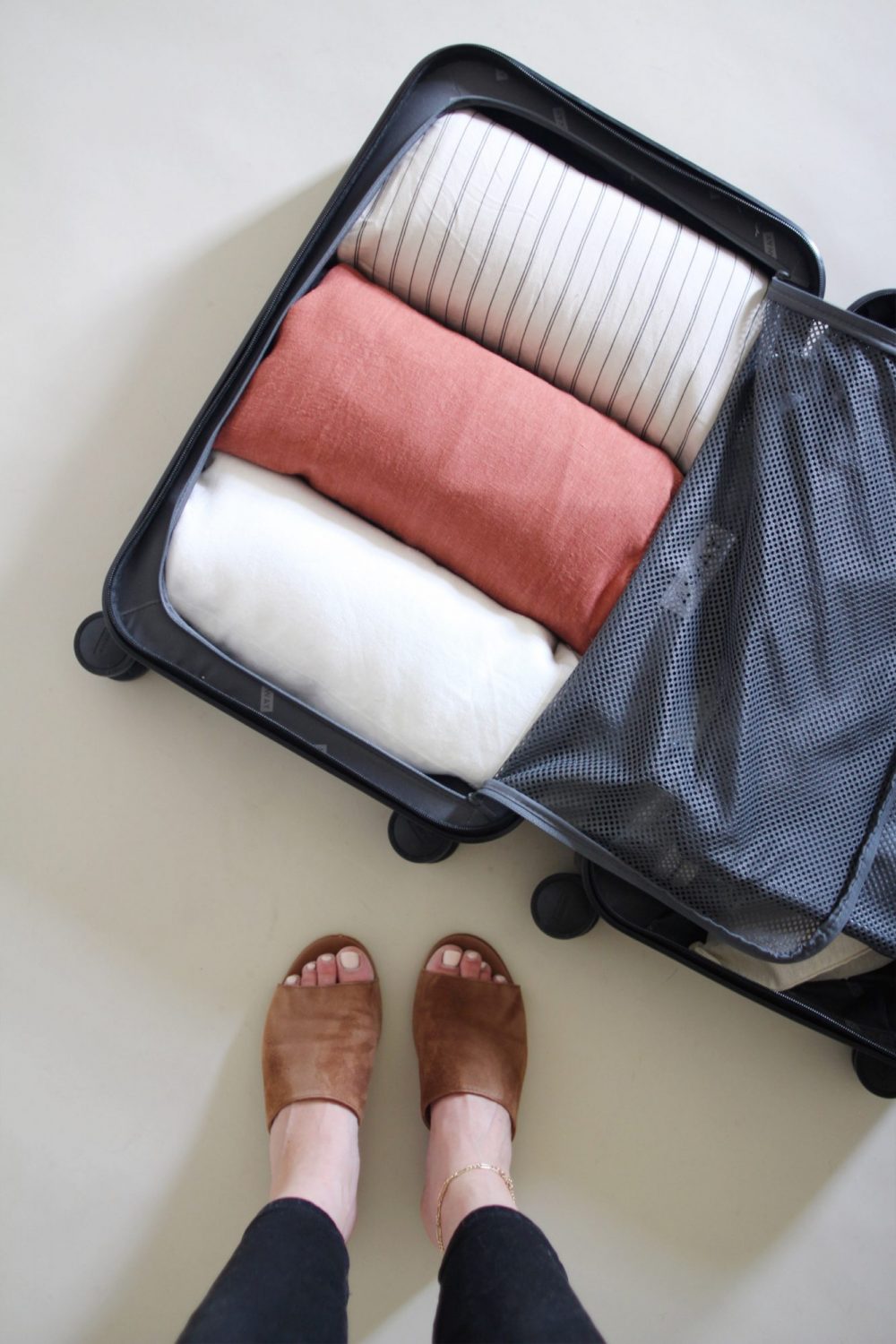 ---
SMALLER ROLLS CAN BE PACKED INTO CUBES OR A SECURE SPOT IN THE SUITCASE.
TIP: I try not to leave too many things loose in my suitcase as they can end up getting smooshed and this can create wrinkles.
---
STEP 7 – Now it's time to add your extra items (shoes etc.), zip up and head out!
---
---
8 – WHEN I ARRIVE AT MY DESTINATION the first thing I do is unpack & hang up as many items as possible.
---
This way the fabric can breathe and any wrinkles and creases can begin to relax and fall out. I know it's tempting to drop off your bags and immediately head out but that initial 10 minutes of unpacking right away can make a big difference.
You may take a quick steam or iron to some items but I find I almost never need to do that with this packing method. 99% of the time everything is fresh, smooth and ready to wear by the time I wash up for some exploring!
Tip: If you don't have room to hang every item where you're staying, you can lay items over the back of a chair, ottoman or even your suitcase.
---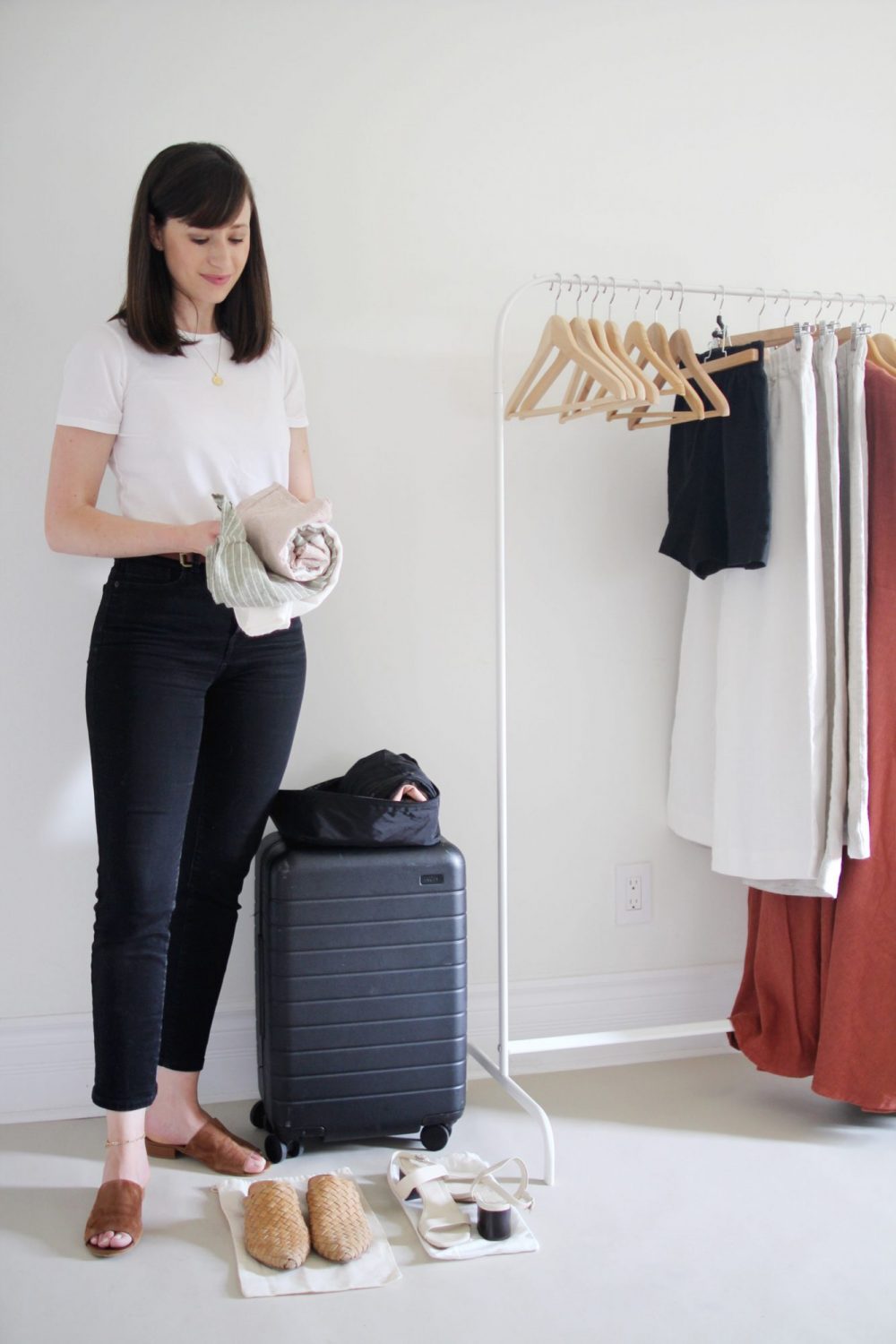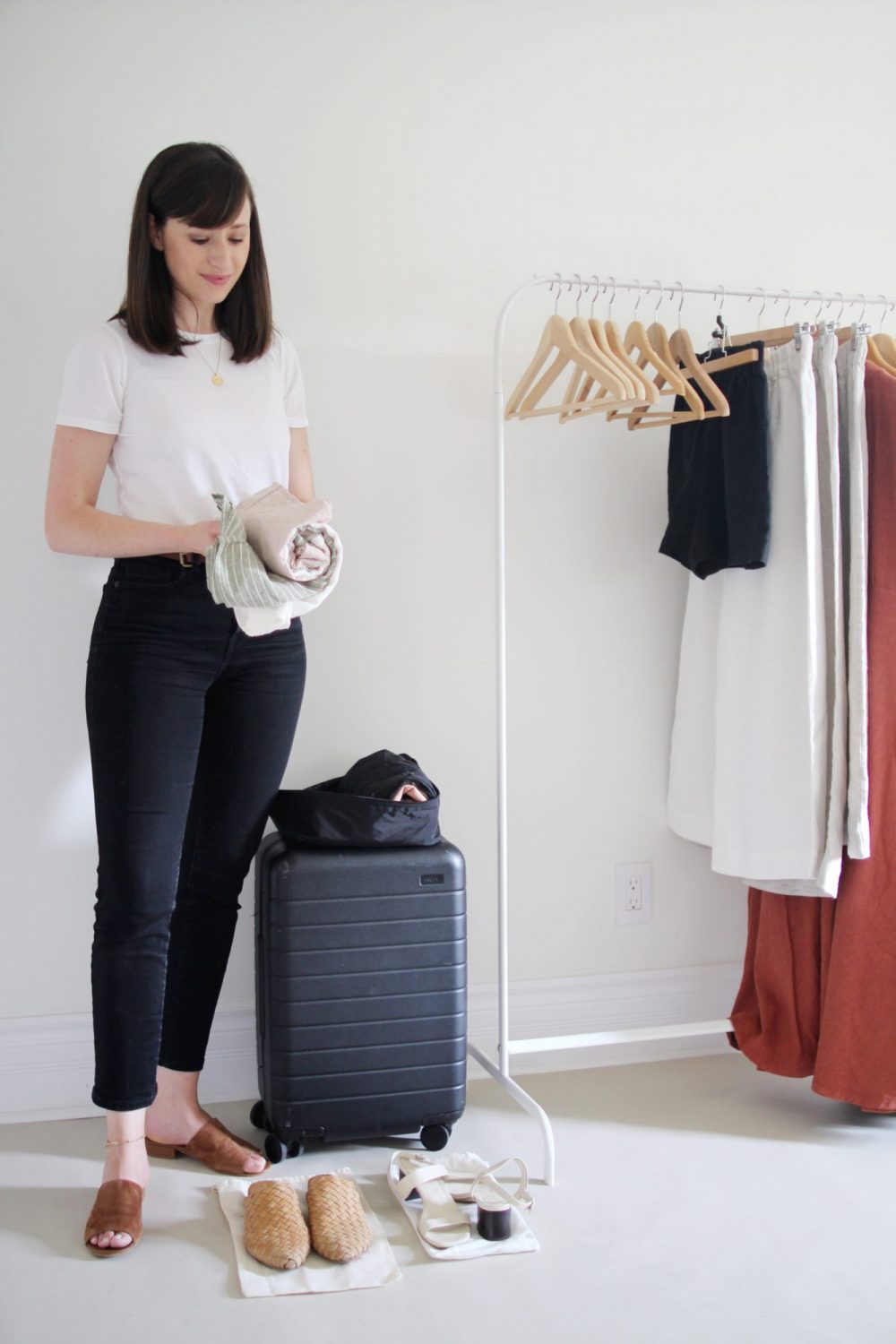 ---
& That my friends, is how I travel with linen!
---
Any further questions? I'm all ears, and hopefully, answers!
Care to share any of your own linen packing tips? Please do!
---
For information on the items shown above please refer to this post for sourcing details. You'll also find proof that my method works since I didn't iron a single item on that trip!
---
OUTFIT SOURCES: Cotton Crew | Black Cigarette Jeans | Belt | Sandals n/a linked to similar

---
THANKS FOR TUNING IN!
See you tomorrow as I kick off a fun series for the month of August!