Well friends, it's Friday and we're 1/2 way through our #Summer10x10 Challenge! Feels pretty good doesn't it? My co-host and blogger bud Caroline of UnFancy and I keep talking about how great it's been to see everyone's approach to summer style, to reconnect with our old #10x10Friends and to make some new ones too. So thanks for joining in and if you're up for it, you're welcome to start now! Everyone is going at their own pace and you can get all the info you need right here.
Yesterday I mentioned that I'd share some of my midway thoughts on this challenge so here are the top 3 that keep coming to mind:
Trust your instincts. I picked my 10 items for this challenge quickly and I found myself feeling stressed about how many dark items I included once I saw everyone else's colour palettes. But as I've been mixing them up I've found it's ok and I'm loving this palette!
Summer is the season of style simplicity. I'd be lying if I said I wasn't tempted to add a jacket, blazer or duster to every look but this hot weather has forced me to simplify and I'm starting to get more comfortable with it.
This challenge has given me a HUGE boost of motivation, inspiration and just general positive social media feels. Thank you so much for putting yourselves out there and helping us build this fun, vibrant and inviting little community! It truly wouldn't be the same without you!
I'd love to know how you're feeling about the challenge so far too! Loving it? Hating it? Seeing results? Feeling refreshed? Getting bored? Let's hear it!
Now before I sign off for the weekend let's have a look at Outfit #5 because it's definitely a fun one!
---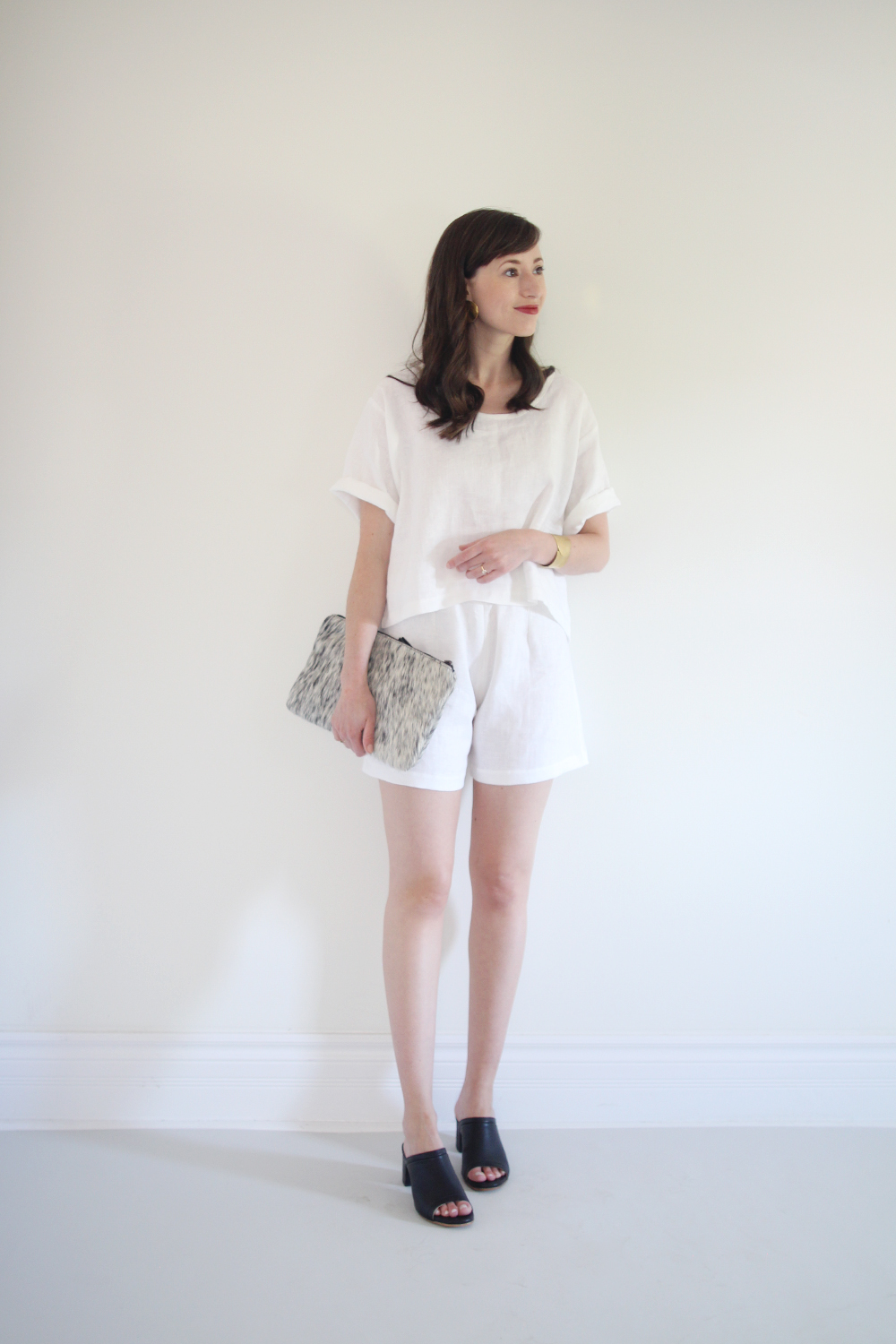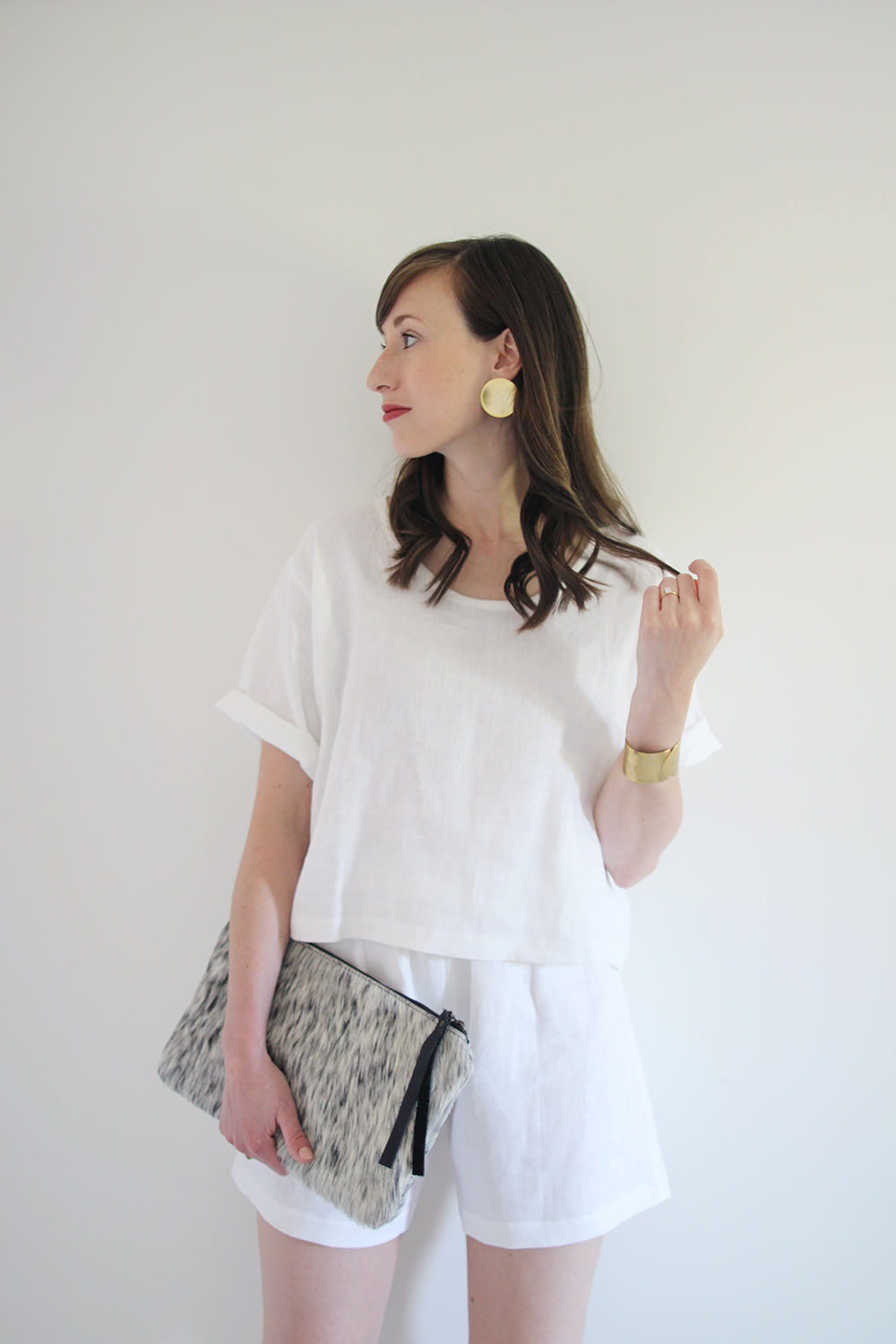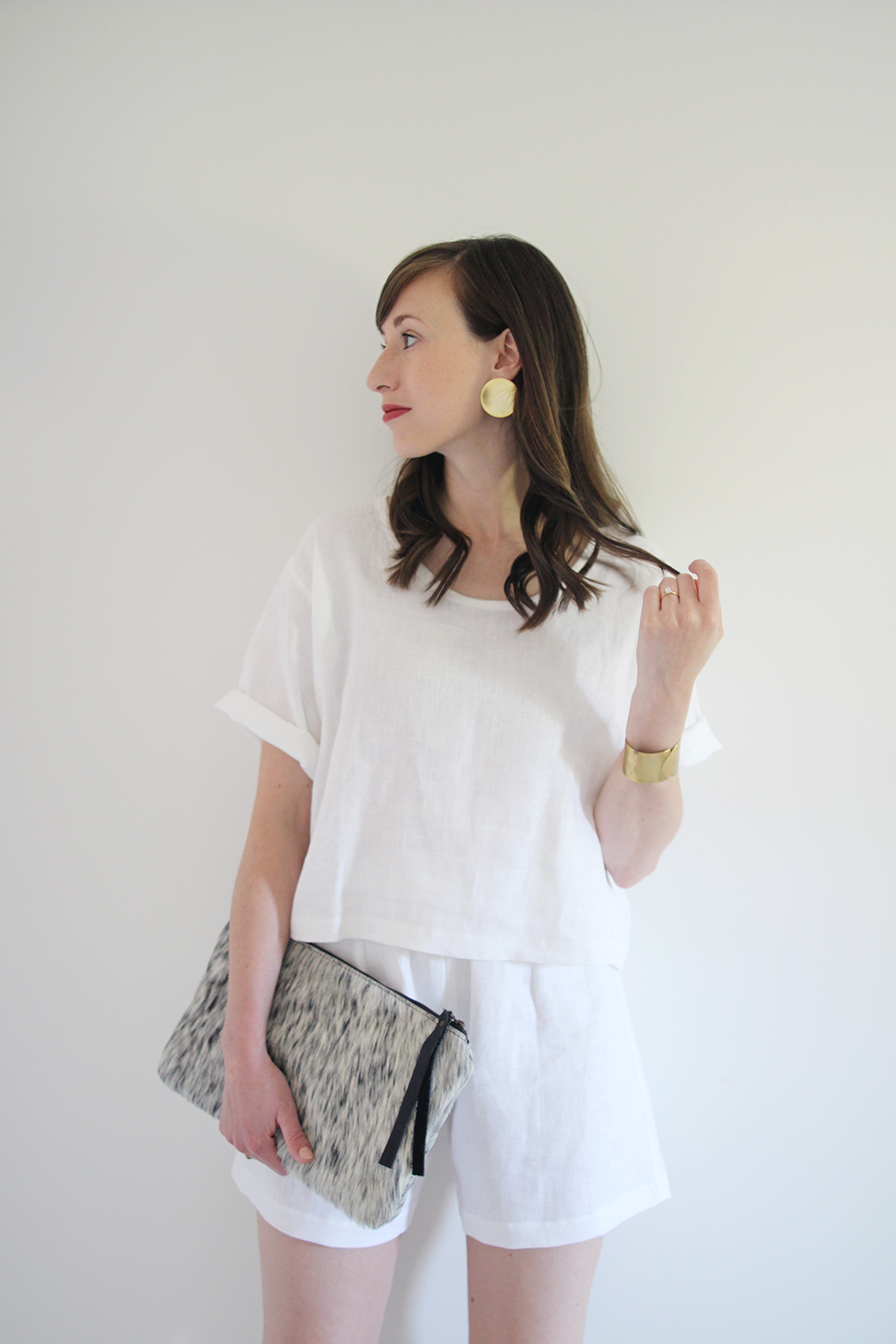 ---
INITIAL THOUGHTS
---
TEMPERATURE – High of 24º C with a mix of sun, showers and humidity.
ACTIVITIES – Morning in the studio, followed by a quick appointment and some pit stops downtown, then an afternoon shooting next weeks looks and an evening at the Hillside Music Festival!
INITIAL THOUGHTS – Every 10×10 Challenge I try to put together a look that's outside my comfort zone and a little more exciting that my usual day-to-day style. Last Fall it was this one, last Winter it was this one, last Spring it was this one and now it's this one! Even if the look gets altered a touch for real life, I think it's still worthwhile to try it out and see how it feels. Then I can always keep it handy for another time.
I'll admit for most of the day I won't be rocking this much bling (how good are these circle studs though?) or a big clutch but I've got a birthday party on the weekend that this full look could totally work for. I'm also waiting to see how the weather holds up this evening and if it's warm enough I'll be wearing this set to opening night at Hillside for sure. Maybe I'll switch to my flat slides and grab a duster vest for some festival vibes. Time will tell!
I've been trying to find the perfect two piece set for ages and I'm so glad I settled on this one. It's super comfortable, elegant and both pieces are extremely versatile. I feel totally put together but still ready for just about anything the summer season calls for. A Friday favourite for sure!
---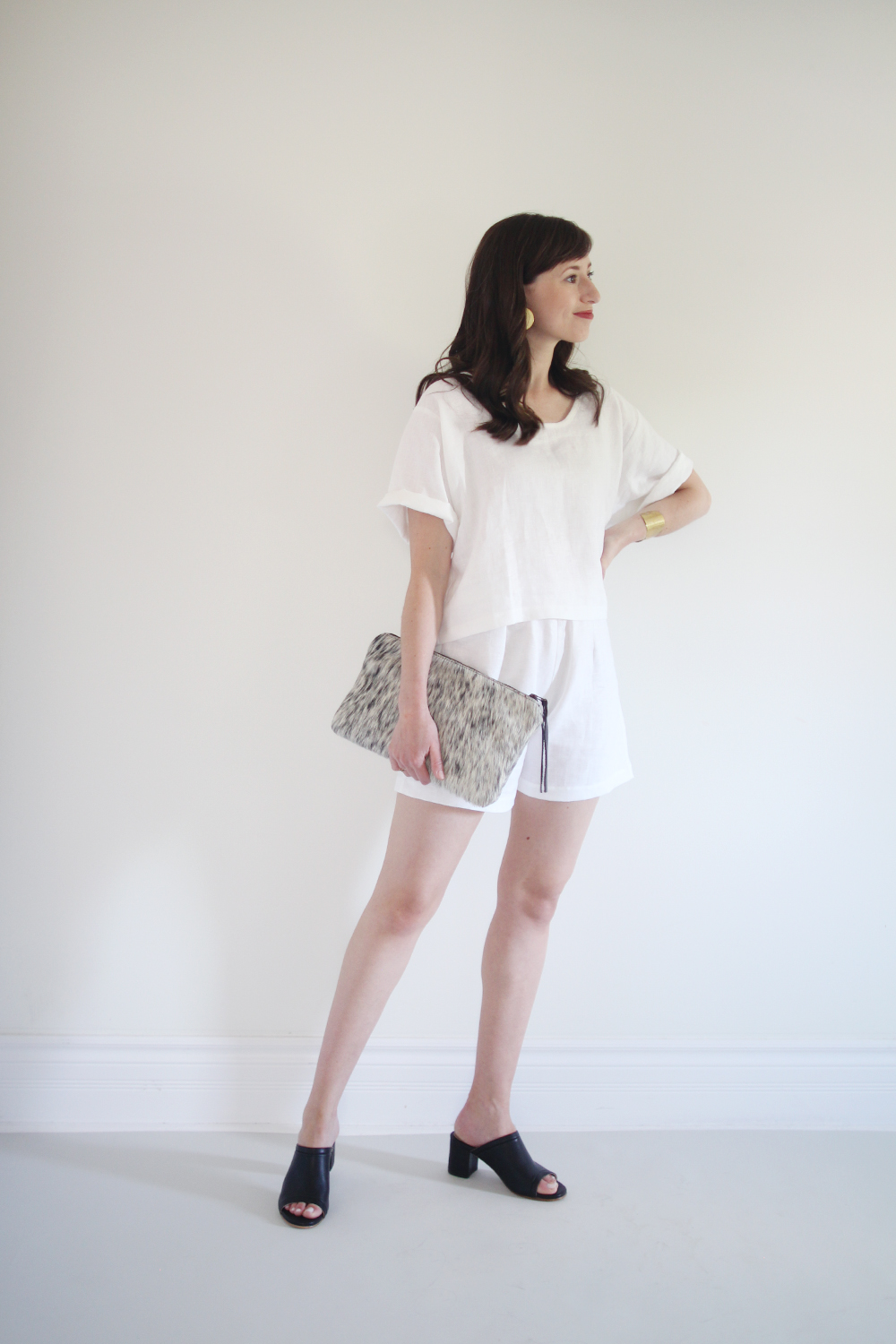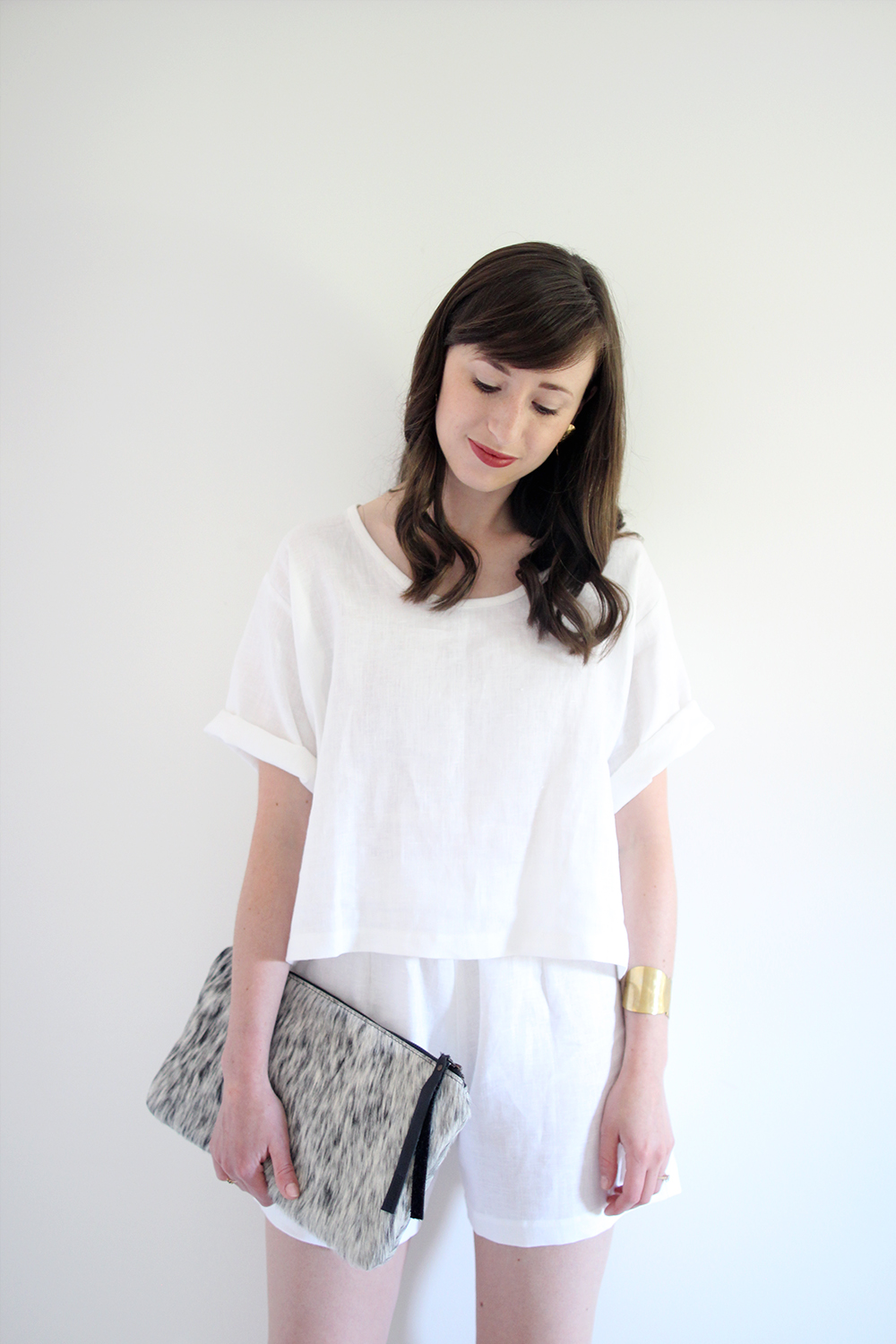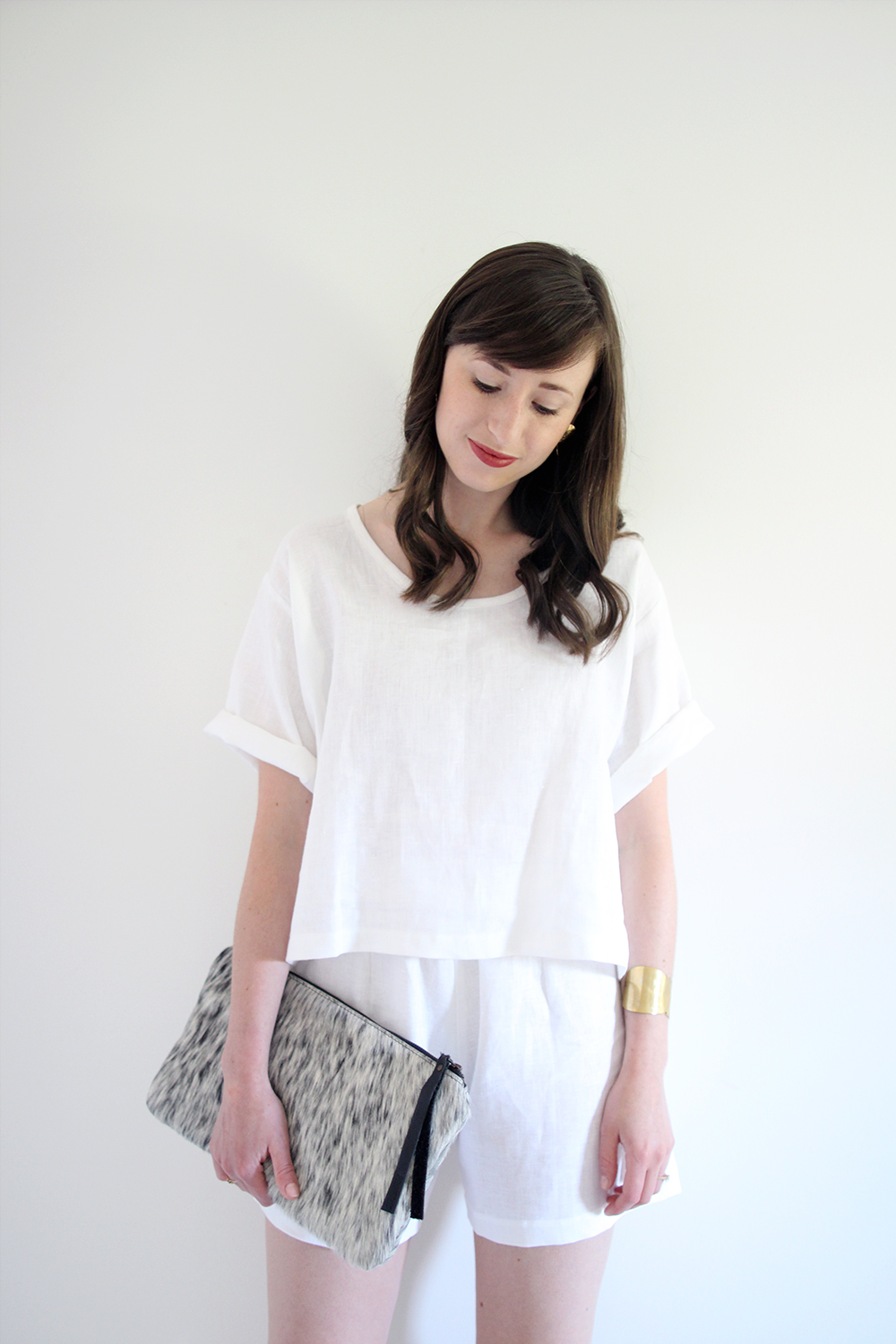 ---
STYLE TIPS
---
Since today's look is super simple I thought I switch up the Style Tips a touch. When it came to styling this look I just went for the full white linen set, rolled sleeves, bold jewelry, a strong shoe and a black and white clutch to slightly soften the overall contrast. But here's some more technical style advice…
---
3 EASY WAYS TO FEEL BETTER IN SHORTS | I'm not going to lie, shorts aren't my favourite type of bottoms to wear, but now that I've found a couple I feel comfortable in, it's just a matter of a few simple tricks to boost my confidence:
1 – GRAB A PAIR OF COMFY HEELS – Maybe it's a block heel mule like these, maybe it's a pair of clogs or a wedge sandal, whatever it may be wear 'em. Heels work wonders on the calves and can give you that extra bit of height and toning we all wish was permanent.

2 – PREP – Get yourself a good scrub or body polish for the shower and put it to work. I use this one and then I apply this moisturizer after to give my skin a touch of radiance. Even if I haven't had time to shave these steps help a ton.

3 – FAKE IT – Take it from someone as pale as me, a bit of summer glow makes wearing shorts a lot less daunting. I took my friend Caroline's advice and bought this self tanner and it's easily the best I've ever used! I just apply it once a week to keep the pastiness at bay.

4 – INSEAM LENGTH IS EVERYTHING – There is no need to feel as though your shorts should be super short. Look for options with a 4-6 inch inseam (like these, these or even these). This length gives you good coverage without getting into Dad short territory.
---
3 EASY WAYS TO WEAR WHITE WITH CONFIDENCE | I love wearing white and this set is one of the funnest combos in my Summer closet, but I know white pieces can be a little stressful unless you're prepped. Here's how:
1 – WEAR NUDE UNDERWEAR – Go for a shade that is slightly darker than your natural skin tone. If you wear a lighter nude it will still show. I'm wearing these undies and this bra in the look and there's absolutely no way they're showing up. Also, looser fits will help offset any sheerness.

2 – CHECK YOUR SEAT – Just being a teeny bit more conscious of where you sit can be a game changer. Check the bench, chair or bike seat etc. before you sit and keep a tissue in your bag in case you need to swipe it off.

3 – KEEP A TIDE-TO-GO HANDY – I swear it's the same Murphy's law that applies to umbrellas. You know, like if you bring one it doesn't rain, well, if you bring a stain remover stick the stains seem to hang back too. Plus, if they don't you're ready!
---
ANY TIPS FOR WEARING SHORTS OR WHITE? LET'S HEAR THEM!
---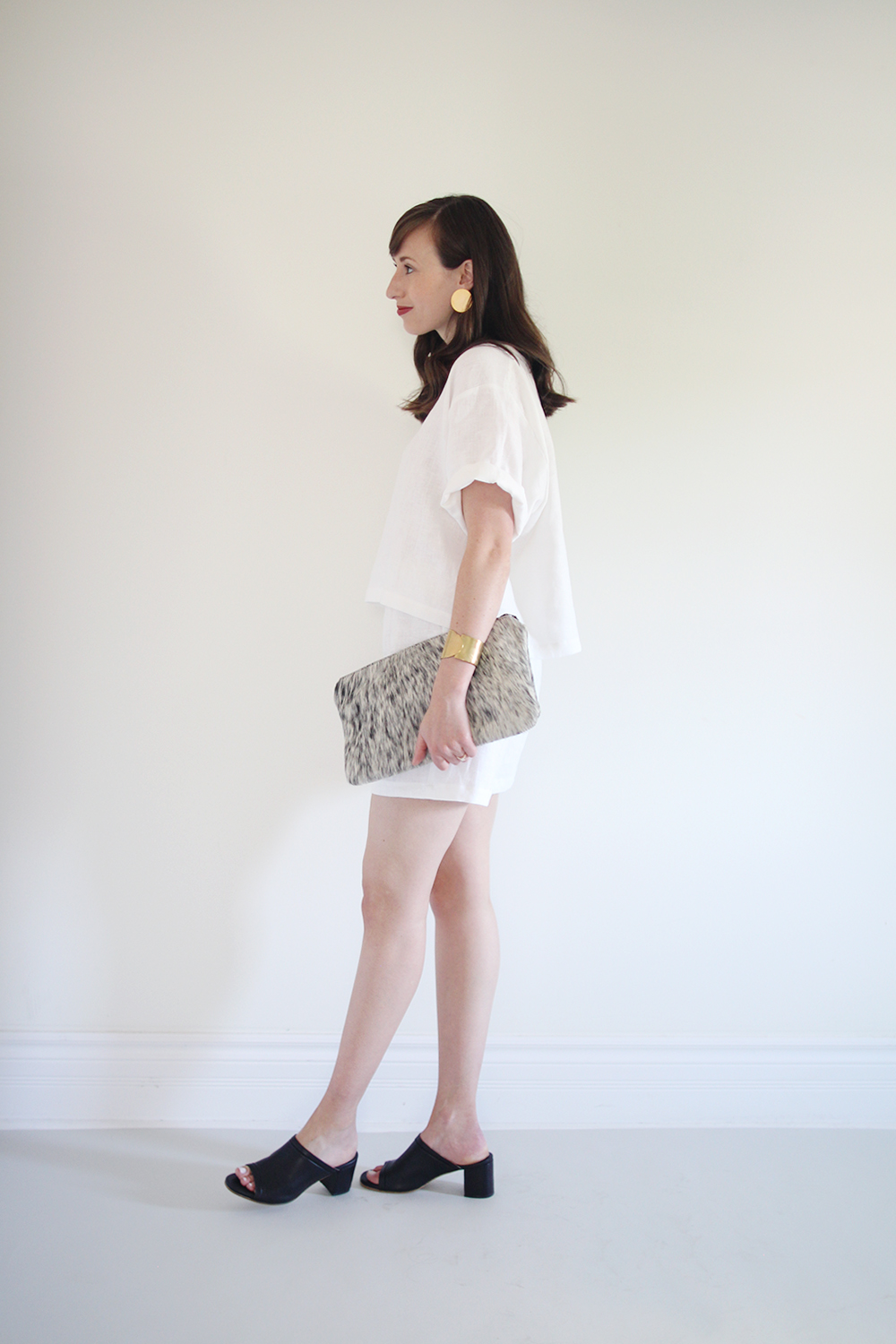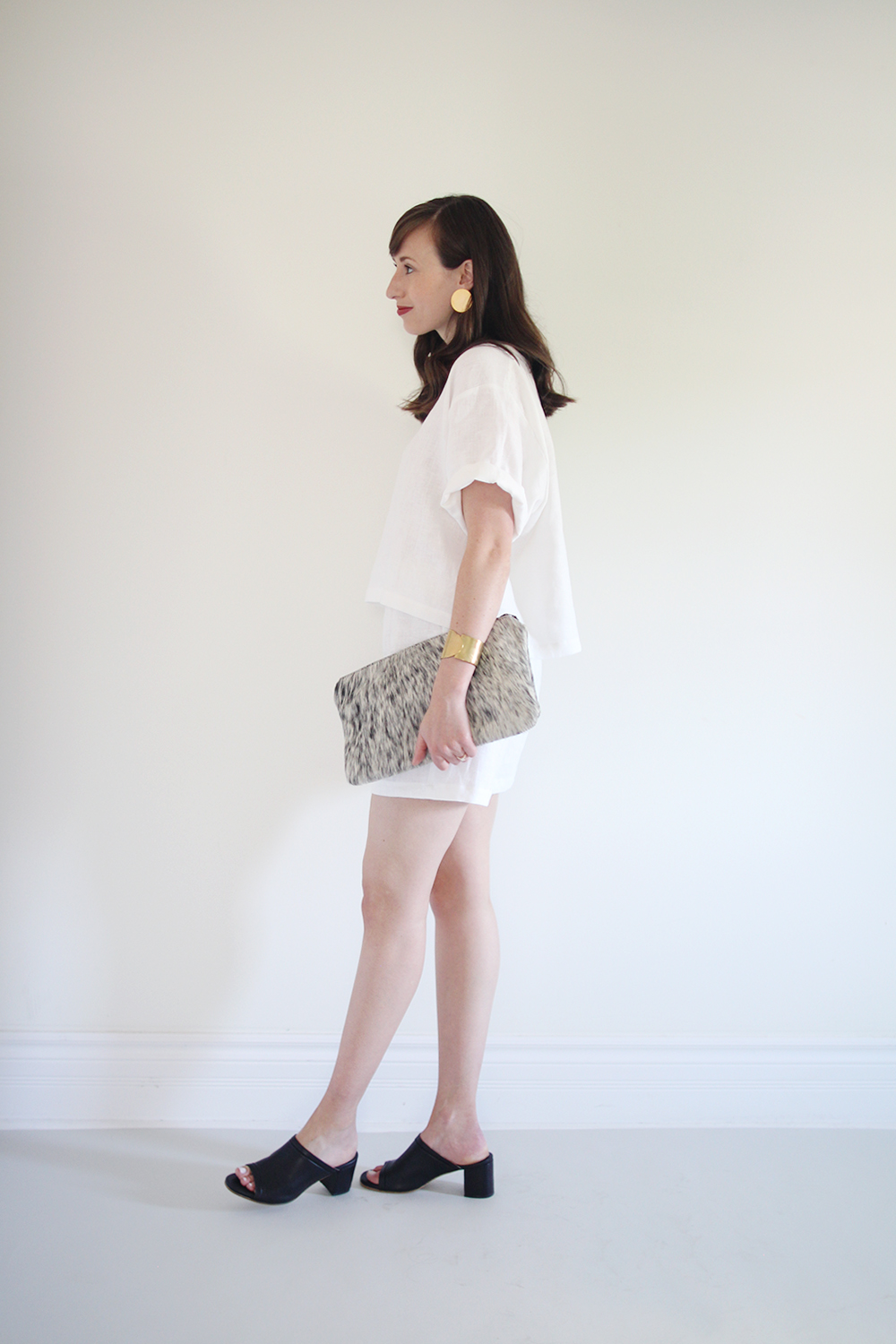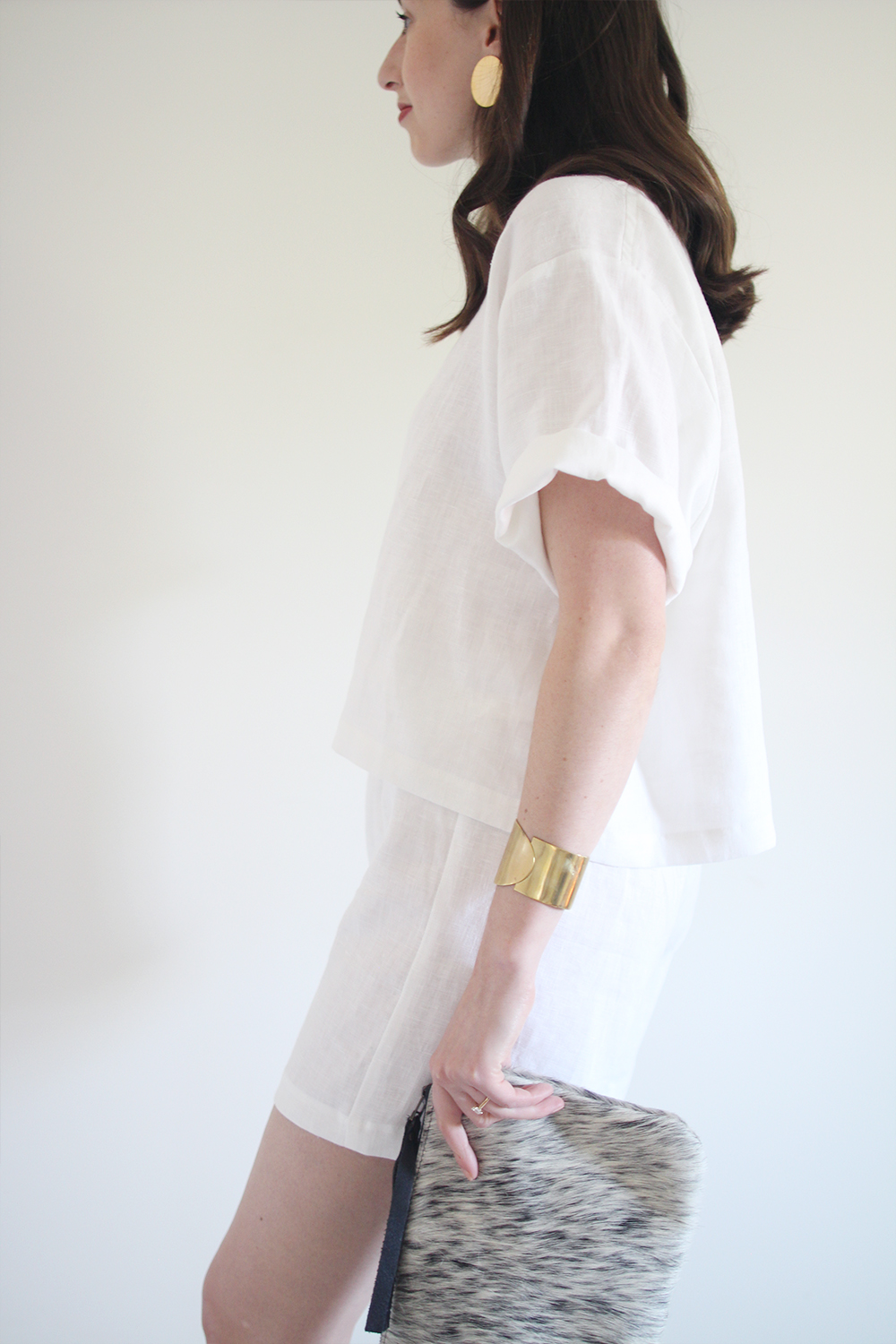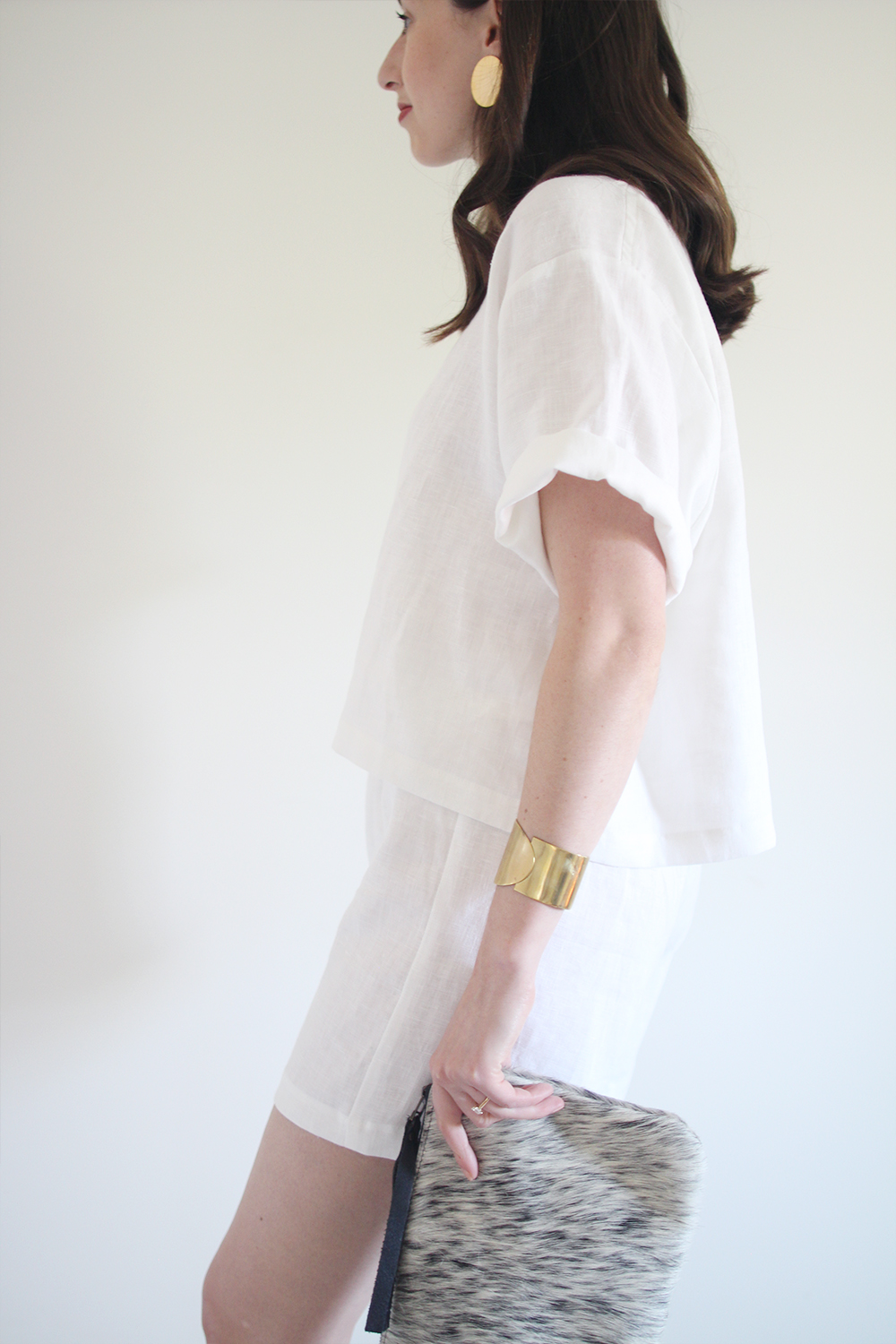 ---
ITEM SPOTLIGHT – THE CROP T-SHIRT
---
In Monday's post the item spotlight was on these white linen summer shorts which I love and fully intended to add as a set to my closet with this white cropped t-shirt. The moment I saw them together in LLOYD's SS17 Collection I was hooked. I just had to wait until the weather finally warmed up to bring them out! But now that it's here, I'm kind of obsessed with how relaxed yet exciting they are together for any and every hot weather occasion.
Of course, this top holds its own very well too. It has all the things you want in a summer top. Loose fit, with a touch of structure, a cropped length, a slightly curved hem, rollable sleeves and a scooped but not scandalous neckline. But let's look into this beauty in a bit more detail!
FABRIC: 100% Linen, which is light weight, has a soft texture and is very breathable. It is a true, crisp white, not an off white or ivory. The fabric (and cut) gives this top a great shape which falls away from the frame for a very warm weather friendly effect.
SHEER FACTOR: This tee is white linen so you're going to want to wear a nude bra but then you're totally fine (see more tips on that above). You can also tell there's not much show through because the shorts come up a couple inches under my top but you can't really see any lines.
CREASING: This tee is indeed linen, so it will crease as the day goes but a good thing about the cropped length is that when you're sitting it just hits the top of the leg but doesn't fold over on itself too much so you don't get many (if any) horizontal lines.
FIT: OS and I'm 5'7, 125 lbs with a 32C bust for reference.
The length is about 20 inches from shoulder to hem (depending on how it's sitting on your shoulder) and this hits a couple of inches below the natural waist (on me) which makes it a great top to leave out or front tuck into a high-rise pant. The back falls slightly longer.
DETAILS: I love the big sleeves on this piece so much. I wore them loose on Wednesday but wanted to try rolling them for today's post and I love that too!
Similar to the matching shorts, the 1 inch hem on the bottom of this piece is a really nice detail that gives it an elegant finish.
Finally, I find the scooped neckline quite flattering. It's not so low you have to worry about leaning forward but it also reveals a nice glimpse of collar-bone.
CARE: Machine wash cold. Hang Dry. Iron smooth or wear as is for a more worn-in look (as I have here).
COLOURS: This piece also come in a black linen, white cotton and brown tencel. See them all here. I also love this beautiful drawstring tank!
MADE IN: Vancouver, BC
PRICE: $110 CAD
HOW DOES IT COMPARE TO THE GEORGIA TEE: The LLOYD Summer T-Shirt has a more scooped neckline bit it's not as wide as the Georgia (so less chance of a bra strap showing). The Summer Tee sleeves are longer creating a unique silhouette but the shoulder to hem length and fit through the body is pretty much the same as the Georgia. This tee has a 1 inch hem where the Georgia has a small hem finish. This piece is made from a lightweight linen whereas the Georgia is a midweight linen.
Now you know I LOVE the Georgia but I think this Summer Tee really holds its own too. Plus, if you're in Canada the $110 CAD price tag is likely a bit more manageable than $145 USD.
It's safe to say this beauty will be in high rotation even after the 10×10! 
---
STYLE BEE SPECIAL: LLOYD IS GENEROUSLY OFFERING STYLE BEE READERS AN EXCLUSIVE DISCOUNT OF 10% OFF SITEWIDE DURING THE 10×10 CHALLENGE! JUST USE 'STYLEBEE' AT CHECKOUT. 
---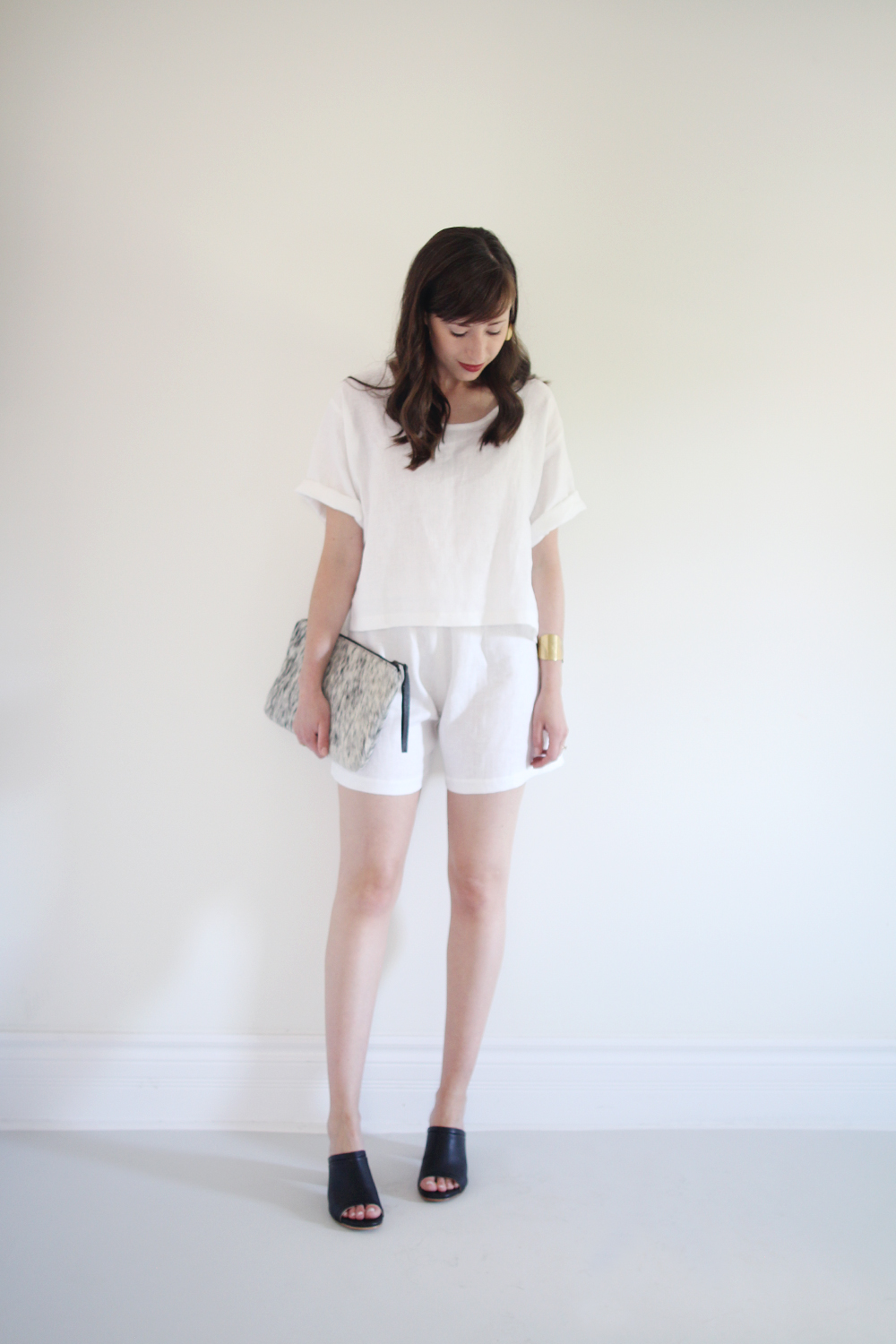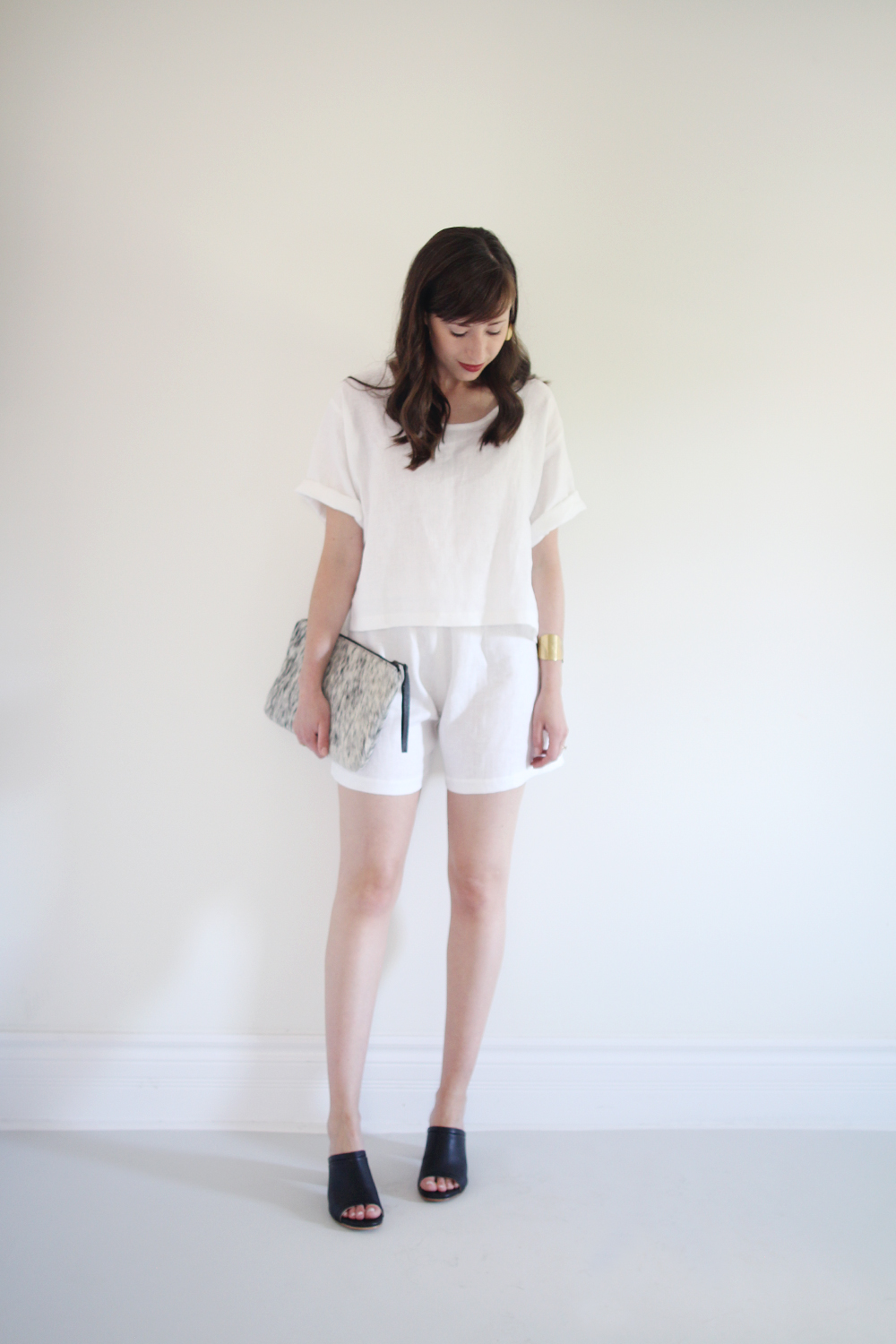 ---
SHOP THE LOOK
---
1 | CROPPED LINEN T-SHIRT | c/o LLOYD CLOTHING | $110 CAD | Made in Vancouver | OS | Style Bee readers save 10% OFF sitewide at LLOYD with 'STYLEBEE' during the 10×10 Challenge! 
2 | SUMMER SHORTS | c/o LLOYD CLOTHING | $160 CAD | Made in Vancouver | I wear a size S | Style Bee readers save 10% OFF sitewide at LLOYD with 'STYLEBEE' during the 10×10 Challenge! 
3 | PEEP TOE MULE | c/o POPPY BARLEY | $248 $208 CAD On Sale! | I wear a 7 Narrow | Made responsibly in Mexico
4 | SALT + PEPPER CLUTCH | PRIMECUT | $130 USD | Save $20 OFF your first order when you sign up here. 
5 | CIRCLE EARRINGS | c/o MASLO JEWELRY | $38 USD | Made in USA
---
5 LOOKS DOWN + 5 TO GO!
CAROLINE AND I WILL BE TAKING THE WEEKEND OFF BUT WE'LL SEE YOU ON MONDAY WITH LOOK #6!
---
WISHING YOU A WONDERFUL WEEKEND! 
---
This post is not sponsored but contains affiliate links. When you shop via the links above I may make a small commission from a sale. This income helps limit the amount of sponsored content that appears on Style Bee. Thanks a lot for your support!