This outfit was the last one I shot on the weekend when the sun was coming in extra warm and the reflection off all the yellow leaves got aggressive! In all honesty, I kind of threw it together, but then I was like DAYUM, this is actually pretty fun and kind of great for a few reasons. Obviously, aside from being super Parisienne inspired!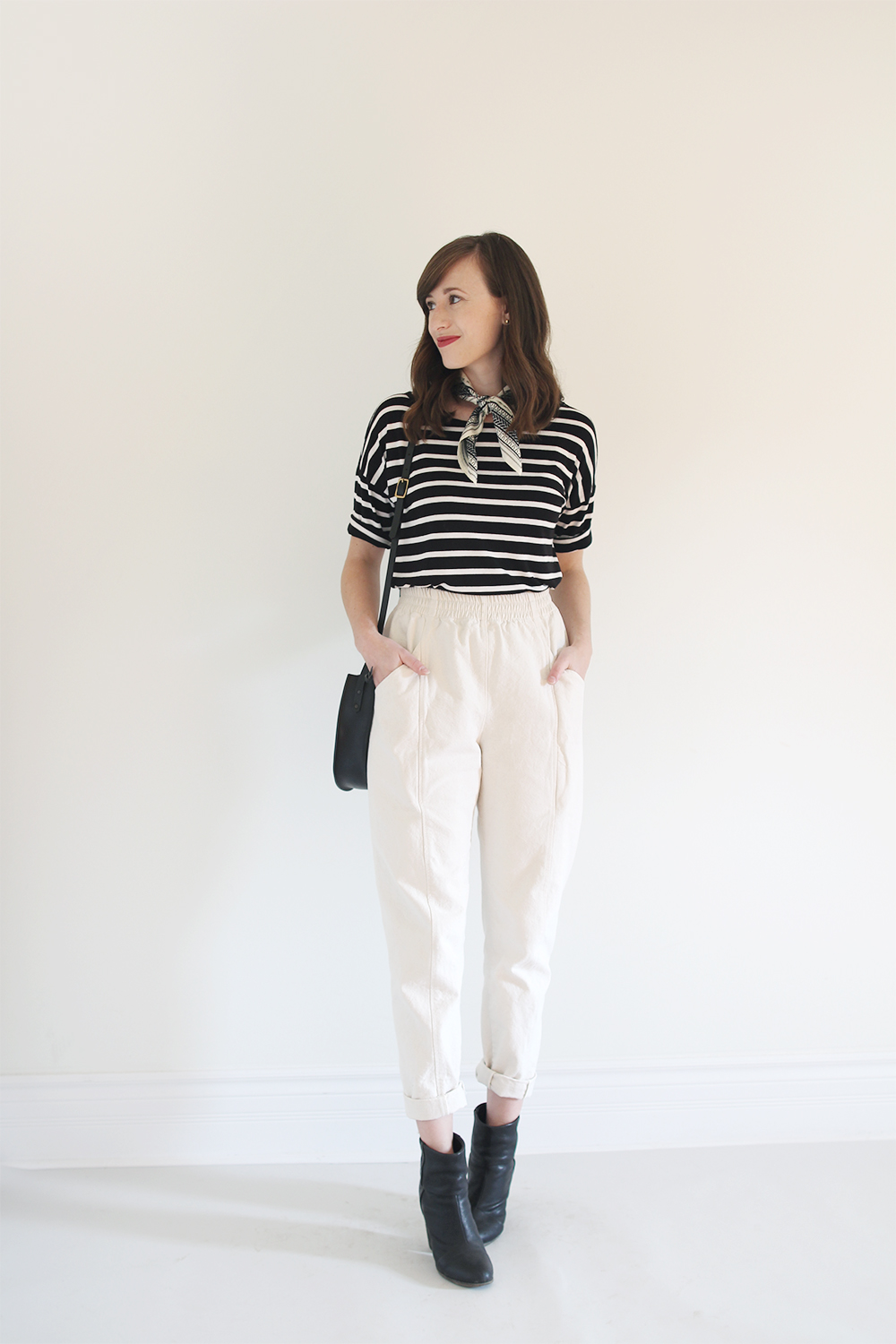 ---
INITIAL THOUGHTS
So yes, I'm basically a pair of white gloves and a painted face away from being in a mime costume (at least I'm set for Halloween!) but I'm ok with that! Because this outfit makes me happy.
Maybe it's because it was Saturday afternoon and the work was almost done and we had reservations for dinner out (my favourite thing) but either way I was in a good mood when I put this outfit on and I think that makes a huge difference. Just as a great outfit can lift your spirits, being in a positive mindset can really affect how you see yourself in one.
I'd been to a Barre class that morning (my first one ever), so I was feeling tall and strong, I'd eaten pretty healthy all day, had a visit with my in-laws, taken Dobby for a walk and shot a TON of great outfits for the blog, of which this was the last. I was feeling playful and carefree and this look is a great embodiment of that headspace.
I'm loving the pattern play, the uber lean palette and the ultra comfy but still sophisticated elements that bring this all together.
It's also looking like the last time we'll see a high above 20°C for some time, so I'm savouring that too!
---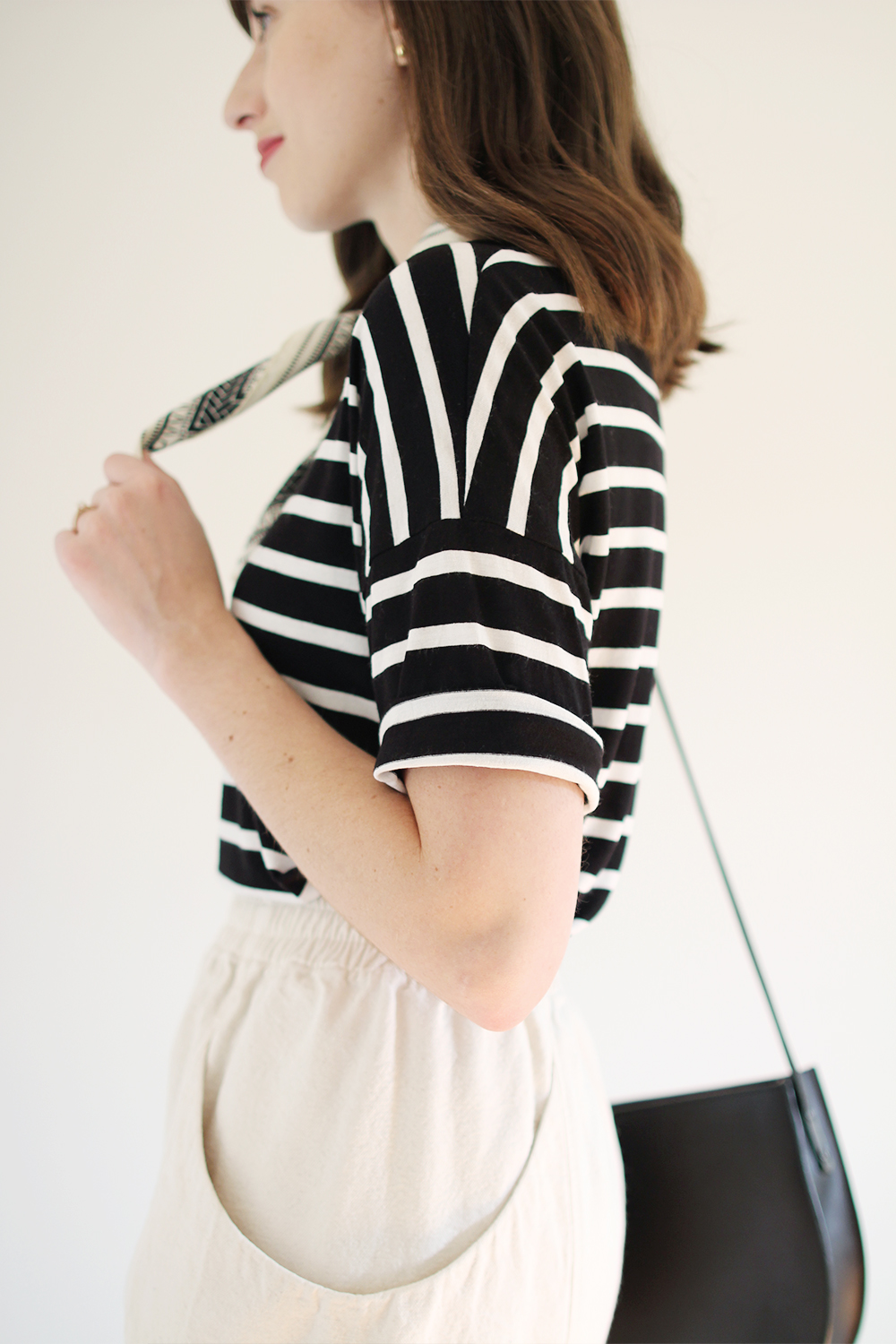 ---
ITEM #6 – THE STRIPED SHIRT
It's hard to feel anything but classically stylish in a striped shirt. That's why, I dare say, I'll always have one (or a few) in my closet. This one is old now. I bought it at Joe Fresh, after they'd been exposed for the terrible treatment of their factory workers (alongside other brands), and as I was buying it for like $12.00 I felt kind of uneasy. I knew I was supporting a mega corp that gave zero f*cks about their offshore employees and were simply catering the fast fashion mindset of North American consumers. Ok, I felt worse than uneasy, I felt gross. But I bought it anyway because I couldn't seem to find a black and white striped tee freaking anywhere and here it was. It's since been one of my most worn tops and every time I reach for it I'm briefly reminded of that decision, which I consider a good thing.
Now, I'll save the heavy thoughts on ethical fashion for a later date and get on with some really great responsibly made striped shirt options that I've got on the back-burner for when this one finally disintergrates (it's getting close).
1 | Francois 3/4 Sleeve Top | Amour Vert ($78 USD) | Responsibly made in the USA. I've yet to buy anything from Amour Vert but this top is a true black/white 3/4 sleeved striped classic. Wear this if you're 20, 40 or 70 and you'll always look chic as hell. Also available in a few other stripes.
2 | The Heavyweight Tee | Everlane ($45 USD) | Responsibly made in China. Love the colour options of this one. The white and light grey is a perfect contemporary take on the classic stripe too. Other combos available.
3 | The Boxy Crew Tee | The Great ($105 USD) | Responsibly made in the USA. This is the tee that the cool girl at the party throws on ten minutes before she leaves, with air-dryed hair, a swish of mascara, a red lip and vintage Levi's.
4 | The Boxy Striped Tee | Everlane ($45 USD) | Responsibly made in China. I have this one in both stripe options and it's been a true closet hero for me. It is definitely 'boxy' and a super thick cotton.
5 | Red Heart Play Striped Shirt | Comme Des Garçones Play ($156) | Responsibly made in Japan. A cult classic and there is no mistaking that cute little heart face! Also available in a wool pullover.
6 | Viviane Turtleneck | Betina Lou ($95 CAD + Made in Montreal) | Love this soft light grey and cream stripe for anyone a little hesitant to go for a bolder pattern. I may already have this one and two other colours in my cart!
7 | More Classic Stripes from Amour Vert | Okay, I just have to reiterate that Amour Vert has SO MANY GOOD STRIPES! Gorgeous renditions of classic turtlenecks, dresses, tunics, tees. All made responsibly in the USA and for every tee you buy, they plant a tree.
---

---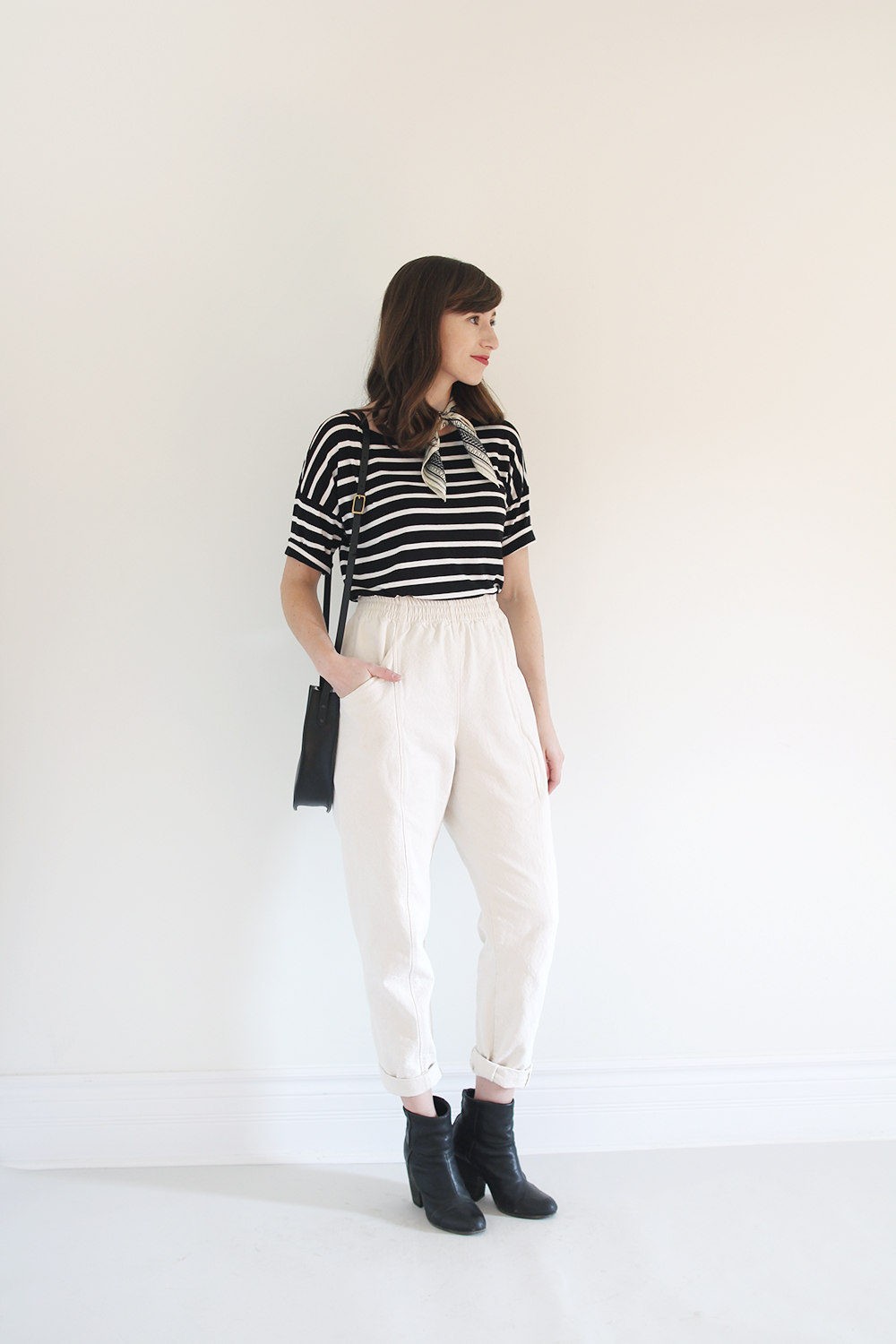 ---
STYLE + FIT DETAILS
1 | BANDANA | The moment I saw this little beauty I knew it would be the perfect addition to my accessory options. OK, I'll admit I was into the trend this Spring too but I'm glad I went for it! I don't wear it all the time, but when I need to add a little spunk it's the first thing I reach for. This one is silky so it feels great (I actually forget I'm wearing it usually) and the classic black and white print makes it pretty much universally compatible.
In case you're not convinced, here's a few bandana styling shots to help with that: 1. Classic Red with a White Button Down | 2. On your bag | 3. Layered over a dainty necklace | 4. Tucked inside some Triple Denim 
2 | BLACK + CREAM | This is one colour combo I will probably never tire of. When I need to spice it up a little a little pattern mixing goes a long way. Noted.
3 | SHAPE SHIFT | How am I just noticing that the pockets of these pants are the same half circle shape as that of my bag? No wonder the two seem like the perfect fit all the time! Maybe no-one else would ever notice but I think it's kind of interesting.
4 | PATTERN MIX | I wasn't trying to create a definitive focal point but I wanted to draw the eye toward my face and let everything else fall back and remain neutral. A little black and white pattern mixing did the trick with this scarf and the stripes.
5 | PROPORTION PLAY | More messing with proportions today but in somewhat of the opposite approach to yesterday. These pants are loose fitting and high waisted so they actually have the reverse effect of the tunic and skinnies. I didn't want them to take over so I balanced them out with these black, sturdy boots and added interest up top with the relaxed fitting stripe. Overall I feel more 'balanced' in this than I did in last Tuesday's look with the same pants and turtleneck, which surprises me.
6 | OWN IT | You know that super cheesy saying, "Confidence is the best accessory." well, it's legit. I felt empowered in this outfit and I know it showed through, even in the photos! I decided to wear this (+ a denim duster, yes a wee cheat) to dinner on Saturday and it was the perfect date night look.
---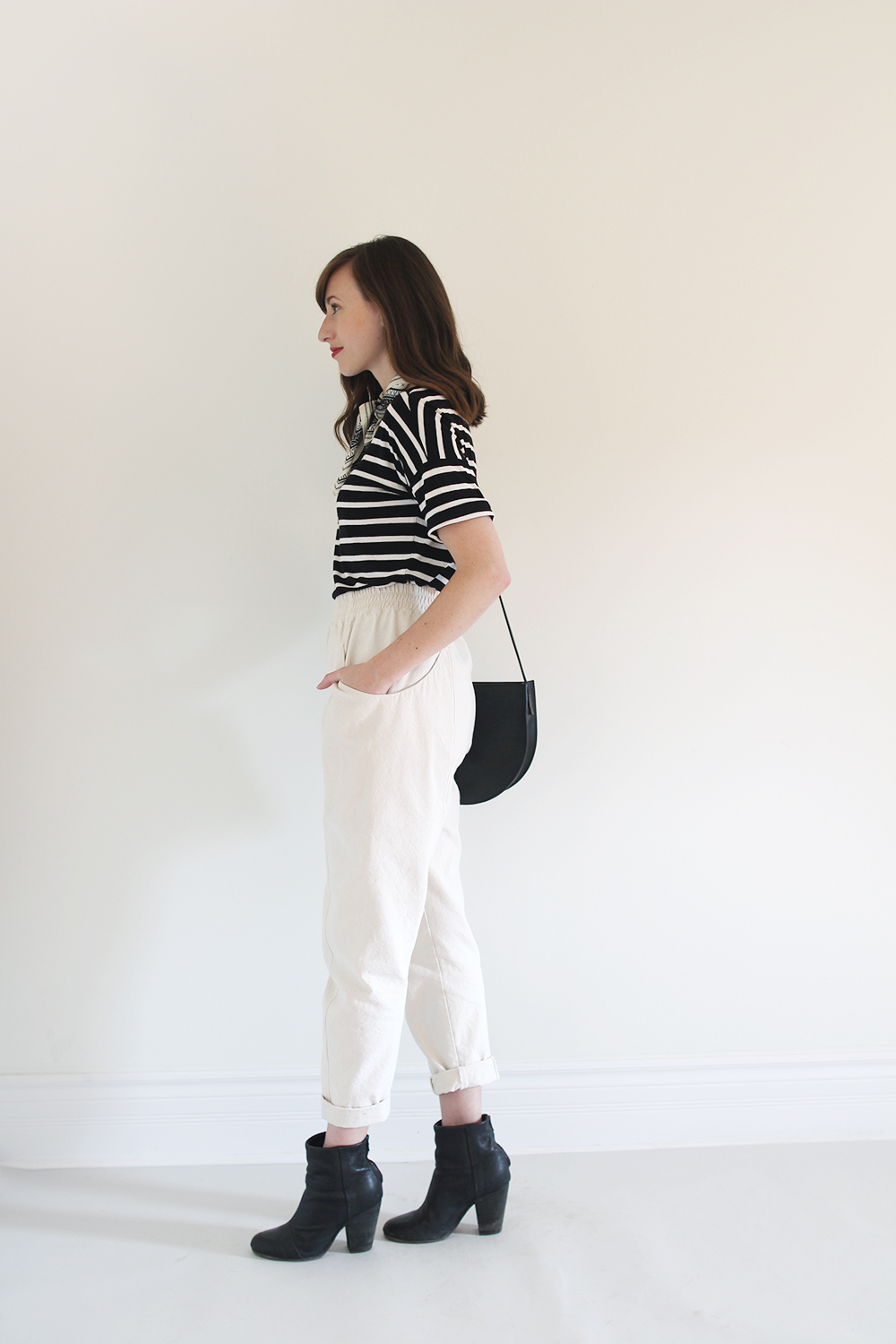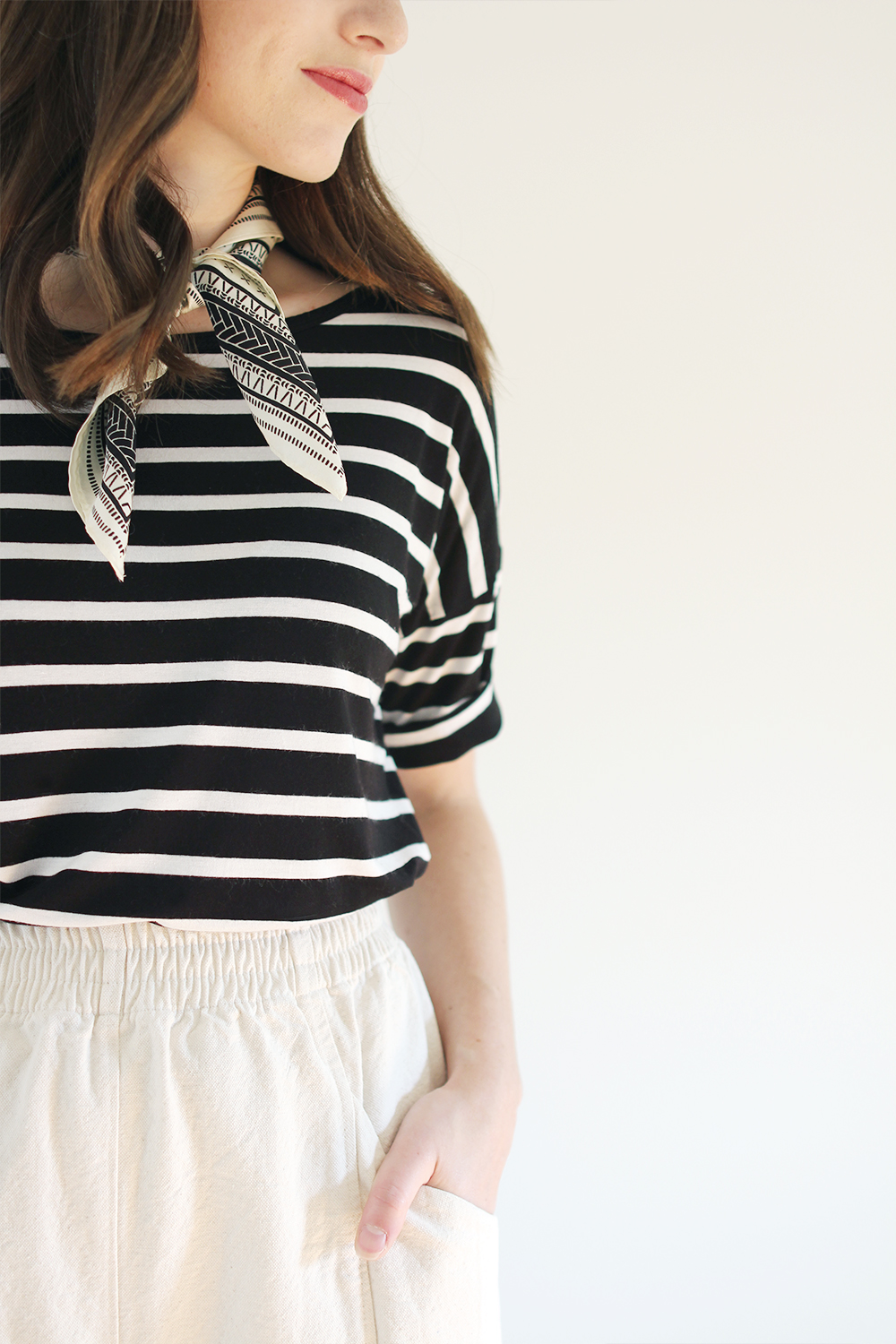 ---
There you have my over-analysis of Look 7! Tomorrow things are getting sultry with an all-black look. Thanks for reading! 
---
Bandana by A Peace Treaty
Top old from Joe Fresh | See above for lots of great options made responsibly.
Clyde Work Pants by Elizabeth Suzann | Similar by Black Crane and Rachel Comey (slim fit)
Newbury Boots by Rag and Bone | Similar made responsibly here and here.
Eloise Bag by The Stowe (Made in Canada!) | See more of this lines' stunning shapes available here and Canadians can shop here.
---

---
This post is not sponsored but contains affiliate links. When you shop via the links above I may make a small commission from a sale. All opinions are my own. Thanks for supporting the brands that support Style Bee!