Well, we've reached the end of a pretty surreal week. That, at least, is something we can all be happy about! Plus it's Remembrance Day here in Canada and thinking about what those generations endured sure puts things in perspective.
I wasn't going to share a post today, since tomorrow is the Style Bee Closet Shop (see details below) but I wore this out to lunch with my parents this week and when I got back to my office the light was so good that I decided to sneak in a quick shoot. Ergo, outfit post today!
I've been realizing more and more that the less I think about putting together 'the perfect outfit' the better it seems to work. This one came together when I'd lost track of time and suddenly had to be ready to go. I pulled on my new boots (more on those below too), slid on a beanie because bad hair central and tossed my cocoon coat on overtop. It ended up being a kinda cute, city-chic look that I'll definitely be repeating soon!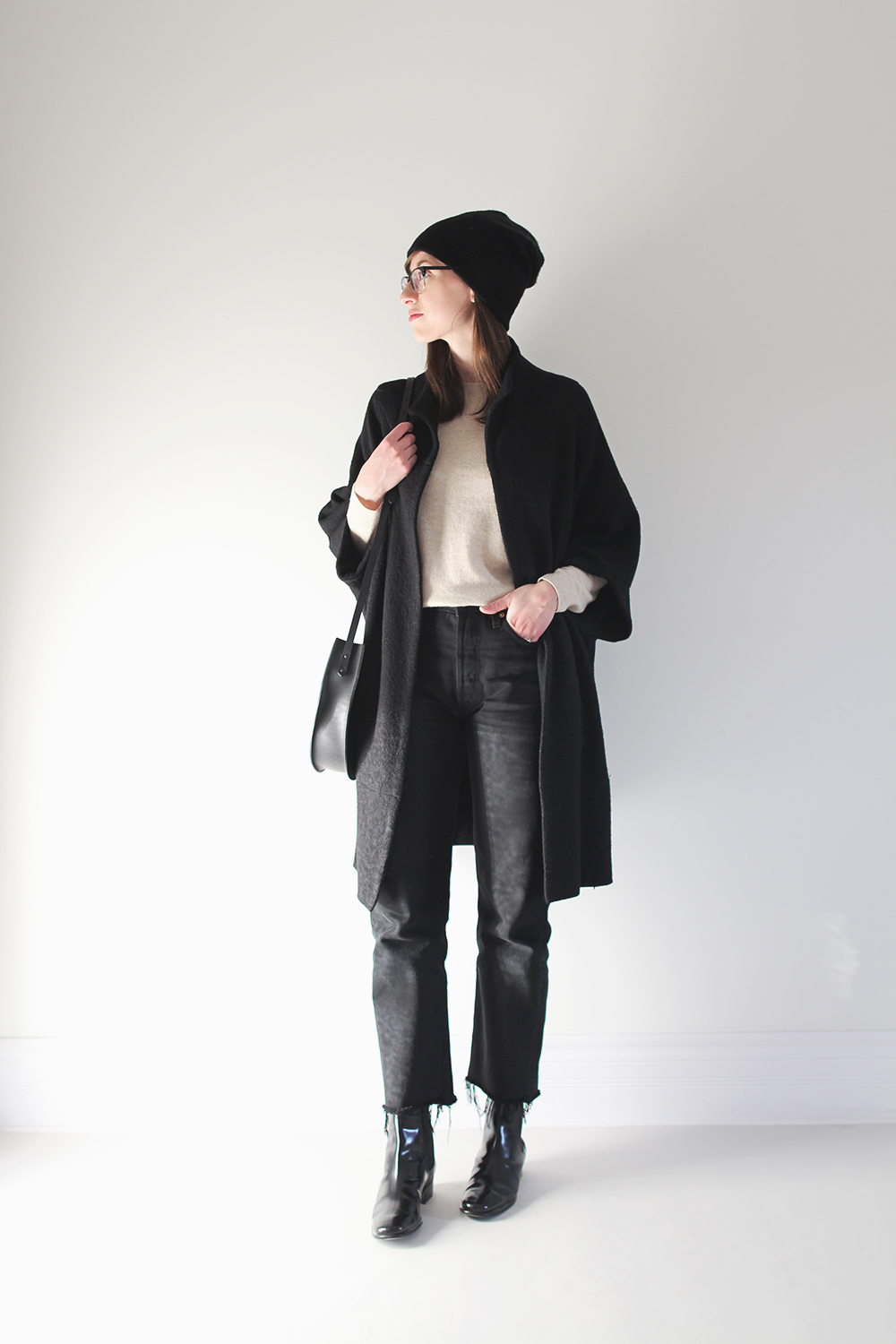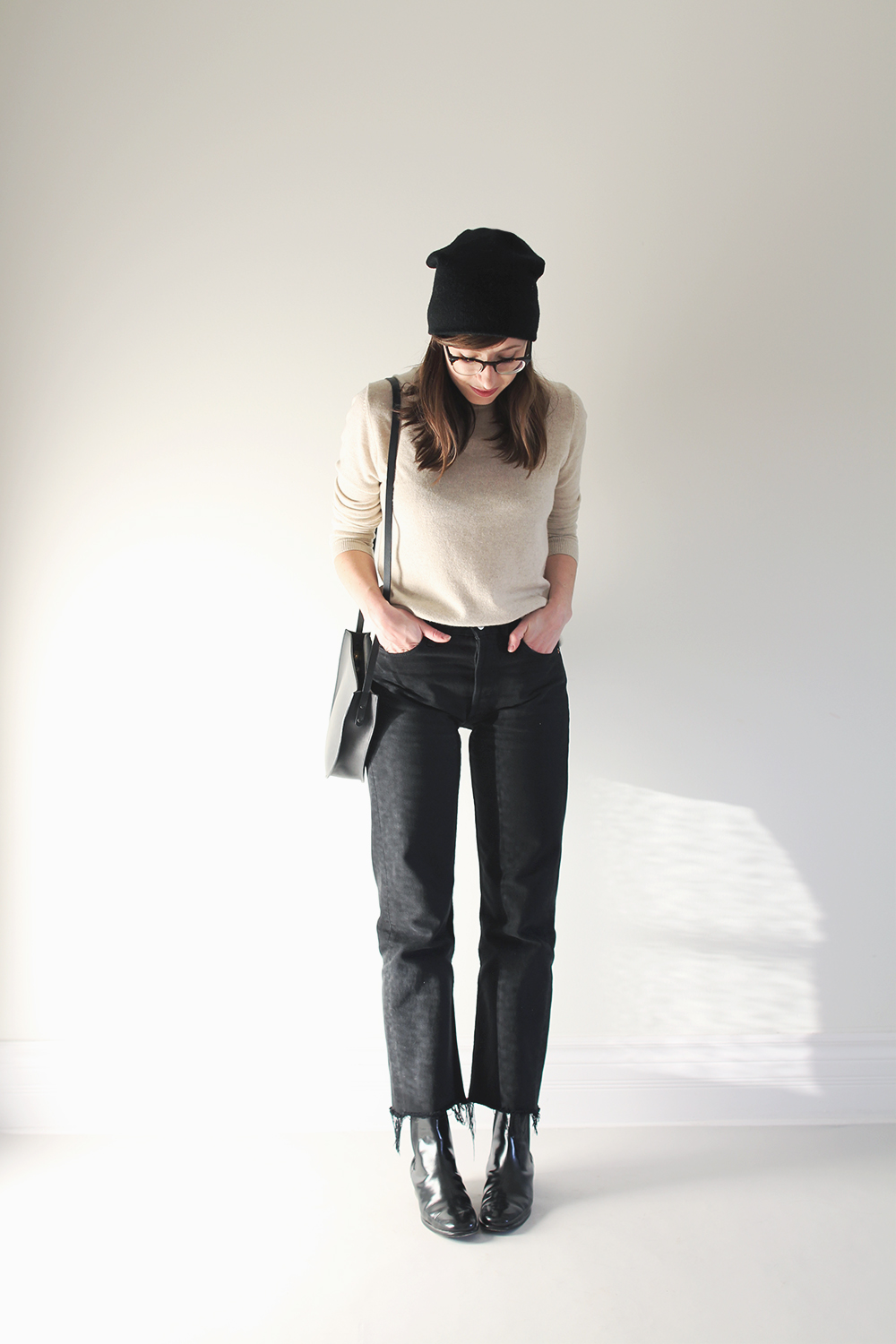 ---
STYLE + FIT DETAILS
I love the relaxed but still put-together feel this outfit has to it. It's easy-going, comfy and ready for anything, but not too basic or blah. Here's a few things that I think make that possible: 
1 | FLARED + FRAYED | The bottoms of these vintage Levi's are my favourite thing about this look. I considered trimming all the threads off for a cleaner edge but for now I think I'll keep 'em. They make any look immediately more relaxed and I love how the cropped, slightly flared shape of the pant works over a tall ankle boot. This in fact, might be my favourite trend of the season. 
2 | TEXTURE REMIX | This look is super toned down on colour but there are actually 5 different textures involves which give it a ton of added interest. A wool beanie and coat make it cozy, a cashmere sweater adds refinement, thick denim with frayed edges keeps it casual, a sculptural matte leather bag injects some artful vibes and the surprise of a glossy boot makes it all seem intended. At least that's how I'm choosing to look at it! Maybe it's just a mash of too many things but I'm into it anyway.
3 | SURPRISING DETAILS | When I was editing these photos I noticed that the tiny copper rivets on the pockets are the perfect extra detail (see below). I actually wish the main button and the rivets were all the same metal but in this case the copper is working in my favour to tie in the oatmeal sweater. Since I'm not wearing any jewelry either they serve as the tiniest hint of bling.
4 | SOMETHING VINTAGE | I really love these vintage jeans I found in Amsterdam, and not just because they fit like a dream, but because they add an element of depth to the look. They're old, they've been places I have no clue about but they found their way into my closet and I'm going to cherish them for as long as they fit! I think that whenever possible, if you can add something with a story to your look, it will be better for it. Still kicking myself for not getting a pair in every colour!
---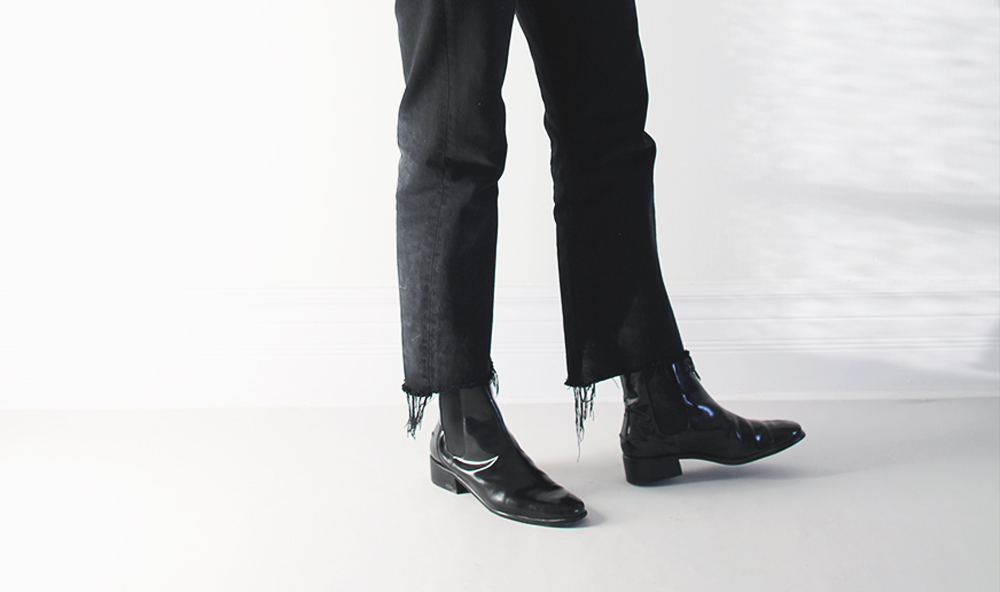 ---
NEW IN – THE THORA CHELSEA BOOT
As you may know I've been on the hunt for the perfect Chelsea boot for a loooong time. Like years long. I looked at A LOT of options and have had many in my cart from one time or another but ultimately I decided to pull the trigger on this pair. Since they arrived last week they've barely left my feet and I can honestly say they're the comfiest shoes in my current repertoire and were the easiest to break-in. I ordered my usual size 7 and they fit great (although the narrow fit is good for me).
Here's why I ended up locking these down:
The shape and design was exactly what I'd been looking for. Stacked but low heel, high ankle with an elongated but not too pointy toe.
The functionality of a shearling (albeit faux) lined boot is non-trivial. These babes are super WARM.
They are made responsibly in Peru by footwear artisans.
Rachel Comey makes amazing shoes so I could trust that I'd be investing in a long-lasting product.
The price was within my budget (+ I had store credit with Garmentory, huge win!)
I was a little hesitant about the 'semi-gloss' leather and feared it might be too shiny but in real-life it's much more subdued and not nearly as patent as it appears in these photos (the light was bonkers when I shot this). Turns out this specific leather is amazing for water repellency and dirt just glides right off. I also like that it adds just a little bit of extra interest and luxe to any look.
I also looked very seriously at three other pairs of chelsea boots:
1 | Jensen Ankle Boot (Acne Studios) – This boot is a beautiful marriage of form and function. It's super sharp and I really like the angular elastic panels and stacked heel. For me though, the pointed toe felt just a bit severe and I was looking for a slightly taller ankle. Not to mention the fact everyone seems to have these so it felt a little unoriginal.
2 | The Nassau Boot (Rachel Comey) – I was SO close to pulling the trigger on this pair but I decided I should opt for something with a much lower heel that would be 100% wearable for long walks with the pups and be guaranteed comfort. Not saying this won't find their way into my life eventually, but just not this year.
3 | The Modern Chelsea Boot (Everlane) – Another one that's been in and out of my cart for months. This is a true classic and I really can't find fault with it except that it wasn't shearling lined like the Thora Boot.
---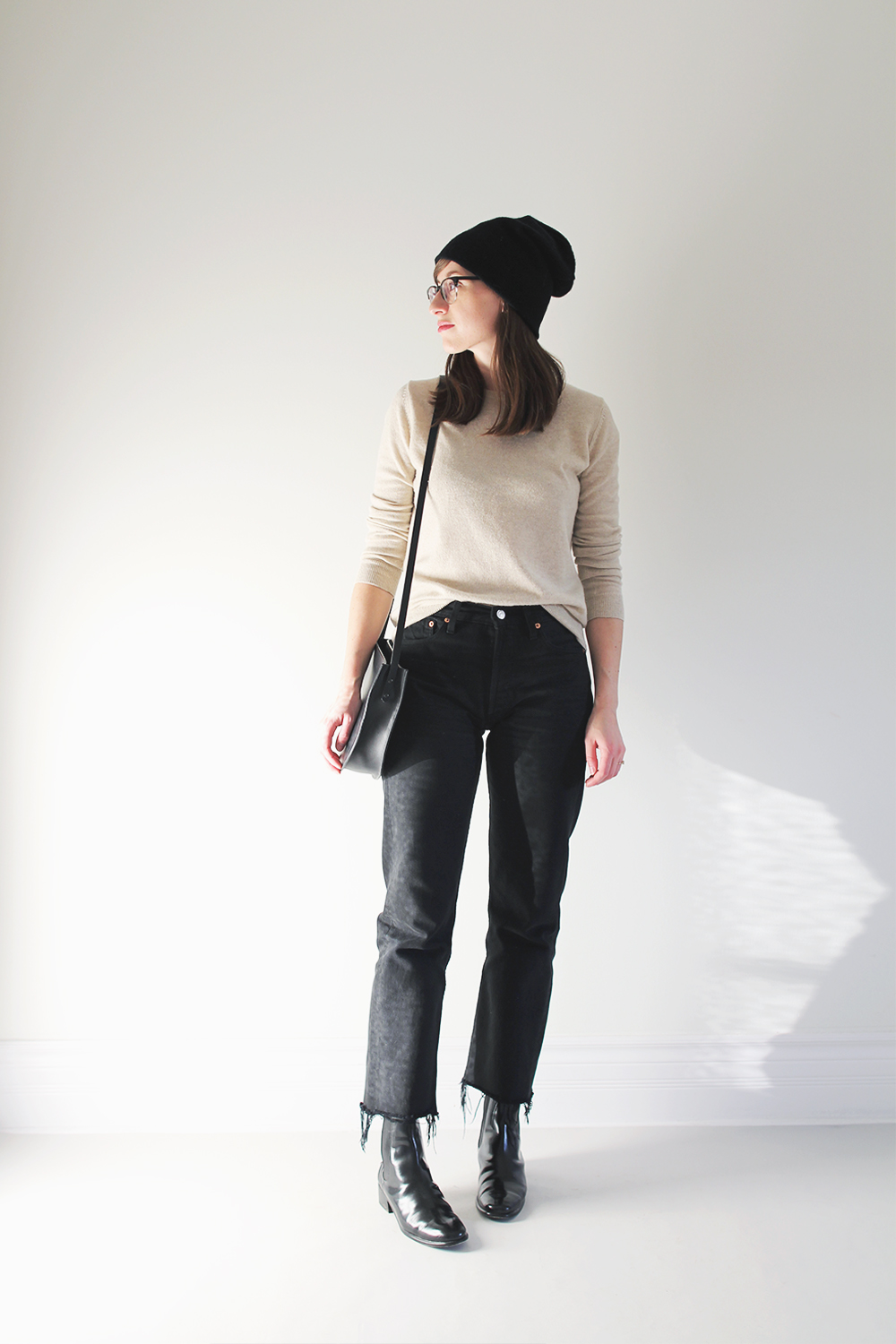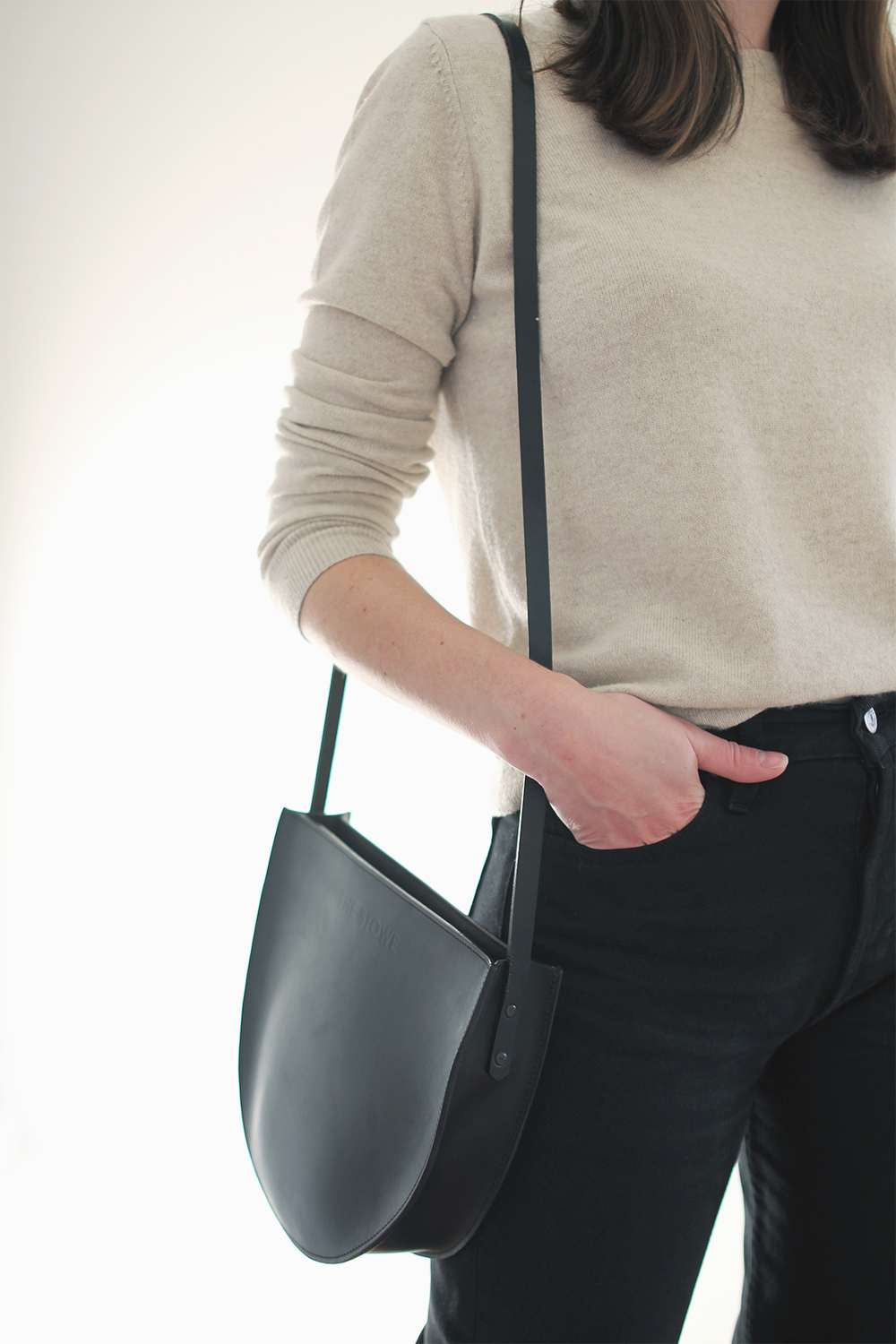 ---
So that's my take on getting ready in a flash without looking like a total wreck! Thanks for tuning in this week, I know there's been a lot of heaviness out there but I hope this blog has served as a brief reprieve at times. Wishing everyone a very Happy Friday!
---
CASHMERE SWEATER c/o Everlane (color n/a) | COCOON COAT by Elizabeth Suzann (link to new version) | VINTAGE LEVIS (similar available here, here and here or try Redone) | ELOISE BAG by The Stowe (made in Montreal) | BEANIE old (similar linked) | THORA BOOT by RACHEL COMEY (lined and unlined) | GLASSES by Warby Parker
---

---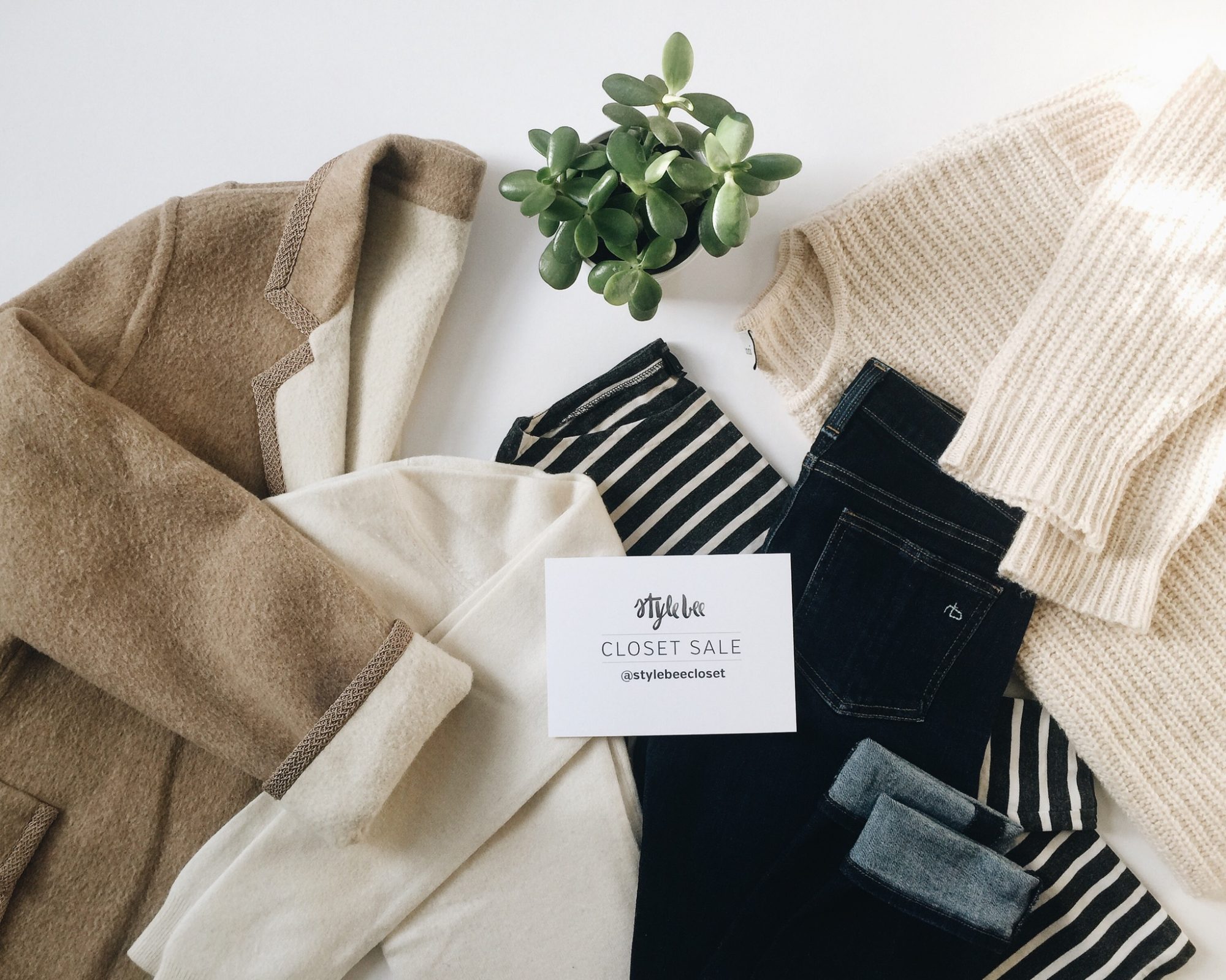 TOMORROW AT 12 PM ET THE STYLE BEE CLOSET SALE WILL COMMENCE!
There will be a full preview on the blog tomorrow with all the details you need to know about shopping the sale, which will be held on Instagram @stylebeecloset. Lots of great pieces are up for grabs so definitely take a peek if you're in need of a little responsible retail therapy!
---
This post is not sponsored but contains affiliate links. When you shop via the links above I may make a small commission from a sale. Thanks for supporting the brands that support Style Bee! All opinions are always my own.