Okay! Moving right along here in this #WINTER10x10 Challenge with Look 6 coming at you today from both myself and my co-host Caroline of Un-Fancy! Many of you are closing in on your final outfits and it's been really cool to see the conclusions you've been coming to about your closets. It's wonderful to read so many positive reviews of your experience so far and how the overwhelming consensus is that less really is more in so many ways. Keep sharing your ideas, outfits and insights folks, we're really onto something here!
If you're new to this whole challenge thing, that's ok! It's never too late to join in and you can learn everything you need to get started from this post and get lots of tips and info on this page as well. We'd love to have you!
Now back to Look 6. It's usually after the halfway mark during the 10×10 Challenge that I wind up testing out a look I'm not super crazy about and this one is right on cue. There are a couple of things that I like a lot about it and couple things that just don't feel right. Let's discuss!
---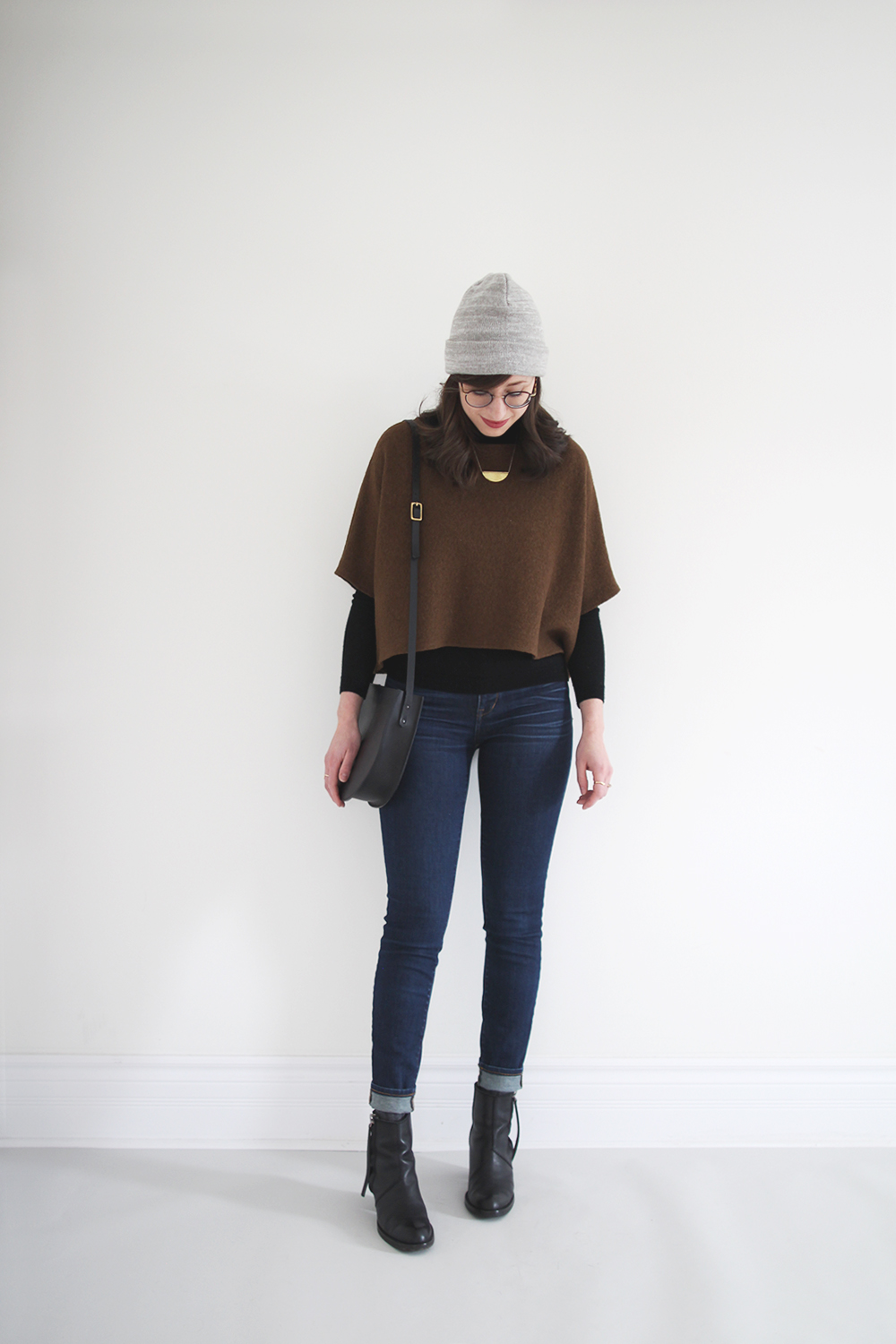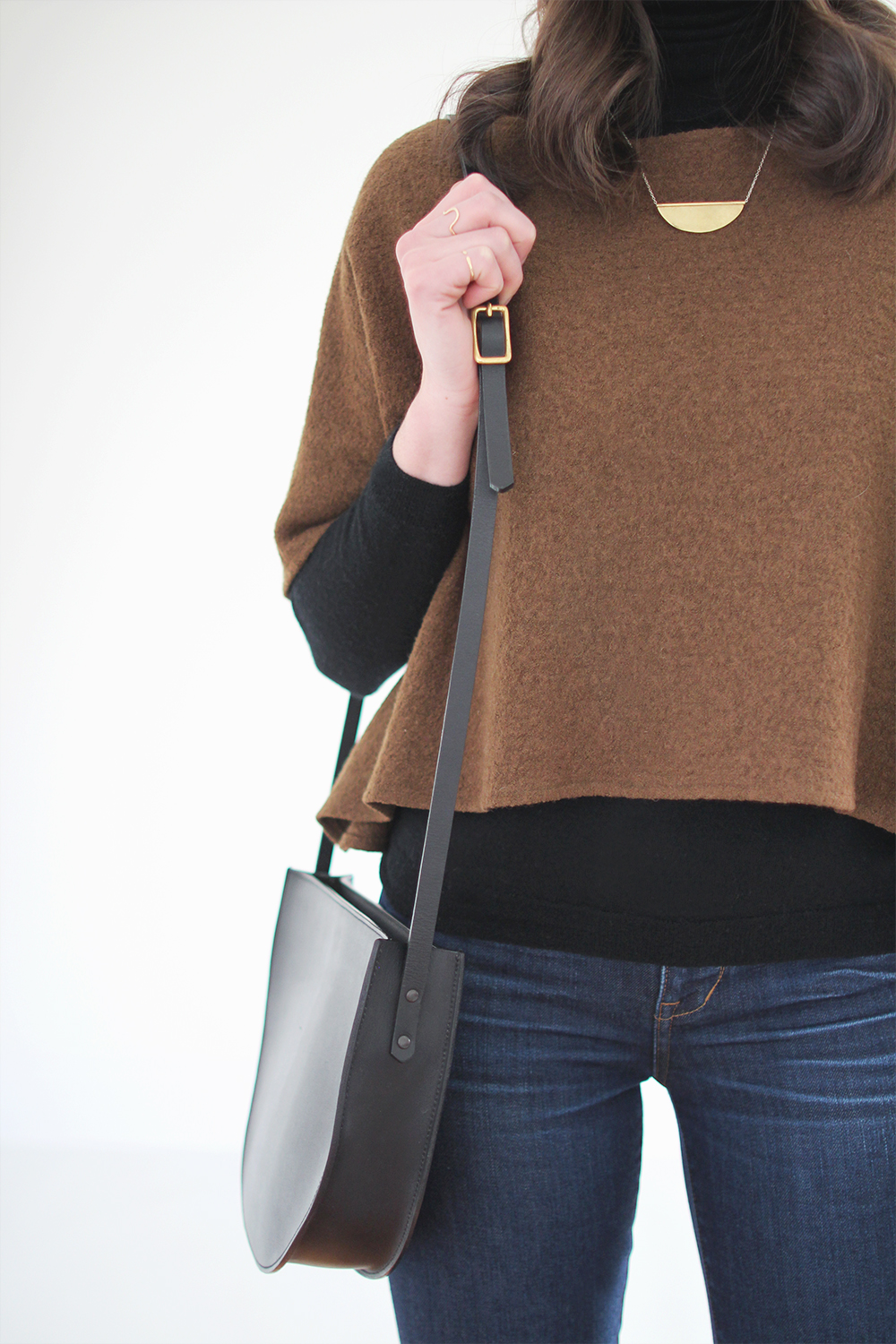 ---
INITIAL THOUGHTS
If it wasn't for this challenge this outfit would have probably never seen the light of day. I certainly don't think it's terrible and I'm perfectly comfy, it's just not exactly a clear representation of what my style is. Well that, and it just feels a little awkward to me.
BUT I wanted to try layering this Linn Sweater over my black turtleneck and I felt like I should force myself to wear these skinny jeans again. Otherwise I would have gladly worn my Kamm pants instead. I guess if nothing else this look simply reaffirms that my Kamm pants are (for me at least) just as versatile as a classic pair of skinny jeans.
What don't I like? I would never normally be inclined to wear skinny jeans with an oversize cropped sweater. Flares, yes. Wide-leg pants, definitely. But skinny jeans, not so much. It's just a bit of an unusual balance for me and the silhouette feels off.
This thought has been pestering me for a while now, but I might as well say it, I think I might need a break from skinny jeans. GASP. I know. I'm not sure yet, but it's a real possibility but I'm not going to say any more on the topic for now.
What do I like? One thing I definitely like about this look is how well the Linn sweater layers over a turtleneck. It's a really easy way to add warmth without feeling confined or bulky the way a big cardigan or sweater might. Even though I'd opt for a different pair of pants and I might tuck the turtleneck in instead, I think this is one element of the look that I'd be inclined to repeat.
I'm also liking the way these boots are working with my cuffed jeans. Next time I'd go for a longer sweater like a tunic or a relaxed crew-neck but at least I know that the cuff styling works well!
Similar to LOOK 3 I like the OUTSIDE version of this outfit much more than the INSIDE version. The proportions just seem to work better once the cocoon coat is involved.
Lesson learned: You don't have to love everything about an outfit for it to be worth trying. More often than not it's the things you don't like that give you the most insight about your style! 
---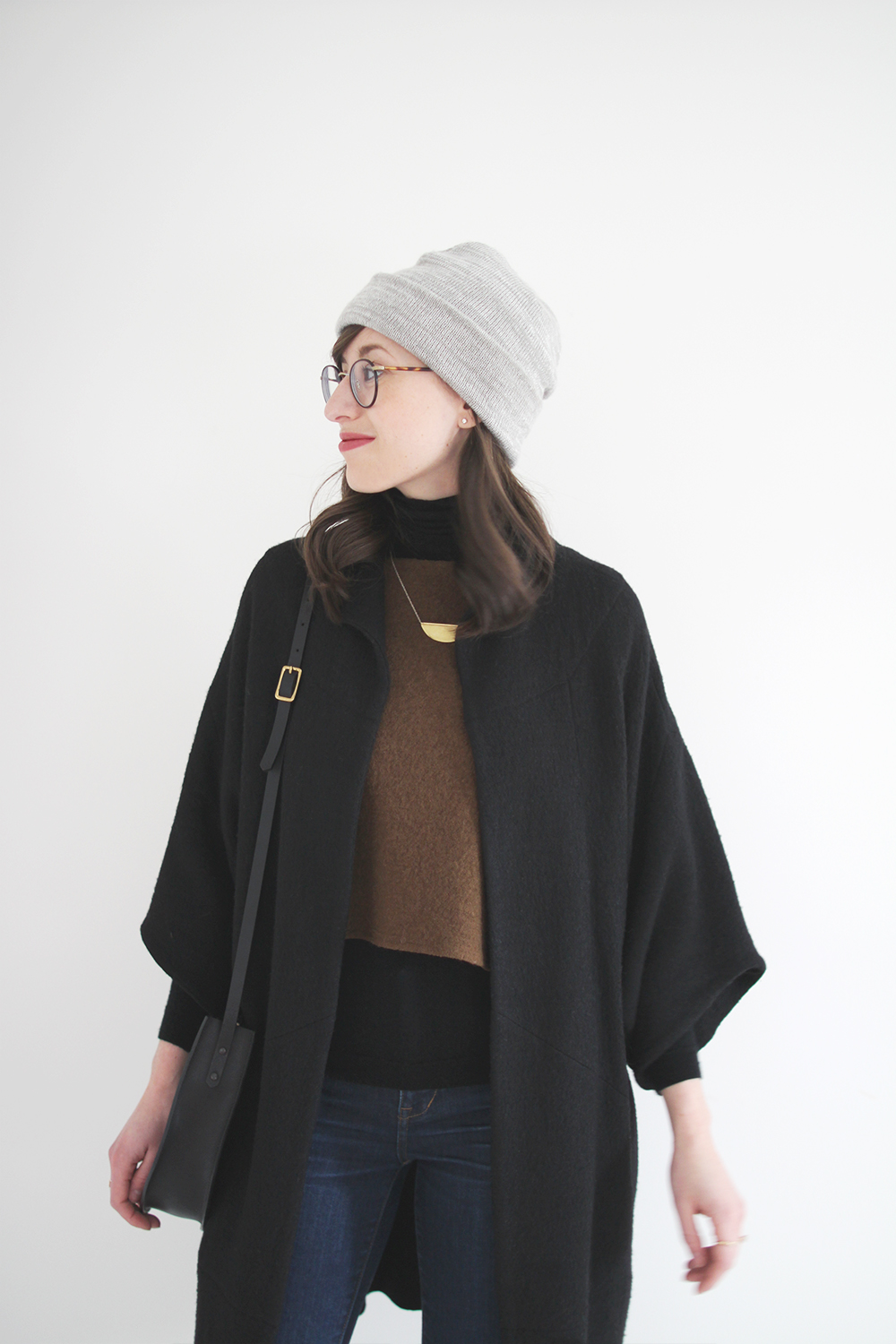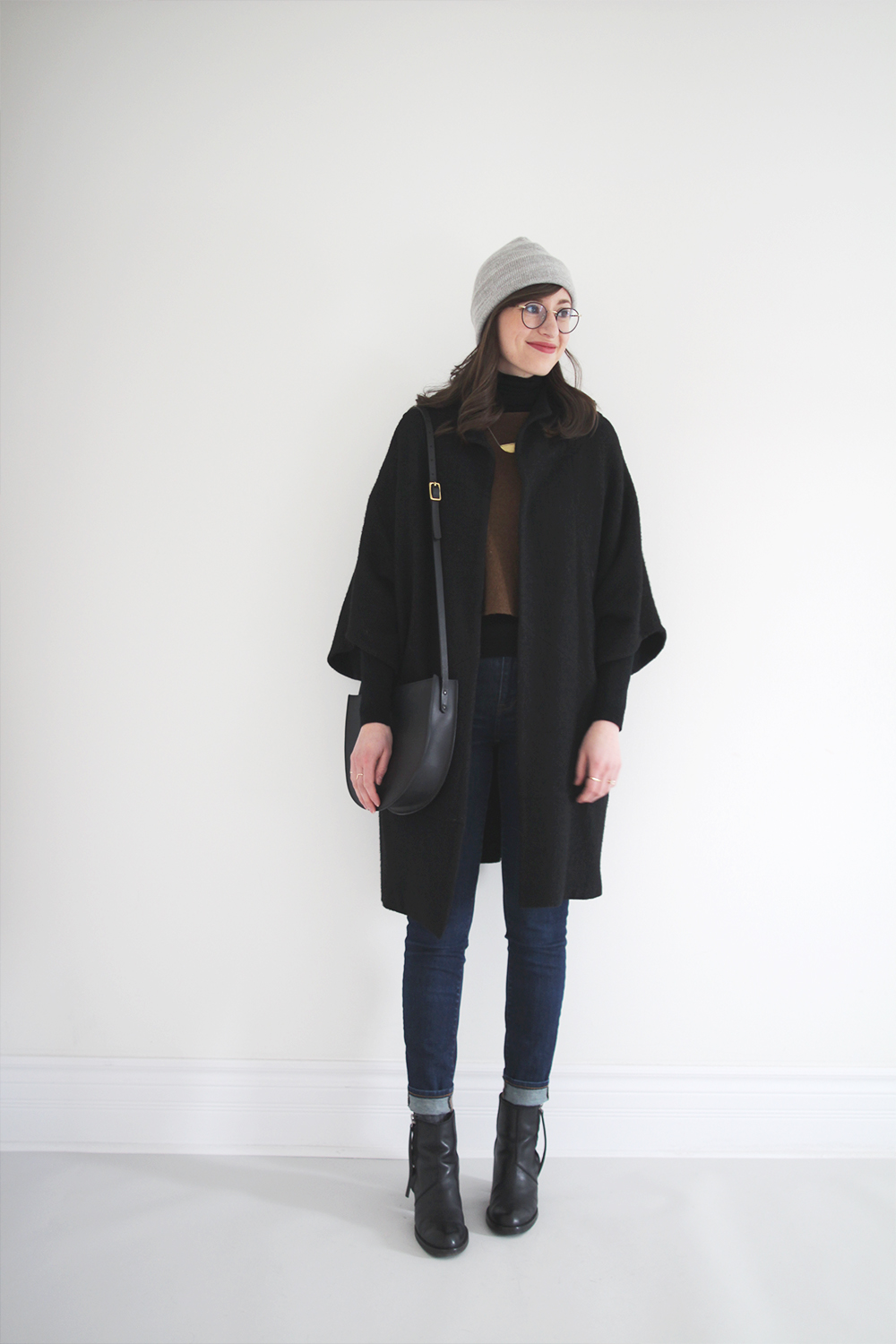 ---
STYLE + FIT DETAILS
1 | THE TOPPER | *Insert exhale* Ahhh, instantly feeling so much better with my cocoon coat in the mix. The most simple Winter failsafe I can think of is, 'When in doubt add a black coat.'. It's just instantly elegant and sophisticated yet, still totally functional too. I don't honestly know what I'd do without this one and rarely go a week without reaching for it at least a couple of times. The cocoon shape slips over literally anything and the über minimal shape and details make it the easiest thing in my cold weather closet to style.
If you're in the market for a black top coat opt for something that gives your flexibility with your sleeve and collar styles. Keep it super simple and look for one with little or no hardware, a fabric that drapes and a length that hits at just above the knees. This will work with any base layer and be flattering on any figure.
2 | BASE TURTLE | It's no secret that I love a thin turtleneck for a base layer. It's especially nice under a layer like the Linn sweater because you get to see it from all edges (neck, arms and torso). It's always great to add a bit of dimension to a simple look if the opportunity strikes.
If you're scoping winter sales right now and don't have a lightweight turtleneck, definitely consider giving it a try!
3 | CALCULATED BLING | Because I was already feeling a little 'off' about this look I wanted to keep the accessories super simple. I opted for a minimal pendant to draw the eye up and provide a focal point and then I carried that 'gold' accent through with my frames, rings and even the brass buckle on my bag. The continuity is a subtle by impactful way to create a cohesive feel without overdoing it.
We all know the devil is in the details but often the sophistication is too! 
4 | A LITTLE LIGHTNESS | Before I added this grey beanie the look was feeling a little dark and heavy on the colour palette. It's amazing the difference that a little touch of lightness can make to freshen the whole outfit. I also like that it helps the cuff of my jeans stand out more because your eye connects the two lightest parts.
When you're wearing a lot of dark tones and feel it's getting heavy, try a light but neutral accessory to give the look a lift and soften it up. 
---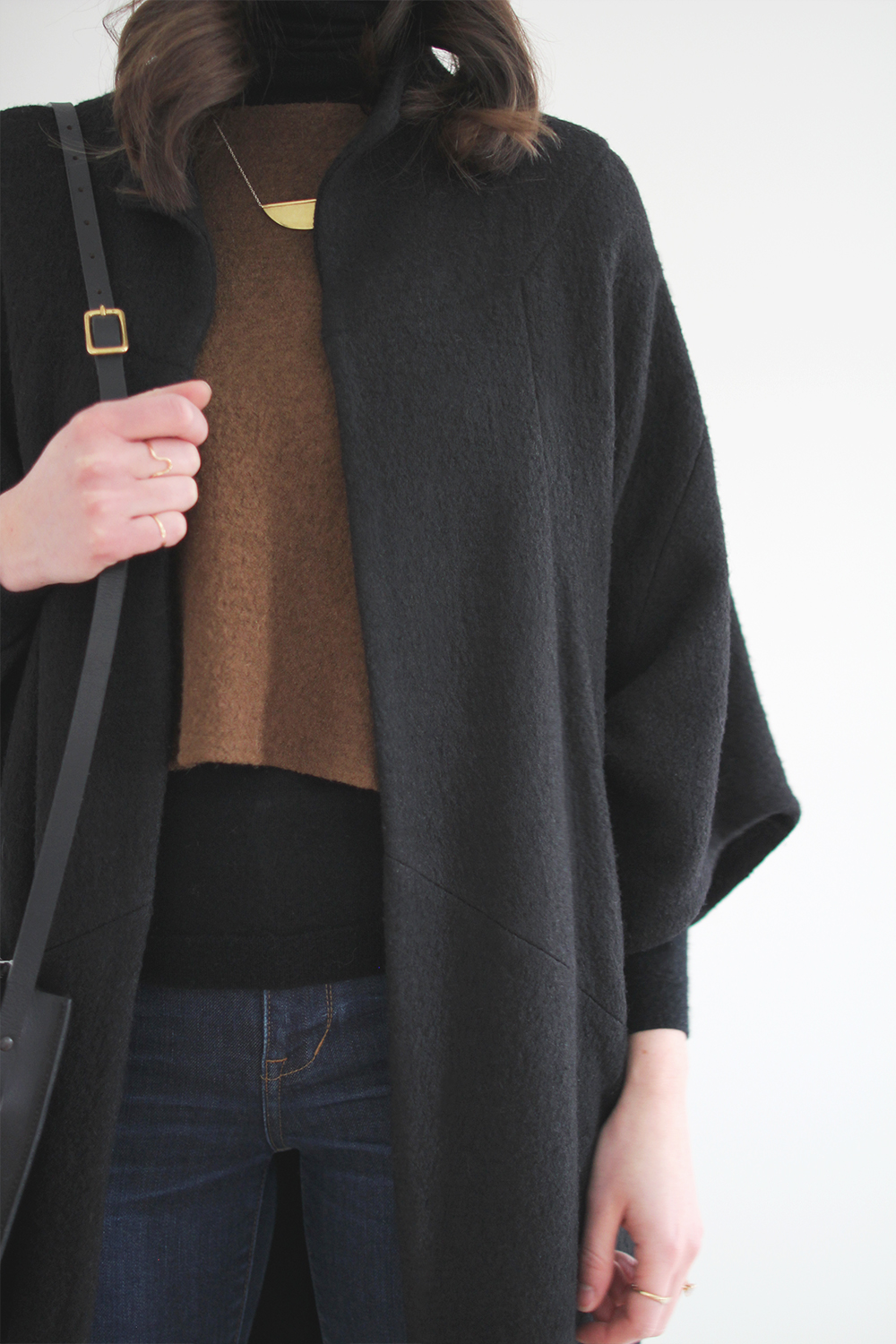 ---
OUTSIDE
It's pretty miserable outside today. Forecast is calling for freezing rain and aside from running to and from my car to get to a status meeting I'll be hunkered down in my office.
I might have to switch the Pistol boots for my Hunter rain boots and will definitely be grabbing a pair of gloves on the way out the door. Otherwise, this look should suffice for all the day has in store for me. The beanie will be staying on and so will the cozy socks!
Drive safe and stay warm my fellow Southern Ontarians! 
---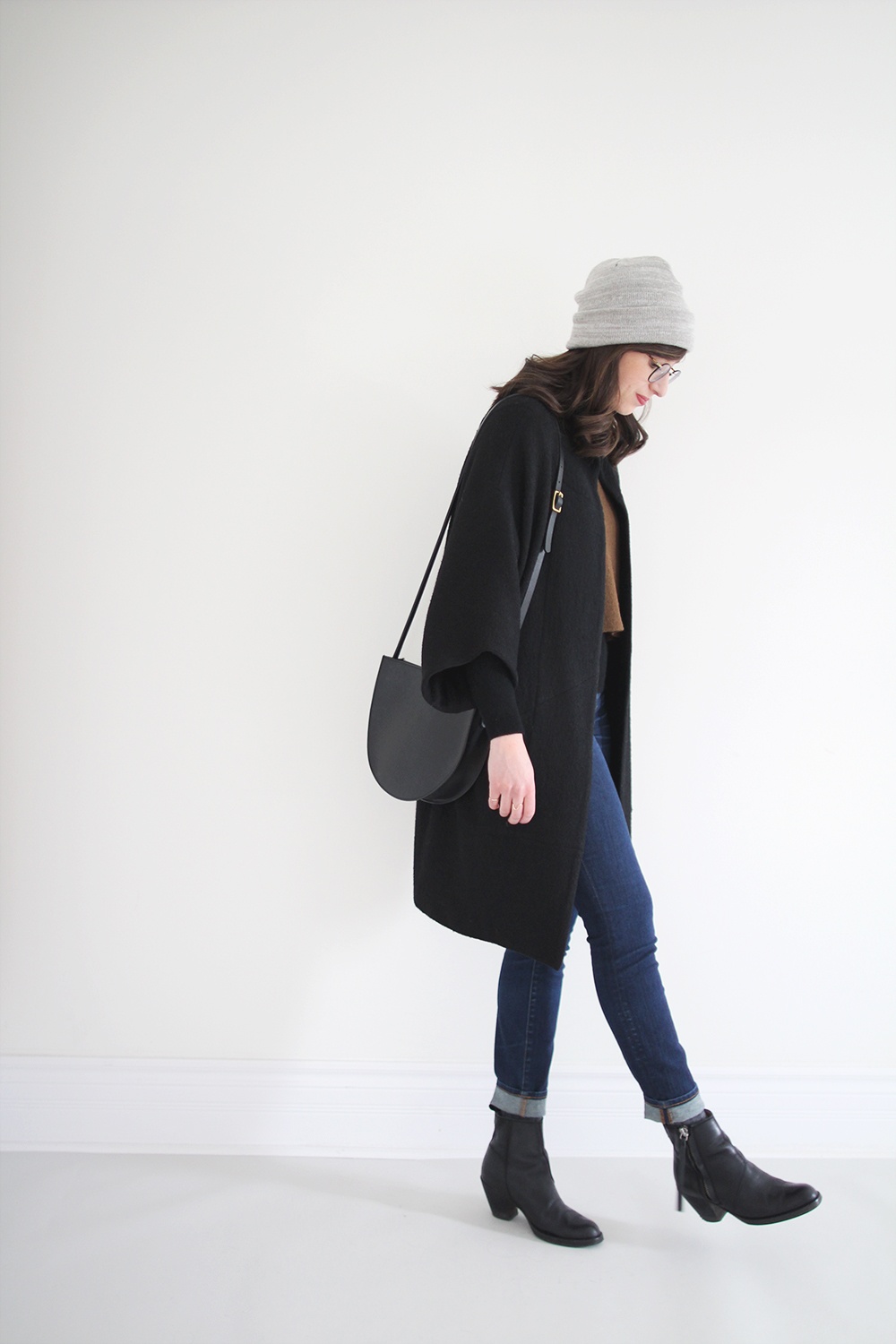 ---
SO THERE WE HAVE OUTFIT #6!
Be sure to pop over to UnFancy for Caroline's latest too!
+ Keep sharing your looks with #Winter10x10 and if you have a sec, check Instagram Stories today for a real-life look at our outfits in action (@caroline_joy + @leevosburgh).
SEE YOU THERE!
---
---

---
This post is not sponsored but contains affiliate links. When you shop via the links above I may make a small commission from a sale. Thanks for supporting Style Bee! All opinions are always my own.