Even though it's Friday and that's fabulous the word 'bittersweet' keeps coming to mind right now. On one hand I'm relieved to be reaching the conclusion of the #WINTER10x10 Challenge but on the other hand I'm kind of sad to see it end. Sure it'll be nice to get back to my normal routine and closet but I know I'll miss scrolling through all your outfits and clever captions each day. I guess it just means we'll have to plan for a Spring Challenge right? But before we get ahead of ourselves, my co-host Caroline of Un-Fancy and I still have two more looks for ya!
If you're just tuning in and missed the better part of the 10 x 10 Challenge so far, that's ok! It's never too late to join in and you can learn everything you need to get started from this post and get lots of tips and info on this page as well. We'd love to have you join us for the rest of this one, the next challenge or any time in between!
This one is #9 and it feels like a #9 to me too. It's a bit out of my comfort zone, not something I'd typically put together but I'm really glad this challenge led me to it. So let's take a closer look!
---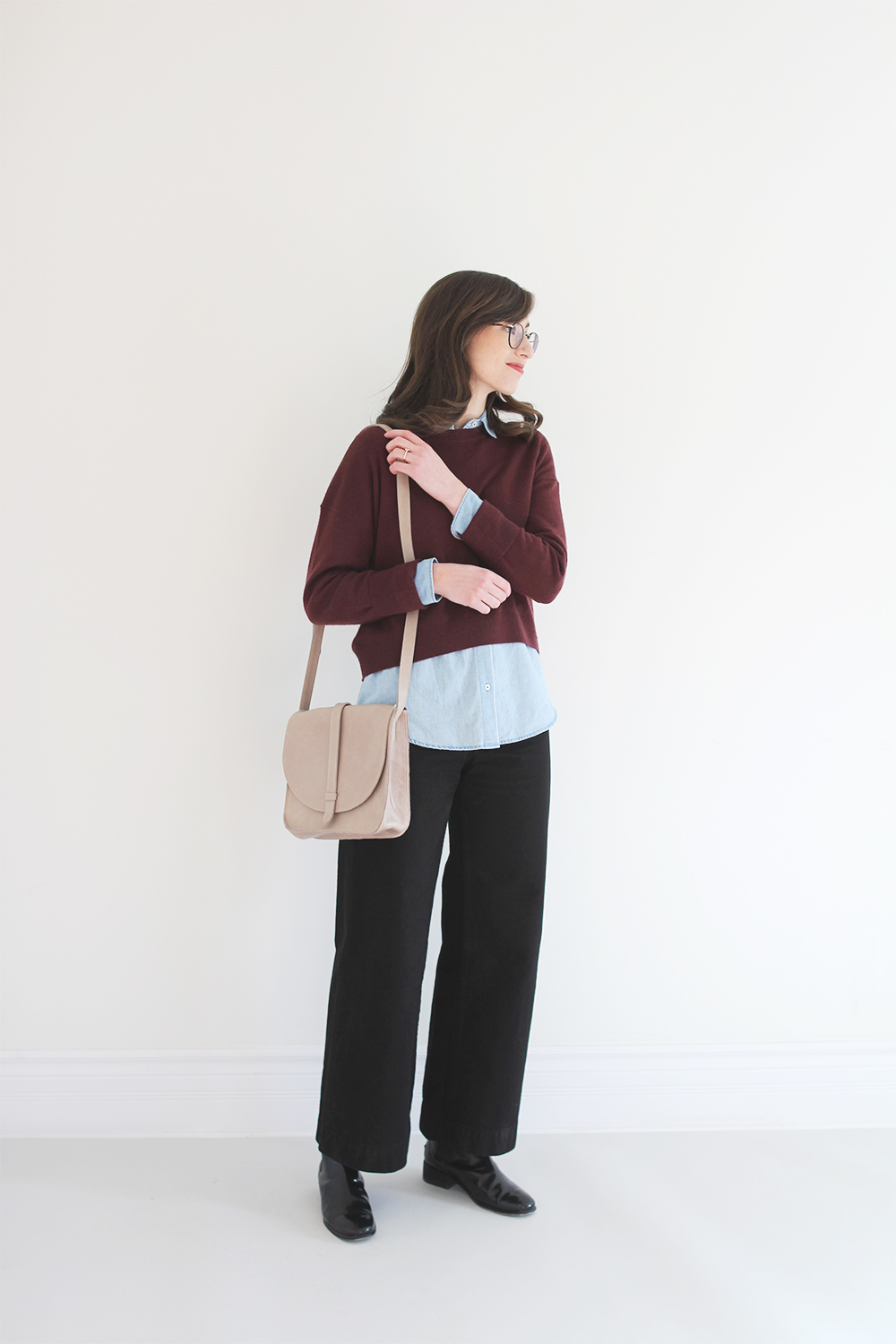 ---
INITIAL THOUGHTS
I'm actually surprised by how much I like this one. It's not my usual silhouette or styling approach and it's definitely not a palette I've tried before but at the same time it's kind of working for me. Sure it's not my favourite and I probably won't be rushing to repeat it but I wouldn't classify it as a flop either.
I really wanted to find another look for this burgundy sweater but I was having trouble finding something that felt right. On its own with skinnies could have worked but felt a little predictable and over the turtleneck would have been ok but frankly too hot for indoor wear. So I thought heck, why not throw it on over the chambray with my Kamm's and see how it works.
As far as the two top pieces fit together, they're a dream team. The cropped sweater is the perfect length to let lots of the chambray shirt show out the bottom but not so cropped that it looks awkward.
Truthfully, I was worried this look might swallow me up but I think the colours break it up well. I can say for certain that if it weren't for this challenge I would never have put these together but I'm glad I did. Even if it's just for the sake of analysis! Next time (in the Spring perhaps) I might try this top combo (or something similar, maybe a white shirt) with my Cecilia pants and loafers instead of the wide leg bottoms. Without a waist defining element, it feels a little too w i d e overall.
All in all, I'm warm, comfortable and feeling put together enough for a casual breakfast meeting, some errand running and a day in the office prepping for next week!
---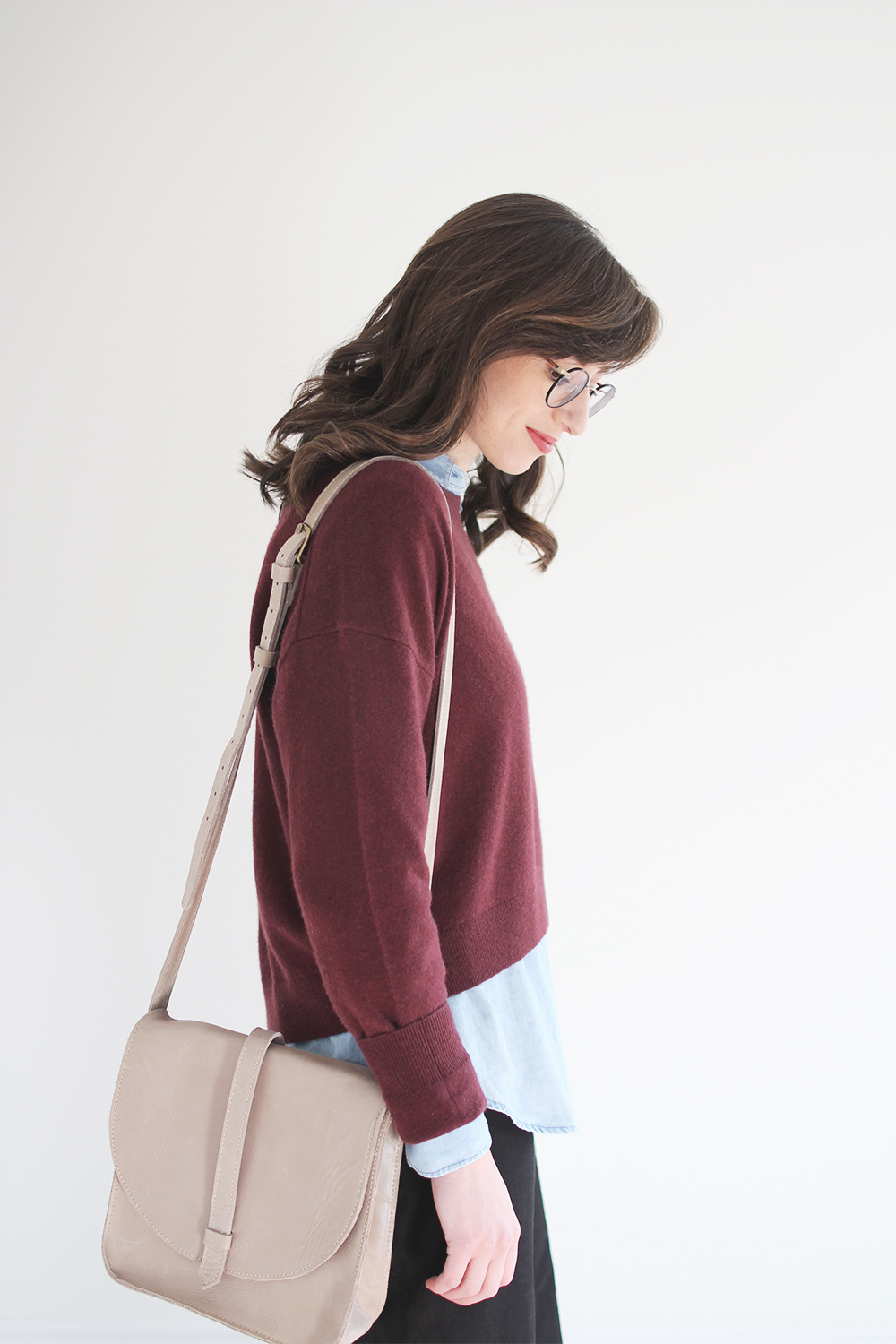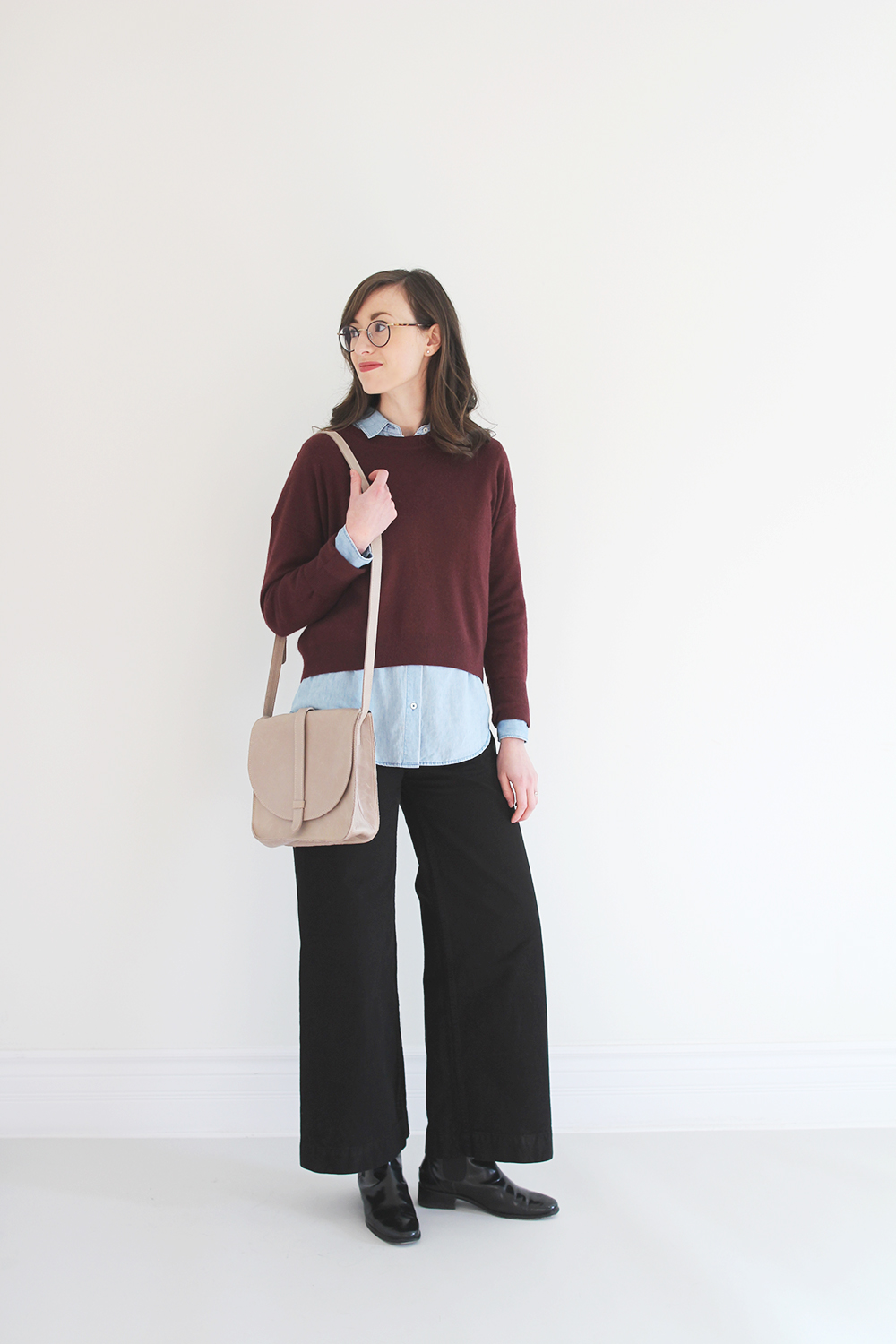 ---
STYLE + FIT DETAILS
1 | SIZE UP | I bought this sweater one size up from my usual size because I knew I wanted to be able to layer it. The extra room is just enough to let it sit comfortably on top of a light layer underneath without feeling bunchy or squished. This way I can wear it alone or over a number of different shirts in my closet and it stays fresh for more wears. Plus it's not like it's massive when I wear it on its own either. Ordering a different size than you're used to can be scary but it's worth the risk to get something that's really going to work for your closet.
If you've found that you're having trouble layering sweaters over other tops this trick could be the perfect solution! Try ordering one size larger than your usual next time and see if that gives you more options! 
2 | CURVES | I often look for subtle shape repetition in a look and in this case I'm liking the way the curved hems (on my sweater and shirt) mirror each other. It creates a soft balance whereas if they were both straight it might read as a little bit harsh. I didn't really think about why I chose this grey bag other than the fact it was a complimentary neutral but now I see the front flap has a similar curve to it.
Sometimes when you're trying to put your finger on why an outfit works for you, it's worth taking note of subtle details like hem shapes. 
3 | COLOUR BLOCKING | I haven't tried any looks that apply colour blocking in a long time (at least not intentionally) but I'm liking this palette a lot and how each colour has a presence. I think the black pants are really helping out here too. Your eyes simply move from one item to the next from top to bottom and even when the coat and scarf are added it still has a natural flow.
When you're easing into the use of colour try pairing two strong complementary colours with a true neutral like white or black. This will still give you a colour blocking effect without overpowering your senses.
---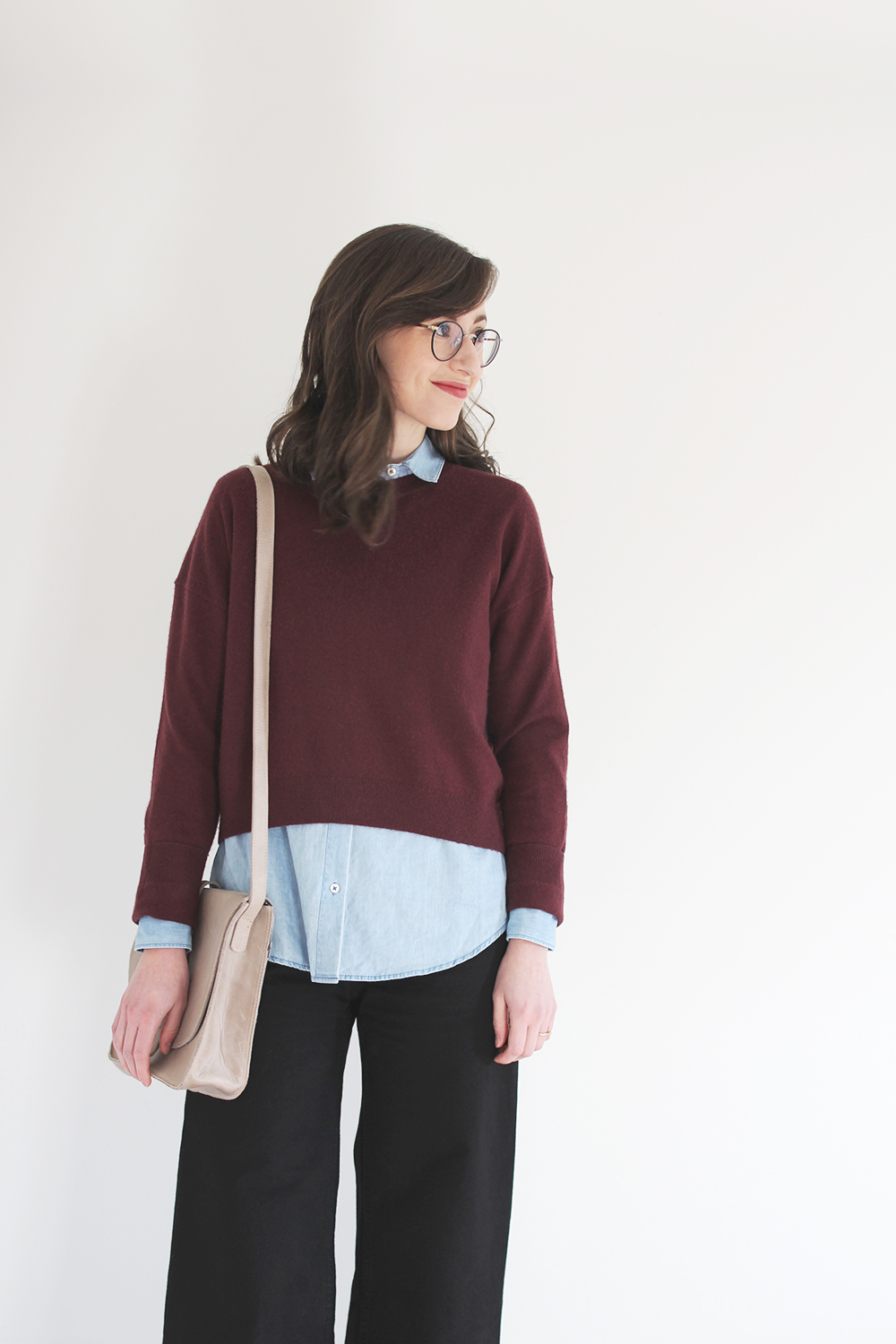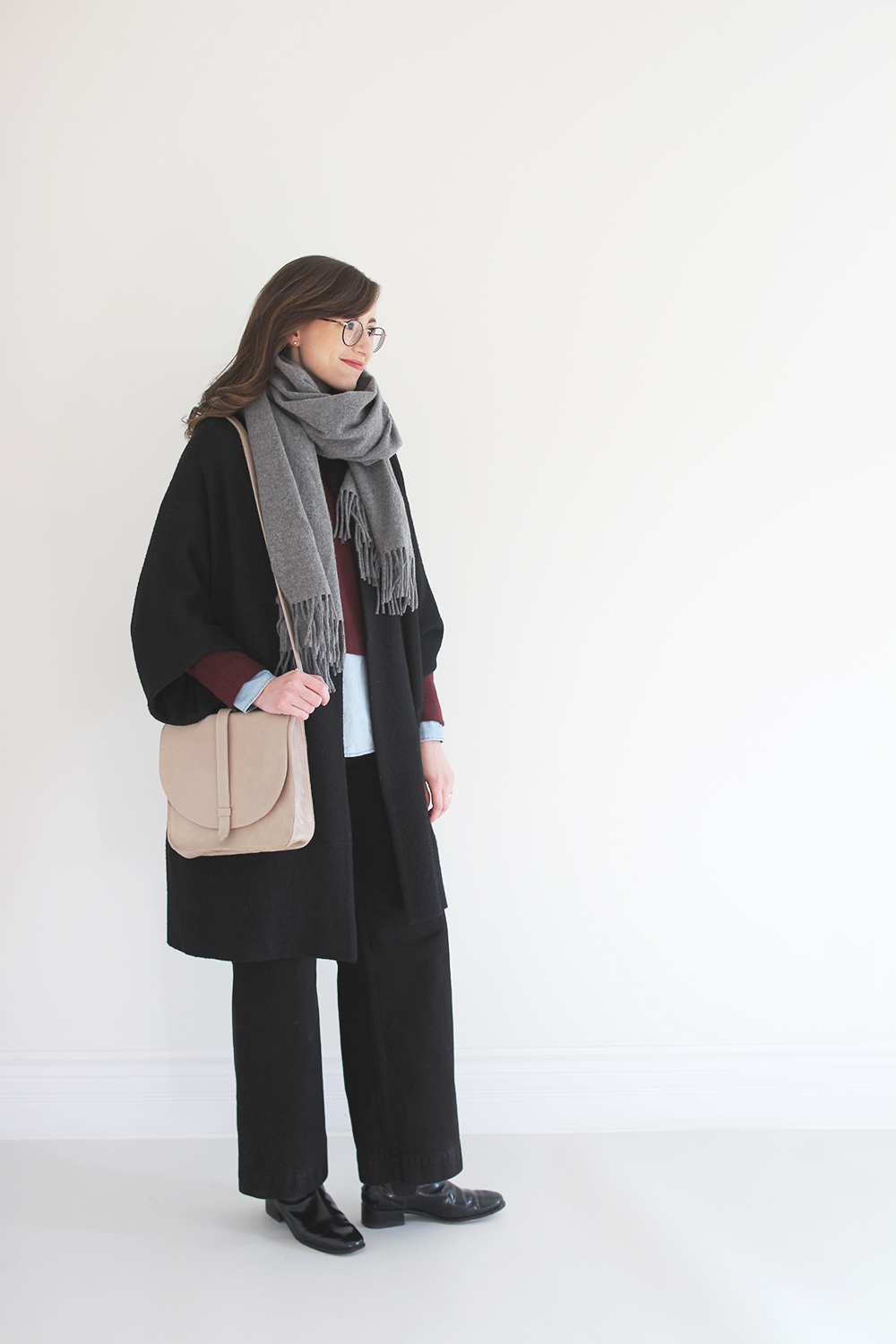 ---
OUTSIDE
Again, I'm loving the outside version of this look as much, if not more, than the inside version! I wanted to make sure I wouldn't have to fuss around with tight sleeves or scrunched shoulders so I reached for my cocoon coat to toss over top of this one. Then my big chunky scarf seemed like the perfect way to add some coziness and I love the addition of the charcoal grey.
It's mild and rainy out today so I might have to swap the coat for my rain jacket and wear my Sperry's instead when I walk the pup. Will share more of that on my stories!
---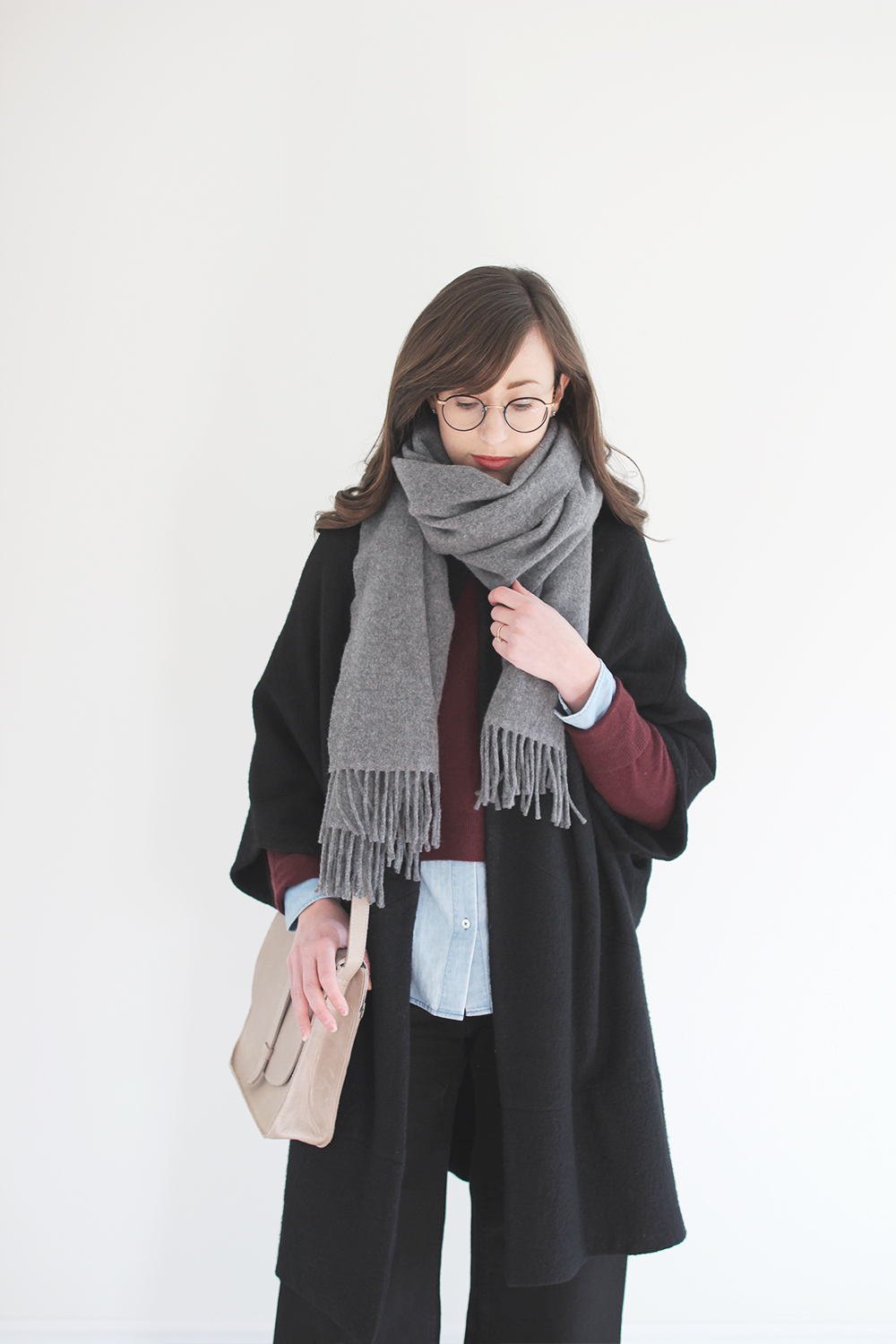 ---
AH! JUST ONE MORE LOOK TO GO! SEE YOU ON MONDAY WITH #10.
Be sure to pop over to UnFancy for Caroline's last couple too!
+ Keep sharing your looks with #Winter10x10 and if you have a sec, check Instagram Stories today for a real-life look at our outfits in action (@caroline_joy + @leevosburgh).
WISHING YOU ALL A WONDERFUL WEEKEND!
---
---
This post is not sponsored but contains affiliate links. When you shop via the links above I may make a small commission from a sale. Thanks for supporting Style Bee! All opinions are always my own.