WE MADE IT! This is the final look from the #Winter10x10 Challenge and it feels so great to have reached the end. There were definitely some highs and some lows throughout this series but it's been a wonderful learning experience and a great way to connect with so many of the incredible ladies who joined in. I can certainly say that both my co-host Caroline of Un-Fancy and I were blown away by the response and the way everyone rallied together to encourage, support and learn from each other. It's truly a testament to the positive power of the female collective. I'll elaborate on this topic a little more tomorrow when I share all my personal #Winter10x10 findings, the insights that really stood out to me and some of my top favourite looks and sentiments that were shared. It's gonna be good! 
But before we go there let's give Outfit #10 a moment because, well, I'll just come right out and say it, this one is my personal favourite! 
---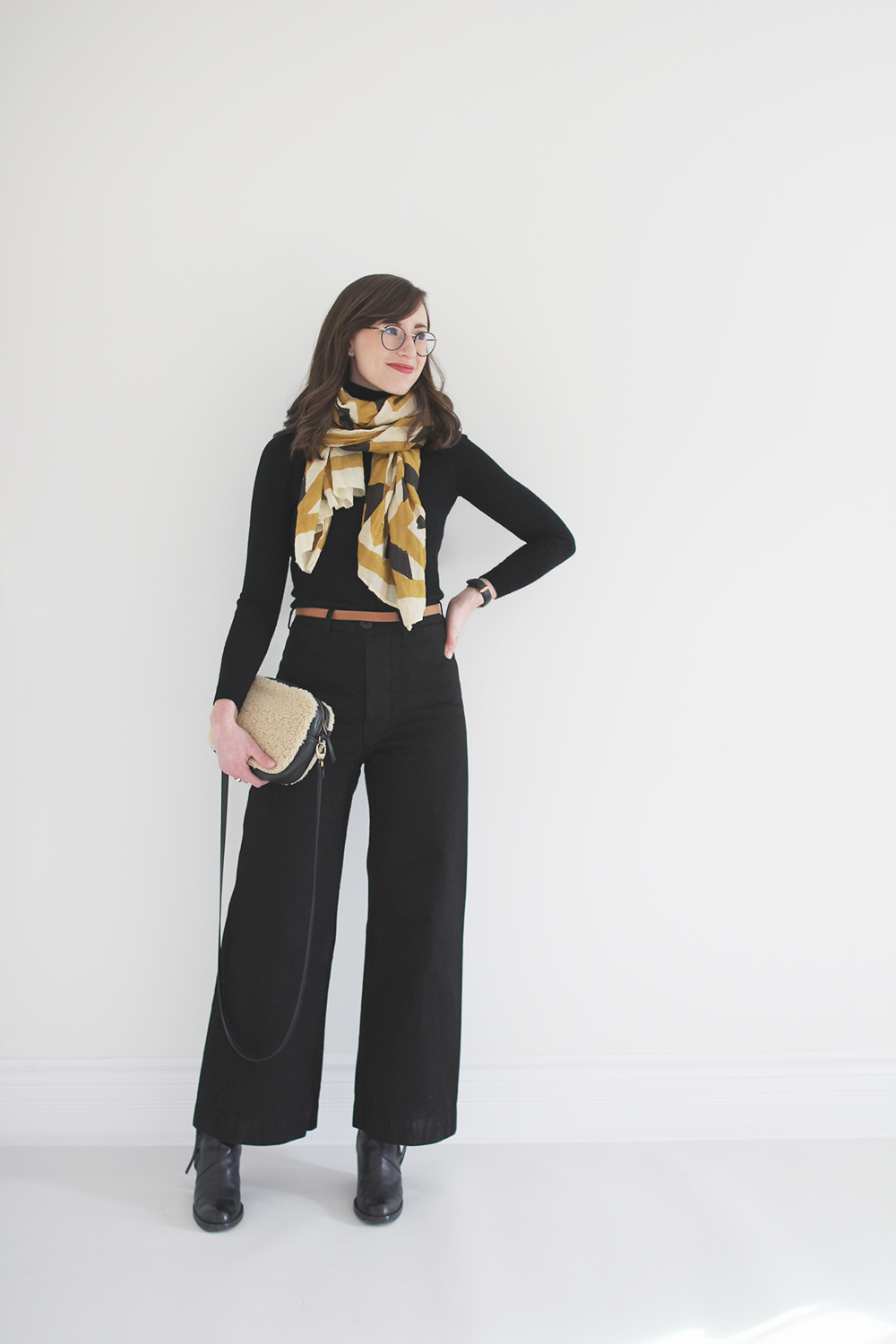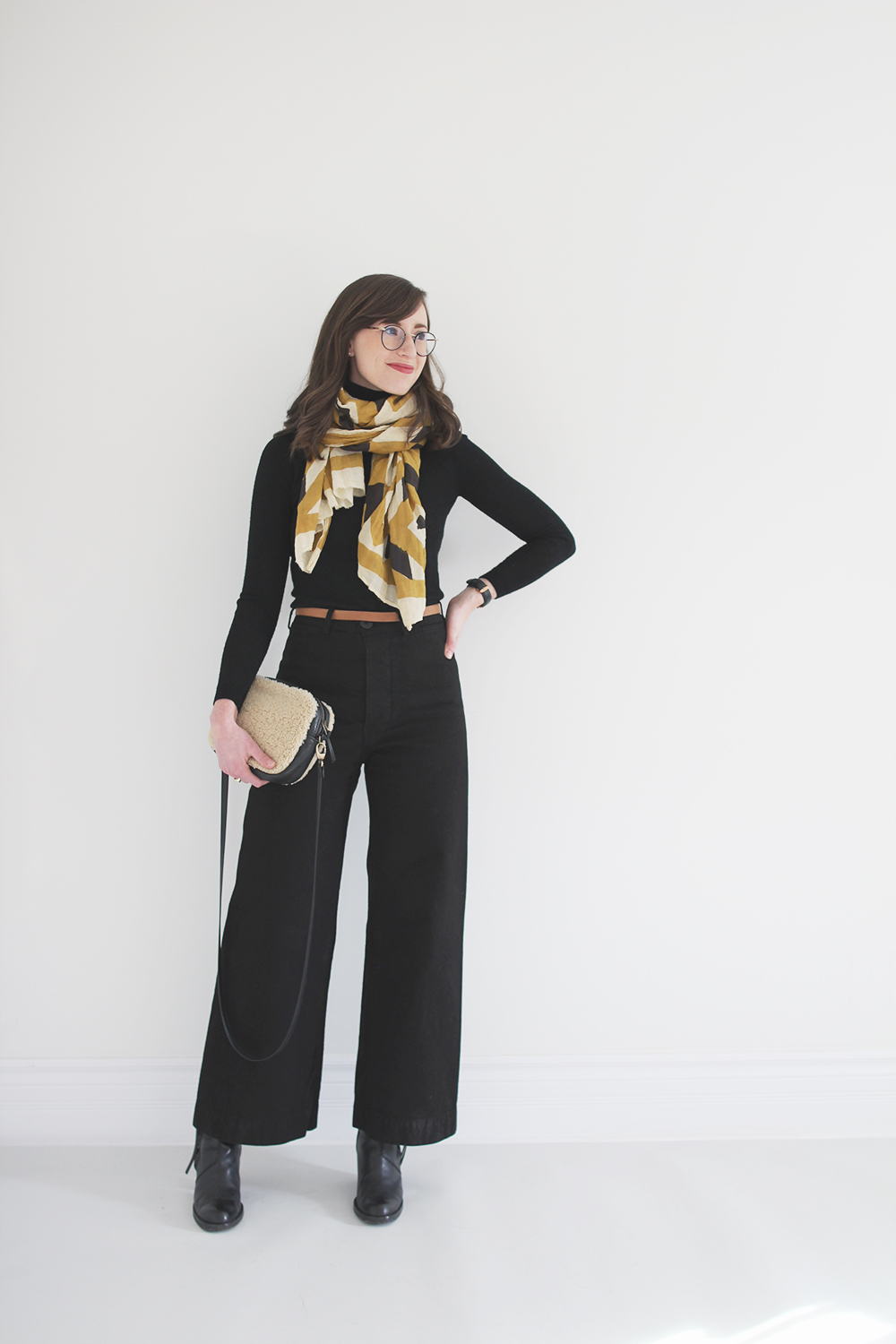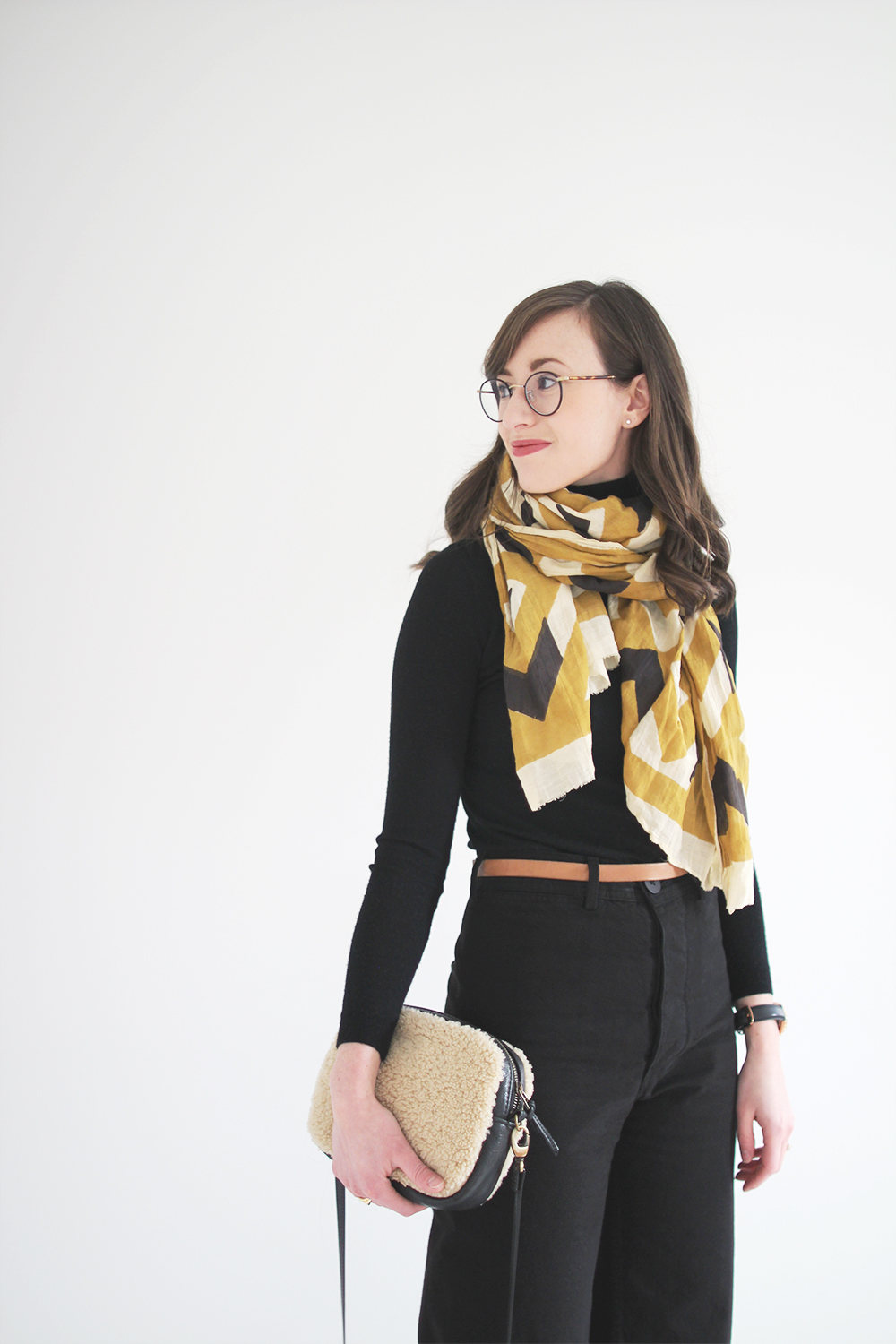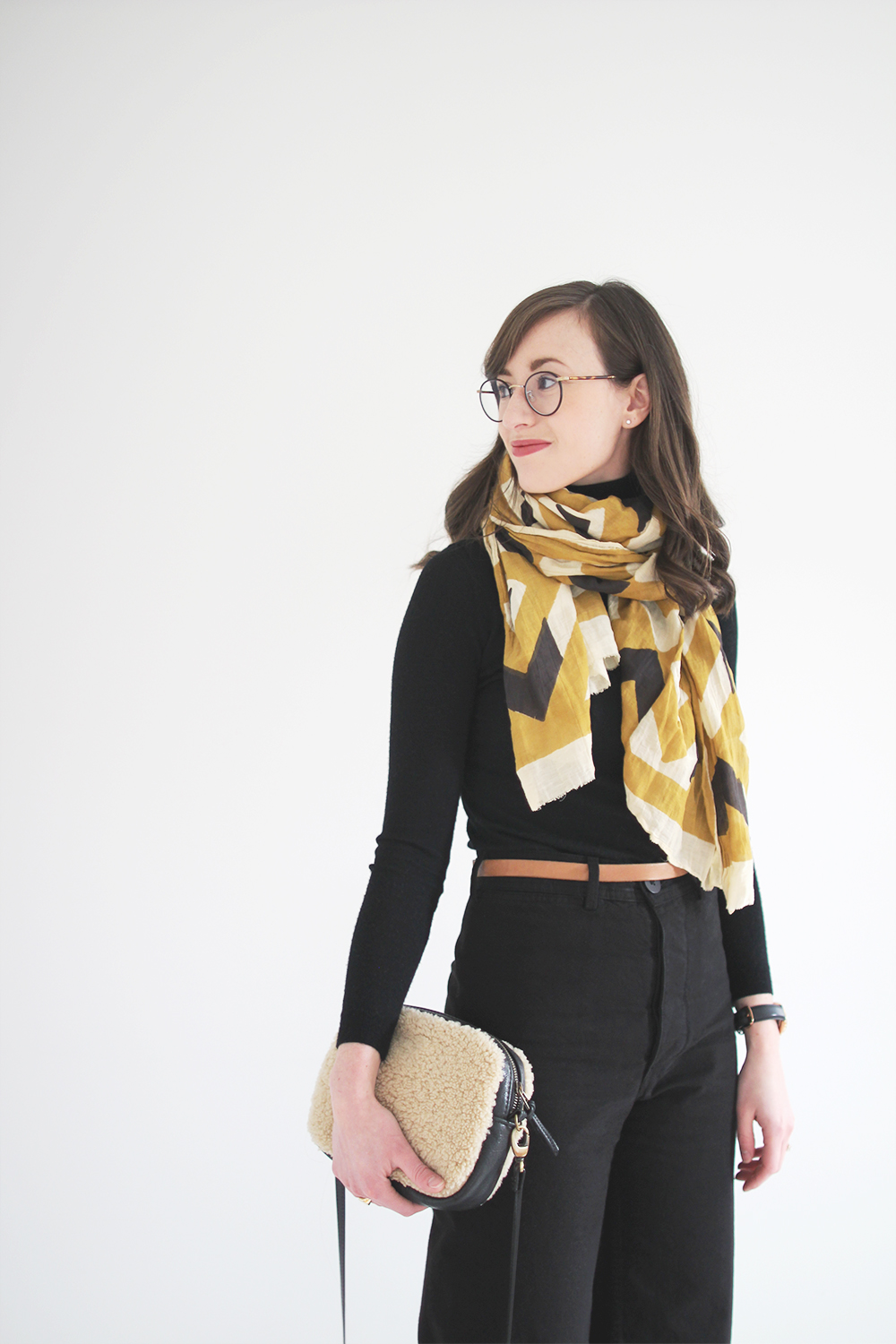 ---
INITIAL THOUGHTS
Oh yep, personal favourite, for sure. Maybe not by a long shot but I'd definitely give this one the win. I suppose it just comes down to how I feel, and in this outfit, I feel my absolute best. It's sophisticated, minimal and stylish while at the same time still being totally practical, comfortable and applicable for all my usual activities.
What this look has taught me: I've come to acknowledge that I really like a fitted or at least defined waist. My affection for slimmer tops has also turned a corner which was not something I'd anticipated. I love an oversize shirt, no question, but in the Winter I prefer something closer to my skin. I know, not exactly a revelation but I think I was in a bit of denial before.
I've also learned that Kamm pants definitely stretch out when you wear them day in and day out. So after this I'll be taking them to my tailor to have the waist taken-in by about 1.5 inches. This was no shock as I'd already done that with my first pair but I thought maybe I could get away without it on these. No such luck! They definitely feel best when worn at the true natural waistline and when they fit snug to it. I also learned that if I wash them inside out, in cold water and give them a super gentle/low tumble dry for about 20 mins they will then air dry nice and smooth and not lose their deep black.
Fashion Fact: My love for black supersedes my frustration with pet hair. I adore my fur babes but I'm not giving up black anytime soon! Luckily it doesn't stick to these pants too bad, but this merino turtleneck is another story. Note to self: keep the lint roller stash plentiful. 
This colour palette also has my heart. Black, amber and whiskey with some light neutrals thrown in is one of my absolute winter favourites.
This is one of a few looks from the challenge that I can't wait to repeat again soon! In fact on Saturday night I wore my light Kamm pants with a fitted grey turtleneck and my Pistols and loved it.
---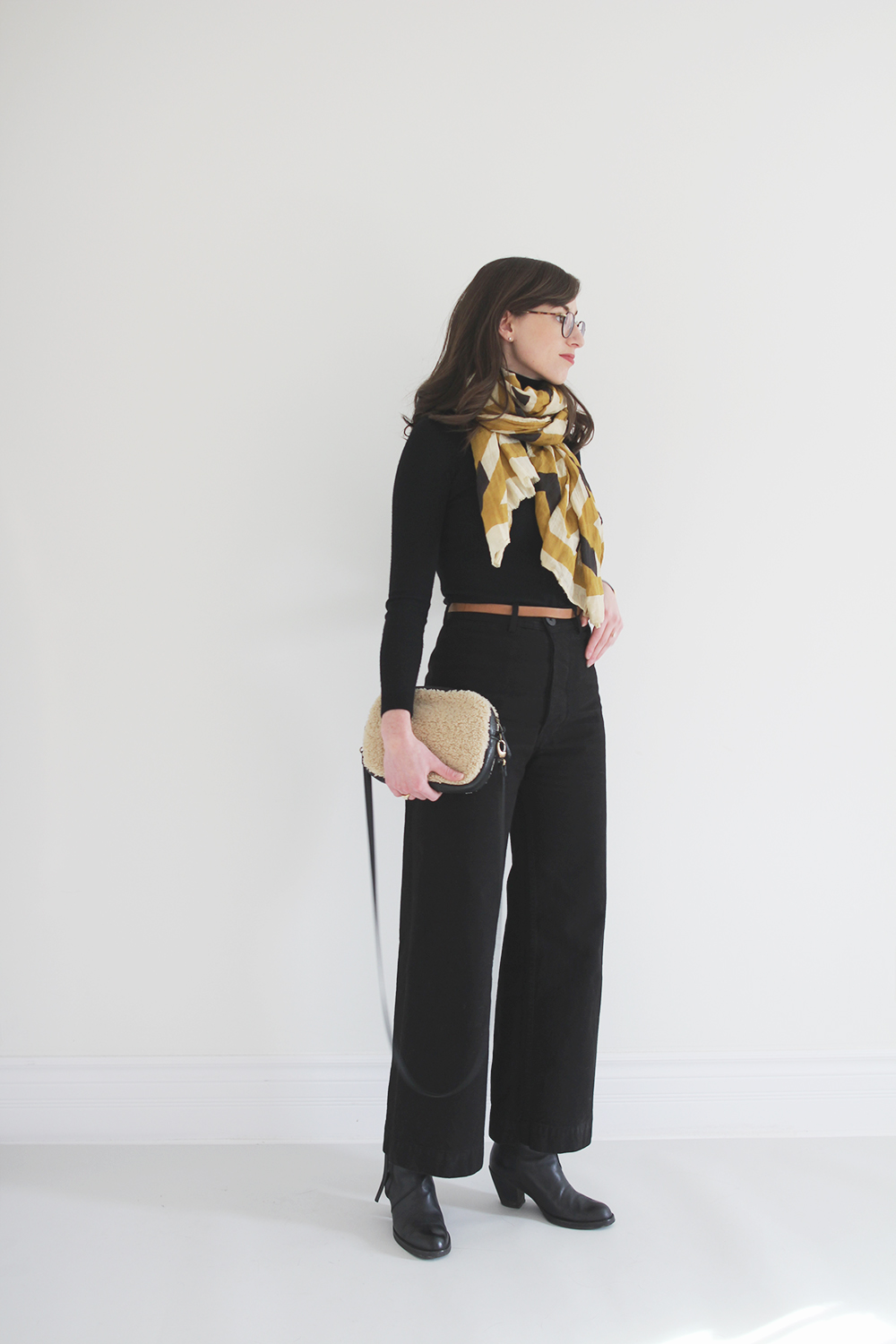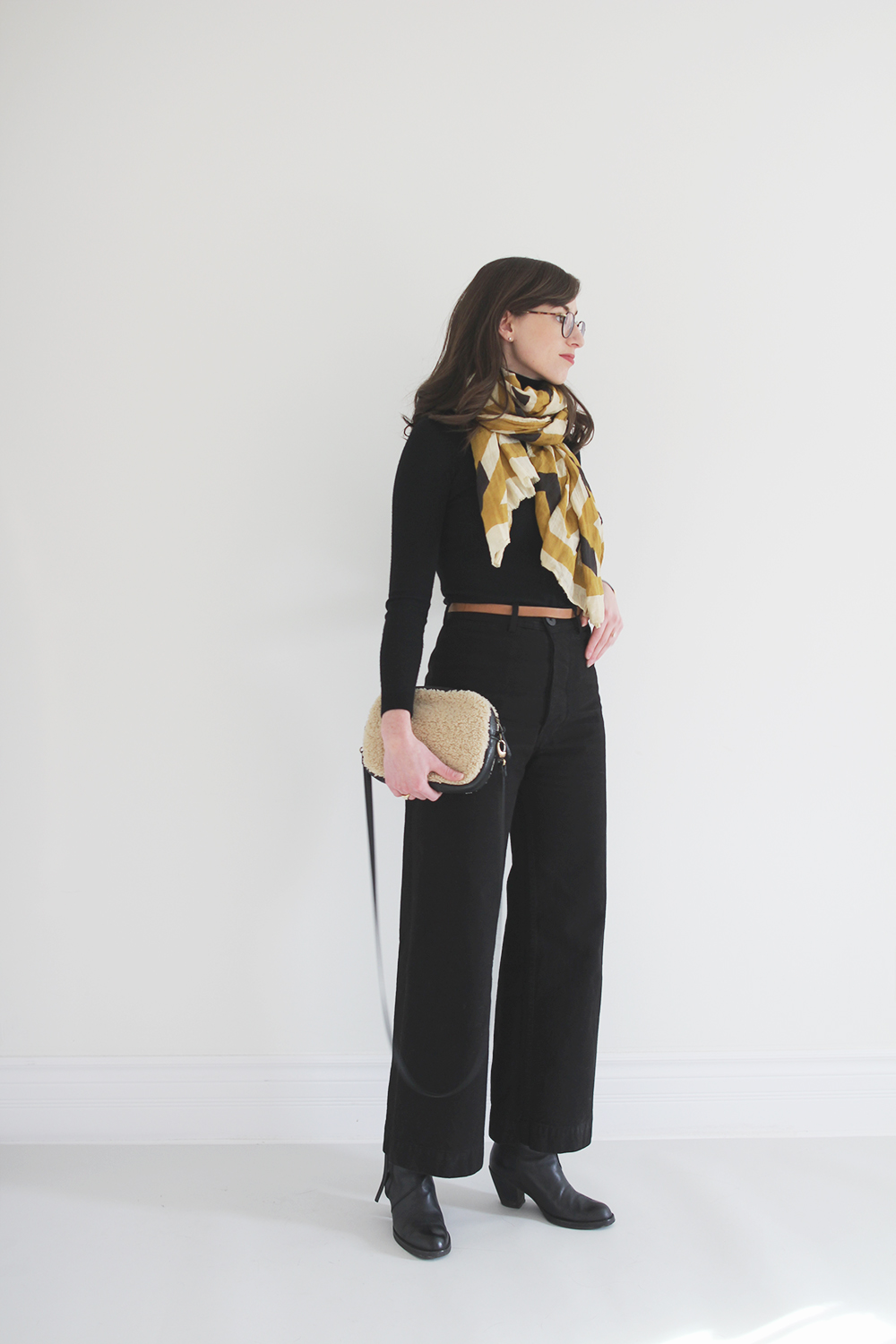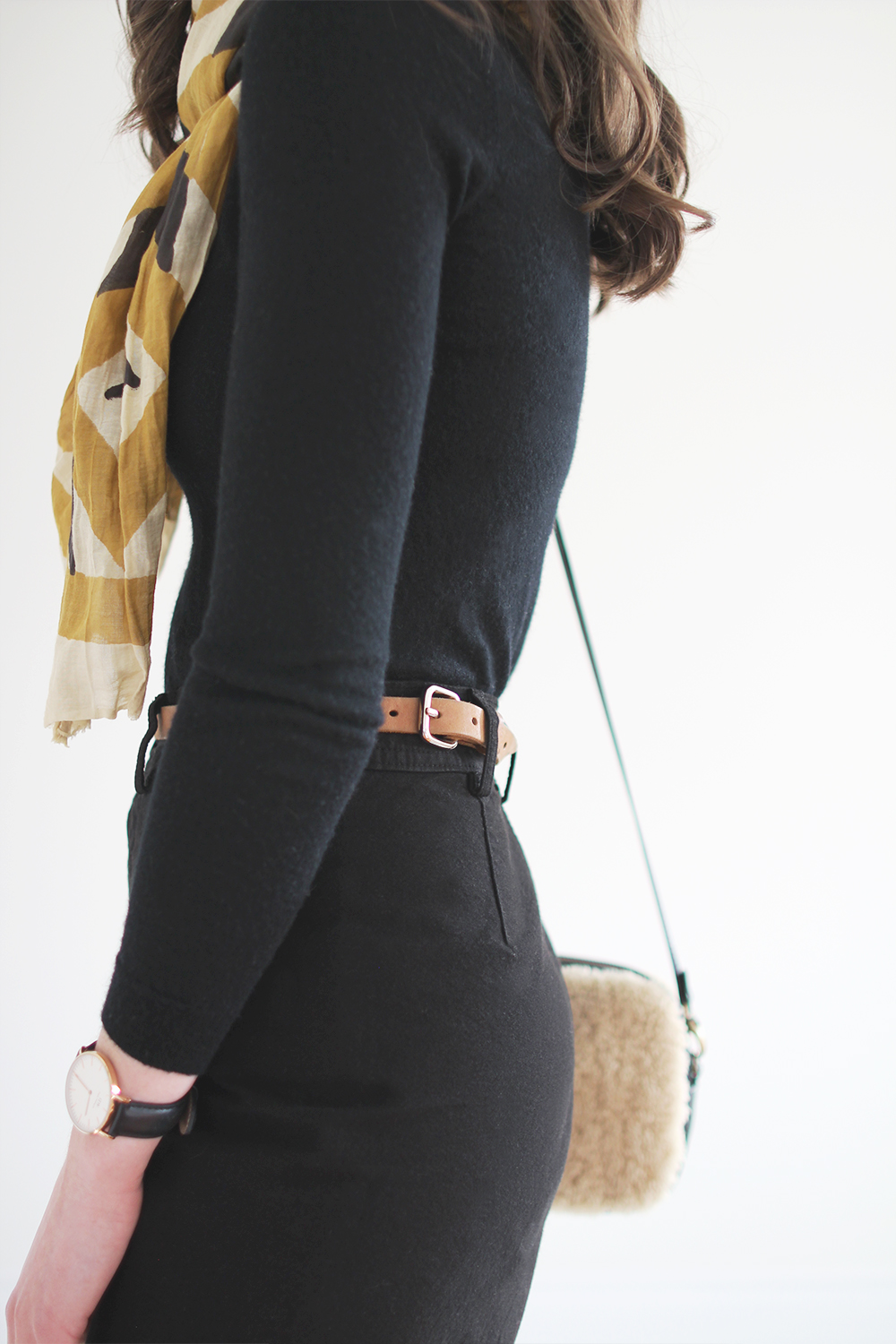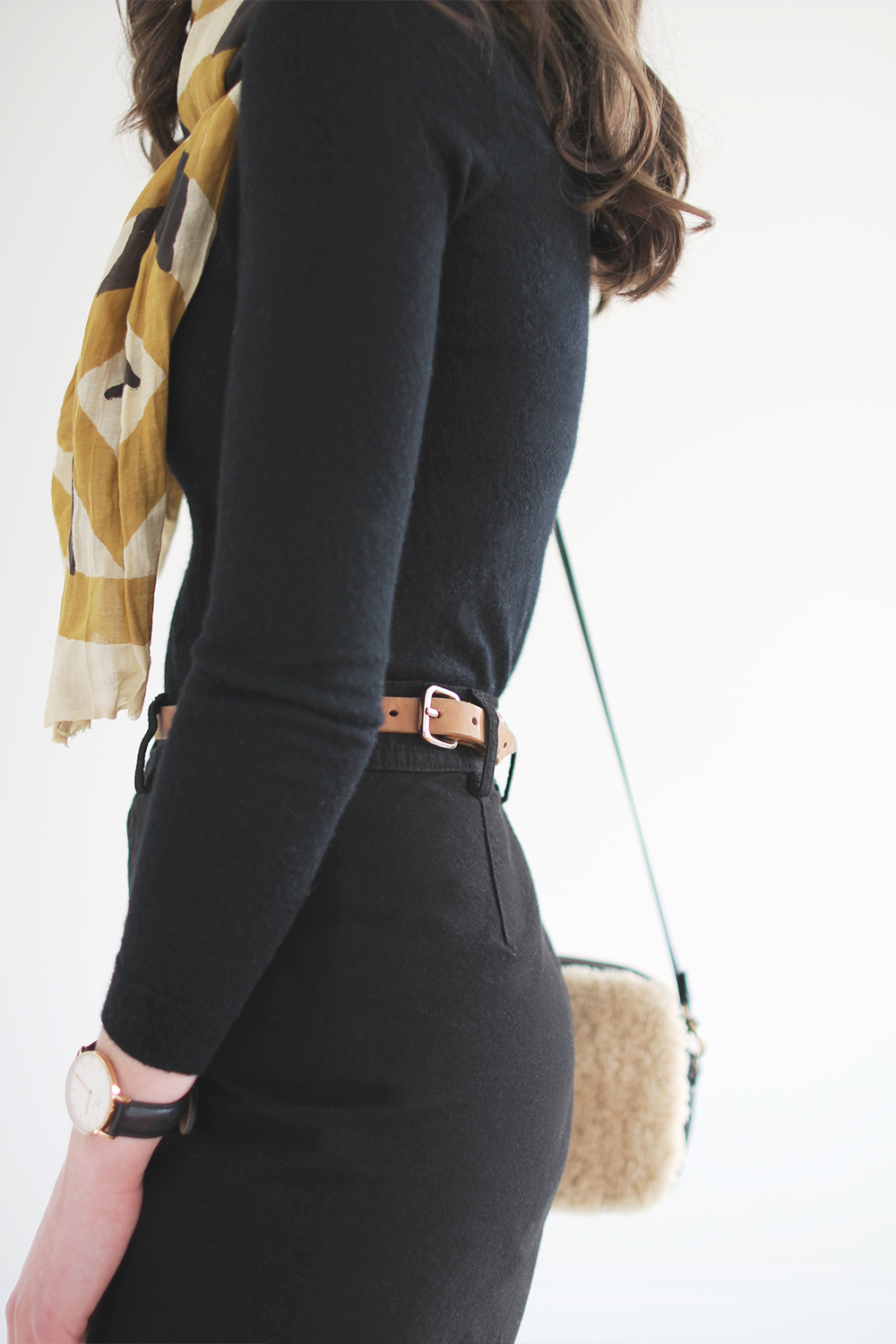 ---
STYLE + FIT DETAILS
1 | BACKWARDS BELT | So I must admit, I'm pretty much obsessed with this little trick. When you need to wear a belt but want to create a clean, central line on your look, simply swivel the buckle around to the back. Then you're not dealing with any extra distractions like buckles or shiny hardware and it's just a clean piece of leather. I LOVE this minimal look that's also a totally practical solution to keeping your pants up!
This trick would work really well with front tuck styling of shirt that lets the back hang over the belt. Then no one would ever be the wiser! 
2 | WARM UP | All black outfits are notoriously bad ass, but sometimes (actually quite often for me) we want to wear black without it coming across as too harsh. That's when it's time to bring some warm tones in through your accessories. Even just the additional of a brown belt was enough to soften this look. But then when I added the block print scarf and the fuzzy tan bag the vibe changed all together.
When you want to warm up a dark look try adding lighter neutrals in a few different places like a bag, a belt and a scarf. Then the eye jumps around to the lightest items first and the black is just a backdrop instead of overpowering.
3 | POP OF PATTERN | For this look I decided I was feeling a pop of pattern to give it some life and energy. I mentioned how I didn't opt for that approach in Look #5 because I felt like the simplicity was the statement but that one had some contrast between the top and bottom so I felt like that was interesting enough. With an all black base I felt like a little more was needed. I still consider this look to be super simple overall but the scarf makes it unique and inviting.
Sometimes an all-black base just needs a single point of intrigue to keep from feeling bland or predictable. 
---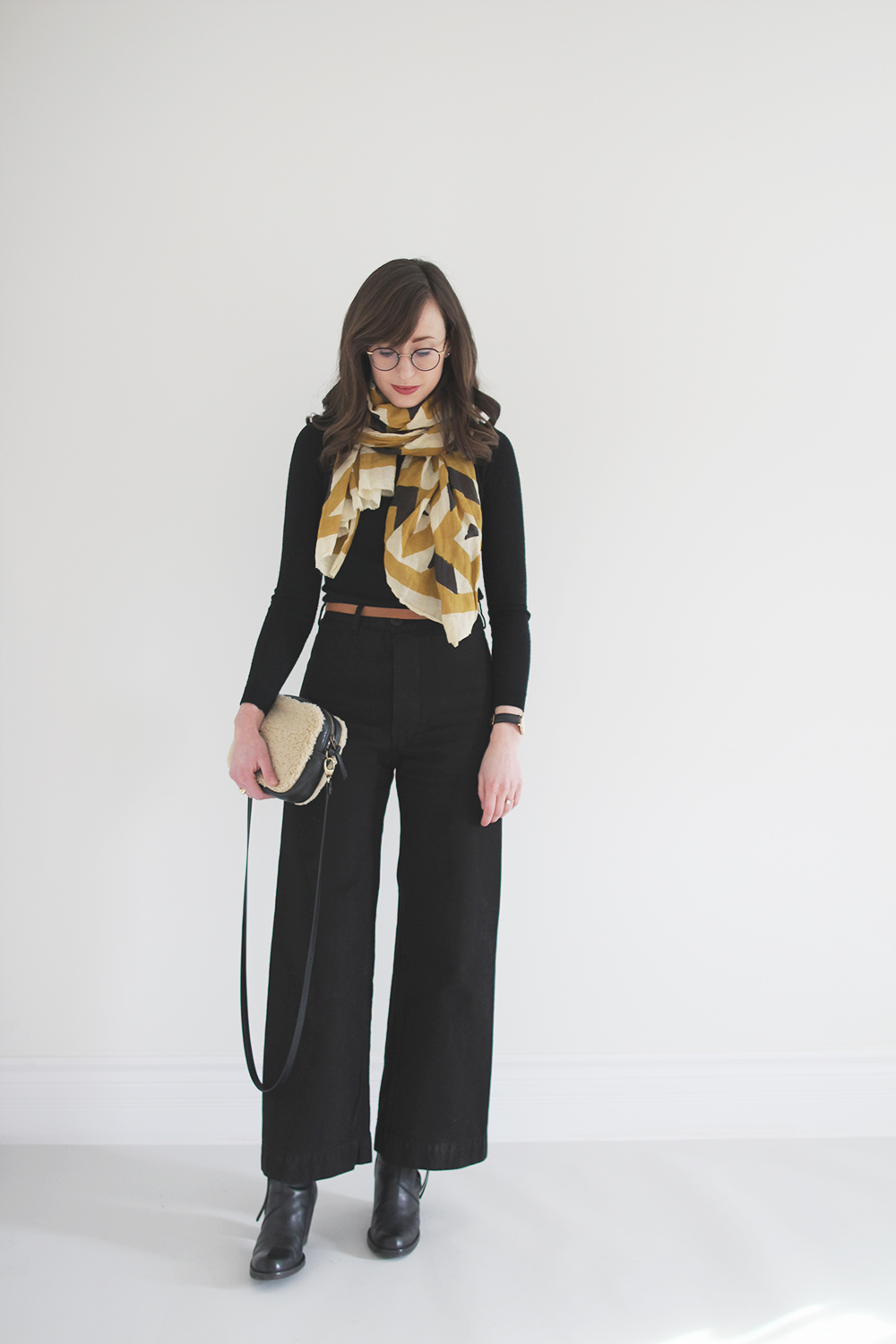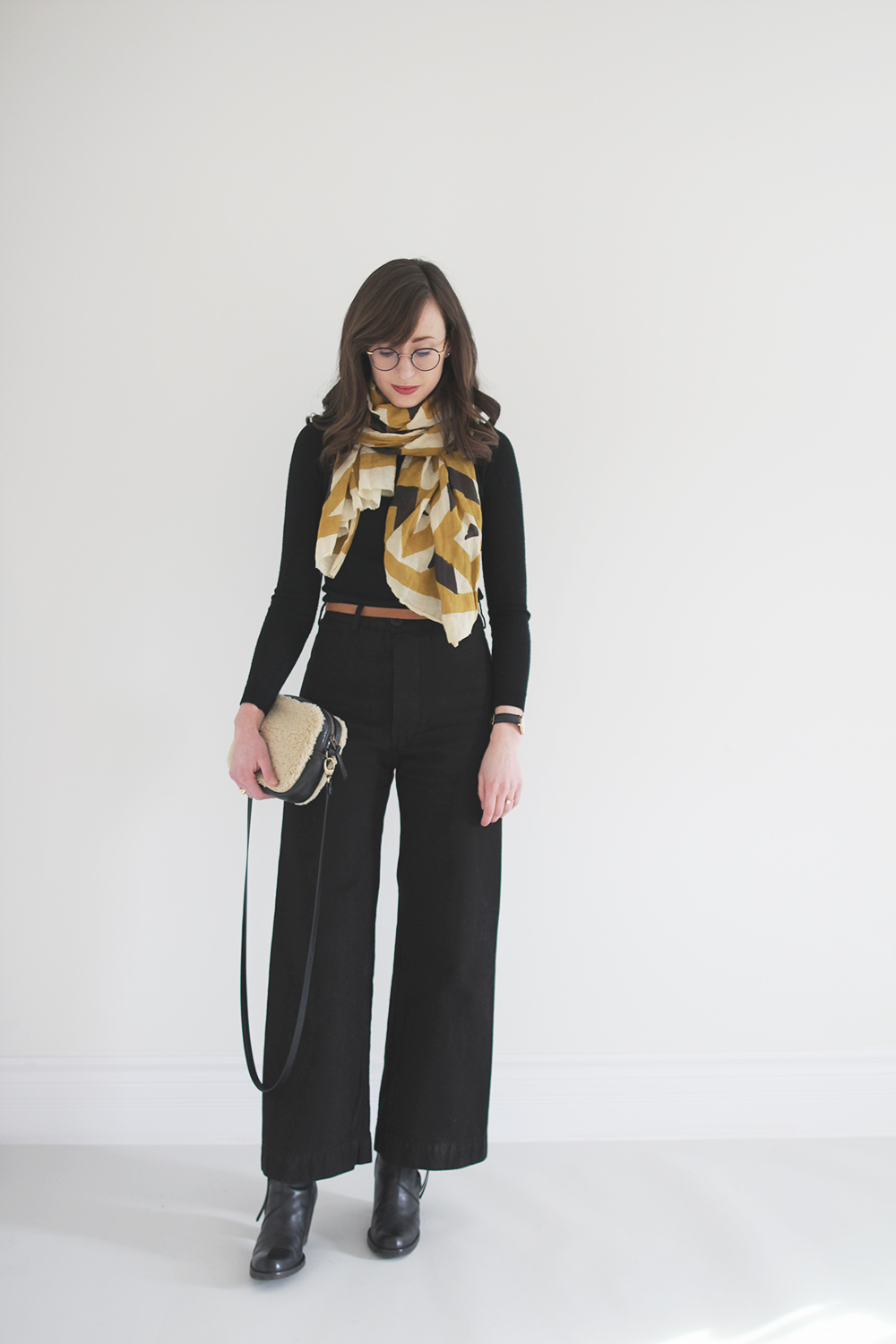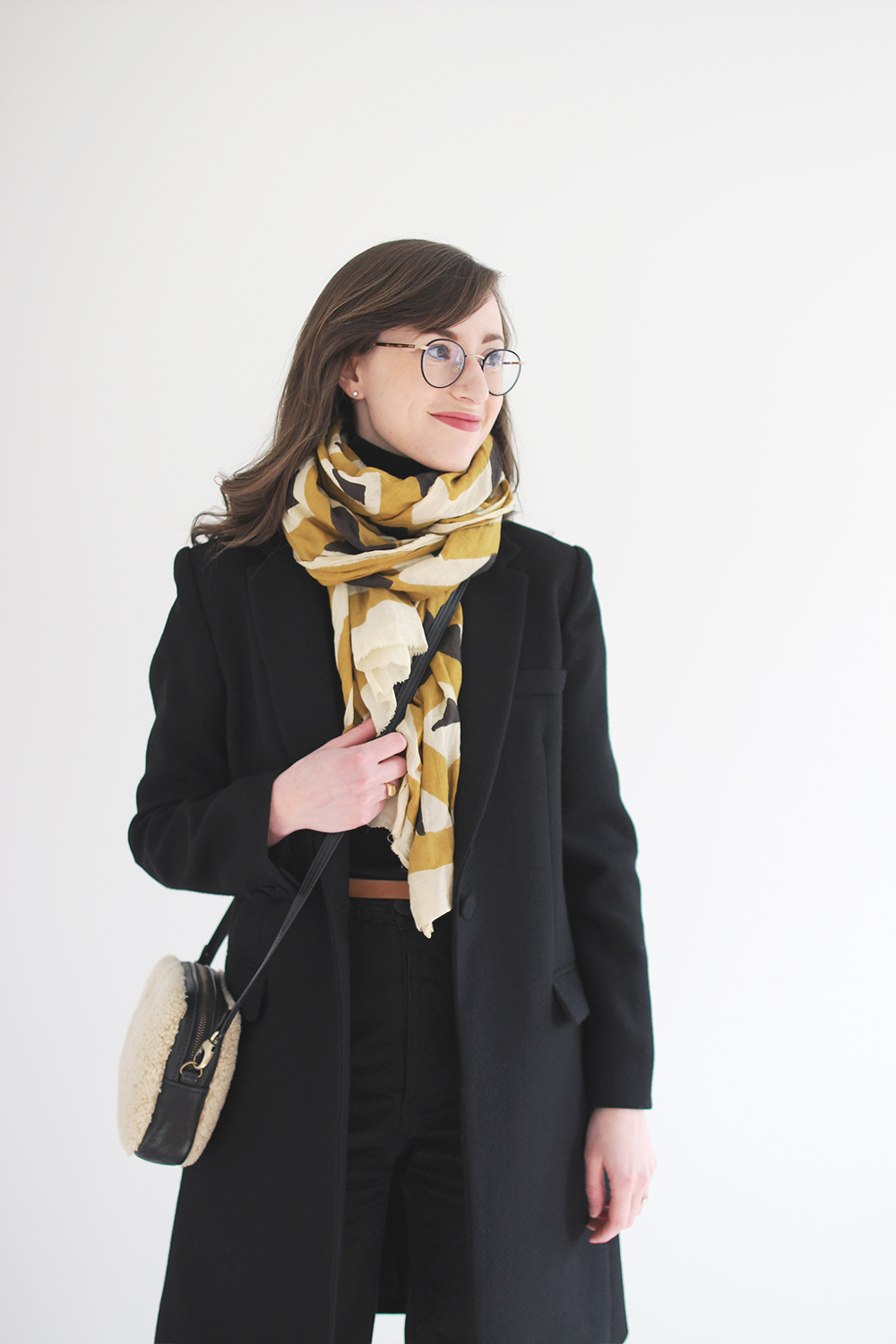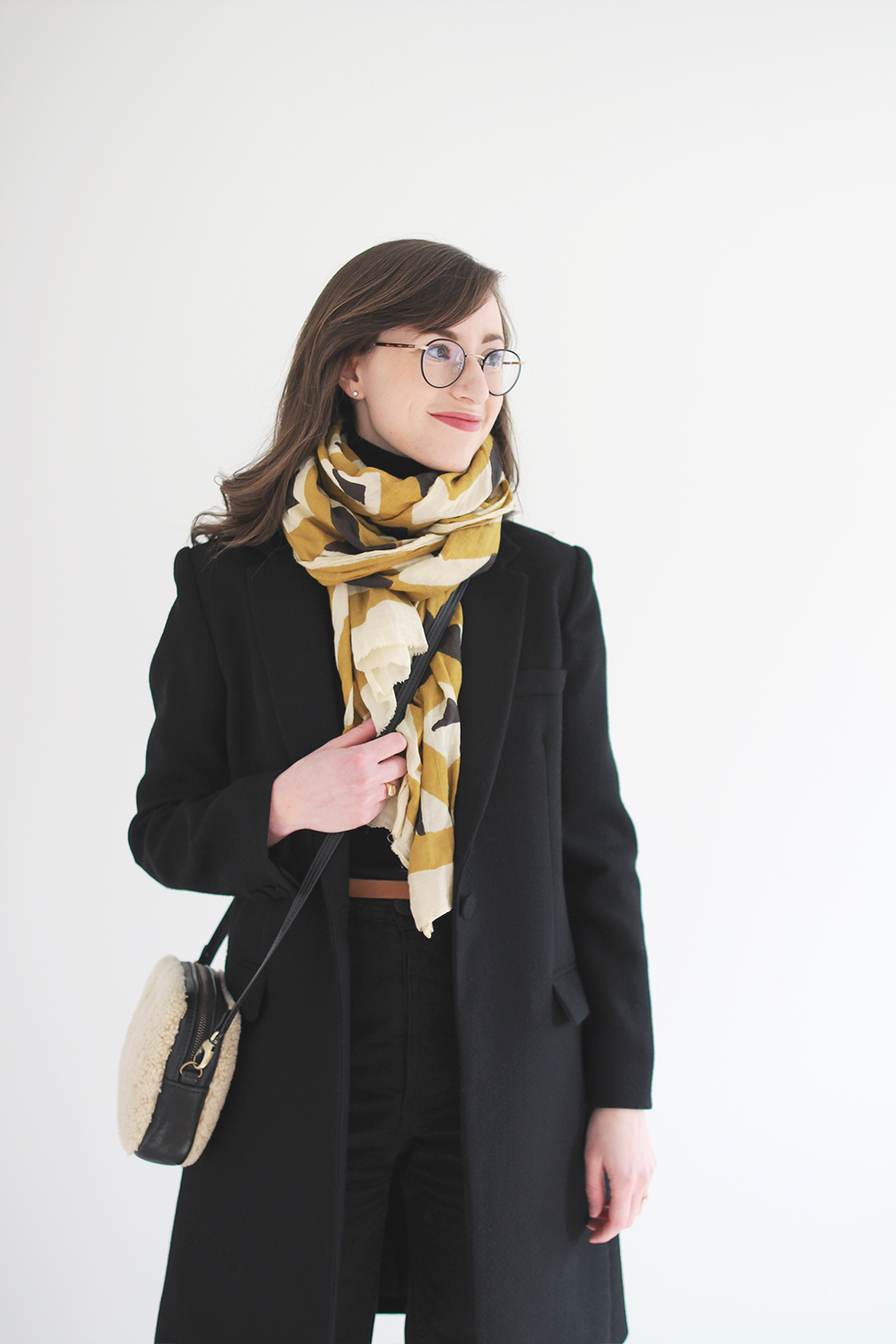 ---
OUTSIDE
It's a bit warmer than our typical January day outside and we'll gladly take +2ºC  with a chance of showers at this point in the winter. I'll simply toss on my black coat to keep the look feeling sophisticated and clean and I'm good to go!
If the shower threats get real I'll switch to my raincoat and grab some gloves and maybe my ivory alpaca toque to walk Dobby so I'm extra toasty. Otherwise I'm all set for a client meeting and a day in the studio.
I'm not going to be thrilled when real winter comes back with flurries and sub-zero temps next week, so I'm making the most of it now!
---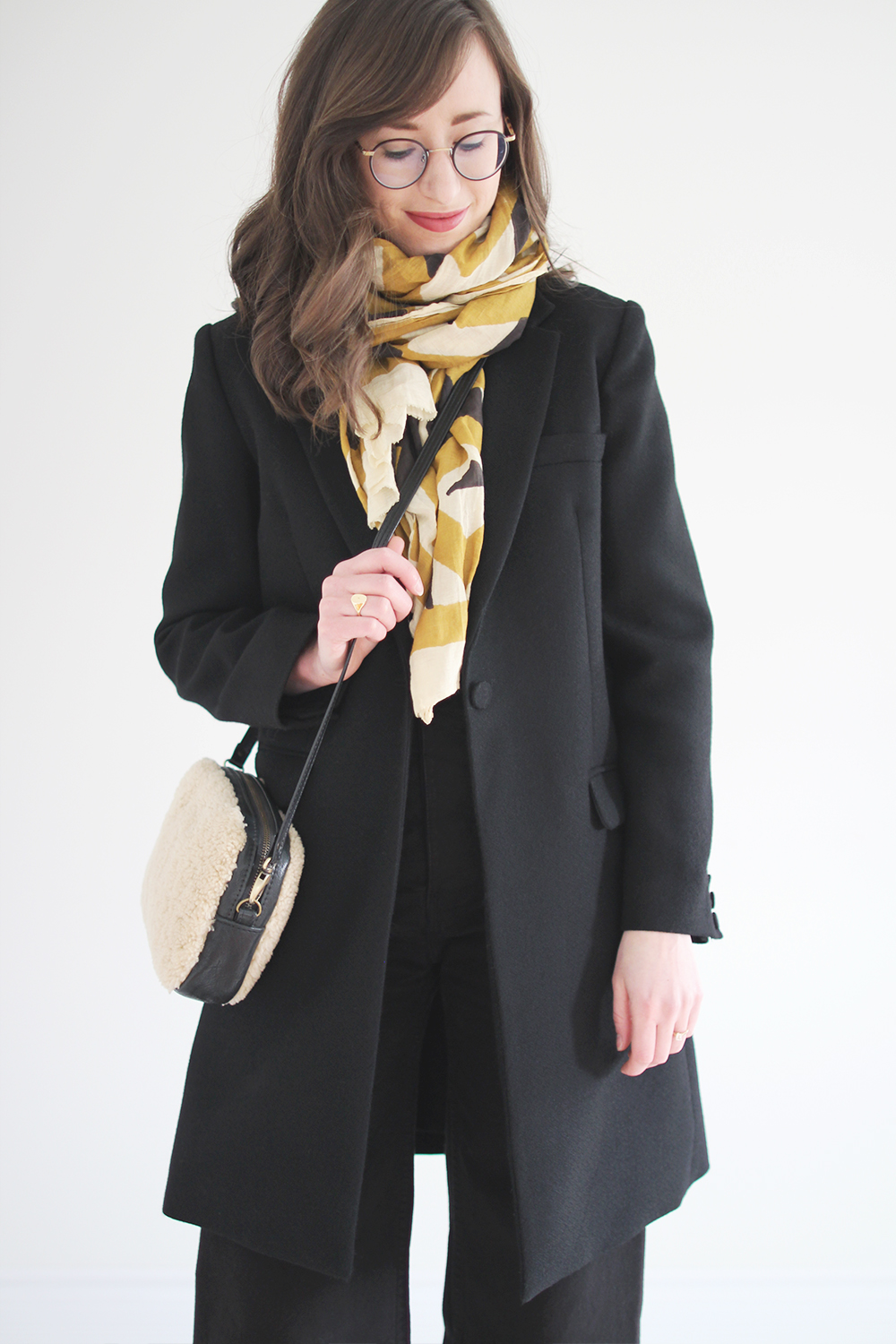 ---
THAT'S A WRAP ON THE #WINTER10x10 CHALLENGE LOOKS BUT STAY TUNED FOR TOMORROW'S FULL RECAP! 
Be sure to pop over to UnFancy for Caroline's last outfit too!
+ Keep sharing your looks with #Winter10x10 and if you have a sec, check Instagram Stories today for a real-life look at our  final outfits in action (@caroline_joy + @leevosburgh).
THANKS TO ALL THOSE WHO JOINED IN AND MADE THIS CHALLENGE THE BEST YET!
---
---

---
This post is not sponsored but contains affiliate links. When you shop via the links above I may make a small commission from a sale. Thanks for supporting Style Bee! All opinions are always my own.