Hope you've had a great week so far! Today there's an extra bit of excitement in the air because our little responsible style community is coming together in a very cool way. I've teamed up with my fellow Canadian, and responsible style enthusiast Morgan of The Garment (@thegamentlife), a couple of my best blogging buds, Caroline of Un-Fancy and Andrea of Seasons + Salt, to spread the word about a Virtual Pop-Up starting today. We're also sharing lots of style inspo, of course!
Now you know, I'm not usually one to promote too much sale shopping but this one is special and a perfect opportunity to spruce up your closet for Spring. The virtual pop-up includes two of my all-time favourite designers, Only Child and Pyne & Smith, a new favourite, Two Fold Clothing, a classic sandal line, Avarcas and a Canadian line that has piqued my interest, Free Label. Each shop prides itself on an ethical manufacturing process and strives to deliver the highest quality product in timeless designs. Obviously, those are a few things I'm into!
But before I say go forth and shop, there's a bit of info, some sage advice on sale hopping and some looks to inspire any Spring closet additions you decide to make. Today's post will cover:
All the info you need to shop the Pop-Up and receive 10% Off, sitewide on all 5 shops. Yep, you read that right! Spoiler alert it's this code: STYLEBEE1000
My suggestions for shopping a sale without going overboard.
Three fresh, spring looks I put together with three pieces from The Garment Pop-up.
What I plan to do with my commission from this partnership.
So let's dig in! 
---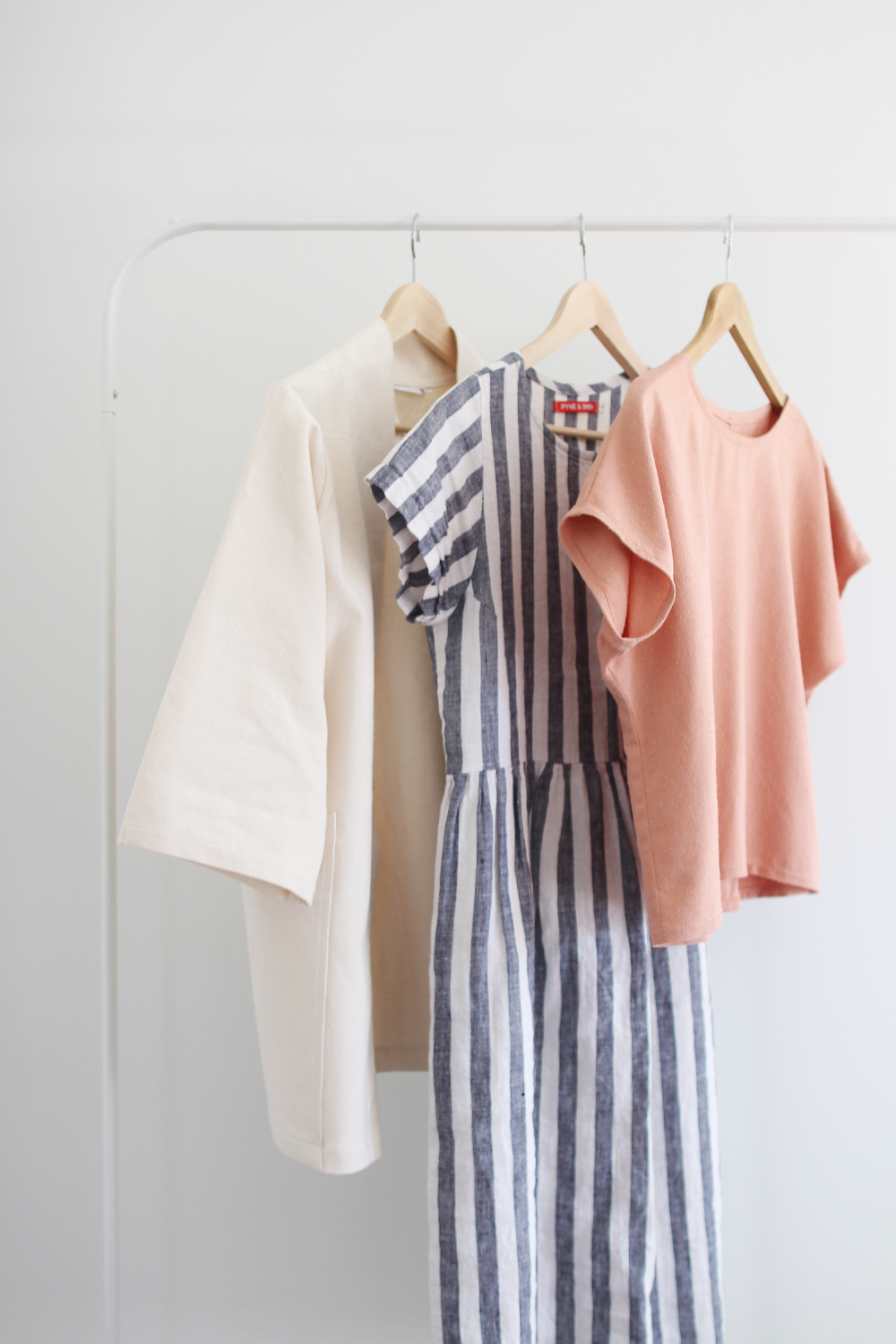 ---
THE GARMENT VIRTUAL POP-UP
---
The Garment Virtual Pop-Up is pretty simple so I'll just run through the facts real quick:
SHOPS included in the POP-UP are:
You'll receive 10% OFF each shop sitewide with the code STYLEBEE1000
Pop-Up is on now through Monday, April 10th.
Morgan of @TheGarmentLife is the founder of the Virtual Pop-Up and has created a capsule guide and real-model size reference for all the items. Morgan's #1000GarmentGoal to connect women with 1000 responsibly made garments is the inspiration behind this campaign and such a great idea!
---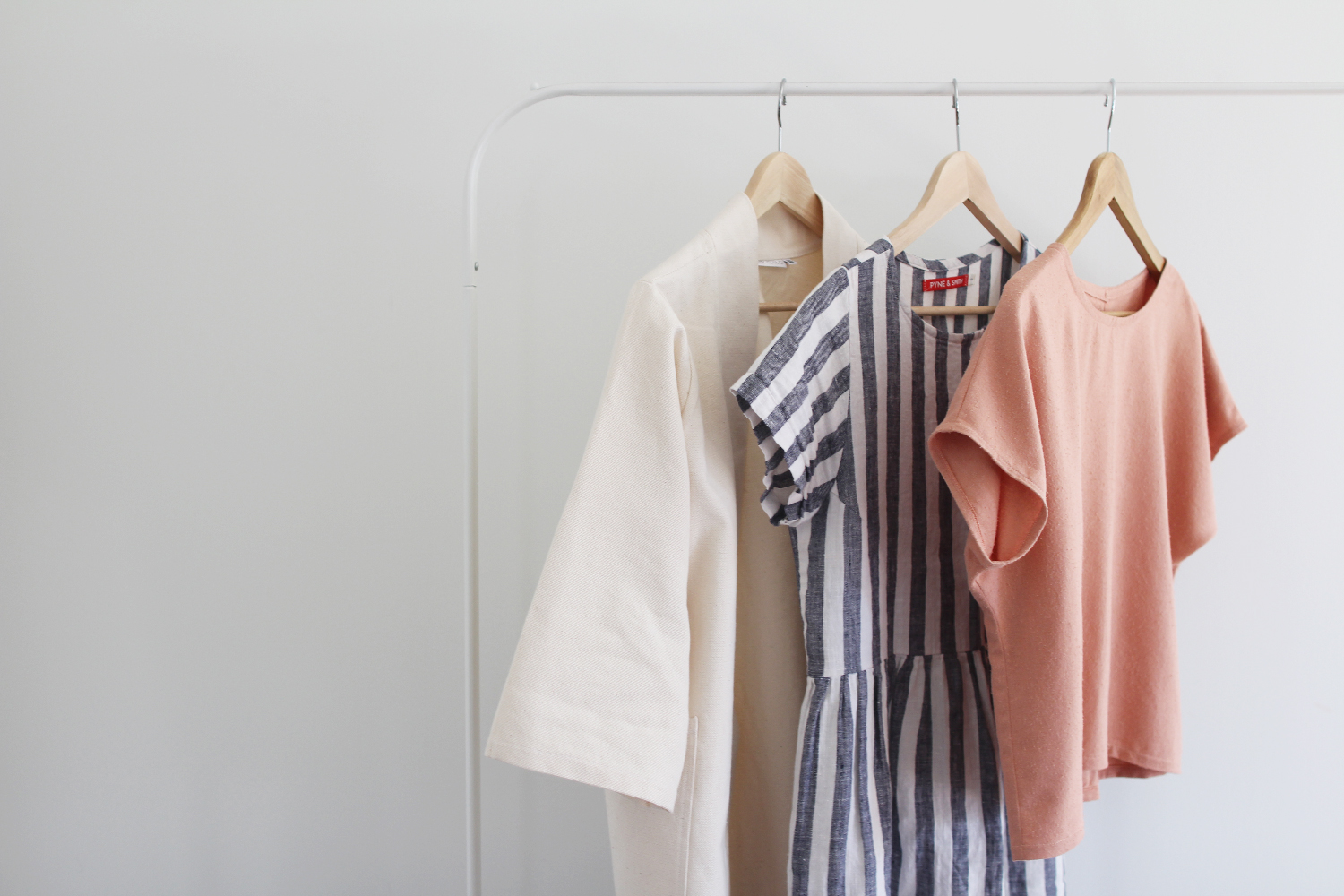 ---
SALE SHOPPING TIPS
---
I'm not going to lie shopping sales triggers my anxiety. Even after several years of working on my impulse buying and making sure all my ducks are in a row before ever hitting 'complete order' I still find that most of my regrettable purchases are made during sales. Thanks to that good ol' fear of missing out syndrome we all know far too well.
BUT at the same time many of my favourite closet heroes were found during sales too! It just takes some self-control and a deep breath. To keep your shopping under control and budget intact, try to follow these steps:
1 | Consult Your Wish List. | Is this item on it? Is it something similar that you'd actually prefer? If not, then I'd consider holding off.
2 | Consider whether you would buy this if it wasn't on sale? | That's the real kicker, right? Sale goggles are non-trivial so don't give into their temptress ways too easily. If it's something you passed over previously then chances are you're not meant to unite.
3 | Sleep on it. | Instead of making the call right away, take 24 hrs (totally an option in this case) and sleep on it. If you wake up thinking about it (or can't sleep) then that's a fairly clear sign to proceed. If it's out of sight out of mind, it's not a must-have.
4 | Ready to pull the trigger? | Ask yourself these questions:
Does this fit my personal style?
Is it within my budget?
Do I have anything else like this?
Can I think of three outfits I'd wear this with?
Can I take care of this?
Remember: There is always life after a sale. | So you didn't get that dreamy little number when it was discounted. Dang but oh-well. No doubt you've still got lots of great options and no one will love you less without it!
With that said, Happy Responsible Shopping! 
---
THREE ITEMS – THREE LOOKS
---

---
These are the three items I chose to add to/pull from my closet (my dress is from last spring) and style for today's fun post! I'm sharing each one in two different looks but honestly the outfit options are pretty limitless with these three gems. If I had a weekend in wine country planned I could basically just pack these looks and be all set. Might be time to plan one of those actually.
I'm really loving this fresh, feminine palette and all the beautiful, natural textures involved. After a long Winter of black and grey I was really itching to soften things up.
Here's why I chose these specific pieces from the entire Pop-Up:
THE CARDIFF WORK COAT | by ONLY CHILD | This piece was easily my favourite from the SS17 collection by my brilliant gal Haley Tucker. The creamy natural cotton colour hooked me immediately and then the shape totally sealed the deal. But the truth is it's one of the pieces you need to see to really appreciate. The cotton is absolutely gorgeous and unlike any material I've ever worn. Somehow it's both soft and sturdy all at once. The wide sleeves are perfect for gliding over all my tricky tops and the length is just right, past the butt but not too long. The big side pockets are already proving super useful, I left my bag at home and tossed my mega iPhone 7+ and wallet in them instead for last weekend's errands. I love that there are no lapels to fuss with and that the collar can fold down if desired. Needless to say this will be a go-to Spring and Summer layer.
FIT: I'm wearing OS and my measurements are 32, 26, 37 for reference.
THE LINEN STRIPED DAY DRESS | by PYNE & SMITH | Even though this exact dress is not available right now (there are similar options!) I had to include it because it's honestly the epitome of a Spring Dress to me. I think I might have even said something as audacious as, 'Everyone needs this dress.' at the end of last year, and I stand by it! The stripes are bold but totally timeless and the relaxed fit and high waistline is universally flattering. With handy pockets and an elegant cut on the sleeves it's pretty much all I want to live in during those hot summer days.
FIT: I'm wearing a S and my measurements are 32, 26, 37 for reference.
THE KRISSY TEE | by TWO FOLD | Hello Pink! But yet, not really, more of a perfect nude/peach/rose which was still a step outside my comfort zone for sure. I'd been eying this perfect raw silk noil, dolman sleeved beauty since Morgan launch her new line and kickstarter this Winter and decided there was no better time than this to test it out. Turns out I'm smitten! The fabric is a dream to wear (like never will you ever want to take it off!) and the cut is so feminine and lovely. I appreciate how the little dolman sleeves flare out and hit the arm at an angle which is highly flattering. The length is great for wearing front tucked, full tucked, loose and even knotted for a cropped look (see outfit #3). The colour is much more versatile than I'd initially thought and works with creams, blacks, navy, denim and I even love it paired with other springy colours like olive green and flax. I'm looking forward to making this little beauty earn its keep this season.
FIT: I'm wearing a S and my measurements are 32, 26, 37 for reference.
I was also majorly tempted by these Pop-Up goodies:
So let's take a look at how I pulled these pieces together for a few cute outfits! 
---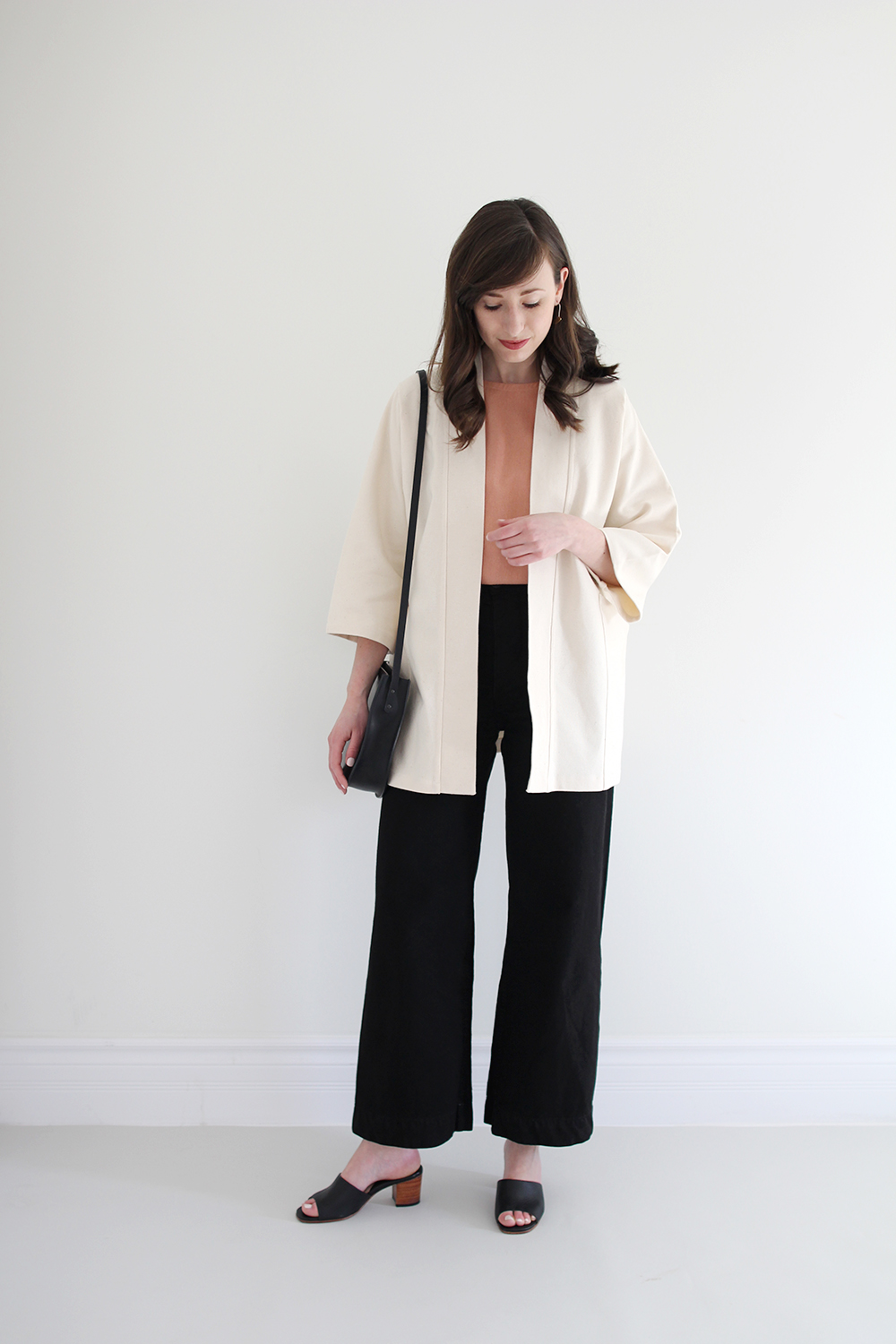 ---
LOOK 1
---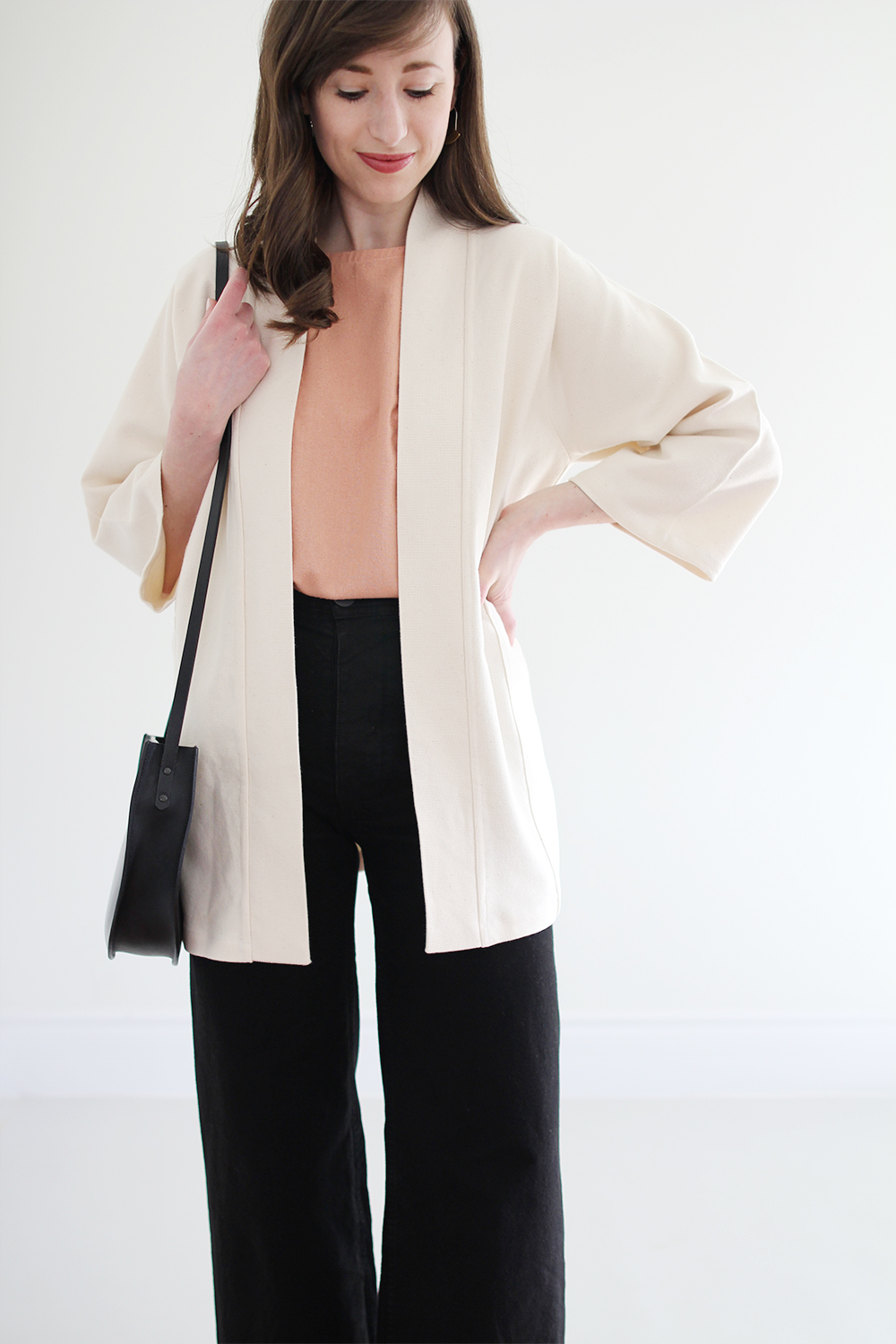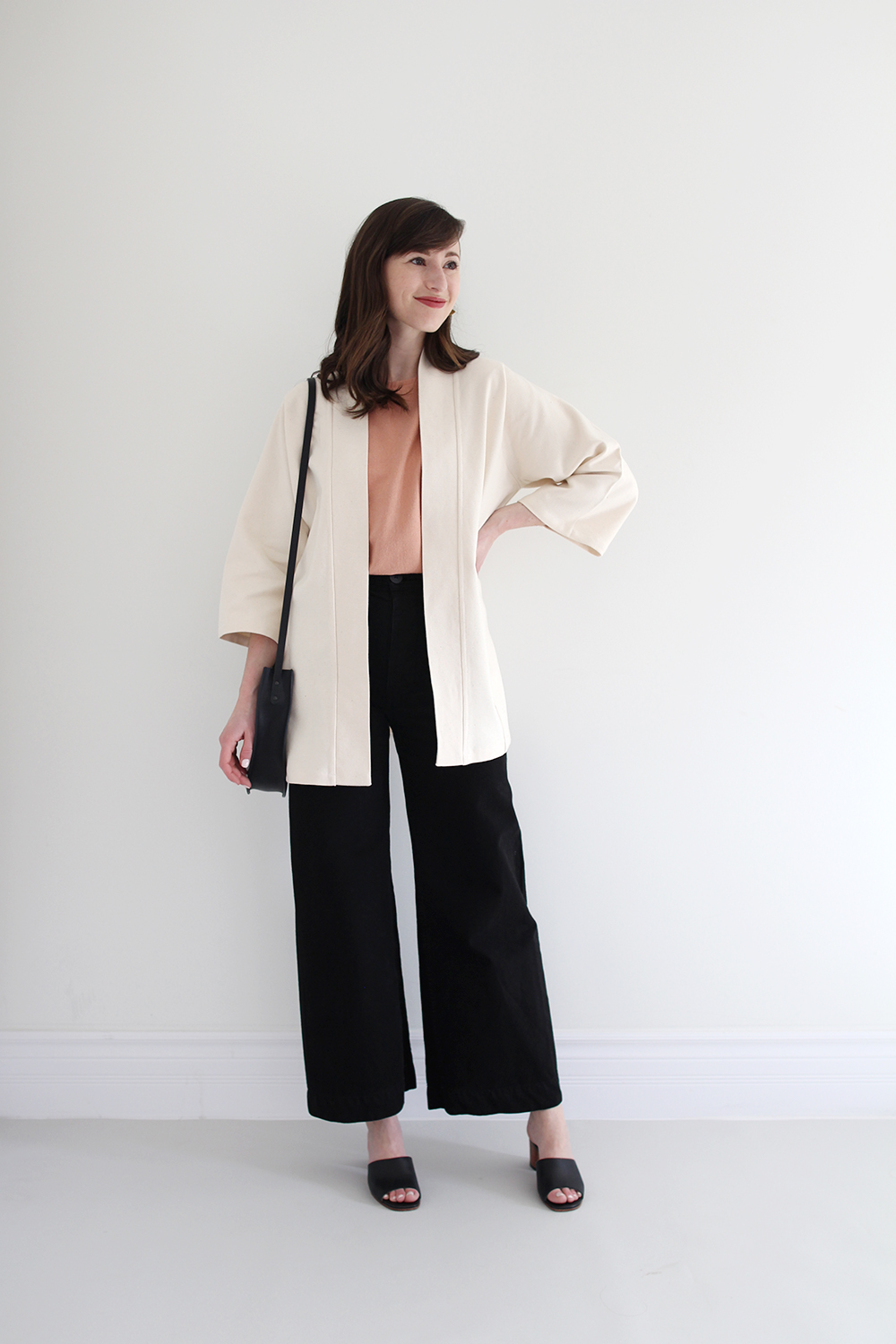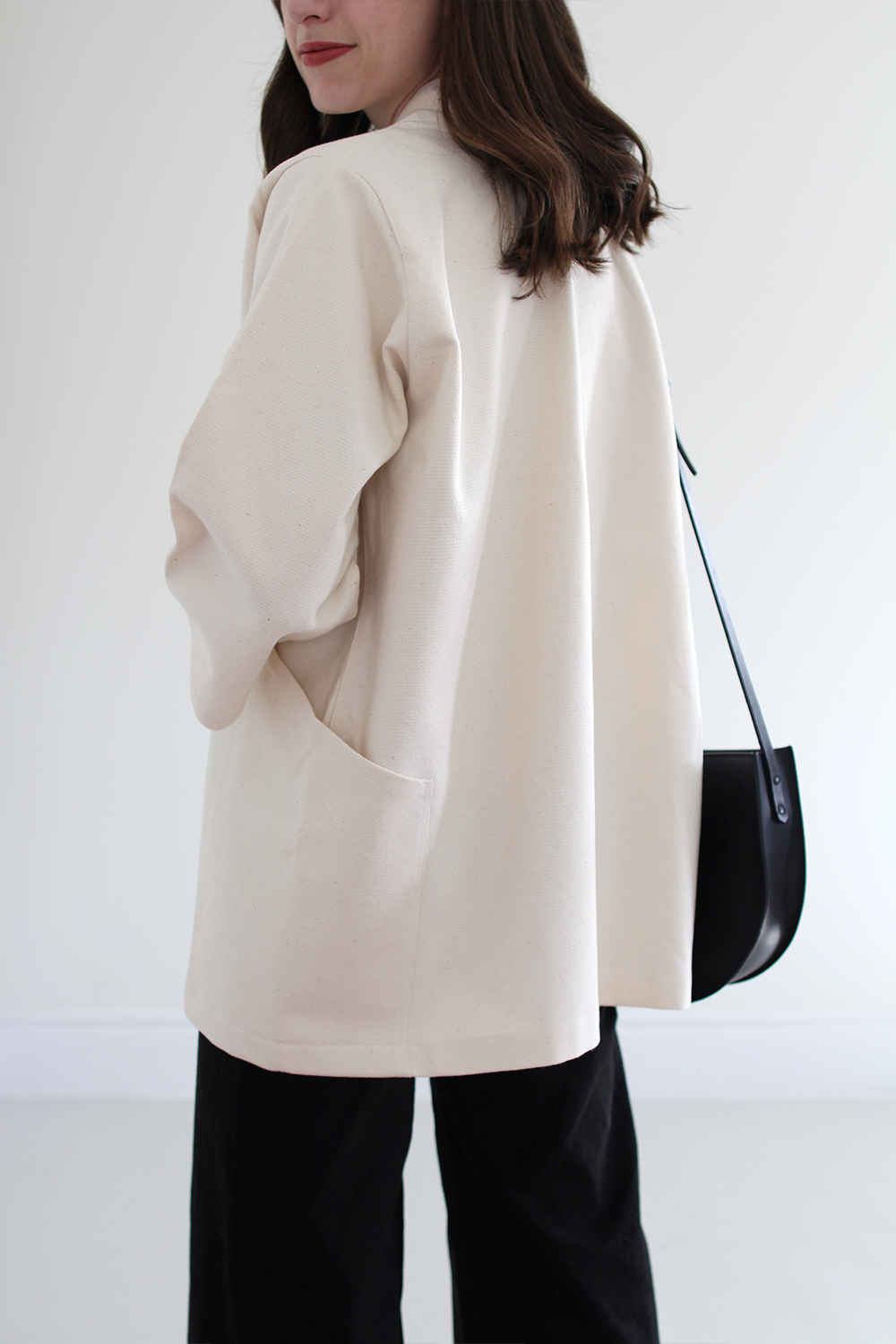 ---
THOUGHTS ON LOOK #1
This look is right up my alley. I'm a sucker for simple but statement making pieces that can be combined to create an easy, elegant outfit. It's super comfy but at the same time not at all average. I'd wear this to any number of events and meetings during the week/weekend. It's totally presentable but not fussy or fancy.
A few key factors that make it work for me are:
1 – CLEAN LINES | The Cardiff coat has a gorgeous shape and I really love how unfussy it is. The Kamm pant also creates a really clean silhouette. The way the collar is sewn on creates a very slimming focal point with two vertical lines (defined seams) which helps to balance out the volume. All these elements work together to create a series of long, sharp edges that create a sleek look.
2 – EXAGGERATED SHAPE | The wide sleeve and the wide leg were something I wondered about but I actually love how they work together. Thanks to sturdy cotton they hold their shape well and fall effortlessly away from the body.
3 – HIGH VISUAL MIDPOINT | AKA, my go-to move. A front tuck on the Krissy Tee creates a line right at my natural waist which helps create the illusion of a really long leg. This way when I take the coat off the look is still pulled-together too.
4 – SIMPLE ACCESSORIES | I kept my accessories very simple by adding a sculptural bag and a pair of minimal slides. Other than my favourite pair of statement earrings I have no hardware anywhere within the look and that keeps the simplicity feeling purposeful and not lazy.
---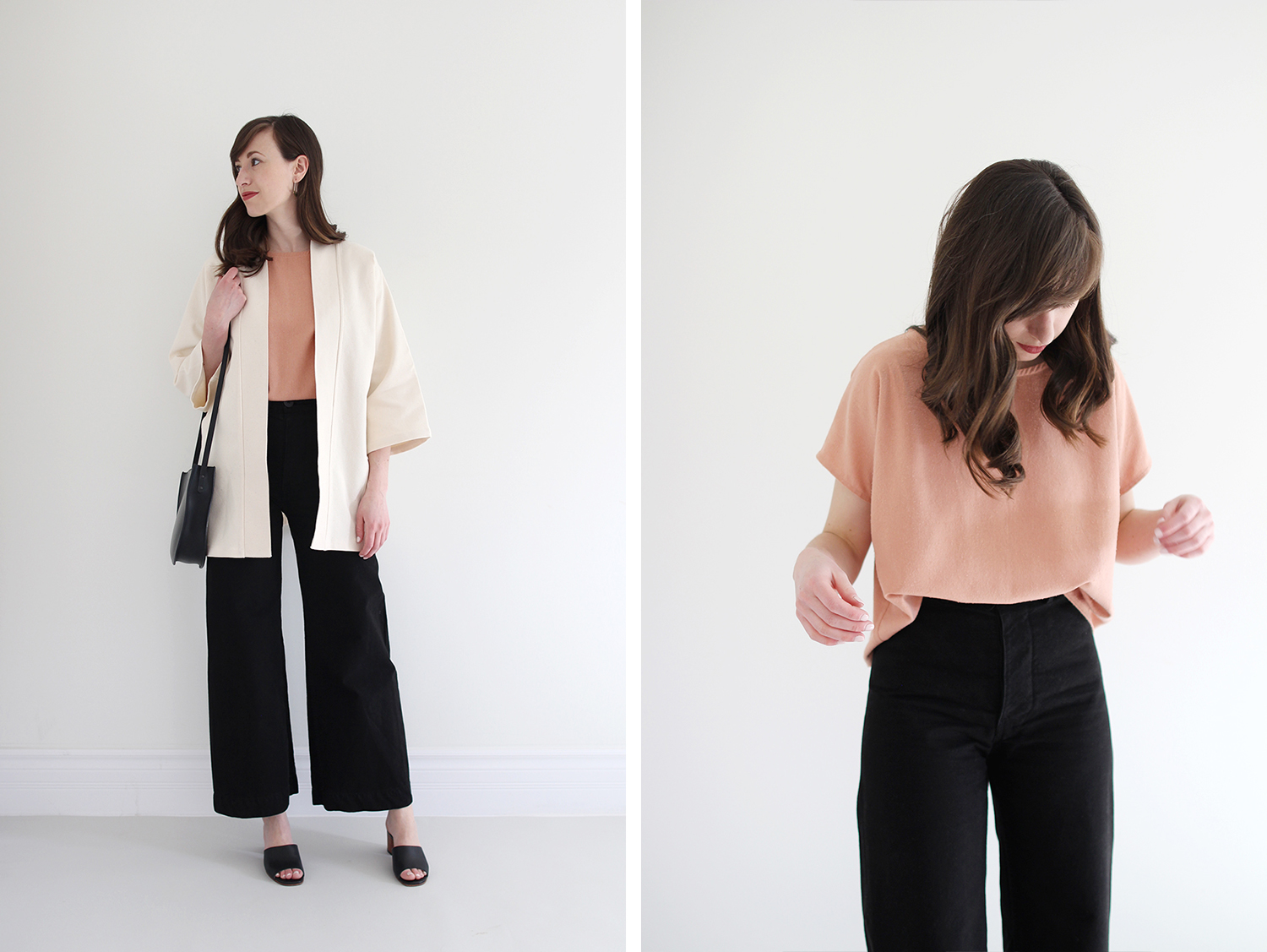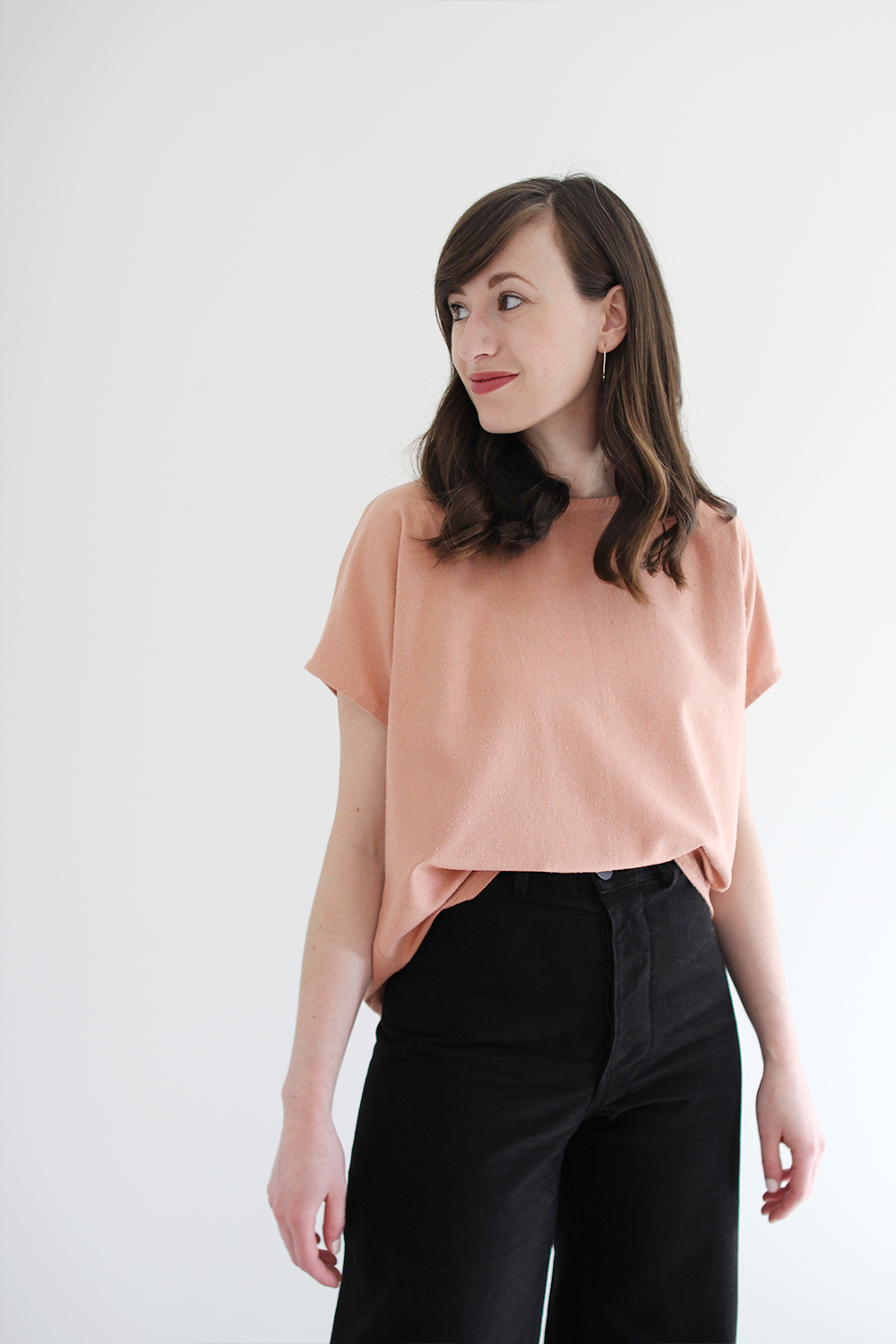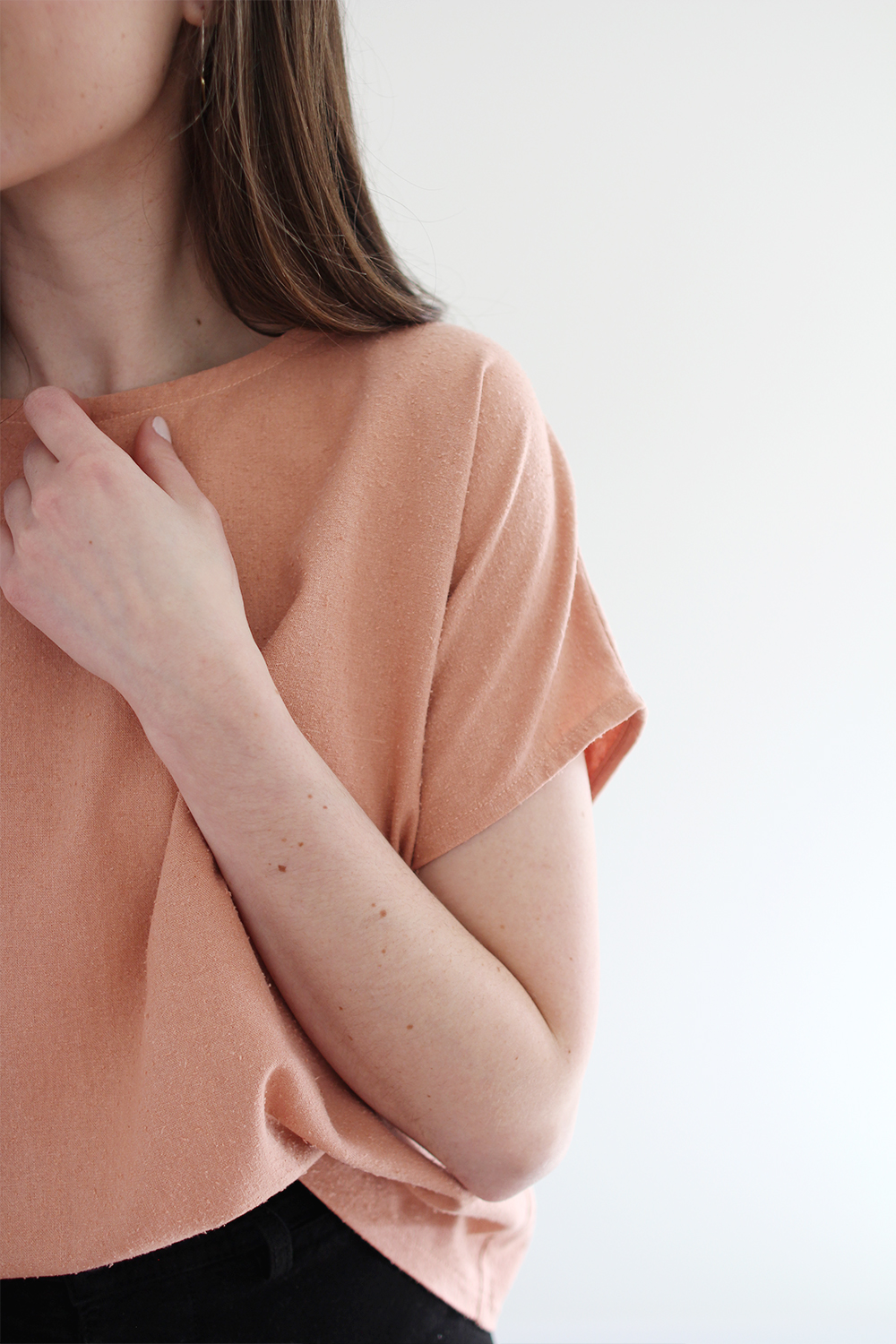 ---
SHOP LOOK #1
1 | CARDIFF COAT | c/o ONLY CHILD | OS | $225 USD | Made responsibly in Oakland, CA. | Receive 10% OFF Sitewide with code: STYLEBEE1000
2 | KRISSY TEE | c/o TWO FOLD | Wearing Size S | $110 USD | Made responsibly in Charlotte, NC. |  Receive 10% OFF Sitewide with code: STYLEBEE1000
3 | SAILOR PANT | JESSE KAMM | Wearing Size 4 (S) | $395 USD | Made responsibly in California. | More colours here. | The JONI PANT by TWO FOLD is a similar cut, $160 USD, and part of the Pop-Up!
4 | ELIZABETH SLIDE | NISOLO | Wearing Size 36 (usually US 7) | $158 CAD | Ethically made in Peru. | Similar in more sizes here, here and here.
5 | ELOISE BAG | THE STOWE | $387 USD | Made responsibly in Canada | $20 OFF when you sign up here.
6 | ARC HOOPS | CLAUSE | $110 USD | Made responsibly in Brooklyn, NY.
---

---
LOOK 2
---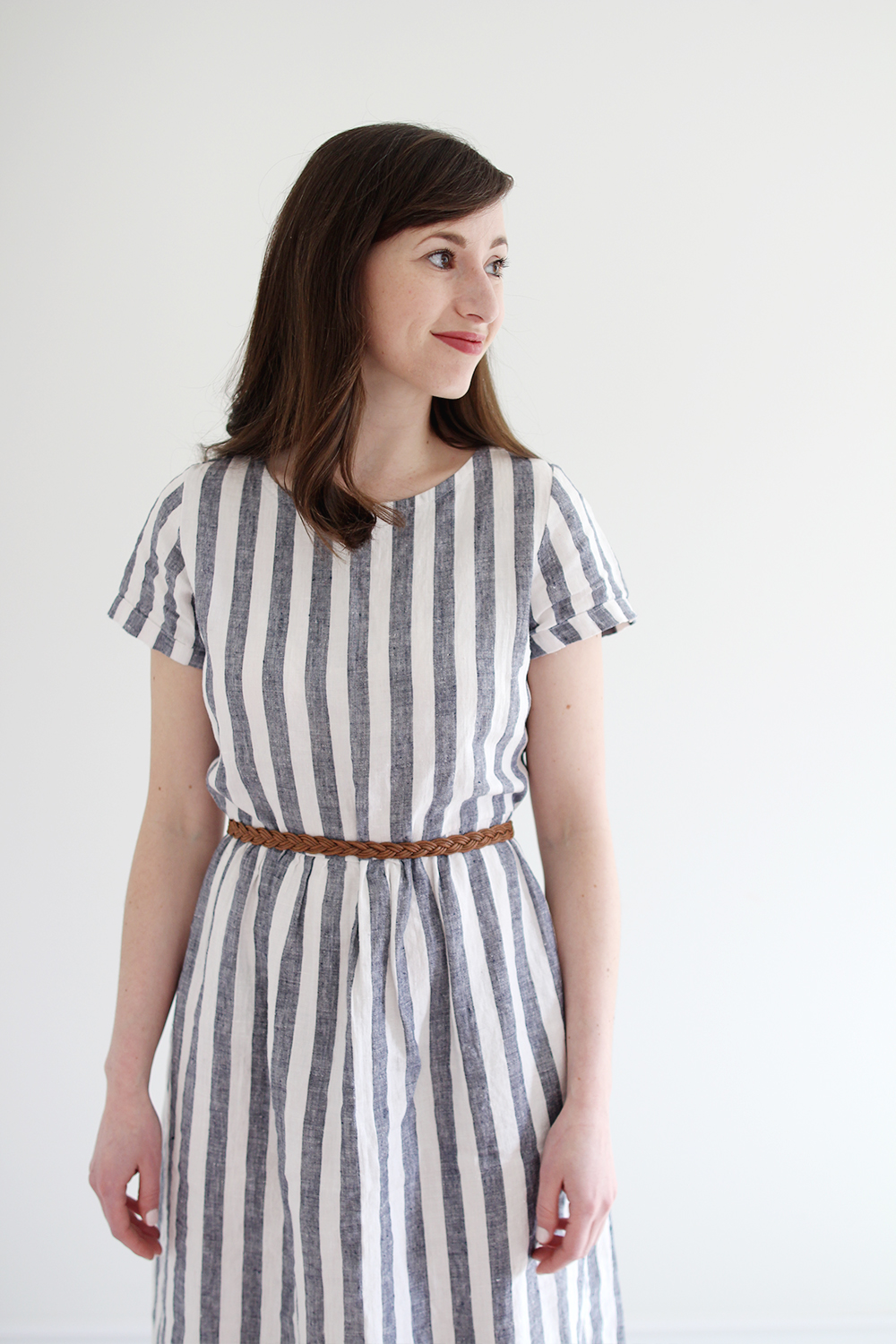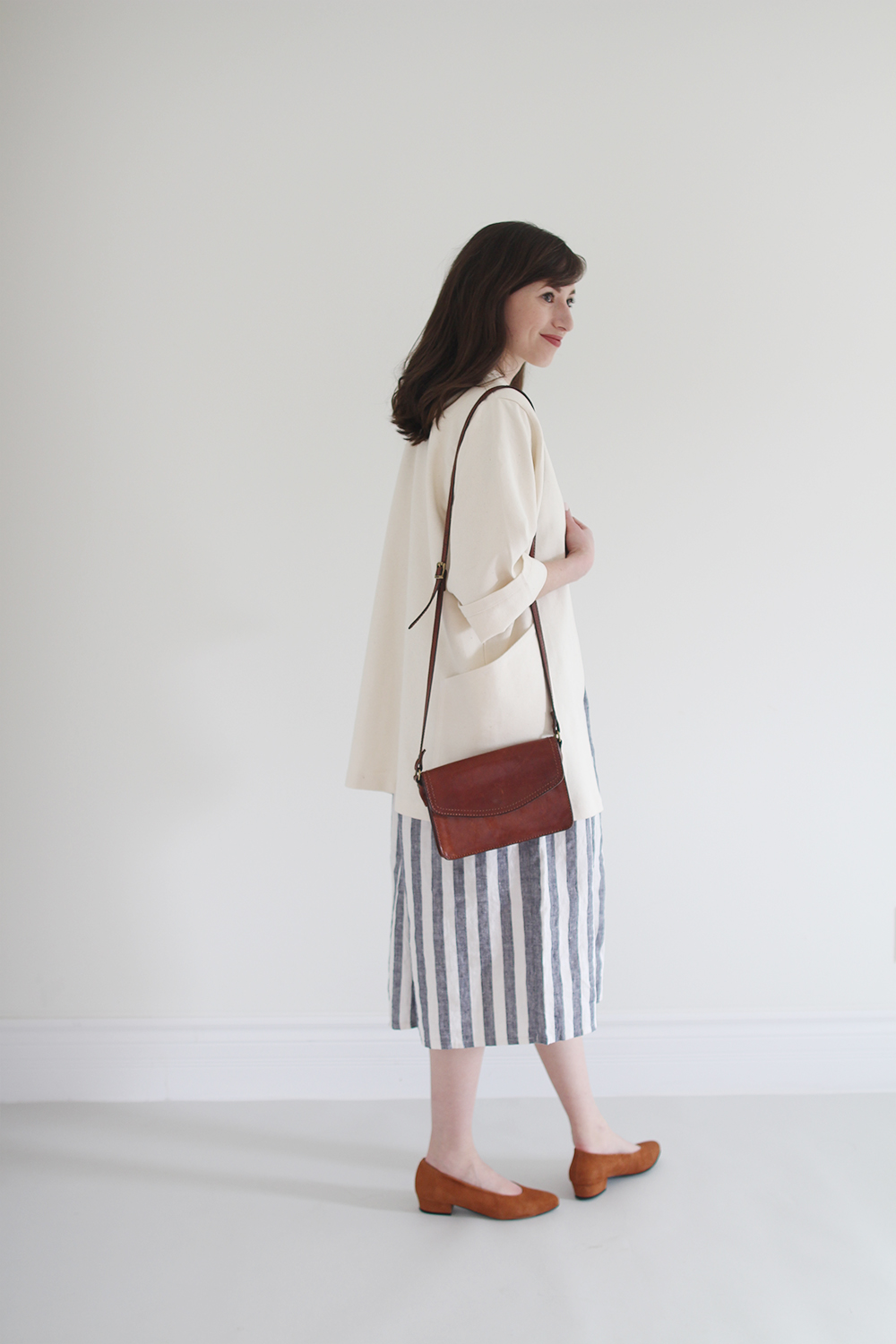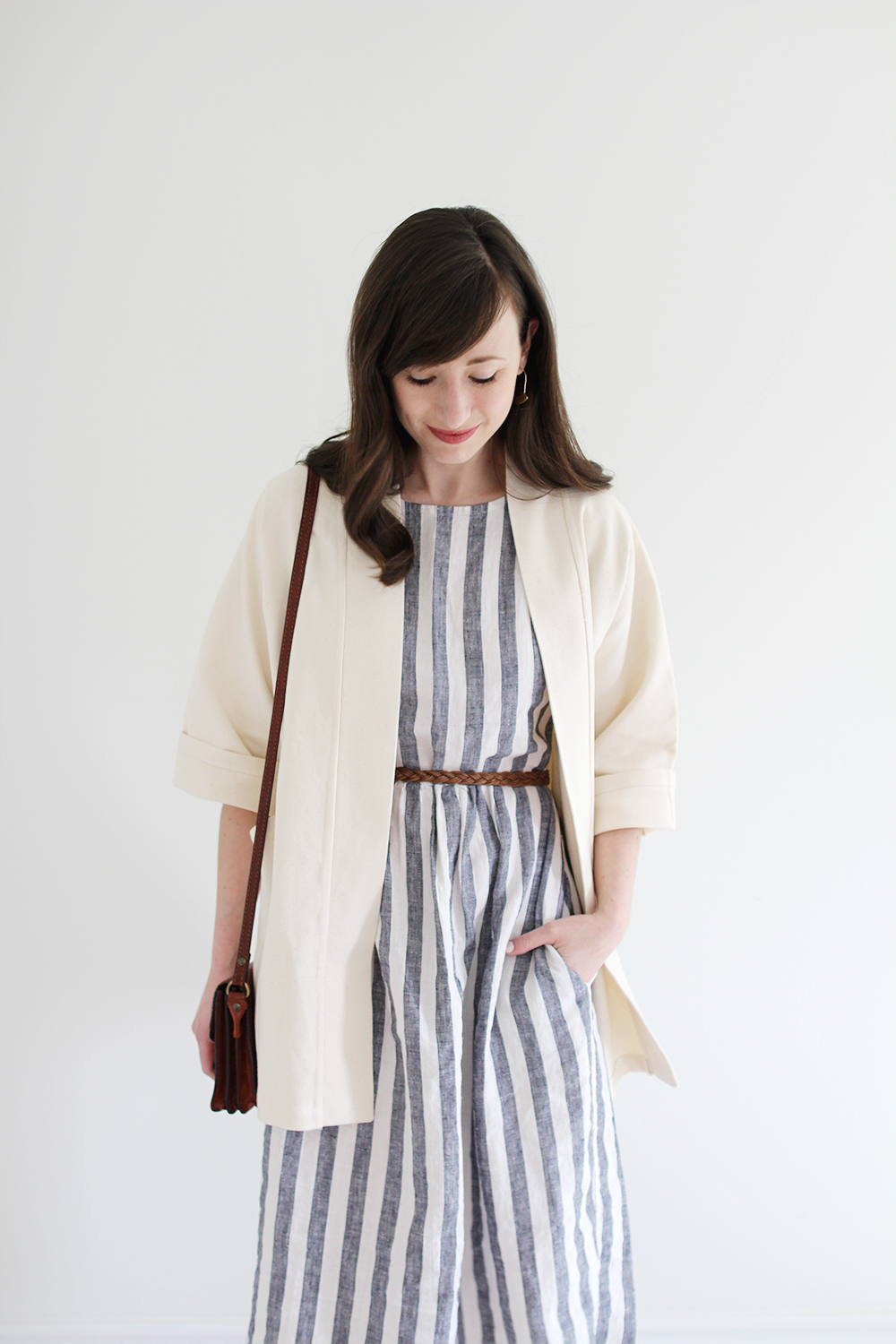 ---
THOUGHTS ON LOOK #2
I feel like this is the perfect family dinner outfit. Hanging with the in-laws on the back patio sipping a fizzy drink and forgetting about work and reality. *SIGH* not a bad scene at all.  This is also a great day-time look for lunch with a friend, hitting up an antique market, grabbing a matinée or catching cocktails on a patio. Honestly, bring on any or all of the above!
What I'm loving about it:  
1 | RICH ACCENTS | Even though my belt, bag and shoes are different shades of brown, they're all deep, rich tones which end up working well together. They also help to give the look some interest and focal points.
2 | BELTED | This dress has a very relaxed fit and so does the coat. In order to not get swallowed up I chose to belt the dressed with a medium width braided leather band to cinch my waist and add some structure.
3 | CUFFED | Just by folding the sleeves of this coat up about 3 inches, it suddenly feels more casual. Sometimes all you need is a little cuff!
4 | VERTICAL | I knew the Coat would work over the dress but it wasn't until I saw it on that I really loved it. The dress' vertical stripes and the coat's vertical seams guide the eye up and down in an elongating way. Then the main horizontal focal point (the belt) catches your eye at the perfect moment to give the sense of height and a long lower half.
---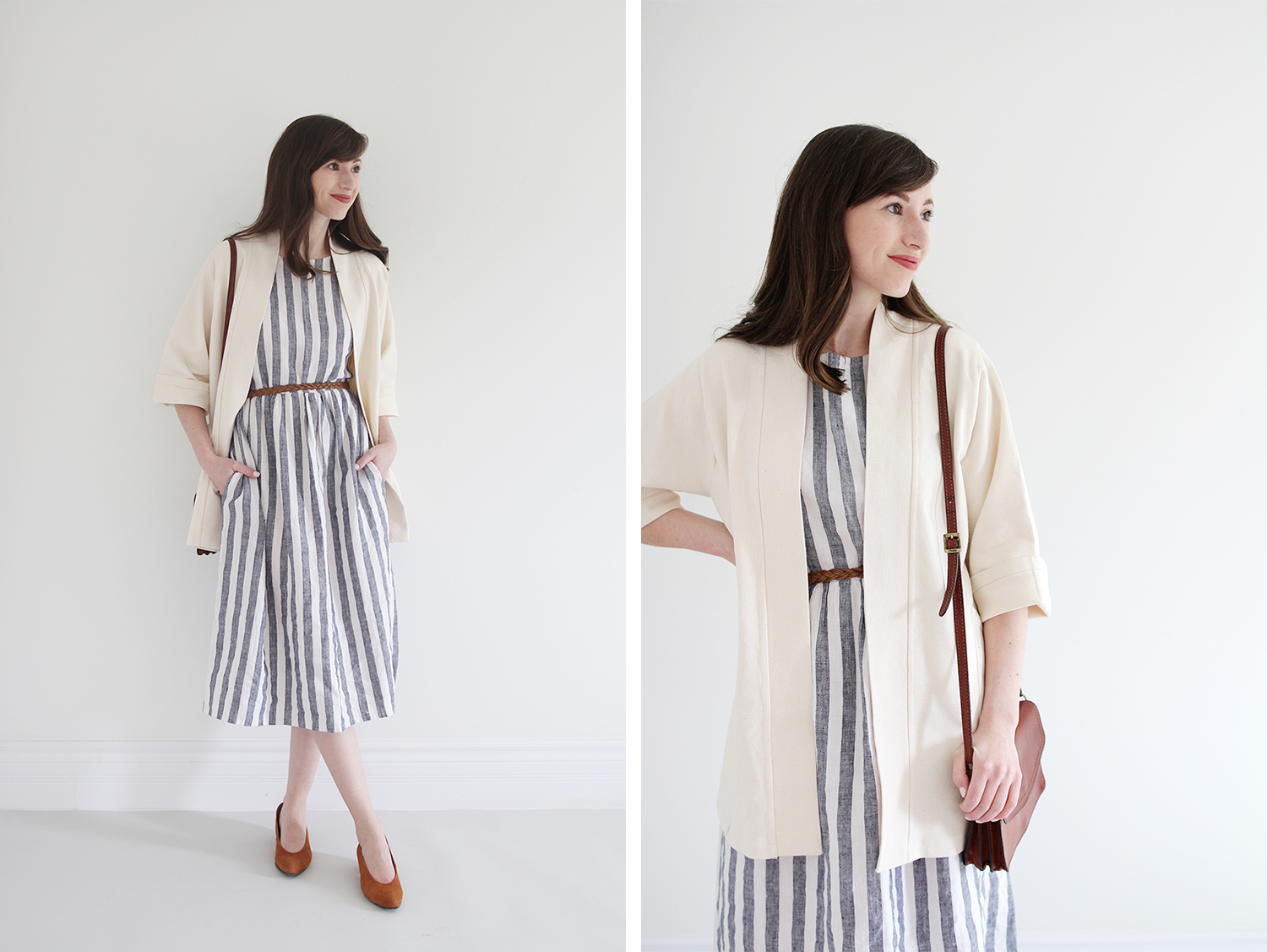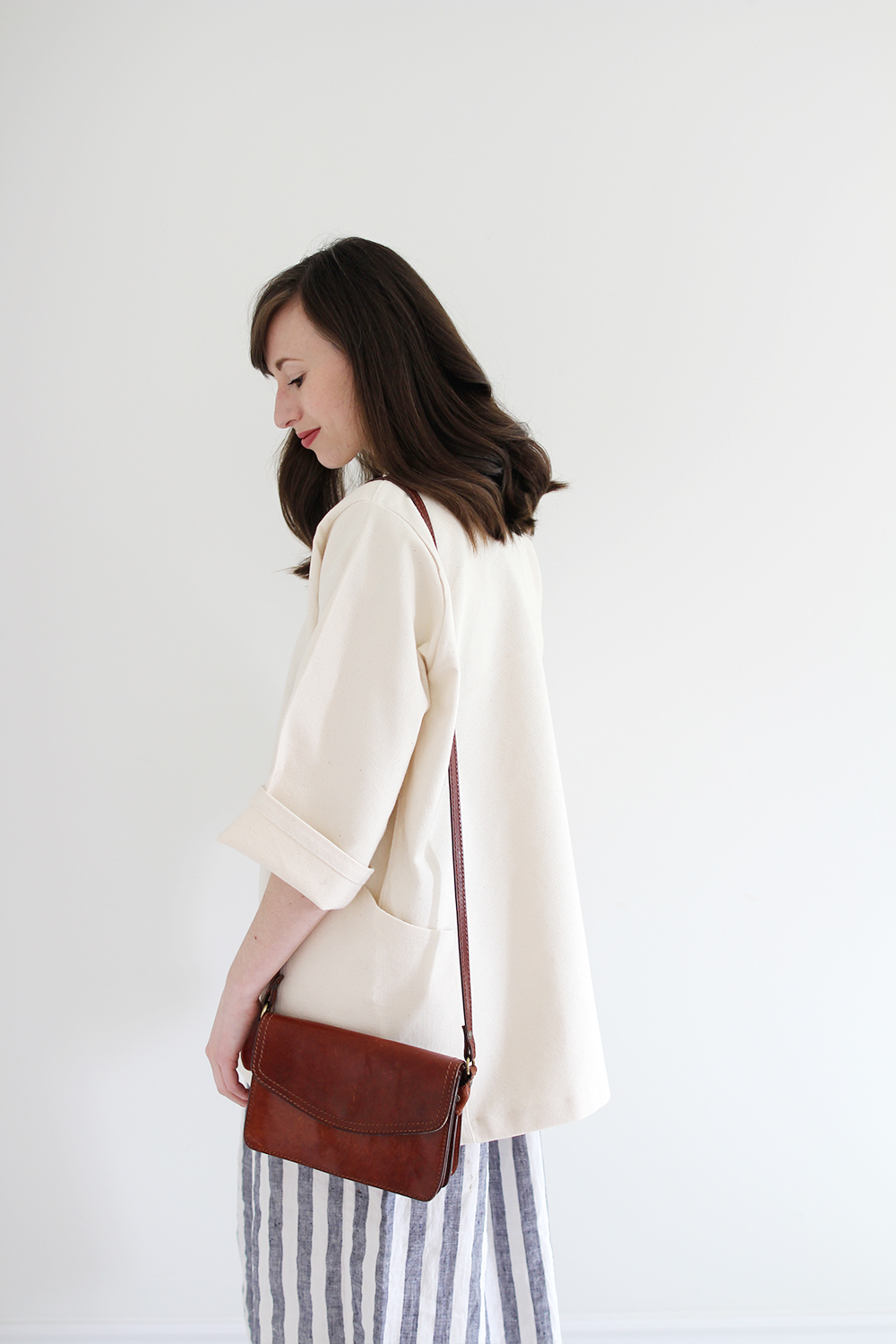 ---
SHOP LOOK #2
1 | CARDIFF COAT | c/o ONLY CHILD | OS | $225 USD | Made responsibly in Oakland. | Receive 10% OFF Sitewide with code: STYLEBEE1000
2 | STRIPED DRESS | c/o PYNE & SMITH | Wearing Size S | $138 USD | Linked to similar available style. Also LOVE this one and this one. | Made responsibly in California. | 10% OFF Sitewide with code: STYLEBEE1000
3 | CLOU SUEDE FLATS | L'INTERVALLE | Wearing Size 37 (usually US 7) | $138 USD | Made in Spain. | More colours here.
4 | BRAIDED BELT | OLD |
5 | CROSSBODY BAG | VINTAGE |
6 | ARC HOOPS | CLAUSE | $110 USD | Made responsibly in Brooklyn, NY.
---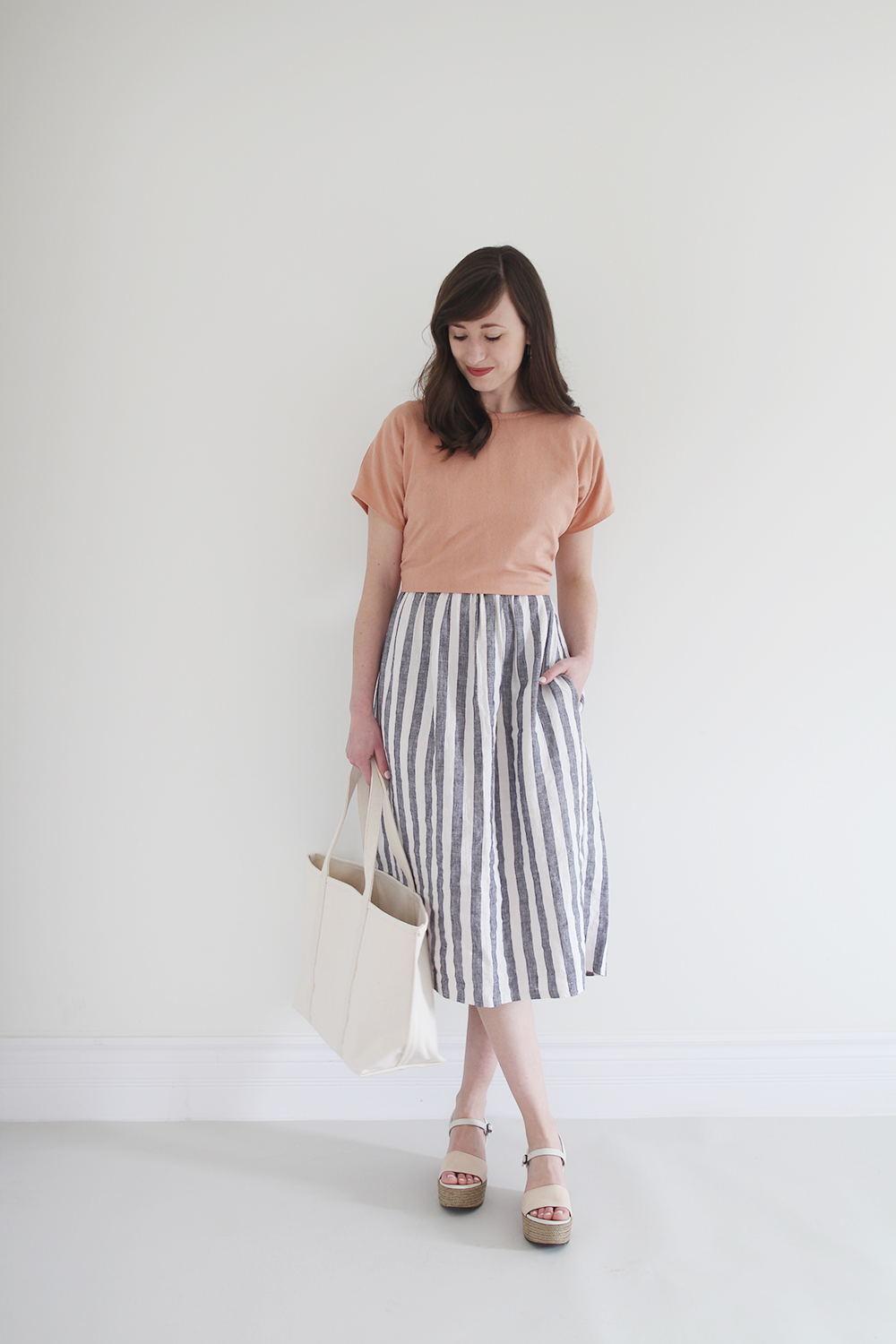 ---
LOOK 3
---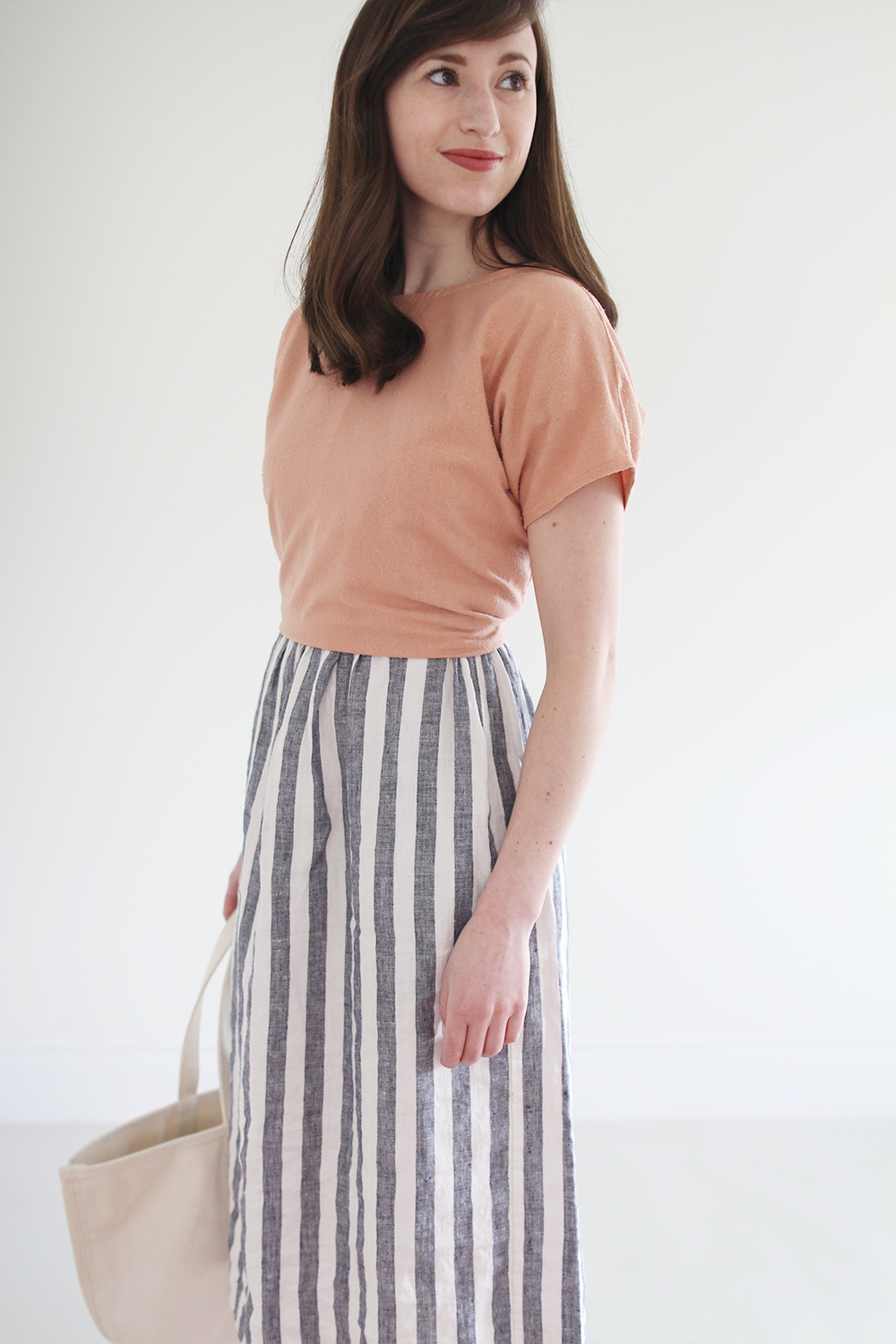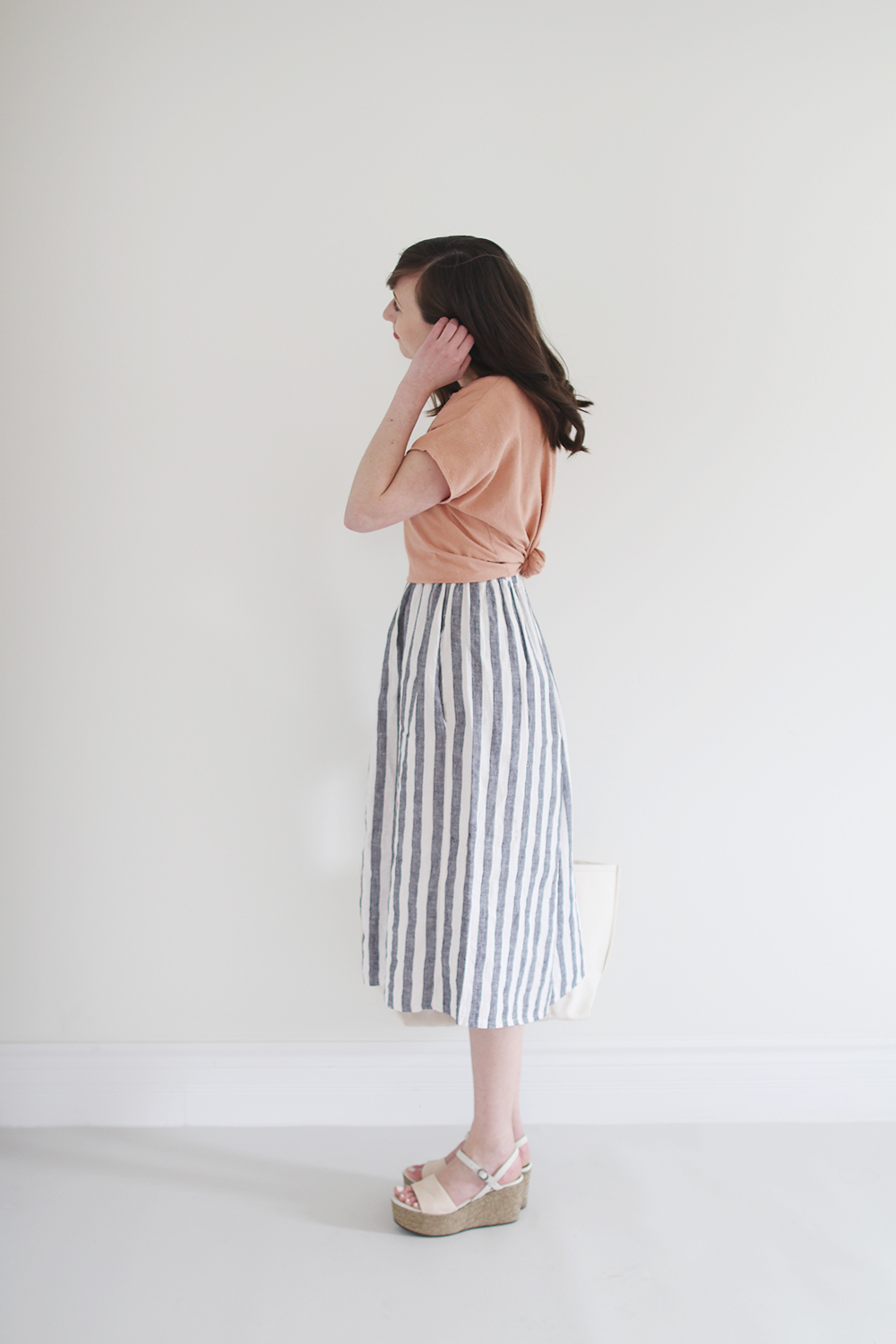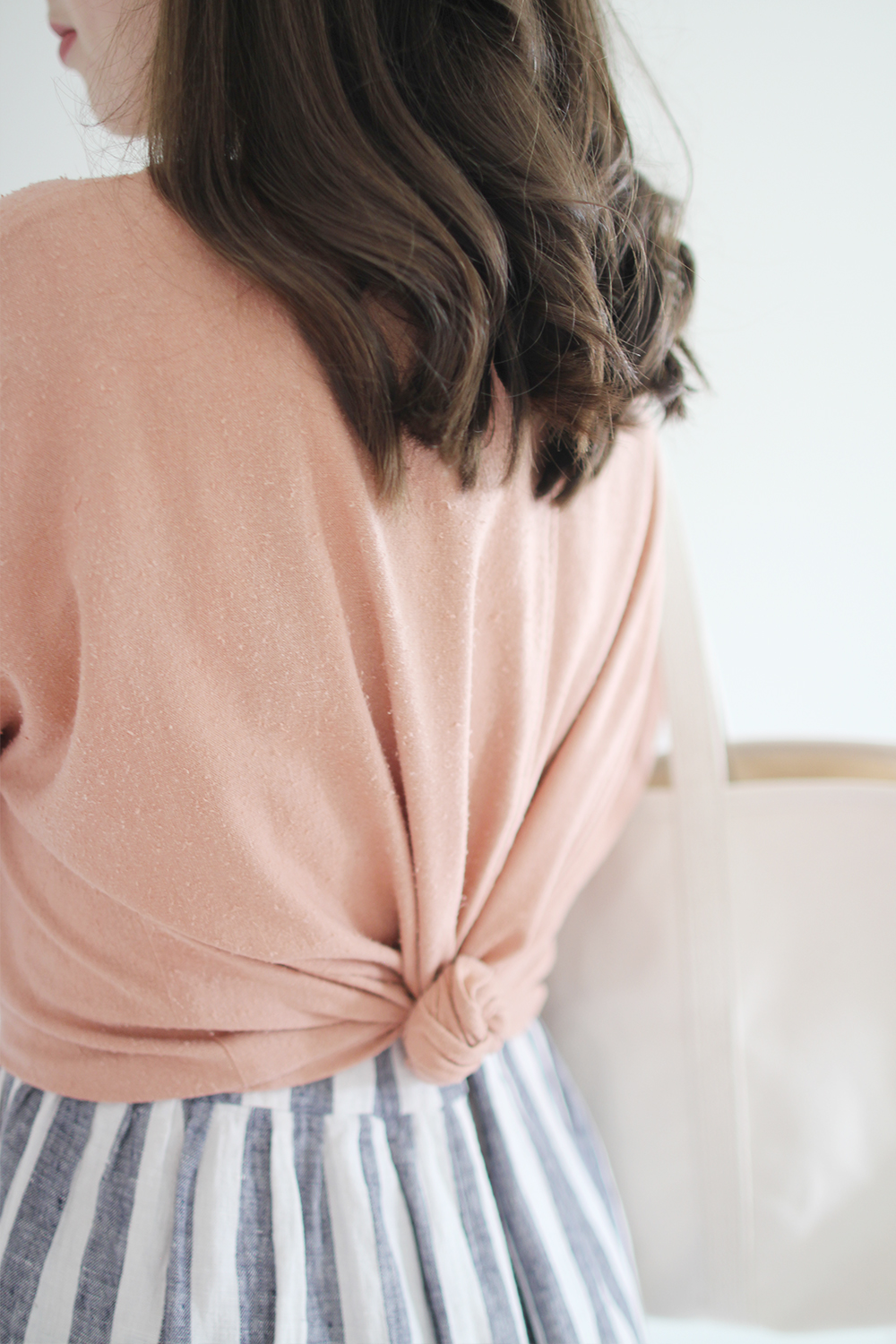 ---
THOUGHTS ON LOOK #3
Hello perfect summer Saturday outfit! I am totally rocking this to the Farmer's Market the minute the weather permits. Even though it's about as far on the feminine spectrum as I get with outfits, I'm into it.
What's I'm loving in this look:
1 | KNOT RIGHT | #sorrynotsorry for the pun but it's true, this knot is working just right and here's why. The boxy shape of the tee lends itself to being pulled back without looking odd. It's not too long so there wasn't a ton of fabric to fight with. The dolman sleeves mean I can still move freely and a wide neckline shows off a peek at the dress on the back, which I love (see below). The fabric is also super malleable but strong so you don't feel like you're putting too much strain on it. I'll share how I knot it in my stories today.
2 | NEWBIES | I wasn't sure how the knotted tee would work over this dress but it turned out perfectly. Plus, suddenly I now have two new pieces, a cropped top and a midi skirt. Win, win!
3 | HAPPY PALETTE | I am really into this soft palette of colours. Rosy pink, fun, boisterous stripes and some light canvas and leather accessories keep this whole look feeling light-hearted. I dare say it would be tough to feel anything but easy-going in this little number.
4 | TEXTURE | The textures in this look are all natural and meant the be felt and experienced. The raw silk noil in the tee, the light linen dress, the cotton canvas bag and the braided leather platforms all combine for a notably gentle but interesting tactile experience.
---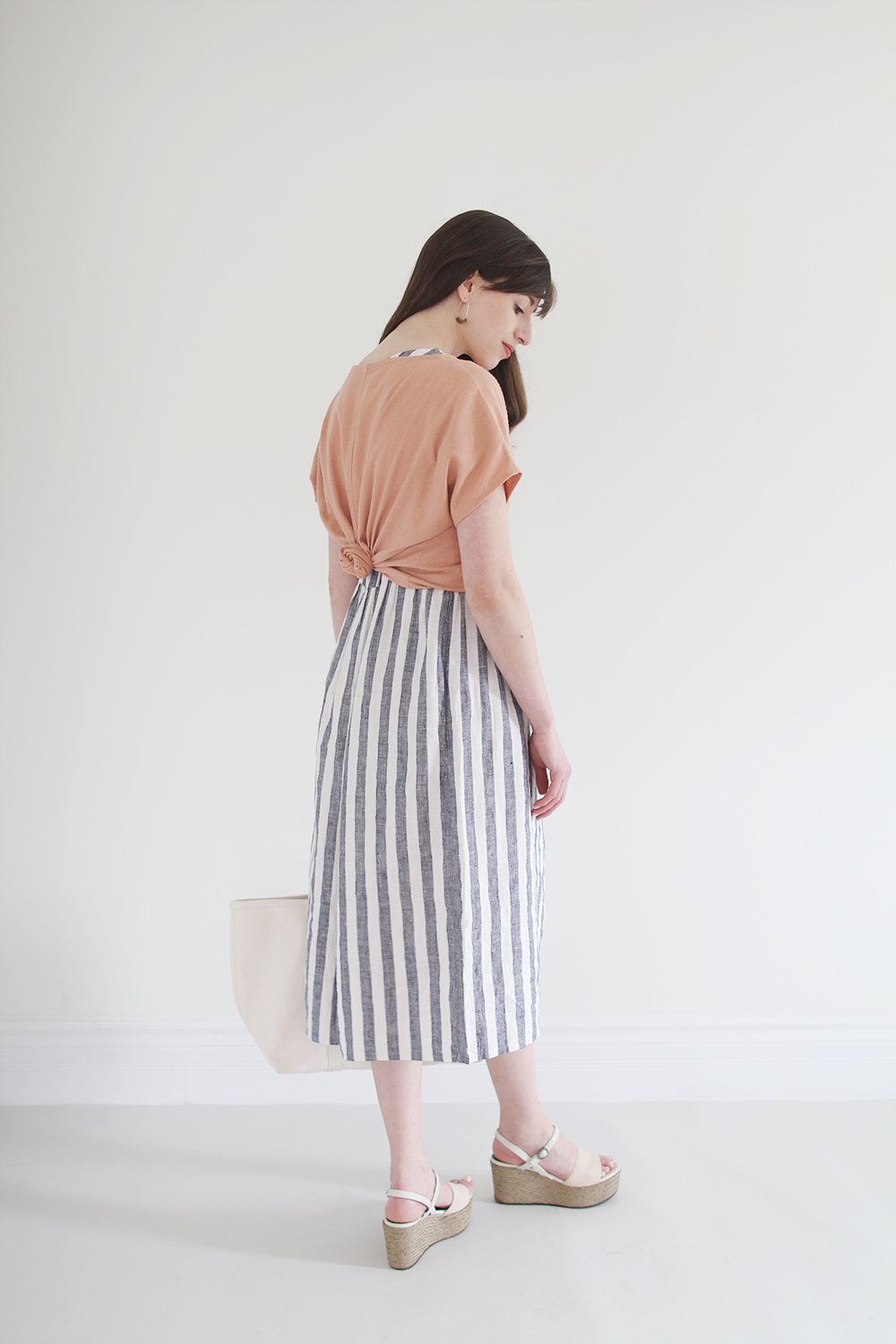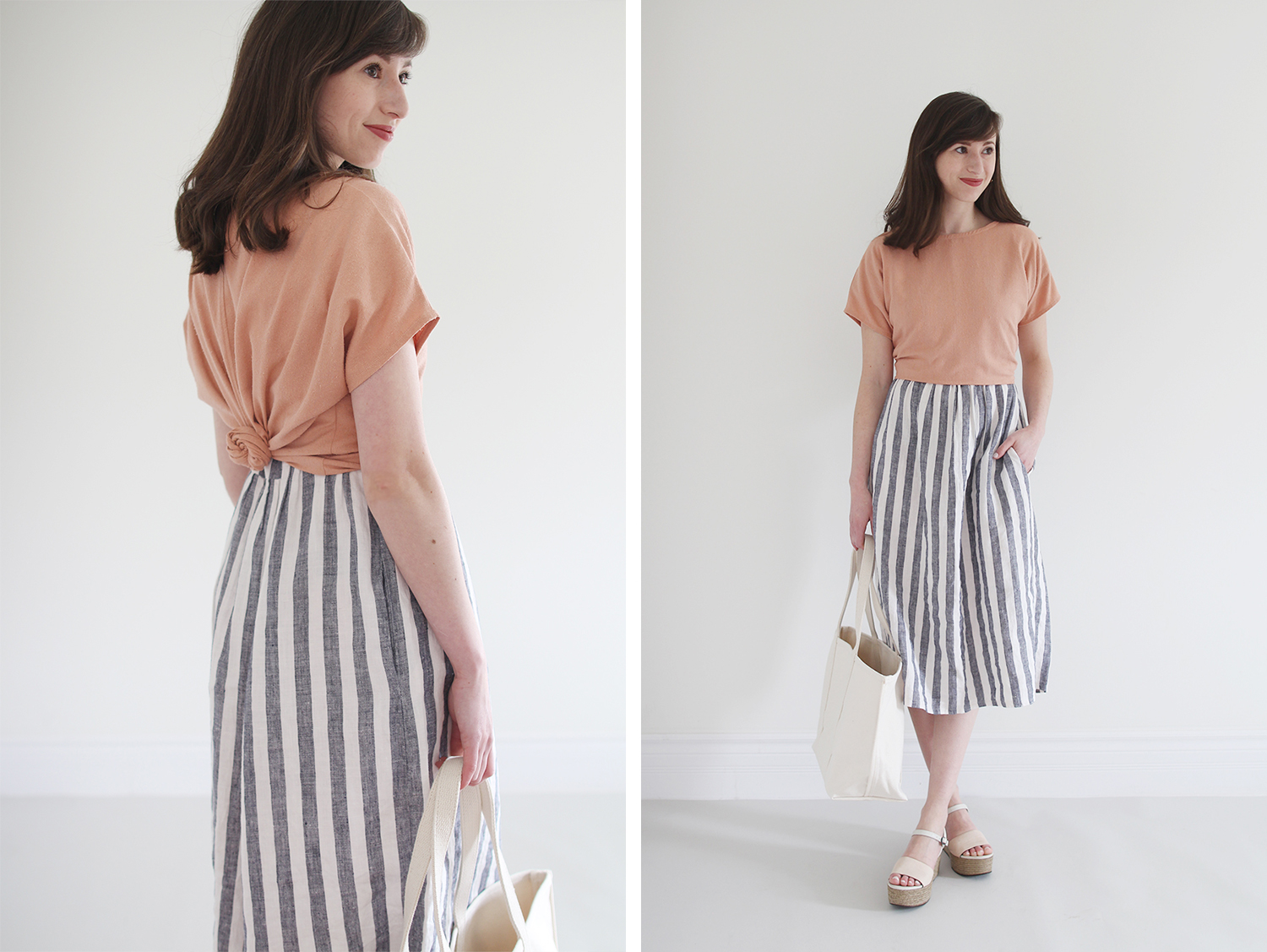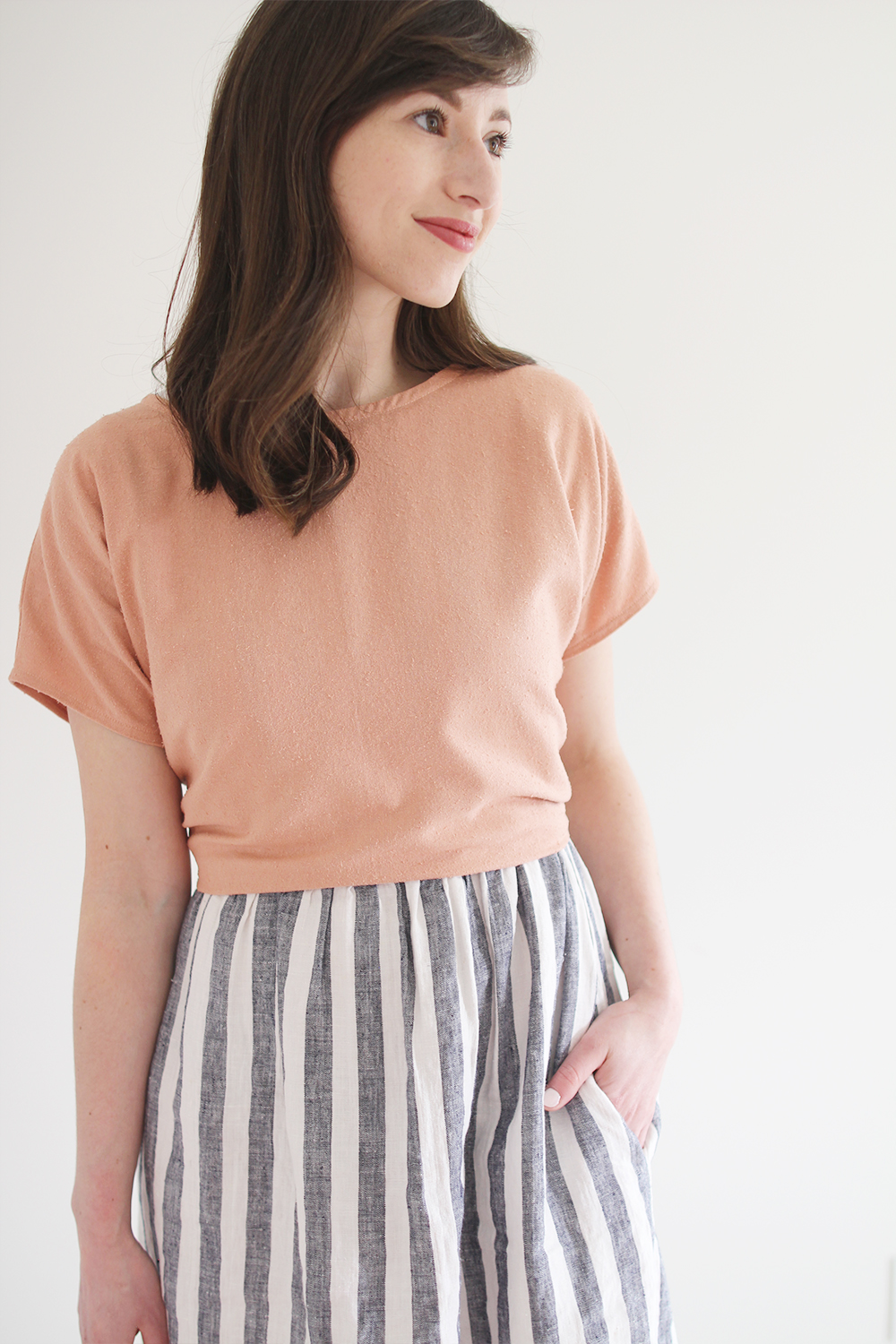 ---
SHOP LOOK #3
1 | KRISSY TEE | c/o TWO FOLD | Wearing Size S | $110 USD | Made responsibly in Oakland. | 10% OFF Sitewide with code: STYLEBEE1000
2 | STRIPED DRESS | c/o PYNE & SMITH | Wearing Size S | $138 USD | Linked to similar available style. Also LOVE this one and this one. | Made responsibly in California. | 10% OFF Sitewide with code: STYLEBEE1000
3 | BRAIDED WEDGE | COCLICO | Style is Old. Similar here, here and here. | Ethically made in Spain. | $20 OFF when you sign up here. 
4 | BEACH TOTE | JOSHU + VELA | $68 USD | Made responsibly in San Francisco.
5 | ARC HOOPS | CLAUSE | $110 USD | Made responsibly in Brooklyn, NY.
---
So there we have three outfits created by styling three easy Spring pieces!
Do you have a favourite?
---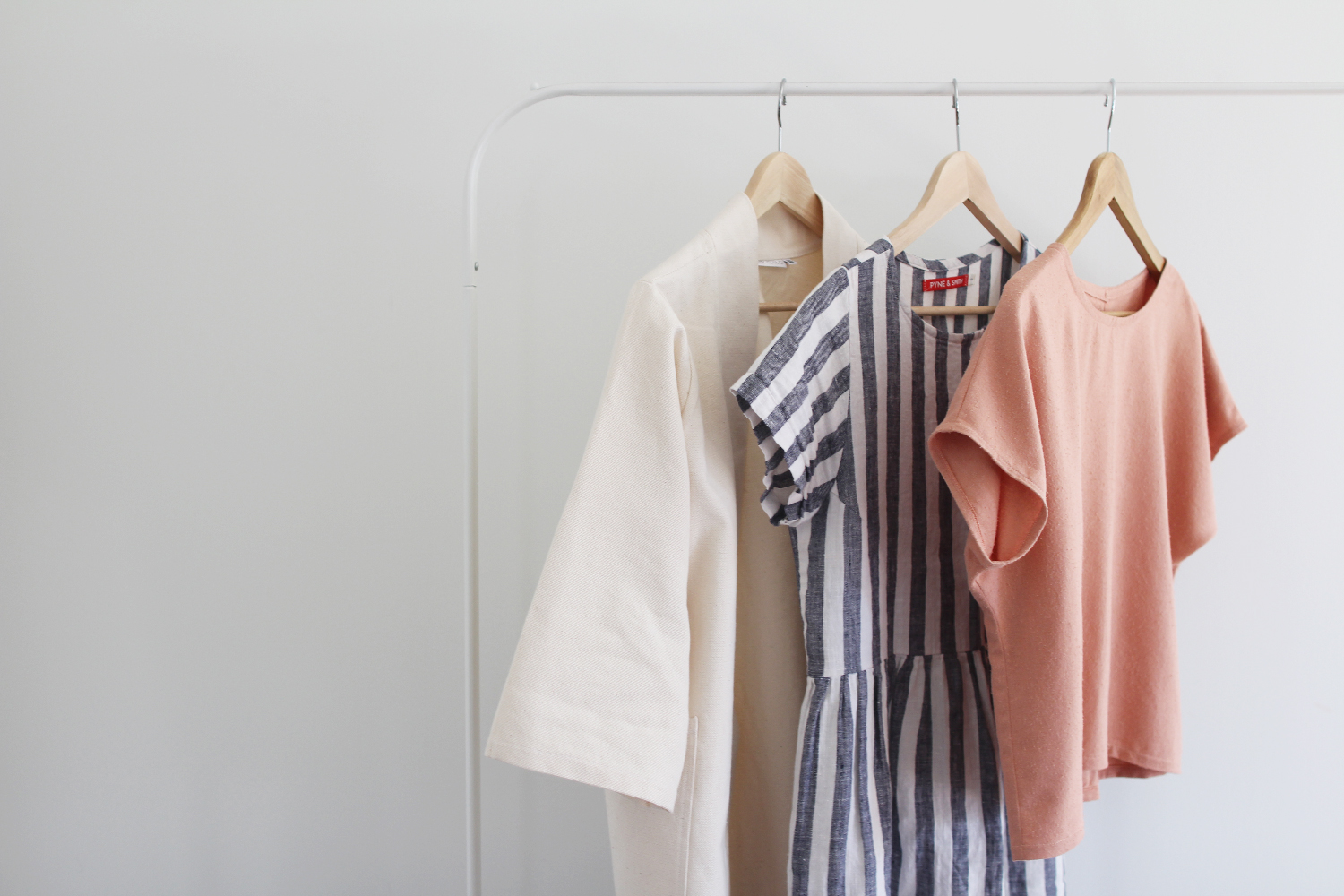 ---
POP-UP COMMISSION
---
As I mentioned right off the bat, this post was developed in partnership with The Garment Virtual Pop-Up. I had already booked two up-coming blog collaborations for April but this was too unique an opportunity to pass up! So I've decided to donate the proceeds of this sponsored post to Project Just, a non-profit organization dedicated to changing the way we shop and increasing transparency in fashion. The work they're up to is awesome and you should totally check them out. Also, they don't know anything about my plans to donate so it's not like this is some hidden promo.
All this means is that if you plan to shop the sale using the code 'STYLEBEE1000′  for 10% off sitewide at ONLY CHILD, TWO FOLD, PYNE & SMITH, FREE LABEL and AVARCAS CANADA the 5% commission I make will help me give back to this expanding conscious community! Additionally, a portion of all the Garment Pop-Up proceeds will be donated to Project Just so no matter what code you use, you're helping!
Even if you don't shop, I sincerely appreciate your interest in responsible style! 
If you do decide to shop I'd love to know what you go for! Let me know in the comments below and we'll scheme up some cute outfit ideas!
---
THANKS FOR TUNING IN FOR TODAYS POST!
TOMORROW THE #SPRING10x10 CHALLENGE KICKS OFF! YAY!
I'll be sharing my 10 pieces here on the blog and chatting about them in my Stories too.
If you're joining in, AWESOME, can't wait to get cracking!
---