And yet another Friday rolls around just in time! This week seemed extra jam-packed but it was a pretty good one. I had my 30th birthday on Tuesday and to be honest it hasn't really sunken in yet. It only really hit me when I was doing a quick survey and could no longer check the age 25-29 box like I used to. But I'm feeling good about the year ahead and even more optimistic about the decade to come. From what I've heard it's the best one to be in!
But now onto today's post! As promised I'll be taking 1 item and styling it into 3 looks each week throughout the month of May. These posts will be a little bit different from my usual outfit posts in that I'll be sharing some key info on the main item and then keeping the outfit commentary on the lighter side. It's certainly not that I don't love writing about styling tricks and delving into looks more thoroughly but I'm short on time at the moment and this will give me a much-needed breather. My other outfit posts will still have lots of that good stuff so not to worry.
The first item we're looking at in this series is hugely popular the shoe world right now and it's known as the WHITE SNEAKER. Seen on just about every blogger, celebrity or style star out there this shoe is a resurrected trend from the 90's that's made a huge comeback and appears to be here to stay!
So here's a bit about the pair I have and 3 not-so-predictable ways to style them! 
---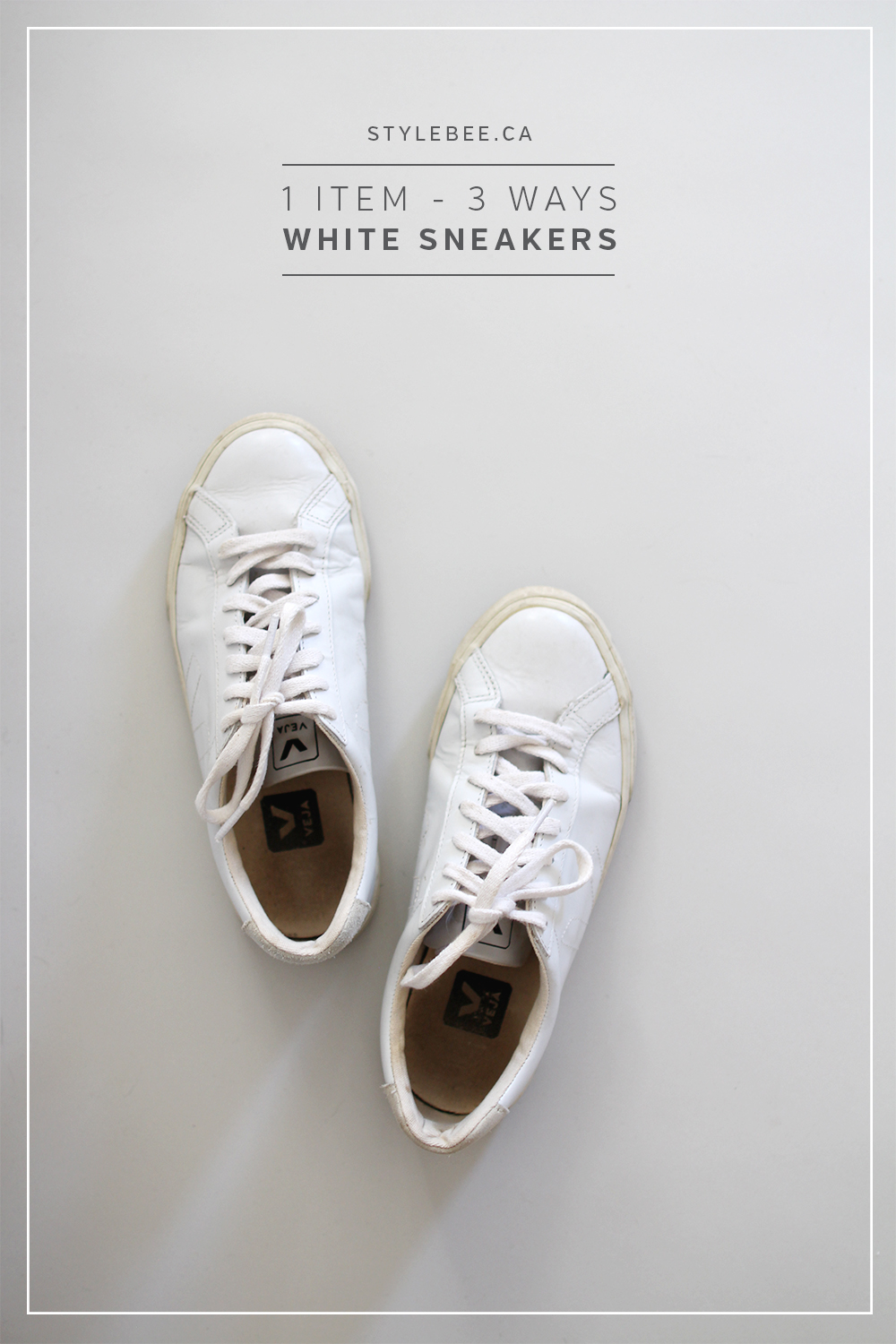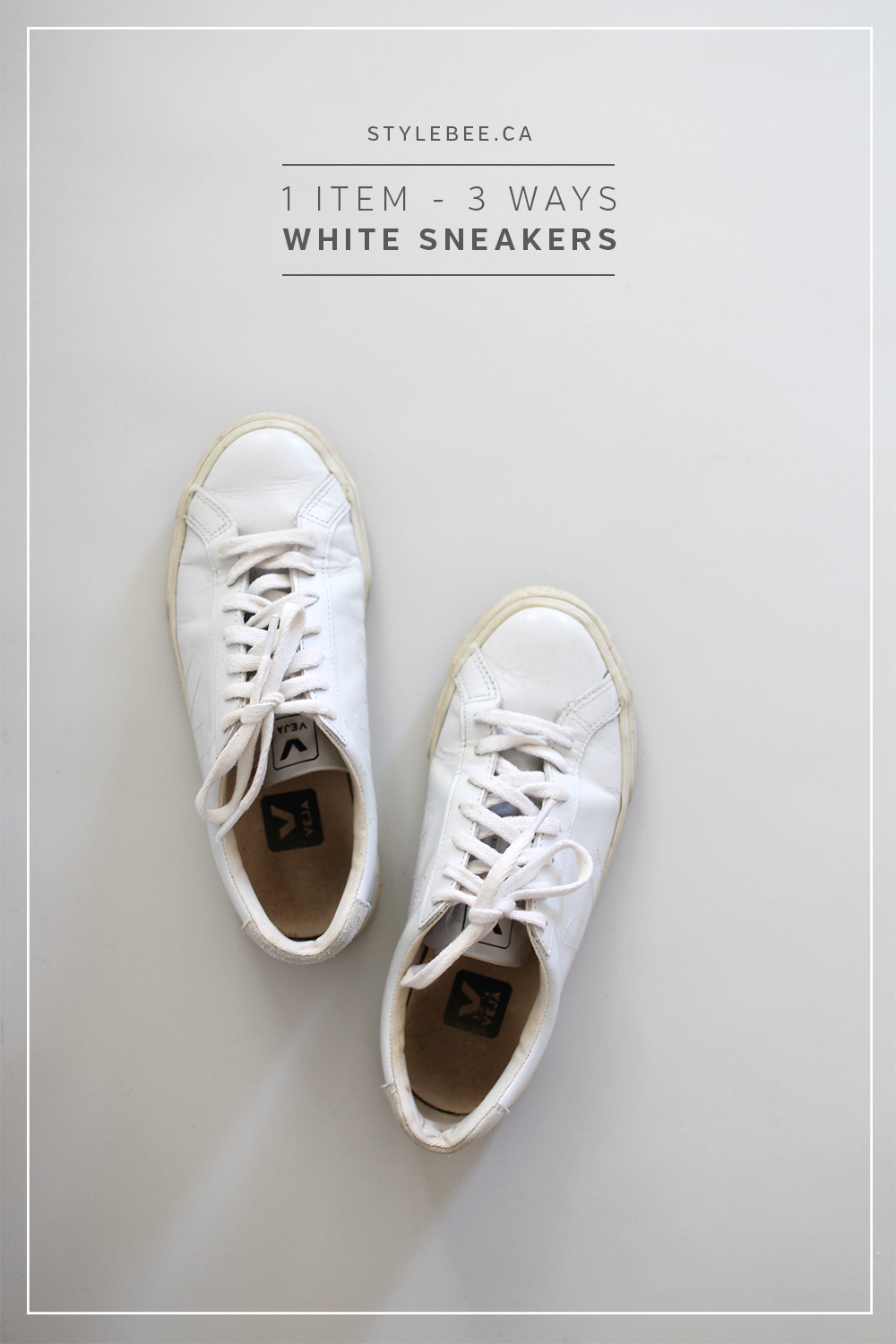 ---
ITEM – THE WHITE SNEAKER
---
These are the ESPLAR Sneaker in white leather by the Brazilian sustainable shoe brand VEJA. In the responsible style world these seem to be the white sneaker and after owning and wearing this pair for literally 1 year to the day, I can say they're worth the hype. Honestly though, when I first got them I felt a little out of place in my sneakers. As if I was pretending to be cooler than I really am, which was obviously part of the motivation to get them. But now that I've reached for them a zillion times and found they work with almost everything in my closet, they've officially secured a place within my personal style spectrum. It's funny how a wardrobe item can go from feeling foreign and unusual to being a familiar comfort. Kind of like a song you don't love at first but then end up memorizing and singing along to.
Here's a few facts about this pair in particular and some fit, wear and care info too!
1 | RESPONSIBLY MADE | These shoes are ethically crafted in a high-standard factory in Porto Alegre, Brazil (a well-developed region in South Brazil), which has good working and living conditions, respect for worker dignity, and effective trade union representation.
Fun fact: this shoe was named after the Brazilian NGO which brings technical support to the organic cotton farming families Veja works with in North Brazil since 2004.
2 | MATERIAL | The leather upper is made from low chrome vegetable-tanned leather, the inner sole is recycled cotton and the  Amazonian rubber sole.
LEATHER – Veja only uses leather with low impact on the environment that is sourced from Porto Alegra, Brazil. This means leather tanned with low-level of chemicals, traced and does not come from areas of deforestation, and only requires low levels of water during the tanning process.

RECYCLED COTTON – These fibers come from the waste of Brazilian textile industries and are used to create a high quality canvas. 3% of PET is added to the process to strengthen the final fabric. Crafted and sourced in Sao Paulo, Brazil.

WILD RUBBER – Each Veja outer sole is made of 40% of rubber from the Amazon rainforest. Fair prices are always paid to rubber tappers and use of wild rubber from the Amazon increases the economic value of the forest and helps to fight against deforestation.
3 | PRICE | $120 USD
4 | FIT | I wear a US7 and have a narrow foot so I ordered the 37 first since the fit notes say these run large. Sadly, they were too short so back they went and I exchanged for a 38. The 38 fits great in the length but they are wide on me. This doesn't bother me at all and with the laces you can adjust the fit quite well.
5 | BREAK IN | I'm not going to lie to you, these were a b*tch to break in. The tongue is stiff and dug into the top of my foot (to the point of bruising) and around the ankles I got blisters. So I put band aids where the issues were and after some more long walks they broke in and now they're honestly the most comfy shoes I've got! But just be ready to do some breaking in. That said, it could just be my feet and I've heard lots of people say they had no issues so you could be fine!
6 | WEAR | I wear these with a small sockette (like these) because I don't really love the look of socks in sneakers like these. A super low cotton ankle sock would work well too.
7 | CARE | I must confess I haven't done a whole lot to protect these over the last year and what you see in the photos is what they look like! Not as fresh and white as when they arrived but definitely not bad either. I haven't even needed to wash the laces yet. The only part that gets weird is the small panel of suede on the back. This part got some indigo rub off from a pair of jeans and that wasn't easy to get out but a little mild soap scrub with an old toothbrush freshened them back up. Now I spray that part with suede saver and it's been fine. Otherwise I just wipe them off with a wet cloth and the leather part is as good as new! It's a specially coated leather so it's not as susceptible to moisture and dirt. The leather sole has gotten a bit brown with wear but I'm ok with it.
8 | LONGEVITY | So far these sneakers have shown no signs of slowing down and neither has the sneaker craze. I'd say if you're in the market for a pair of white sneakers, these are a great call!
FEEL FREE TO DROP ME ANY OTHER QUESTIONS YOU MIGHT HAVE ABOUT THESE! 
---
OTHER ALL WHITE SNEAKER OPTIONS: Maybe this pair's not for you and that's ok! There are lots of options out there right now and I've made a note of my favourites below.
Of course there are the big brand classics like the Adidas Stan Smith, the Converse Chuck Taylor, the Vans Slip On and the Superga 2740 Cotu. Just depends on your budget and how much you want to support a brand that's looking out for the environment and it's workers.
---

---
LOOK 1 – CORPORATE CASUAL
---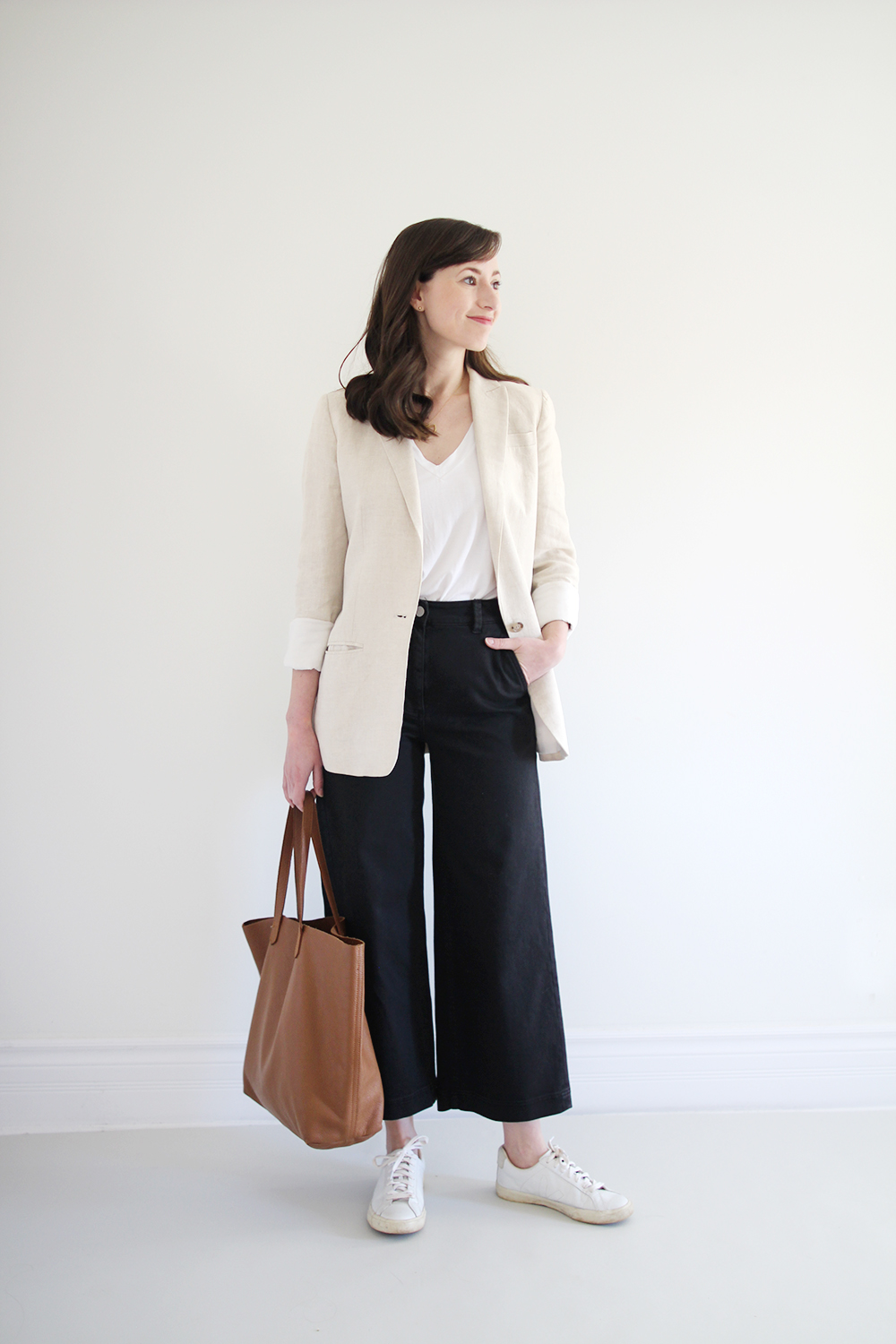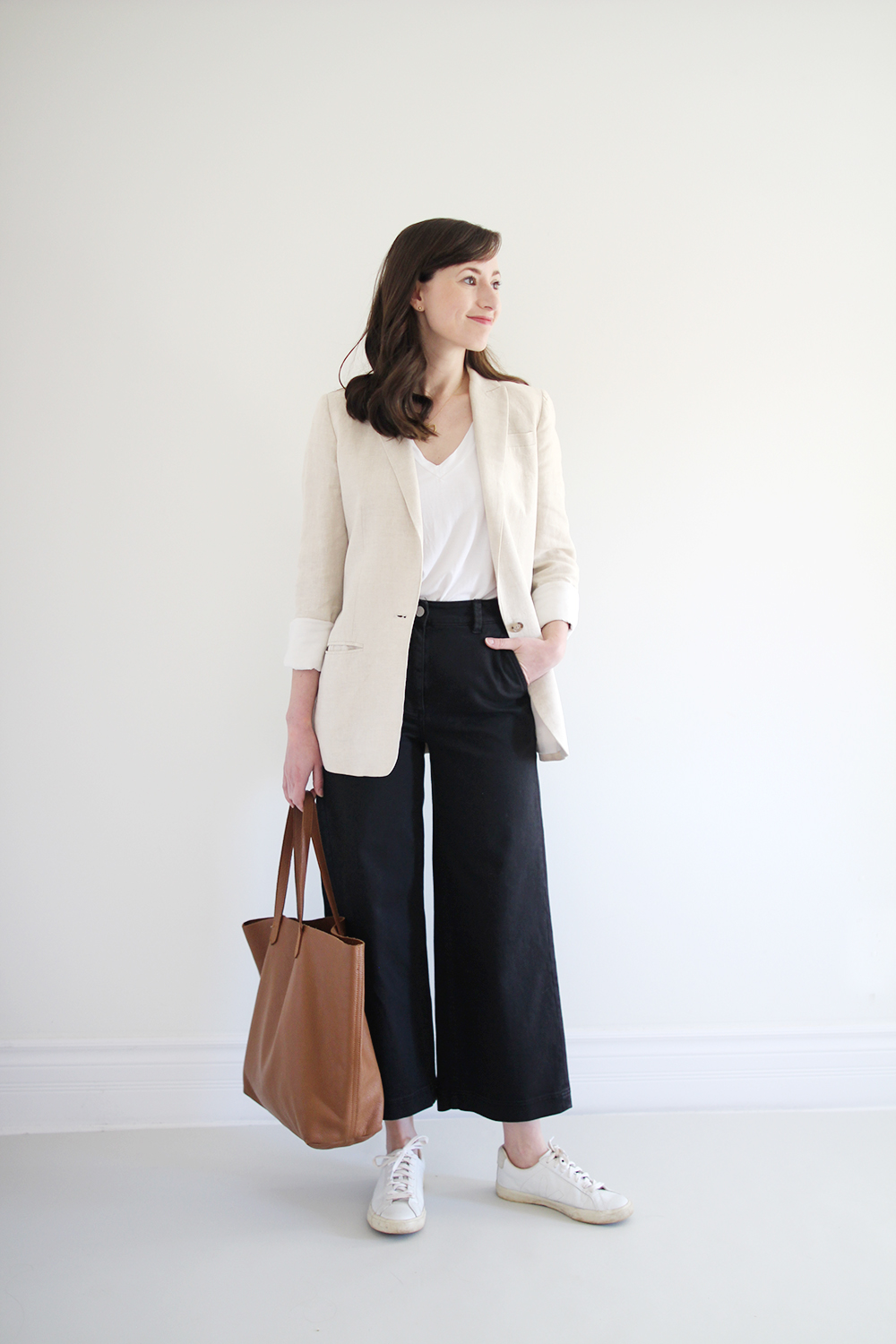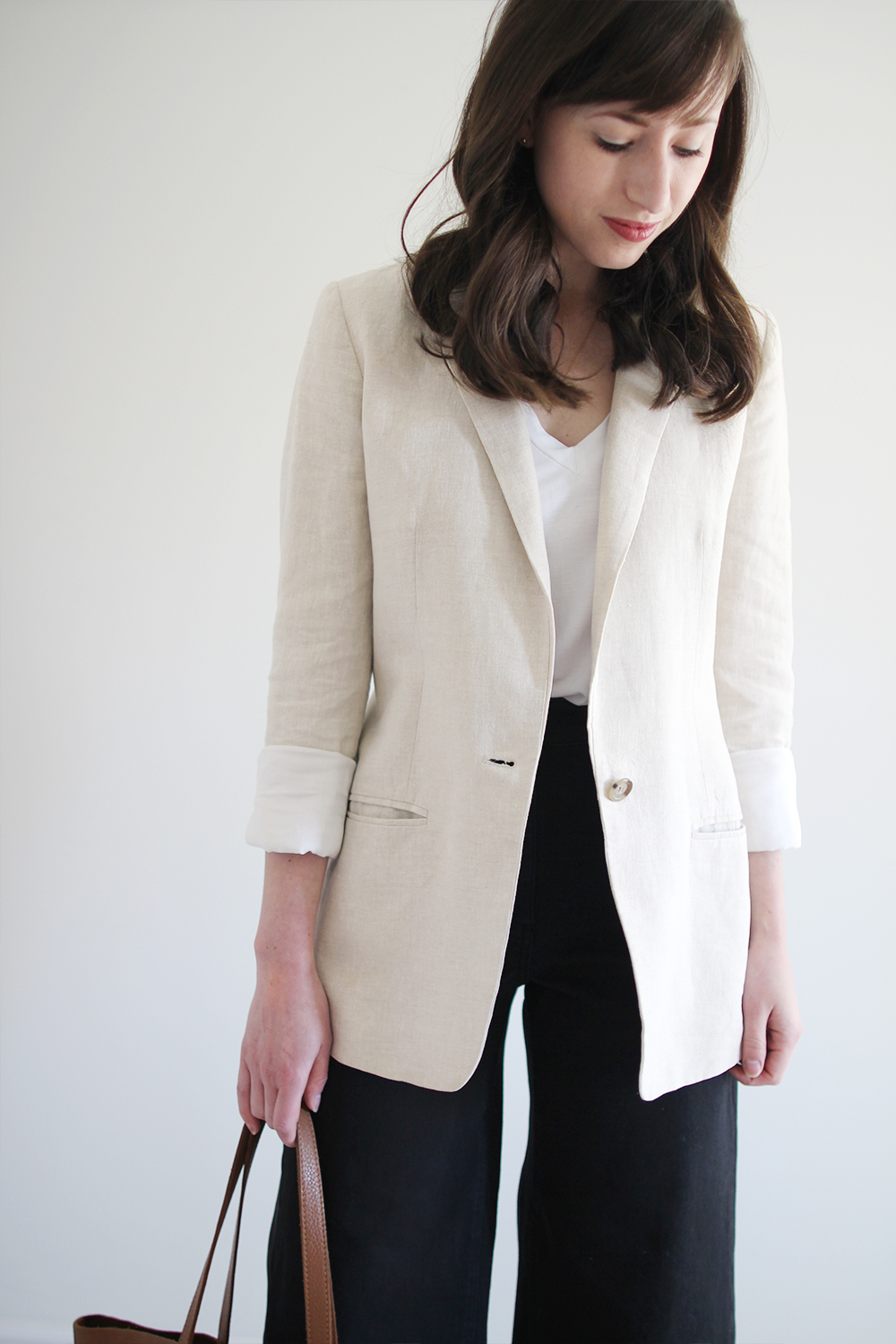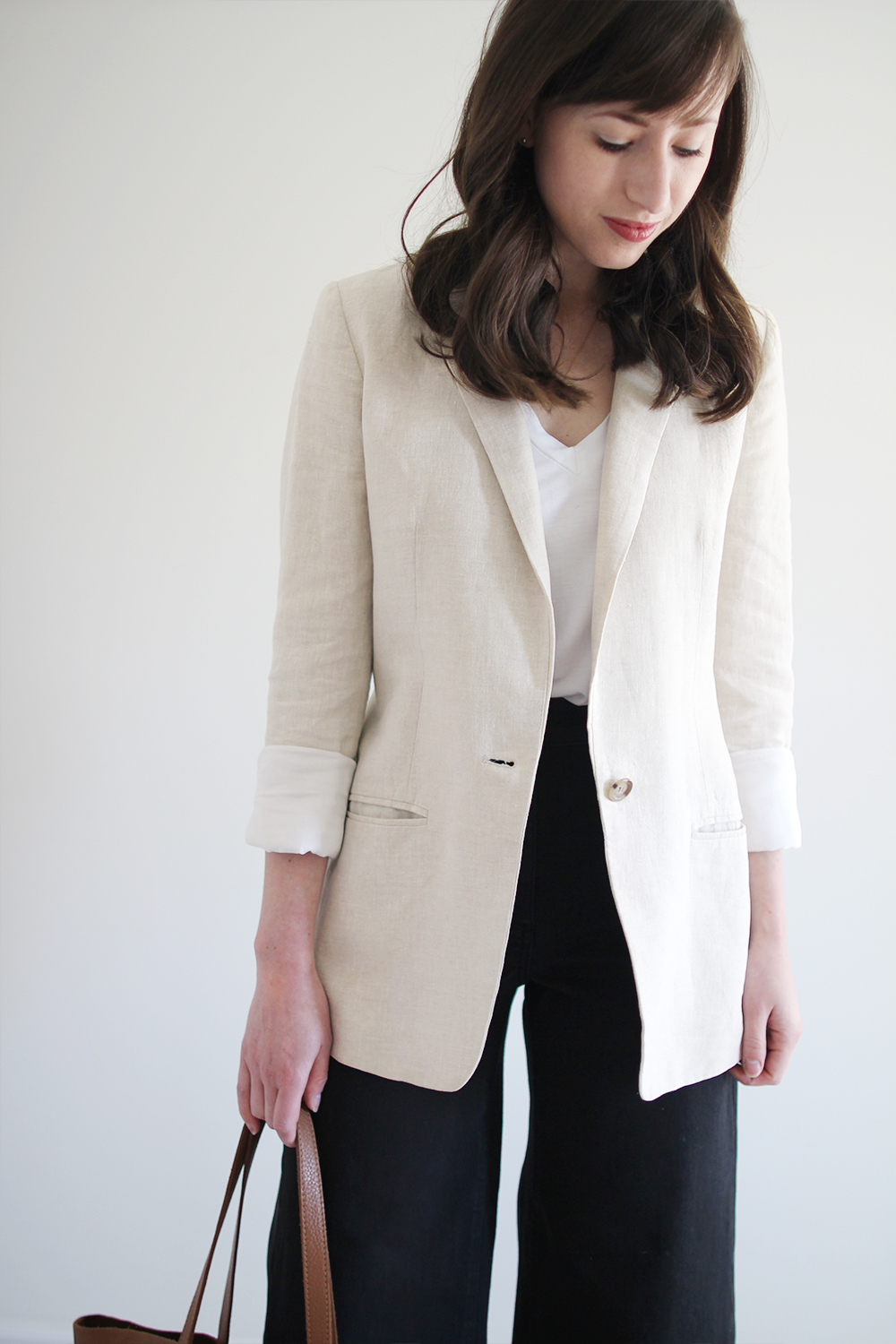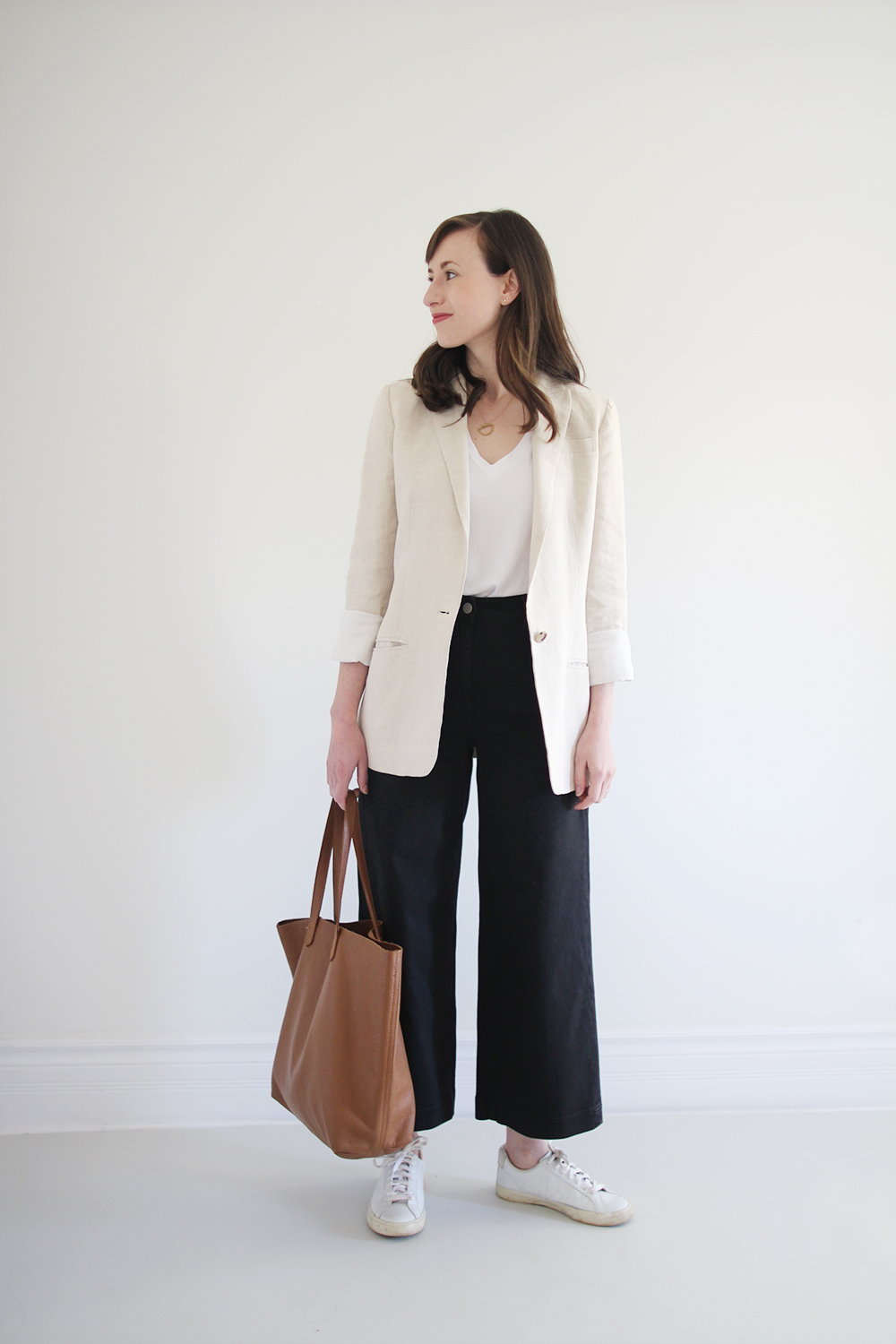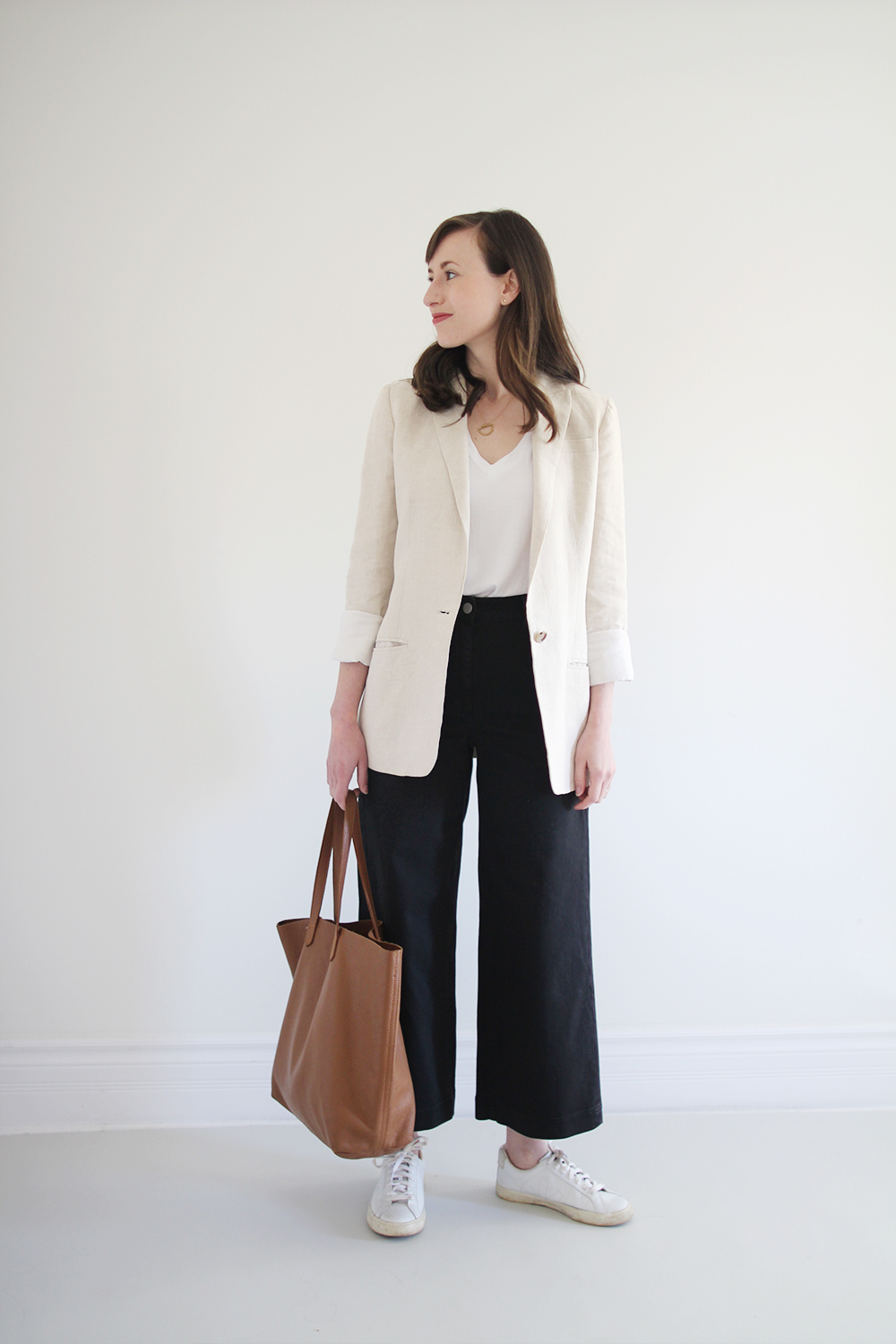 ---
When I was trying to come up with a few new looks to pair with these sneakers this was one of the first ones that came together. Of course I love this neutral colour palette but my favourite part is the mix of structured and casual elements. The blazer and pants are more tailored and formal while the plain white tee and the sneakers are totally relaxed. The tote is a happy medium between the two both in context and in colour and it helps to bridge the gap.
I cuffed the sleeves of my blazer to add a bit more a laid-back feel and I think that helps a lot. Plus it creates a bit of repetition in that my ankles and wrists are bare thanks to cropped pants and sleeves. Honestly, I feel this look is working the best of the three I'm sharing today but that could also be because it's more along the lines of my typical silhouette.
TRY THIS LOOK YOURSELF BY: 
Grab a dark pair of trousers. They need not be cropped and wide, they can be just about any dark pants. 
Tuck a plain white tee into them.
Add a light blazer, ideally in a relaxed fit but any one will do, and roll the cuffs.
Grab a neutral canvas or leather tote.
Slip on your sneakers and you're all set! 
---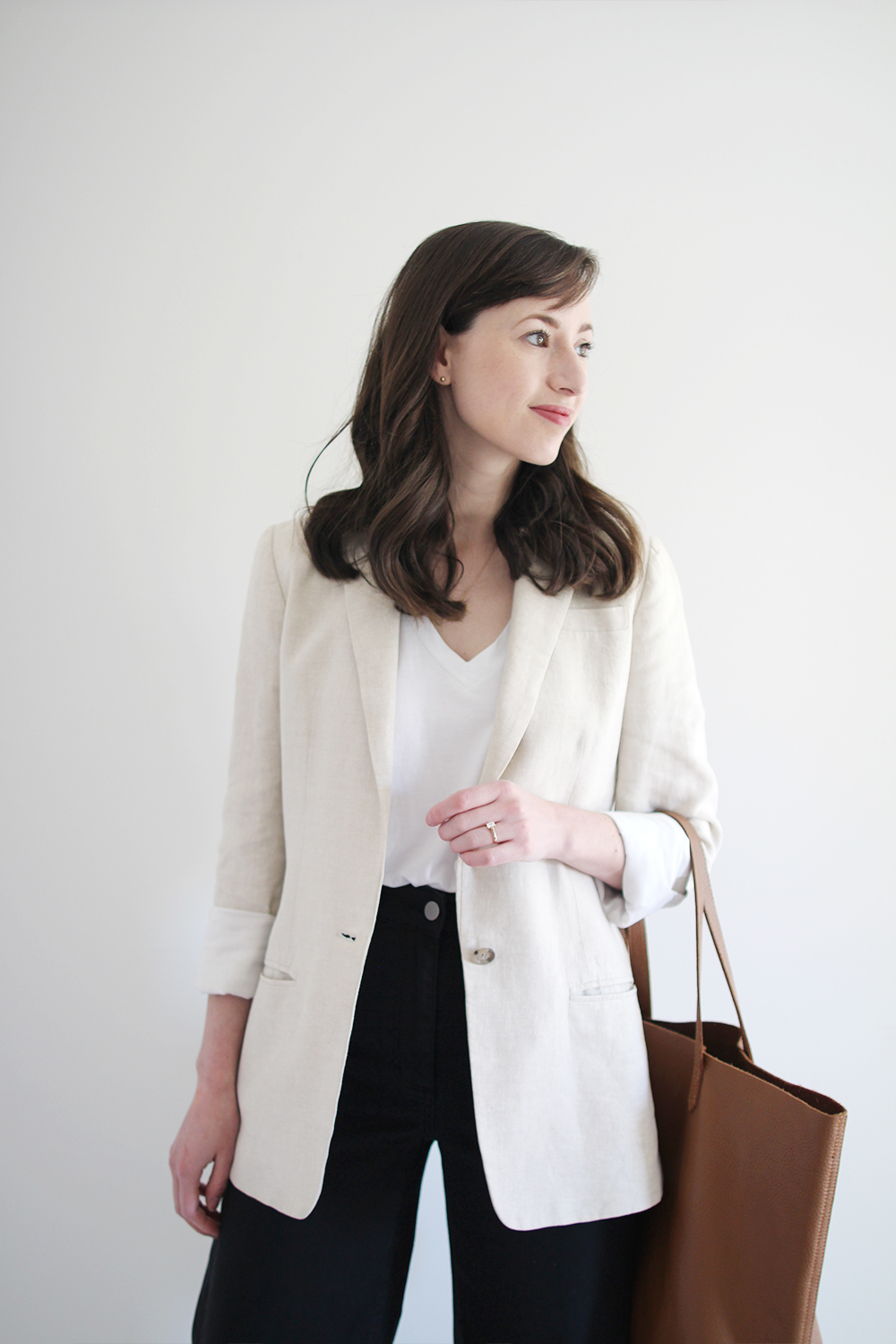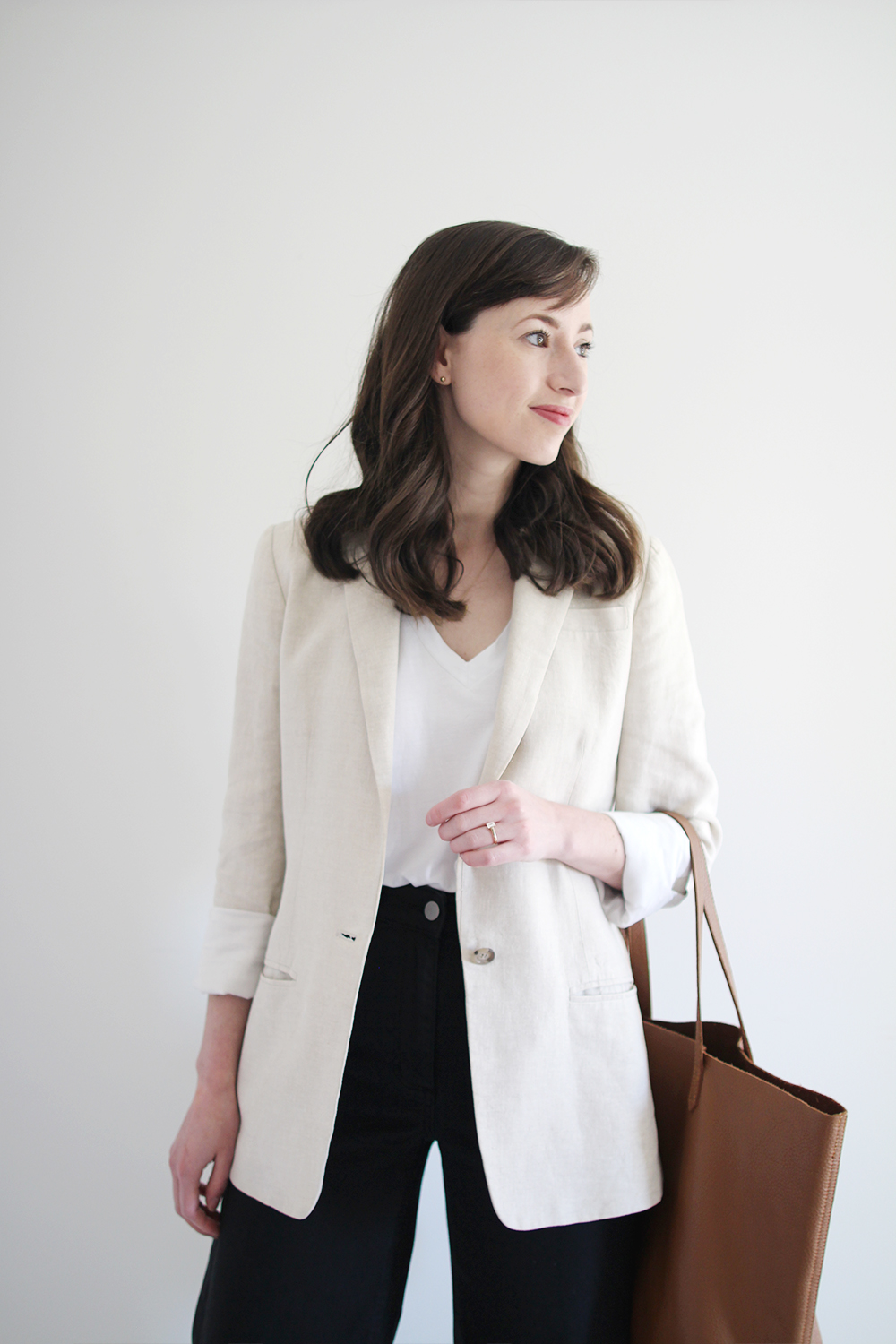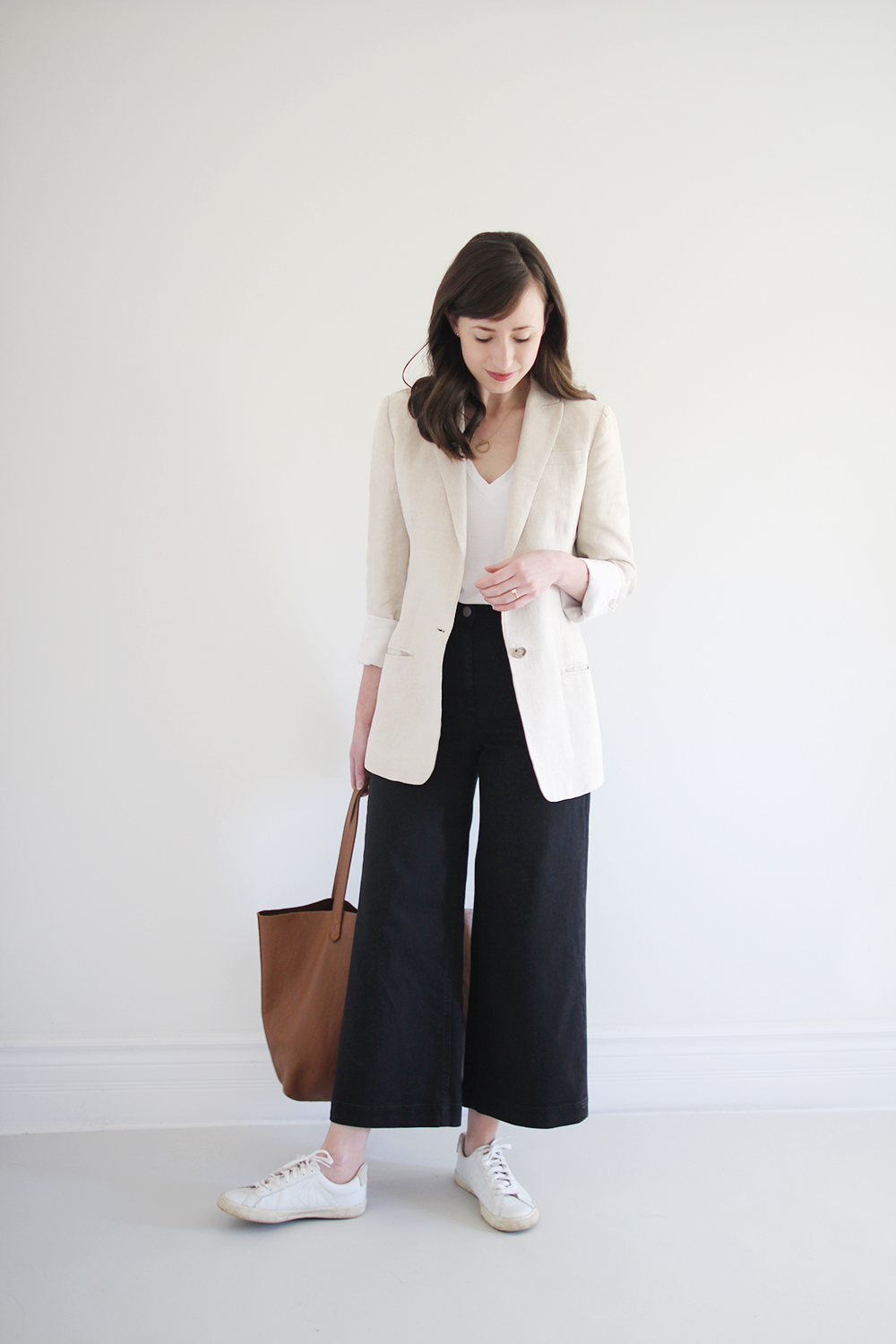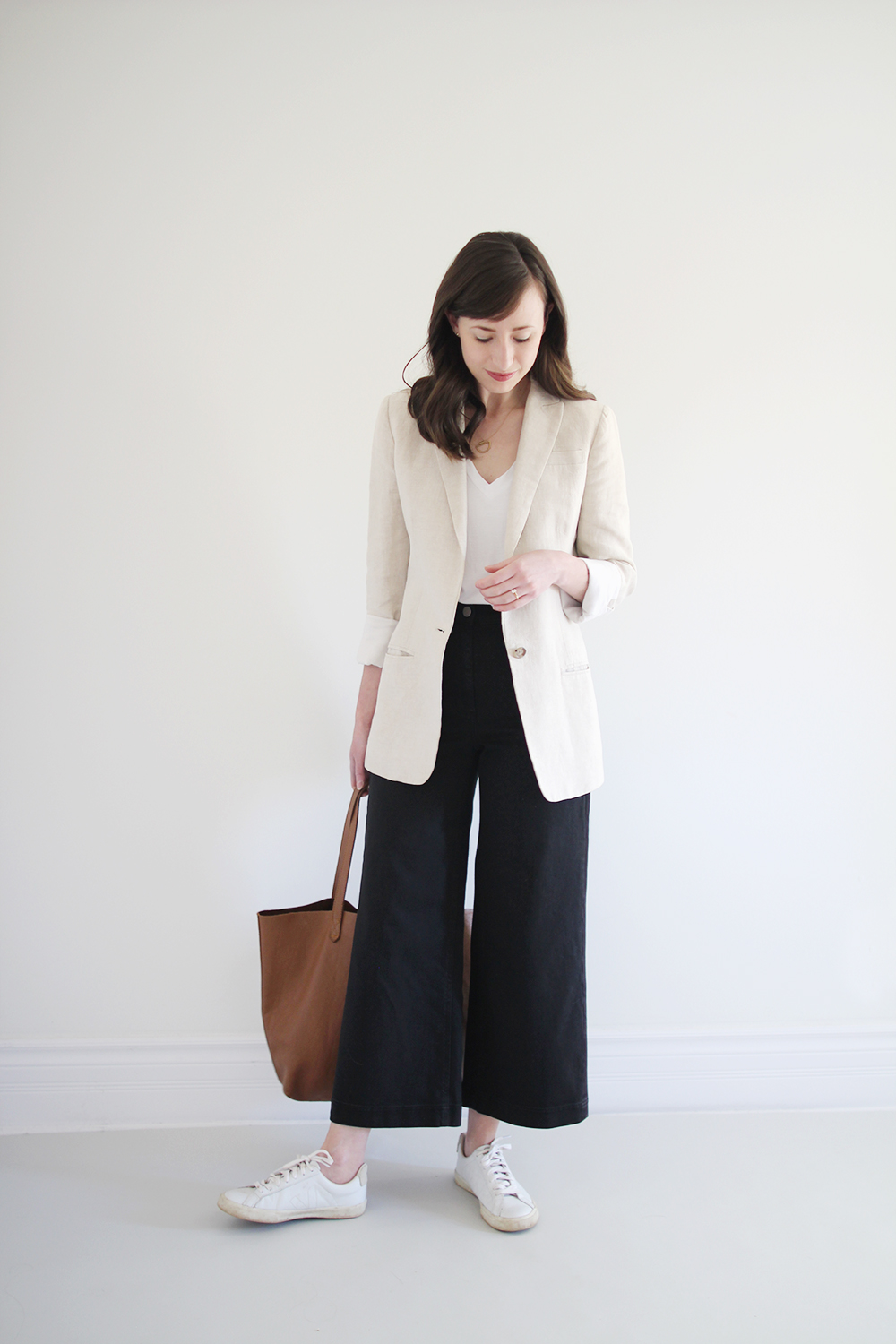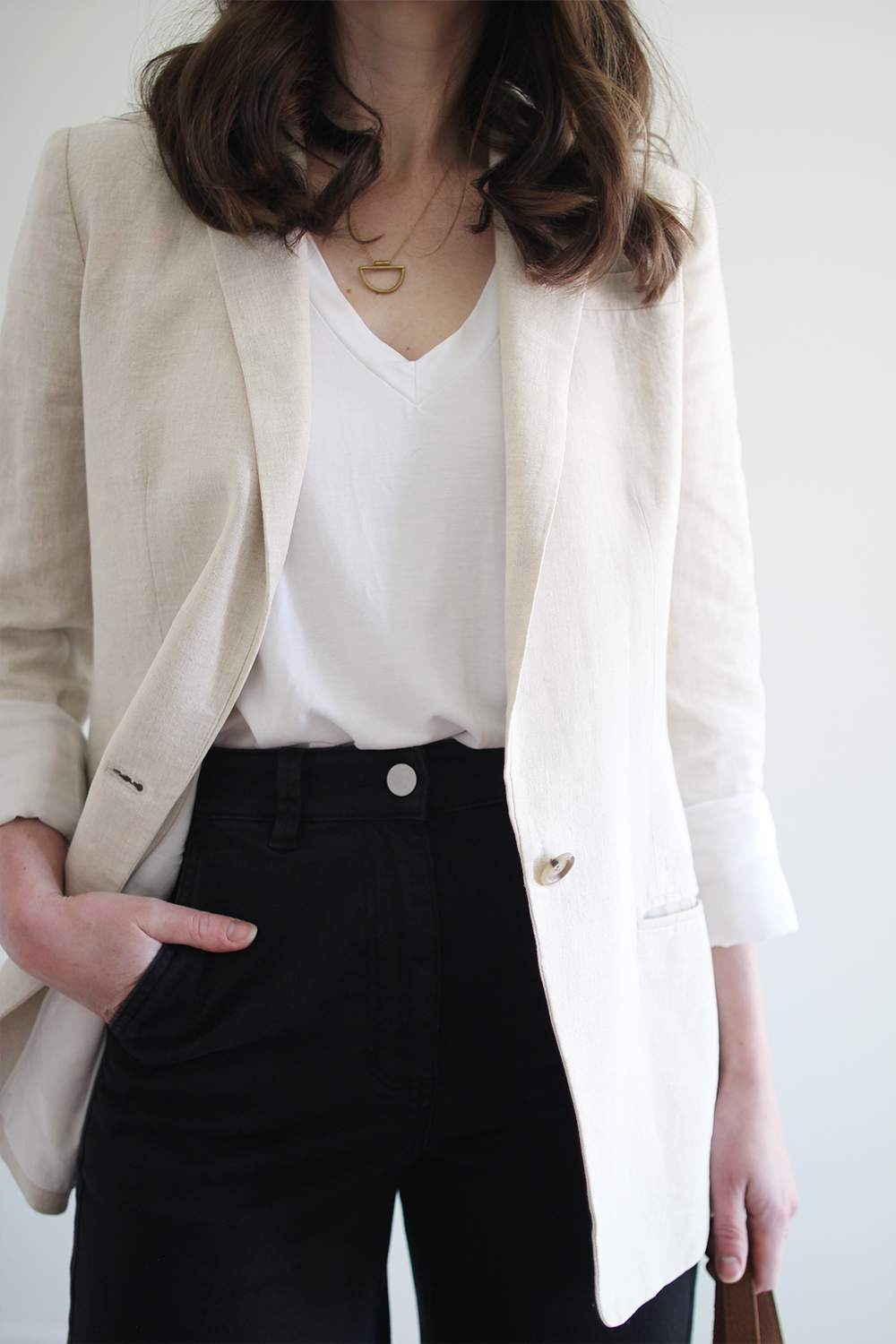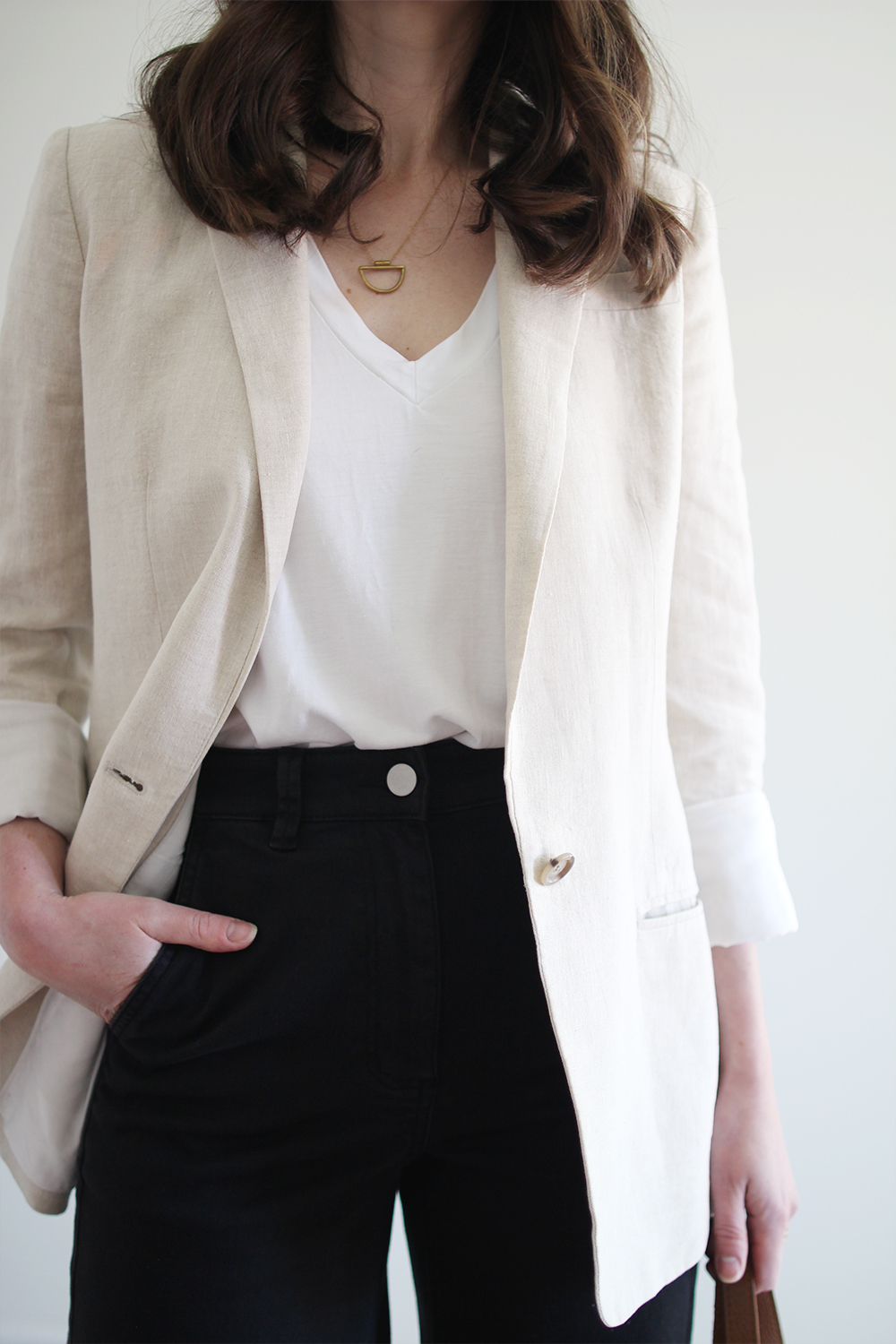 ---
1 | BLAZER | Old From Club Monaco | Similar option available via Reformation $228 USD.
2 | V-NECK TEE | Old from Zara | Similar by Everlane $35 USD.
3 | WIDE-LEG CROP | c/o Everlane $68 USD | Wearing a size 4 with the waist taken in.
4 | SNEAKERS | VEJA $120 USD | Wearing a Size 38 and typically a US7.
5 | TOTE | Cuyana $150 USD |
6 | NECKLACE | Another Feather $92 USD |
---

---
LOOK 2 – DRESS UP
---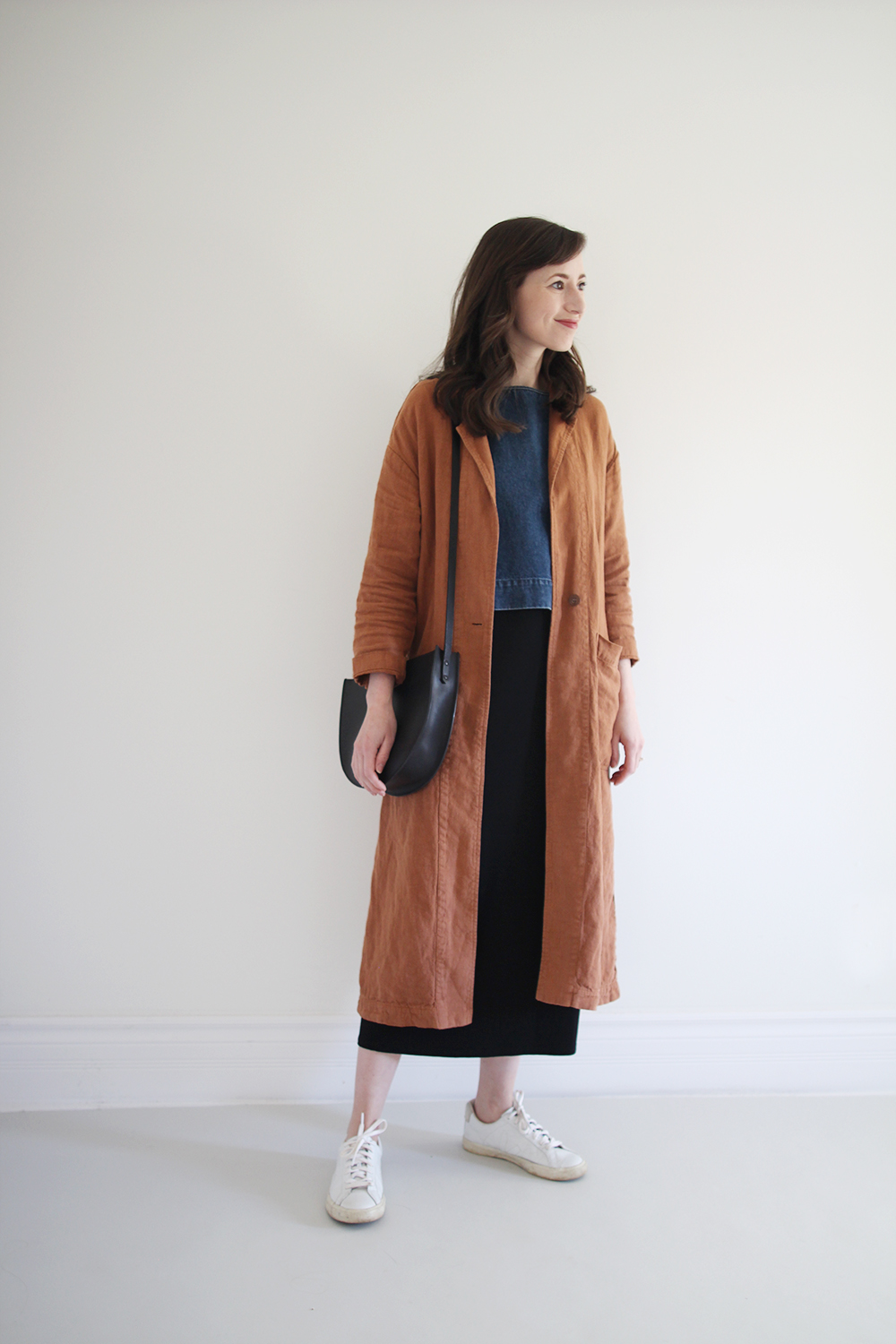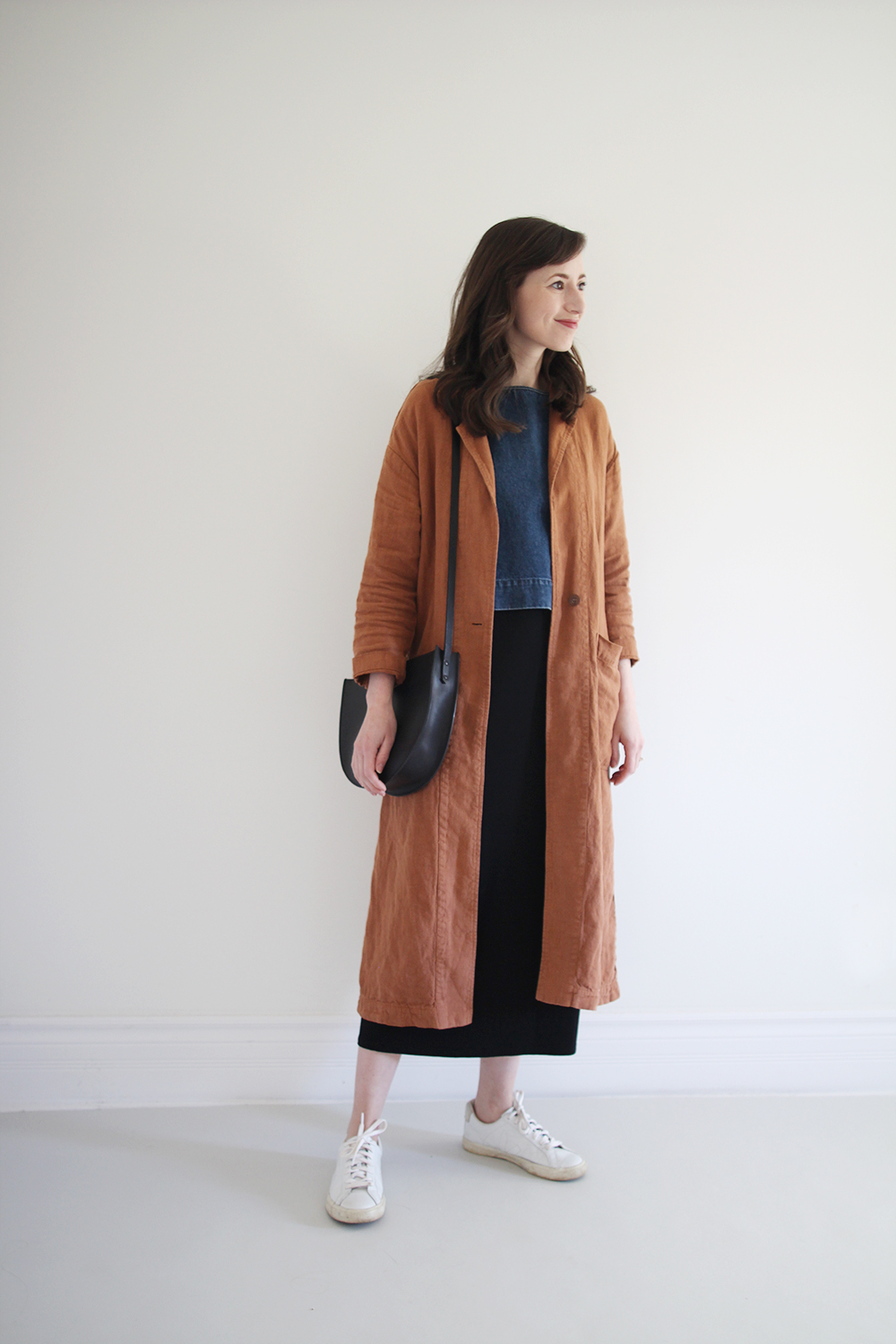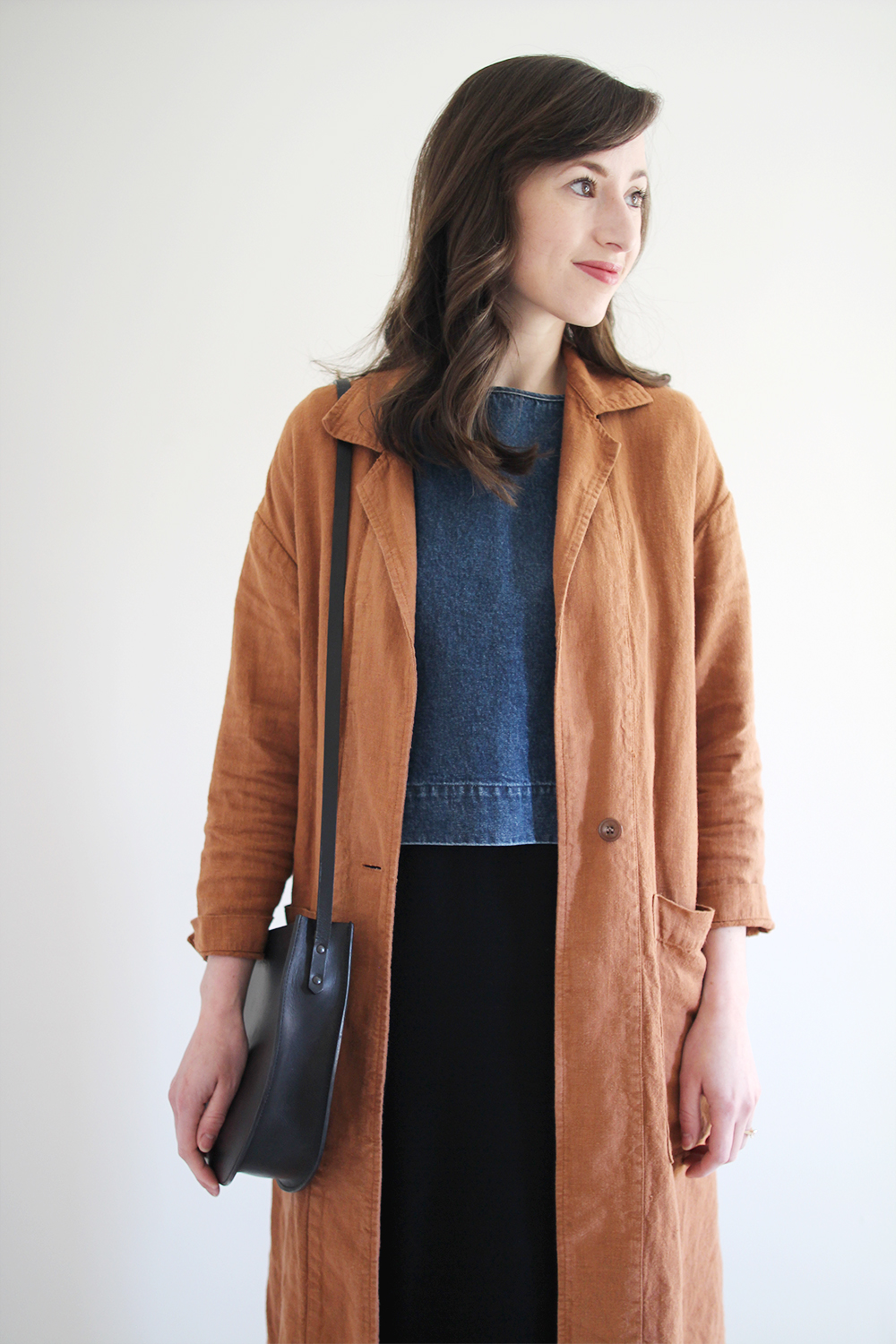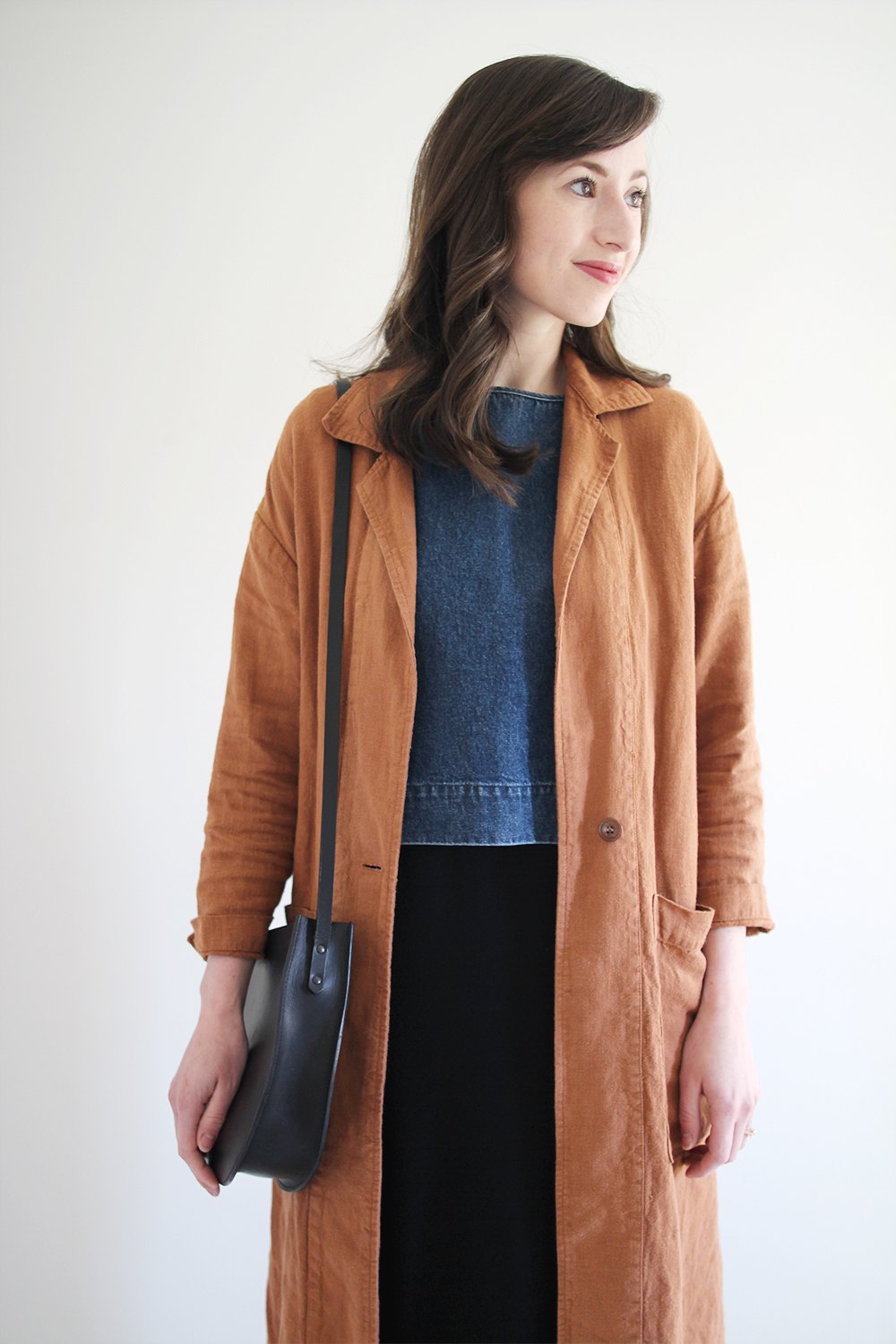 ---
This look was an experiment that resulted from my desire to pull out my cropped tops despite the cool Spring spell we've been getting. It's a bit outside my comfort zone but I'm liking the mix of proportions and that this duster colour works so well with dark denim. I would have normally paired this look with my black Mars boots but the sneakers bring it down to earth (literally and figuratively) and give it a dose of urban cool.
When I first started wearing these sneakers more I wasn't sure what bag to go with but I especially like the way that this simple, modern shape black one works with them. In this look the bag helps to keep the colour palette lean and adds continuity by matching my base dress colour.
TRY THIS LOOK YOURSELF BY: 
Starting with a long black tank dress. 
Topping that with a crop top that has a boxy or loose fit. 
Then add a duster coat that's a bit shorter than the dress.
Add a pair of comfy white sneaks and a simple black bag.
Keep your accessories/jewelry simple to non-existent and let the unique layers be the statement.
---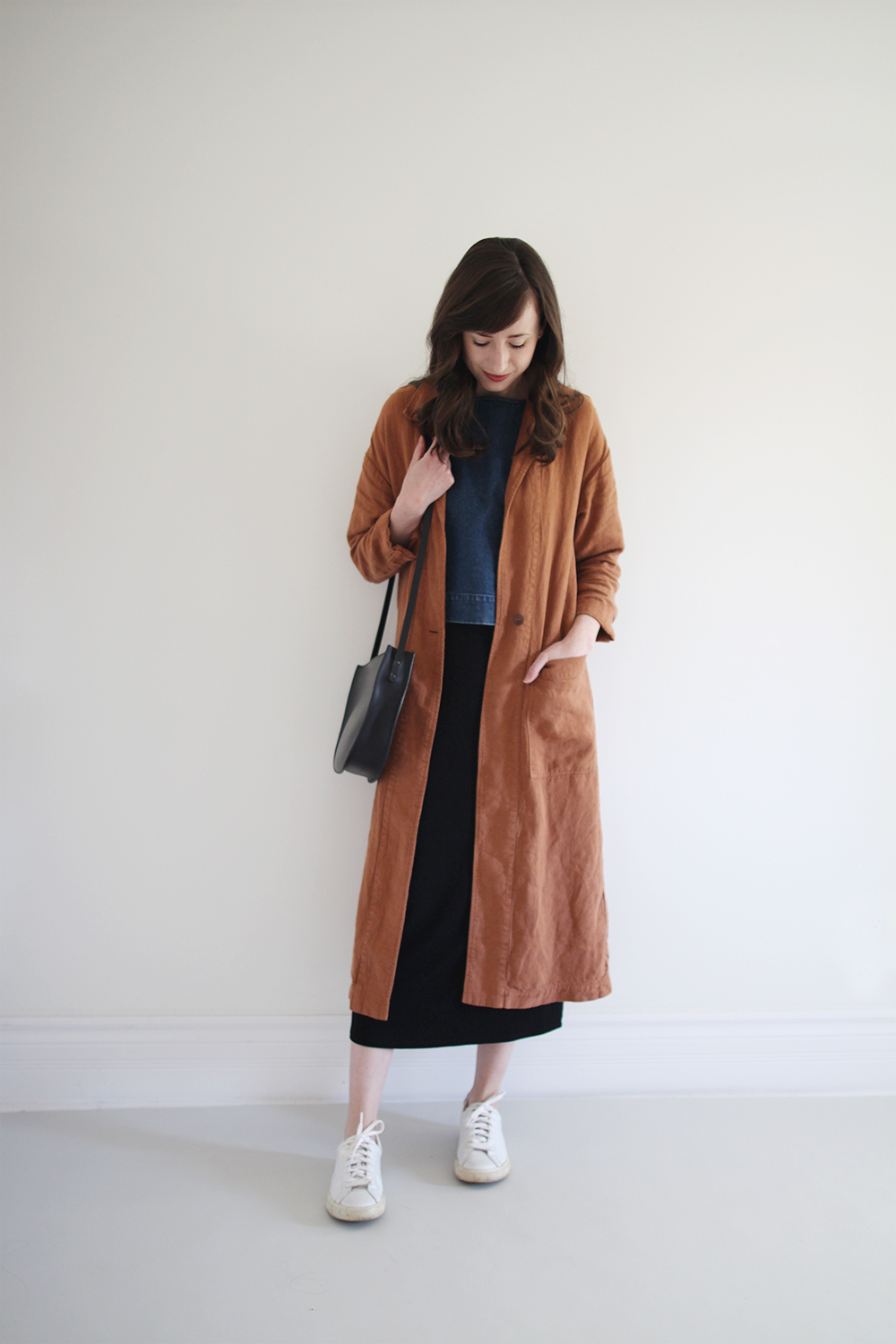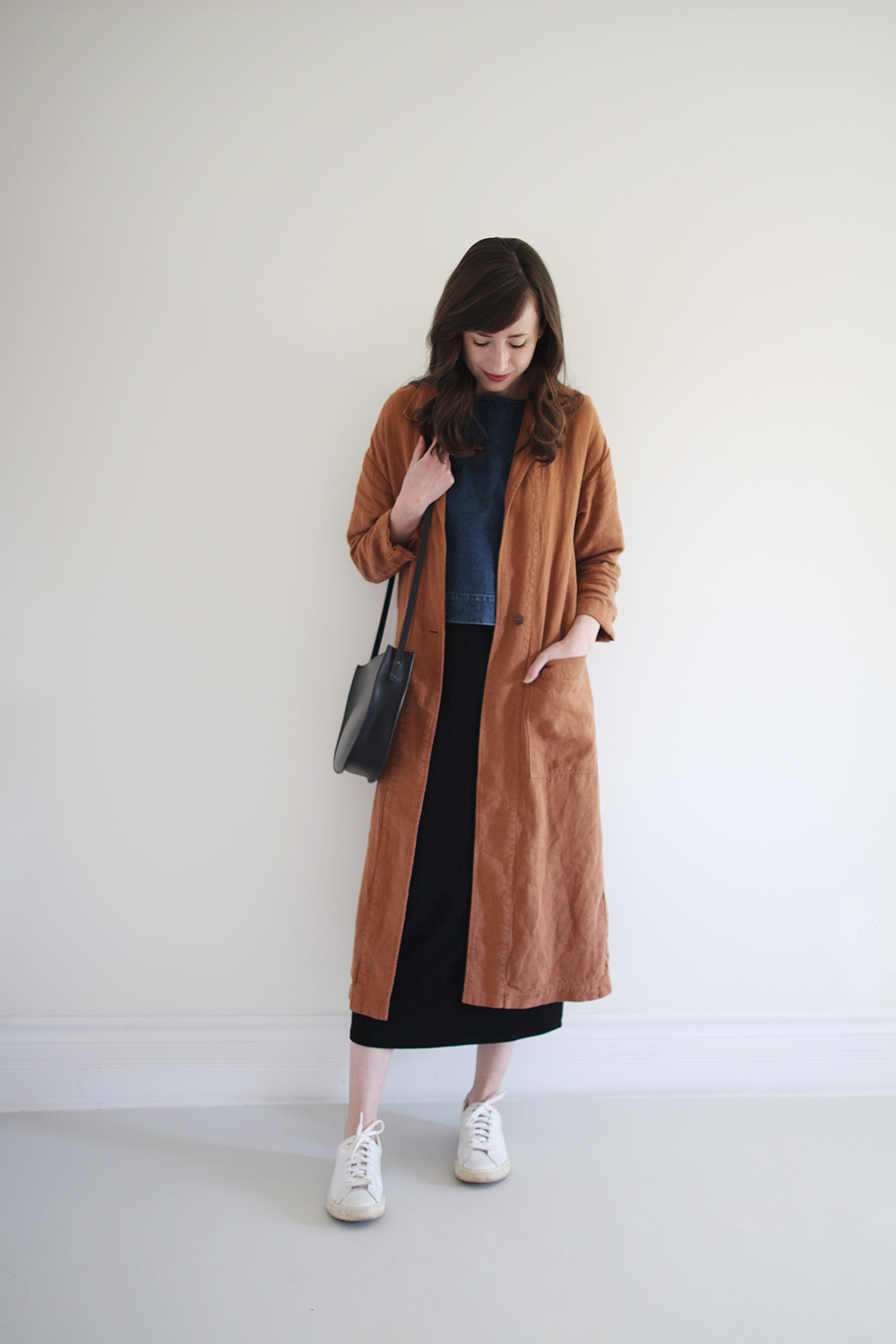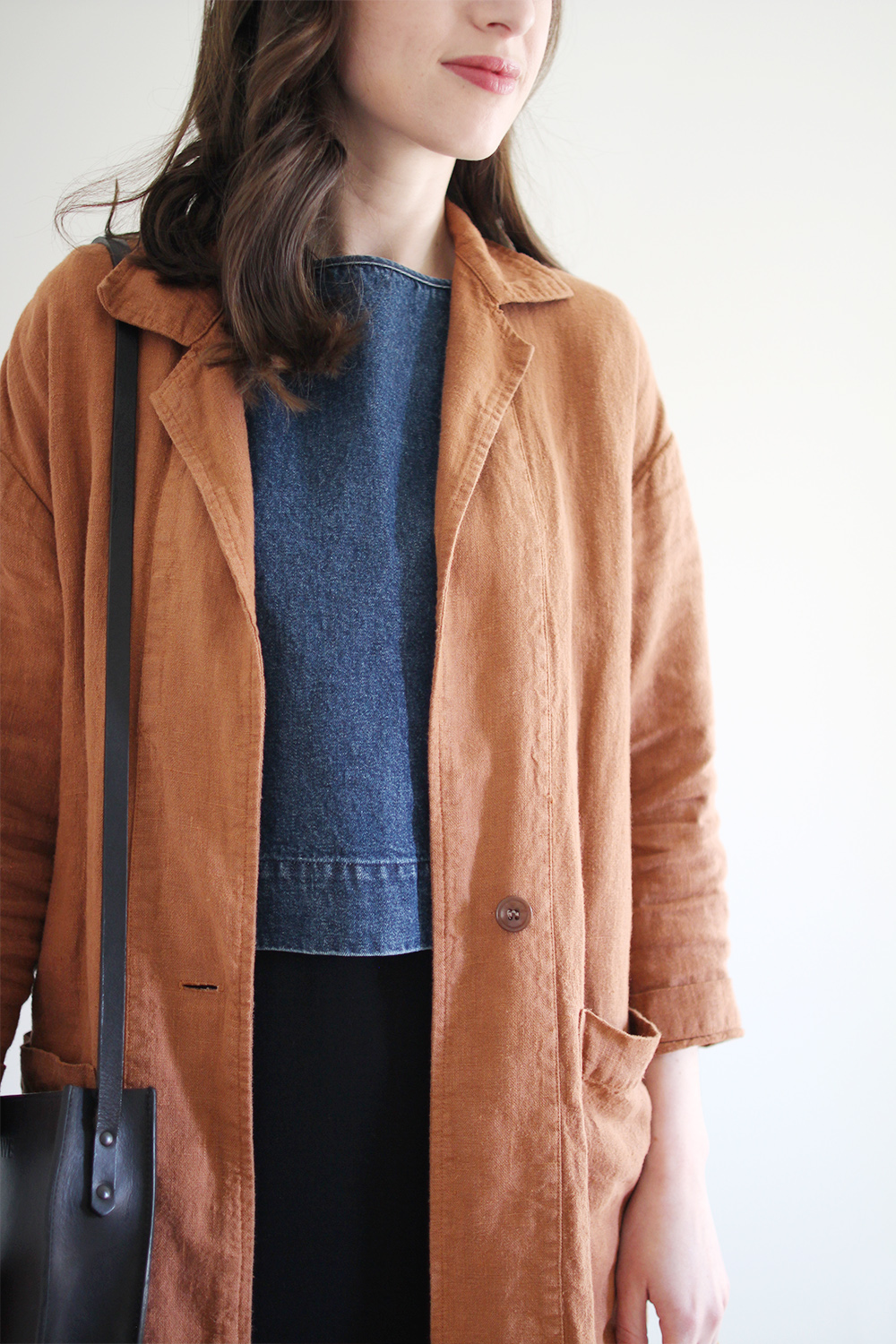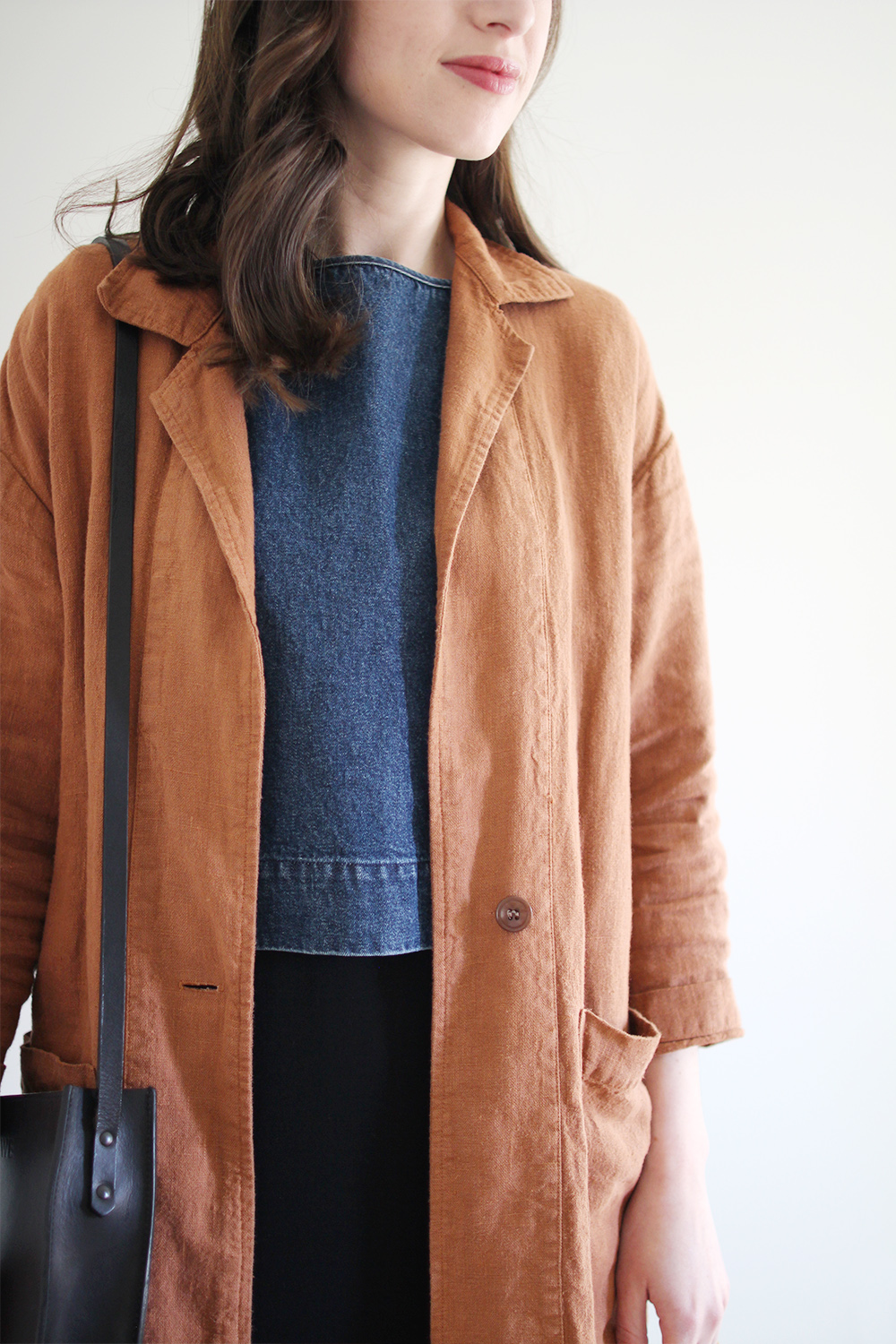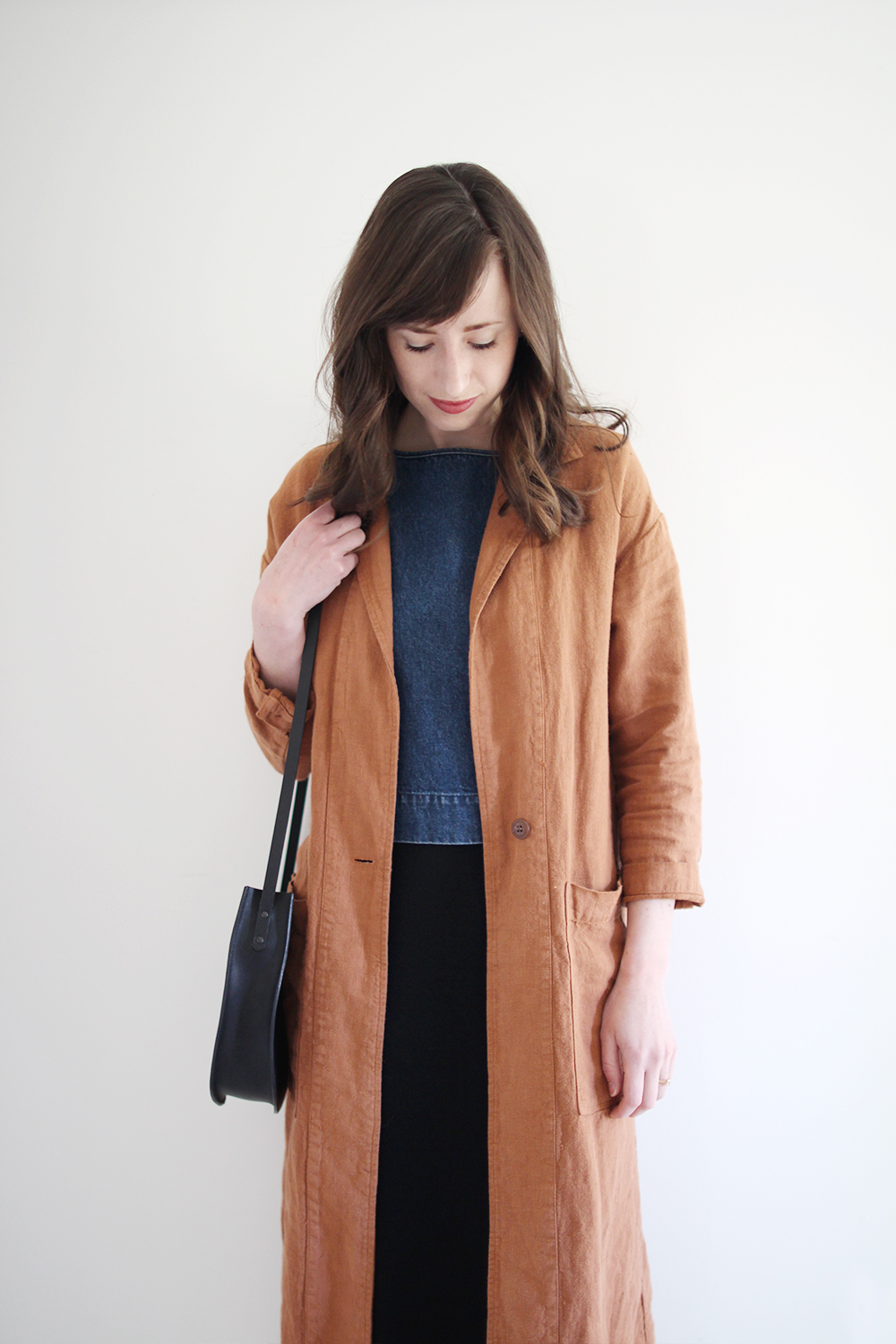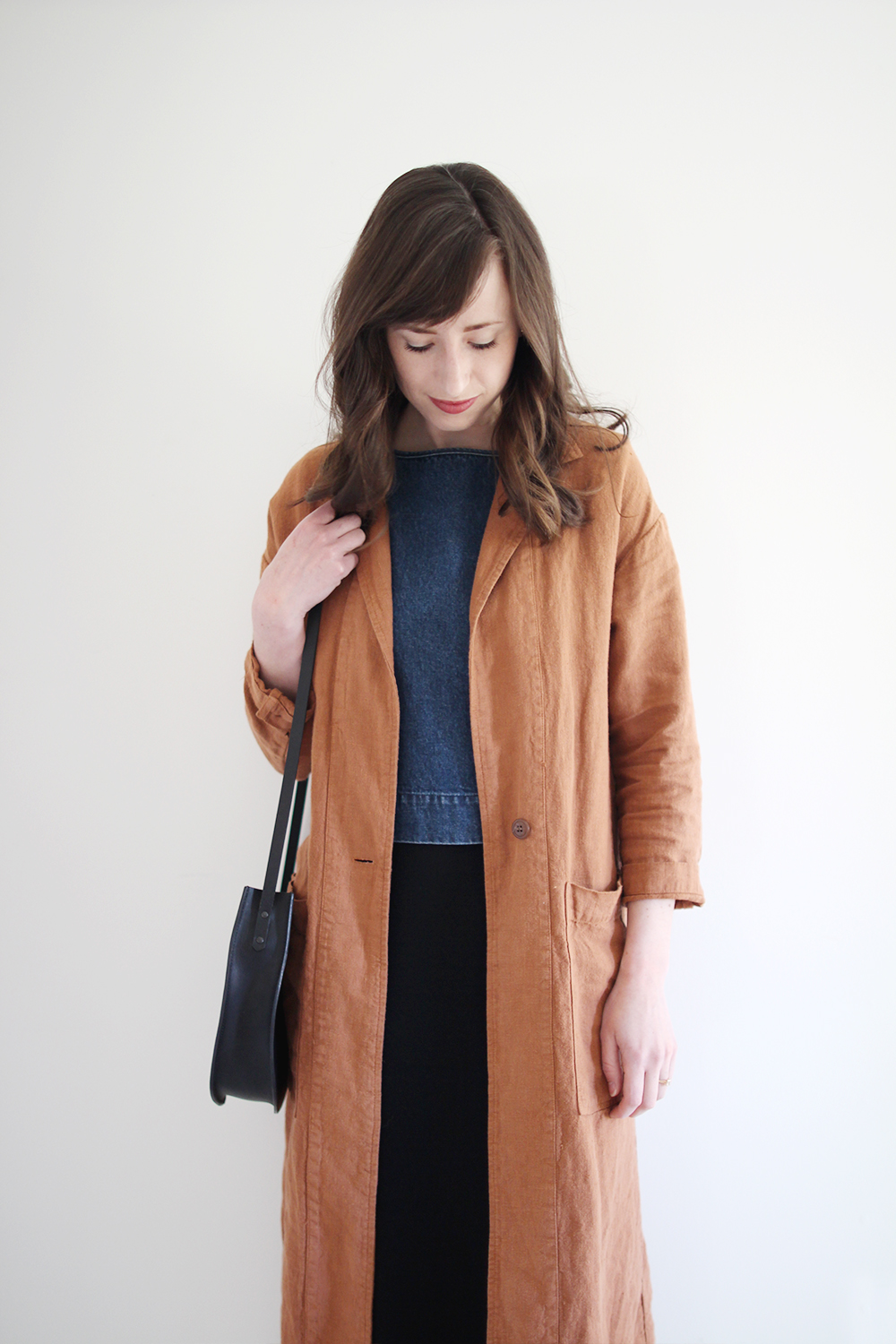 ---
1 | DUSTER COAT | c/o ESBY APPAREL $386 USD | Wearing an XS. | Receive $20 OFF your first order when you sign up here.
2 | KATE DENIM CROP | Ilana Kohn $166 USD | Receive $20 OFF your first order when you sign up here.
3 | TANK DRESS | c/o Eileen Fisher $210 CAD (25% OFF and price matched) |
4 | SNEAKERS | VEJA $120 USD | Wearing a Size 38 and typically a US7.
5 | ELOISE BAG | The Stowe $387 USD | Made in Canada.
---

---
LOOK 3 – BOLD COLOUR
---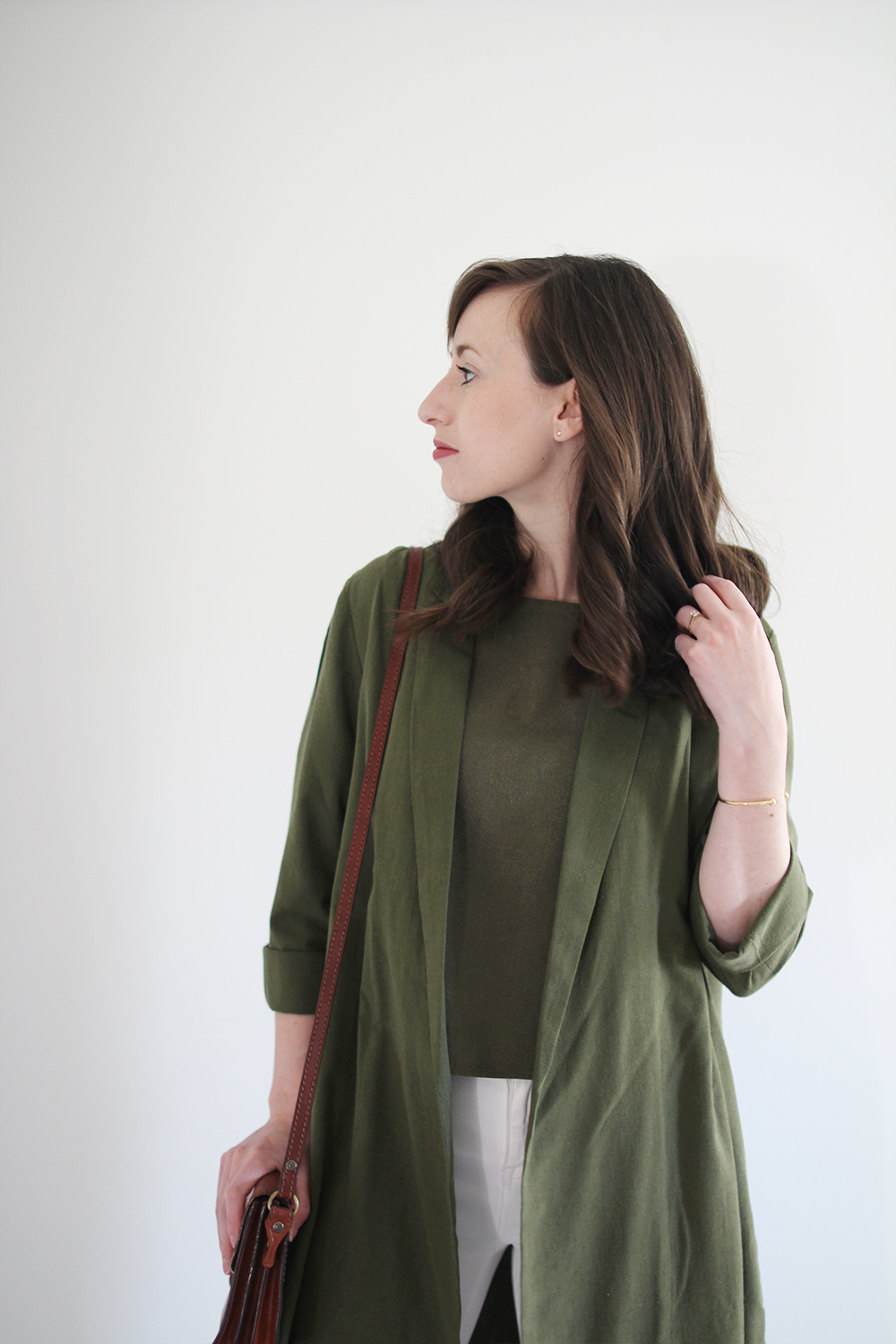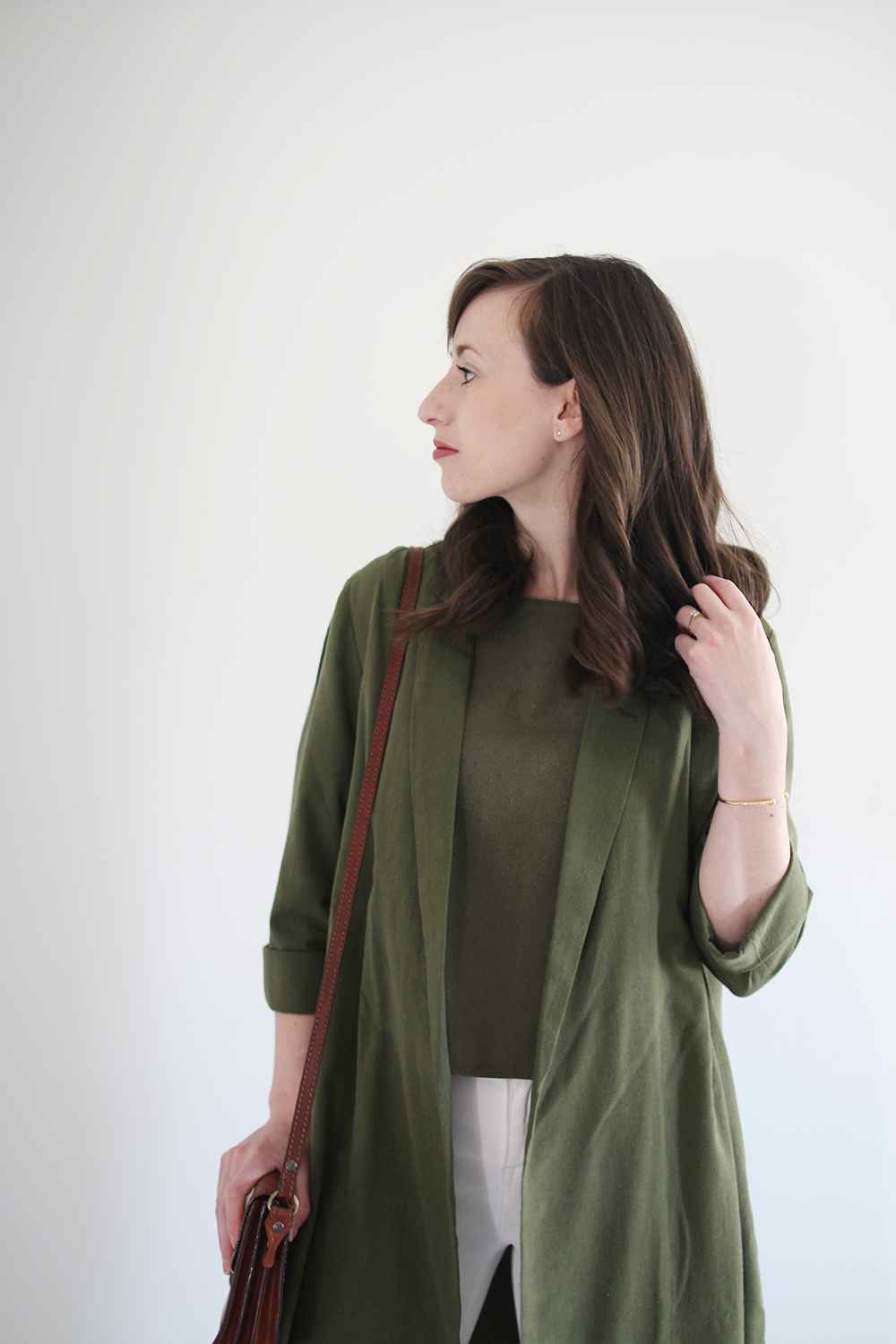 I love how these sneakers work with wide legged pants and midi length dresses but I wanted to test out a skinny jean look that was super simple and yet statement making at the same time. Cue the white skinny jean and a whole lot of green! Granted this is a mega dose of colour but it's one of my favourites to wear, especially in the spring and it's a fun way to push the limits on both my style and colour palette.
This is working for a couple of reasons. The first being that these greens are very similar but not identical so you get an ever so slight variation of tones. The second is that both the top and coat are made from the same raw silk material so they've got lots of drape, texture and movement. Paired against a stark white pant and shoe it feels fresh but not over the top and the earthy complimentary tone of the oxblood bag adds just enough extra colour to the mix to keep it interesting.
TRY THIS LOOK YOURSELF BY: 
Starting with some slim white pants cropped at the ankle.
Then pick a colour you love to wear on top.
Double it up with a coat, long sweater or duster in the same colour range. Bonus if they're the same material!
Roll up your cuffs a couple of times to keep the wrists free. 
Grab a neutral but contrasting bag and slip into your favourite white sneakers! 
---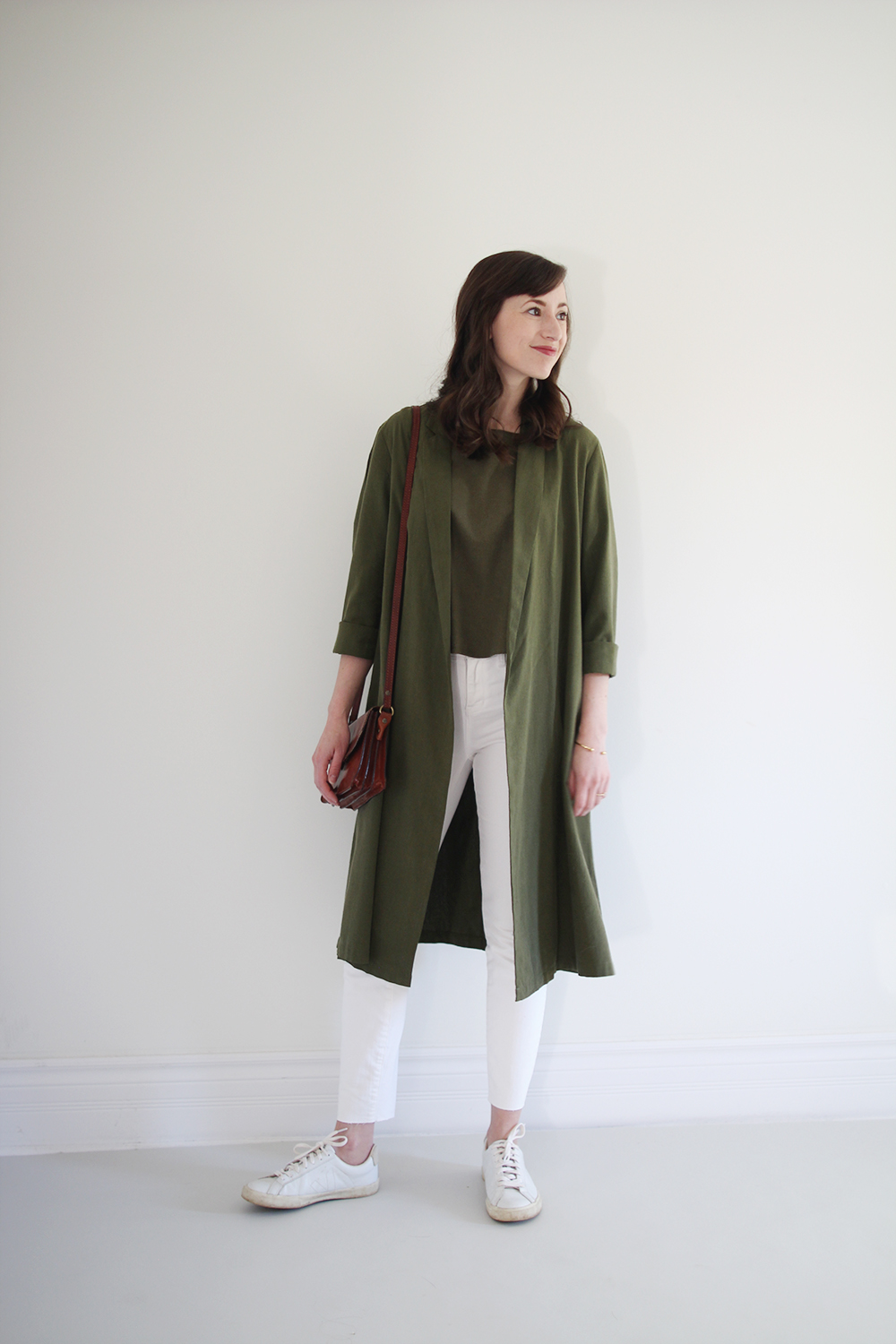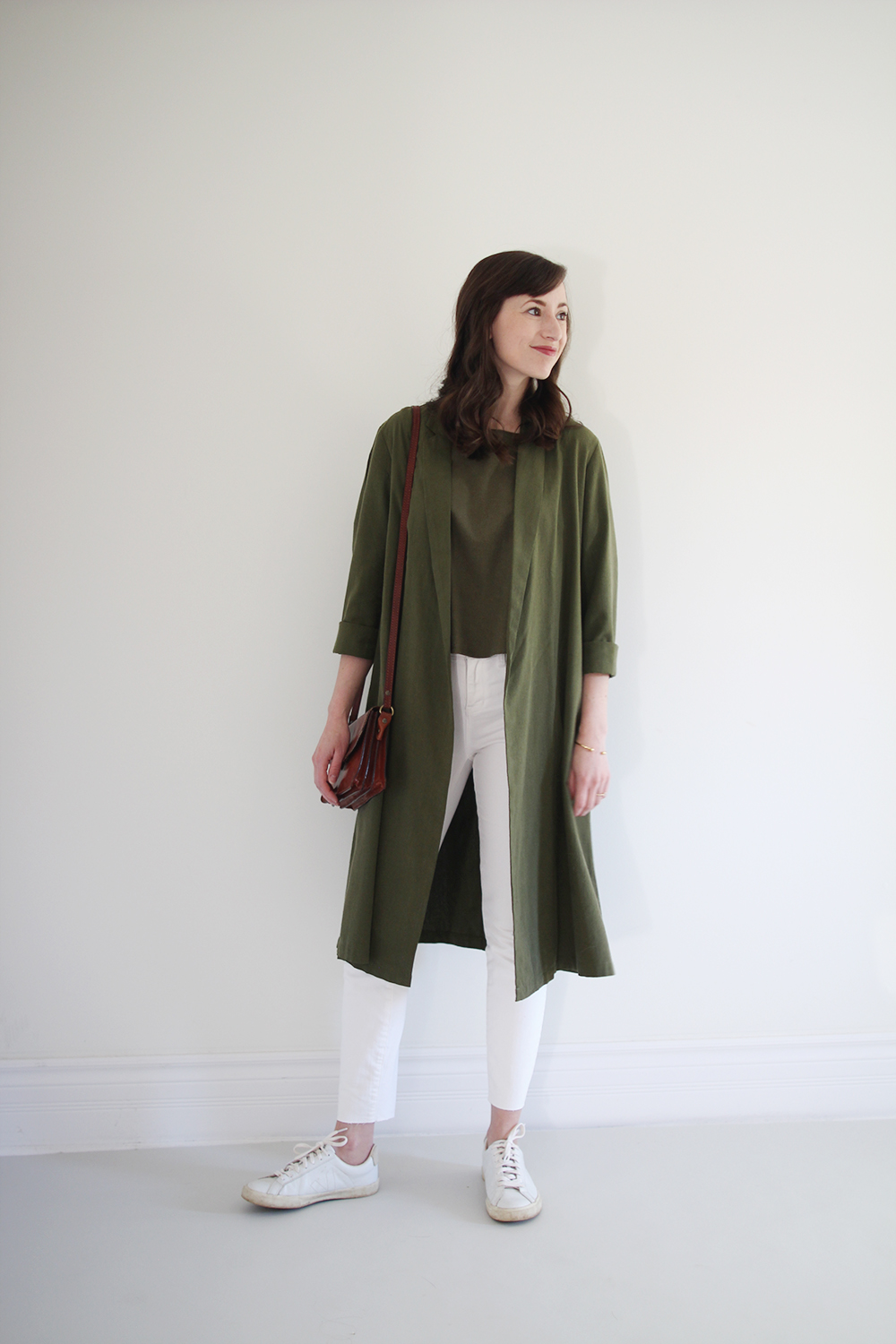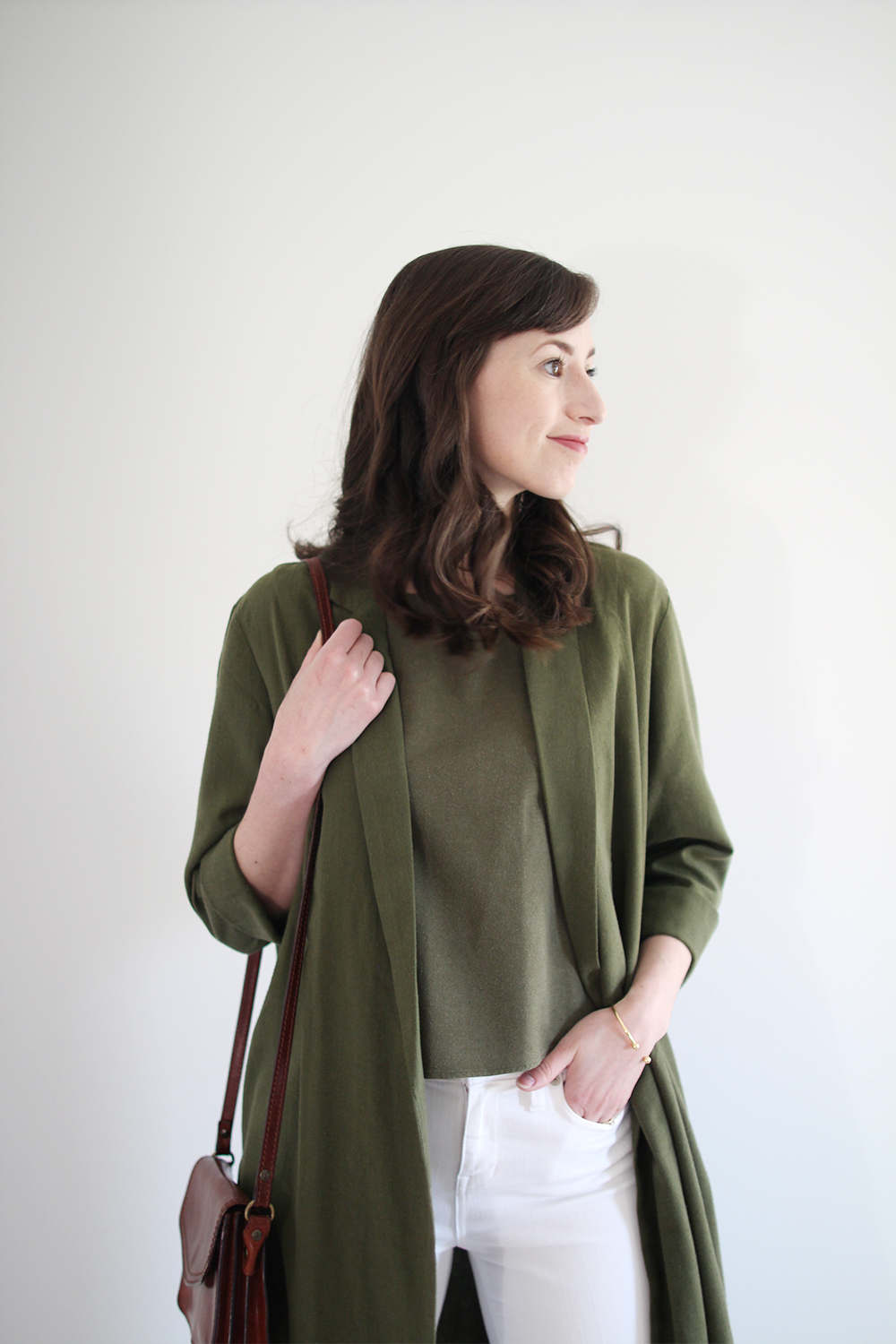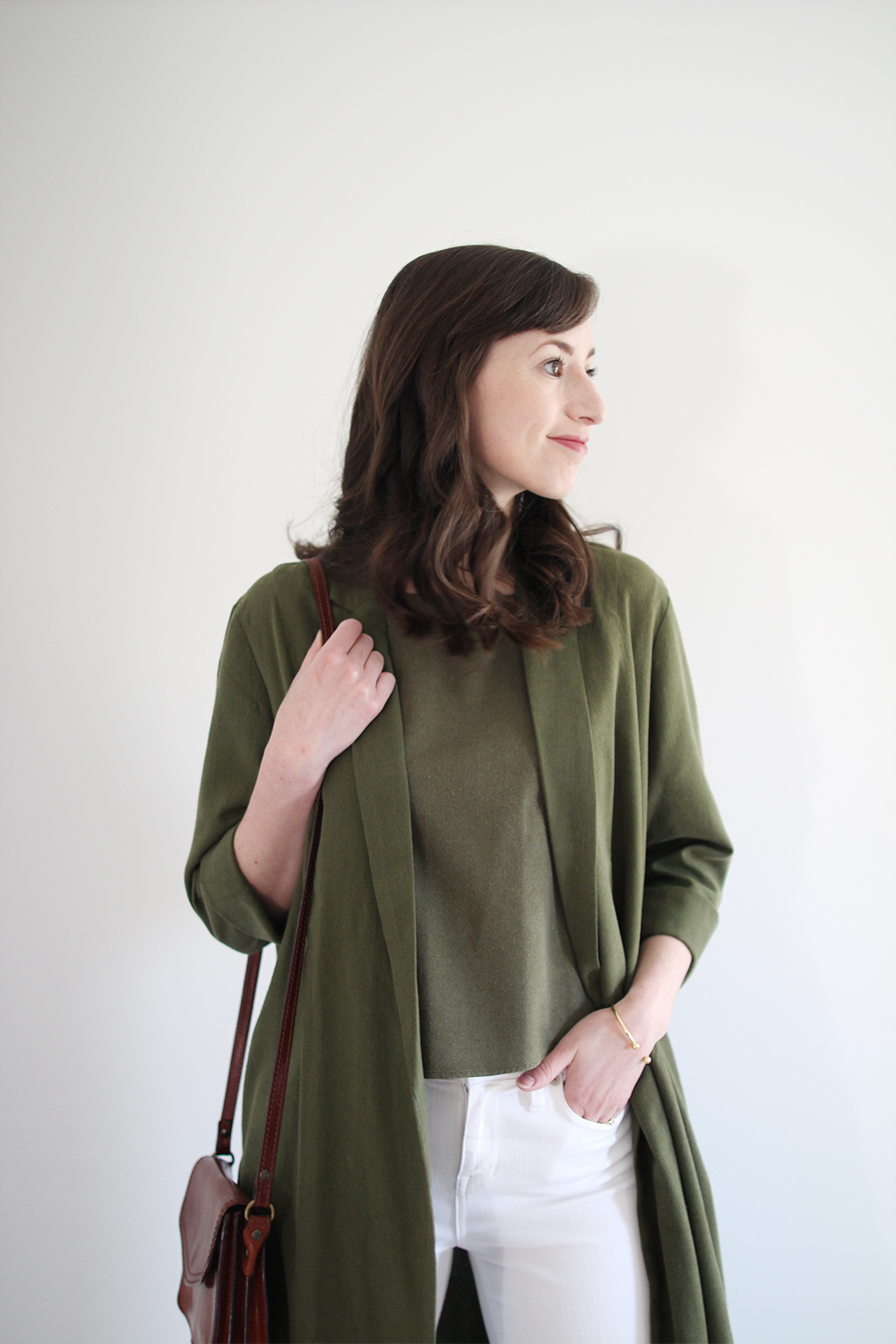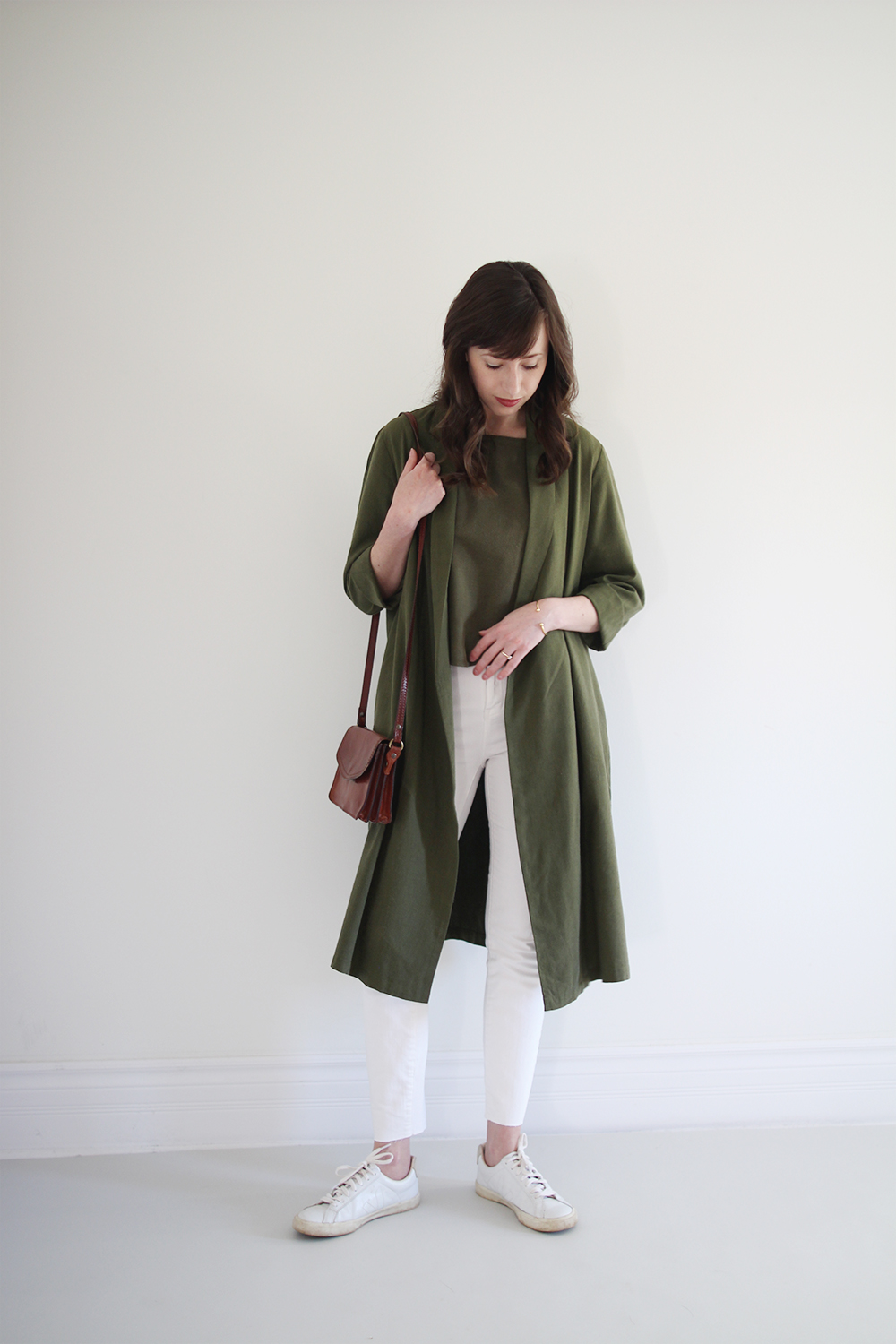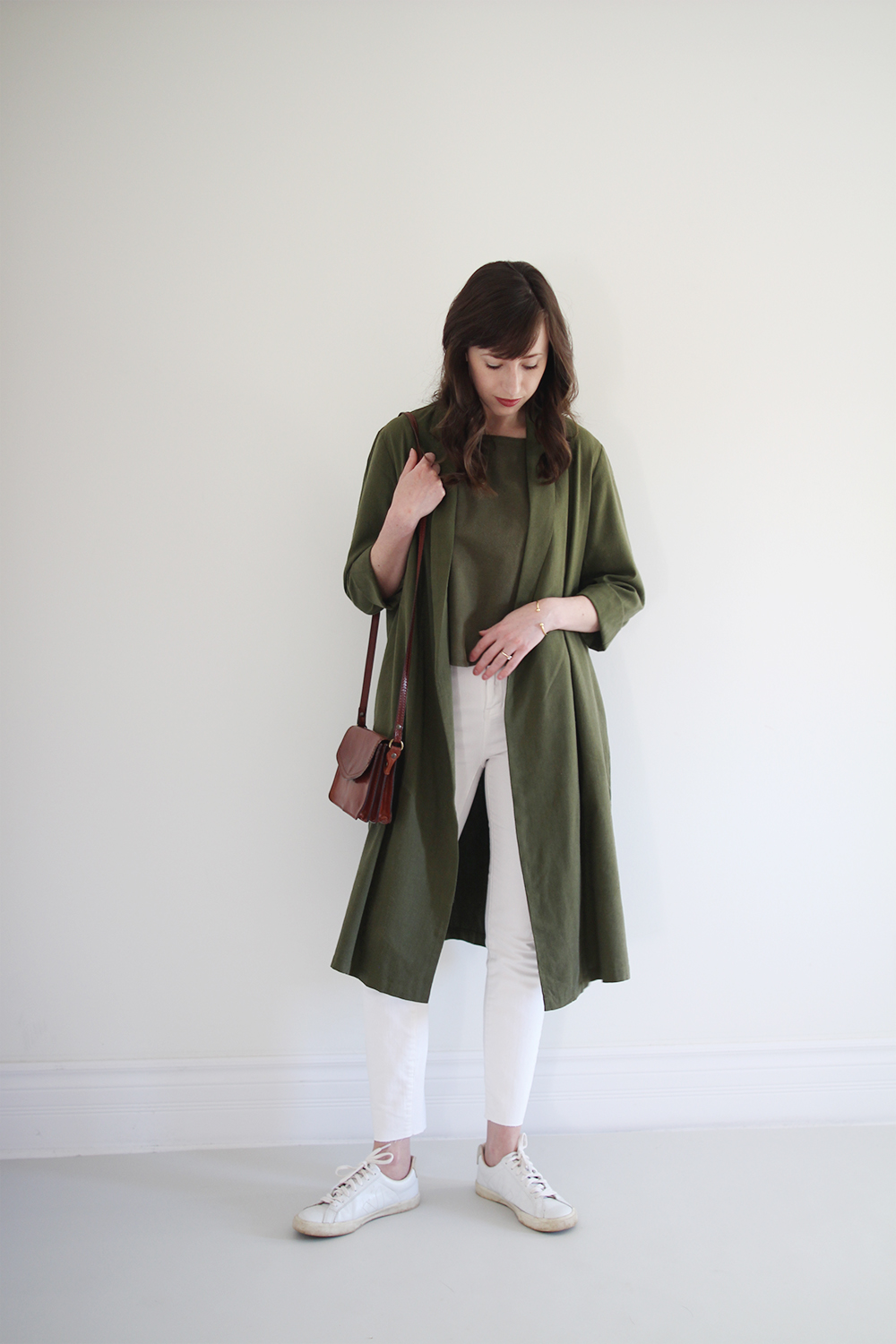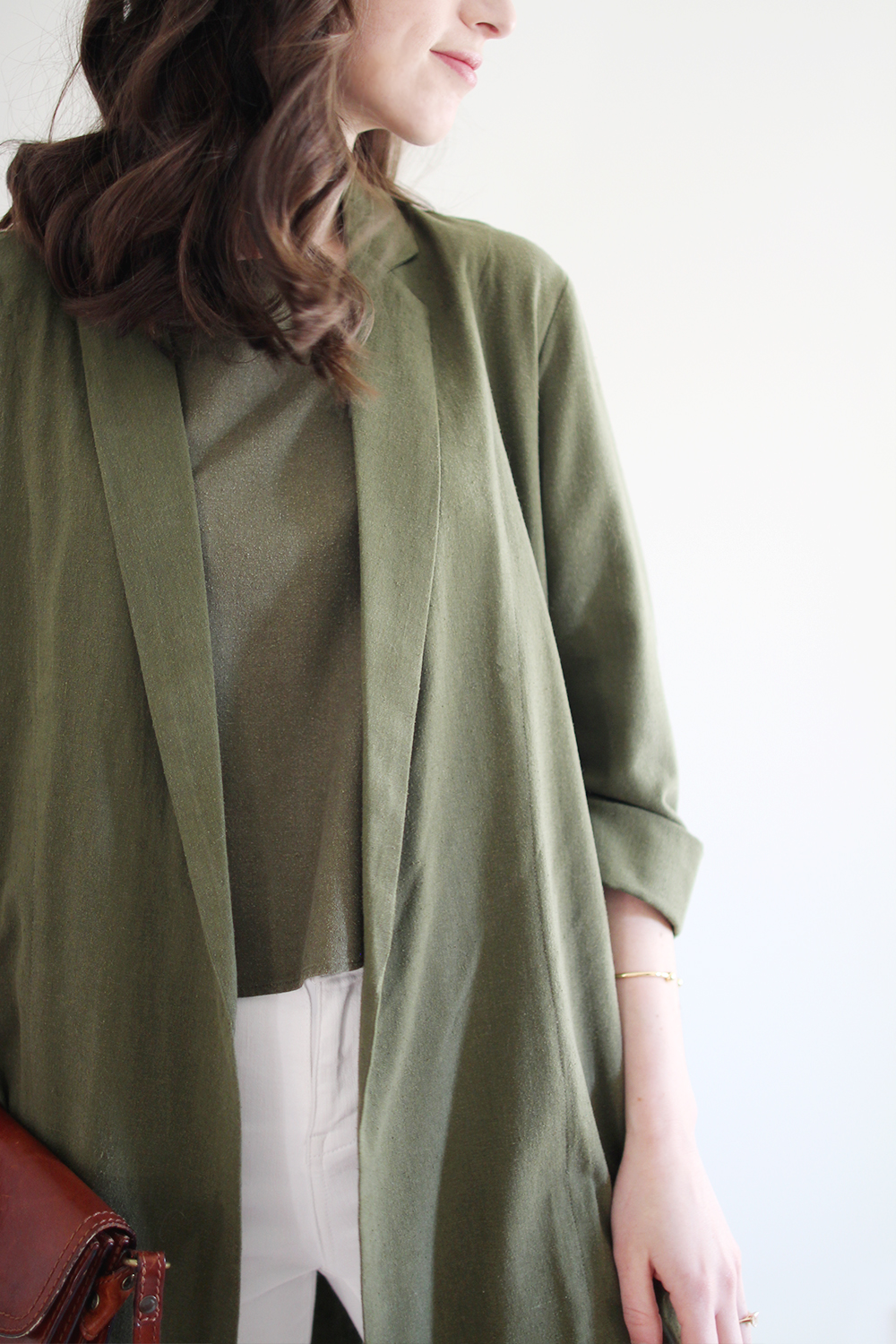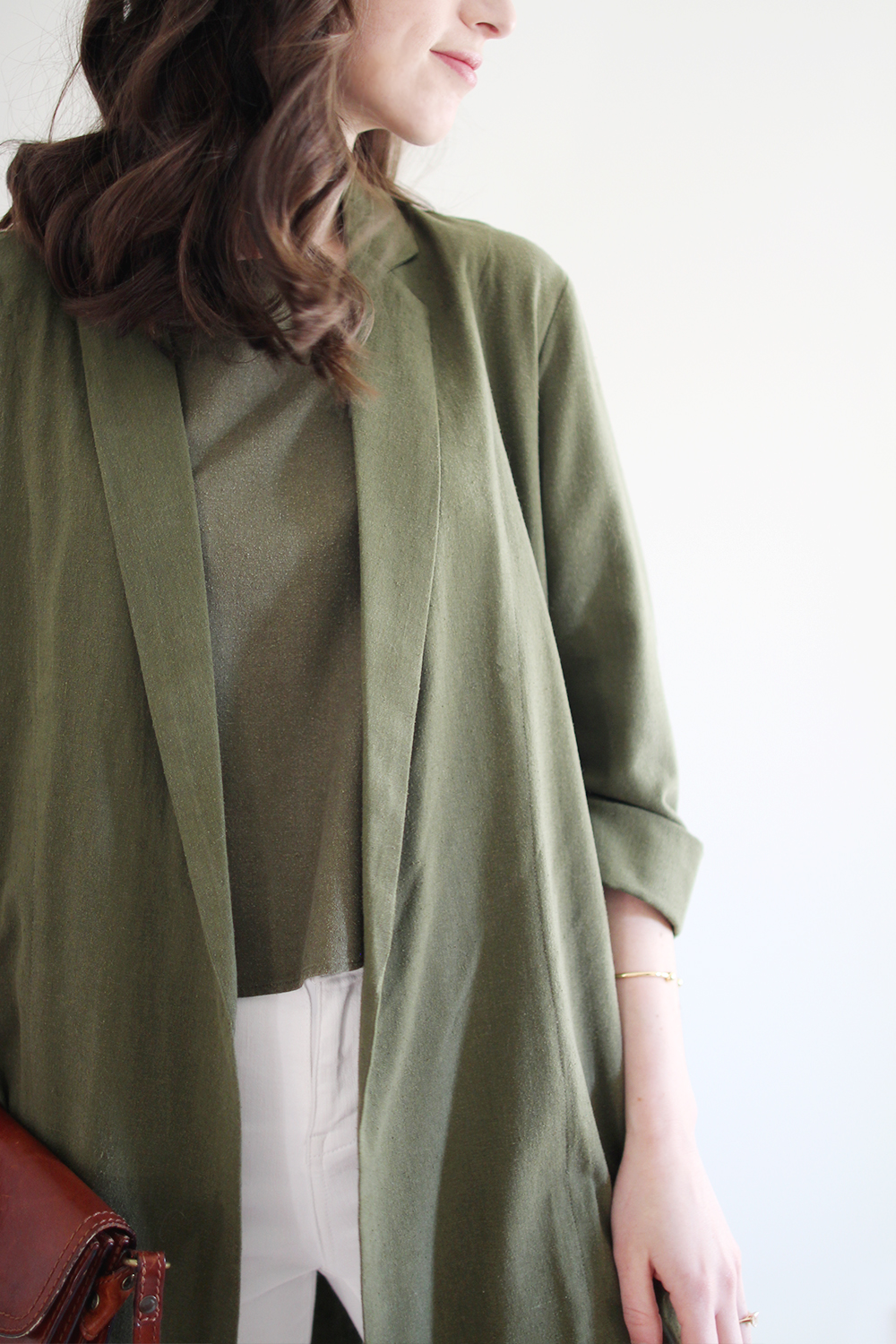 ---
1 | GREEN DUSTER | Ali Golden | Sold Out but same style different colours can be seen here. | This is a great made in USA option for $120 USD.
2 | BLANK CANVAS TEE | Jamie + The Jones | $120 USD |
3 | WHITE SKINNIES | Madewell | $180 CAD | Similar made in the USA available here.
4 | SNEAKERS | VEJA $120 USD | Wearing a Size 38 and typically a US7.
5 | BAG | Vintage | Similar available here.
---

---
SO TELL ME, HAVE YOU HOPPED ABOARD THE WHITE SNEAKER TRAIN?
If yes, are you loving it? If no, what's the hesitation?
ARE YOU A FELLOW VEJAS FAN? WHAT PAIR DO YOU HAVE/HAVE YOUR EYE ON?
---
WISHING YOU ALL A WONDERFUL WEEKEND! 
---
This post is not sponsored but contains affiliate links. When you shop via the links above I may make a small commission from a sale. This income helps limit the amount of sponsored content that appears on Style Bee. Thanks a lot for your support!