Ready for a few days of fun, fancy outfits? I hope so! I don't usually post many outfits involving dresses and I rarely share looks in which I'm 'all dolled up' because, well, I rarely am. But since we're on the theme of 'formal style' I thought it was the perfect time to share a few of the fancier looks I'm planning to wear this summer. In case you're wondering where this is coming from, last week I shared a comprehensive Responsible Formal Wear Guide and played around with my Georgia Midi Dress in a 1 Item – 3 Ways post. So those might be of interest if you're in the market for a dressy number at the moment.
Now, I think many of you will agree with me when I say that shopping for something I'll only wear once doesn't really sit right. I've definitely done that in the past but now it just feels wasteful. So when I do invest in a piece for more formal occasions I like to consider not only whether I'll be able to wear it multiple times but if it can be worn more casually too. So for the next three looks I'll be sharing how I wear an item for both a fancy occasion and a more everyday option as well.
The first piece I've styled is the Wrap + Slip Dress by VETTA, a beautiful line of responsibly produced pieces designed specifically to be worn several ways. In fact, this piece is indeed two dresses that can be worn together or separately, so it's pretty much perfect for this series and for anyone interested in getting more use out of an item.
So let's see how I style the Wrap + Slip Dresses for a formal event and just the Slip Dress for something more low-key like a date night or for having drinks with friends. 
Ps. Don't miss the special treat for Style Bee readers!
---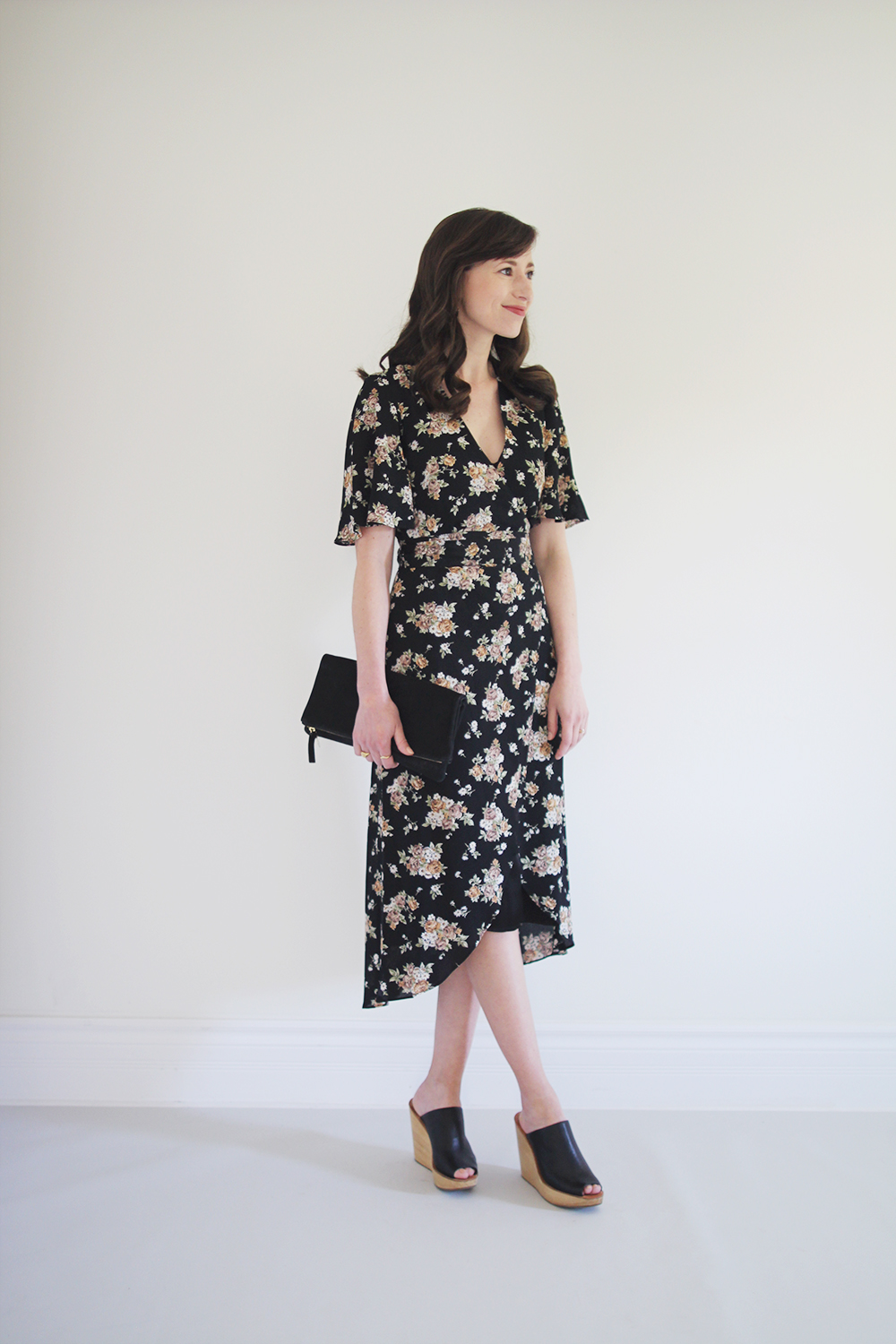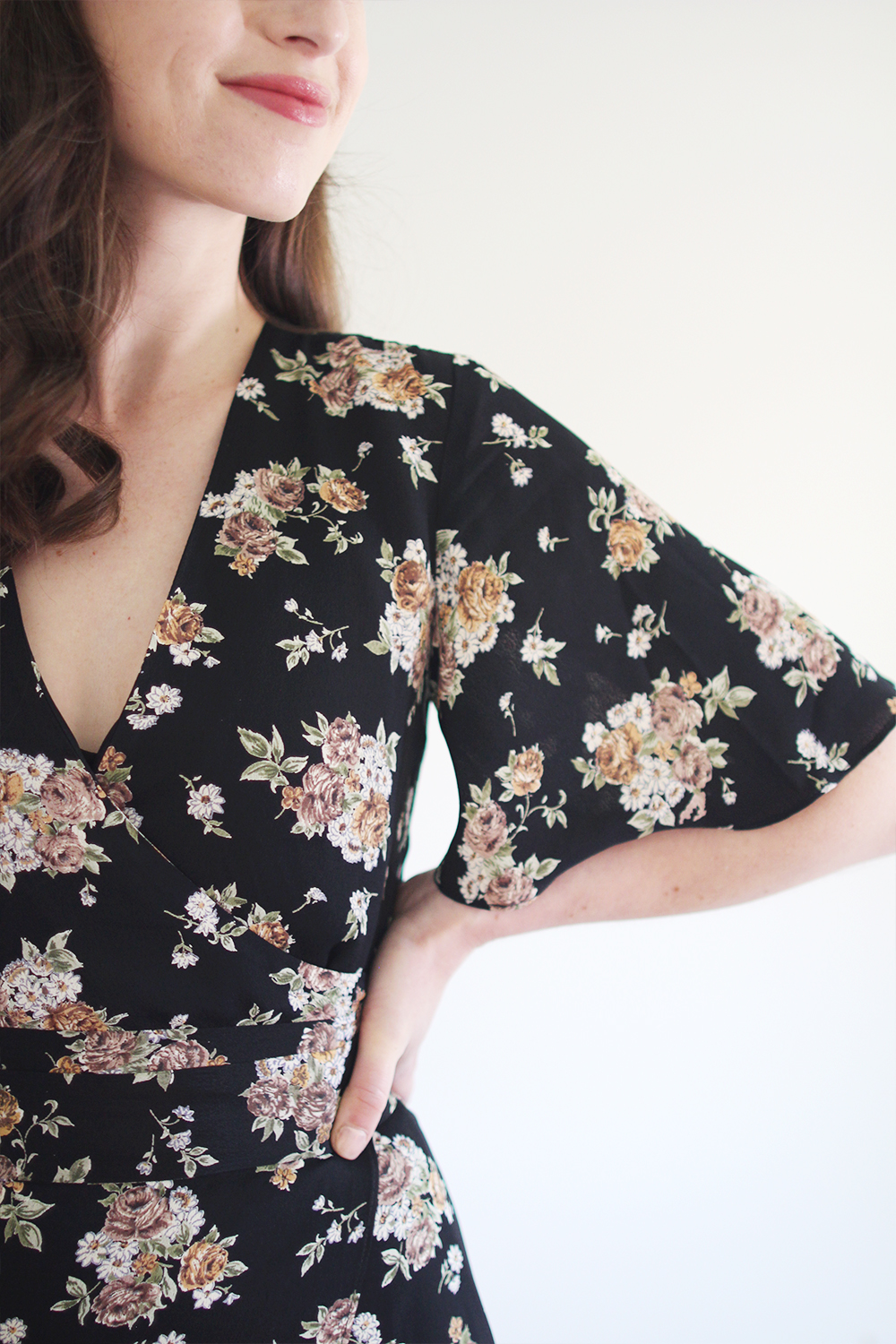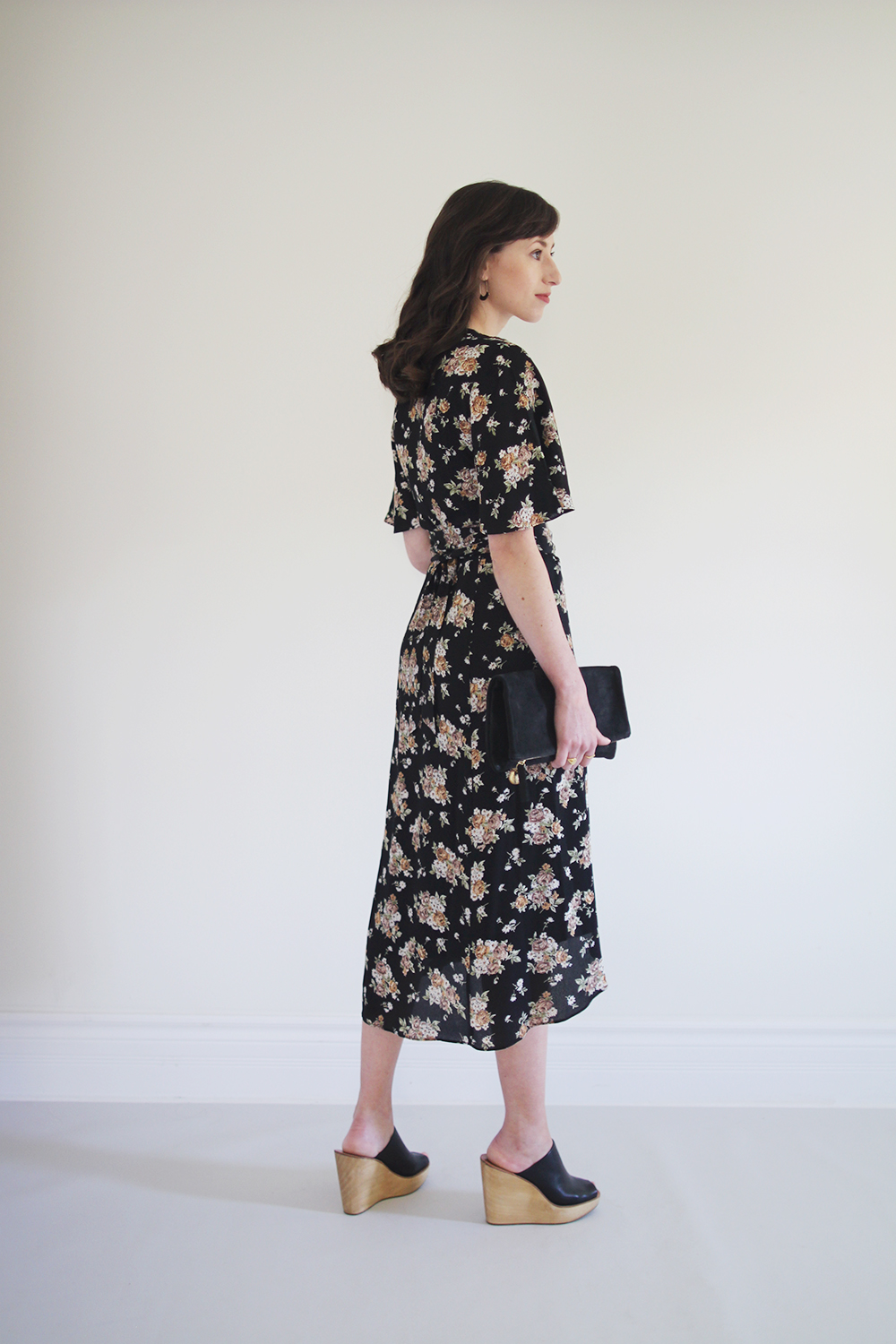 ---
INITIAL THOUGHTS
---
Dresses, let alone floral prints are WAY outside my typical realm of personal style, yet I feel absolutely FABULOUS in this dress. It's super comfortable, while at the same time being highly flattering. It's flirty and feminine without being revealing or body conscious. Not to mention that this floral print has a nostalgic, vintage vibe without making me feel like I raided a granny's closet, at all. My favourite part about it? Well, that's got to be those romantic, floaty sleeves of course!
I'm planning to wear this pretty number to a few occasions this summer such as a quaint west coast wedding, a baby shower and potentially even on my own bachelorette weekend.
This dress was cleverly designed to be worn a myriad of ways (see them here) but honestly, this is how I'll be wearing it. As a wrap dress with the long ties wrapped once around and knotted at the back. It feels simple, elegant and uncomplicated, which is the name of the formal wear game for me.
Now the wrap dress part of this combo can totally be worn on its own. It's not too sheer and the coverage is more than sufficient, so that's a great option for a hot day for sure. But I'm wearing the slip dress underneath because it feels amazing on and gives the look a bit more substance. Plus, it peeks out at the bottom and hits below the knee at a flattering spot.
The materials used for both pieces are beautiful. They're hand washable and iron friendly but they're wonderfully wrinkle resistant (great for travel) and feel fabulous on (especially the slip!). Here's a few more important facts about them:
The floral print wrap dress is made of rayon, a natural, biodegradable fiber, which is important because fossil-fuel based synthetics like polyester can take hundreds of years to decompose. The water used to process the fibers is recycled, and a sustainable treatment is used for discarded waste, to reduce any environmental impact. The black slip dress is made of a Lenzing viscose/rayon blend, which also comes from natural, biodegradable fiber that is processed with recycled water and sustainable practices. Both fabrics were woven in one of VETTA's sustainable partner mills that has been audited by a third-party to meet strict sustainability and labor standards. Both are made in the USA, by a family run factory in New York City.
For sizing reference I'm wearing an XS and I'm 5'7 and about 120 lbs. Being a wrap dress, it's got lots room to work on someone slightly larger and slightly smaller too. The slip is slightly oversized by design so it will fit a range of sizes too (my hips are 37 in and it's relaxed but not super loose).
Bottom line, this dress is a ton of fun to wear and pretty much perfect for any fun, fancy event you've got lined up! 
---
Save 10% on any VETTA order when you use the code 'STYLEBEE10' until May 24th.
I received the dress as a gift from the designer but I won't be making any commission, it's just a really great piece!
---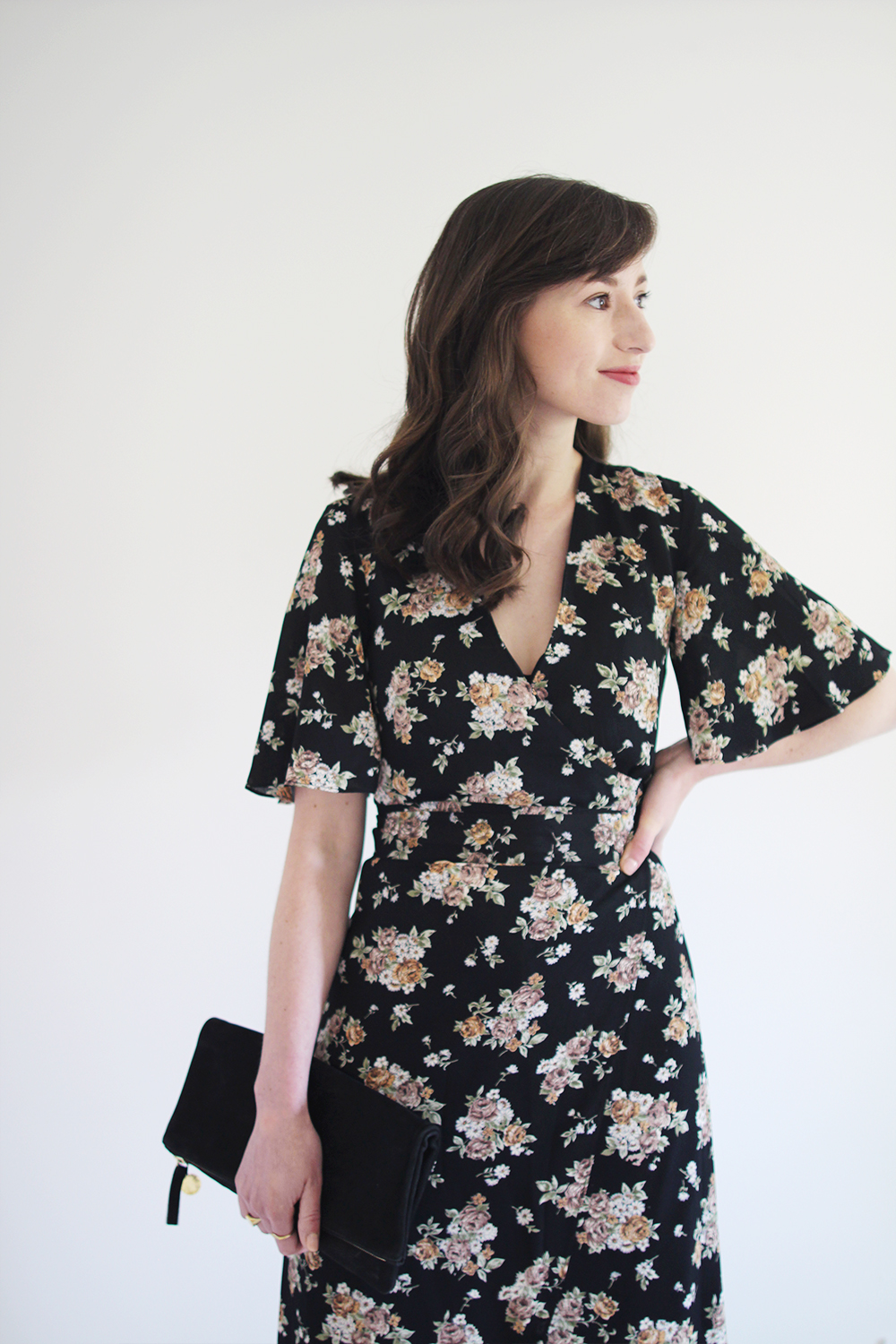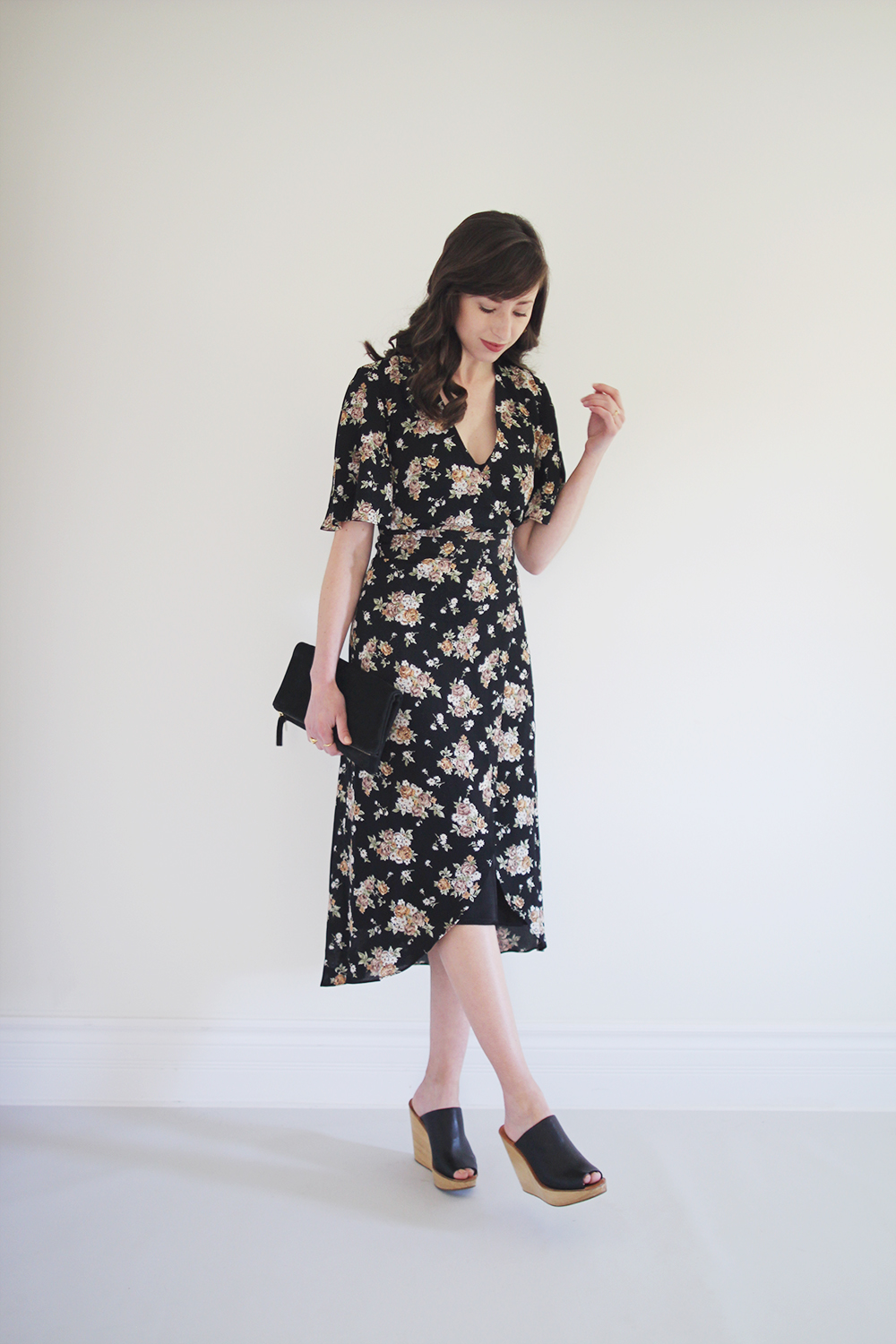 ---
STYLE + FIT DETAILS
---
1 | THE RIGHT PRINT | I don't wear a lot of prints but when I encounter the right one, I'm totally smitten. In this case I fell for this one's vintage floral motif and earthy neutral palette. One thing I love is that while it's flowery, the closest thing to pink is a very muted dusty rose that's more of a nude than anything else. It's also under saturated so it's calm and while the design is intricate it's not too fussy. It's the type of pattern that makes a statement without completely taking over the person wearing it.
If prints aren't normally within your wheelhouse but you're drawn to one consider whether it's within your typical colour palette and if the pattern is bold but not overpowering. If the answer is yes to both then it might be worth trying out!
2 | BACK KNOT | I tried tying these long straps at the front to the side in a bow but it felt awkward to me so instead I wrapped them fully around once and tied them into a knot at the back. This creates a deep, thick band around the natural waist which is highly flattering and comfortable. Thanks to the pattern the knot and ties at the back are barely noticeable so it leaves a clean finish.
If you've got a wrap dress and you're wondering how to handle the long ties consider wrapping them around the front once and then tying them at the back in either a simple double-knot or bow. This leaves the front looking clean and makes for a wide waistband. 
3 | TOUGHEN UP | Because this dress has a lot of femininity in its pattern, shape and fit I knew I wanted to pair it with some strong but simple accessories. I went for my sky-high wooden based black leather platforms to anchor the look in a minimalist, sculptural way. Plus, the same warm wood tones are in the pattern if you look closely. I grabbed my super simple black fold over clutch to mimic the simplistic vibe of the shoes. Then I pulled from the gold zipper and added a few touches of bling through my earrings and signet rings to reinforce the same tone.
When you're feeling like a dress or item is a little on the girly side you can easily toughen it up with a strong but simple shoe and an equally impactful but basic bag. Choose your jewelry sparingly so that each piece is playing its own role. 
4 | FEMME FINISH | I knew this dress needed a soft hairstyle so I went with a loose curl that mirrored the curves of the dress. I felt a ladylike lip colour was the way to go to keep it from feeling forced. I pulled that dusty rose hue from the pattern and found the perfect match in my Stardust lipstick from Kosas (link below). I think these feminine finishes were key to pulling the look together.
When you're putting together a look for a formal event take a bit of time to consider how all the elements interact. Whether it's your hairstyle or your lip colour complimenting a tone in the look or your accessories positively contrasting the vibe of the dress, each one can make a big difference. 
---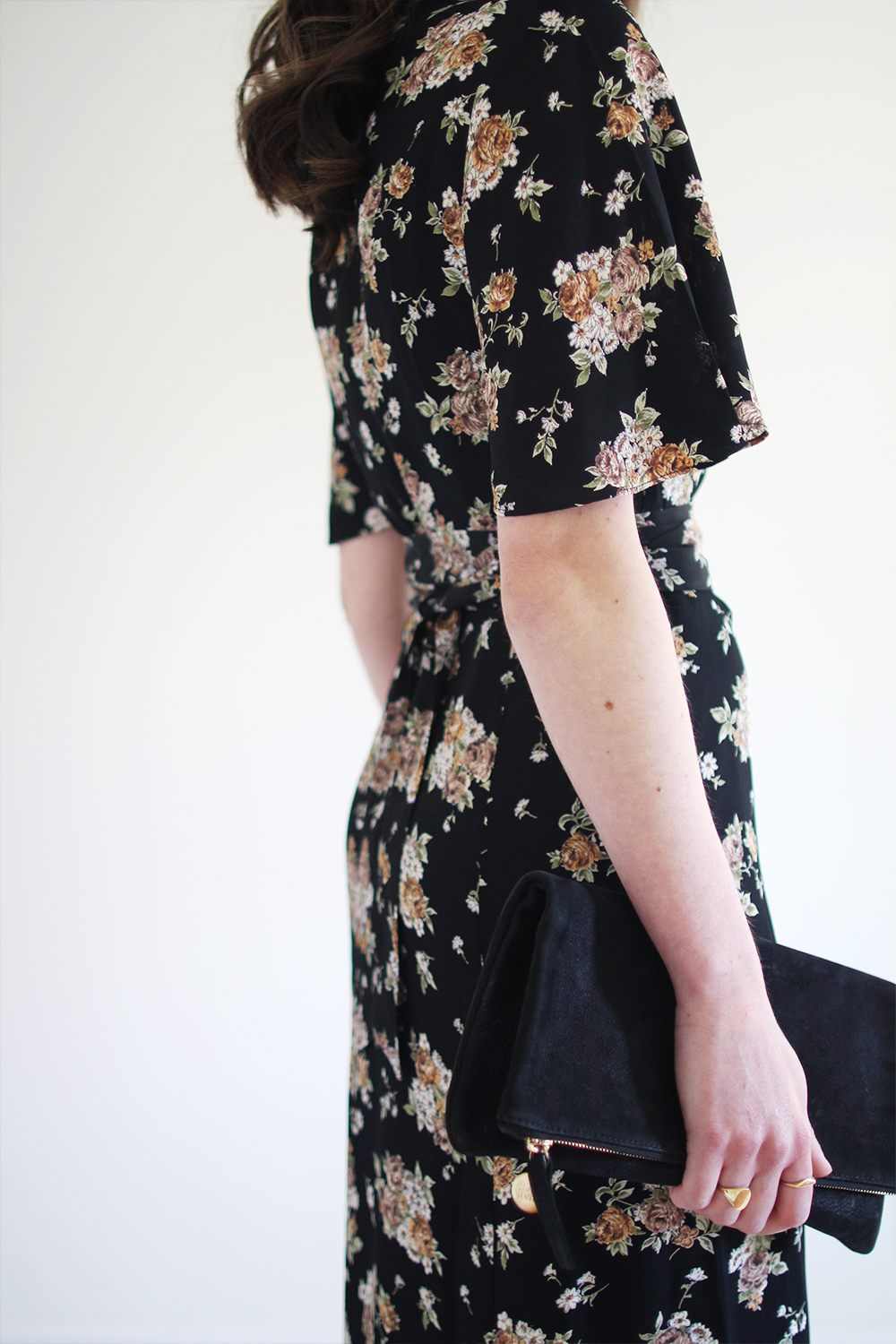 ---
1 | WRAP + SLIP DRESS | c/o VETTA | $189 USD | Made in NYC from Sustainable Materials | Wearing an XS and for reference I am 5'7 and about 120lbs.
Receive 10% OFF your order with 'STYLEBEE10' valid through May 24th. 
2 | PLATFORM MULES | old Rachel Comey | Similar option available here. | $148 USD | Made responsibly in Spain | Receive 10% Off with 'STYLEBEE10' through July 31.
3 | CLUTCH | Clare Vivier | Made in LA | $209 USD
4 | JEWELRY | Earrings and Signet Rings by CLAUS | Made in USA
5 | LIP COLOUR | KOSÅS in Stardust | $24 USD
---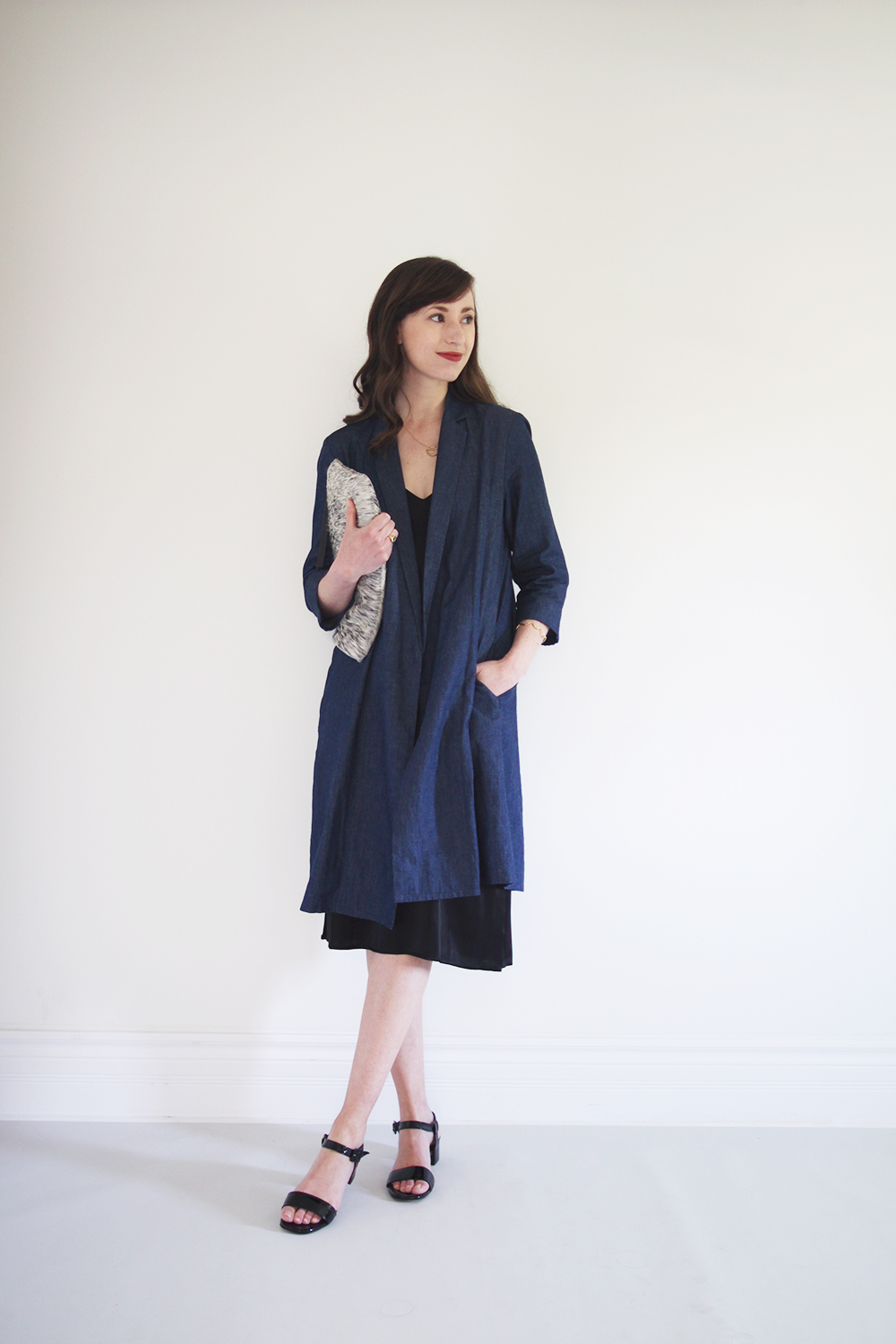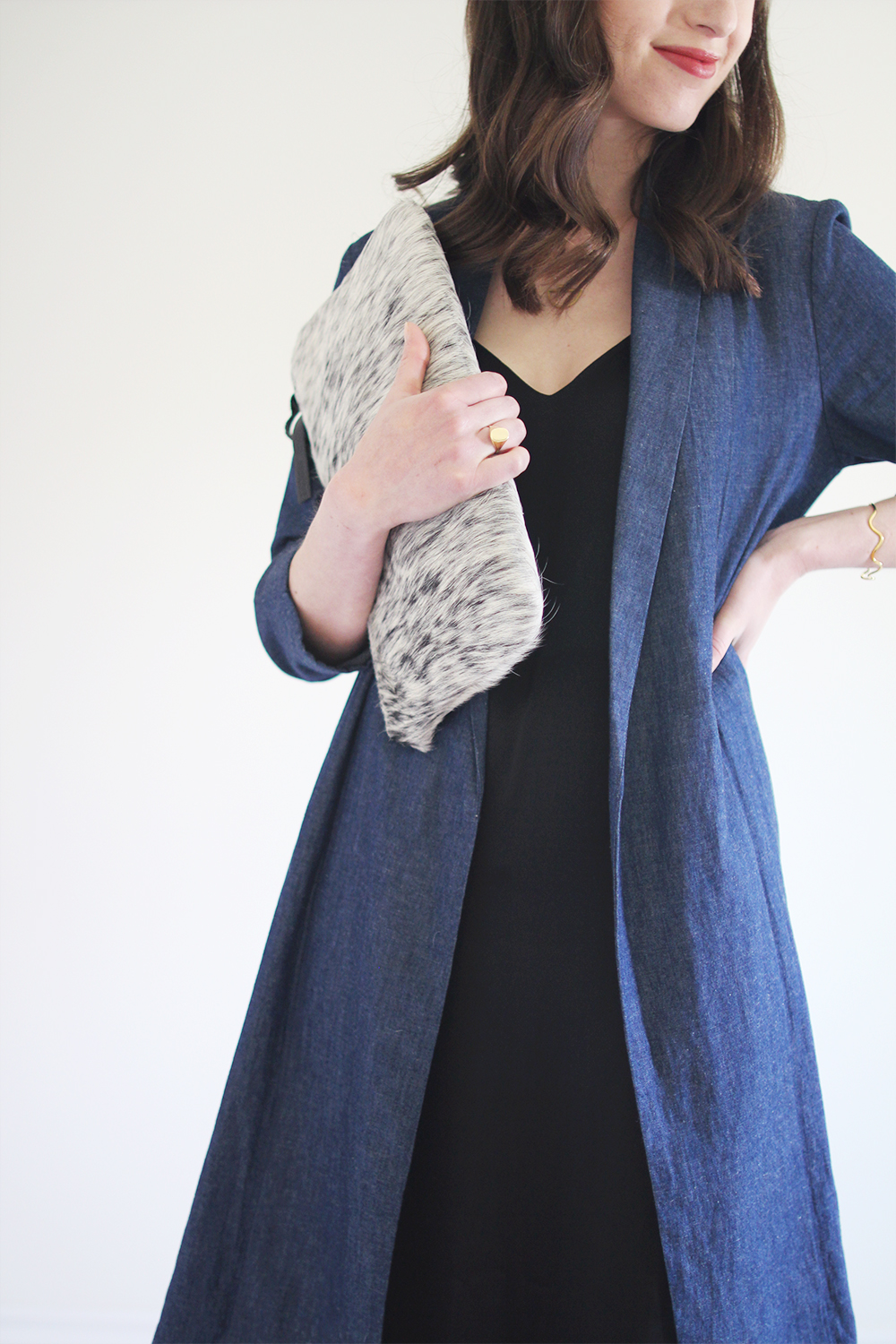 ---
INITIAL THOUGHTS
---
This outfit is definitely more within my typical style wheelhouse. Solid colours, super simple shapes, easy fits and of course a duster is involved. I'm not sure I've ever worn a slip dress before but I must say it's a pretty great staple piece that can do a lot if you let it. Plus, this slinky black satin fabric conjures all the best memories of the 90's and feels amazing on. I know I mentioned that already, but it does!
I love the simplicity and cut (particularly the length) of this slip dress but it does have a fairly high slit on both sides. While it's definitely sultry, I found it went just a bit too high for me personally. So I added this duster coat as a light layer to make it a bit more relaxed while still showing some of the side slit peeking out at the bottom. I love little details like that. Adjusting the slits is a simple job for a tailor (or anyone with more sewing skills than me) so don't let that deter you but I felt it was worth mentioning.
My new Sophie Sandals were begging to join the fun and complete this look with a not so subtle nod to the 90's. Adding a bold red lip colour and an oversize clutch in a statement pattern and material give it just the boost it needs to come together.
All-in-all, this look is a chic, simple option for a date night, an engagement party or anything fun that's happening on a warm summer evening. I really just need a martini and a patio and I'll be all set!
---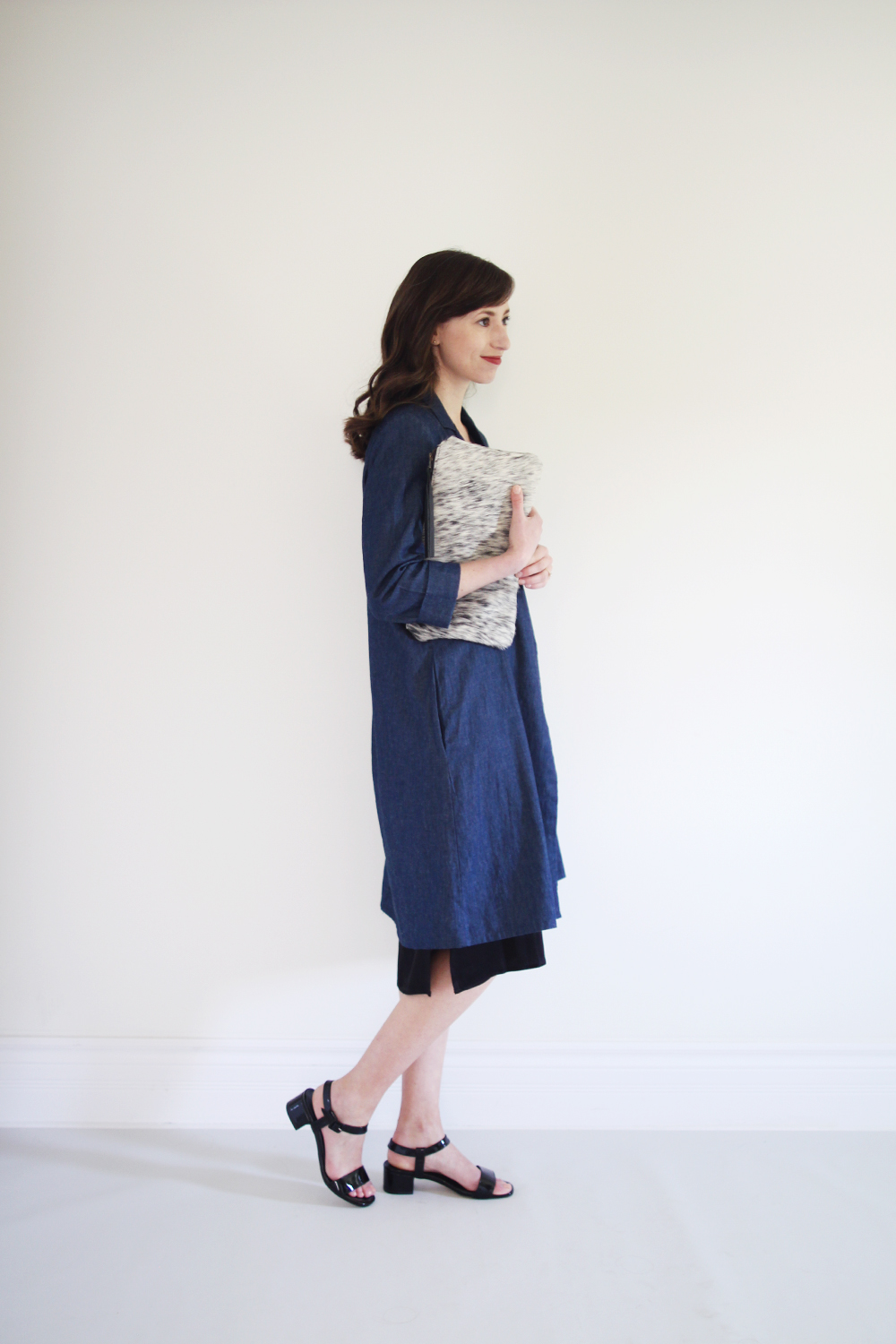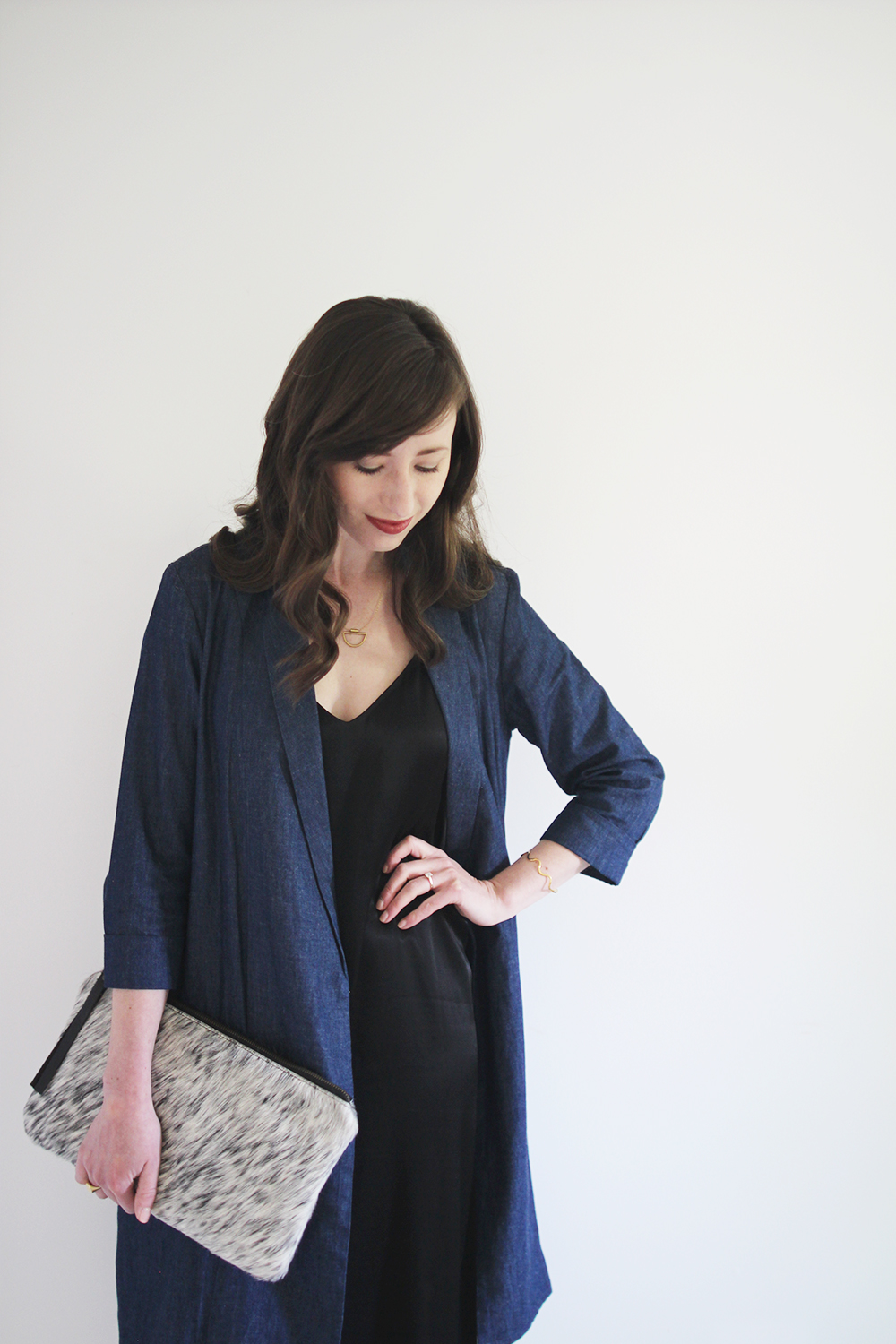 ---
STYLE + FIT DETAILS
---
1 | GLOSS ON GLOSS | The beautiful, rich satin sheen of this slip dress fabric isn't coming through that well in these photos but it's gorgeous when it catches the right light. It's not super shiny per se but it definitely has a lustrous quality. As soon as I tried it on I knew these patent leather sandals were a perfect match. When paired together they take what would be a simple black on black dress and shoe combo and totally kick it up a notch.
Of course, you can never go wrong with black but consider mixing up the fabric or finish to add interest. You don't need colour to make things exciting, just a unique material or two.
2 | NOD TO THE 90'S | There's no denying that this look is taking several cues from the 90's. Silky spaghetti strap slip dress, check. Block heel, ankle strap black sandal, check. Dark red lip, check. Usually, that would be too many checks for me but by adding a couple of modern elements like this sleek denim coat, an oversize salt and pepper hide clutch and a couple of contemporary jewelry pieces it doesn't feel like I'm in a costume, but instead as though I'm repurposing a couple of timeless styles.
If you're ever concerned that a couple of items in an outfit might be invoking too much of a time warp, simply add a few contemporary elements to balance it out. You can also stick to black, which is always a timeless choice. 
3 | HEMMING AND HAWING | One key element I like about this look is how the lengths of both pieces work together. The duster coat is about 3 inches shorter than the slip dress and this really helps the layers work nicely. When layered pieces are too close in length, sometimes it creates a bit of a visual clash and can look off. But when one hits higher than the other by a few inches or so it looks much more planned and put together. Alternatively, if this coat was a few inches longer than the dress it wouldn't be as elegant as the current tiered effect.
When you're layering two long pieces consider where the hems hit on the leg. If you want to be safe pick a base layer that's longer than the top one for a cleaner visual effect.
---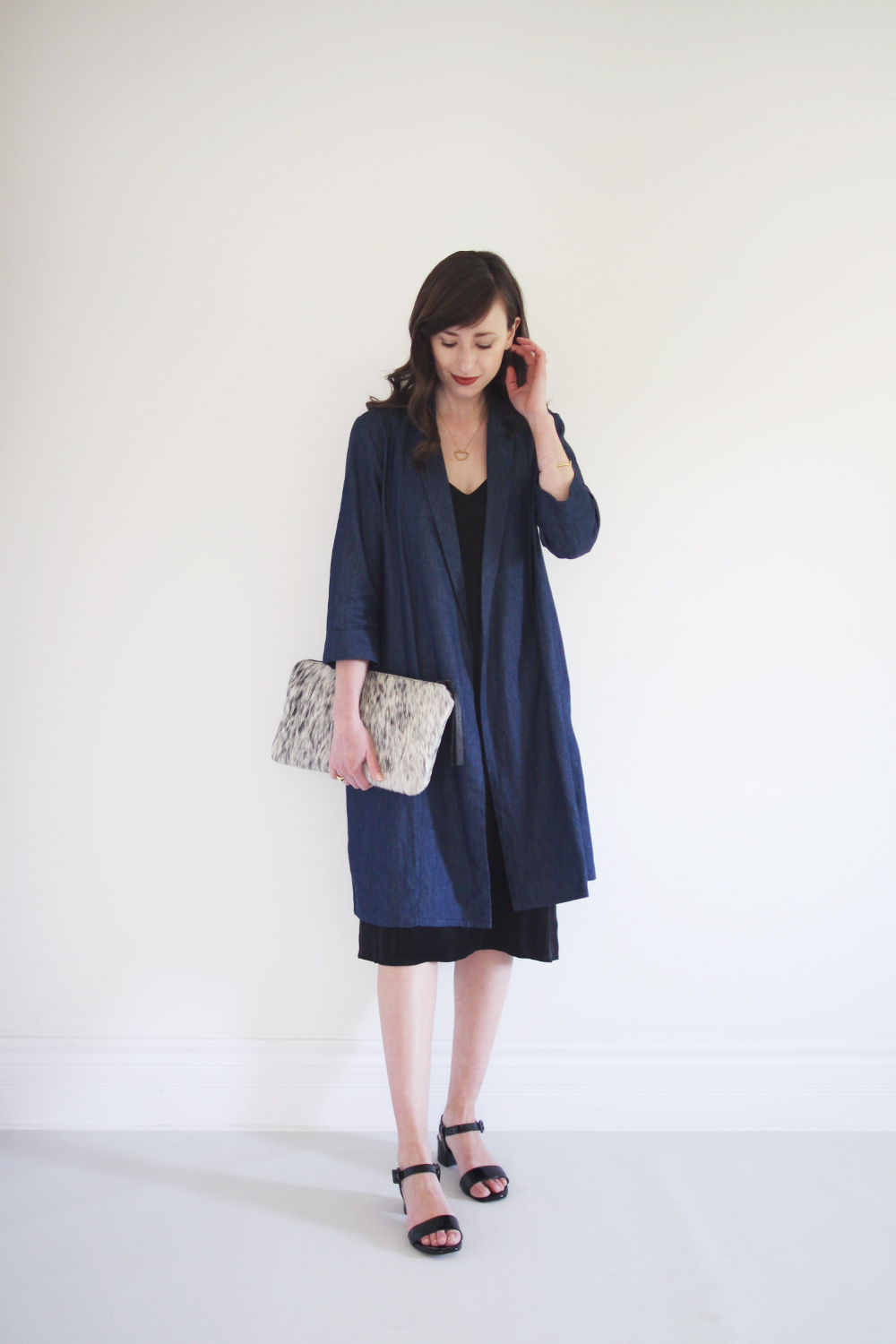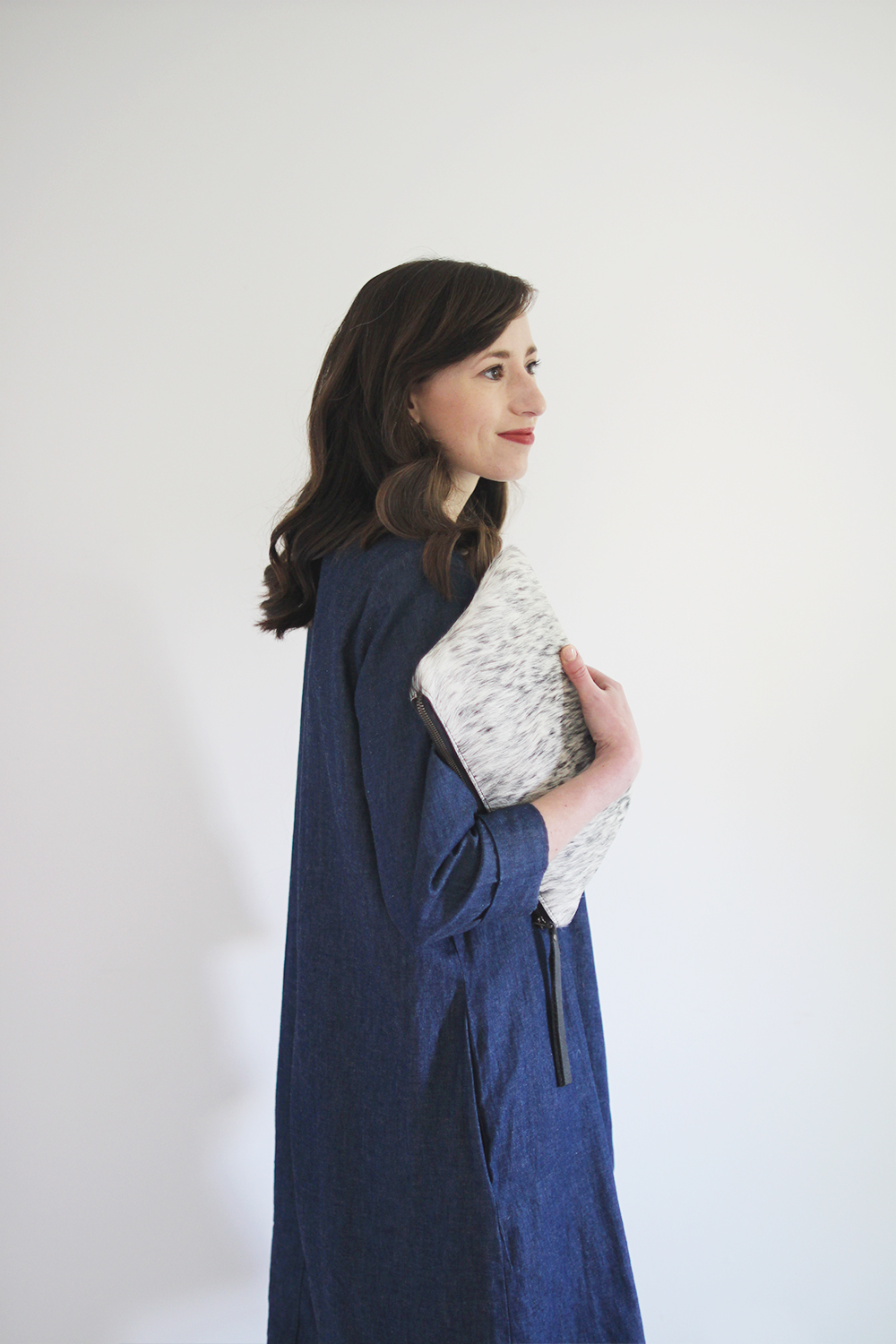 ---
1 | WRAP + SLIP DRESS | c/o VETTA | $189 USD | Made in NYC from Sustainable Materials | Wearing an XS and for reference I am 5'7 and about 120lbs.
Receive 10% OFF your order with 'STYLEBEE10' valid through May 24th. 
2 | SOPHIE SANDAL | Maryam Nassir Zadeh | $400 USD | Made responsibly in Turkey | Wearing a 37 and typically a narrow US 7. | Available in Red here and White here.
3 | DENIM DUSTER | old Ali Golden | Linked to very similar option by Eileen Fisher and a Canadian made option is available here.
4 | CLUTCH | Primecut | Made in Portland | $130 USD |
Receive $20 OFF your first order when you sign up here.
5 | SIGNET RING + ARC HOOPS | c/o CLAUS | Made in USA | $110 USD each
6 | WAVE BANGLE | old by Young Frankk | Linked to another fun made in USA option I love.
7 | NECKLACE | Another Feather | $92 USD | Made in USA
8 | LIP COLOUR | KOSÅS in Stardust | $24 USD
---
SO THERE WE HAVE THE FIRST FANCY AND FUN LOOKS OF THE WEEK!
WHICH TEAM ARE YOU ON? WRAP DRESS OR SLIP DRESS?
WHAT'S ON YOUR FORMAL WEAR RADAR RIGHT NOW?
---
This post is not sponsored but contains affiliate links. When you shop via the links above I may make a small commission from a sale. This income helps limit the amount of sponsored content that appears on Style Bee. Thanks a lot for your support!