How's your week going? Can you believe that tomorrow marks the start of June? We're closing in on the halfway point of 2017 and I can't quite wrap my head around it! But we can't slow time down can we? Instead we can only make the most of it.
So with that sentiment in mind here is a little recap of some high points over the last couple of months. We managed to squeeze in two mini trips (one to Toronto and another to cottage country) and hosted some family overnight for the first time since our house has been (almost) done. In between that I scooted around town to some fun spots, documented my daily outfits and took about 1 billion photos of plants and flowers (don't miss the Free phone wallpapers below!). Of course, I also managed to top my all-time record for fur child snuggles but that should surprise no one.
All that and more in this instalment of Life Lately! 
---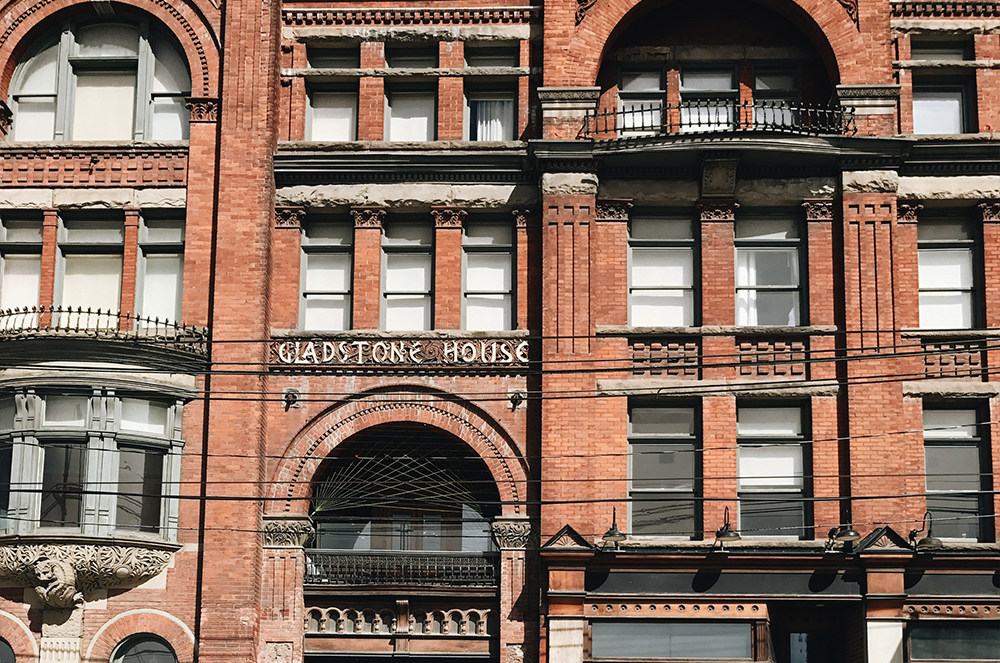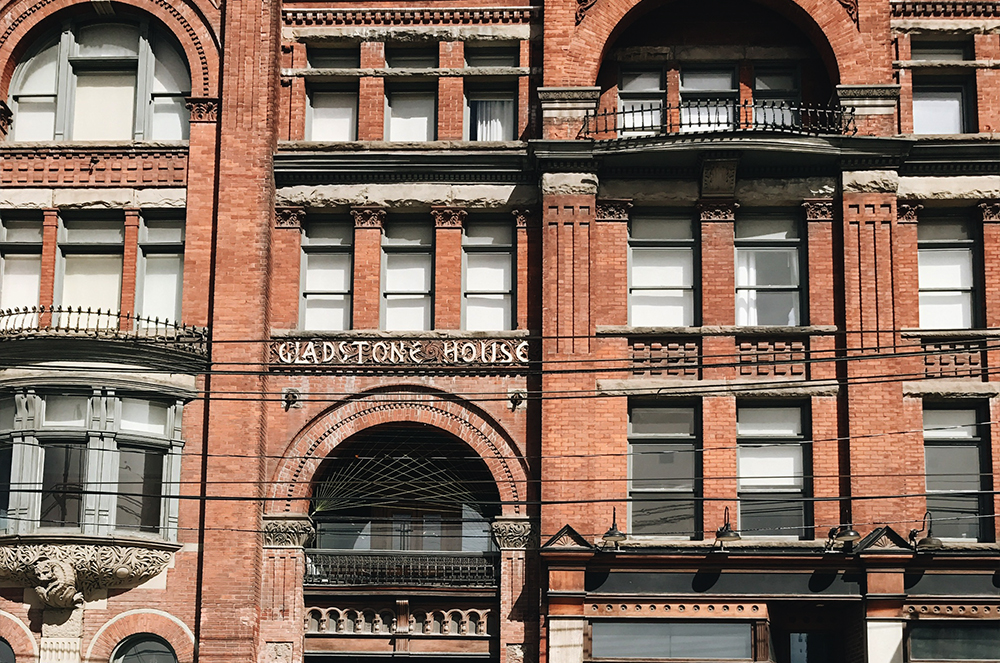 ---
THE GLADSTONE
---
We started the month of April off with a really quick trip to Toronto for a visit with some friends. We decided to treat ourselves to a night at our favourite hotel, The Gladstone. This was our third stay there and it won't be the last. We love the boutique size, there are only 37 rooms, and the way that they've integrated art and design within every details, each room is unique and designed by a different artist.
This time we stayed in the Faux Naturelle room at it was equal parts weird and wonderful. There is an incredible textile mural covering one of the walls that you just can't help but enjoy. The faux wood panelling and stonework wallpaper is something else but the velvet headboard was my favourite element.
If you're ever heading to Toronto and need a spot to stay, consider The Gladstone. It's location is ideal along Queen Street West, it's reasonable and it has a wonderful bar and decent restaurant as well. A couple of fun features include the still functional century old elevator, 4 floors of art exhibitions, a living plant wall and just a whole bunch of cool character rich elements you won't find elsewhere.
---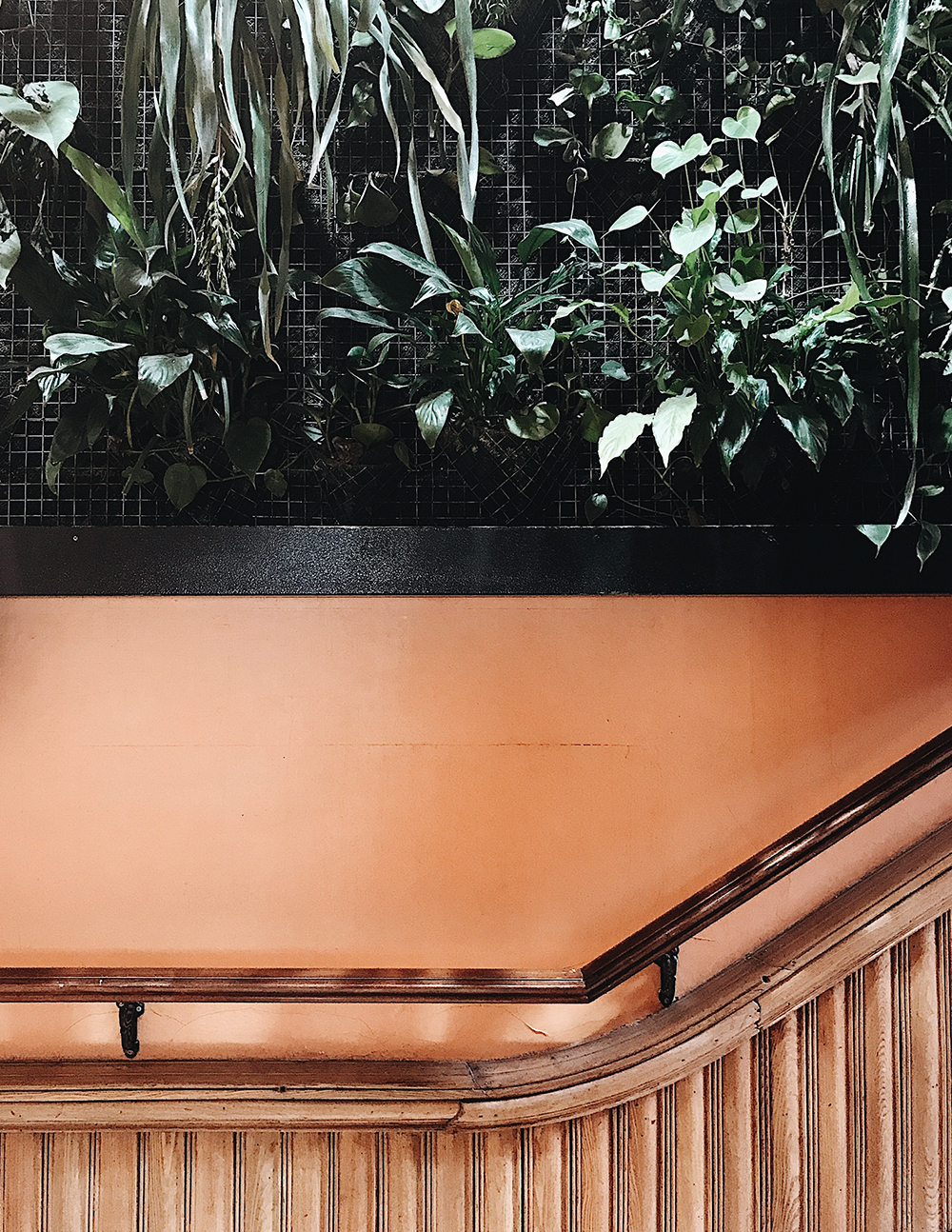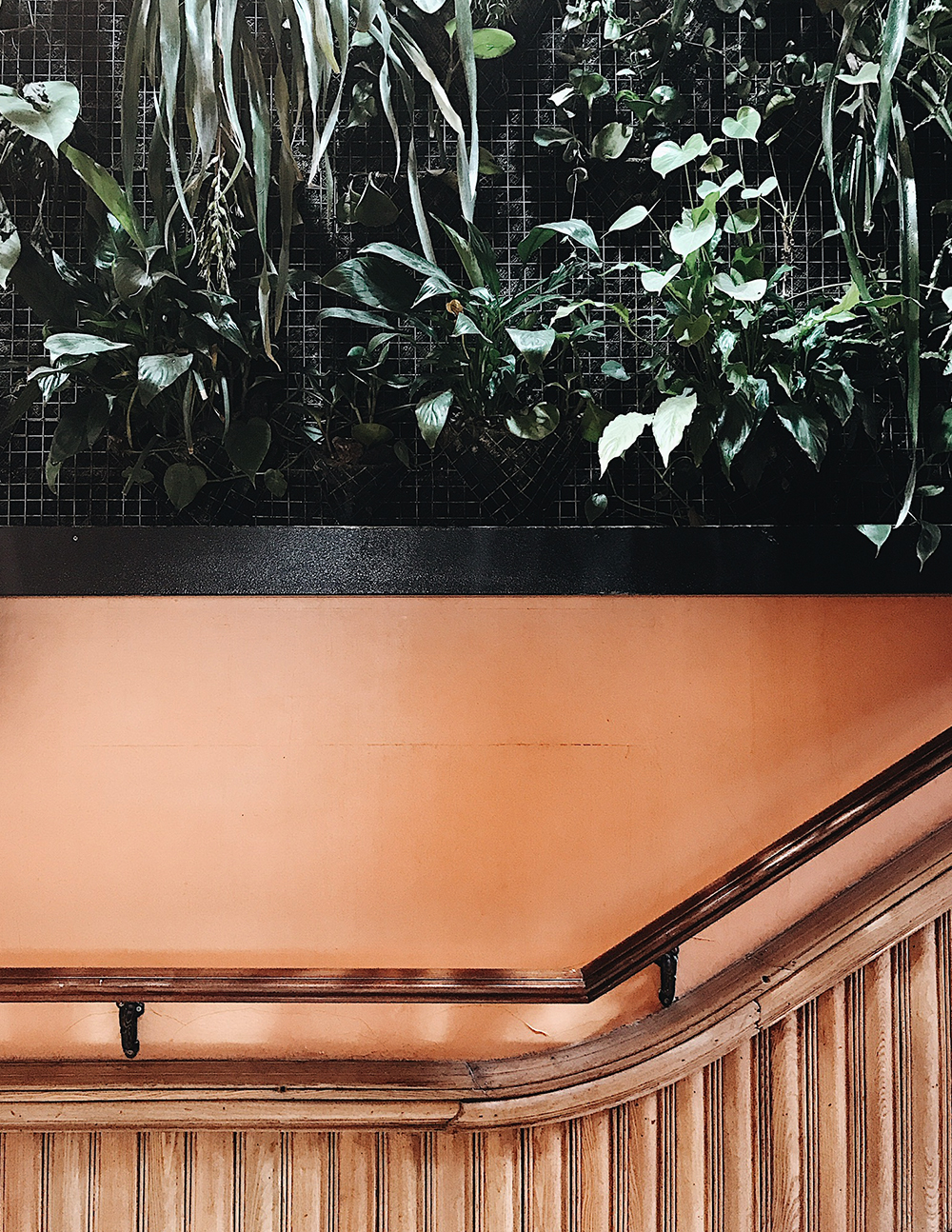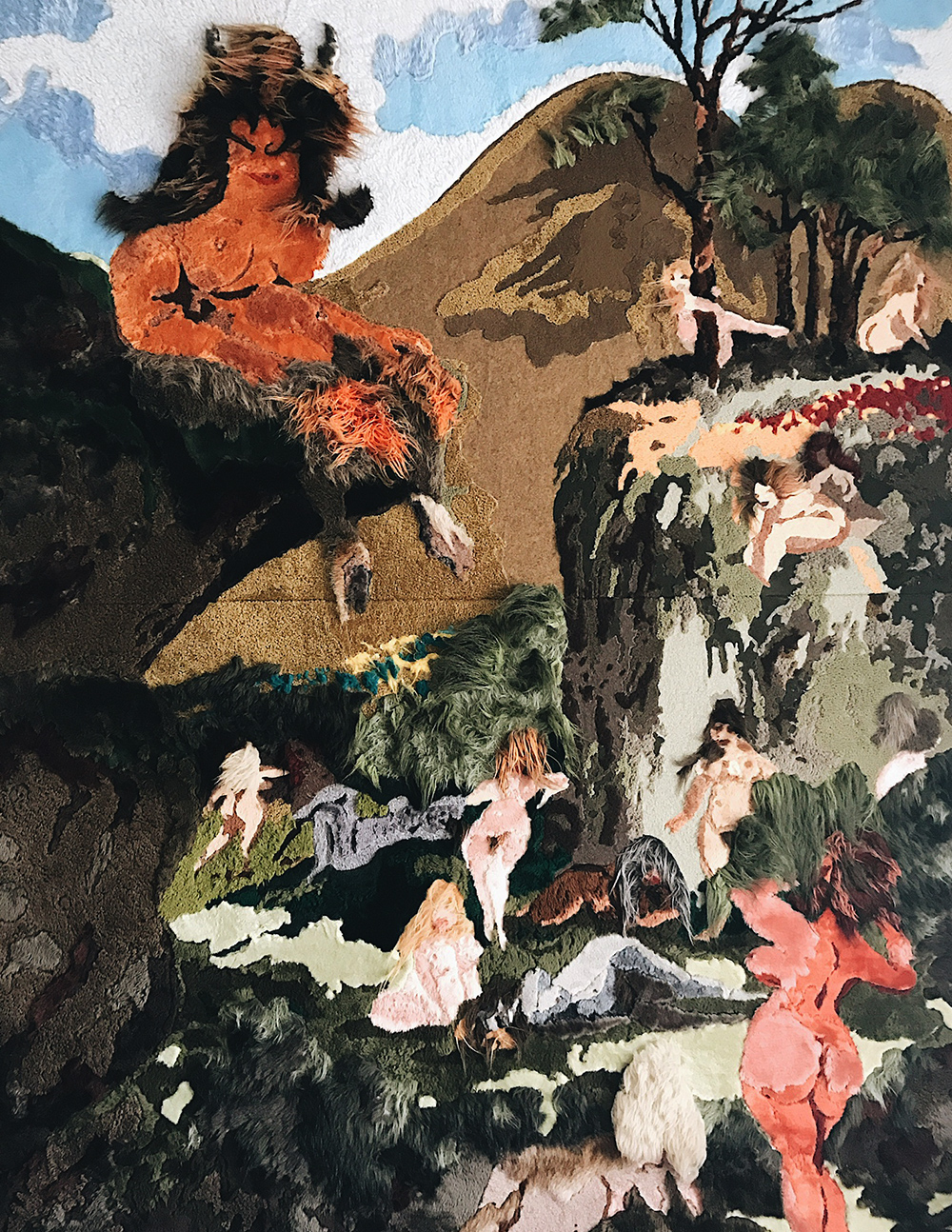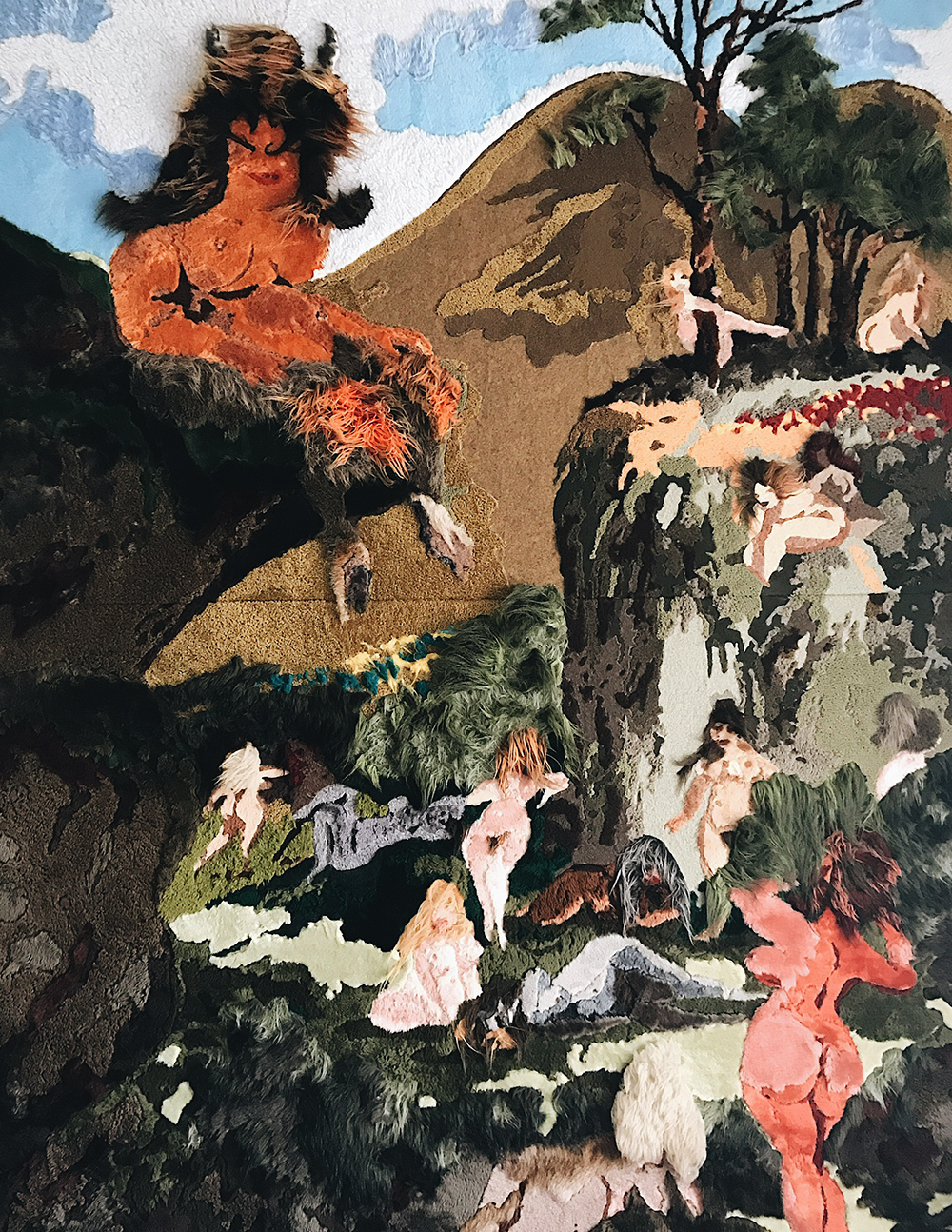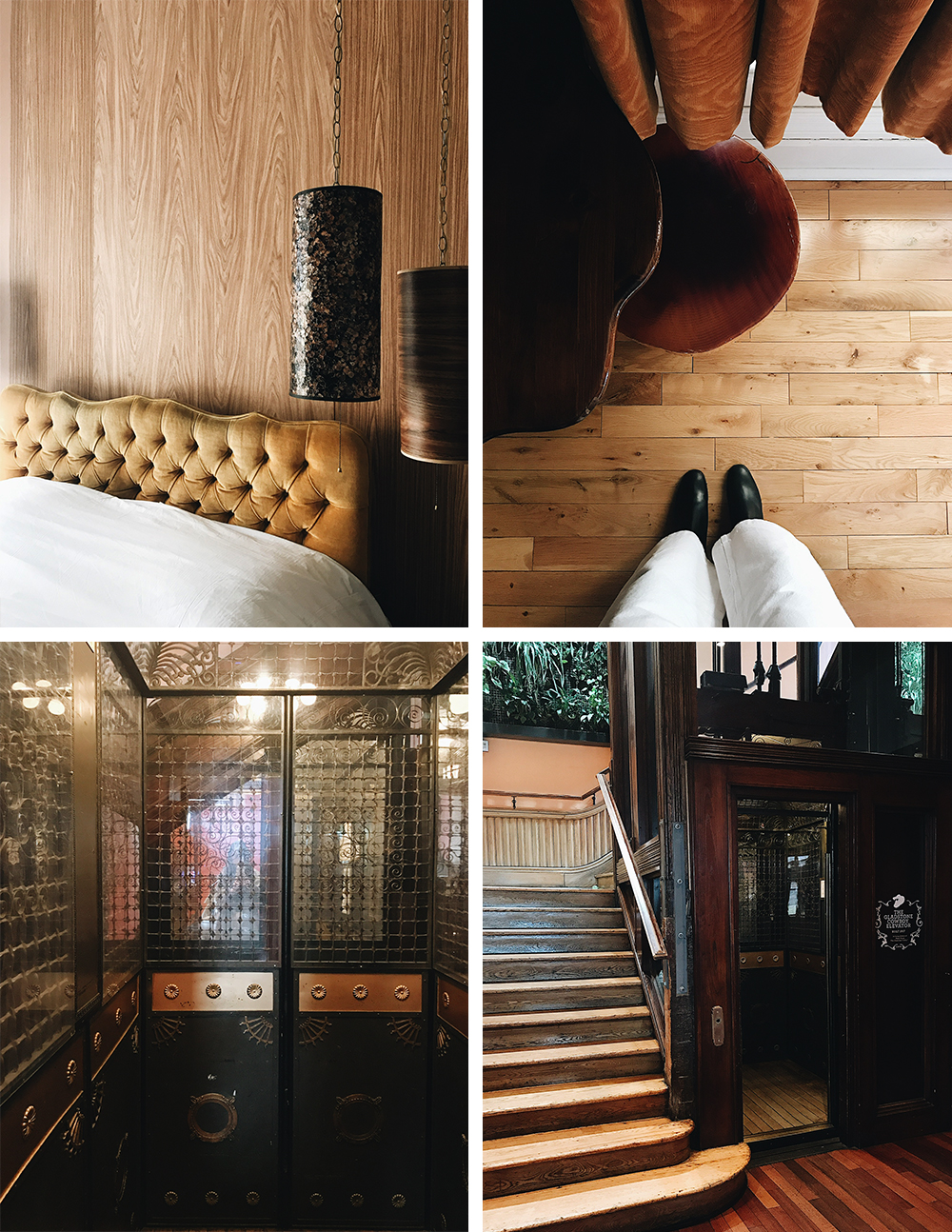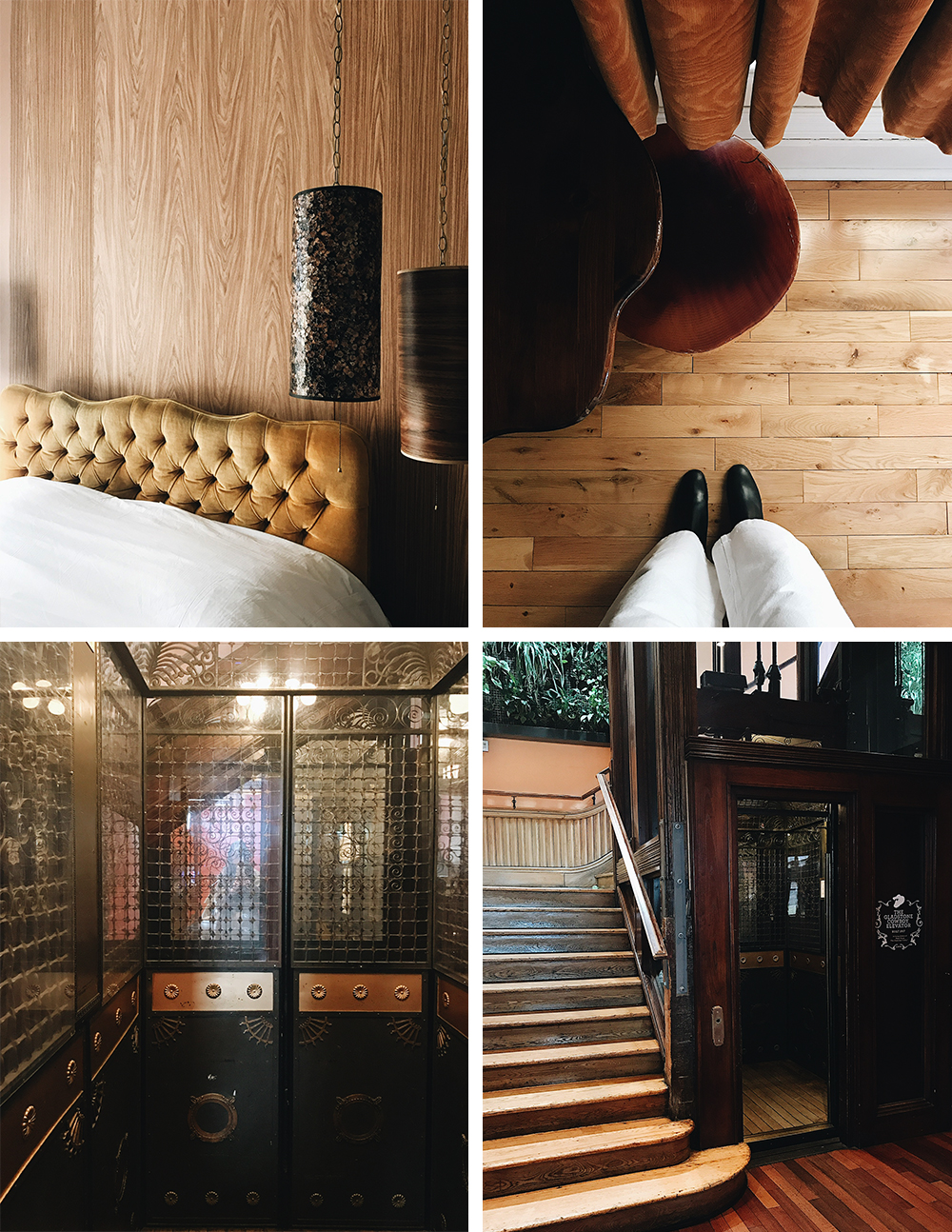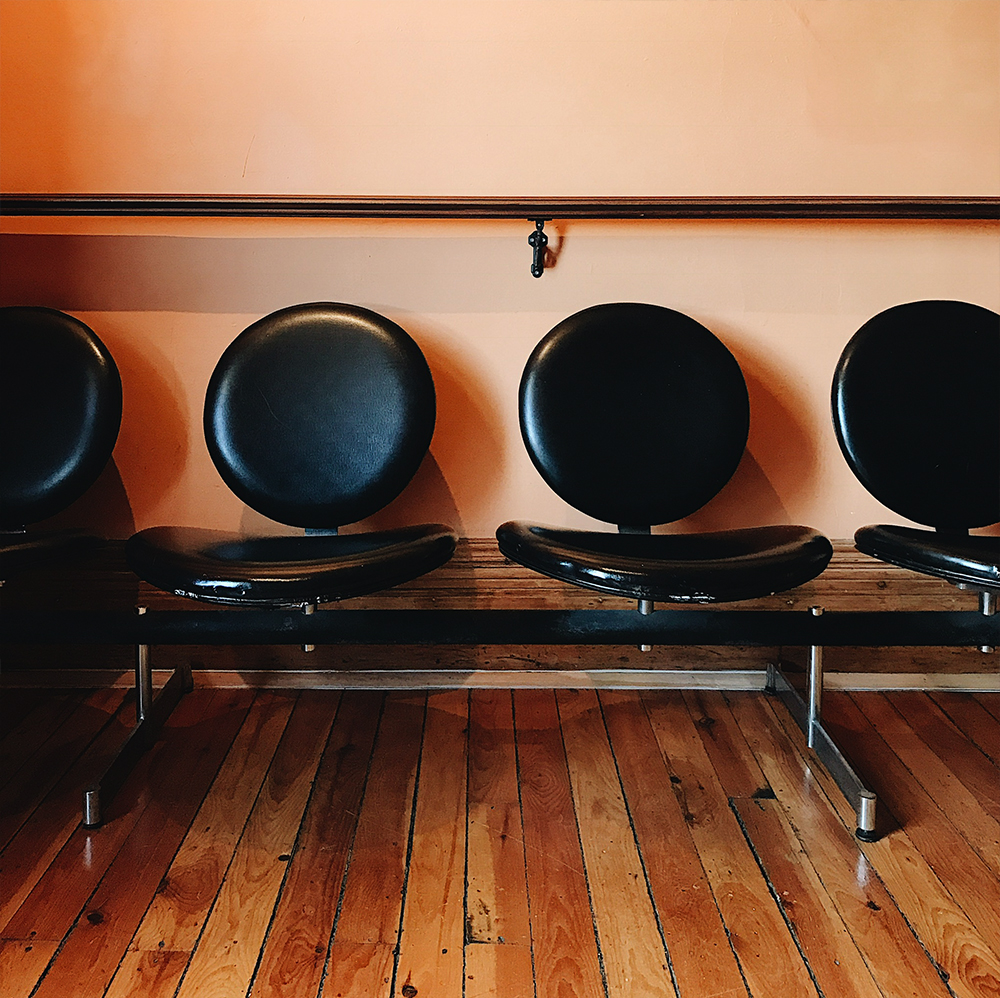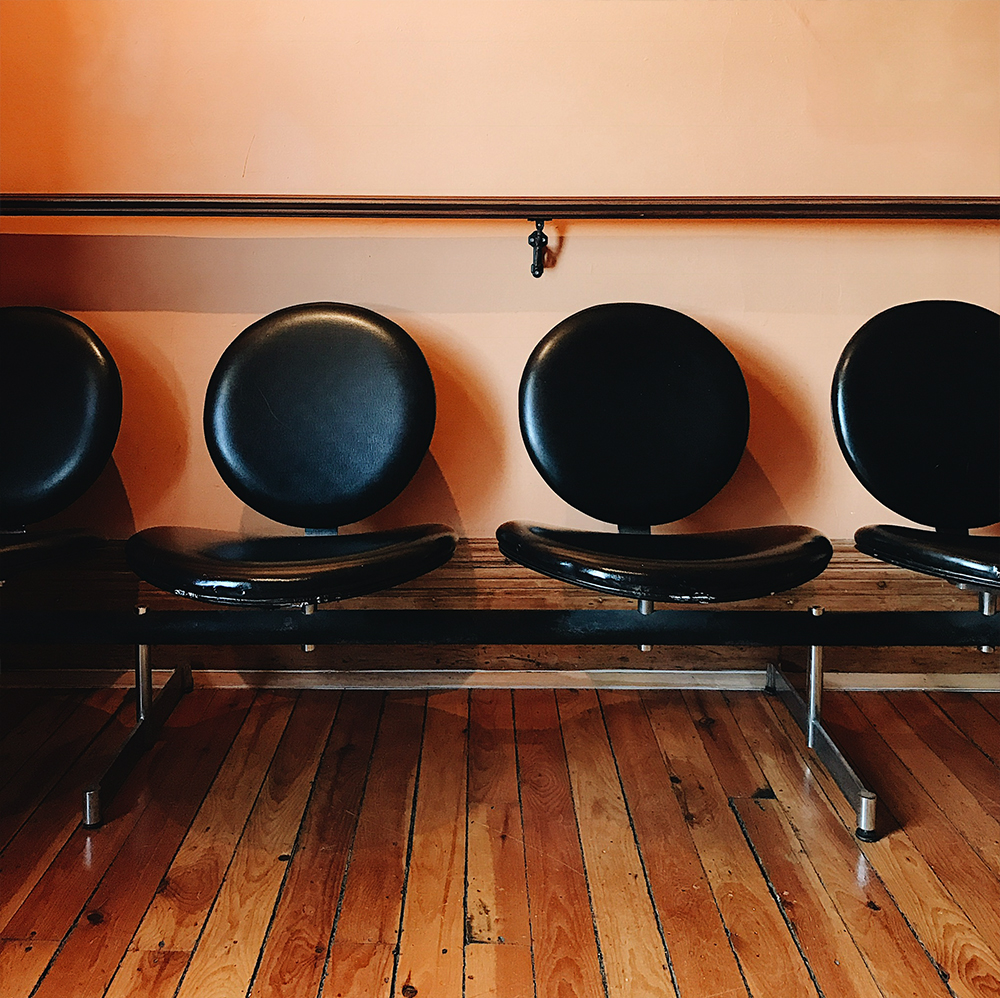 ---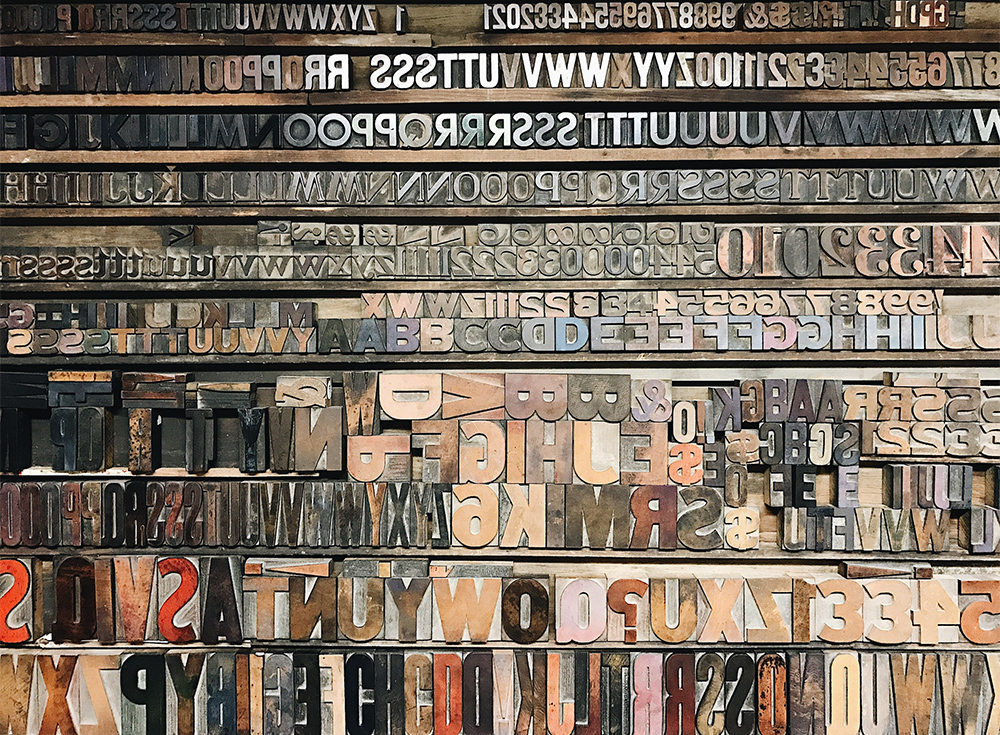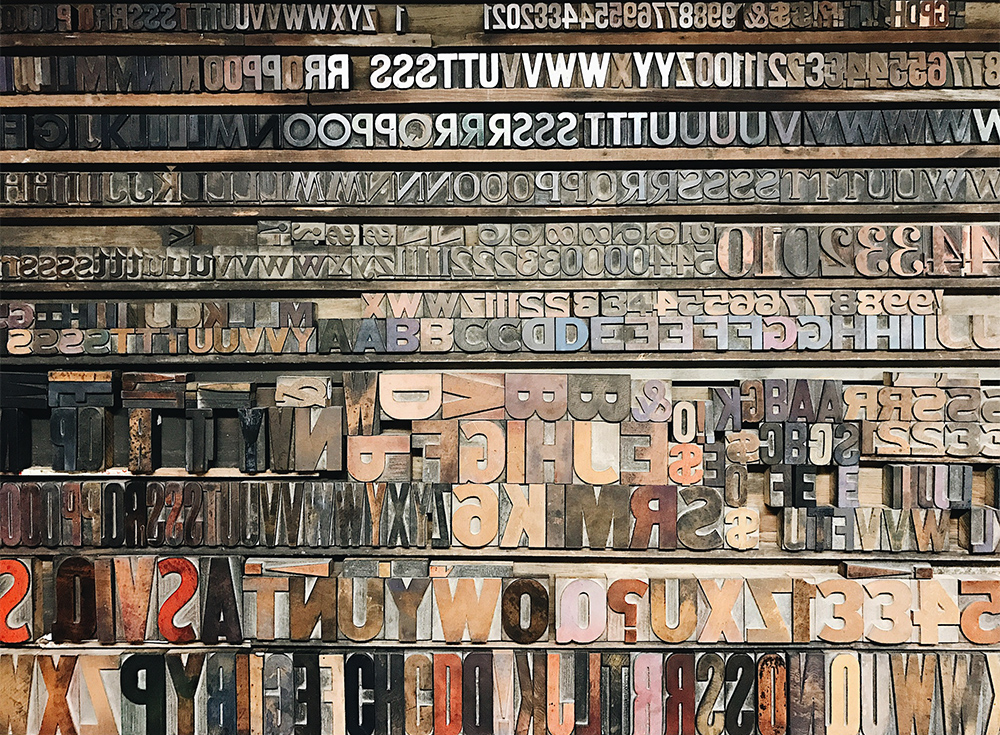 ---
OUT + ABOUT
---
Other than lots of long walks with the pup (more on that fur friend below) I managed to get to a few cool places over that last couple of months. The ones I was able to document were:
1 – ATTIC Studio – I popped in to see my fabulous creative friends Susan and Melissa, founders of my favourite fine jewelry line ATTIC, at their gorgeous studio in Guelph. It's in an old warehouse complete with exposed brick walls, insanely high ceilings, giant windows and old wood floors. They have the most amazing green velvet couch that I swoon over every time.
2 – ALL SORTS PRESS – I took a quick afternoon trip down to Hamilton to pick up our invitations from Sara Froese at All Sorts Press and her print studio is so cool. Letterpress printing has always fascinated me and she is indeed a pro. Her studio is filled with cool posters and old school letter-press blocks. Aside from the fact that she did an awesome job on our invitations, seeing Sara's studio made the trip more than worth it.
3 – THE WESTERLY – While we were on our way out of Toronto we zipped into our old favourite brunch spot on Roncesvalles, The Westerly. It was just a busy and delicious as we remembered and we sat at their big marble bar and enjoyed some of our old go-to dishes, the Brunch burger and the Hash from the Ranch.
4 – THE LIKELY GENERAL – After brunch I convinced Dave to peek into the Likely General, the cutest Roncy lifestyle shop for a bit of retail therapy. Nothing cures a hangover like a new planter, am I right?
---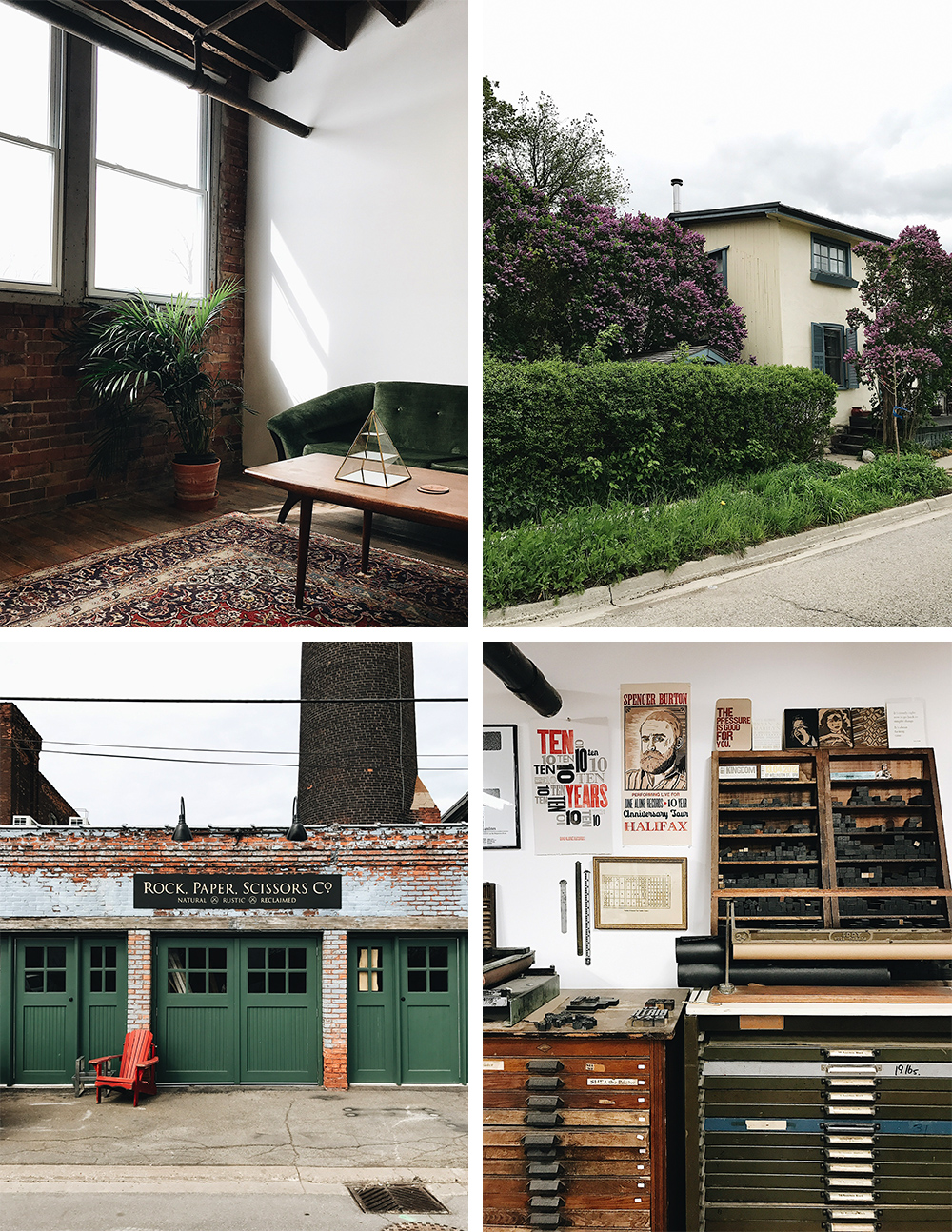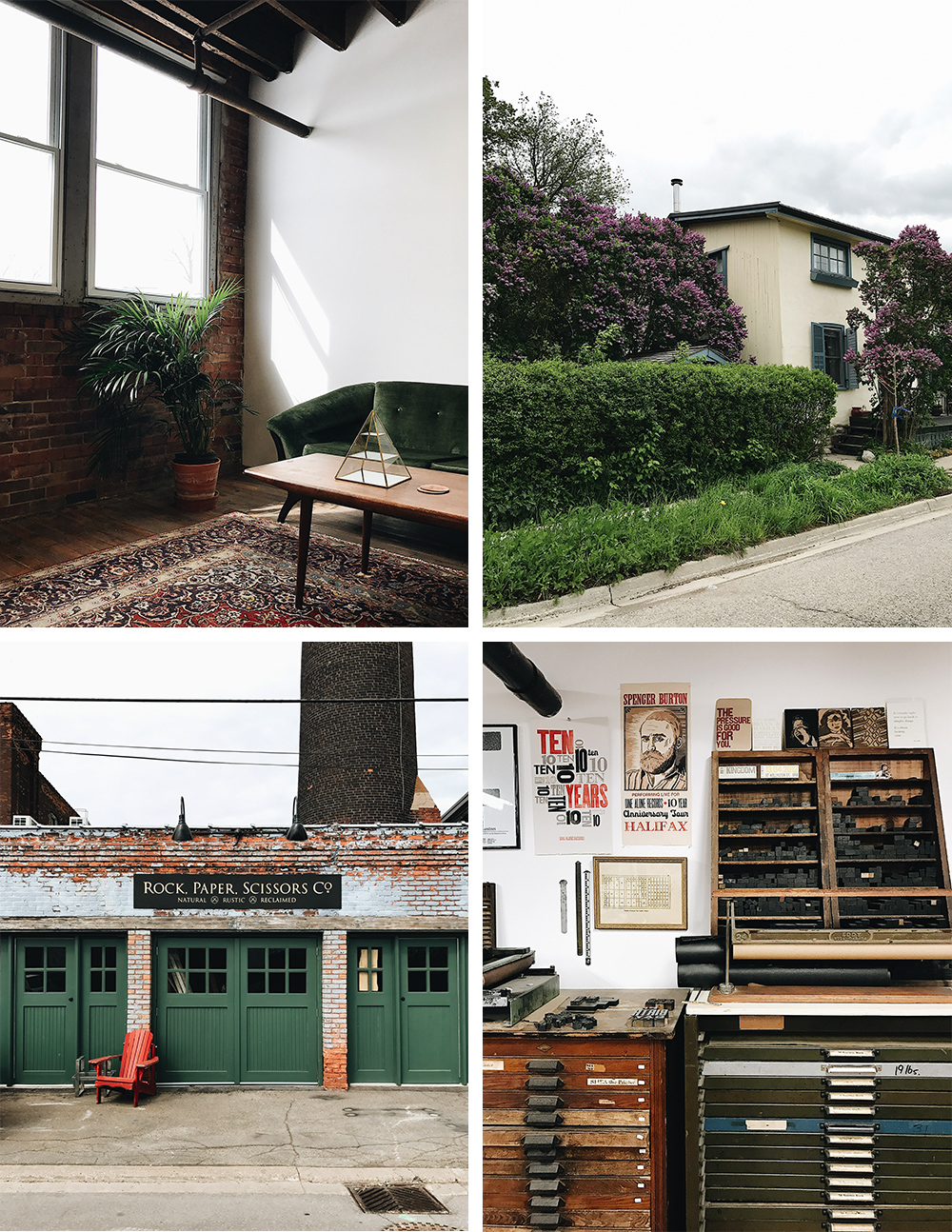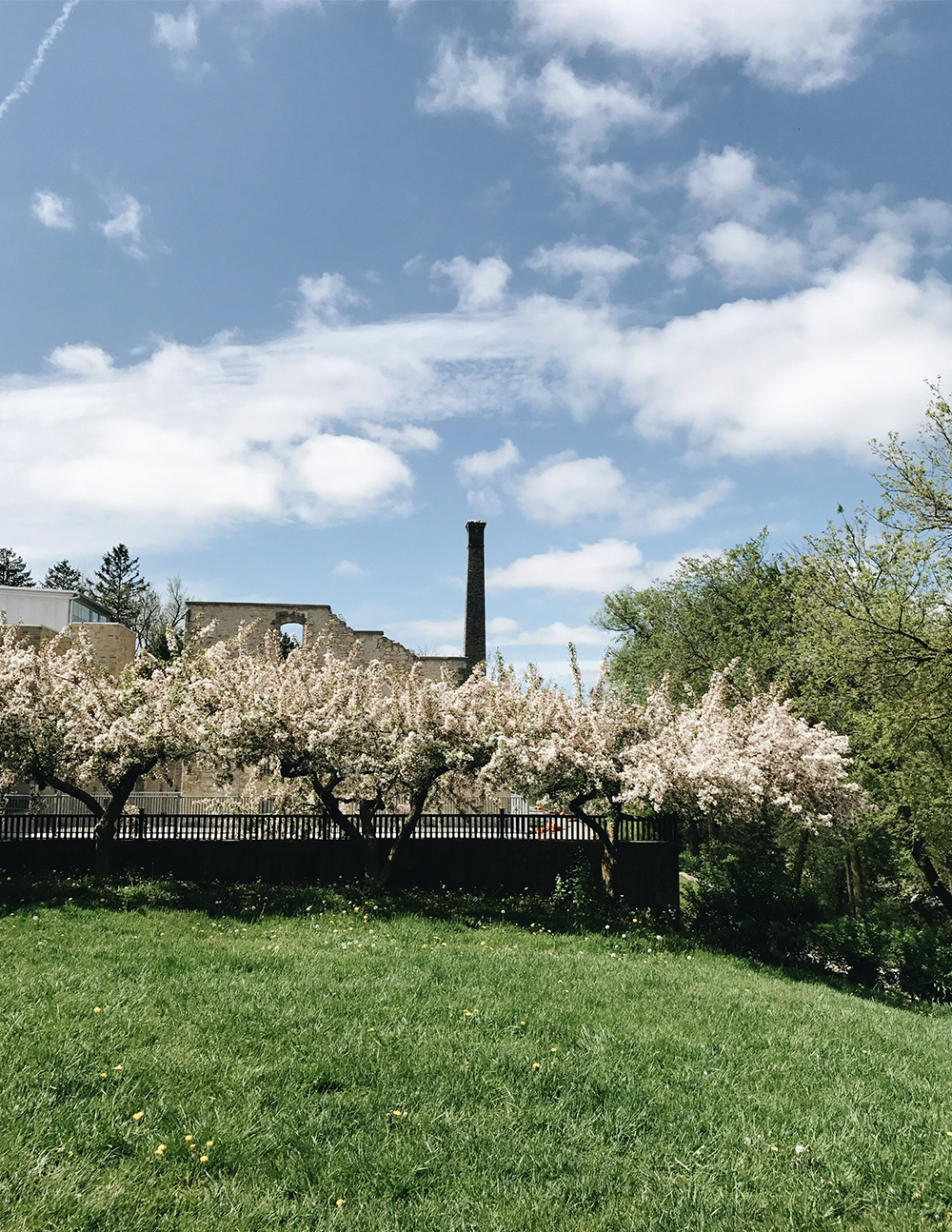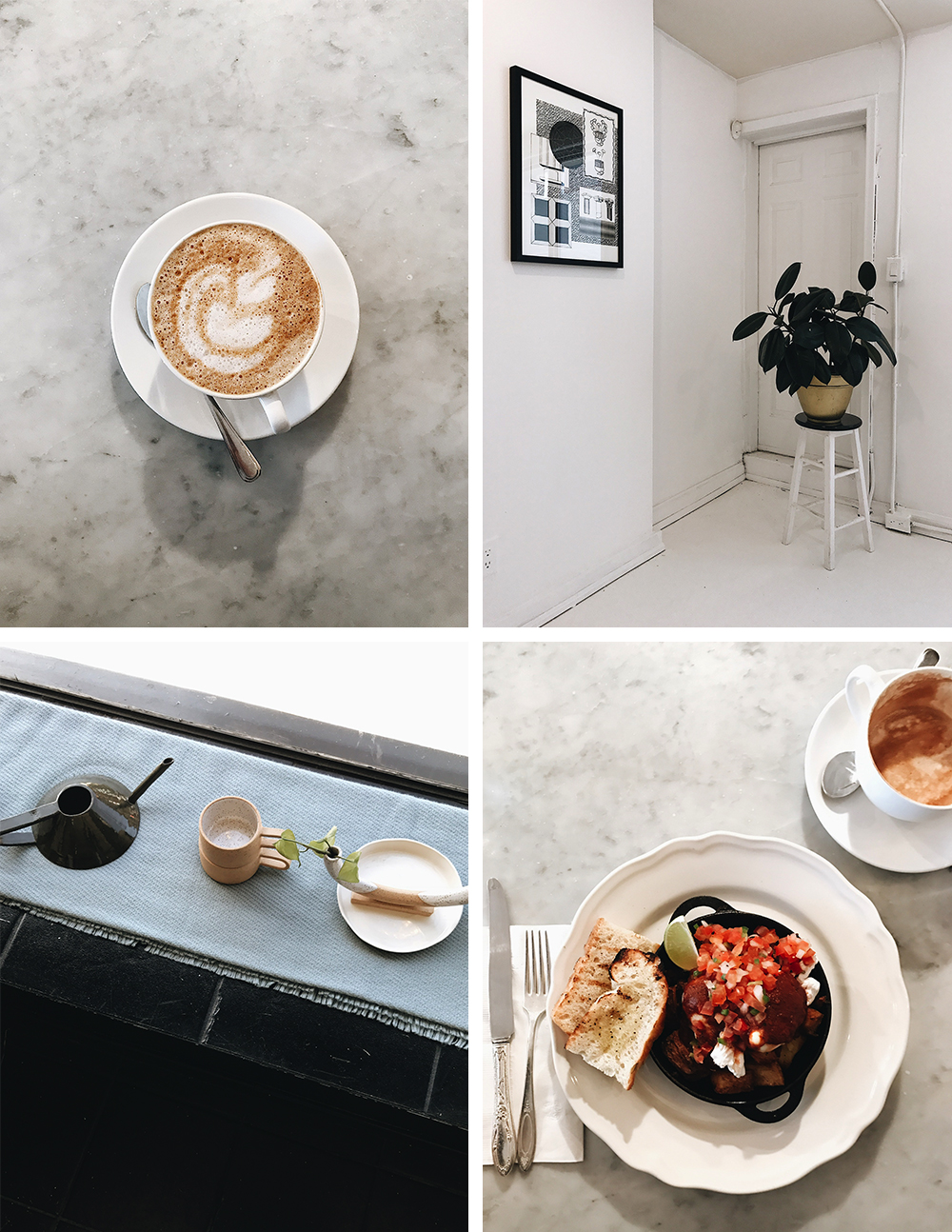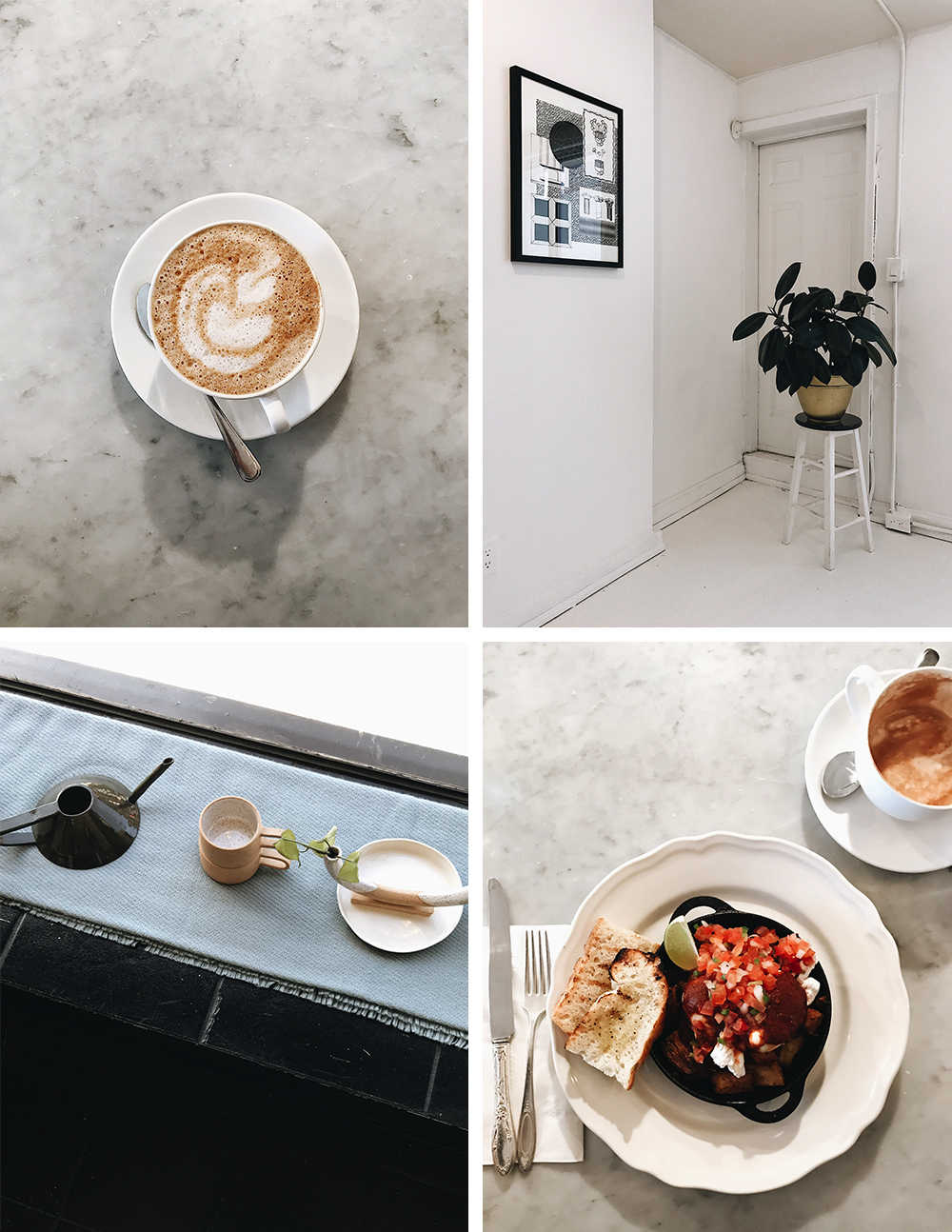 ---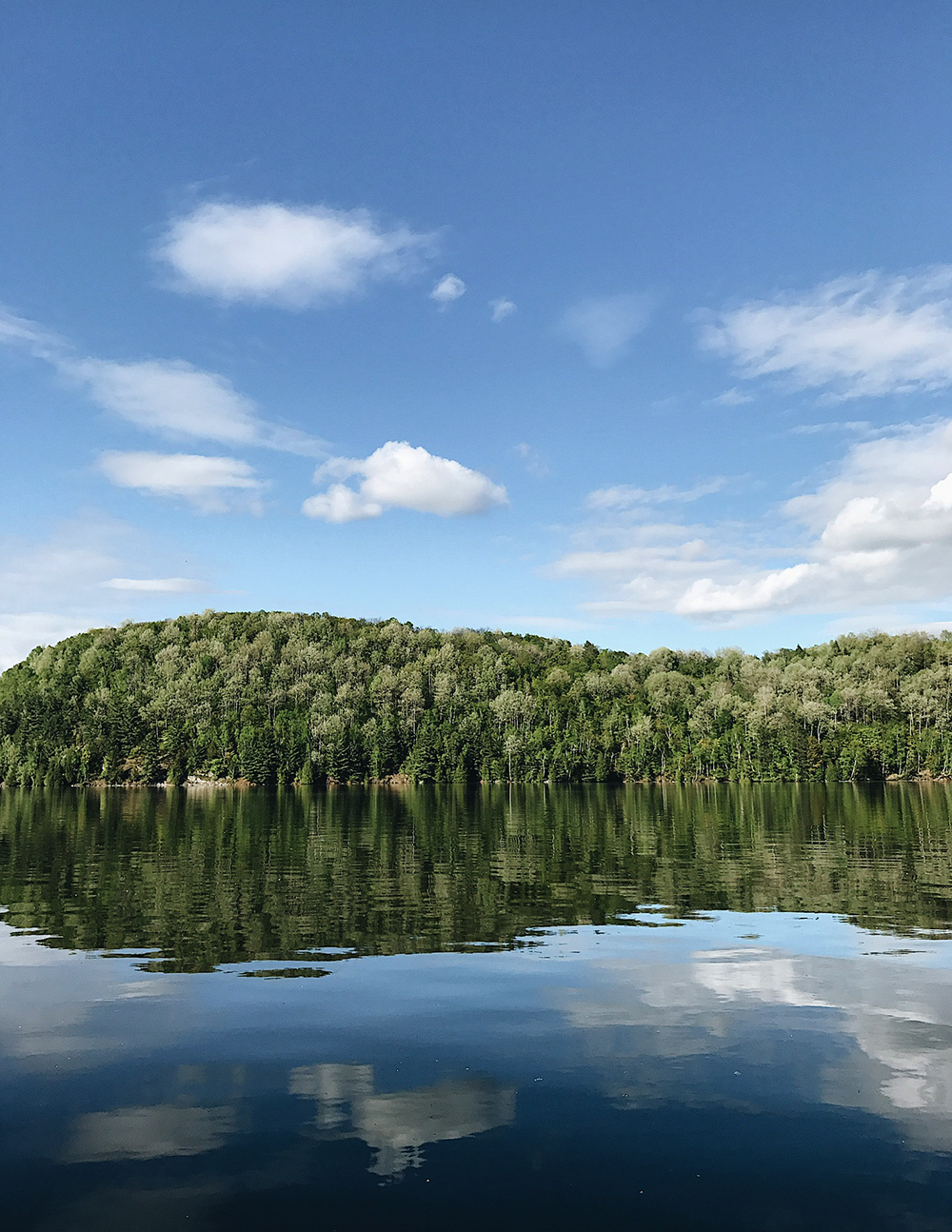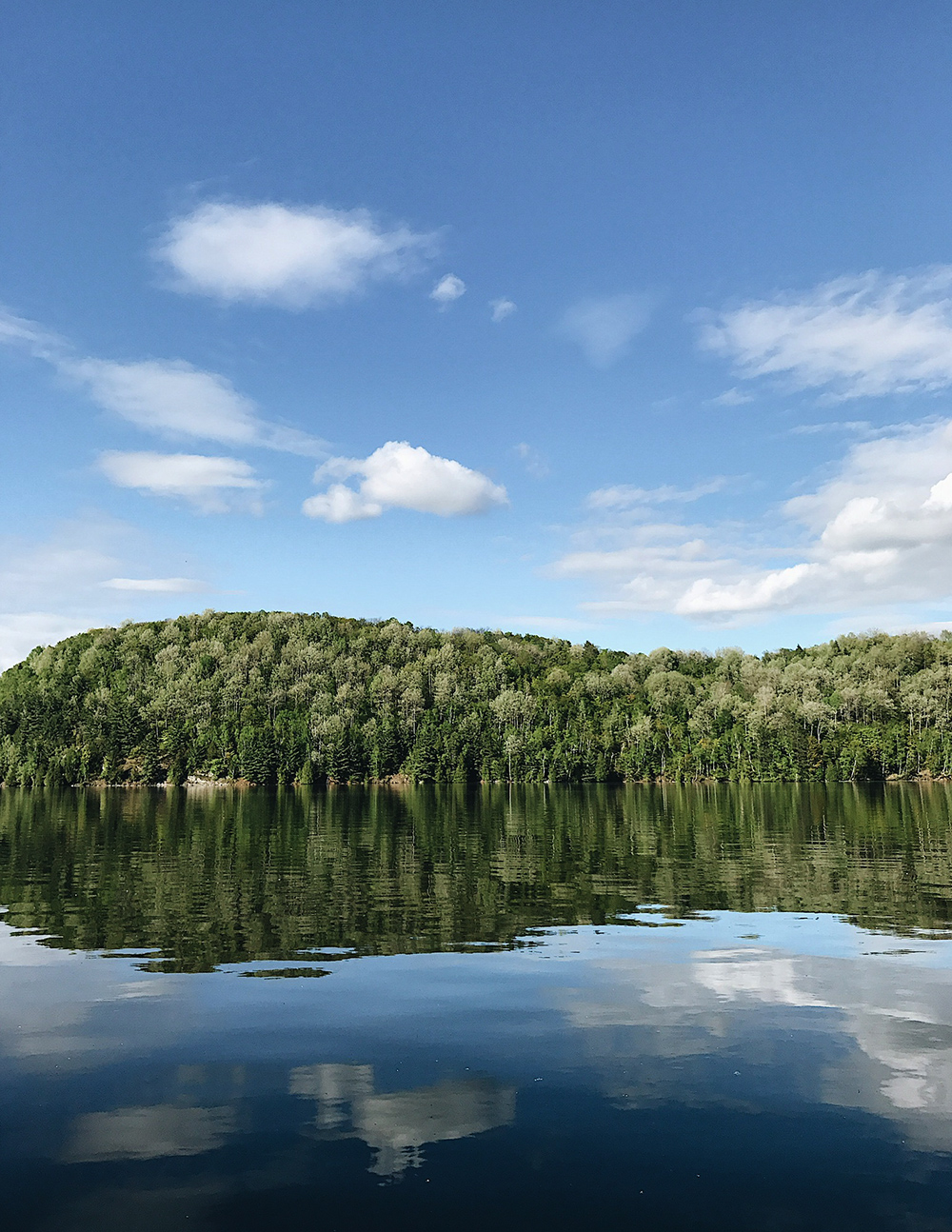 ---
THE COTTAGE
---
Our most recent adventure was last weekend when we headed north to our friend's cottage up on Esson Lake near Haliburton. It was such a treat to kick back, unplug (a bit) and catch up with some of our favourite people. Dave braved the lake but the canoe was the closest I came to being in the water. There are few things that I can image would be better for the soul than time spent lakeside with good friends, cold beers and delicious food. Oh and sleeping in of course!
---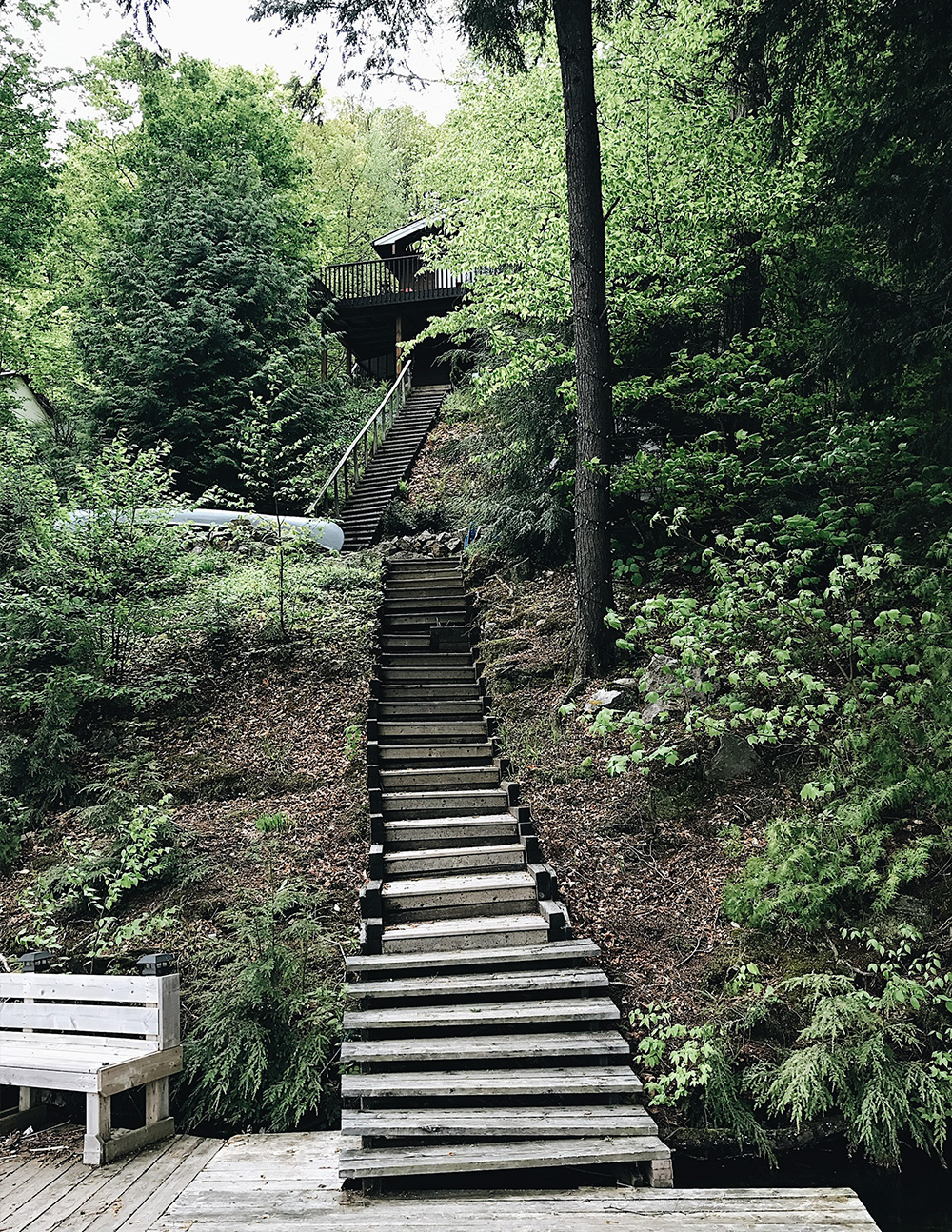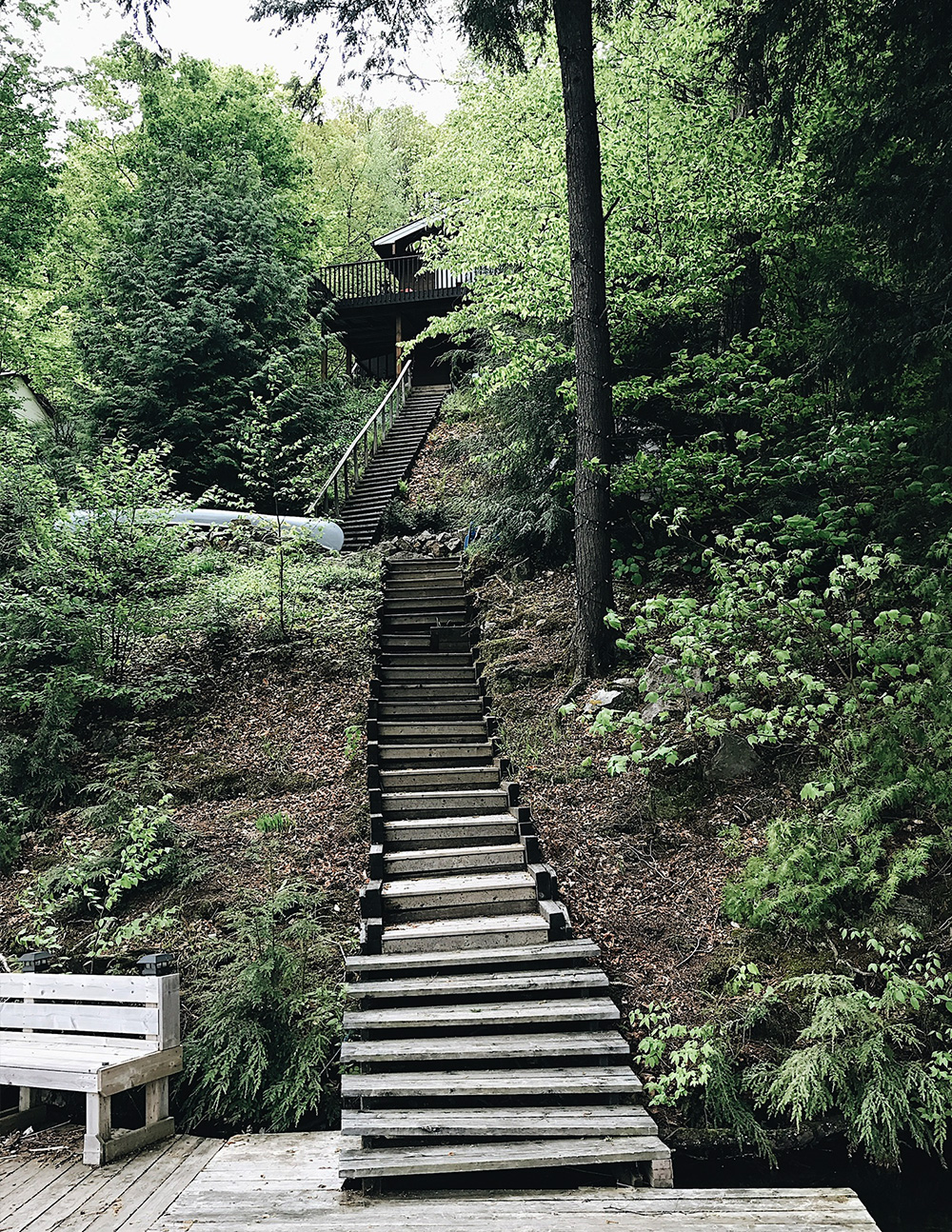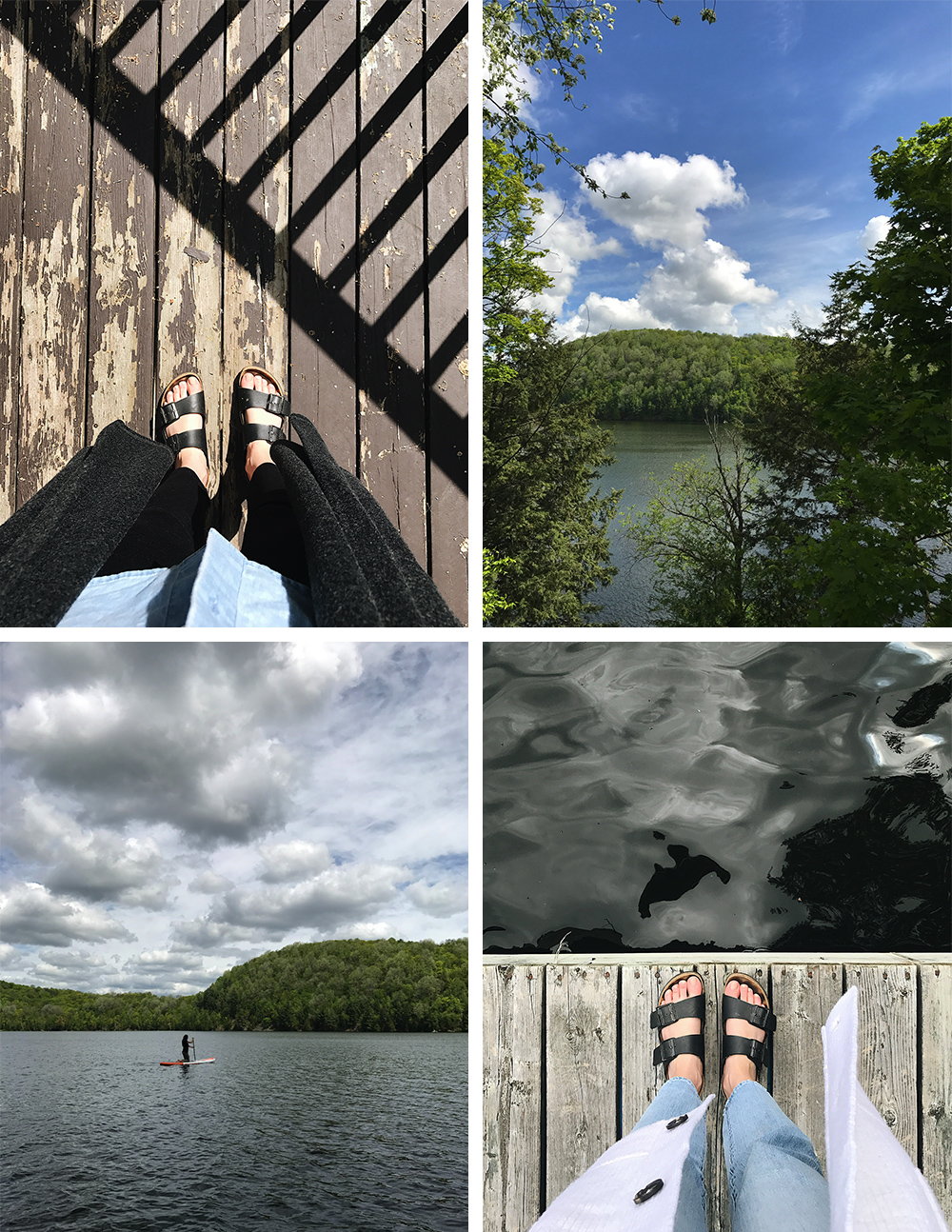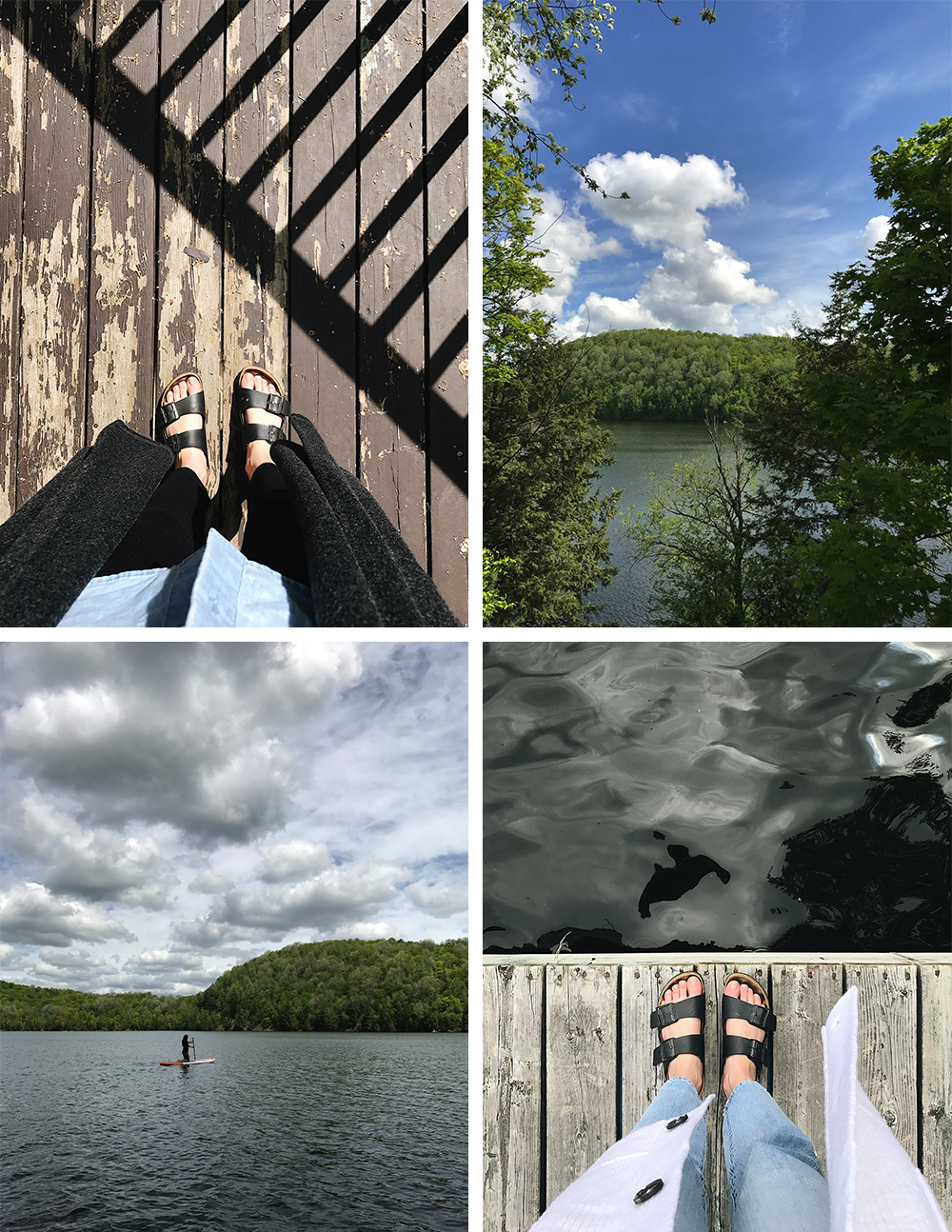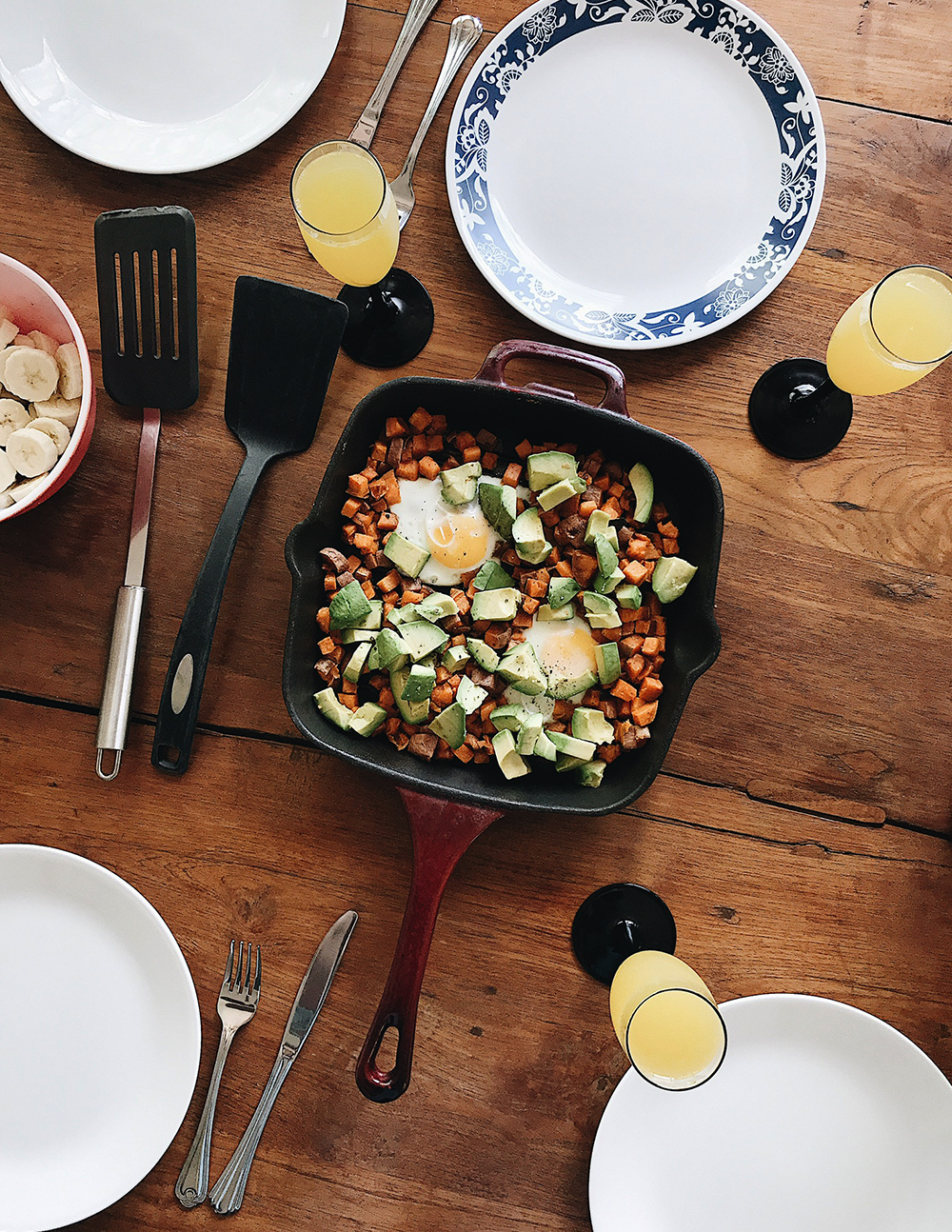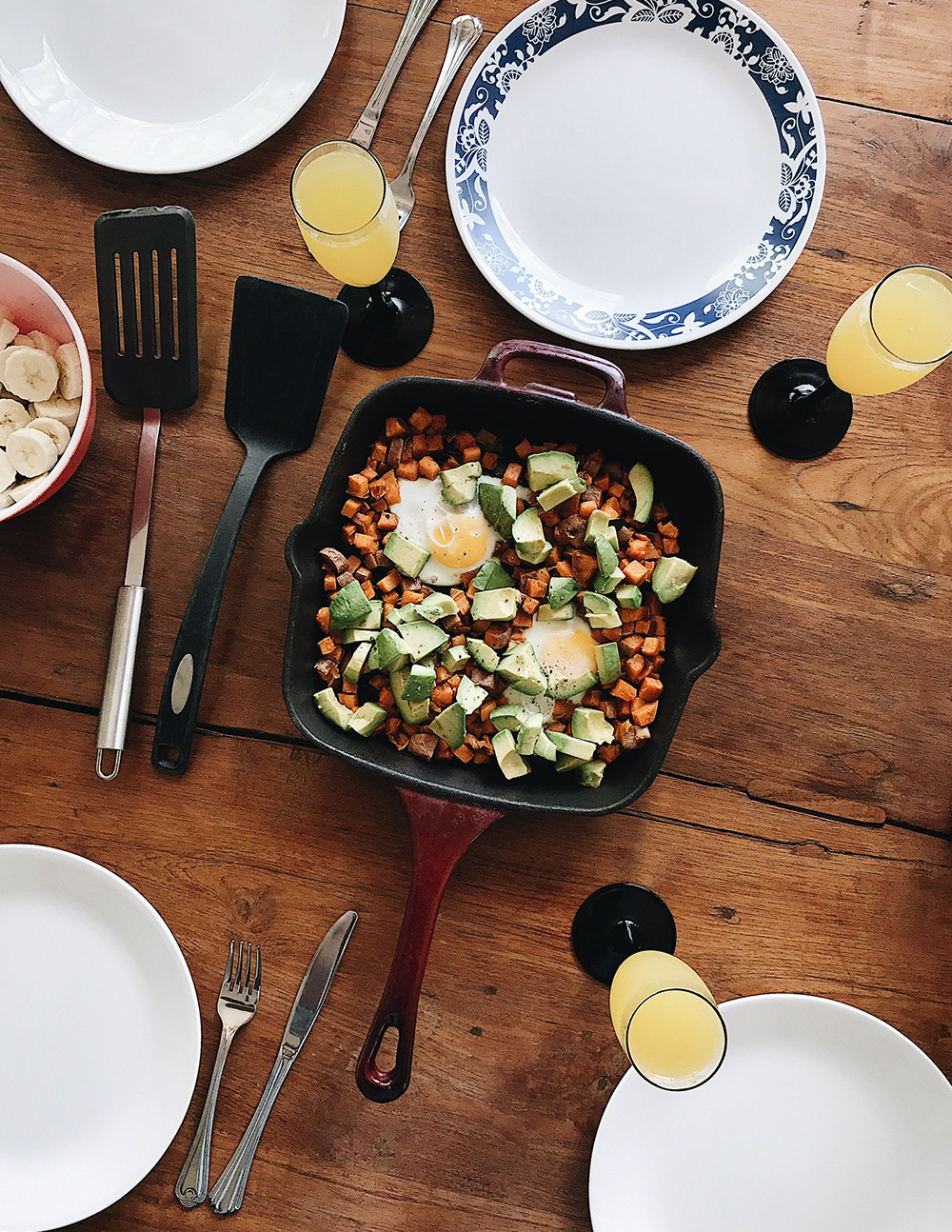 ---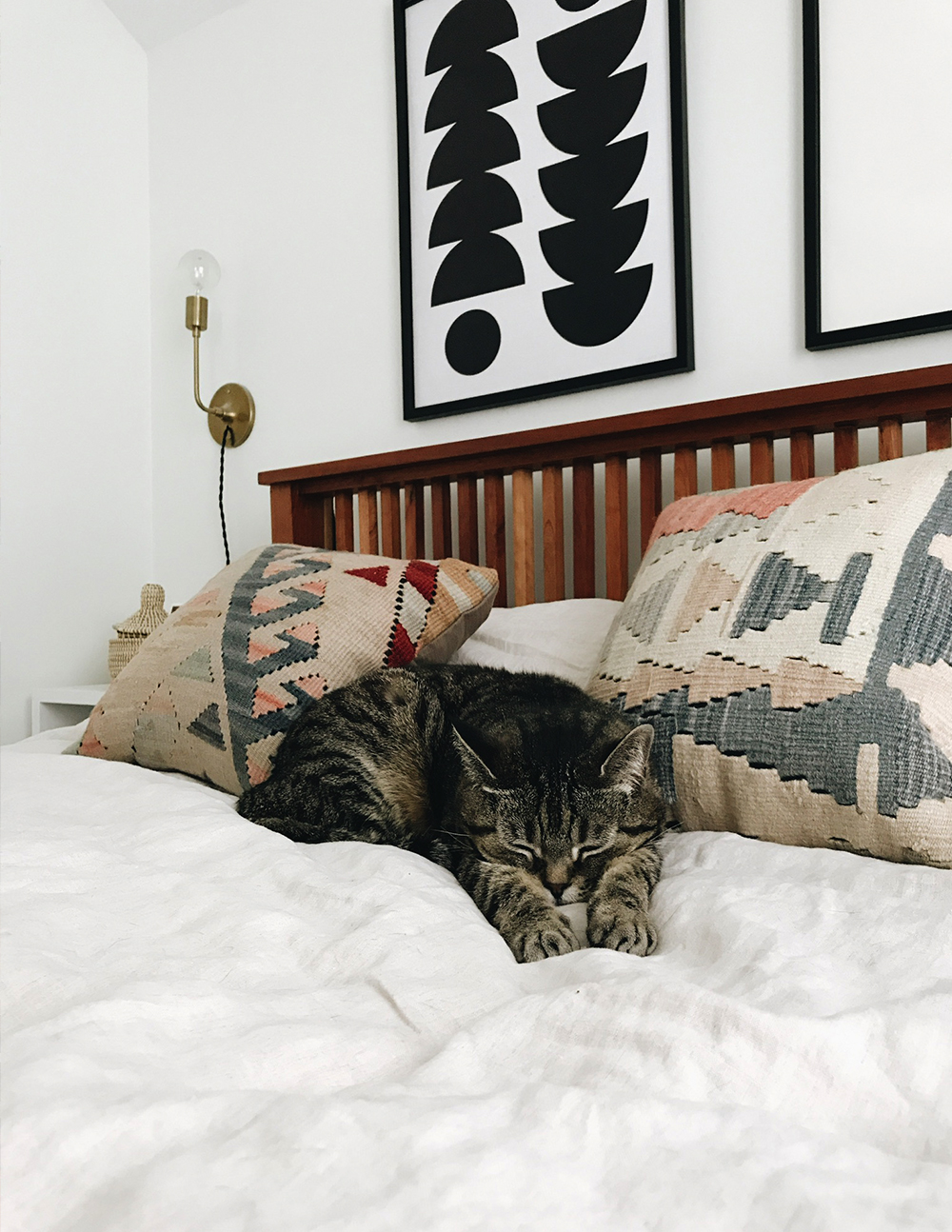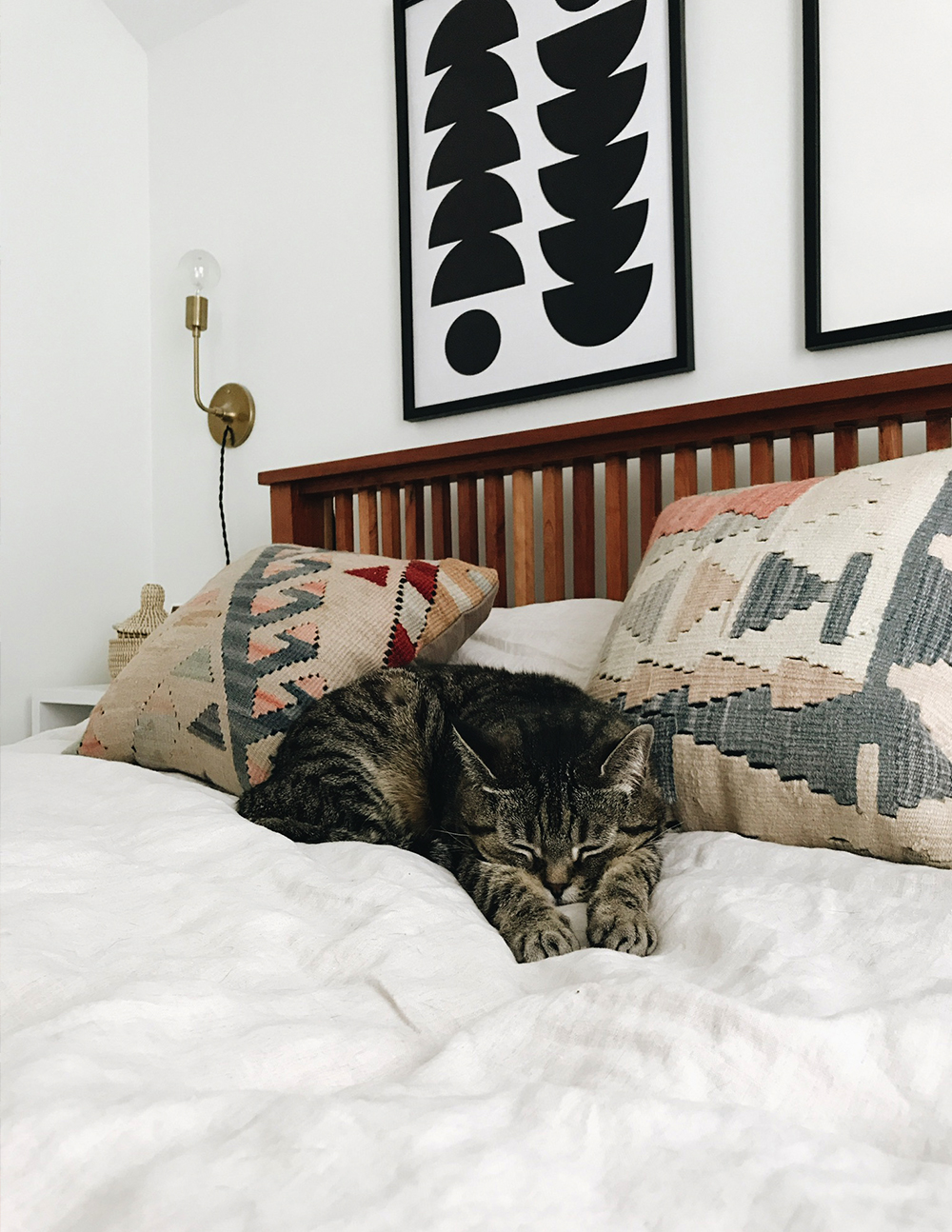 ---
FUR BABES
---
I'll tell you, working from home would be dull as hell without these two monkeys around. They're always giving me a reason to smooch their little noses and cheering me up when the day doesn't go my way.
Evie has the most adorable napping poses and always needs to have at least one limb fully extended. She and Dobby have been good pals, hanging on the bed, carpets and couch as they please. They'll extend a few sniffs, the odd nose nudge and daily games of 'chase me around the table like a crazy nut' and I savour every sweet little scene.
Dobby has been loving life these days because the good weather and garden preparations mean lots of free time in the yard and long walks with the family. He adores Dave and it's so cute to see them strolling along together on walks. They couldn't be more different in stature, yet they're quite similar in character and I love it.
---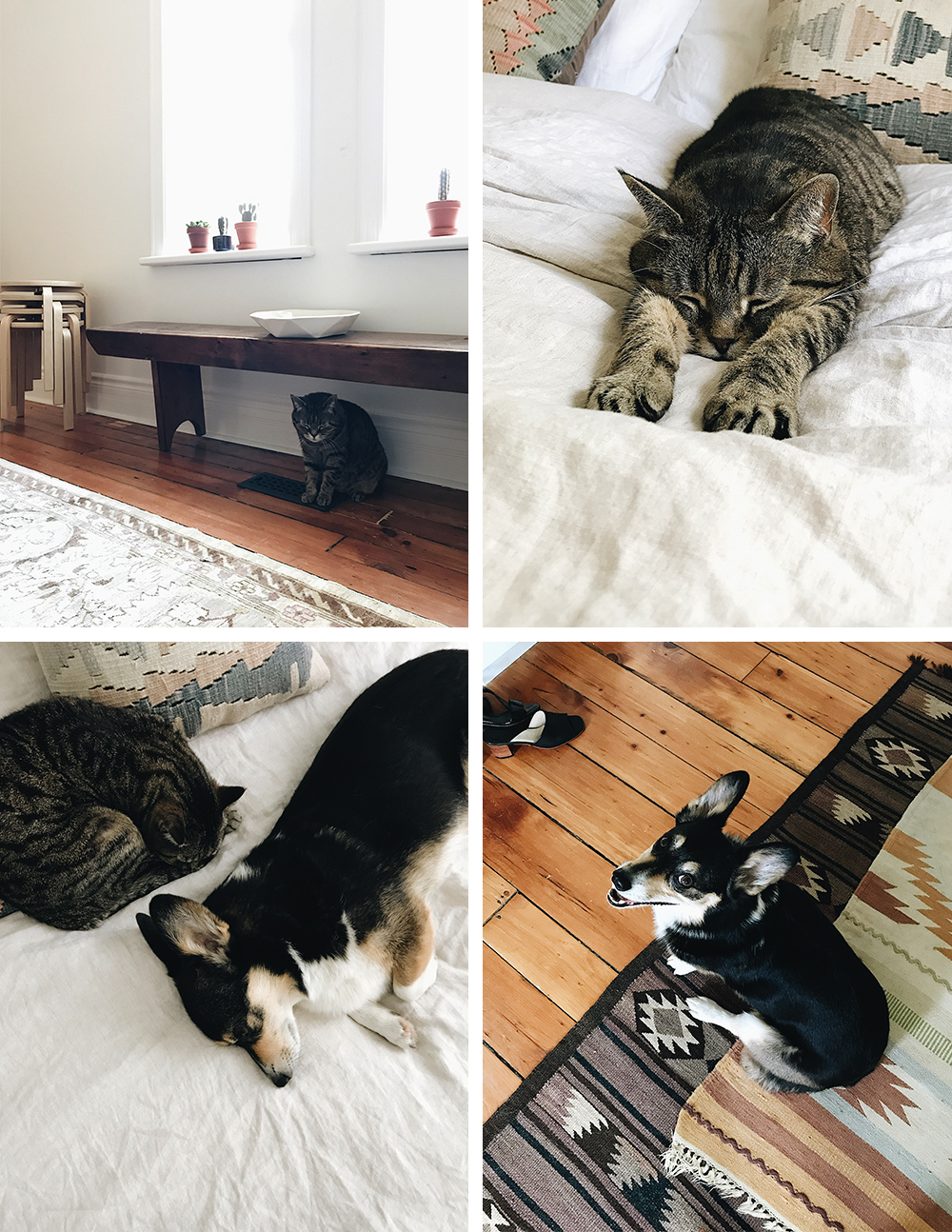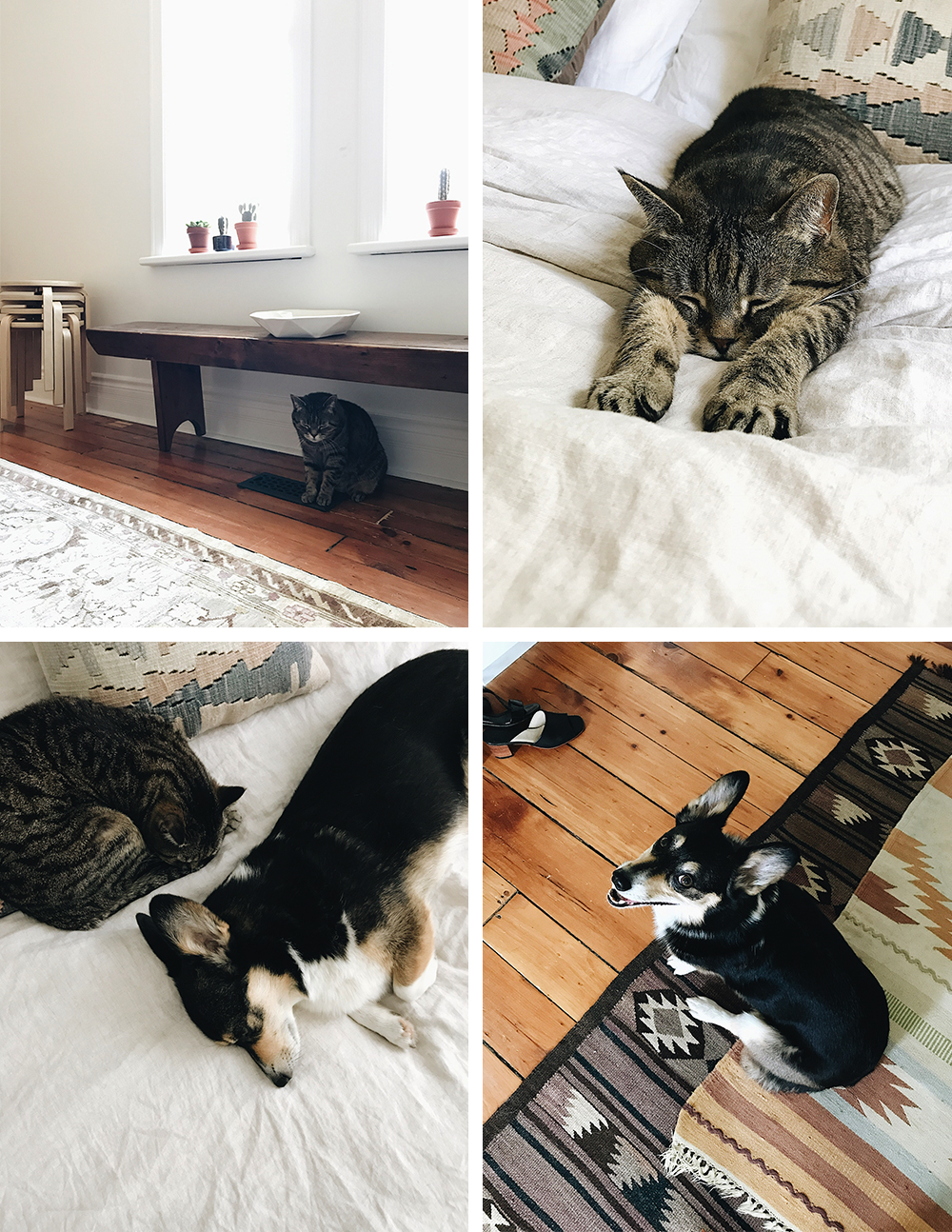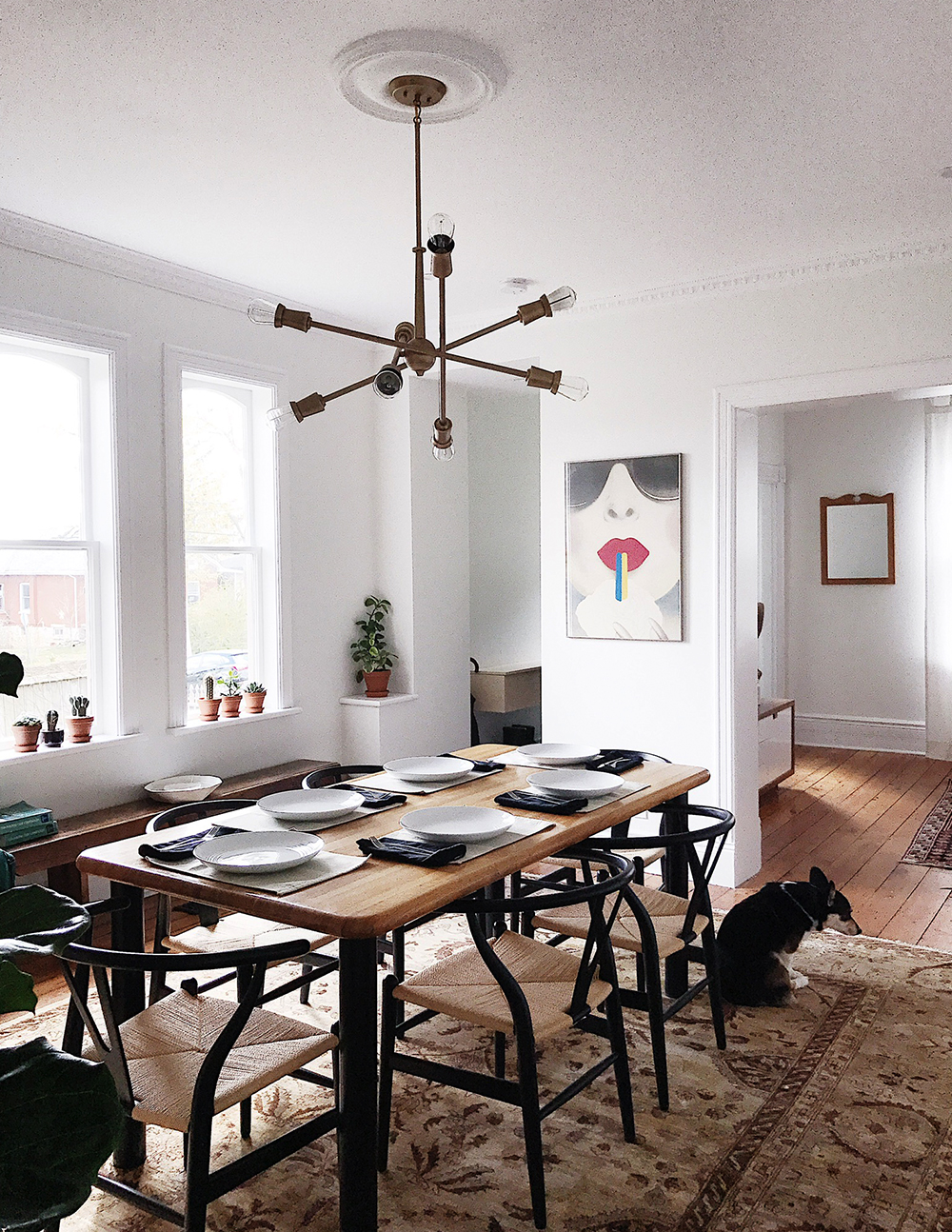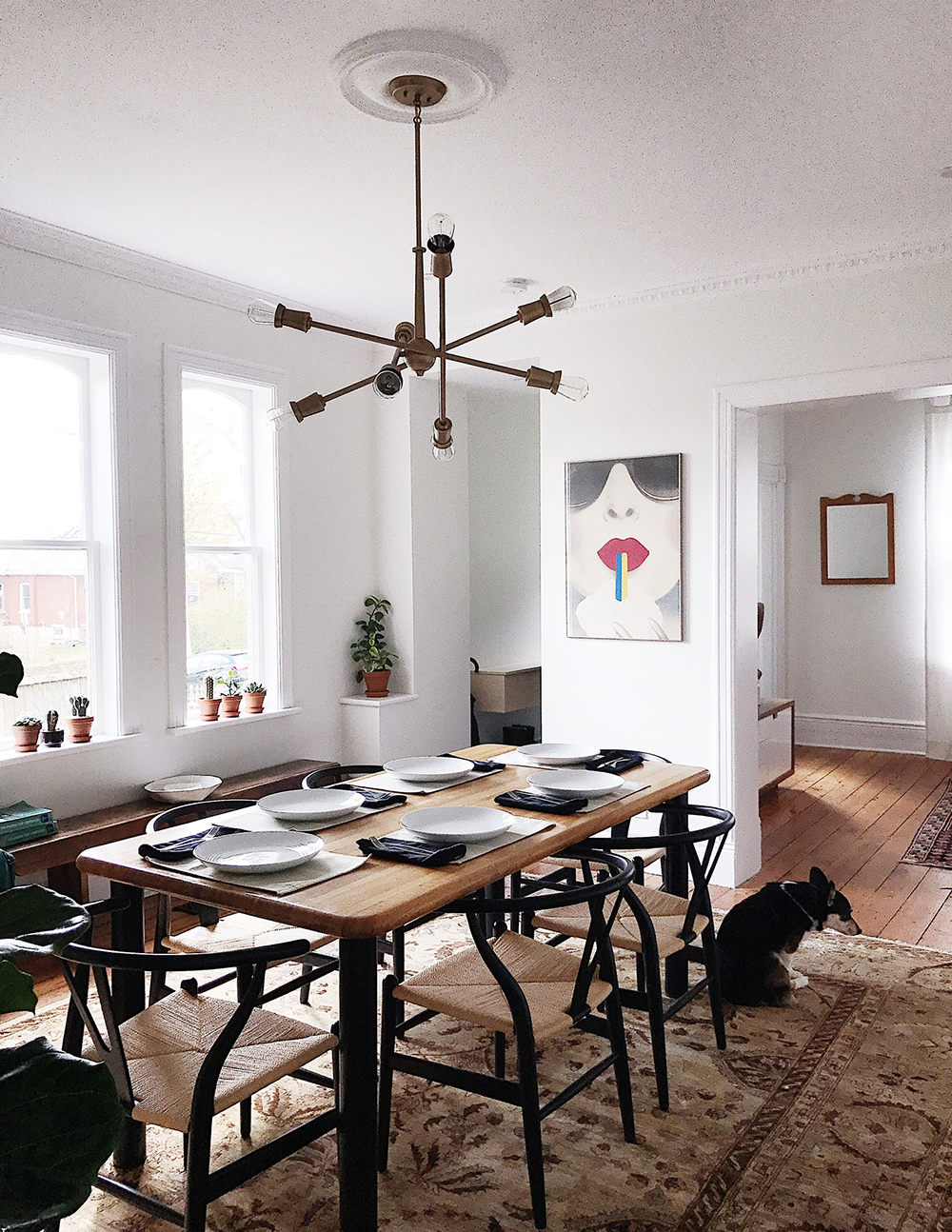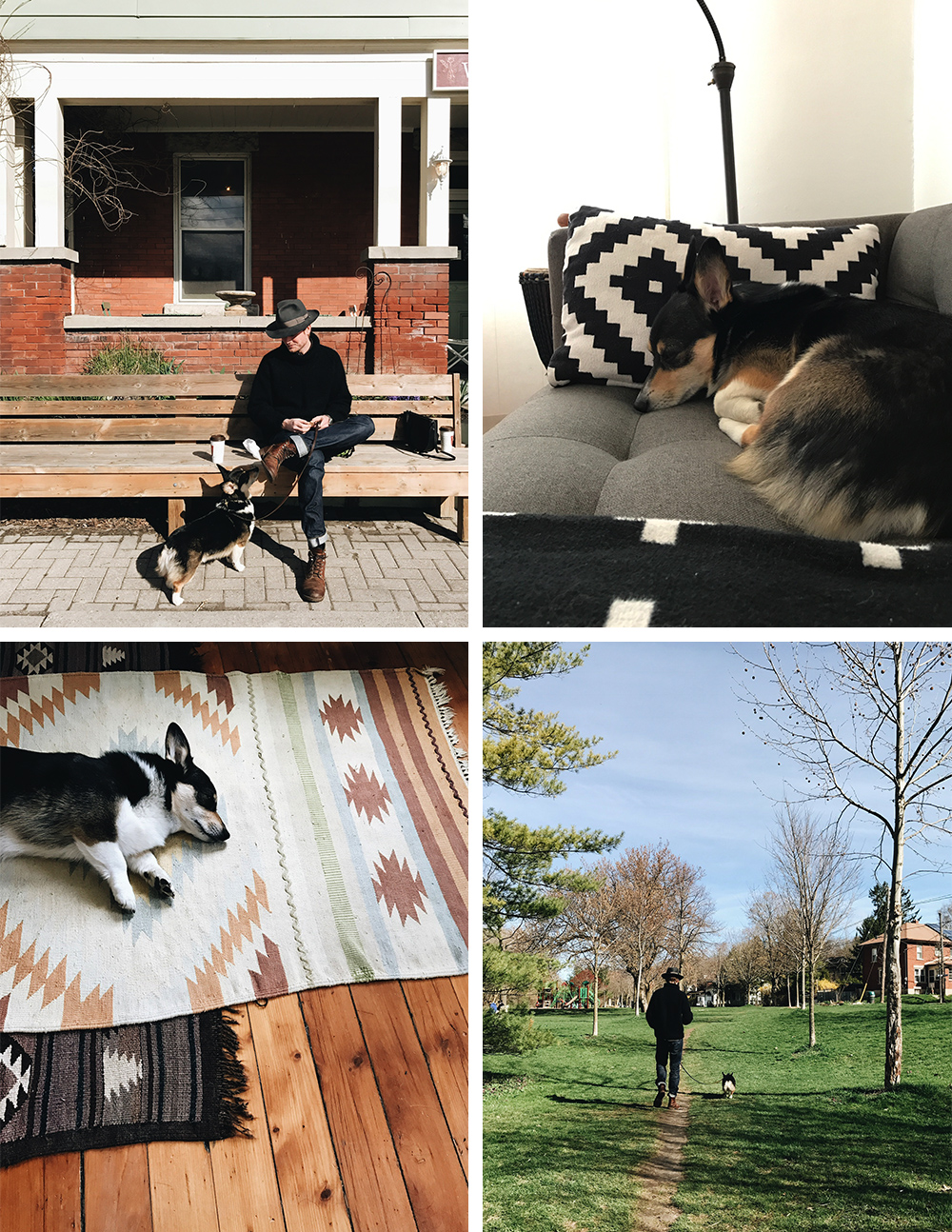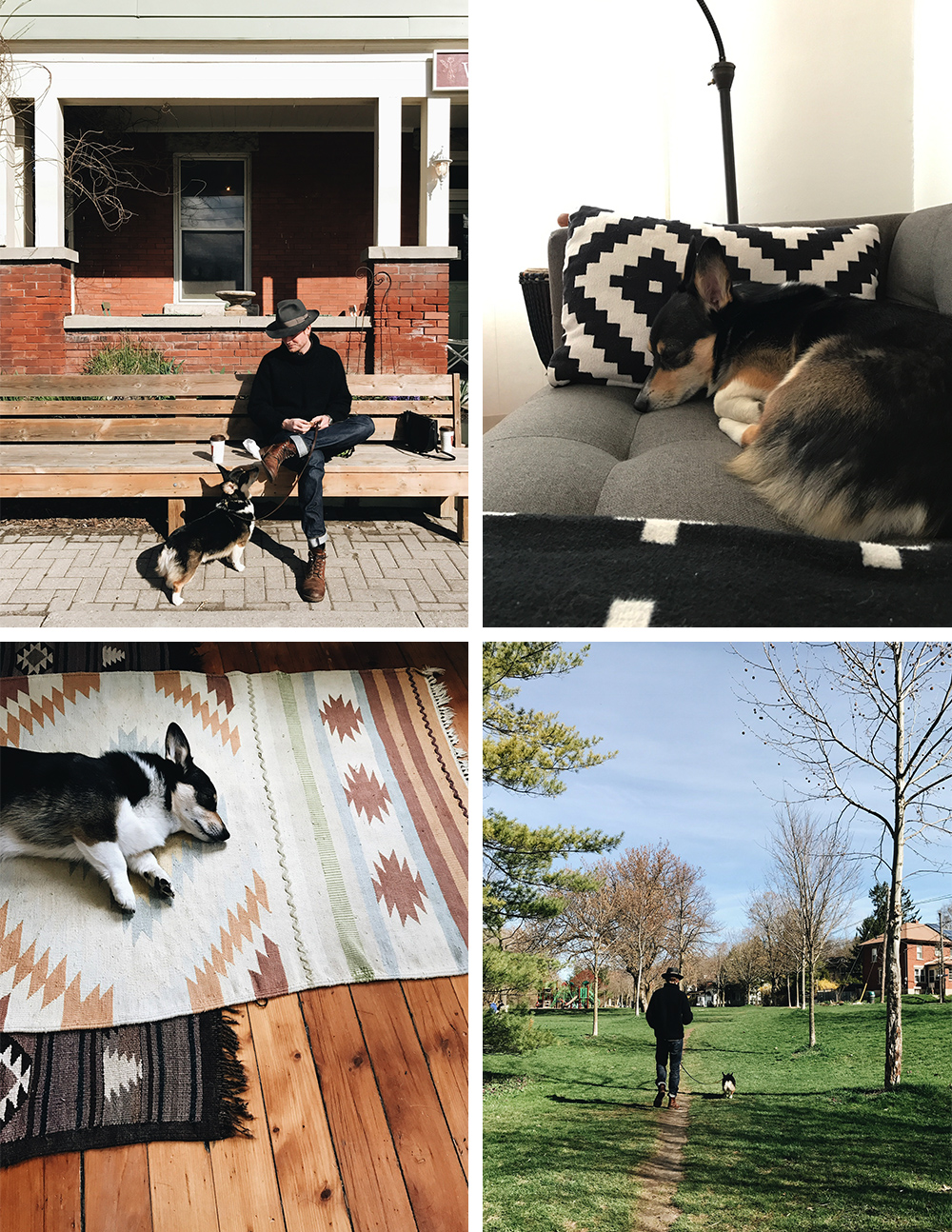 ---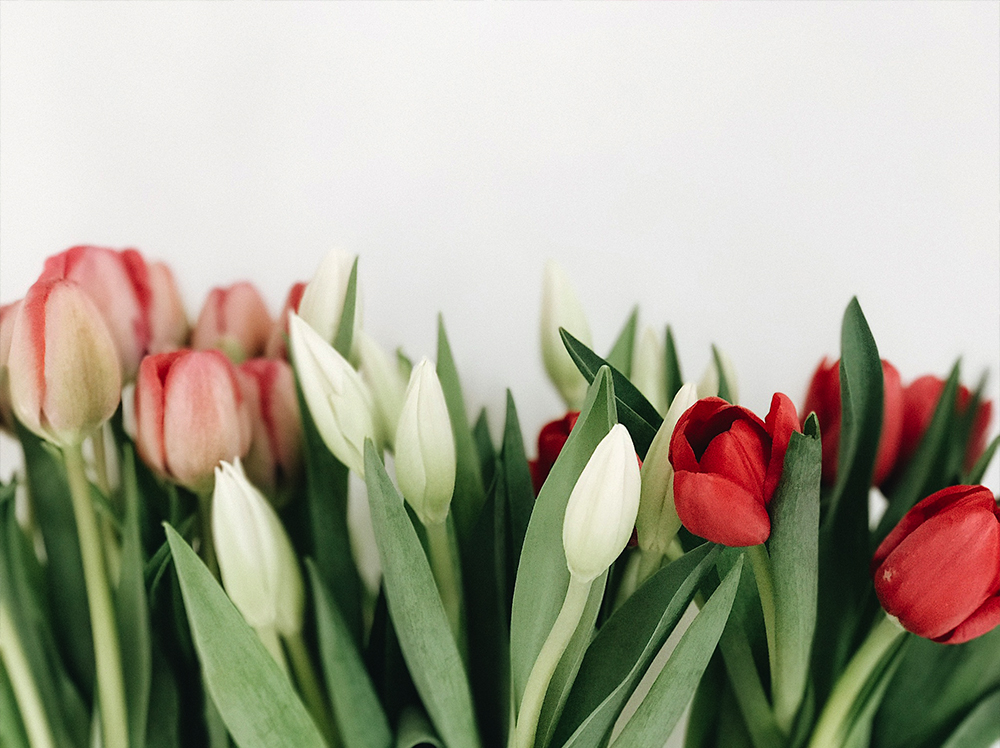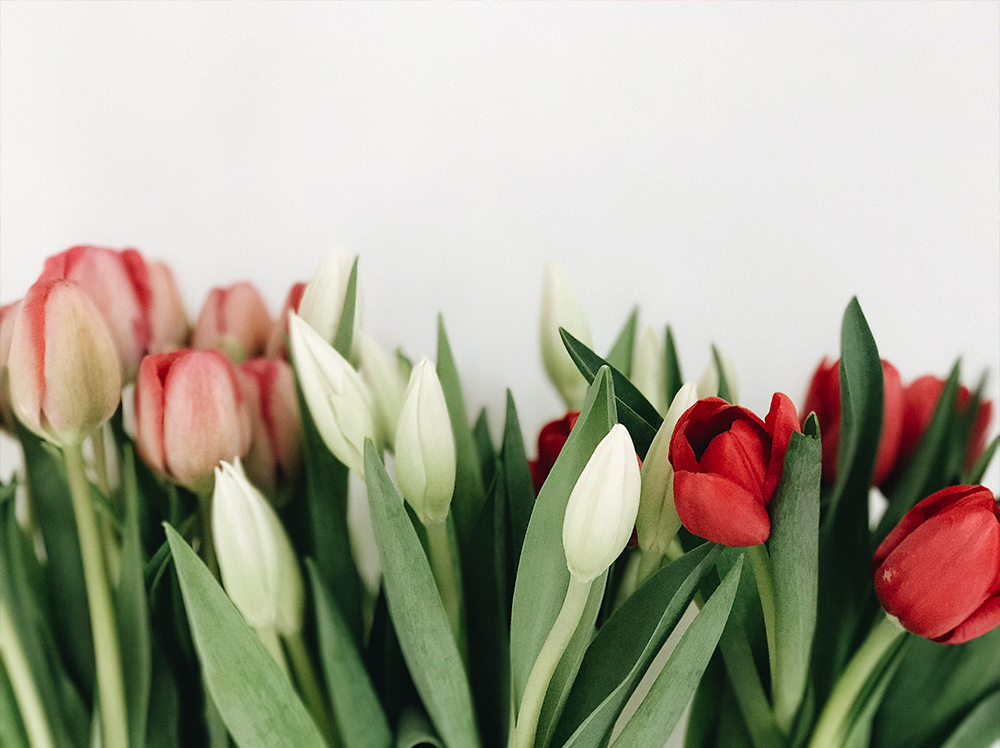 ---
FLOWERS
---
Flowers are always my favourite pick-me up, any time of the year, and these last two months were no exception. Countless tulips found their way into our house, along with some fluffy peonies and one of the most amazing arrangements I've ever had the pleasure of admiring. I also stopped to admire all the gorgeous gardens in our area and made about 1 zillion mental notes to plant different beauties in our own yard.
---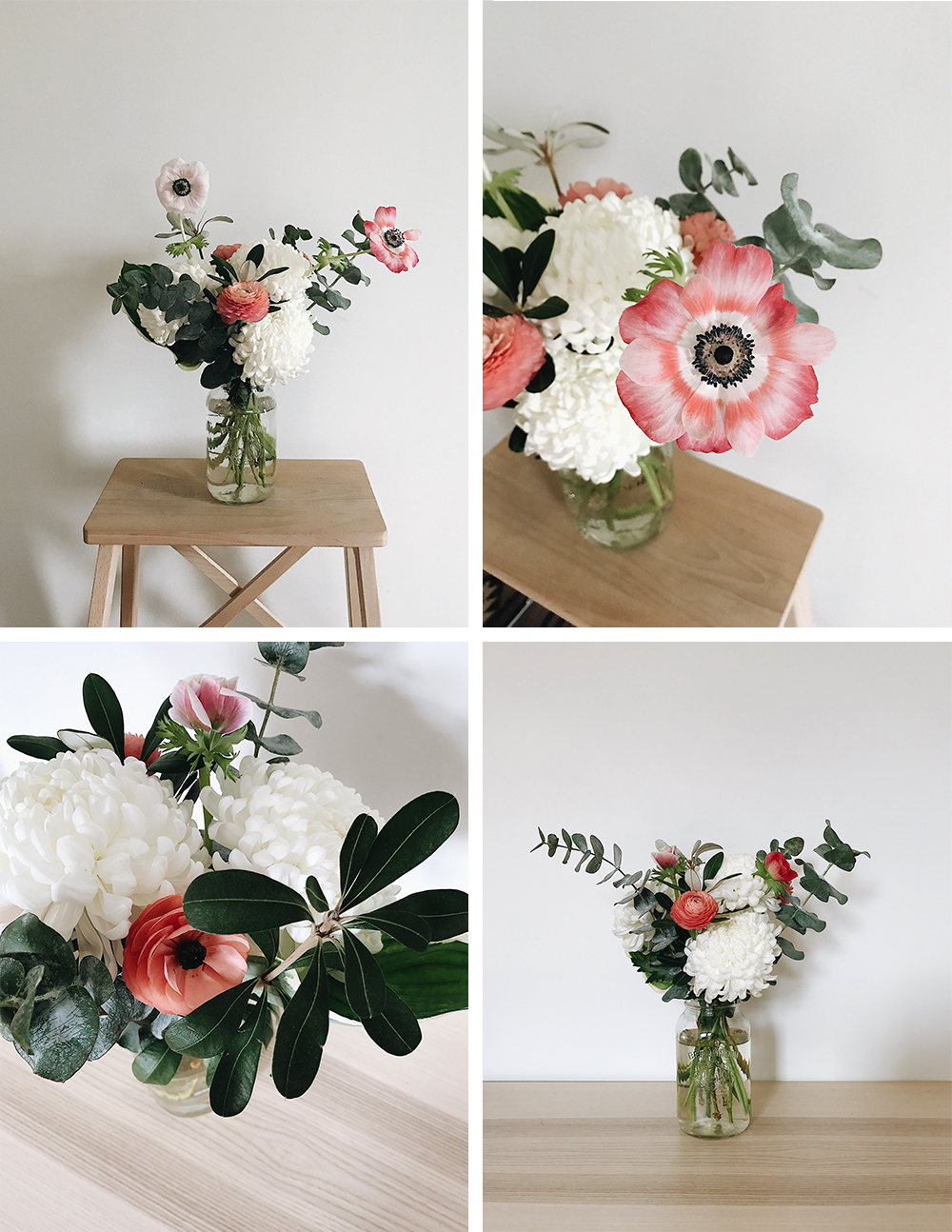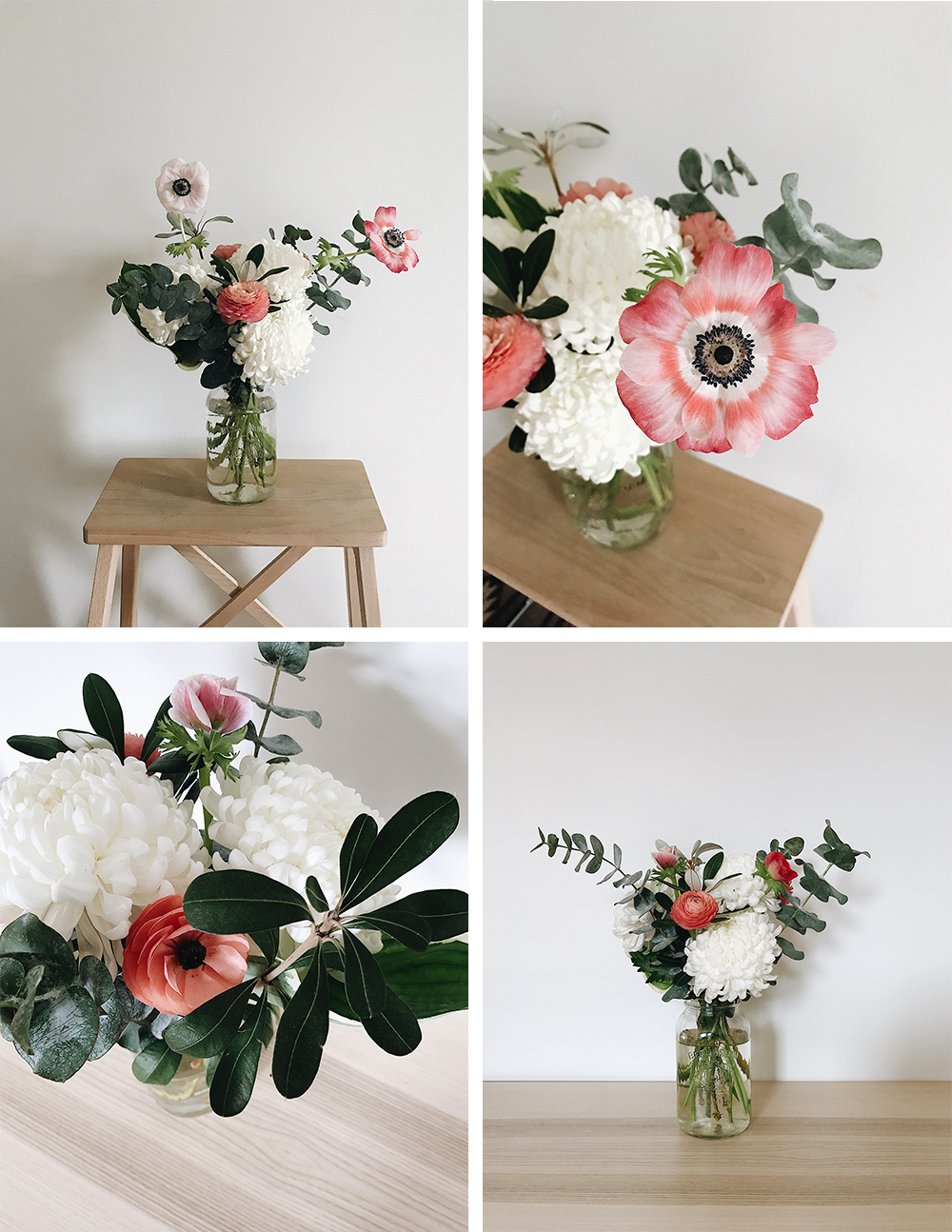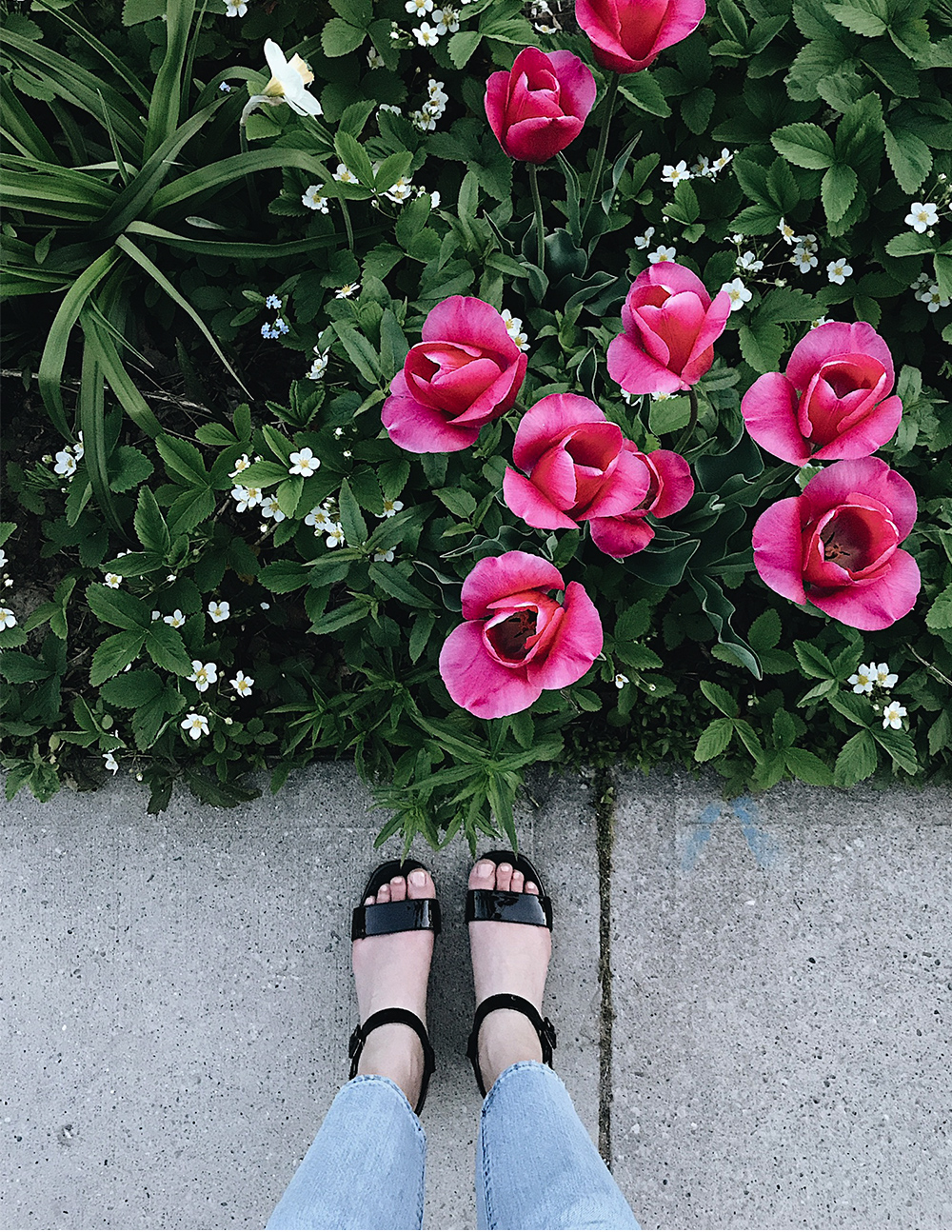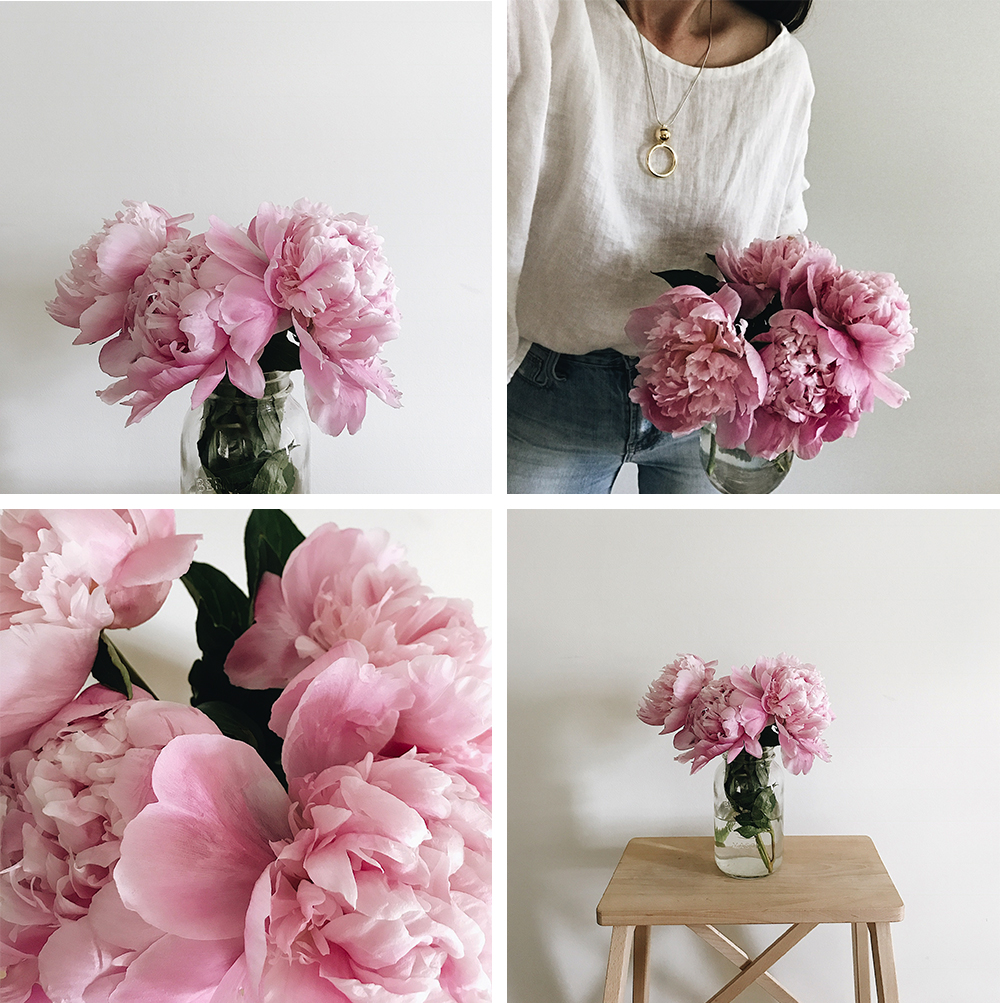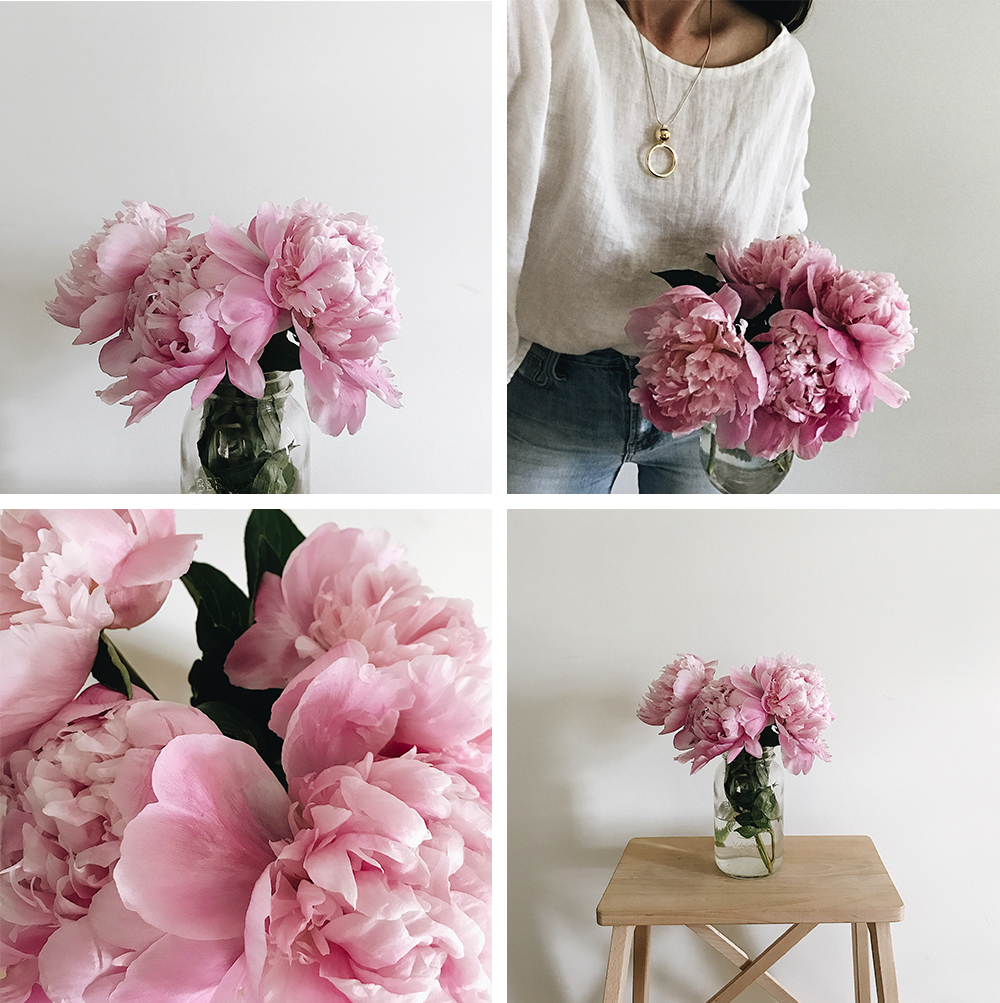 ---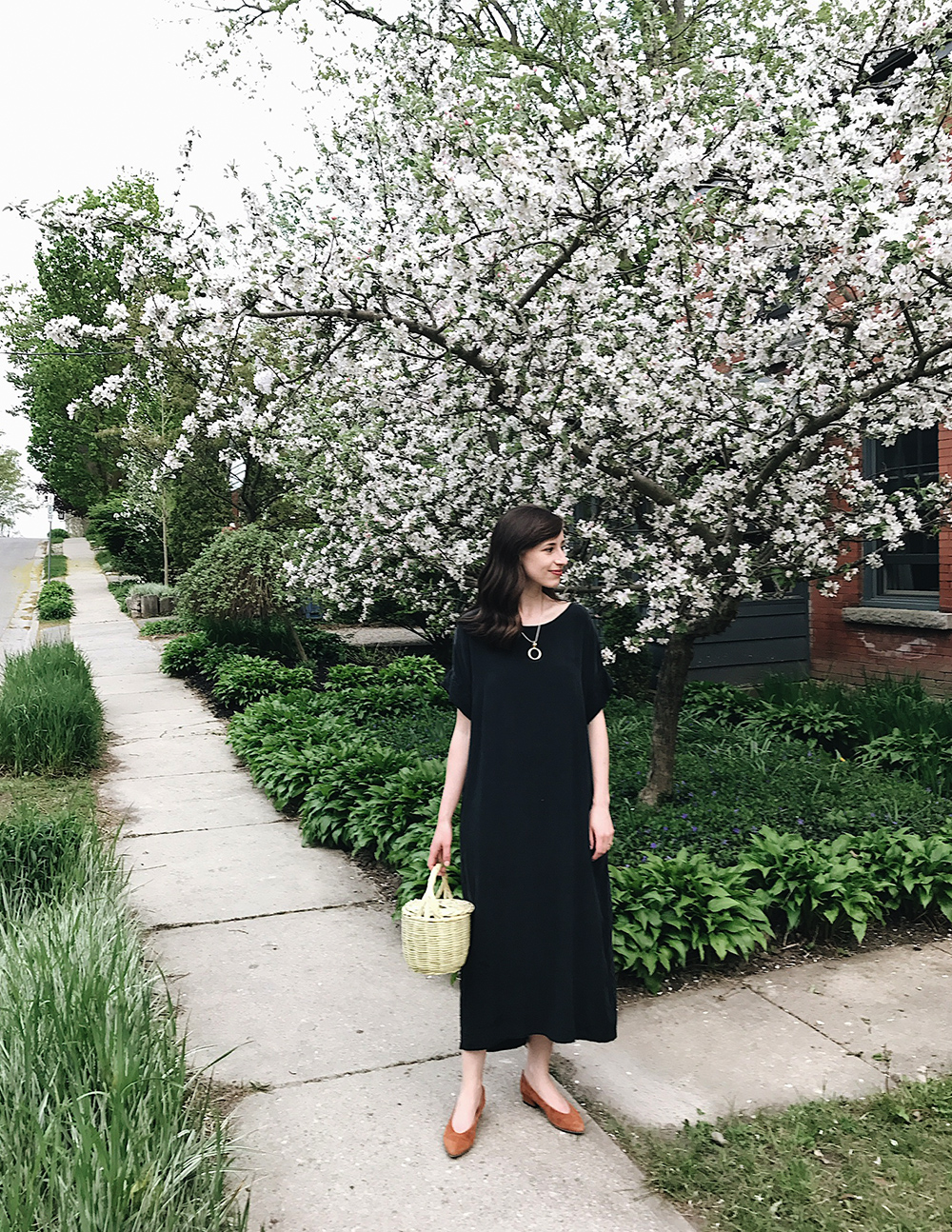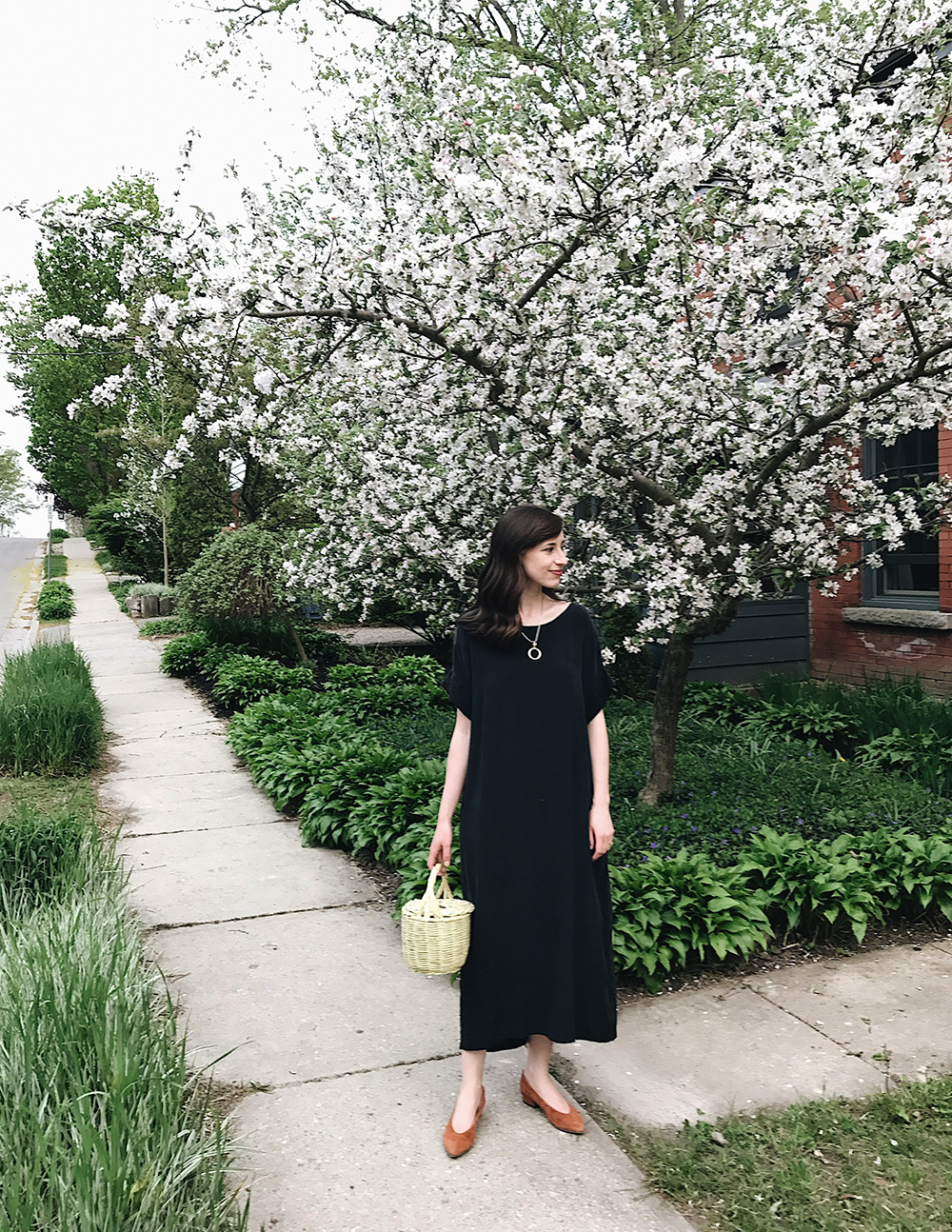 ---
STYLE + OOTD SELFIES
---
This has been one of the best Spring's for transitional style because we've had so many perfect Spring days mixed in with chilly nights, hot afternoons and a whole lot of thunderstorms. It's made me appreciate my coat options more than ever and I've really enjoyed leaving the boots, hats and scarves at home.
---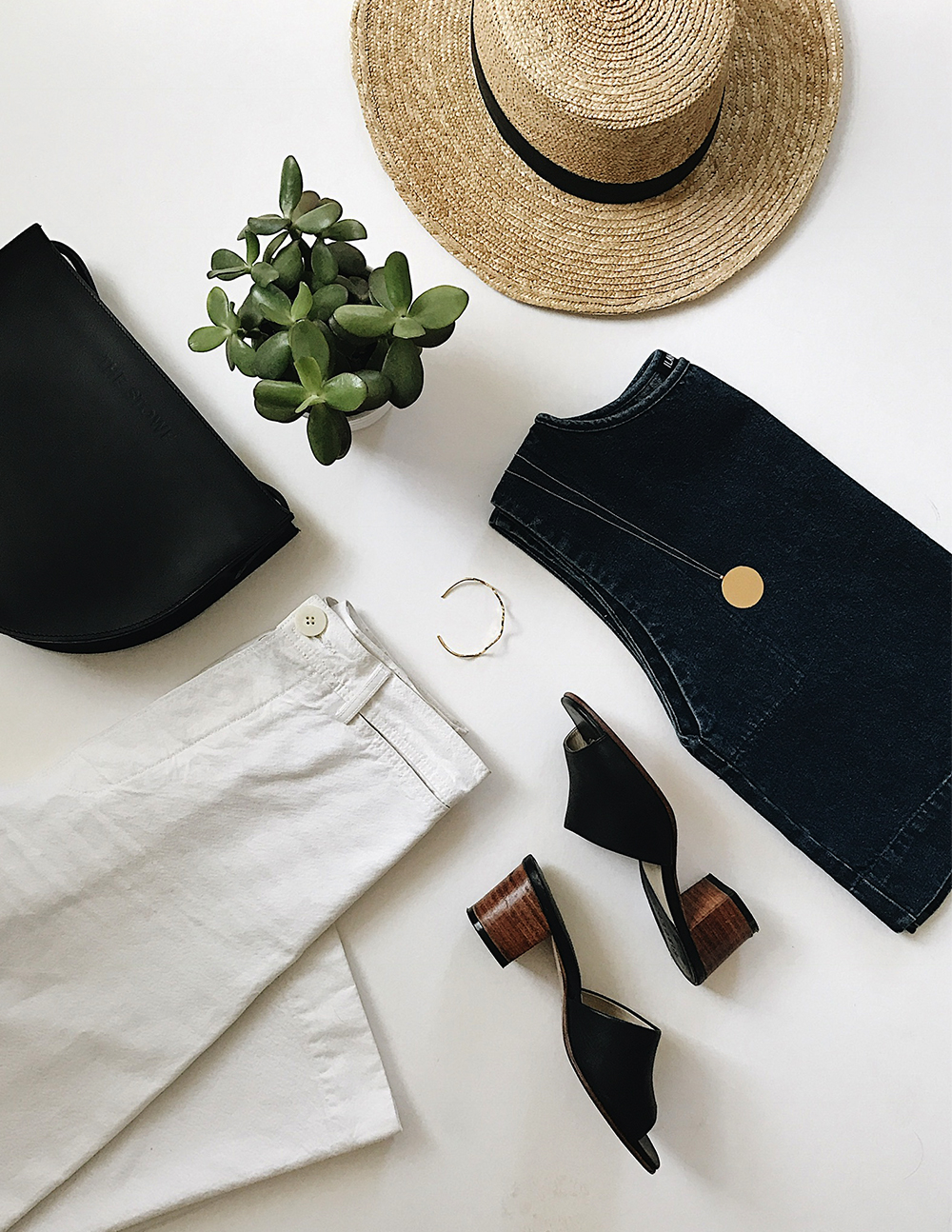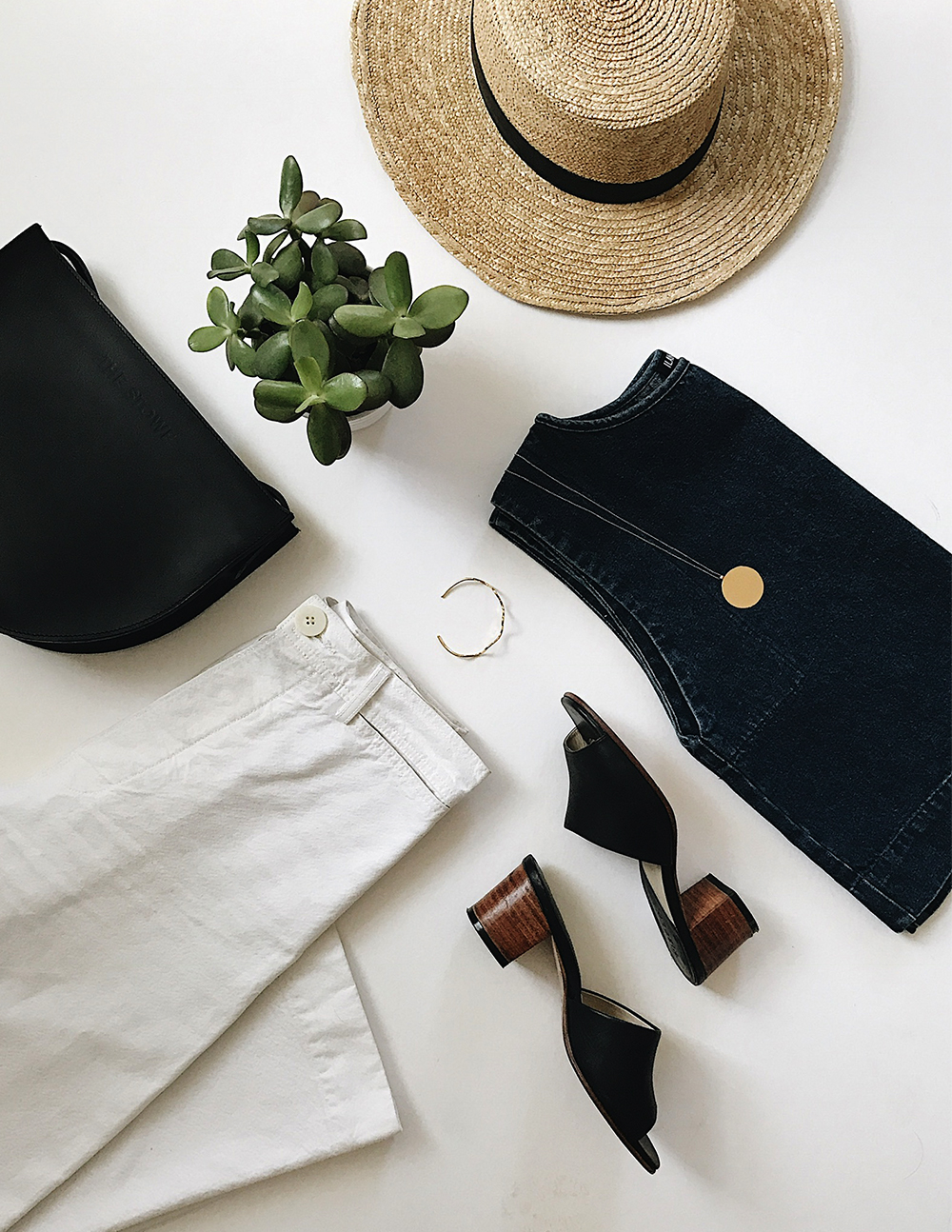 ---
As a bit of an experiment I decided to try documenting most of my daily looks so I could refer back and see what items were getting the most love during this season. Turns out it was more fun than I expected and actually quite useful! Now, I'll be the first to admit that mirror selfies are not my thing, or at least they weren't until I started taking them (almost) every day. But once you get the hang of it, they're not so bad.
Here's a look at all the outfits I managed to snap thanks to my recently acquired IKEA mirror. I think it's safe to say I'm still super into wide-leg pants and long coats/vests.
---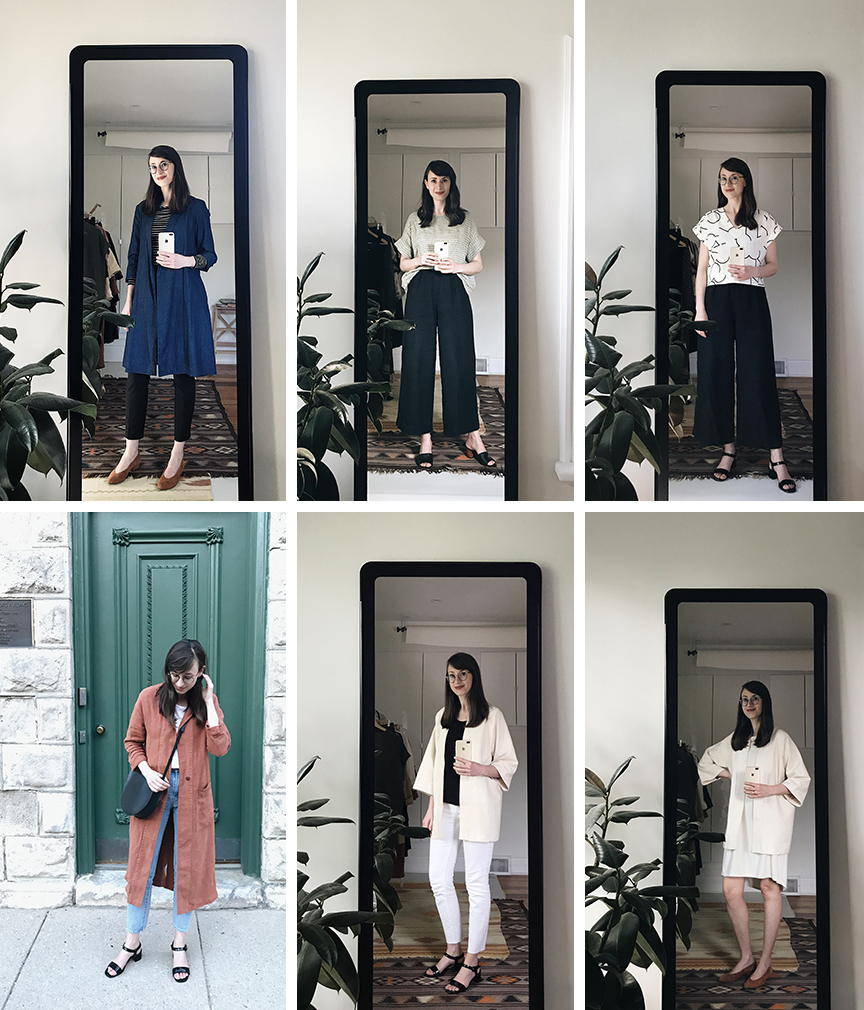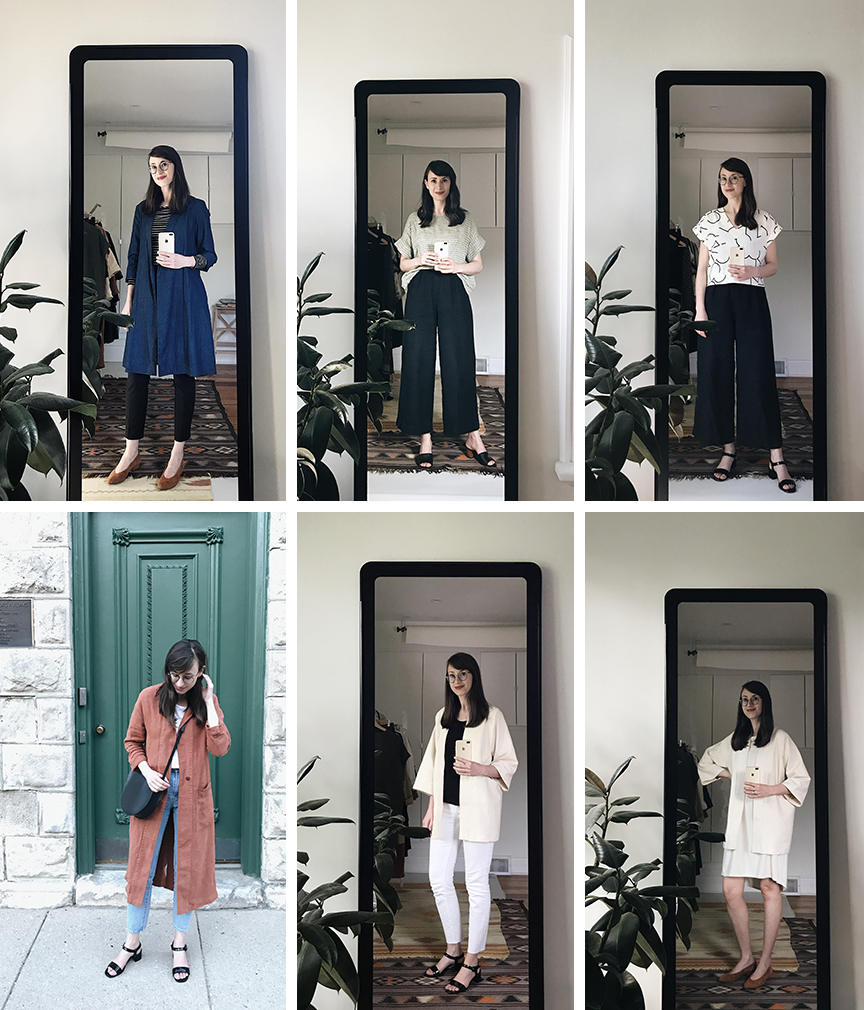 ---
FREE PHONE WALLPAPERS
---
My favourite things to photograph in the Spring are all the beautiful lush leaves and bursting blossoms that flourish in our neighbourhood. They're especially stunning after a thunderstorm or just before dusk when the light is low and soft. In an effort to share some of these beautiful sights and scenes with you I've created a series of 10 wallpapers you can choose from and download to use on your phone! It's super easy to do, simply:
1 – On your phone open this webpage (which you've probably already done). If not send yourself this link: http://wp.me/p3k6ub-4cV, open it and scroll to this section of the post.
2 – Choose one of the images below and simply hold your finger on it until a window opens.
3 – Select 'Save Image'
4 – In your 'Settings' App scroll to the 'Wallpaper' section and 'Choose a new wallpaper'
5 – Select the image you just saved and you're all set!
Personally, I find whenever I look at my phone and there is a stunning natural texture staring back, I feel immediately better and less stressed. I hope these bring a little lightness to your phone life too!
---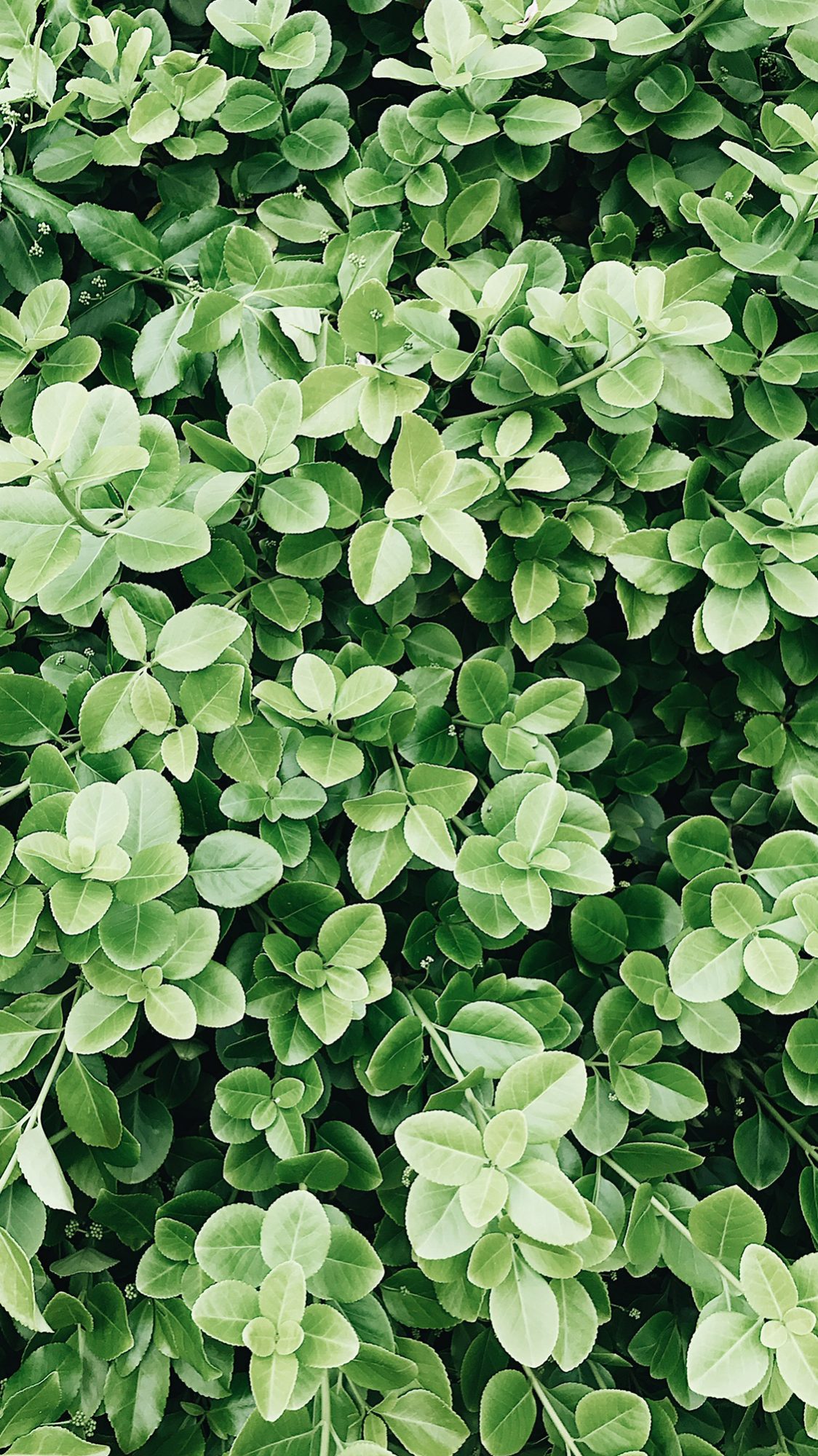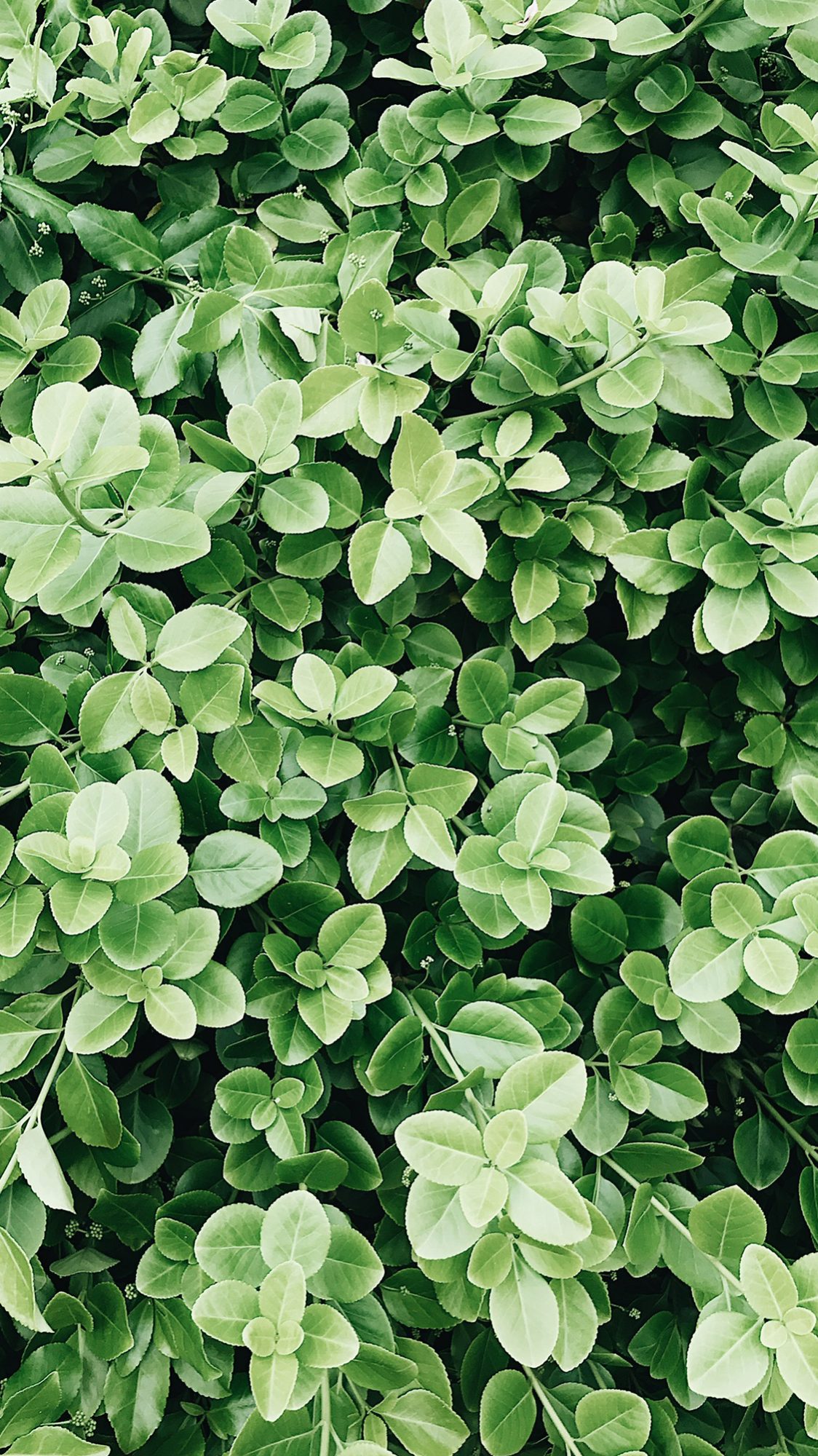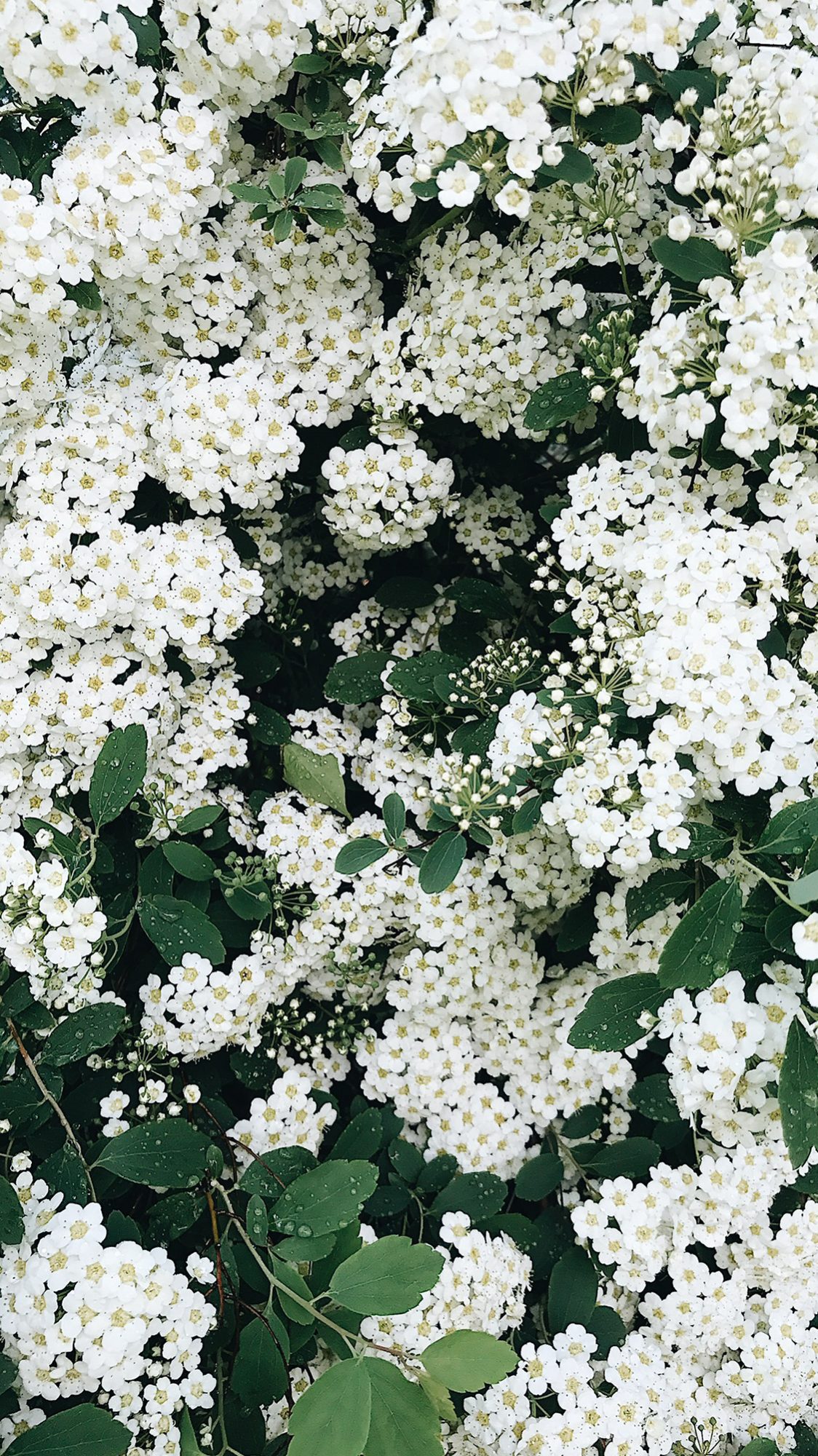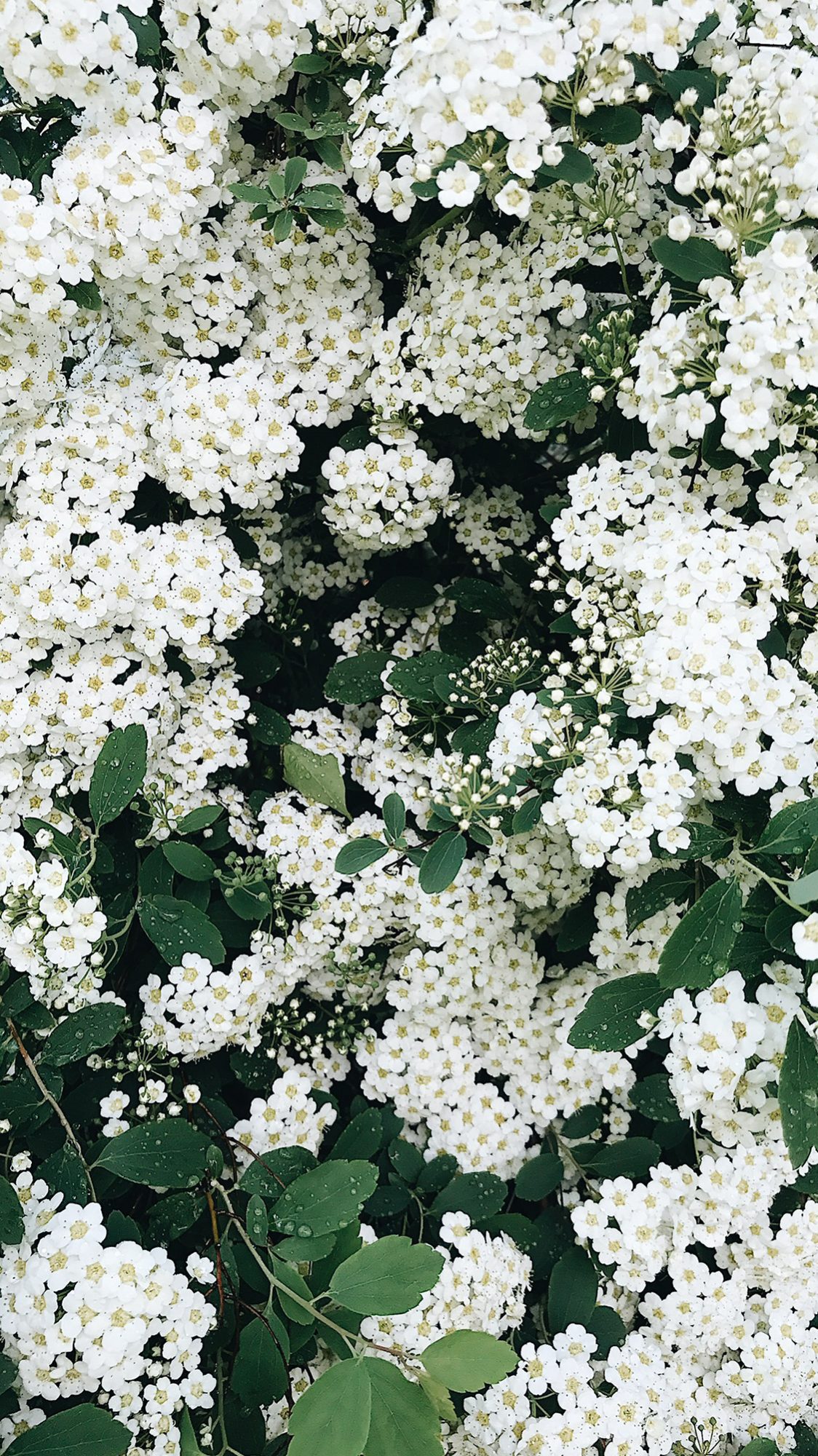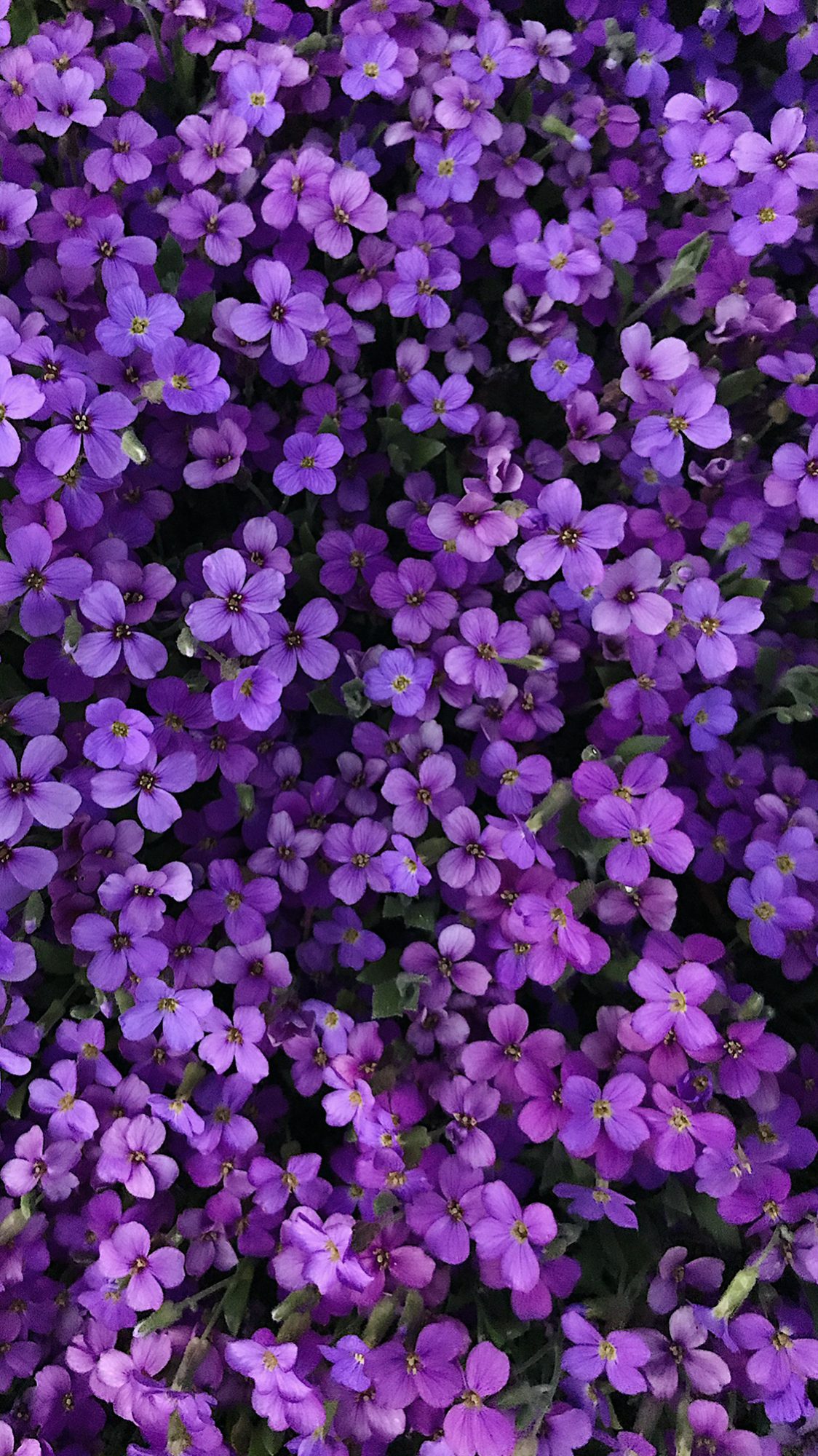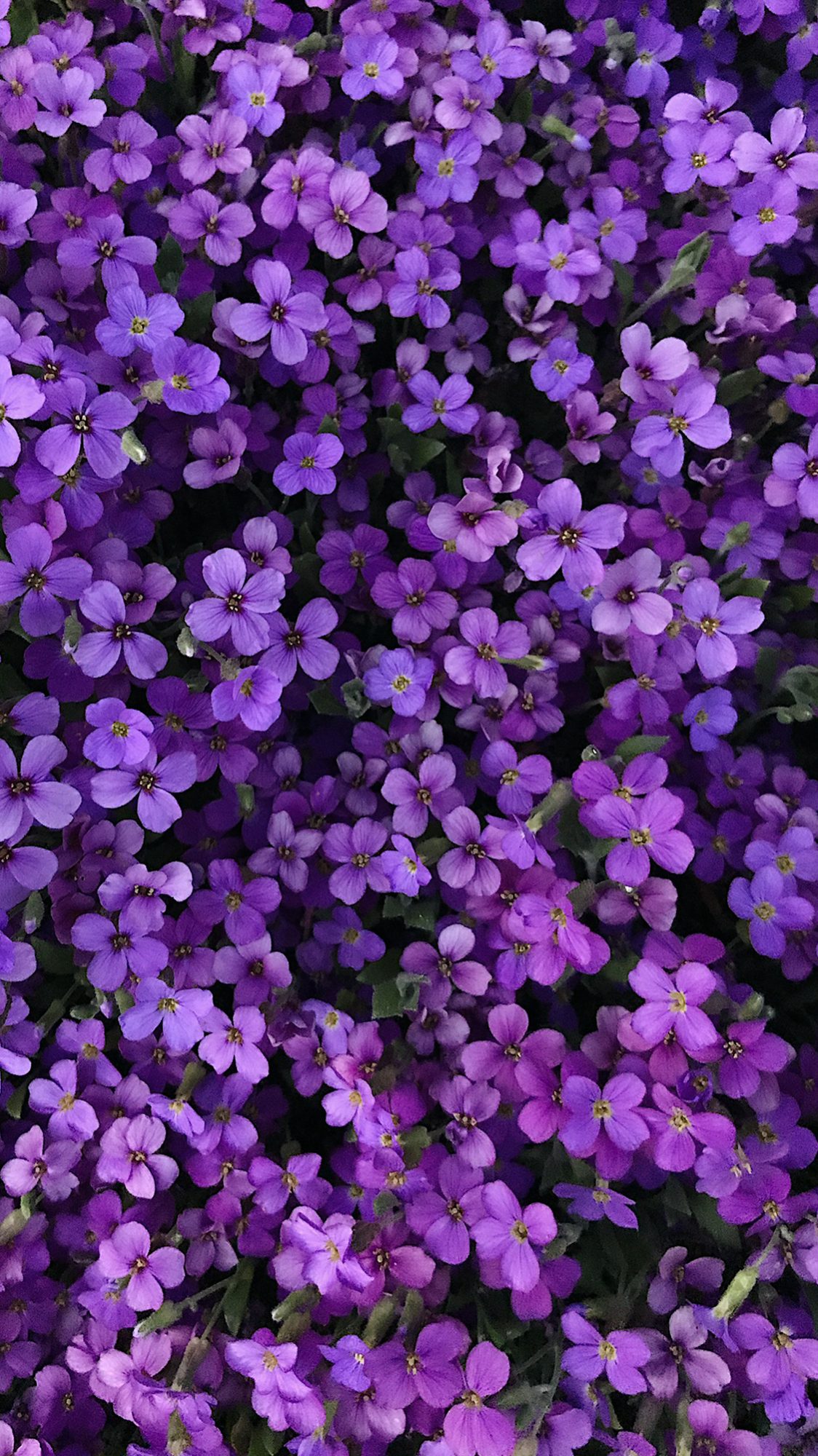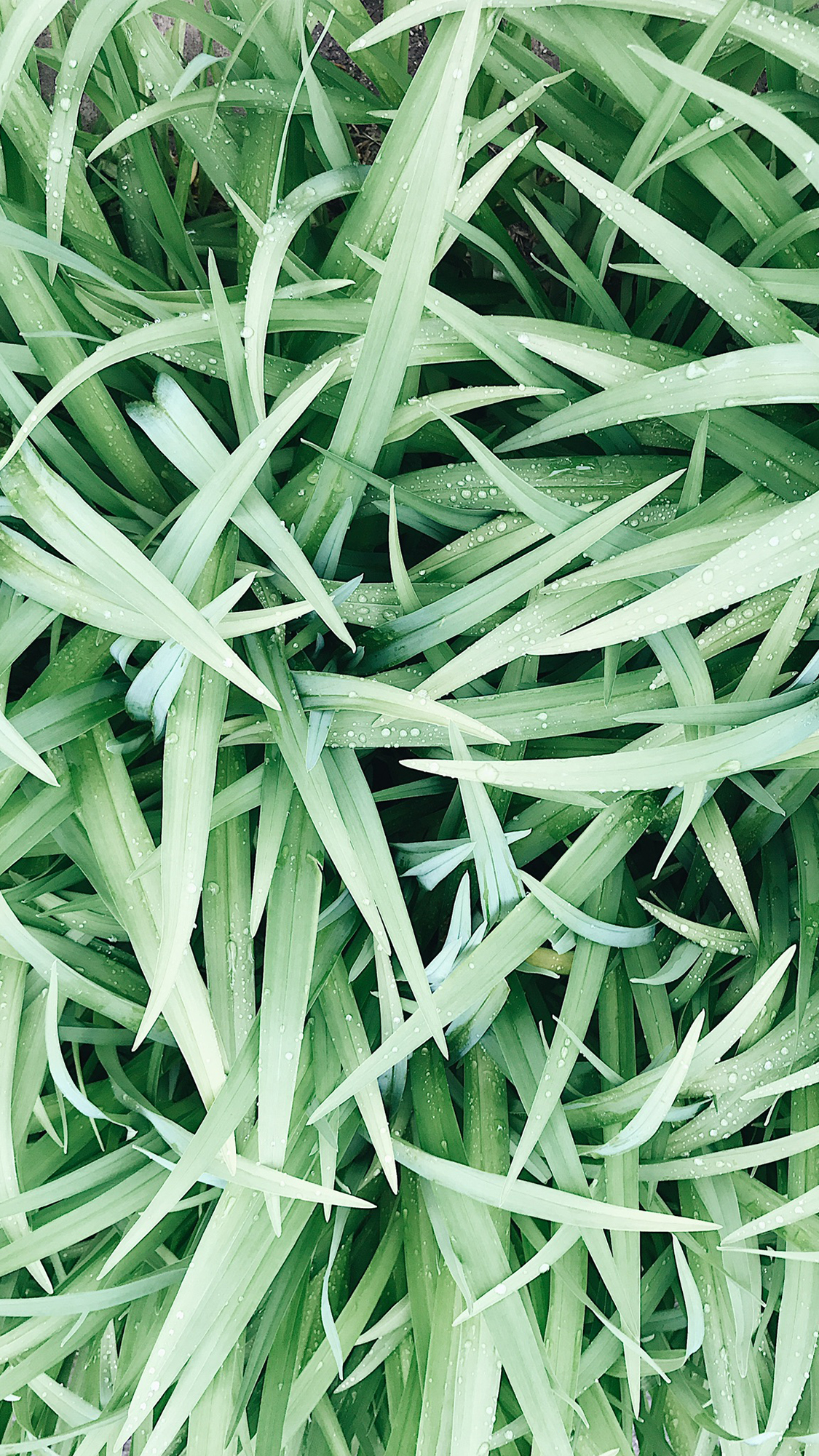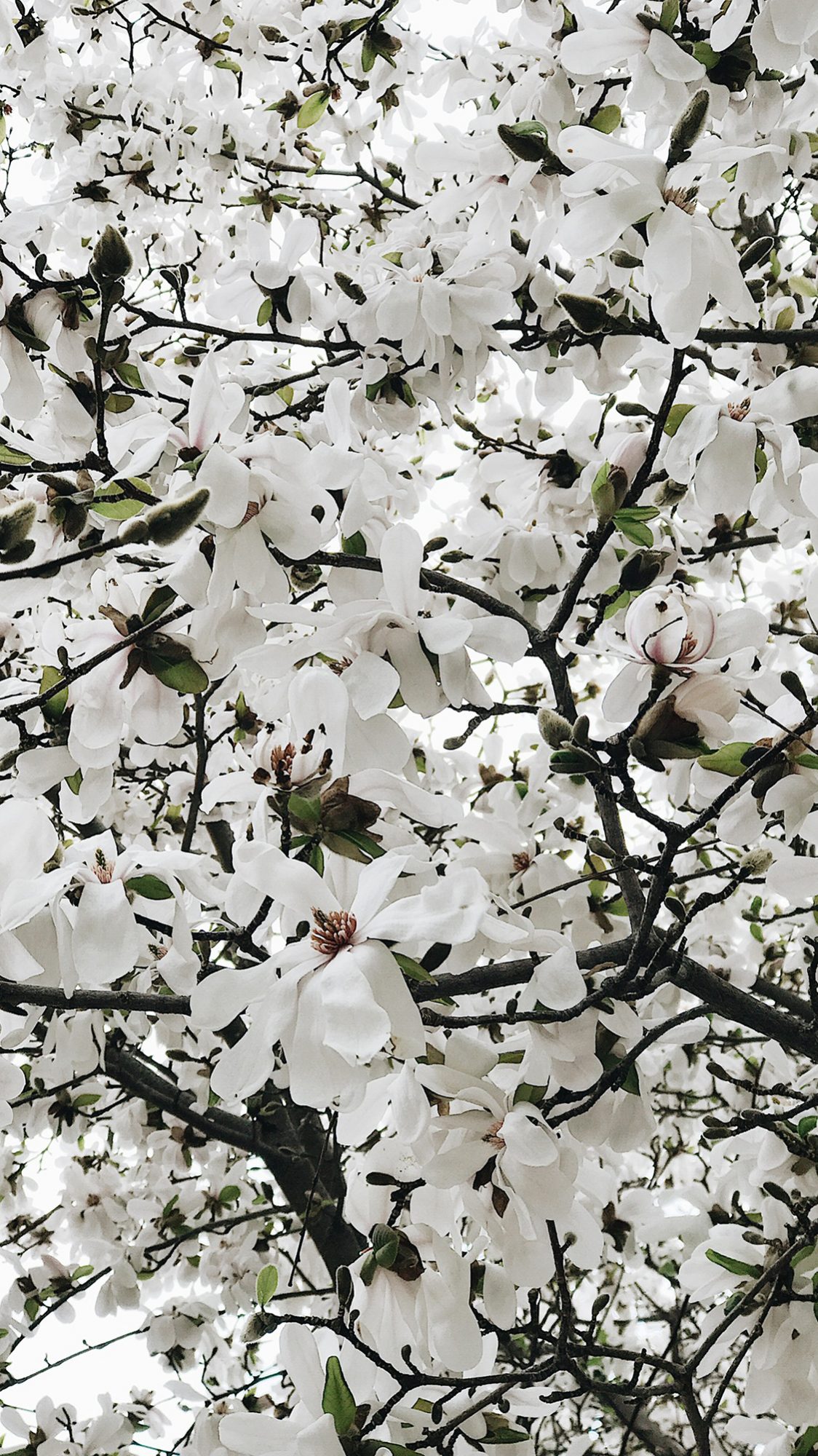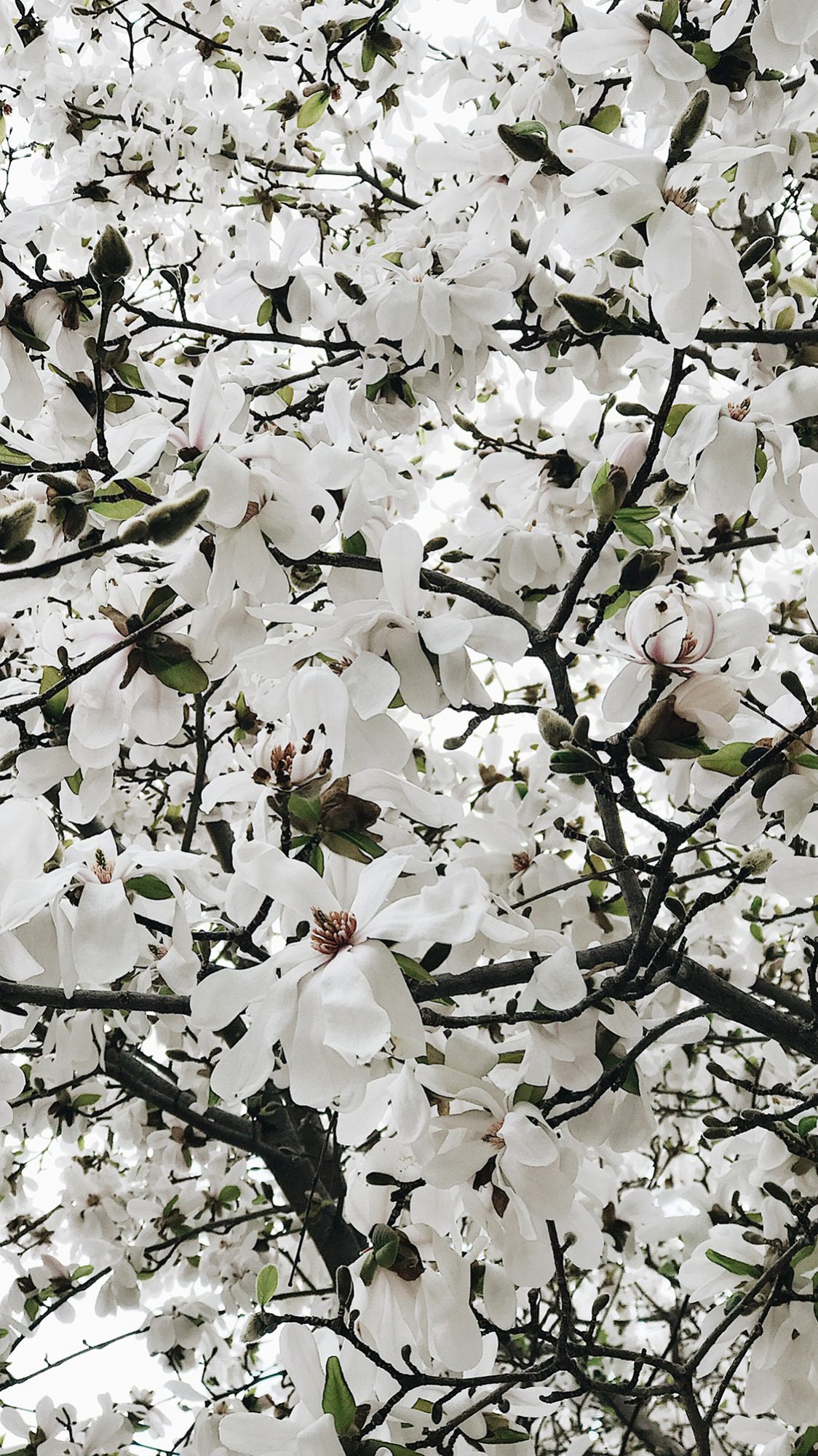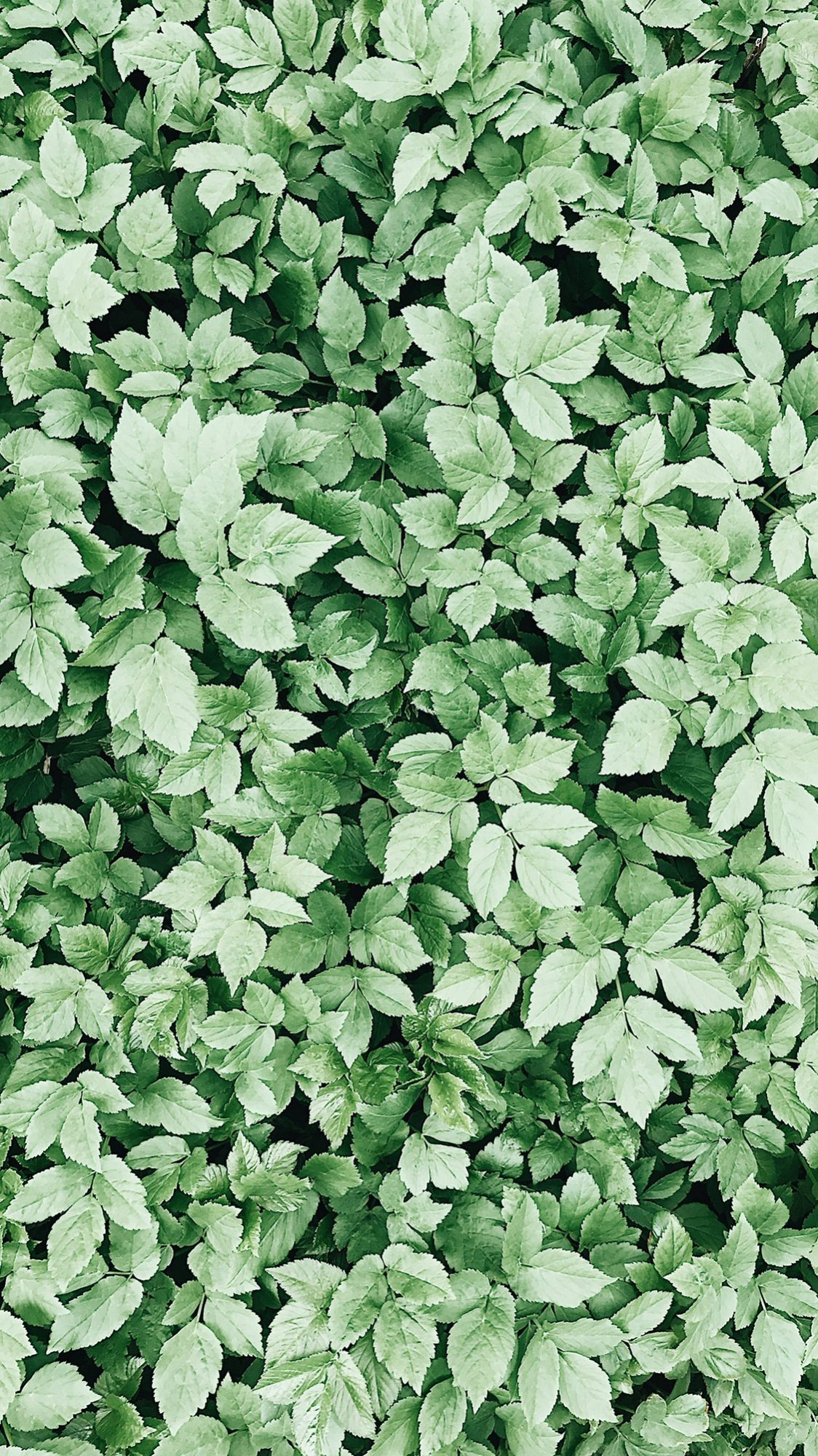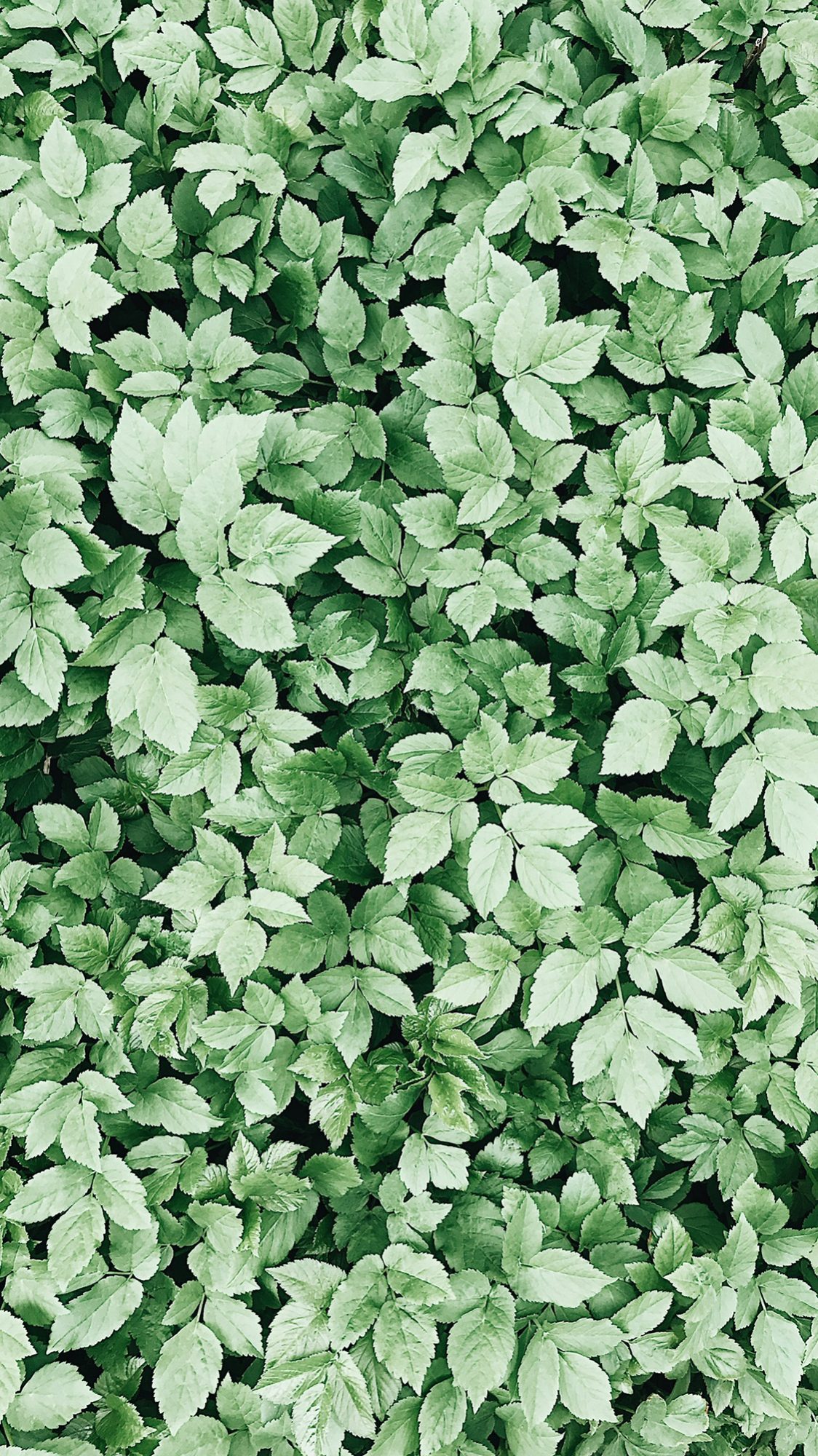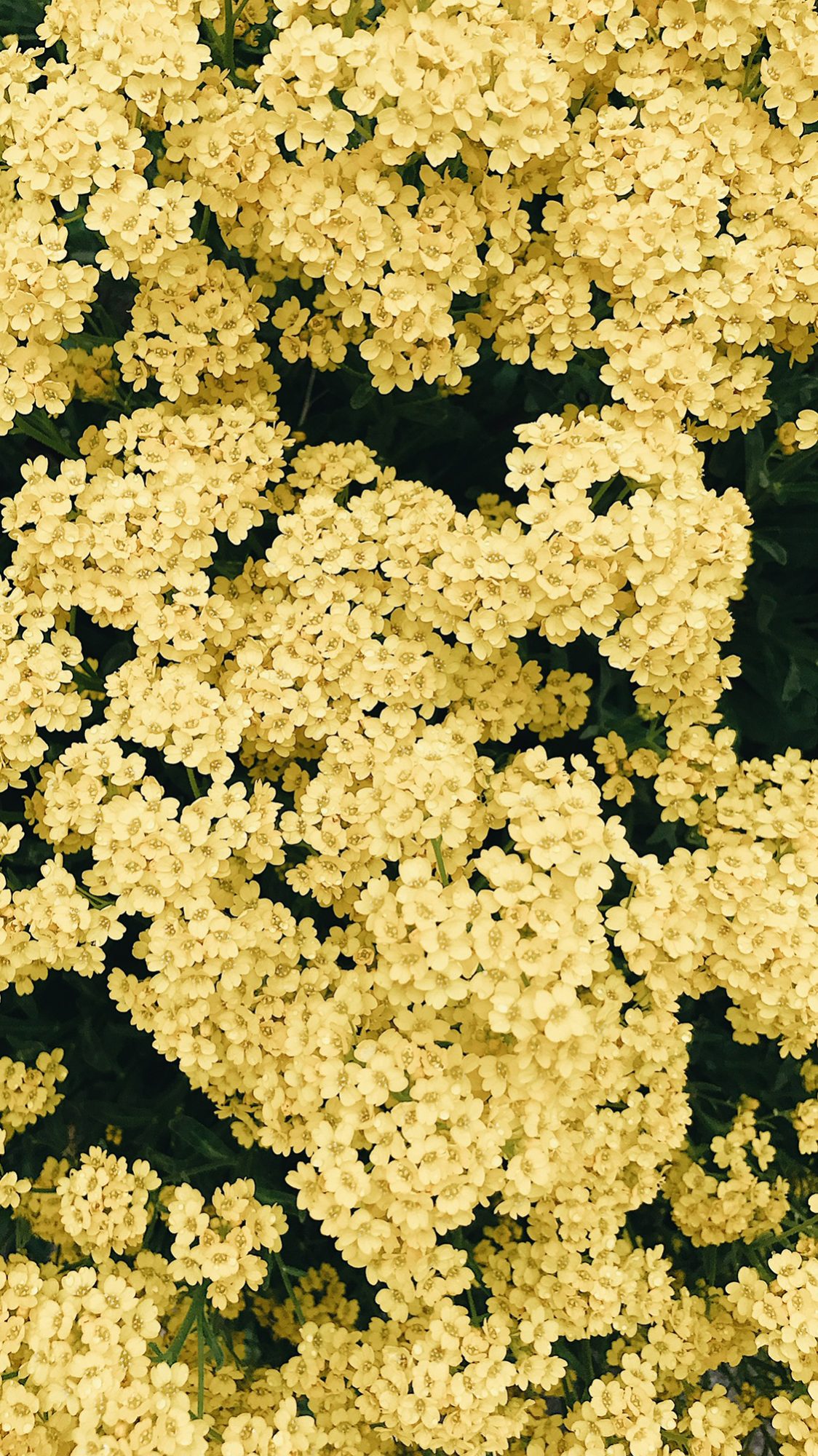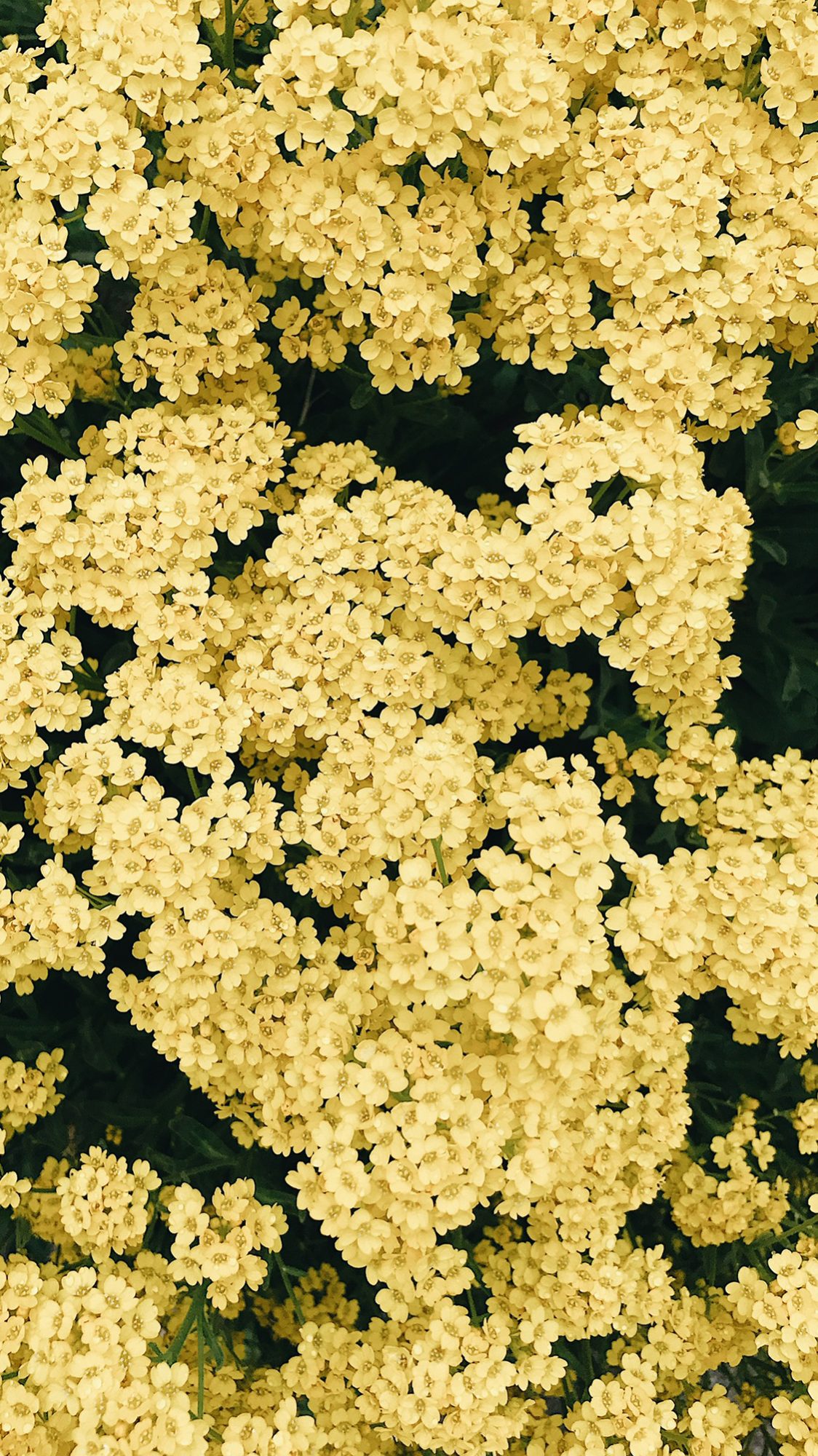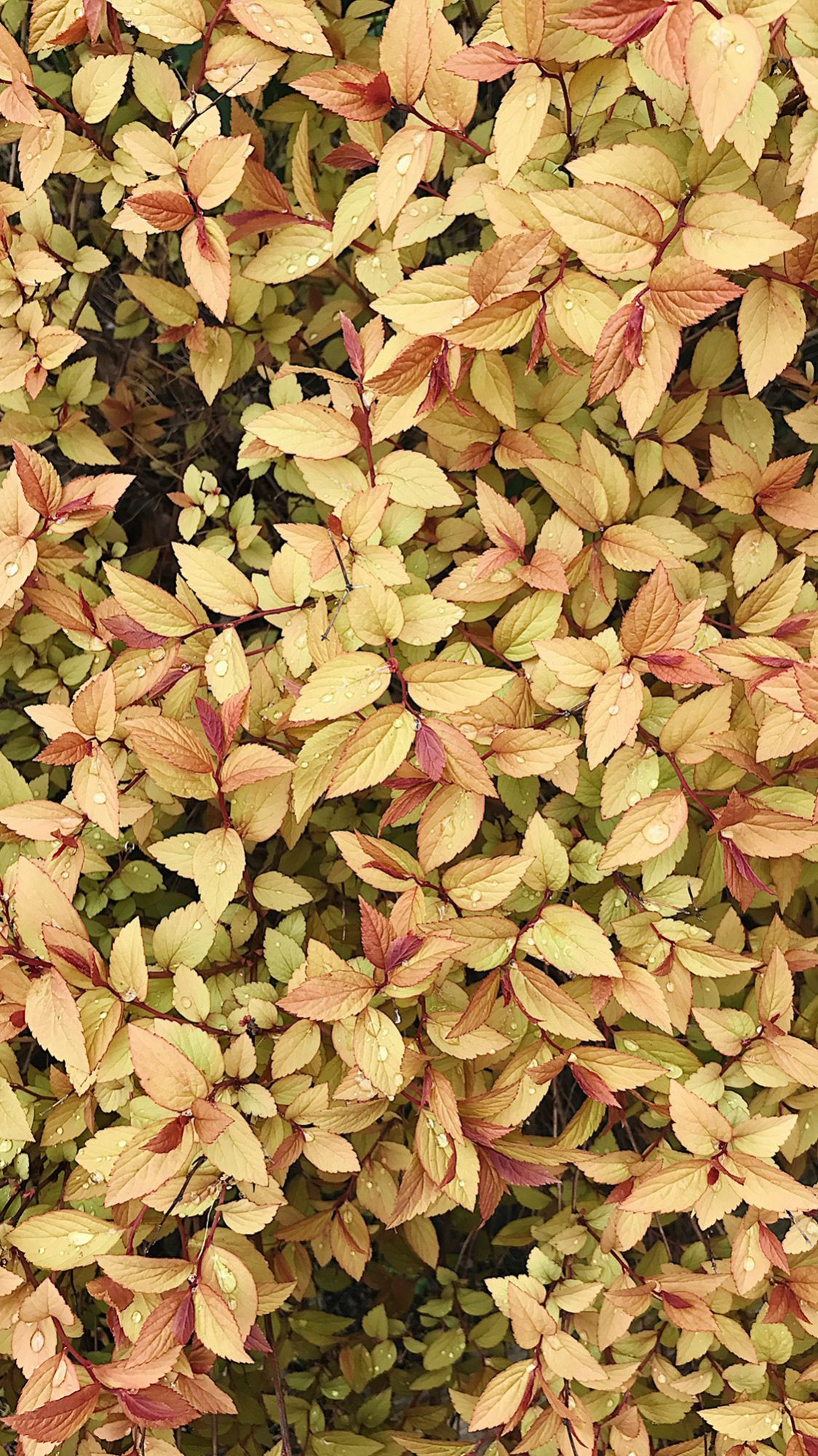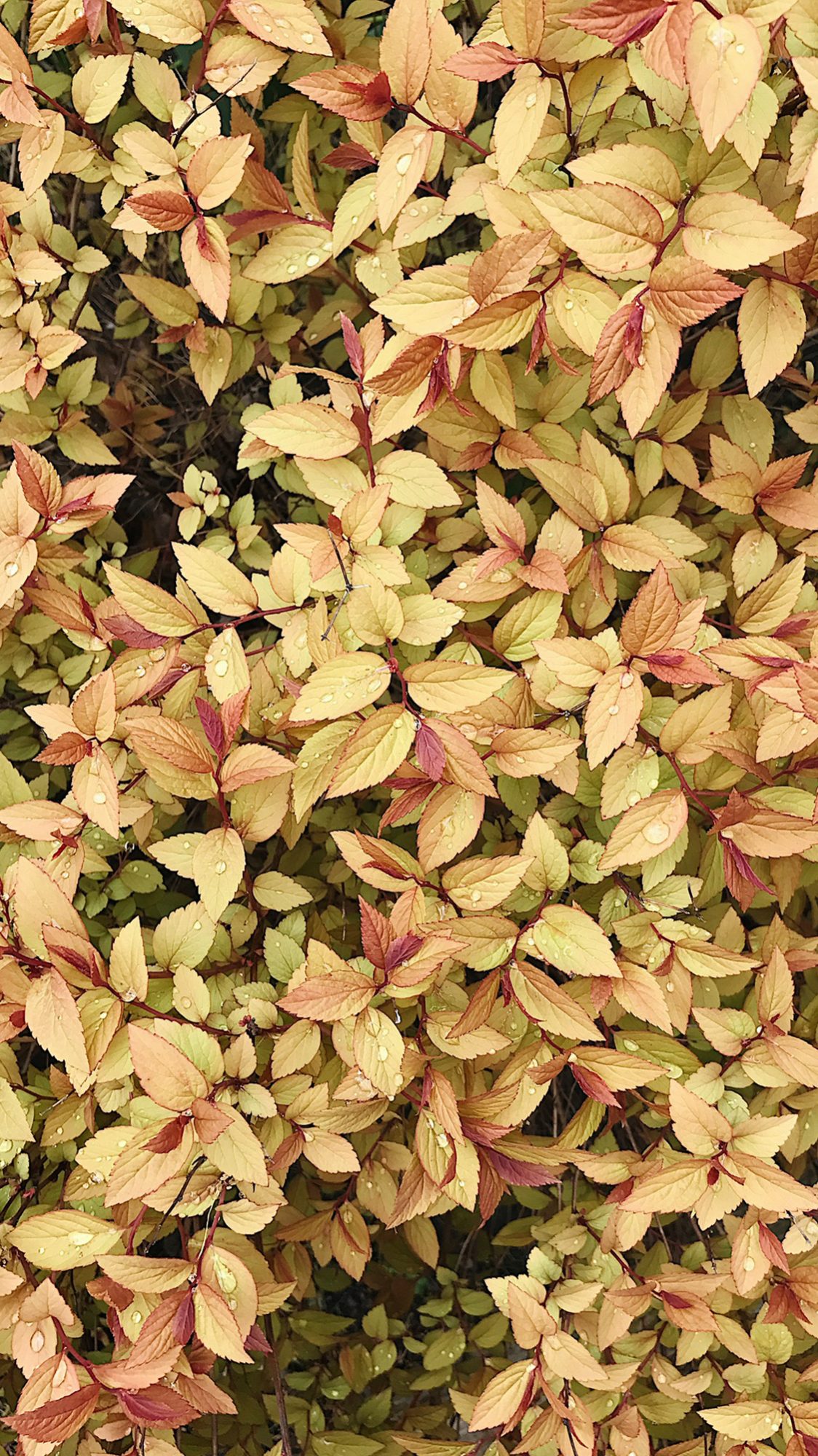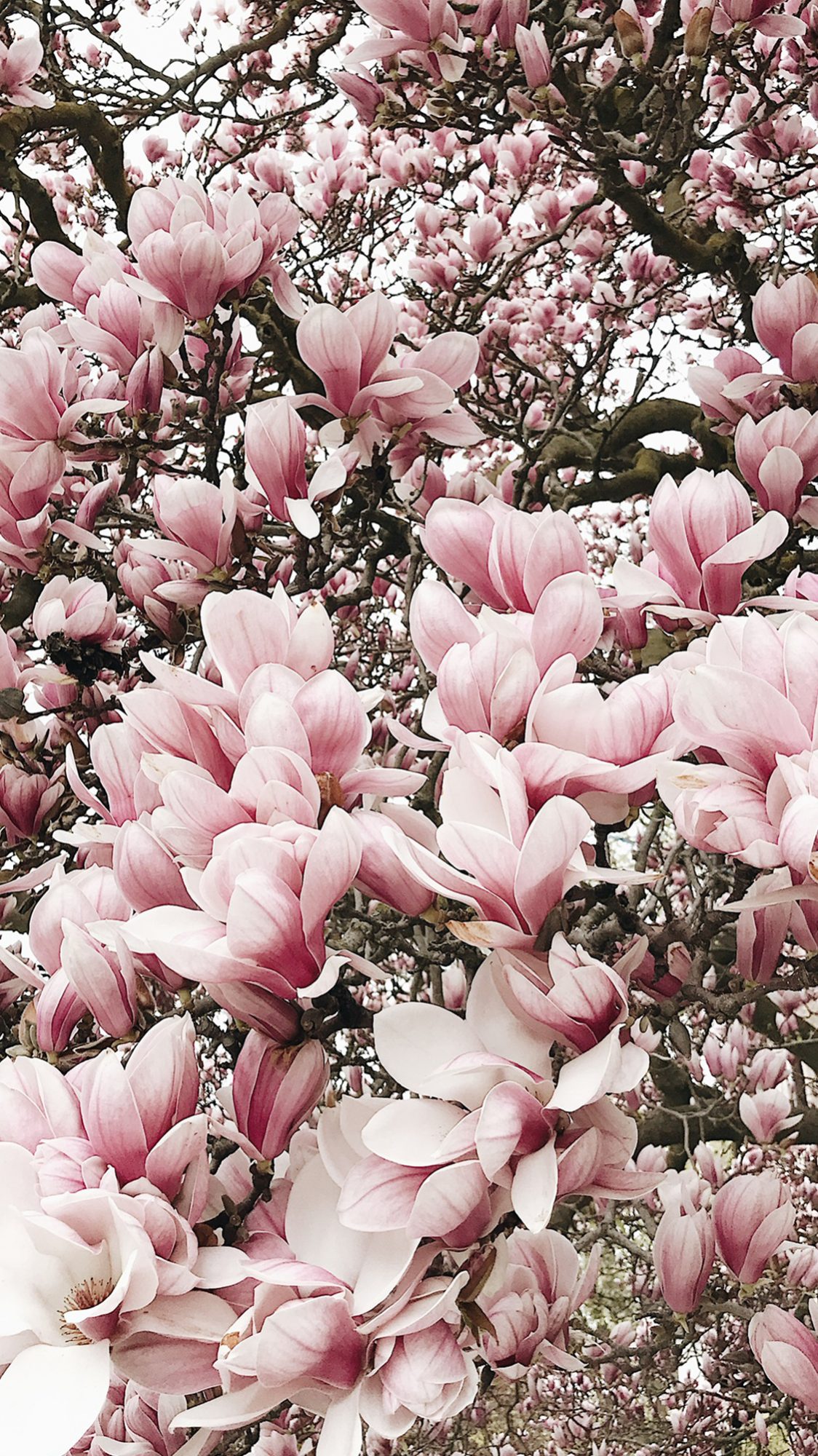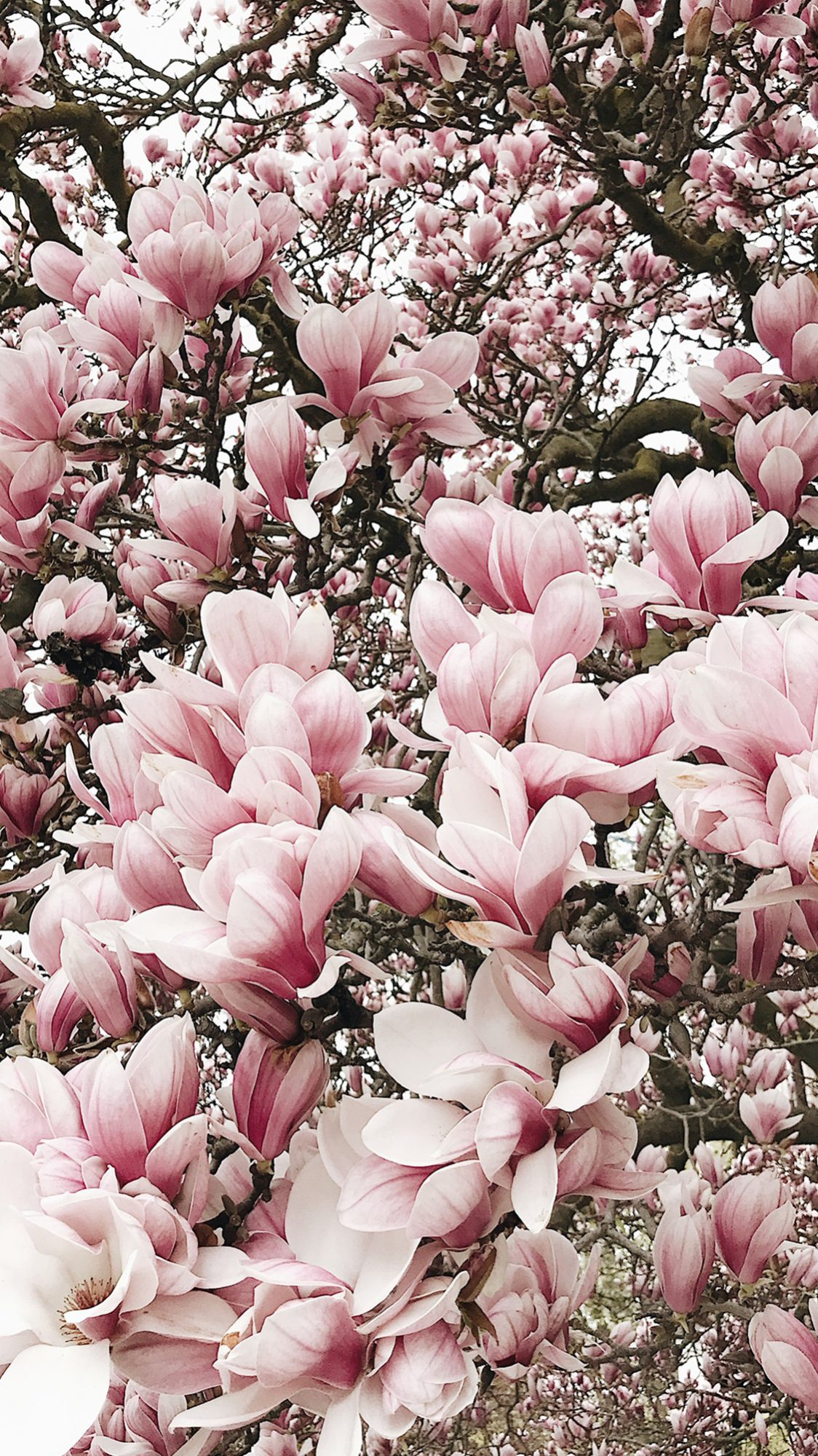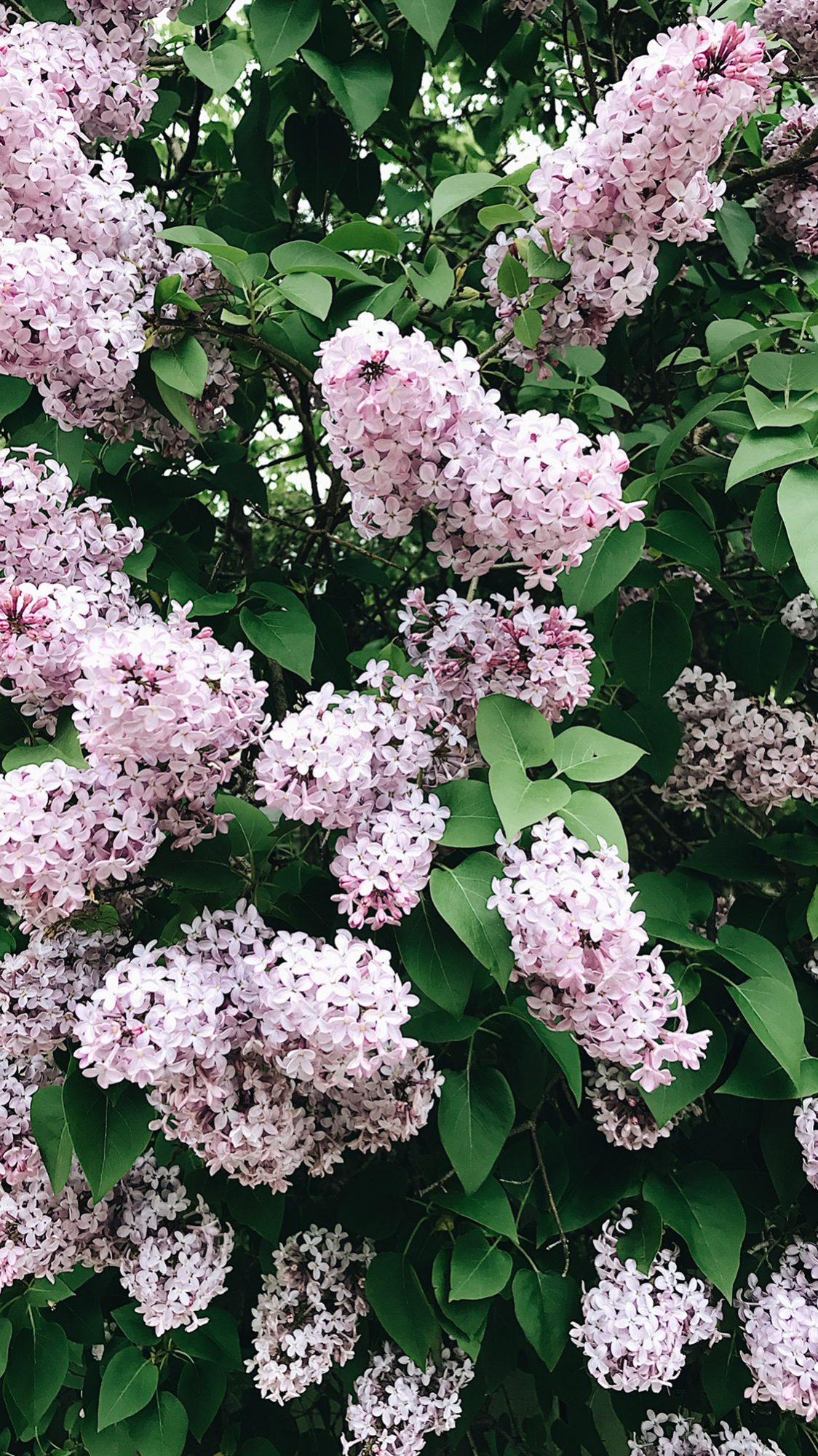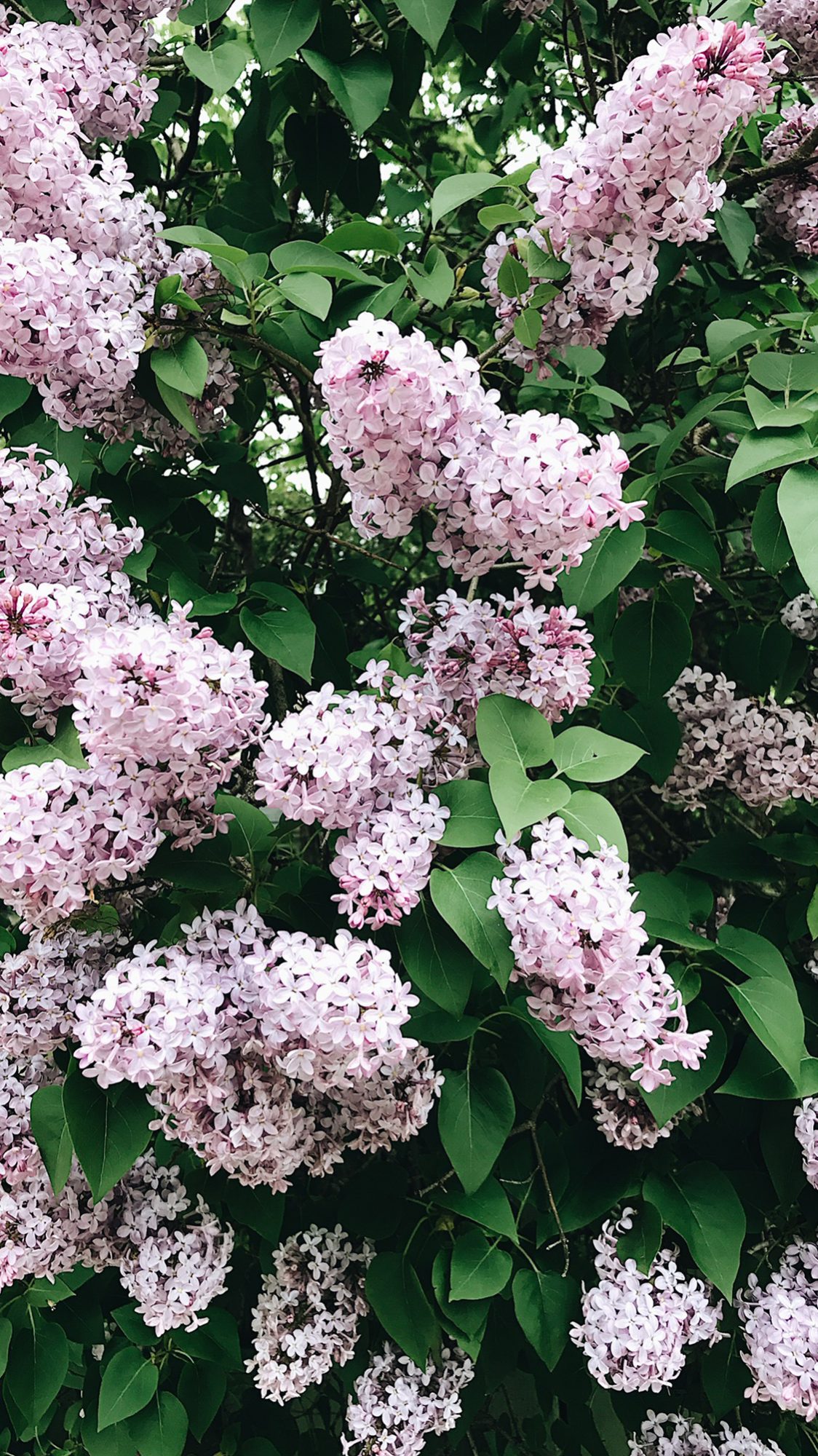 ---
THANKS FOR TUNING IN!
So tell me, what have you've been up to lately? I'd love to know!
See you on Friday as we kick off the month of June with a fun new style challenge!
---
This post is not sponsored and does not contain affiliate links. All opinions are my own, as always! If you're interested in any sourcing information just let me know in the comments and I'll pass along shopping info.