If your weekend was anything like mine it involved lots of sunny skies, backyard BBQs with friends and family, long walks around town and some much needed sleeping in. If not, well, I hope it was even better!
Now let's get crackin' on this whole June 30 x 30 Style Experiment shall we?
I'll be honest, last Thursday I woke up feeling anxious about committing to the next 30 days with only 30 pieces from my whole closet (plus no shopping!). 'What have I gotten myself into?' was one question that kept circling back and 'What if I miss out on a chance to wear/buy something I love?' was another. But I was pot committed already (a little poker jargon for ya) so I decided to ignore those doubts and forge ahead by choosing 30 items to mix and match for the month of June. It was much tougher than choosing 10 pieces for a 10×10 Challenge but once I'd made the final call I took a deep breath, tucked everything else back into my closet and said, 'See you in July friends!' What, you don't talk to your clothes?
Now, we're already on day #5 and I can tell you that I'm feeling much better about embarking on this challenge and style experiment. Actually it feels awesome! It's already made a positive difference in my day-to-day life and I feel such a sense of relief knowing that I'm on a shopping fast and having everything I need right in front of me. So as of right now, I'm all thumbs up for the #June30x30!
If you're wondering what I'm talking about, check out Friday's Post and if you're interested in joining in, please do! We've got almost a whole month ahead of us and we'll need all the style inspo and support we can get!
Luckily we've had some great weather in Guelph, which has made life extra easy. So here are the first 4 Looks I've tried so far!
---
LOOK 1 – THURSDAY JUNE 1
---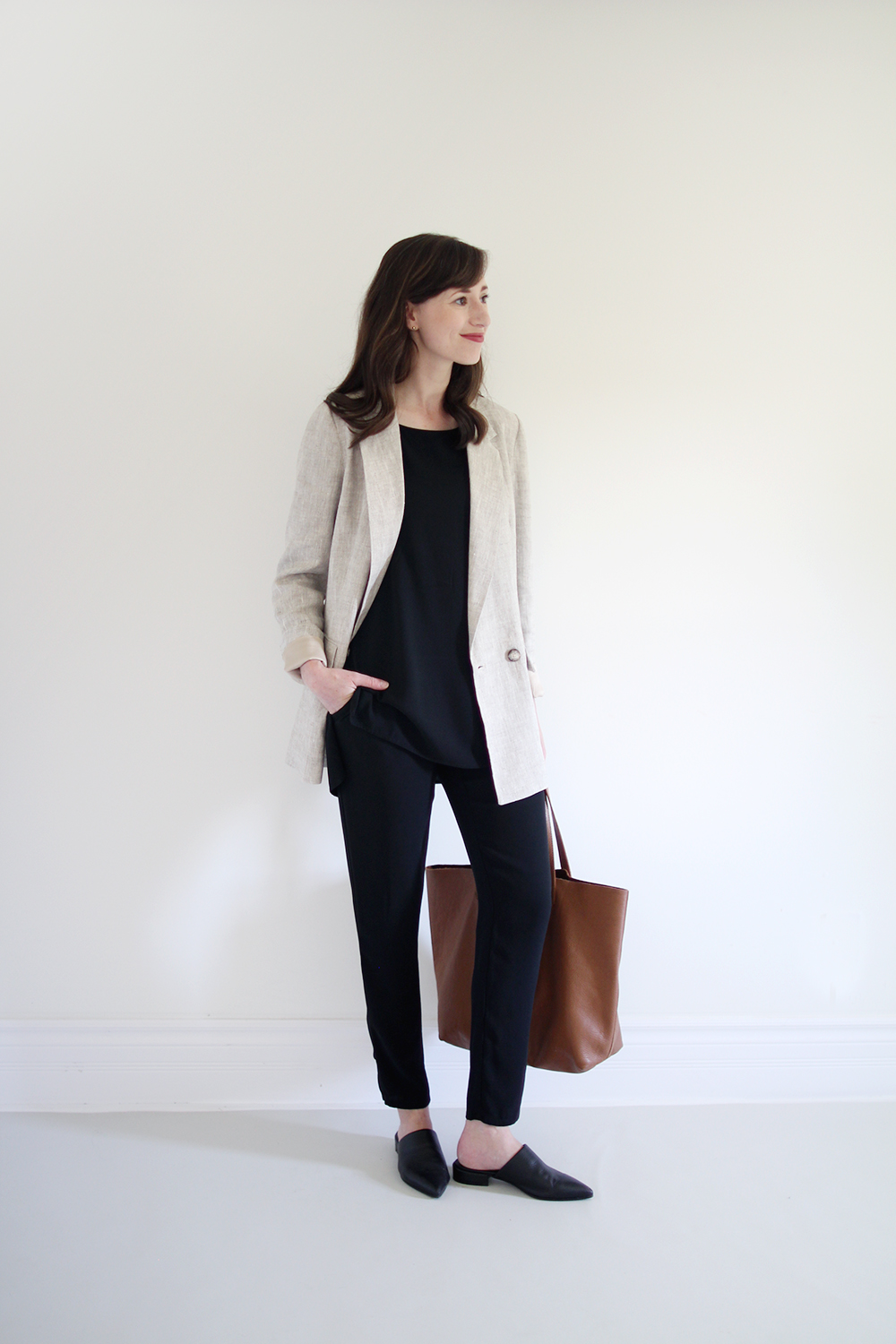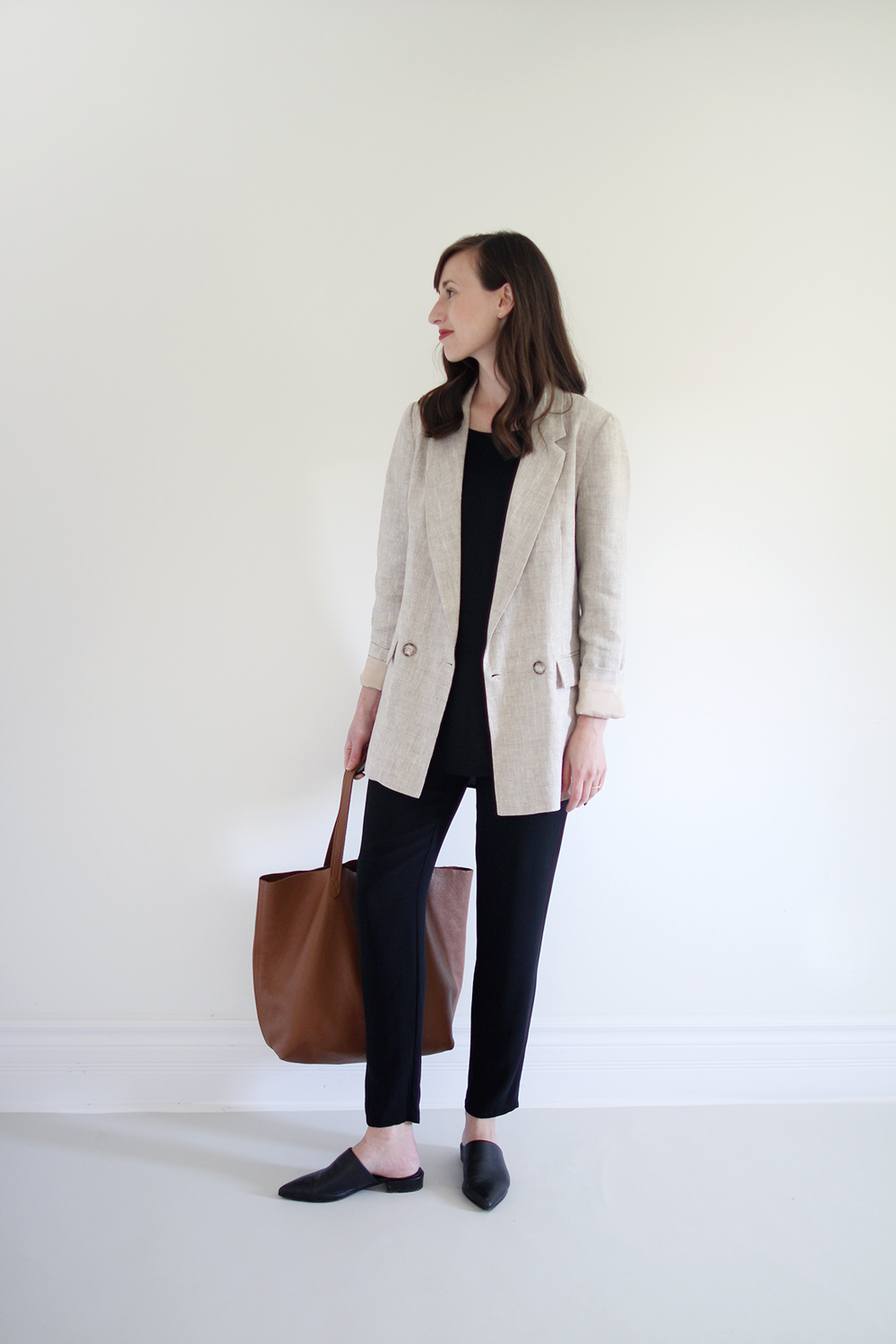 ---
TEMPERATURE – High of 17º C and sunny. This look was perfect for the day.
ACTIVITIES – Full day of client meetings in the city and working in the office.
ITEM PERFORMANCE – Everything was really comfortable and I felt very put together. I took the blazer off in the car to keep it from getting too wrinkled while driving. After lots of sitting the pants had some creasing through the hip but the long tunic covered them and held up very well. A quick iron with steam freshened the pants and blazer right up.
STYLE TIPS:
Add structure to a slinky base with a sharp blazer and a pointed toe shoe.
Soften a black base easily with a light, natural top layer and a brown bag.
Roll the cuffs on your blazer to give it a more casual feel.
---
LINEN BLAZER | REFORMATION | $228 USD | WEARING XS | MADE IN USA
TUNIC | c/o EILEEN FISHER | $218 USD | WEARING XXS | RESPONSIBLY MADE IN CHINA
SILK PANT | c/o EILEEN FISHER | WEARING XXS | RESPONSIBLY MADE IN CHINA
CLAUDIA MULE | c/o L'INTERVALLE | $138 CAD| WEARING 37 (USUALLY US7) | MADE IN SPAIN |
Save 10% with 'STYLEBEE10'
TOTE | CUYANA | $195 | MADE IN USA
---
LOOK 2 – FRIDAY JUNE 2
---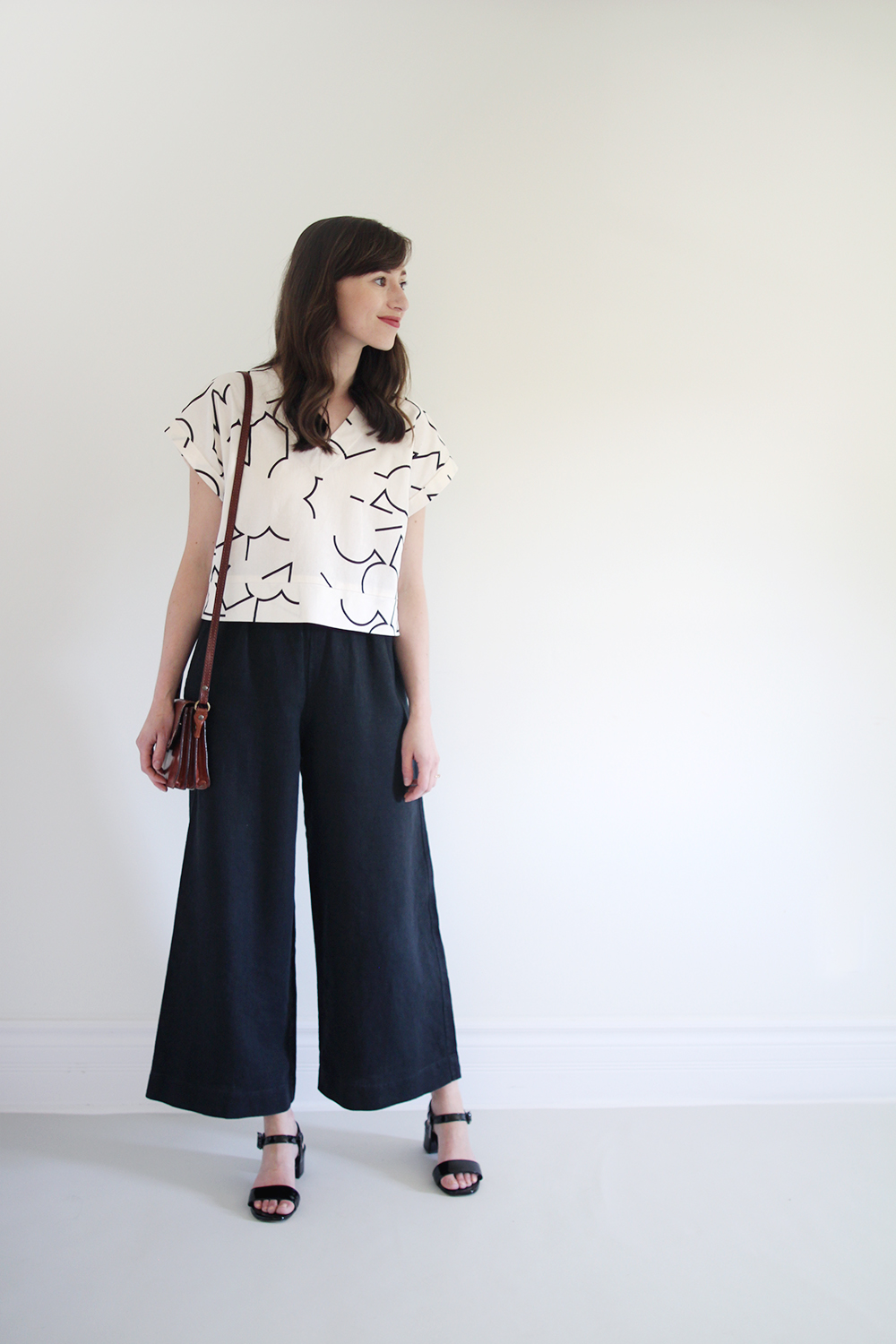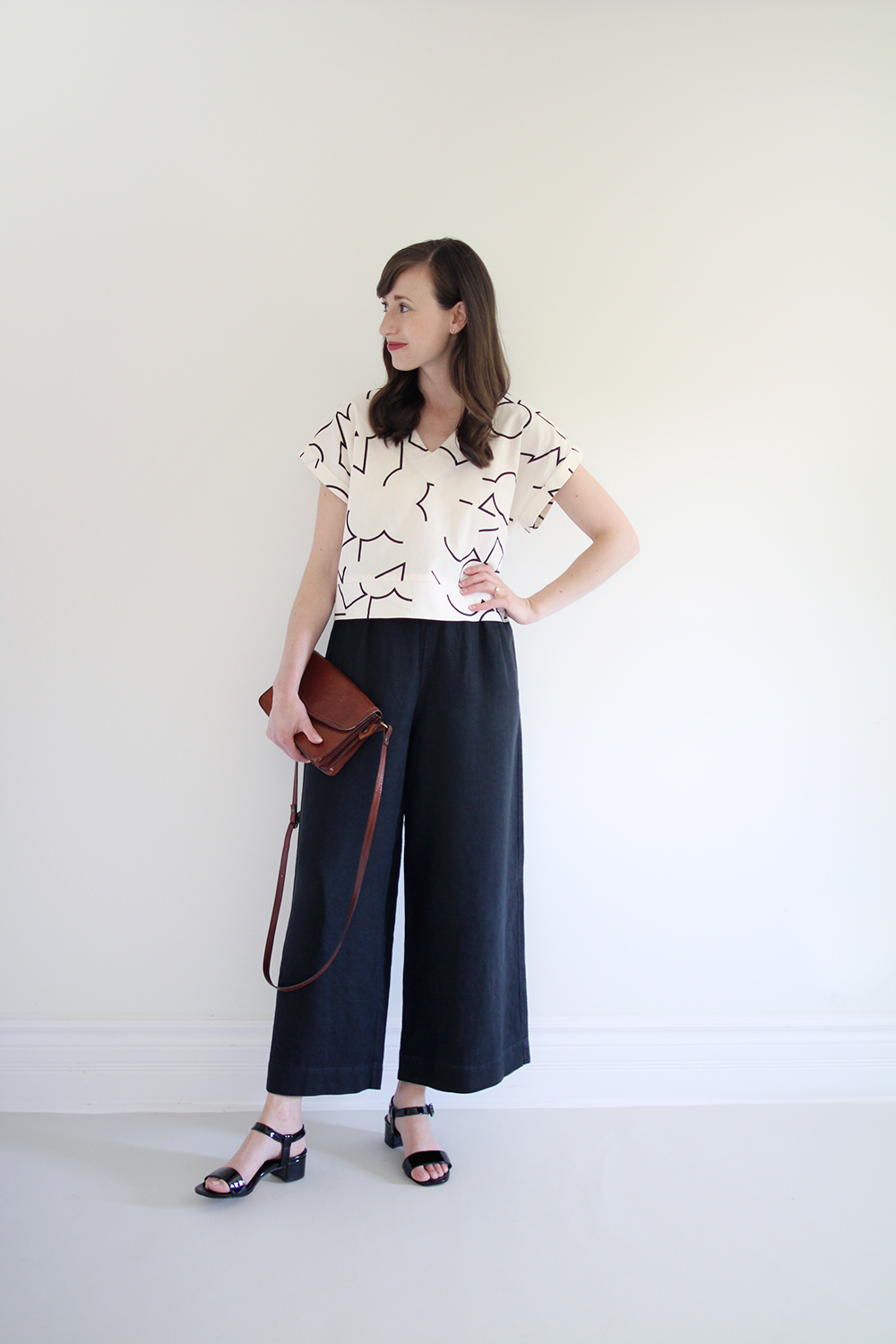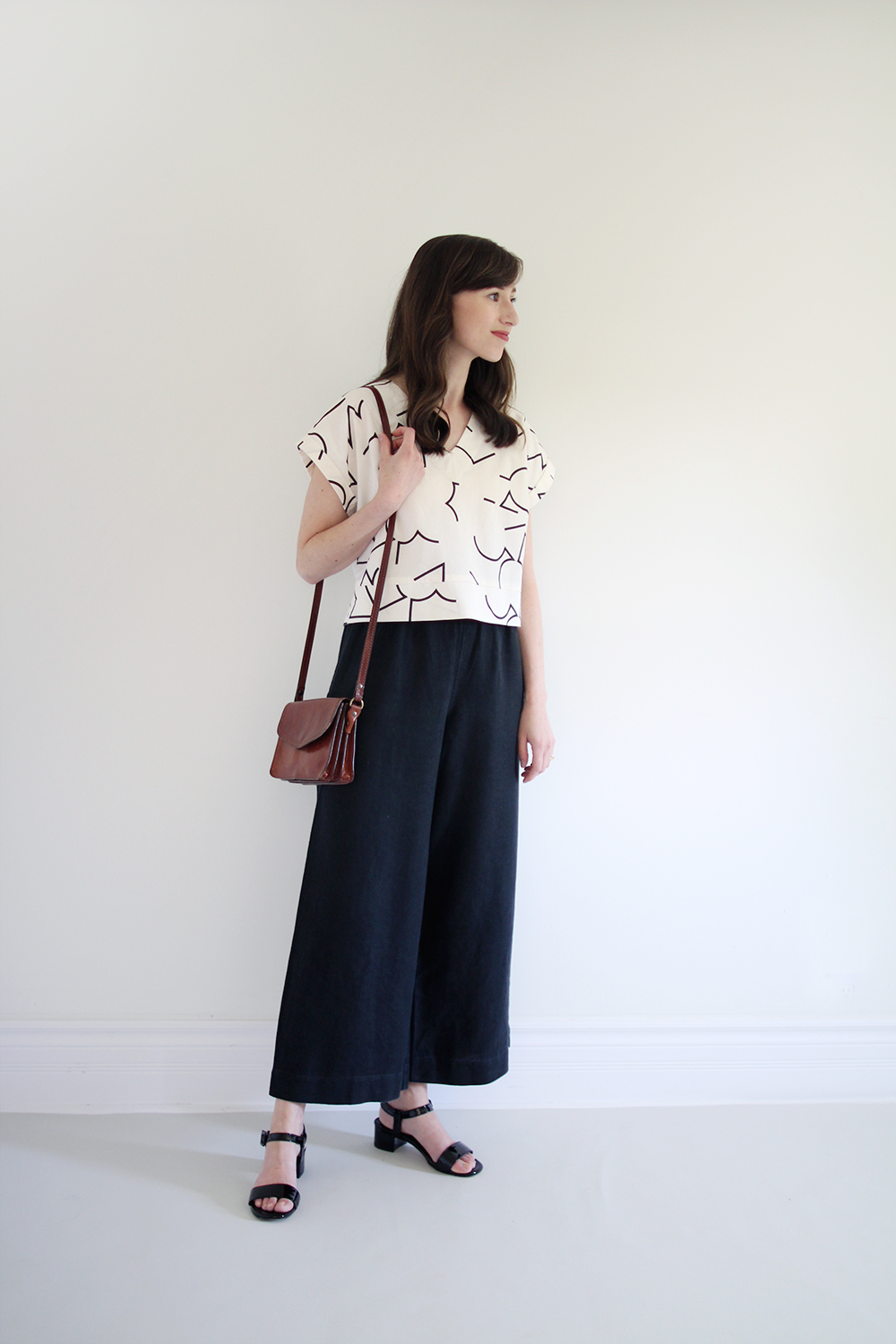 ---
TEMPERATURE – High of 17º C and sunny. This look was perfect for the afternoon and I simply added my green duster for a cool morning walk with Dobby.
ACTIVITIES – A day in the office/studio and a BBQ with family and friends in the evening.
ITEM PERFORMANCE – I love this look. It's comfy and simple yet the wide shapes and bold print give it lots of presence and a unique, artistic vibe.
STYLE TIPS:
Let a bold print do all the heavy lifting in a look. No need to add much else in terms of interest, just keep it simple.
Add one element in a rich neutral to a black and white outfit if you want to warm it up.
Complement the sharp lines in a graphic patterned top with a super minimal sandal.
When pairing two wide items opt for a dark colour on the bottom. This will draw the eye to the lighter upper item and helps to balance the shapes.
---
---
LOOK 3 – SATURDAY JUNE 3 – DAY
---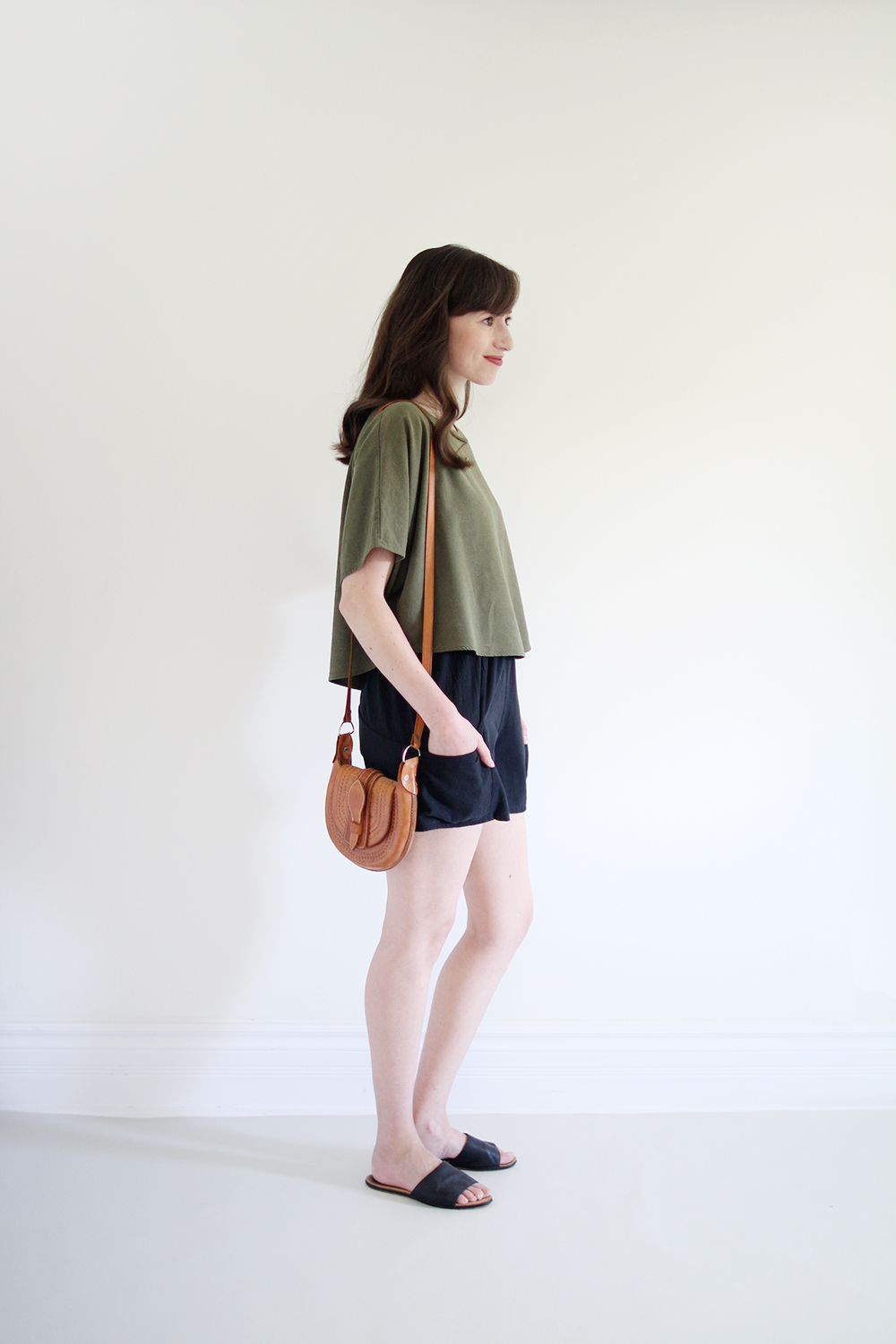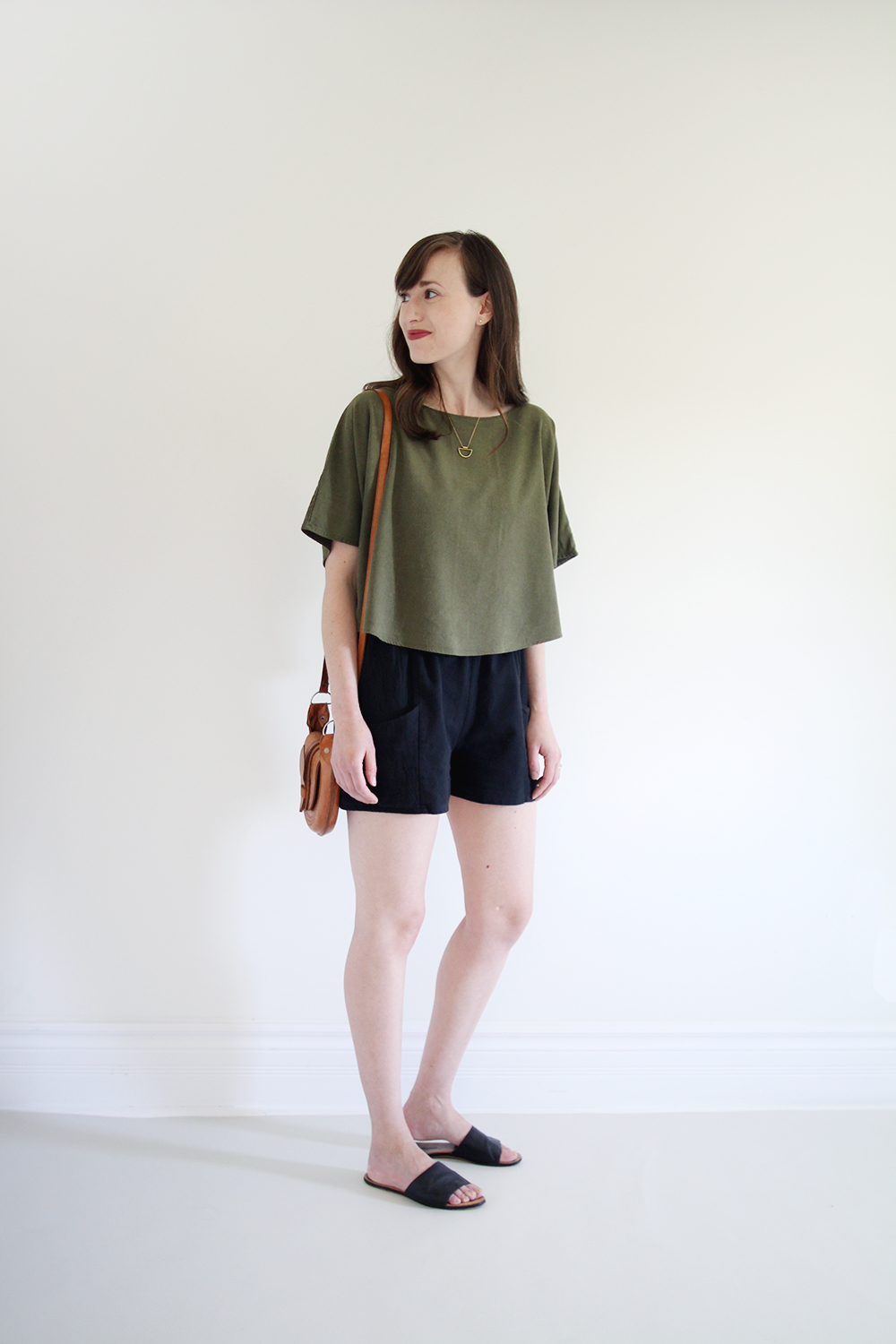 ---
TEMPERATURE – High of 23º C with thunderstorms in the morning and lots of sun in the afternoon.
ACTIVITIES – I was working on the blog most of the day Saturday but I took Dobby for a long walk once the sky cleared and ran some errands around town.
ITEM PERFORMANCE – It was the perfect warm June day. Not humid but warm enough to bust out shorts and sandals! This look was ideal for what I was up to.
STYLE TIPS:
Repeat curves throughout a look for subtle continuity. In this case my top, necklace, short pockets and bag all have a curved element.
When it's hot keep things simple and leave your top loose over your loose fit shorts. Pick a cropped length top and a high-waisted short to pair together for a flattering silhouette.
---
---
LOOK 3 – SATURDAY JUNE 3 – NIGHT
---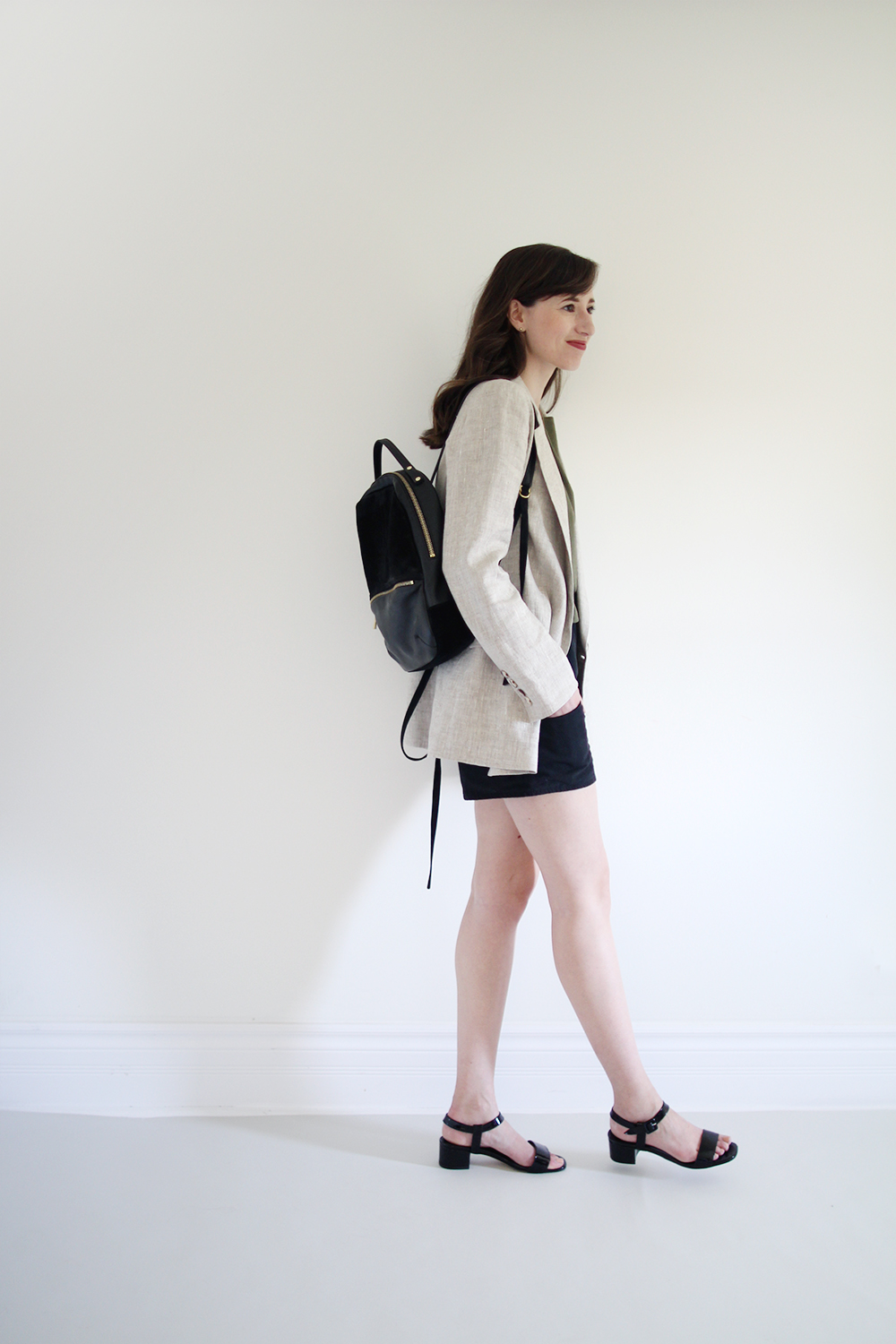 ---
TEMPERATURE – High of 23º C with lots of sun in the evening. It was light until 9pm!
ACTIVITIES – I switched things up for an evening BBQ at a friend's place. I'd planned to wear this look and to ride my bike over but time ran out and I got toothpaste on this top so I had to swap things out. I wore my cream Georgia tee and my green duster instead (because I wanted some leg coverage from bugs) and the look worked out great. Definitely saving this one for another time!
ITEM PERFORMANCE – The shorts were a little too cold for the evening but it was definitely not unbearable. Otherwise the rest of the outfit performed great!
STYLE TIPS: 
Don't be afraid to rock a cute backpack with a blazer and don't shy away from a blazer and shorts!
Add some continuity by repeating one colour. In this case my black shorts, sandals and bag work nicely to give the look a cohesive feel.
When your base is casual, amp it up for a night out with some elevated elements like a patent leather sandal, suede bag and sharp blazer.
---
---
LOOK 4 – SUNDAY JUNE 4
---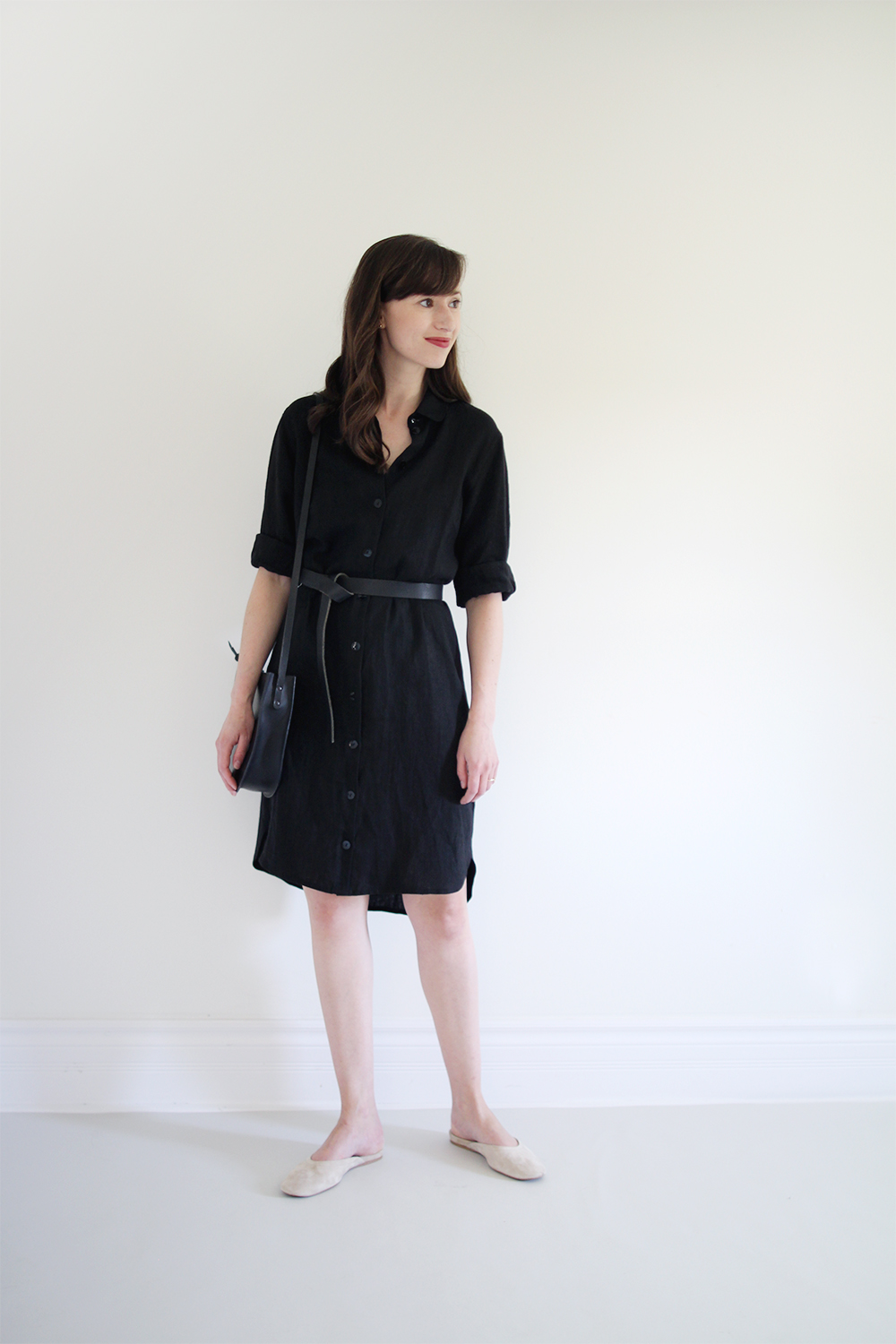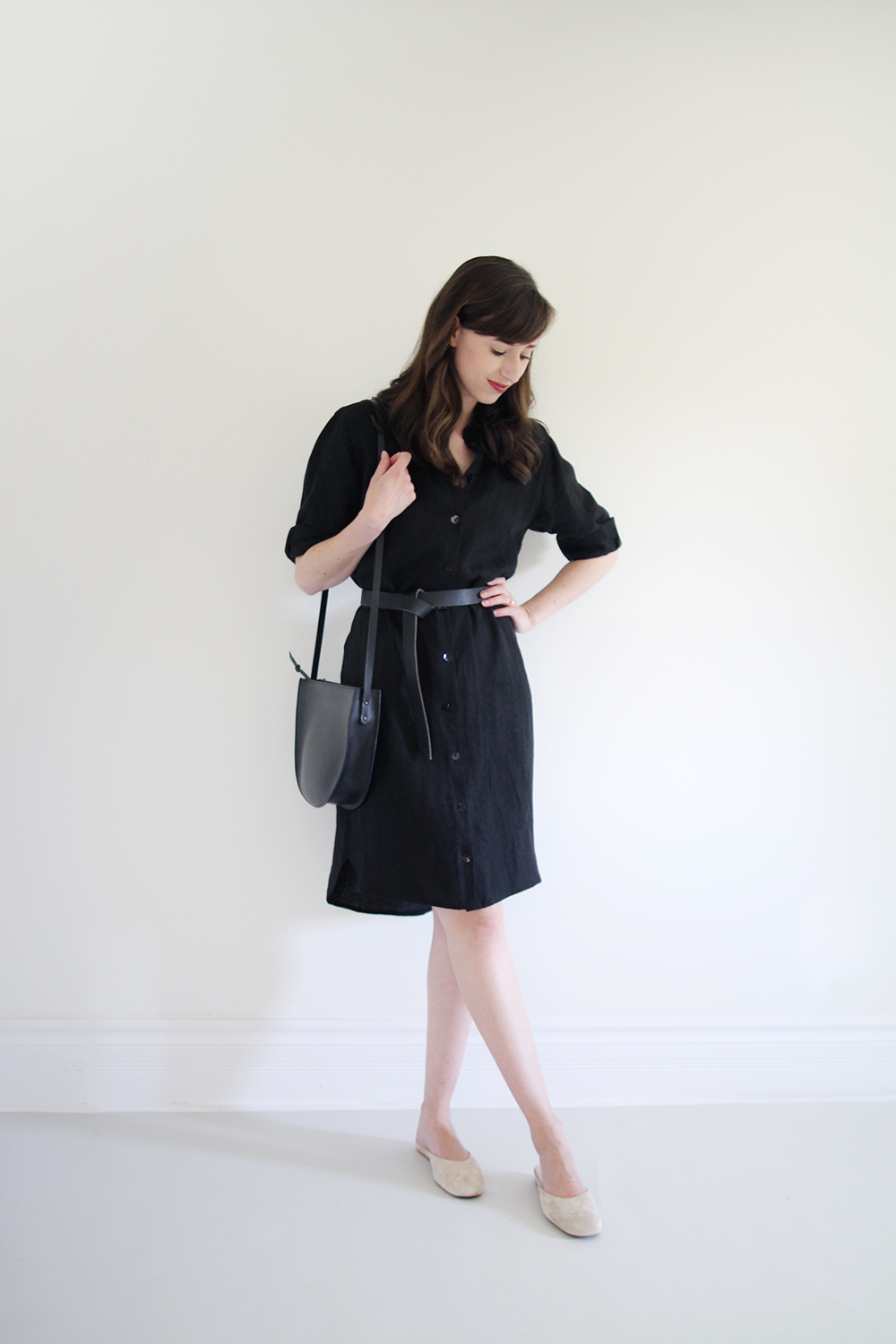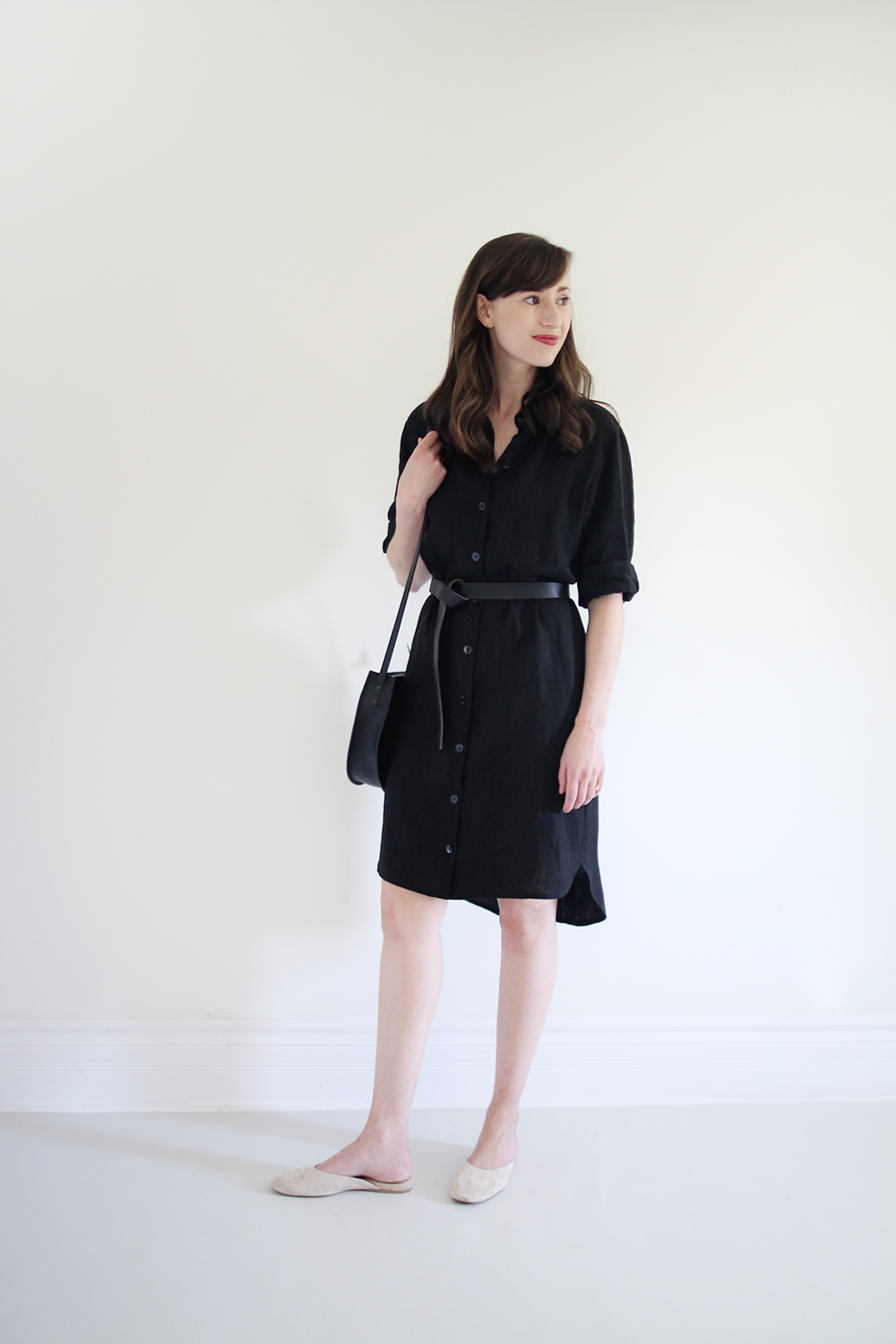 ---
TEMPERATURE – High of 23º C with lots of sun and clouds in the evening. Thunderstorms came and went in the morning.
ACTIVITIES – For most of the day I was in loungewear to clean the house and work in the office but we had a family dinner in the evening so I switched to this dress, belt and slides for a more presentable look. I LOVE how this one came together and will definitely wear it again sometime.
ITEM PERFORMANCE – This dress is such a classic closet gem and so comfortable. It was the perfect simple look for a Sunday dinner with the soon-to-be in-laws. I love the length and high-low hem because even with a belt it doesn't feel too short. See three other ways I styled it here.
STYLE TIPS:
Keep a basic black dress looking über chic by adding a wide black belt and black bag. This monochrome approach is a fail-safe trick and always looks purposeful and put-together.
A light neutral slide has a flattering, leg lengthening effect when worn with a dress or shorter piece on top.
---
IDA SHIRT DRESS | c/o ODE TO SUNDAY | €220 | WEARING SIZE S | MADE IN LITHUANIA
Receive 20% OFF any order with 'STYLEBEE20' now through June 11th. 
DAY MULE | c/o EVERLANE | $120 USD | WEARING SIZE 7 | MADE IN ITALY
BELT | ELIZABETH SUZANN | $75 SIZE S | WEARING SIZE S
ELOISE BAG | THE STOWE | $387 CAD | MADE IN CANADA
---
SO THERE WE HAVE THE FIRST 4 LOOKS OF THE #JUNE30x30!
WHICH IS YOUR FAVOURITE SO FAR?
---
BE SURE TO CATCH THE FIRST LOOKS FROM MY FELLOW 30X30 PARTICIPANTS ANDREA (SEASONS + SALT) AND PAIGE (STYLE THIS LIFE) TOO!
IF YOU'RE JOINING IN THAT'S AWESOME! TAG YOUR INSTA POSTS WITH #JUNE30X30 SO WE CAN FOLLOW ALONG.
---
This post is not sponsored but contains affiliate links. When you shop via the links above I may make a small commission from a sale. This income helps limit the amount of sponsored content that appears on Style Bee. Thanks a lot for your support!