Happy Friday friends! It's a special one because it's that time again. 10×10 Challenge time that is! My best blogger babe Caroline of UnFancy and I are thrilled to be teaming up for another installment of this weird and wild little style exercise.
The 10×10 Challenge is something I first tried out during a shopping fast in 2015 in an effort to get more creative with my closet. From there, with the help of Caroline and so many other style savvy, conscious closet folks, this super simple little challenge has really taken off. Now people all over the world are joining in and seeing how fun and useful it really is. I love it!
One of the best parts about the 10×10 Challenge is how simple it really is. You just need to choose 10 items from your closet, create 10 looks with those items, over 10 days or a two-week period. Easy peasy right? Right!
Another reason why I think this exercise has been so well received is that it's all about what you learn as you go and take away from it, not so much about how great your looks turn out or how closely you stick to the guidelines. It's also a wonderful way to connect with other folks who are exploring their style too. In fact, the #StyleBee10x10 community is probably my favourite part because it's welcoming, supportive, easy-going and full of great insights and inspiration.
So what do you say, care to join us?
No onto today's 10×10 kick-off post in which I'll be covering:
My challenge goal and 10 items for the #Summer10x10 Challenge
10 x 10 Challenge 101 – All the info you need to join in
A few tips on pulling together your 10 items – To help you get started
---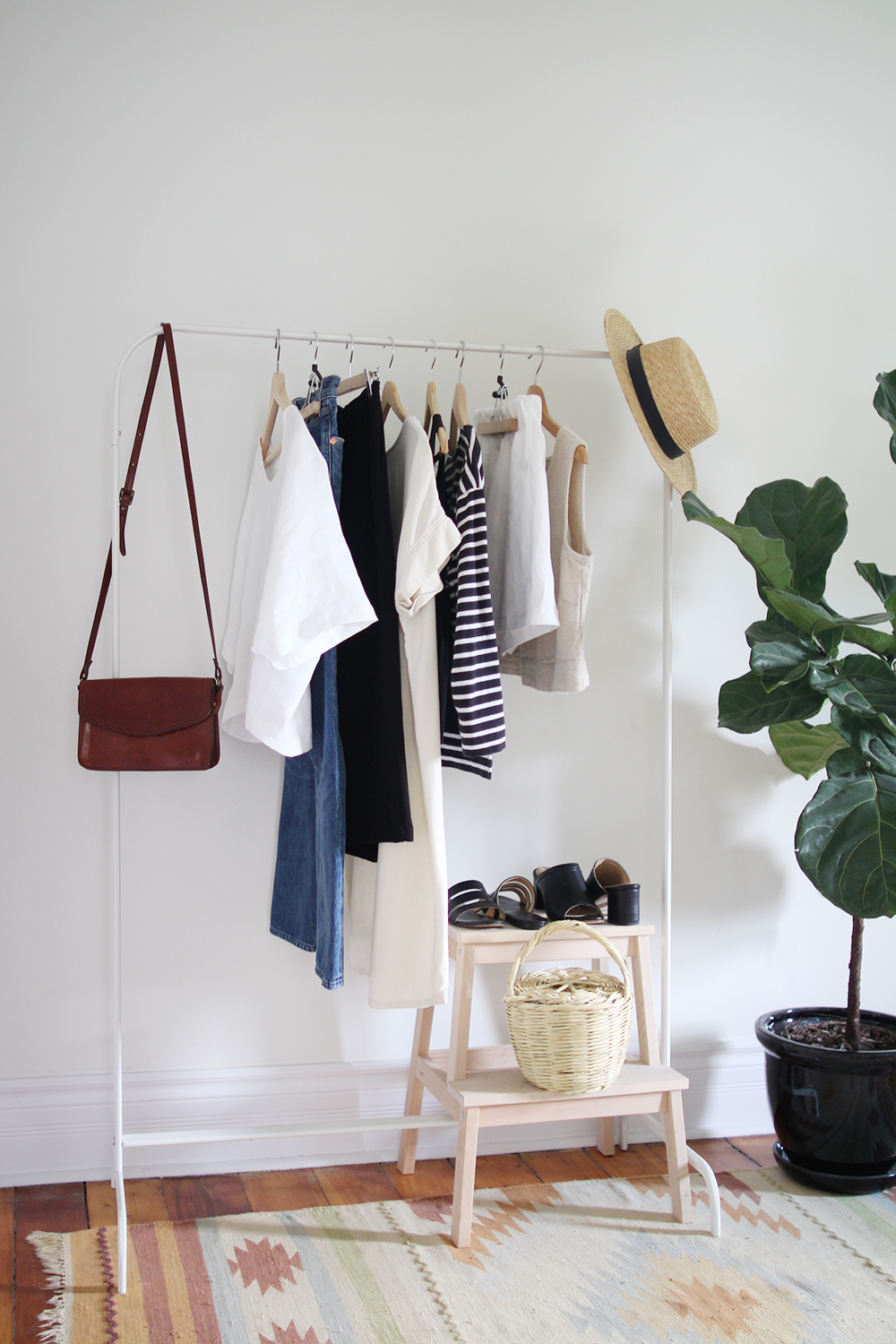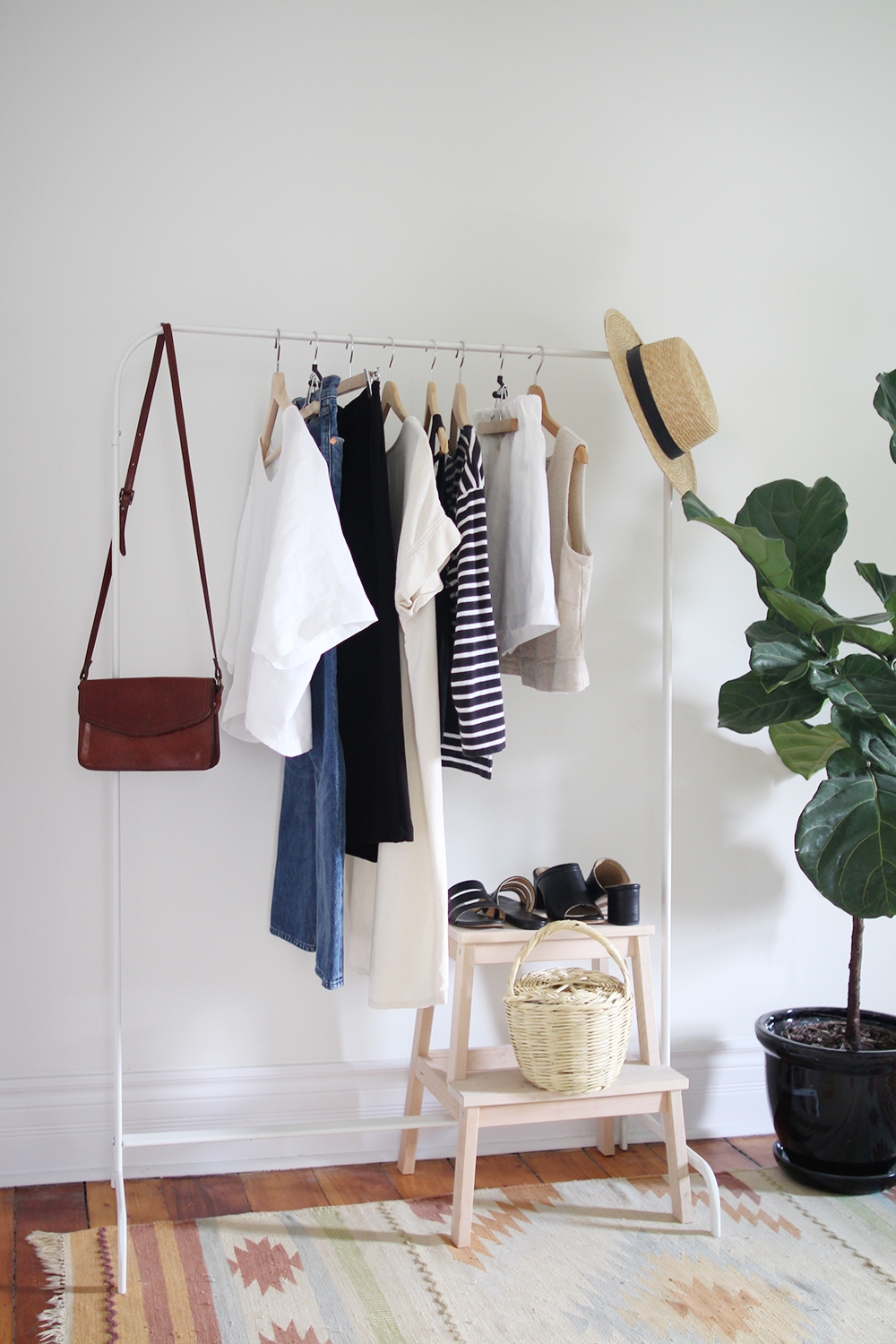 ---
MY #1 GOAL + 10 CHALLENGE ITEMS
---
MY CHALLENGE GOAL: Get more comfortable applying my personal style to warm weather. 
The Summer section of my closet is probably the least thought-out section in my wardrobe. In fact, Summer style is not something I consider to be in my wheelhouse, at least compared to Spring, Fall or Winter where you can lean on layering a lot more. I mean, I LOVE coats! But you won't find one in the mix this time. Something I may or may not be regretting already!
I'm also not really a summer style kinda gal. For starters I hate the heat and then when it comes to clothes all the cute little dresses, bright colours, short shorts, espadrilles, tank tops, and off the shoulder shapes are fabulous and feminine but way outside my typical personal style comfort-zone. Even as I was pulling these 10 items together I felt like something was missing, or that maybe my summer style is just boring. That is until I shook my head and remembered that I LOVE all 10 pieces, even if they're not the most flirty or flashy or fun.
I'm also realizing, after many seasons of feeling inadequate in the Summer style department, that my usual style approach is still very applicable to this season. Simple shapes, minimal details, neutral tones and relaxed fits are just my jam and I intend to embrace them all during this challenge. So here goes!
OTHER CONSIDERATIONS: 
WEATHER: It's going to be pretty warm for the next 10 days. Ranging from highs of 24 – 27 degrees Celsius with a mix of sunny days, thunderstorms and no doubt lots of humidity.
ACTIVITIES: I'll be working from home or locally most days, running my usual errands, grabbing dinner with friends and the fella, then heading to a music festival, a birthday party and to a wedding on the weekends.
So here's what I'll be rocking for the next 10 business days!
2 Pairs of Pants
1 Pair of Shorts
2 Sleeveless Tops
1 Linen Tee
1 Thick 3/4 Sleeve
2 Pairs of Sandals
1 Dress
---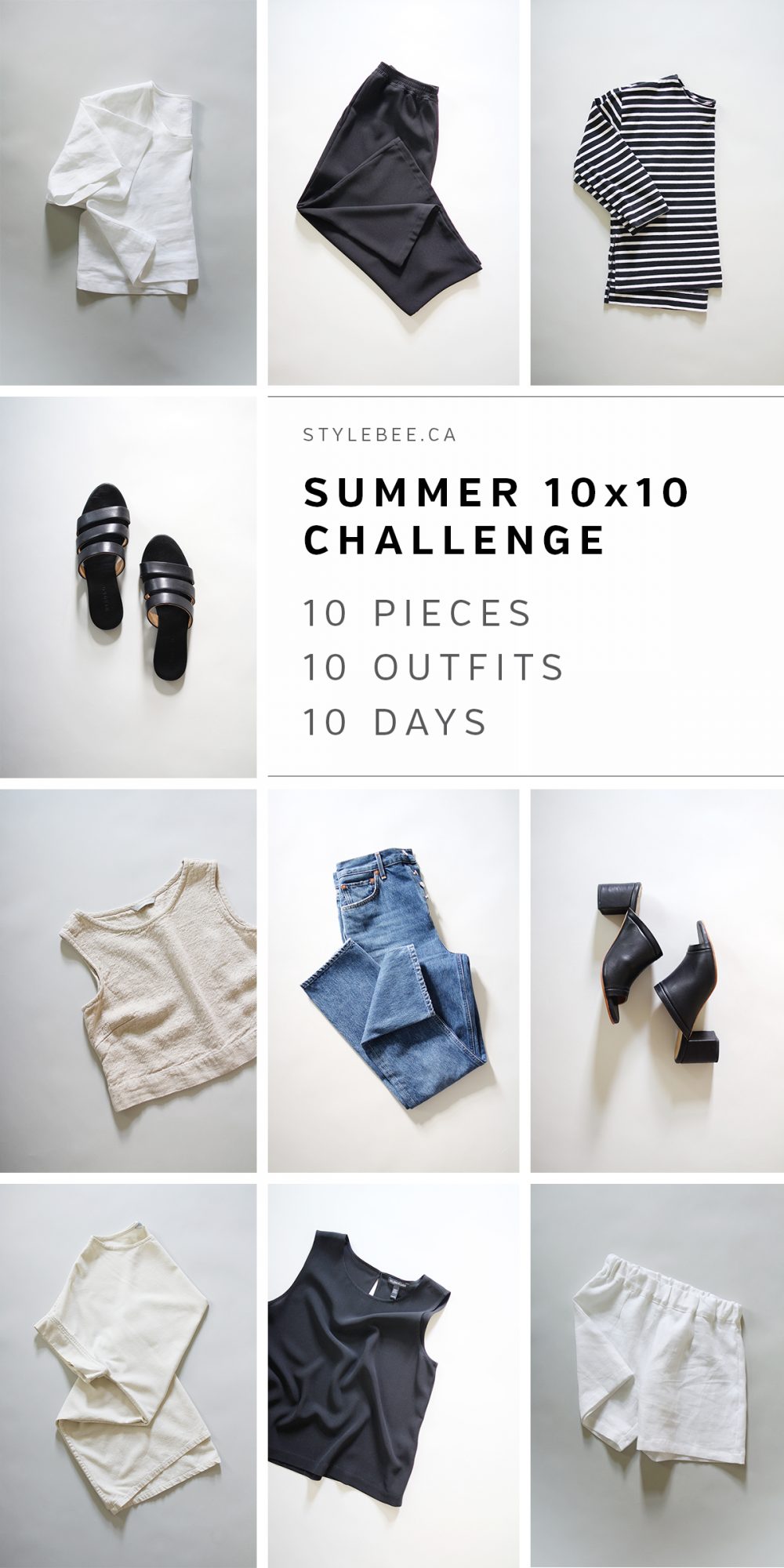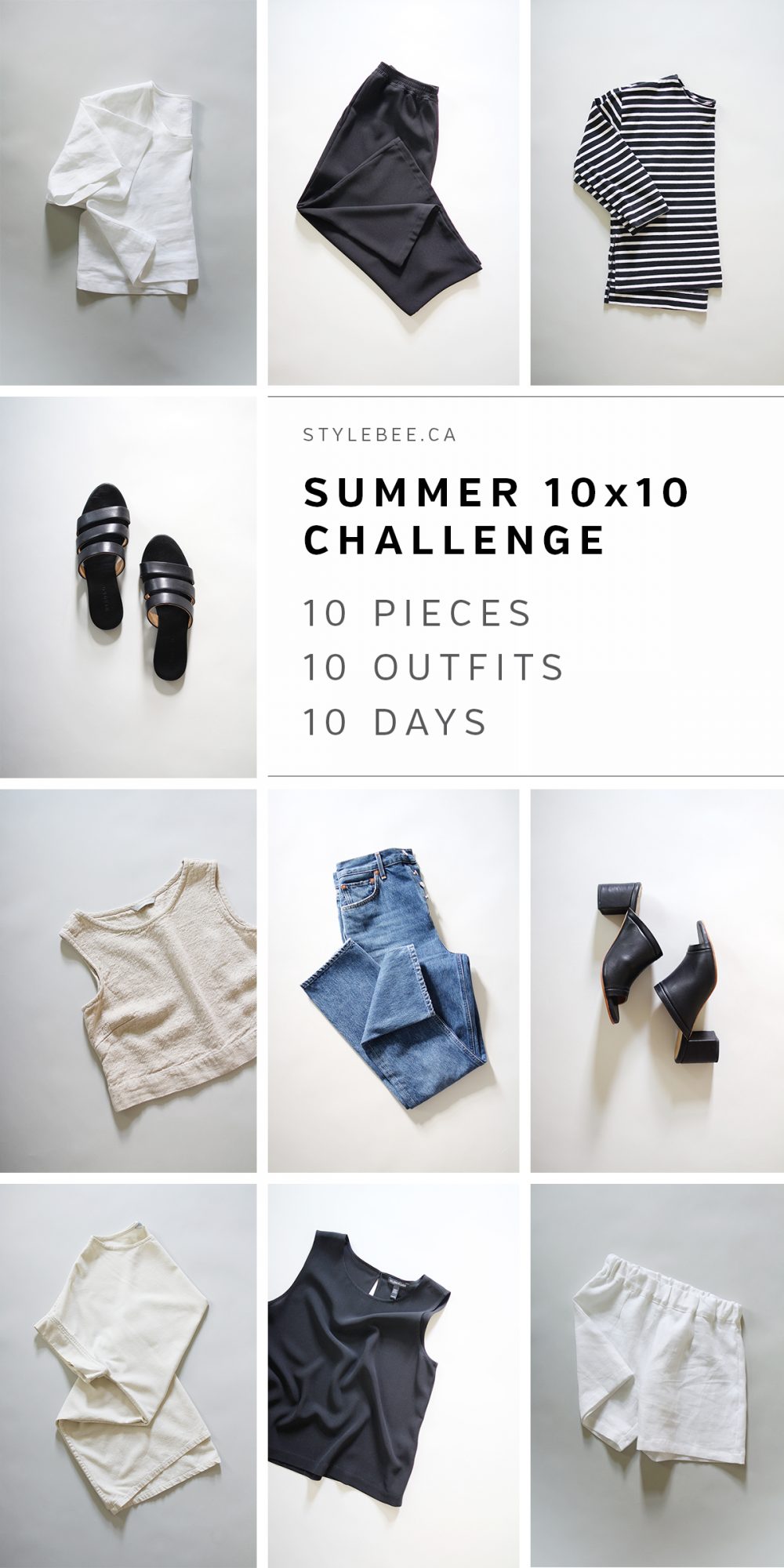 ---
| CROPPED LINEN T-SHIRT | c/o LLOYD CLOTHING | $110 CAD | Made in Vancouver | OS | Style Bee readers save 10% OFF sitewide at LLOYD with 'STYLEBEE' during the 10×10 Challenge! 

| BLACK CULOTTES | JESSE KAMM | s/o | Similar by EILEEN FISHER ($168 USD) by EVERLANE ($68 USD) and these from BRASS ($82 USD) look awesome!

| STRIPED TEE | EVERLANE | $168 USD | Size S | Made Responsibly in China

| CAMILLA SLIDE | NISOLO via GARMENTORY |  $88 USD | I wear a 7 | Made responsibly in Mexico | Save $20 OFF your first order when you sign up here. 

| PETRA CROP | c/o ELIZABETH SUZANN | s/o linked to same style in linen | $125 USD | Made in Nashville

| RILEY JEANS | AGOLDE | $158 USD | Made in the USA | Runs large I have a 25 | Similar style by LEVIS ($88 USD imported) By PAIGE with stretch ($209 made in USA) and By CITIZENS OF HUMANITY with Lyocell ($218 USD made in USA)

| PEEP TOE MULE | c/o Poppy Barley | $248 CAD | I wear a 7 Narrow | Made responsibly in Mexico

| GEORGIA DRESS | ELIZABETH SUZANN | $215 USD | I wear OS | Made in Nashville

| BLACK SHELL | c/o EILEEN FISHER | $178 USD | I wear an XXS | Made responsibly in China | Same style in Jersey ($98 USD) and a similar option for less by Everlane ($65 USD)

| SUMMER SHORTS | c/o LLOYD CLOTHING | $160 CAD | Made in Vancouver | I wear a size S | Style Bee readers save 10% OFF sitewide at LLOYD with 'STYLEBEE' during the 10×10 Challenge! 
---
Well, there you have my 10 items! Nothing too revolutionary in the mix but I'm really looking forward to testing out my new linen set, revisiting my raw silk Georgia dress and just enjoying life in some easy summer pieces! 
---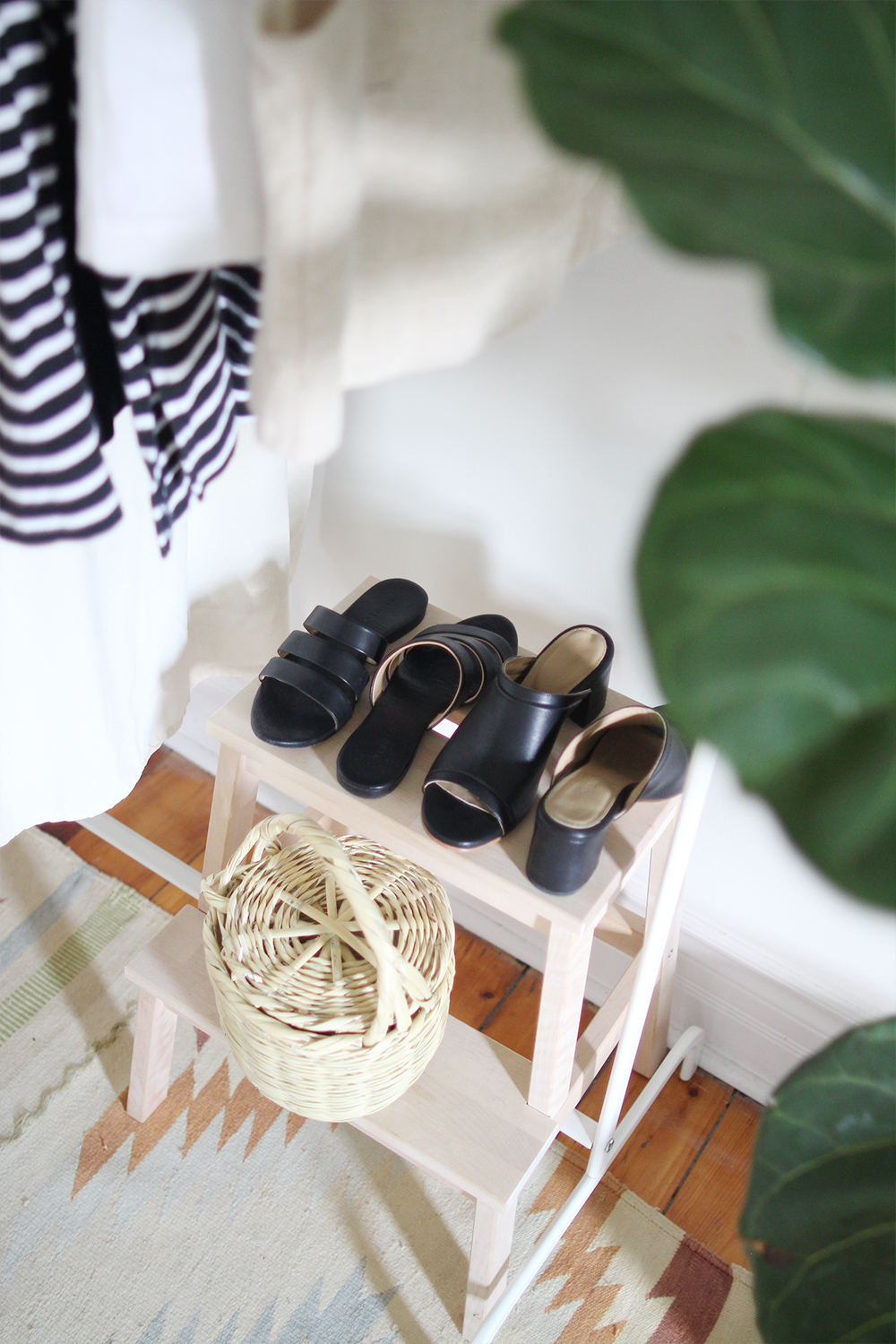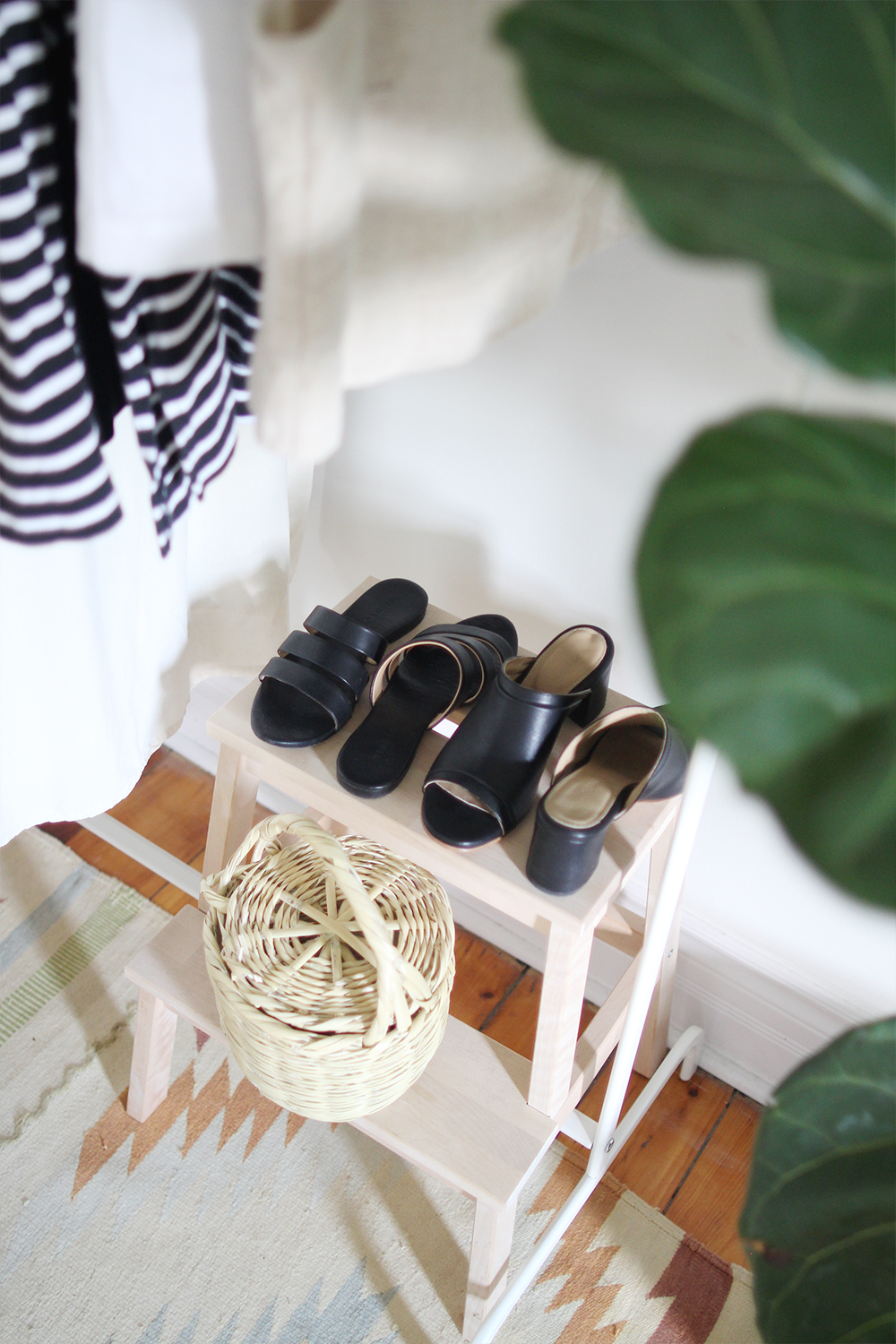 ---
10 X 10 CHALLENGE 101
---
No worries if all this challenge talk has you scratching your head! The 10 x 10 Challenge is an exercise I established in 2015 to help encourage myself to get more creative with my clothes during a 30 Day Shopping Fast. The concept is essentially a micro capsule closet that you work with for 10 days, trying new looks and styling your clothes in ways you might not otherwise consider.
---
WHO IS THE CHALLENGE FOR?
---
ANYONE! But more specifically, anyone looking to:
Take a break from shopping.
Reinvest in their existing closet.
Test their style creativity.
Make their closet work harder.
Find a better sense of personal style.
Test out a capsule closet.
Establish a couple of go-to uniforms.
Pack for a trip. 10 x 10 Challenges are ideal for travellers looking to pack lighter.
---
BASIC GUIDELINES
---
PICK ANY 10 ITEMS FROM YOUR CURRENT CLOSET
STYLE THOSE ITEMS INTO 10 DIFFERENT LOOKS
USE 10 DAYS TO DO IT
HAVE FUN AND DON'T TAKE IT TOO SERIOUSLY!
I say 'guidelines' instead of 'rules' because this is meant to be a fun and helpful exercise, not a daunting or rigid task. It's all about being creative and exploring personal style. If it doesn't go flawlessly, no worries, you're still going to learn something positive from it.
For example:
You can limit yourself to only those 10 items for the full 10 days or just wear those items to work or after work.
Take the weekend off and do 10 business days (that's what I tend to do).
You can try a smaller challenge first if you prefer with only 6 items over 6 days or up the ante and choose a few more items to style over a longer period (I've done 20 pieces over 20 days before).
If you're really not loving one item, just switch it out!
Do whatever makes it feel manageable but still be sure to challenge yourself!
---
HOW TO PARTICIPATE IN THE SPRING 10 x 10 CHALLENGE
---
1 | Pick 10 Items from your closet to wear for the next 10 days.
2 | Snap some shots of your 10 pieces and your outfits as you go and post them on Instagram. It can be a flat lay, wardrobe shot or a stack to start then a daily outfit (ask a friend or the fella to snap one), a mirror selfie or you can wait and share a grid of many looks together. Whatever you're comfortable with and if that means no photos that's cool too. 
2 | Use the hashtag #SUMMER10x10 so we can see what you put together! We'll be sharing our favourites from the feed during our wrap-up posts too!
3 | Feel free to include the existing hashtags #StyleBee10x10 and #UnfancyRemix if you like as well! That way they'll be in the general archive for all future challenges too.
---
CHECK OUT THE 10 X 10 CHALLENGE PAGE WHERE YOU'LL FIND MORE INFO, TONS OF EXAMPLES, STARTER TIPS AND A HELPFUL WORKSHEET TO GET YOU STARTED.
---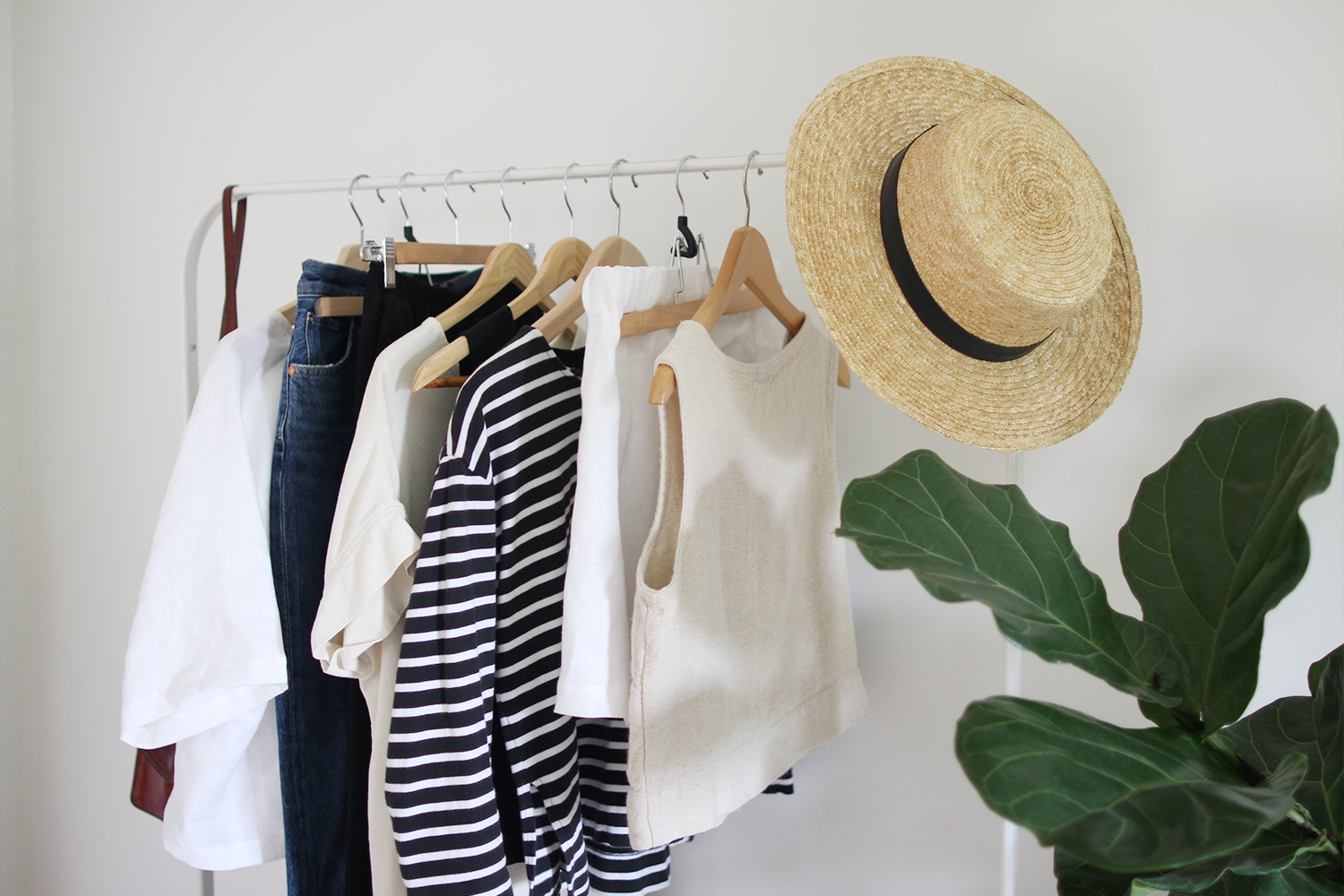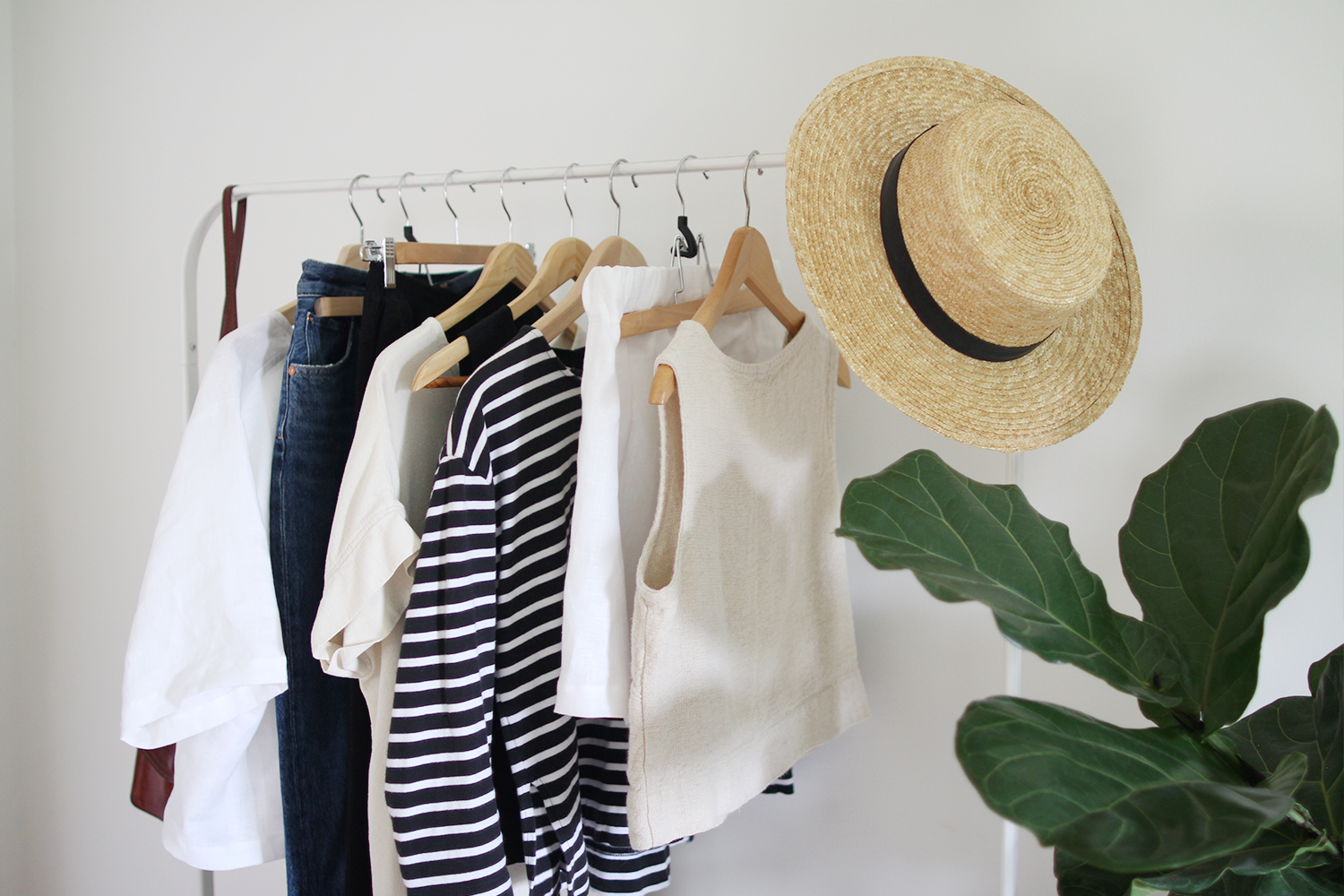 ---
TIPS ON PICKING YOUR ITEMS
---
WHAT IS INCLUDED?
---
Any core closet item you choose counts as a part of your 10 items. For example:
TOPS
SWEATERS
PANTS
DRESSES
SHOES
COATS
Keep in mind these are not hard and fast rules! If you really feel like you need all your shoe options that's OK, don't include shoes this time around and add an extra top or bottom instead. No judgement shall be passed ?
For instance: I'm leaving coats out for this challenge (again) so I have options for our crazy weather. 
---
WHAT IS NOT INCLUDED?
---
Any accessories or jewelry you add to a look does not count as a part of your 10 items. For example:
Hats
Bags
Scarves
Necklaces
Gloves
Jewelry
Base Layers (ie: underwear, tights, bodysuits, socks etc.)
Workout Gear
PJs and Loungewear
---
BEGINNER'S FORMULA
---
If you're a little bit stumped as to where to start with your items consider this formula:
2 Pairs of Shoes (1 heel + 1 flat)
4 Tops (Consider pieces that layer well like a fitted long-sleeve, a button-down and a cardigan)
1 Dress
2 Bottoms
1 Top Layer
A few other tips for choosing items:
Check the forecast and pick practical items for the weather.
Consider your activities for the next 10 days.
Don't give yourself too much time to choose. Try to make the call in under 30 mins. But if you need more, that's cool too! You've got all weekend to play around with your picks.
Go for an easy, lean colour palette. Think neutrals, denim, white, black and grey with 1 or 2 colours.
Reach for your favourites first and then add one or two pieces you'd like to wear more or aren't sure about.
Avoid Dry Clean Only items or pieces that are a pain to launder so if need be you can refresh them during the 10 days.
Caroline also has a great 25 Minute outline in today's post on Un-Fancy! 
---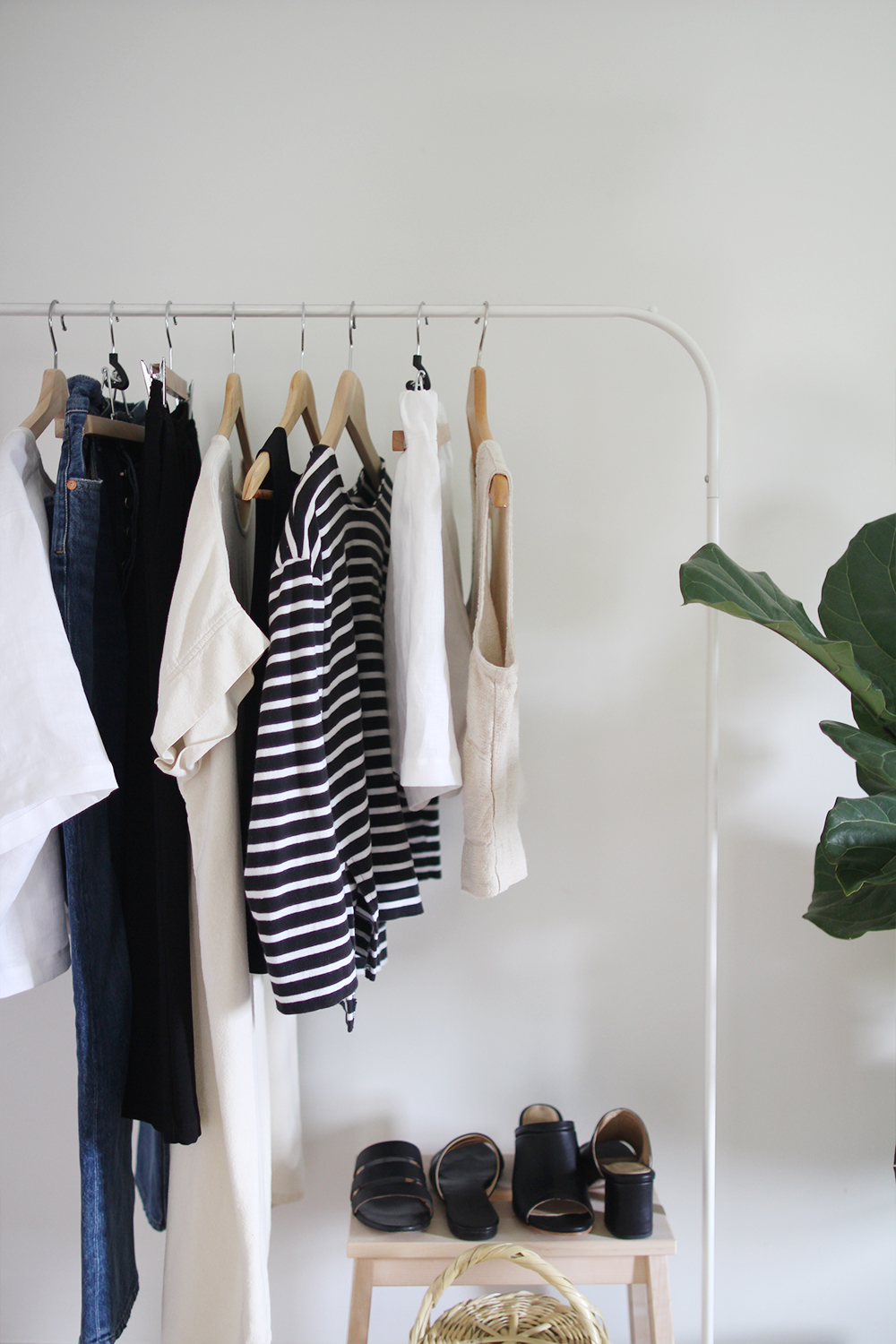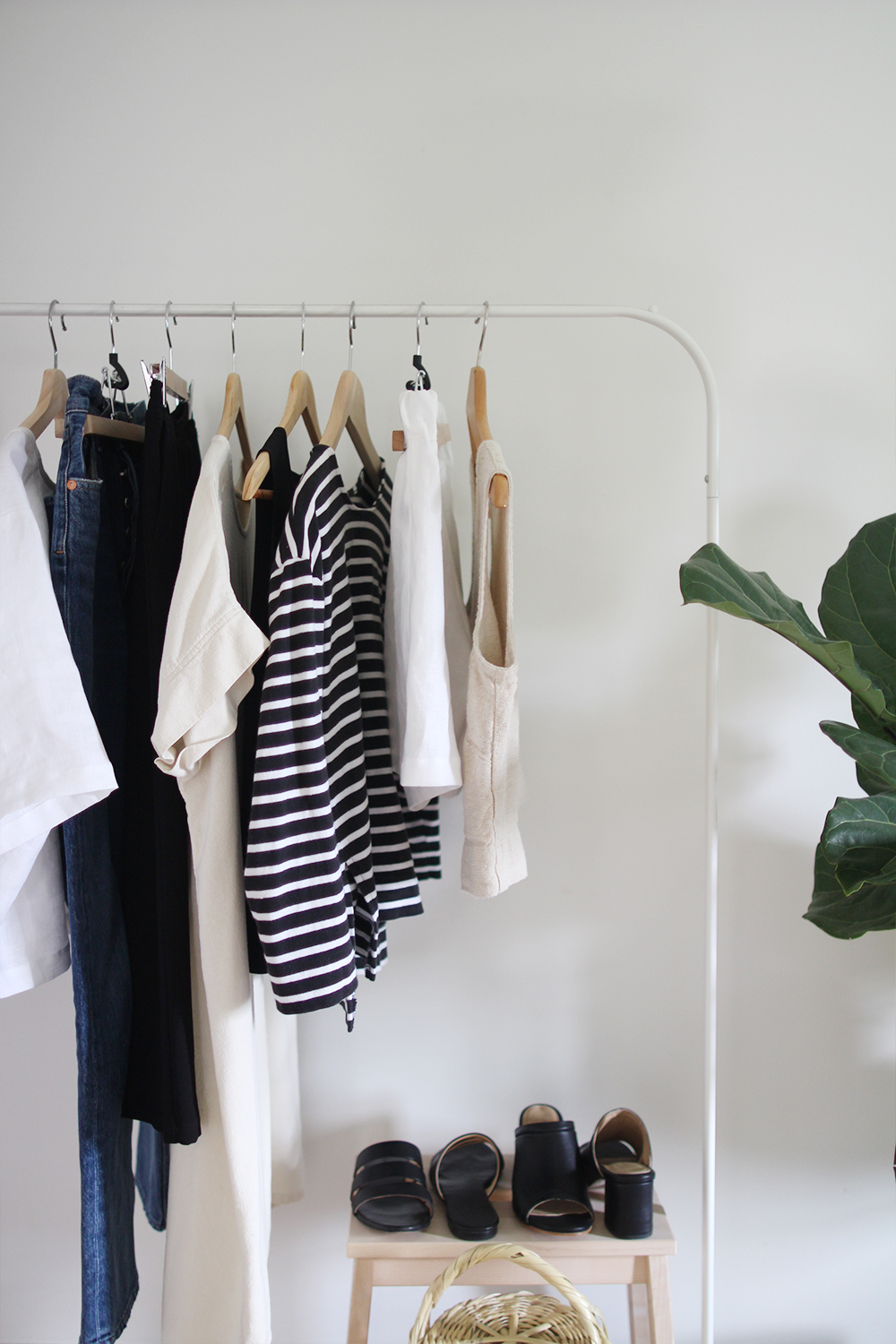 ---
SO WHAT DO YOU SAY? CARE TO JOIN US? 
SURE YOU DO!
SEE YOU ON MONDAY WITH LOOK #1! 
---
This post is not sponsored but contains affiliate links. When you shop via the links above I may make a small commission from a sale. Thanks for supporting Style Bee! All opinions are always my own.