It's time to pull out all the stops because we're closing in on the finish line of this #Spring10x10 Challenge! It's funny how both long and short a period of two weeks can feel isn't it? My friend and challenge co-host Caroline of Unfancy and I have been highly motivated by this community's enthusiasm over the last little while. It's so rewarding and fun to start seeing familiar names and faces on the feed, sharing great insights and some seriously awesome style! I really look forward to tuning in for my daily update.
I always keep my notebook handy during each challenge and reserve a page to jot down my findings as I'm going. Most days there have been one or two things to remark on and now the page is starting to fill in. It's so reassuring to peruse the #Spring10x10 hashtag and find those very sentiments I've noted in someone else's comment or caption! Plus, even if we have different takeaways from the experience there's always something worth discovering and keeping in mind. I'm looking forward to organizing my notes and scribbles over the weekend and putting together some cohesive thoughts on what I've decided has been my favourite challenge yet!
But there's still 2 more outfits left and true to form Look 9 is pushing the boundaries and sure to inspire a few of those notes!
If you're wondering what the 10×10 Challenge is you can get all the info here and tons of ideas here. Even though we're winding down for now it's a fun exercise that anyone can try out anytime so feel free to give it a go if you're interested! 
---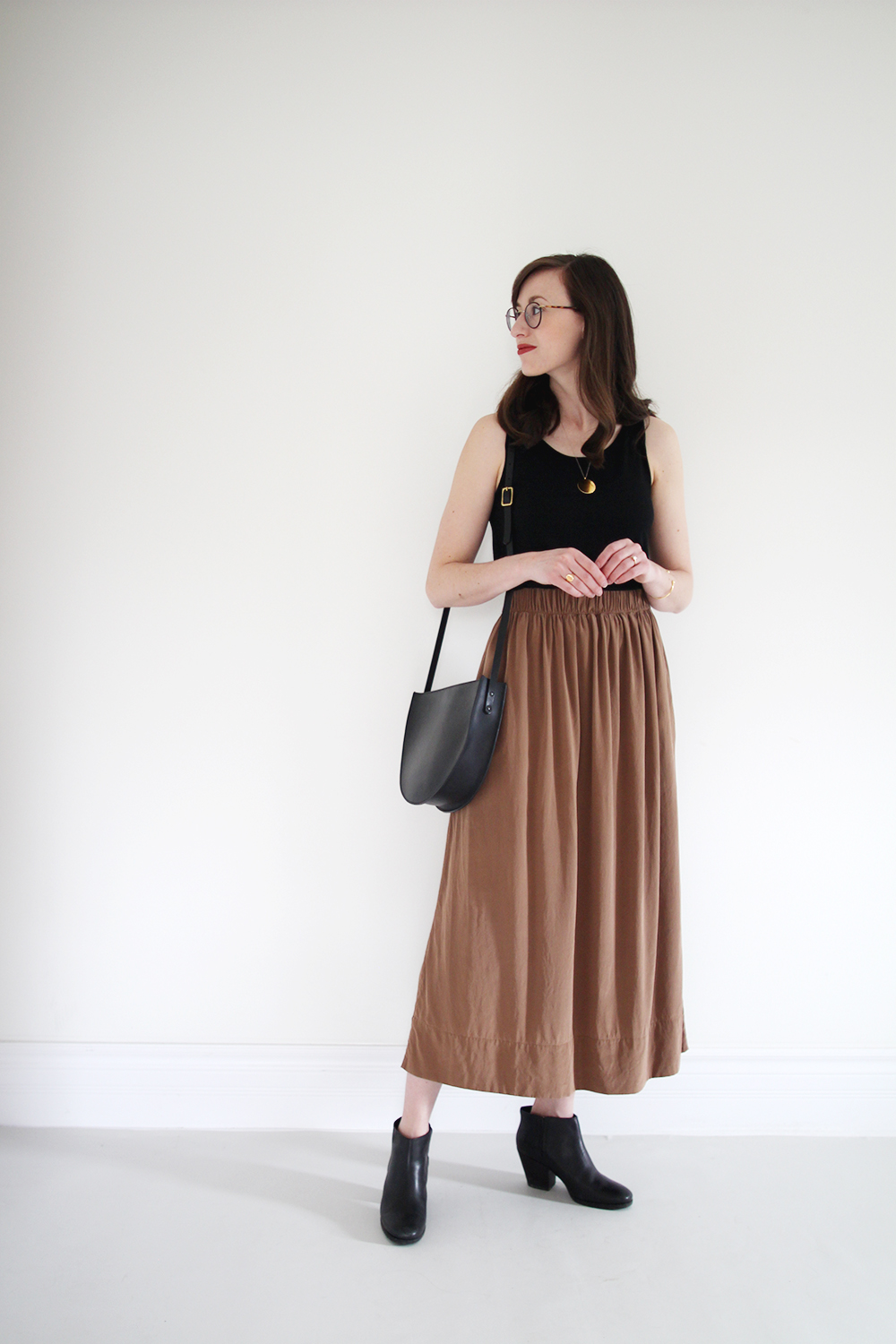 ---
INITIAL THOUGHTS
---
I'm excited to finally be flexing my creative styling muscles with this one (lord knows my actually muscles need a bit of that too)! It may seem like a swap out at first glance but I'm actually wearing my Jersey Tank dress under my Silk Skirt today (proof in photo #3 below). I kind of stumbled onto this idea by mistake when I was testing my 10 items and changing but too lazy to close my curtains so I threw this skirt on over top and a little light went on.
Whenever I discover a new layering technique during this challenge I'm instantly reinvigorated so this one came at the perfect time to keep me motivated towards the 10×10 finish line.
In general this outfit feels great on and it's super comfortable. I'm definitely into the shapes, the palette, the simplicity and the uniqueness of it. I'm still getting used to wearing something as feminine as a full skirt again but the more I do the more natural it starts to feel.
Normally I wouldn't pair these black boots with this look as they feel a bit heavy. That said, I don't hate the look I just think something like a mule would be better. I also rethought the bag choice in my styling notes below.
I do really like this colour palette (especially with the coat addition) and the silhouette is right up my alley. Slim up top, high waist, full leg and cropped length is a favourite combo of mine.
Honestly, there's a chance this one won't see the light again but even if I never end up replicating this one I'm so glad I discovered it and gave it a go.
TODAY'S AGENDA: I'm visiting my hair stylist for a quick trim in the morning and then I'll probably swing by the cute cafe nearby for a coffee and change of scene. I find if I spend too many days in the office I go kind of stir crazy. Then in the afternoon I'll take care of some emails, projects (inlc. the final 10×10 Outfit post) and try to convince my guy to join me for dinner out (ei: tell him we've got a reso haha). Should be a great day, except that it's supposed to be chilly with a chance of rain so a coat will definitely be needed!  
---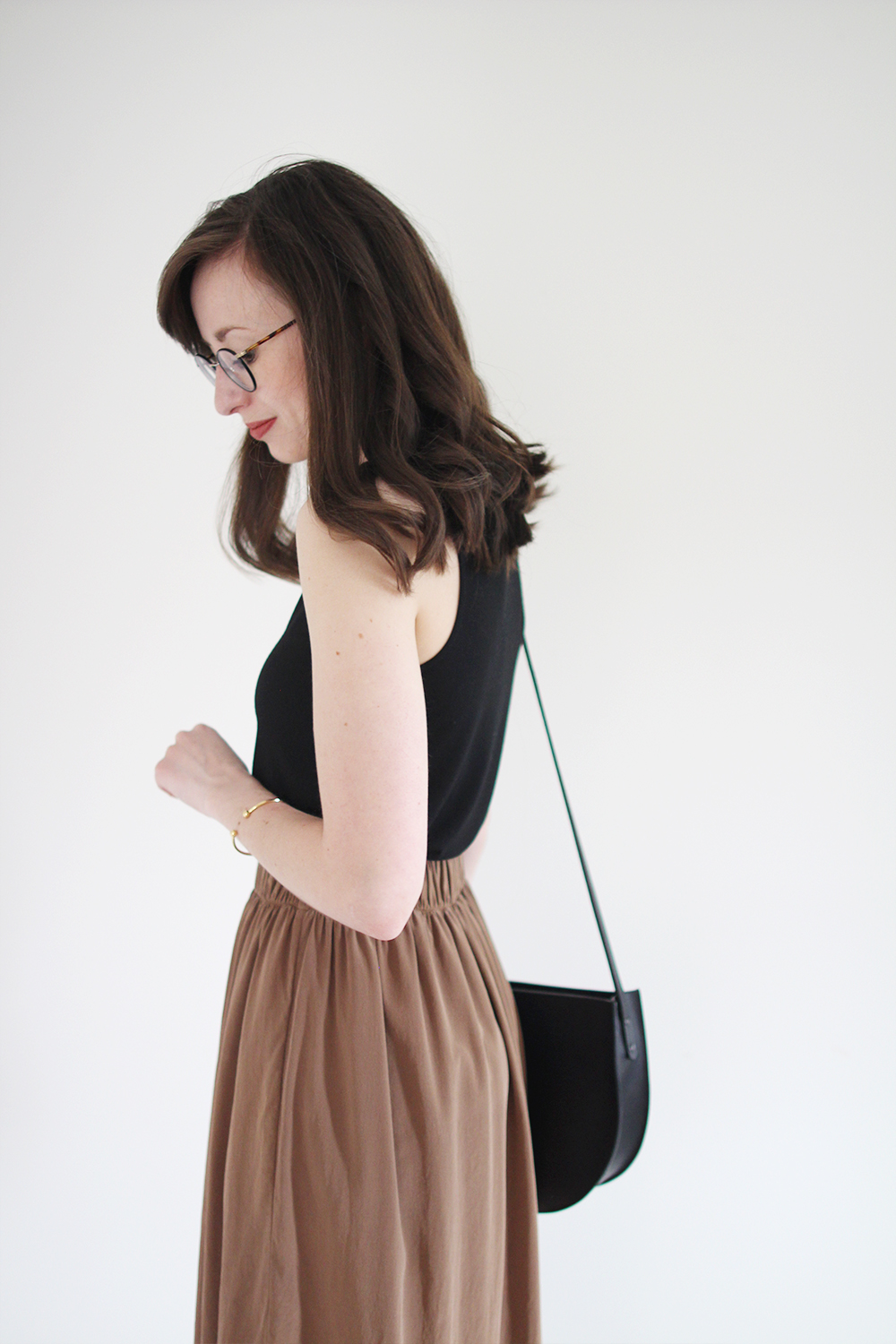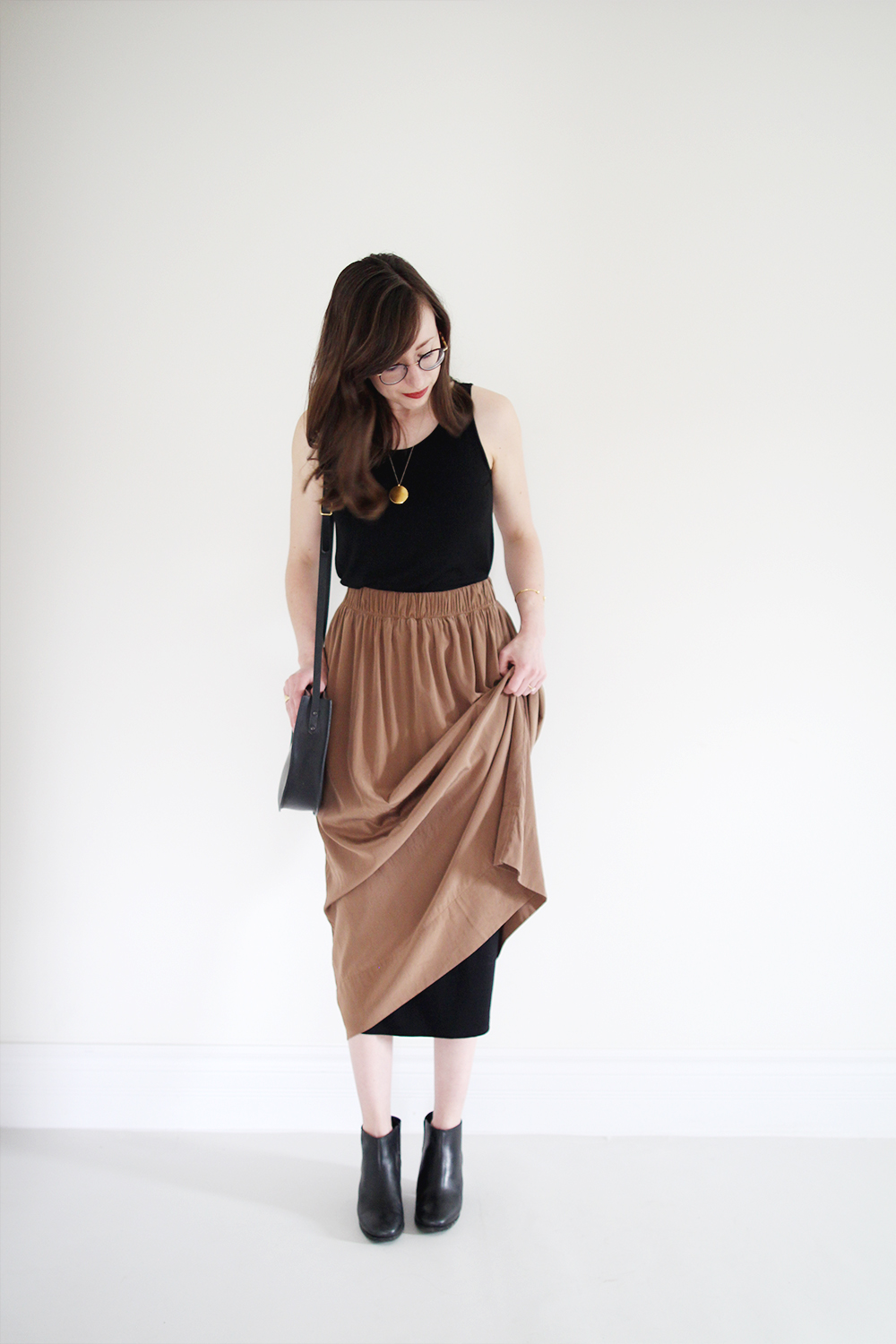 ---
STYLING DETAILS
---
1 | UNLIKELY FRIENDS | I would definitely have never paired this dress and skirt together if it weren't for this challenge but I think it might be my most innovative style trick to date. Not to mention the fact that having a long layer of jersey under the silk makes it way cozier for cooler temps! Plus, it feels so sleek and smooth compared to a tank top because there's no hem around my hips to deal with!
This trick works especially well if your base layer dress is slim fitting and simple and you pair a fuller skirt over top. This is also a great trick for travelling if you get something on your dress and want to hide it but still get some use out of it!
2 | LENGTH | This is a long skirt and I've had a few people mention that they're not tall enough to pull off the midi length. Now I do think a midi skirt can work on any height, you might just need a tailor to work some magic for you. It's also a silhouette that takes a bit of getting used to, so don't write it off immediately if you're trying it for the first time.
If you want to try out a full skirt style without feeling like it's wearing you, go for something that hits just below knee length. That way you get the effect of a billowy silhouette without being engulfed by material. Or perhaps Elizabeth Suzann will release a similar skirt and then you can get the shorter length. 
3 | ROUND ABOUT | All my jewelry has a circular element in this outfit. Round dome studs, a flat circular pendant and two small spheres on my bangle. They're not overtly matching yet they add a nice element of continuity throughout the look. Yep, I repurposed this tip from Look 6. 
When you'd like to add jewelry but want to keep your look clean and minimal, opt for pieces that are simple but feature recurring shapes. This way they're read as united instead of random.
4 | RETHINK | This skirt is definitely the star of the show so I let it be just that by pairing it with simple jewelry and lots of black. In fact, maybe too much black now that I look at it but at the time this amount felt right. Next time I try this look I'll probably switch the black purse for a light clutch like this one to add just a touch of softness.
Sometimes you need to see a look in a photo a couple days after the fact to know whether it's all good or needs some tweaking. But that's cool and one of the key reasons why this challenge is so helpful!
---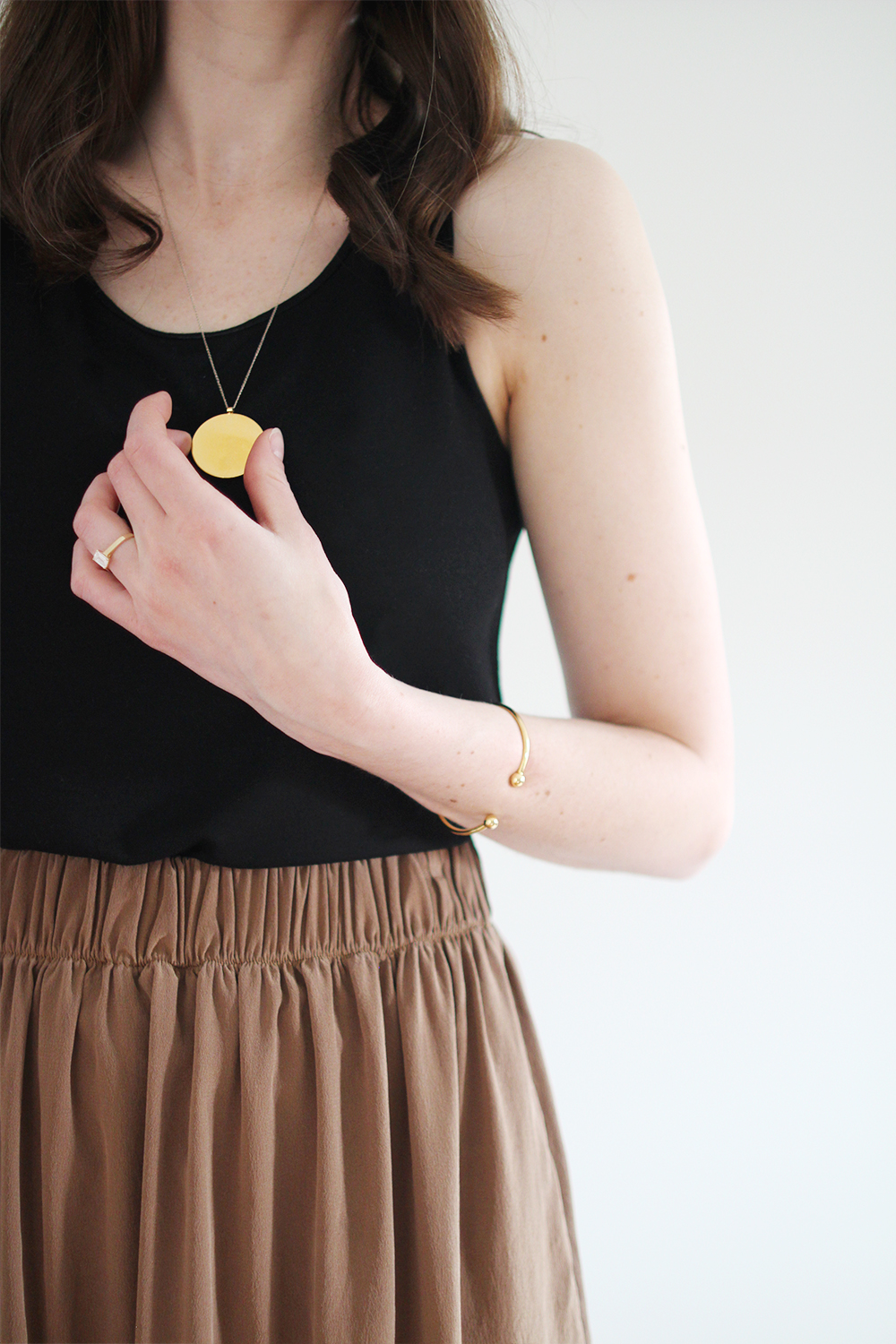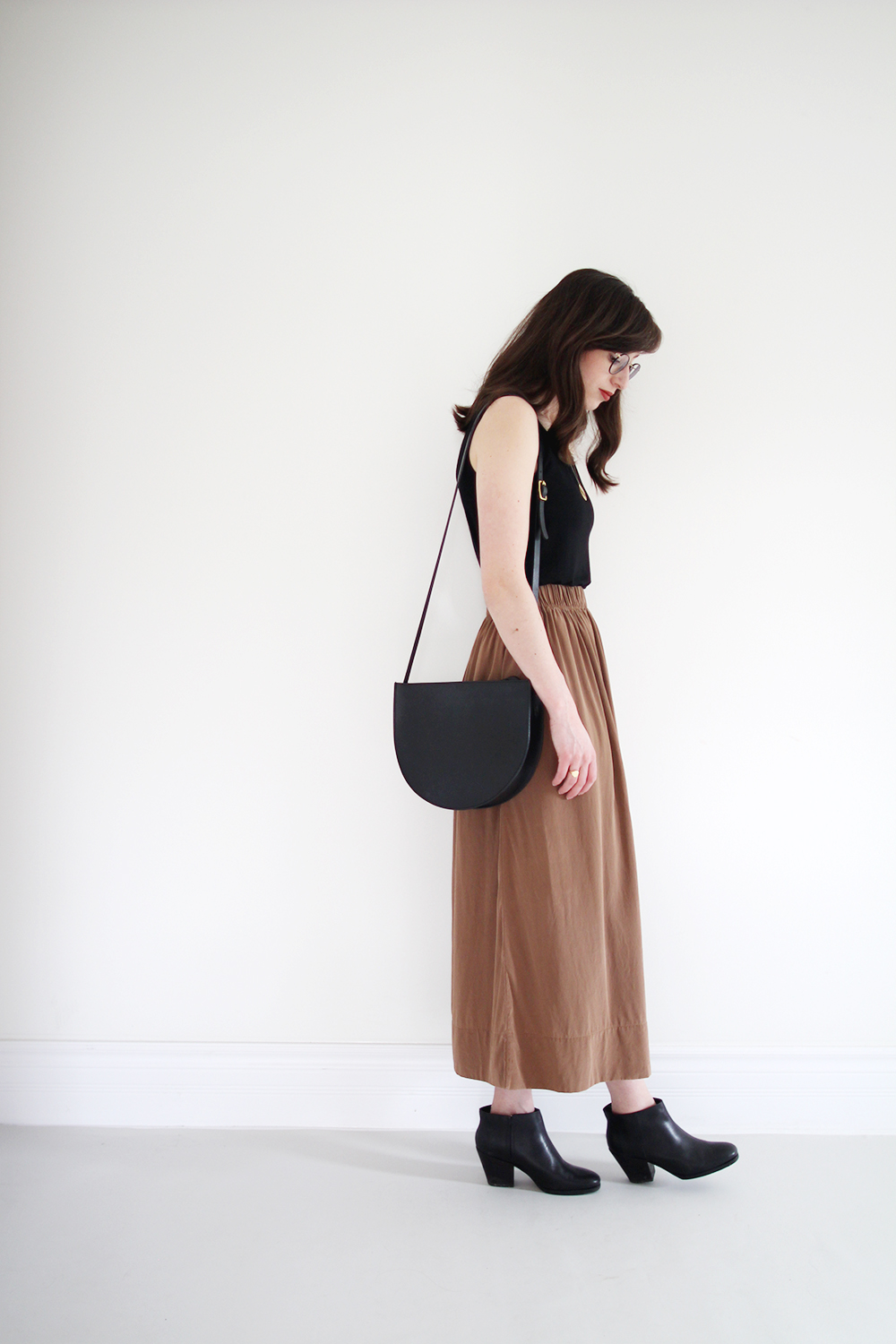 ---
TODAY'S ITEM SPOTLIGHT – SILK MIDI SKIRT
---
This is the Bel Skirt in Moss Silk from the SS16 collection by Elizabeth Suzann. While it's no longer available I still felt it warranted a spotlight being that it's such a special piece and I've cherished it ever since it made it's way into my closet last Summer. It's definitely a unique item in my closet and now that it's warming up again I'm finding lots of excuses to wear it. So here's a few key details about this silky beauty in case you're interested in another style in this fabric!
FIT | I'm wearing a Small. I'm 5'7, 125 lbs and my measurements are 32/26/37 for reference. I wear this skirt at my natural waist for a flattering fit and find it super comfortable for any length of wear.
FABRIC | This skirt is made of a 100% washed silk crepe de chine in Moss (linked to Florence Pant in same silk) a high quality, medium-weight silk with a matte finish. It basically feels like butter in a non-greasy, totally luxurious type of way. It drapes like a dream and moves beautifully.
The only drawback with this fabric is that it shows pretty much any bit of liquid that touches it, even water. Most substances leave a ring once dry (not water) but the good thing is that it's machine washable.
WASHABILITY | This one is so easy to wash and care for it makes up for it's preciousness around liquids. I just wash cold on delicate and then hang it up from a pant hanger on my clothes rack to dry and these photos indicate what it looks like. It feels a bit stiff at first but once you move around it's all good.
I've gotten pizza grease, Indian food, puddle water, corgi paw marks and just about everything else on it (how is it that the rest of my clothes avoid these things?) and every time it comes up looking good as new. I use stain removers and regular detergent on this one and have had no problems.
COLOUR | This 'Moss' colour is an unusual one for sure but I've found it's a great neutral and works with tons of other colours and spans several seasons since it's not too summery. These photos are very true to life and no colour alterations were made to these shots.
Revisiting this skirt has been such a pleasure this 10×10 and I'm so excited to wear it more this Spring and Summer. I probably don't need any more midi length skirts but I'm definitely considering skirts a more practical everyday option than I did before!
---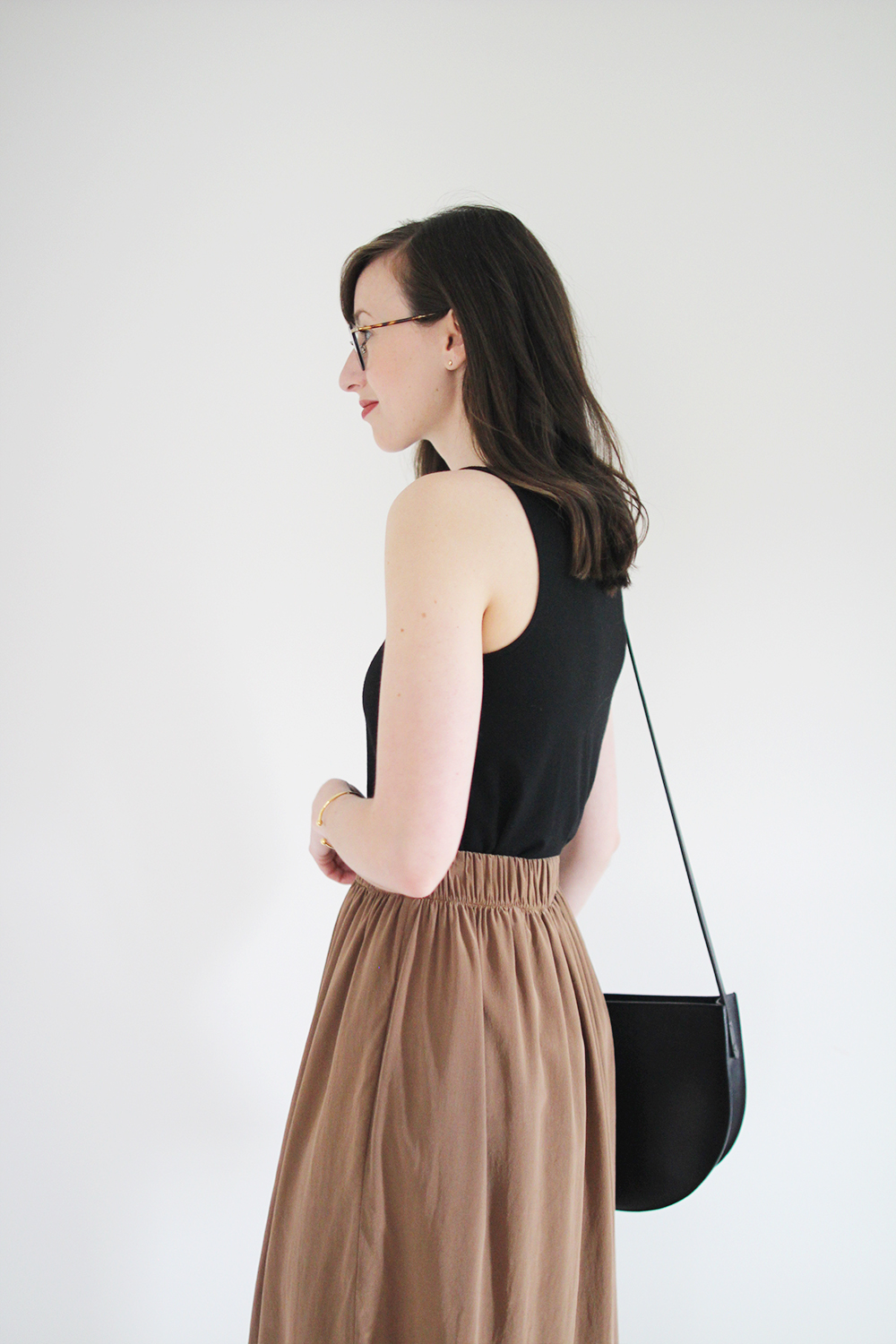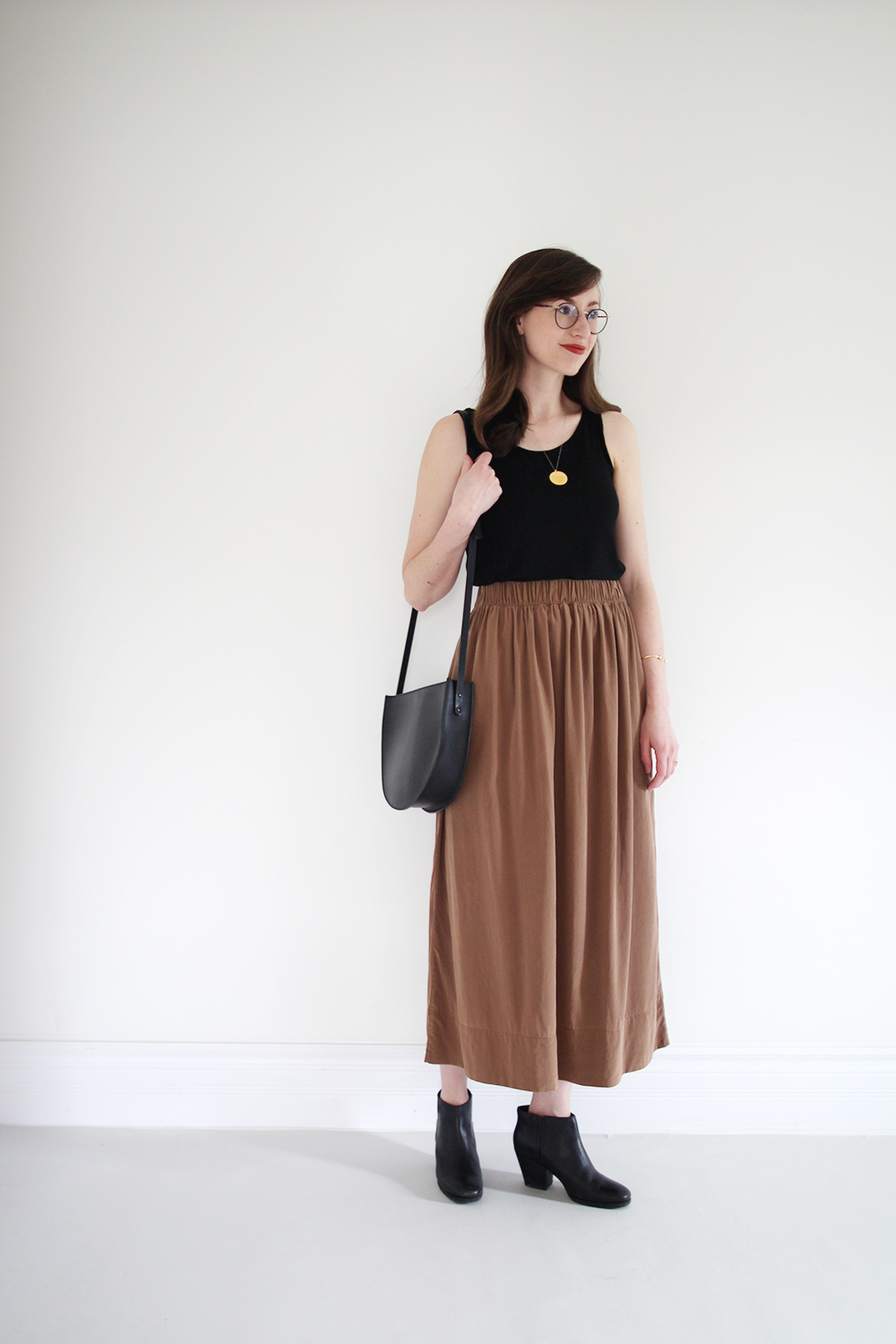 ---
COAT ADDITION
---
I have a few coats that could work with this outfit since the base is so neutral but I instinctively reached for my green duster (I can't lie, it's my fave right now). I love how these earth tones work together and felt it added a necessary zest and friendliness to the outfit. Raw silk on crepe silk is a texture lovers dream and the two move so elegantly together. A little roll of these cuffs made it feel more relaxed and I definitely think it helped to balance out the black and soften everything up nicely. This outside look is a personal fave from the challenge! 
---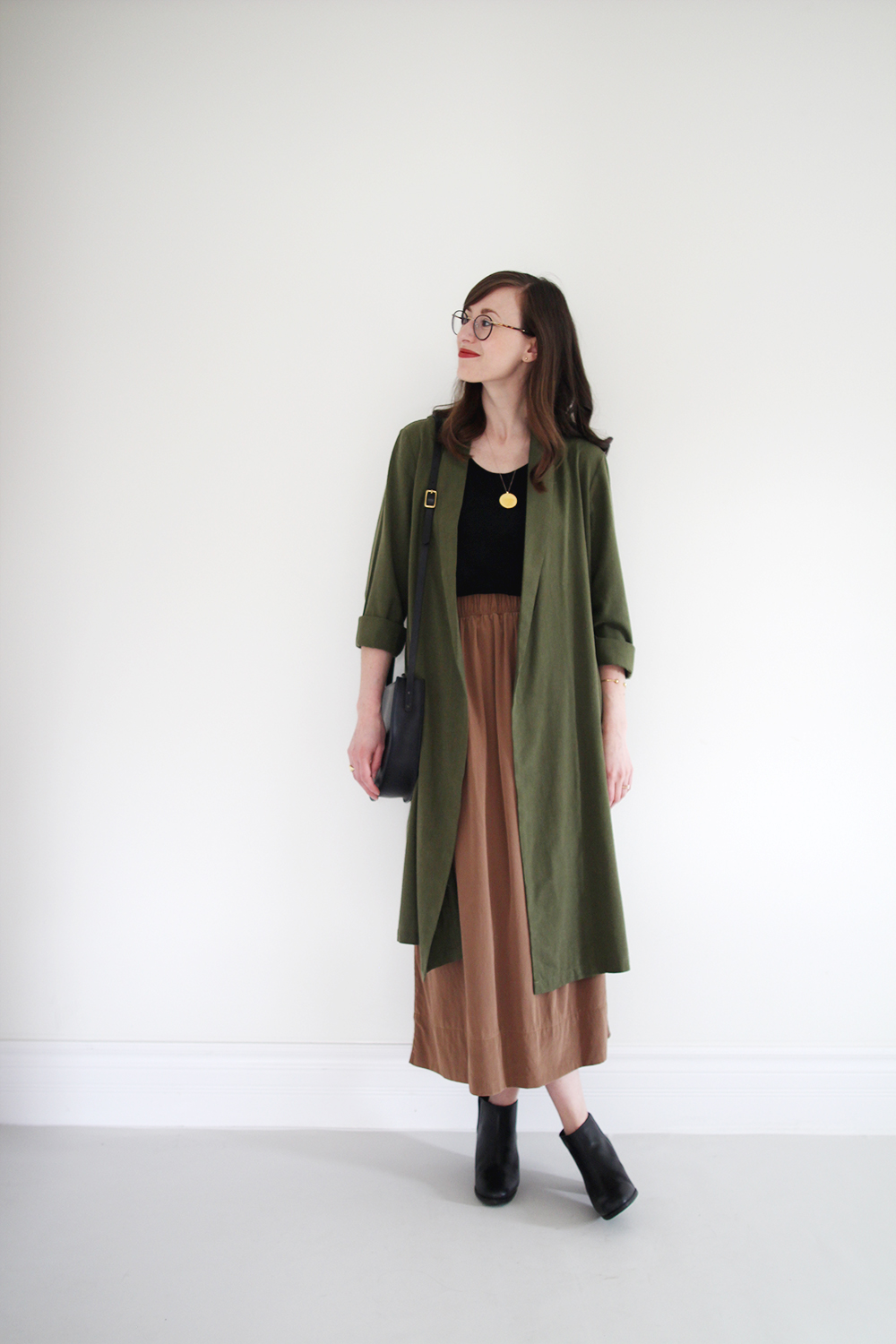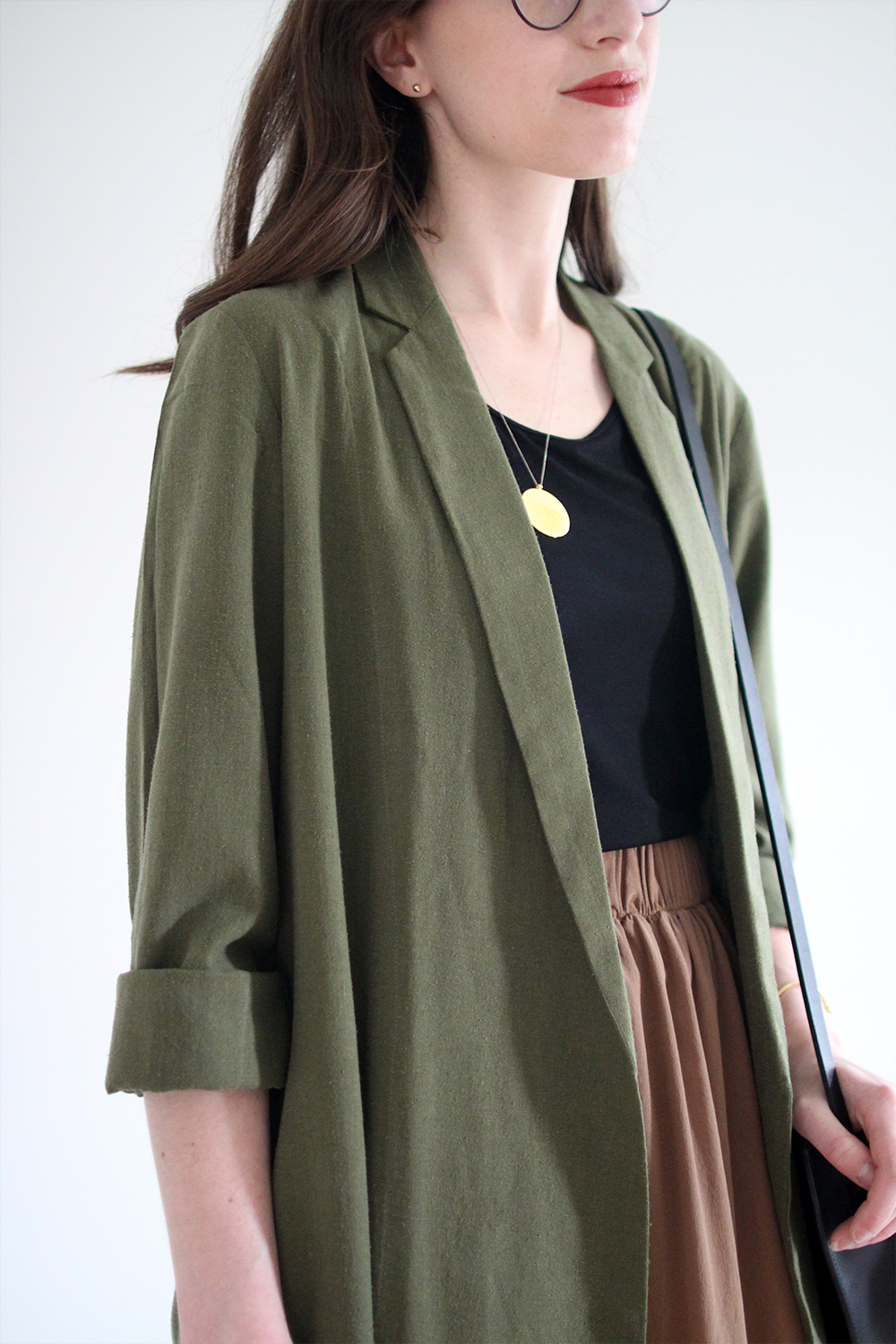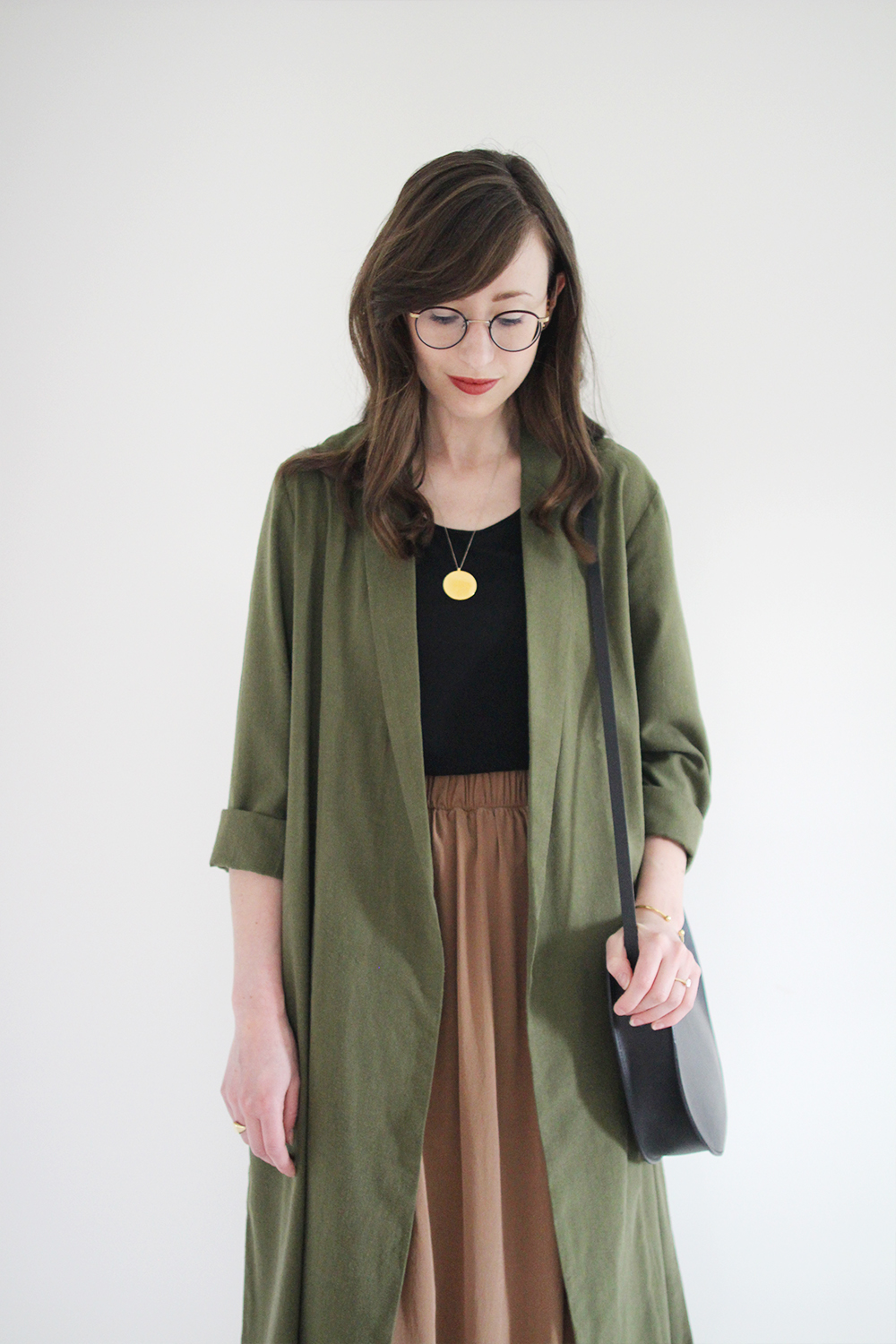 ---
1 | JERSEY TANK DRESS | c/o Eileen Fisher (4 months old) | $278 CAD | Made responsibly in USA
2 | SILK MIDI SKIRT | c/o Elizabeth Suzann (1 yr old, sold out) Check out the Clyde Skirt (raw silk broadcloth) | Made responsibly in USA | Linked to similar by Base Range ($210 USD) and similar in linen by Black Crane ($229)
3 | MARS BOOT | Rachel Comey (6 months old) | $426 USD | Made in Peru
4 | ELOISE BAG | The Stowe | $378 USD | Made in Montreal | Receive $20 Off when you sign up here. 
5 | GREEN DUSTER | Ali Golden via Akin & Co. | $135 USD On Sale | Made with love in a Fair Trade Certified™ facility in India. | Wearing a Medium but take your normal size.
DOME STUDS by ATTIC | $290 CAD | Made in Toronto |  CIRCLE NECKLACE old YOUNG FRANKK* | BRACELET c/o BIKO | SIGNET RING c/o CLAUS | GLASSES by GARRETT LEIGHT | *linked to similar
---
JUST ONE MORE OUTFIT TO GO! 
Tune into my Instagram Stories (@leevosburgh) later today for a look at this one in action. Be sure to see what Caroline is up to over on her blog and Instagram too!
See you on the #Spring10x10 hashtag and tomorrow with Look #10!
---
This post is not sponsored but contains affiliate links. When you shop via the links above I may make a small commission from a sale. Thanks for supporting Style Bee! All opinions are always my own.