I hope your week has been going well! Whether you're joining in this #Spring10x10 with Caroline of UnFancy and I or just taking it in from the sidelines (totally cool too BTW) I'm sure it's been a busy one for you too. Something about the Spring season arriving here seems to have everyone out and bustling around. I love it!
Spring brings about an energy that's contagious and uplifting and it's definitely apparent in the #Spring10x10 community! Yesterday I put out a little feeler post to see how everyone's been doing and your responses were such a treat to read! After going through them all it became pretty clear that there's a few things people are feeling about the challenge so far, which are:
Spring is way more fun to dress for than Winter. Hear you on that one!
It's hard to forego your shoe options even if just for ten days (for both practical and stylistic reasons). Oh hell yes!
Taking photos of your looks while wearing them really helps you analyze them better. Indeed it does!
The 10 x 10 Challenge can really help you assess what you might need and what you can let go. Yessir!
It's hard not to be tempted by your full closet. Oh don't I know it!
Overall, it's super fun, even if it's trickier than expected! Now, that's what I'm talking about!
So in case you're feeling any of these struggles, know that you're not alone and that the real fun/challenge is yet to come! If you're in need of some encouragement I highly recommend you peruse the hashtag feed. It's definitely where I turn for inspiration and lots of good vibes. If you're up for joining in, it's not too late! You can get all the info here and tons of inspo here.
Now I don't know about you but Thursday's always seem to be one day during the week when I'm least motivated to fuss with my style. I've usually got a long to-do list before Friday rolls in and comfort and practicality zip to the top of my outfit priorities. So I'm keeping it super simple for today's look and just following my outfit instincts.
So let's see where they've led me!
---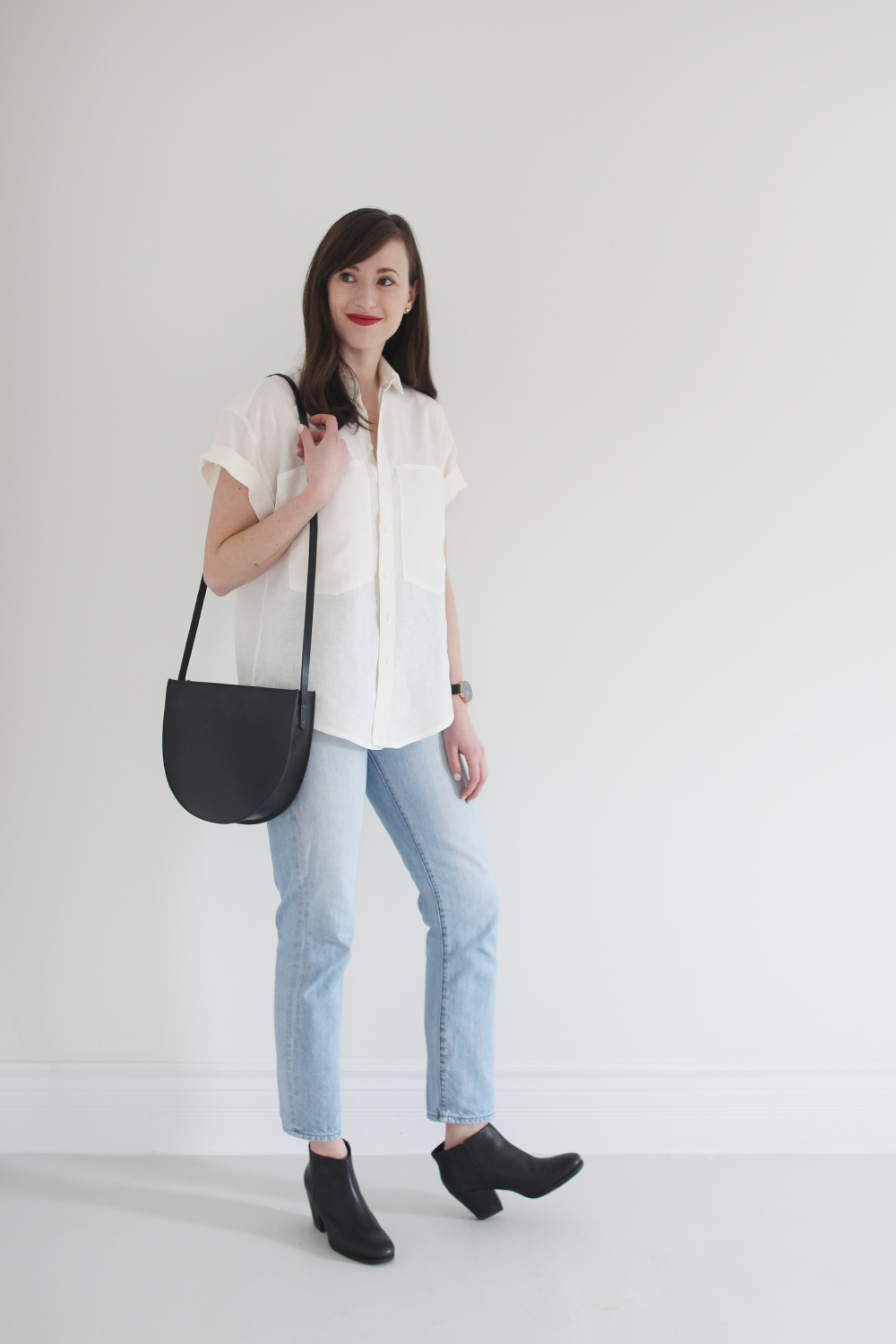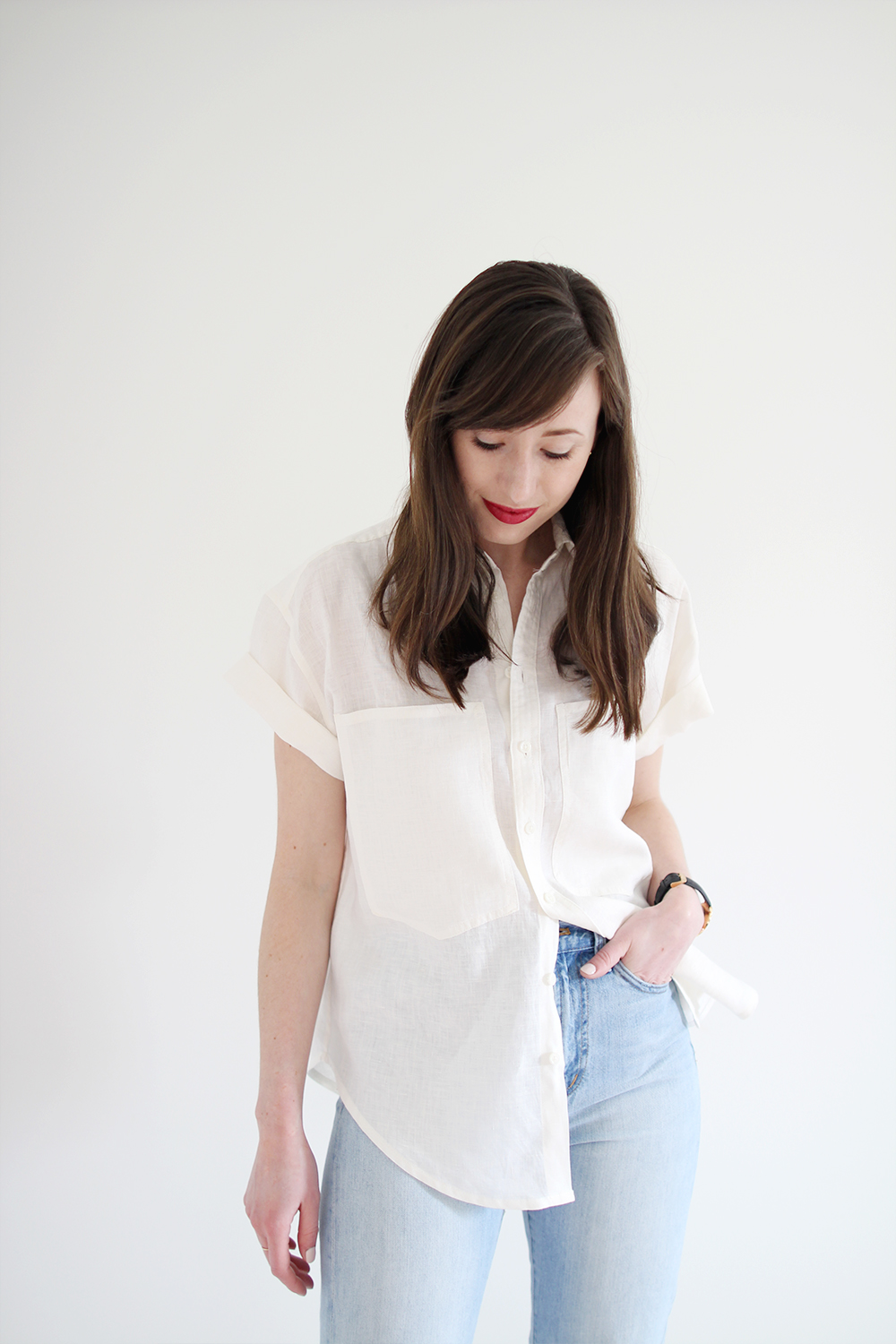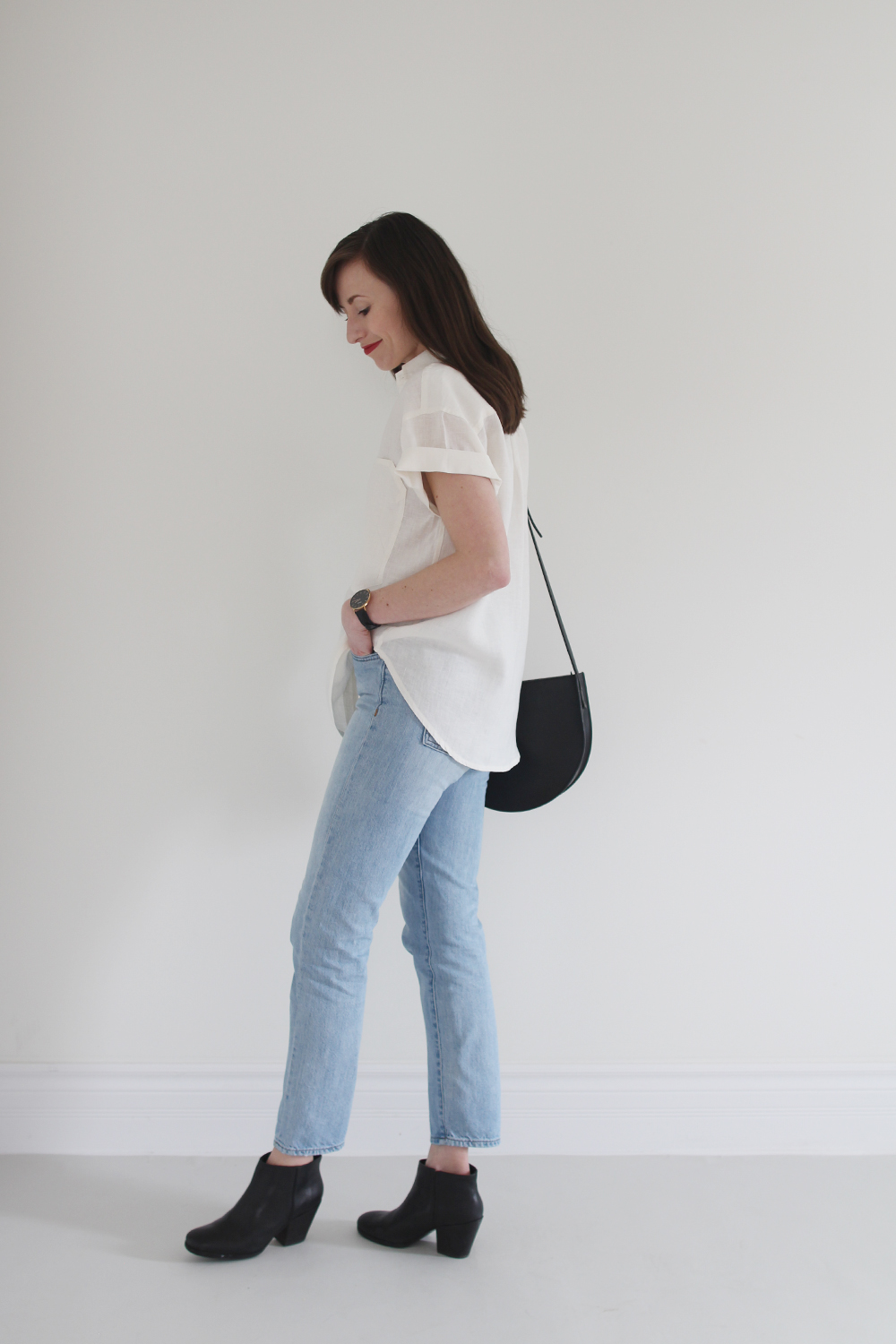 ---
INITIAL THOUGHTS
---
It's Thursday and I'm finally feeling about 80% back to normal after a sinus cold knocked me out. So this look is my attempt to stay super comfy but still looking put-together (with minimal effort). White button-down, check. Favourite jeans, check. Black everything else, check. Red lip, cheeee-eck.
I'm actually really into this one for its ultra easy-going vibe with lots of nods to classic timeless pieces that still feel fresh and relevant. This is my idea of a good go-to outfit for when I don't want to have to think too hard about styling or fits or anything else. Just button up and go.
After wearing this white shirt to dinner on Monday (a cold medicine induced decision) I simply hung the shirt back up and waited to see if the creases would fall out. They'd didn't totally come out so I quickly ran the iron over it this morning to get a smoother finish. No big deal! Plus, I actually don't mind a few crinkles on this shirt when I'm wearing it out.
This outfit is a great travel option now that I think about it. Unfussy but polished and comfy but sophisticated. Mentally-noted!
Today's Agenda: A morning meeting, some errands, a visit to the V.E.T. (just a yearly check-up for Evie) and an afternoon trip down to Hamilton to pick up my wedding invites!  Then we've got a gallery opening in town for which I'll swap out my jeans and tee for my jersey tank dress and a statement necklace. Easy peasy! It's also warmer than yesterday and nice and sunny out so a light-ish coat on top should do the trick. 
---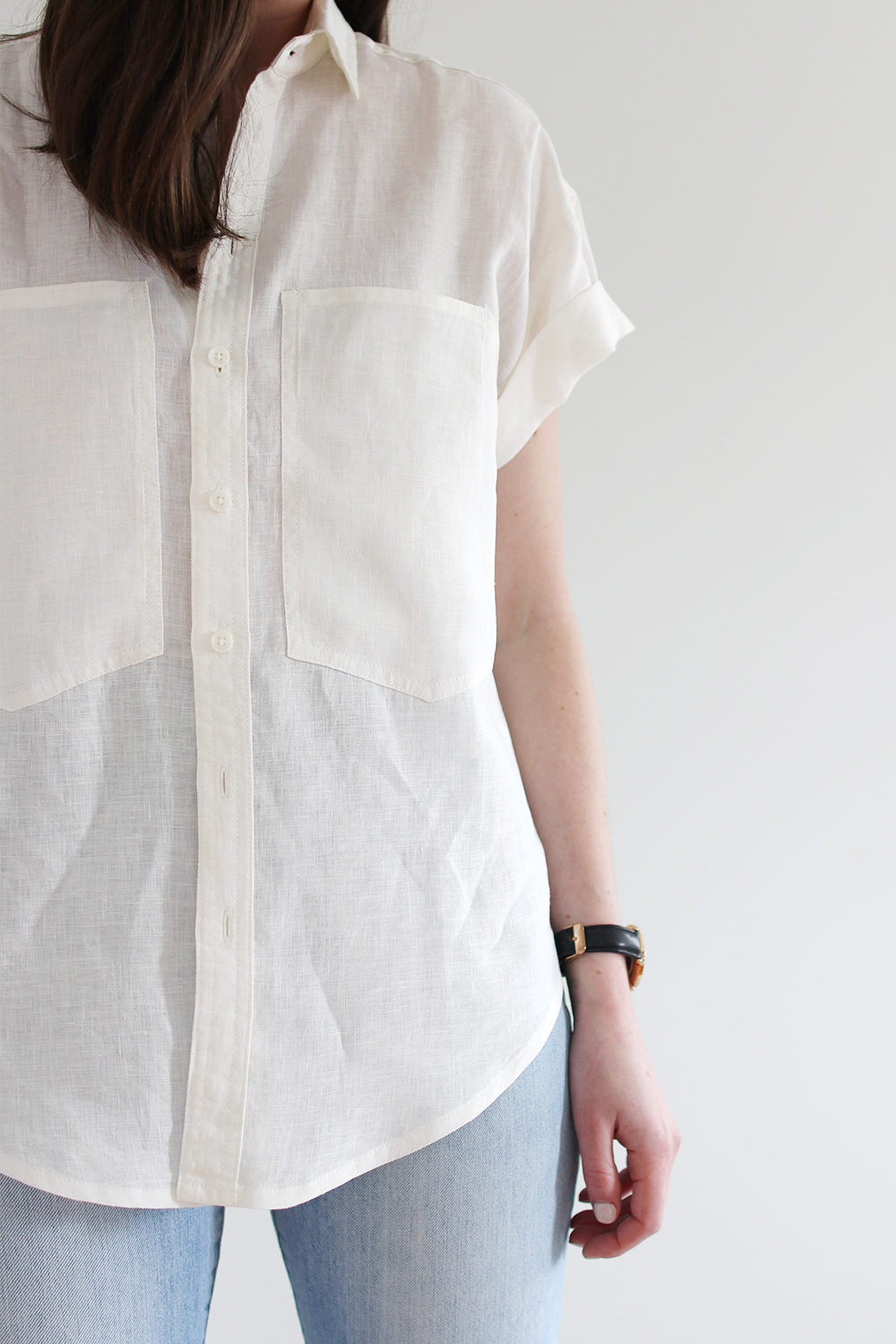 ---
STYLING DETAILS
---
1 | BOLD LIP | Whenever I'm wearing something super casual like this look I like to add a pop of red. Just to give it some polish and trick people into thinking I put some effort into it. Works every time!
Next time you're rocking jeans and a tee or something super simple try adding a bold lip colour and see how that feels. Pretty sure you'll feel fabulous! 
2 | MIDDLE THREE | To keep an oversize button-down from feeling to bulky I like to only button up the middle three buttons, especially when wearing it over high-rise denim. Then it has a bit movement and an even more relaxed vibe. Plus, easy pocket access!
If you're inclined to wear your button-down untucked, try the three button trick! It's just about the easiest styling tip out there.
3 | MODERN TAKE | Everything in this look is sort of a modern take on a classic. The white button down is a quintessential staple, updated with big front pockets. These jeans are a reinvented version of a classic 90's vintage fit (aka Mom Jeans). My black boots and black bag have a contemporary cut. So even though this outfit has been done a zillion times already, it doesn't feel stale (at least note to me!).
When you're investing in timeless staples look for something special about them that sets them apart. It will help them feel more unique to you. It doesn't need to be flashy or even overtly noticeable, just an interesting detail or a smart cut that takes them up a notch. 
4 | BLACK ACCESSORIES | I guess I'm into matching accessories these days but for some reason it just feels right. I matched my boots, bag and watch, all in black for a touch of continuity throughout the look. Adds just the right amount of polish to feel purposeful.
Matching accessories or elements within a look that are not side by side is a great (and easy) way to add some continuity without it feeling matchy-matchy. 
---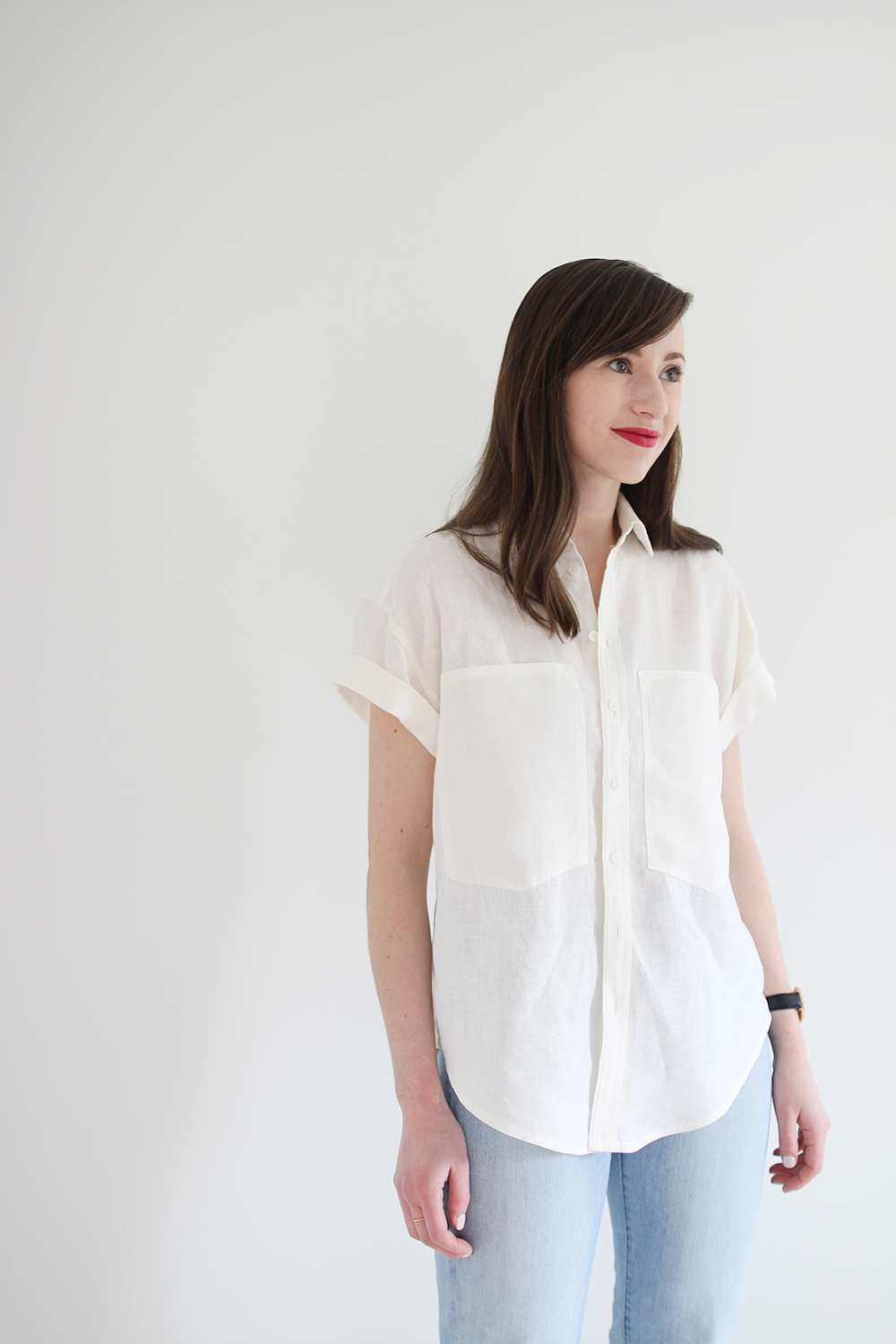 ---
ITEM SPOTLIGHT – THE PERFECT SUMMER JEAN
---
These jeans have been in my closet now for a couple of years and they're still one of my favourites. They're the Perfect Summer Jean from Madewell and I originally reviewed them on the blog before I was committed to shopping responsibly (also when I had short hair and did hilarious poses). Even though they're mass-produced in China and Madewell is pretty tight-lipped about their manufacturing partners, I still consider them a relatively responsible purchase, all things considered. One reason being that they've held up extremely well and another is because they're a timeless style and one that I know I'll have in my closet for more years to come. In fact, I have two pairs in different sizes! One is this pair and another is a larger size (bought first) that has a much more relaxed fit that's perfect for lounging around, cottage-ing and camping.
I've looked for a pair of vintage Levi's like these forever and just haven't found them (yet) so for now these are my go-to vintage fit jeans.
Here's a quick run-down on them:
SIZE: I sized down for this fit, which hugs my waist, hips, butt and thighs just enough but not too tight, while the leg is slightly relaxed and the length is cropped at the ankle. I'm wearing a size 25 and usually wear a 26 in Madewell denim. I also had to have the waist taken in slightly for a perfect fit.
RISE + INSEAM: The rise on these is 11″ which hits right at belly-button level on me and the inseam is 28″ which hits about 1.5 inches above my ankle and pairs perfectly with my Mars boots.
PRICE: $115 USD
FABRIC: These are 100% cotton which means no stretch but also what gives them a truer vintage fit. Plus the lack of stretch means they hold their fit (and the butt in them) really well. The wash of these jeans has maintained since day one, no fading or any issues on that front either.
WASHABILITY: I wash these jeans very seldom and usually only when there is a stubborn stain. They go in the machine, then I tumble them for 20 mins on low and let them hang dry overnight. They're usually stiff afterwards but soften right up again within an hour of wear.
RESPONSIBLY MADE OPTION: This pair by ALGOLDE looks very similar (but has a button fly so even better) and is made in the USA of 80% Organic Cotton 20% Recycled Cotton. They're $158 USD and are currently part of ShopBop's 'EVENT17' 20-25% OFF sale. If I was buying again I'd definitely go for these! 
Do you have a pair of these cult faves? Or are you one of the lucky ones who've nabbed a perfect vintage pair? Maybe this style ain't yo thang, and that's cool too! 
---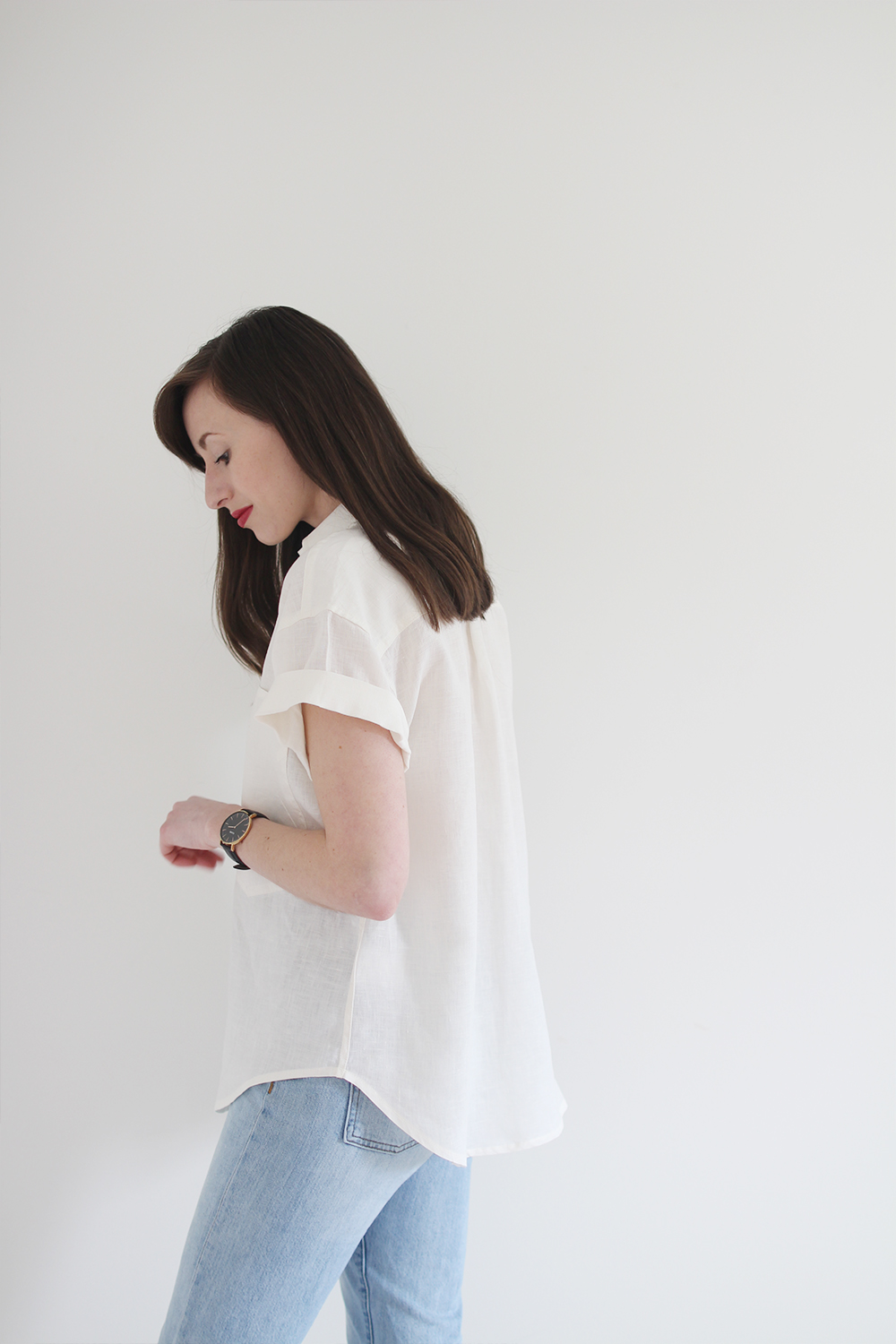 ---
COAT ADDITION
---
So I'll admit this vintage houndstooth beauty was an impulse buy earlier this year. But I have always dreamt of an oversize houndstooth coat and it happened to be the perfect rendition (and well within my price-point) so I pulled the trigger. I found it online at Frances May, one of my personal favourite sites to window shop and this reversible dream spoke to me. I'm so glad I snatched it up, wear it all the time and it's the perfect weight for this brisk spring day we've got today!
Yes, I know, lots of new coats popping up here lately but they've been way too good to pass up and all will be well-loved and well used! I mean, it's still Canada up here and Spring does not guarantee warmth!
---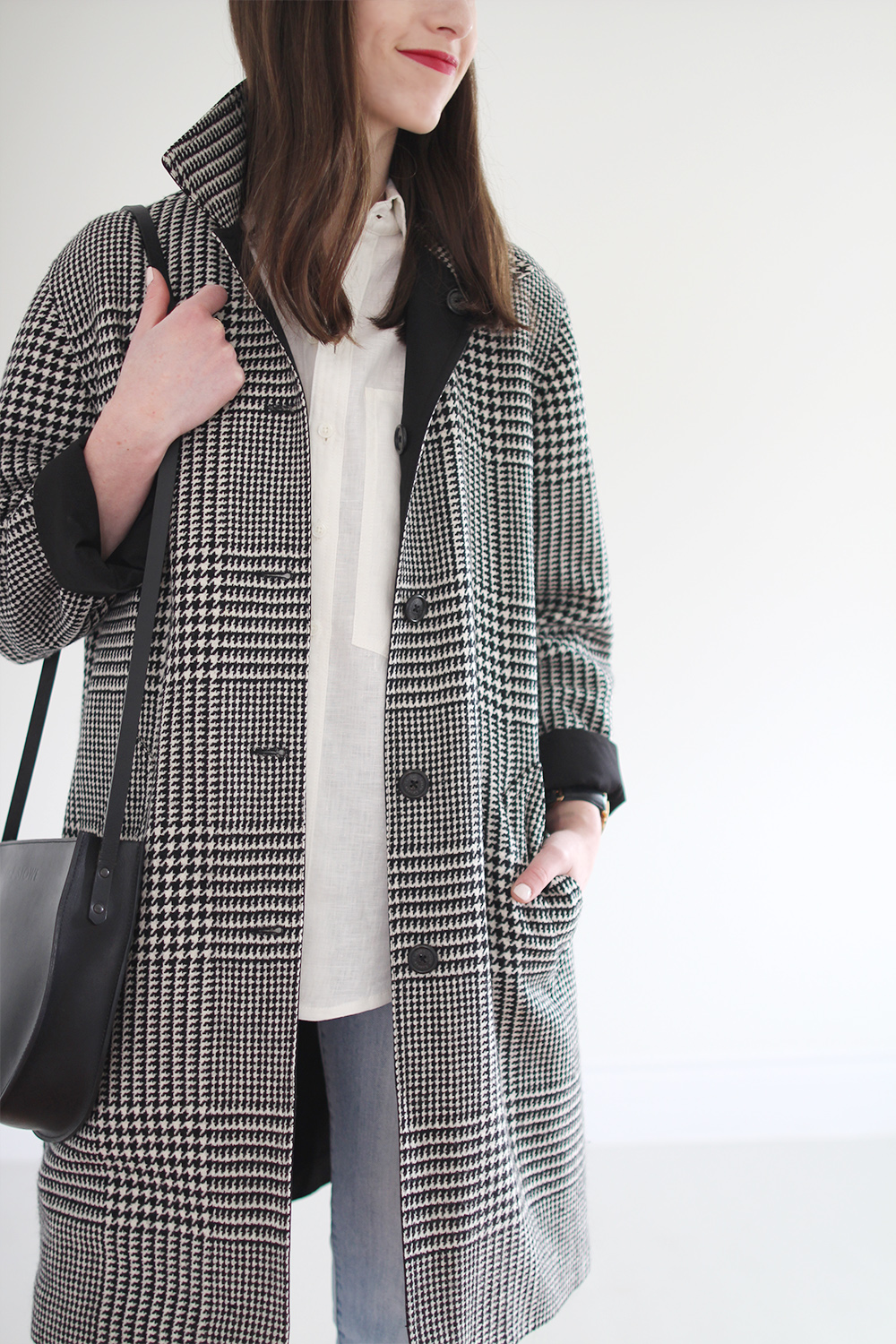 ---
1 | LINEN BUTTON DOWN | c/o Power of My People (new) | $165 CAD | Made responsibly in Canada | The lovely folks at P.O.M.P. have generously offered Style Bee Readers 20% OFF sitewide during the 10 x 10 Challenge! Just use code: STYLEBEE when you checkout. 
2 | VINTAGE FIT JEANS | Madewell (2 yr old) | $162 CAD | Imported | Responsibly US Made Option by AGOLDE ($158 USD)
3 | MARS BOOT | Rachel Comey (6 months old) | $426 USD | Made in Peru | Similar for less here ($240 USD) also made responsibly.
4 | WATCH | c/o CLUSE | $99 USD | Imported.
5 | HOUNDSTOOTH COAT | Vintage RL via Frances May | *Linked to similar in blazer form.
6 | ELOISE BAG | The Stowe | $378 USD | Made in Montreal | Receive $20 Off when you sign up here. 
7 | LIP COLOUR | Napa Vineyard by Burt's Bees | $9 USD
---
We're barreling towards our midway point friends!
Tune into my Instagram Stories (@leevosburgh) later today for a look at this one in action. Be sure to see what Caroline is up to over on her blog and Instagram too!
Have you worn all your 10 items yet? I still have 1 piece left, so I'll see you tomorrow with Look #5 (or on the #Spring10x10 Hashtag)!

---
This post is not sponsored but contains affiliate links. When you shop via the links above I may make a small commission from a sale. Thanks for supporting Style Bee! All opinions are always my own.