Doesn't it feel crazy that we're already well into the month of August? Summer is always a fleeting season but I'm trying really hard to remember that we've still got lots of good times left! Plus, if I'm being honest, Fall is my favourite time of year, so I never really dread it.
Actually, the approaching pre-fall season is kind of the best of both worlds because we get to dip into some autumnal sartorial goodness while still enjoying the warm weather, long days and carefree energy that only the summer can offer. So when the lovely folks at Tradlands, a cult favourite for impeccably and ethically made shirts and basics, asked if I'd like to test out some of their best sellers I jumped on the opportunity to style them for the in-between season to come.
By now we all know that a classic button down and a perfect t-shirt are elusive essentials that can be hard to find but once acquired become instant closet heroes. After falling hard for one of Tradlands basic tees earlier this summer I knew this brand was going to become a go-to for staples like button-down shirts and other closet classics. So for today's post I'm excited to share a few of my favourite pieces in four different looks I've styled for the transitional weeks and months ahead! Let's have a look shall we?
---
TRADLANDS is offering STYLE BEE readers 20% off all orders with code 'STYLEBEE20' now through August 31! 
---
LOOK 1 – THE RORY SHIRT
---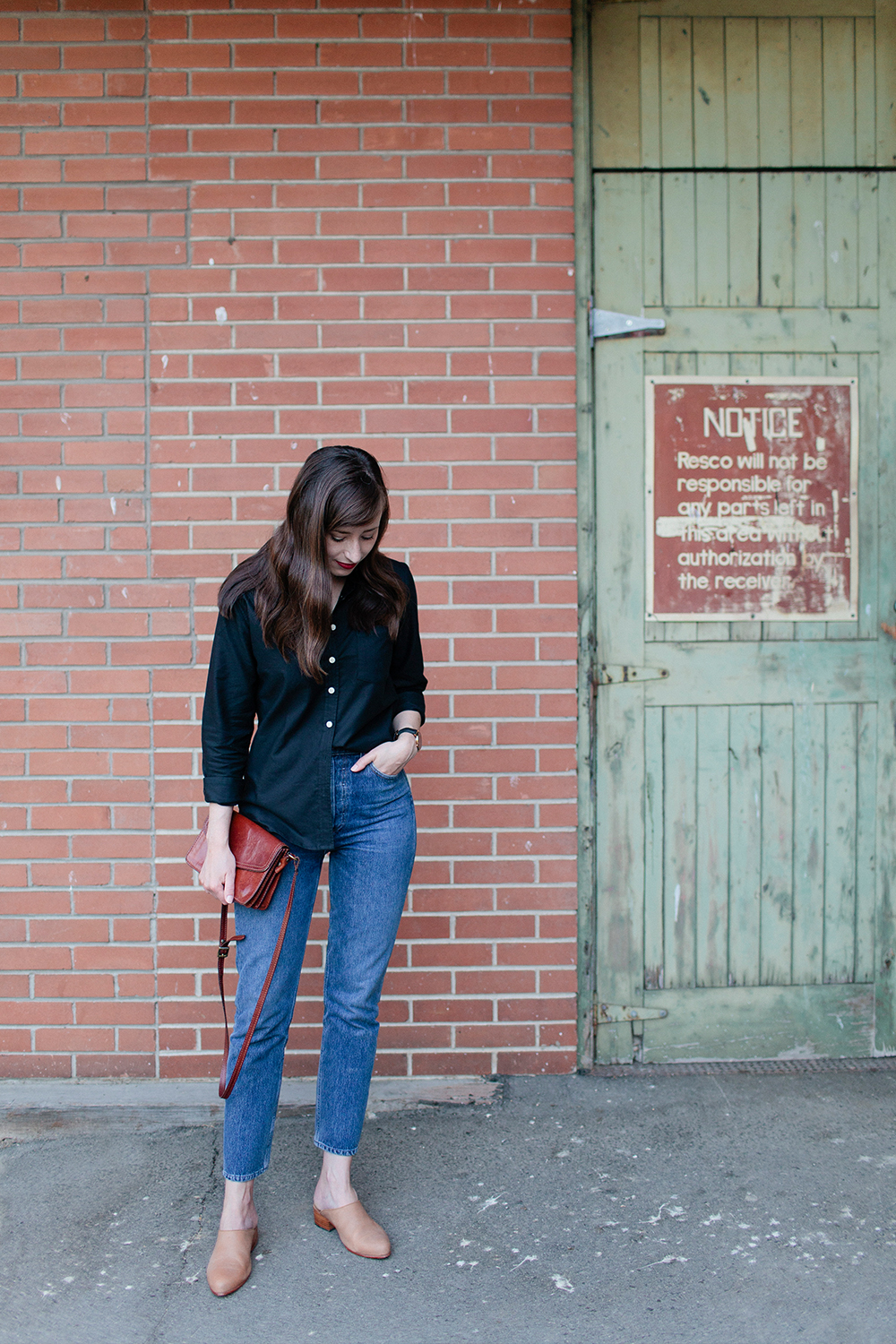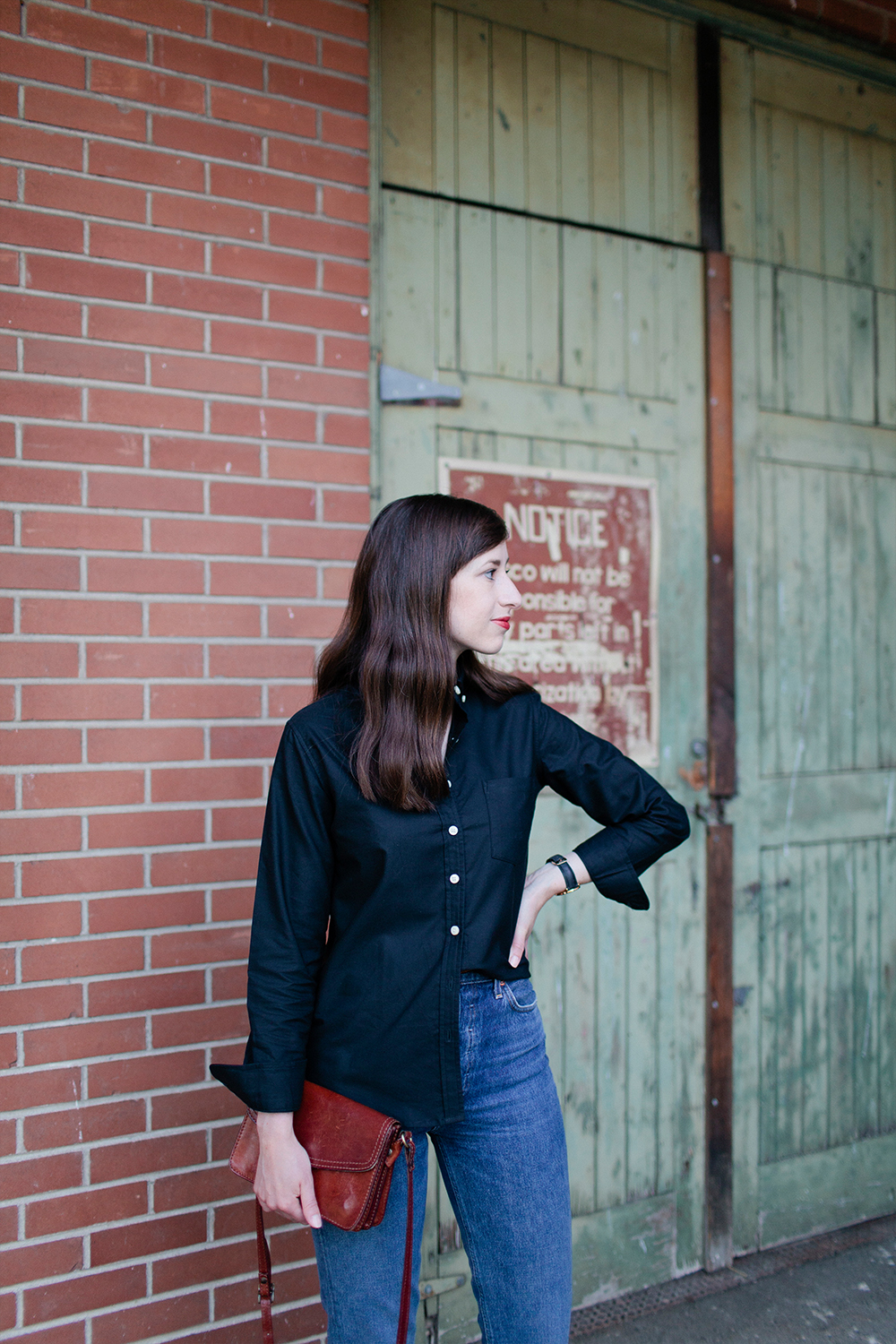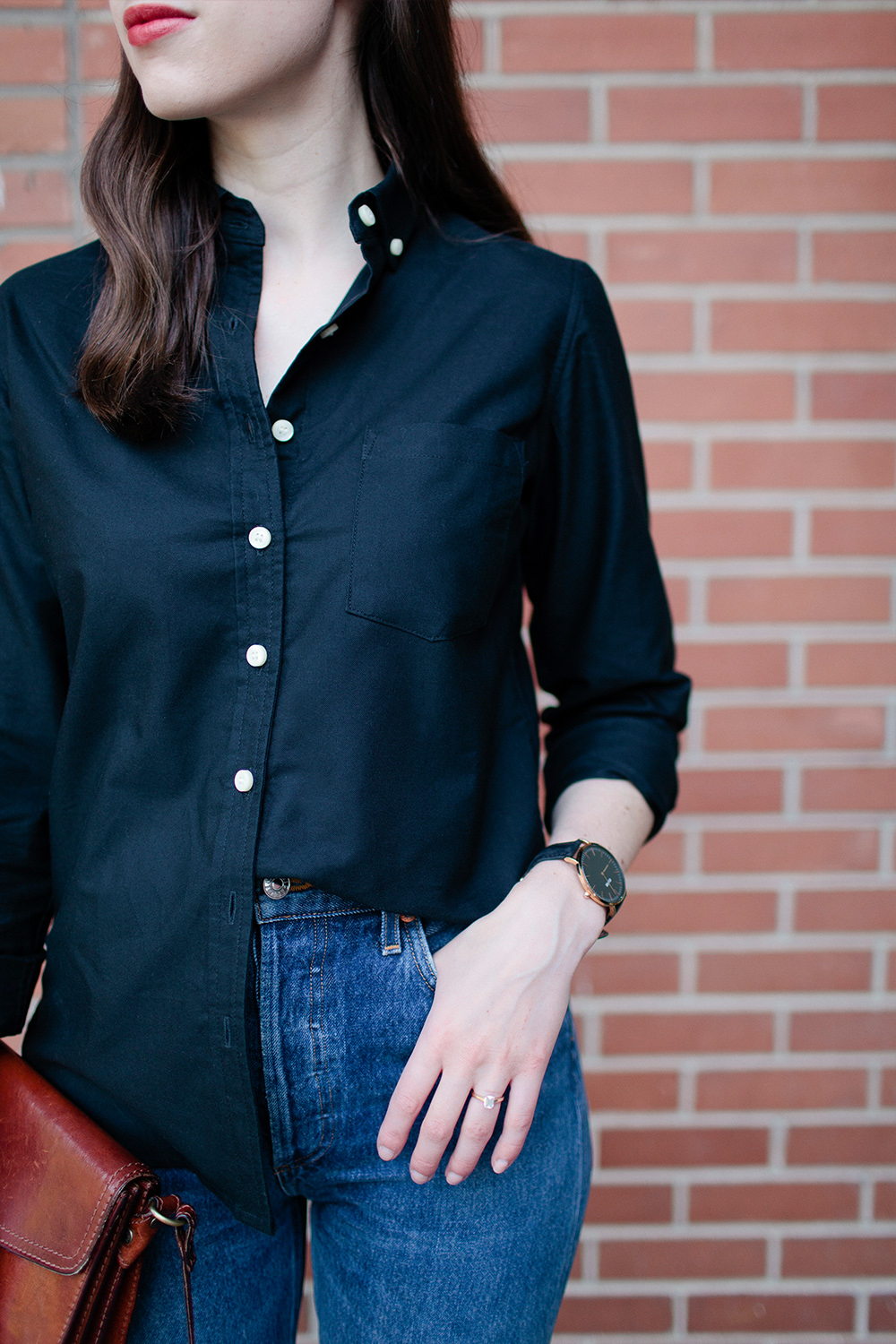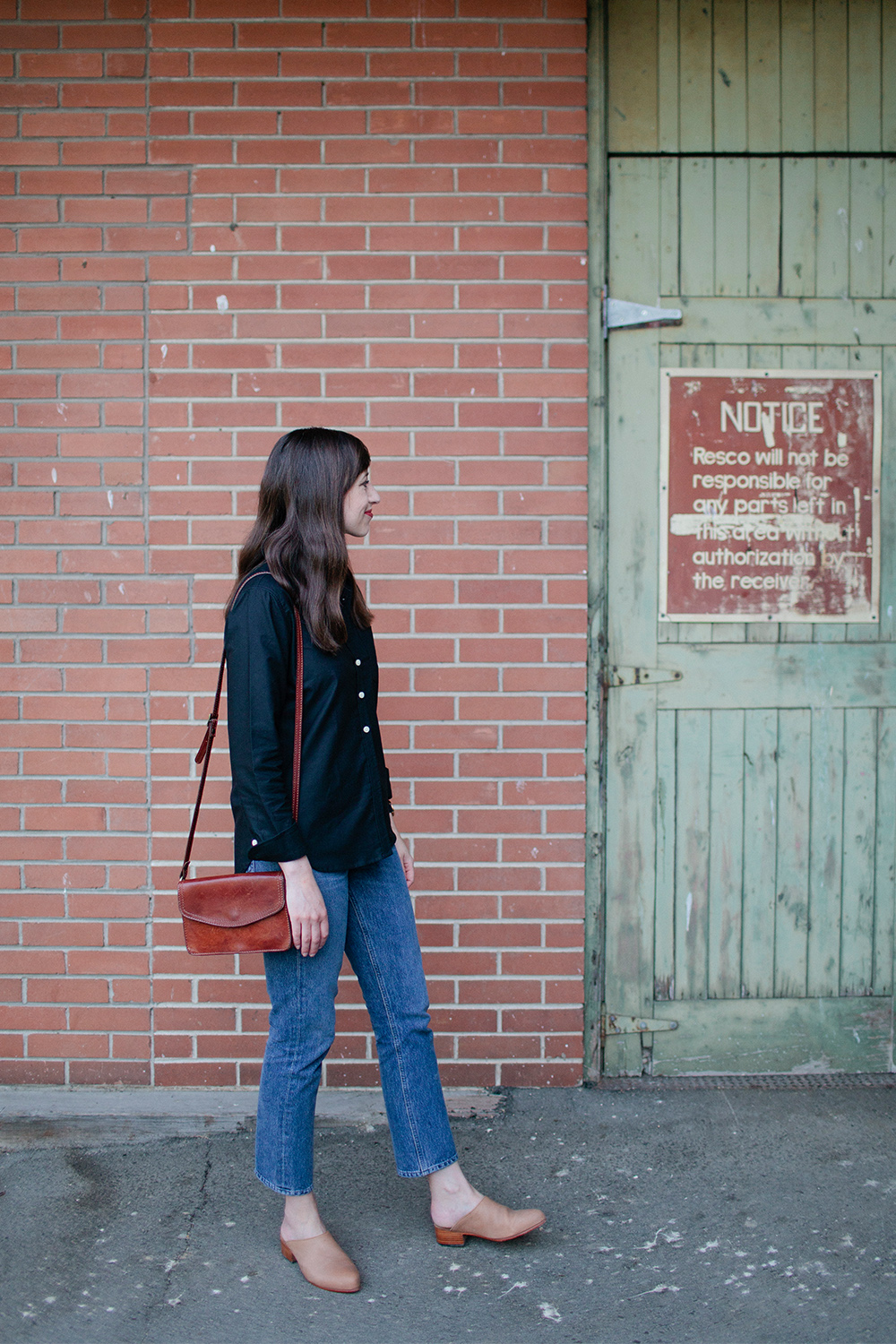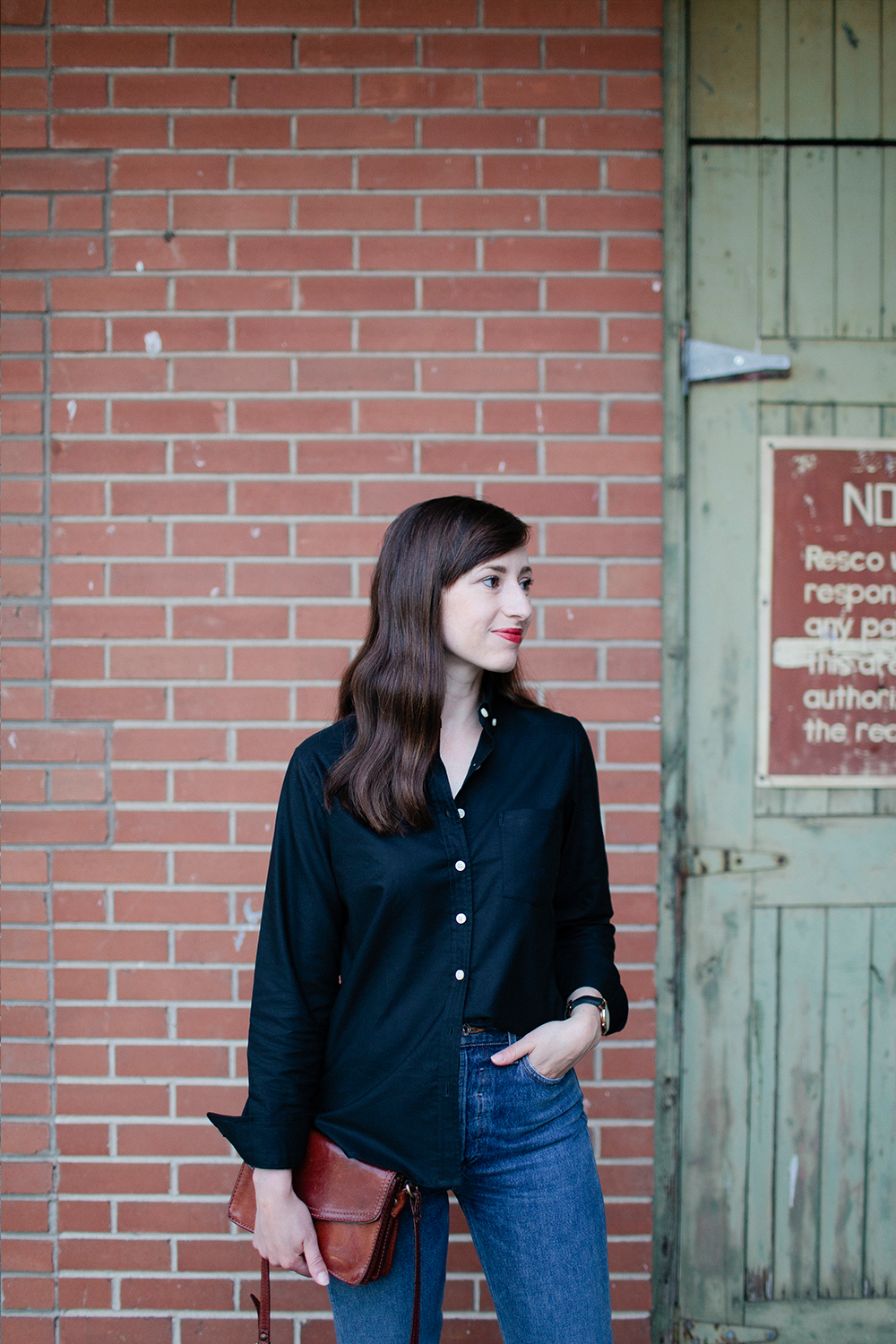 ---
This look is an ideal everyday outfit for me. It's great for working in the office, zipping out for meetings, running errands, grabbing a bite with the fella, walking the pup and just about anything else that comes along. If I'm cold I can throw on a jacket. If I'm hot I can switch to sandals and/or shorts.
I'd been after a great black button down for ages but they're surprisingly hard to come by. I loved the Rory Shirt right away because of its sturdy, rich cotton and those beautiful, thick, contrasting pearl buttons. I kept this look very simple here and wanted to let the shirt be the focal point. In terms of styling I simply buttoned the middle three buttons and tucked in the left side for an asymmetrical, styled but not styled kinda vibe. A single turned up cuff, classic denim, a rich lip colour and a few warm accessories definitely steer this one into the Fall territory without it feeling heavy.
STYLE TIPS:
HALF TUCK | A slightly fitted button-down shirt that's not too long is a great option for this trick. Simply button the shirt to the top of your waistband and tuck the left side (or whichever has the buttons) into your pants. Leave enough untucked to fold over your waistband and adjust as needed so it lays fairly flat and wraps around the back on an angle.
LIGHT SHOE | A light leather or nude toned shoe is a great way to keep your look feeling light when you're wearing darker pieces up top.
WARM IT UP | Grab a rich accessory like a vintage oxblood bag or caramel tote to add depth and interest to a basic look. Adding a bold lip colour is another easy way to go about this trick.
---

---
---
LOOK 2 – THE CHARLIE ORGANIC SHIRT
---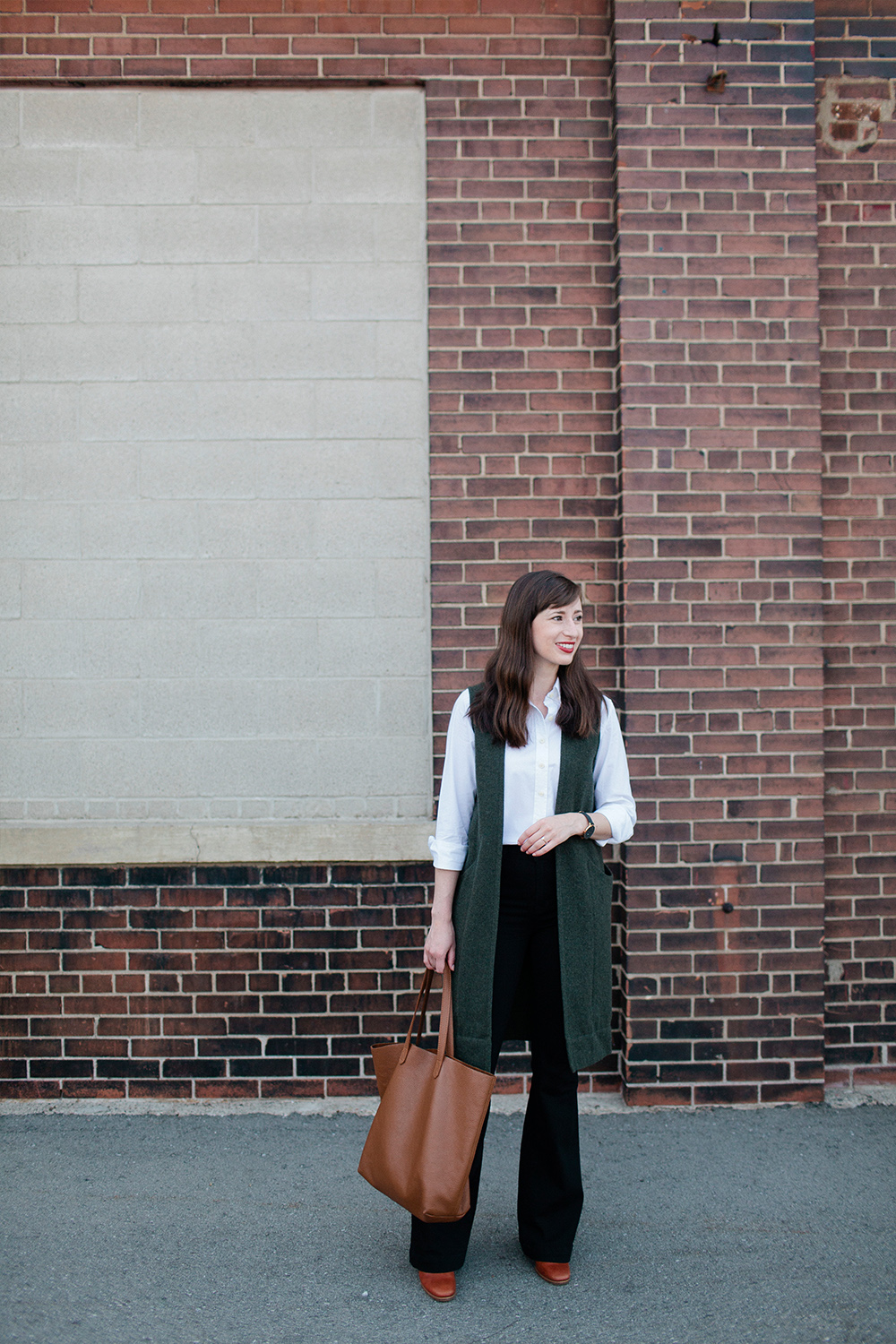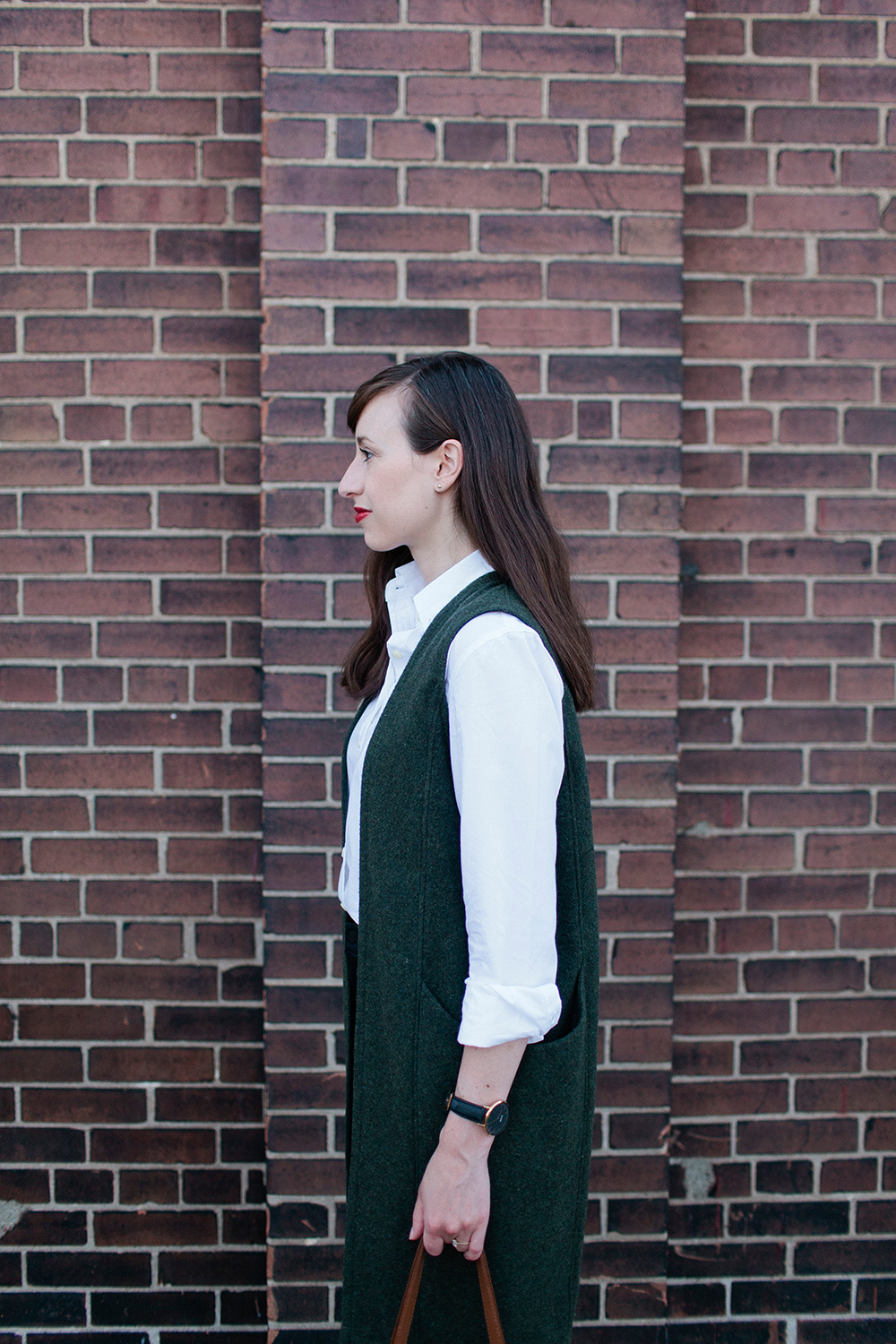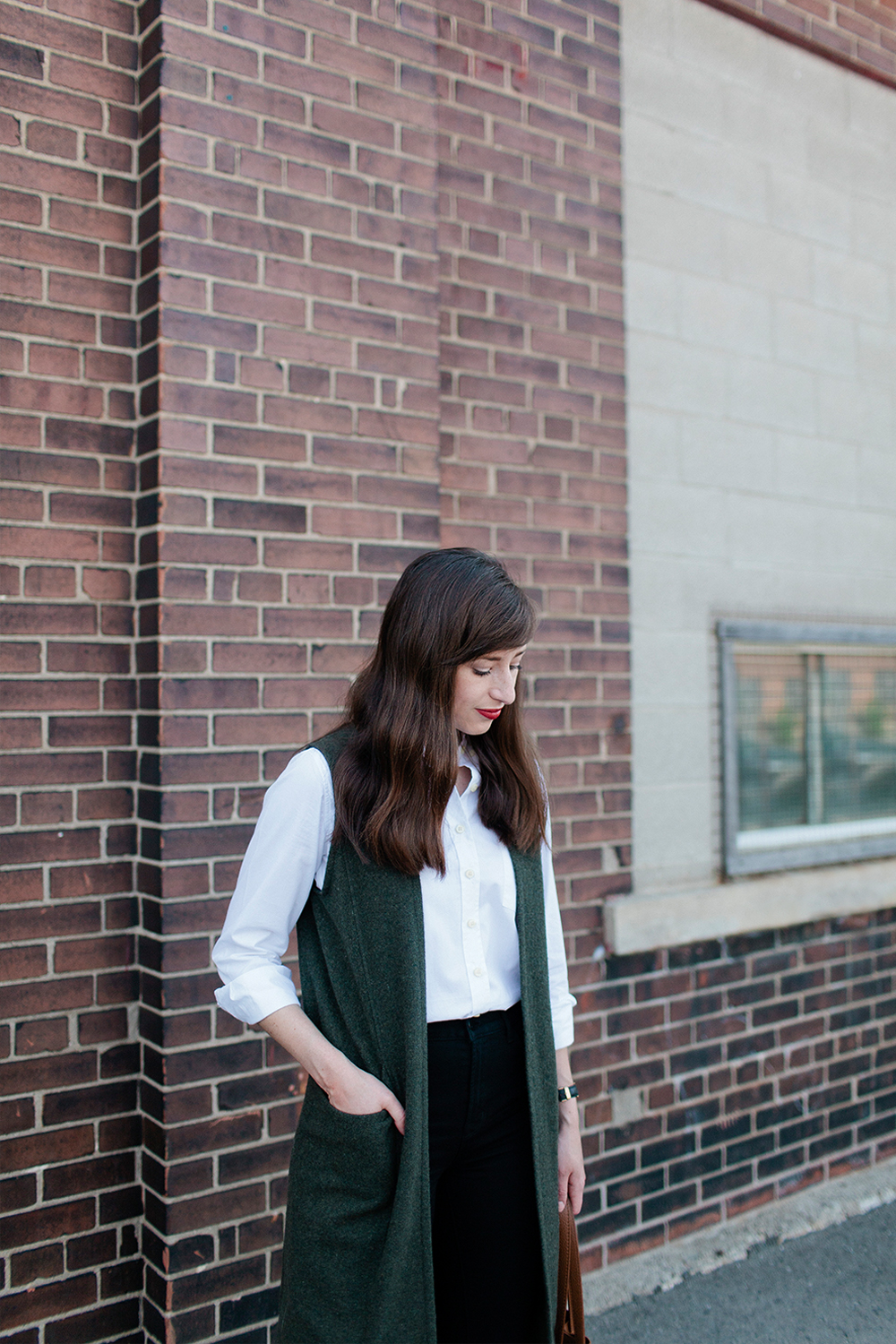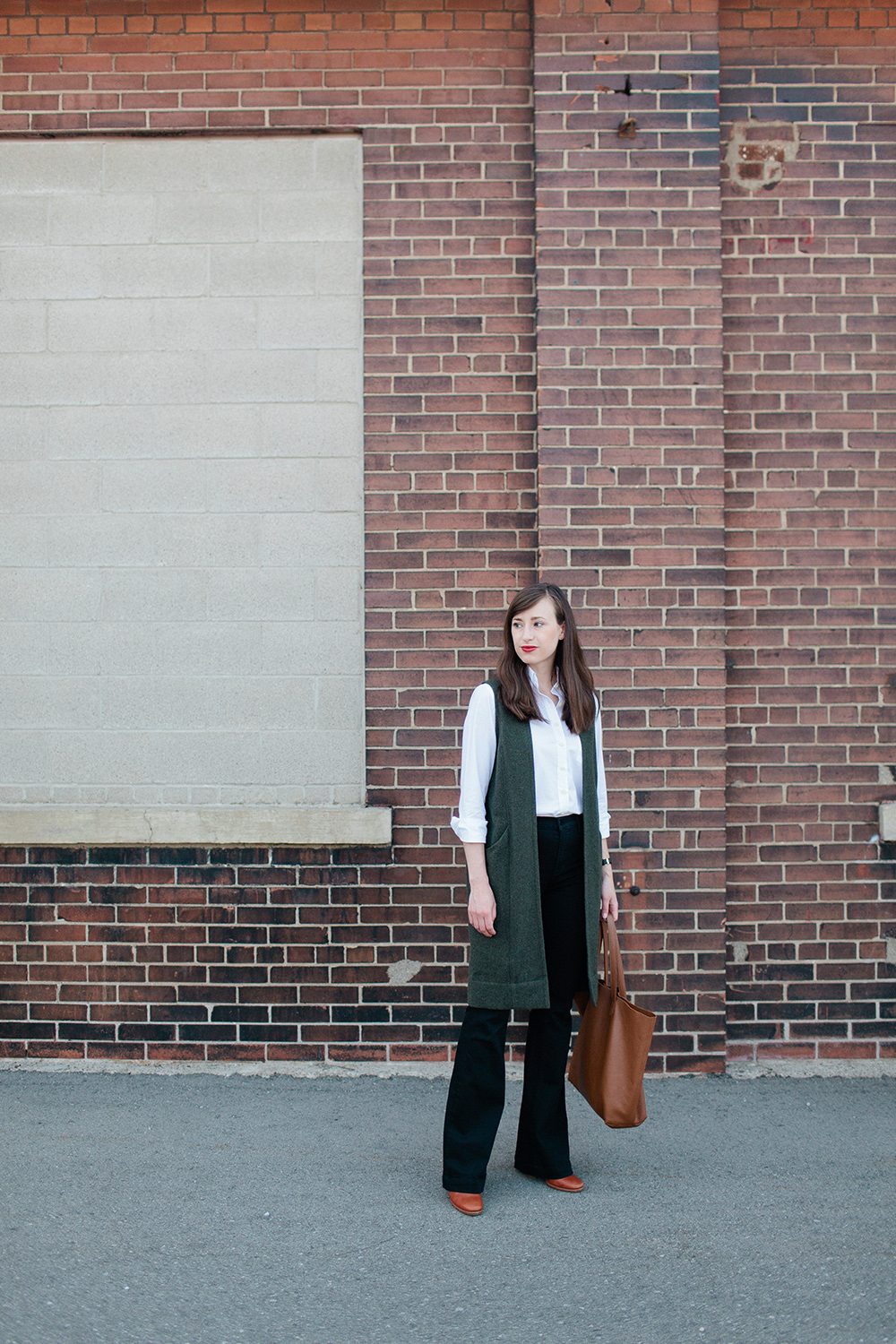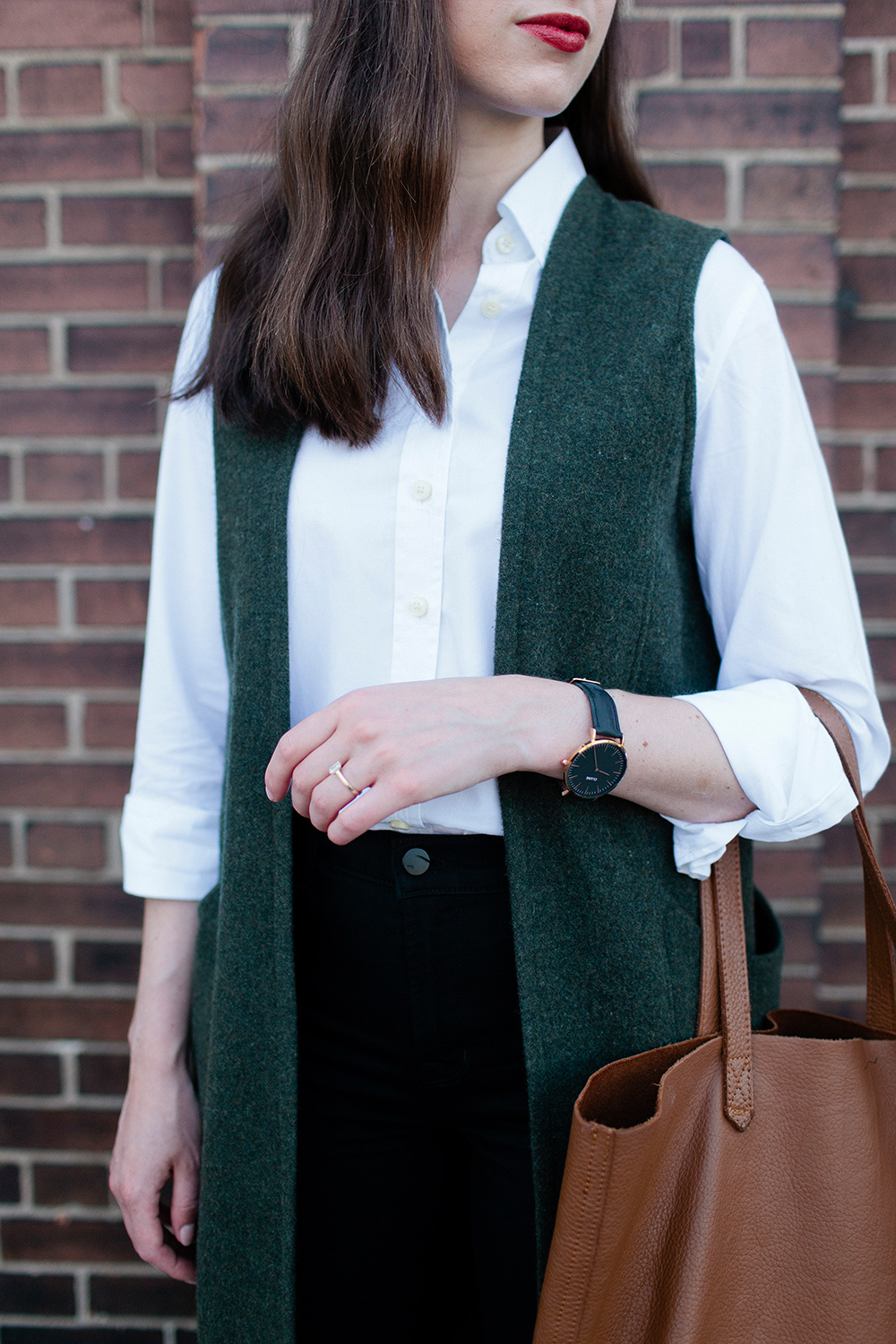 ---
Hello delicious Fall colours! This look has one of my all-time favourite palettes going on and I love the mix of textures and tones. It's definitely leaning hard towards the Fall end of the seasonal spectrum but I'm keeping it in mind for cooler August evenings and early September days.
I love the clean, crisp, stark whiteness of the Charlie Organic Cotton Shirt and how the fit is just relaxed enough that it's not too tight (at all) to stand alone and yet it's still slim enough to wear as a base layer under a vest, blazer, sweater or coat. It would also be great under a sturdy jumpsuit like this and I love it tied into a front knot over my Kamm Pants.
Basically, if you've been on the hunt for a classic white button-down, this is it. The fit is a dream and feels like menswear that was tailored ever so slightly for a woman. Plus, the cotton is very smooth and comfortable on the skin. It feels almost like a poplin but a touch heavier (ie: more opaque) and less prone to wrinkling. It easily tucks into high-rise jeans but looks great worn loose over a skinny or boyfriend fit jean thanks to a curved hem and side vents. You can't go wrong with this one folks!
STYLE TIPS: 
BLACK + WHITE | It really doesn't get more timeless than a classic white shirt tucked into black denim. It's one of those combos I know I can always rely on to make me feel polished, presentable and still totally comfy.
ADD A VEST | I'm a huge fan of the duster vest and they're actually most ideal for transitional weather. They add interest and dimension to a look without adding too much weight and they make for one of the easiest layering pieces.
OPEN NECK + ROLLED SLEEVES | To keep this very crisp button-down from feeling too sharp I left the top buttons open and rolled the cuffs a couple of times for a relaxed vibe.
---

---
---
LOOK 3 – THE CATT TEE
---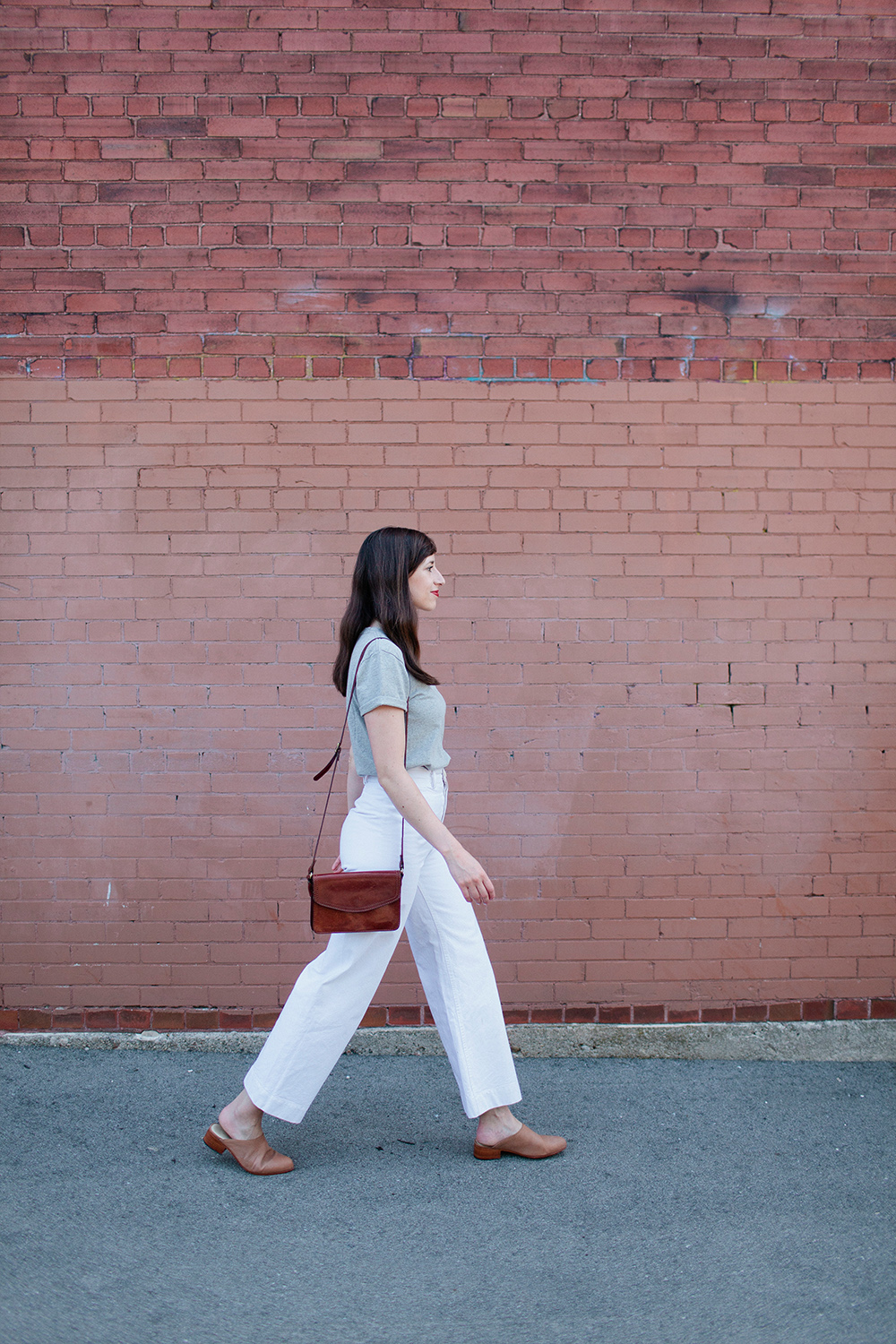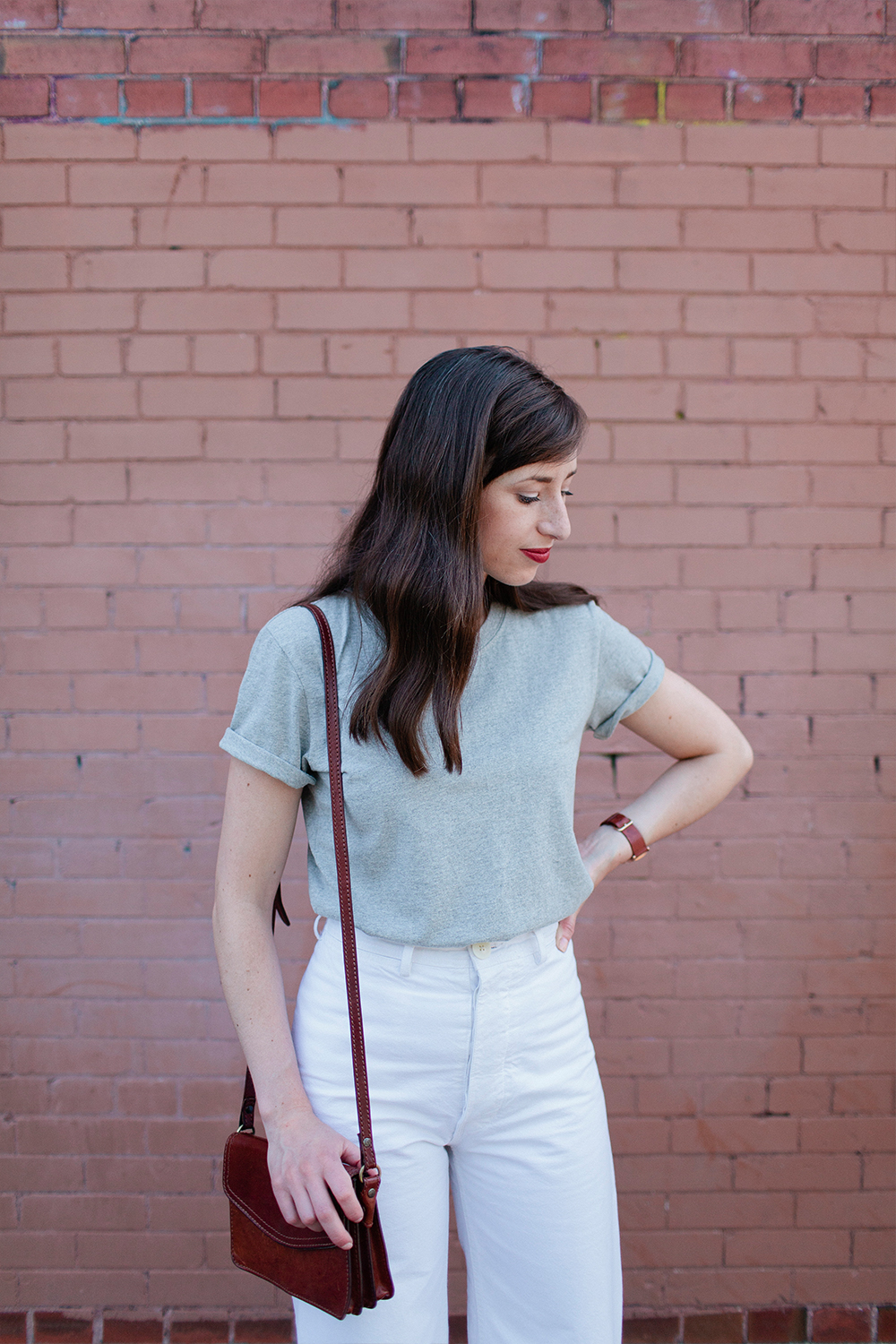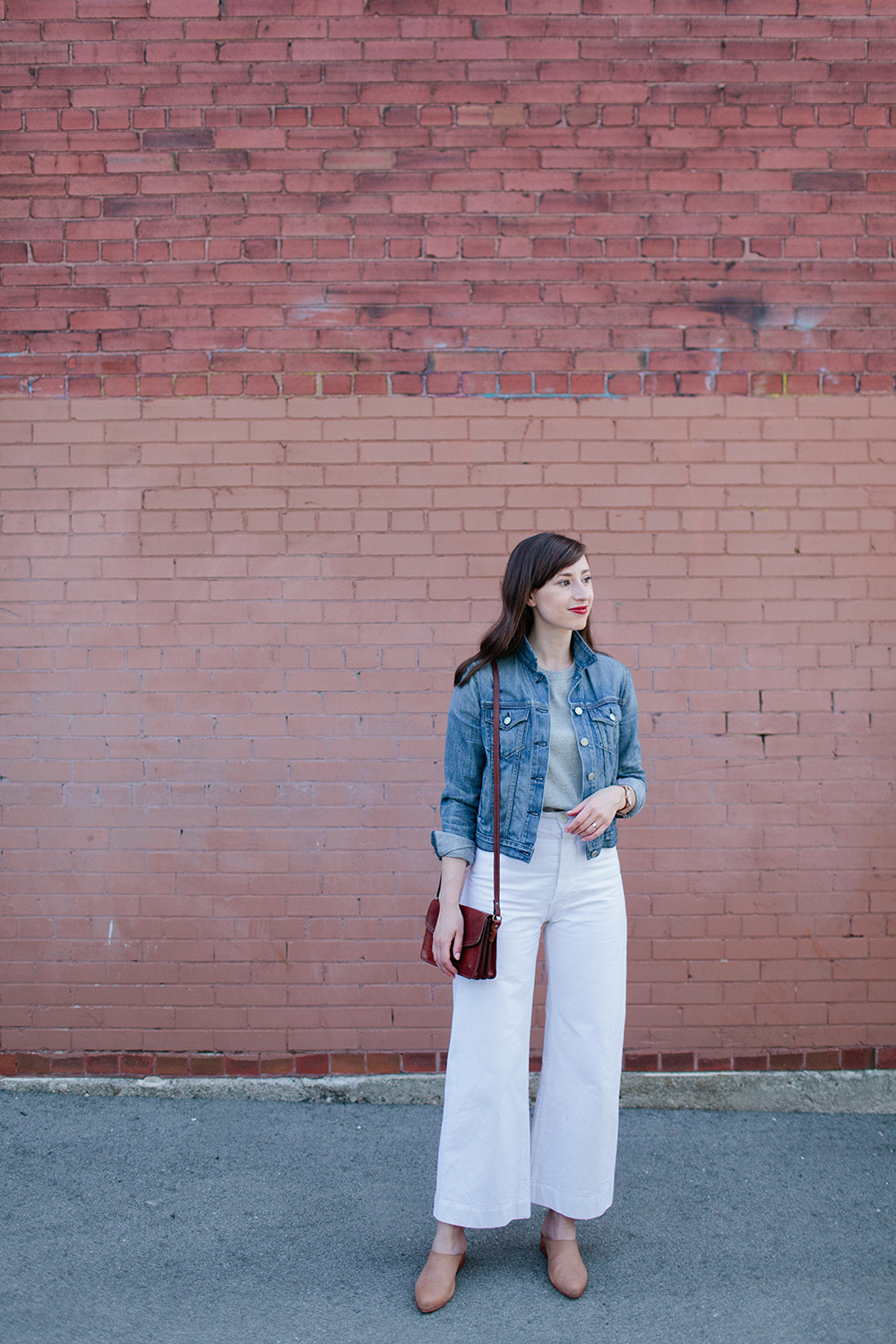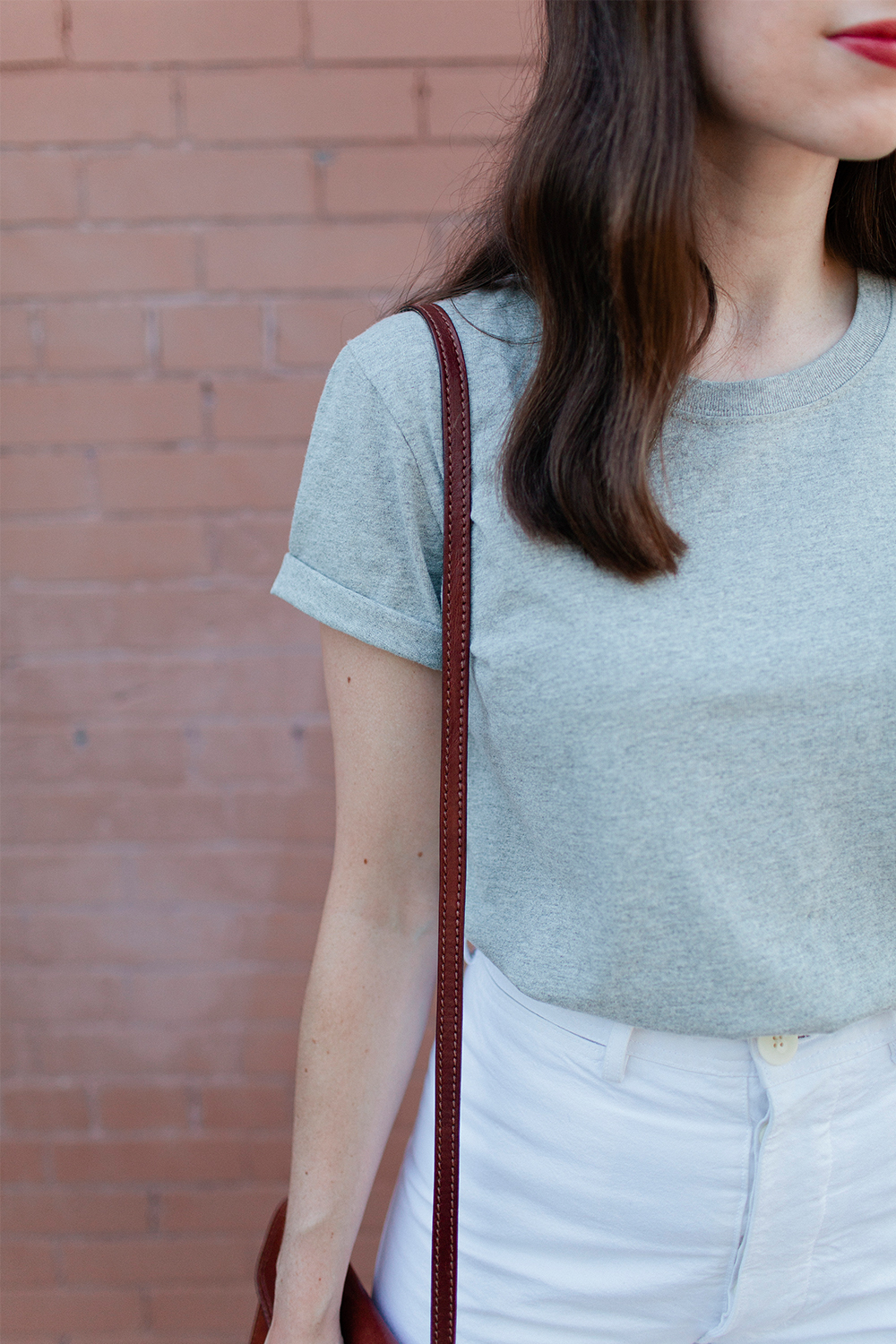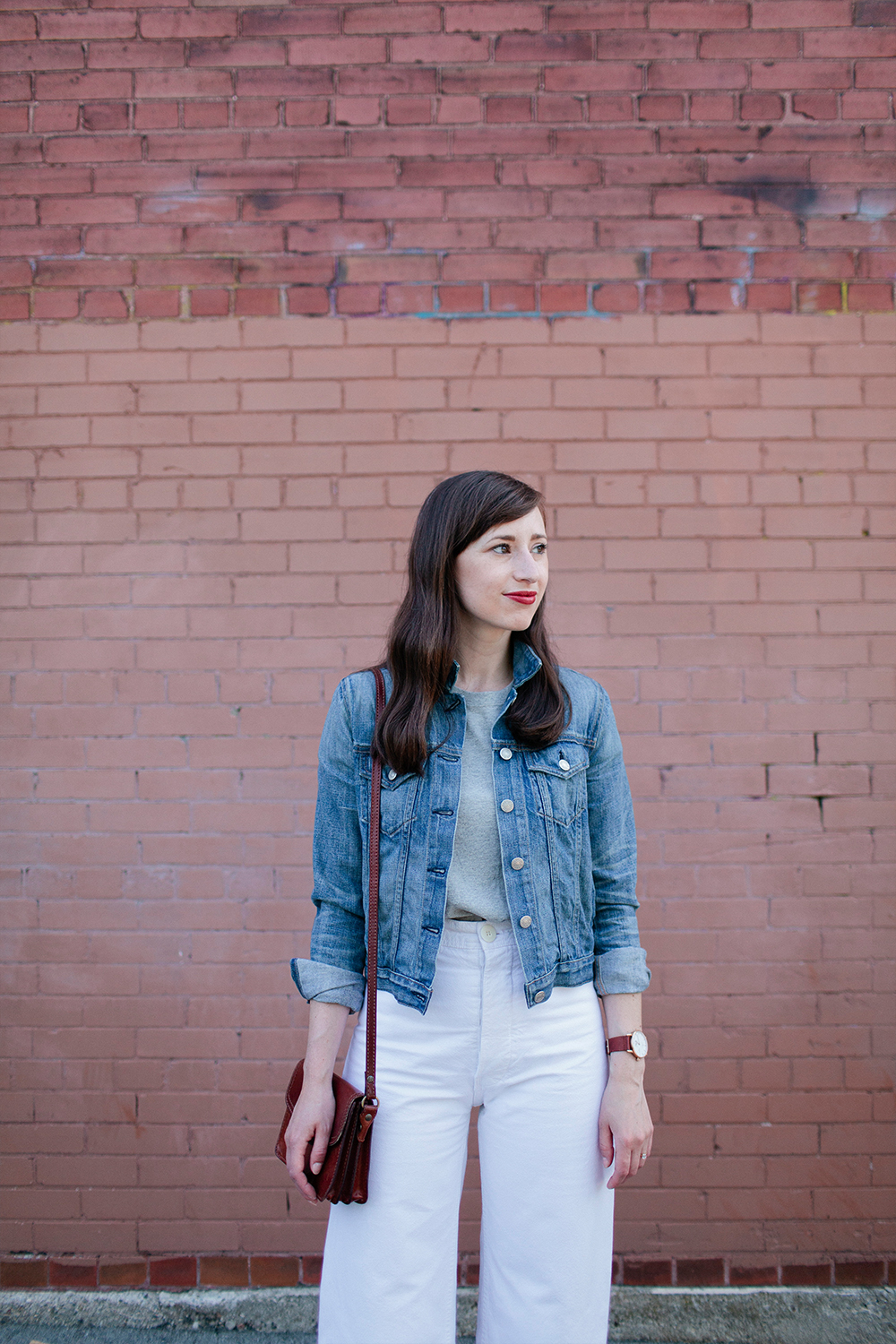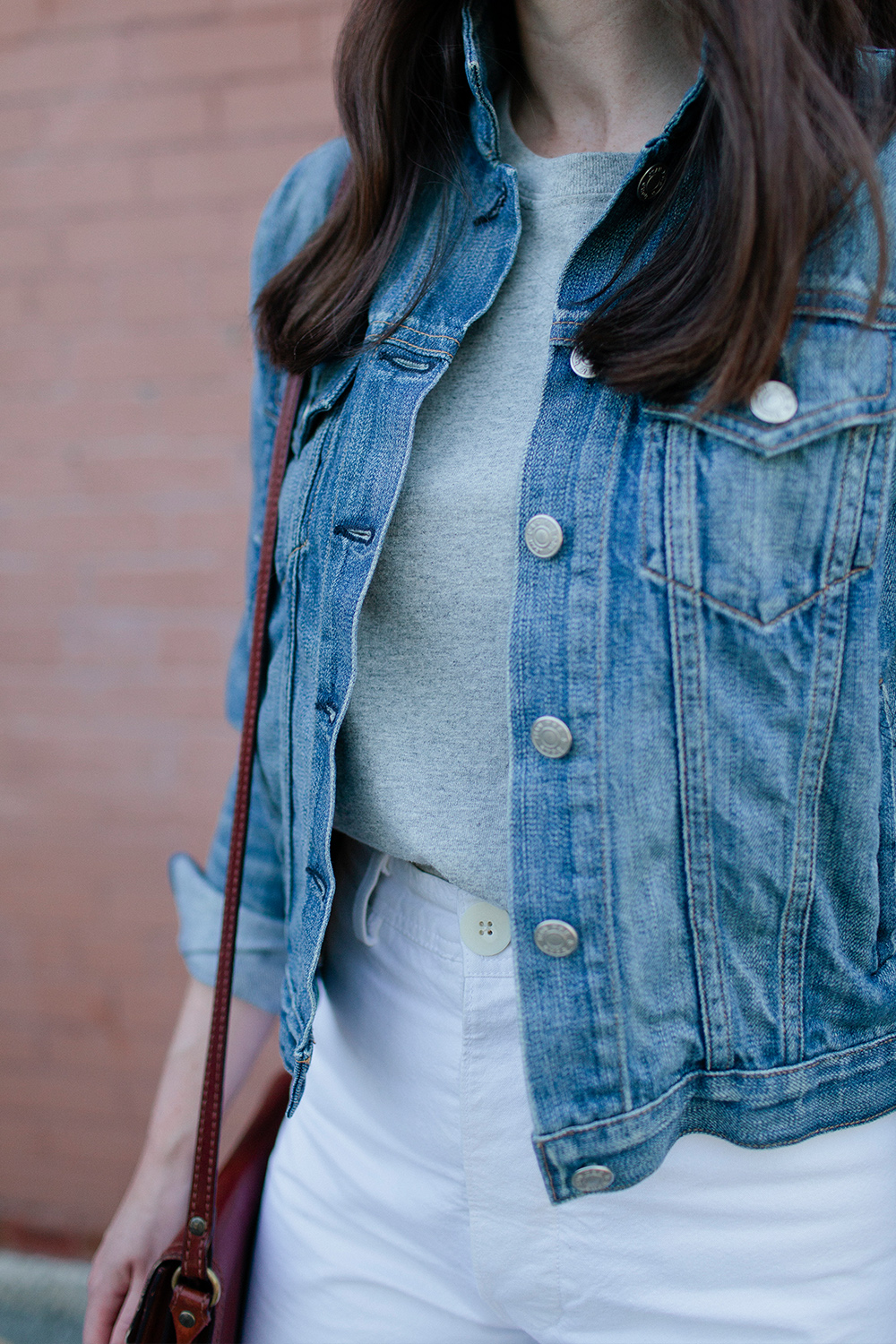 ---
The Catt Organic T-Shirt was the first piece I tried from Tradlands earlier this summer and I fell madly in love with both the weight of the cotton and the fit. It's just like those old fruit of the loom cotton tees you wore a million times growing up (that only got better and better) but designed with a modern fit. This grey one has a touch of polyester content mixed in, which makes it a little softer upon first wear than the other colours (which I also love just as much). Those colours being chalk, ruby and cavern.
I don't have a lot of grey in my closet but I love this timeless heather version. It just seems to work with everything I can imagine. From a wide leg Kamm pant, to a black pencil skirt, to a pair of jeans or under a jumpsuit or sleeveless dress it's essentially impossible not to style well! Throw a blazer or denim jacket on top and you're good to go!
I do wish these tees were dryer friendly. While they dry completely overnight it requires a drying rack and some patience/planning. Ultimately, I imagine they'll last longer this way so I can't really complain. I just want to wear them all the time!
STYLE TIPS: 
CLASSIC PALETTE | White, grey, denim and some warm neutrals will never let you down. Keep it feeling both familiar and fresh with a wide leg pant and the other clean, simple elements throughout.
ROLL 'EM UP | I like to roll my sleeves, which you've probably gathered by now. I don't know why exactly but it always just makes the look feel a little more considered. In this case I rolled the t-shirt sleeves so they fall at a flattering spot on the upper arm and I rolled my jacket sleeves to keep it feeling light and summery.
FULL TUCK | I love the Catt Tees because they tuck in so easily to my high-rise pants. They're not too long so you don't have tons of material to fight with but they're long enough that they don't pop out with wear. They have a slightly slim fit but it's still relaxed enough that you get some nice drape over as well.
---

---
---
LOOK 4
---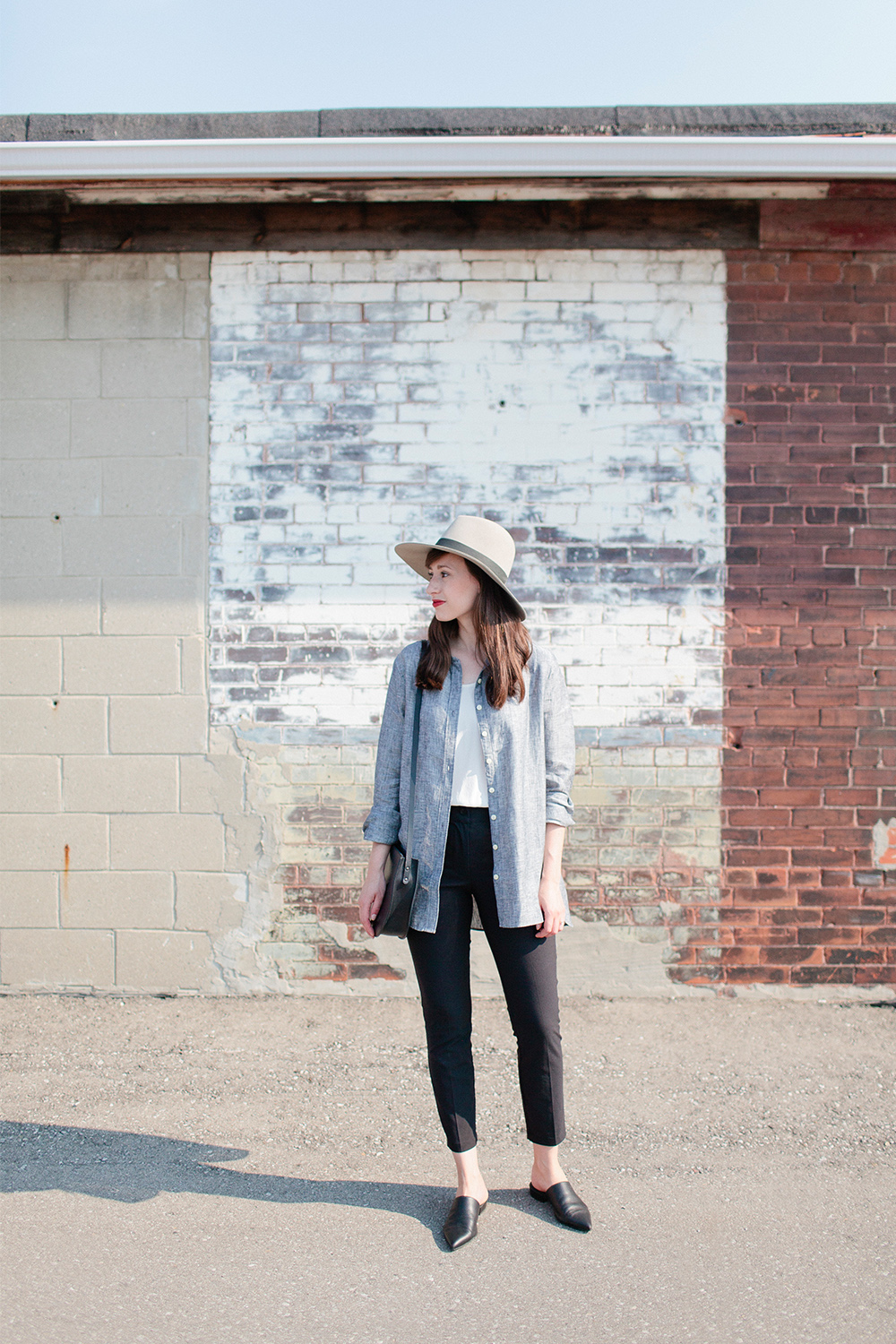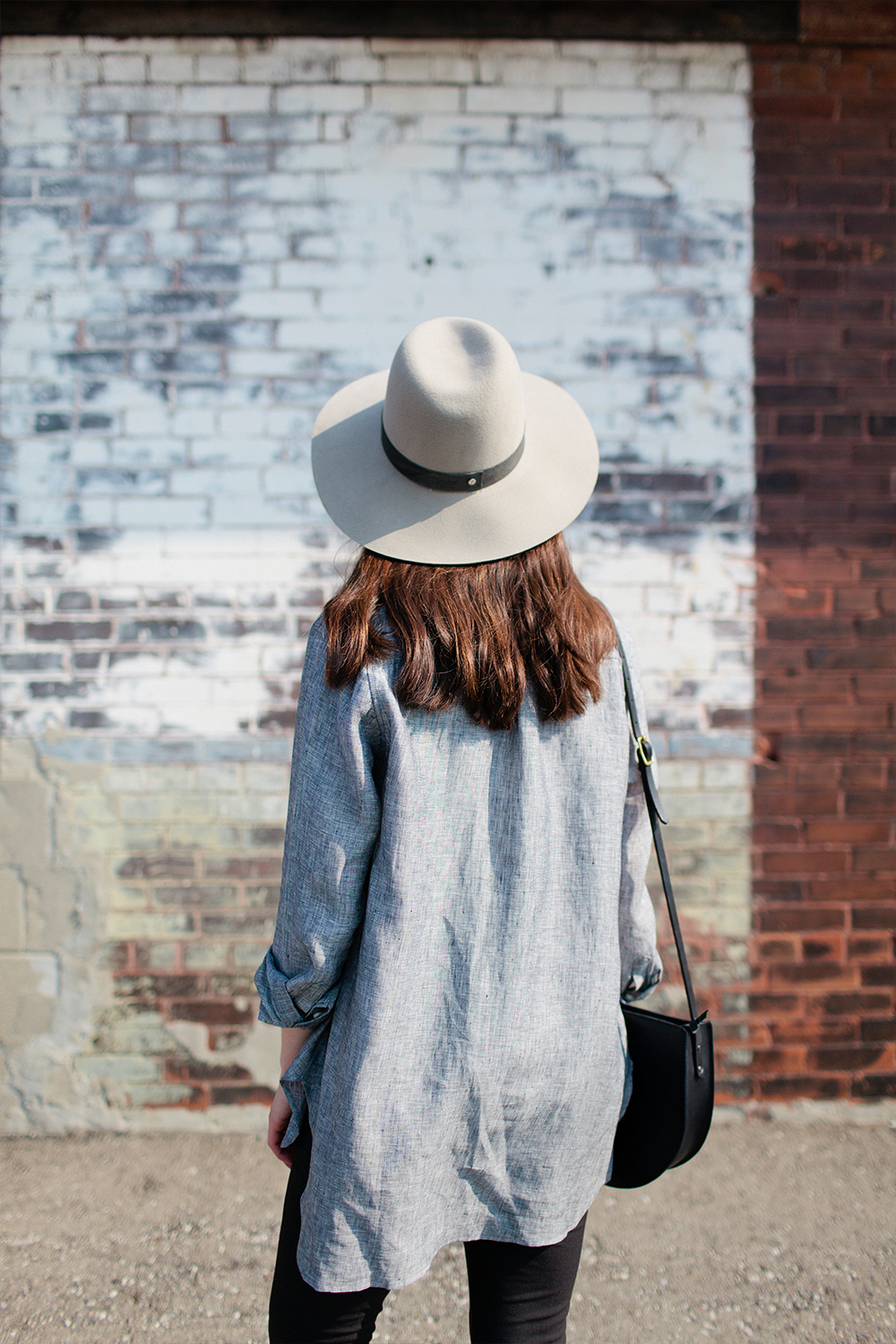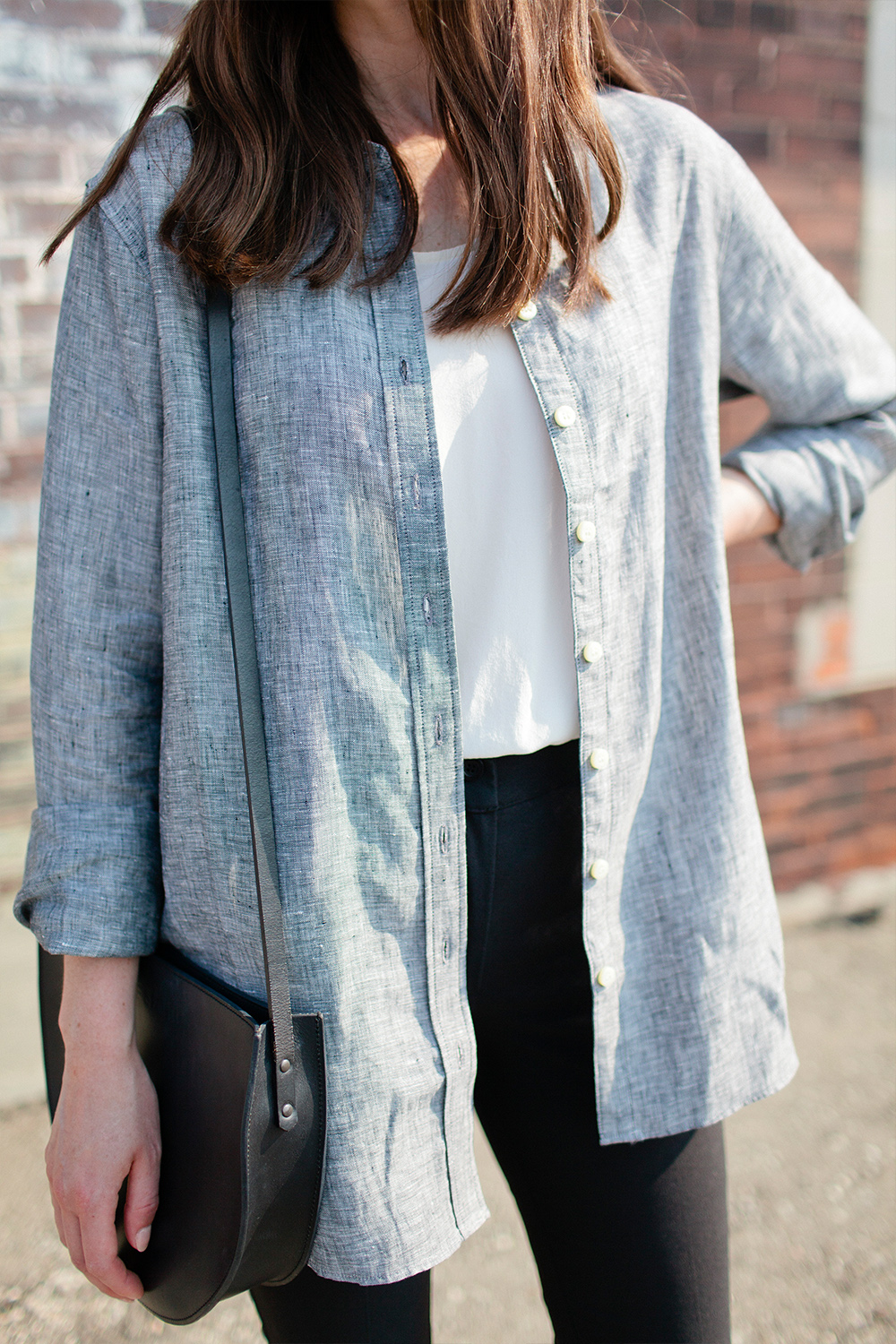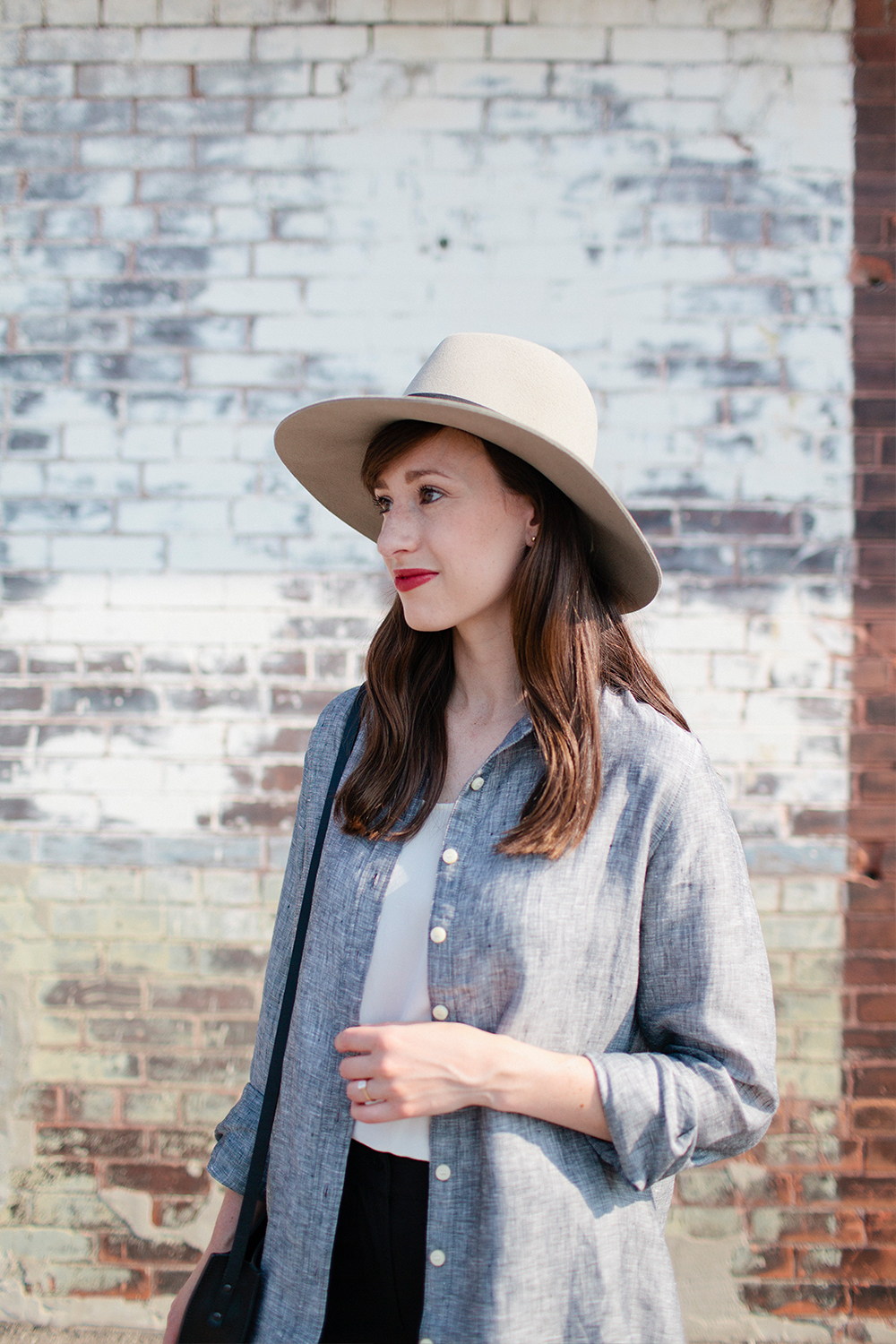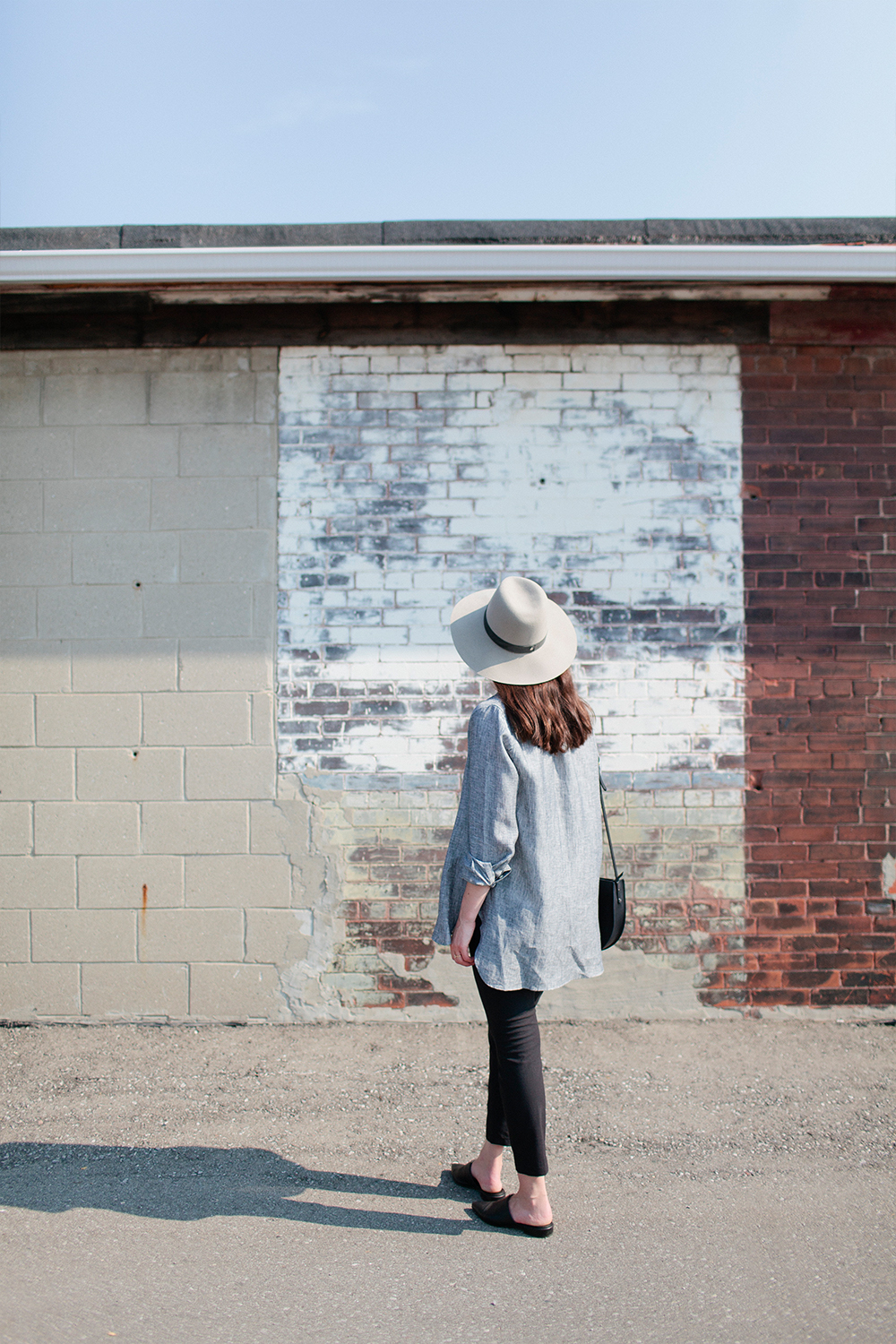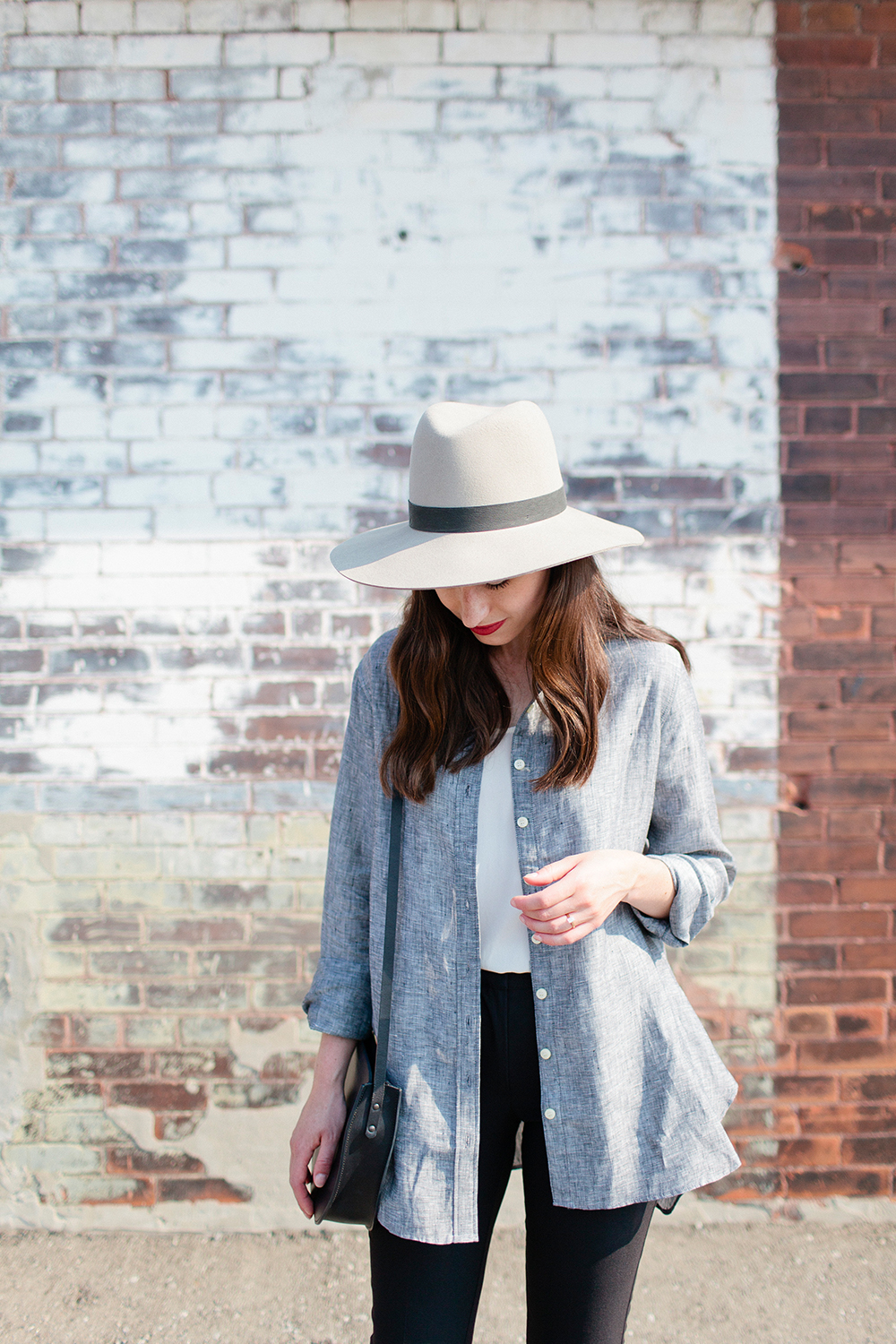 ---
And here we have the final look of the bunch. It might actually be my favourite but it's hard to say! I'm just really liking the proportions and how the cool grey tones are working with the black and cream. This is another great everyday option for me but would also be a good travel outfit. I'd just swap the silk tank for a cotton tee and the pants for a comfy legging.
I was excited to give the Martha Pebble Tunic a try because of the long length and textured grey linen (so hard to find grey linen!). I immediately knew I'd be wearing this one over skinnies and leggings but I really love how it looks worn open over a simple tank. It's light and airy but still sophisticated and polished enough for going out and client meetings.
At first the linen on this shirt felt a little scratchy but I've washed it once and that helped to soften it up a bit. I imagine with more wear and washing it will get super soft. But just keep that in mind if your skin is sensitive.
STYLE TIPS: 
GRAB A HAT | Whenever I'm trying to steer a look towards a cooler weather vibe I test it out with a hat. This one happened to work perfectly and I like the extra shade of grey it added to the mix.
UNBUTTON | Any time you're looking for a new way to wear your favourite button-downs, just try wearing one in place of a sweater or cardigan. With a simple base layer like a silk tank or cotton tee they work wonders for creating a laid-back look that's still refined.
ANKLES + WRISTS | Show 'em off for as long as you can my friends! Any look, even one with a wool hat involved, feels summery when your pants are cropped and your sleeves are cuffed.
---

---
---
GOT A FAVOURITE OUT OF THESE FOUR LOOKS?
MAYBE YOU'RE ALREADY A TRADLANDS FAN? IF SO, WHAT'S YOU'RE GO-TO PIECE?
---
DISCLOSURE: This post was produced in partnership with Tradlands and I received product and commission for producing this content and sharing my honest opinions. I chose to work with this responsible brand because they're producing high-quality, timeless pieces that are made ethically and intended to stand the test of time, which is what Style Bee is all about. In fact Tradlands founder, Sadie, put it best when she said:
Tradlands is about you, the woman who knows that quality is always in style, and who knows that one great piece can make a whole outfit. 

It's for you, the woman who loves simplicity and elegance in her wardrobe, and who wants her clothes to make her feel more like herself. 

It's for you, the woman who cares about where her clothes come from, how they're made, and how her choices impact her community. 

It's for you, the woman who wants her clothes to last the seasons with her, to look and feel as good in five years as they did the day she bought them.
---
Thanks for reading this post and for supporting the brands that support Style Bee! All opinions are as always, entirely my own. 
---
Photography by my talented friend Jacklyn Barber.