Helloooooo there! Can you believe it'll be March on Thursday? I don't know about you but this year seems to be moving at super speed. Luckily, it's been packed with fun adventures so far, one of which was an unforgettable ladies trip to Mexico and today's post is all about it!
By the end of January I was in dire need of some reprieve from this particularly hostile winter, so when a group of my best girlfriends all signed on for a long weekend in Cabo San Lucas, Mexico I was more than ready to pack up and hightail it south. We booked our tickets, flew in from our respective locations and the next few days were a perfect blur of laughs, sunshine, ocean creatures, bubbly and A LOT of guacamole.
Along with getting some desperately needed vitamin D it was such a treat to dig into my summer closet again! The forecast was a dreamy high of 26ºC and sunshine every day with easy breezy nighttime temps. So, with that in mind, I put together some fun summer selections that turned out to be perfect for the getaway.
Even though it already feels like ages ago, I'm excited to share what we got up to along with everything I packed and all the looks I wore. If you're headed somewhere warm anytime soon, this one's for you!
---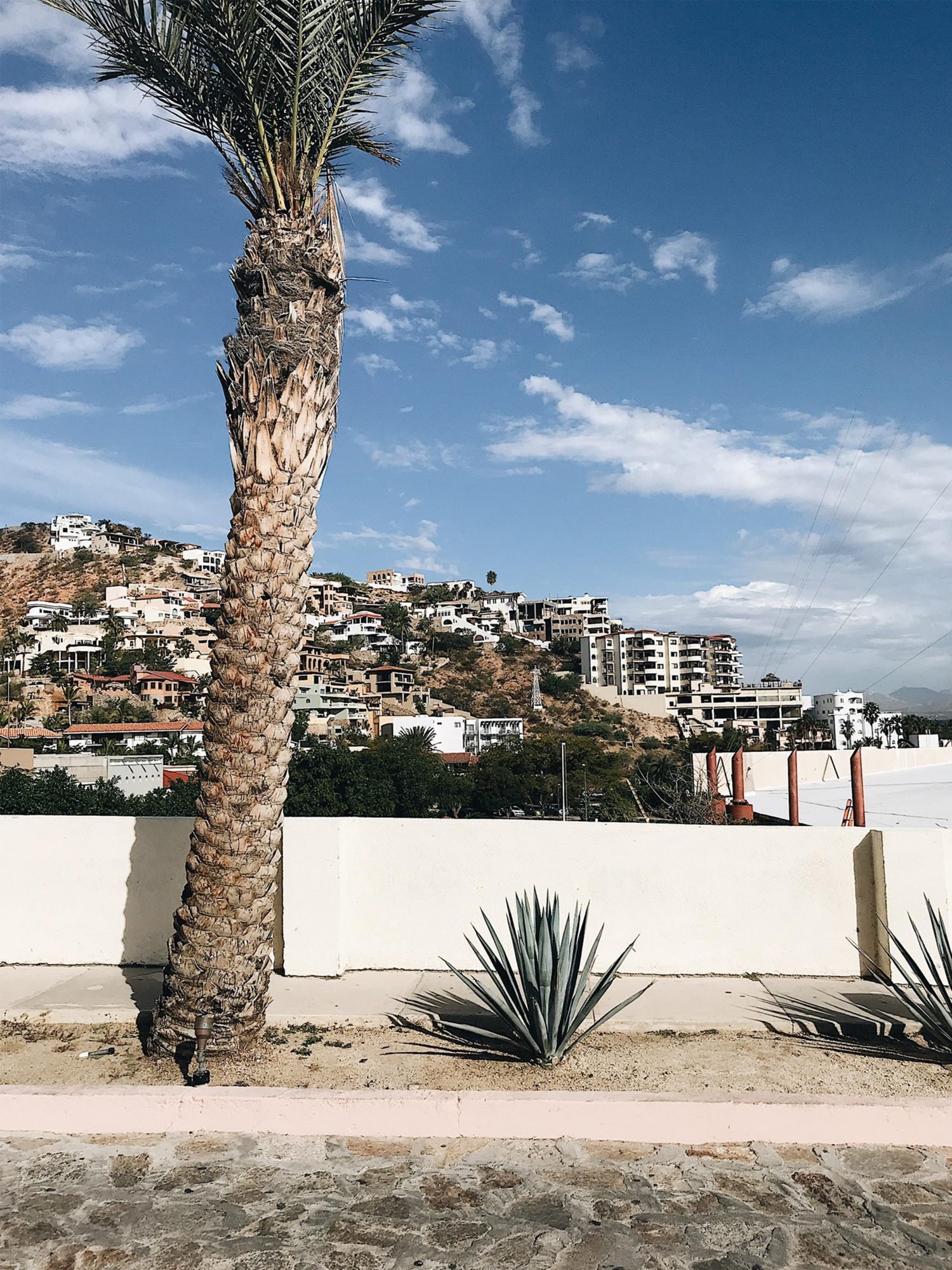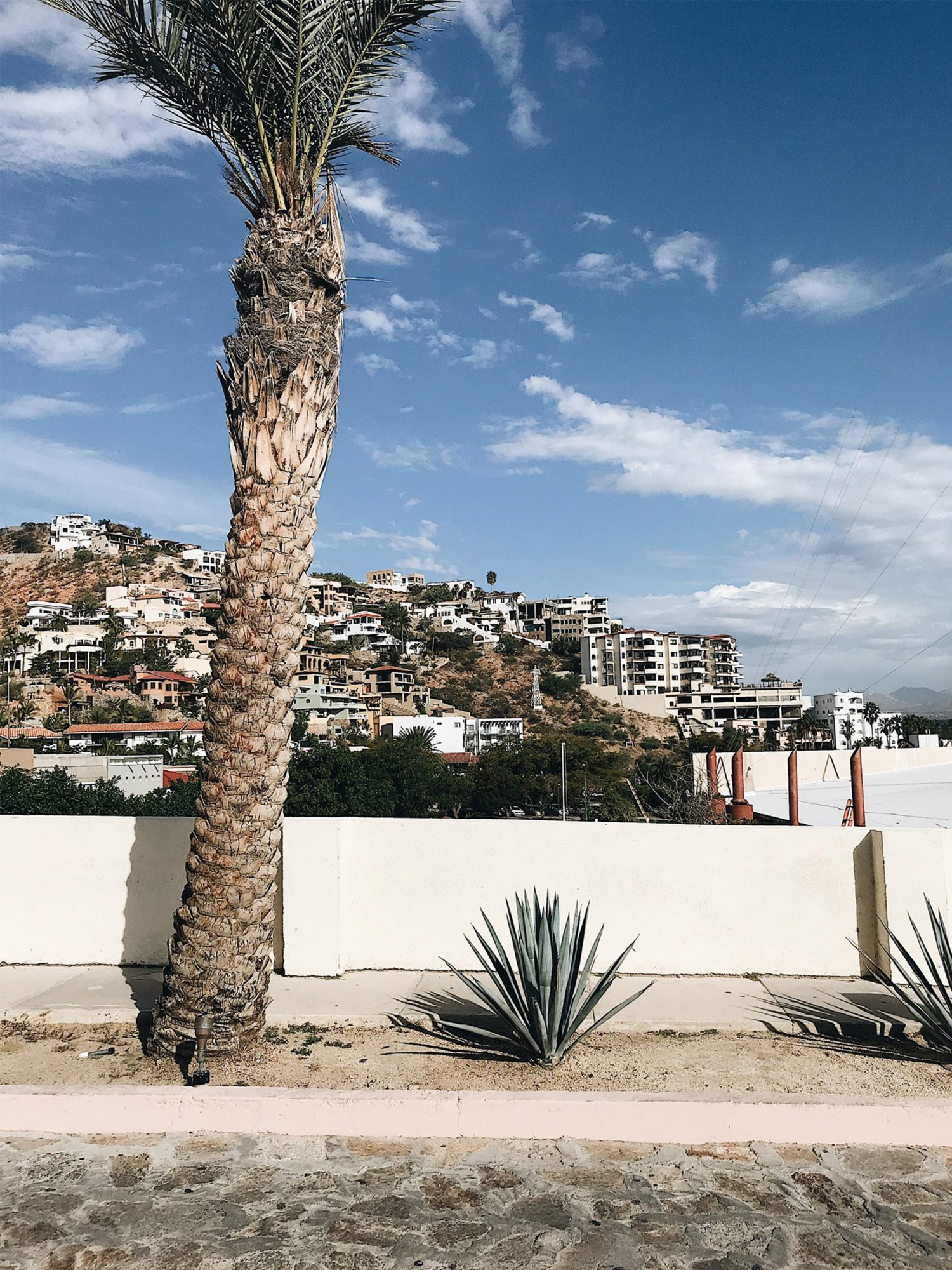 ---
WHERE WE STAYED
---
Lots of people asked where we were staying when I shared some peeks in my stories (still saved in my Highlights). We were insanely lucky to stay in the private villa of my friends in-laws for the weekend. It was an absolutely stunning home, right on the beach, in Pedregal, a resort community located on the southern most tip of the Baja California Sur peninsula just west of the Gulf of California. It was straight out of a luxury travel magazine and we were all in total awe and disbelief that we had the whole place to ourselves. See this Google Maps view to give you a better sense of where we were.
The closest place that is open to the public for booking is the Resort at Pedregal, which is absolutely breathtaking and offers some incredible ocean views, a magnificent spa and a fabulous restaurant complete with a champagne tasting bar, because, obviously that's a must-have right?
Keep in mind: The ocean in this region has an undertow that is extremely strong so swimming can be limited depending on where you are. The beaches are still beautiful and the water is gorgeous but if you're keen to surf or soak in the waves you'll want to investigate the best spots for that. We were more than content to enjoy the views from an infinity pool and hot tub.
Transportation: We had access to a car, which we used for short trips but for the most part we got around via taxi.
---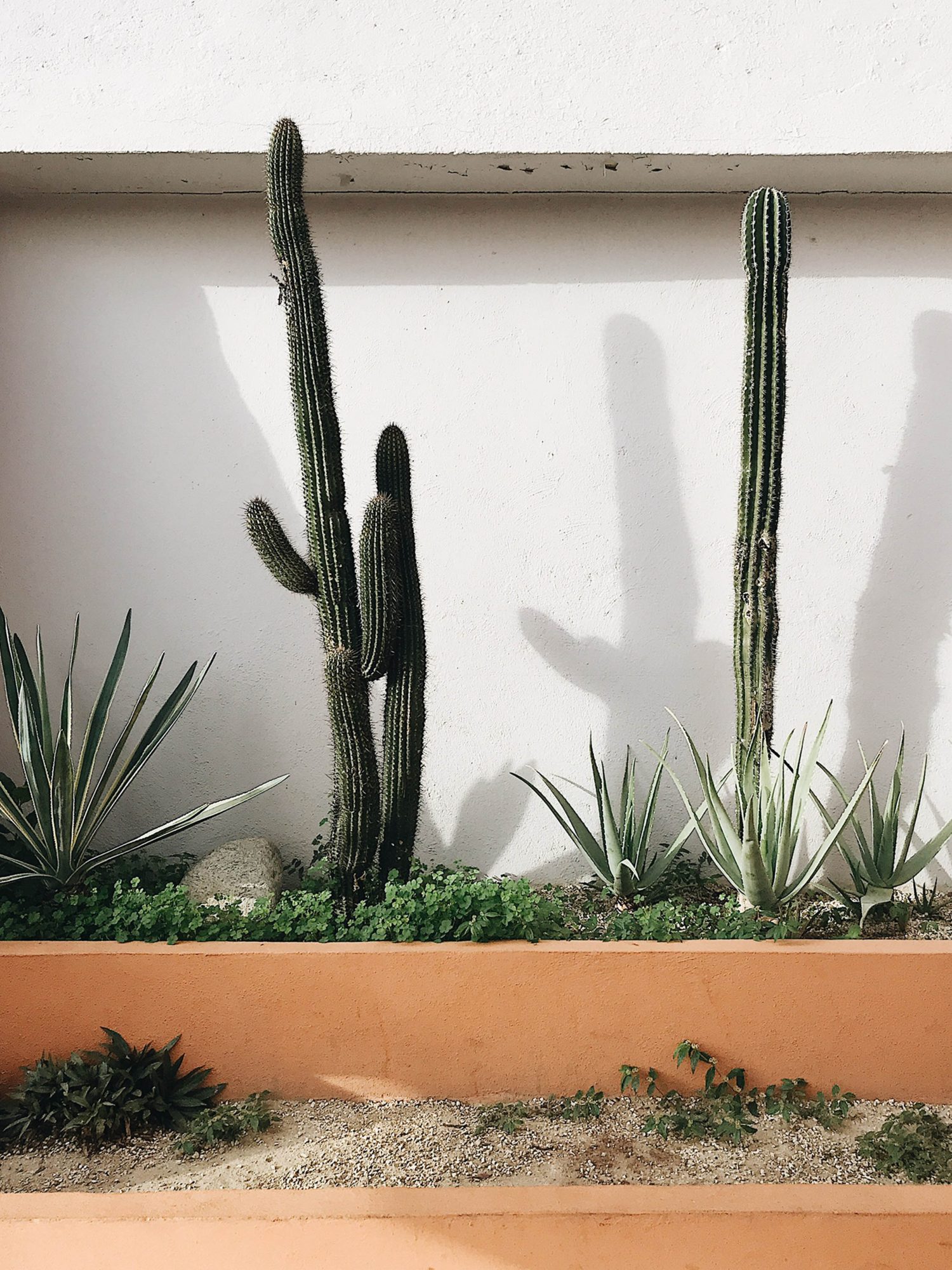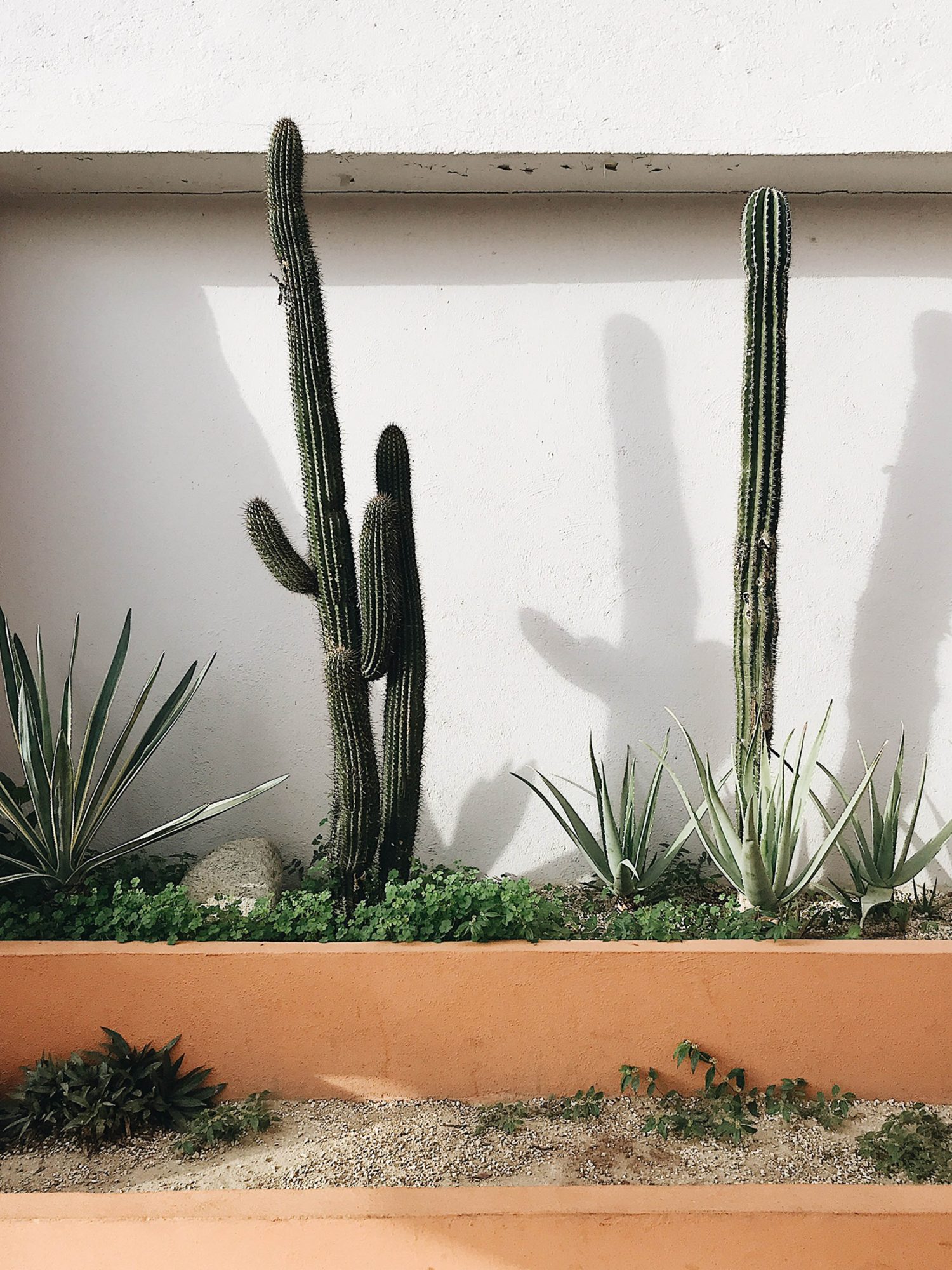 ---
DAY 1
---
Our first day in Mexico was a massive one. After flying in on a red-eye from Toronto we headed straight to the house, happy danced around the place, unpacked our suitcases and headed straight for the pool and sunshine while waiting for our other friends to arrive.
Once all five of us were settled, we headed to Hacienda Cocina Y Cantina for a lunch with an incredible view of the beach (a swimmable one) and ocean. We were all a bit delirious from our travels but some fresh guacamole, tasty tacos and a couple of strong cocktails set us straight! In fact, this was one of my favourite meals of the trip. The food was amazing, the company was my fave and realizing we had a whole adventure to come made for a very special moment. From there we headed back to the house to soak in some more sunshine and catch up poolside.
After a few more hours of sun and a gorgeous sunset we made our way into town for dinner at Edith's. This place is a must-see if you're ever in Cabo. It's everything you hope for in a Mexican dinner on the town. A beautiful palapas structure lets you feel the breeze but keeps you covered, dozens of candle lit lights set a romantic mood, ridiculously fresh seafood melts in your mouth (I went for the lobster tail, tiger shrimp and fresh catch trio!), margaritas the size of your face go straight to your head, all while a mariachi band serenades the scene. Not to mention the incredible people watching too!
From there we hit the cobble stone streets towards downtown and found our way to the infamous El Squid Roe. It's definitely an epic party scene and the perfect spot to let loose on the dance floor (or one of many different booth or platform options) to all the best hip hop and classic party jams. Prepare yourself for jello-shooters, tequila shots and buckets of Corona. That said, even if you don't drink it's still a blast. We're all about 30 years old and even though we were far from the youngest we were far from the oldest on the scene too. We danced the night away into the wee morning hours, clambered into a taxi and made our way home.
---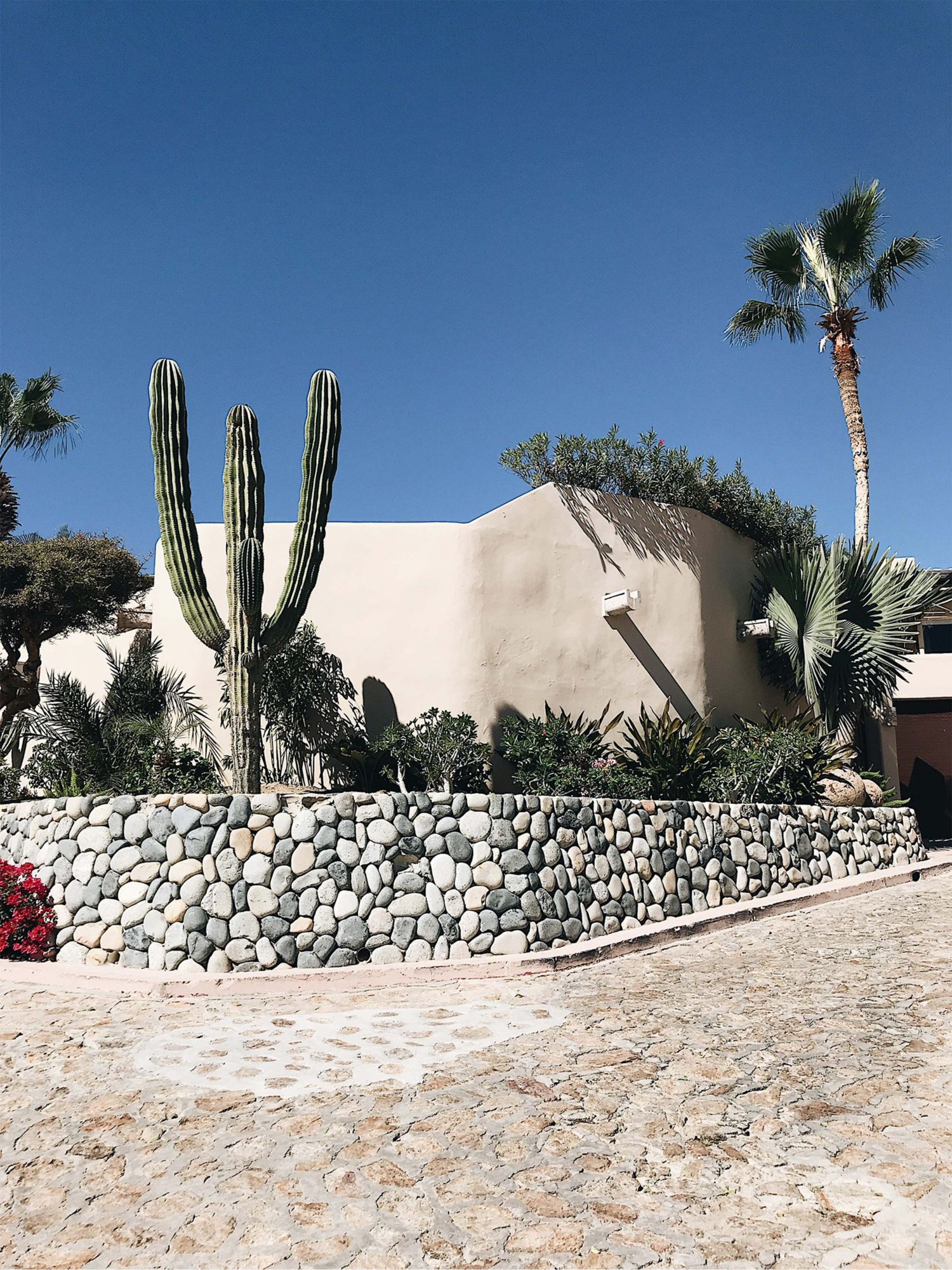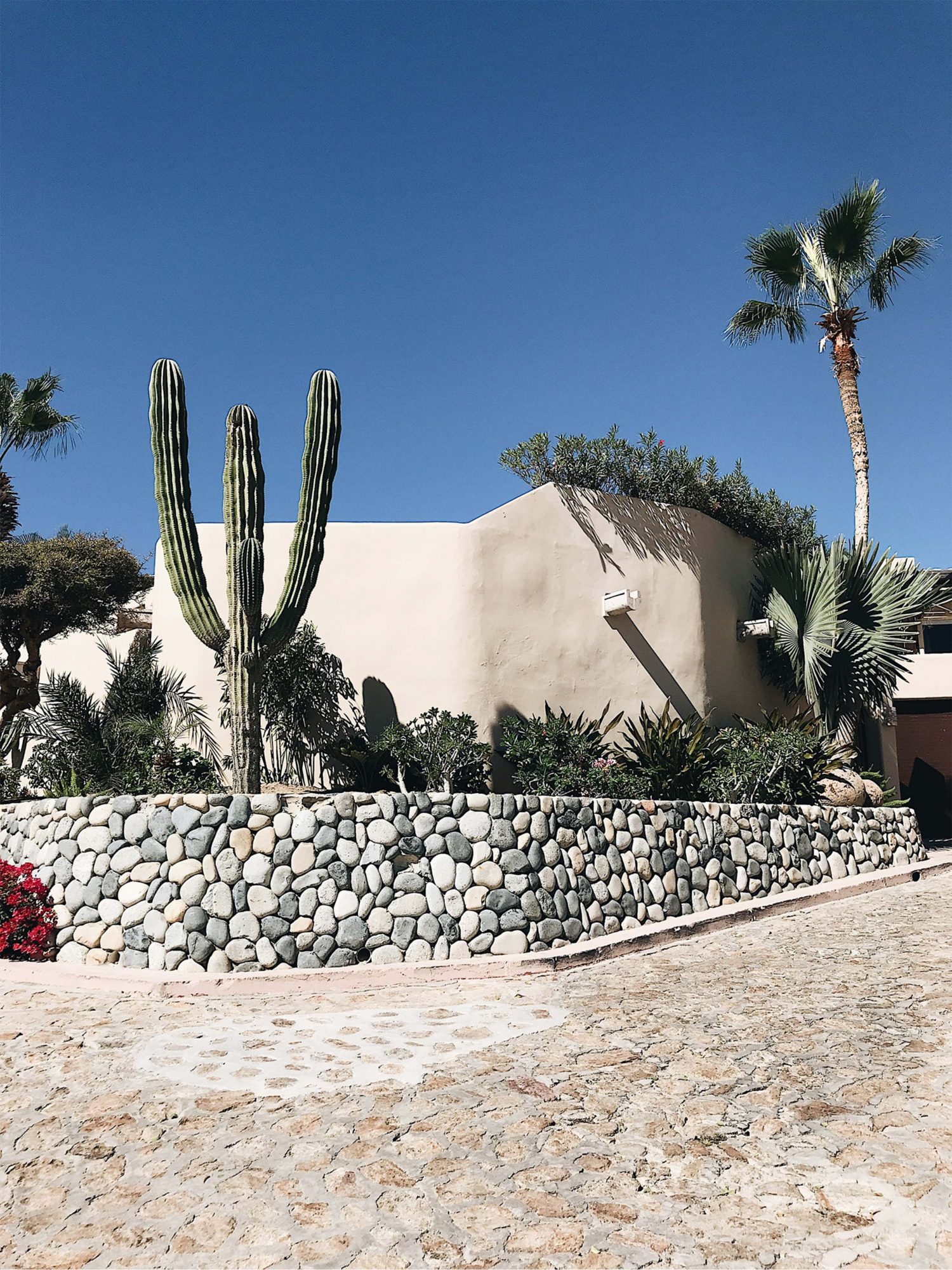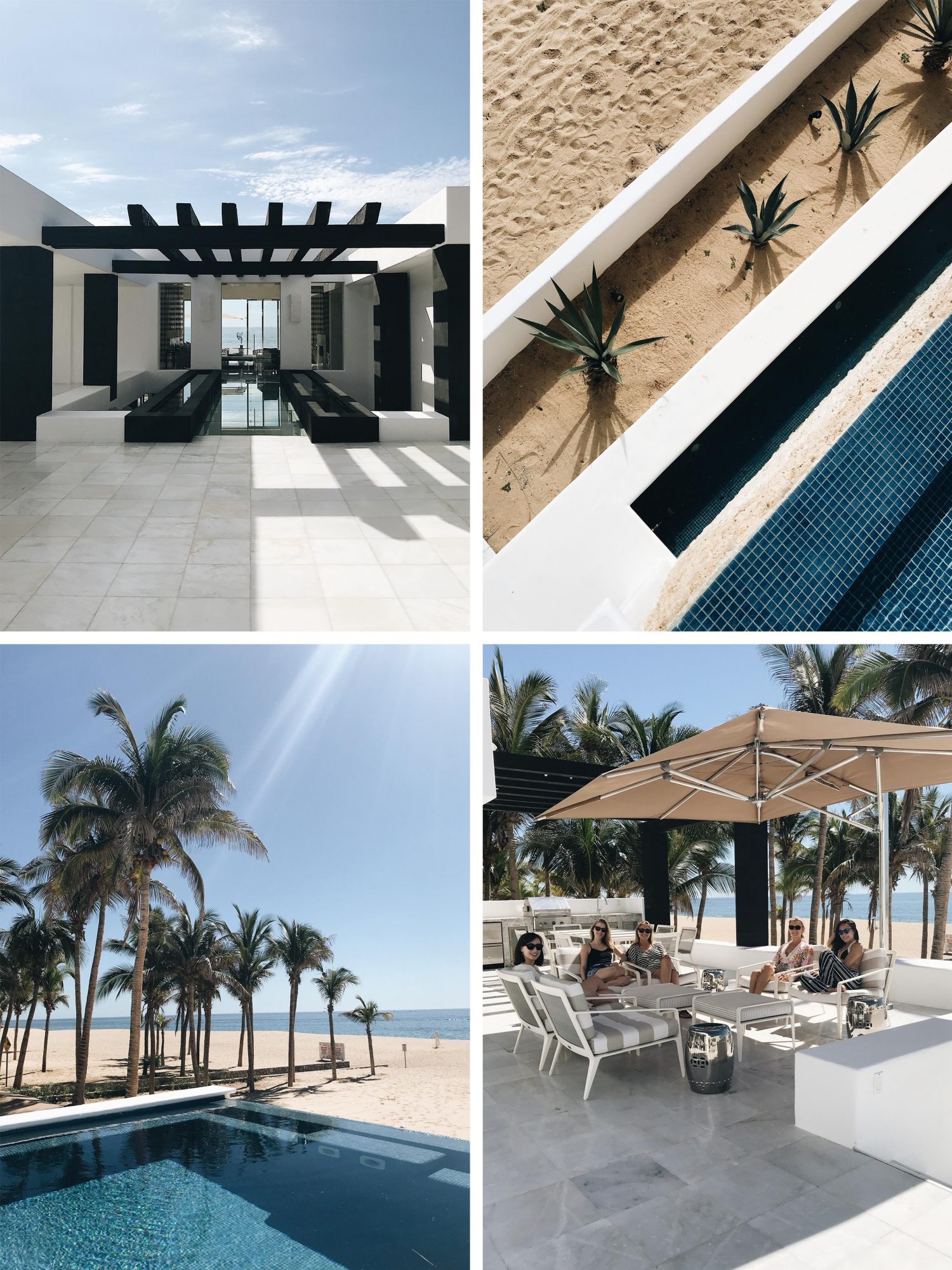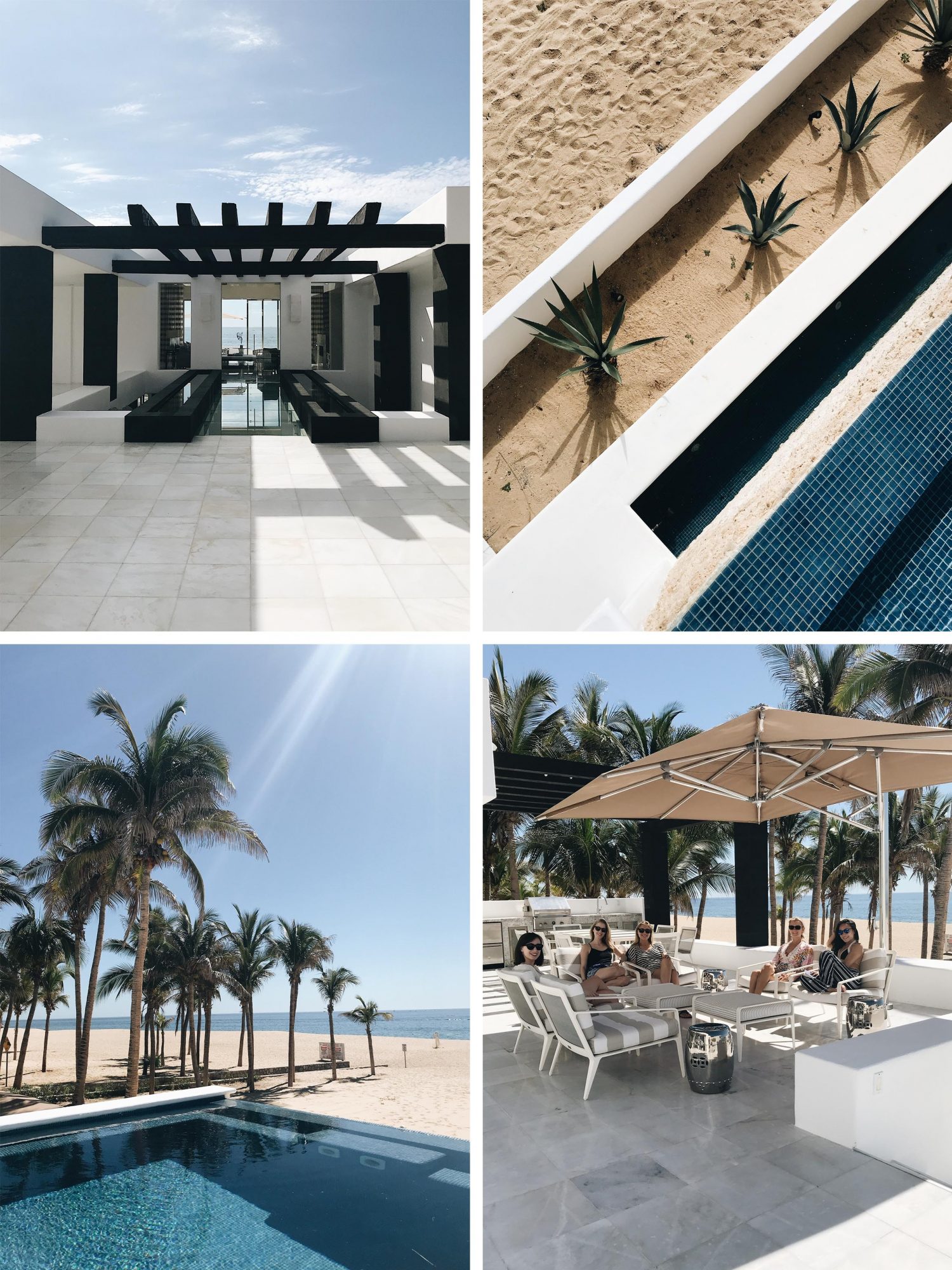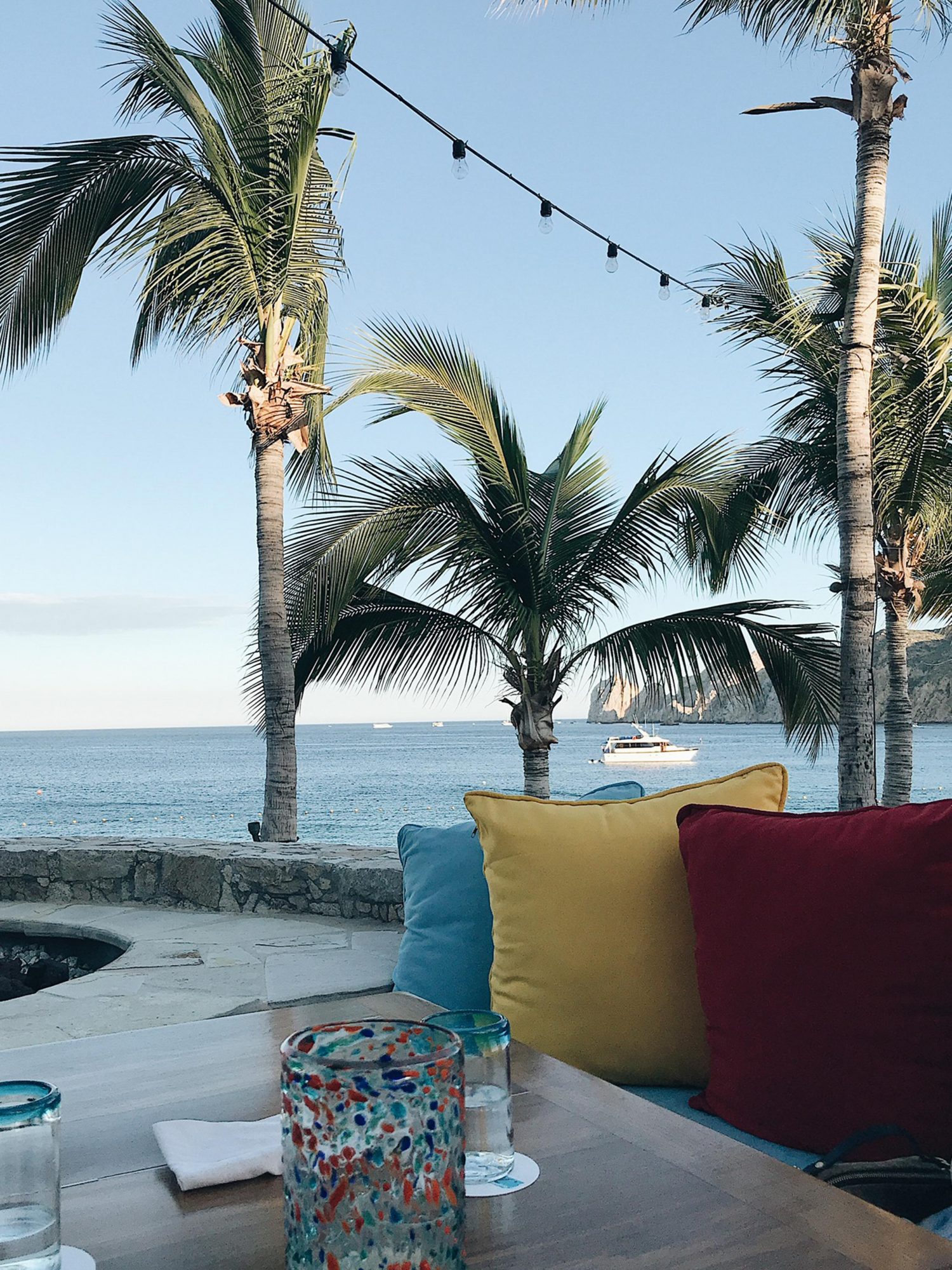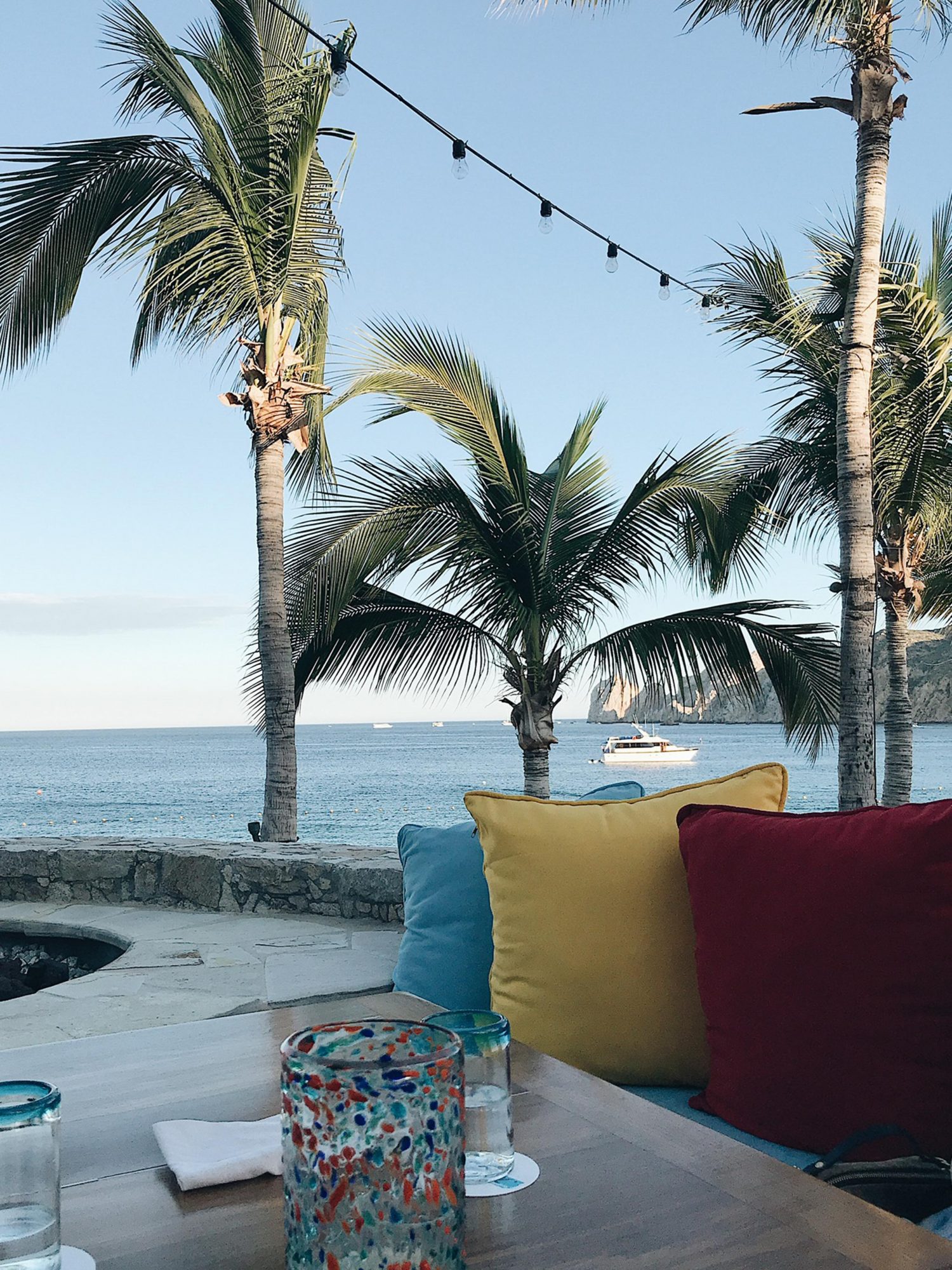 ---
DAY 2
---
After a lazy but surprisingly functional morning (despite our tequila fuelled night) we hopped on a boat and headed out to sea for the afternoon. There wasn't a cloud in the sky but the breeze kept us pretty cool and so did splashes of chilly ocean. We toured around the peninsula and caught a glimpse of El Archo, a natural rock formation where seals and pelicans love to gather and floated calmly by Lover's Beach before skirting around the tip and into the rocky, turbulent waters of aptly named Divorce Beach. From there we chased the horizon on the lookout for humpback whales and actually managed to catch up to lots of them throughout the afternoon. All I can say is I'm glad we were in a big boat because the waves are unforgiving and those whales are HUGE. They are truly magnificent creatures.
We'd tentatively planned to go for a snorkel but the water was very cold and choppy where we were so we opted to forgo any extended swims. As we made our way back into the marina our boat's first mate indulged our desperation to get up-close and personal with a friendly seal by offering up some fresh fish. Sure enough the birds started swooping in and soon after a giant seal hopped aboard for his cut of the catch. He was so big he couldn't fit through the man door (which was for the best!) but was super chill and tolerant of our excited squeals and photo taking. For an animal lover like me, this experience was definitely a major highlight of the trip!
After a fabulous time out on the water, we regrouped and got ready for another magical night. We headed to El Farallon for some fancy champagne tasting and more fresh as can be seafood. The view from our table was so special and overlooked the massive rocky cliffs and endless ocean. Each seat even had its own super soft poncho too!  It was too dark for decent photos but trust me, it's a breathtaking scene! This was another dinner for the books and we ate to our hearts content and headed back for a dip in the hot tub before calling it a day.
---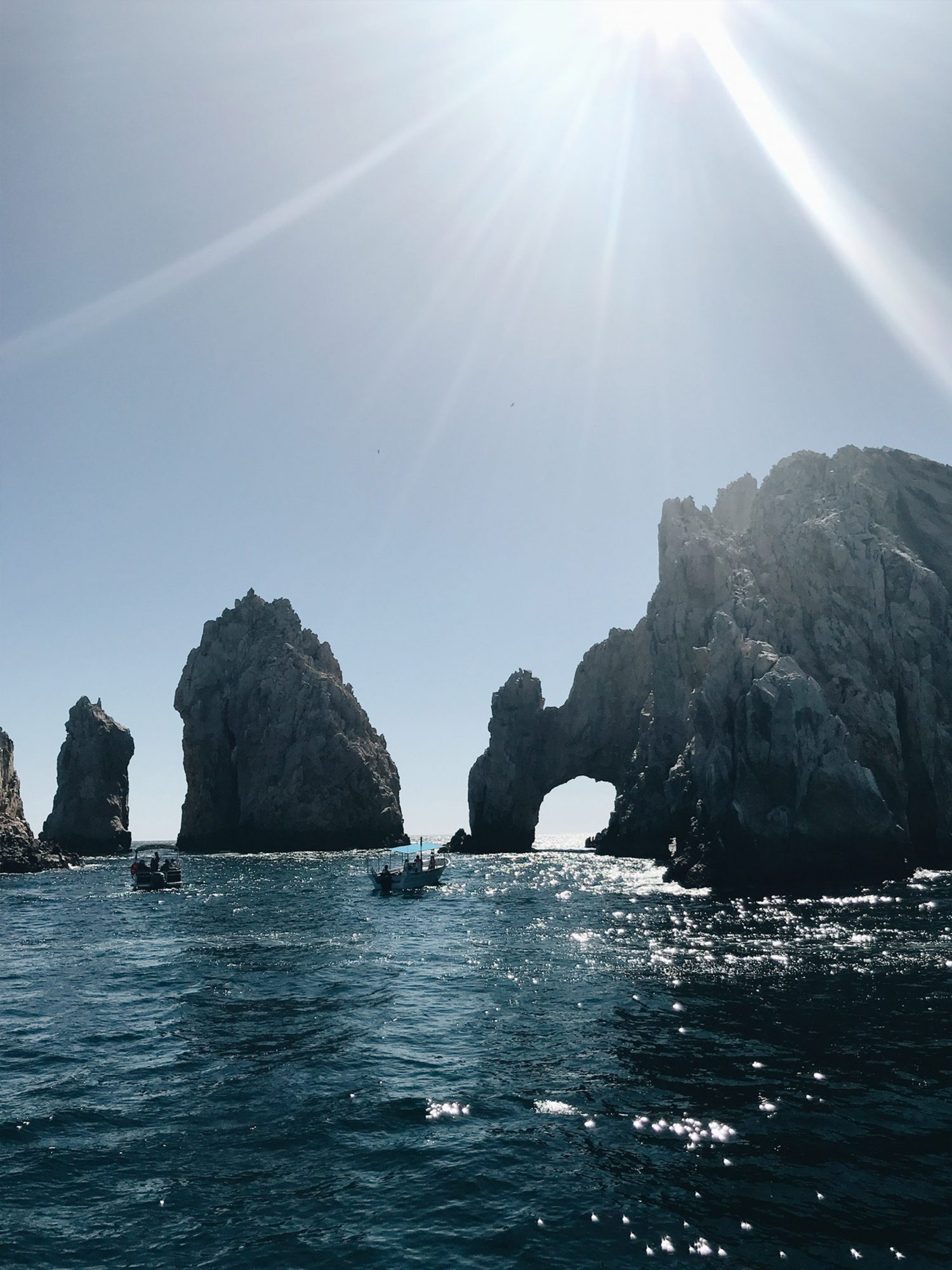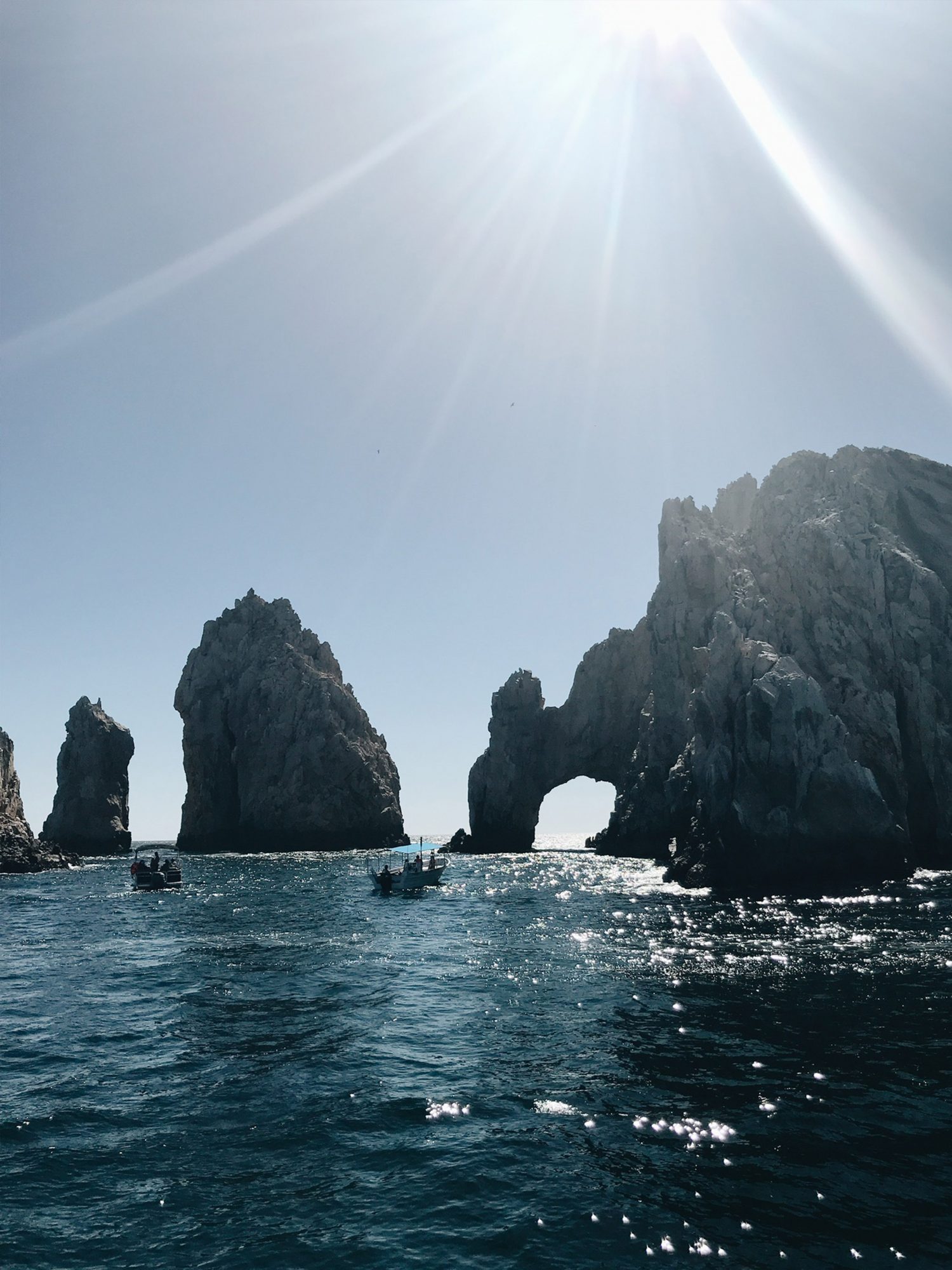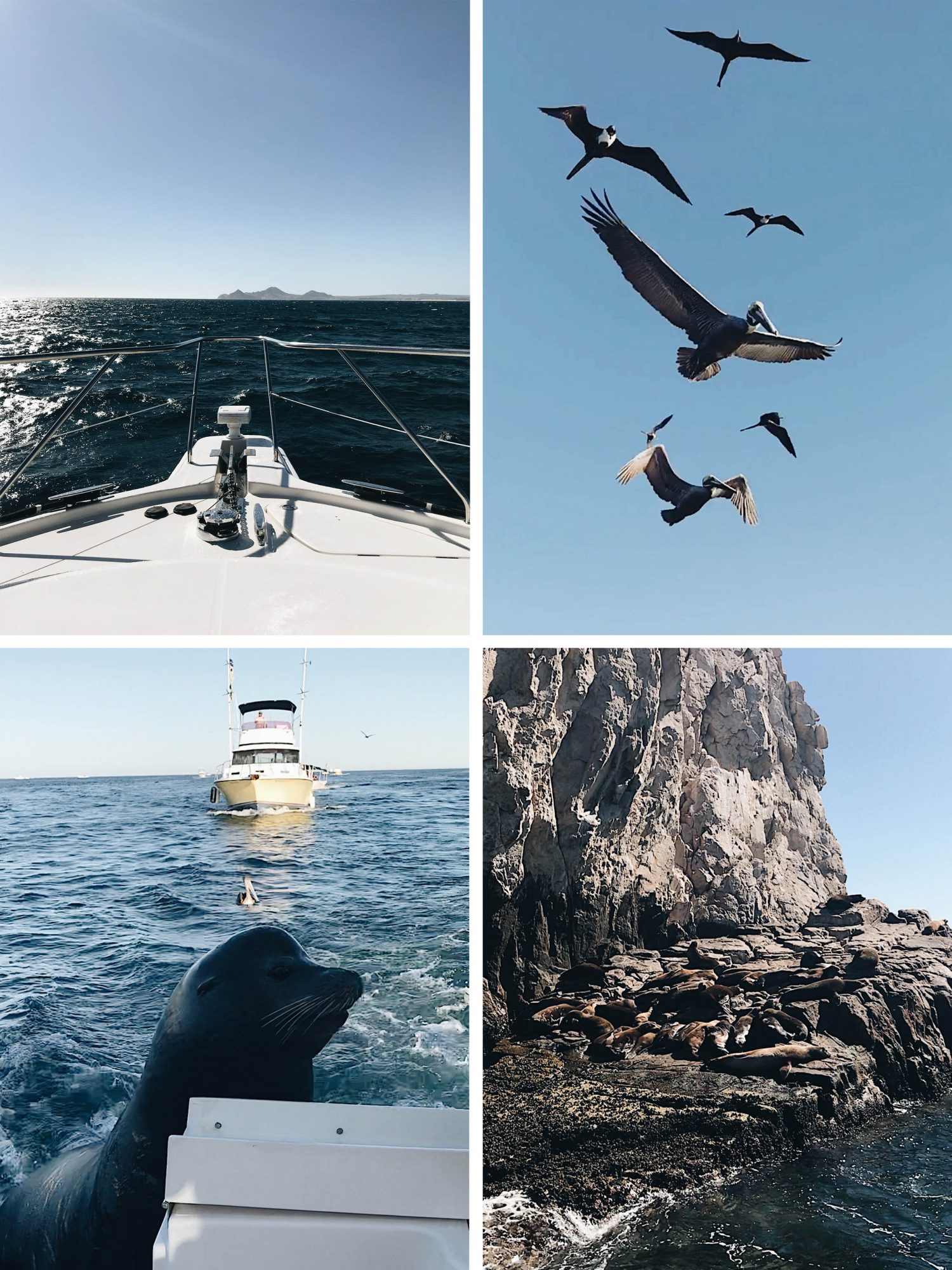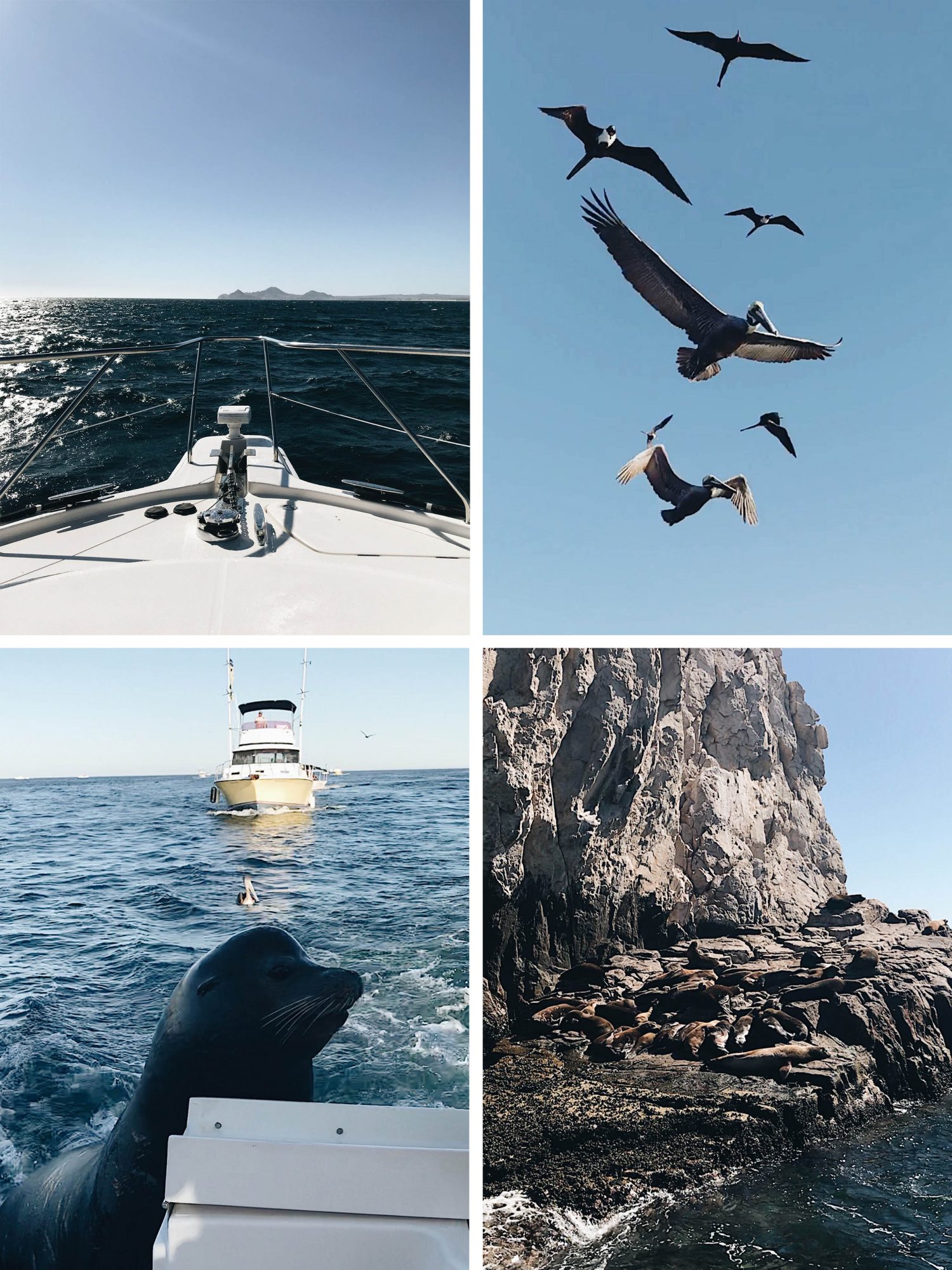 ---
DAY 3
---
Our third day started with a delightful yoga session led by an instructor we'd met after seeing her teaching on the beach the day before. She came right to the house with mats in the morning for a special private class. It was so good I almost managed a head stand, but ultimately chickened out.
After our morning yoga we were feeling super zen and casually got ourselves ready for an afternoon at the spa. I know it sounds like a terrible day doesn't it? We headed to Luna Y Mar for some pampering and, wow, was it ever lovely! The spa itself is gorgeous and serene and you honestly can't help but feel relaxed while you're there. The experience starts with an invigorating foot massage and from their you move on to your treatment. I had the Ancient Massage and it was unlike any massage I've had before. Fresh herbs, hot limes and warm oils got involved along with some deep tissue work. After months of stress building up in my neck and shoulders you best believe there were some serious knots to work out. After that we explored the sauna, steam room, cold room and hot tub for an intense temperature experience. Then we hit the Beach Club for martinis and tacos, because, duh!
We left the spa in somewhat of a daze and drifted back to the house for our final evening. We watched the sun go down on a walk along the beach with Corona's in hand and realized reluctantly that our trip was coming to a close.
Having built up another appetite we headed out for our final dinner together at Manta within the Thompson Hotel and it did not disappoint. We called it a night in good time so we had the strength to get up for the sunrise on our final morning.
---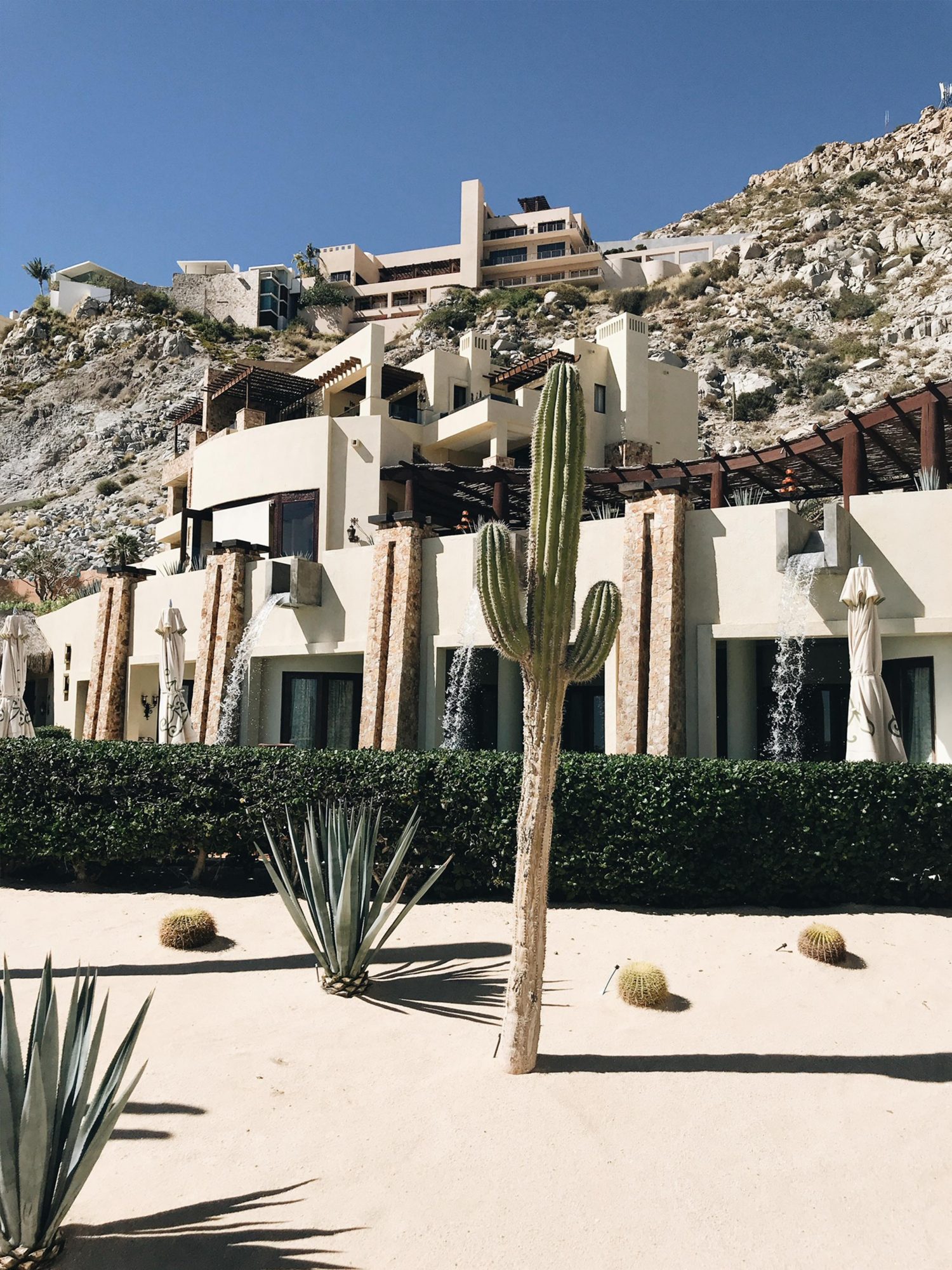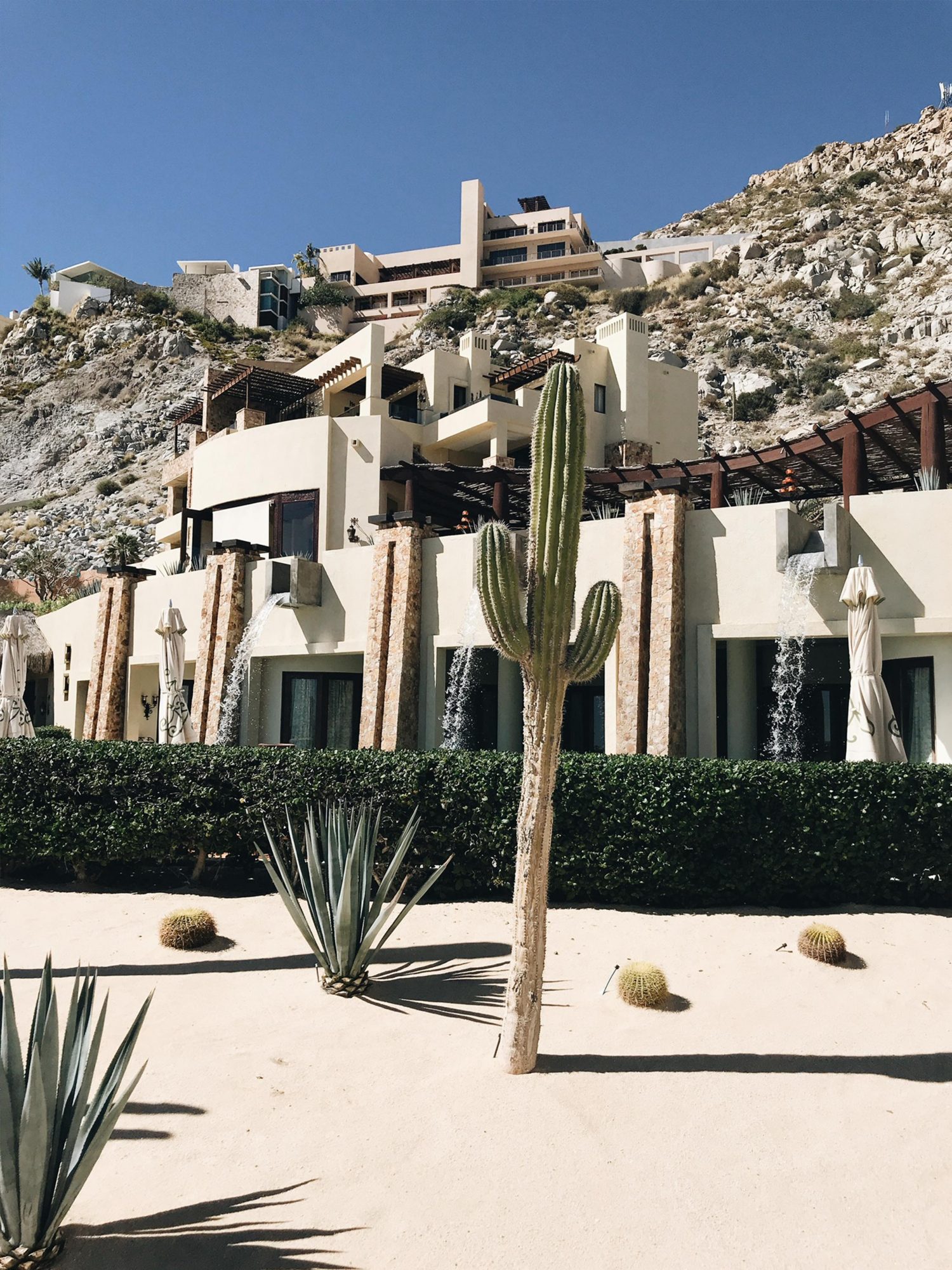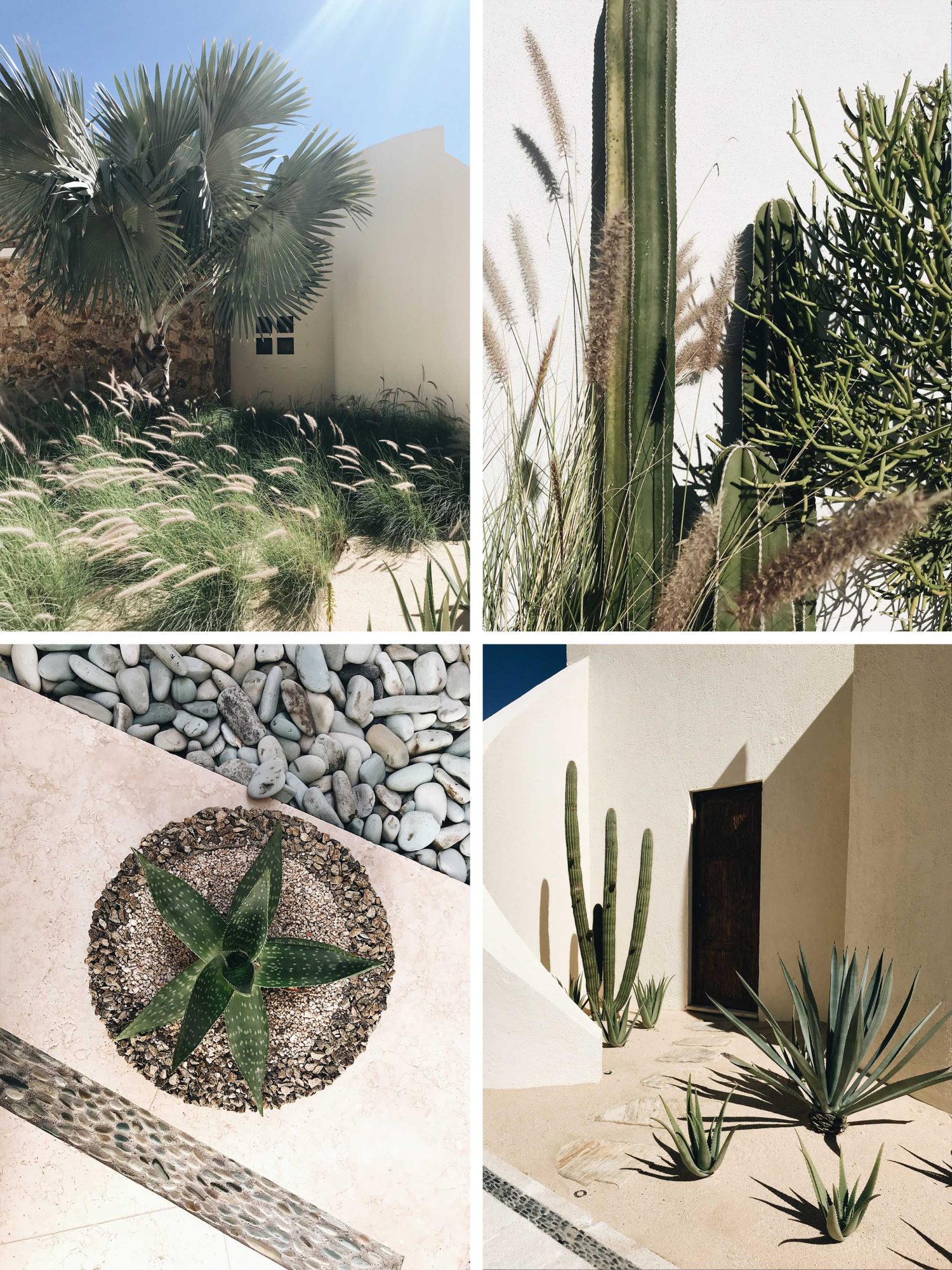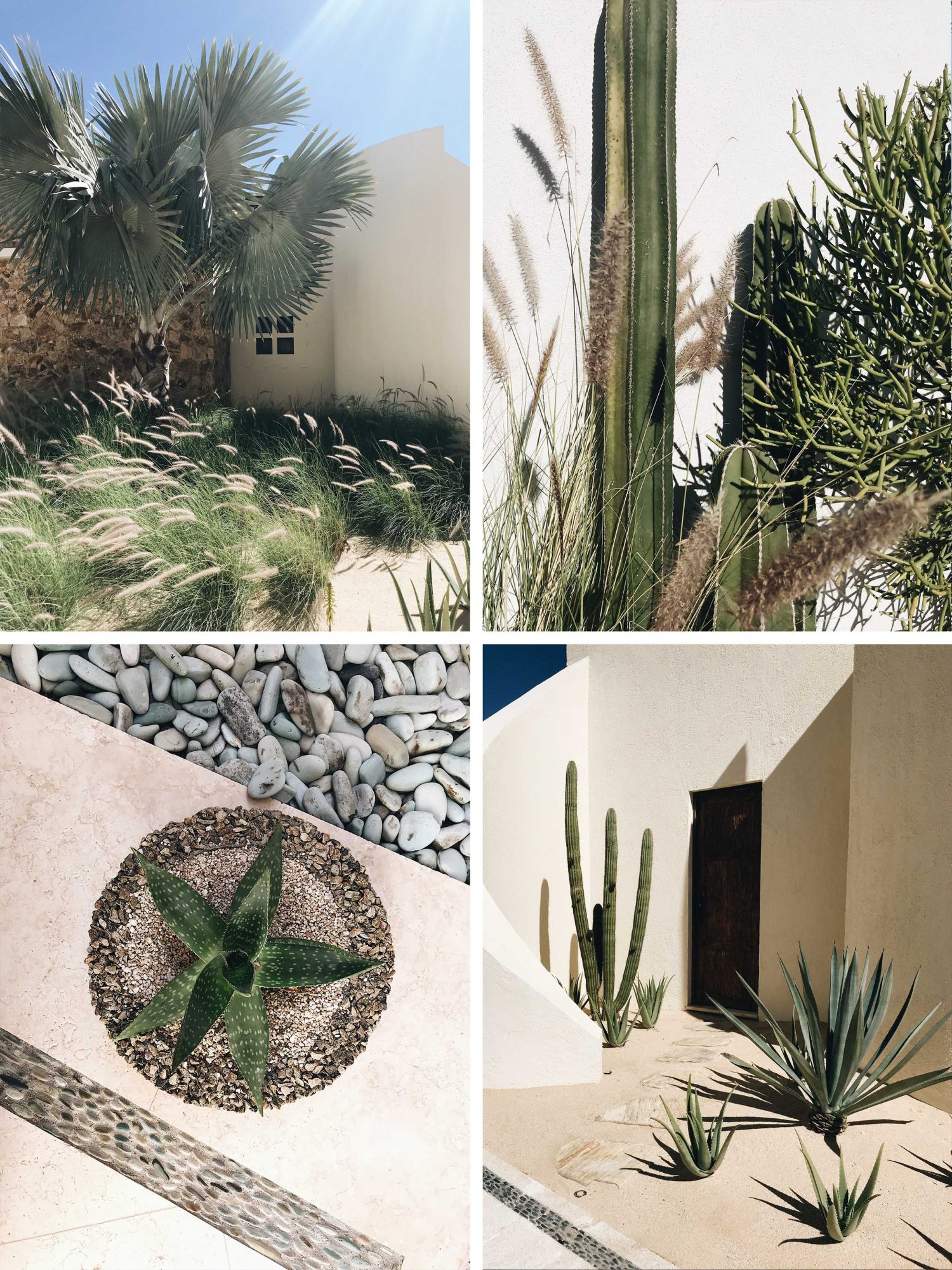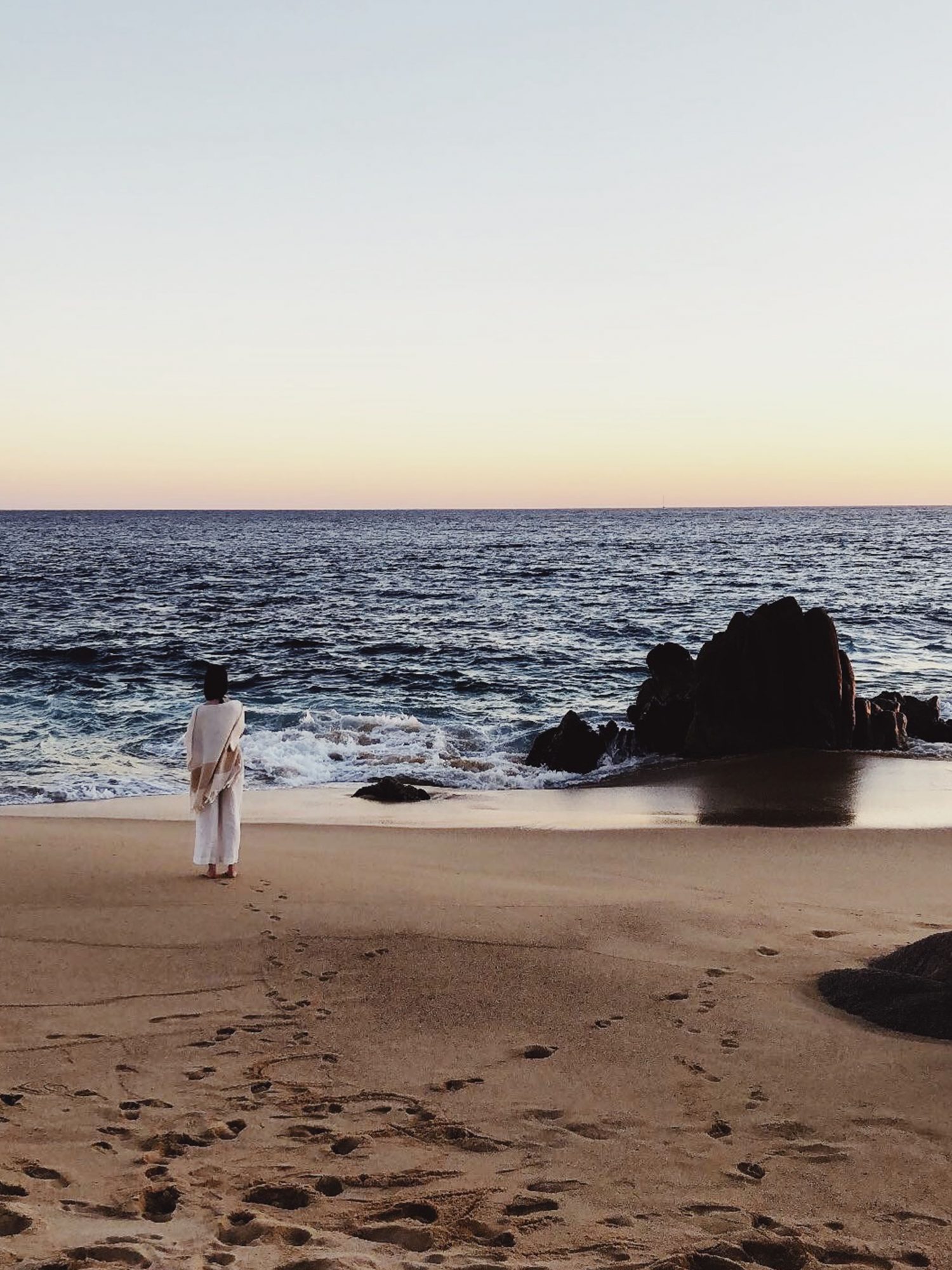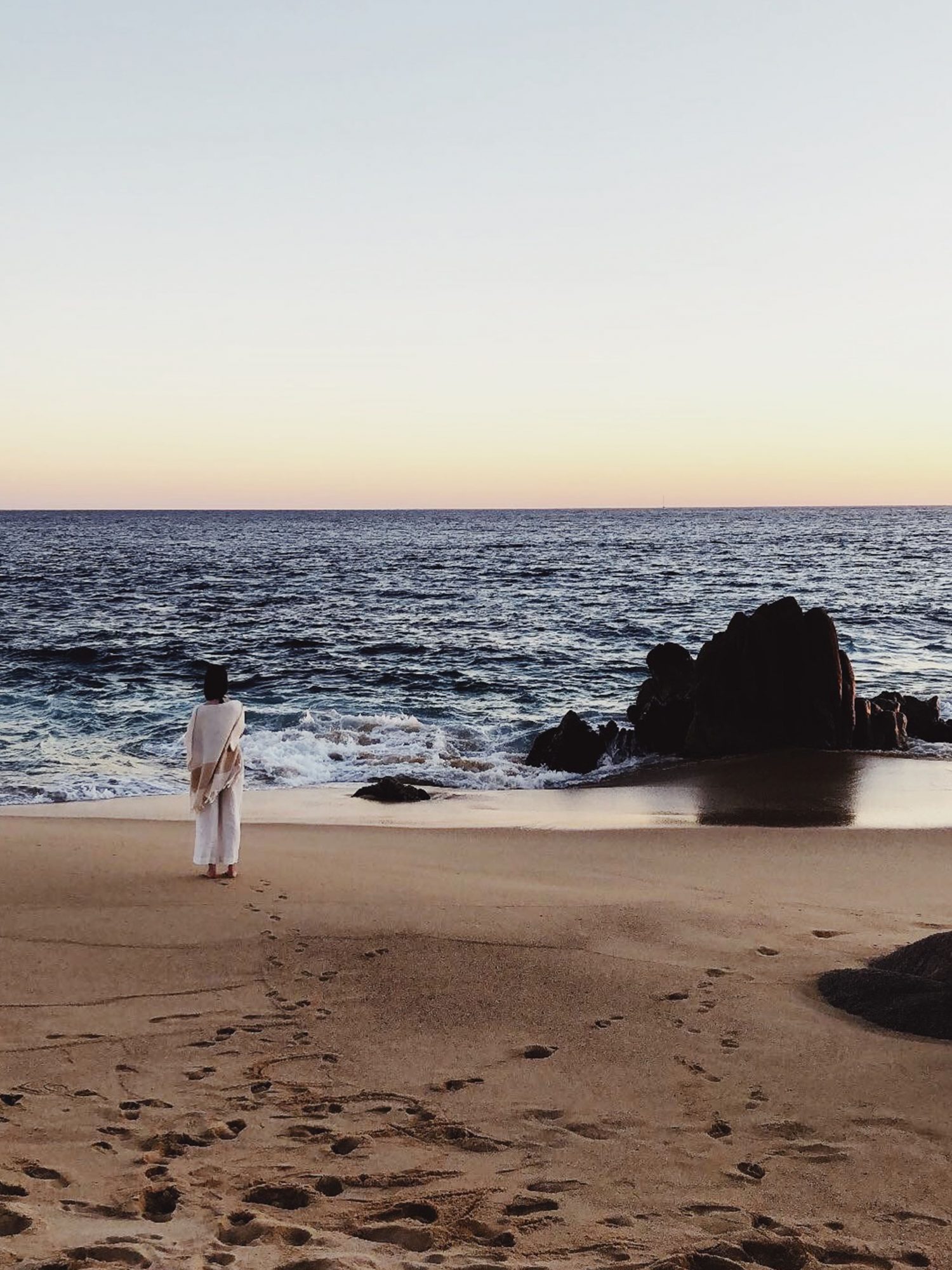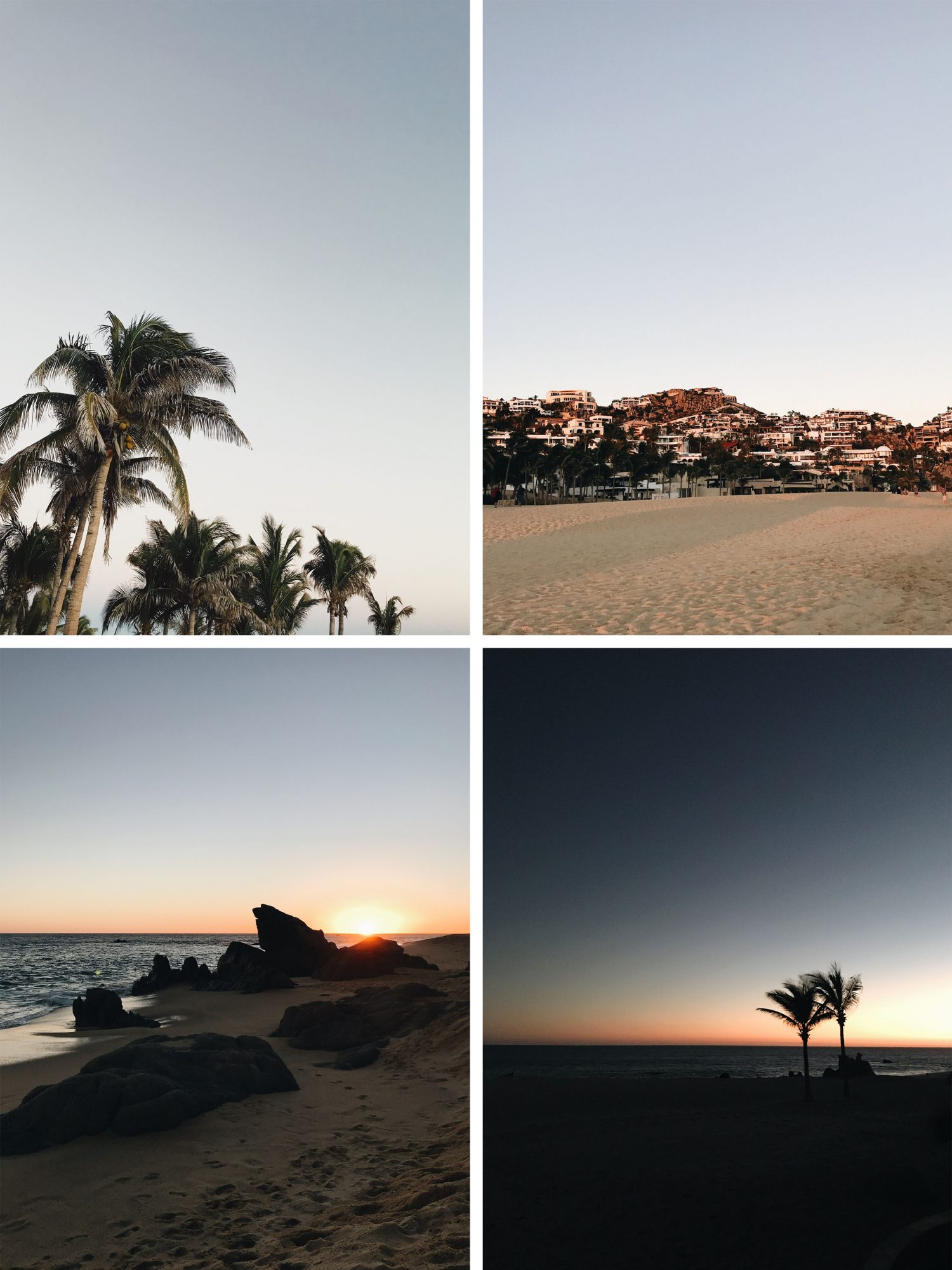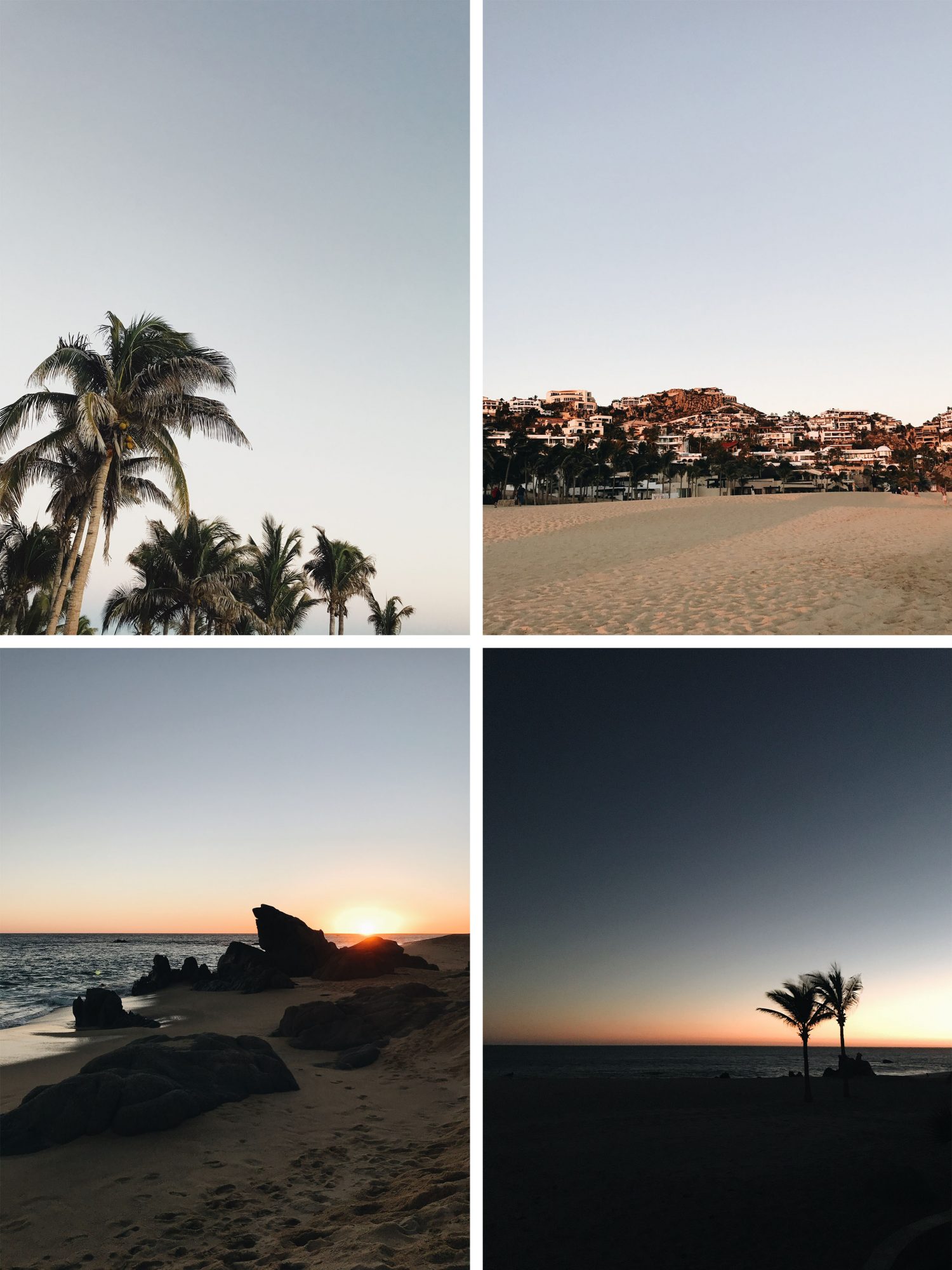 ---
DAY 4
---
On our final morning in Cabo, we woke up early to catch the sunrise, which was magnificent. It was so cool to see the moon in the sky right up until the sun poked its head above the horizon. We watched the boats float out from the harbour for a day of fishing and touring. Afterwards we all needed a caffeine fix and a breakfast bowl before reluctantly packing our bags for the trip home. We snuck in a last dip in the pool and strolled the winding cobblestone streets near the villa, taking in as much as possible before heading back to our reality and winter.
---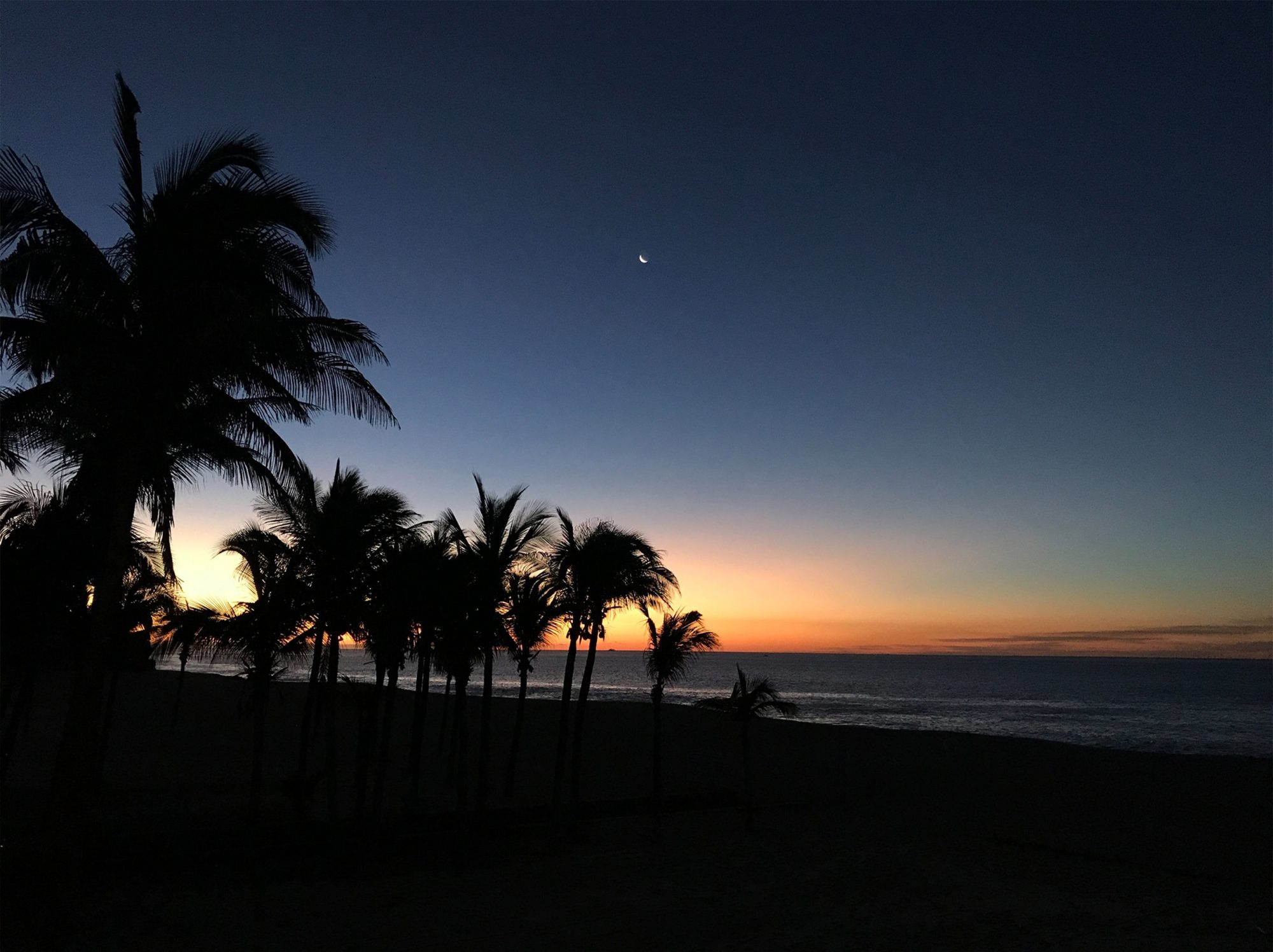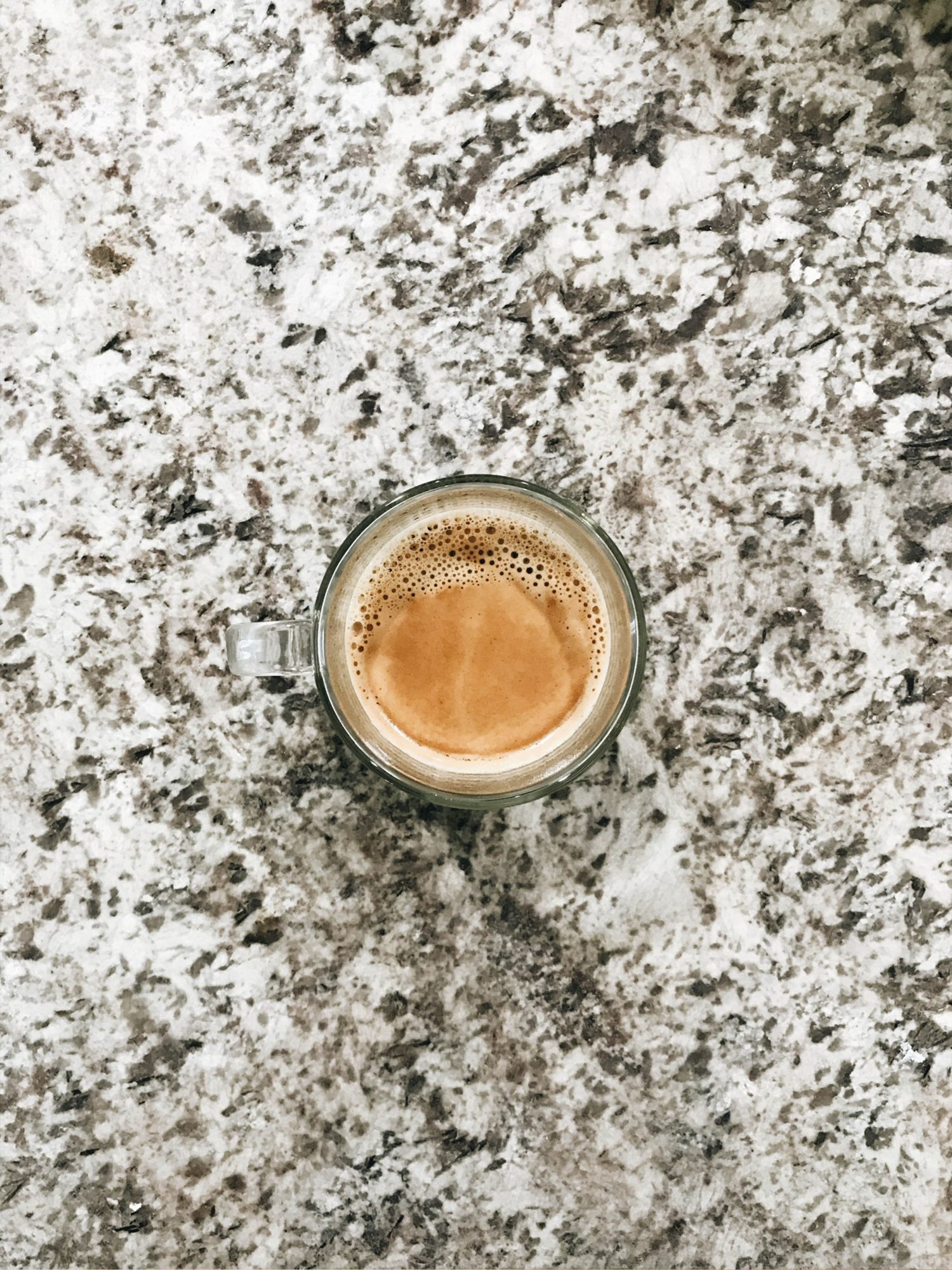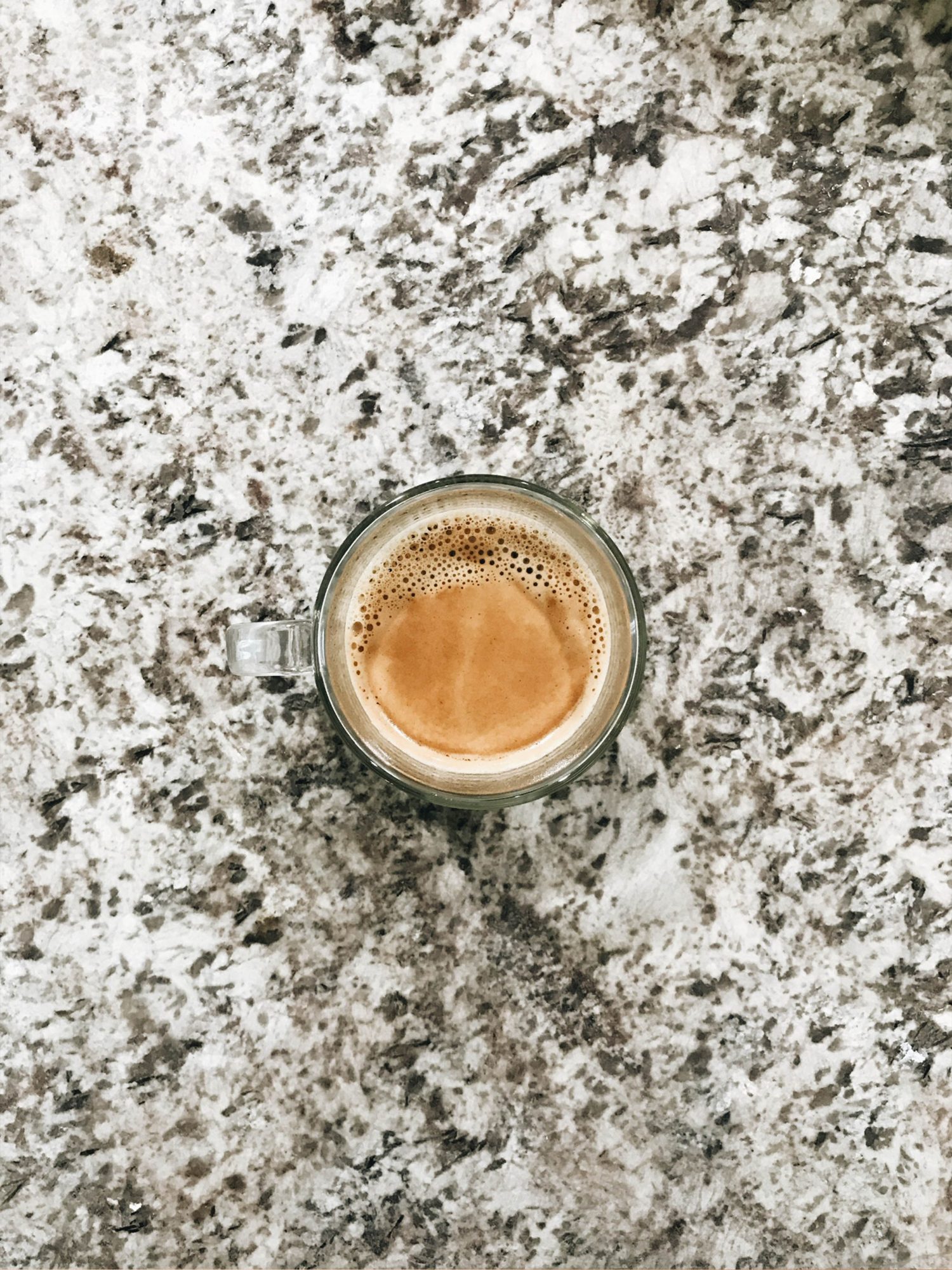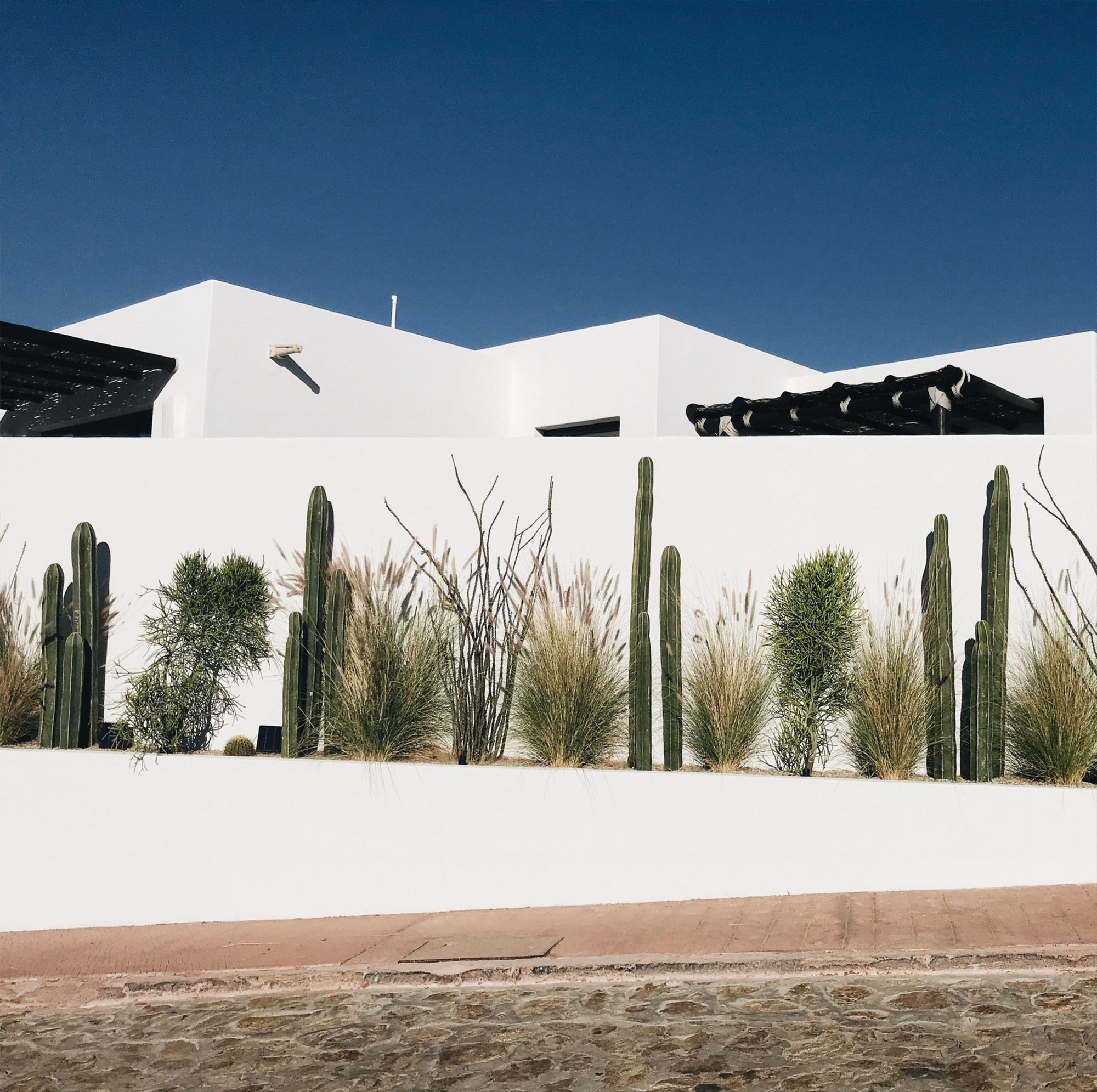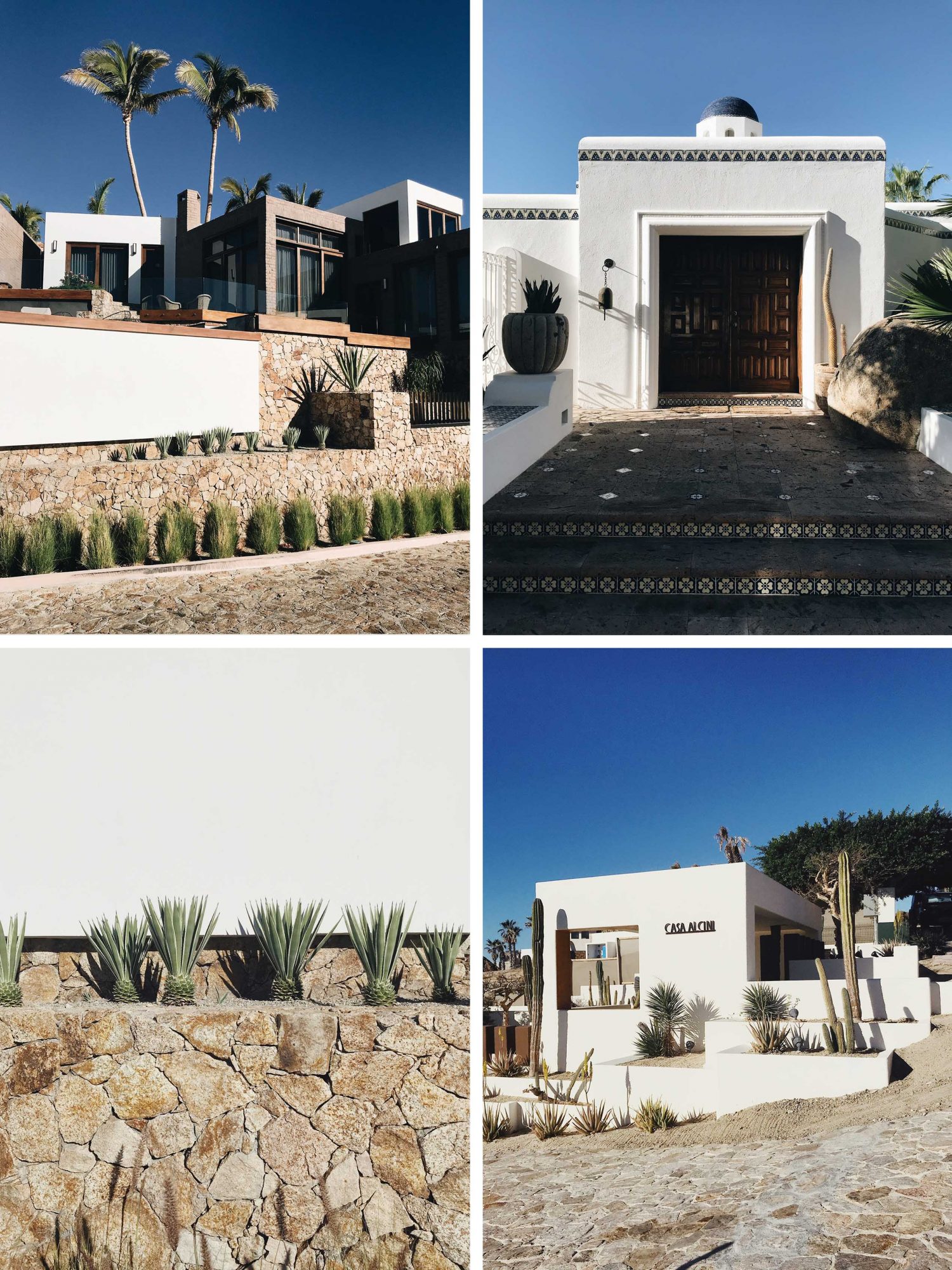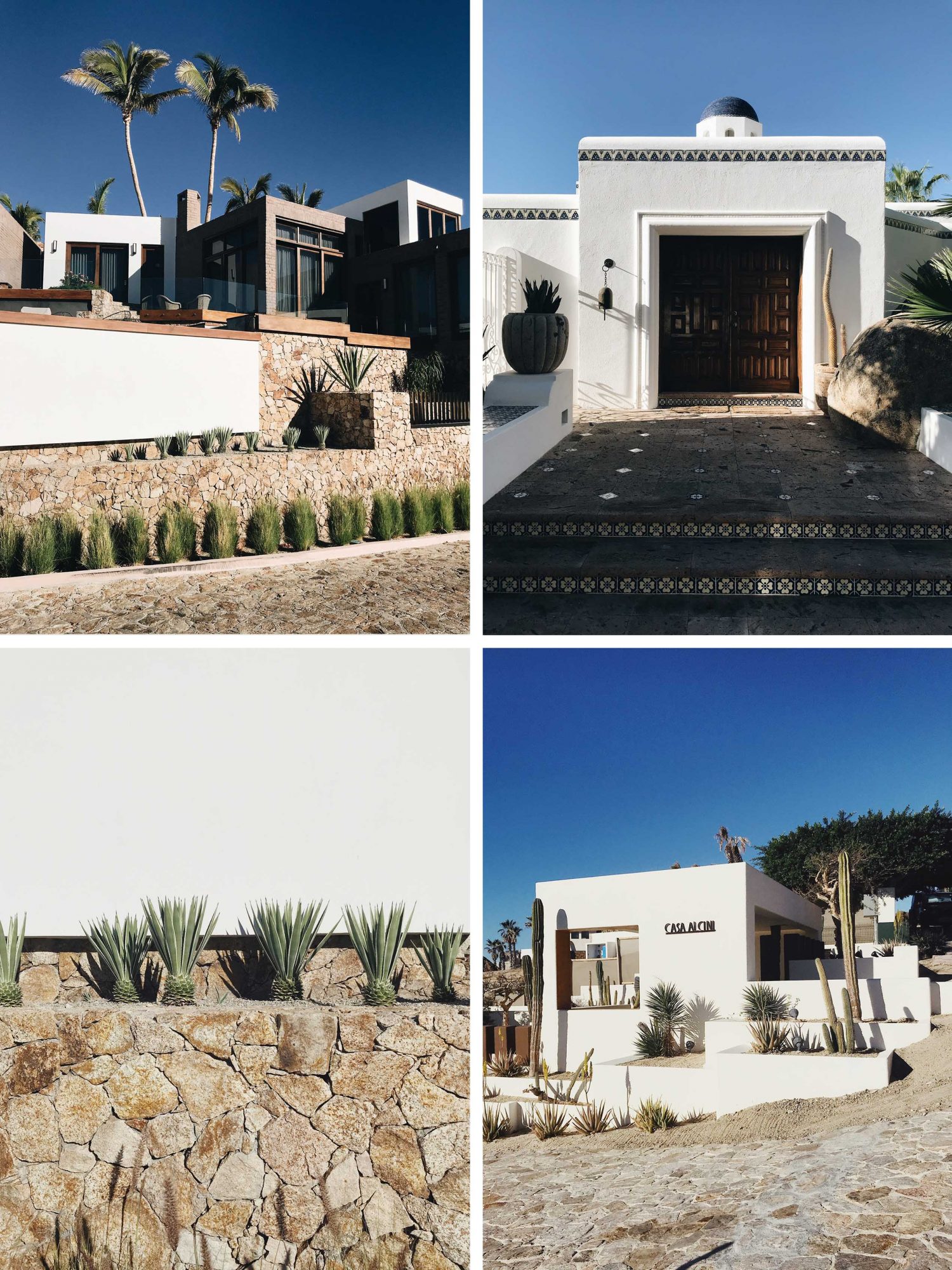 ---
It's safe to say this trip was one for the books! We all left it feeling rejuvenated and very lucky to have such a great group of friends, not to mention a chance to live like rockstars for a few days. Coming home to -16°C degrees and dirty snow was not awesome but of course, I was happy to be back with my boys and furry feline.
---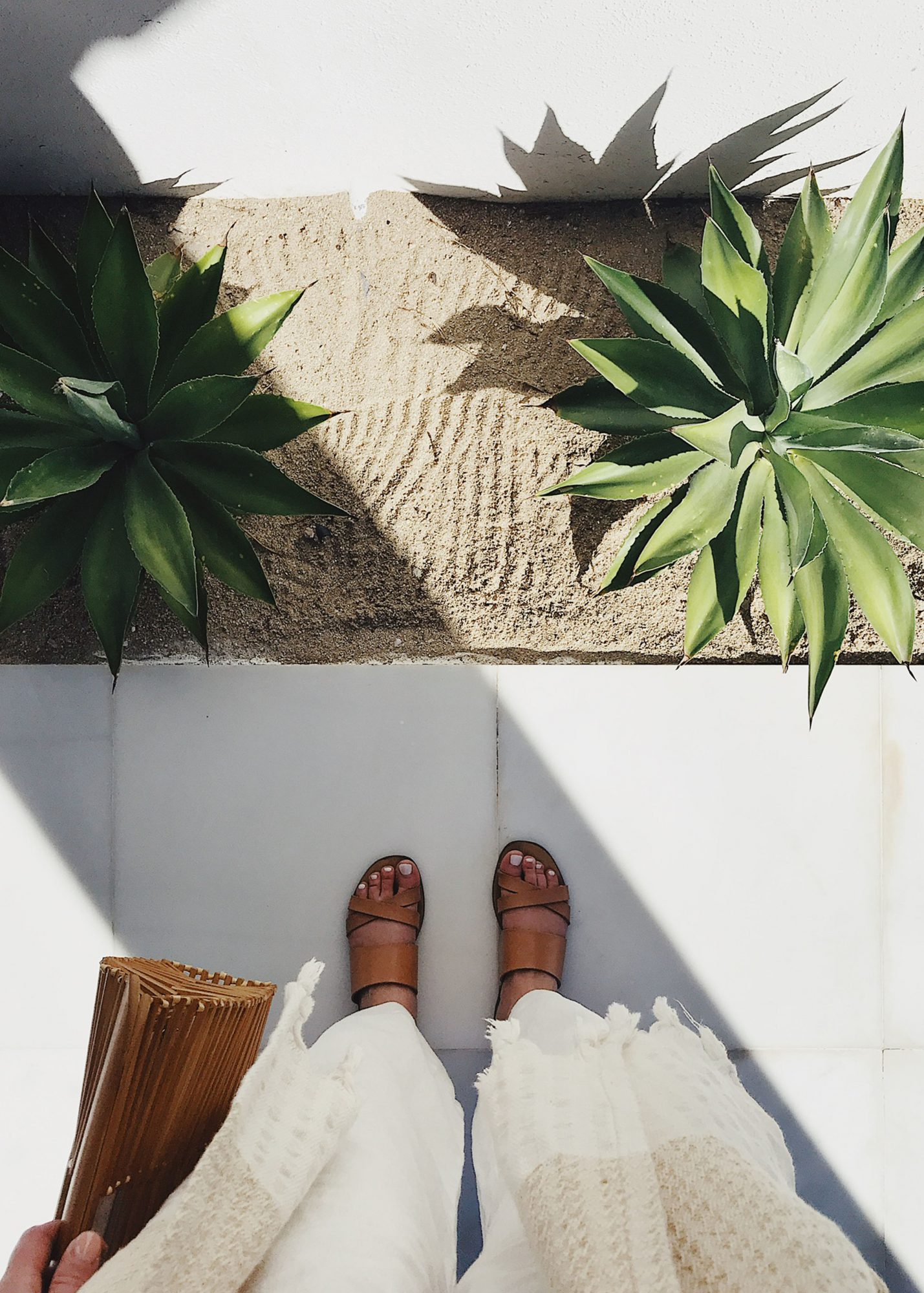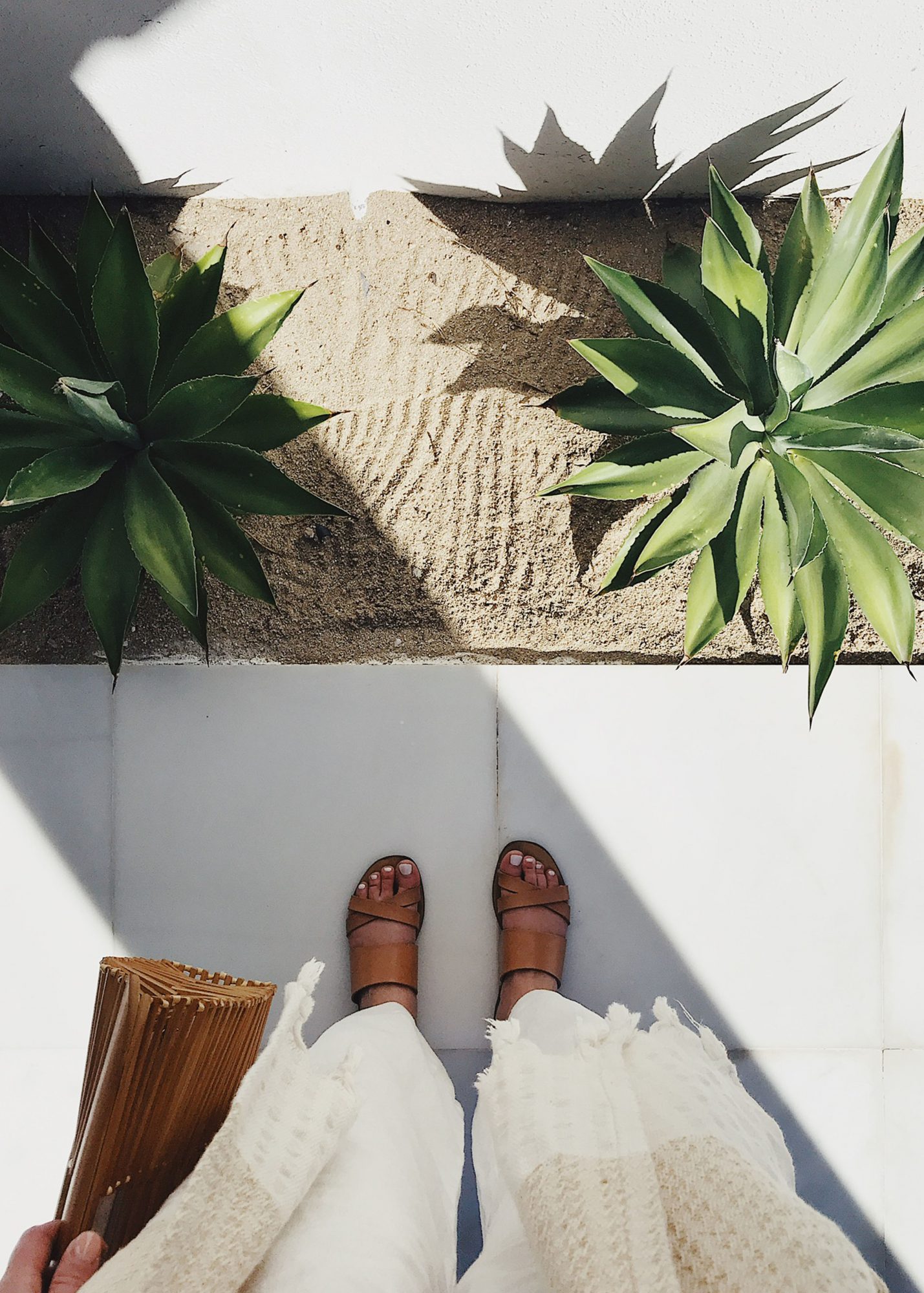 ---
WHAT I PACKED
---
If you've been reading Style Bee for long, you'll know I love sharing packing lists and from what I've gathered, you folks enjoy them too. So I've compiled all the items I brought with me on this short but jam packed trip because it turned out to be a really comfortable but still totally stylish selection. Plus, I know it's vacation season right now so hopefully this will help anyone heading south decide what to bring along!
The forecast was very consistent, which made my life easy, with the daily highs were hovering around 26ºC with lows around 16ºC in the evening. Basically my idea of the perfect temperature range. The sun was hot but the breeze from the ocean made for very enjoyable sun basking and even in the shade (where I stayed) it was toasty. The evenings were cool, especially if you were sitting outdoors near the water but a scarf/shawl or a light jacket was all you'd need. Plus, most of the restaurants we went to had ponchos on hand for anyone who might be chilly.
So here's what I brought in my trusty Away Carry-On!
---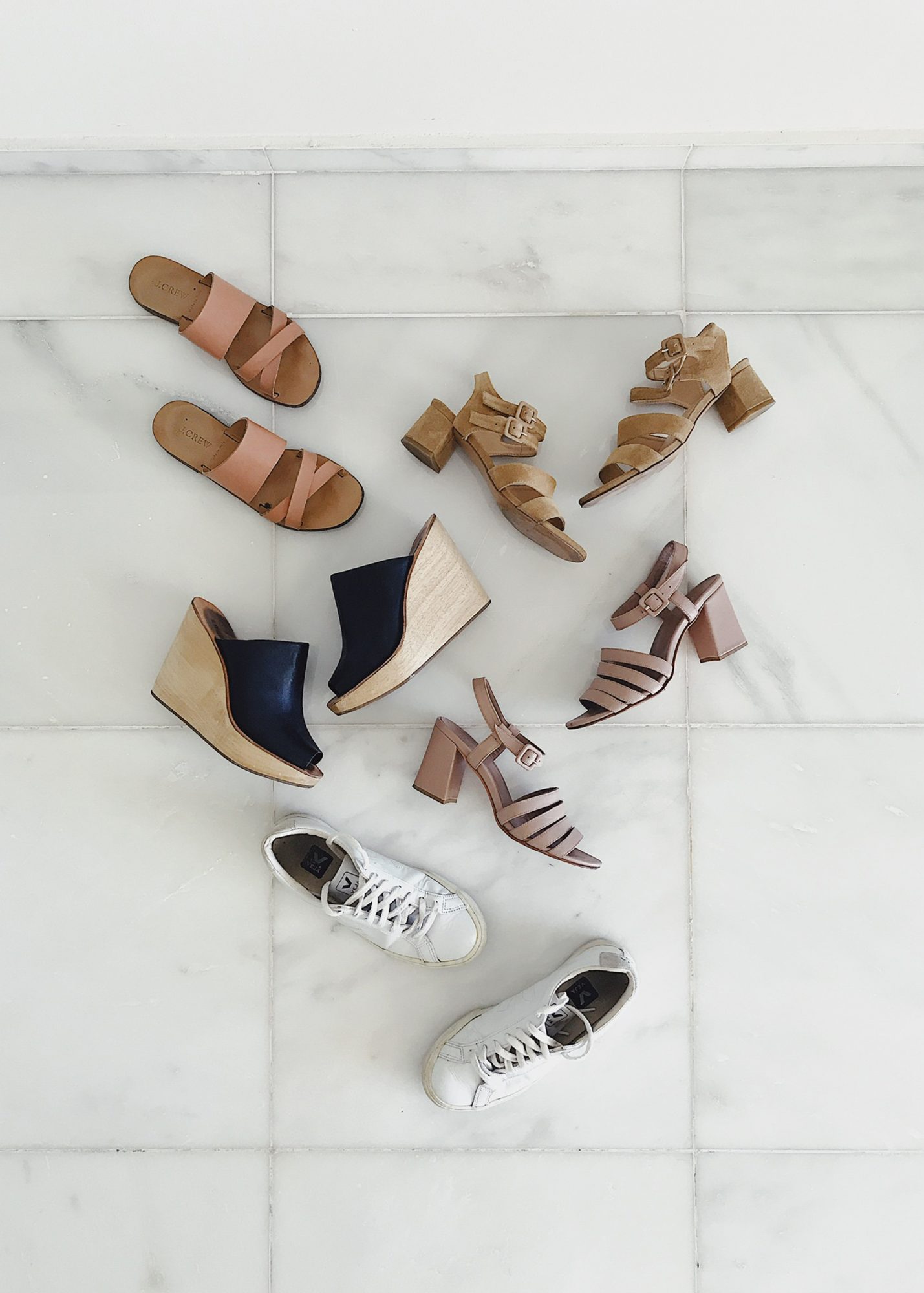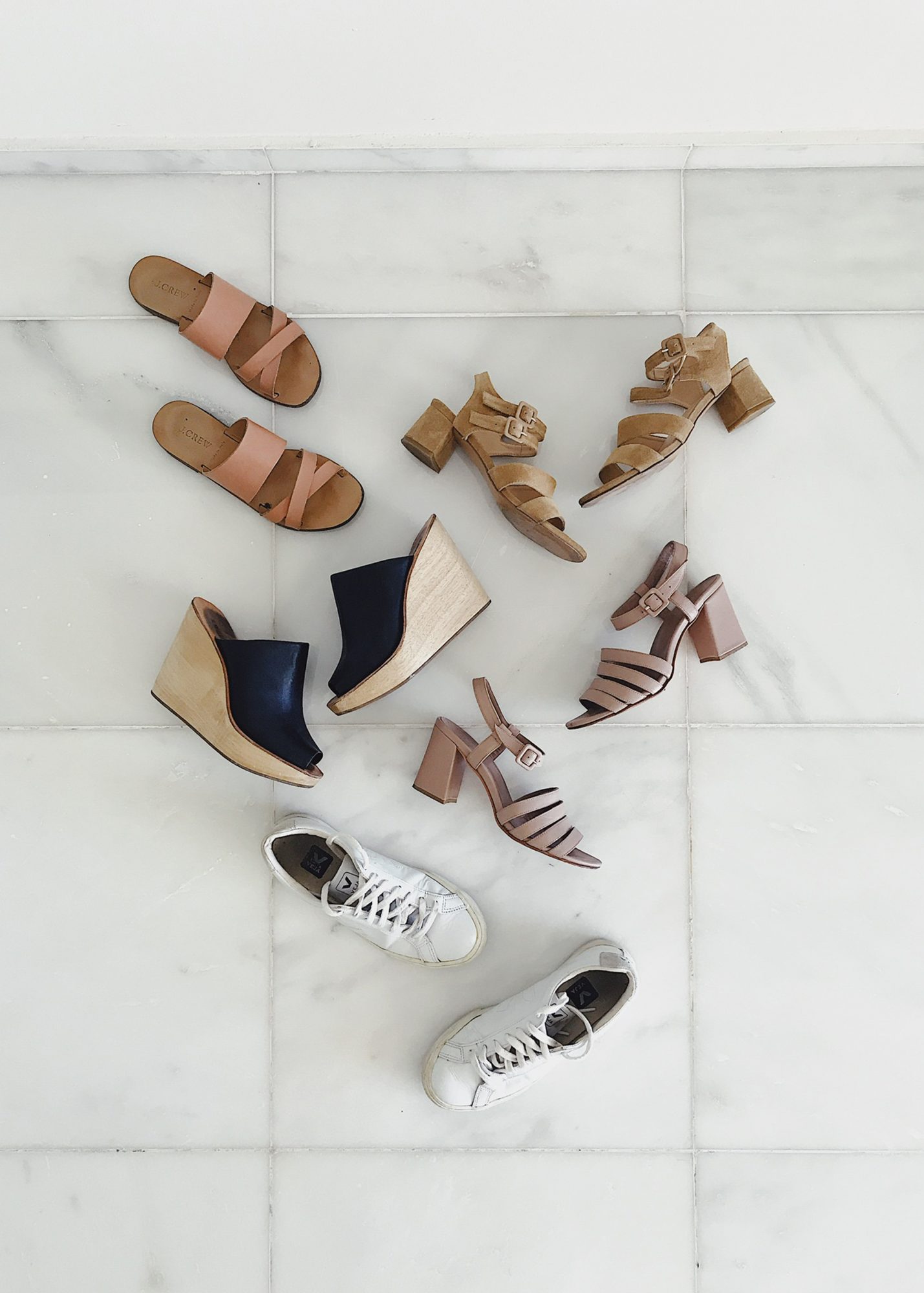 ---
SHOES
---
The shoes above are what I brought and I felt they were the perfect selection for the activities involved ie: travel, beach walks (which are best barefoot, of course), boating, dinners out, dancing, exploring on foot and beach front lunching. There are lots of cobble stone streets and walkways in Cabo so leave the stilettos at home if you're heading that way. Wedges can be a touch treacherous on uneven ground so my suggestion would be to opt for block heels and platforms if you're keen to stay standing.
---
Nude Leather Sandals | J.Crew | old | Linked to similar made in Italy for $88 USD. | Great neutral slide that goes with everything and is easy to slip on and off. 
Camel Suede Jardin Heel | Marais | Made in LA | $310 USD | Runs TTS | Personal favourite wear everywhere sandals that come in so many great colours! 
Palma High Sandal | Maryam Nassir Zadeh | Colour s/o but see a cream option here (low heel) and a light neutral here (high heel). | Made in Italy | $410 USD | Runs TTS | These were my wedding shoes and I LOVE them so much. For a fairly high heel they are super comfy and I've danced all night in them a few times now. 
Esplar White Sneakers | VEJA | Made sustainably in Brazil | $120 USD | I'm a US 7 and wear the 38. | My go-to travel shoes for years now.
Wood Wedges | Rachel Comey | old | Similar here. | Awesome for added height in a comfortable format. Not so ideal for cobblestone walkways though. 
---
ITEMS I WORE
---
Here are all the items I packed and actually wore during our visit. I usually needed about two looks a day, one for lunch and one for dinner, plus my swimsuit. In hot climates I don't like re-wearing items as much as I normally would on cooler trips so I kept that in mind when packing. I knew I wanted to be comfortable but still embrace the vacation vibe and fun, flirty nature of a girl's trip. This meant feminine dresses, floaty pieces, perky patterns and cinched waist-lines. I packed my three favourite swimsuits and my go-to cover-up for pool side times and included a yoga set, blanket scarf and duster jacket for cooler temps at night.
---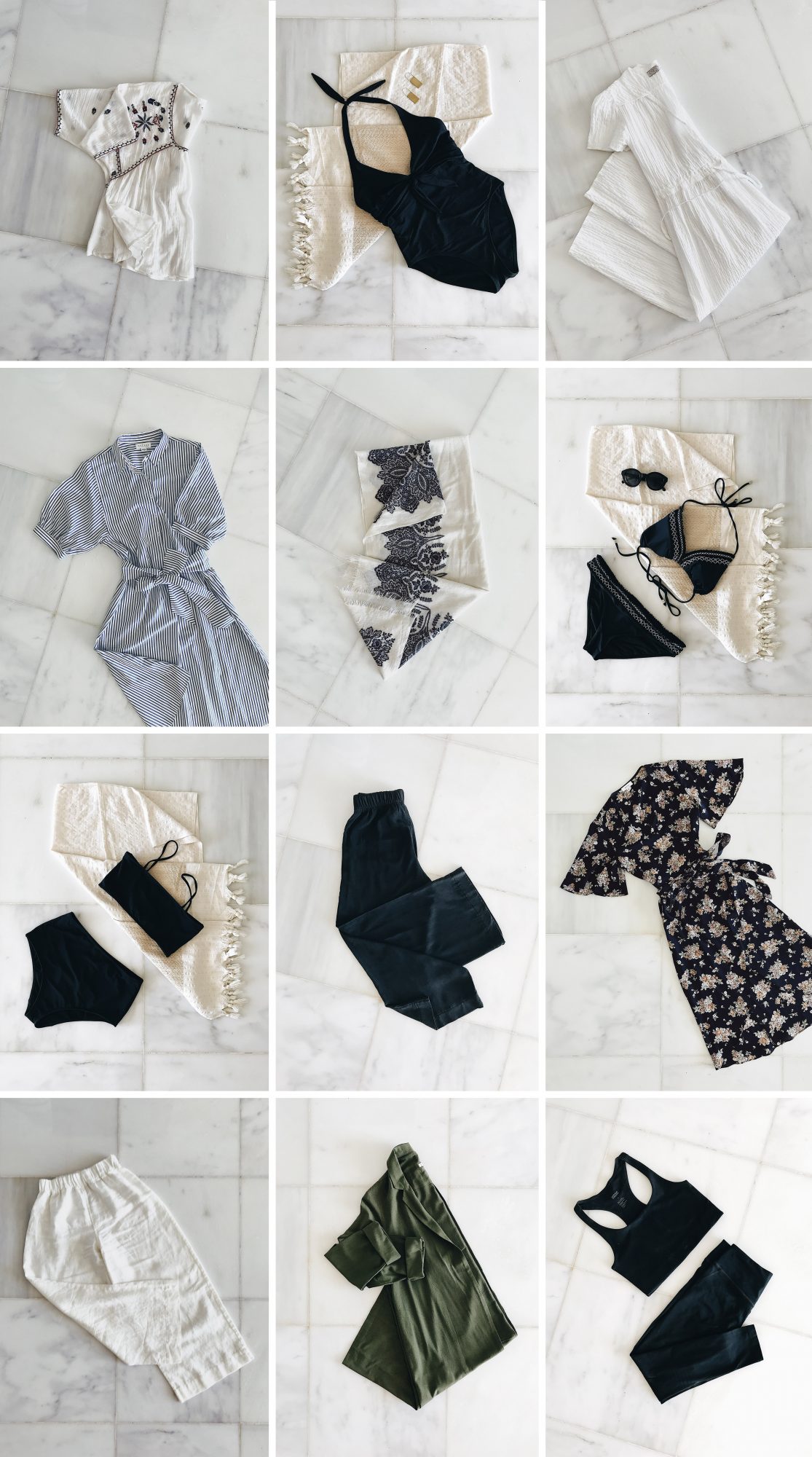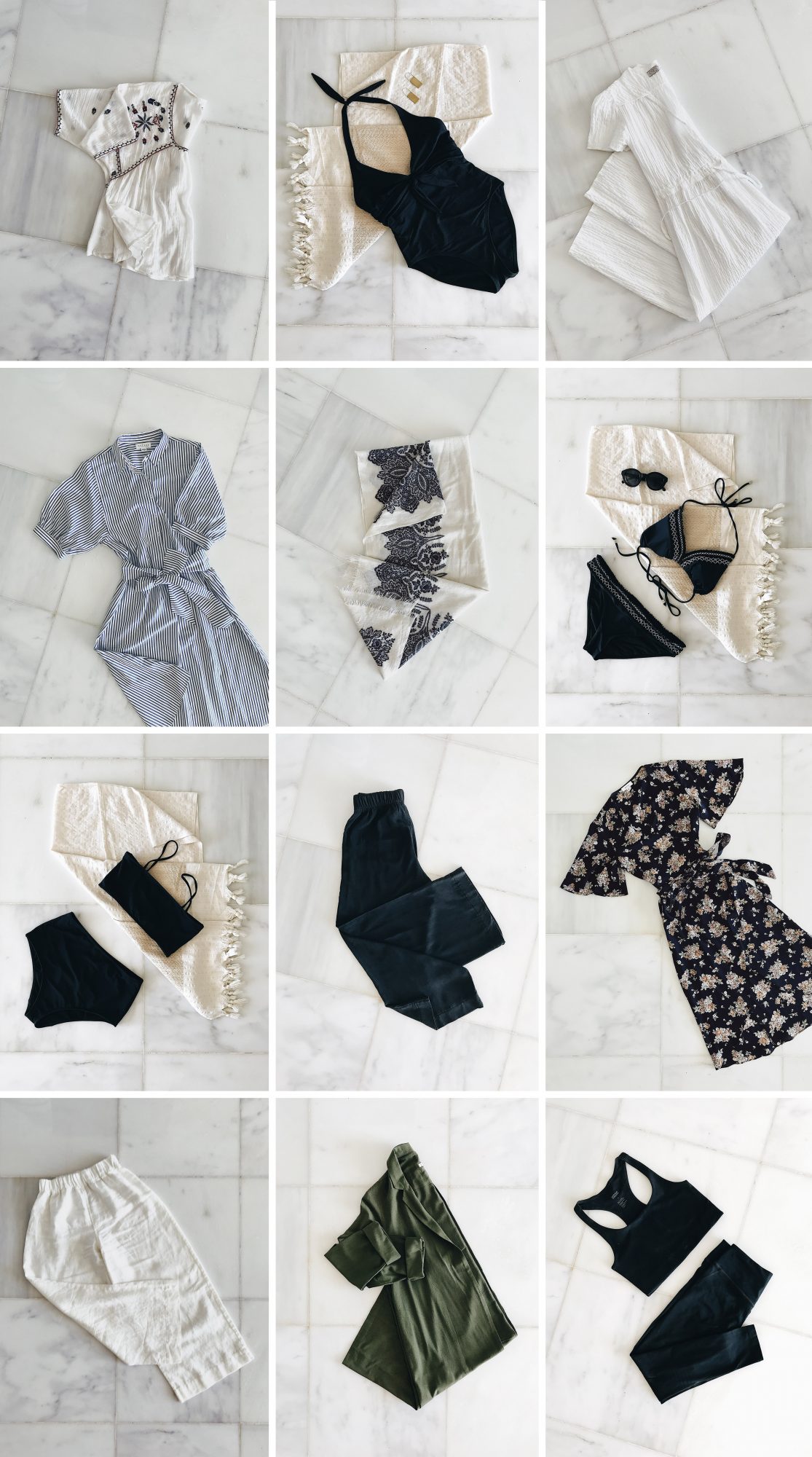 ---
Embroidered Cotton Tee | c/o Velvet by Graham Spencer | $119 USD | Wearing a S | Made responsibly in India | Machine Washable | This is the perfect top hot days when you want to throw something on and feel like you're barely wearing anything at all. The embroidery adds a vintage flare but it's still a simple piece that works great over a Florence pant or any denim. 
Cover-Up | Handloom Store via ETSY | $60 CAD | Hand-loomed in Turkey | OS | I've had this piece for years and it totally changed my beach-wear game. I love that I can throw it on over a suit if I'm chilly or want some coverage but it also works great over a tank and linen pants or a simple shift dress. 
Deep V Maillot | This is my favourite one-piece and I love the plunging neckline and high-cut leg so much. I got it years ago but here are a few very similar options: Vitamin A (love this modest but still sexy design) | Karla Colletto (next line on my list to try)| Beth Richards (sporty option) | Mara Hoffman (pattern) | Cover (simple + classic + affordable) | Beth Richards (love this flirty one too!) | All made in USA or Canada | Ps. Ordering swimwear from ShopBop is great because you get free returns and any import fees refunded so you can order multiple sizes and styles and try on at home. Hackwith Design House is also a great indie option for swimwear.
---

---
---

---
BAGS
---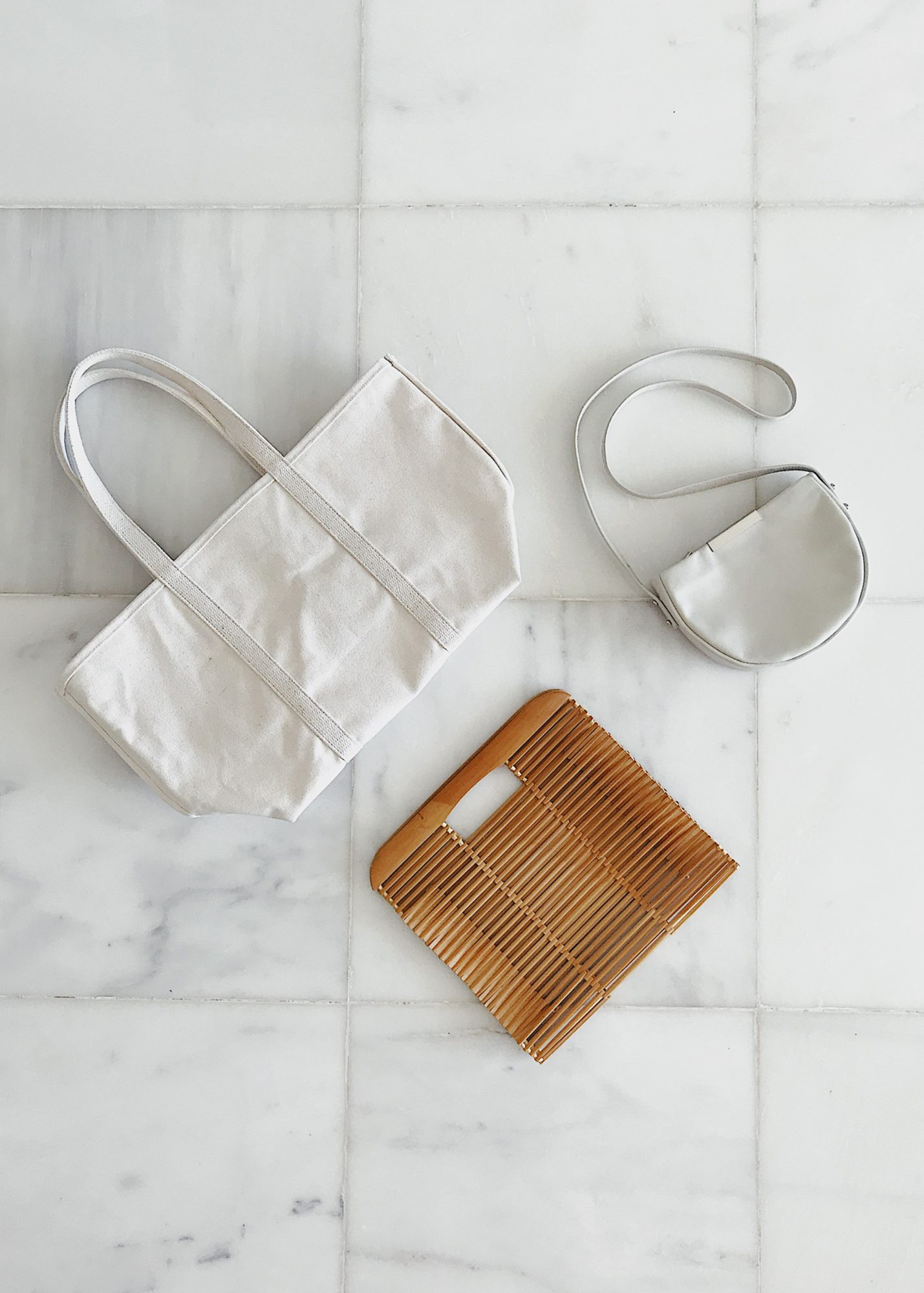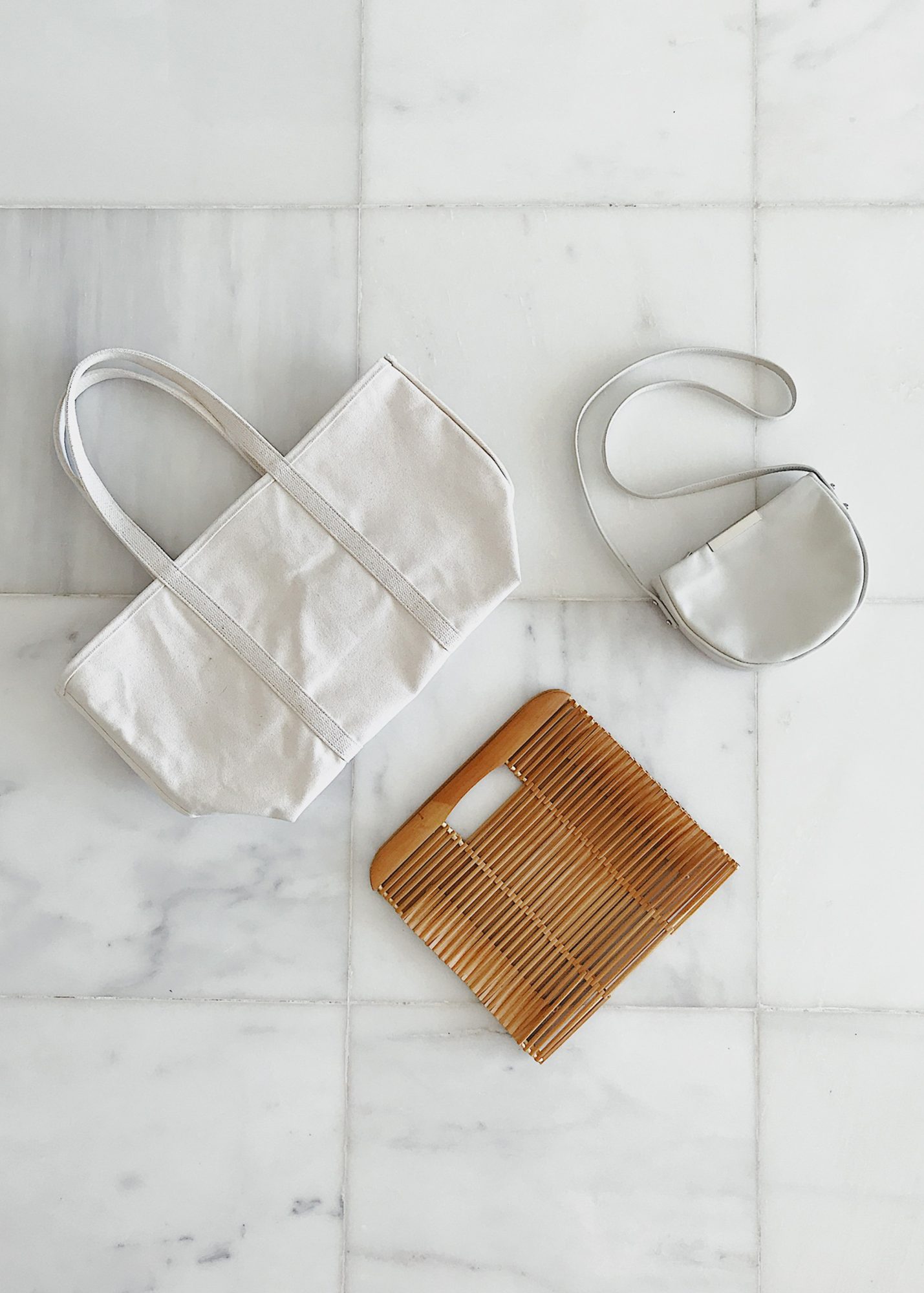 ---
I've been trying to keep my bag selection super lean on trips so I opted for my carry-on tote, a little cross-body that could double as a clutch and a vintage bamboo box bag for a fun dose of summer vibes. These all came in very handy throughout the trip and I'd pack them all again in a heartbeat!
---
Beach Tote | c/o Joshu + Vela | $68 USD | Made in San Francisco with a lifetime warranty. Machine Washable. | This is my favourite carry-on bag because it holds lots without being huge and stands up thanks to a flat bottom. It's also a perfect beach bag too! 
Mini Meena Cross-body | c/o Opelle | Colour sold out but there are other options here | Made in Toronto | $295 CAD | Love this one because it can be a clutch or a cross-body plus it holds all my essentials no prob! | Similar cute convertible option here (made in USA).
Bamboo Box Bag | Vintage | Similar option here. | This is a great bag for travel because it folds down flat but can be popped back into a boxy shape.
---
LOOKS
---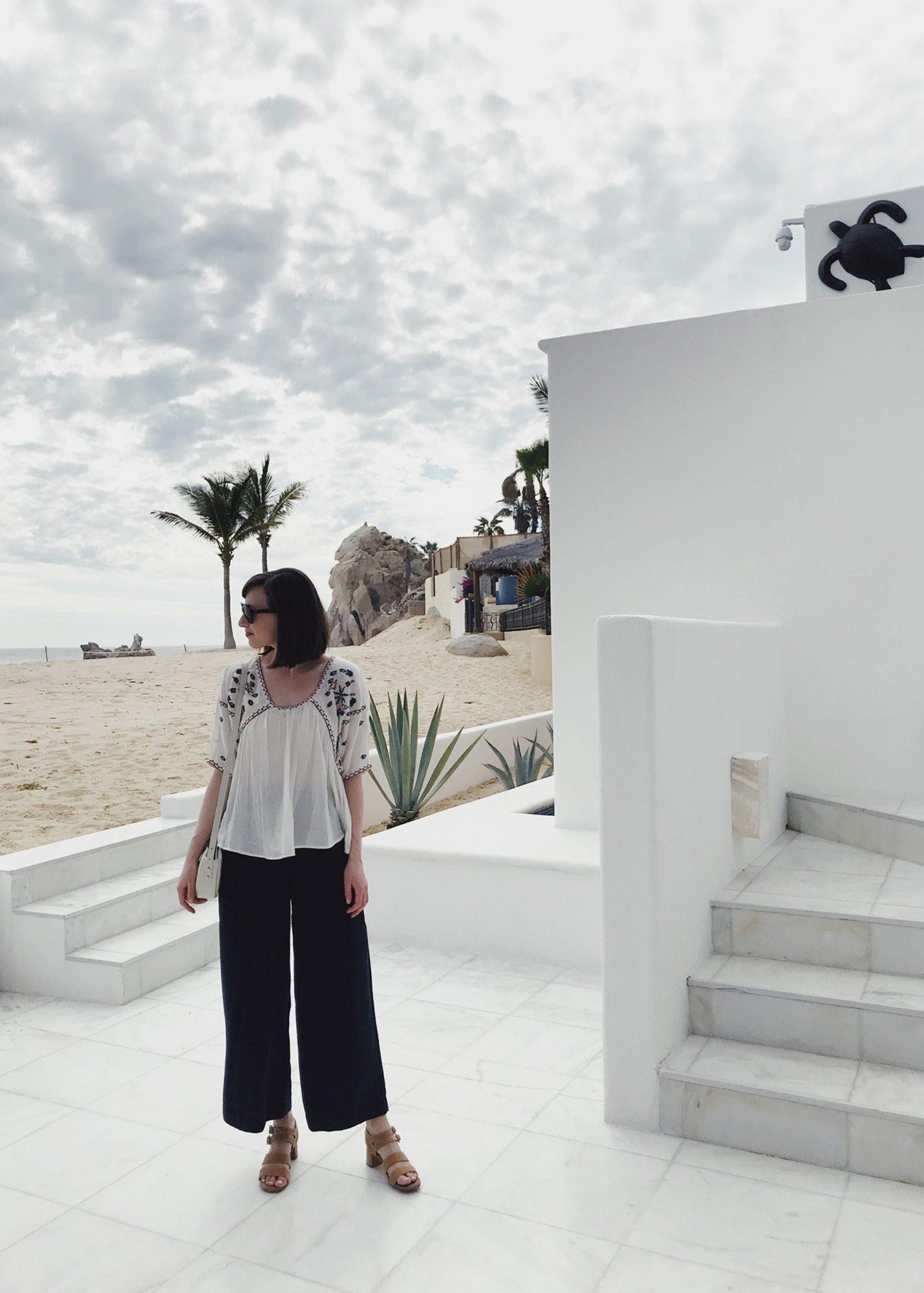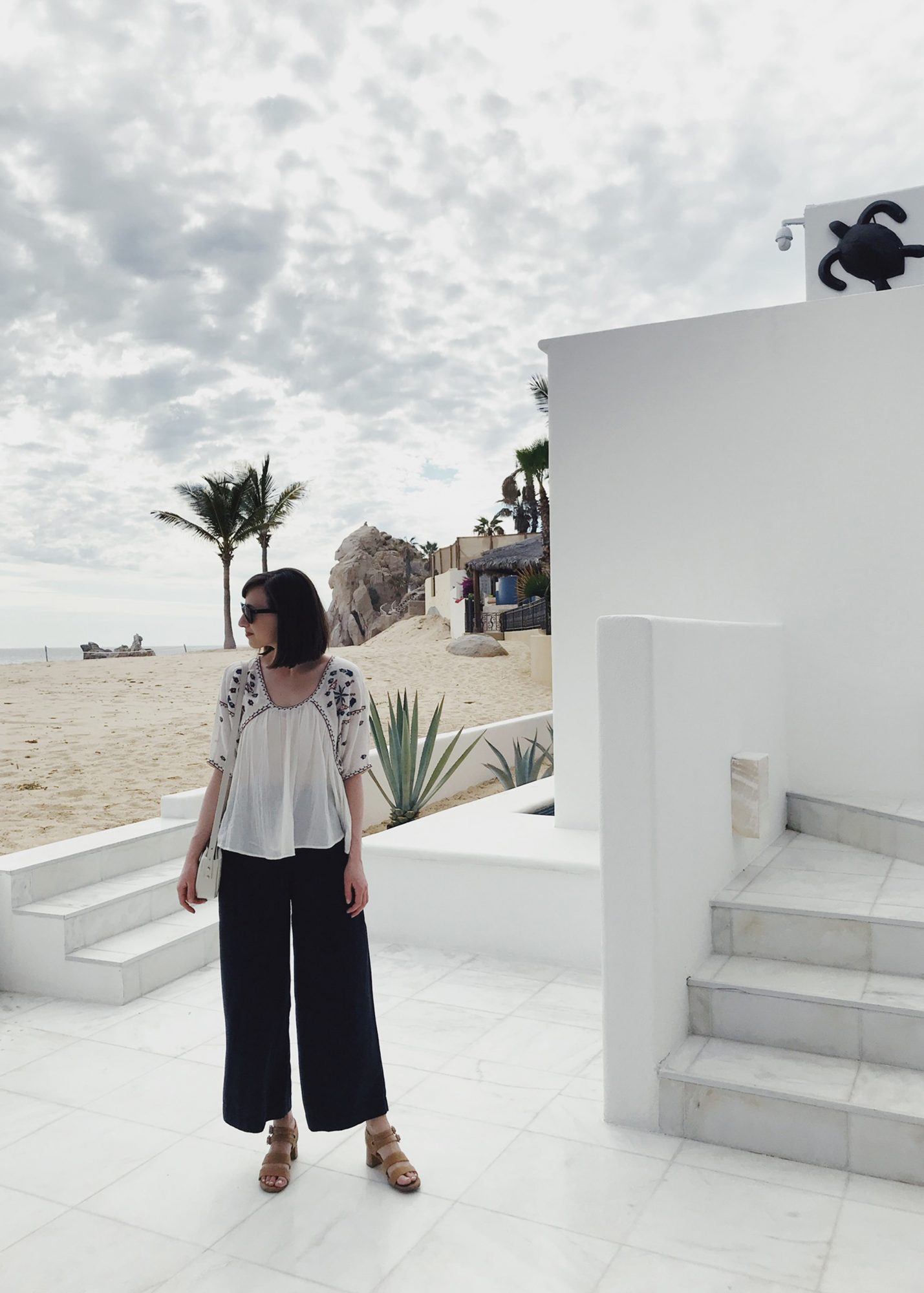 ---
LOOK 1 – LUNCH – I wore this look out to our first ladies lunch at Hacienda Cocina Y Cantina overlooking the ocean and it was perfect! It was pretty hot out but still nice and breezy so this gauzy top and silky pants were the perfect flowy combo for mid-afternoon margs and tacos. I can't wait to wear this one again in the summer.
---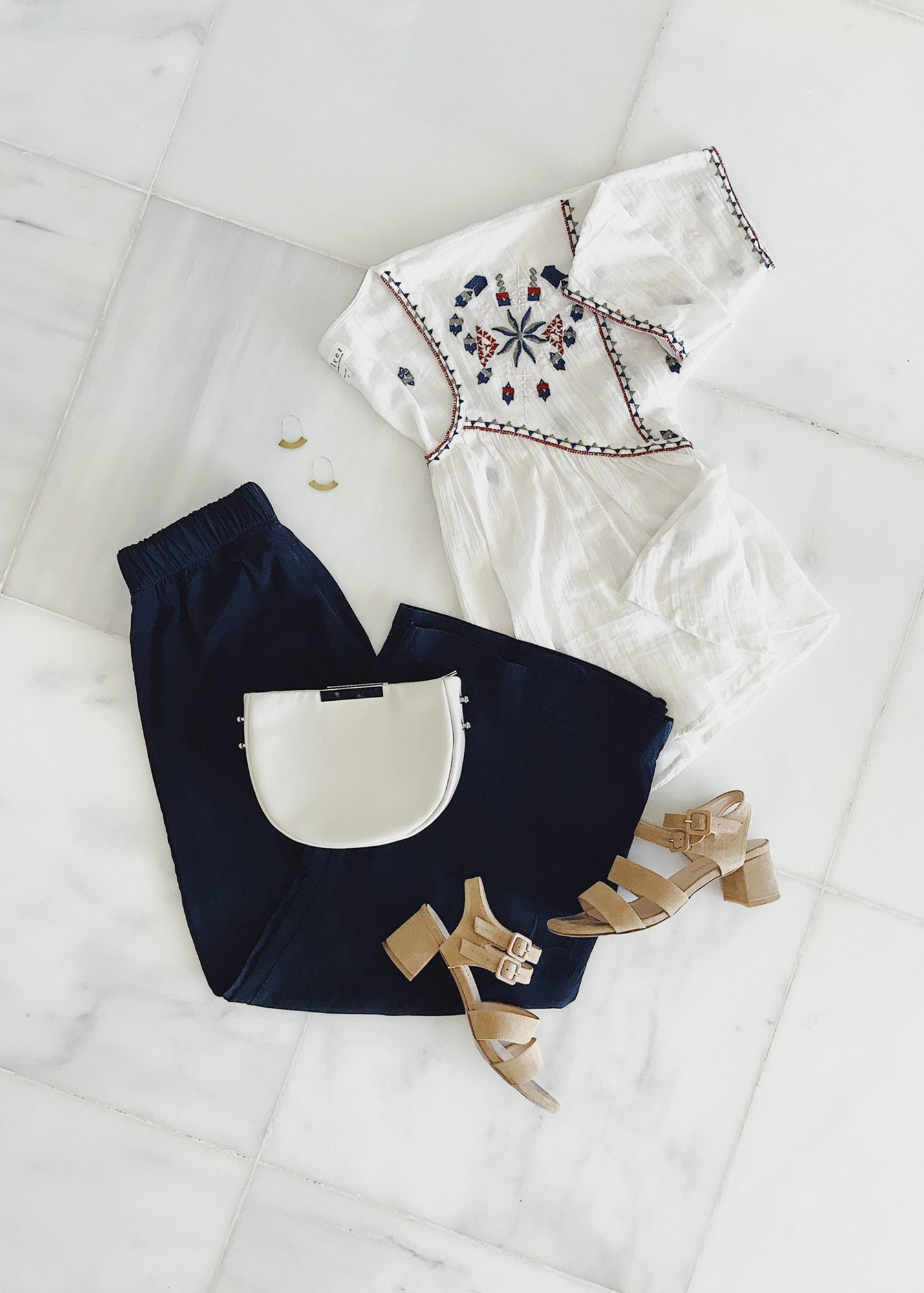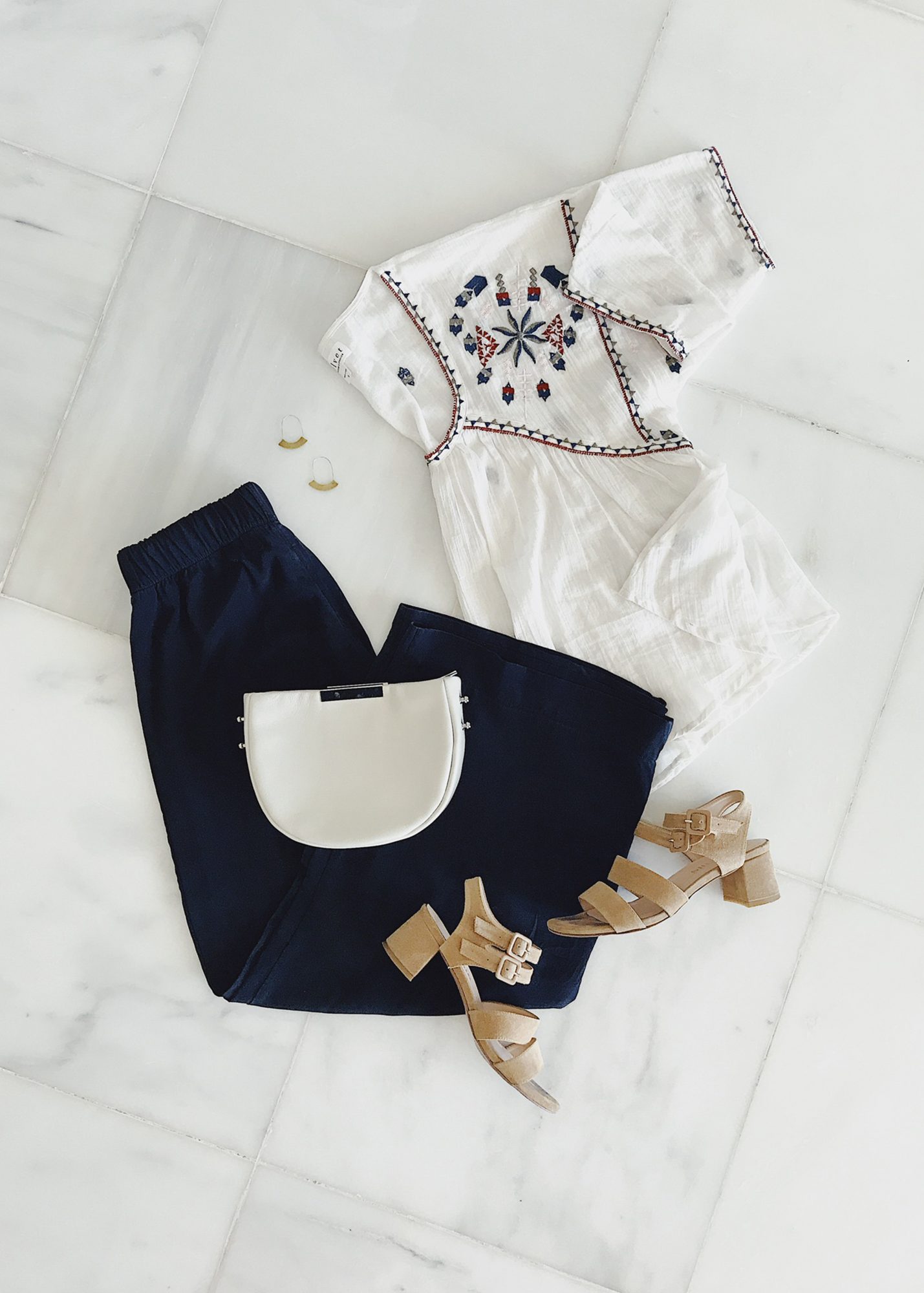 ---
LOOK 2 – DINNER + DANCING – This was the perfect outfit for our first and biggest night out in Mexico. It was comfy for a fabulous seafood feast at Edith's, walking through the streets of Cabo and dancing the night away at El Squid Roe.
---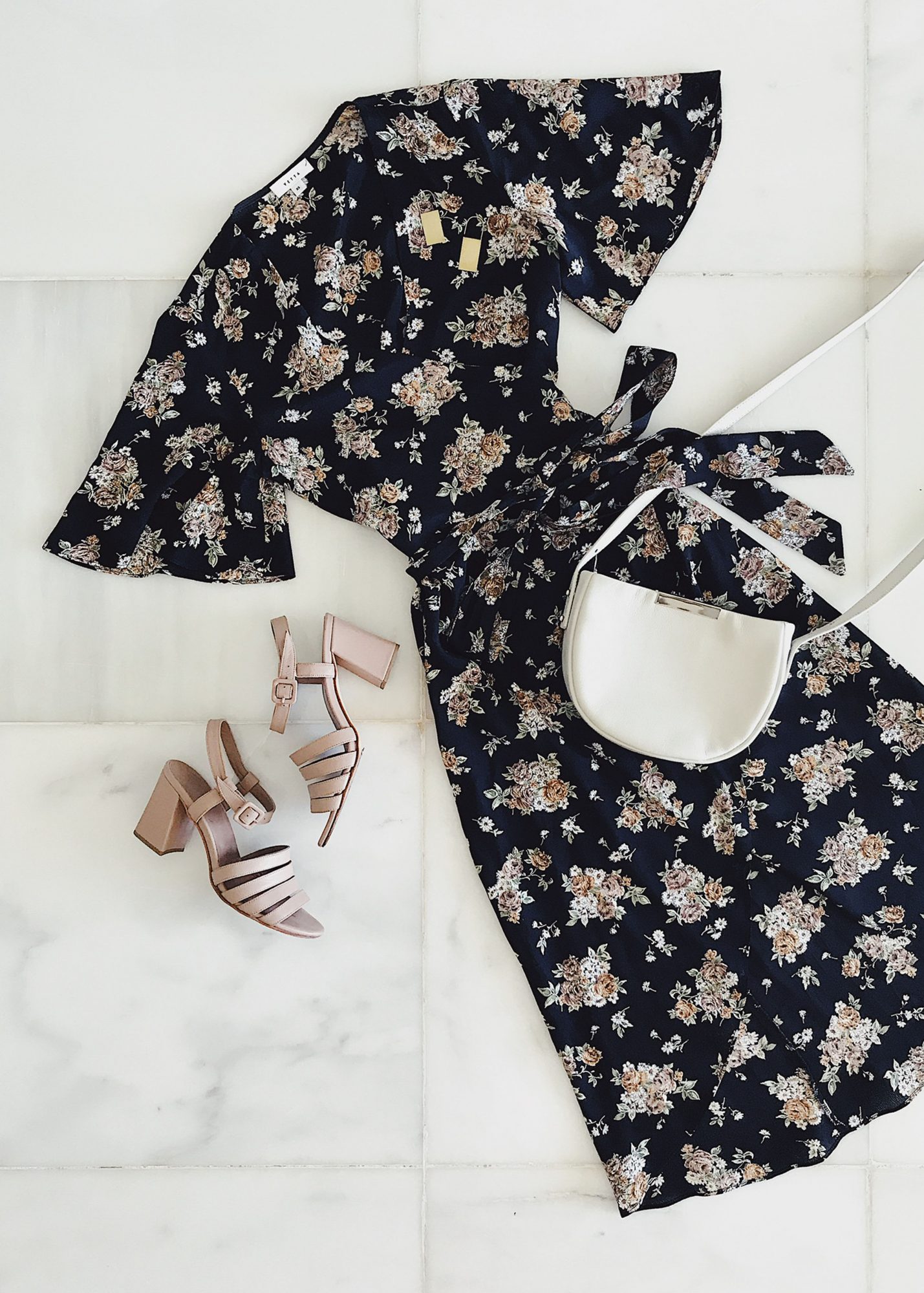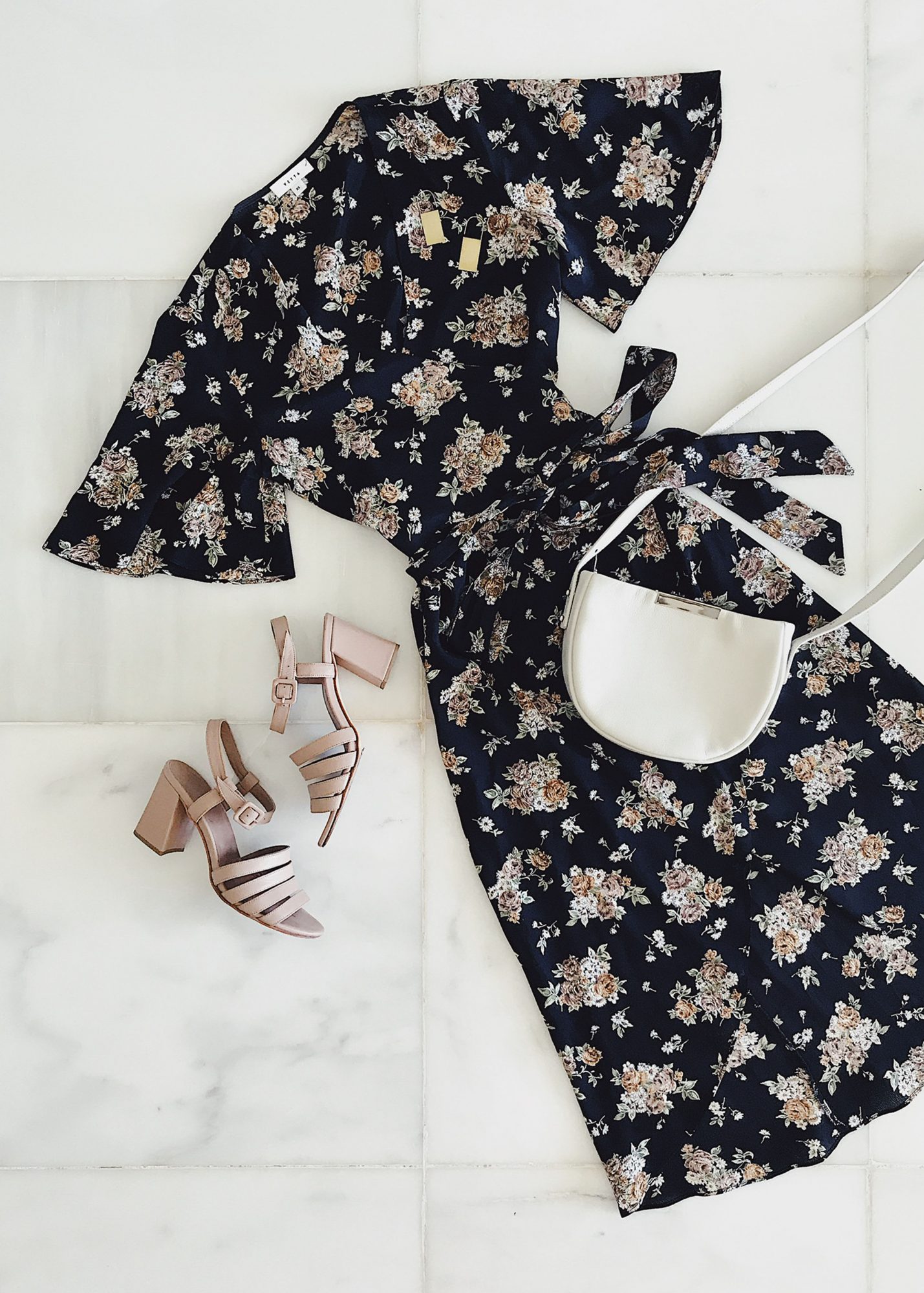 ---
LOOK 3 – POOLSIDE HANGS – I wore a combination of this every day by the pool and around the villa. Black swimsuit, kimono cover-up, sunnies and sandals!
---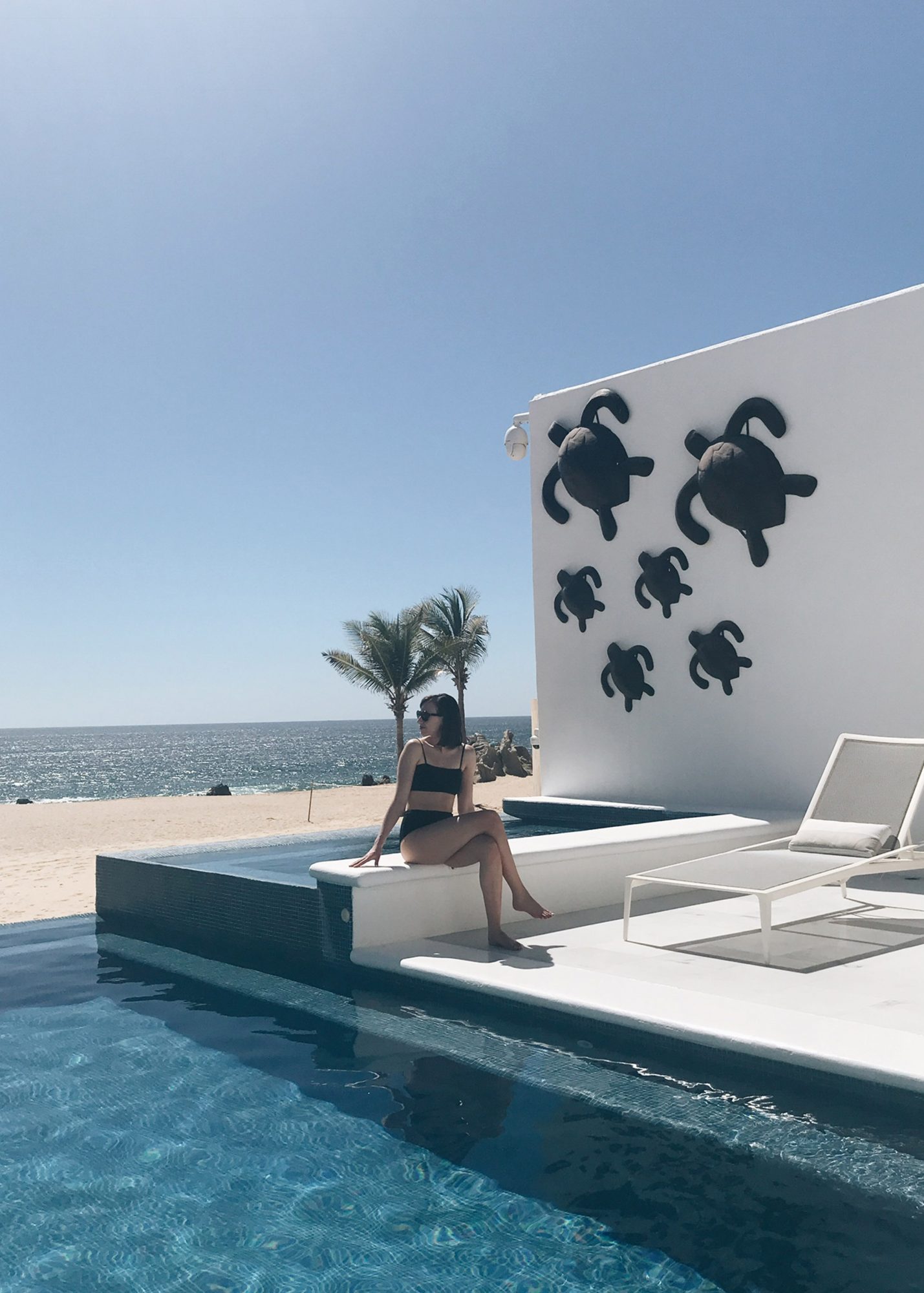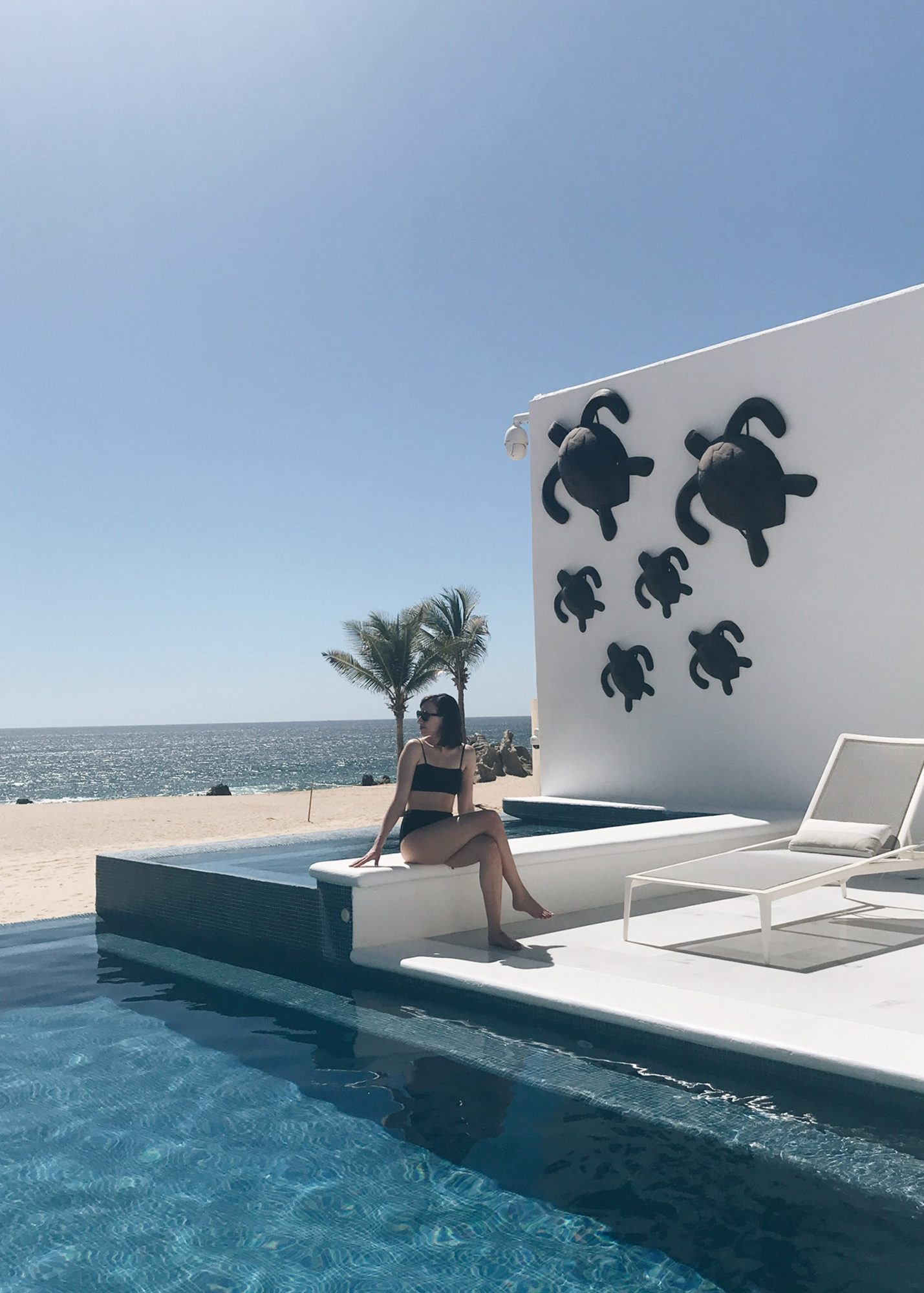 ---
LOOK 4 – FANCY DINNER OUT – This was what I wore to El Farallon for champagne tasting and fresh catch feasting. It was a little chilly on the patio so I was glad to have my blanket scarf with me.
---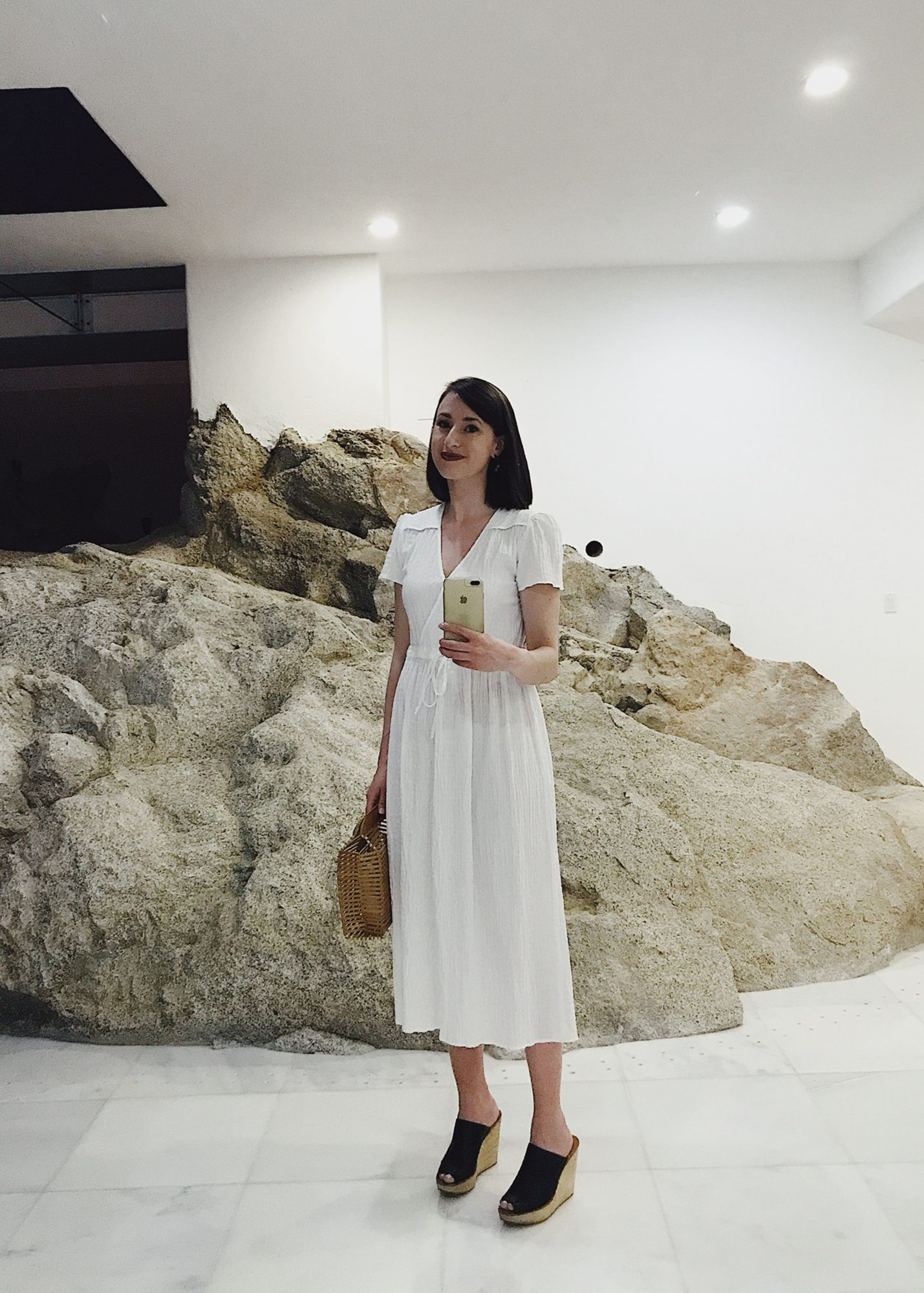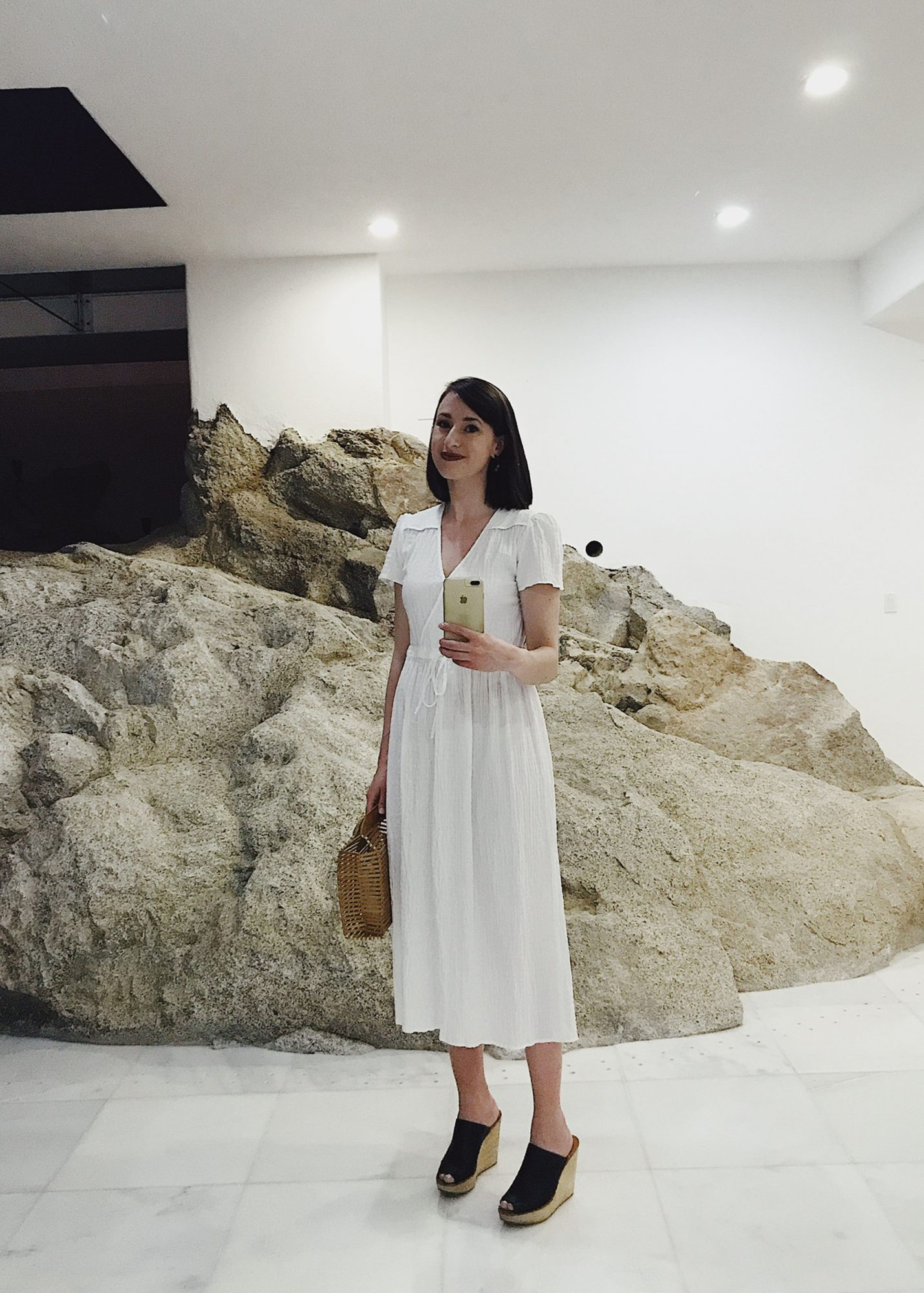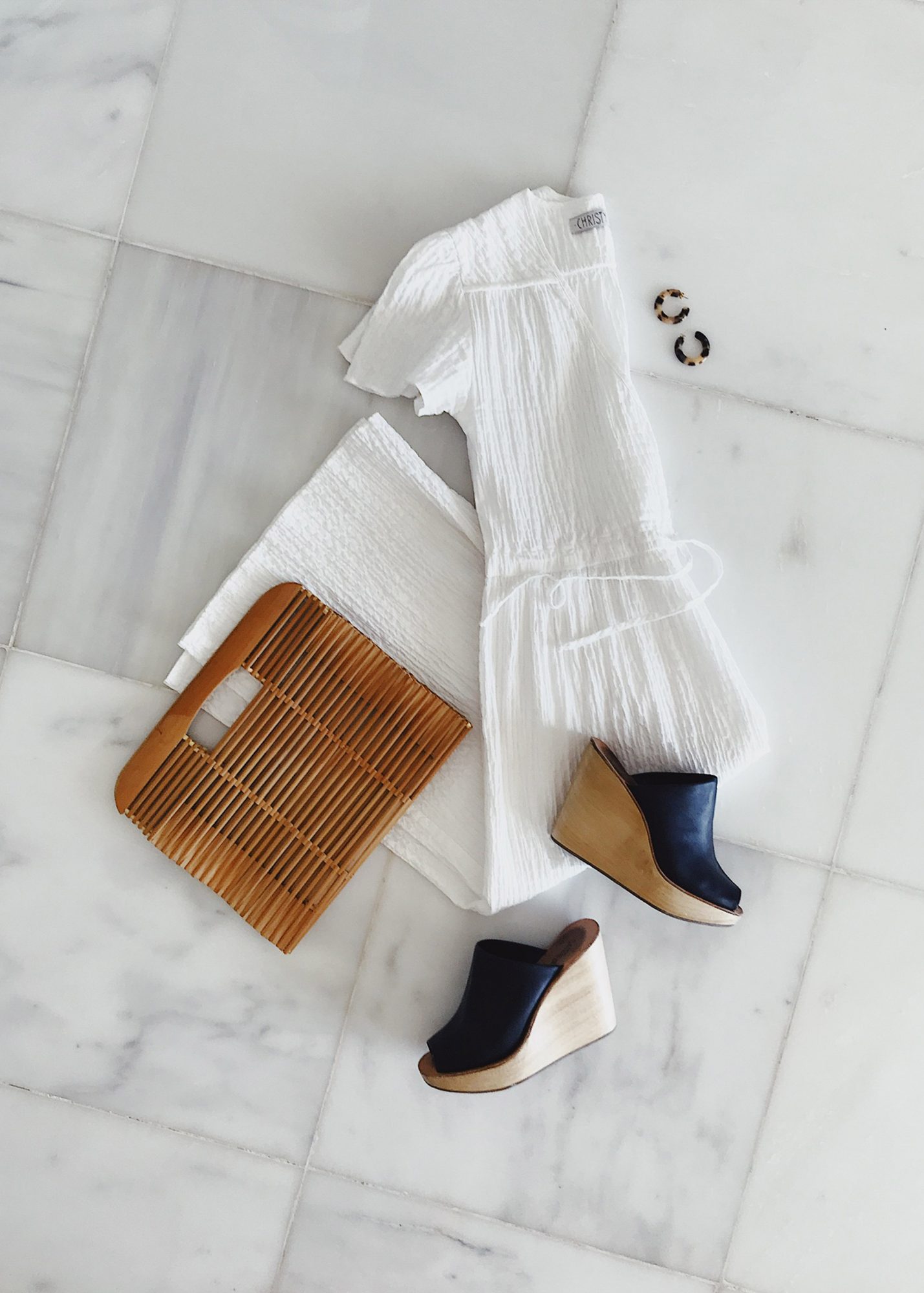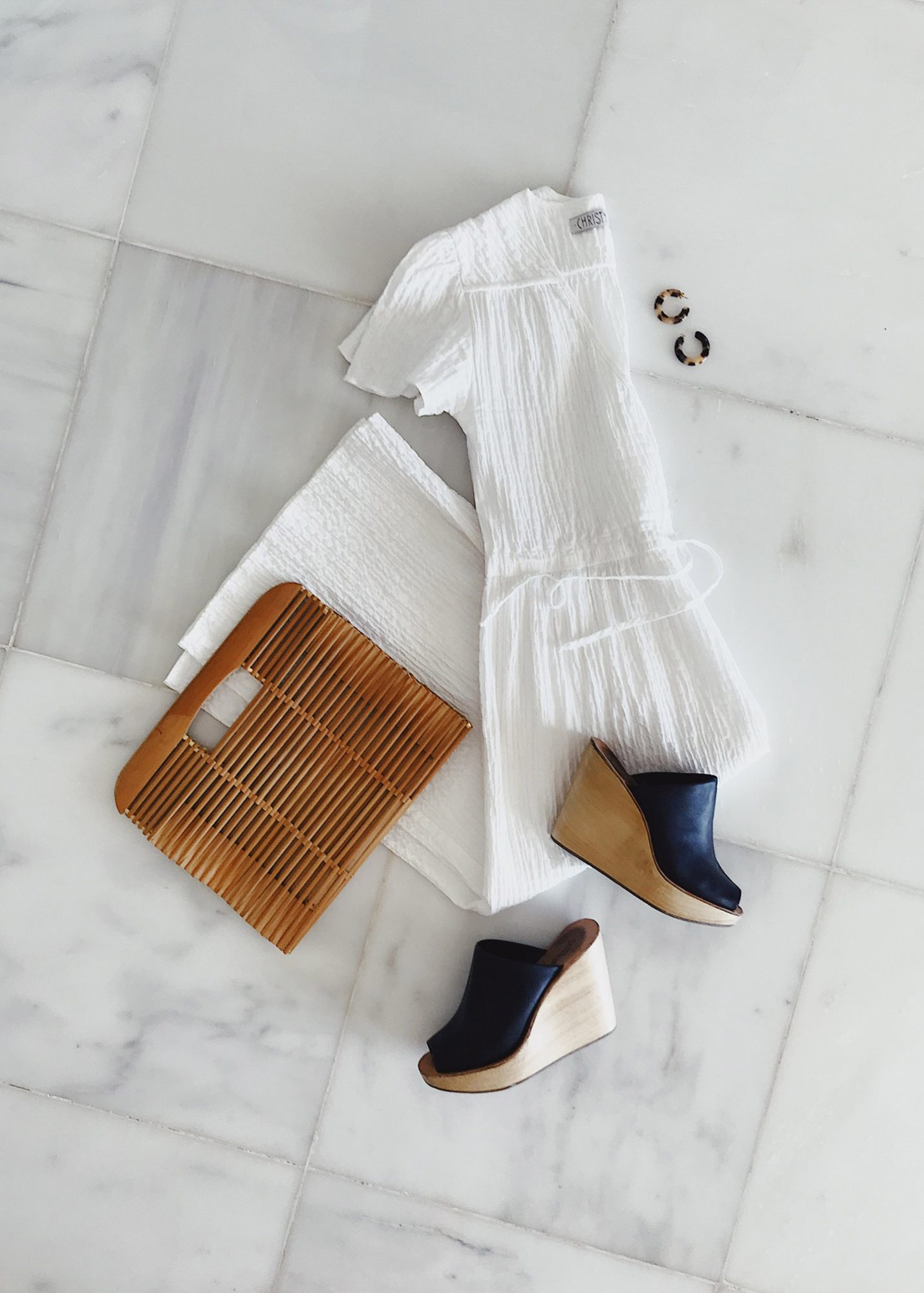 ---
LOOK 5 – SPA + LUNCH – After a morning yoga session I slipped into my one piece and wore it as a body suit under my linen pants and kimono cover-up. This was perfect for the spa and lunch afterwards. All things considered, this might be my favourite look from the trip!
---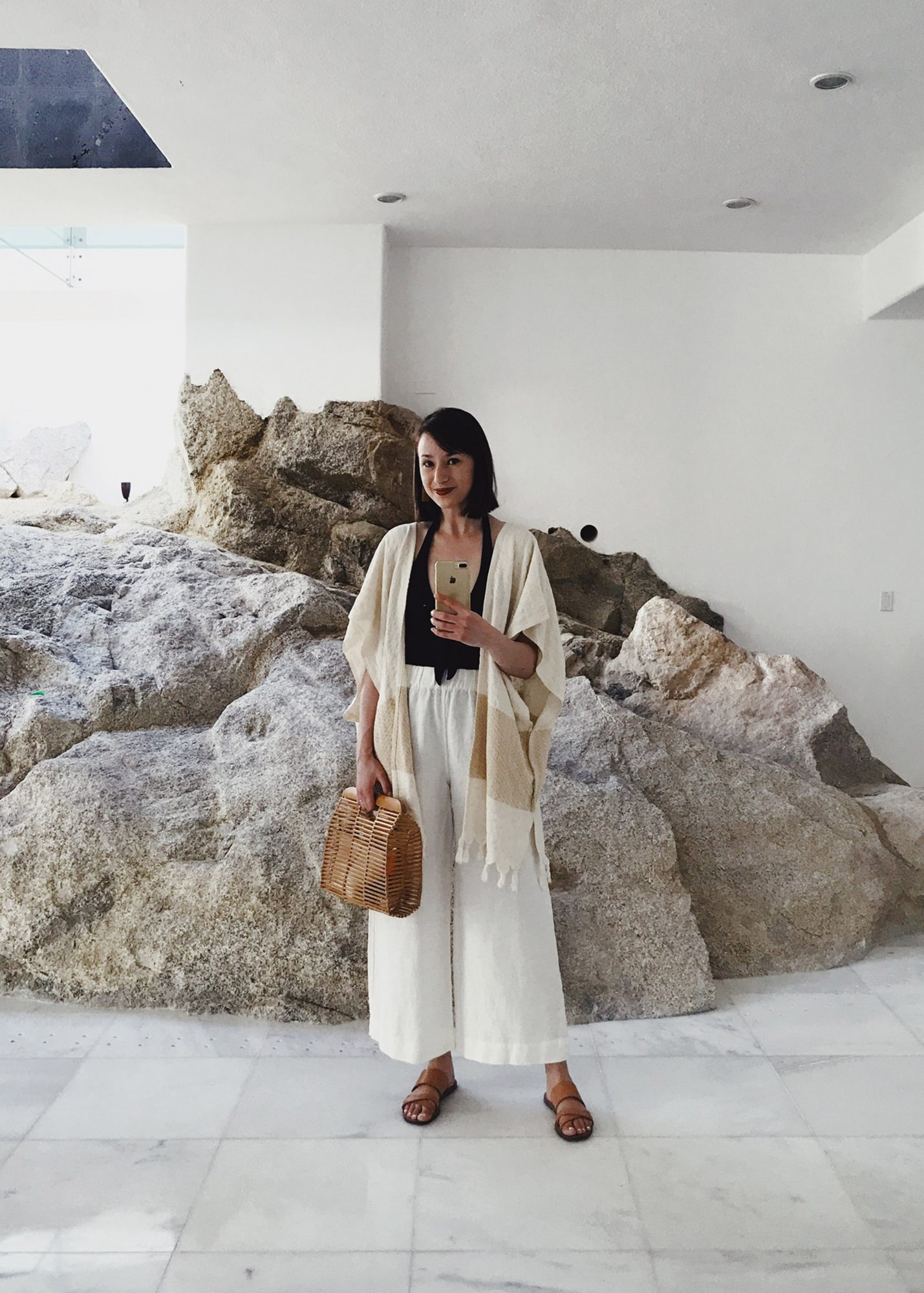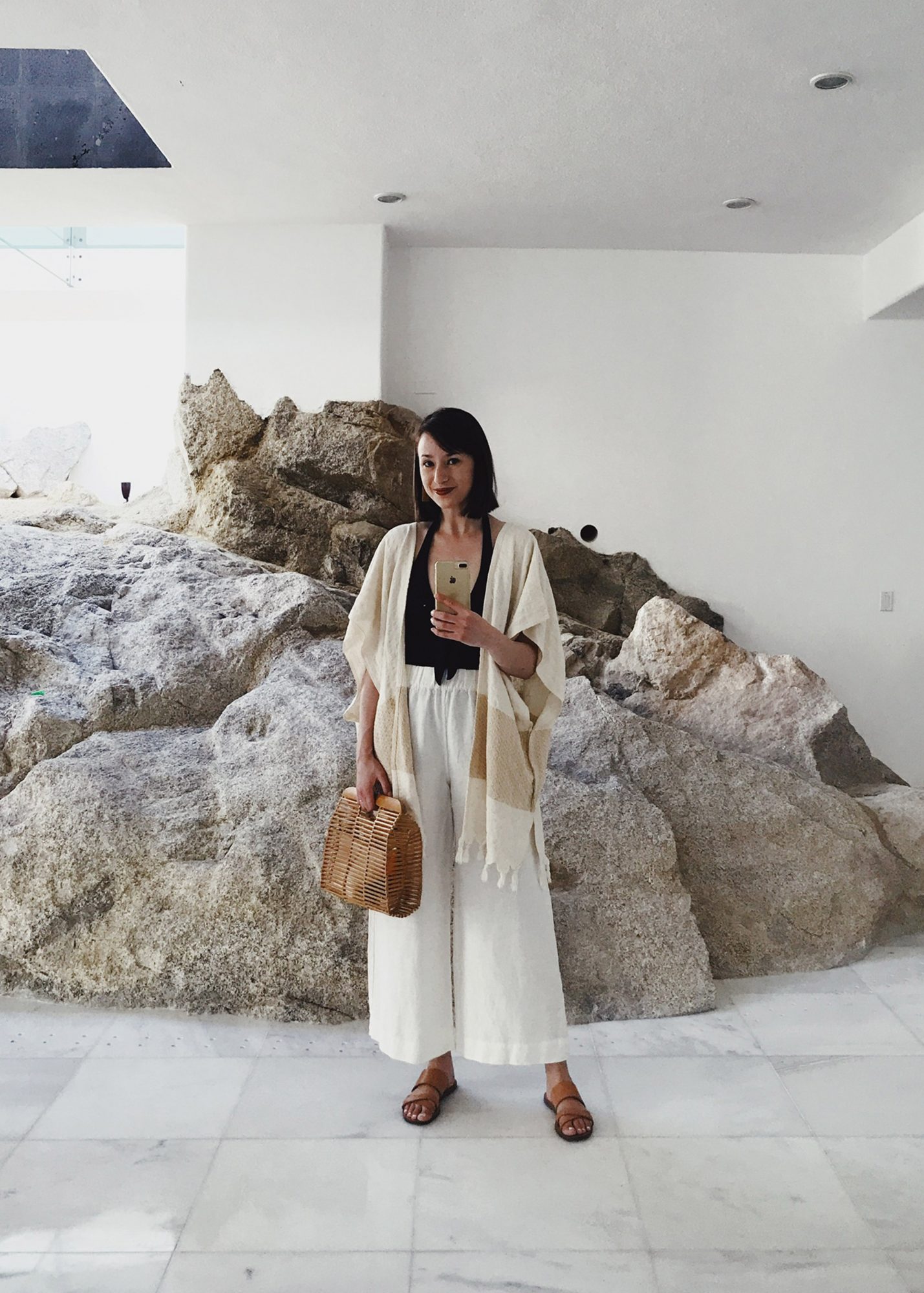 ---
LOOK 6 – DINNER OUT – Our last dinner was at Manta in the very cool Thompson hotel and I'm so glad I saved this dress for it. It was just the right amount of dressy for the venue and oh-so fun to wear. It's one of those easy throw on and go pieces that takes zero effort to look chic and put-together.
---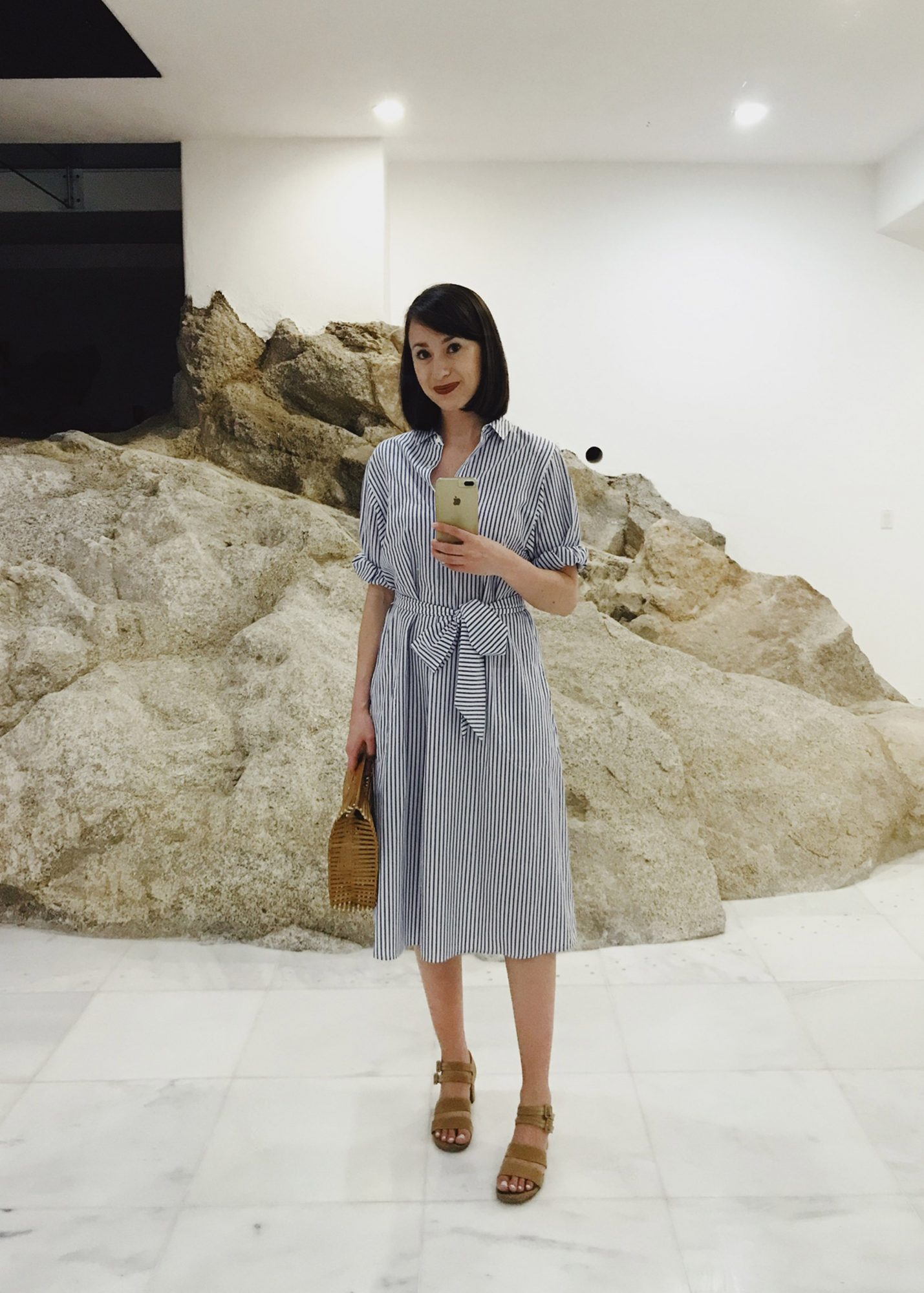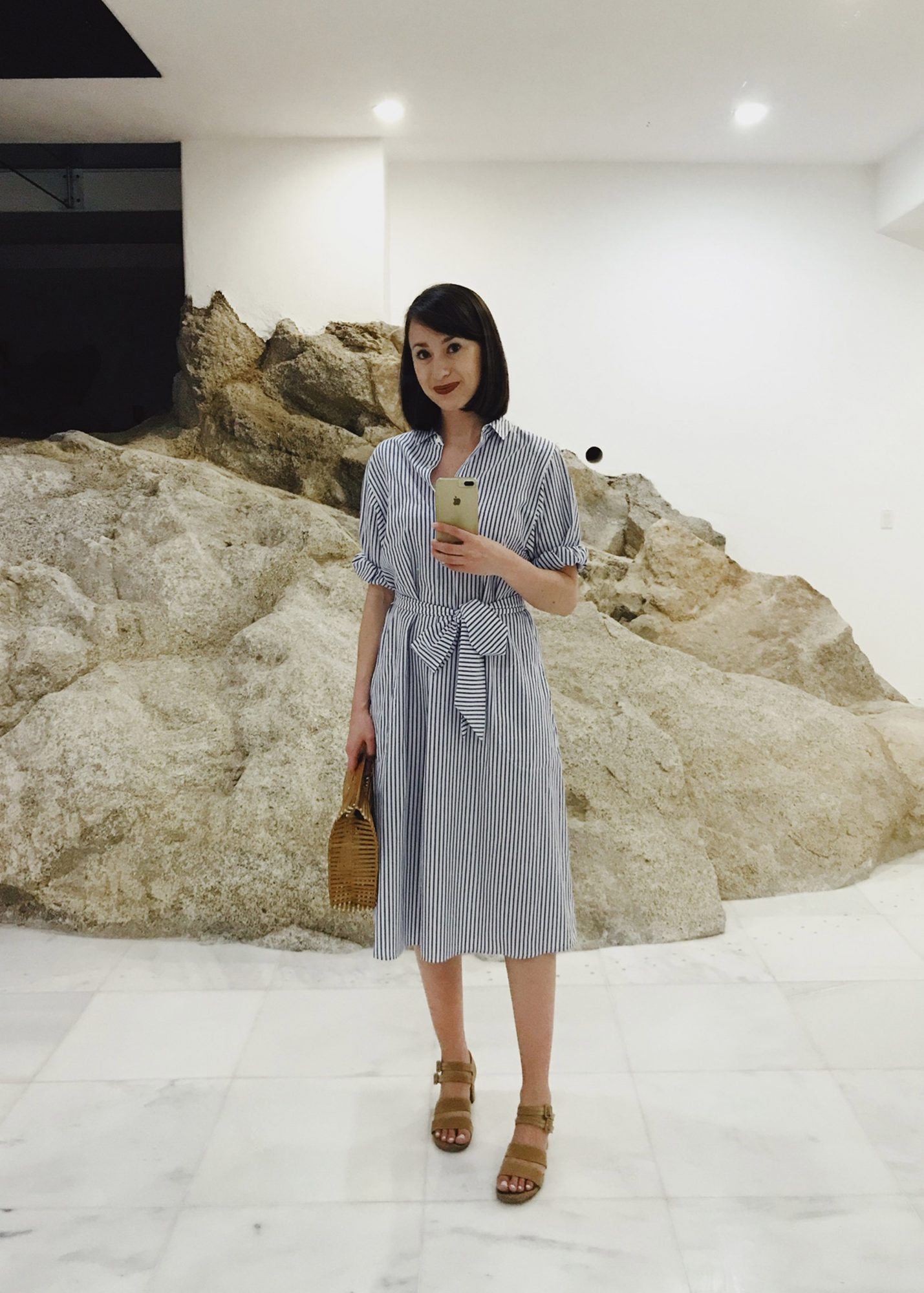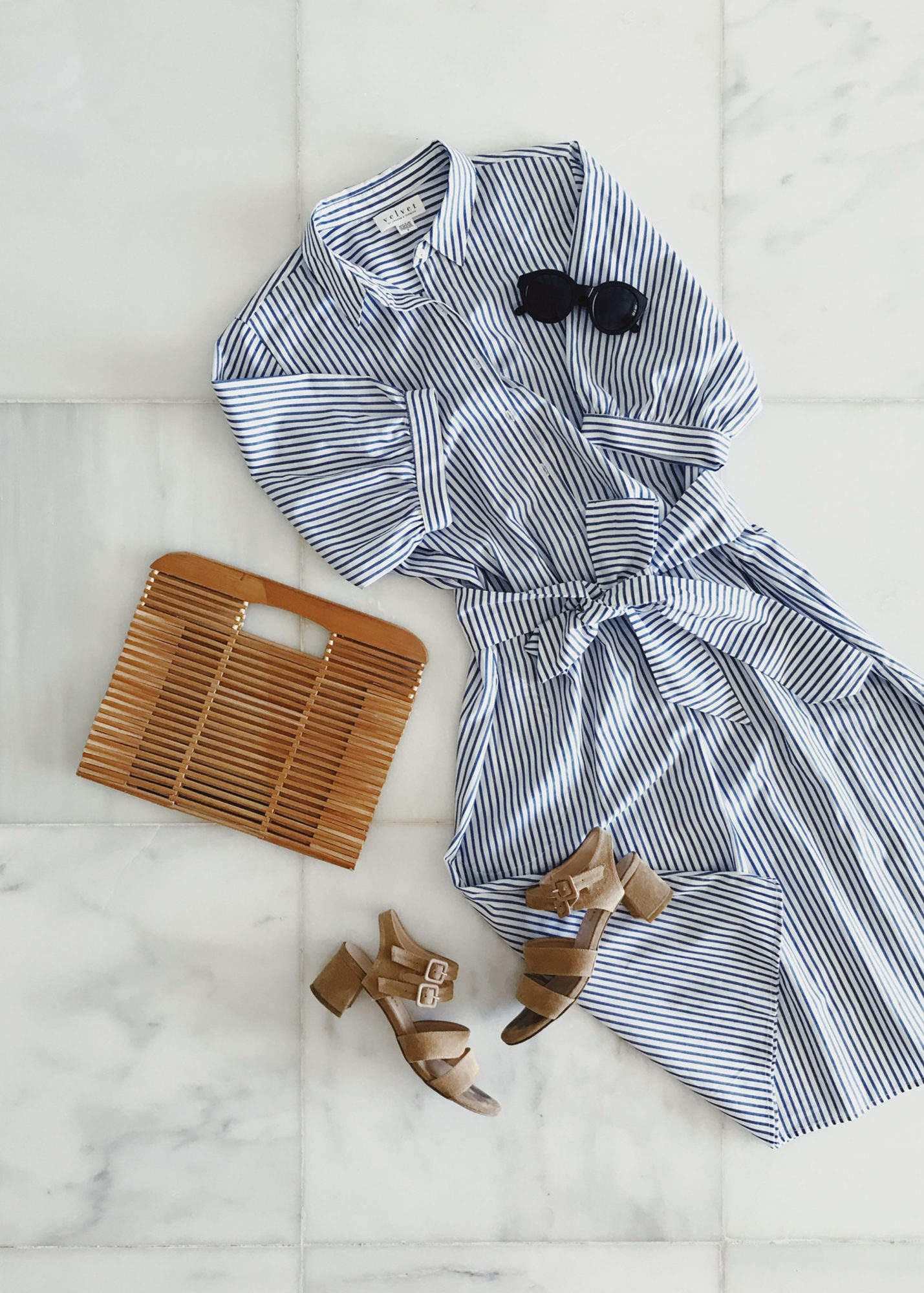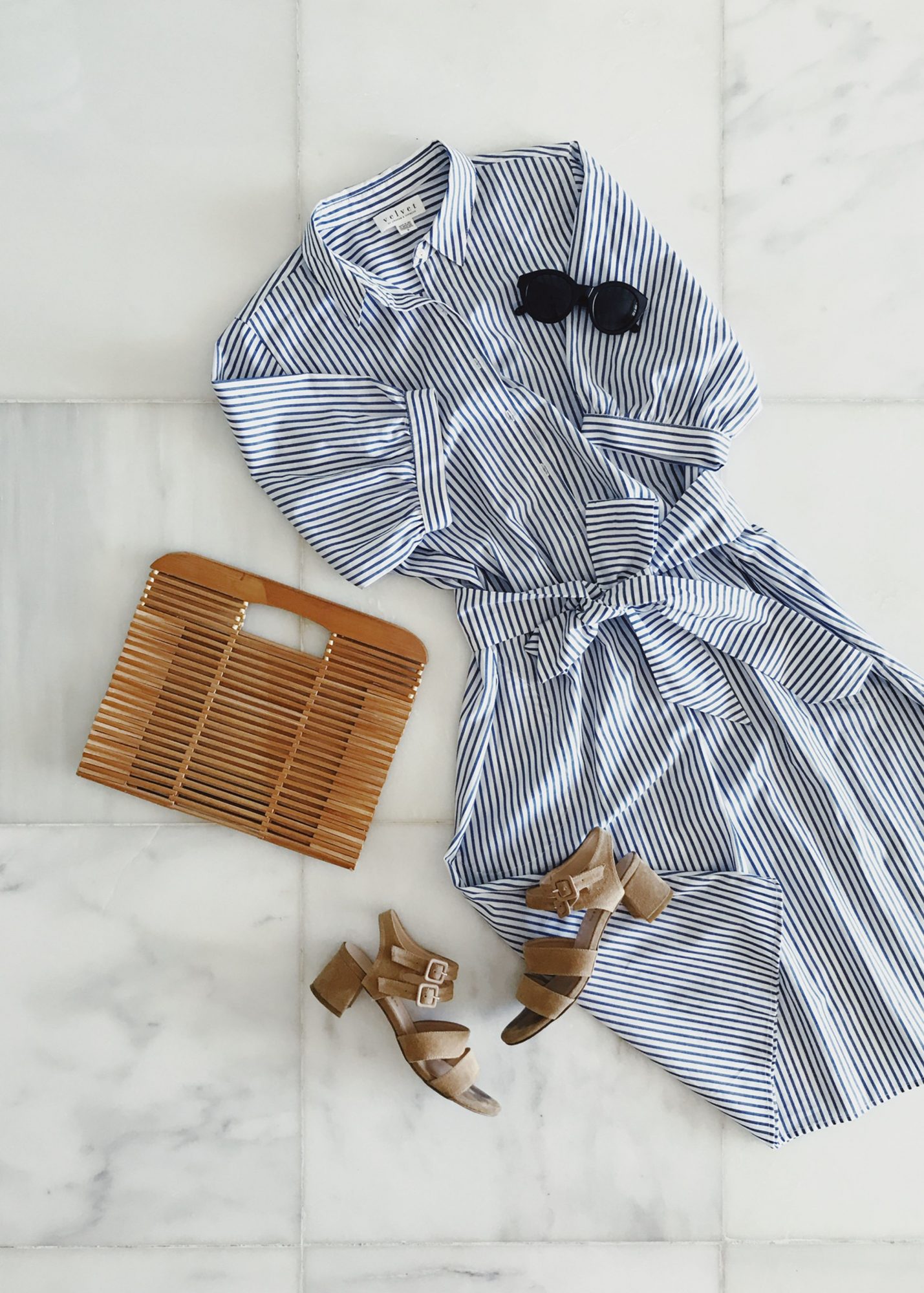 ---
LOOK 7 – EXPLORING – On our final morning we did some exploring around the Pedregal villas and winding streets. I just wore a tank I'd brought to sleep in tucked into my linen pants with a scarf over my shoulders and slides. Thanks to my pal Jess for catching me mid snap.
---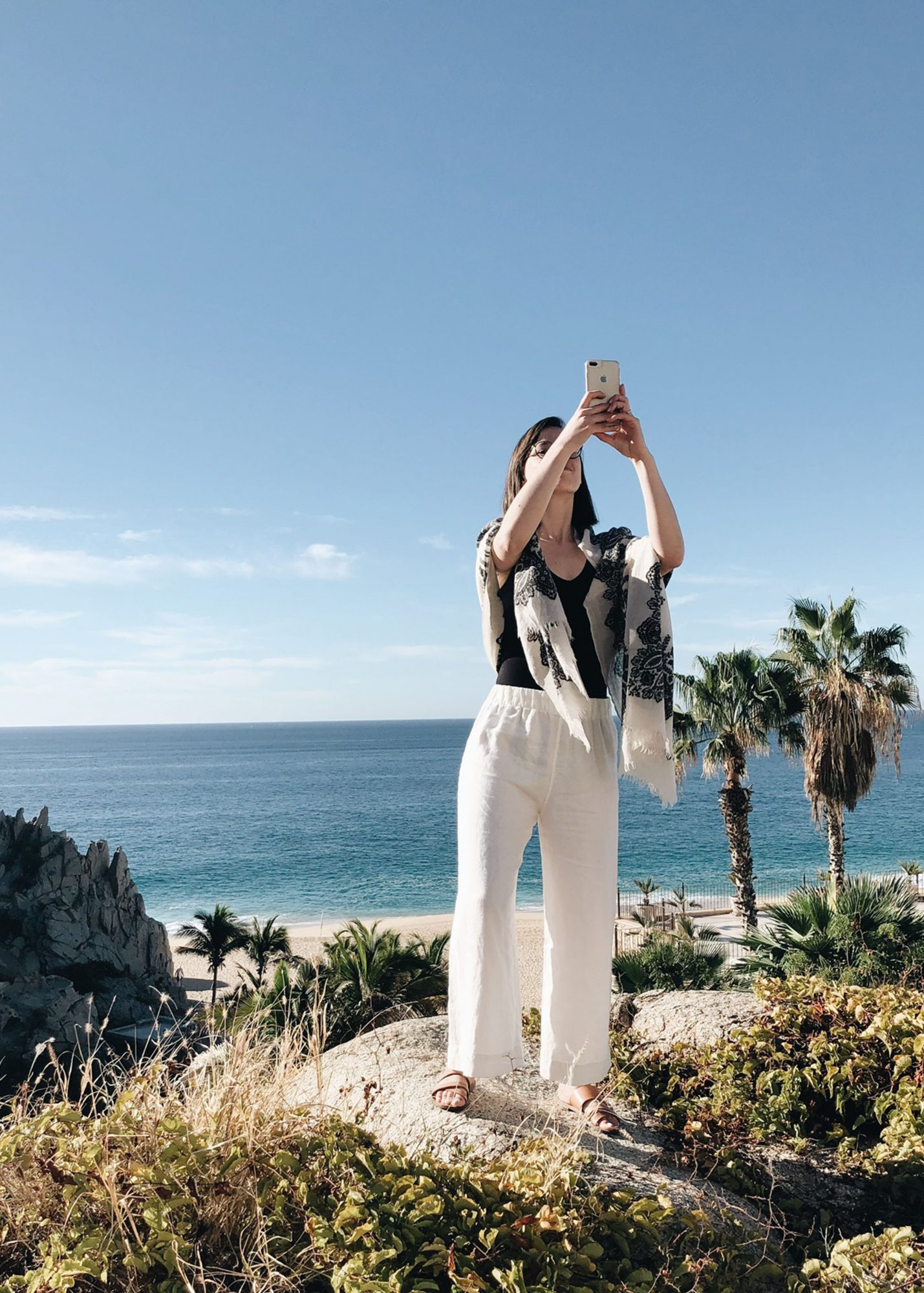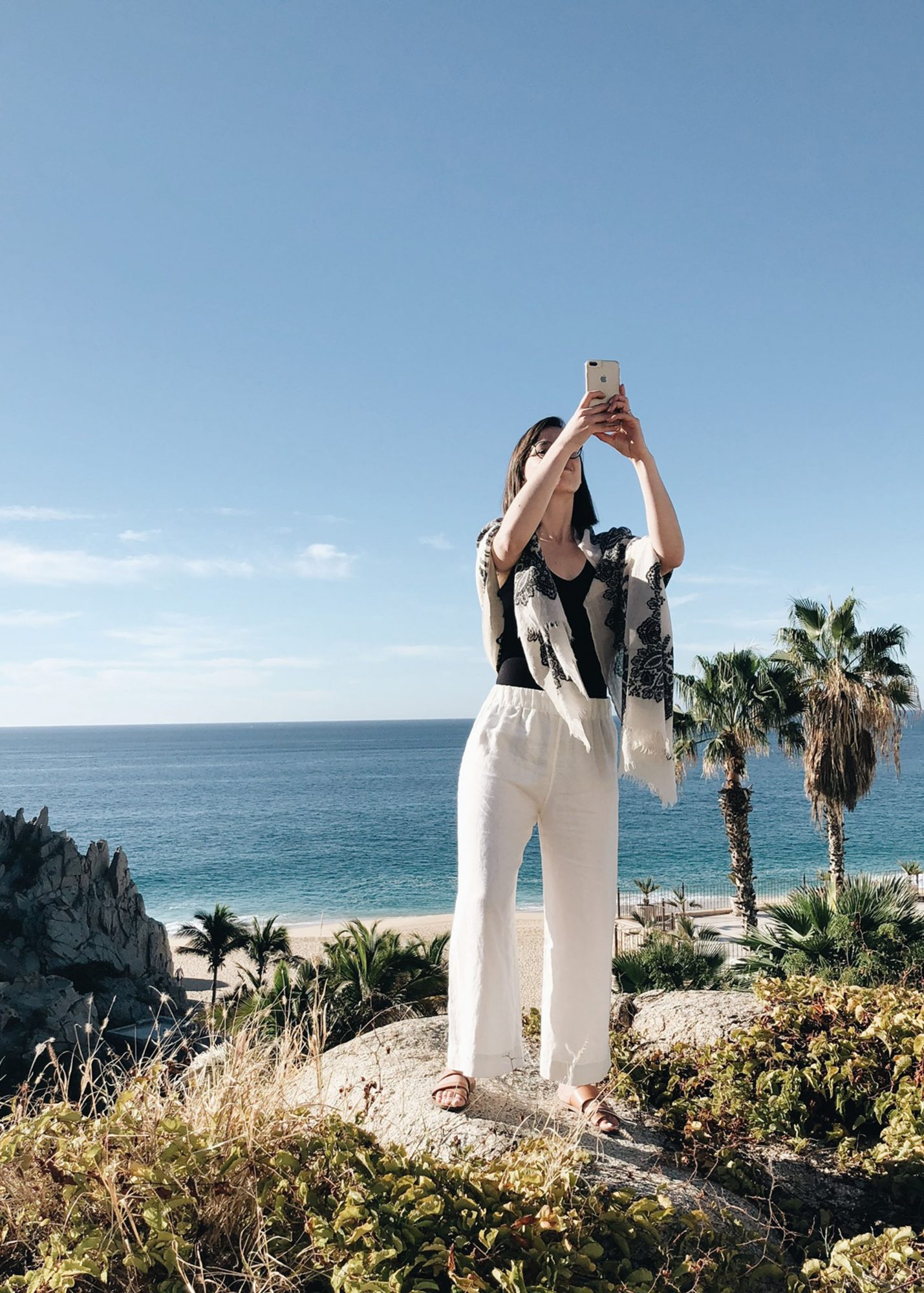 ---
LOOK 8 – Travel Uniform – I've found that comfort and simplicity are where it's at when it comes to my flying style. I try to keep my travel outfits streamlined and easy to replicate and this one is one of my all time favourites. I opted for a sleek black bodysuit (to eliminate the need for any tucking or adjusting), a pair of black leggings (for ultimate comfort), my white sneakers (in case I need to hustle through the airport), long green duster (for both style and a ready-to-use blanket) and my canvas tote, which holds a ton and keeps everything easy to access (plus it stands up so it stows away easy). Not pictured, my cotton/cashmere blanket scarf which also came in super handy! Links below.
---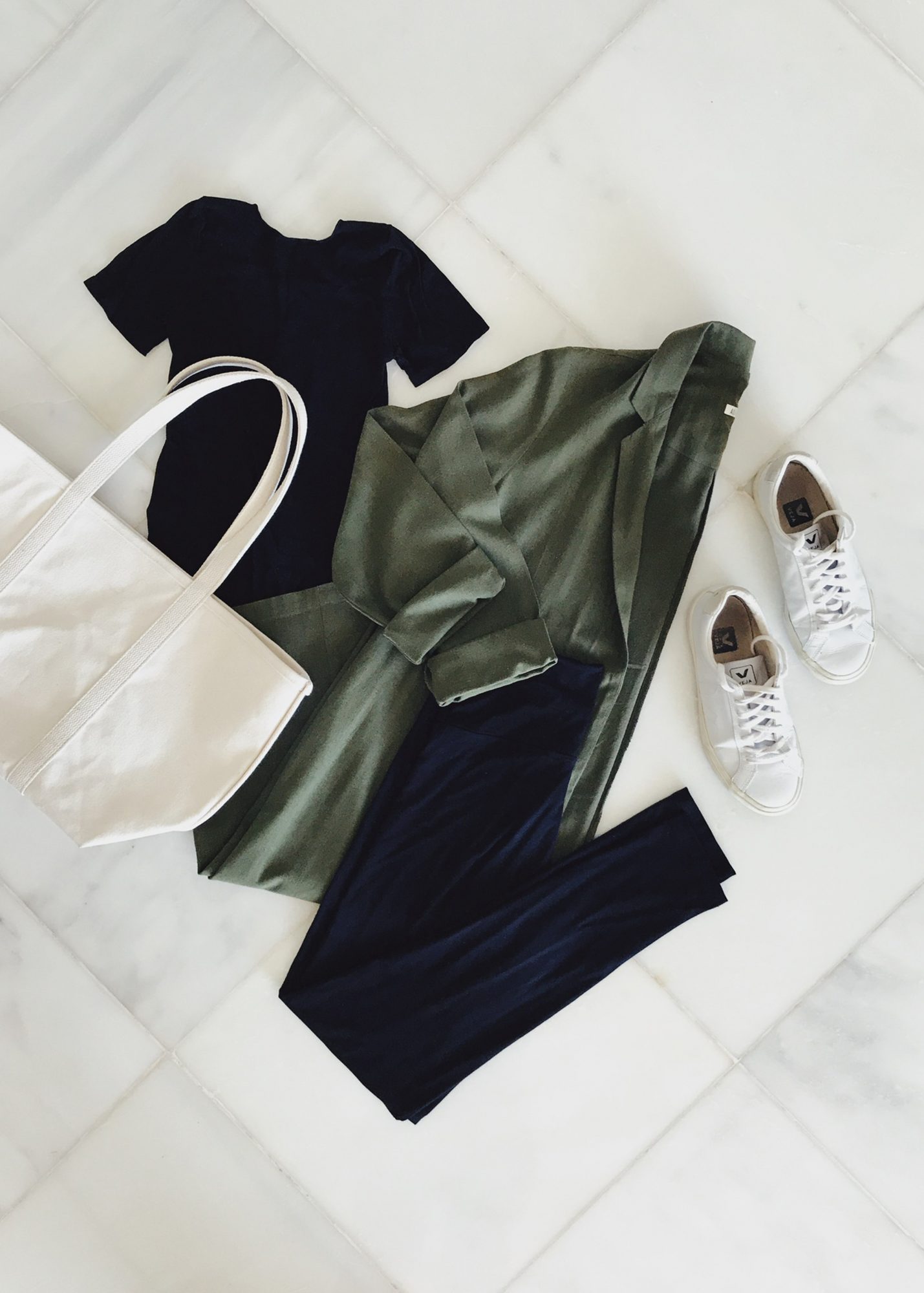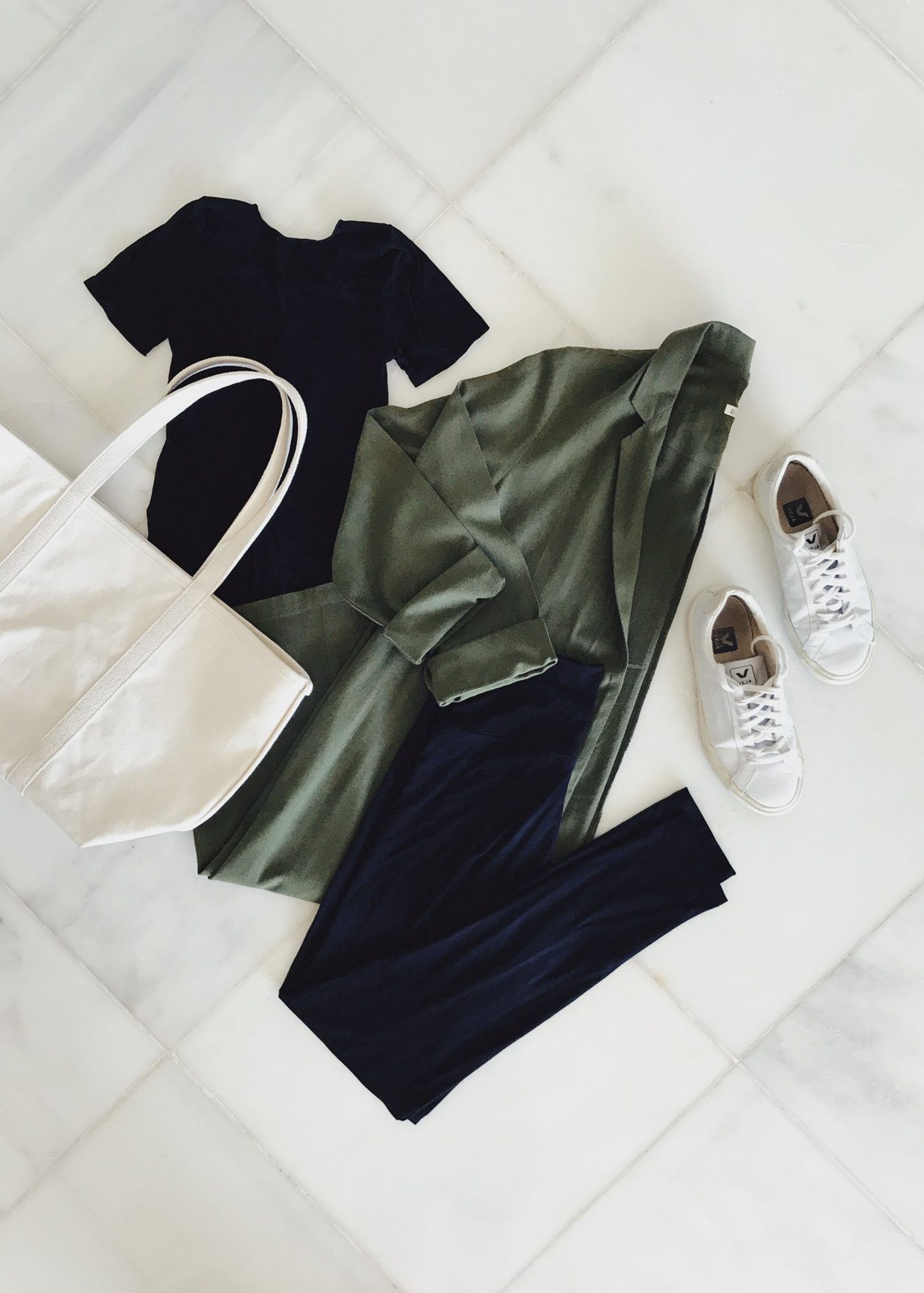 ---
---
EXTRAS
---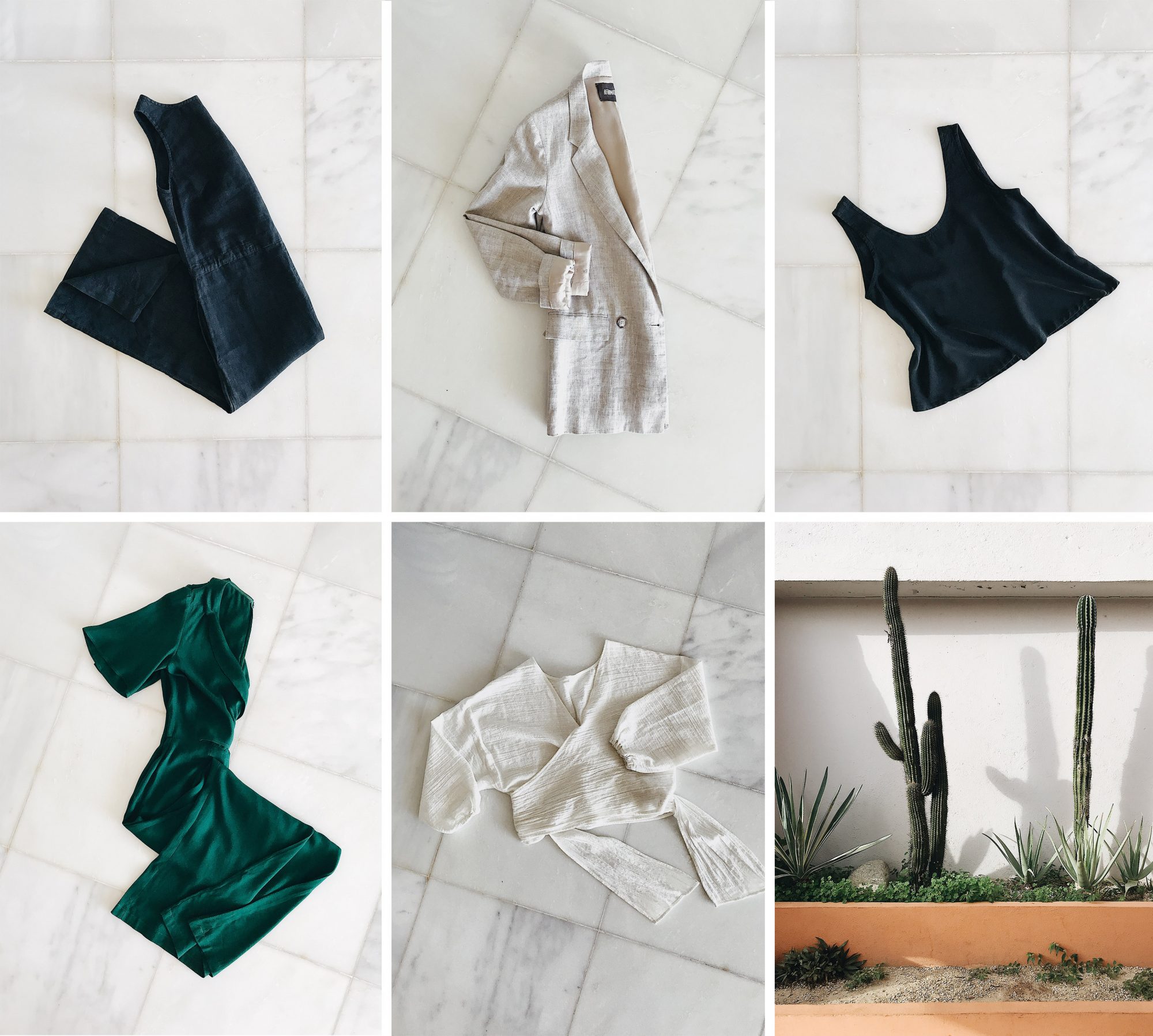 ---
Usually I wear everything I pack in my carry-on. But this trip was super short and packing FOMO was impossible to resist so I let myself overpack knowing I probably wouldn't need everything. The good news is that these extra items would have made for a perfect 7 day trip wardrobe. They are all pieces I alllmost wore but for one reason or another opted for  for sure something else that suited what we were doing best or what my girlfriends were wearing out instead.
---
---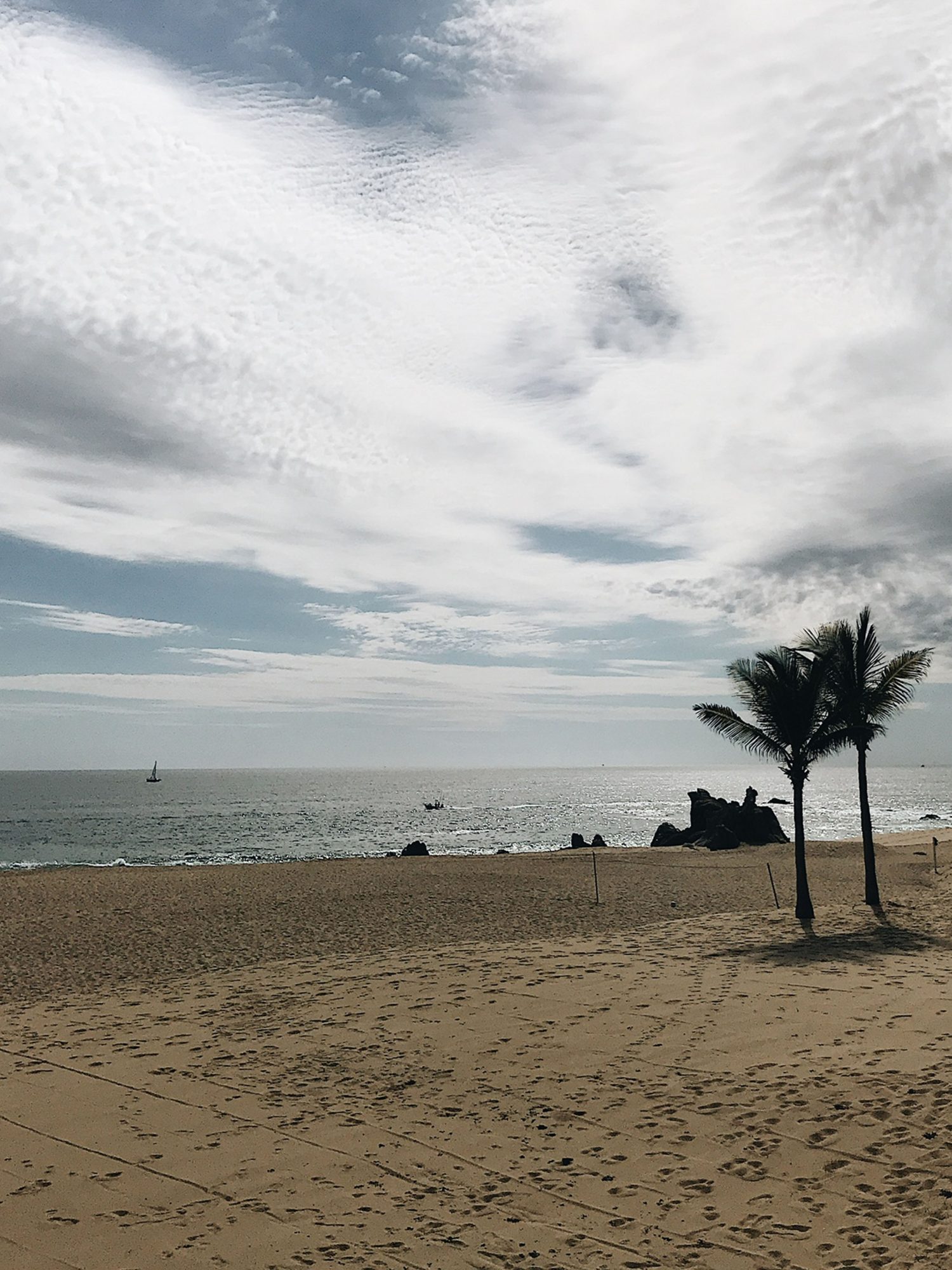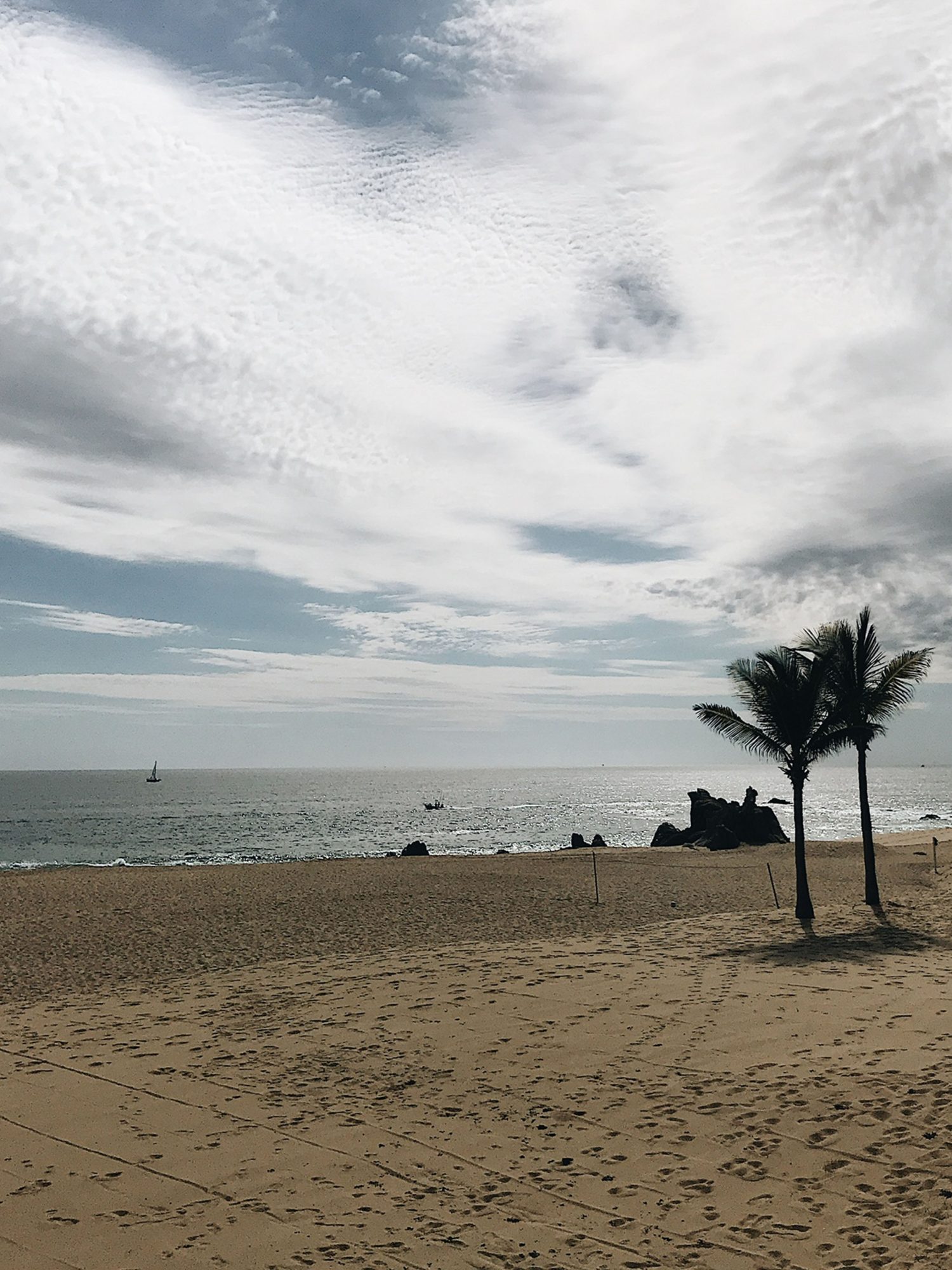 ---
Well, that just about sums up my trip to Mexico! Later this week I'll be sharing all the skin care, beauty and red-eye rescue products I brought with me and how I pack my toiletries carry-on style!
---
Are you heading anywhere sunny soon? What are your favourite pieces to pack for and wear in warmer destinations?
Thanks for reading and have a great week!
---
This post is not sponsored but contains affiliate links. When you shop via the links above I may make a small commission from a sale. Thanks for supporting Style Bee! All opinions are always my own.