The weather has been holding steady at a decidedly cold but not crazy temperature lately and I've been finding myself in essentially the same outfit over and over. The other day, after refolding the same three sets of jeans and sweaters I realized, I've been using the same basic style formula to create my outfits everyday. Then I thought it might be fun to show how that looks and works here on the blog, ergo today's post! So the style formula is this:
COAT + RELAXED TOP + SKINNY JEANS + BOOTS
That's it! Sure it's not exactly groundbreaking but I was surprised to discover just how varied the outfits can be even when using the same 4 ingredients every time. I was also impressed by how easy it would be to mix and match pieces once I organized the chart below. Kind of like a little mini capsule in a way, but also a really simple trick to mix things up and make your options work a little harder.
Now let's take a look a these three outfits shall we? 
---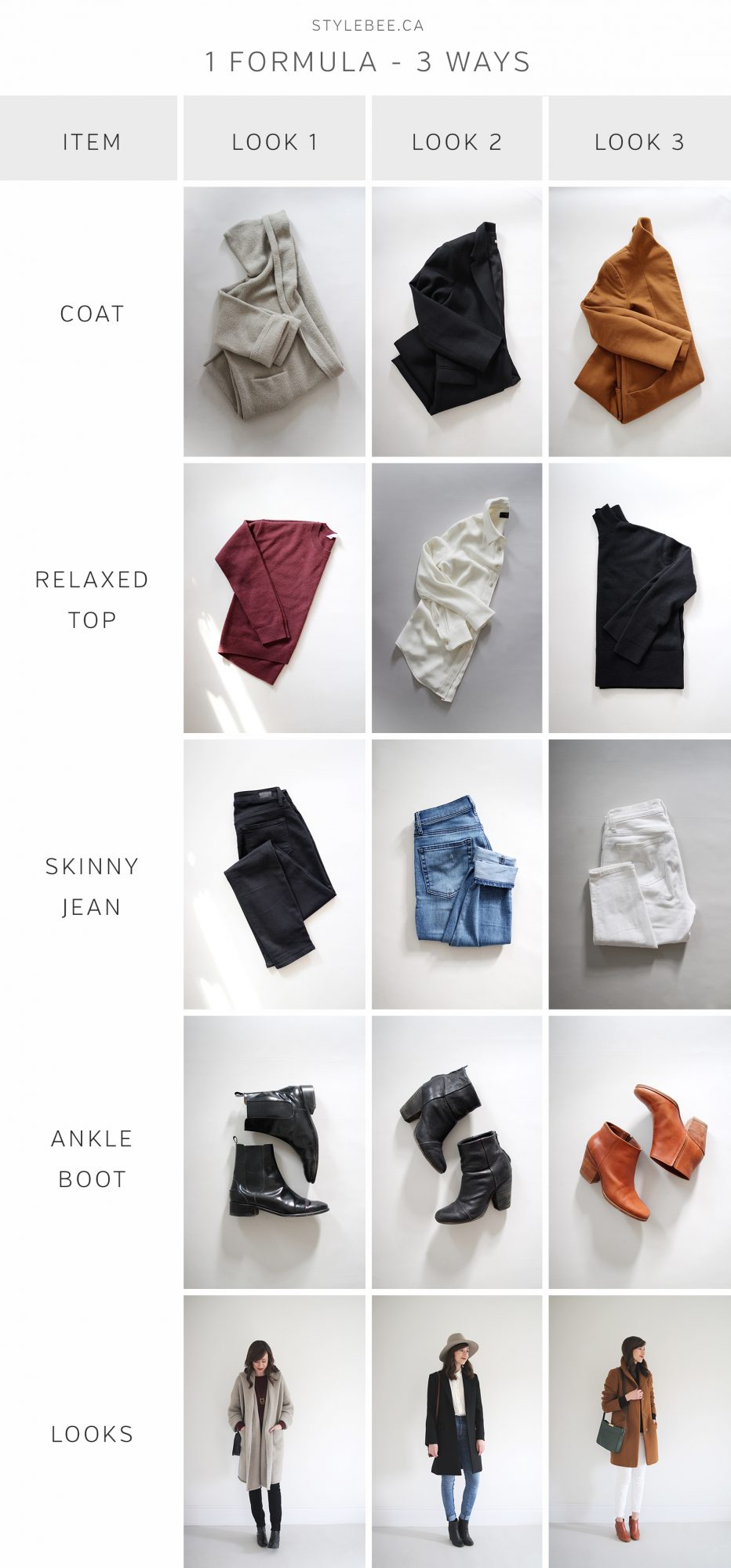 ---
LOOK 1 
---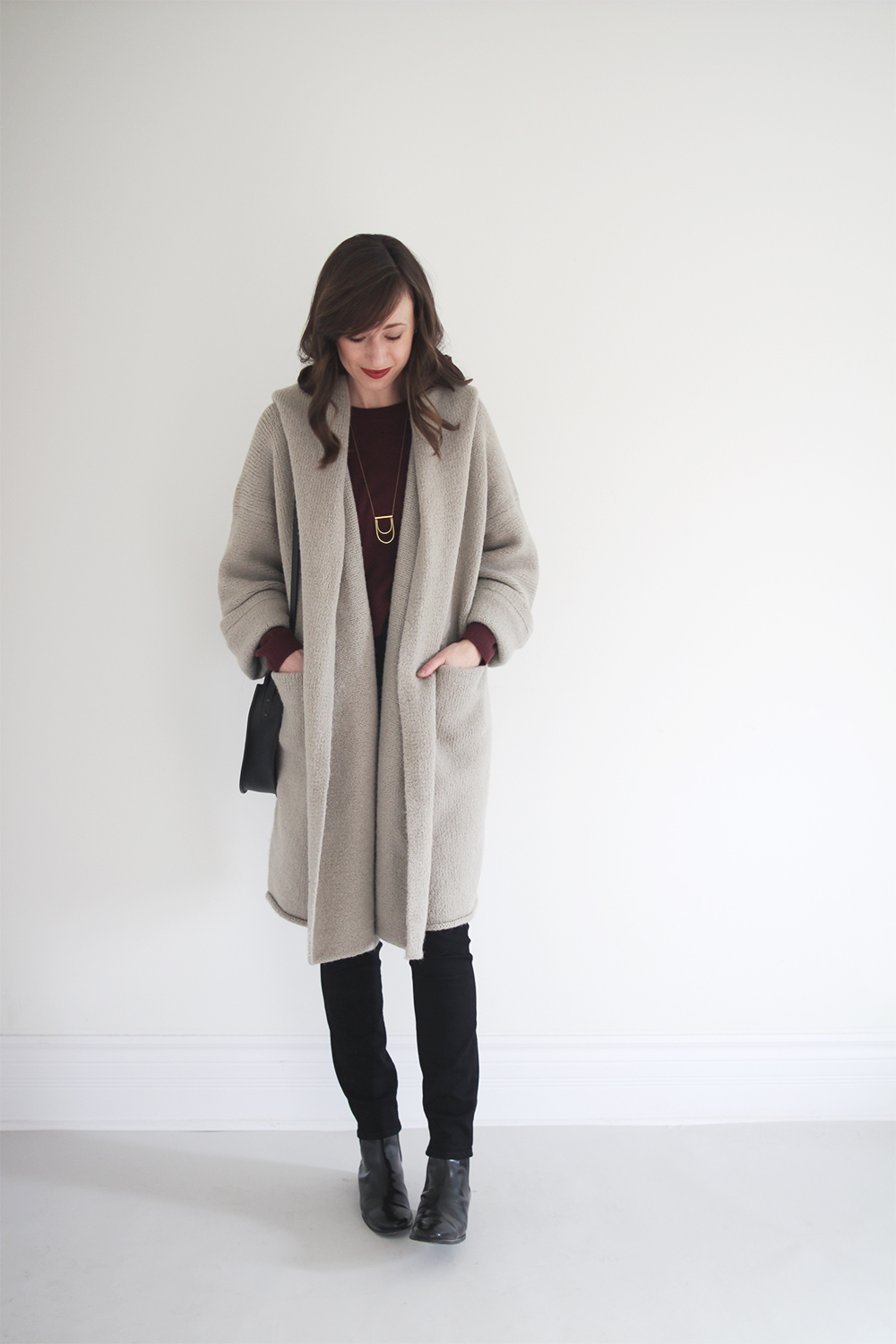 ---
The first look is probably the most casual of all of them but oh-so-cozy! This is basically what I'll be living in all winter. I like it because it's not too slouchy but still has a very toasty feel to it.
This sweater/coat (links below) was a Cyber Monday snag last year and it's been the crown jewel of my cold weather closet ever since. Seriously, I pull it out in the summer and wear it around the house because I love it that much (I'm too attached to it, I know). It's a true closet hero for a number of reasons, a few being: comfort (it's like wearing your favourite blanket), versatility (this shape and cement color goes with everything), functionality (it's actually very warm!) and it's uncanny ability to camouflage lint, fur and just about anything else. It's also the perfect topper to throw over a simple look like jeans and a sweater because it adds a really unique element of depth and a beautiful volume to an otherwise boring outfit. Anyway, I am obsessed with this coat, a year later, and that's a very good sign of a well chosen item.
This colour palette is a new one for me but I'm loving it. The black and cement tones keep laid back and cool but a hit of rich burgundy adds some spice and energy to it. Once again this semi-gloss boots inject a touch of formality in a low-key shape.
Safe to say this one will be on repeat A LOT over the next few months. All I need now is a hot apple cider and I'm set!
---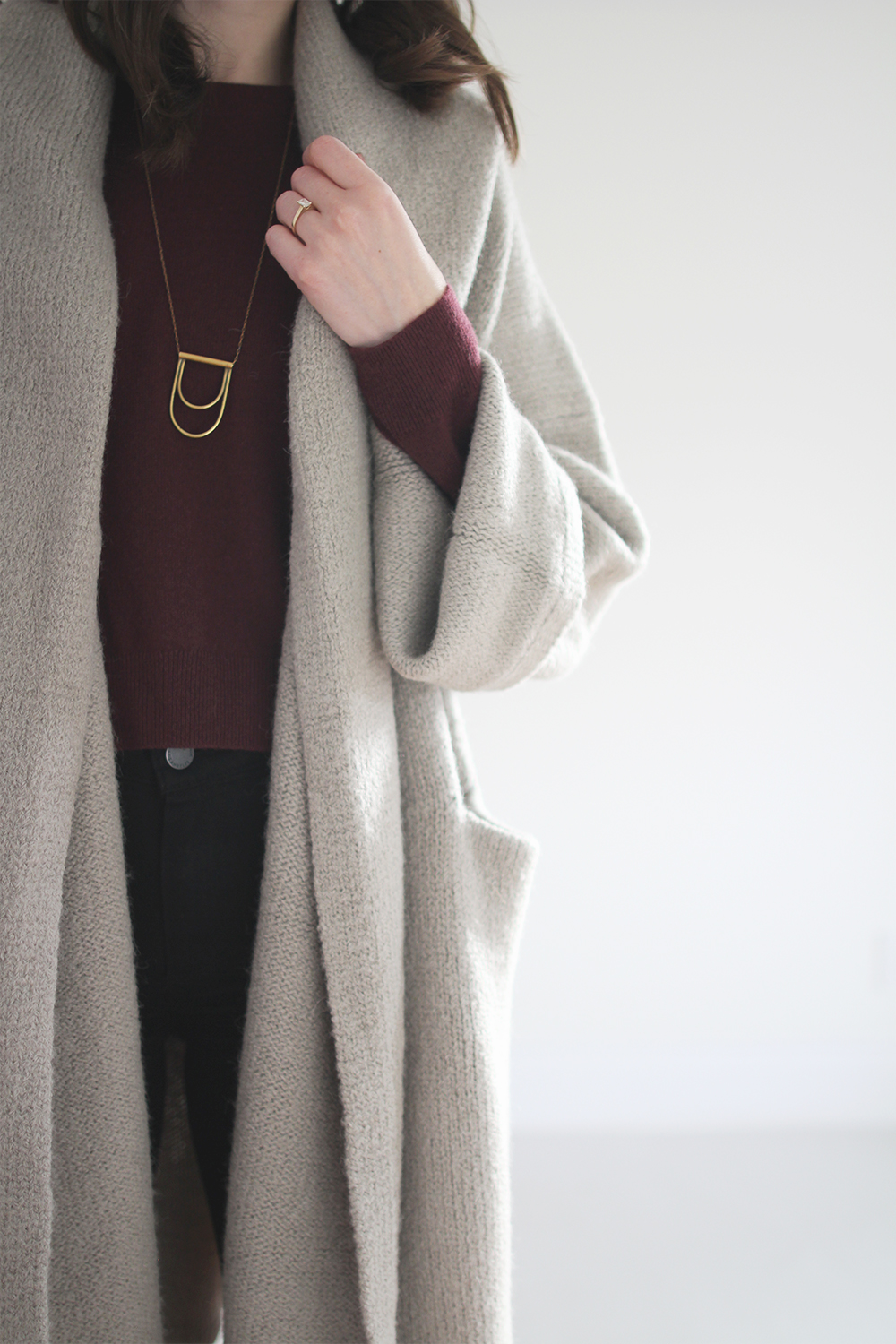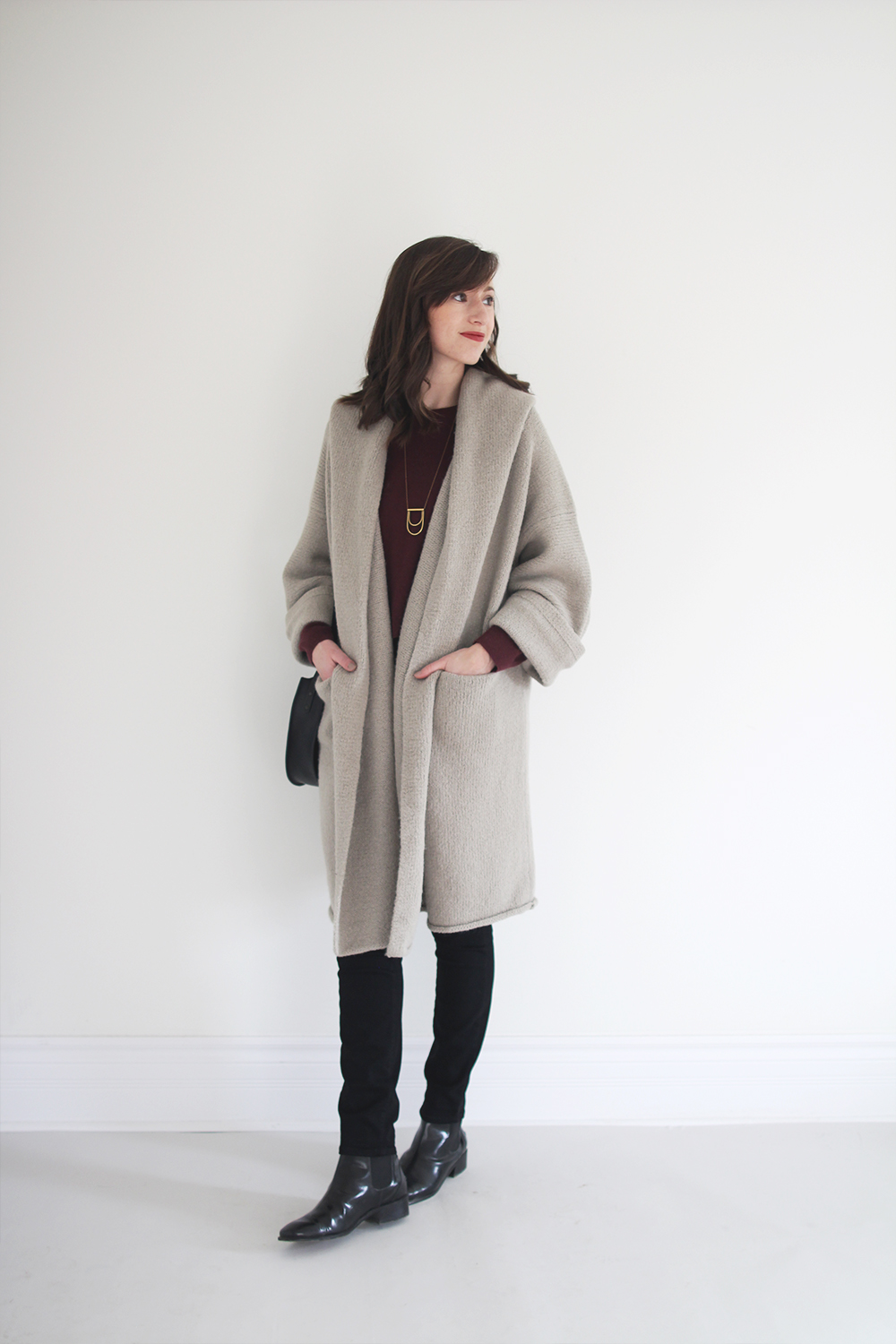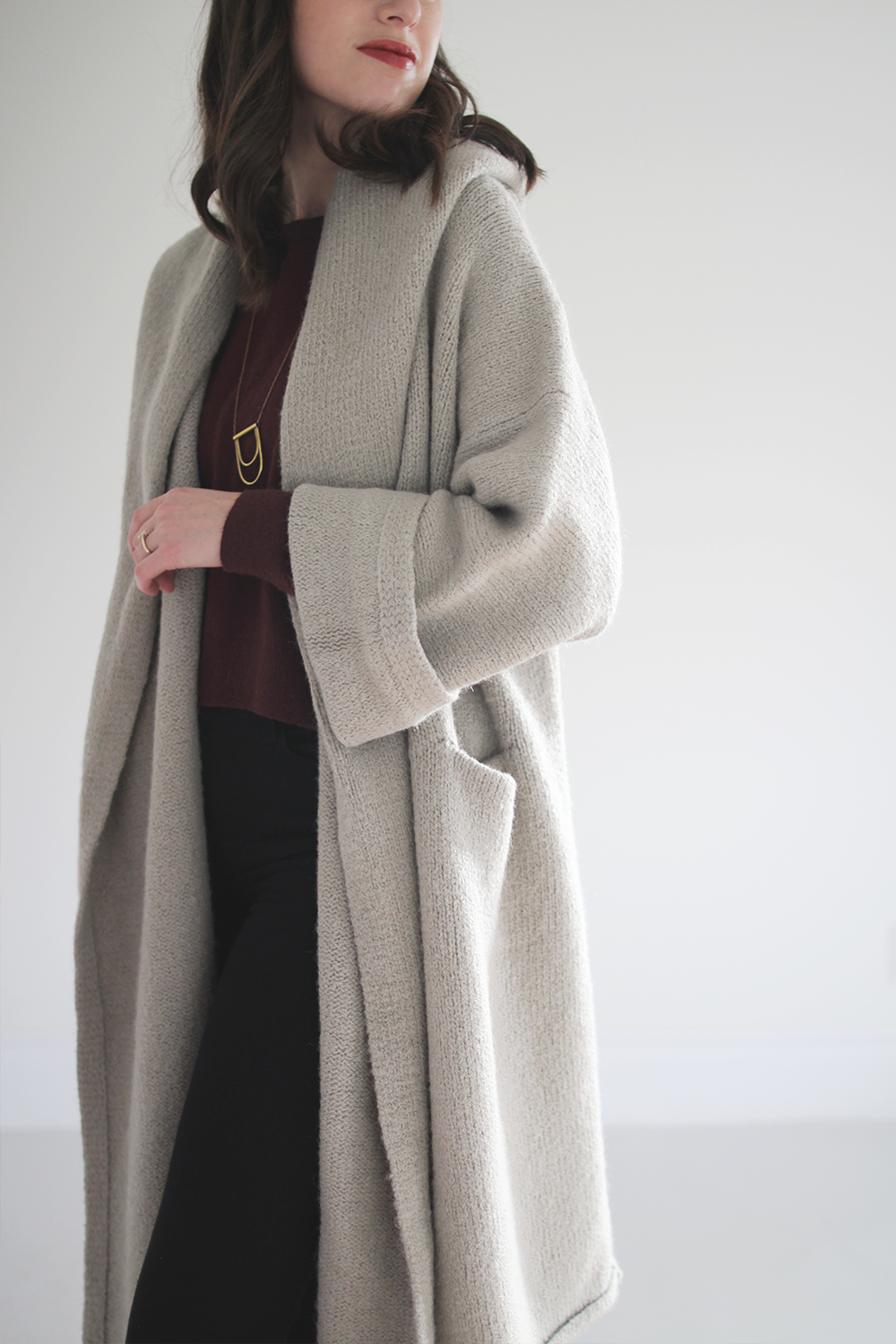 ---
---

---
LOOK 2
---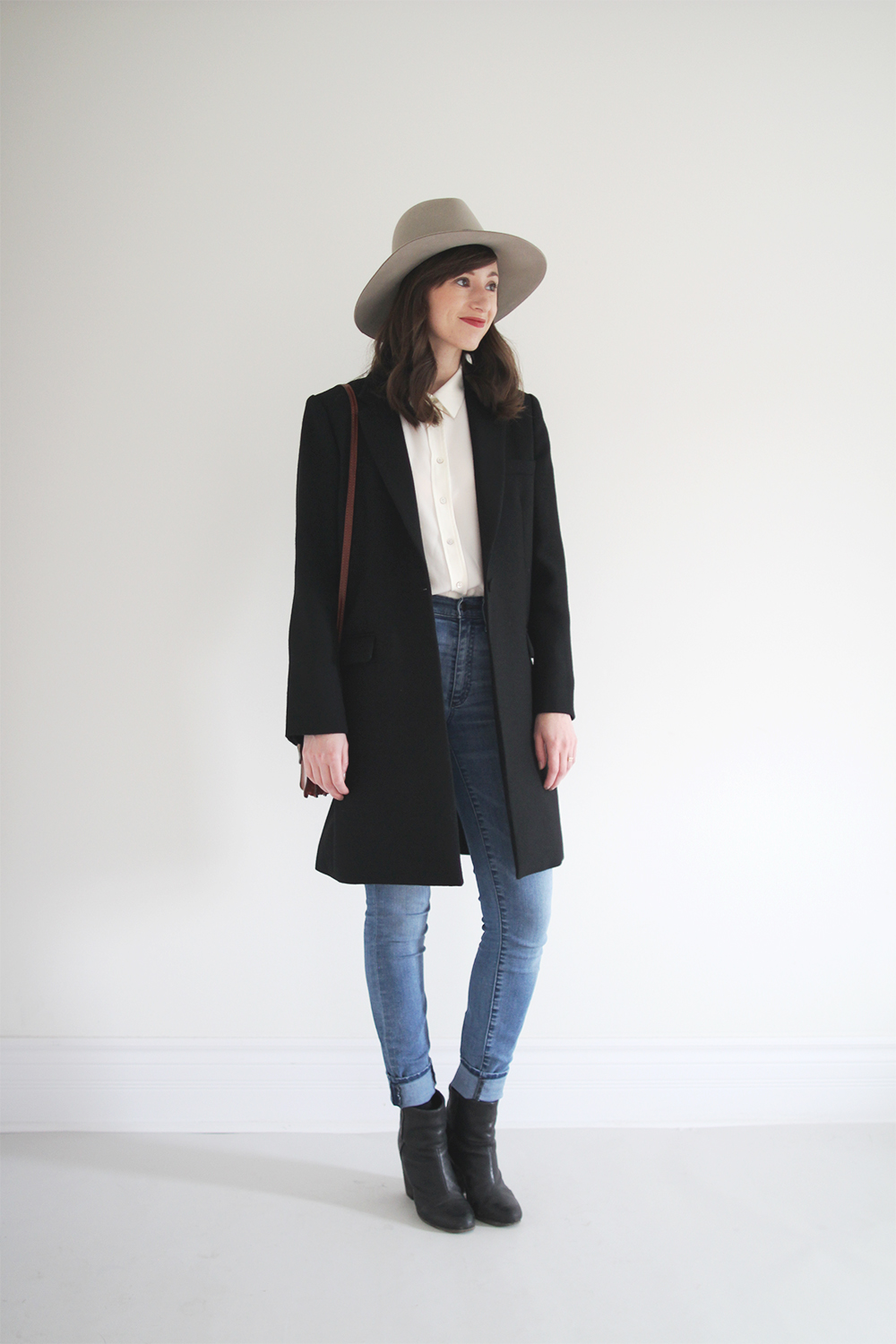 ---
So this one is basically my version of a power-suit. It's a little more sharp and chic for a work meeting, lunch out or just about any other activity the day throws my way. I love this white shirt, buttoned to the top and tucked into high rise jeans for a classically effortless and sophisticated look. A high-heeled boot, wide-brimmed hat and a sleek black coat add just enough bad-assery (not a word but roll with it) to make me feel empowered without pushing me too far outside my comfort zone.
These skinny jeans have been in my closet for almost 2 years now (see their first appearance here) and they still fit great and hold their shape after several wears (these shots were taken on day three!). I bought them before I'd started shopping responsibly but they're a good reminder that choosing timeless staples (over trends) is the first step to a long-lasting closet. I also remember that the size chart was way off for these so I had to send them back for a different size, when usually I'd just have given up and moved on to the next pair. Persevering for the right fit is another important step towards closet contentment that I know I personally find tough to endure.
Overall, I'll say this look is mostly safe and a little bit daring which is kind of where my style is hanging out right now.
---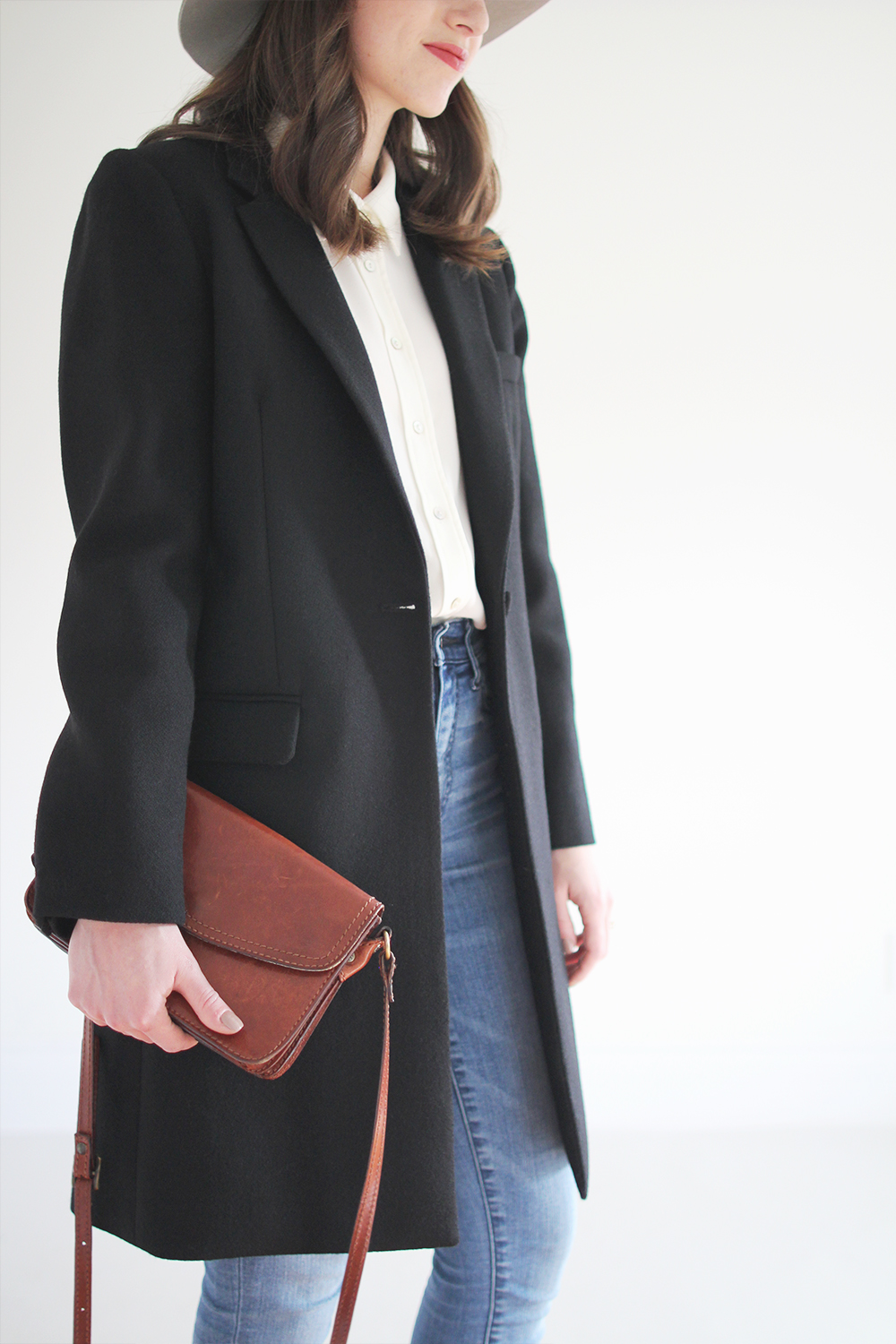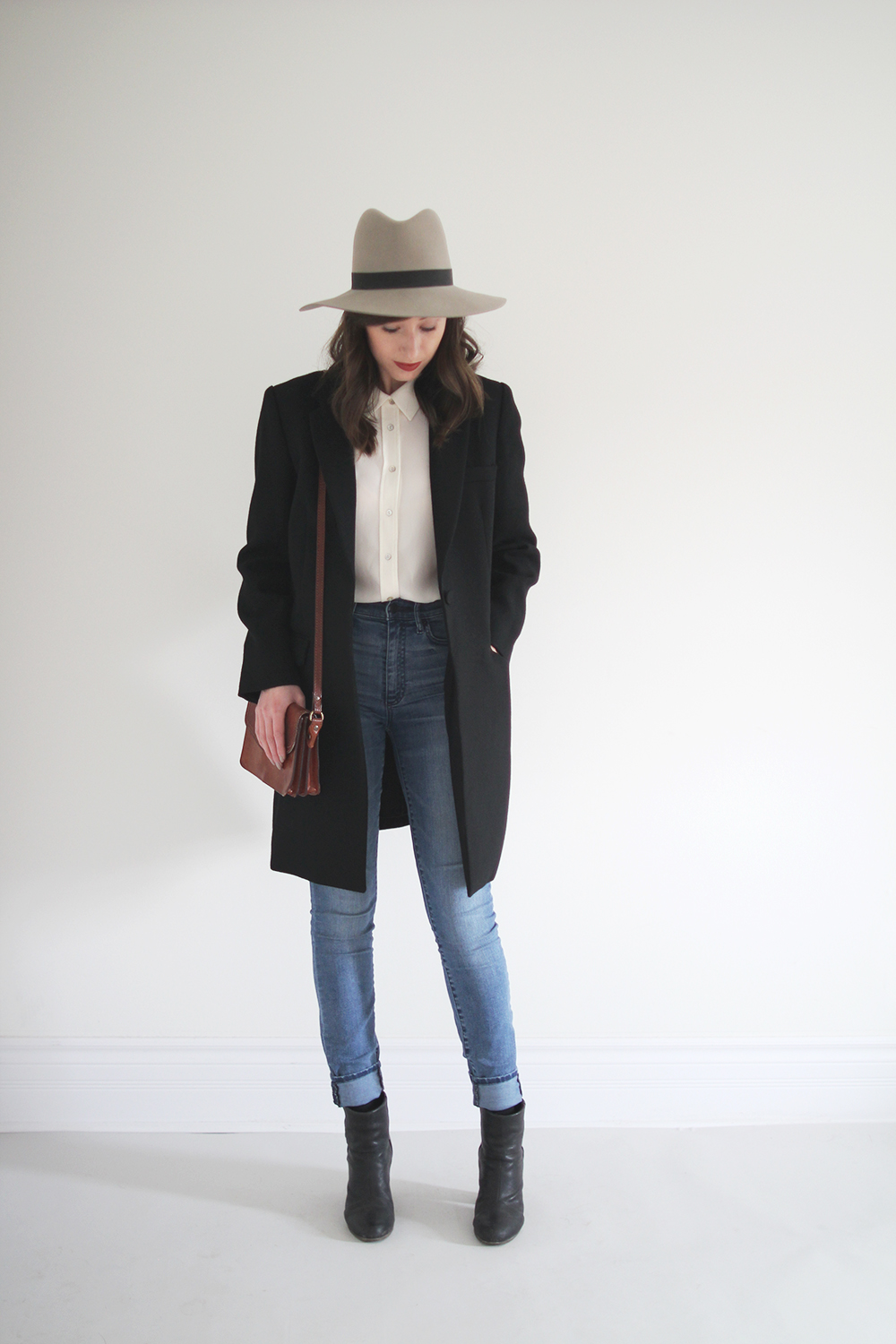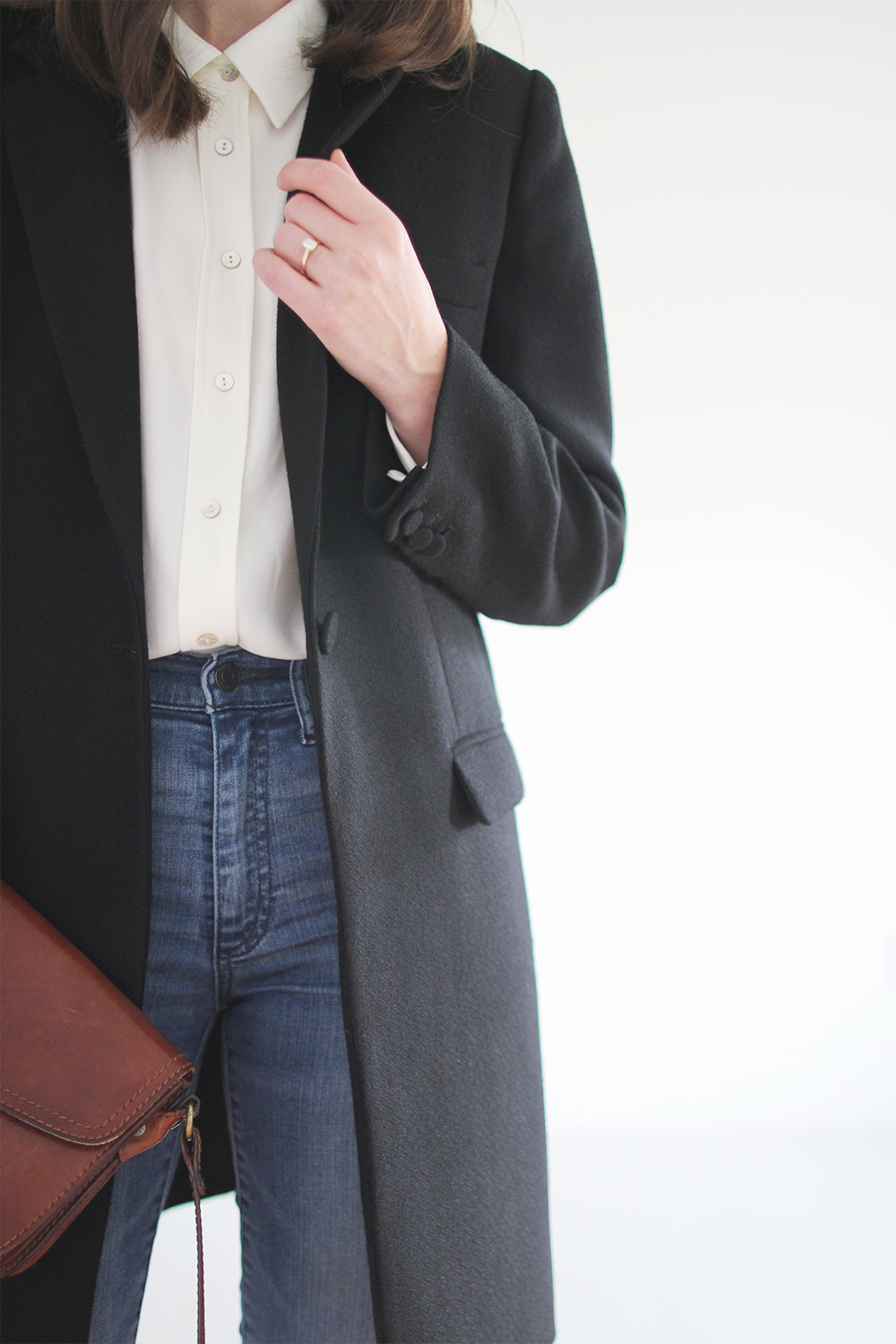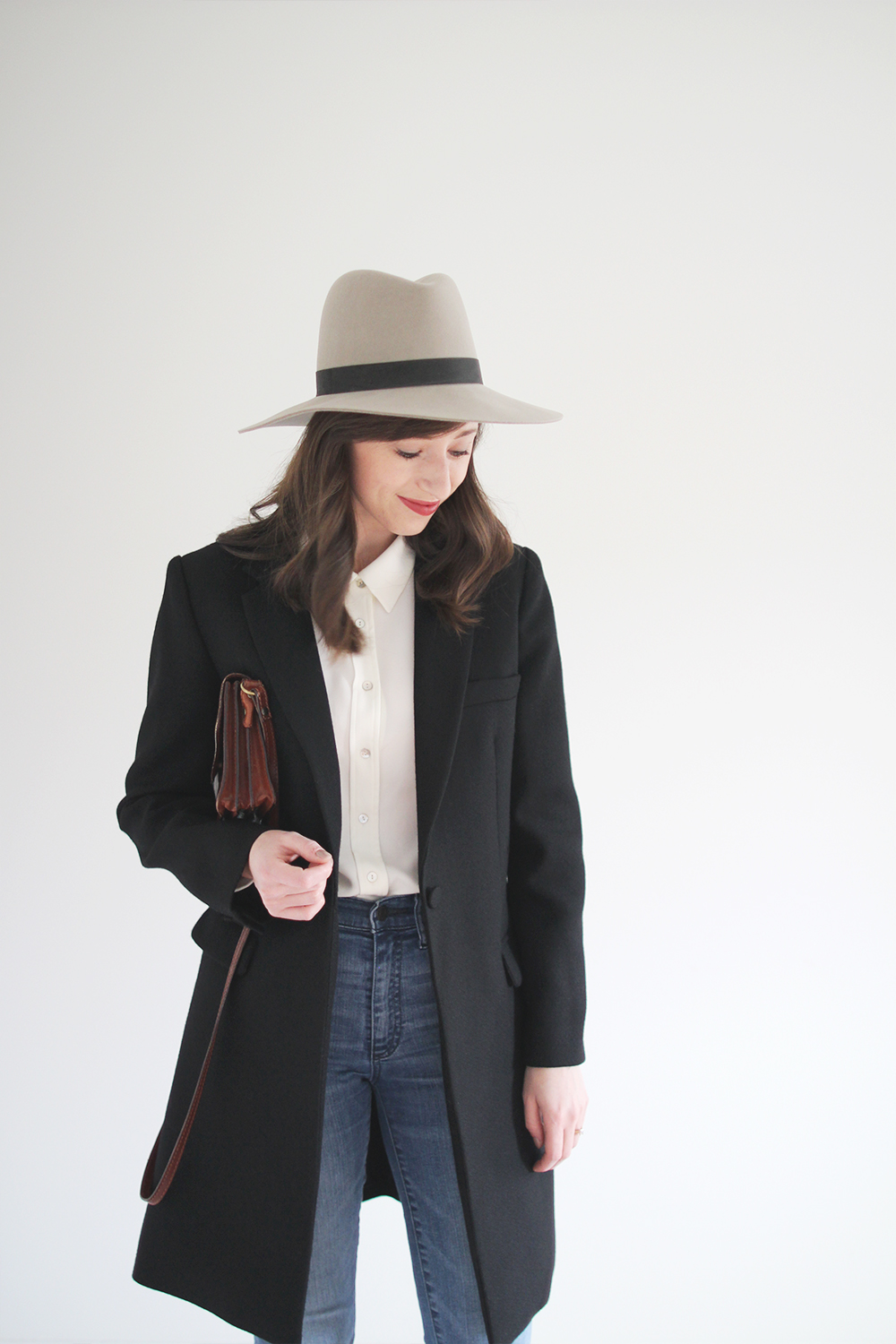 ---
---

---
LOOK 3
---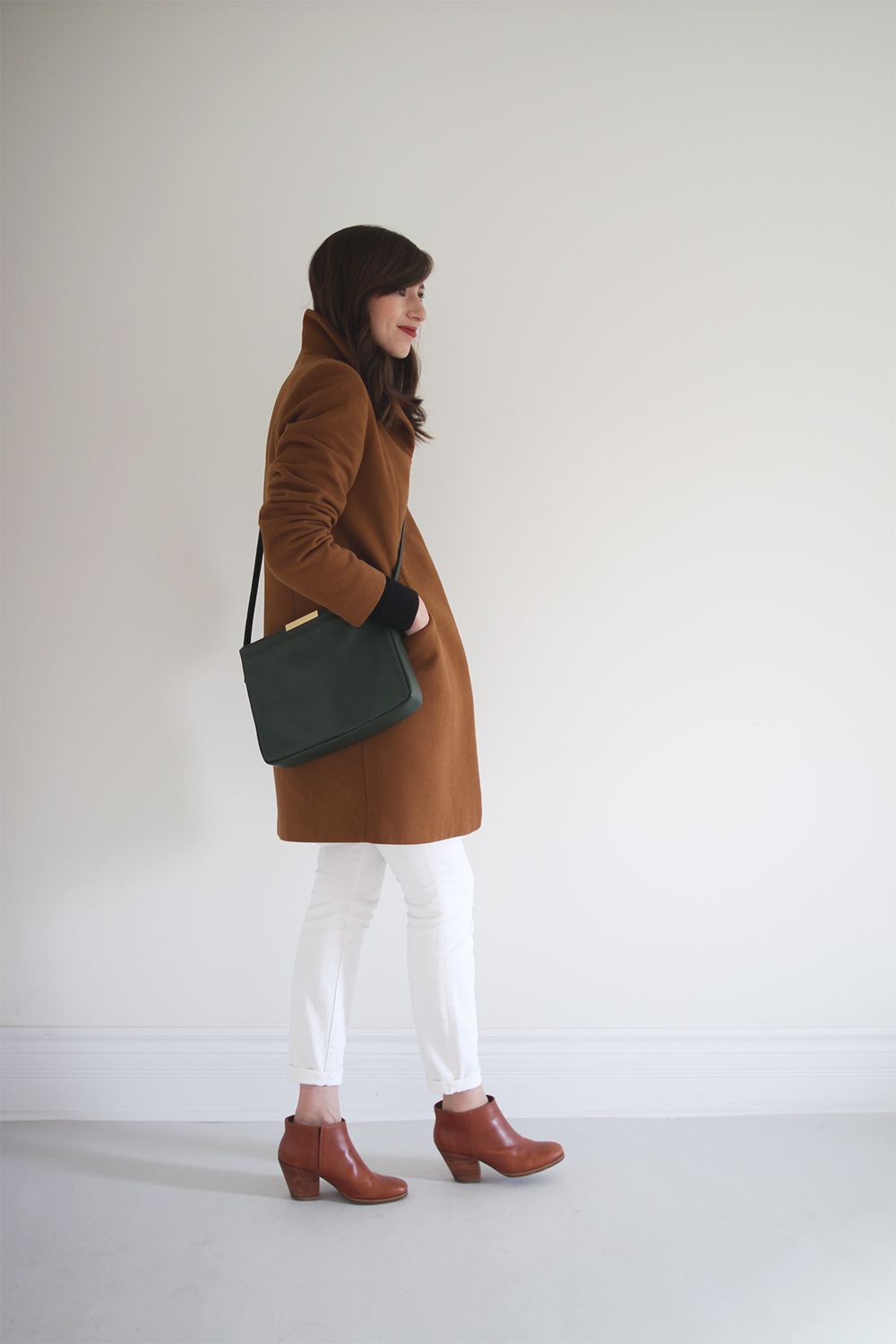 ---
Bring on all the 'white pants after Labor Day' comments but this look is proof (at least to me) that such a silly fashion 'rule' is completely antiquated. Personally I love a white pant (or dress or anything really), any-time of the year. Few colours can make a look as fresh and crisp as white does! That said, I understand it can be a precarious choice for the cooler months but paired with a well selected set of rich, warm tones, some cozy textures and simple lines it feels entirely weather appropriate.
I consider this look the outfit version of a pumpkin spiced latte. Once in awhile it's a delight to the senses but if indulged too often it can get a little bit excessive. I personally love the double dose of acorn/pecan/whiskey brown paired with a block of emerald green and a simple strip of gold hardware. All together I think the elements make for a contemporary chic look that's ready for any number of daily activities. Bring on all the brunch dating, errand running, gift shopping, market hunting, office working or couch surfing you've got!
This coat was a Christmas gift a couple years ago and still holds it's own in my Fall and Winter closet. I alllllmost felt it was too much colour for me this year but decided to hang on and give it another go. SO glad I did because I've found since the rest of my closet has been paired down (both in quantity and in colour) it goes with everything I have and actually adds a much needed jolt of rich but relatively neutral colour.
---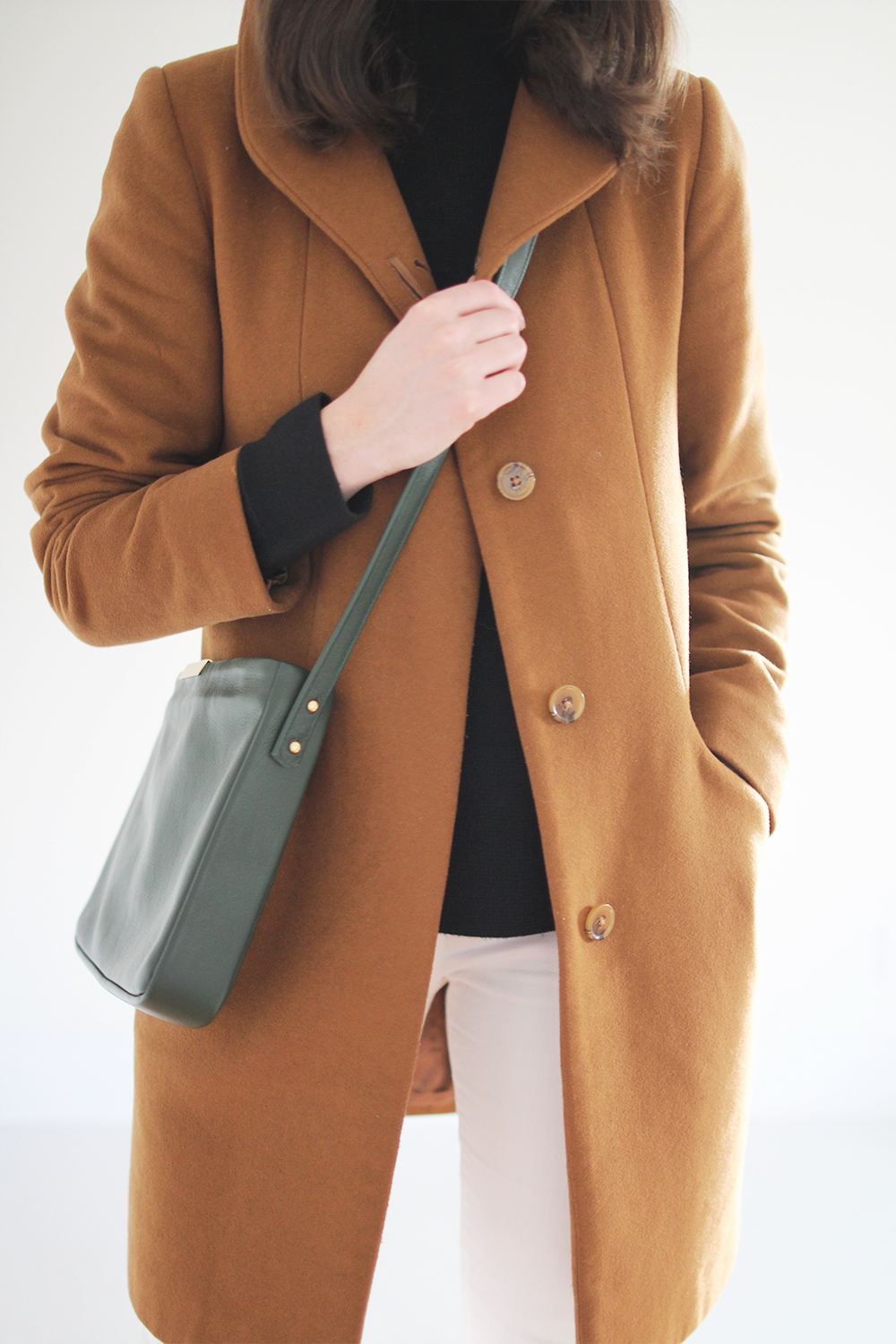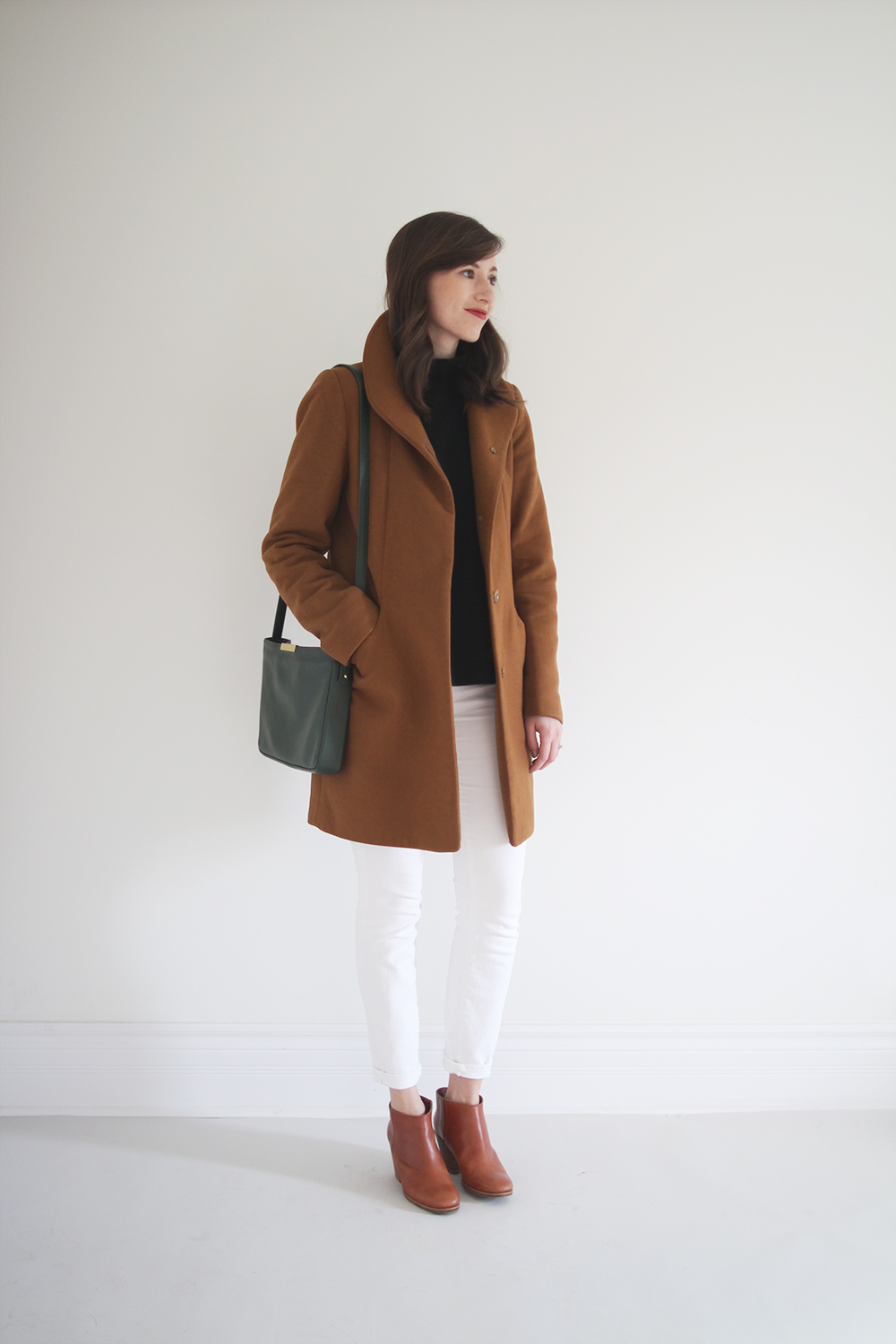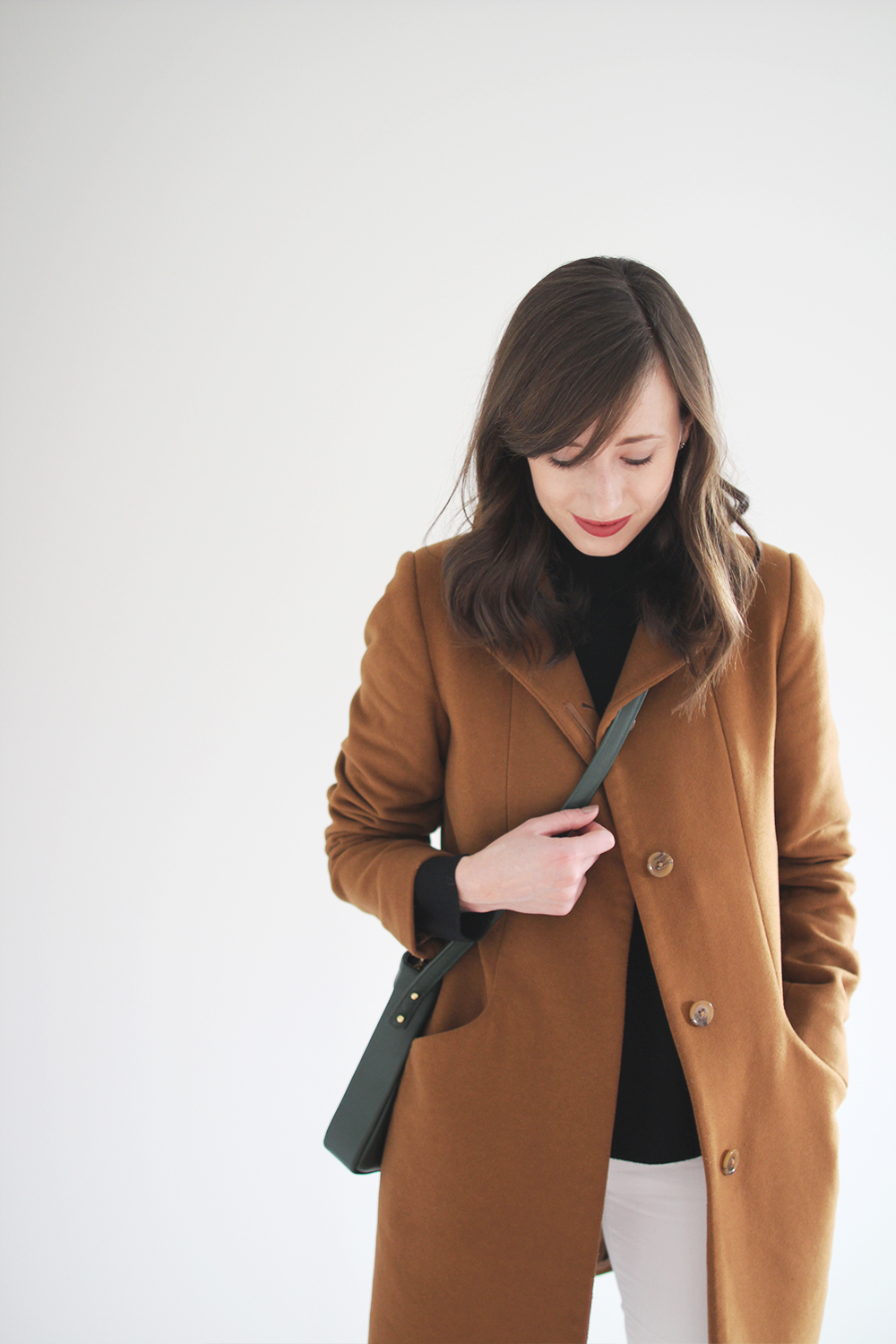 ---
---

---
So that's an everyday style formula that's been serving me well lately. Pretty interesting to see how much variation and versatility you can get out of a simple approach like this one. So tell me:
WHICH OF THESE THREE LOOKS IS YOUR FAVE?
DO YOU HAVE ANY GO-TO STYLE FORMULAS?
---
This post is not sponsored but contains affiliate links. When you shop via the links above I may make a small commission from a sale. Thanks for supporting the brands that support Style Bee! All opinions are always my own.