White denim is a spring and summer staple in my closet. I always find that it adds some freshness and levity to my style, which is a nice change after a winter spent in mostly dark colours. I often see white jeans paired with overtly feminine pieces like floaty tops and high heels, however, I think they work just as well with basics and menswear inspired styles like utility jackets and loafers.
With that in mind, today's post covers two ways I'm styling white denim for the spring. Both looks were inspired by some recent Pinterest perusing and while they're quite minimal, some thoughtful details steer them away from being boring. At least in my opinion!
In addition to my two approaches, I've assembled 6 other white denim styling ideas that might spark an outfit for you! Those are towards the end of the post, along with a round-up of denim options worth checking out if you're in the market. Now shall we explore?

---
LOOK 1 – Casual & Comfy
---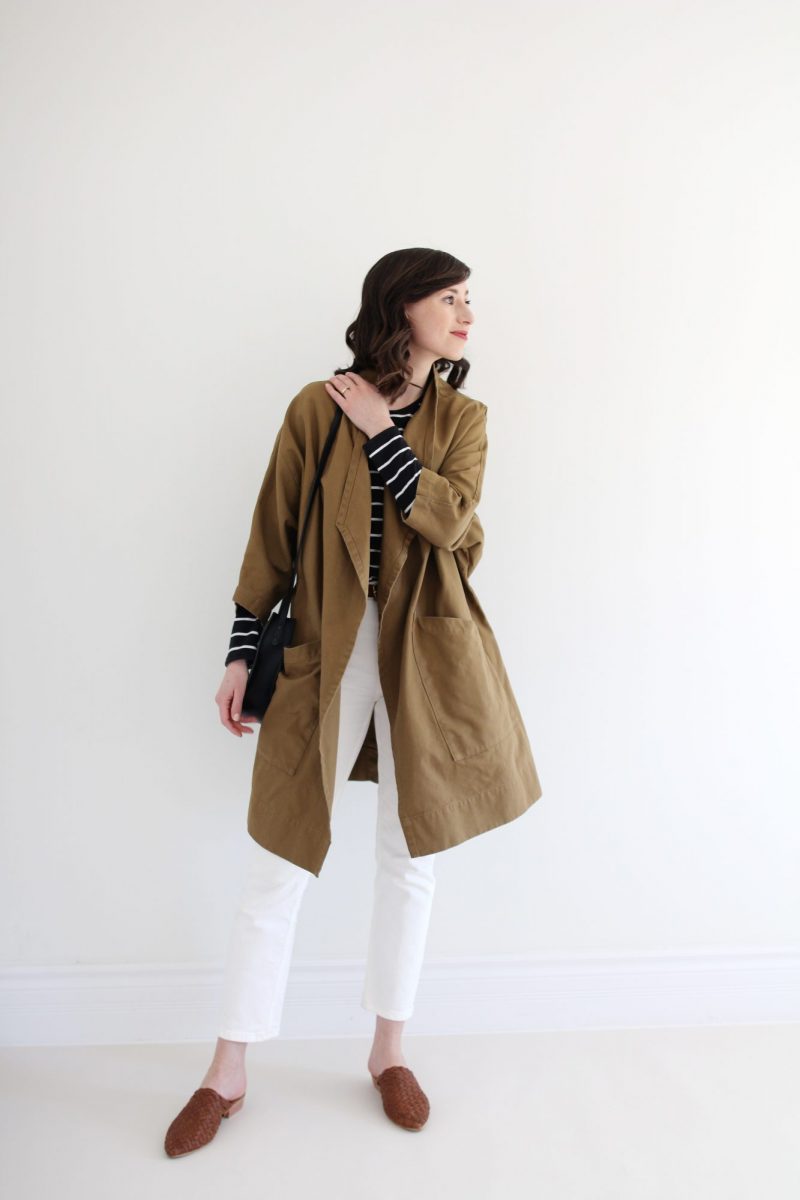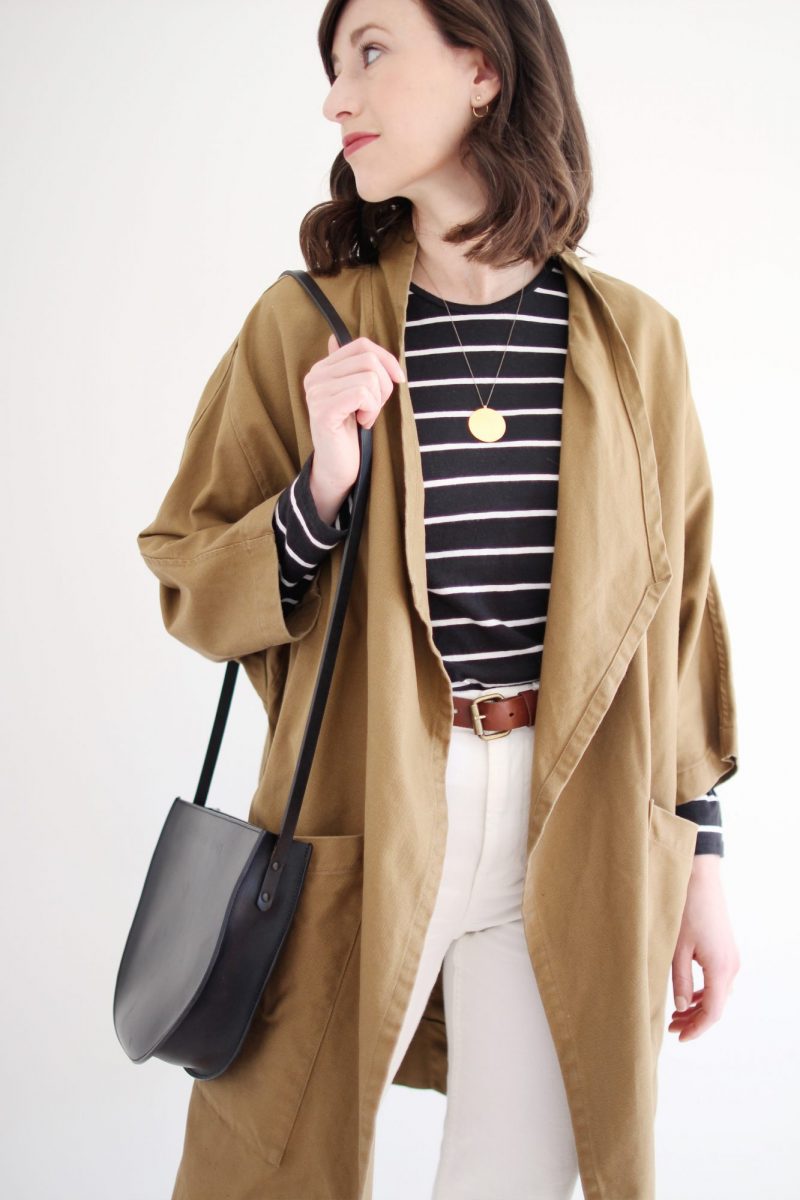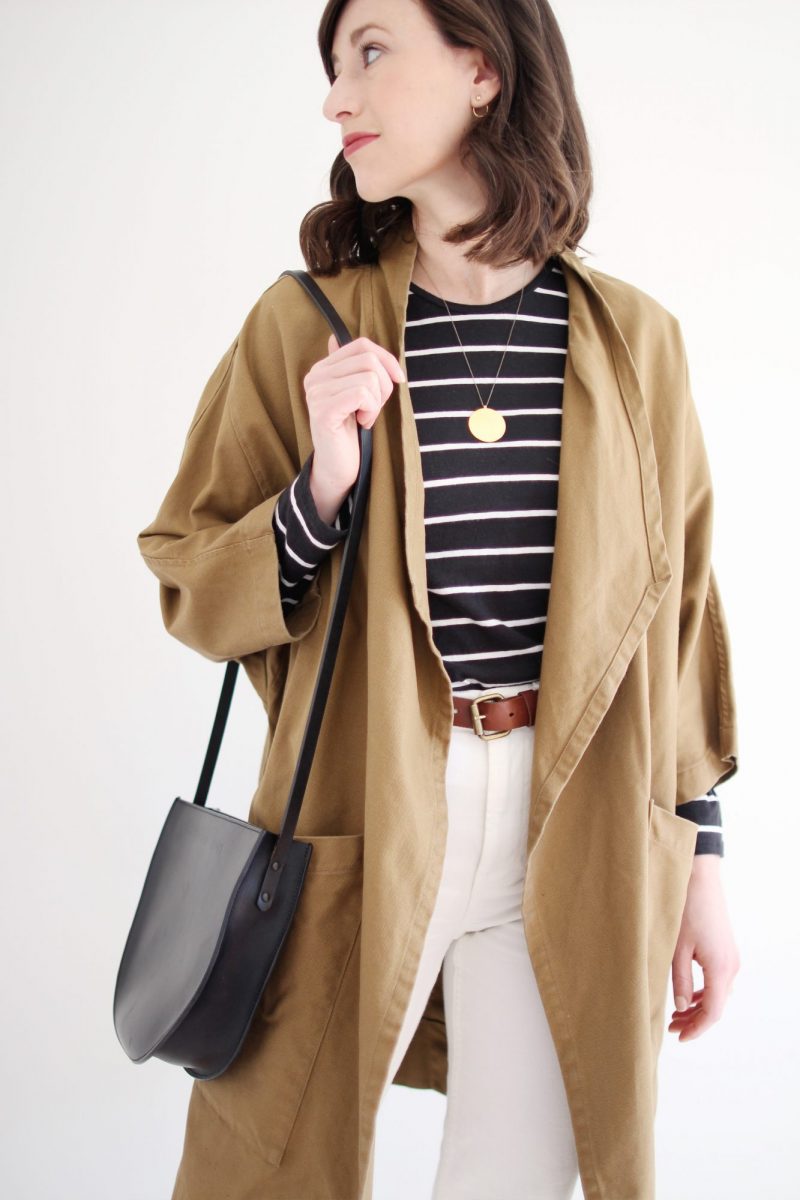 ---
DETAILS
---
A CROPPED JACKET SLEEVE LETS THE BASE LAYER PEEK OUT.

STRIPES DRAW THE EYE UPWARD, BALANCING OUT A WHITE BASE.

A FITTED BASE PAIRS EASILY WITH AN OVERSIZE OUTER LAYER.

A LARGE CIRCLE PENDANT CREATES AN INSTANT FOCAL-POINT.
---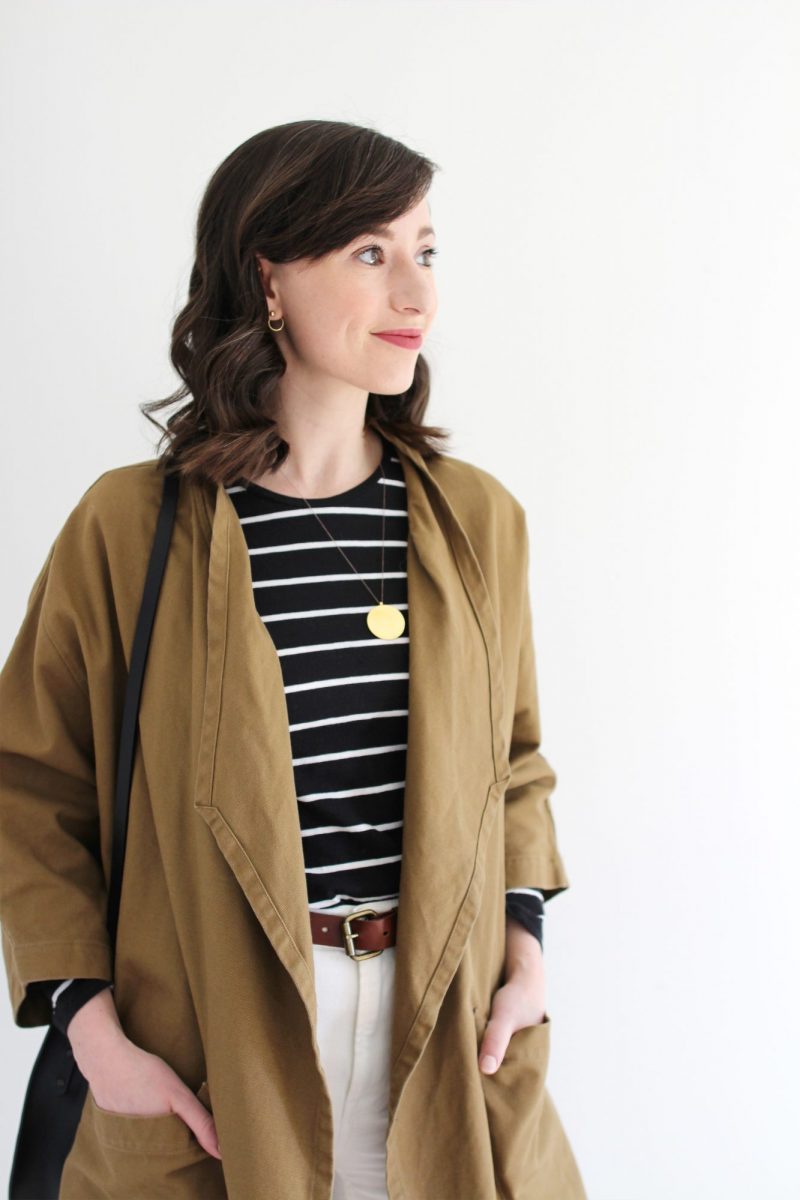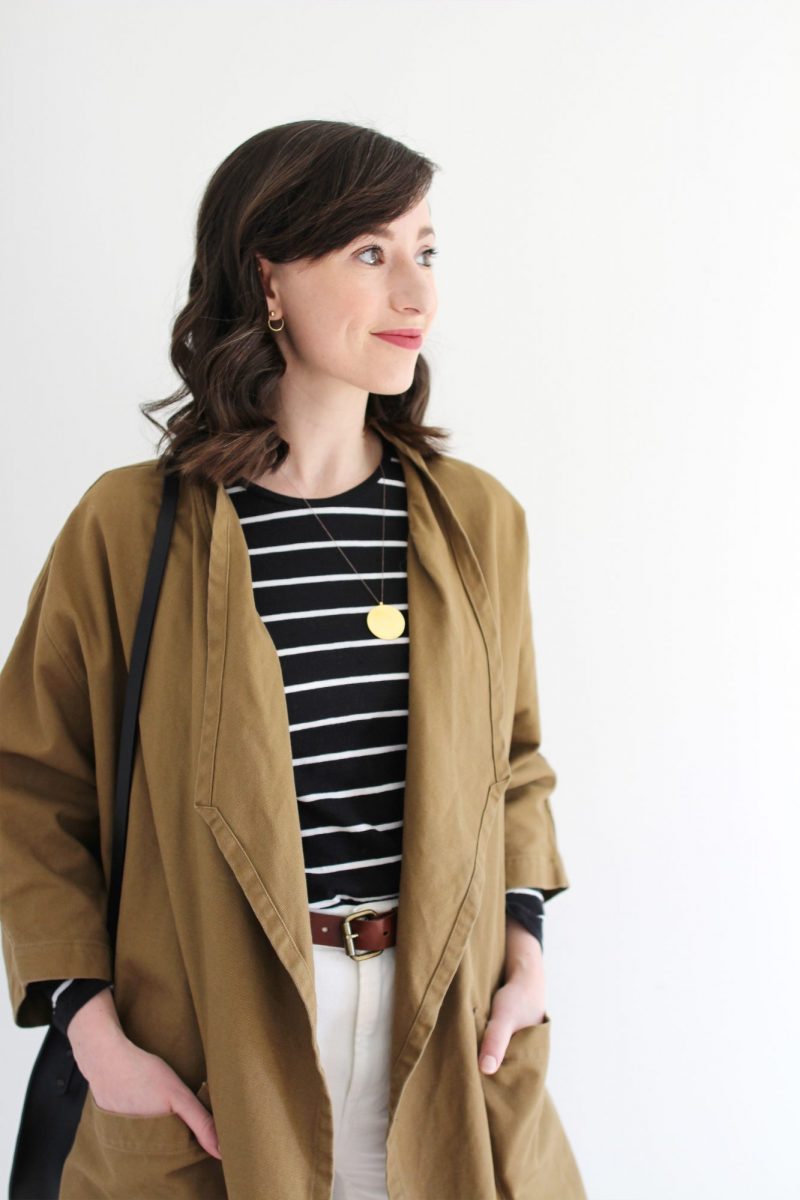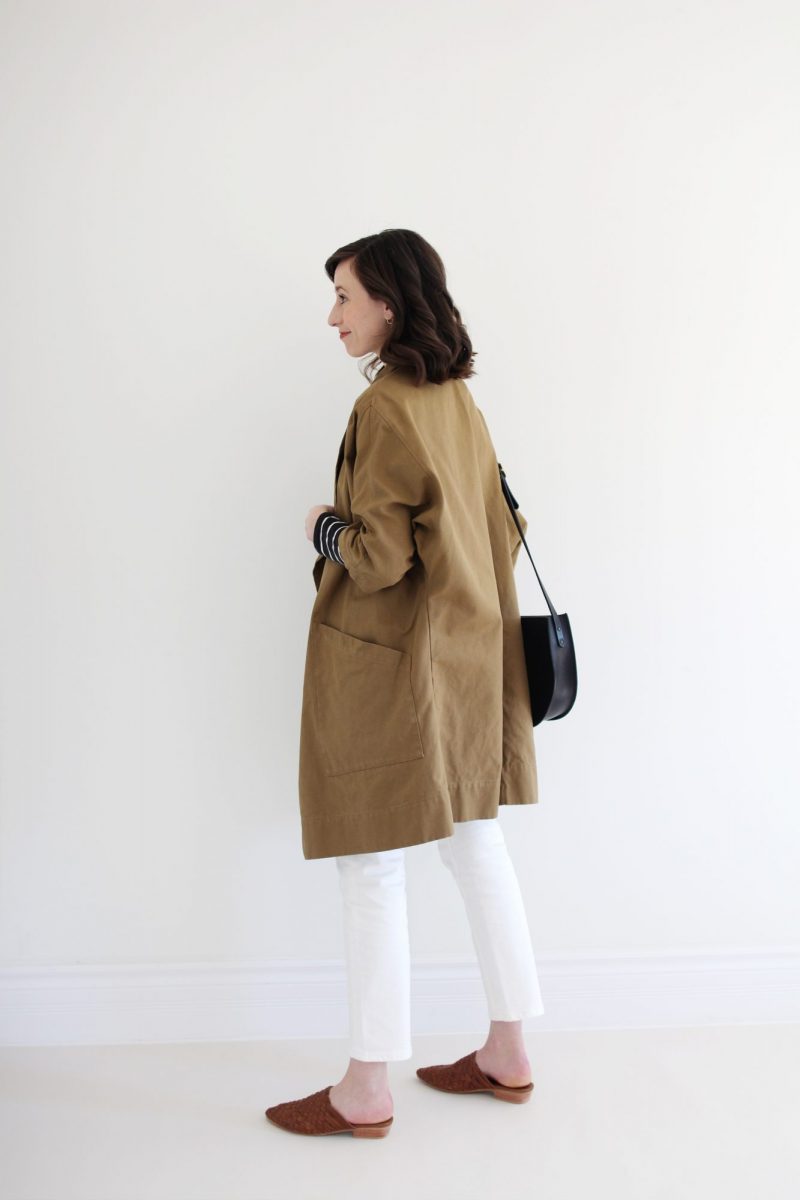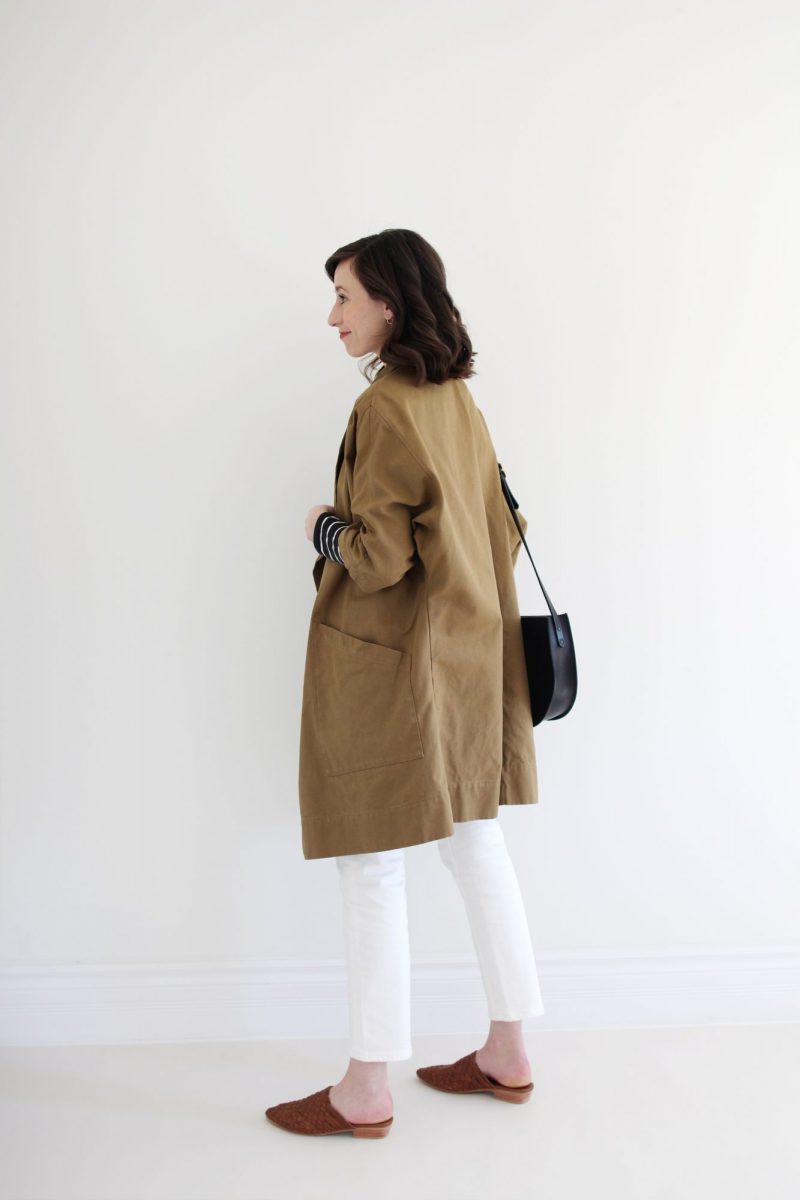 ---
My first outfit idea was inspired in part by this look, which I found on Pinterest. I love how the utility coat contrasts with the white jeans and how the the brown accessories come into play. I skipped the white shirt and bucket bag for a striped tee and an old favourite leather cross-body.
My take might have less sartorial street-style appeal but it's great for a cool spring day of café work sessions, meetings downtown or running some errands.
I'm loving this colour palette of muted olive and burnt cinnamon brown with black and white. It feels earthy and cozy but lots of white keeps it fresh.
---
SHOP THIS LOOK
---
---

---
LOOK 2 – Simple & Sophisticated
---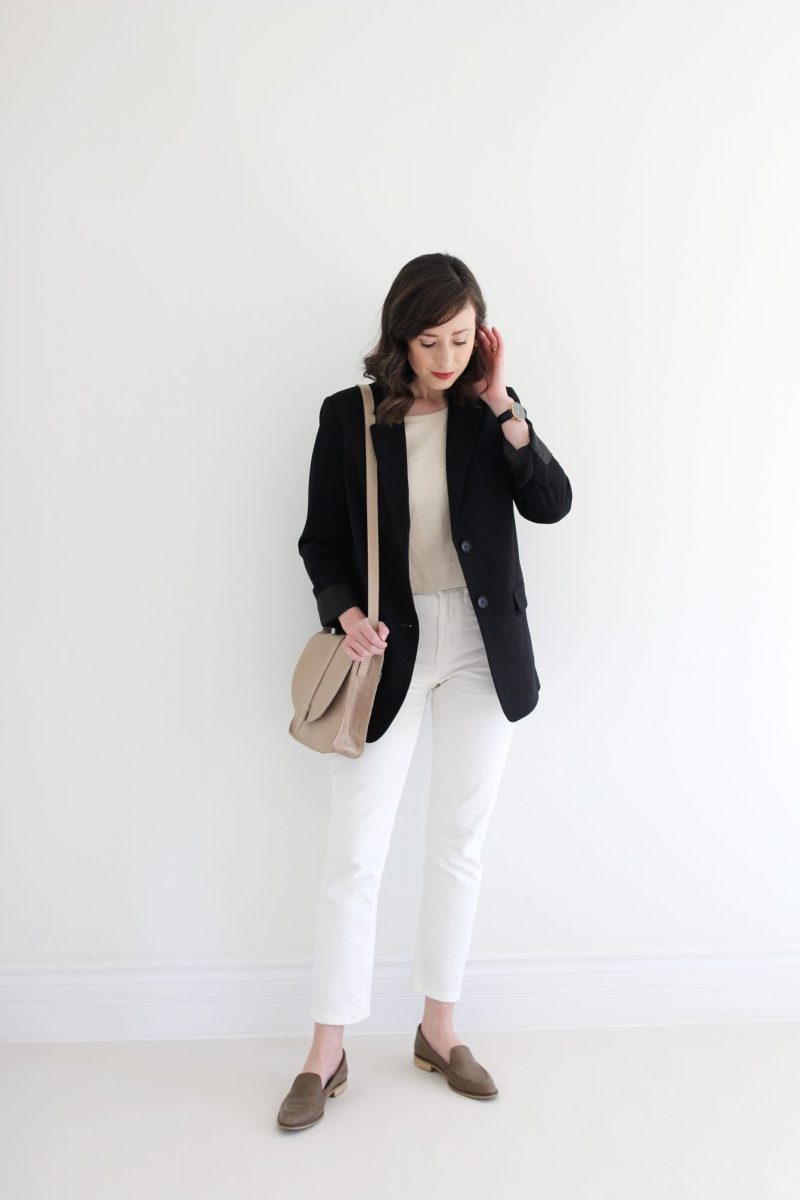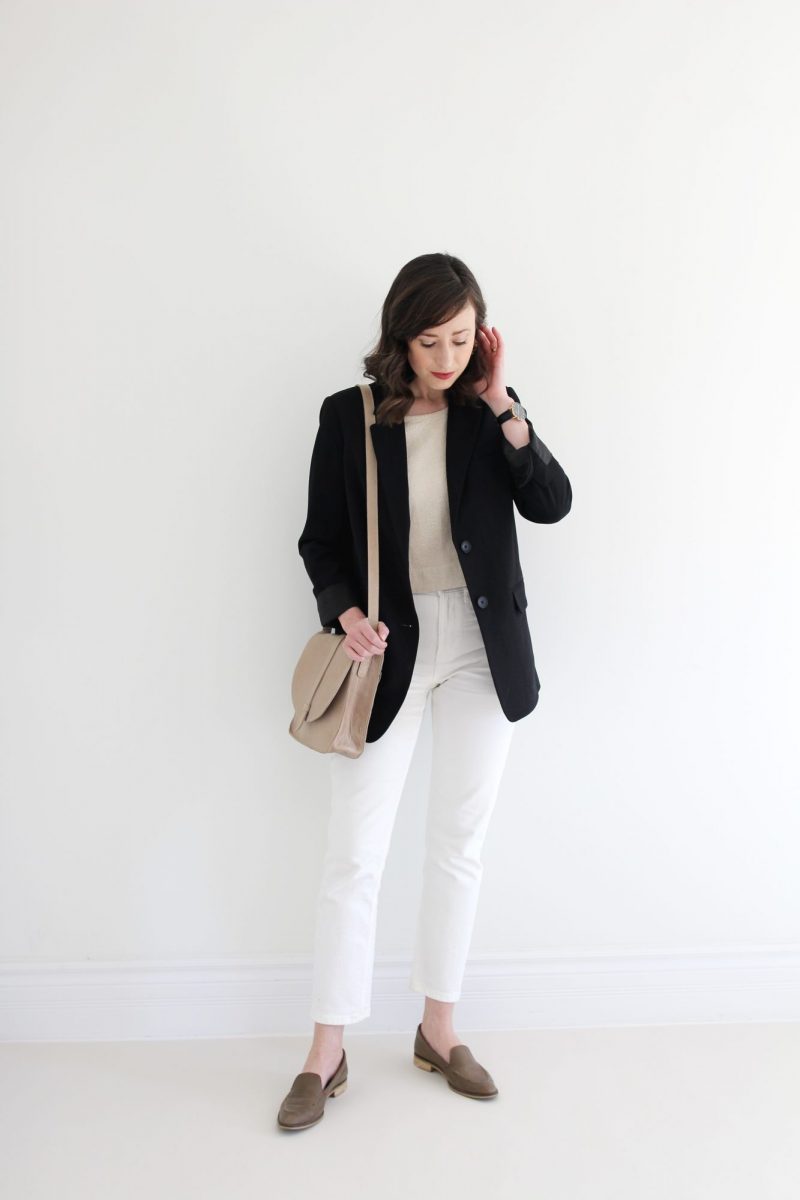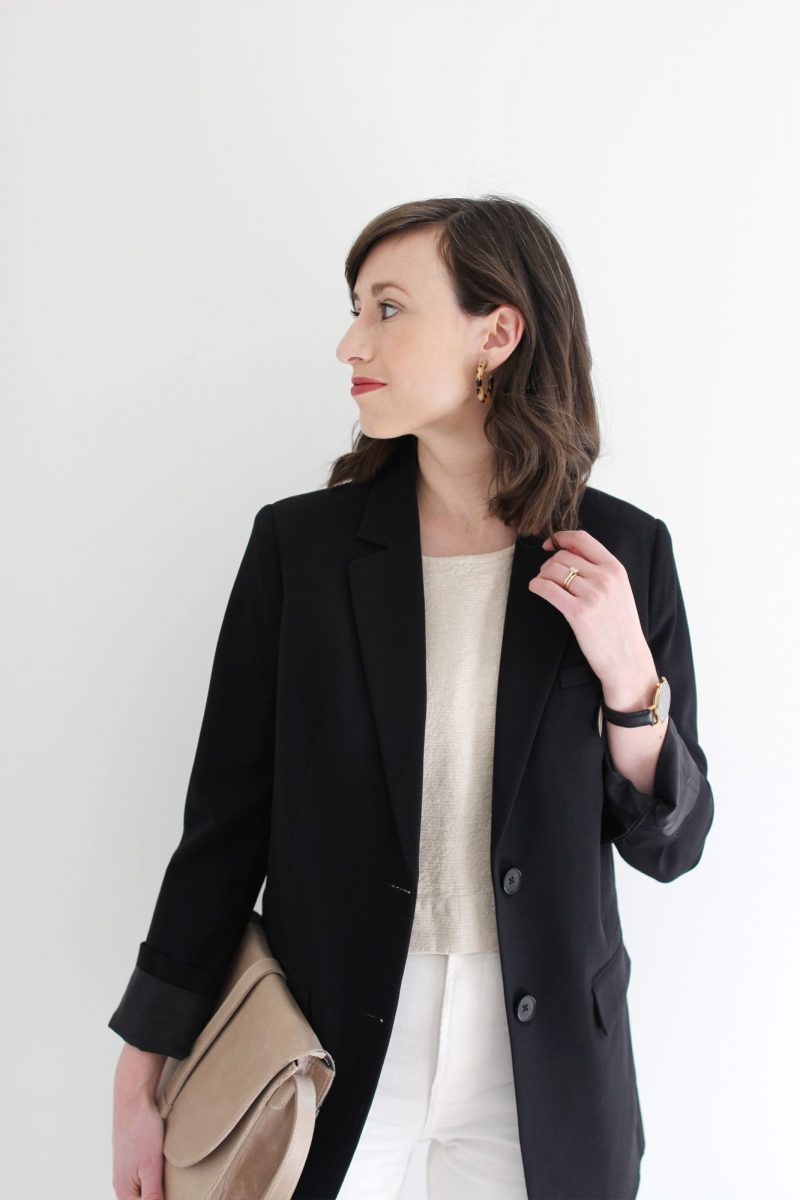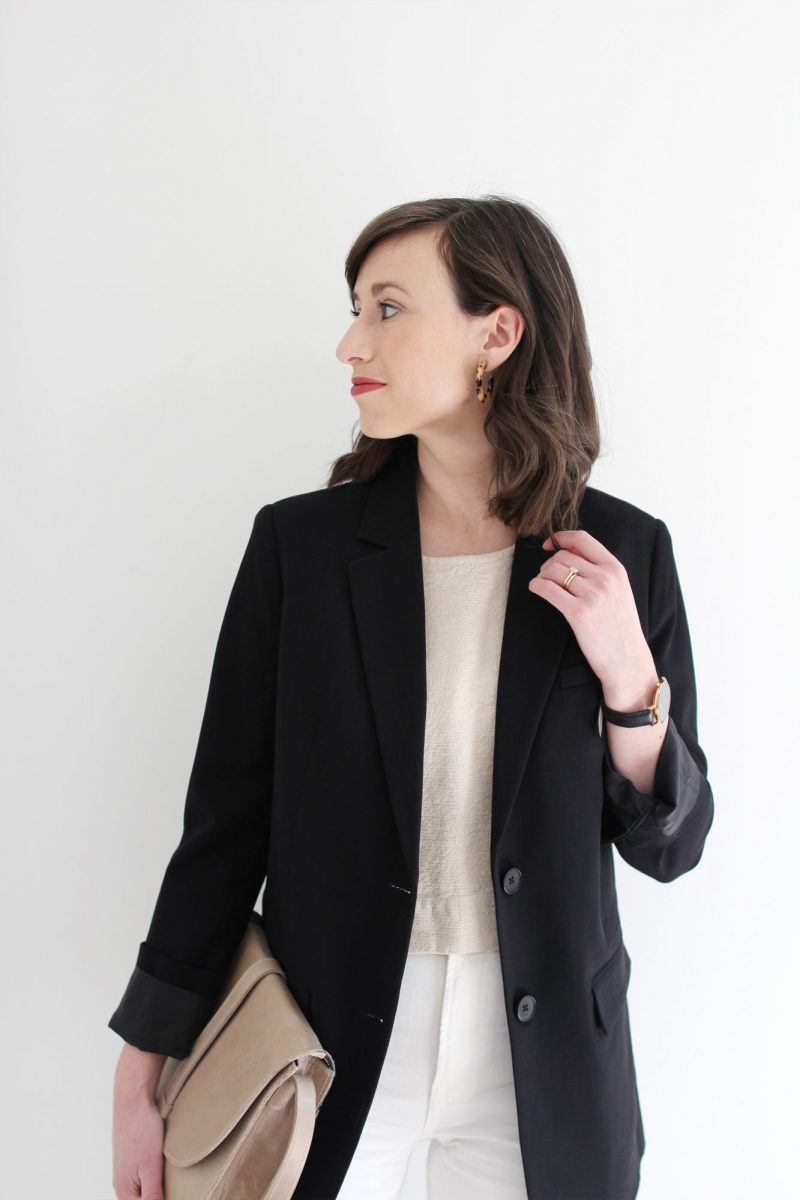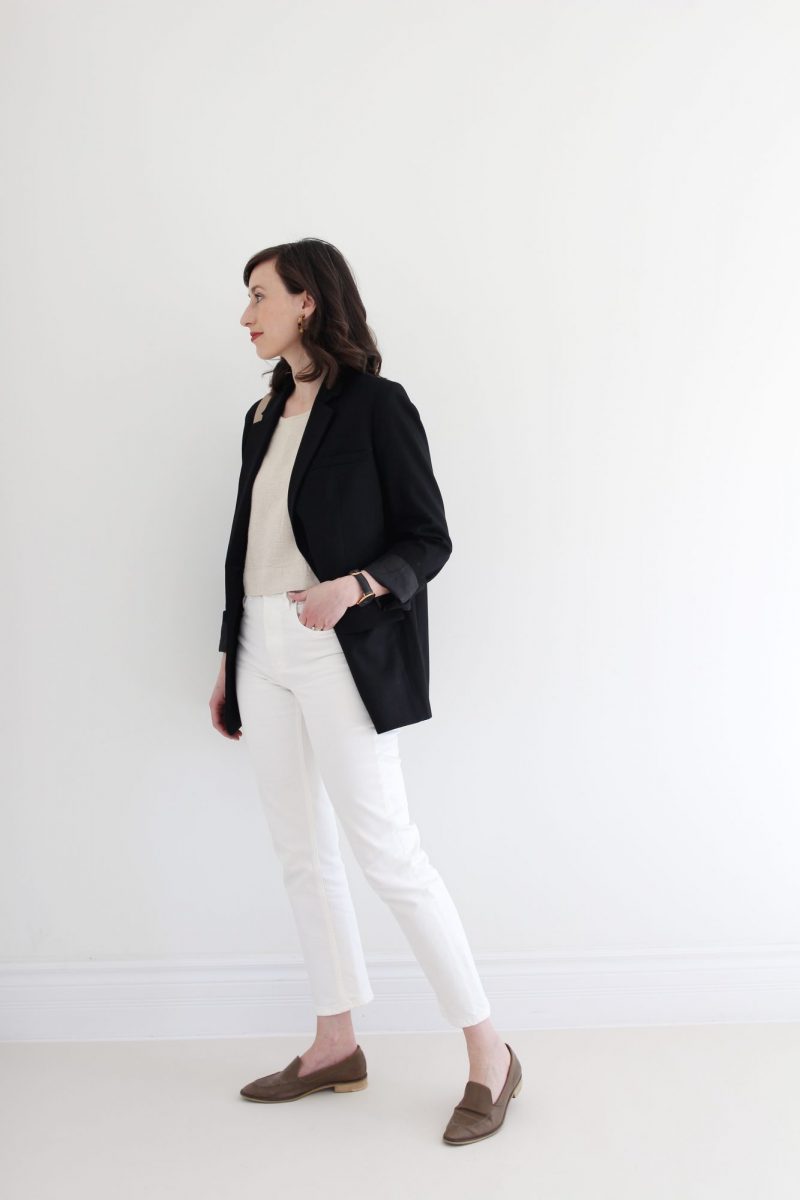 ---
DETAILS
---
A WIDE HEM CROP TOP OVERLAPS A HIGH RISE WAIST, NO TUCK NEEDED.

A SOFT WAVE IN THE HAIR WITH A NEUTRAL STATEMENT HOOP ADDS TEXTURE & FUN.

A WRIST WATCH ADDS A TOUCH OF PROFESSIONALISM.

A STRAIGHT LEG FLARES OUT JUST A BIT FOR AN ELEGANT FINISH.
---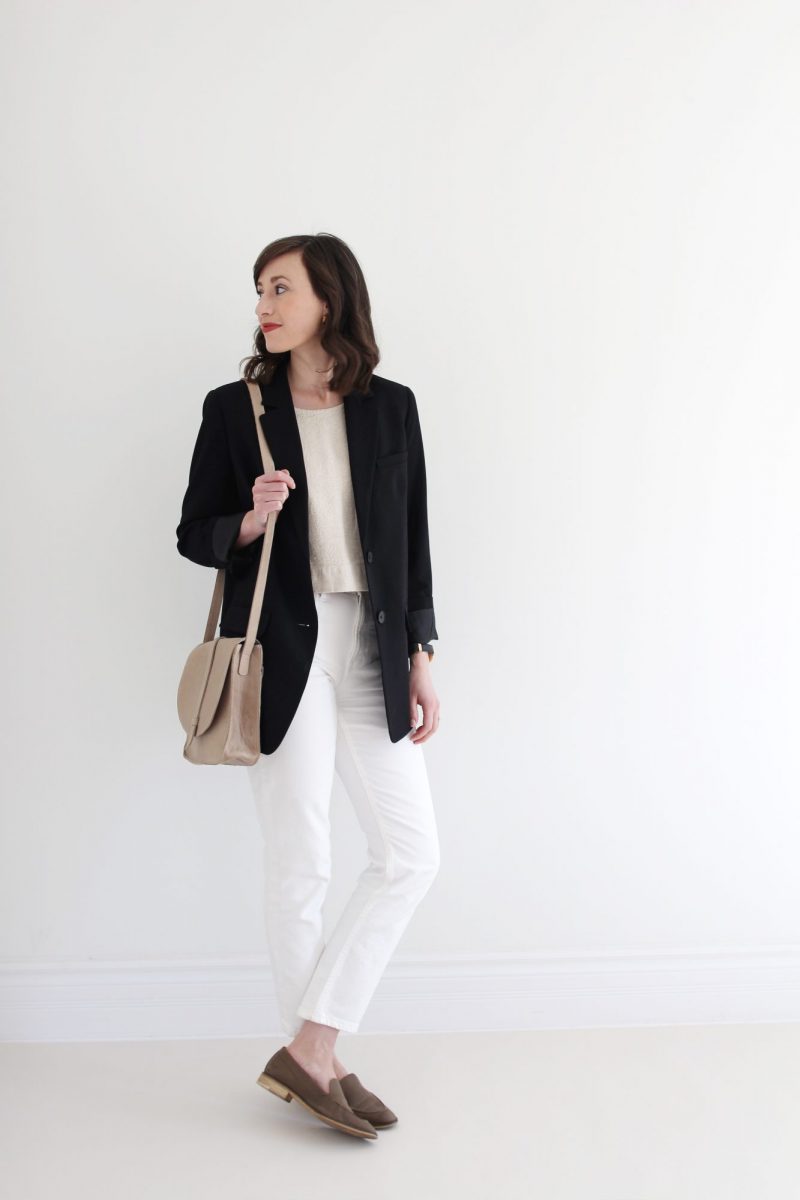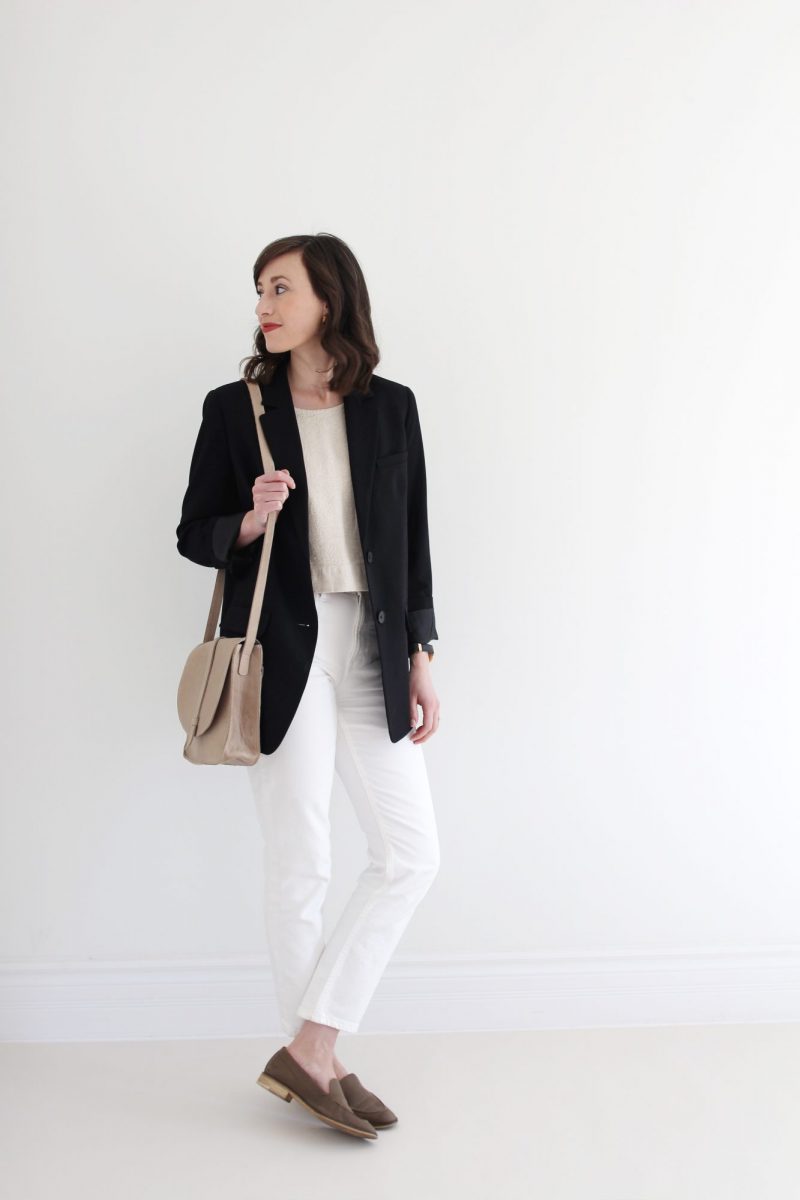 ---
I took notes from this look to create outfit number two. I wanted to make this one a bit more professional so I added my modern loafers (fun fact: they're the first shoes I ever bought from Everlane!), a cross-body bag and a watch to add some refinement. At the same time I really liked how the woven bag in the original outfit added texture and softened things up so I pulled out my flax/linen crop tank for a similar effect.
I was really happy with how everything came together for an understated but elegant outfit. It's always interesting to see how seemingly incompatible styles like a flax Petra Crop tank and a black blazer can pair so well. This one would be great for all the same activities as the first look but feels a bit more sophisticated and structured if that's your preference.
---
SHOP THIS LOOK
---
---

---
In both looks above I'm wearing the Cheeky Straight Jean in Bone from Everlane. I bought these jeans last year and really like the fit (frame skimming but not tight), softness (I can wear them all day) and opacity (there is no show through, even with a black top tucked in). They're super comfy, relax a bit with wear and wash up well every time. I'm typically between a 26/27 in Everlane denim and wear a size 26 in this style.
---
Valid today through April 11th on Everlane orders over $100 USD.
---
Please feel free to ask me any additional questions you might have about these in the comments.
---
OTHER WHITE DENIM OPTIONS TO CHECK OUT
---

---
MORE STYLING IDEAS
---
WHITE TEE + BLACK PUMPS + WOVEN BAG

GREEN SWEATER + STRAPPY SANDALS + NET BAG

BIG SWEATER + MULES + CROSSBODY BAG

VINTAGE FLORALS

CLASSIC PATTERN ON TOP + BOTTOM

LEATHER JACKET + SILK CAMI + COMBAT BOOTS
---
IMAGE 1 | IMAGE 2 | IMAGE 3 | IMAGE 4 | IMAGE 5 | IMAGE 6
---
THERE YOU HAVE MY WHITE DENIM IDEAS FOR EARLY SPRING! GOT A FAVOURITE?
HOW DO YOU STYLE WHITE DENIM IN YOUR CLOSET?
---
THANKS FOR TUNING IN & HAVE A WONDERFUL WEEK!
---
This post is not sponsored but contains affiliate links. When you shop via the links above I may make commission on a sale at no additional cost to you. Thanks for supporting Style Bee! All opinions are always my own.