Yesterday marked the start of May, which happens to be my favourite month of the year! May holds a special spot in my heart for a couple of reasons. The first being that it's the most hopeful month. Flowers are popping up, grass is getting green, leaves are unfurling, robin's are chirping, gardens are being planted, patios are opening and the days are growing longer and longer. With an entire summer ahead it really feels like the most promising time of year.
The second reason is that May just so happens to be my birthday month. I mean, who doesn't love their birthday month? In fact, I've just turned 31 today! Any fellow Taurus babes out there? I hope your star sign season is off to a good start too!
To celebrate my birthday I thought it would be fun to share a new piece I've been loving and to give Style Bee readers a little treat too. After several seasons of eyeing the Basic Wide-Leg Jumper from Hackwith Design House (a responsible and sustainably made line based out of Minneapolis, MN) I decided to add one to my closet. Now all I can say is I should have done that WAY sooner! So let's take a look at two easy ways to style it and a detailed review of this particular jumpsuit.
---
SAVE 10% OFF ANY ORDER FROM HACKWITH DESIGN HOUSE WITH 'STYLEBEE10'
(Valid through May 9th)
---
DISCLOSURE: The HDH Basics Jumper was gifted to me for this post and I receive a commission on sales made using the exclusive Style Bee reader code. This type of partnership enables me to work with independent brands and helps to support my small business. All opinions are entirely my own. Thanks for supporting the brands that support Style Bee! 
---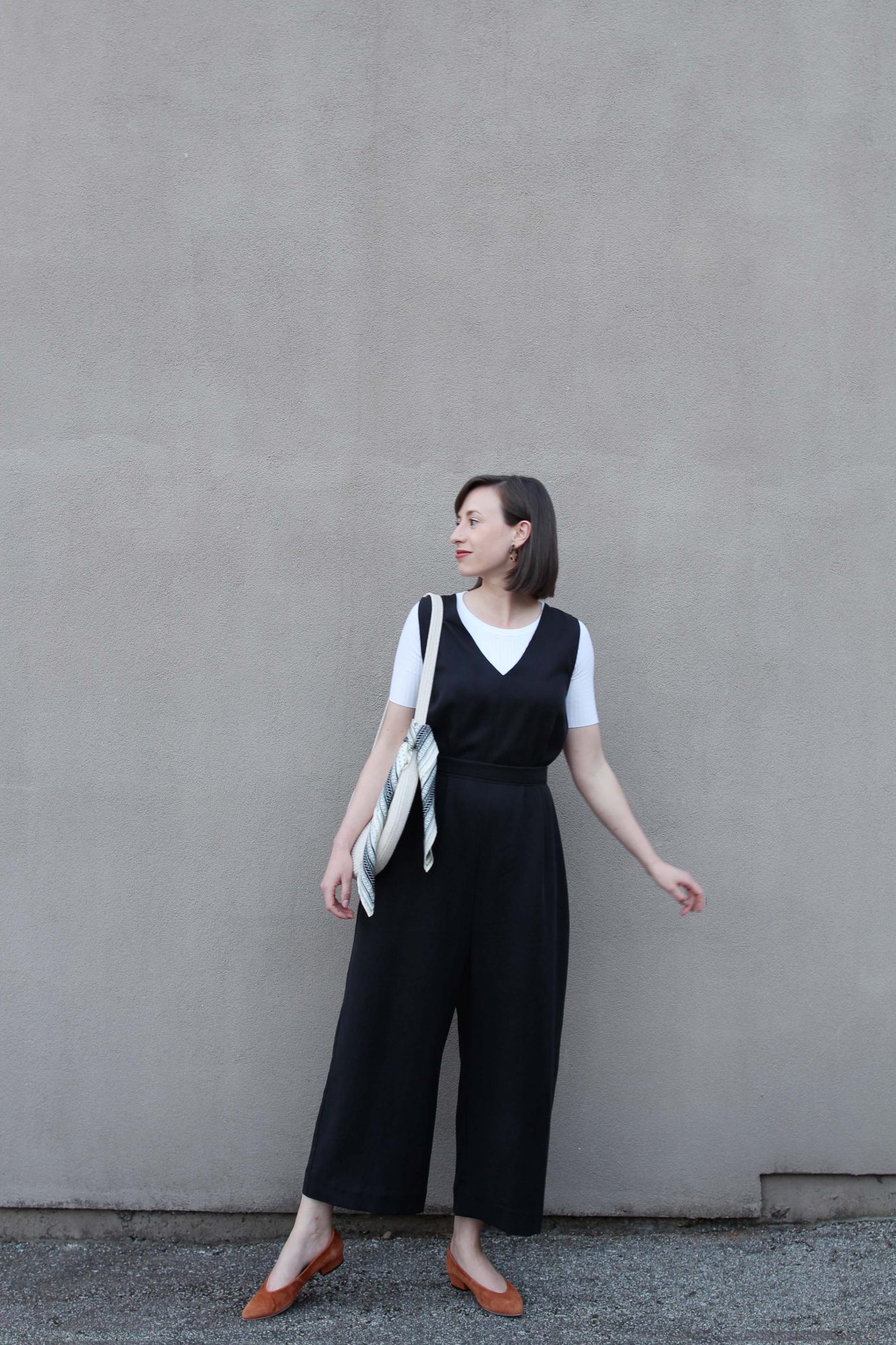 ---
LOOK 1
---
HOW TO STYLE A JUMPSUIT OVER A BASE LAYER
I love this approach to wearing a jumpsuit. It's fresh, practical, comfortable, a little bit unexpected and still totally chic if you keep it simple and accessorize accordingly. This look is perfect for a Spring day out and about, a casual office setting, coffee shop work sessions, date nights, a lunch with friends and just about anything in between.
Scroll down for a few tips in how to make it work. 
---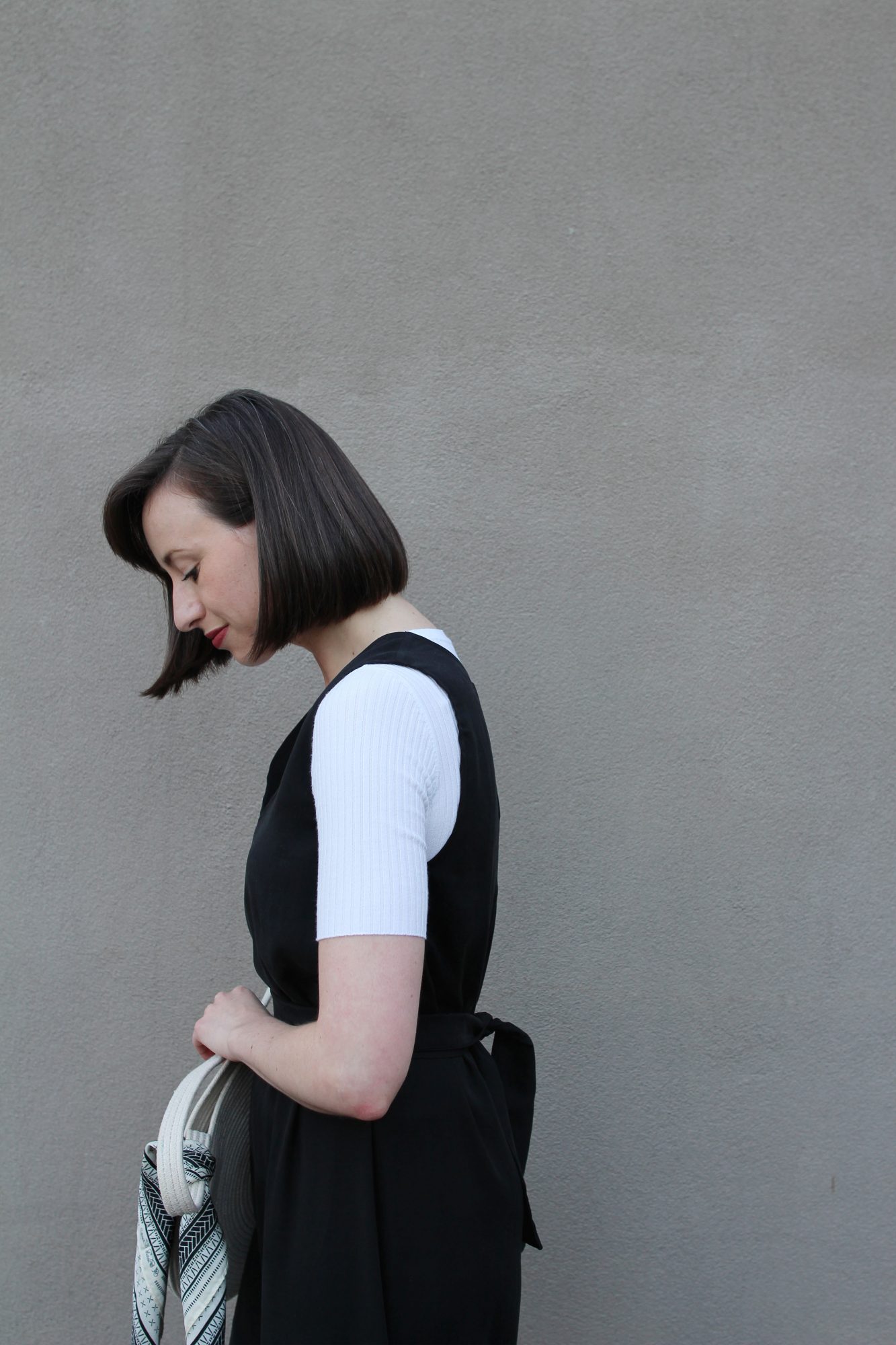 ---
Tip #1 – Opt for a fitted tee or bodysuit.
Layers can be tricky when a jumper gets involved so I like to keep it simple and organized by wearing a fitted tee or bodysuit underneath. A bodysuit is best (in my opinion at least) because it keeps everything smooth and can't ride up the way a t-shirt can. A fitted base also adds some warmth and gives your jumper more seasonal versatility.
---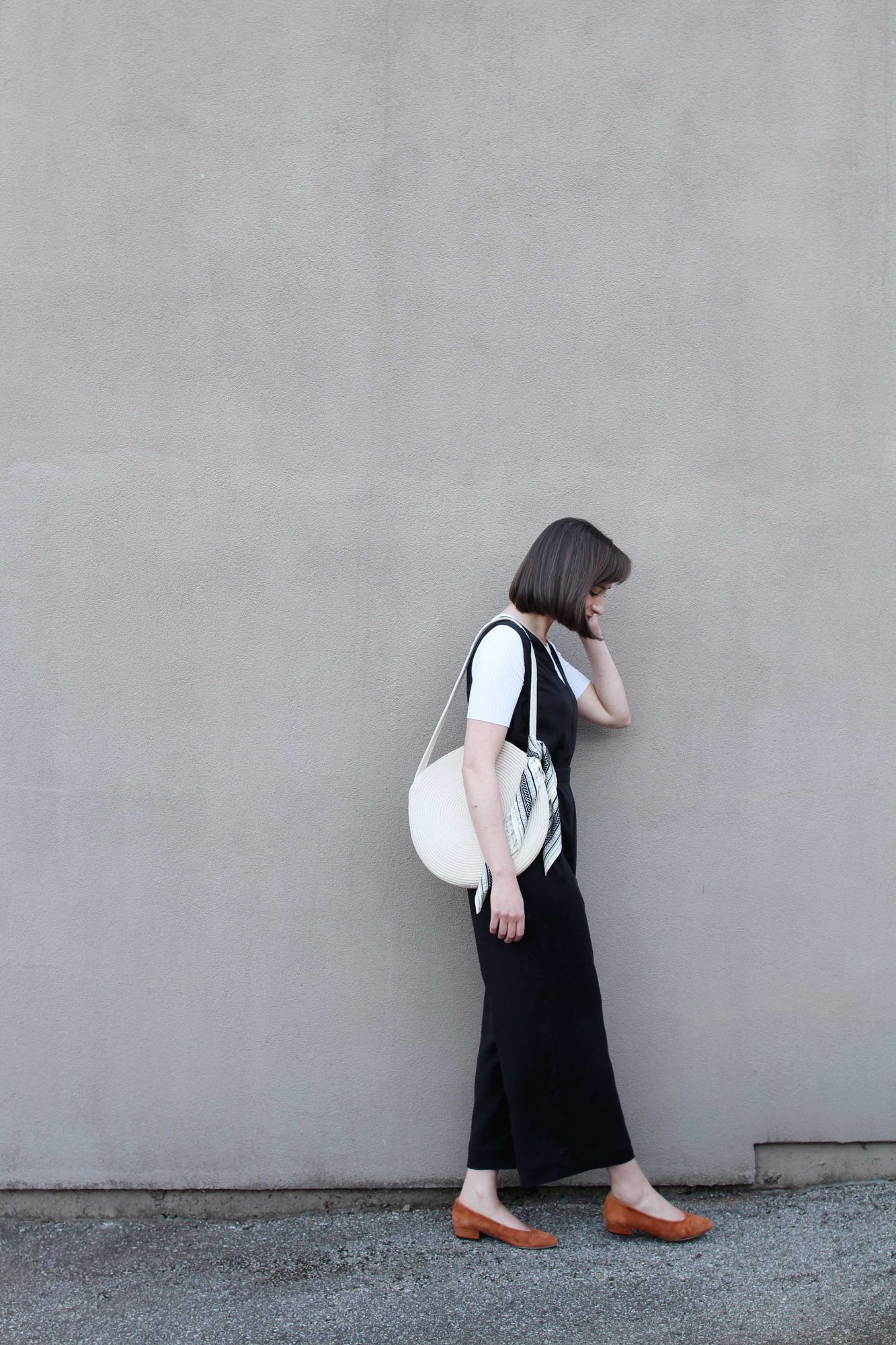 ---
Tip #2 – Go for contrasting elements.
Personally, I think jumpsuits look awesome when layered over a short sleeve tee in a contrasting colour or tone. If you've got a dark jumper try layering it over a ribbed tee in an ivory, white or cream for a timelessly chic combo. 
I also like to have contrasting necklines and sleeve lengths. A high-neck on the tee visually balances out a v-neck on the jumpsuit. A sleeveless top on the jumpsuit exposes a short or 3/4 length sleeve on a base layer nicely too! 
Oh and we can't forget textures! Mix and match a ribbed knit with a silky Tencel for lots of tactile interest. 
---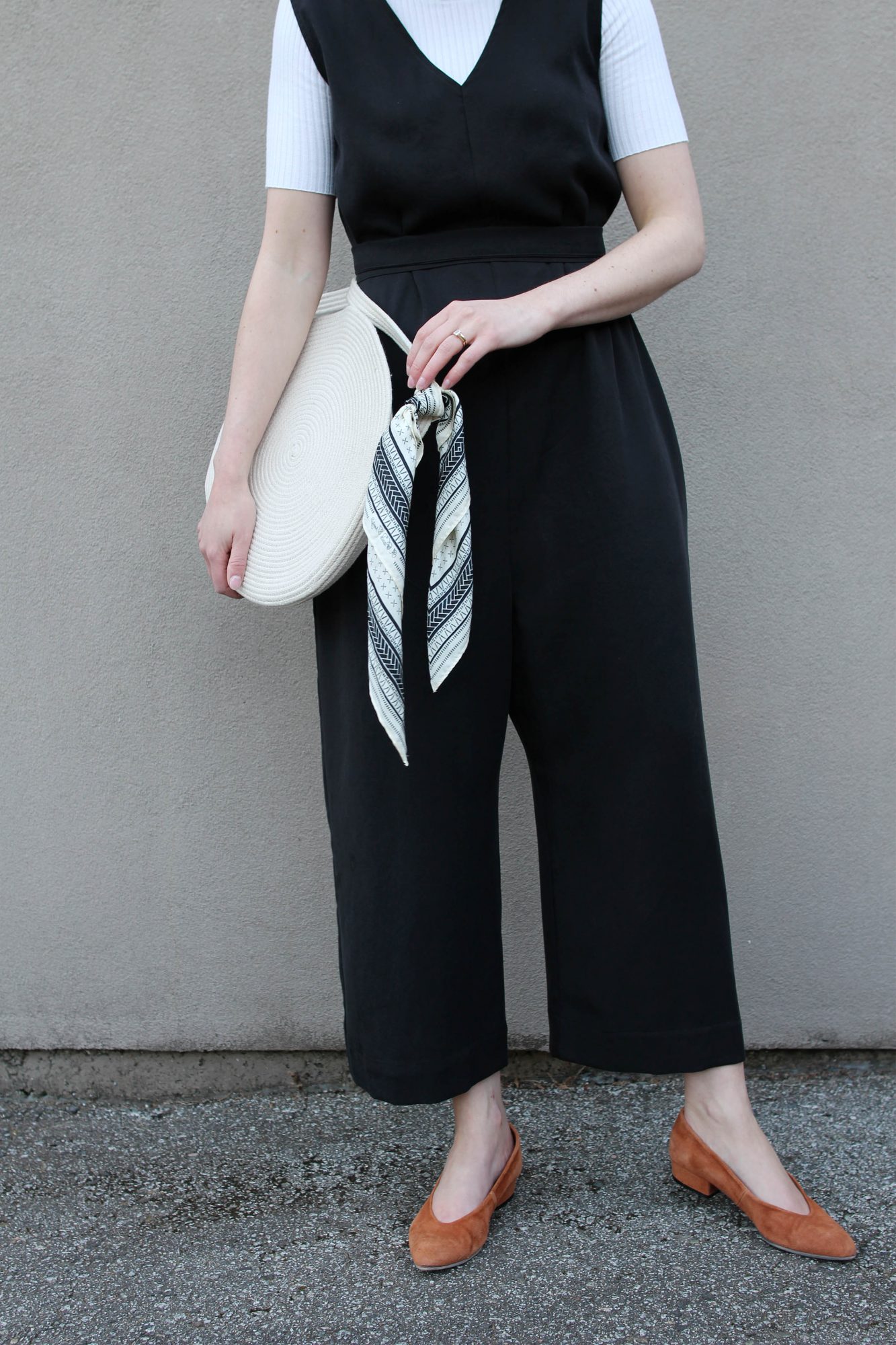 ---
Tip #3 – Have some fun!
Jumpers and playsuits are meant to be fun! It's the best way to take a few years off without looking like you're trying too hard. Embrace your style whimsy by adding a few playful elements like a scarf, fun earrings or cute flats. Keep everything in a minimal colour palette so it doesn't feel fussy or busy.  
---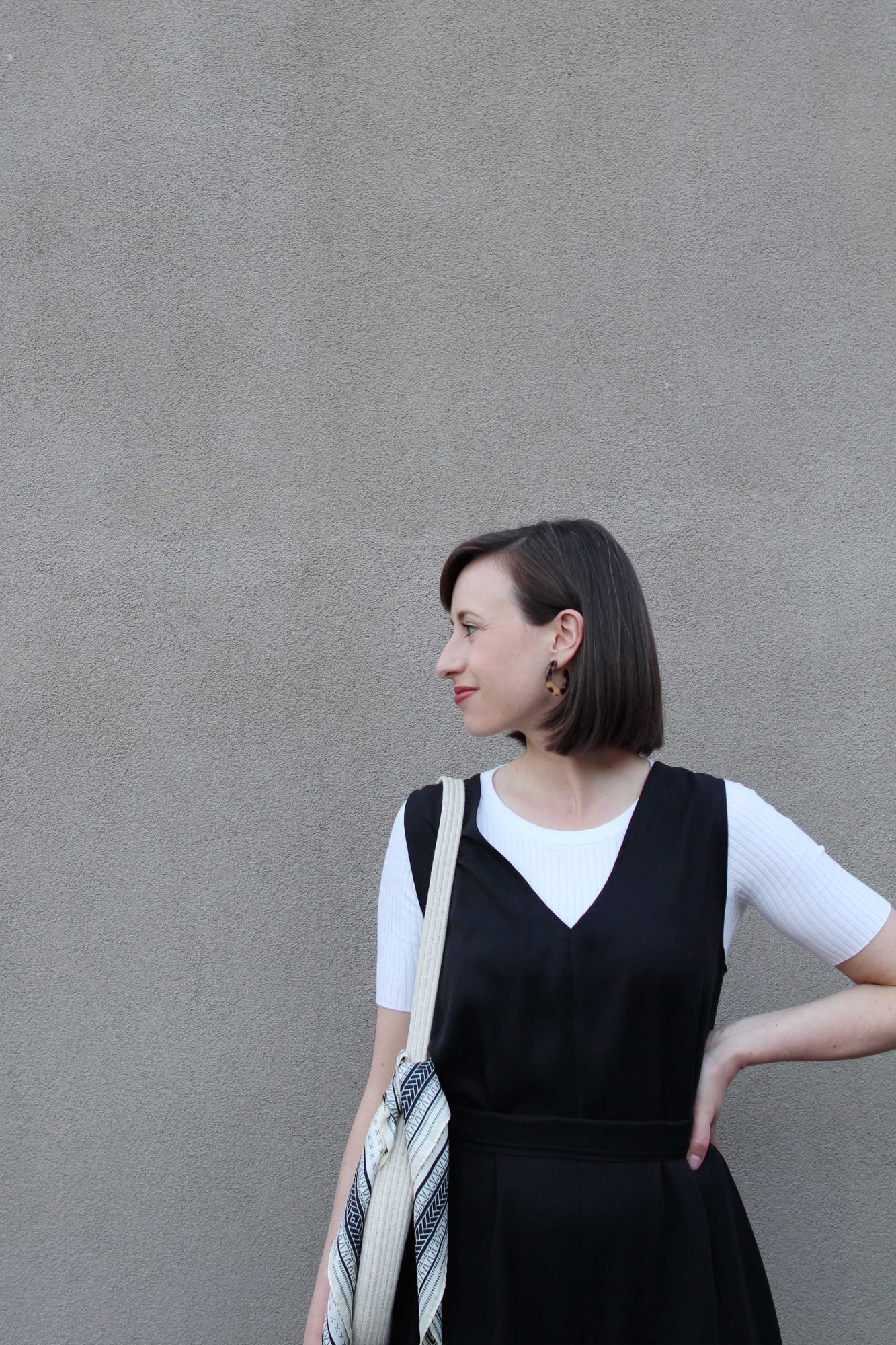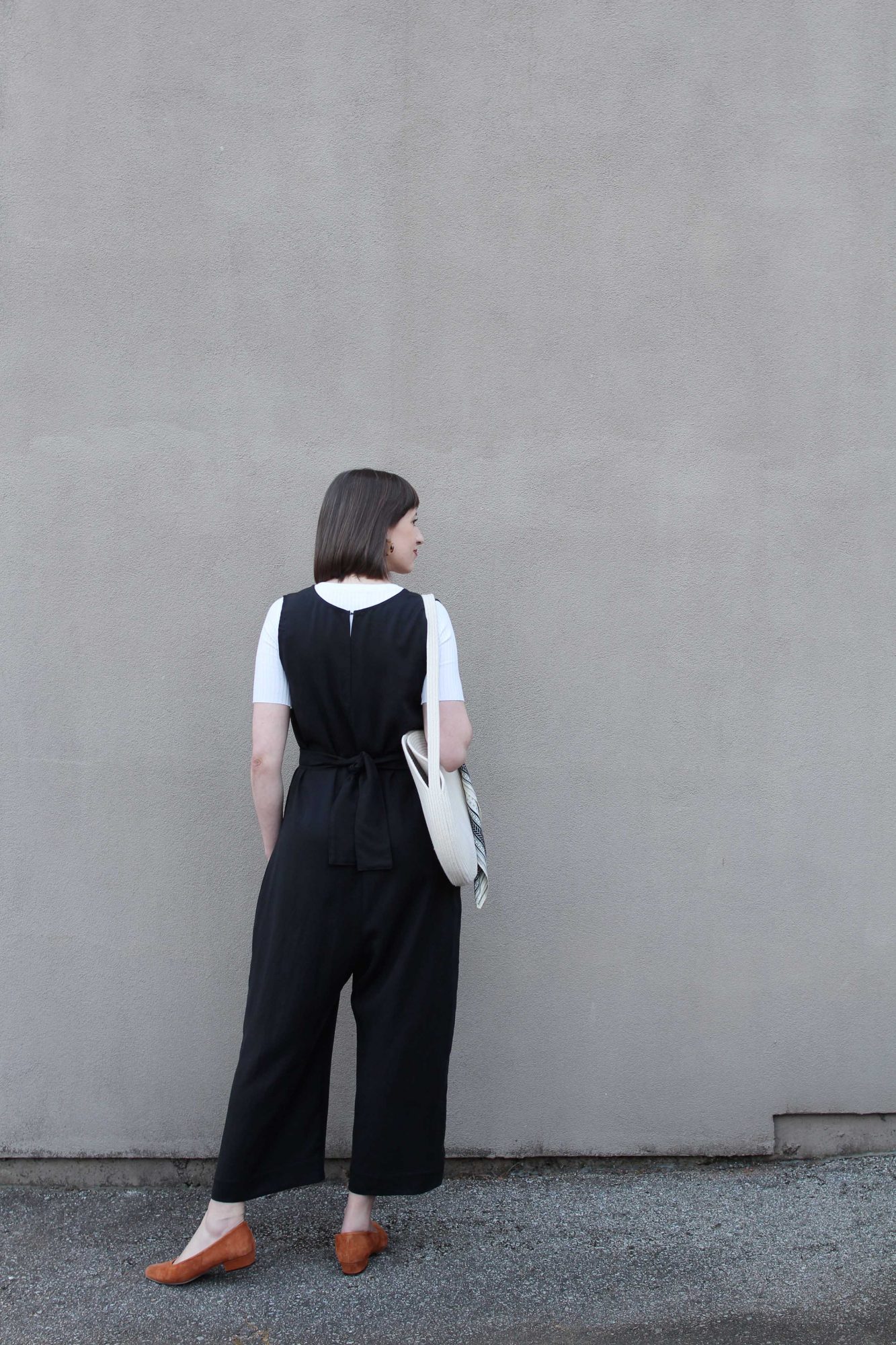 ---
Tip #4 – Belt it. 
I love a loose jumper but I always feel most put-together when there's a belt of some kind involved. Personally, I find it more flattering than without and it helps to gently break up the panel of material and colour (or pattern depending on the jumpsuit). 
The belt on this one is great because you can wear if tied towards the front or back and in either a knot or bow. Plus, because there are no belt loops (more thoughts on that below) you can place the belt where your true natural waist hits, which will feel more comfortable and be more visually slimming (if you're going for that).
---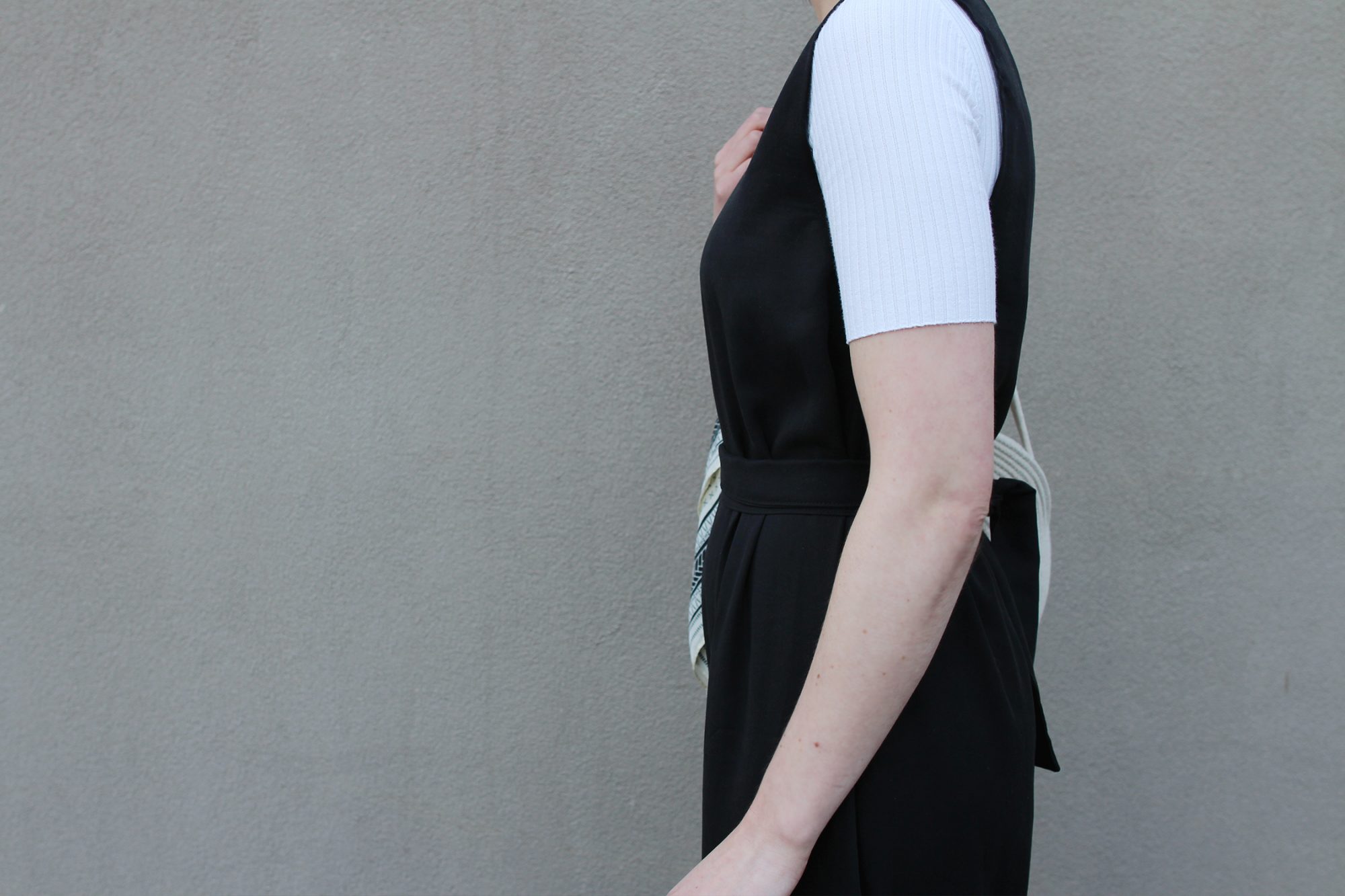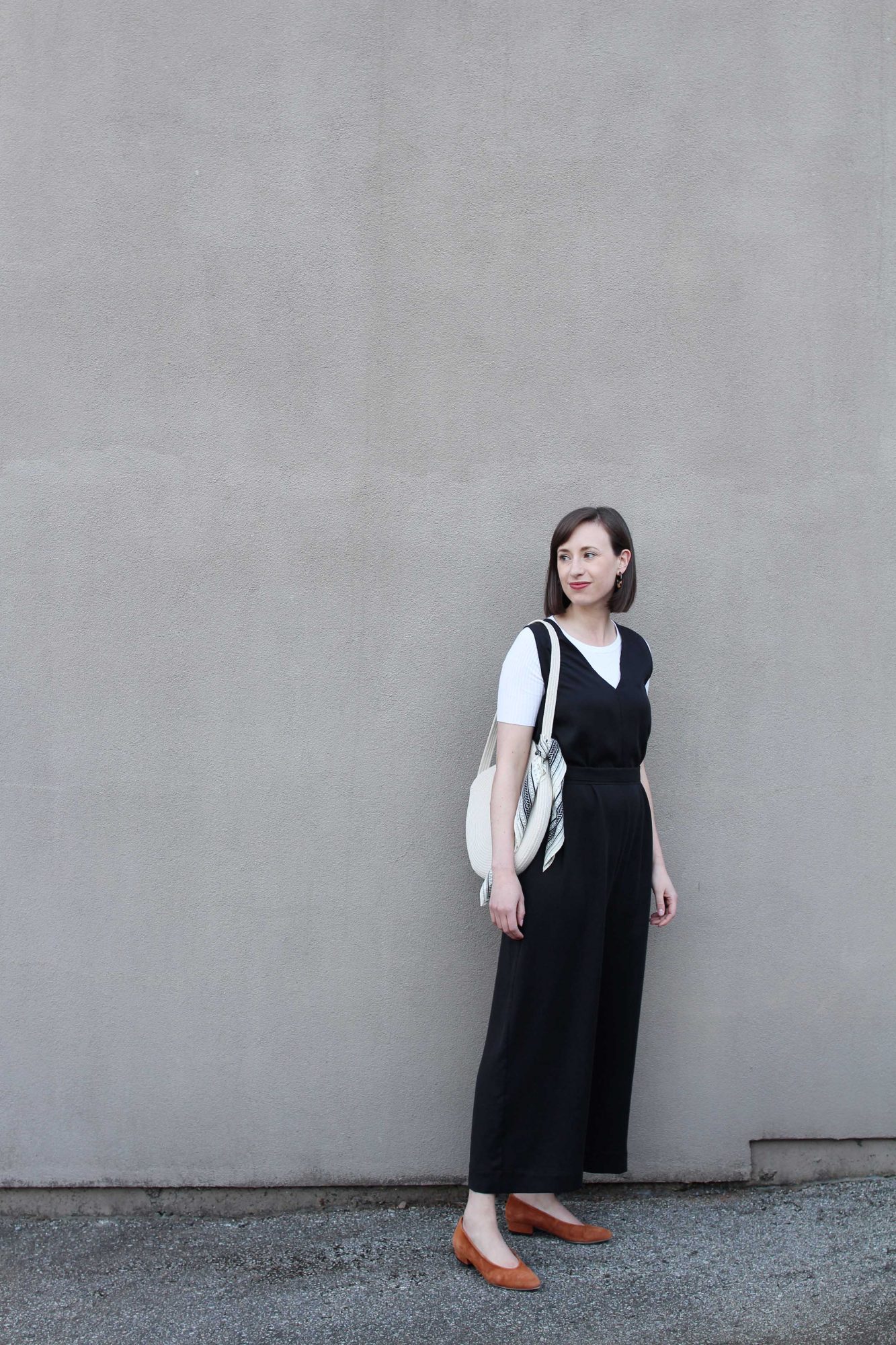 ---
SHOP LOOK 1
---
---
SAVE 10% OFF ANY ORDER FROM HACKWITH DESIGN HOUSE WITH 'STYLEBEE10'
(Valid through May 9th)
---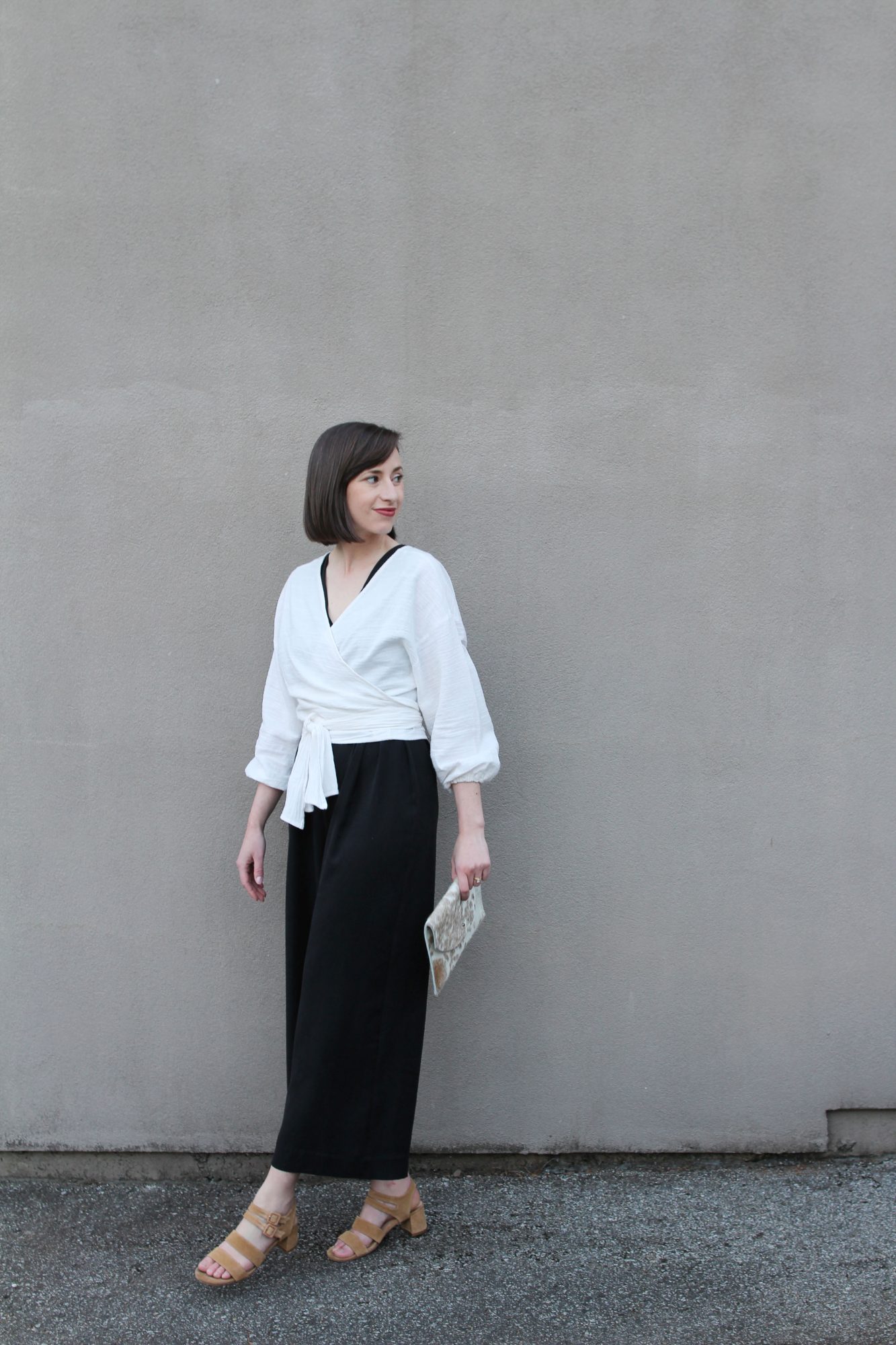 ---
LOOK 2
---
HOW TO STYLE A JUMPSUIT UNDER A WRAP TOP
I bought this lovely wrap top from Hackwith Design House last winter and have been wearing it every chance I've had since. I'd been looking for a great 'going out' top for ages and seriously stalked this beauty until I was ready to snap it up. It's the perfect top to dress up jeans for a party or night out and just as comfy as it is fabulous. Honestly, I'm not sure how it's evaded the blog until now but as soon as I tried it over the jumper I knew it was definitely time for its debut.
So here's how I'm styling the wide-leg jumper under this wrap top. 
---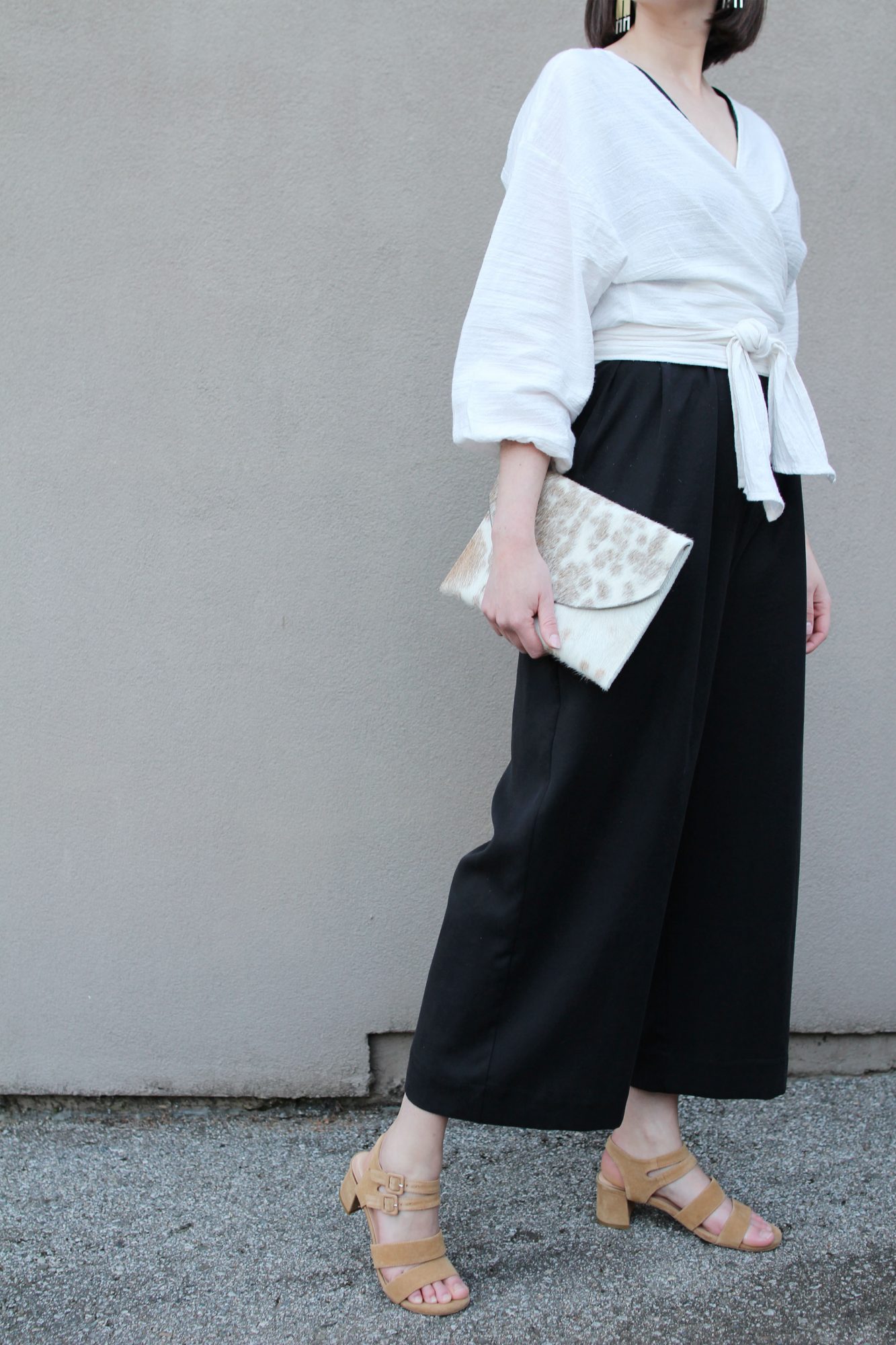 ---
Tip #1 – Add Warm Tones 
This might be my most repeated styling trick but I guess that means it's working! At least, I'm going with that theory anyway. I wear a lot of black and white and find that adding warm tones through accessories and specific elements really helps to soften the stark contrast. In this case, adding a brass statement earring, camel suede sandal and a matching spotty clutch adds some subtle but effective neutrals without being too matchy, matchy about it. 
---
---
Tip #2 – Add dimension
By showing a peek of the jumper under my wrap top the look gets an extra dose of interest. I really like to give context to different elements of an outfit by showing them underneath other layers. This works with collars, necklines (as shown), cuffs and hemlines.
If you were to wear this top reversed the higher back on the jumpsuit would be revealed by the v-neck too. There are definitely lots of fun ways to combine these two pieces! 
---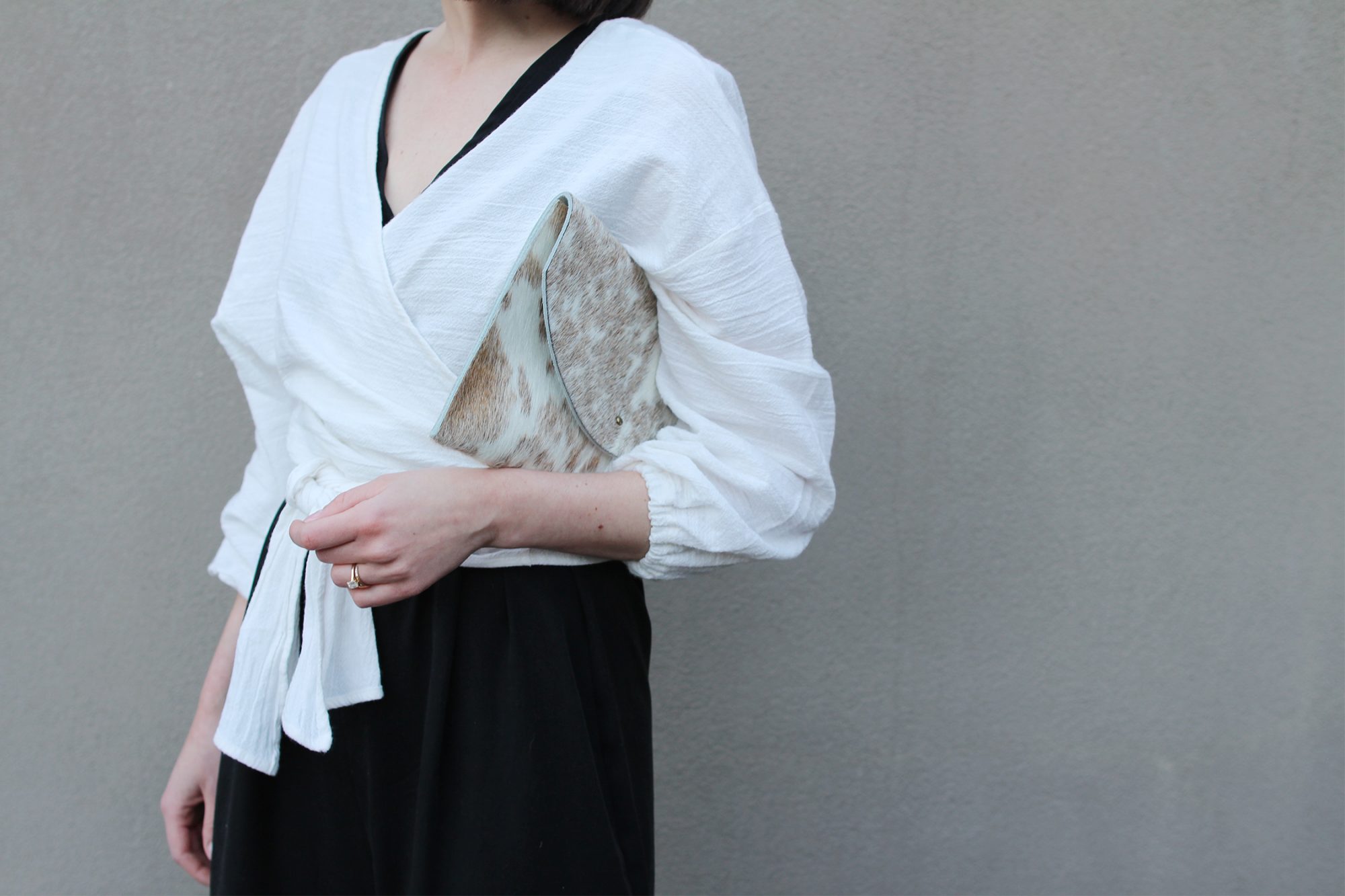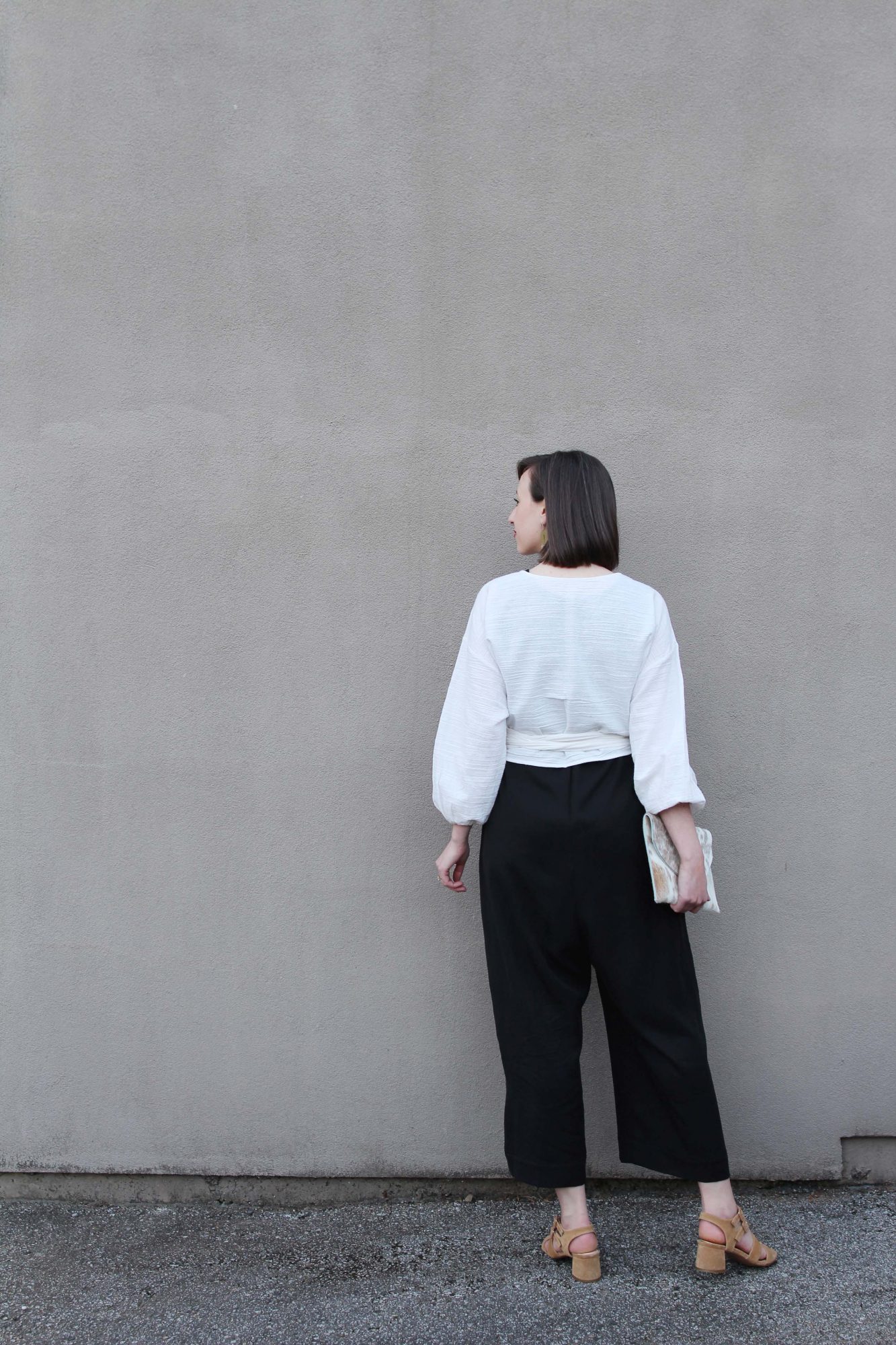 ---
Tip #3 – Keep It Comfy-Chic
Believe it or not, this look is really comfortable. I used to think a statement look had to be kind of hard to wear or if I wanted to feel sultry that meant scantily clad, but now I'm like, 'Nope!' Turns out you can put together an outfit that stands out without sacrificing the soles of your feet and feel like a goddess without any risk of a nip-slip. A wrap top really comes in handy for both of those and when donned over a jumper, well, that's just begging for a good time. My high heel collection barely exceeds 3 inches now and I've got to admit that's a critical factor. 
---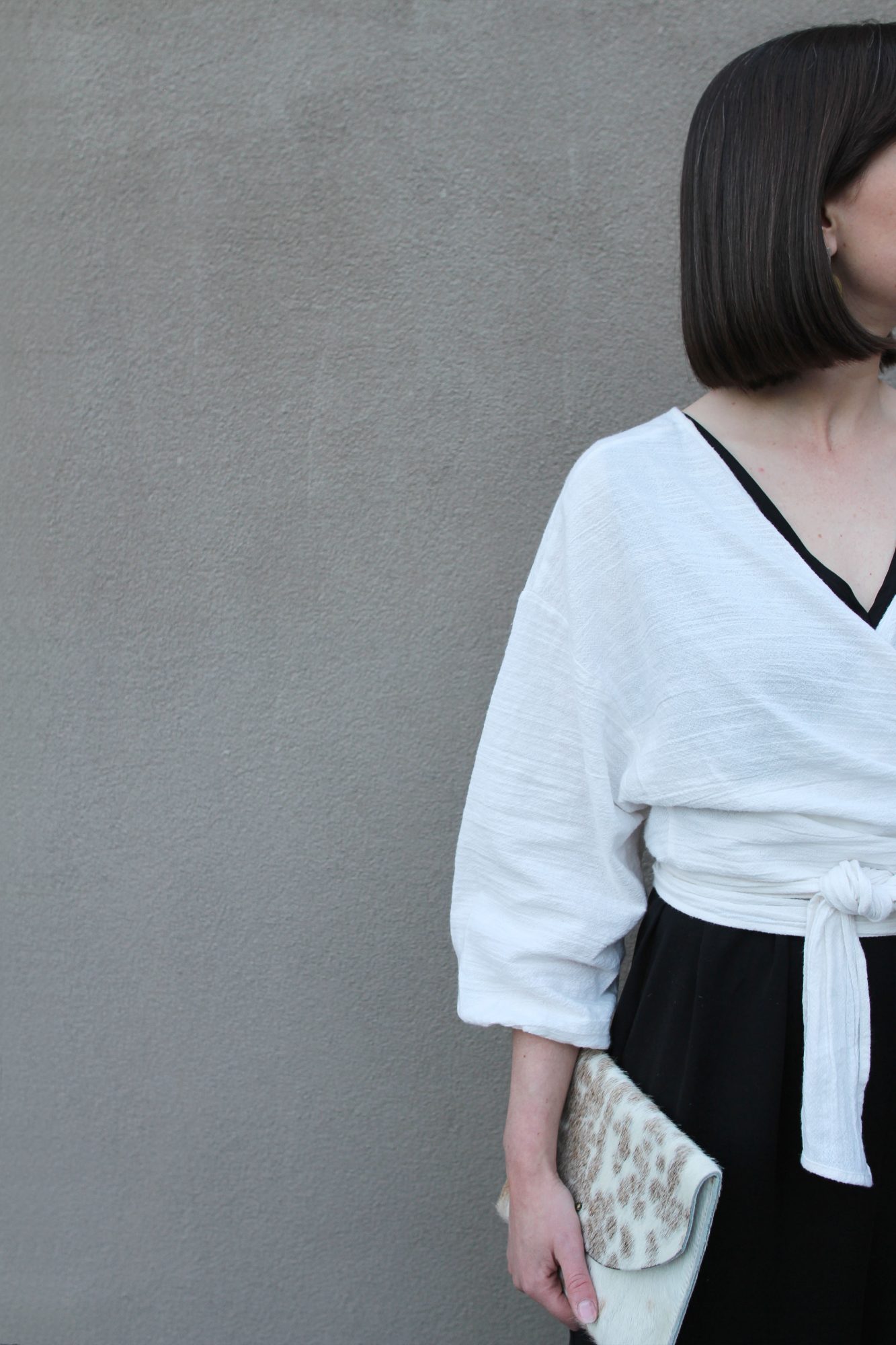 ---
SHOP THIS LOOK 2
---
SAVE 10% OFF ANY ORDER FROM HACKWITH DESIGN HOUSE WITH 'STYLEBEE10'
(Valid through May 9th)
---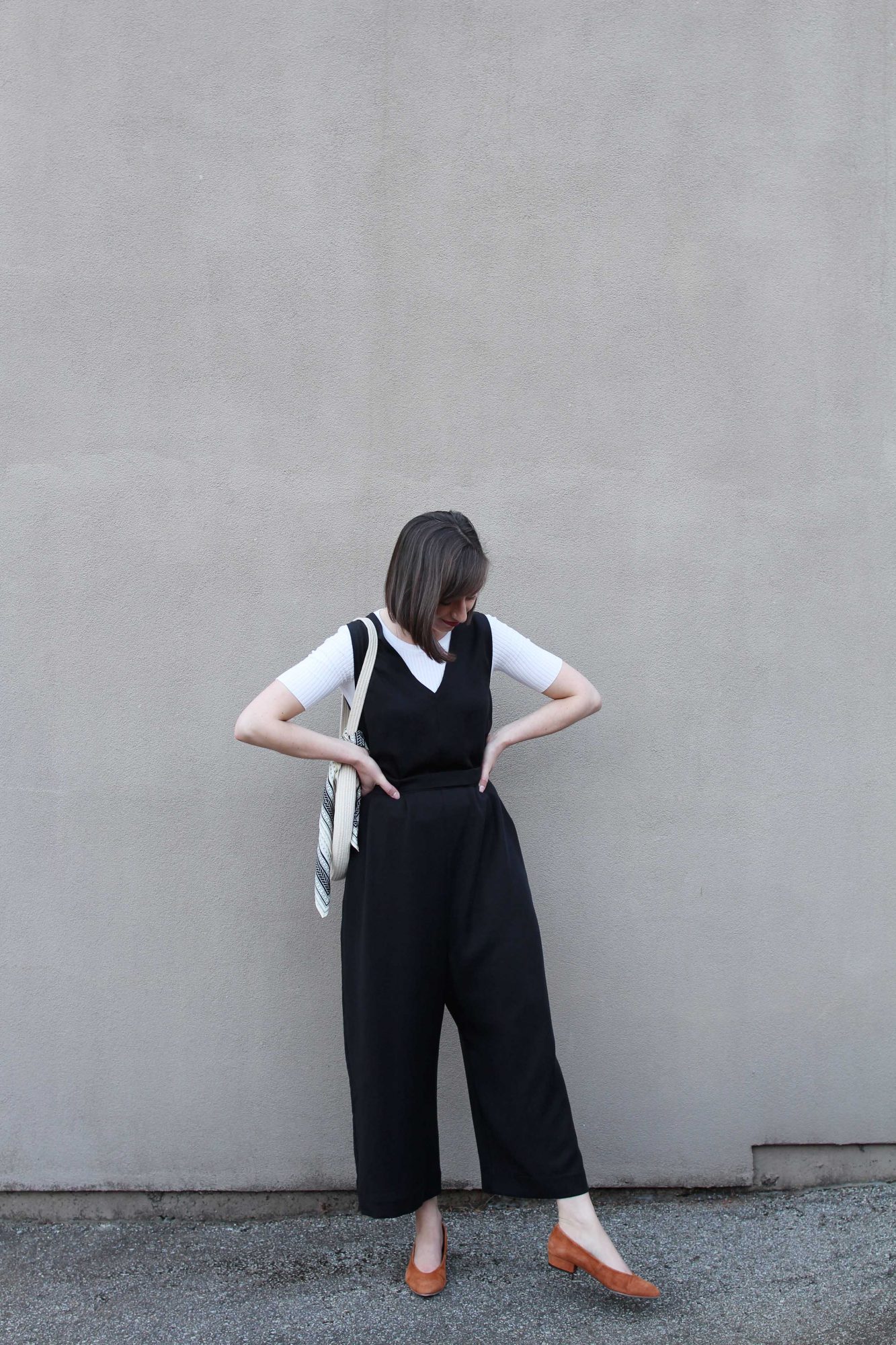 ---
A BIT ABOUT HACKWITH DESIGN HOUSE
---
I've been a fan and supporter of Hackwith Design House for years now. I remember discovering Lisa Hackwith on Instagram when she was first starting out, working from her home studio and had just begun launching limited edition items every week. I would anxiously await 10am on Mondays, enter every giveaway she hosted (I actually won once!) and have loved seeing the HDH brand evolve and grow. When the team released the Basics Collection I was thrilled and continue to be blown away by the Core and Limited collections launching each season. The Swim, Intimates and Plus collections are all really beautiful too*.
Lisa is a nothing short of a design dynamo and leads a fabulous team of talented women (plus her husband) who work in a beautiful studio in Minneapolis, MN. You can learn more about the team, studio and HDH mission here and I really think you'll feel good about supporting them.
*The 'STYLEBEE10' discount applies to all collections!
---
WIDE-LEG JUMPER FIT + FABRIC DETAILS 
---
As per usual I've got a few notes to add about the fit and fabric of this piece, along with some personal thoughts on pros (there are lots) and cons (very few). Overall, I'm very happy I got to test drive this jumper and can't wait to keep styling it all Spring and Summer long. You better believe I'll be wearing one of these looks for my birthday dinner tonight!
FIT – I adore the fit of this jumper. I'm wearing a size S which was what the size chart indicated and it's exactly what I was hoping for. Roomy but not crazy oversized. It's bra friendly (despite the note below*) and the v-neck is low enough to be sexy but not so low that it's scandalous, plus you can easily flip it around for a high neck, low back option instead. The torso is long to accommodate lots of heights and it's an easy piece to have hemmed if you're looking for a cropped inseam length (I'm 5'7.5 for reference).
*ARM HOLES ARE A LITTLE BIG – This will vary depending on the person I'm sure but I found the are holes slightly large for me. This actually works well for layering underneath but without a base layer (like a tee) it can be a bit drafty. That said, with the right bra (I used this one) it's no problem.
FABRIC – Tencel® (the patented and regulated version of lyocell) is really skyrocketing to the top of my favourite materials list. Here are a few reasons why:
Sustainable, natural and vegan-friendly: Tencel® is widely regarded as a (relatively) sustainable fabric, made from regenerated  from wood cellulose. The trees the fibres are harvested from are grown sustainably. Cellulose is the natural polymer that makes up the living cells of all vegetation. The fibre is produced via an advanced 'closed loop' solvent spinning process, with minimal impact on the environment and economical use of energy and water.
Breathable: Tencel® transports moisture effectively and can absorb 50% more water than cotton.
Easy-to-care for: You can machine wash Tencel (I'd still use delicate) and hang it or lay it flat to dry. Tencel may shrink up to 3% with the first washing but should resist shrinking from then on.
Silky to the touch: However, compared to silk it feels thicker and slightly sturdier, much harder to crease and wrinkle, dries smoother after washing, but yet it has the same lovely movement and drape that makes silk so inviting. Oh and it doesn't show marks or water stains as easily either and that's one of my #1 pet peeves with silk!
SIZING – HDH has earned a wonderful reputation for inclusive sizing and excellent grading. This jumpsuit is available in 9 sizes from XS through to 4P and it looks amazing on everyone I've seen wearing it. My two blogger pals Marielle and Andrea were the ones who convinced me to try this piece and they both look incredible in it.
COLOUR OPTIONS – It comes in 4 colours right now, Black Tencel, Black Cotton, Olive Tencel and Light Wash Denim. HDH releases seasonal options too.
PRICE – As far as stylish, sustainably made, well-designed, beautiful jumpsuits go this one is quite reasonable. With the discount code 'STYLEBEE10' it rings in at $162 USD and when you order two items shipping is free, just saying!
VERSATILITY – This happens to be one of the most versatile jumpers I've tried. You can wear it with the v-neck front or back, belt on or off, over a top, under a top or on its own. It's great for traveling too thanks to all these options! Pair it with a denim jacket and sneakers for a casual vibe or rock it with platforms and a bold lip colour for a wedding or fancy event. Tie the belt to the front or back, knotted or in a bow, folded (as I look 1) or wide. It's a fabulous accessory for other dresses and outfits too.
There are just a couple of last details to note: 
NO BELT LOOPS – So for me this is both a good and not so good thing. It's good because I like how clean the jumpsuit looks without any extra loops or details and the belt is fully removable without any remnants of it's existence. It's not so good because once the belt is off, it's right off. Which just means you'll need a place to hang it when using the washroom and you'll want to keep it stored with the jumper so they stay together forever.
THE BATHROOM DILEMA – Like most jumpsuits you're going to need to essentially strip down when using the facilities. Luckily there is just a simple hook-and-eye closure at the back, no buttons or zippers to deal with, so it's a relatively easy process.
---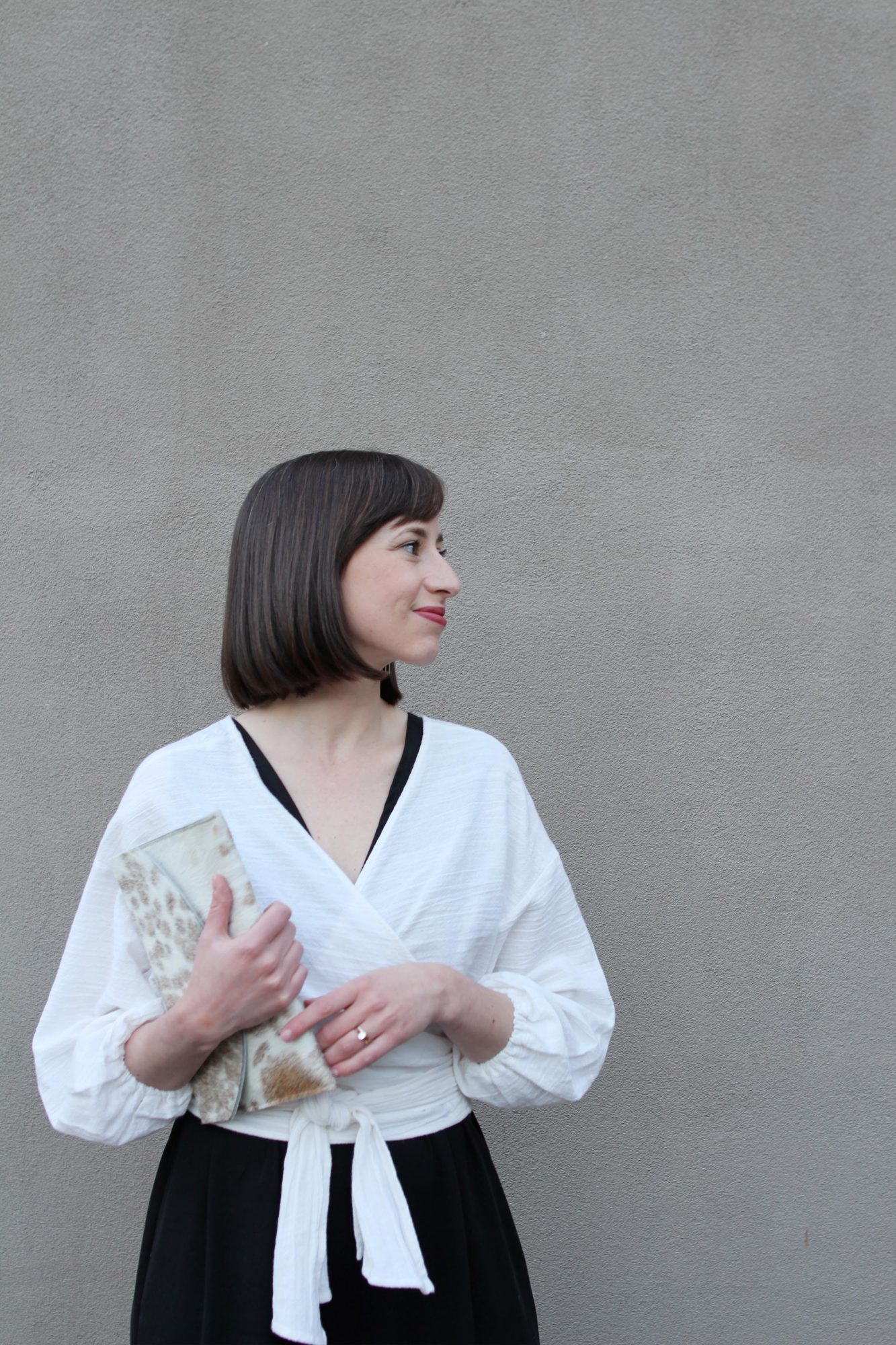 ---
Well, I think that just about sums up my thoughts on the HDH Wide-Leg Jumper. Basically, if you're into jumpsuits and don't have this one, well, it's definitely a good option to go for. But make sure you check out all the HDH Jumper styles because there are so many good ones!
---
Thanks for reading and check in on my Insta Stories to see these looks 'in action' and feel free to leave any additional questions below. 
---
SAVE 10% OFF ANY ORDER FROM HACKWITH DESIGN HOUSE WITH 'STYLEBEE10'
(Valid through May 9th)
---
The HDH Basics Jumper was gifted to me for this post and I receive a commission on sales made using the exclusive Style Bee reader code. This type of partnership enables me to work with independent brands and helps to support my small business. All opinions are entirely my own. Thanks for supporting the brands that support Style Bee!