It's been two years since I first brought the Cashmere Cocoon Cardigan by designer Jenni Kayne into my closet. Now after 8 seasons in my closet, I thought it would be worth sharing how it's held up and answering some of the most asked questions I get about it.
Today's post will cover:
How it's held up over 2 years (& is it worth the price?)
A handful of ways I've styled my Cocoon Cardigans (& how I'd rank them)
The best similar for less options I've come across
For full transparency, the cocoon cardigans in my collection were sent by Jenni Kayne as part of the brand's ambassador program over the course of 2 years. This post is not sponsored by the brand and I'm no longer an ambassador. This is simply a personal favourite item in my closet that gets a lot of reader interest so I felt it was worth putting some time into a post that can be helpful.
---
Applicable on any Jenni Kayne purchase. See more of my favourite styles here.
This post contains affiliate links. This means if you decide to shop through the links included, I may earn commission on a sale at no additional cost to you. All opinions are always my own and I only share items I love and think you might too. Thanks for supporting Style Bee!
---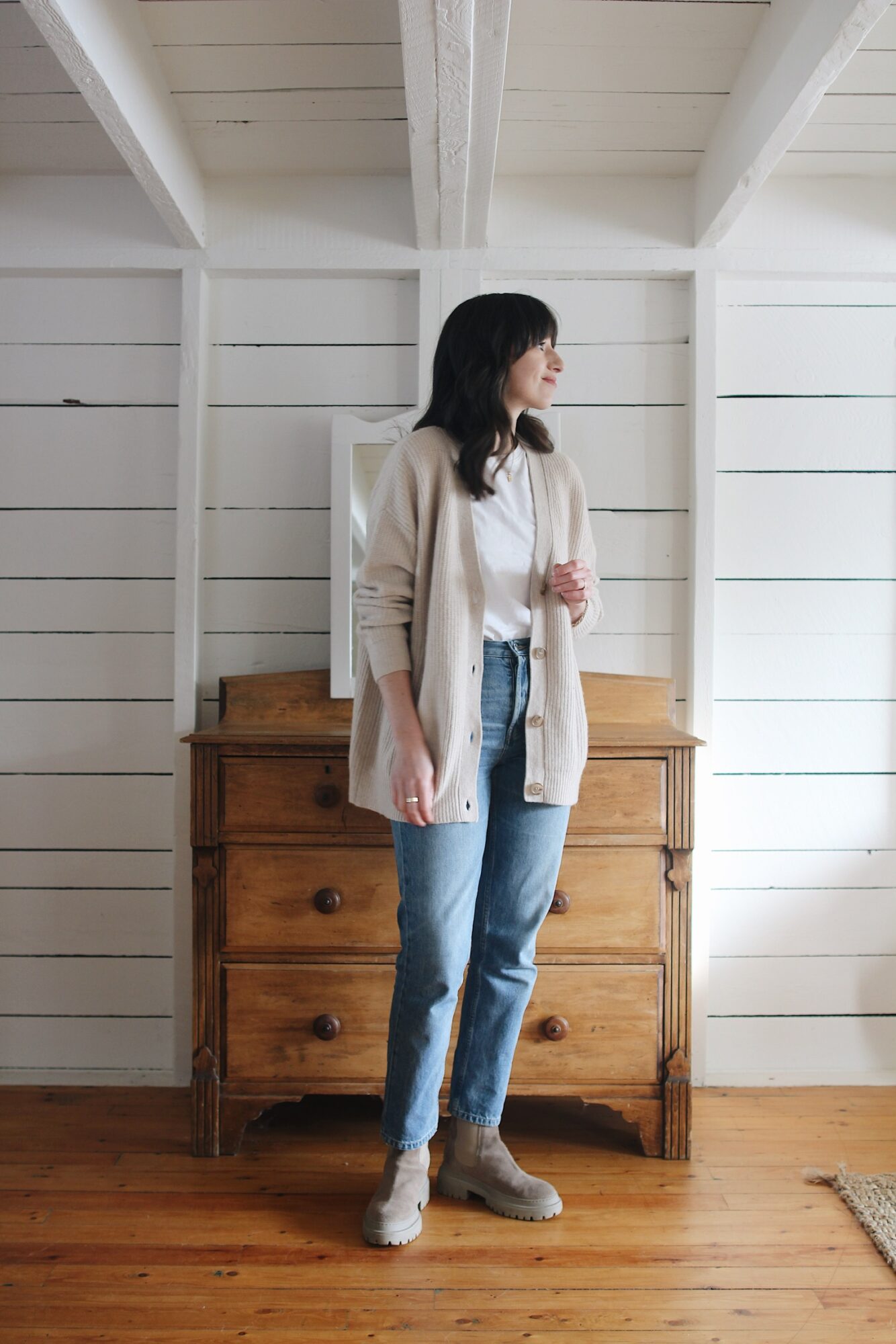 SHOP THE LOOK: CASHMERE COCOON CARDIGAN (use LEE15 for 15% Off) | PINNACLE TEE (use STYLEBEE10 for 10% Off) | 90'S CHEEKY JEANS (in Vintage mid blue) | CORTICELLA LUG SOLE BOOT
---
HOW THE COCOON CARDIGAN HAS HELD UP OVER 2 YEARS
& IS IT REALLY WORTH THE PRICE?
---
HOW HAS IT HELD UP? Overall, I've been very happy with how the Cashmere Cocoon Cardigan has held up. It does require some maintenance, which in my experience, is true for any item I wear a lot and want to last. Especially, knitwear.
If you're looking for a full review of this piece, you can find that here. I cover fit, maintenance, notable details and stand by my original thoughts on it.
HOW DO I CARE FOR IT? I've been intentional about how I care for it but I'm definitely not precious about it. It gets worn a lot (at least a couple of times a week) and sometimes spends a night or two thrown on a dresser or left in a heap. I do not attempt to hand wash it and take it to the dry cleaner twice a year. Between dry cleanings I removes any pills with a sweater comb (it takes < 5 min) and give it a spritz with a bit of fabric freshener. I store it neatly folded on a shelf (not hung) and this maintains its shape well.
---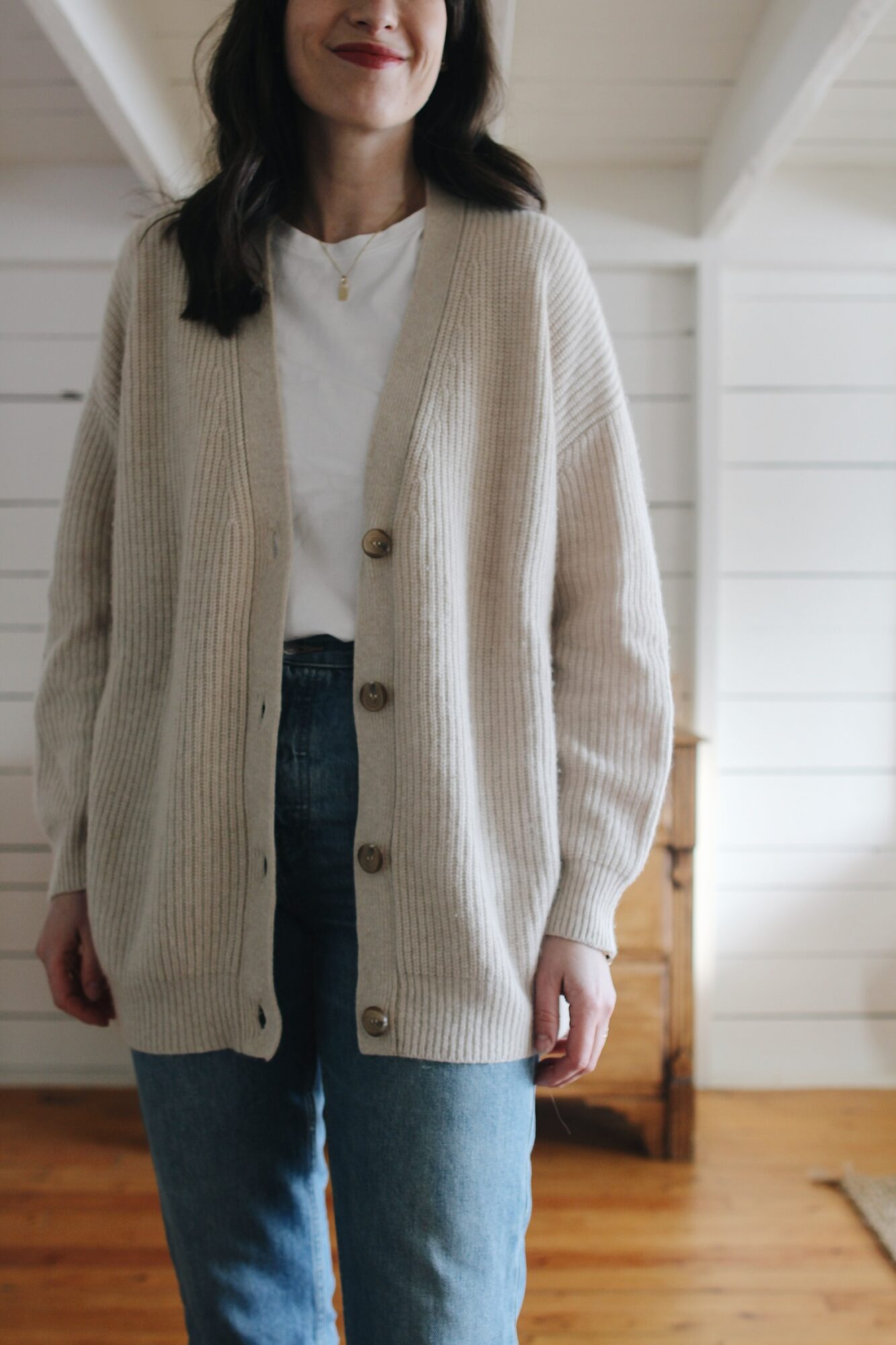 ---
IS IT WORTH THE PRICE AT $445 USD (LEE15 for 15% Off makes it $378.25 USD)?
I should reiterate that it was sent to me in exchange for some content so I didn't pay out of pocket for it.
My short answer is yes. If it were to be irreparably destroyed today I would purchase a new one. I wear mine more than most things in my closet and for my lifestyle, personal taste and style preferences, it is a highly versatile piece. It's also cold enough here that I can wear it year-round. It is a luxury item for sure and the amount of cashmere that goes into it is by no means skimpy. It's very well made, INCREDIBLY soft, and truly makes even the simplest outfit (like a t-shirt and jeans) feel special. It remains the most beautiful knit in my collection.
If it's in your budget and you really love the style and Jenni Kayne ethos, I don't think you'll regret it.
If you don't have that kind of room in your budget for one item or this piece doesn't haunt your dreams the way it did mine, then I'd say no, it's not worth the price. I'd also ask yourself if you're lusting after something because you've seen it a lot or because it is really a great fit for your life and style?
DOES IT FIT UNDER COATS? It does but if you're sleeves are on the slimmer side, it may feel a bit cramped. I find it fits best under my London Coat by The Curated thanks to the dropped shoulders and relaxed fit overall. See how it looks below.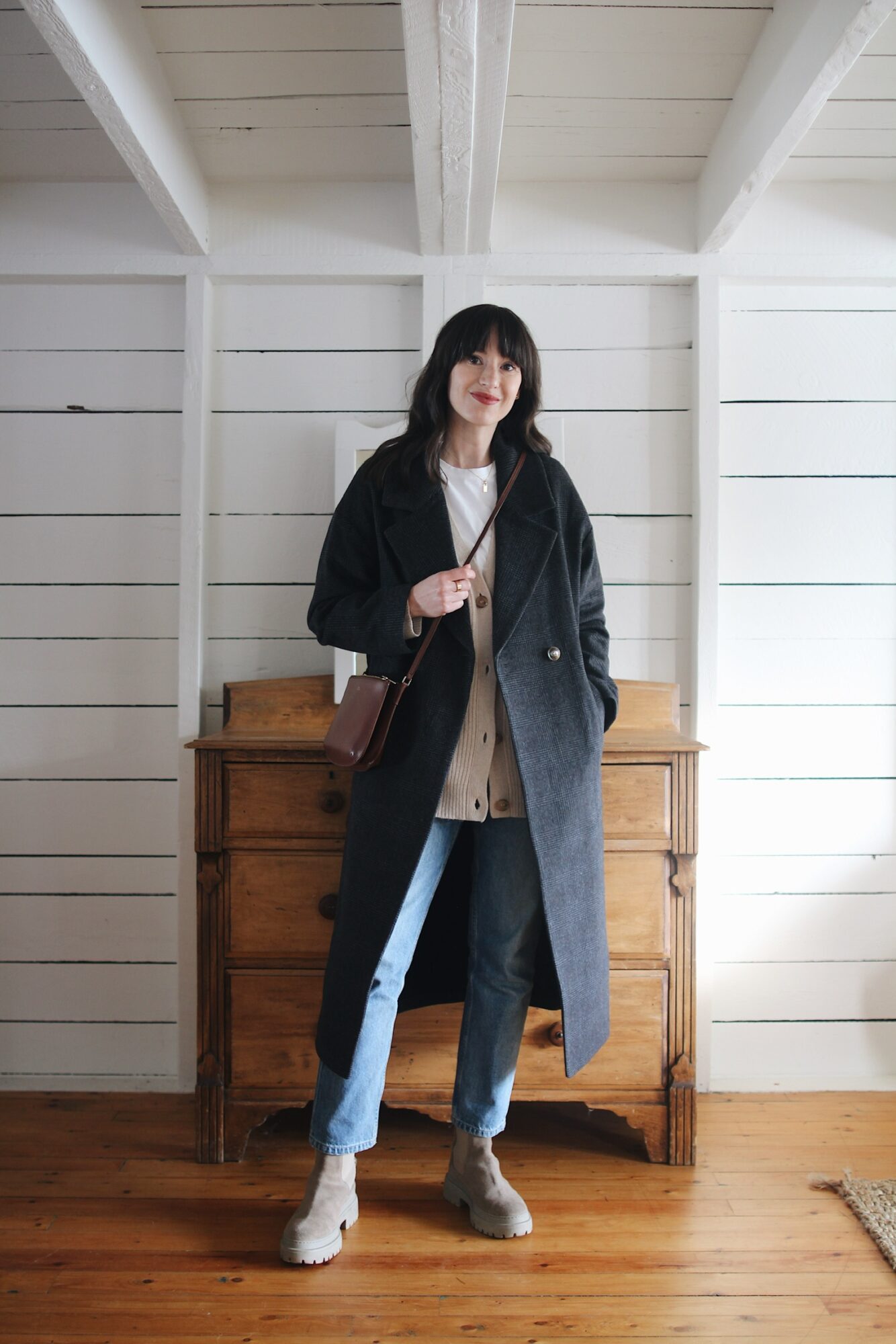 ---
HOW I'VE STYLED MY COCOON CARDIGANS
& IF I WAS CHOOSING A COCOON NOW, WHICH ONE WOULD I GET?
As anyone that follows the Style Journal has likely gathered, I have a few different cocoon cardigans in my collection.
Here's how I'd rank them:
1 – The Cashmere Cocoon in Oatmeal and Charcoal
(Charcoal is sold out but Carbon is similar.)
I have an XS in both colours and recommend sizing down.
Oatmeal was my first cocoon and the one I would immediately get again if my collection was suddenly gone. I wear both colours regularly but find the oatmeal is probably more versatile overall for me.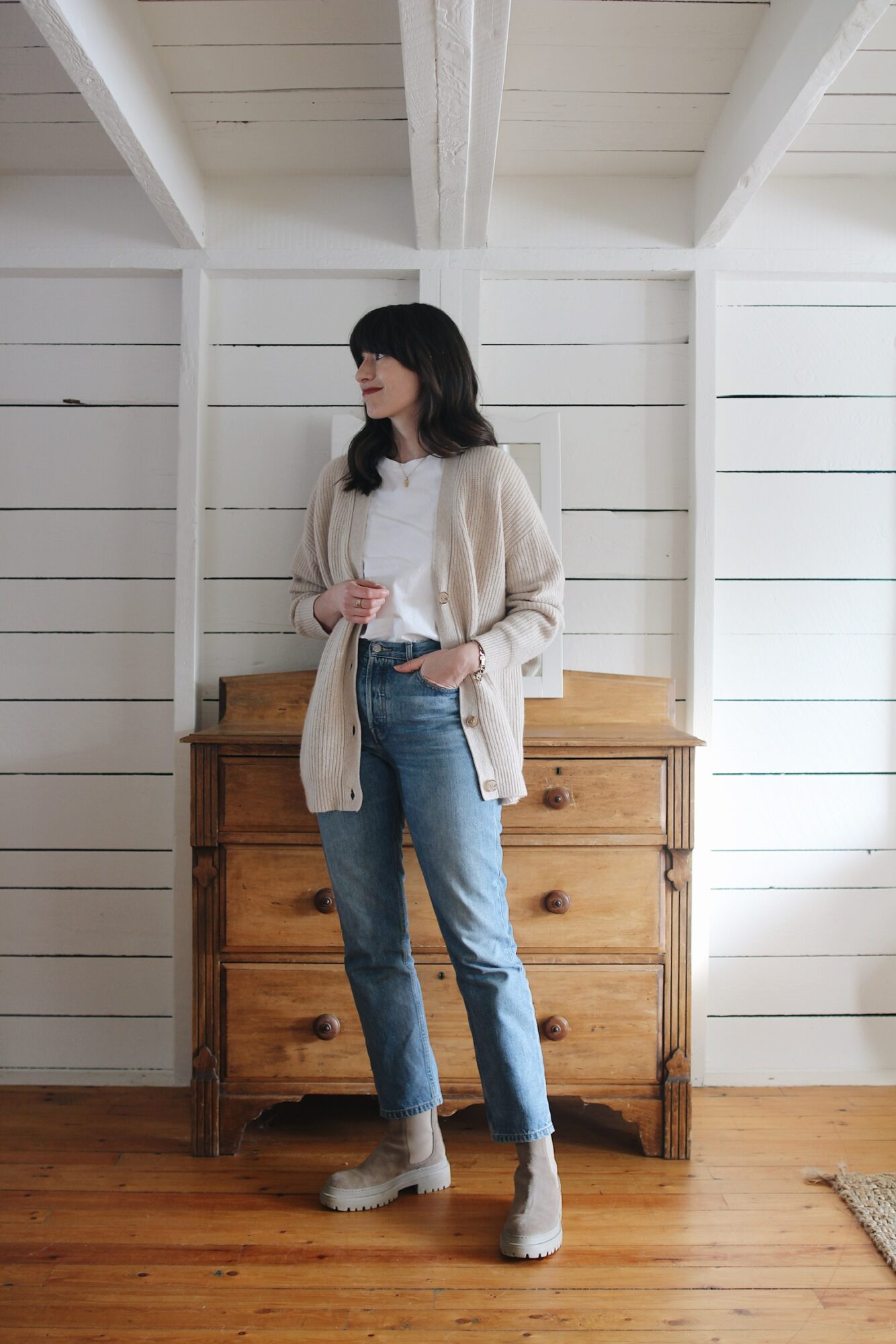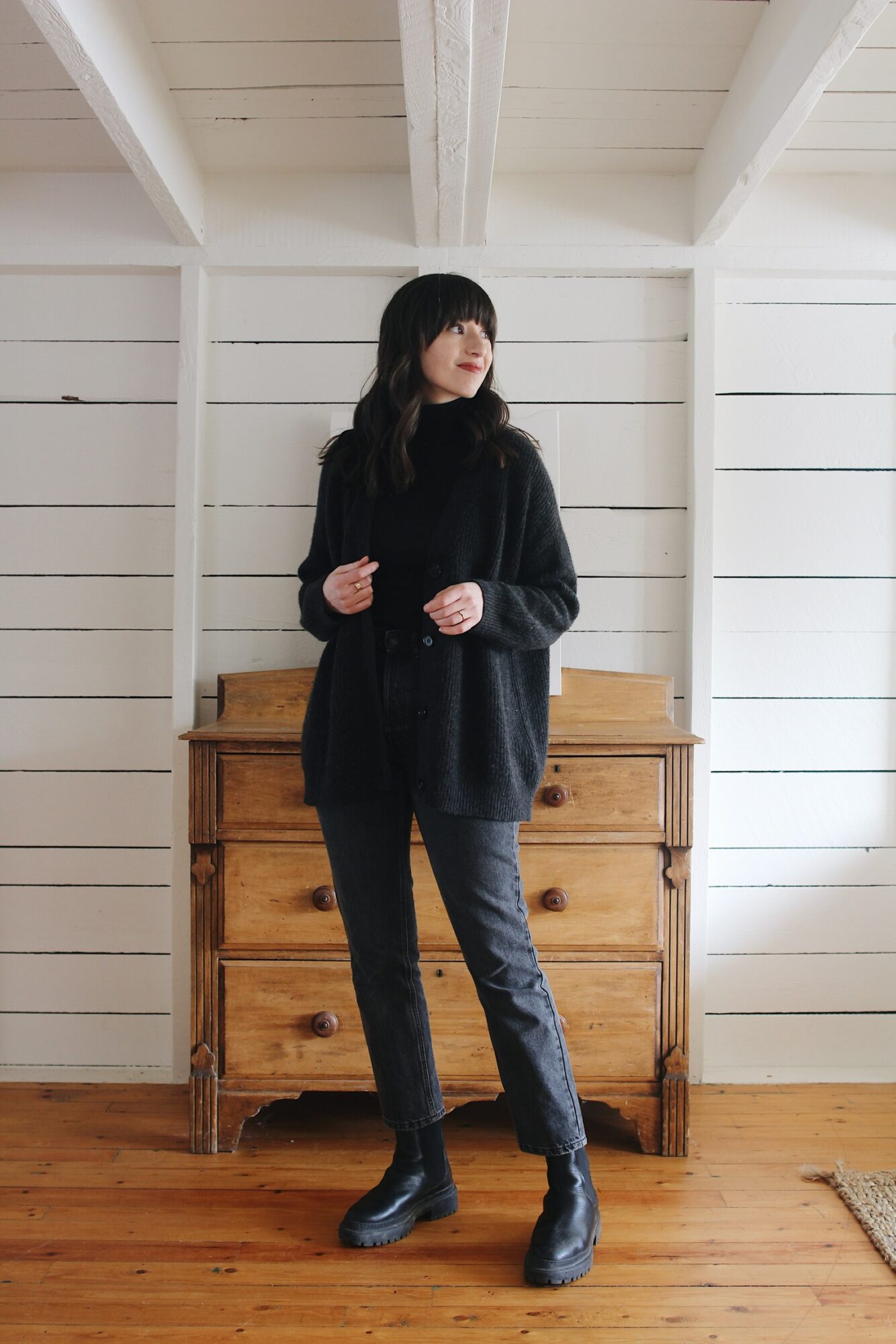 Other recent Cashmere Cocoon styling ideas: HERE (with wide leg denim) / HERE (with silk pants) / HERE (with a tonal turtleneck) / HERE (in a comfy spring 10×10) / HERE (with high tops) / HERE (with white sneakers)
---
2 – The Cocoon Cardigan (alpaca blend) in Willow
I have an XS and recommend sizing down in this one.
This one is probably the most durable option. I love the colours they did this style in and the looser weave feels more casual to me. The thicker yarn is light and crates a boxier fit, whereas the cashmere drapes more fluidly. Its a bit less expensive as it's a blended yarn, but still has very soft hand feel.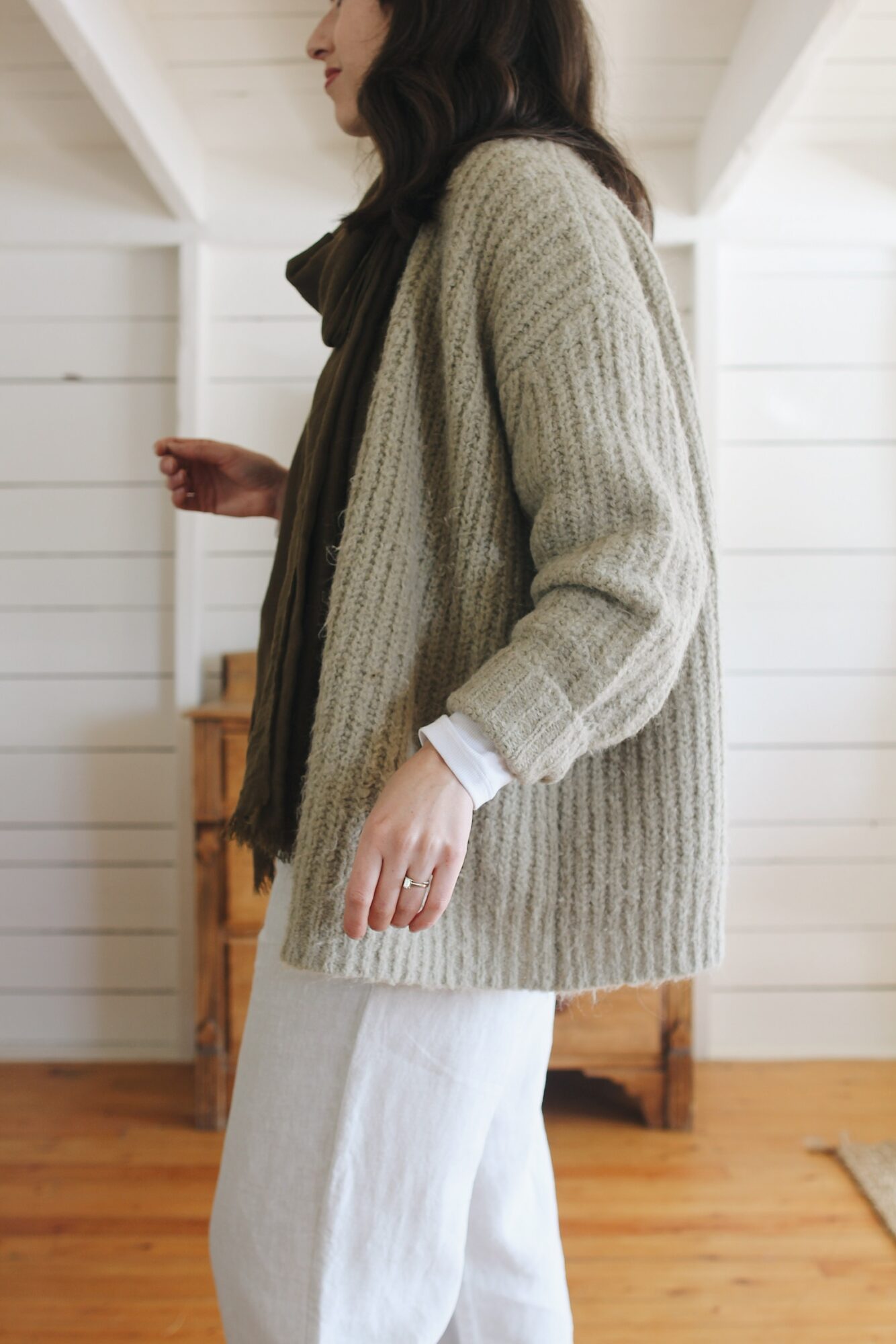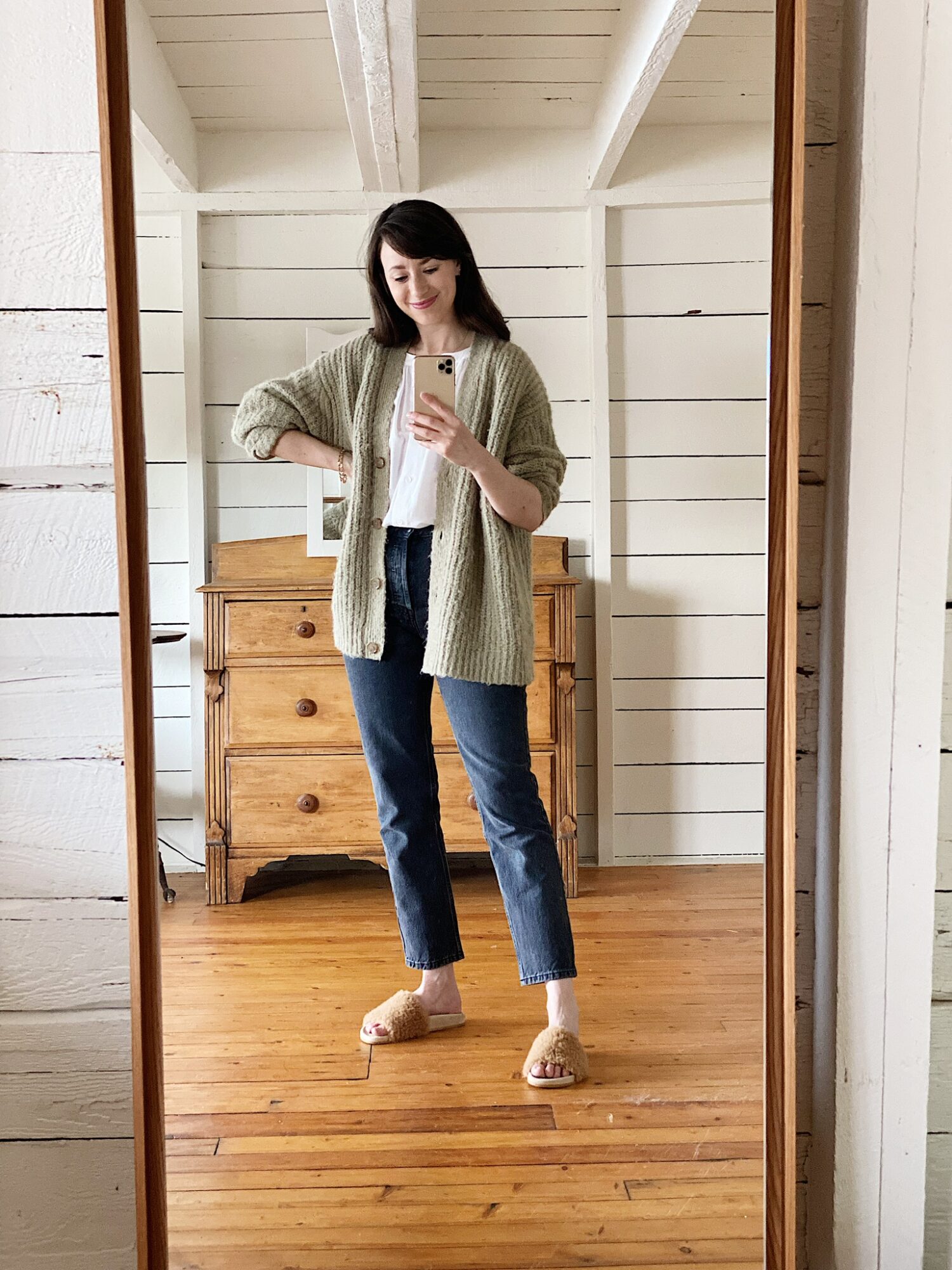 ---
3 – The Alpaca Cocoon in Ivory
I have an XS in this and recommend sizing down in this one.
This was my second cocoon and I've worn the heck out of it here at the lake. It has a relaxed a fair amount with time, so definitely keep that in mind if ordering. It's so soft and has a beautiful fuzzy texture, but can be a little trickier to maintain than the others. Partly because of the colour and partly because the alpaca is such a voluminous yarn that can get snagged if I'm not careful. This one is definitely the coziest of the bunch.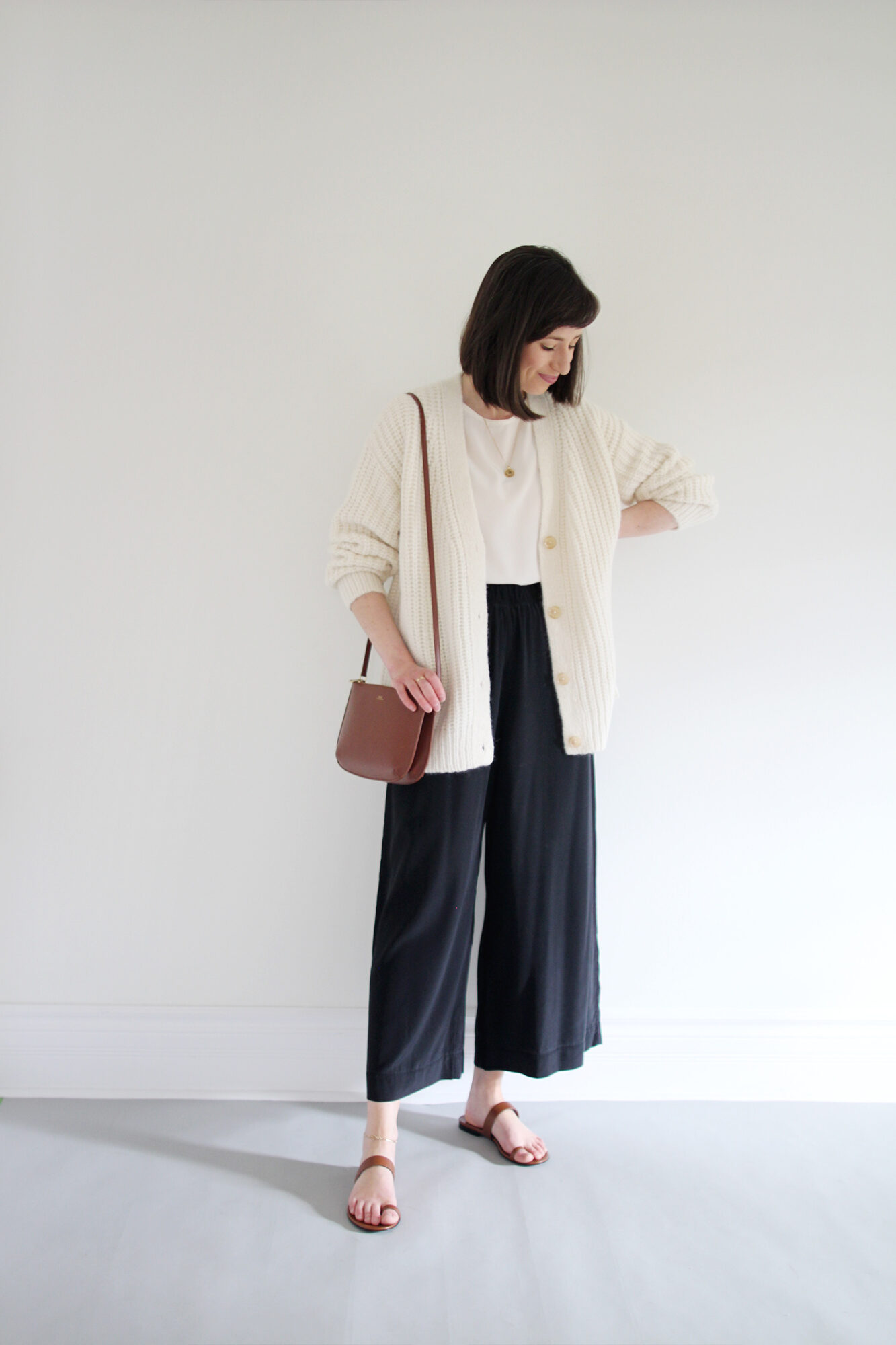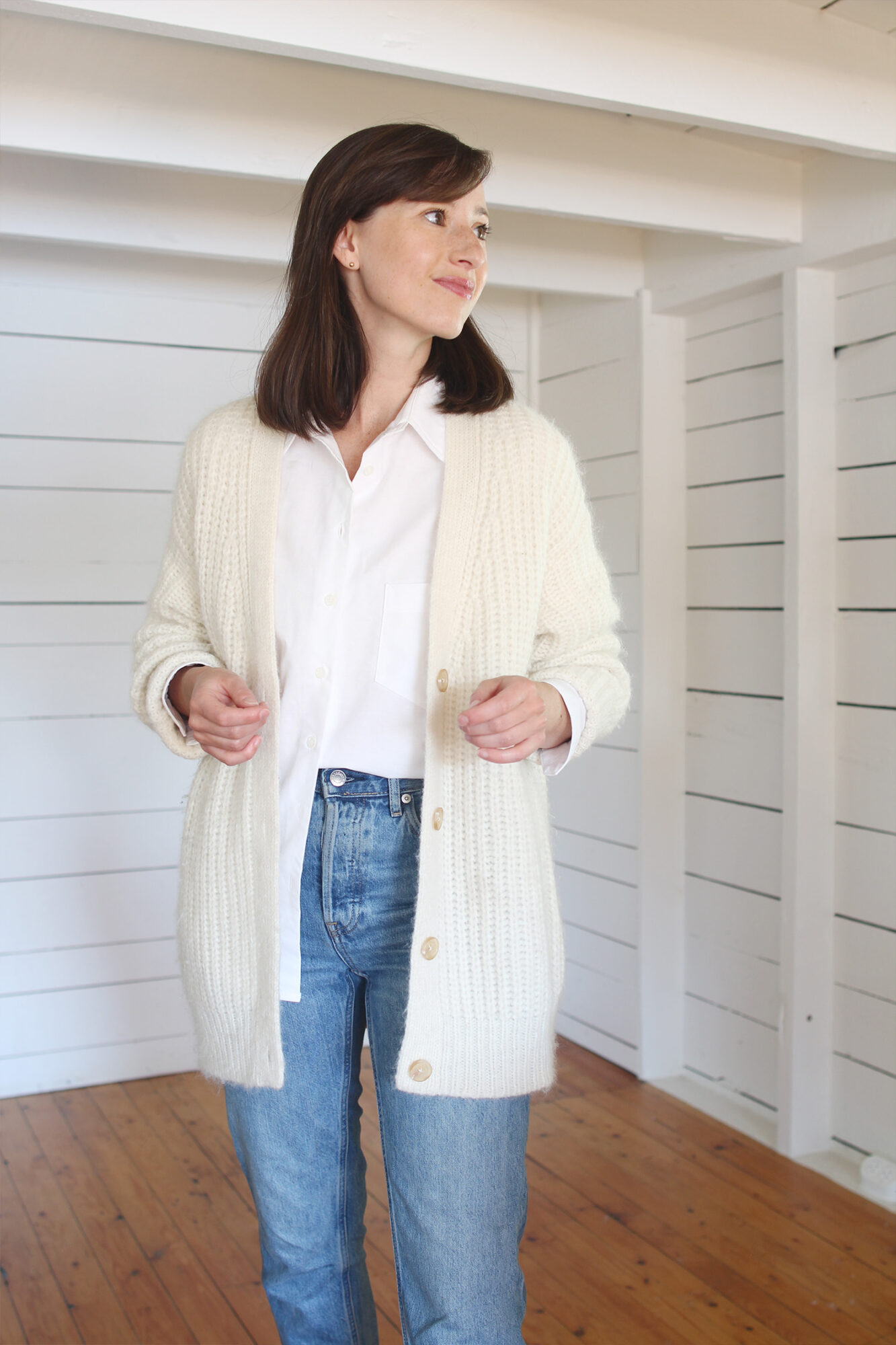 Here's how I've styled the alpaca cocoon with shorts for a soft, monochrome look.
---
4 – The Cotton Cableknit Cocoon Cardigan in Dark Camel
I have a Small in the cotton cocoon and would recommend sizing down as it's a bit too oversize for my preference.
This was the most recent addition (added late last summer) and I'm still working out how I really like to style it most. The weight is actually much more substantial than the cashmere or alpaca versions and I love the feel of it. If you prefer a plant-based yarn, this is a great option. So this the original Cotton Cardigan.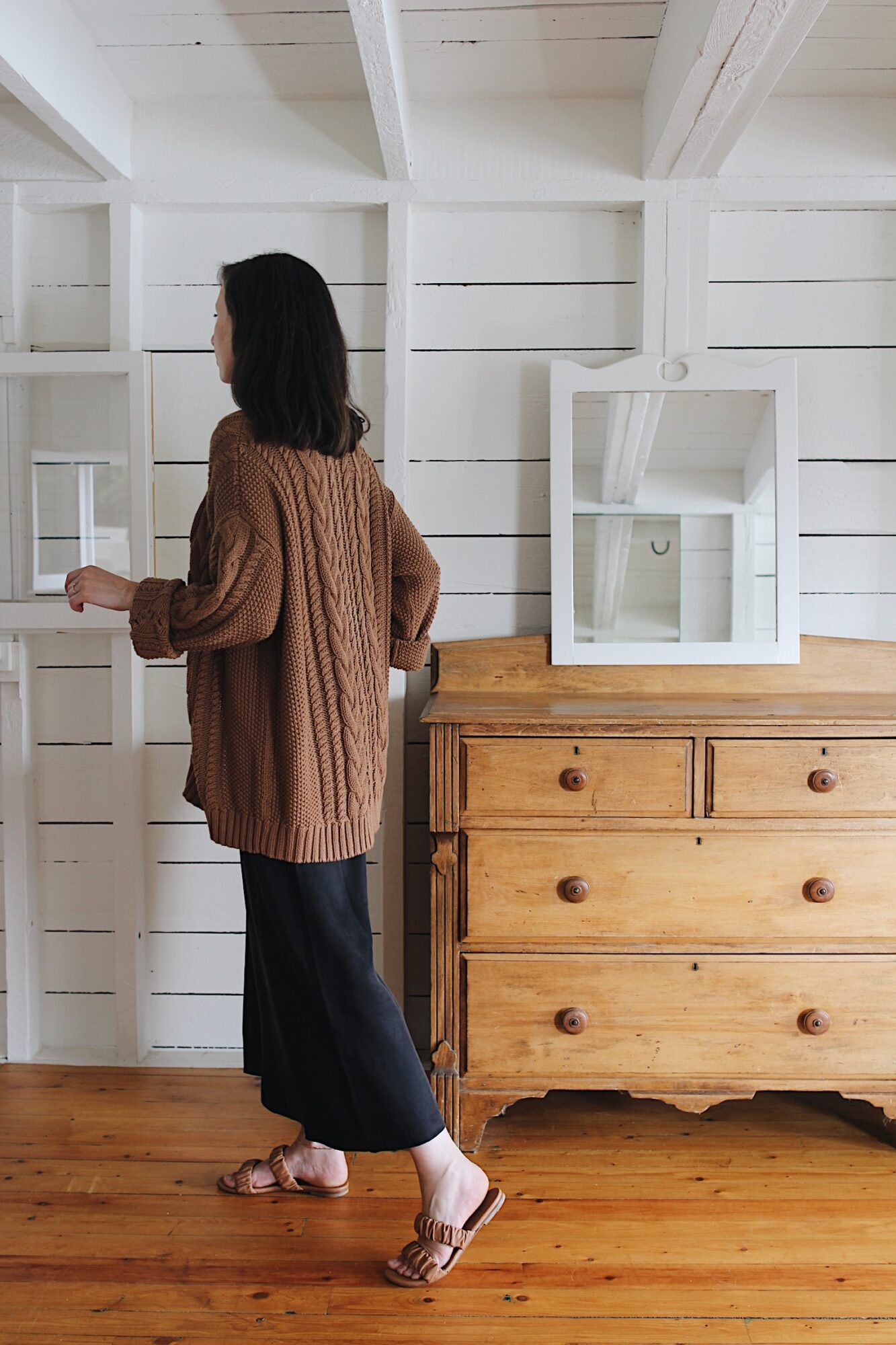 HERE ARE ALL THE COCOONS I HAVE IN MY COLLECTION:

Looking for less length? The Cropped Cashmere Cocoon looks like a great option for a bit less length. It might be better for a workwear capsule and for folks that might not want so much sweater.
Applicable on any Jenni Kayne purchase. See more of my favourite styles here.
---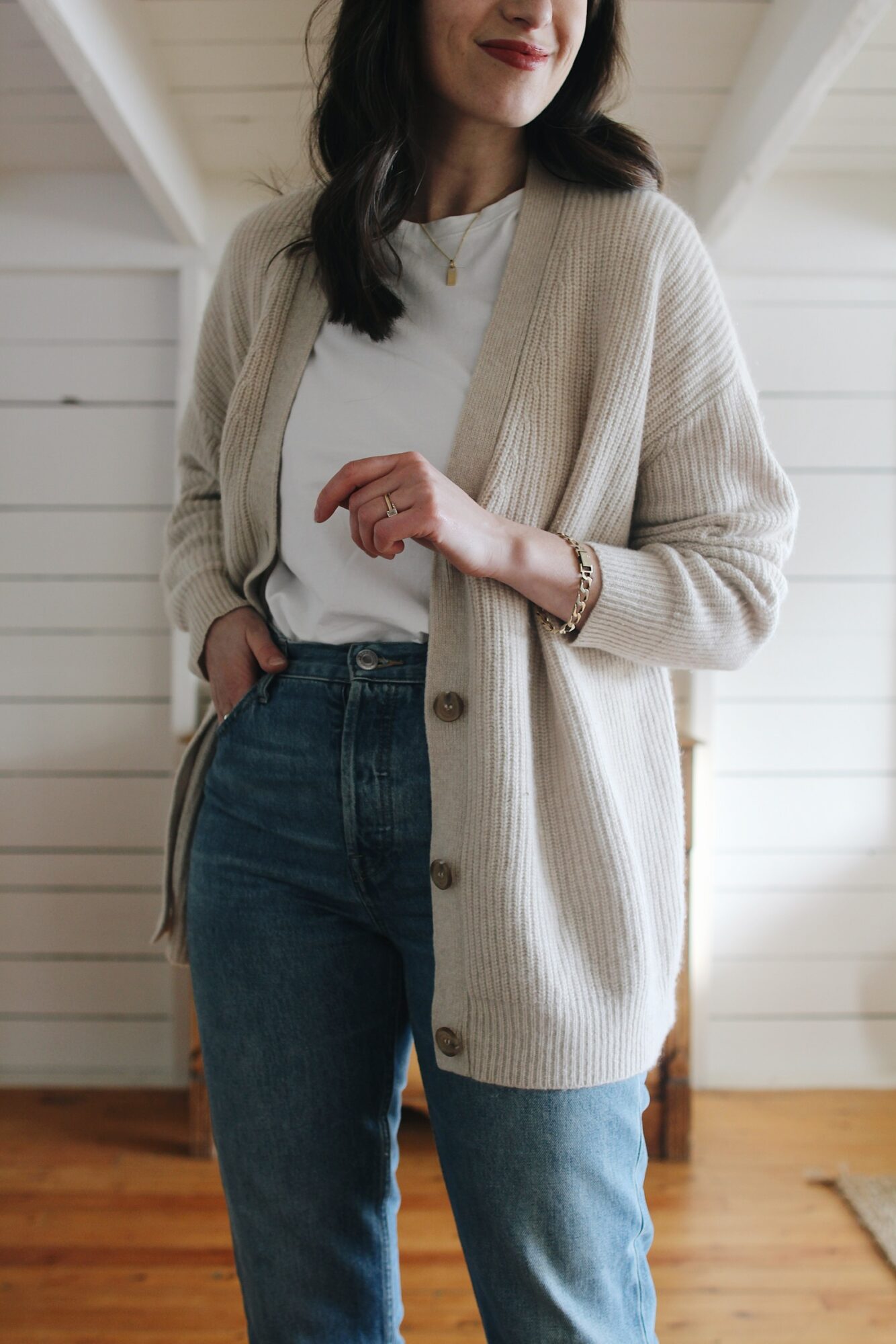 ---
THE 7 BEST 'SIMILAR FOR LESS' OPTIONS I'VE COME ACROSS
I've lost count of the number of emails, DMs and comments I've received asking for budget-friendly options of this classic knit. As promised, I've been keeping an eye out for really good options that are worthy of classifying as "dupes". It's also worth keeping a look out on second-hand sites like Depop, The Real Real and Poshmark for an authentic Jenni Kayne version because they do come up occasionally.
So here's what I've found!
1 / The best one I've seen available is the Mongolian Cashmere Oversized Boyfriend Cardigan Sweater by Quince which retails for $139.90 USD. This one has a spot on shape and oversized fit, tonal buttons, ribbed texture and cuff/hem finishing that looks just like the Jenni Kayne version. It comes in 5 classic neutrals (shown below) and ships/returns free. Quince also does a dupe of the Cashmere Fisherman Hoodie, if you've been interested in that one.
Unfortunately, they don't ship outside of the United States. So fellow Canadians, we're out of luck unless you've got a friend in the states willing to forward a package.

---
2 / The next one to mention is The Harbour Cardigan by my favourite Canadian knitwear brand, Bare Knitwear, which retails for $418 CAD (approx. $312 USD). This cardigan is a blend of un-dyed alpaca and cotton, rather than cashmere, but it looks every bit as soft, cozy and luxurious. It has an an open weave and voluminous rib stitch, making it extra textural. It comes in three colour ways (shown below) and ships free across North America.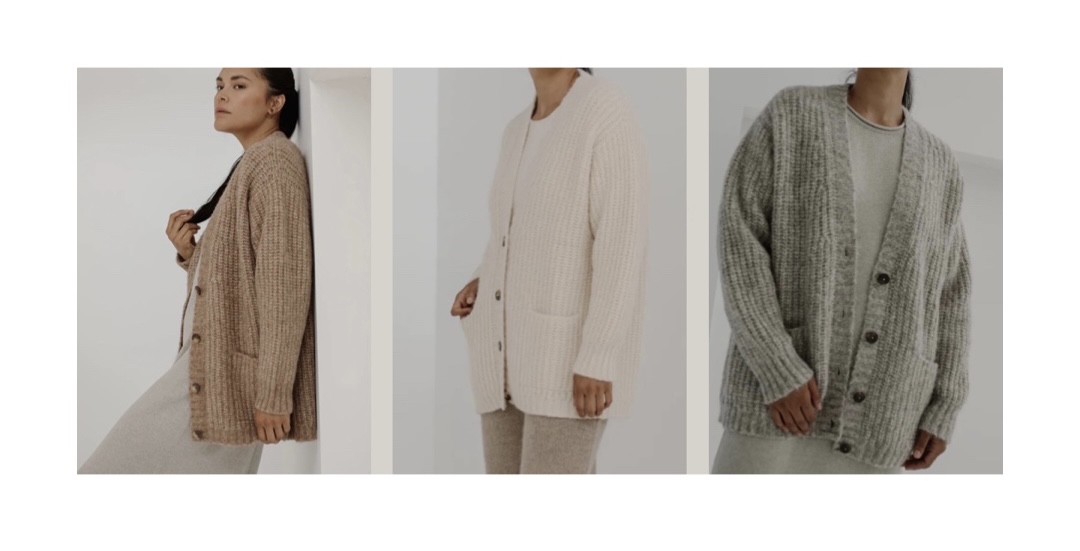 ---
3 / As I mentioned in my original review, a similar style in my closet at the time was The Claude Cardigan by European based brand L'ENVERS and it retails for €240 EUR (approx. $350 CAD excluding duty/tax/shipping). This brand does such beautiful knitwear and I'd definitely recommend exploring their collection. My only note is that wool is not as soft as cashmere and has a generally boxier fall, compared to the way cashmere drapes.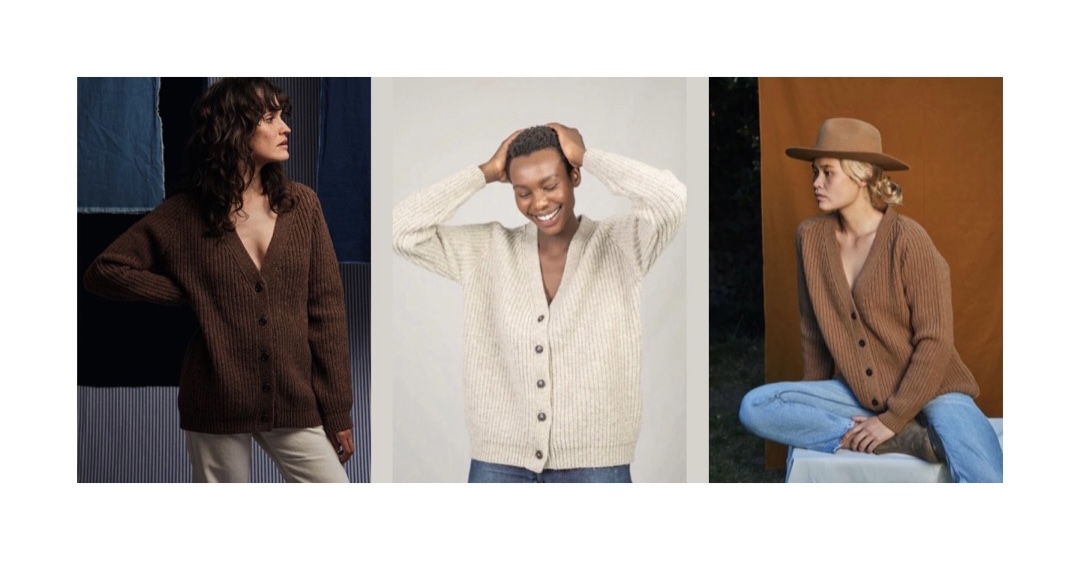 ---
4 / Next one worth noting is The Giusta Oversized Cashmere Cardigan by Reformation, which retails for $278 USD ($398 CAD with duty/shipping included). The shape of this one is very similar to the Cocoon Cardigan and I really like the slender cable knit texture and the fact that it's made from 90% recycled cashmere. It comes in 4 versatile colour ways (shown below).

---
5 / Next option to consider is The Oversized Alpaca Cardigan by Everlane, which retails for $165 USD ($258 CAD, + tax & $10 shipping). The main difference that this one has are two patch pockets on the front of each hip, which might be a positive for some folks . The length is about the same at 28″ inches or more depending on the size, but the fit through the chest is narrower, giving it less of a boxy feel. It's currently available in two colours (shown below) but there may be more options to choose from come fall.

---
6 / Another option is The Judith Cocoon Cardigan by Tradlands, which is currently on sale for $228 USD and available in sizes up to 4X. This one looks slimmer fitting, a touch shorter and is made of a recycled polyester blended with wool and nylon. It comes in three colour ways (shown below).

---
7 / The final one I had bookmarked to share is The Essential 100% Merino Wool Oversized Cardigan by Grae Cove, which retails for $99.00 USD (shown below). Sadly, this style is sold out and no longer listed on their site (as of Wednesday), bummer I know, but I've been in contact with the brand and they said a restock for fall is likely so I felt it was still worth mentioning.
That said, if you like the general Jenni Kayne aesthetic, I think you'll really like Grae Cove's other knitwear styles as well. Their linen styles are perfect for spring and summer capsules.
Use STYLEBEE20 for 20% Off any order.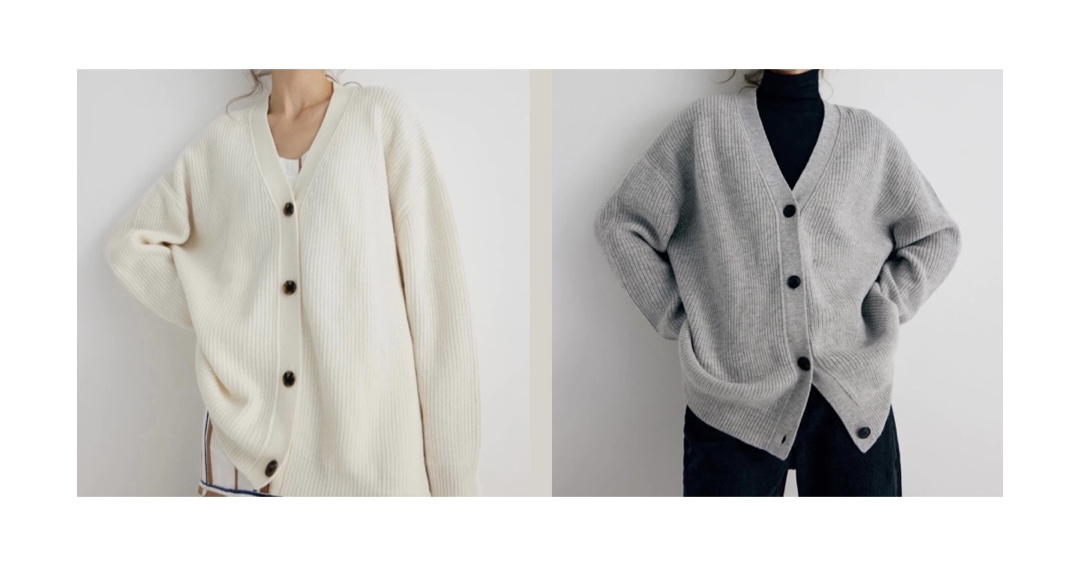 ---
THANKS FOR TUNING IN!
I hope this post is helpful for anyone considering a Cocoon Cardigan or in search of alternative options.