I dare say it's time to take a look at my #StyleBeeWearCount from the month of October! The temperatures were up and down a lot last month ranging from sunny t-shirt weather to torrential downpours to frost covered leaves. I also found myself happily prioritizing comfort, practicality and coziness over sartorial merit and I'm totally ok with that. In fact, I'm sharing one of my favourite hiking outfits in this round-up too! If I had to sum the month up into a few wardrobe terms those would be denim, sweaters, boots and layers galore!
If you're new and wondering what this 'wear count' thing is, it's essentially exactly what it sounds like. I have simply been counting how many times I wear an item each month and the exercise has been a great way to get some real data on my closet performance. I started keeping track during my time in Vancouver this spring and you can get caught up with my West Coast Wear Count Part 1 and Part 2 as well as my July, August and September posts if you're interested. They all include lots of outfits and some thoughts on how the exercise is going.
Now, onto my September wear count for a look at:
The numbers and how they compare to last month
My key insight this month
6 October outfits
A review of my current favourite jeans (which are $50 USD for today only!)
---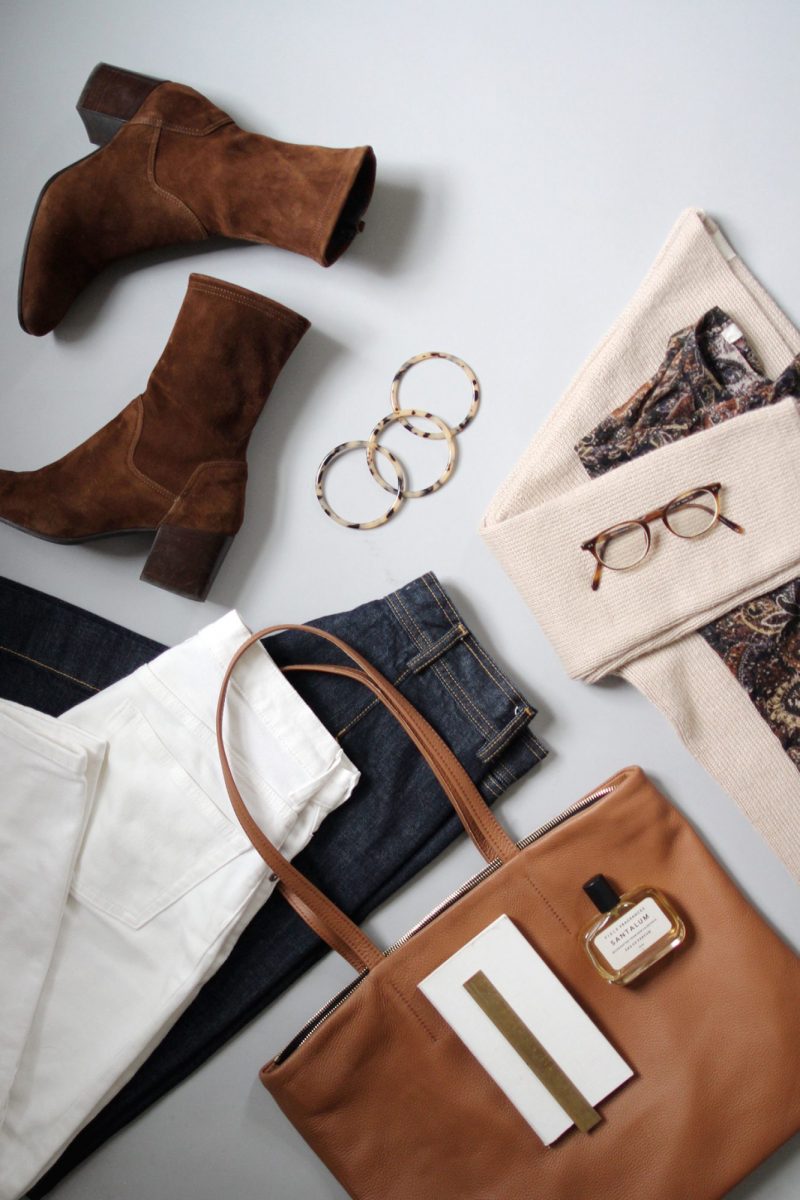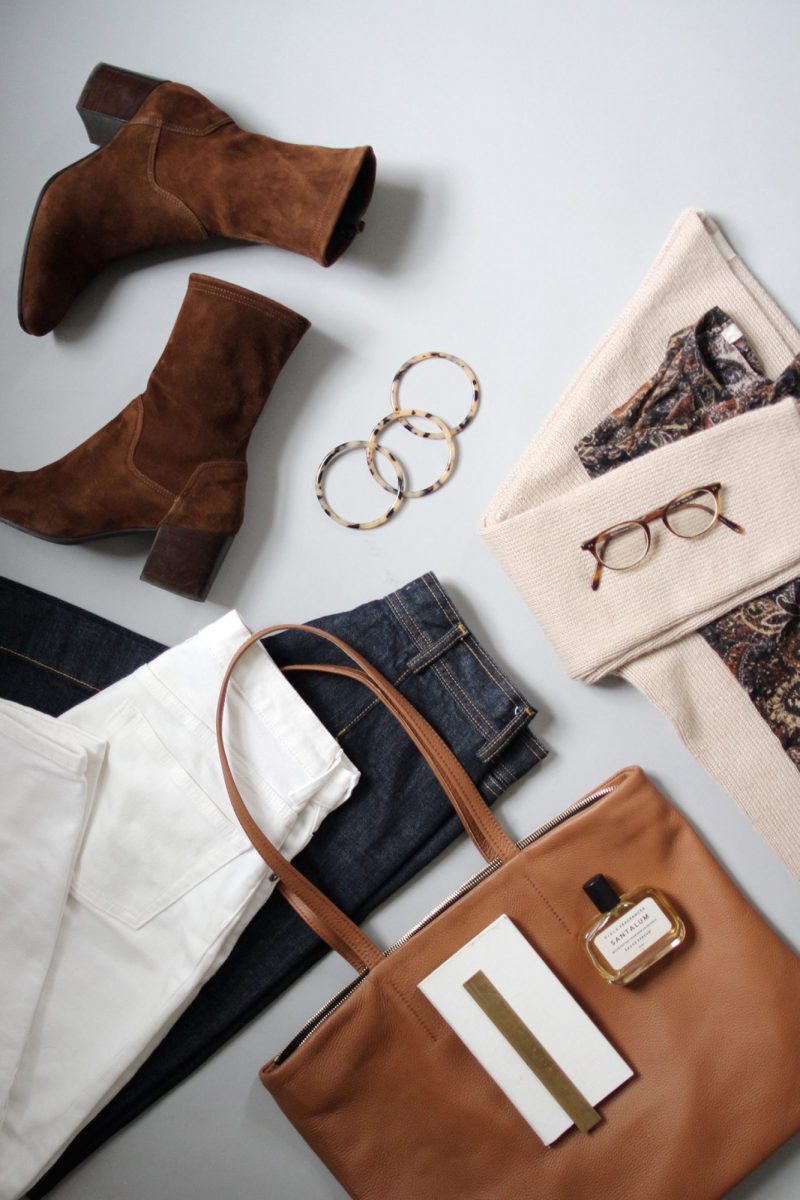 ---
MY MOST WORN ITEMS:
**Part of my 10×10 Items
---

---
BY DAY 10 – I had worn 24 different items already, which is 4 more than last month.
BY DAY 15 – I had worn 29 different items, which shows that my wear rate was holding fairly steady and I was repeating items at the same frequency as the previous month.
BY THE END OF THE MONTH – I had worn 45 items! This was 10 items less than last month and the same monthly total as July and August. How interesting!
THE NUMBERS OVERALL – Quite similar to last month, almost half the items I wore throughout October were only worn once. This could be to do with the weather fluctuating a lot and to do with the fact that I was out and about more since I repeat items more frequently when I'm just working at home. Now, I'm not sure what all this data means yet but hopefully when a do a final review for the year I can begin to make sense of it.
---
MY KEY MONTHLY INSIGHT:
I've been feeling really relaxed and calm about my closet this season and I really think this wear count has a lot to do with it. I was chatting about this with my friend Elim Chu, who's also been counting her wears (check out Elim's live google doc) and she said she'd been feeling the same. We've both been generally less inclined to impulse shop, give into temptation and overall more at ease about personal style and the options available. These were all very welcome feelings during what was otherwise a very busy and stressful month. Stay tuned for a great discussion about this with Elim coming soon!
---
Now let's looks at some outfits!
I had to skip the copy on these in order to include a mini review so I didn't have much time to wax on about every outfit. But as always, any questions about specific looks or items are welcome!
---
LOOK 1
This one worked great for a few rainy days downtown Toronto.
---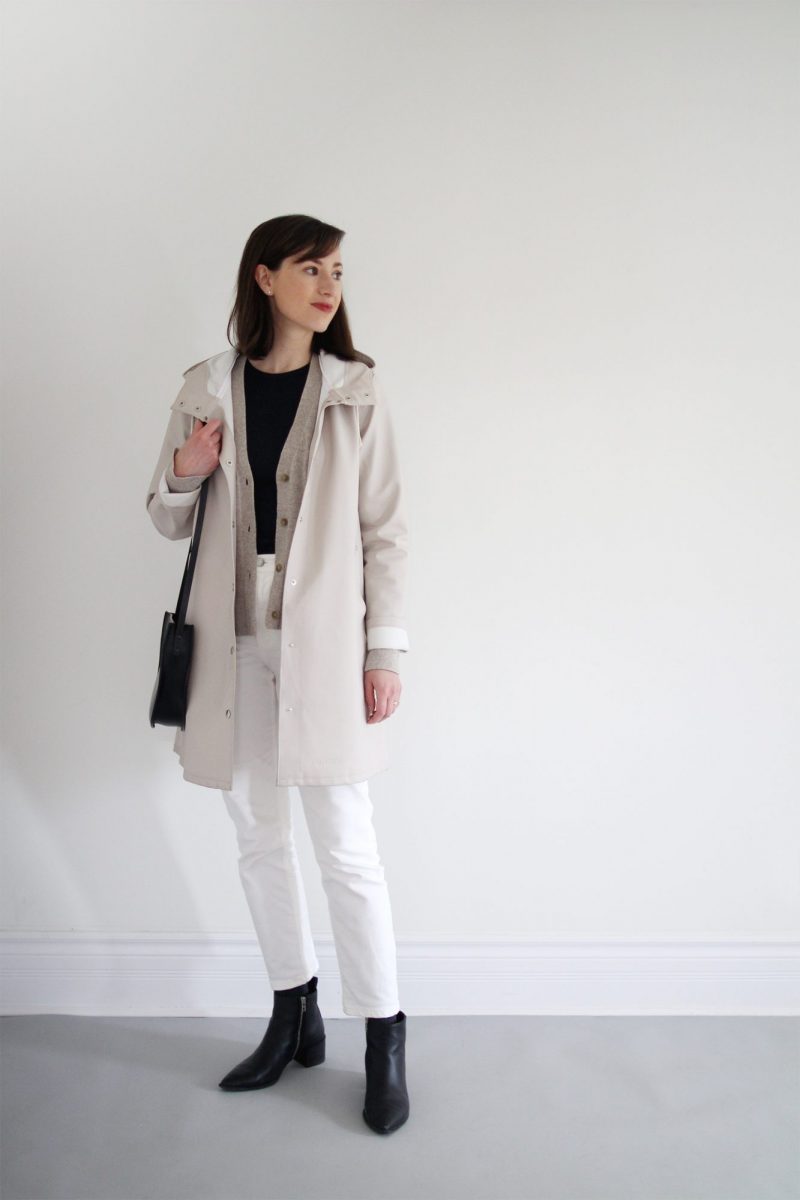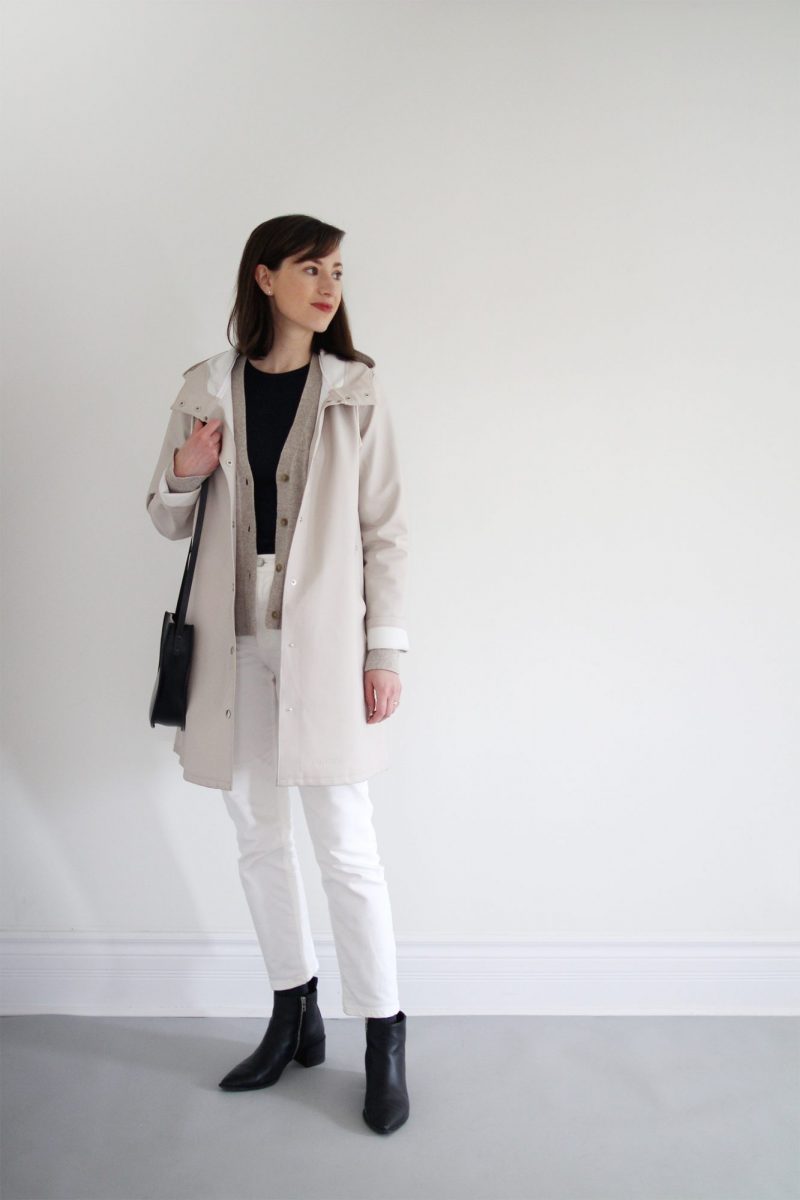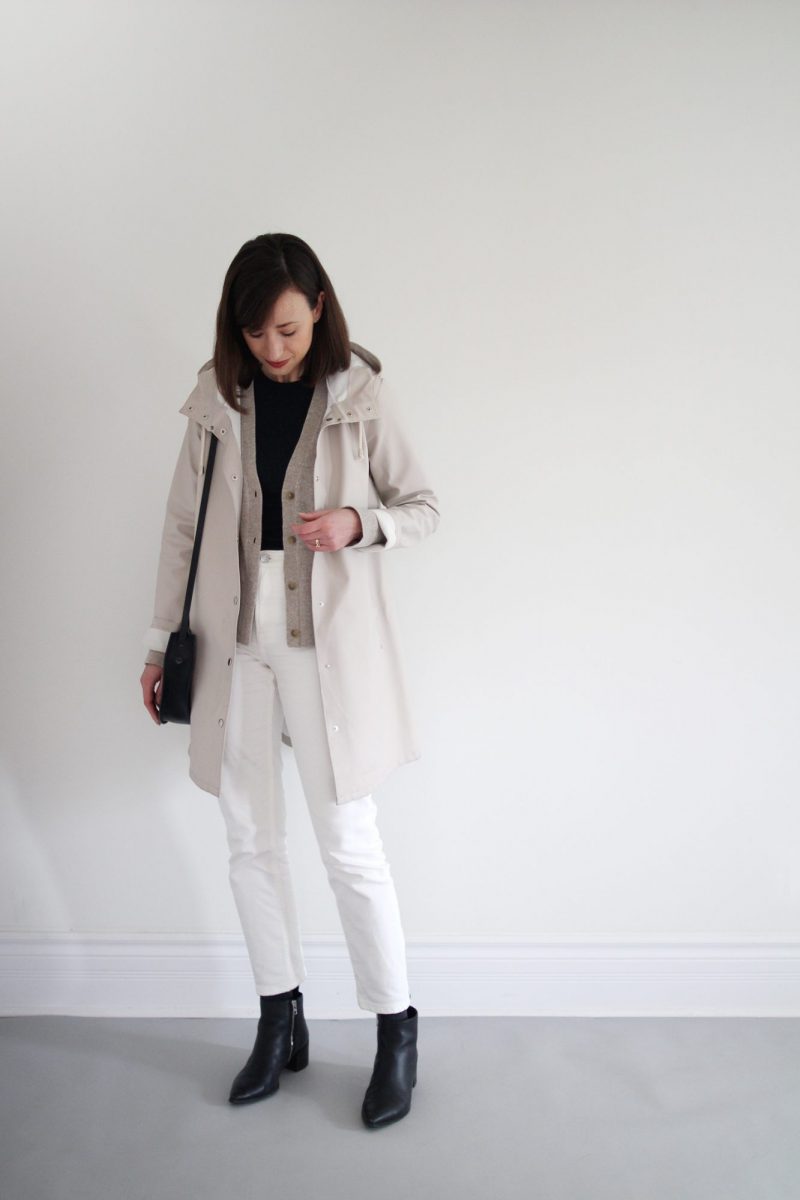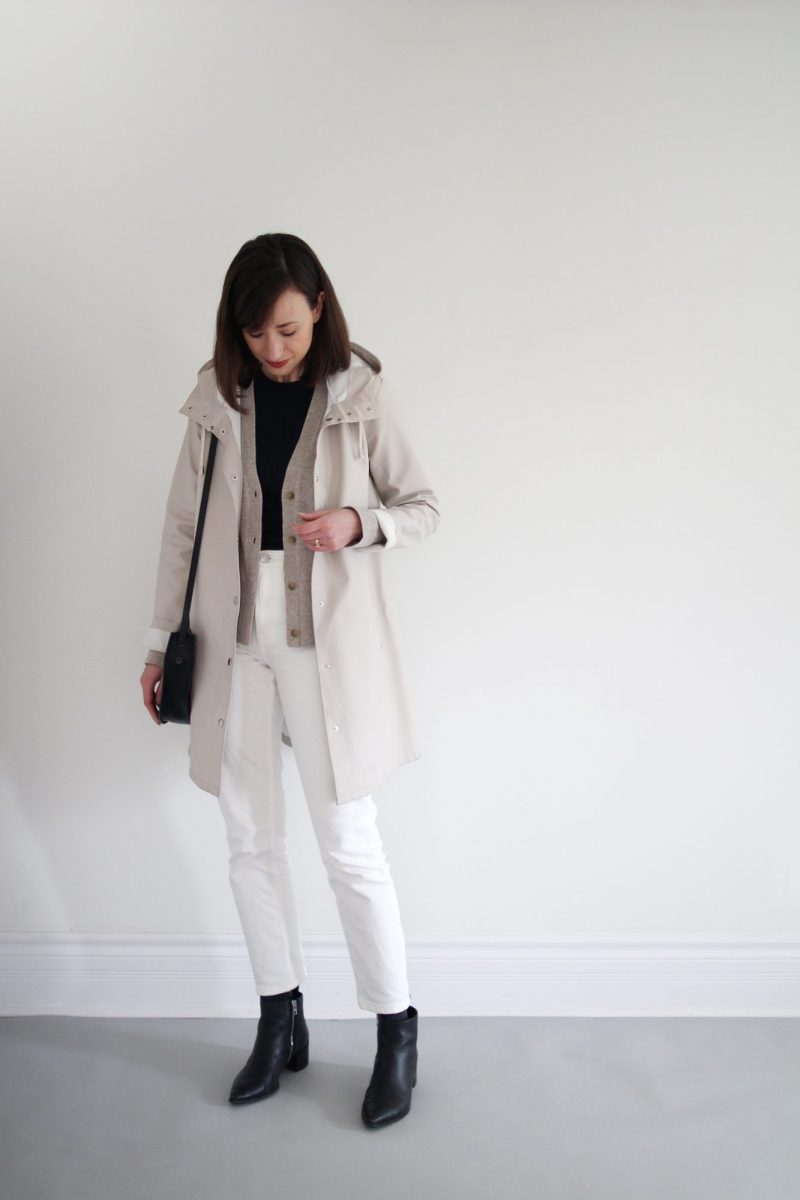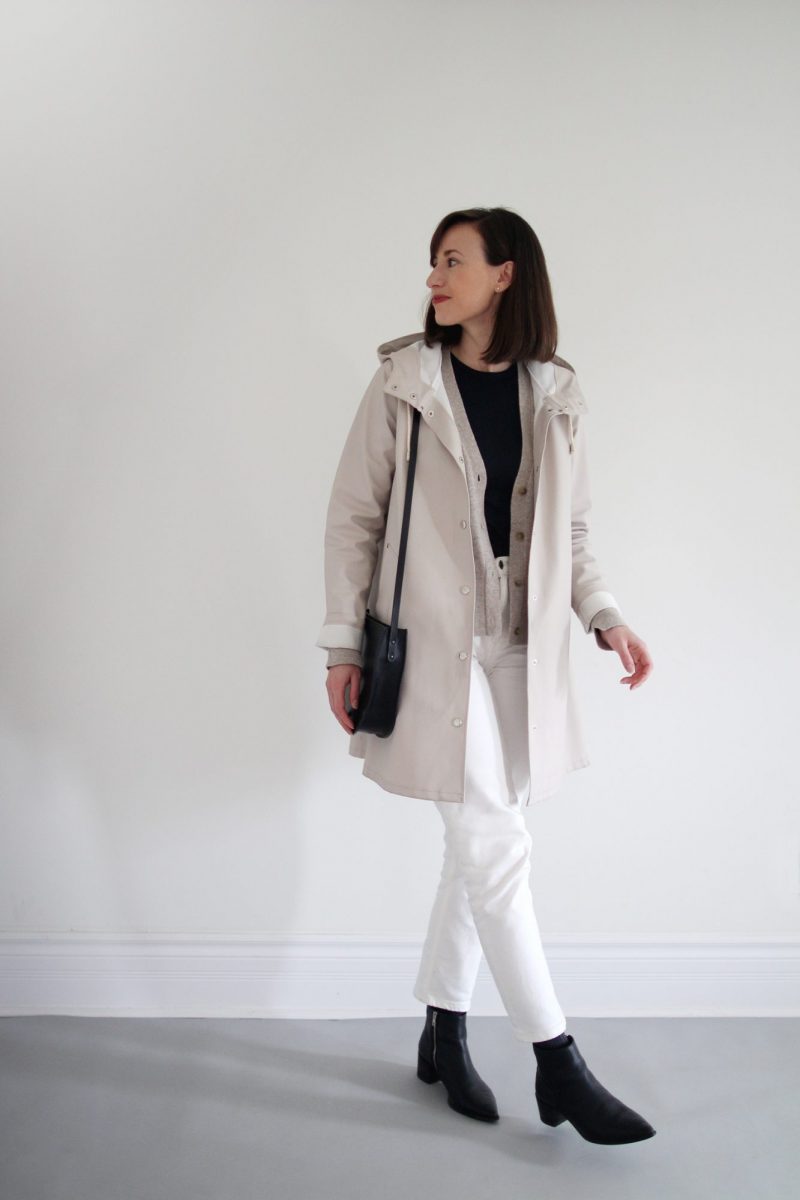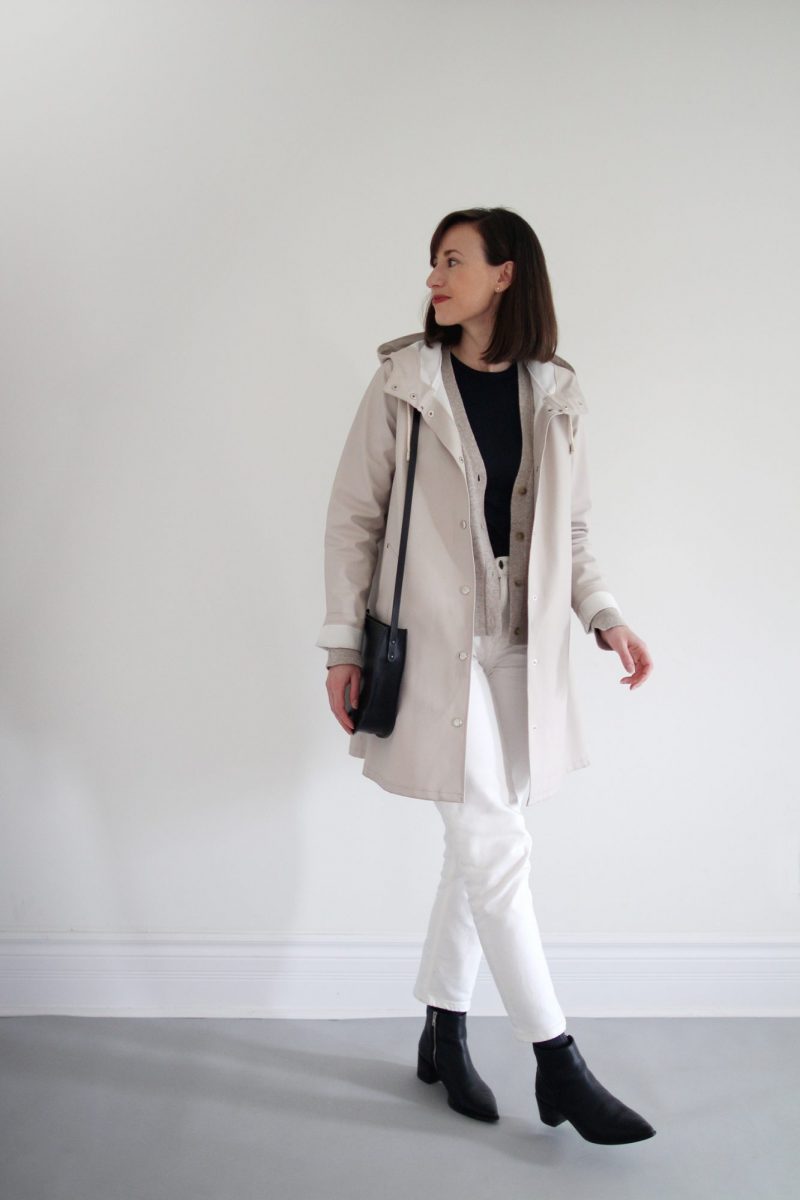 ---
STUTTERHEIM MOSEBACK RAINCOAT I wear an XS | MICRO RIB LONG SLEEVE I wear a Small | SQUARE CARDIGAN I wear a Small | CHEEKY JEANS IN BONE DENIM I wear a 26 ($50 USD for today only!) | BOSS BOOT gifted and TTS | BAG Sold Out | SOLITAIRE STUDS gifted (Save 10% with STYLEBEE10 until Nov. 12)
---

---
LOOK 2
Comfy and cozy for sunny errand runs and working from home.
---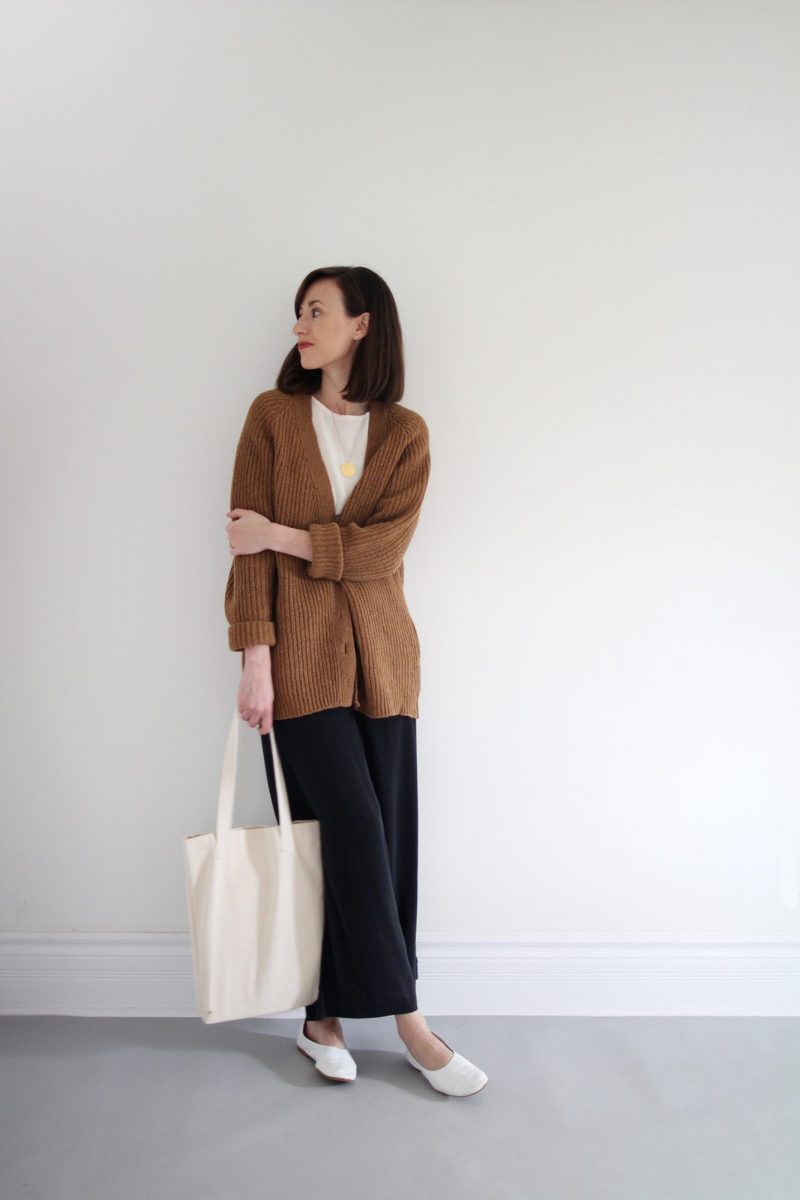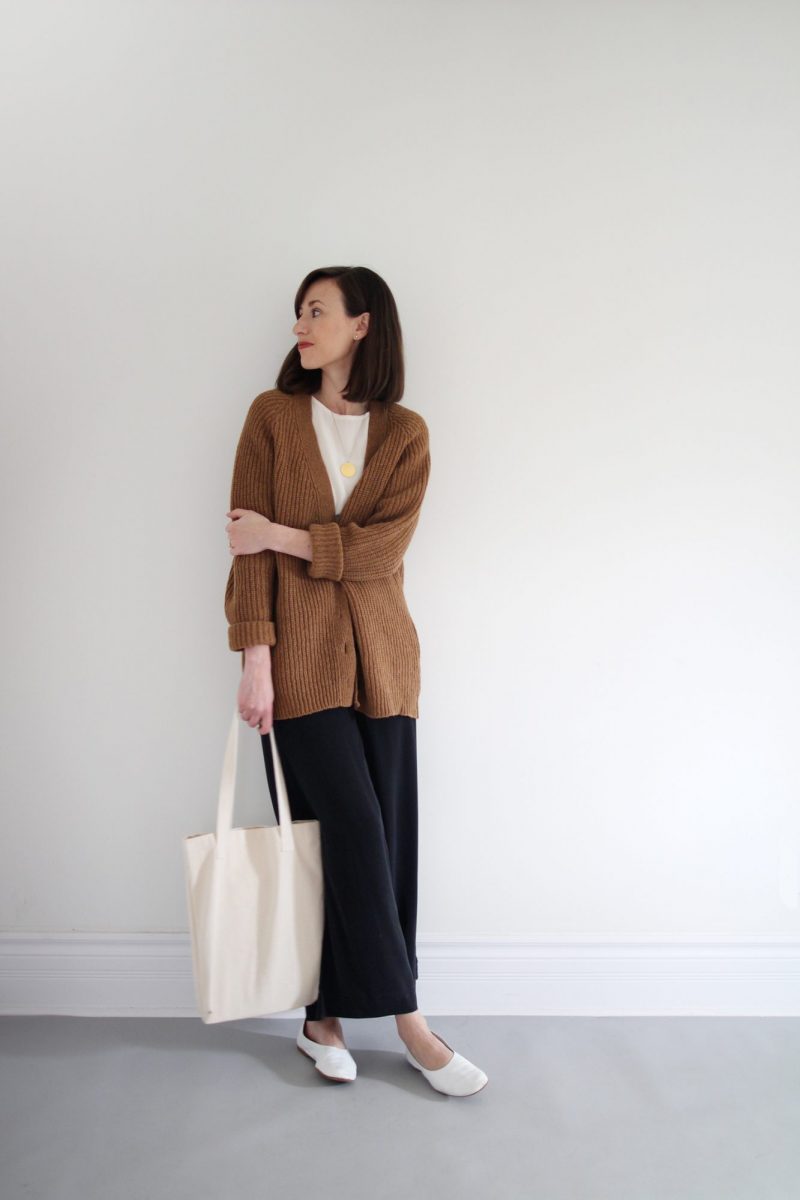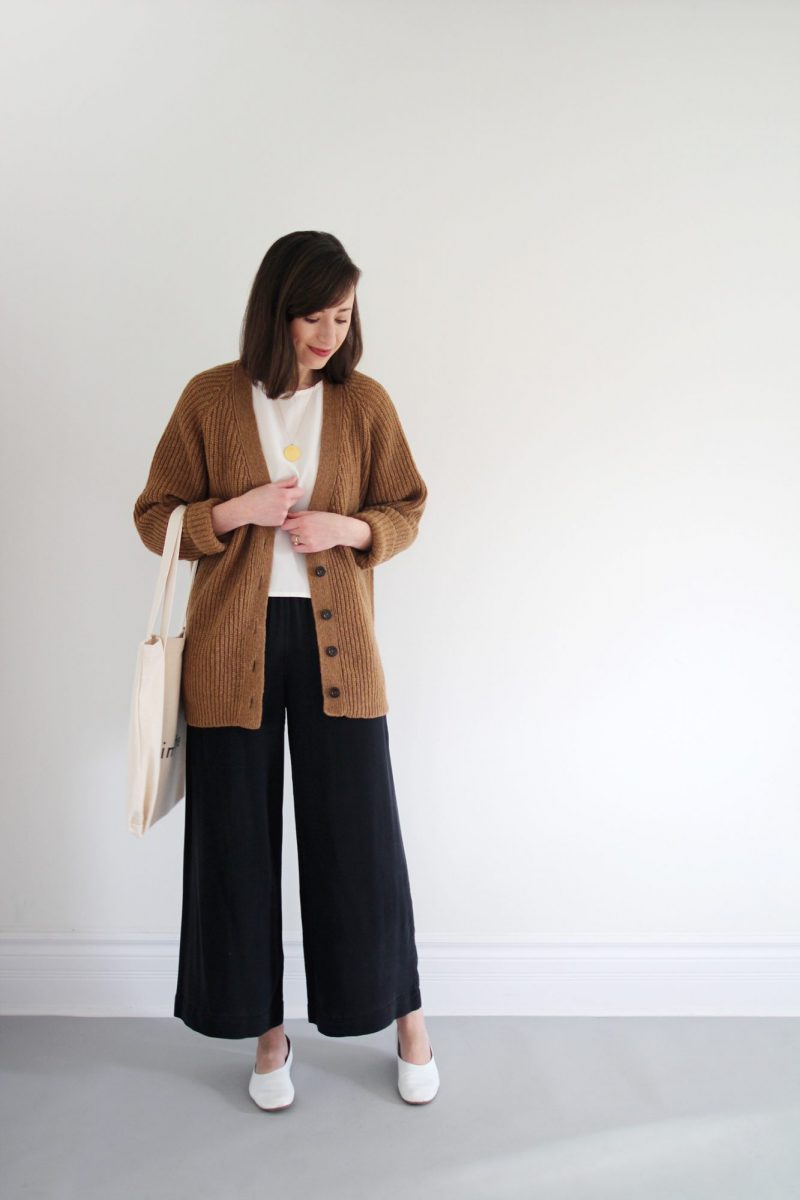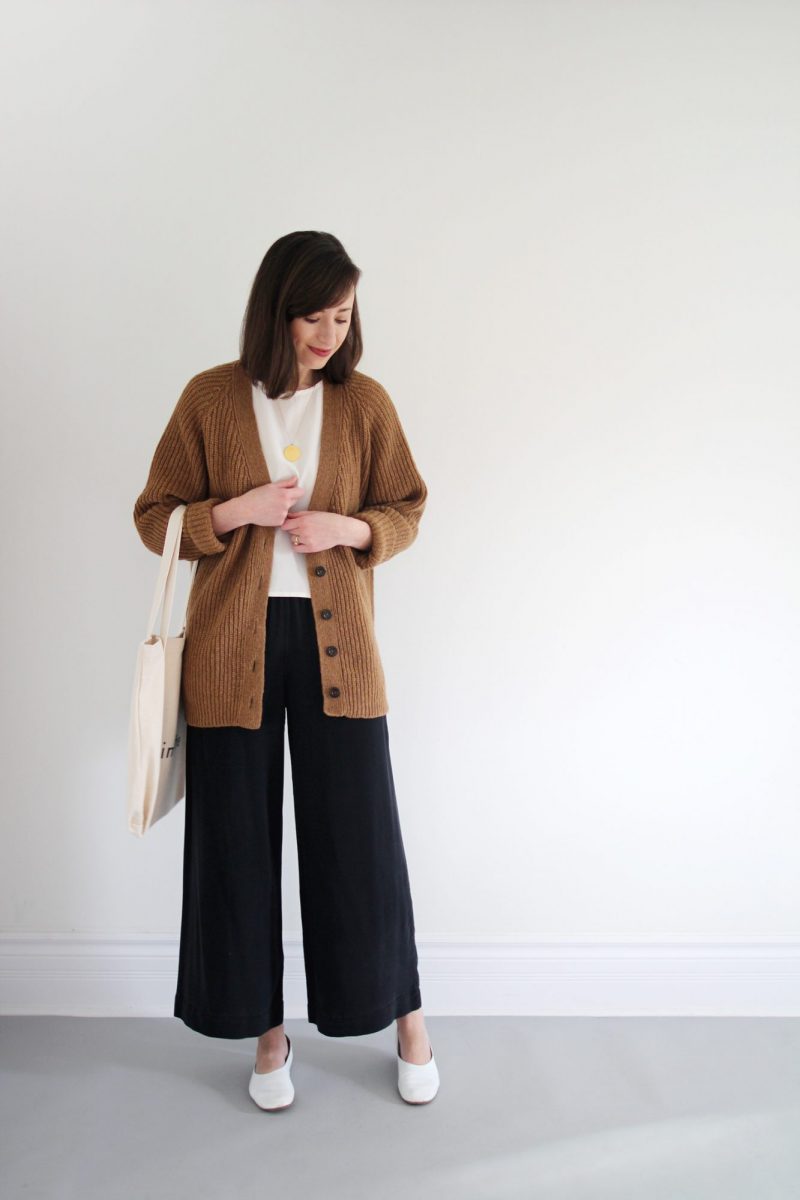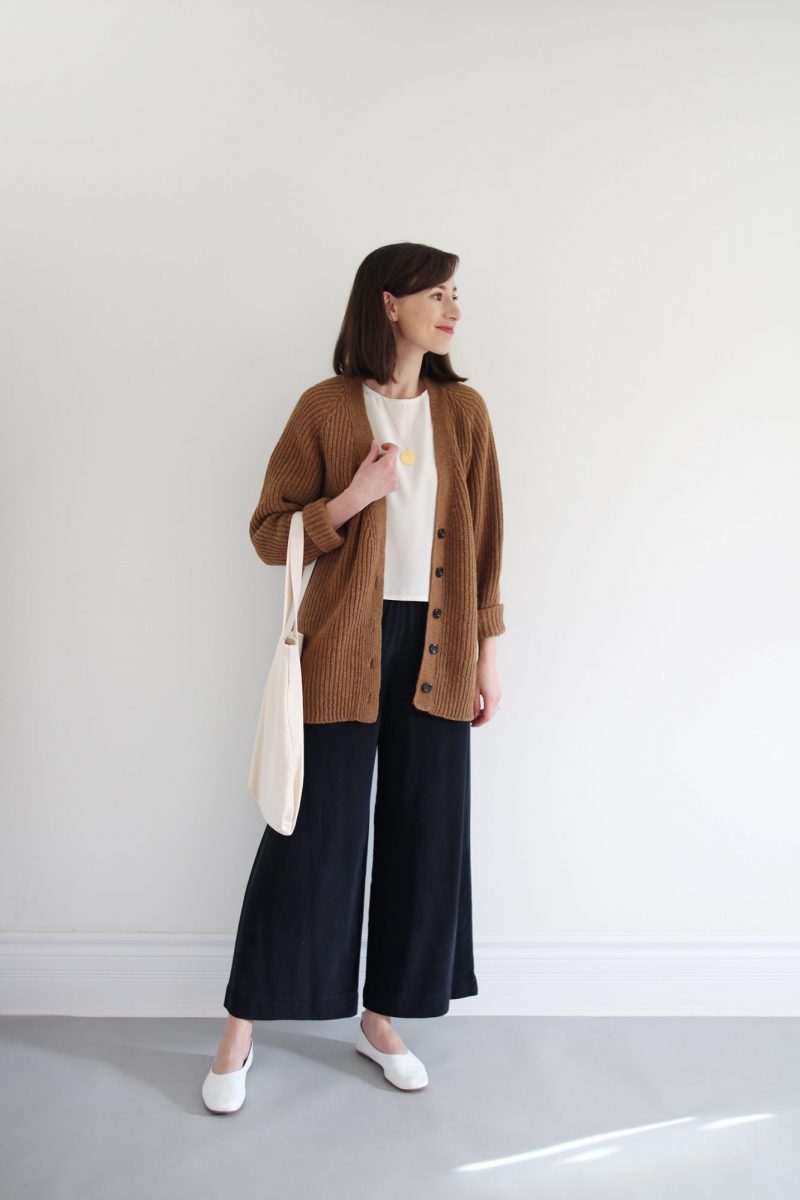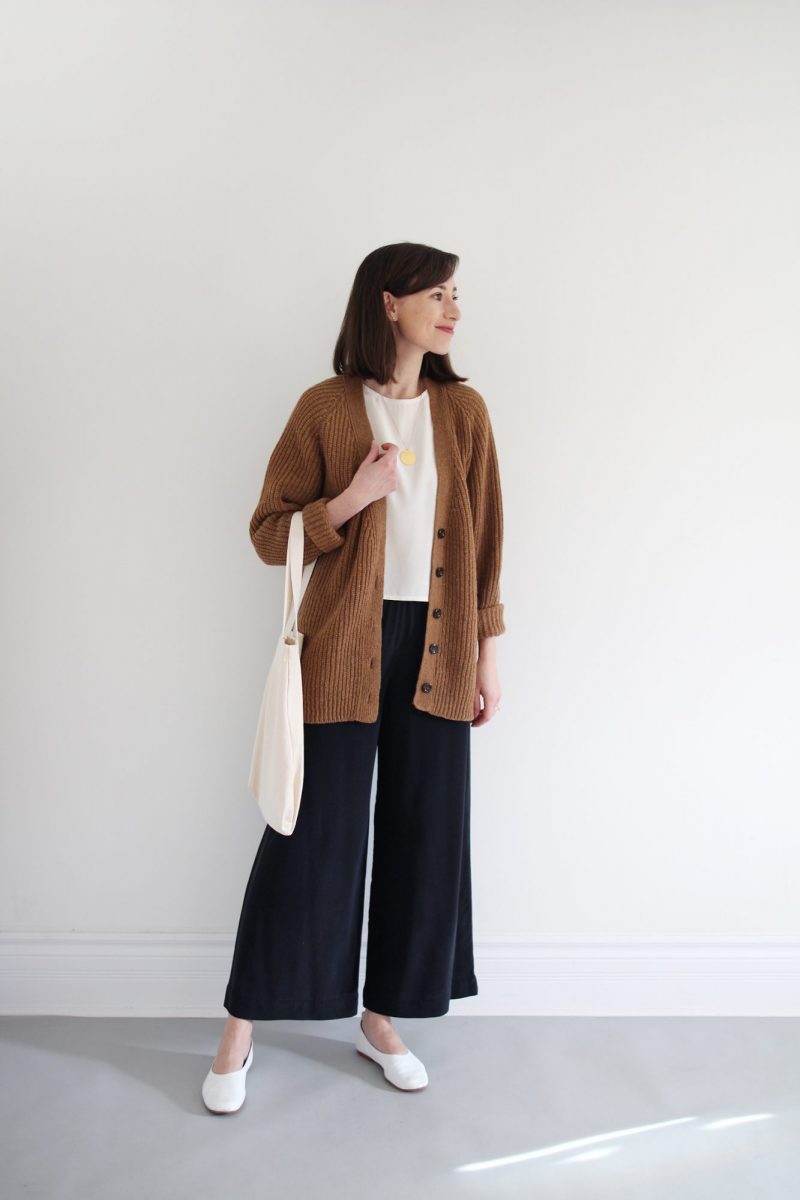 ---
L'ENVERS SWEATER gifted I wear a M/L for an oversize fit | LINN TEE I wear an OSM | FLORENCE PANT I wear a Small Regular | DAY GLOVE Fit is TTS | TOTE old | Necklace old | SOLITAIRE STUDS gifted (Save 10% with STYLEBEE10 until Nov. 12)
---

---
LOOK 3
Love how this feels so autumnal but still fresh and light. Wore this to a lunch meeting.
---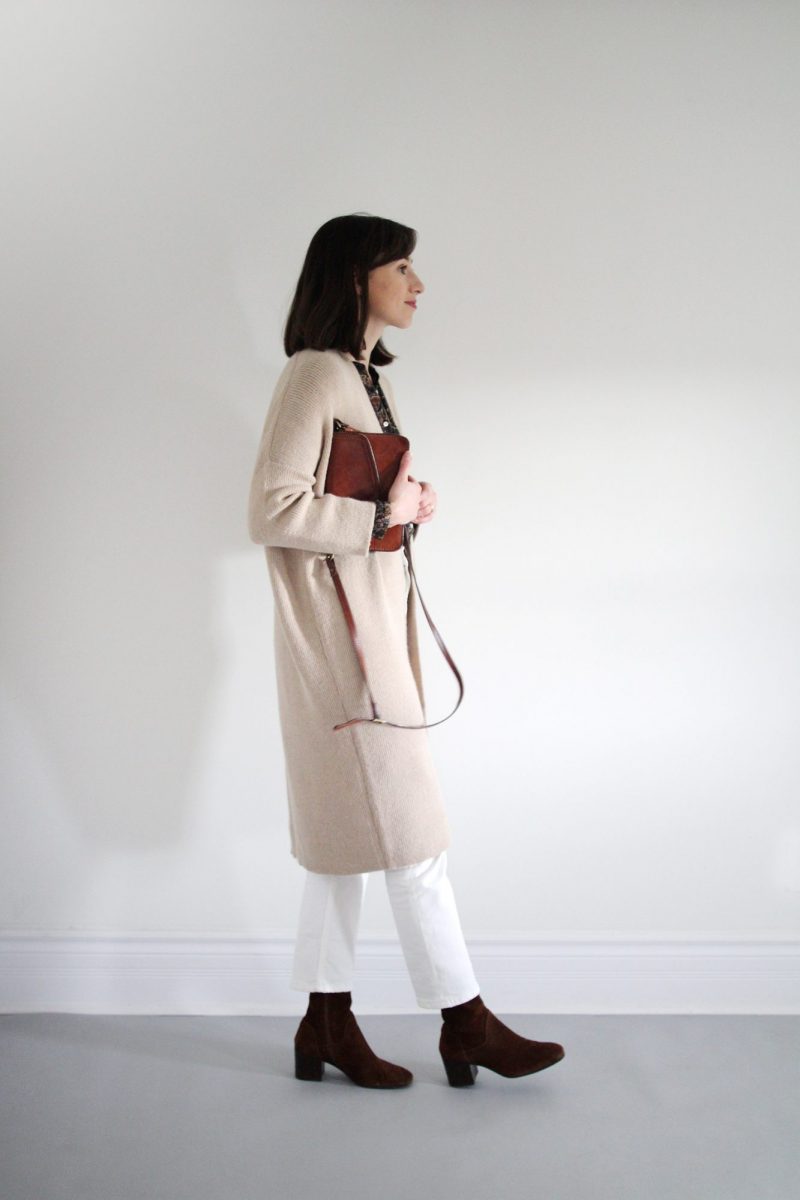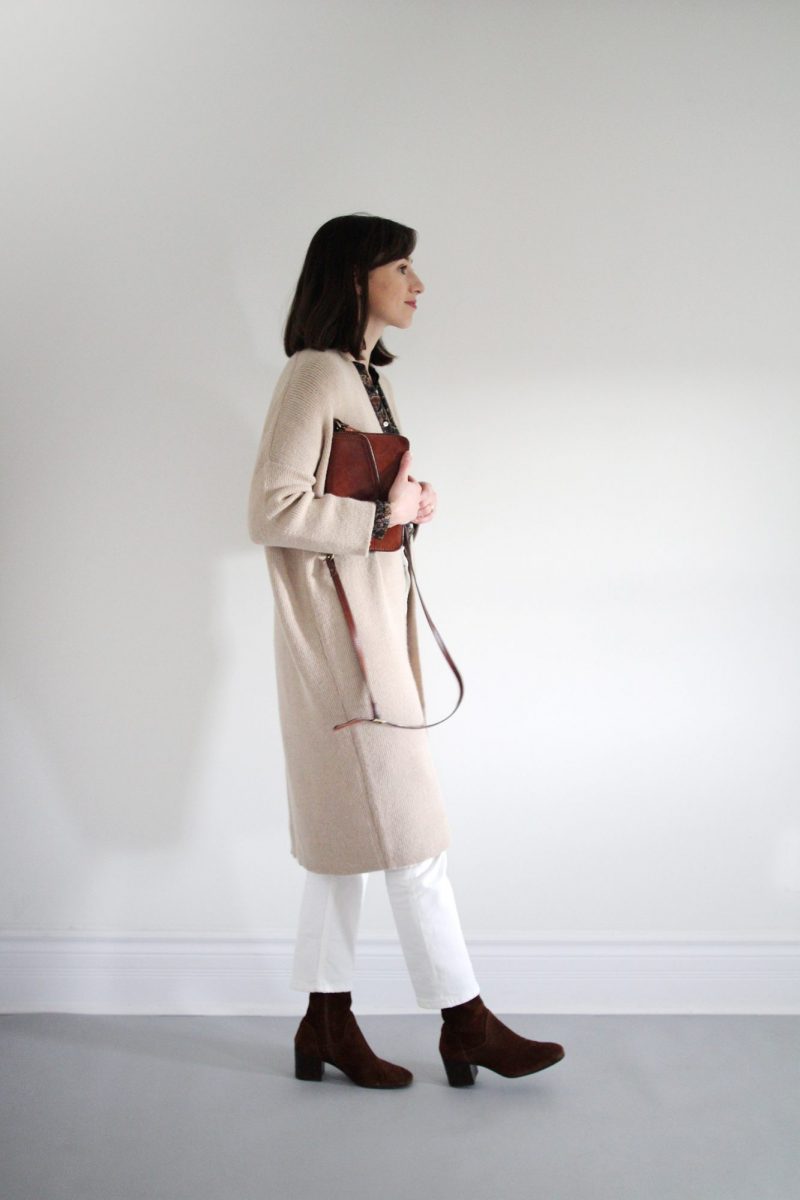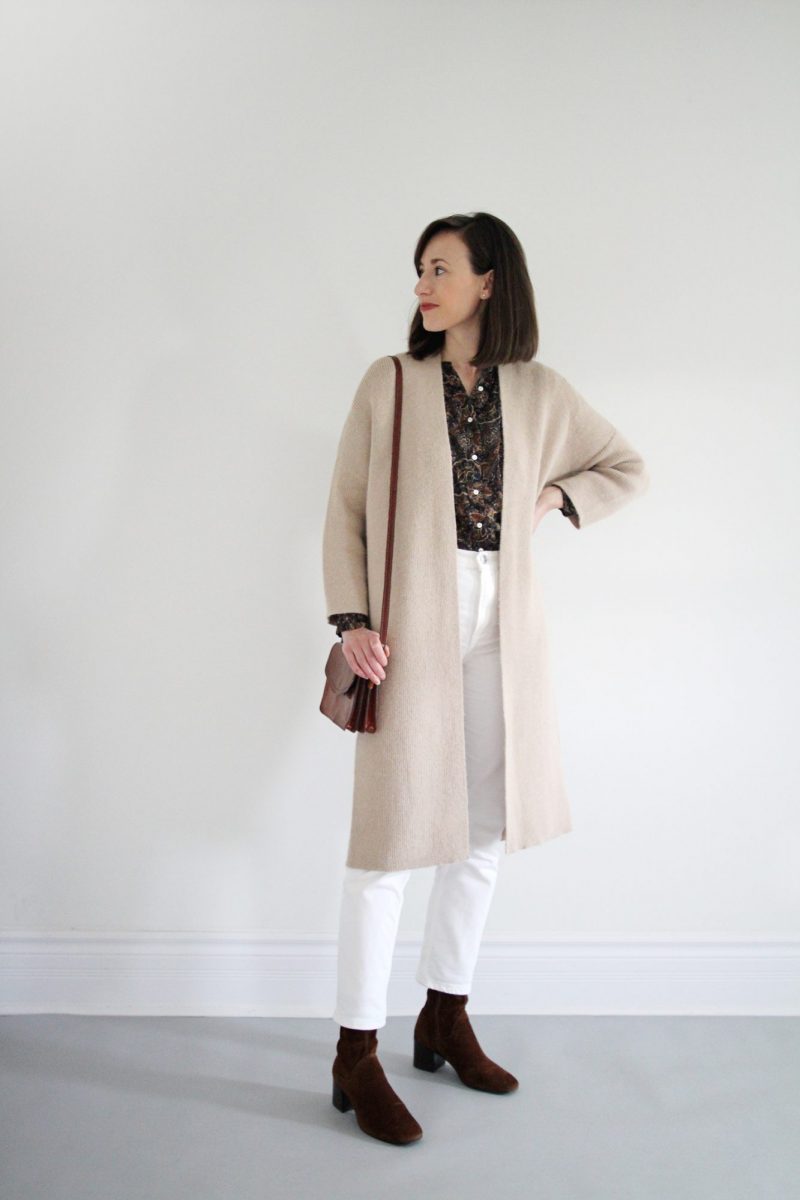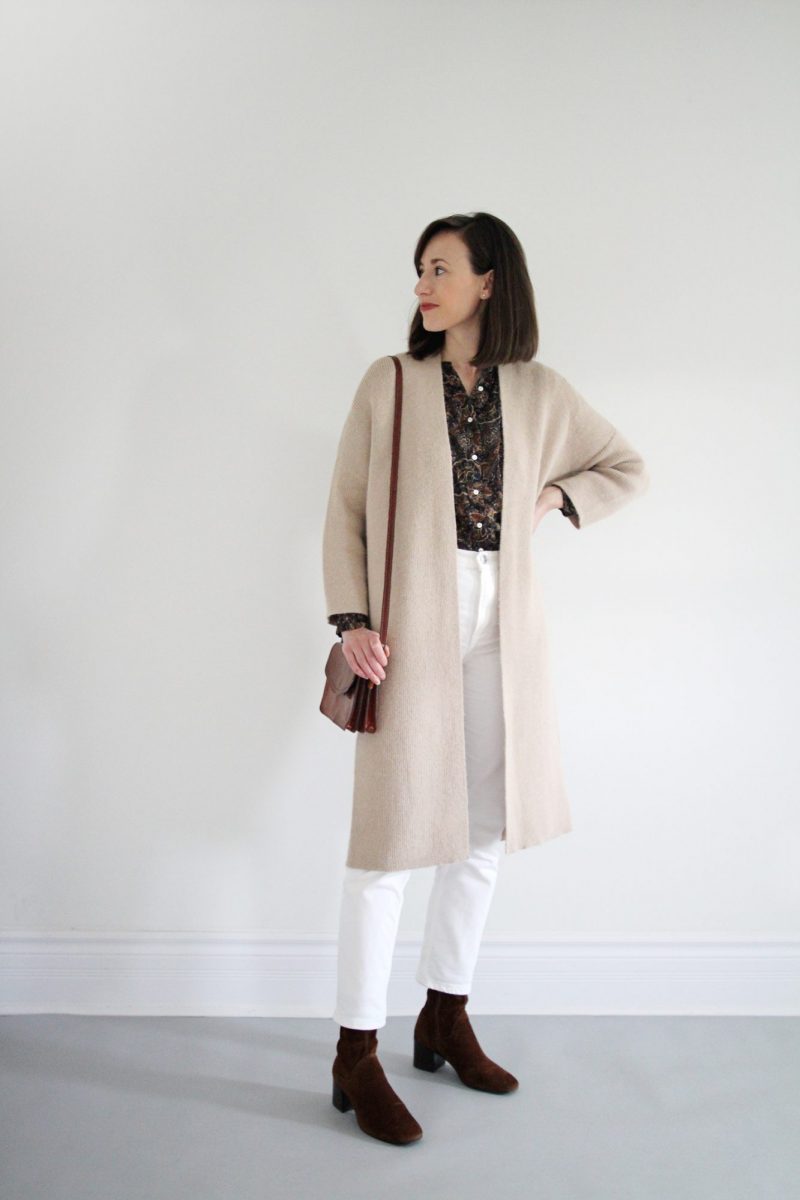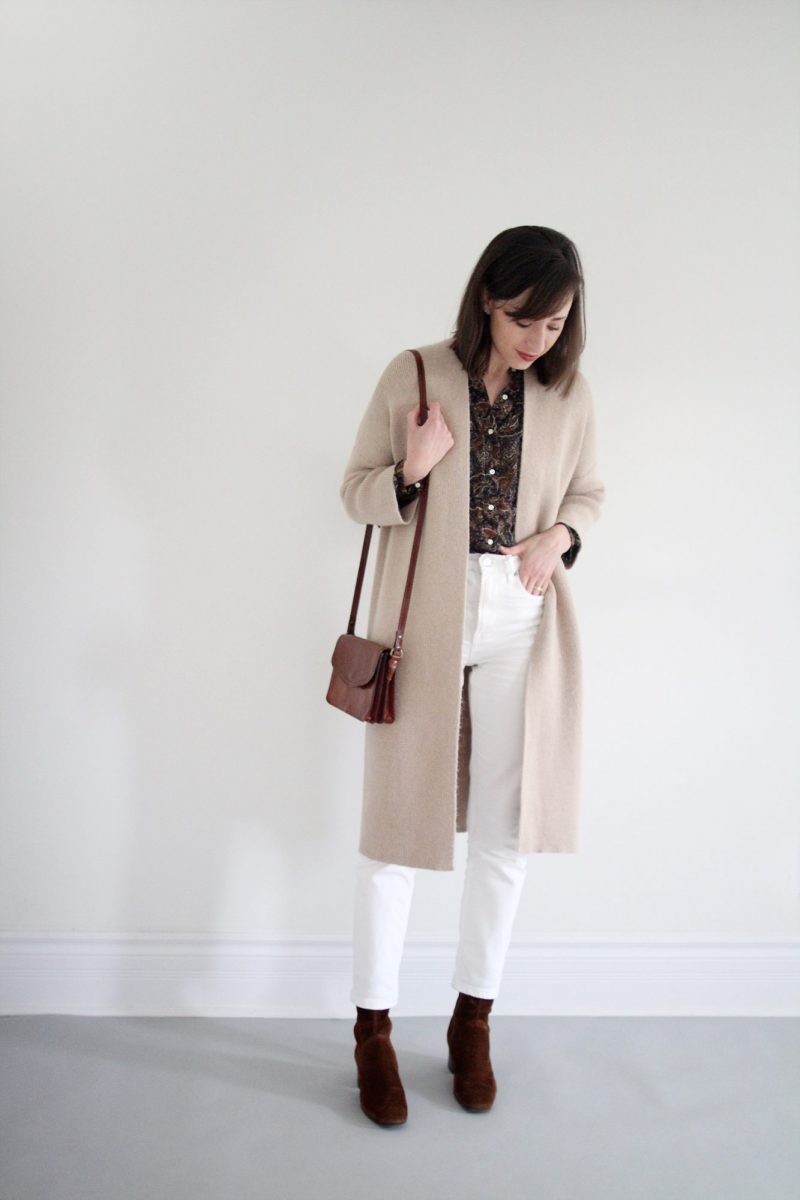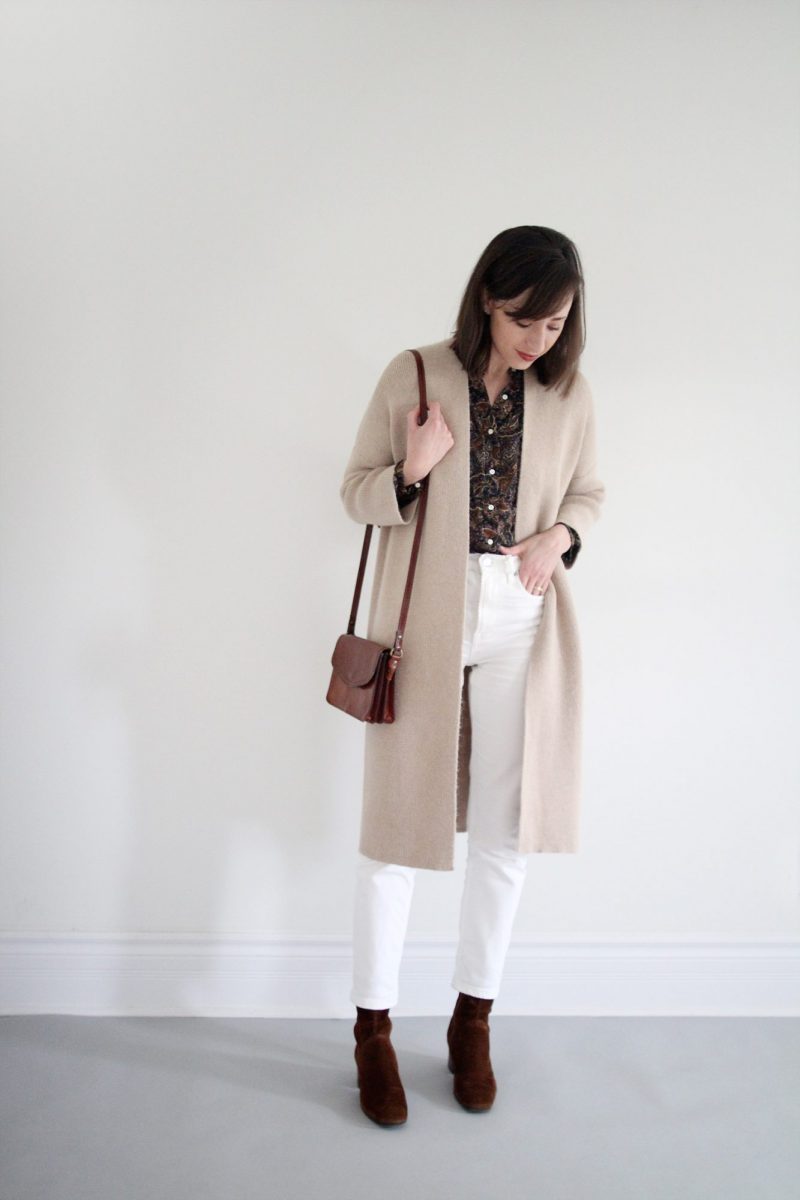 ---
CARDIGAN old | JANE PAISLEY BLOUSE I wear a Small | CHEEKY JEANS IN BONE DENIM I wear a 26 ($50 USD for today only!) | SUEDE BOOT TTS | BAG vintage | SOLITAIRE STUDS gifted (Save 10% with STYLEBEE10 until Nov. 12)
---

---
LOOK 4
My go-to getup for Sunday hikes with the boys!
---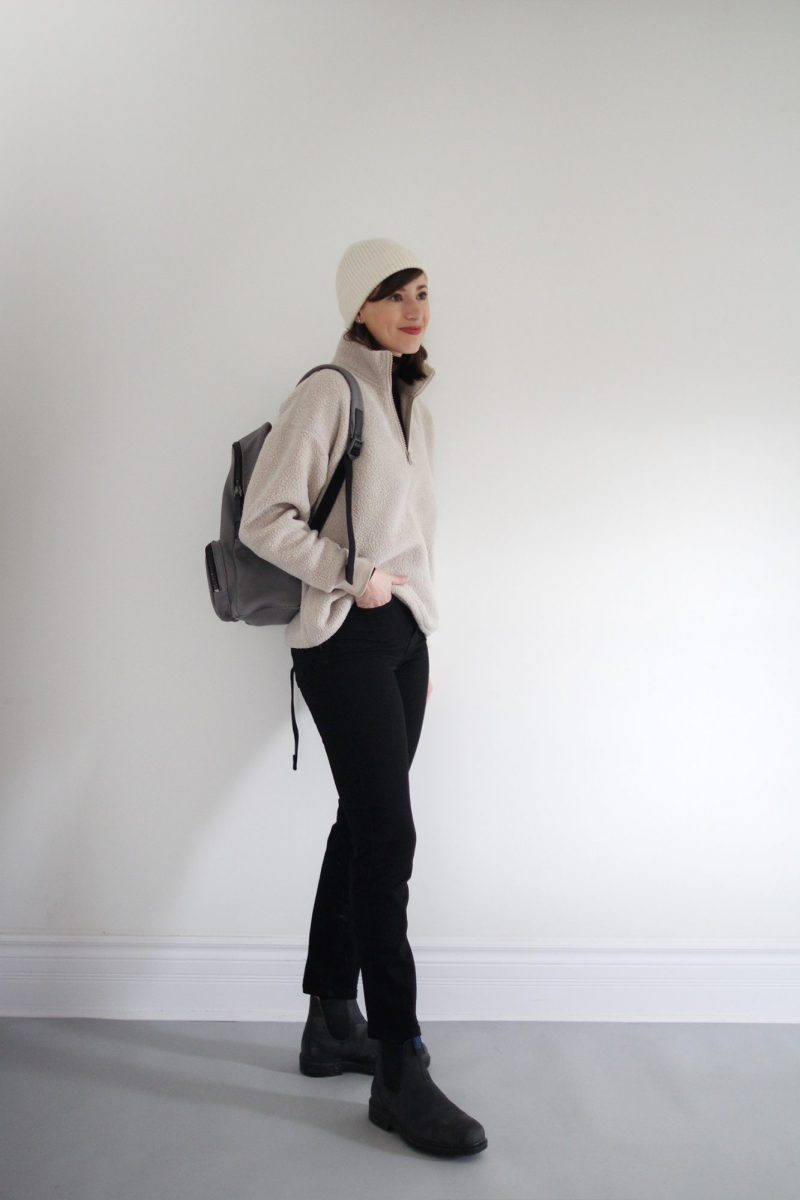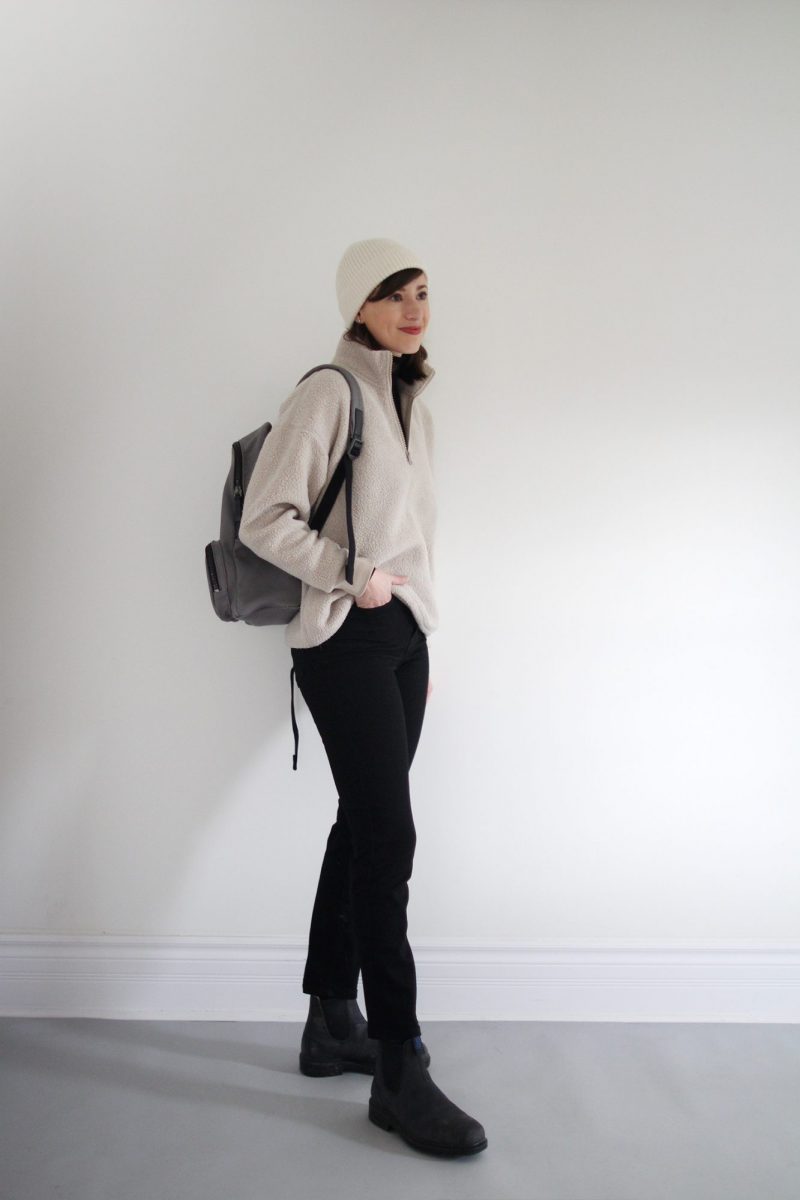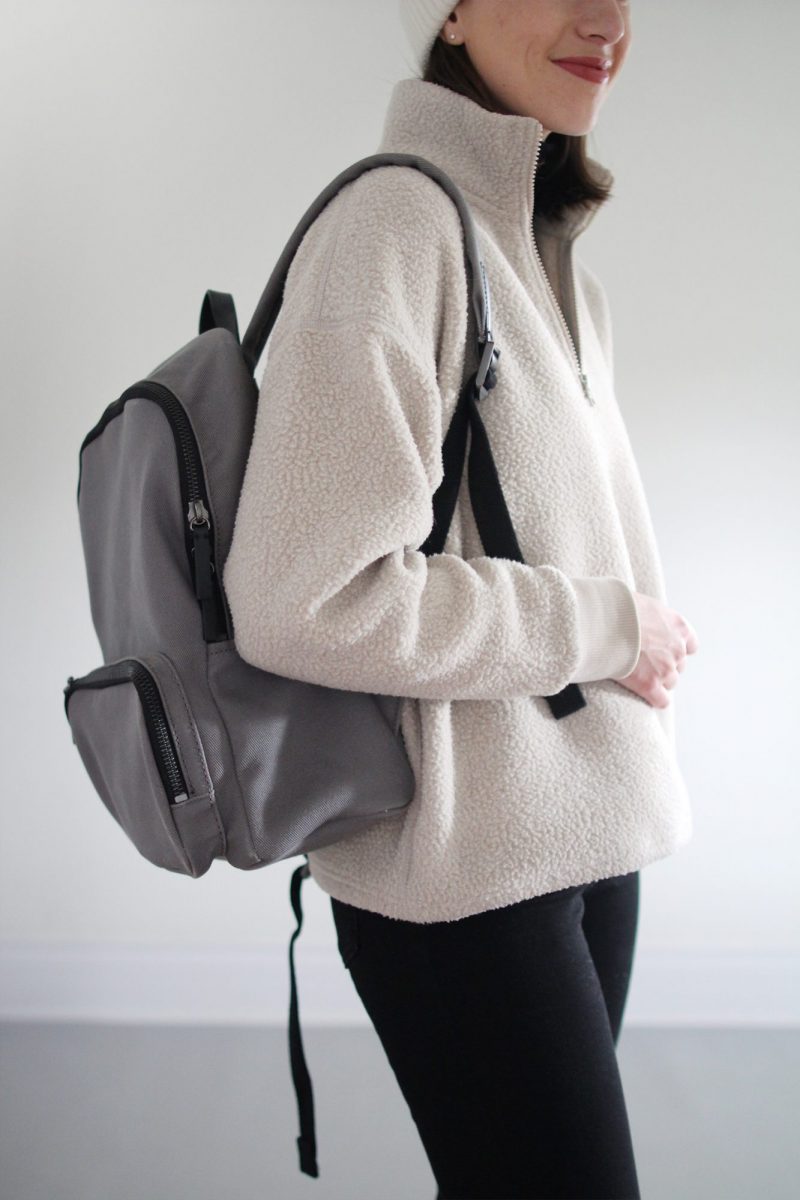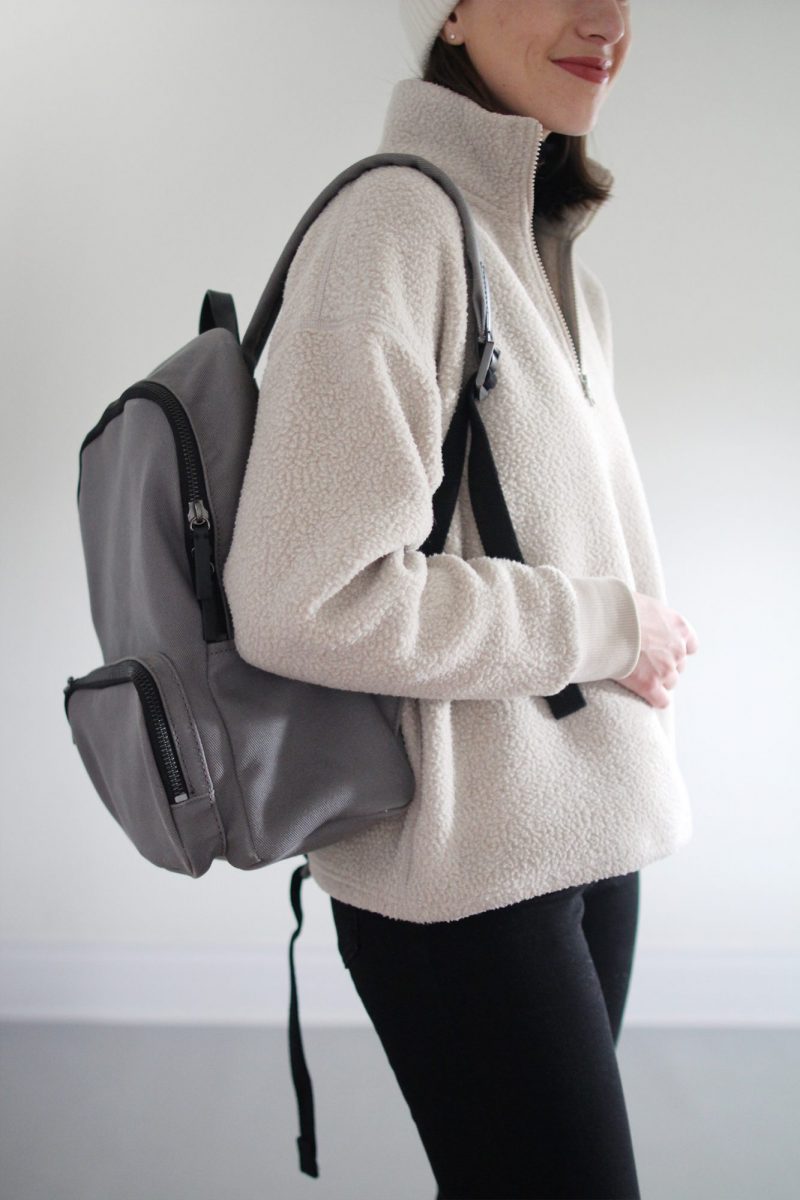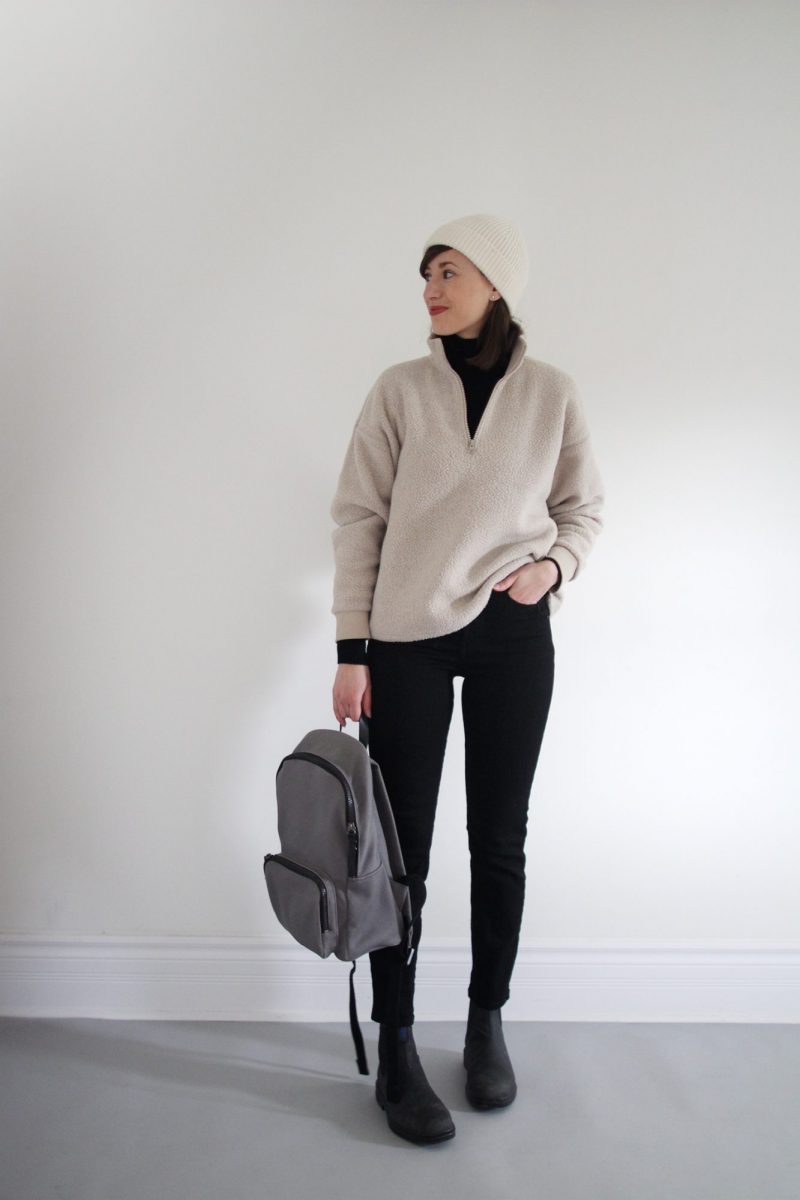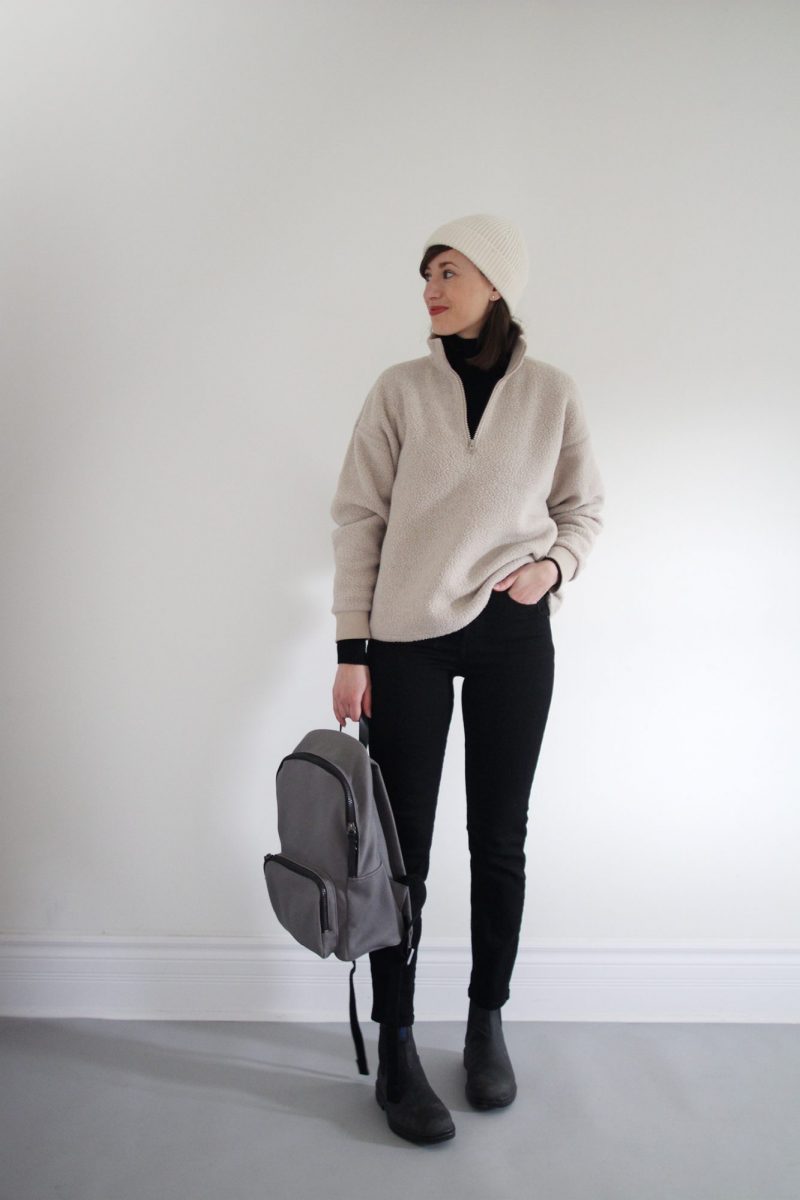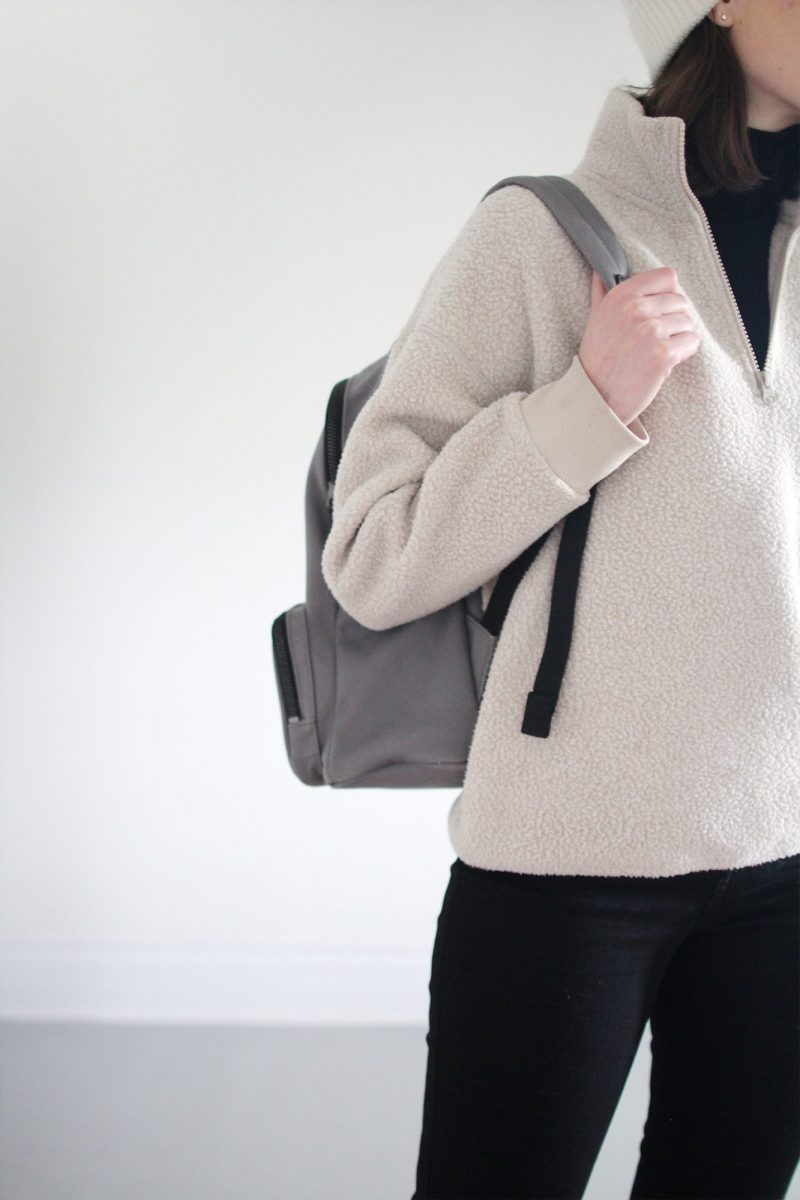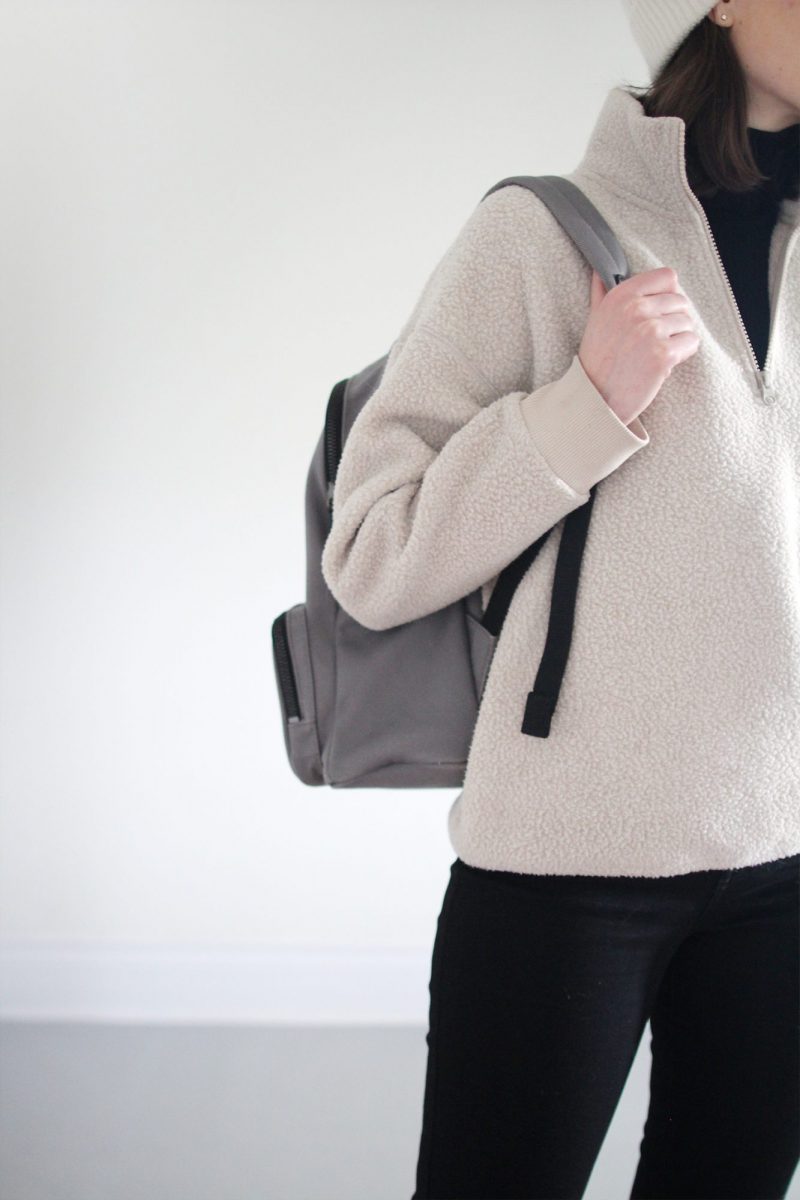 ---
RENEW ZIP FLEECE gifted I wear a M for layering | RIBBED TURTLENECK similar | AUTHENTIC STRETCH DENIM gifted I wear a 27 ($50 USD for today only!) | BLUNDSTONE WINTER BOOT runs TTS | BACKPACK old | HAT similar | SOLITAIRE STUDS gifted (Save 10% with STYLEBEE10 until Nov. 12)
---

---
LOOK 5
One of my favourites of the month was this outfit I wore to my grandma's 93rd birthday!
---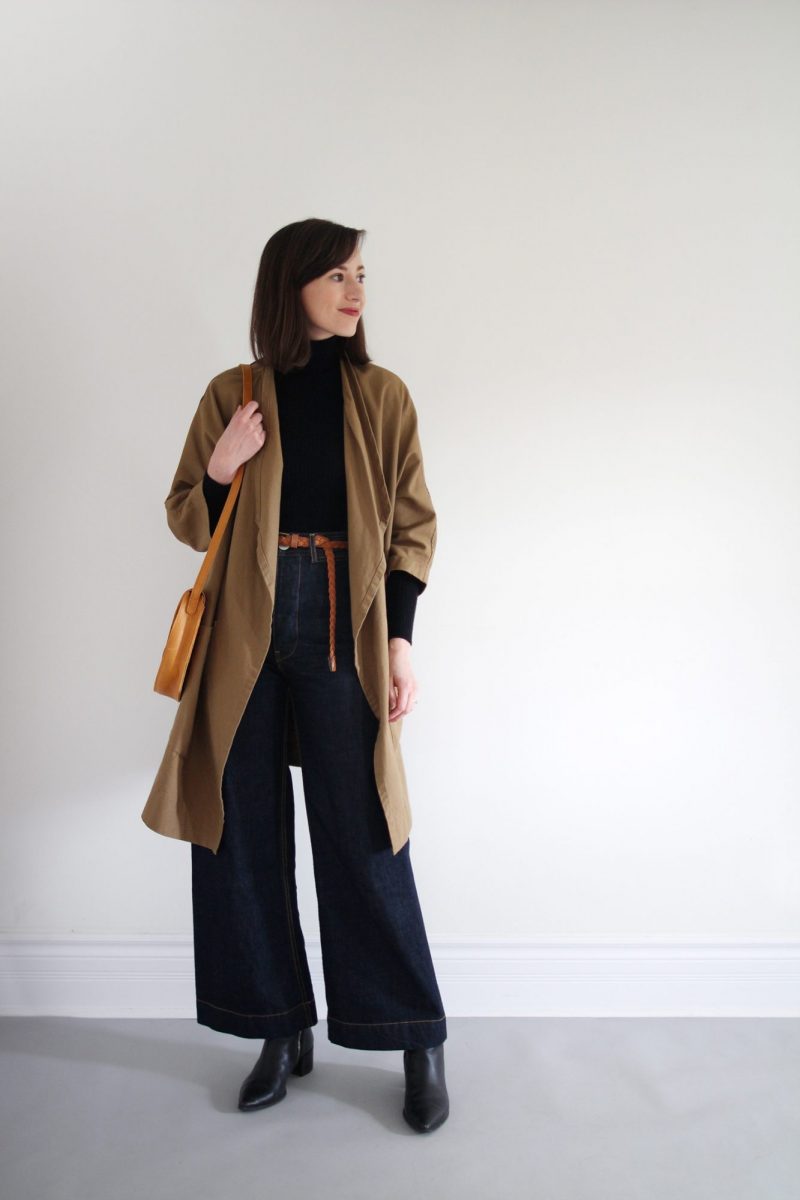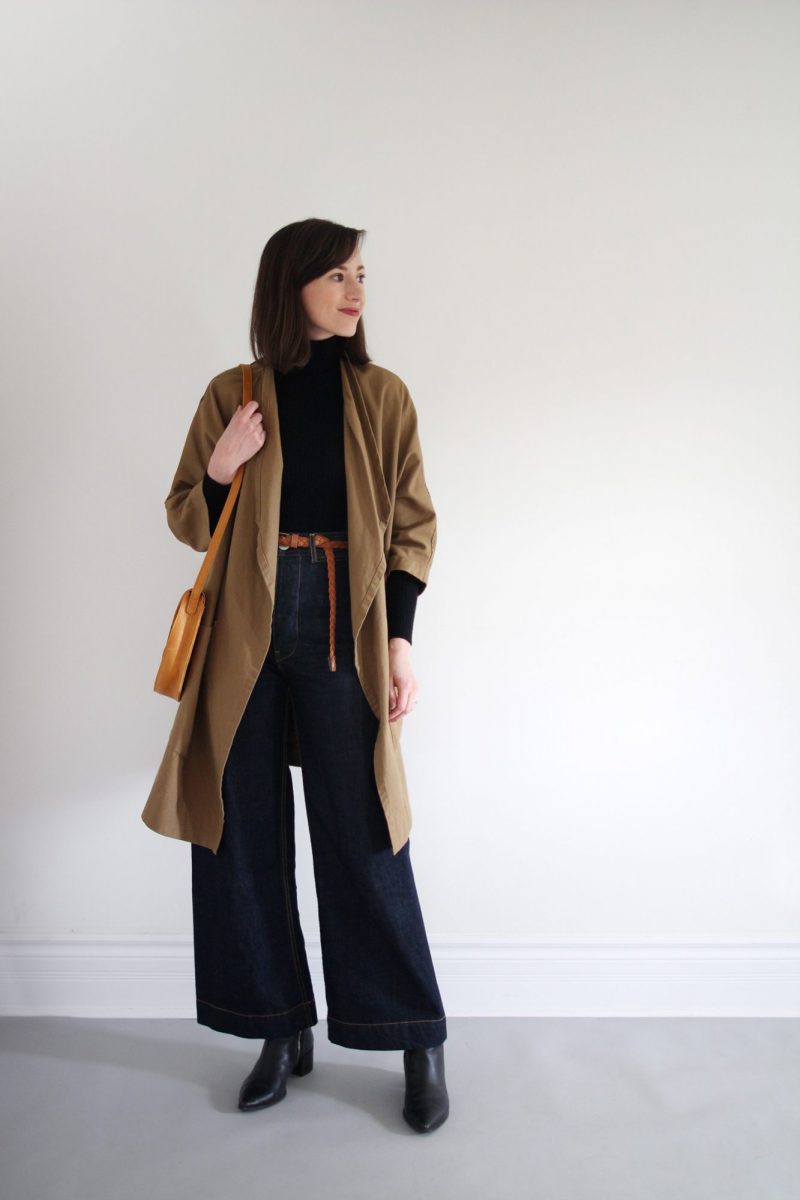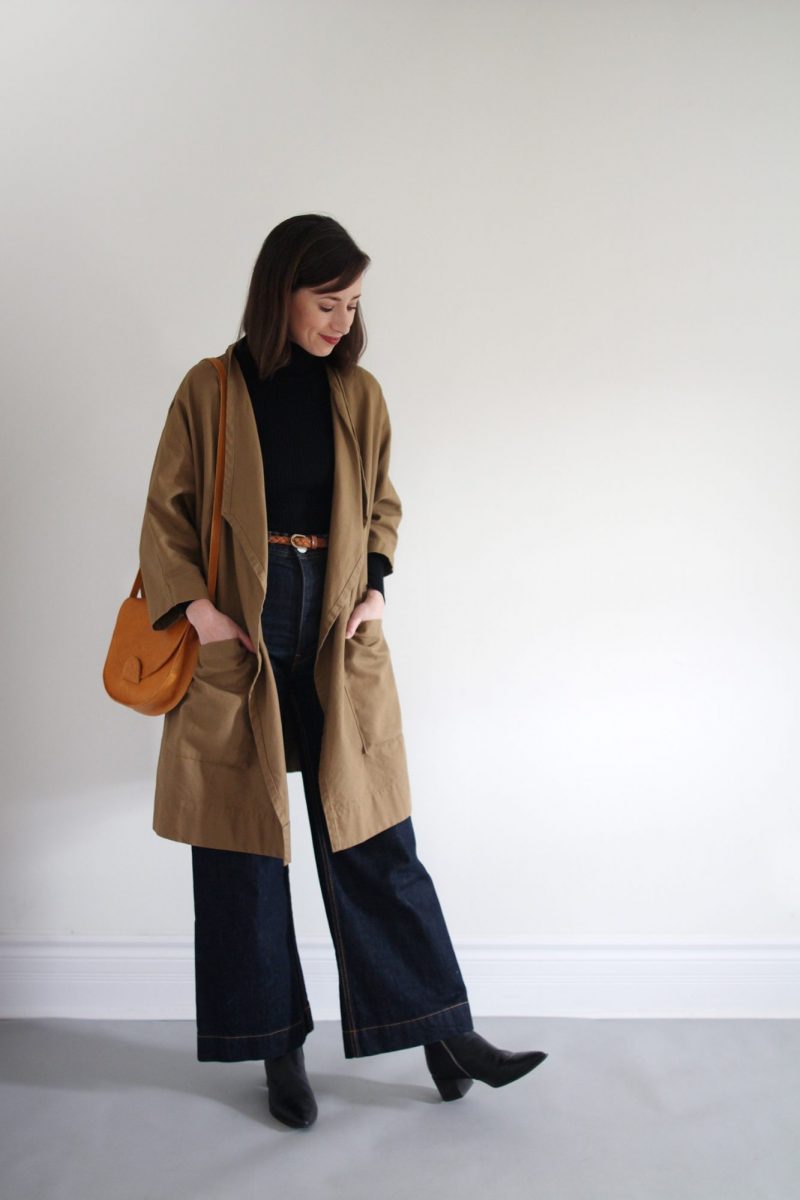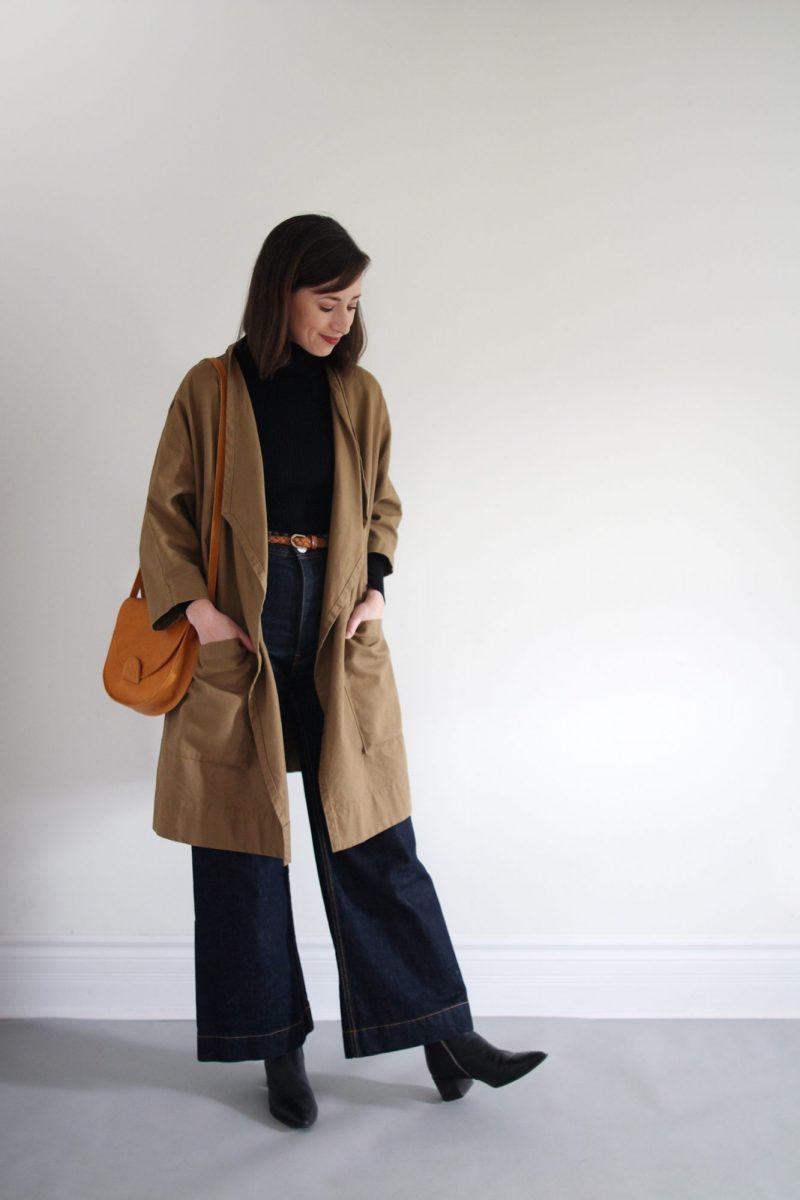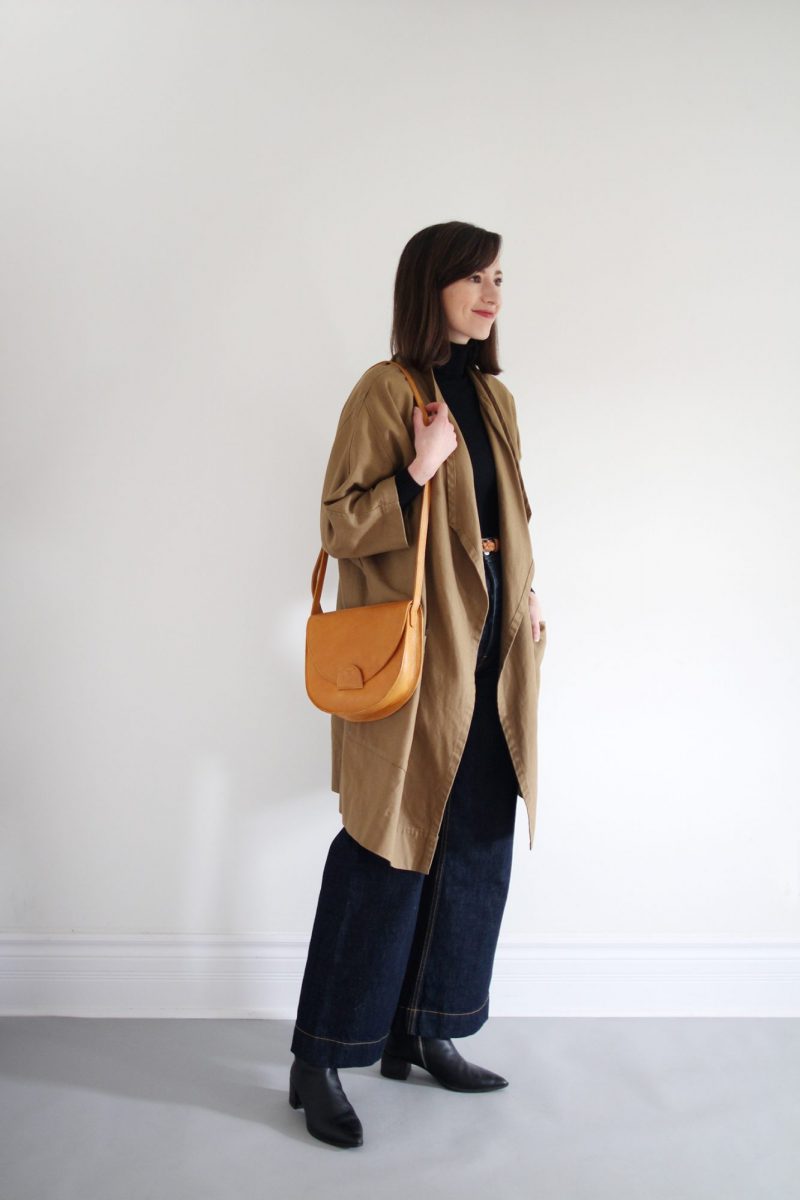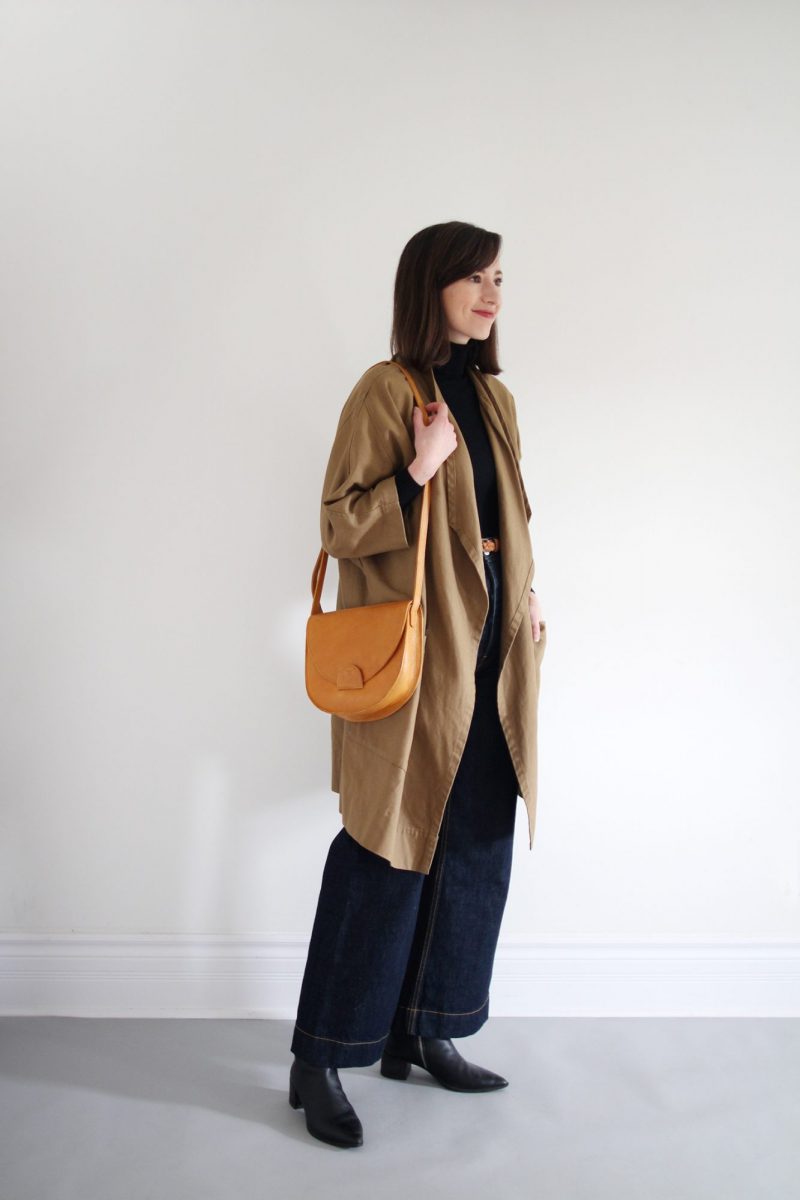 ---
HARPER JACKET I wear OSM | RIBBED TURTLENECK similar | DENIM SAILOR PANT similar for less here | BOSS BOOT gifted and TTS | BELT old | HANA BAG gifted | SOLITAIRE STUDS gifted (Save 10% with STYLEBEE10 until Nov. 12)
---

---
LOOK 6 + EVERLANE DENIM REVIEW
A favourite uniform for dinners out downtown. Jeans, tee, blazer and boots!
---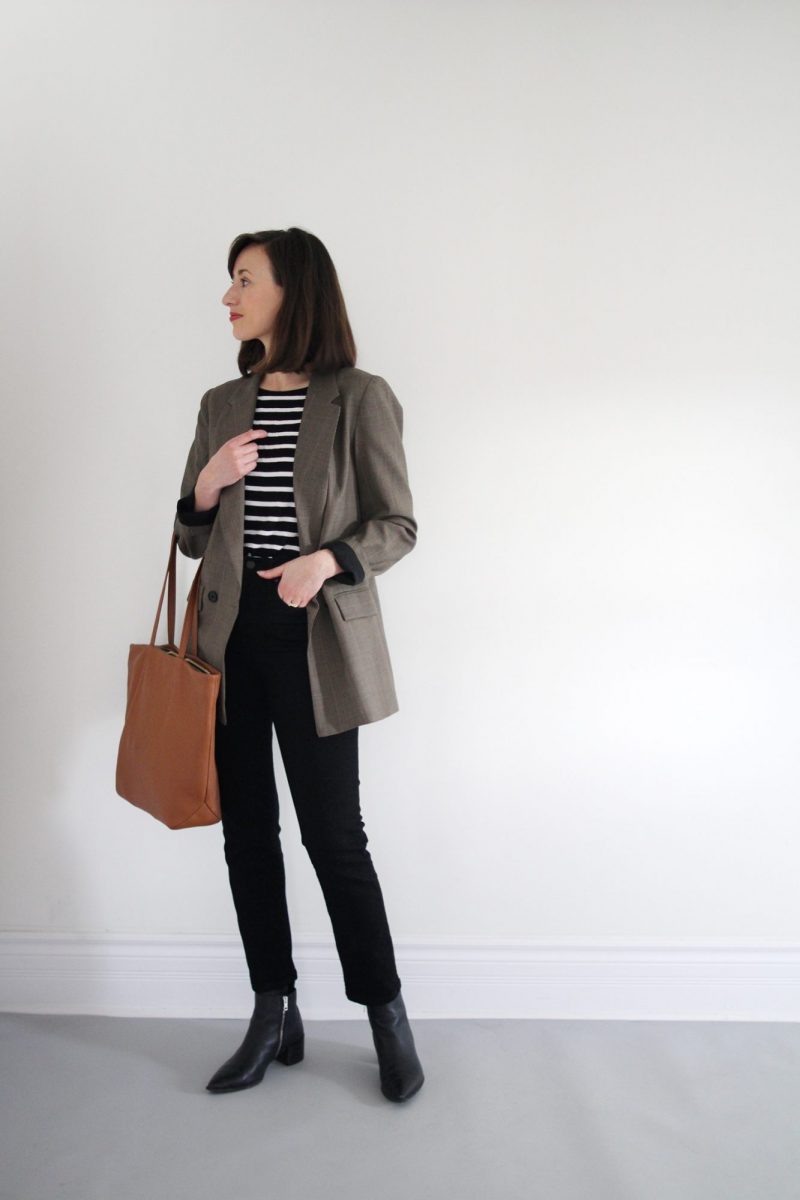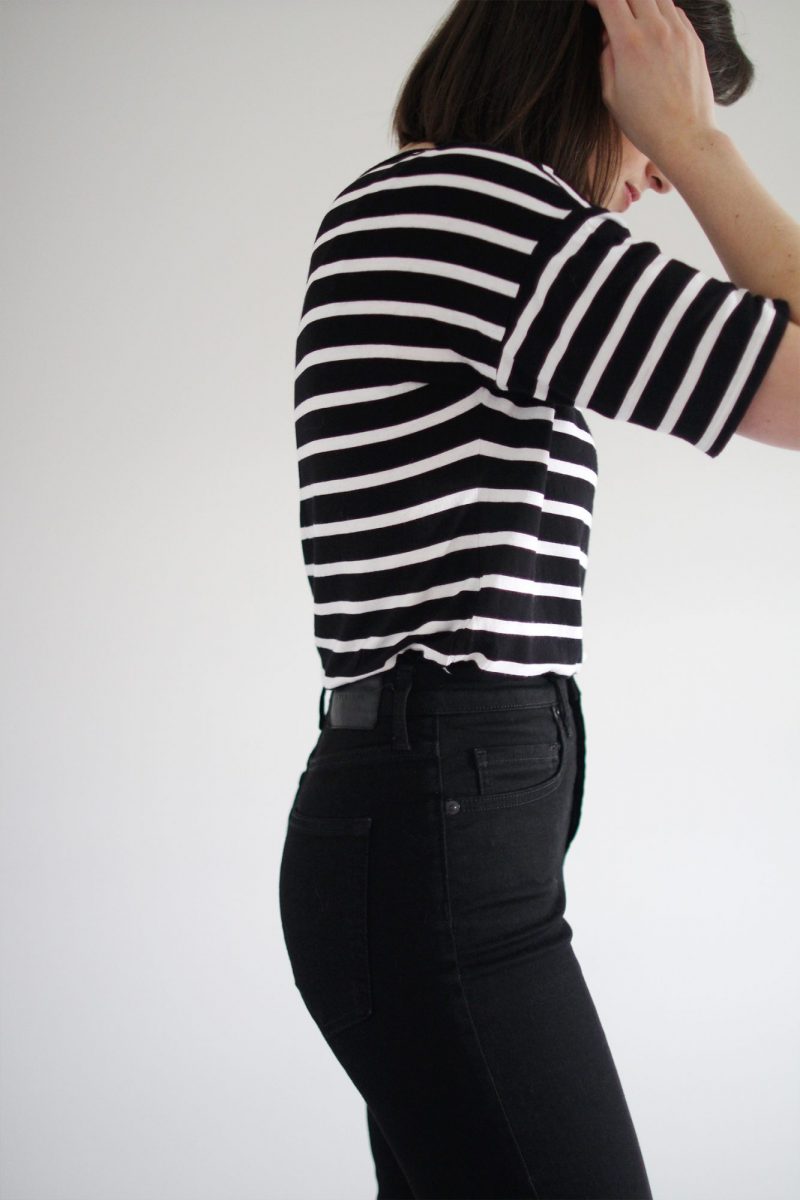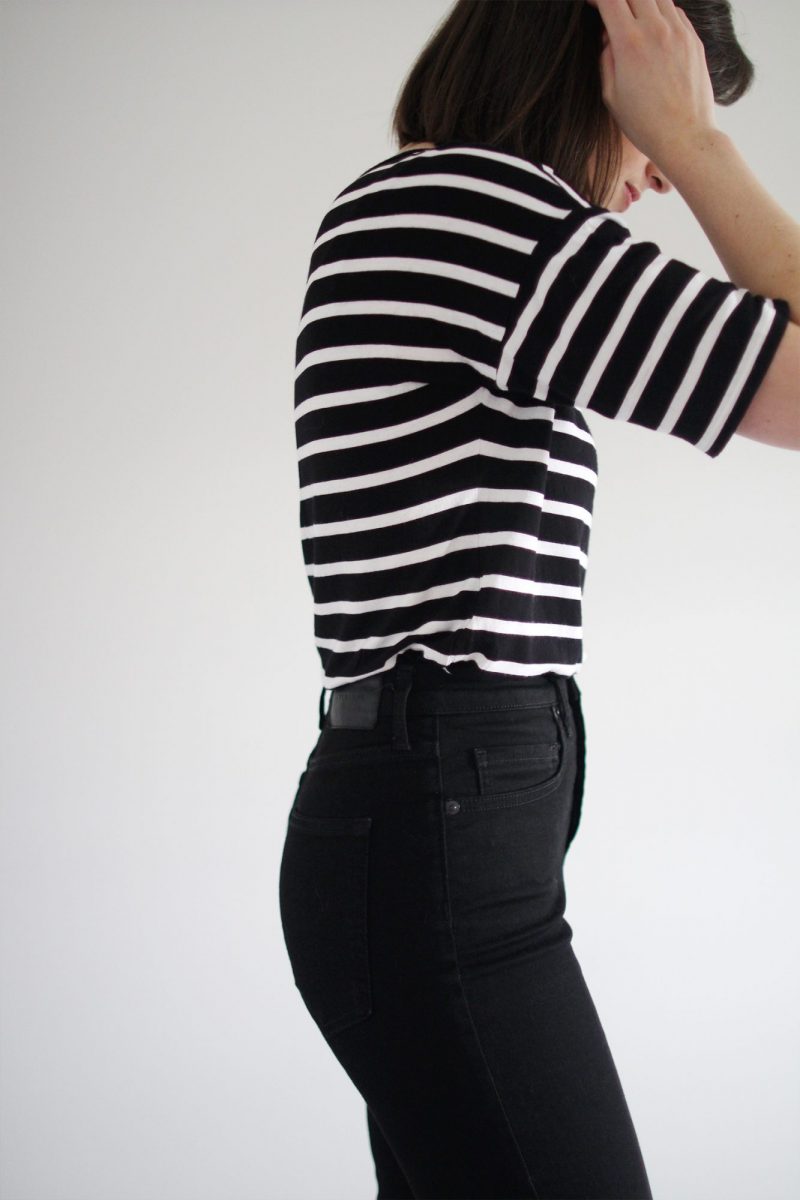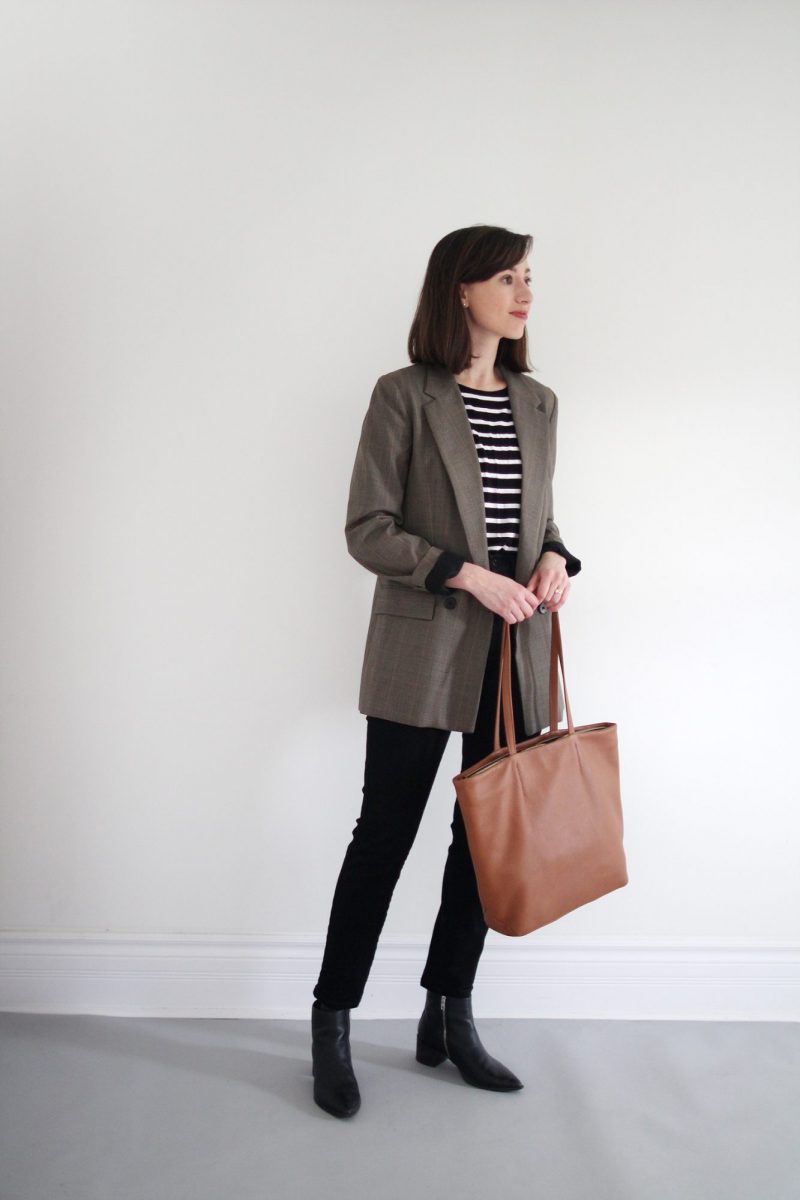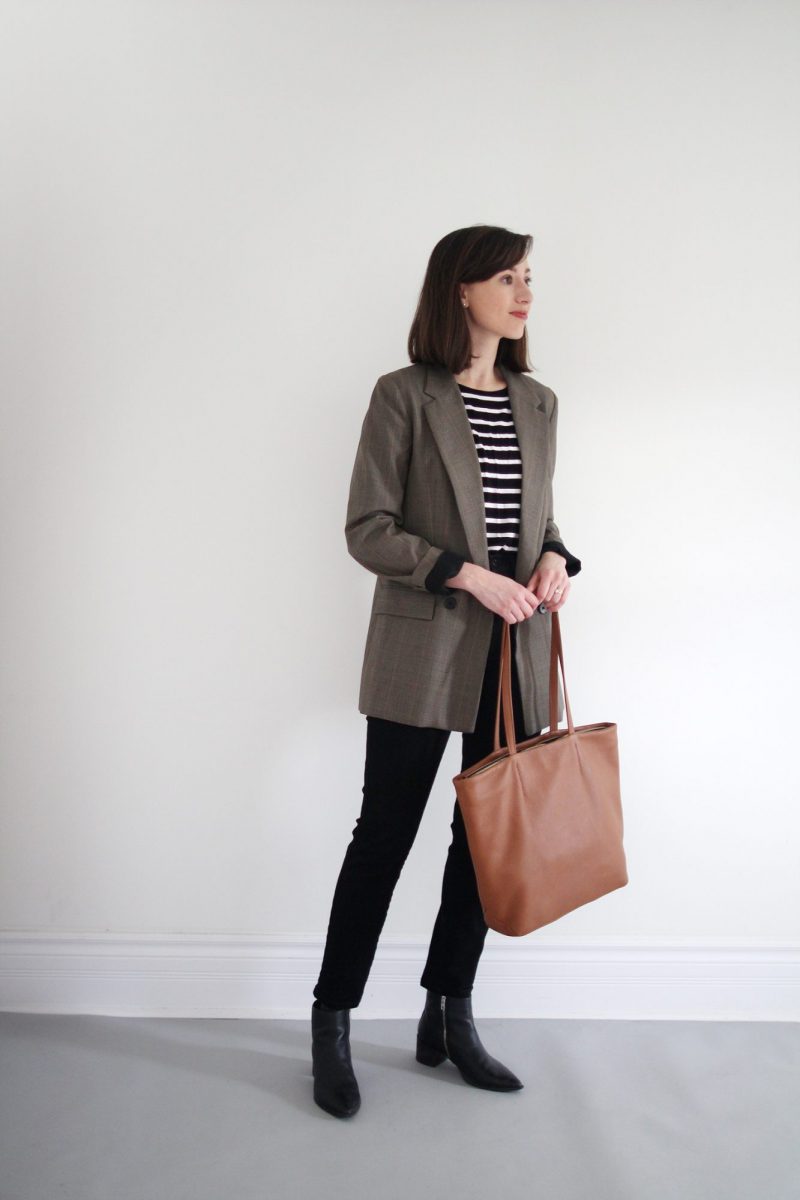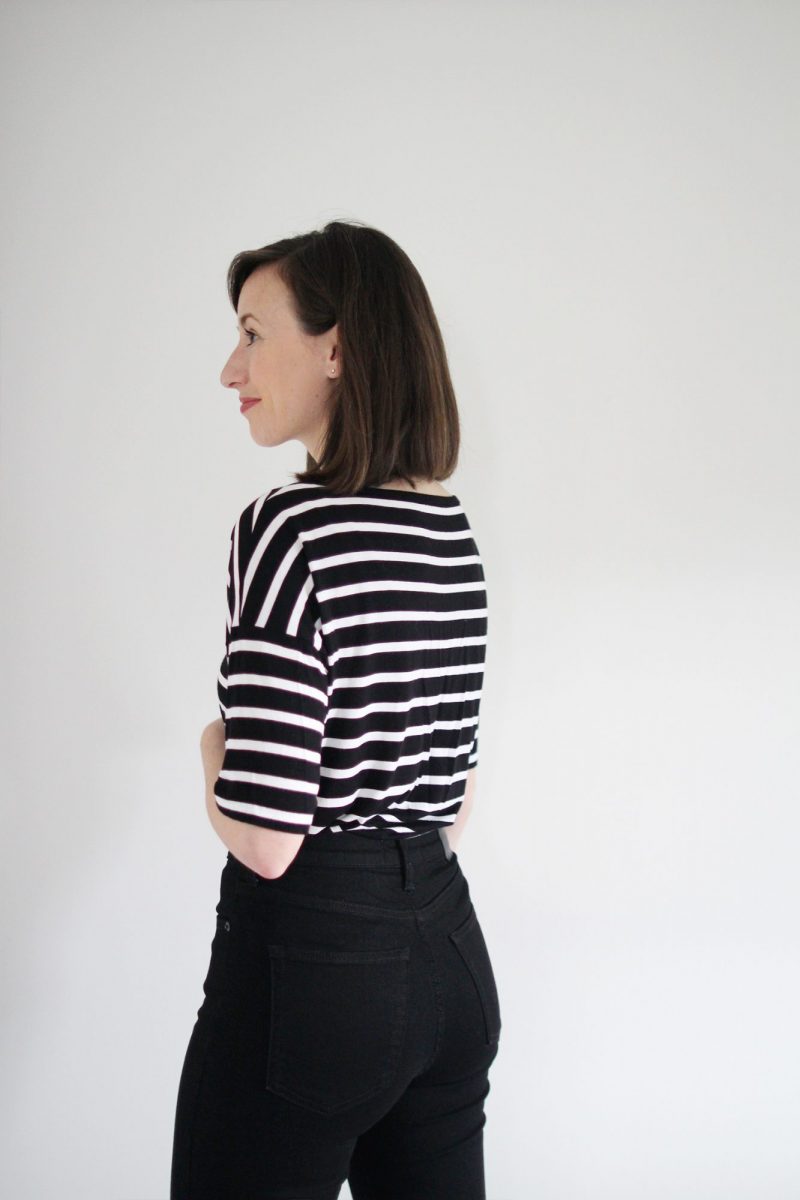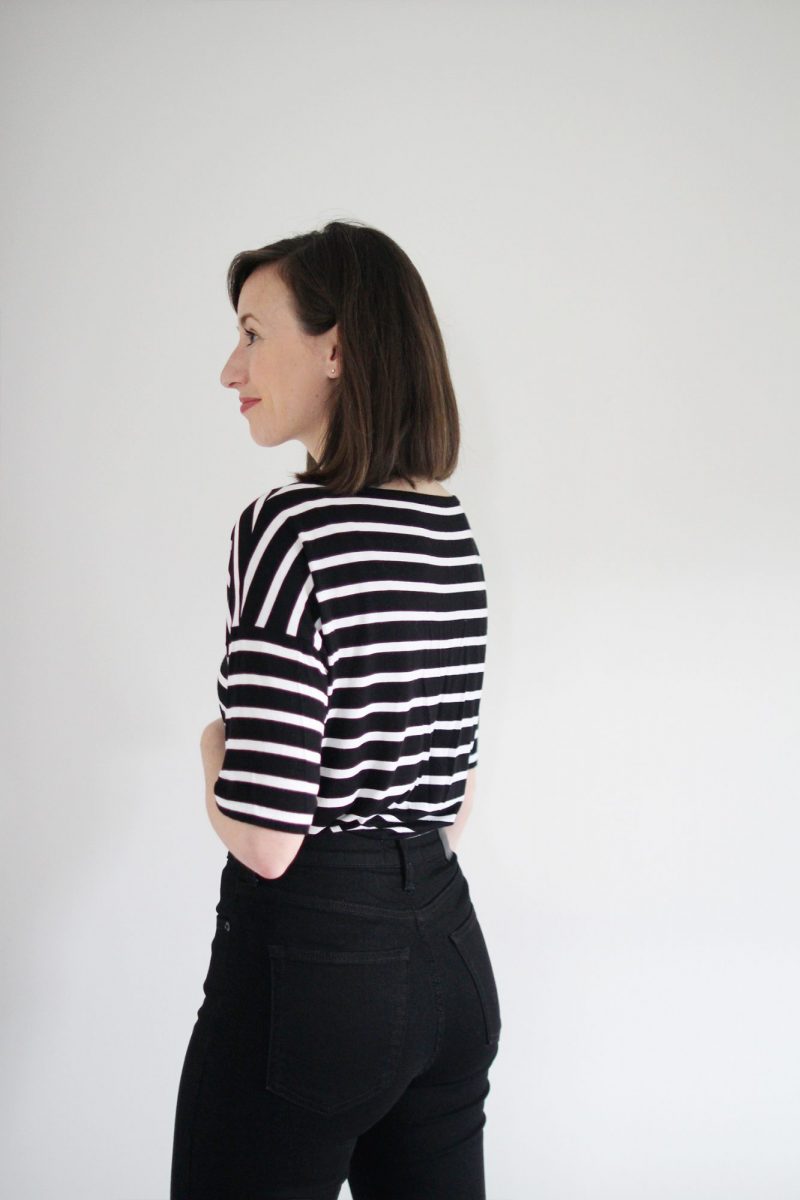 ---
BLAZER old | STRIPE TEE old | BOSS BOOT gifted and TTS | AUTHENTIC STRETCH DENIM gifted I wear a 27 ($50 USD for today only!) | MINDY TOTE gifted | SOLITAIRE STUDS gifted (Save 10% with STYLEBEE10 until Nov. 12)
---

---
---

---
During the 10×10 I received lots of questions about these jeans and since Everlane is offering their entire denim collection for just $50 USD a pair today, I thought this was a great time to share my thoughts. I've had the opportunity to try out a few denim styles from Everlane (some gifted and some bought by me) and these definitely take the cake for me. This review isn't sponsored or in partnership with Everlane but they did gift me this pair of jeans earlier in the season to test out and share any feedback. Since they'll be flying off the shelves today I'll cut right to the review!
BASIC DETAILS:
STYLE: THE AUTHENTIC STRETCH HIGH-RISE CIGARETTE JEAN
PRICE: $78 USD $50 USD today only!
FABRIC: 77% Cotton, 17% Modal, 2% Elastane, 4% Polyester
FIT: Rise: 11″ | Inseam: 28 1/2″ (Also available in Ankle Length)
This style is the ideal straight cut that's fitted through the butt, hips and thigh and just ever-so-slightly relaxed through the calf. They have a glorious 11″ high-rise that hits at the natural waist for a very flattering, leg lengthening effect (in my opinion at least). These are the fit and silhouette I had hoped to achieve by tailoring the original boyfriend denim I bought. I'm still keeping those for a more vintage fit option.
SIZE: I got these in a size 27. I am usually between a 26 and 27 in denim depending on the fit and brand and I'm happy with that size in these. I could have maybe squished myself into the 26 but they would have been very tight. I like that these are fitted but not painted on. I also appreciate that the waist is sized such that I won't need it tailored! For reference I am 5'7 and about 125 lbs (Waist 26 inches/Hip 37 inches).
Available in sizes: 23 to 33
CARE: Machine wash cold. Lay flat to dry. (Tip: wash black denim inside out to reduce fading.)
MADE IN: Made in Bien Hoa, Vietnam | See the factory
Scroll through the close-ups and my additional comments below.
---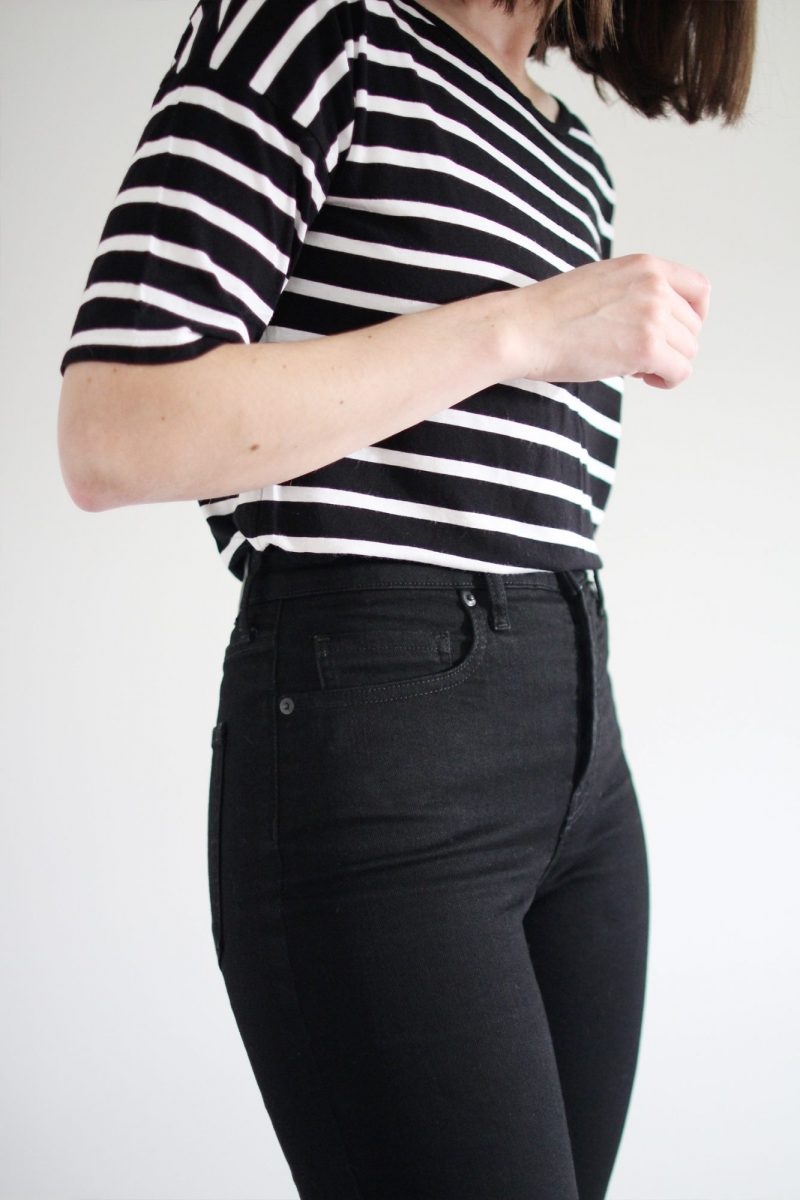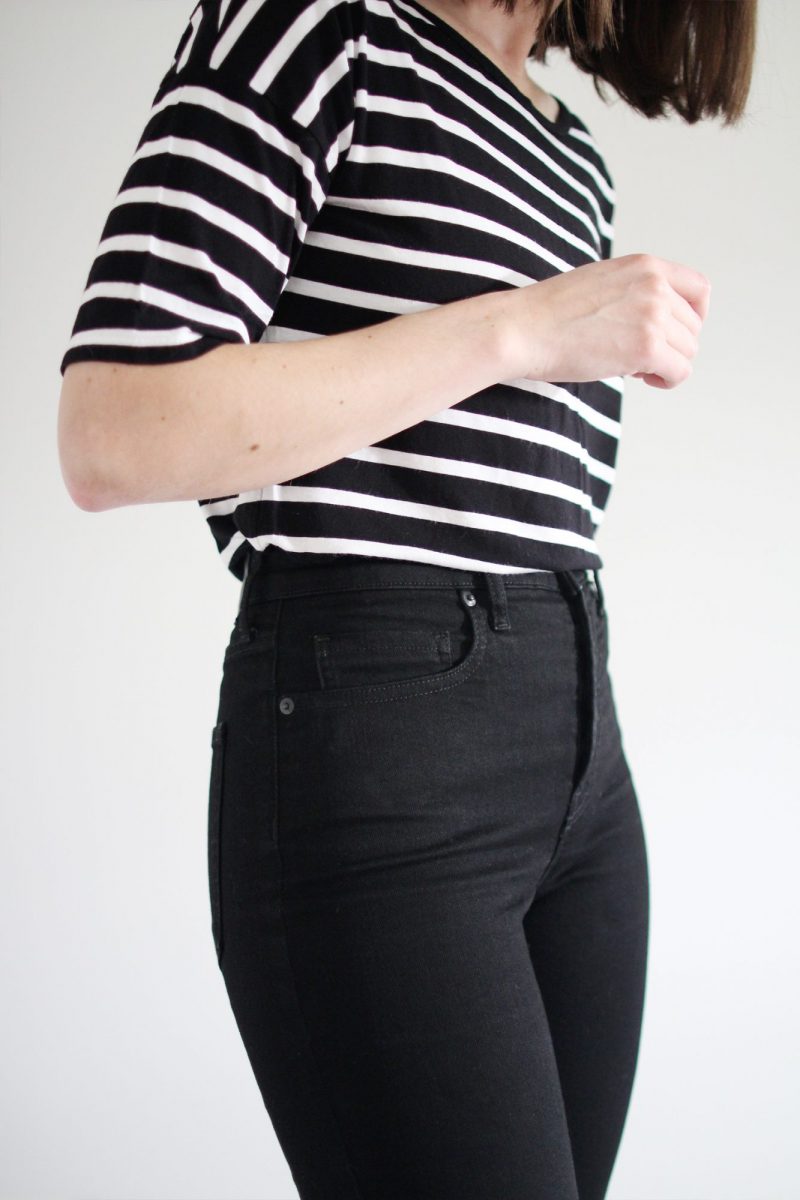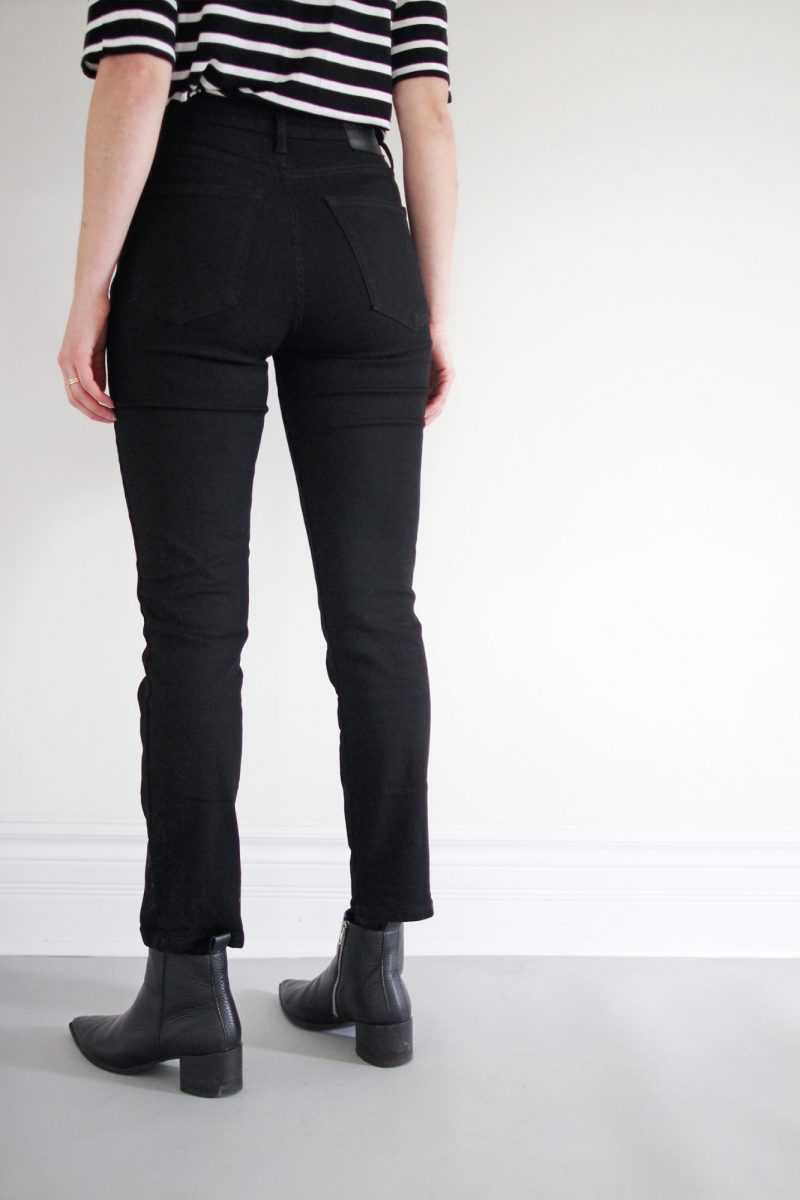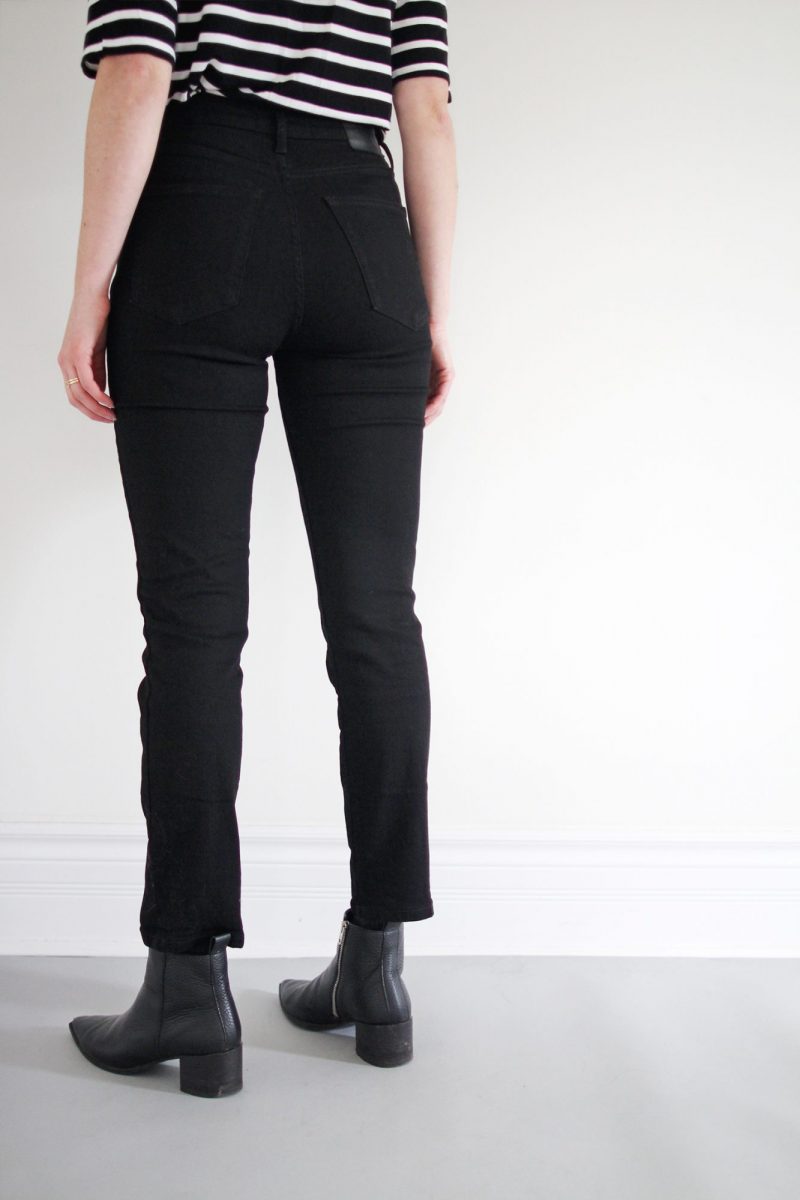 ---
ADDITIONAL THOUGHTS:
I really appreciate how these hug all the right places without feeling as though they're clinging. I don't feel as though I need to hike them up or down as I move or change positions throughout the day either as they stay in place well.
The button fly is a design detail I love because it lays flatter than a zip fly and holds its shape better.
I always love tonal stitching and the rear leather patch being black makes them ultra sleek and refined. I think you could even get away with these for work in an office.
The pockets are not deep like a vintage pocket but they're functional for sure.
The denim is a very similar thickness/weight as the Boyfriend Denim from the initial launch but the fibre blend makes it feel a bit thinner and softer. They are not nearly the thick as the Agolde Riley Crop which is another favourite of mine and is made from a heavy weight denim.
The inseam on the regular length hits right at the top of my Boss Boots for easy styling. If you are a bit shorter than 5'7″ the ankle length might be a good call.
---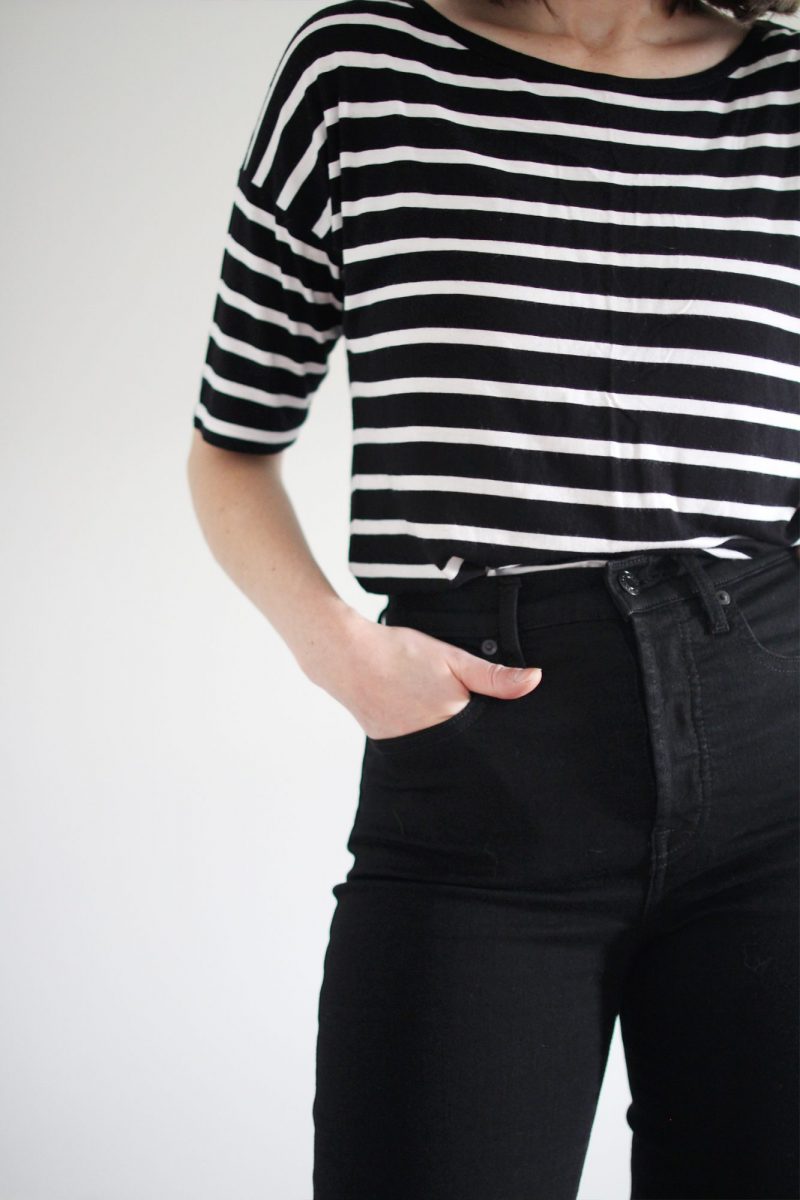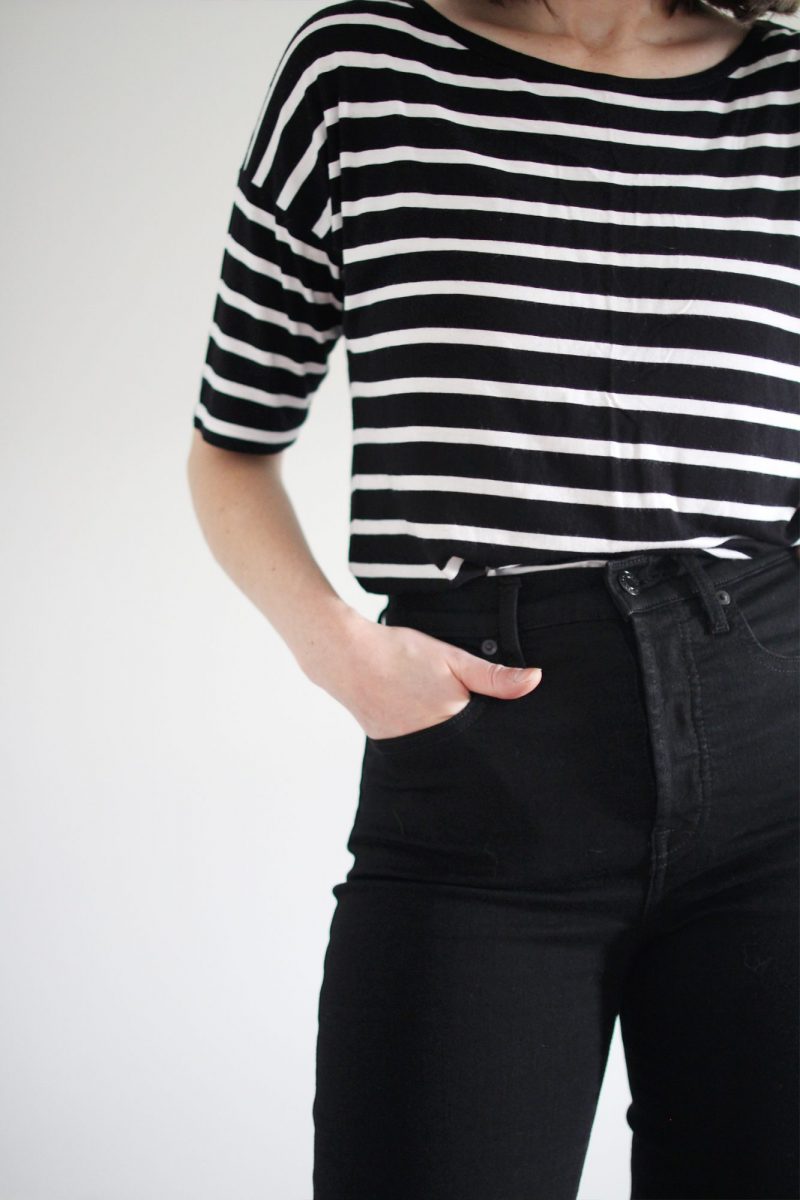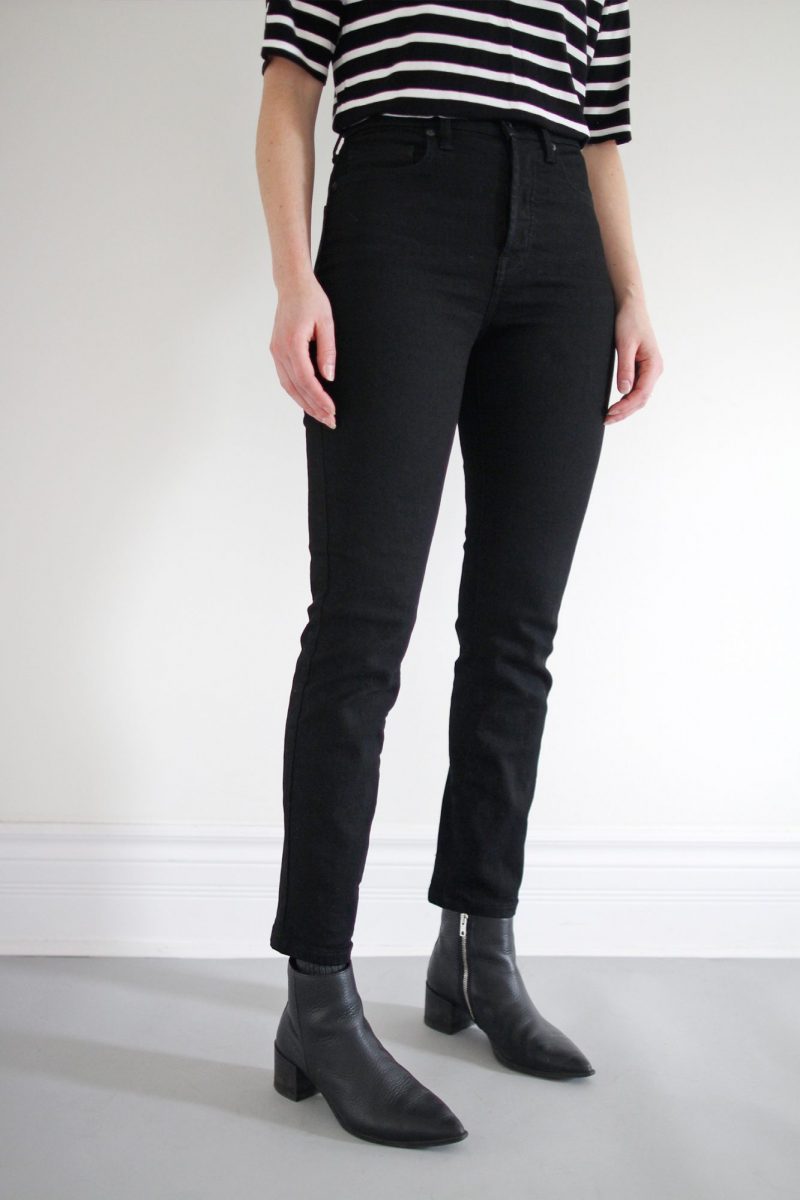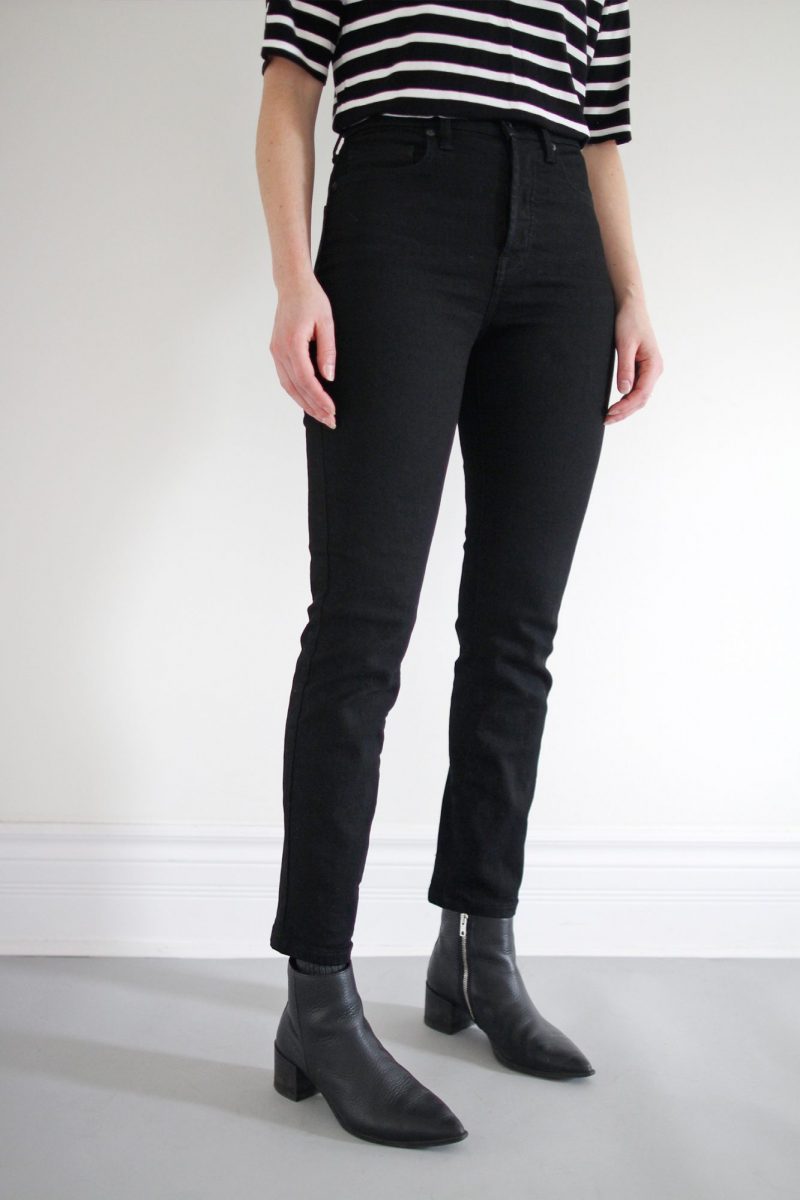 ---
DO THEY STRETCH OUT?
Always the most asked question when it comes to jeans. The answer is yes, a little bit but not like the boyfriend or cheeky straight fit (which are 98% cotton). I've only washed these once so far but they came up great. They stayed a rich black and any stretching that had happened in the first 13 wears returned to the original fit, if not a touch more snug (which is because I put them in the dryer on low). These photos were taken after they'd been washed.
If you would like them to fit snug all the time you might consider sizing down but be sure to read the measurements provided in the size guide. I like to compare with a similar item I already own to better determine the potential fit.
---

---
EXPLORE THE FULL EVERLANE DENIM COLLECTION
---

---
THAT'S IT FOR MY OCTOBER WEAR COUNT AND THIS MINI REVIEW!
DO YOU HAVE A FAVOURITE OUTFIT OR ANY QUESTIONS?
FEEL FREE TO LET ME KNOW IN THE COMMENTS.
I'll see you again soon with some winter boot suggestions!
---
This post is not sponsored but contains affiliate links. When you shop via the links above I may make commission on a sale. Thanks for supporting Style Bee! All opinions are always my own.