One of my goals for 2019 has been to lean into my passion for interior design. Last year I had some opportunities to work on a couple of design projects within Dave's renovation business and they really boosted my creative energy. One of my favourite parts of the process is beginning with a stack of books and some post-it notes for a little brainstorm session. I've also noticed just how much the concepts I apply to my closet planning can be applied to spaces too! But more on that later.
To ease into the topic of interior design I thought I'd share a short round up of my go-to books for the home and why I find them so helpful for inspiration and planning. I've also included a great book on plants, since greenery is my favourite thing to add to any space. In addition to these ones, there are lots of books on my wish list right now and I'd love to hear what you're favourites are too. Now let's turn some pages!
---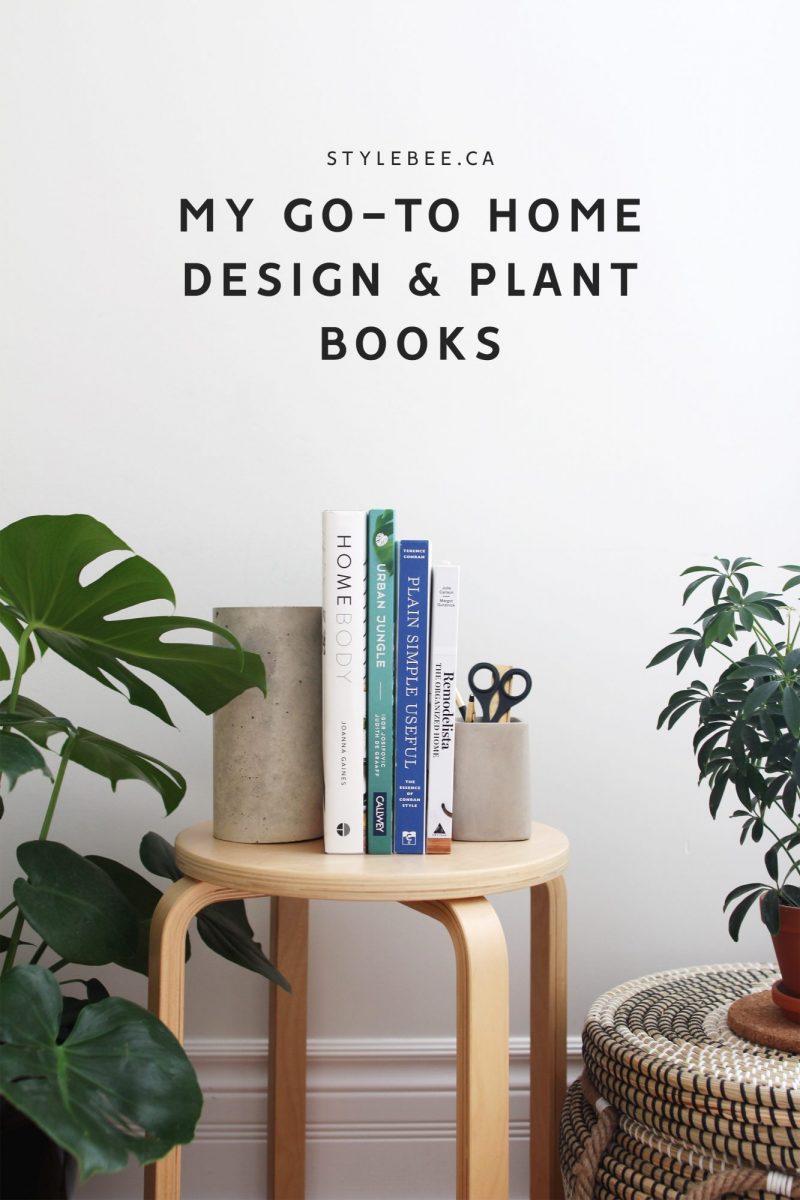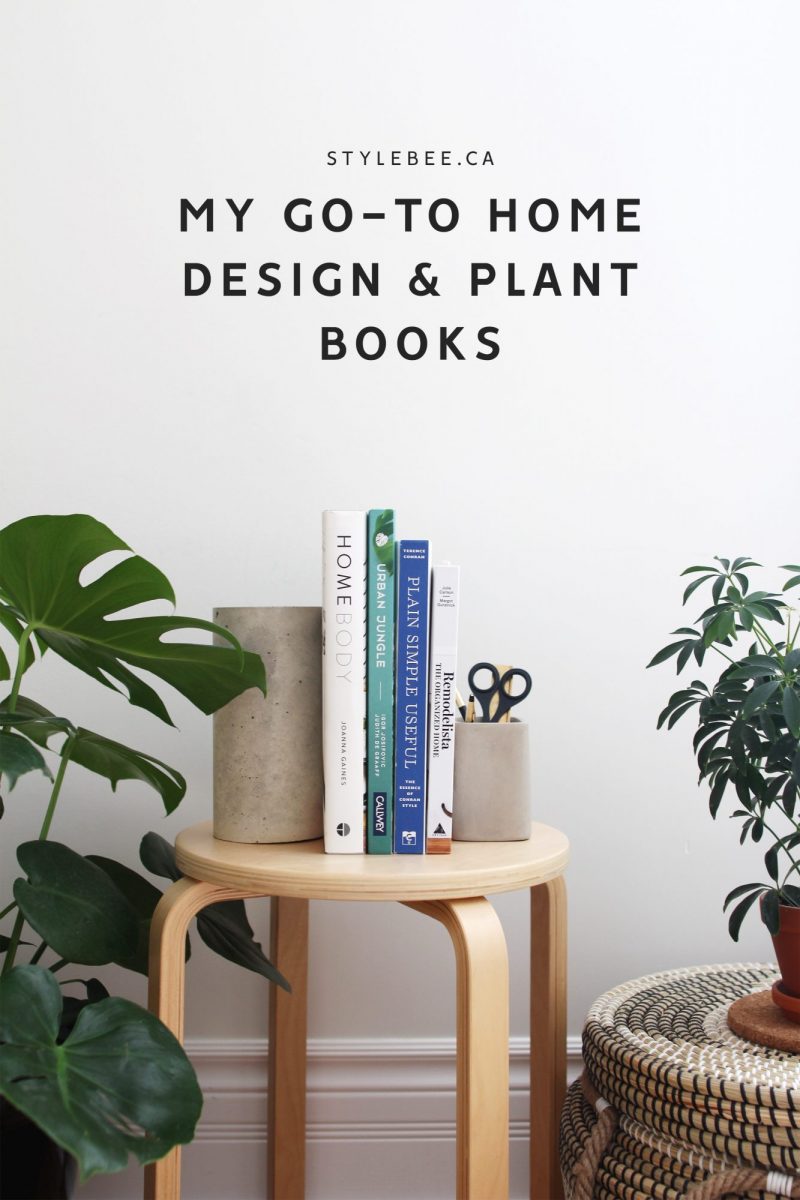 ---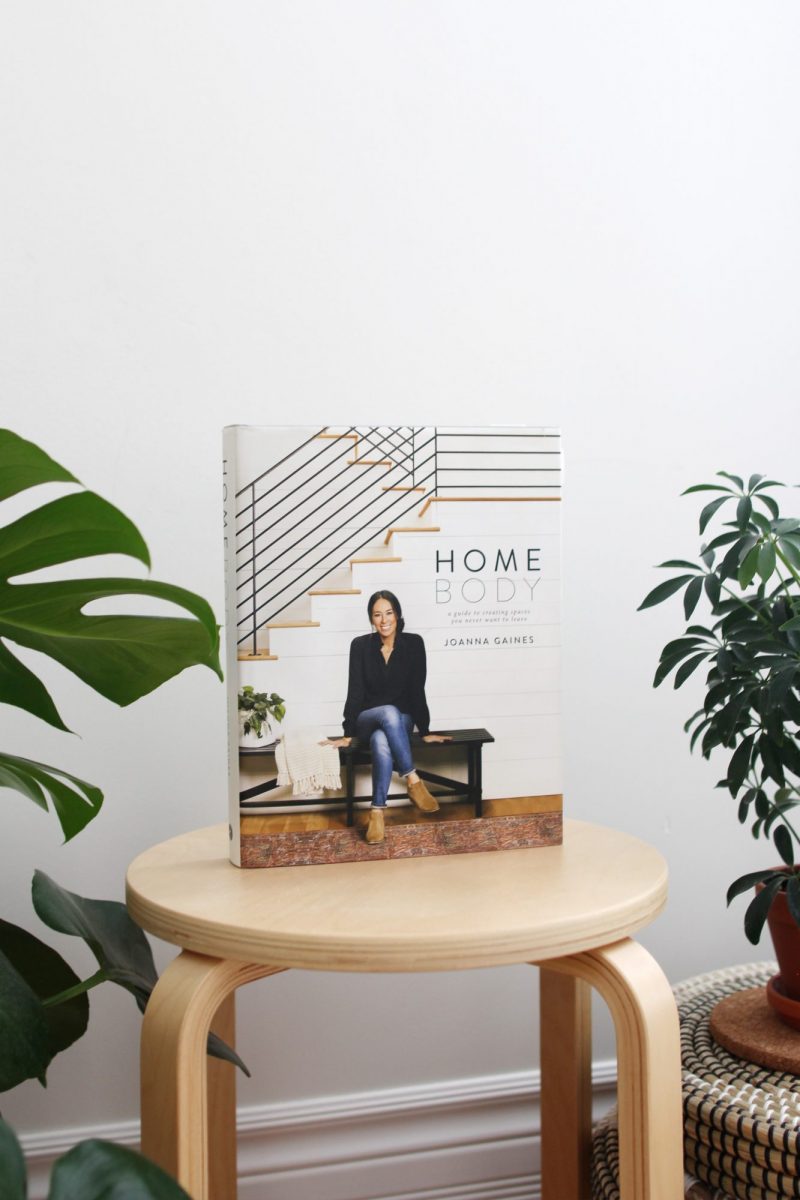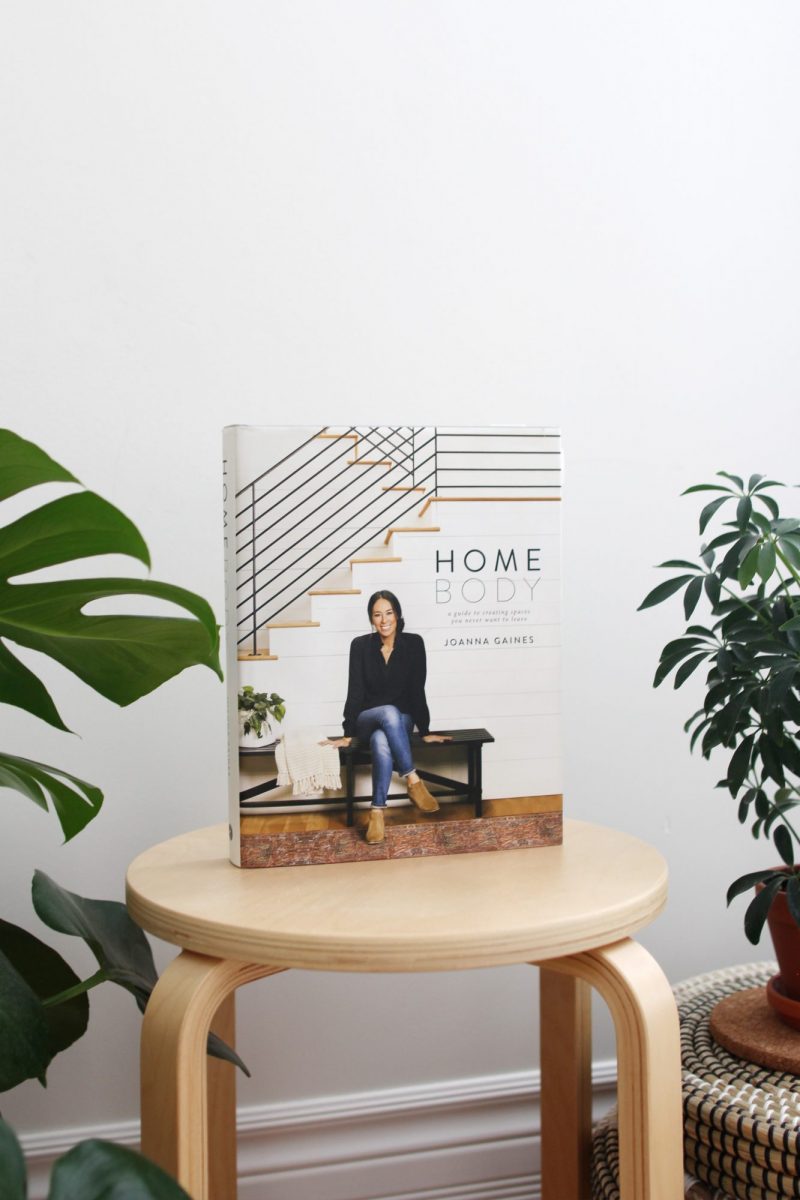 ---
BY JOANNA GAINES
---
It's no secret that Joanna Gaines is an interior design super star and this book is only further proof that she's one of the best in the biz. Gaines' style is varied but every space she creates feels welcoming, thoughtful, special and fresh without trying too hard.
I received Homebody as a gift for Christmas and anyone who knows me well can attest to the fact that I am indeed a homebody myself. I love a well considered space that's clean but cozy, textured but simple and has special details to make it personal.
So here's why this book is one of my sources for design inspiration:
Style Palettes: The book starts of with a range of clearly defined style, colour, pattern, texture and finish palettes to help you see how those considerations come together for a cohesive feel. Even if you're drawn to several (I love Farmhouse & Modern) you can see how they might overlap. It's a great launching point for any project.
Inspiring but Liveable Spaces: I love a good aspirational Architectural Digest home tour but when it comes to spaces you can actually imagine living in, this book delivers a more realistic range of ideas. Organized by room type each chapter offers a variety of suggestions depending on the vibe you're drawn to. Sure they're styled and pristine but Gaines has a real talent for creating character rich rooms you can't help but imagine yourself in or pulling details from for your own space.
Checklists & Troubleshooting: Each chapter offers a list of considerations to keep top of mind for your space and specific elements to incorporate, such as good lighting, hooks, large mirror and towels in a bathroom. Then later in the book you'll find a series on troubleshooting for common design obstacles. So helpful!
---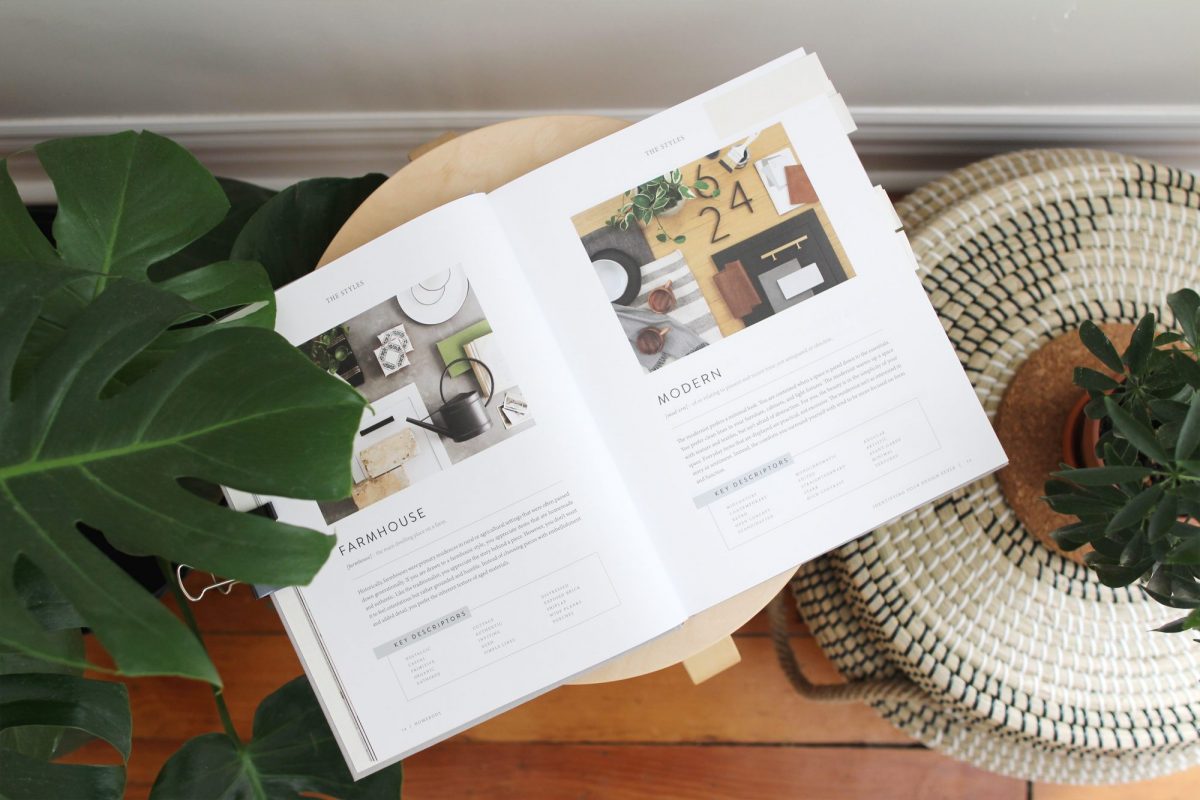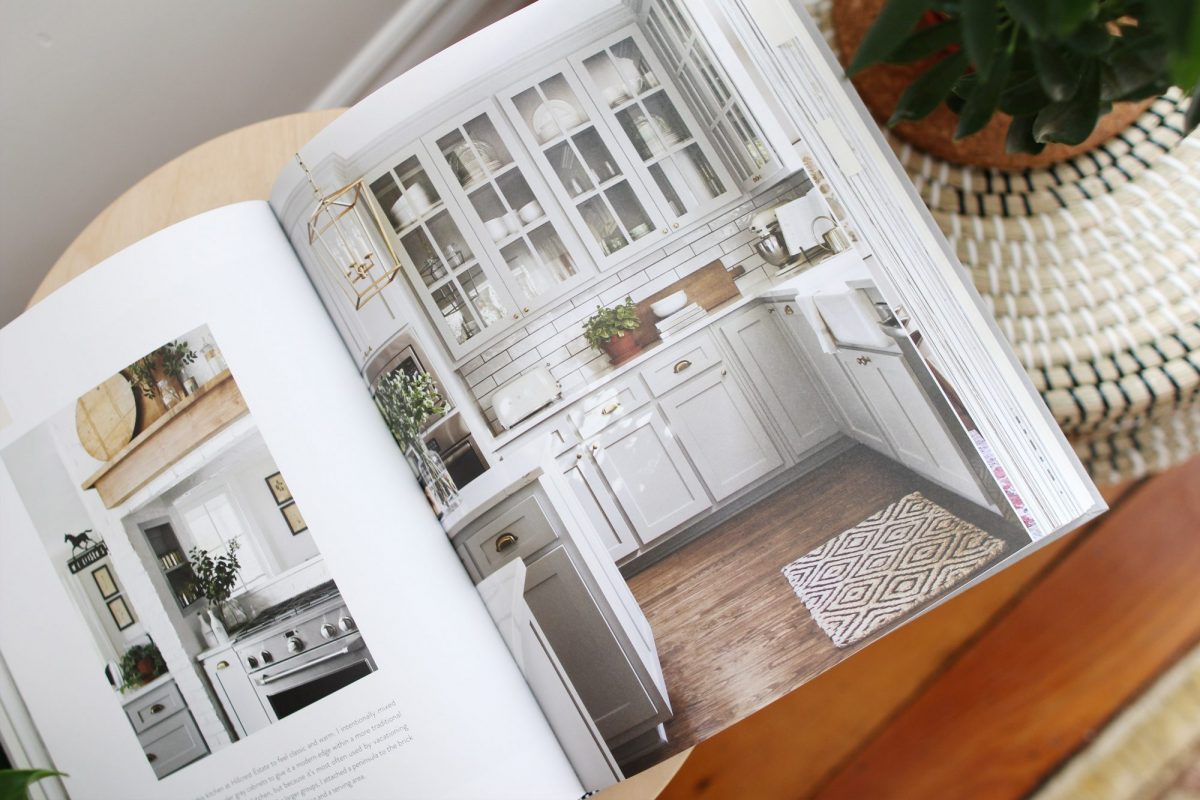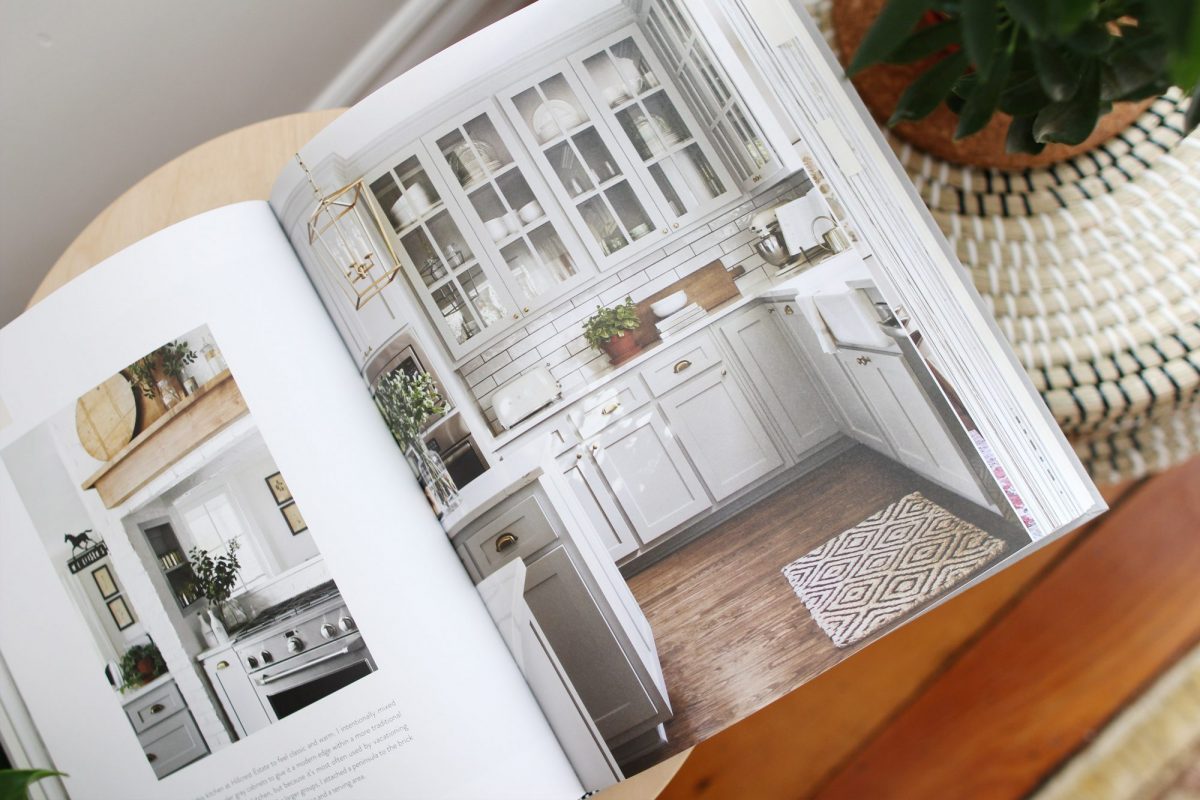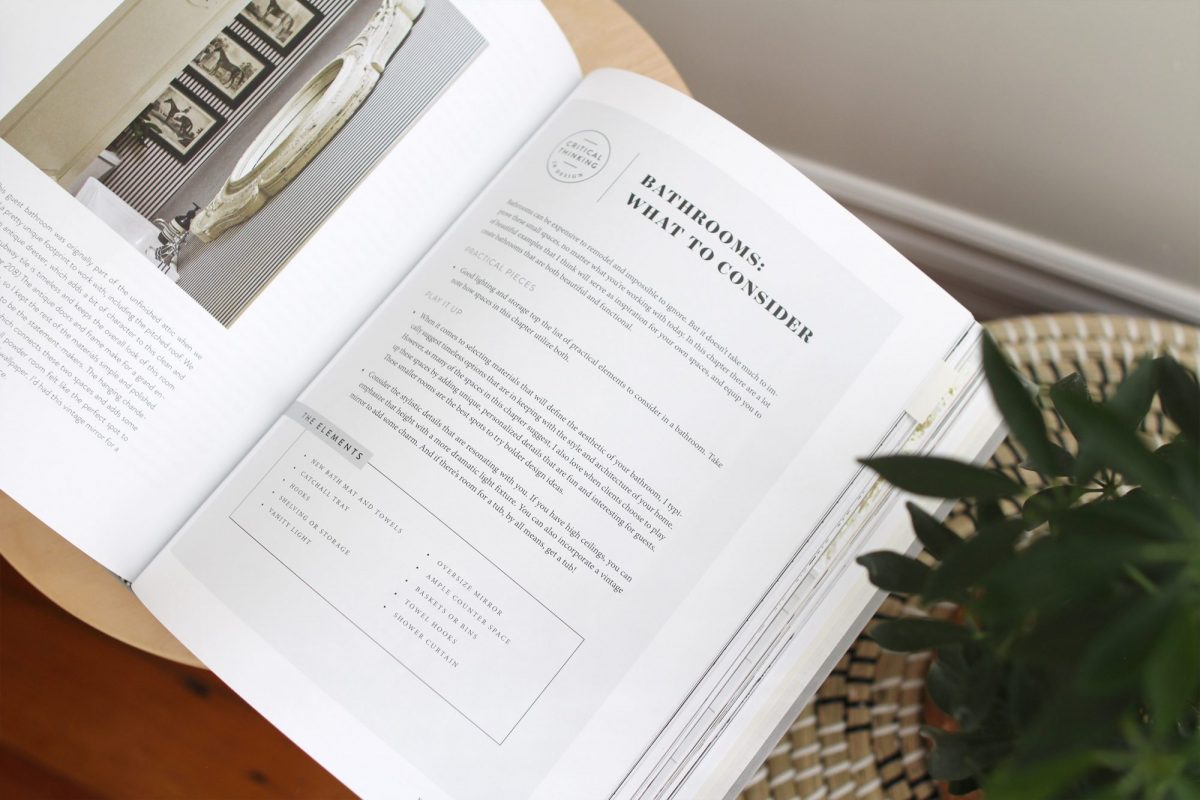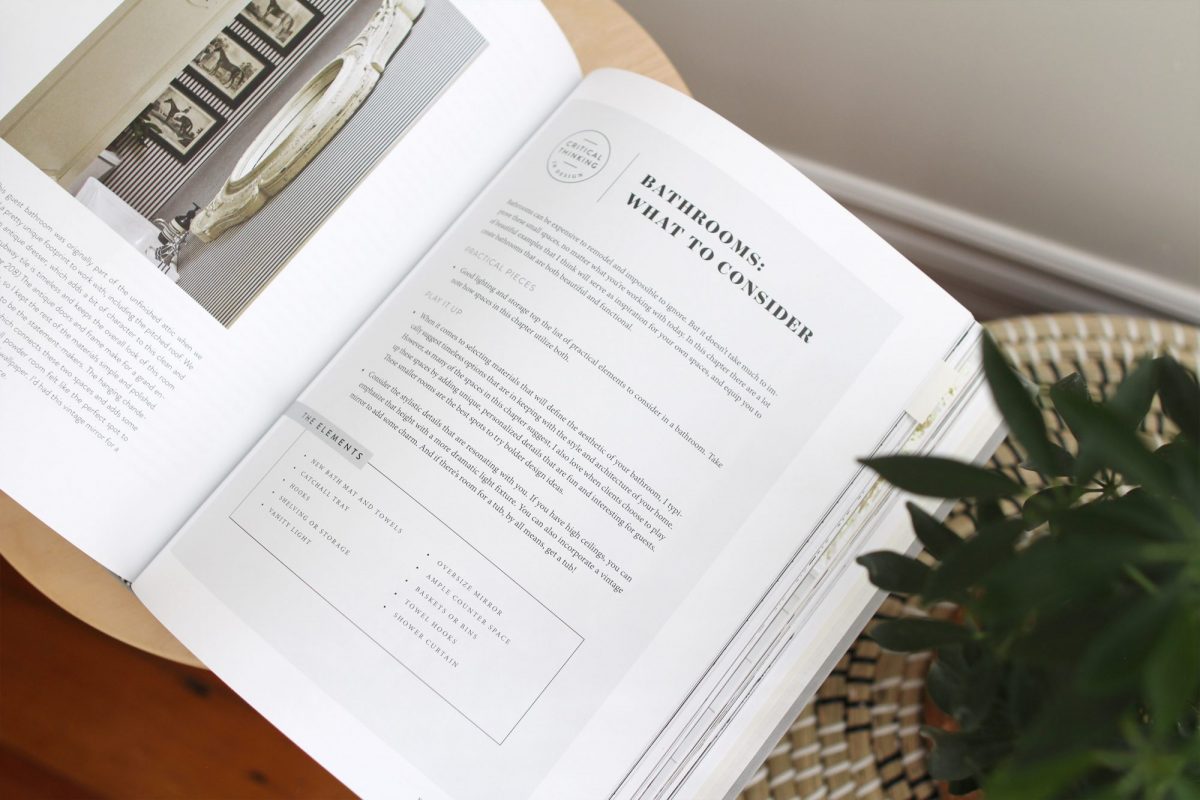 ---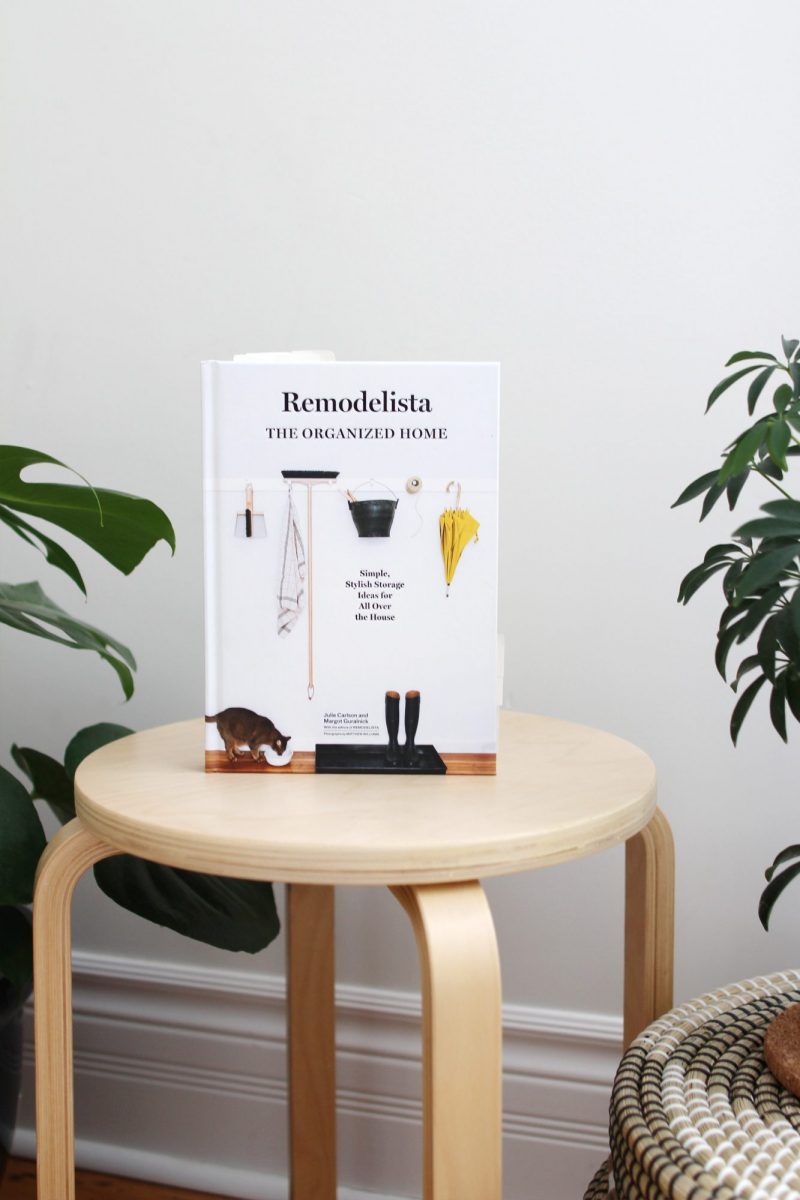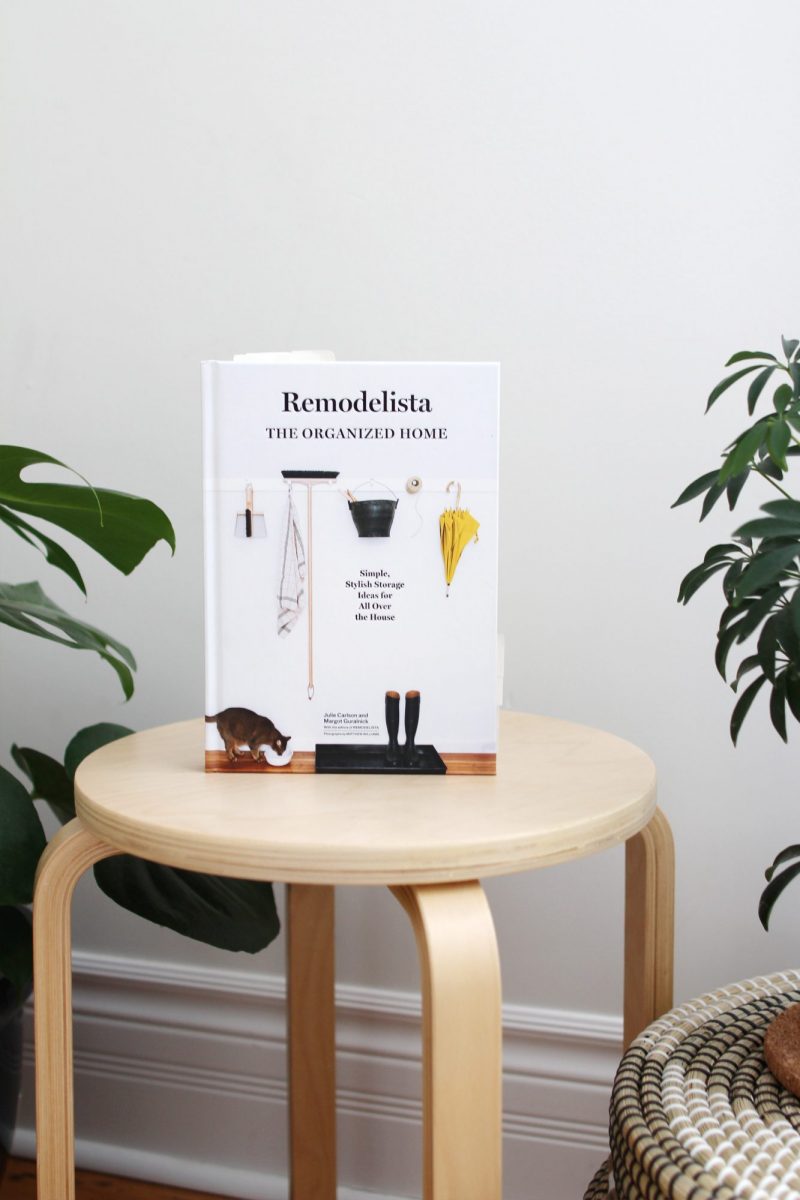 ---
Julie Carlson & Margot Guralnick
---
This little book is packed with great ideas to get your home not only organized but also functioning much more efficiently. The authors Carlson and Guralnick walk us through all the key rooms and corners of a home that have a tendency to get cluttered or forgotten and show us how to optimize each one. There were so many times where I turned the page and thought, 'Oh of course!'. For instance, a trick to tame pesky pot lids that are such a nuisance is to simply use a drawer pull as a slot on the back of the cupboard door (see photo below).
It's the clever, thoughtful details that come from carefully examining lots of living spaces and how people really use them that makes this book's advice so helpful. Generally, I turn to The Organized Home for:
Highly Practical Tips: I love that the suggestions don't involve demolition or major renovations, they're all about making the space you have work a bit harder wth some thoughtful adjustments. I also appreciate the notion that keeping your space organized is not a one and done deal, it's more about establishing a daily ritual to connect with and honour your home.
Lots of the suggestions were counterintuitive to the minimalist in me, like permission to display instead of stashing regular use items, which was a welcome alternative.
Small Space Solutions: Our home is not huge (it's about 1,200 sq ft.) and being old, storage is a scarcity. This book is really helpful for smaller spaces where getting rid of a ton of things isn't necessarily the answer. Small bathroom? No worries, there are lots of ways to use the walls to make the room more functional, by maximizing your verticals. (see below)
Source Guide: The shopper in me adores the resource section at the back of the book where we can find all the special pieces that Remodelista recommends to help achieve the organization needed without sacrificing elegant style.
---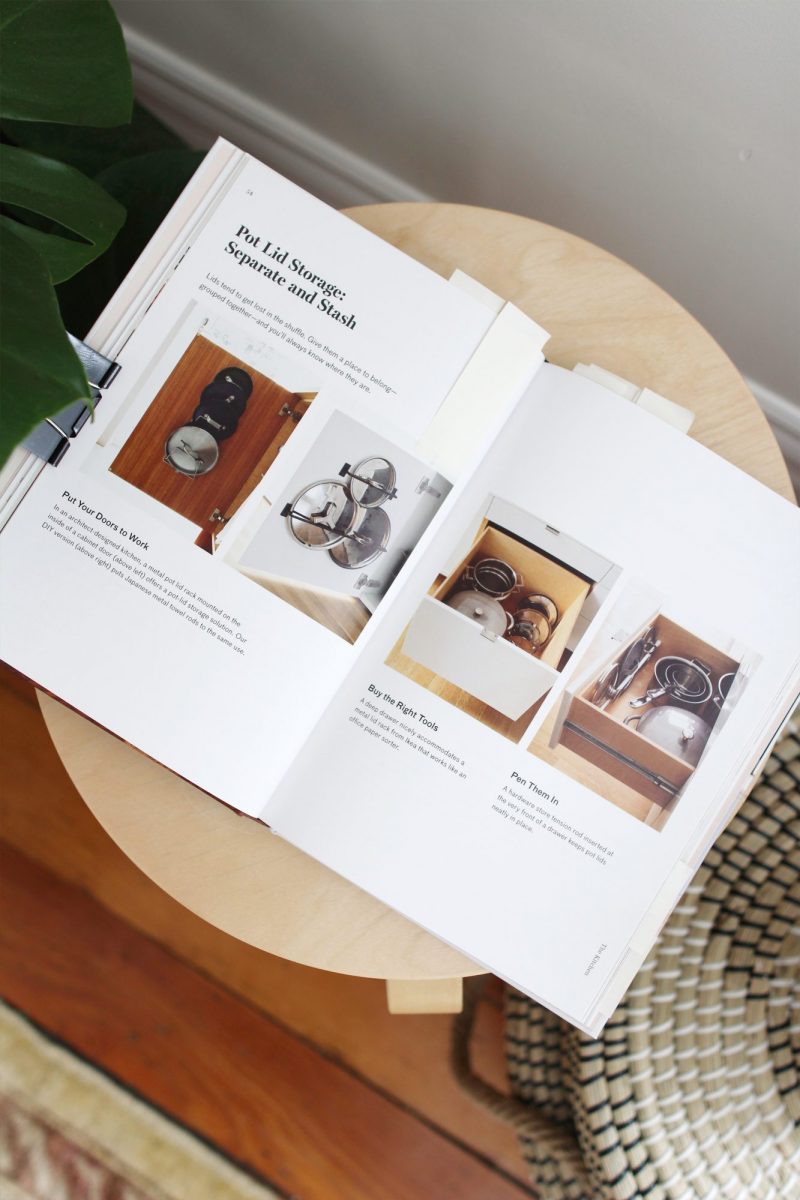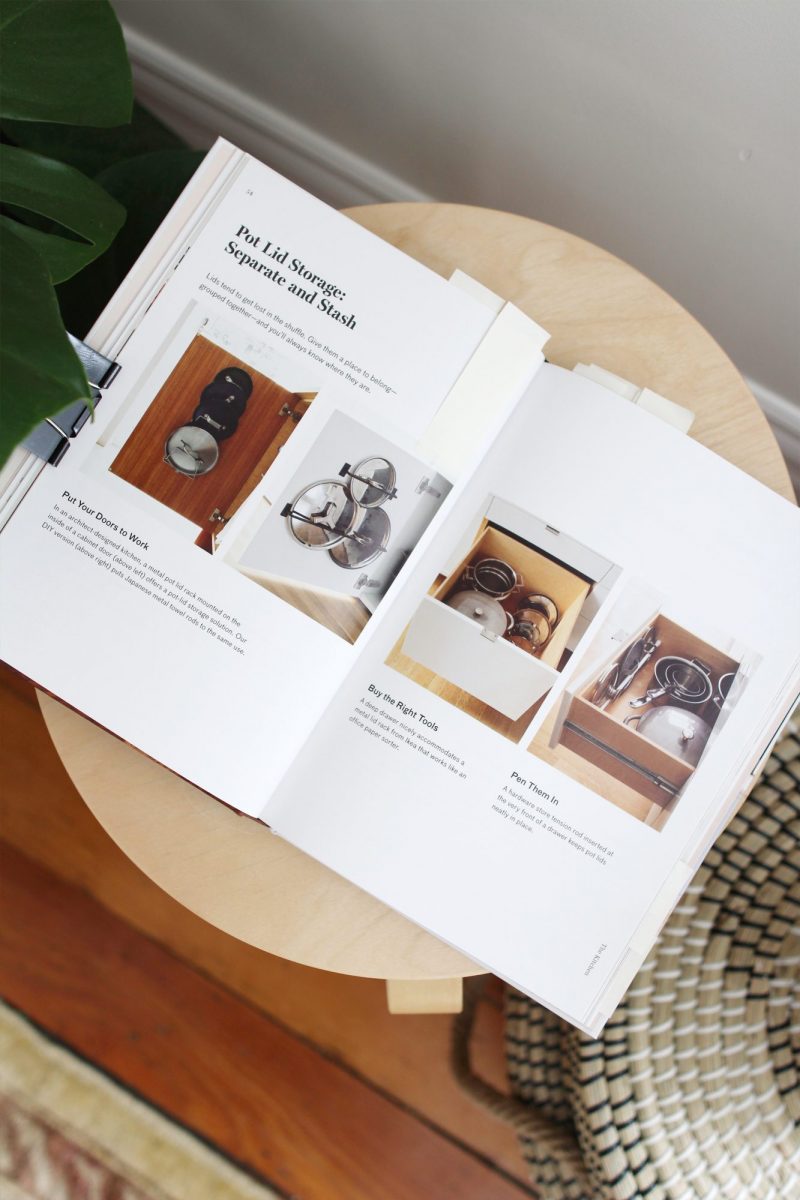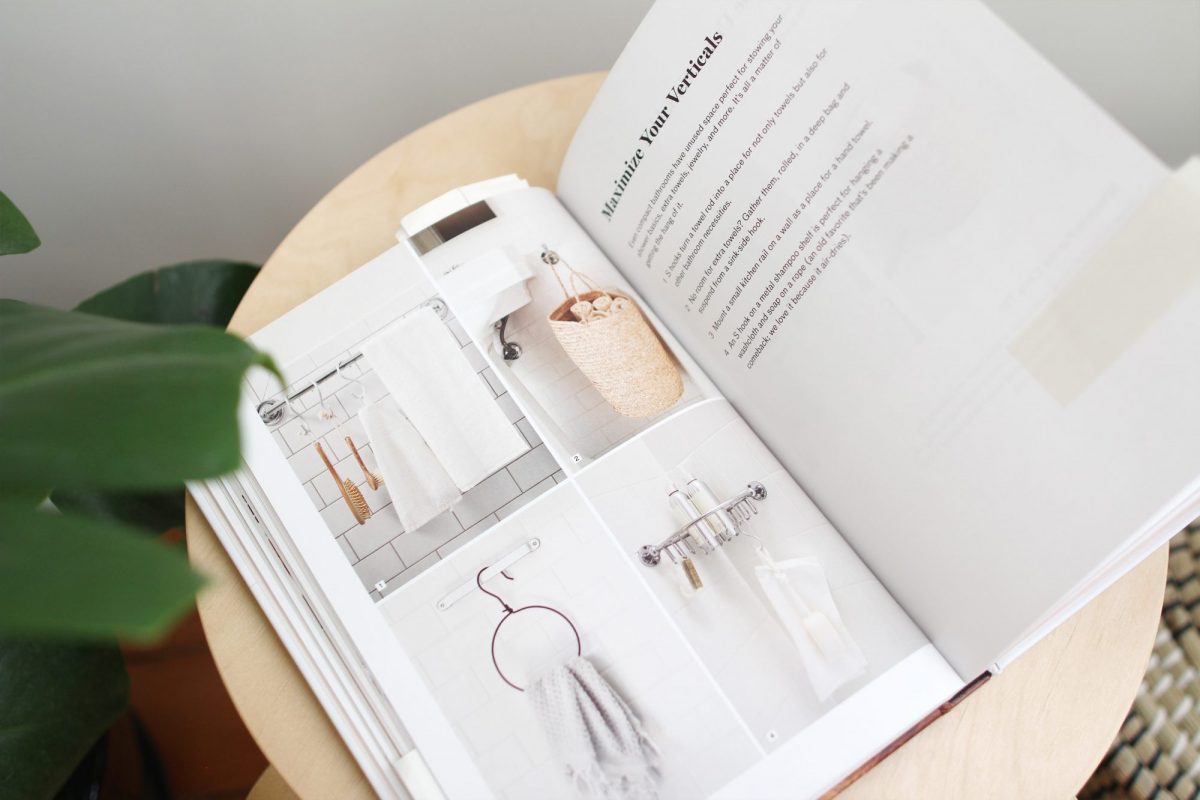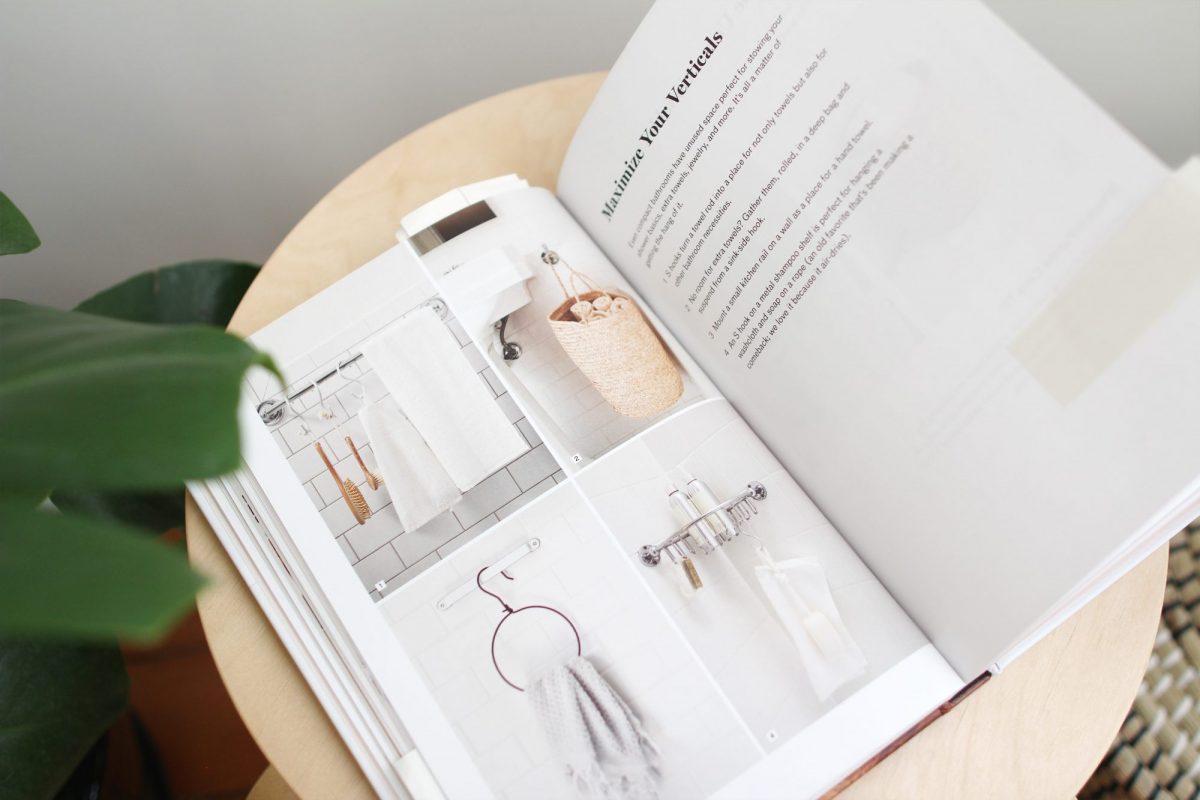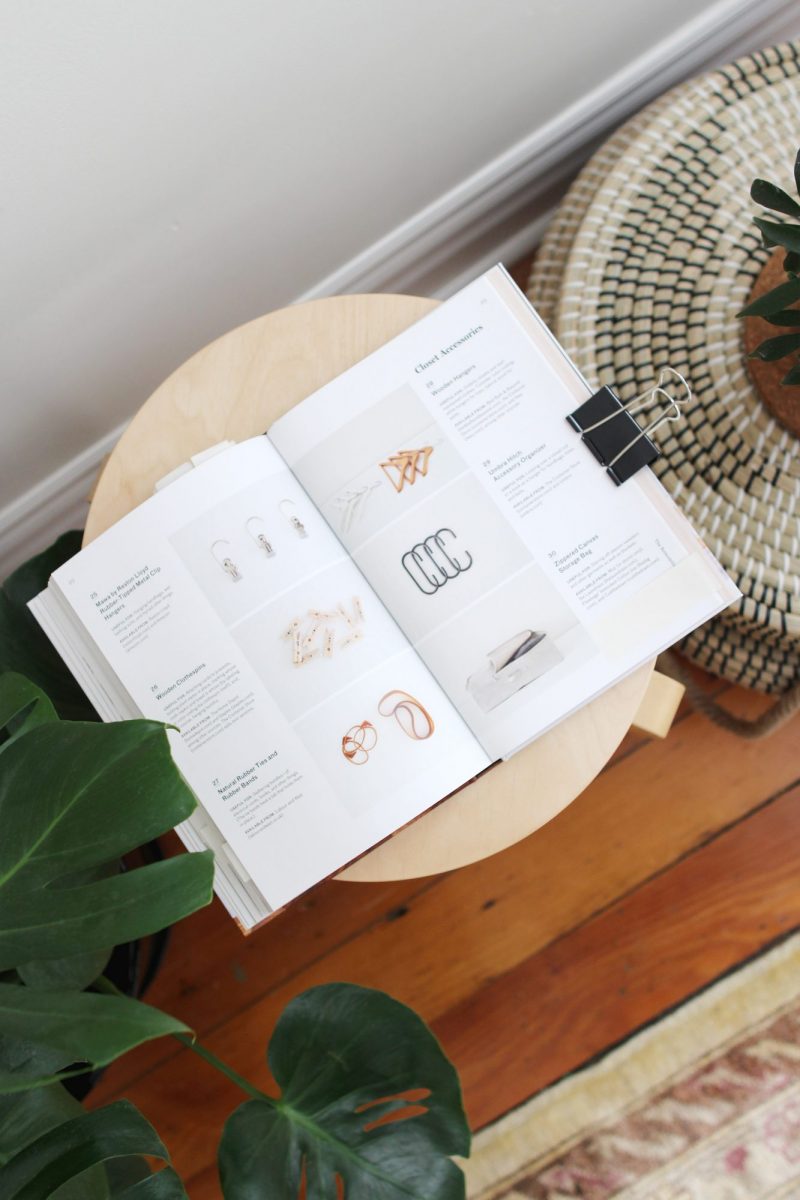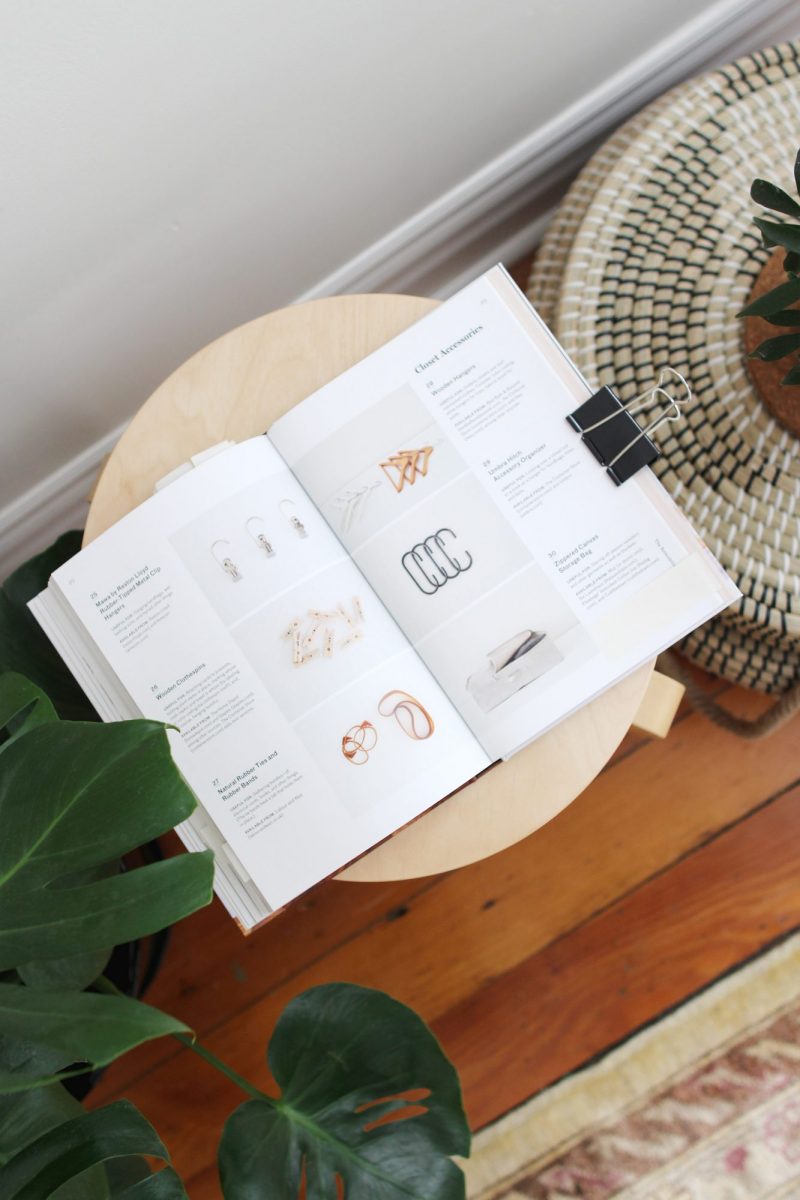 ---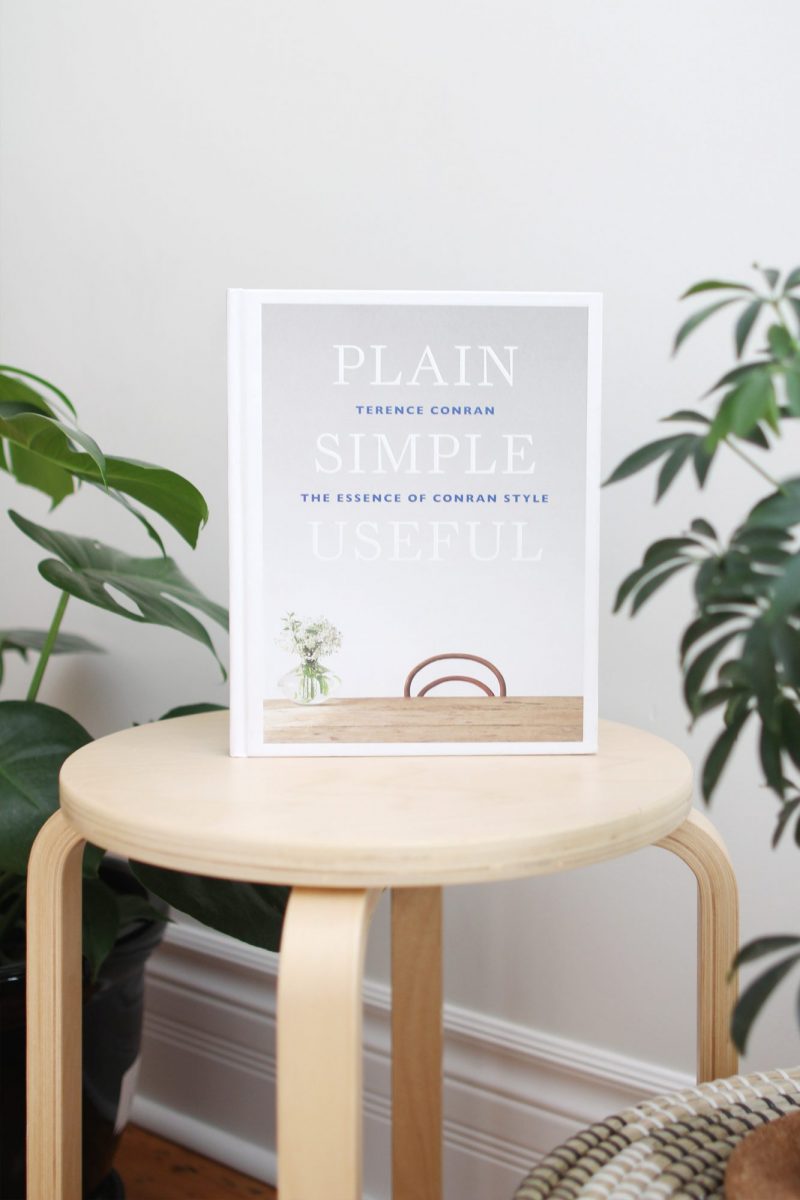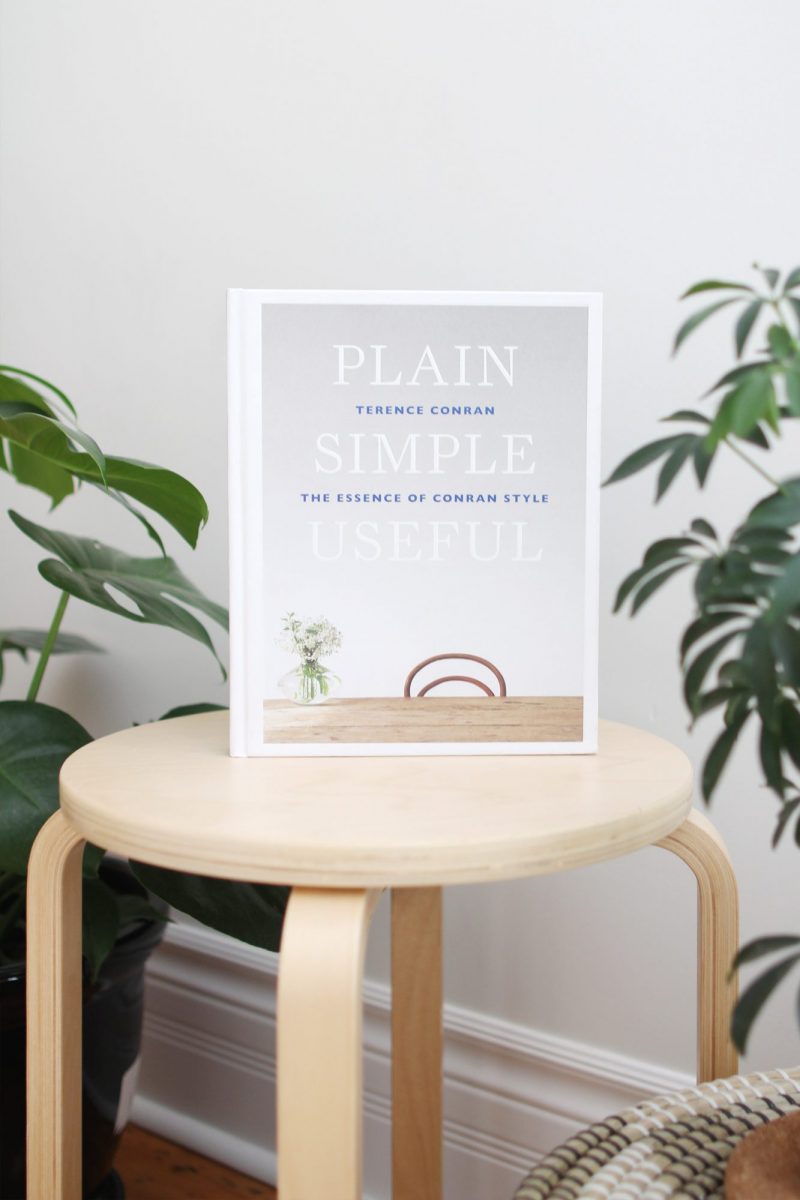 ---
SIR TERENCE CONRAN
---
To have been knighted for your contribution to the world of design is a very special honour and a pretty significant indicator that you know what you're talking about. Sir Terence Conran, the author of Plain Simple Useful and the person behind an entire school of design thought is indeed an expert on timeless style and innovation.
In researching this post I learned that Conran was in fact the first to introduce the flat-pack concept of home assembly, well before IKEA adopted the model as a means to more accessible design. From what I've gathered Conran has juggled a lot of businesses and he sure knows a good design when he sees or creates one!
I'd originally discovered this book when a friend's partner asked me for suggestions for a good interior design reference. I thought it looked so helpful that I decided to get a copy for myself. Since then I've been turning to it for these key reasons:
True to Its Title: The advice, spaces and products featured throughout the book are indeed plain, simple and useful. I've included Conran's definition of each word in the title and how it pertains to the products we choose for our home below. I find myself often referring back to these three elements when considering a new purchase for a space or design concept.
Iconic and Timeless Product Suggestions: This book has influenced many a decision when we've been adding furniture, lighting and other elements to our home because I trust that if it's in this book it will stand the test of time, serve a real purpose and has been developed with both form and function equally considered. These are often pieces worth seeking out in vintage shops or saving up for and planning to pass down as a family heirloom, such as an Eames Lounge Chair. Others are simpler, everyday items like a classic class tumbler.
For instance, the bentwood stacking stool you see throughout this post was featured in this book and they're the perfect additional seating for a big gathering. We use them often and when they're not needed they easily tuck away. You'll likely recognize a lot of the designs throughout the book from Pinterest worthy spaces and instagram feeds.
Unique Planning Method and Sensible Styling Tips: Instead of focusing on the type of space (kitchen, bedroom etc.) Conran's approach focuses on the key activity of a room such as relaxing, sleeping, cooking and eating. It's a refreshing take on how to build out a room and give your whole home a cohesive feel.
I get hung up on finishing touches sometimes but this book offers easy, sensible styling solutions for a variety of spaces. Shown below, a few different approaches to styling displays of artwork, artifacts or a combination of the two.
---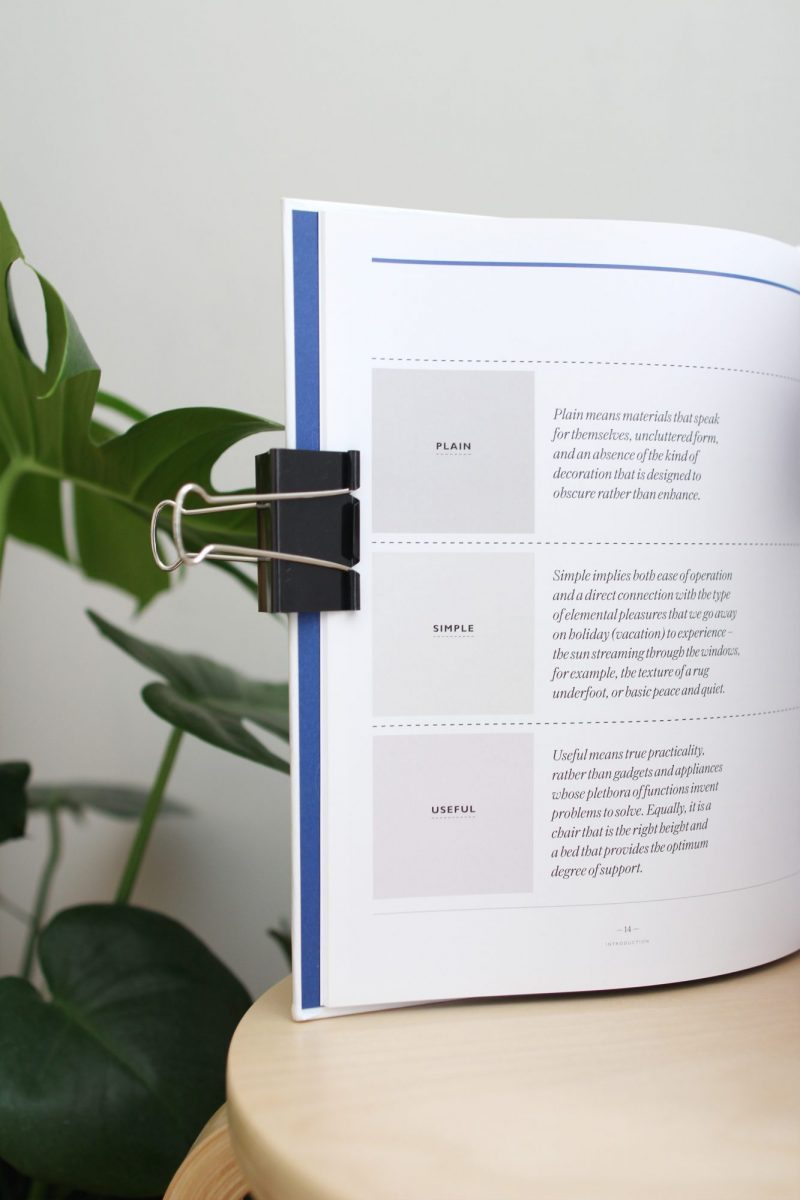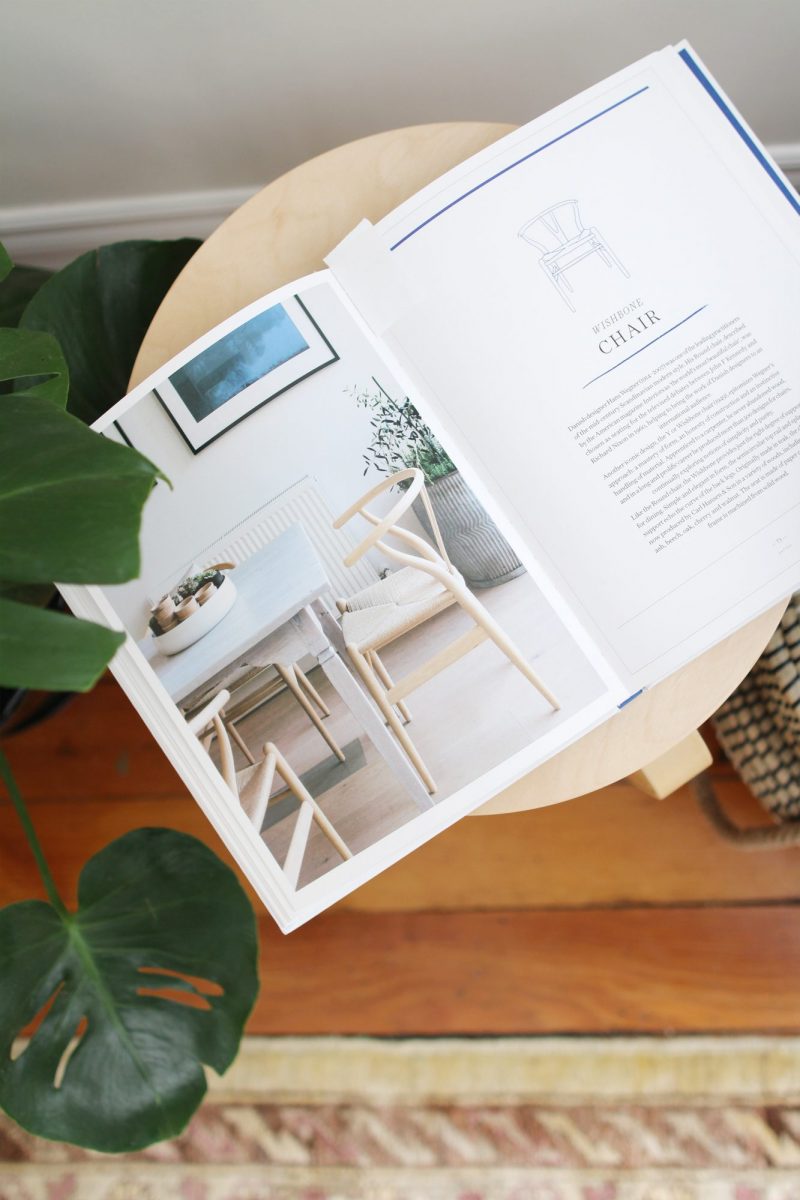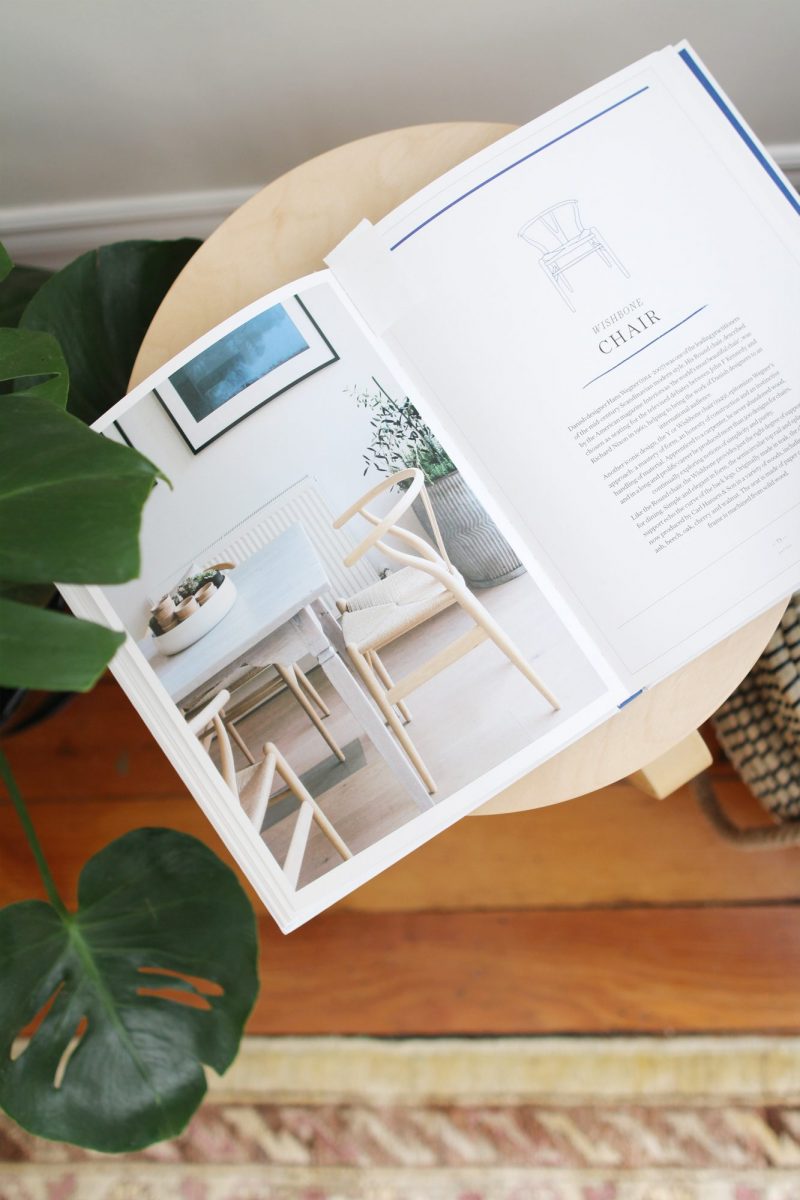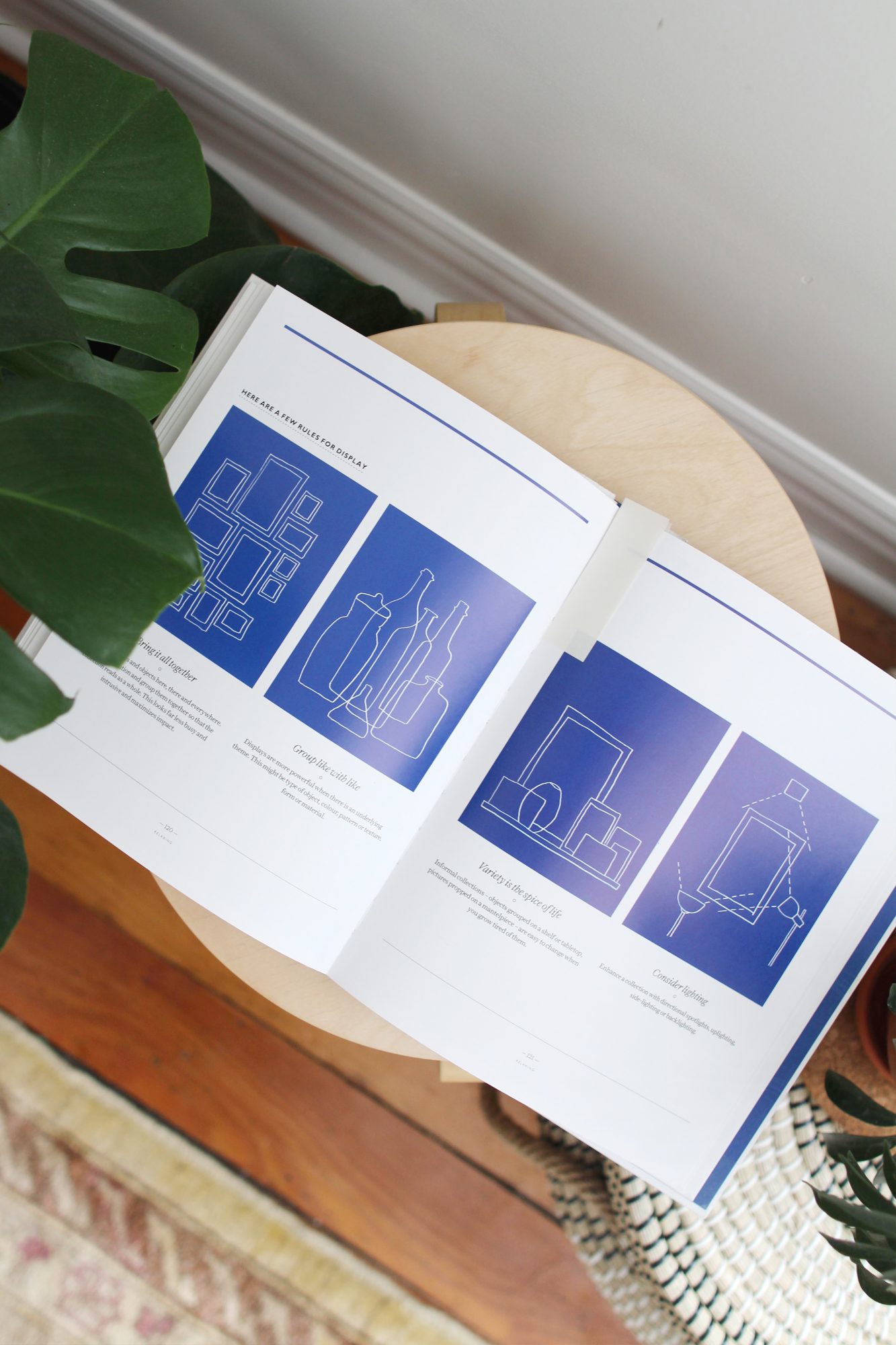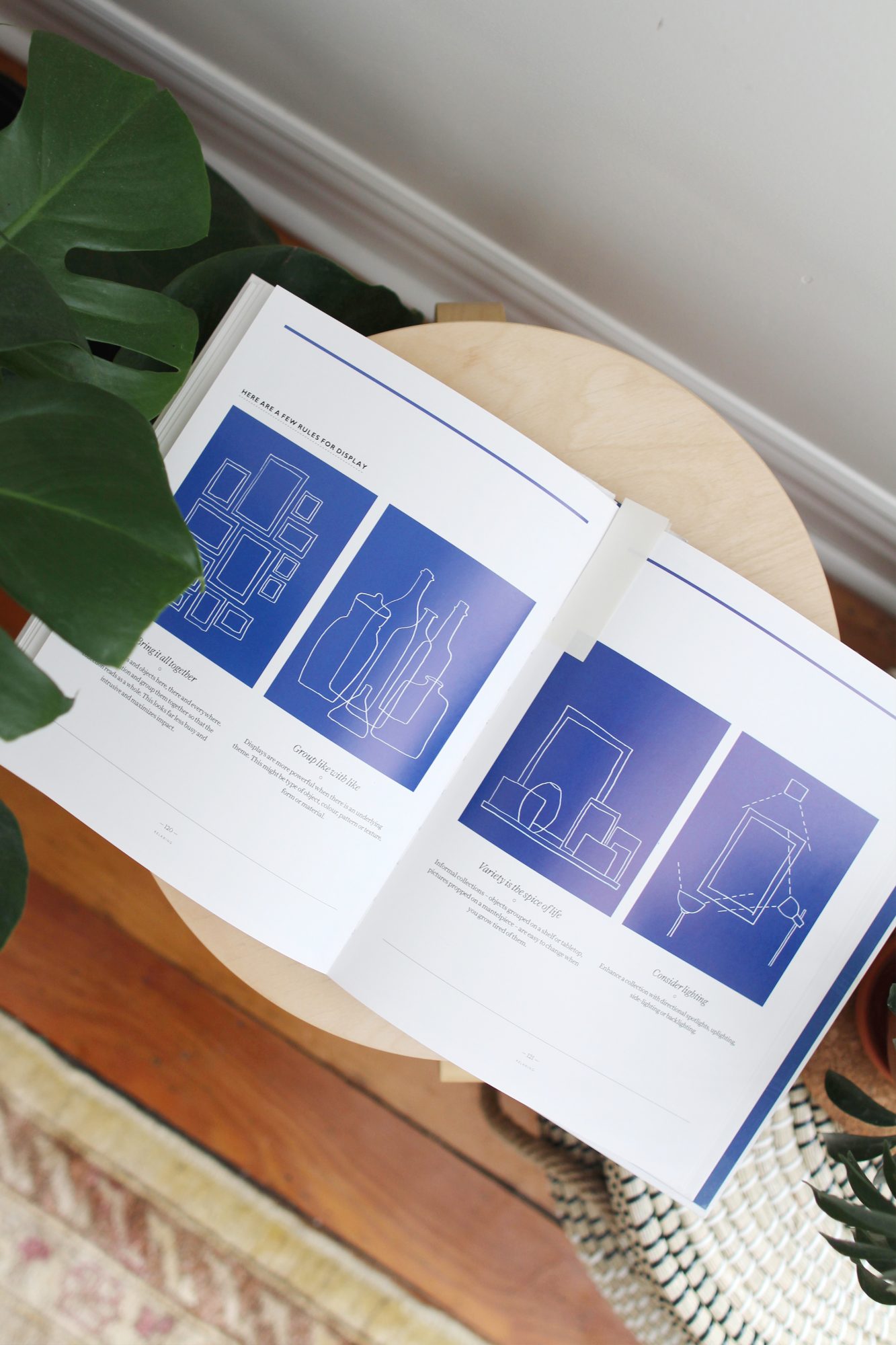 ---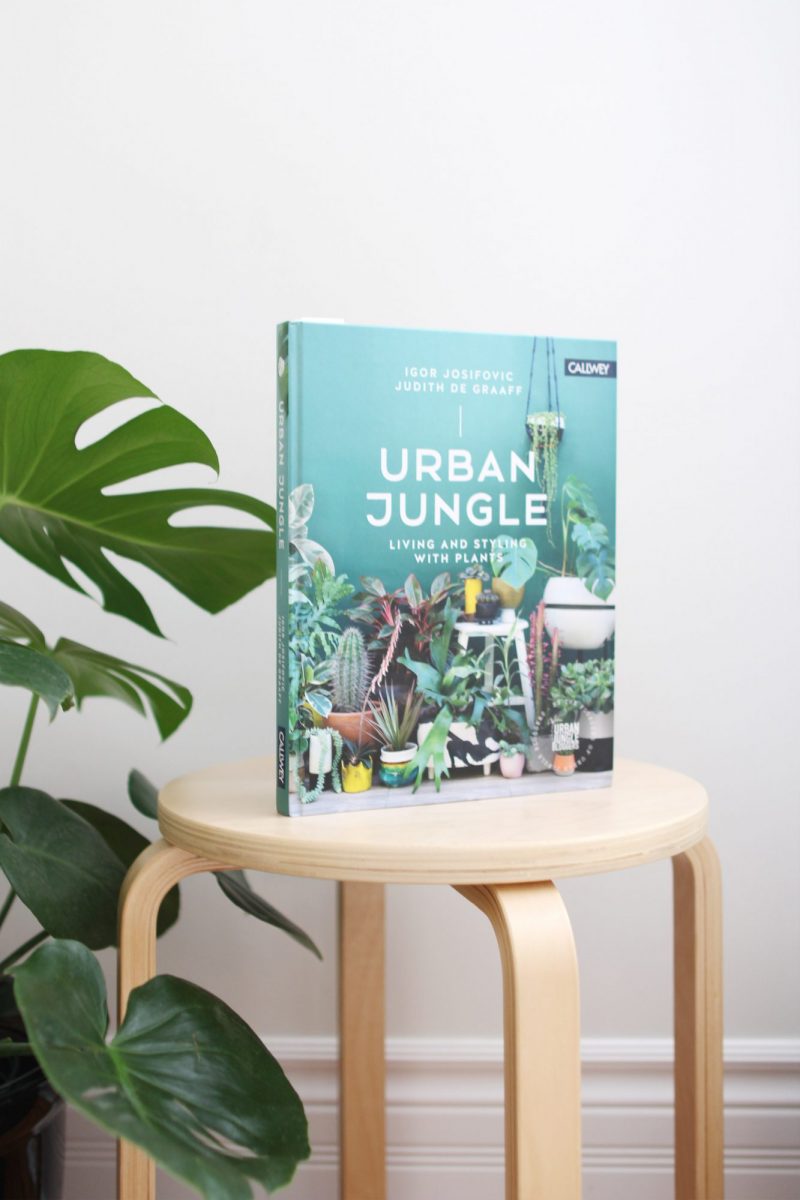 ---
Igor Josifovic + Judith de Graaff
---
The final book on this list is one I ordered after I'd been following Urban Jungle Bloggers on Instagram for a long time. If you haven't explored that feed and you love plants, you're in for a SERIOUS treat. The spaces featured make my plant obsession seem tame at best.
Now, I wasn't exactly blessed with a green thumb but having had books like this one handy for help I've managed to keep almost all my plants alive. I mean, sure, a lot of plant care info is just a google search away but it's a nice ritual to pull out this book, find the plant in question and read about it.
Here's a few things I've enjoyed in Urban Jungle:
CARE TIPS: This book covers many of the most common house plants that we love to bring home but fear killing. Think fiddle leaf fig trees, snake plants, split leaf monsteras, prayer plants, cacti and palms. The care tips are clear and concise highlighting the optimal amount of sun, temperature, water and love the plant needs to thrive, plus some insightful extras.
STYLING IDEAS: If you flip through this book and suddenly decide you need 10 new plants, well, you're not the only one to feel that way. There are endless ideas for incorporating plants into spaces throughout the house. Whether it's a bookshelf, exposed pantry, window sill, desktop, laundry room, bathtub, entrance, you name it, a plant can work there! I love seeing what they've done and then looking around my house to see how some of my own green buddies might work in a new spot.
CLEVER DIYS: More than just terrariums, quite a few of these come in handy for spaces that might not get enough natural light for plants to thrive but could still use some greenery. I love the botanical frame DIY shown below that simply needs a couple of panes of glass, some electrical tape and a beautiful big leaf.
---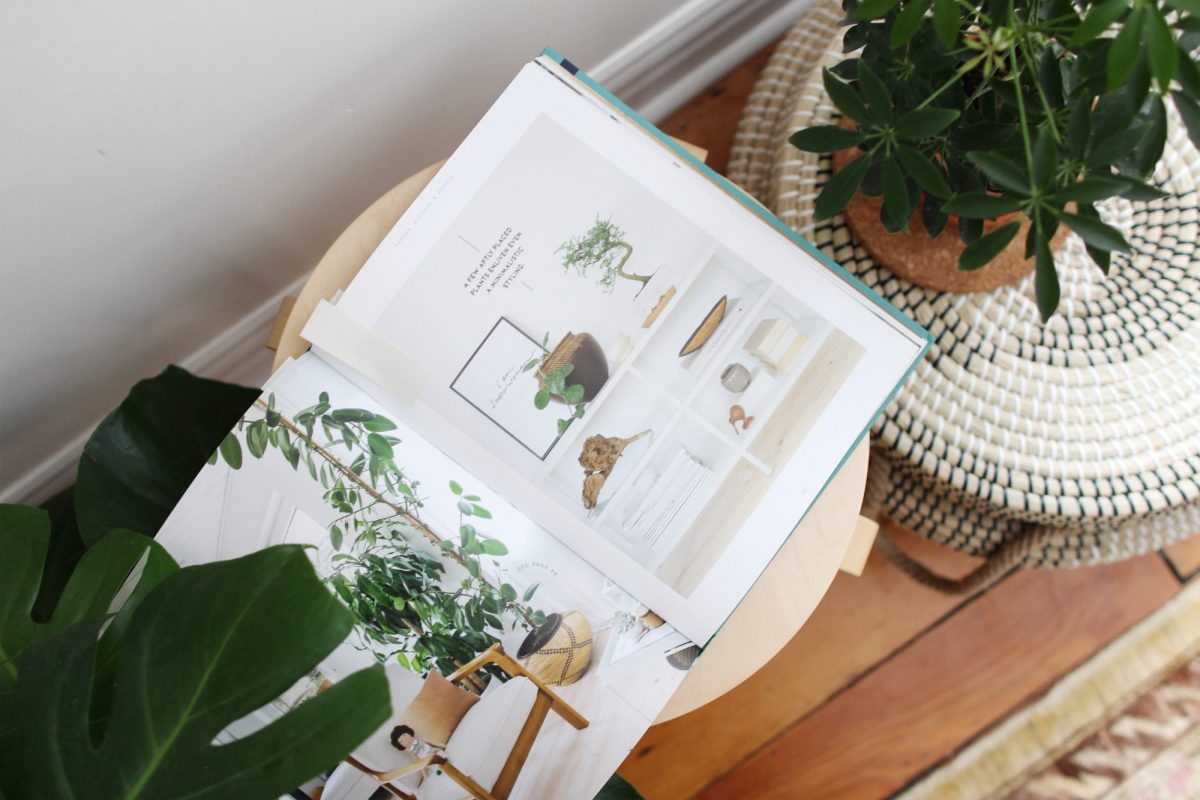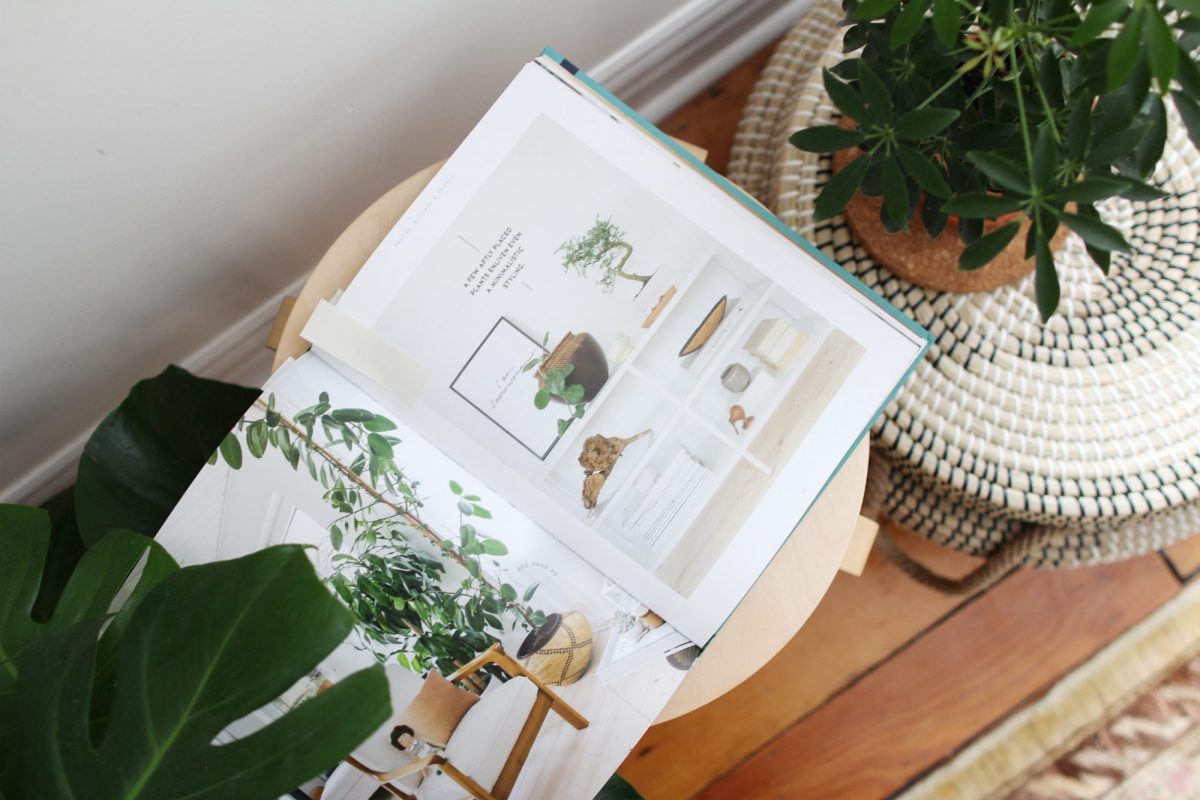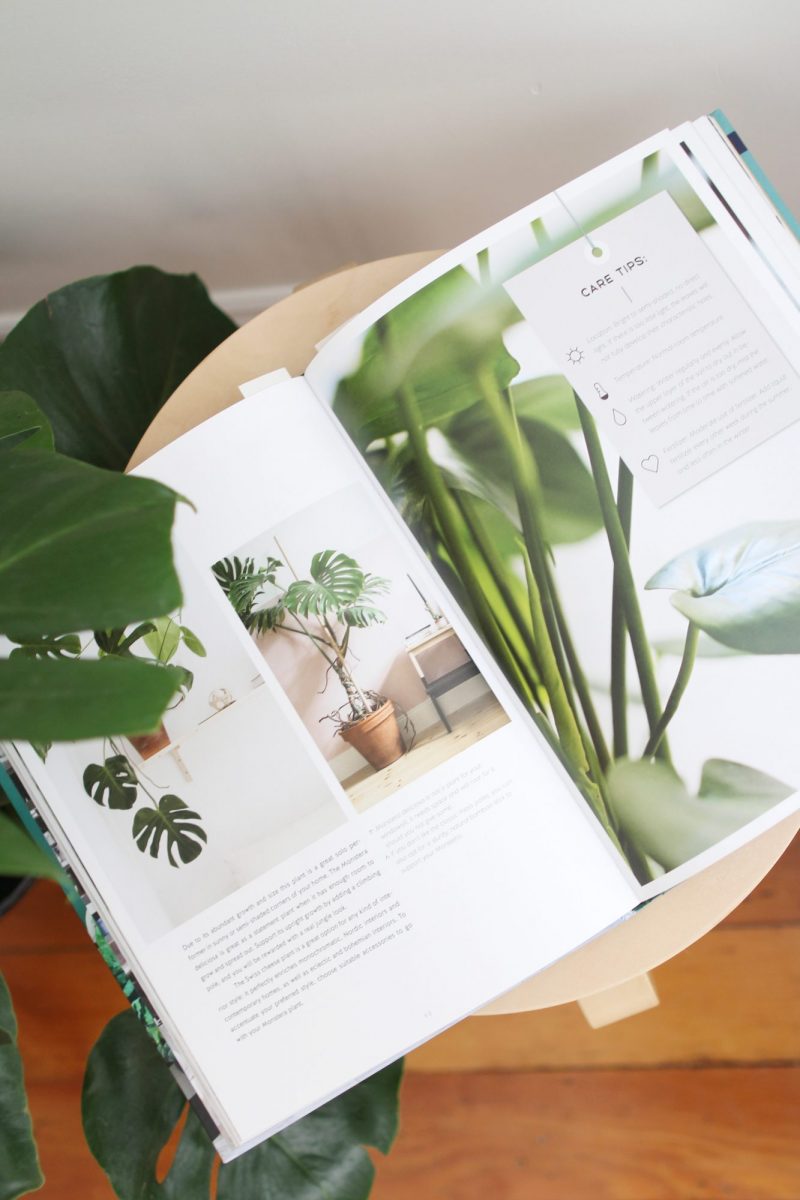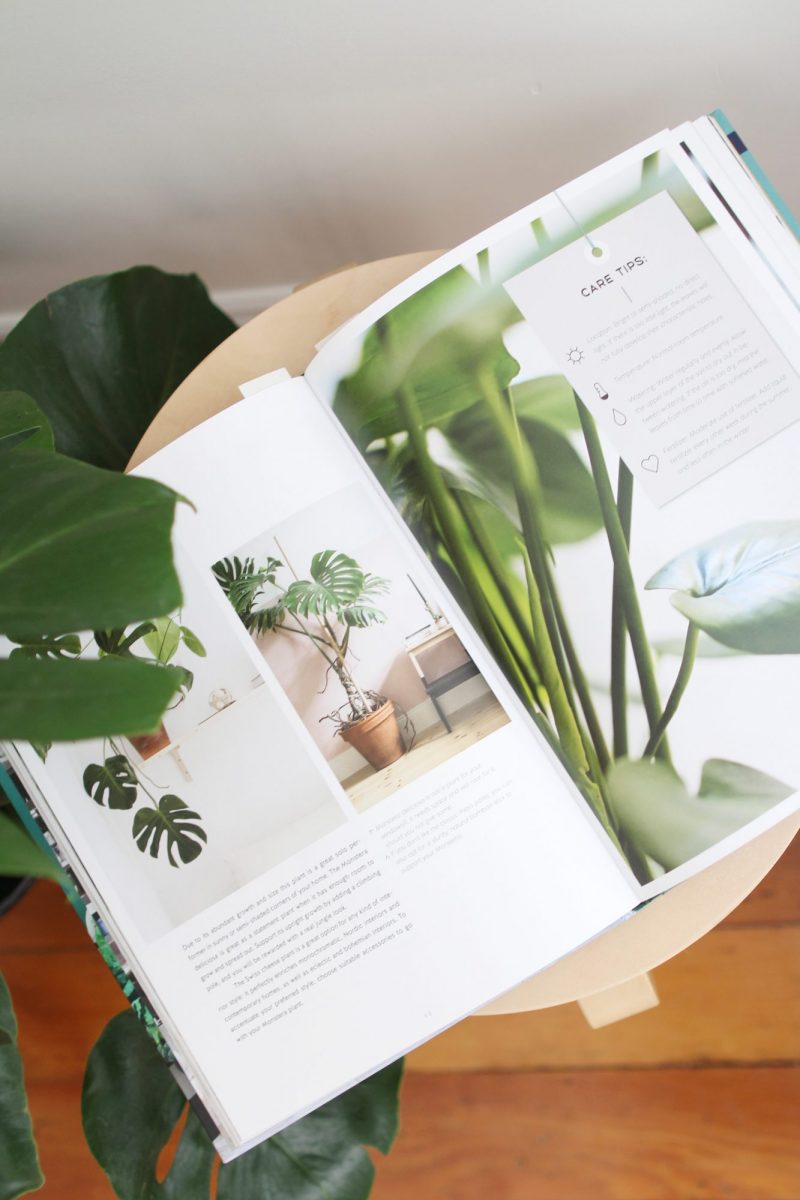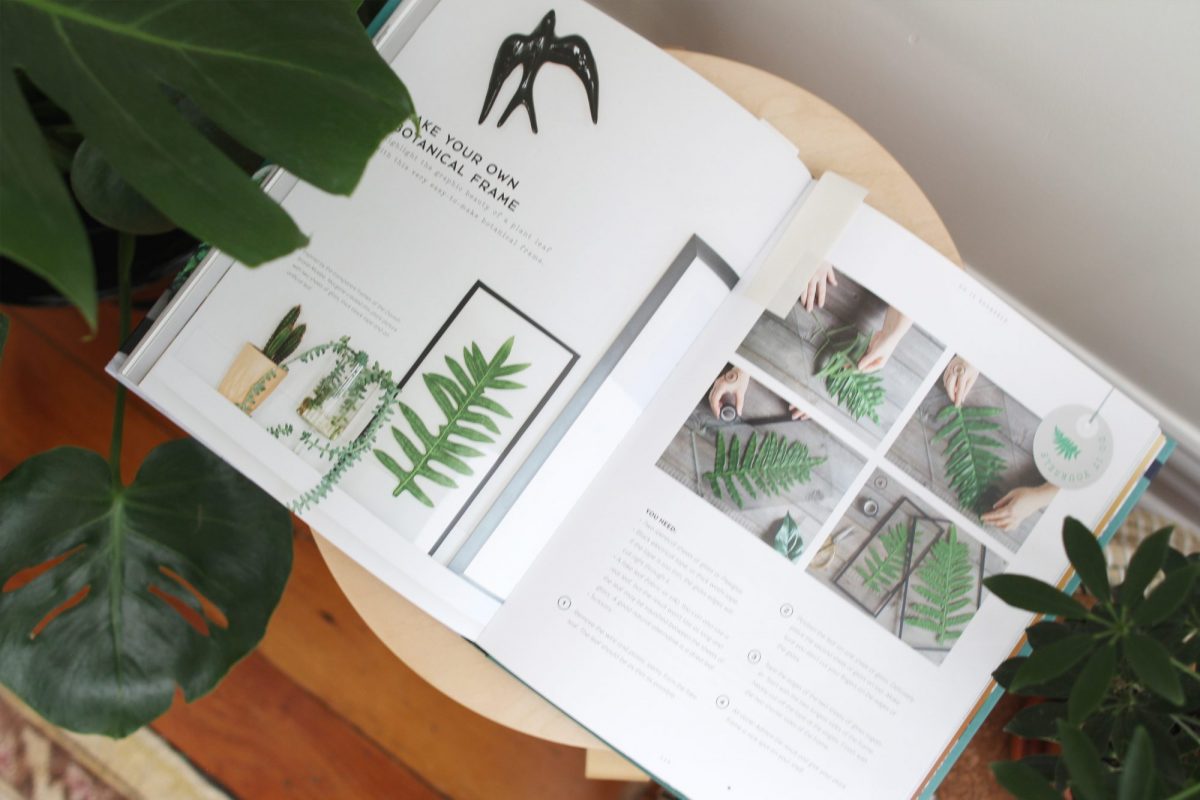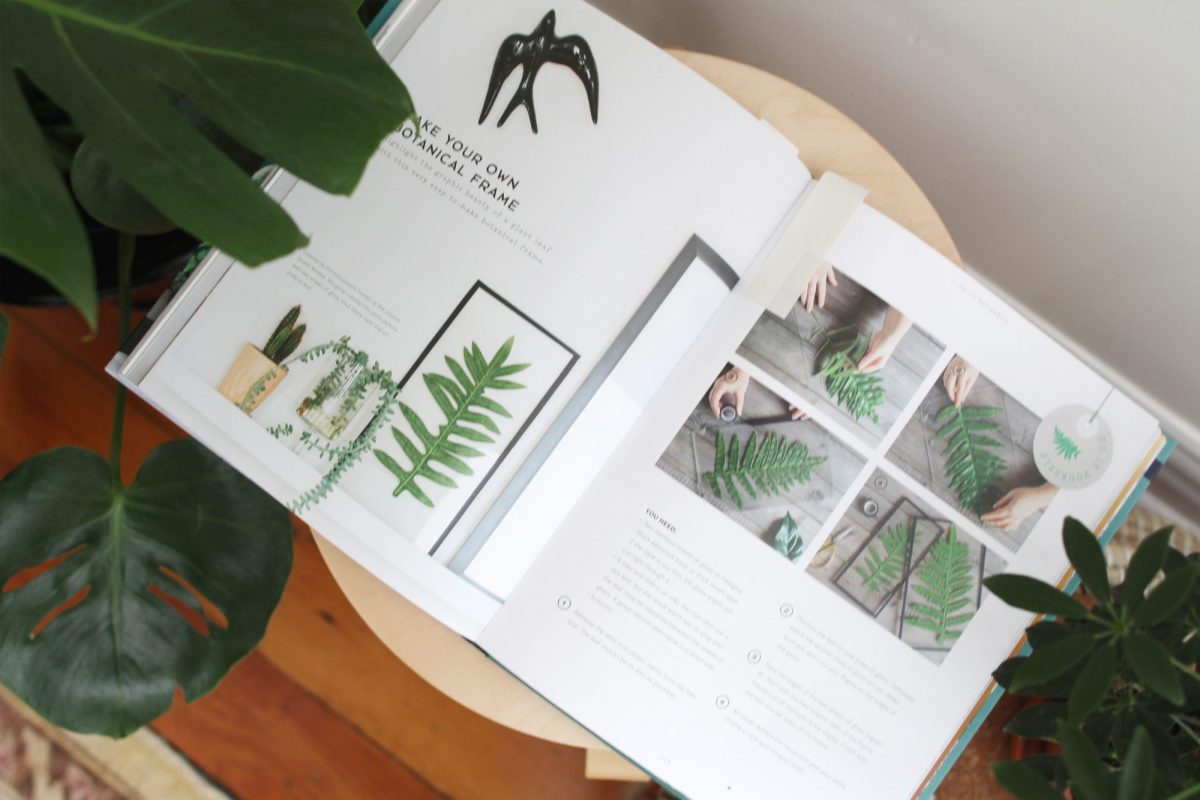 ---
SHOP THESE BOOKS
I've included links to Amazon below but maybe consider supporting your local bookstore or investigating if your library has a copy for check out. I know that Guelph Public Library will bring in just about any book if you ask them to.
---
---
You might have noticed that I didn't highlight The Life Changing Magic of Tidying Up or Spark Joy by Marie Kondo on this list but that's not to say I don't love those books too. I definitely recommend them but realize that they're household titles by now and wanted to share some lesser known options. A few other's I like to peruse are The Kinfolk Home, The Monocle Guide to Cosy Homes and Domino.
---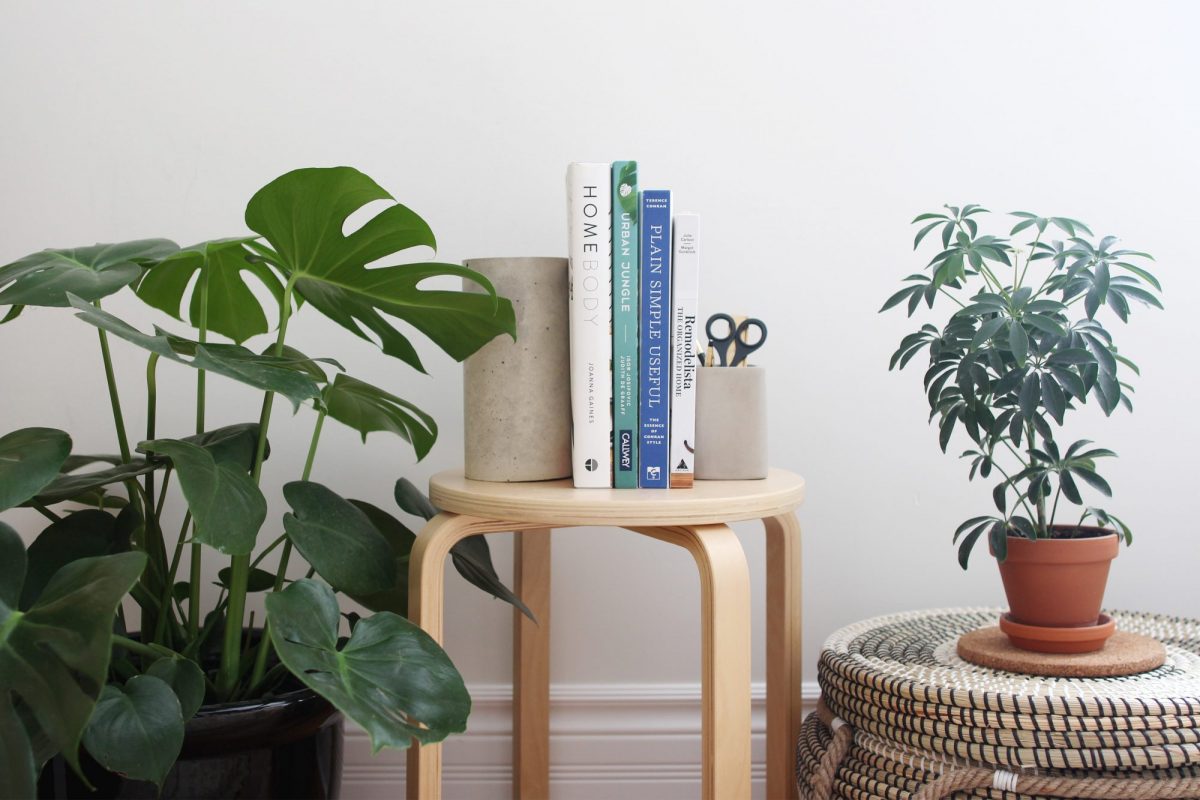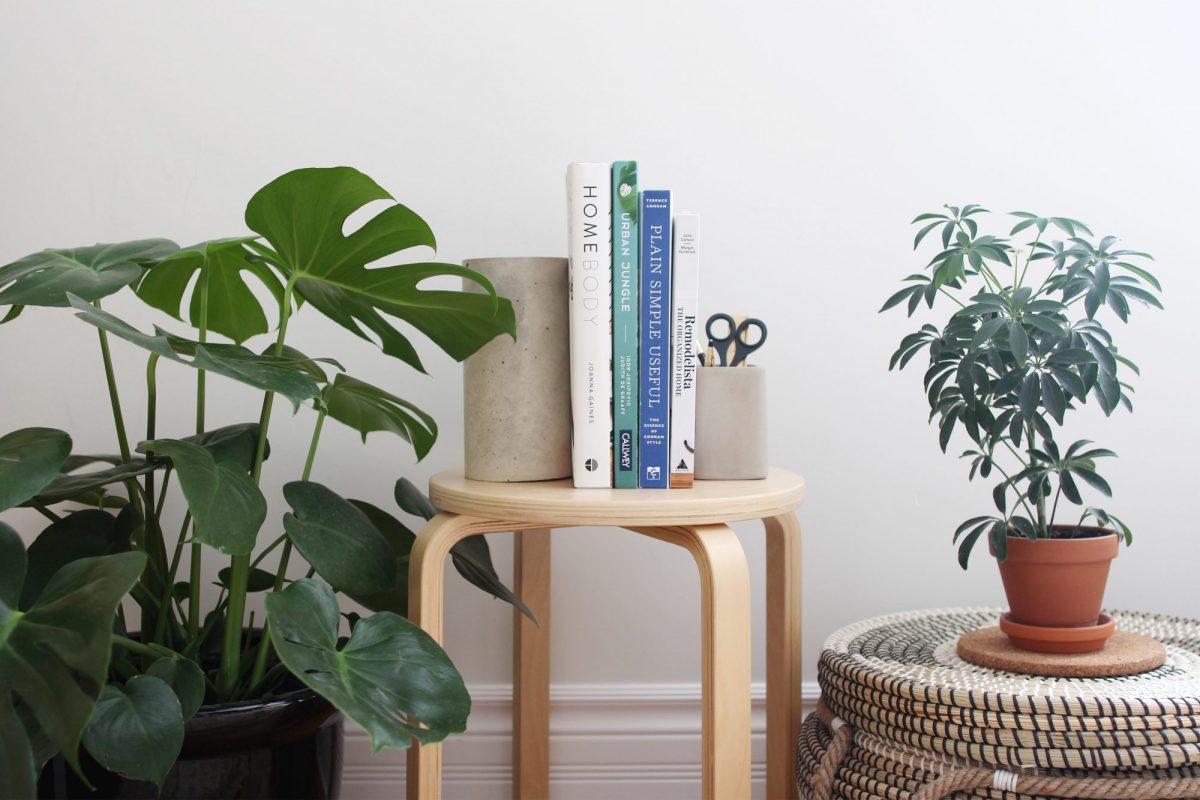 ---
OTHER DECOR BOOKS ON MY LIST TO CHECK OUT
---
---
Prefer Pinterest for interior inspiration? I hear ya! You may want to check out a few of my most popular Pinterest Boards:
---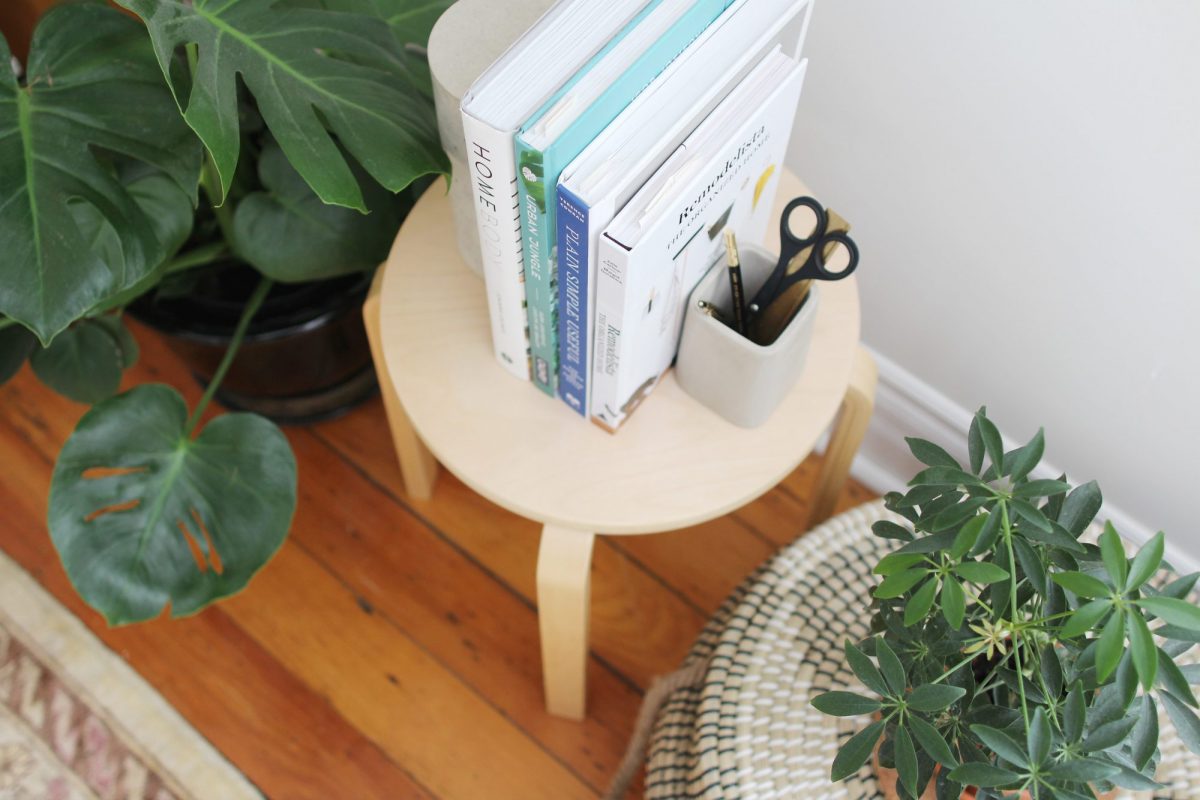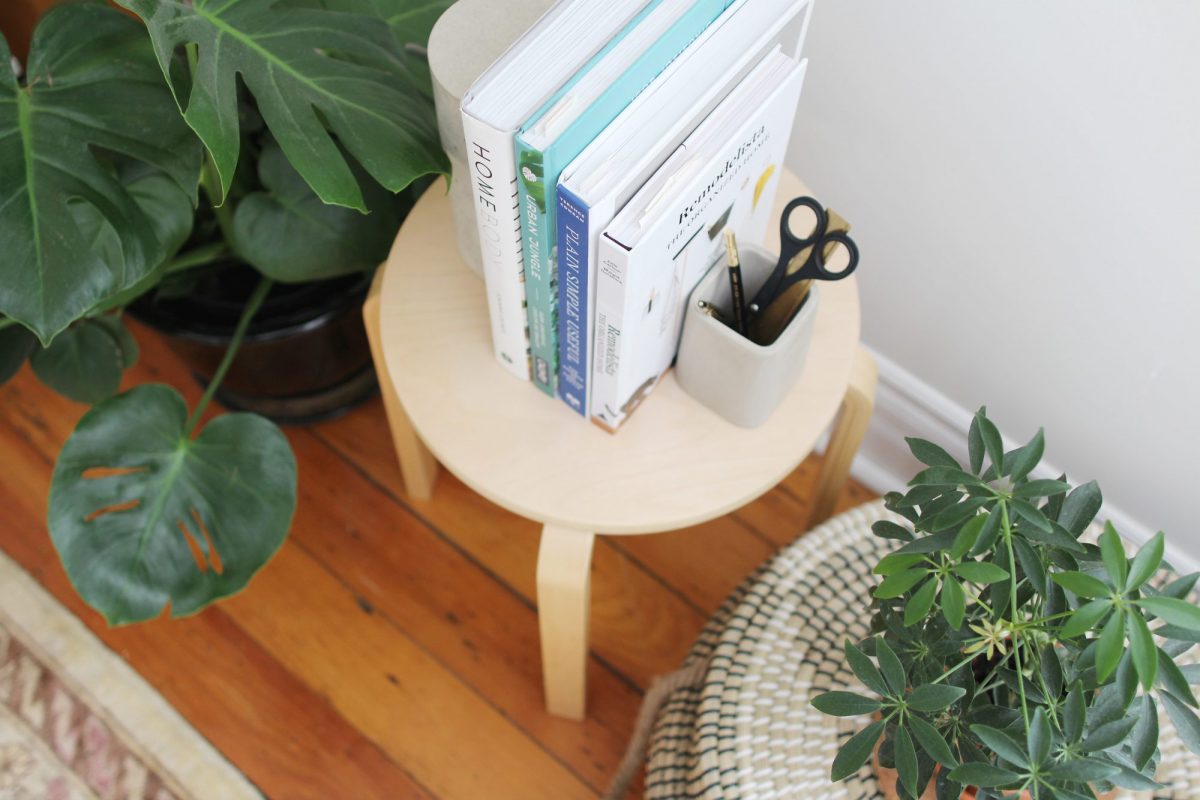 ---
Are you an interior design lover too? I'd love to know your favourite books or sources for inspiration!
---
DECOR ITEMS IN THIS POST
STACKING STOOLS | NESTING BASKETS gifted | SCISSORS similar | BRASS RULER | CONCRETE BOOKEND homemade | CONCRETE DESK CADDY

---
THANKS FOR READNG & HAVE A GREAT WEEKEND!
---
This post is not sponsored but contains affiliate links. When you shop via the links above I may make commission on a sale. Thanks for supporting Style Bee! All opinions are always my own.