One thing I love about interior design is how a few small details can make such a big impact on a space. When it comes to fashion my choices are often neutral, muted tones, timeless shapes and silhouettes and not a lot of colour or prints. While much is the same when it comes to my home one big difference is that I LOVE pattern, particularly in the form of kilim textiles. I love the jolt of interest they add without being overly showy and I really enjoy mixing kilim patterns with other graphic prints to give depth and life to a space.
When I was given the chance to collaborate with the lovely Toronto based boutique, The Wanderly, and style one of their beautiful vintage kilim pillows I was so excited, I styled it twice! I decided to test it out in both our living room and bedroom and loved how this simple addition transformed each space so easily. See the results, my go-to styling tricks and more of my favourite picks from the shop below.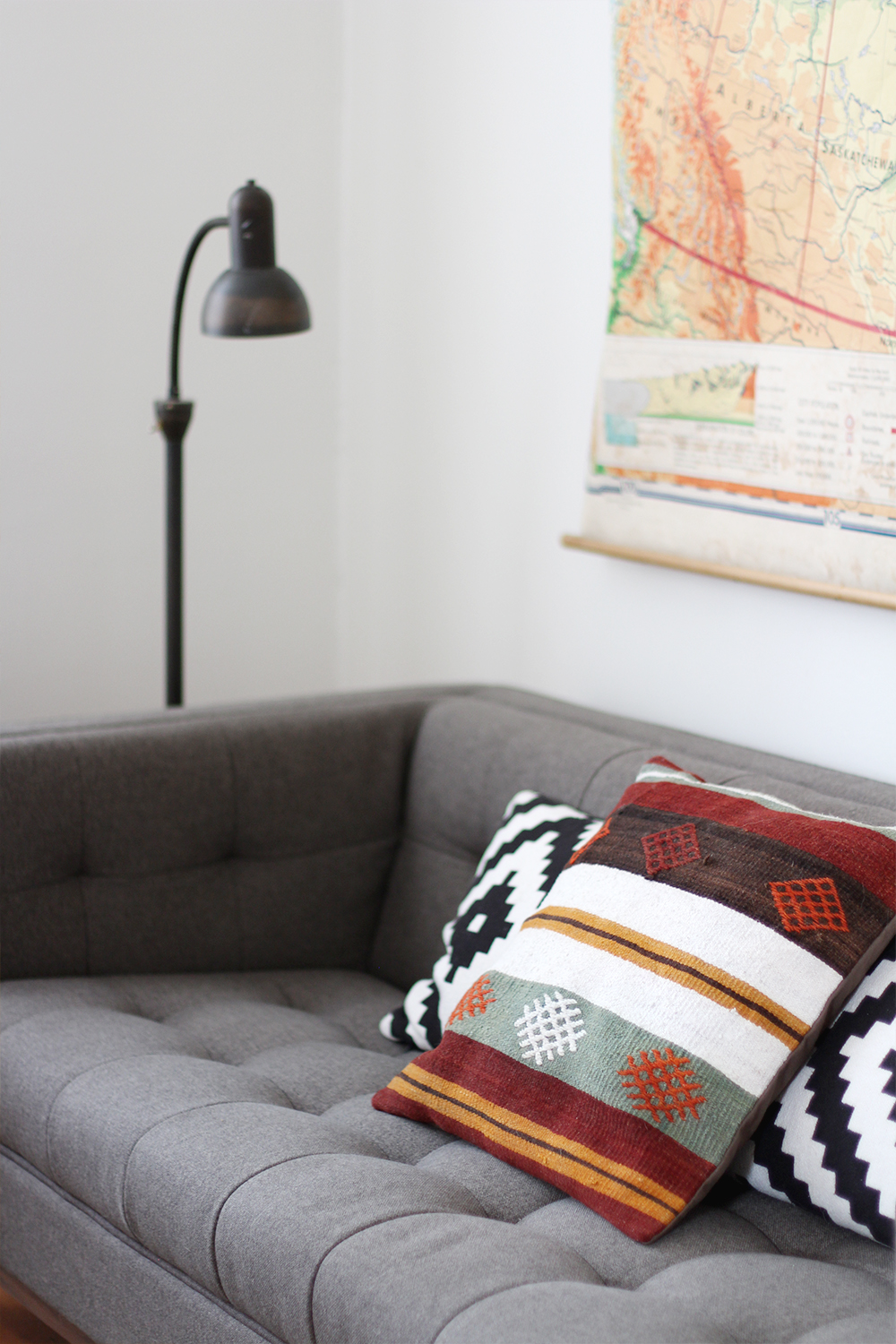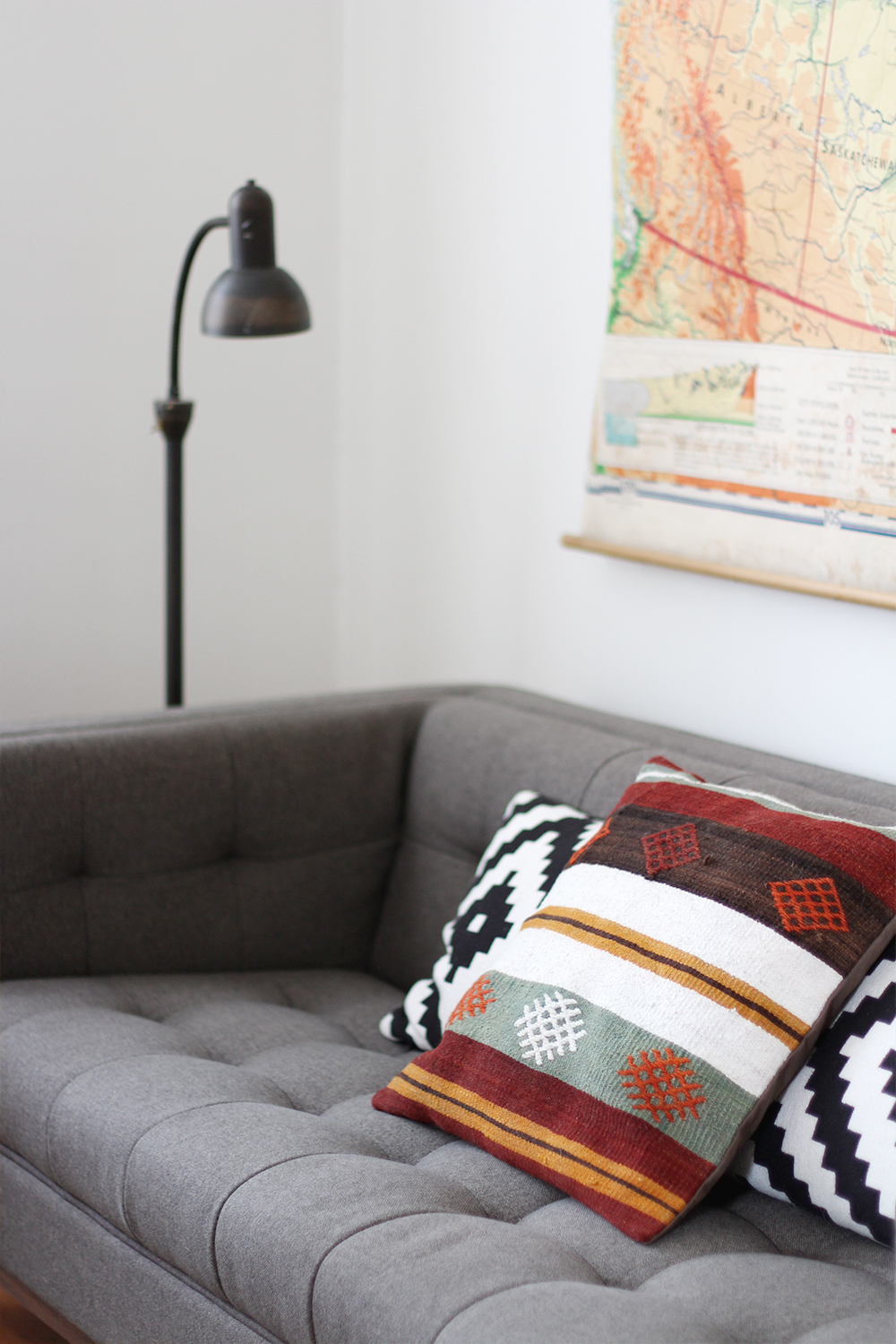 ---
STYLE 1 – LIVING ROOM
---
I love our little living room. It was the first space we finished during our renovation project and it's still the room we find ourselves gravitating to most at the end of every day. I'm not often attracted to a lot of colour but for some reason this room brings it out in me. I'd been looking for the right way to pull all the different colours in this room together and in the end, the answer was through pillows and pattern.
This brings me to one of my go-to style tips when it comes to finishing a look or finishing a room, which is repetition. For example, I love how a graphic black and white pattern pairs with a more ornate, colourful pattern. So I repeated that pairing three times in this room. First with the rug and the map, then on the chair with a throw blanket and pillow and finally again on the couch by layering a few pillows together. Each instance is a little different so it doesn't feel boring and yet there is a continuity that guides your eye through the room and feels very comfortable.
My other failsafe trick to pulling a room together is plant-life. When in doubt, always, always, always add plants! They don't need to be enormous but they always add a touch of the outdoors and I love that vibe.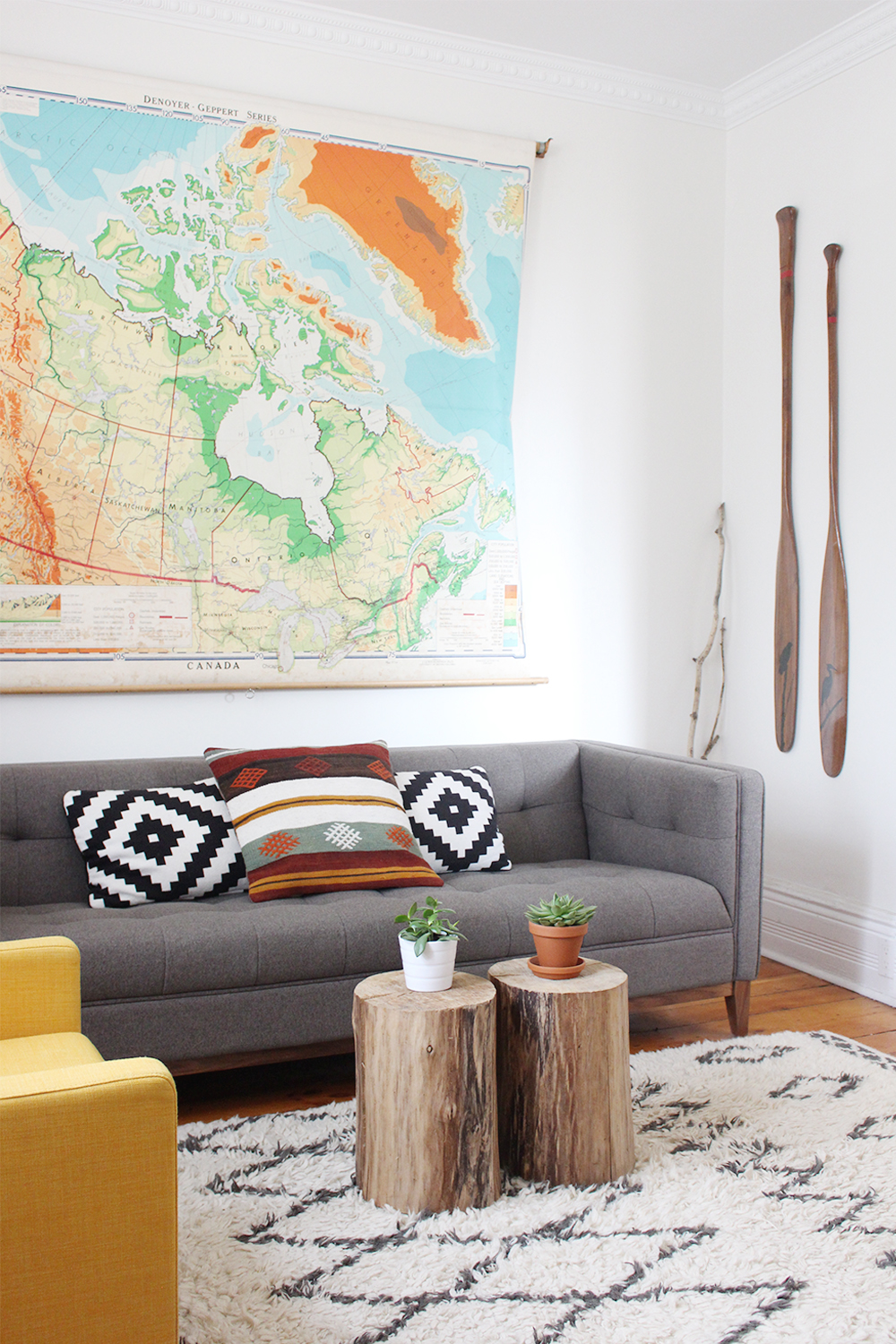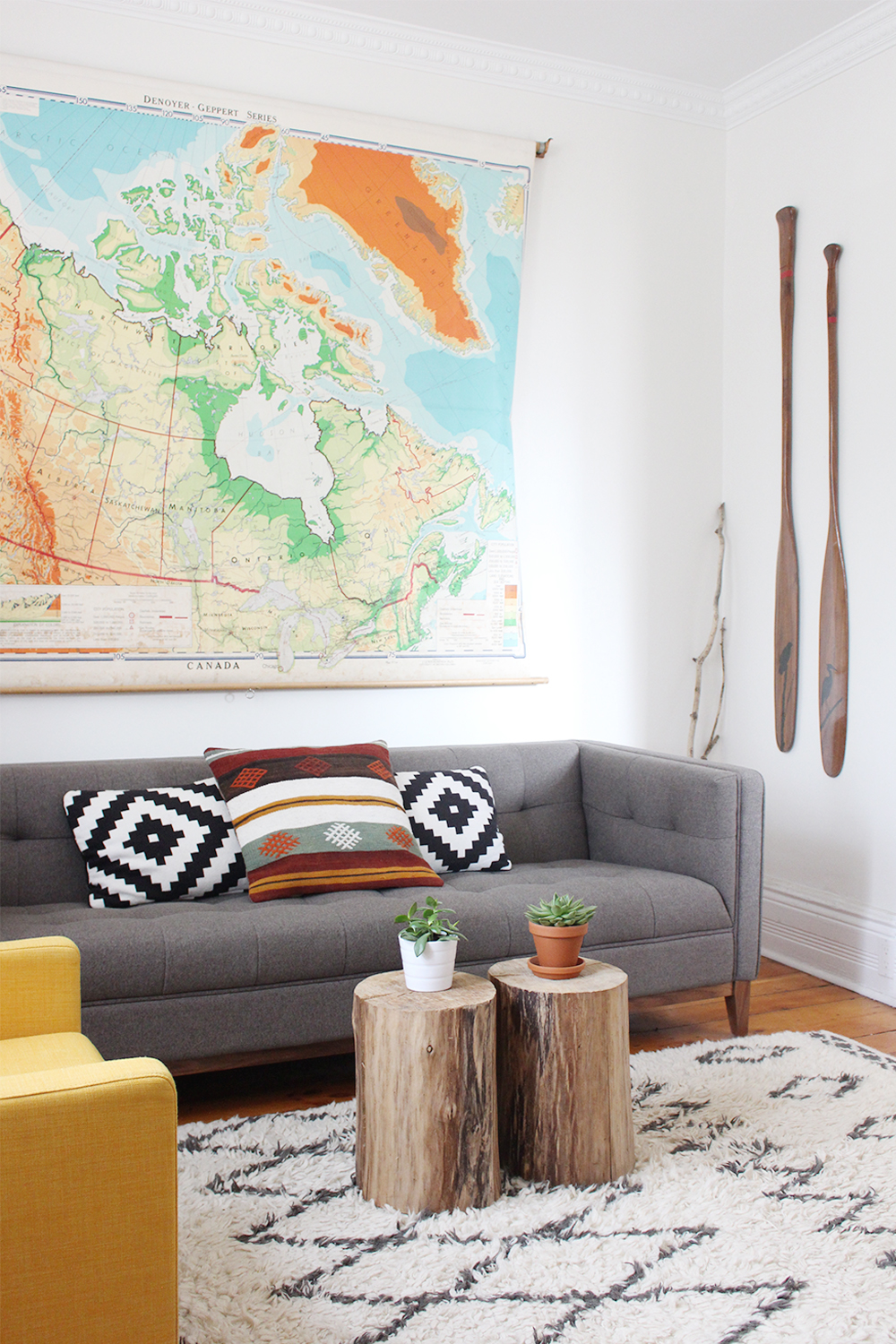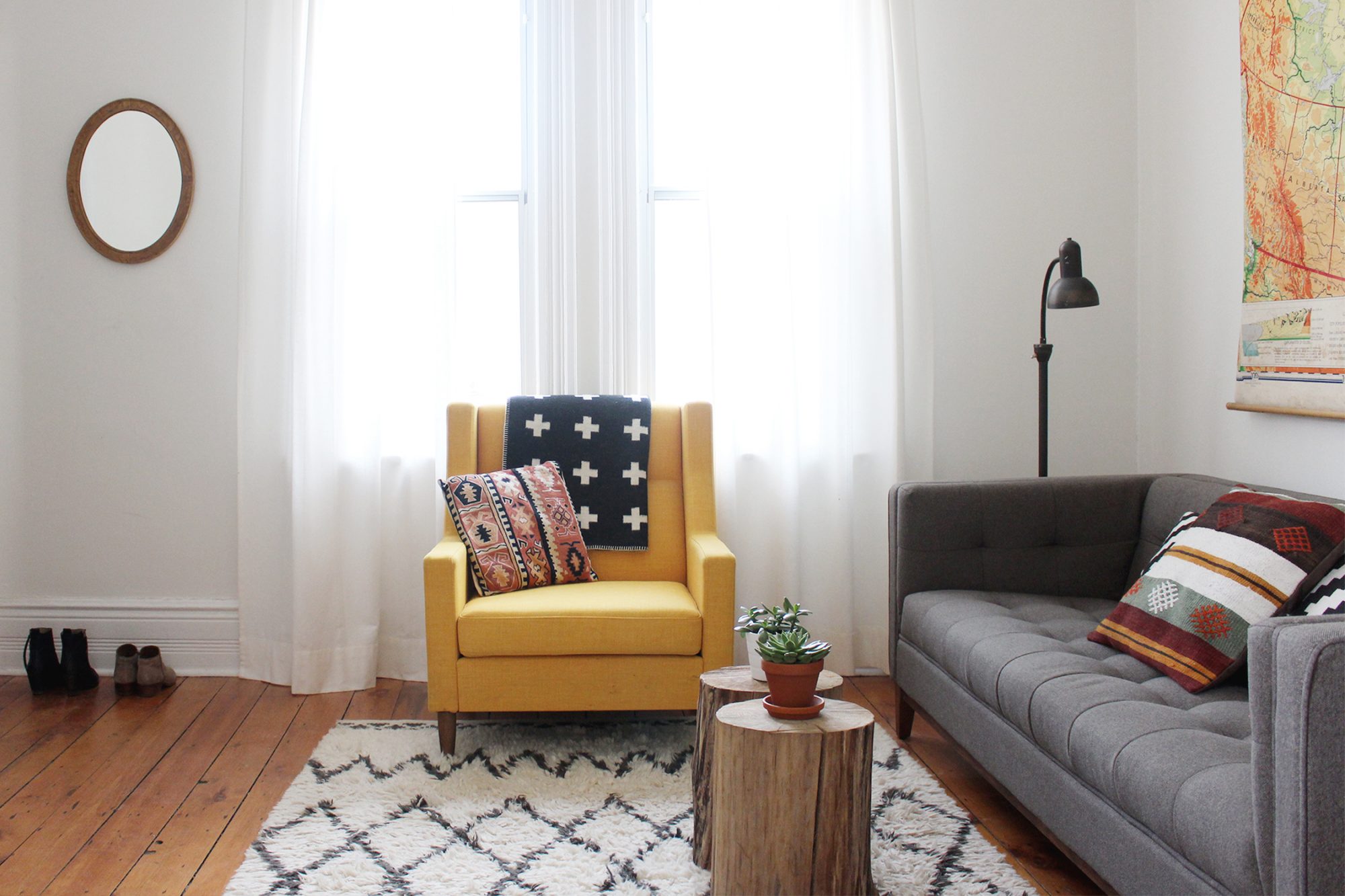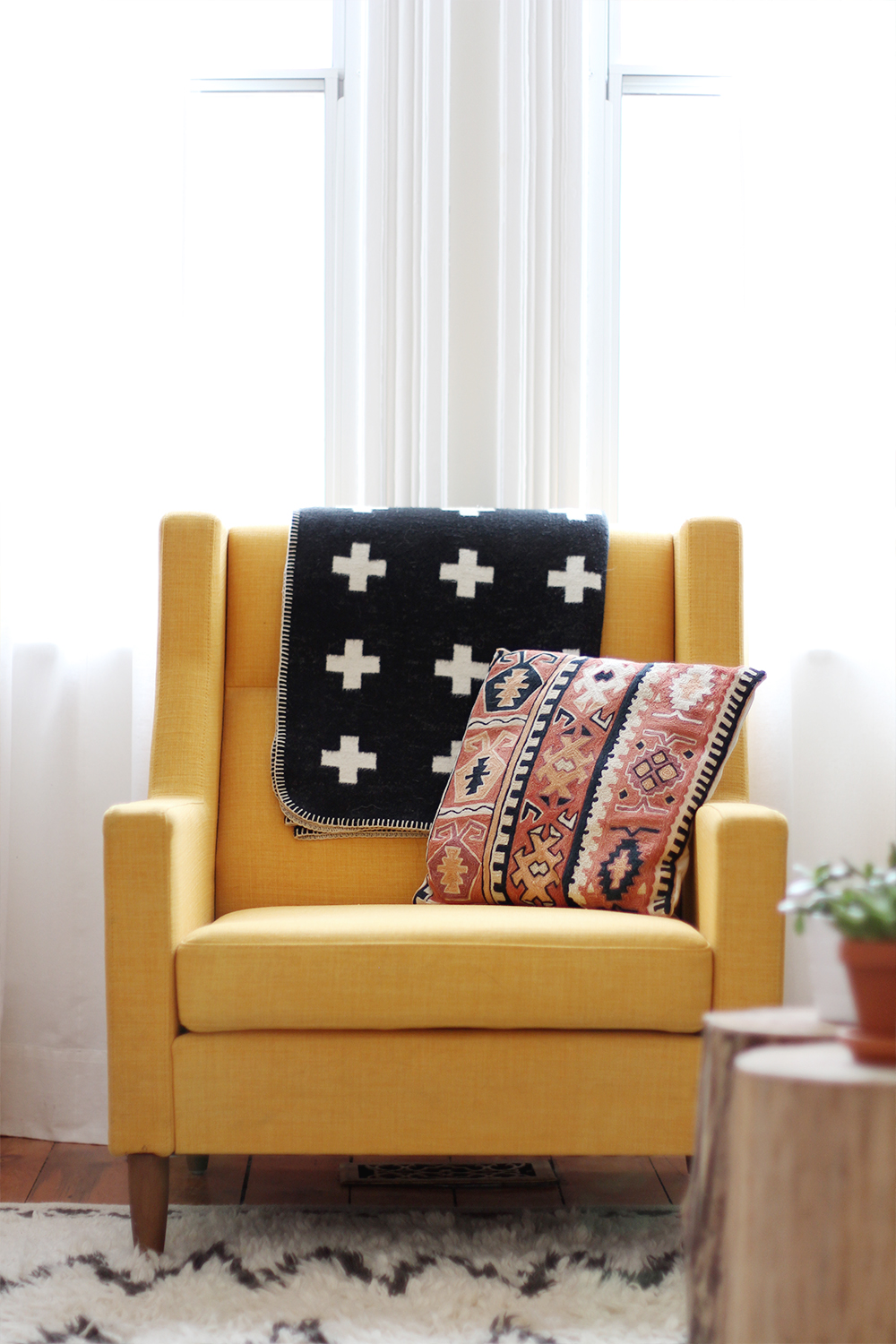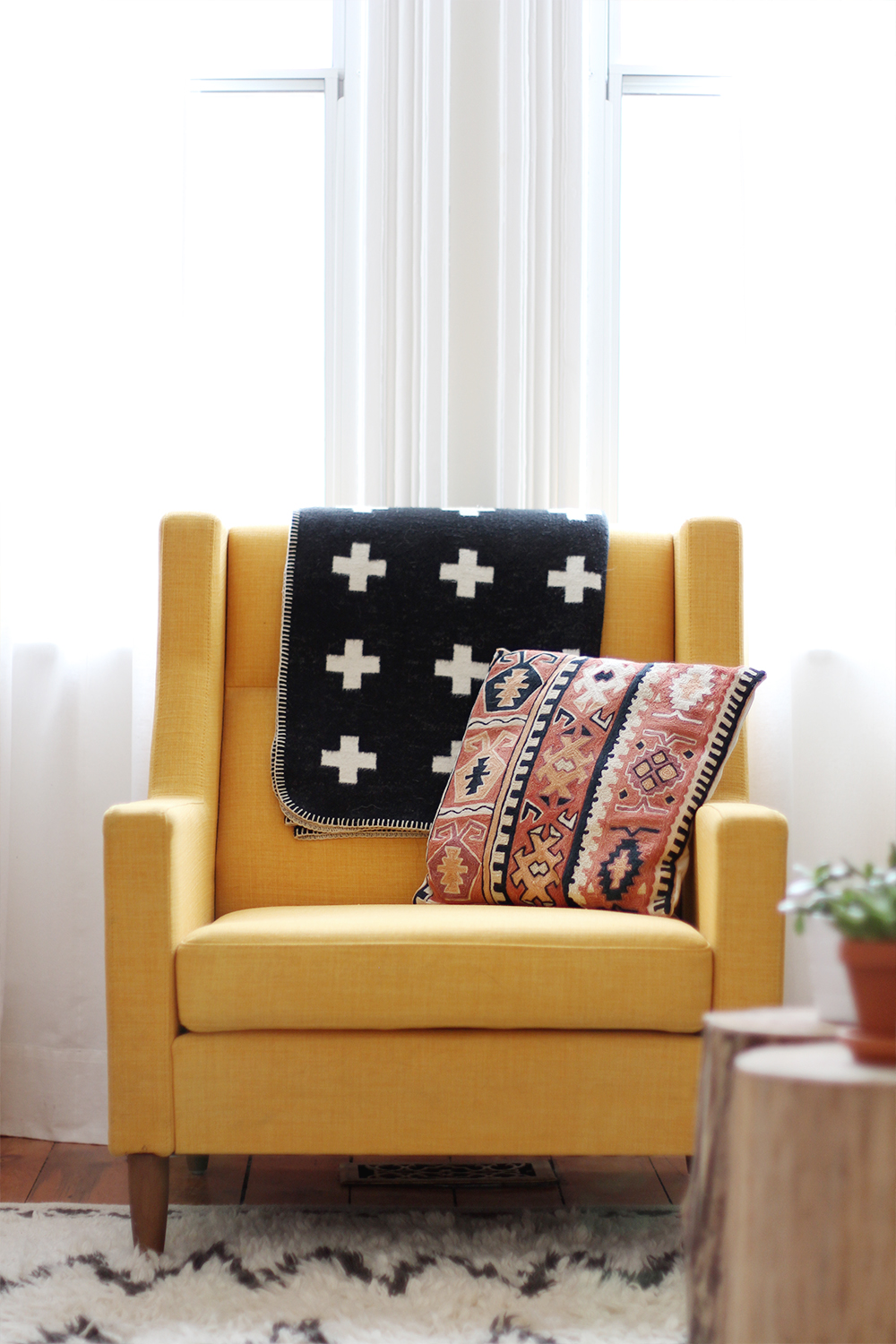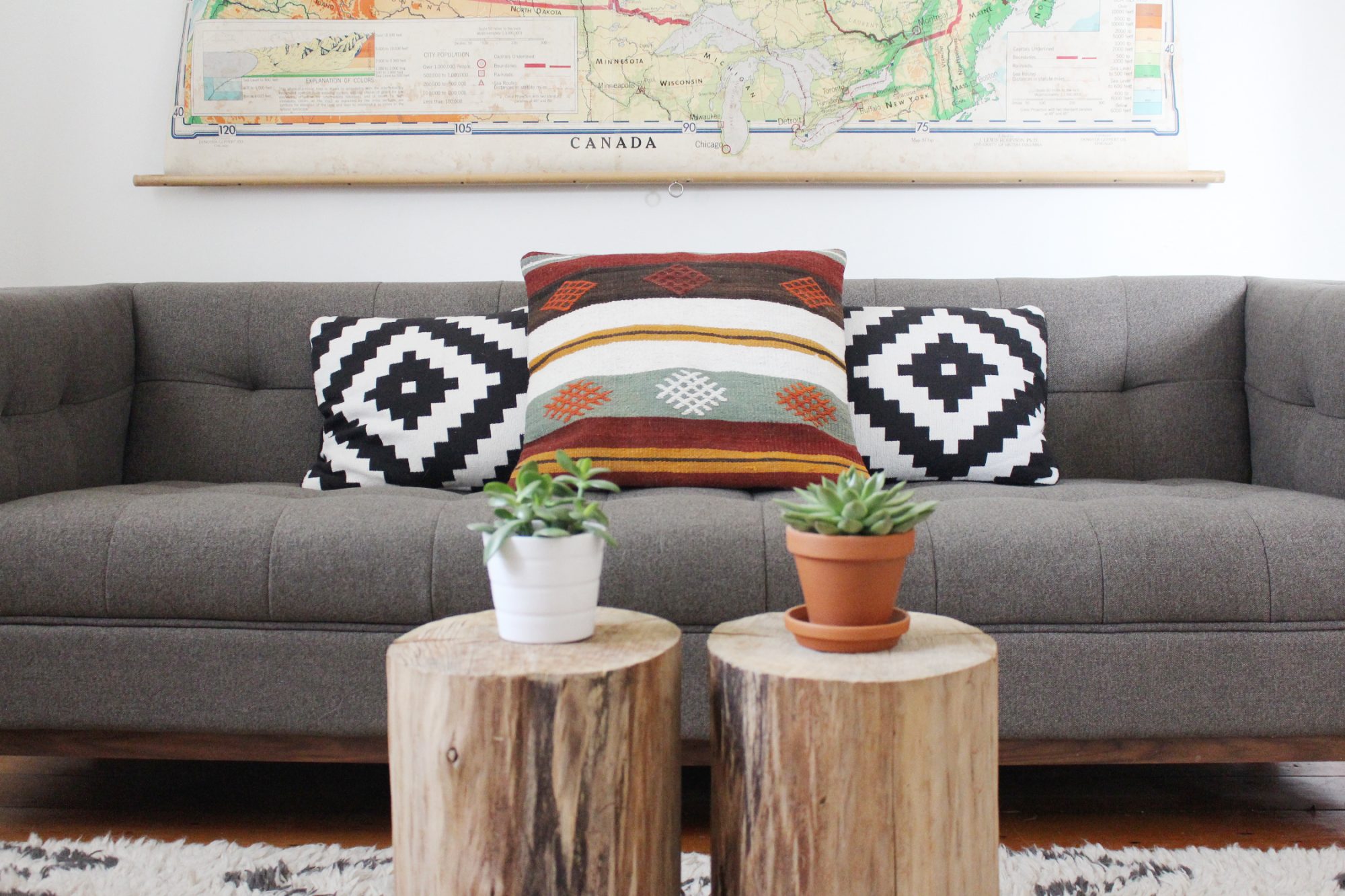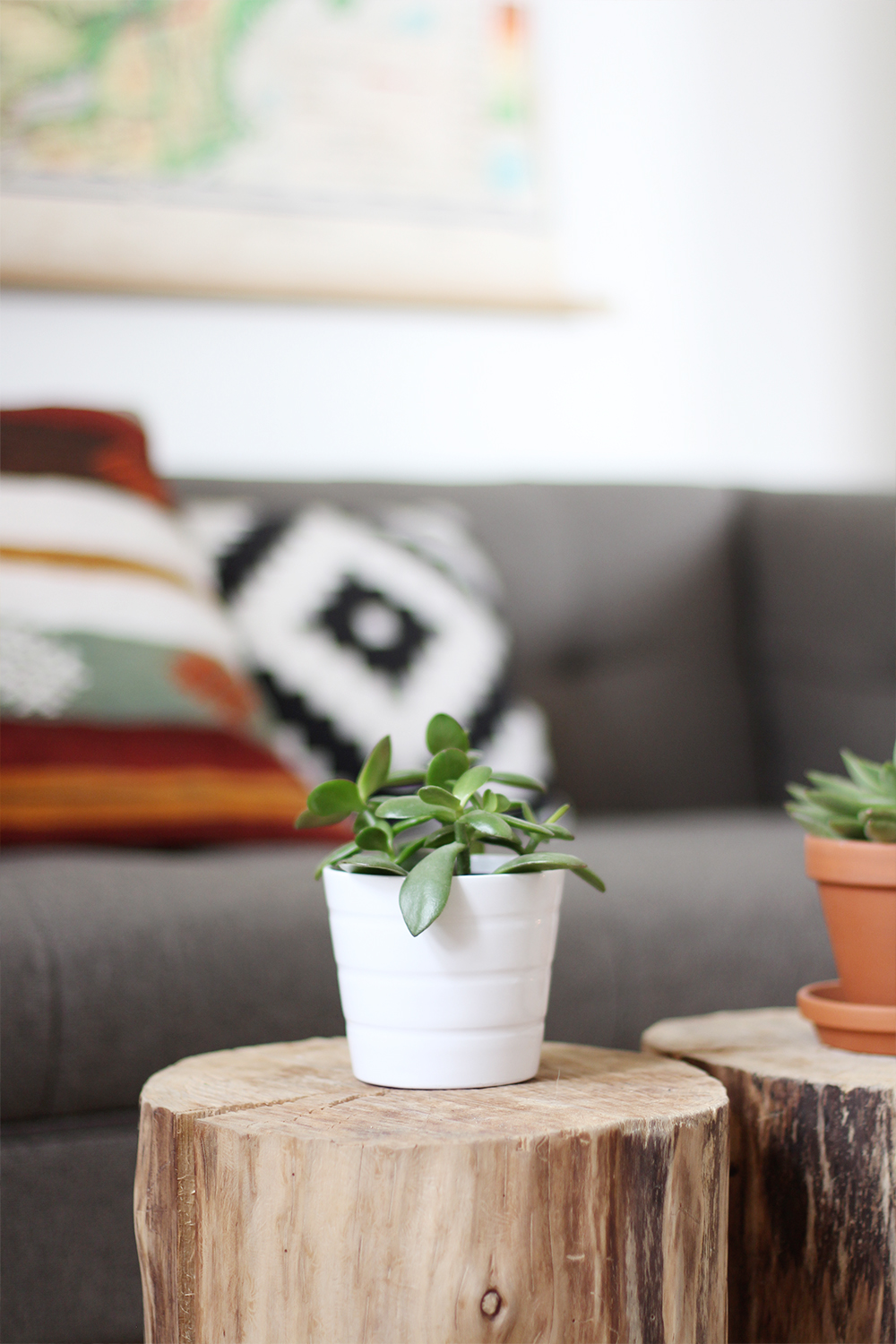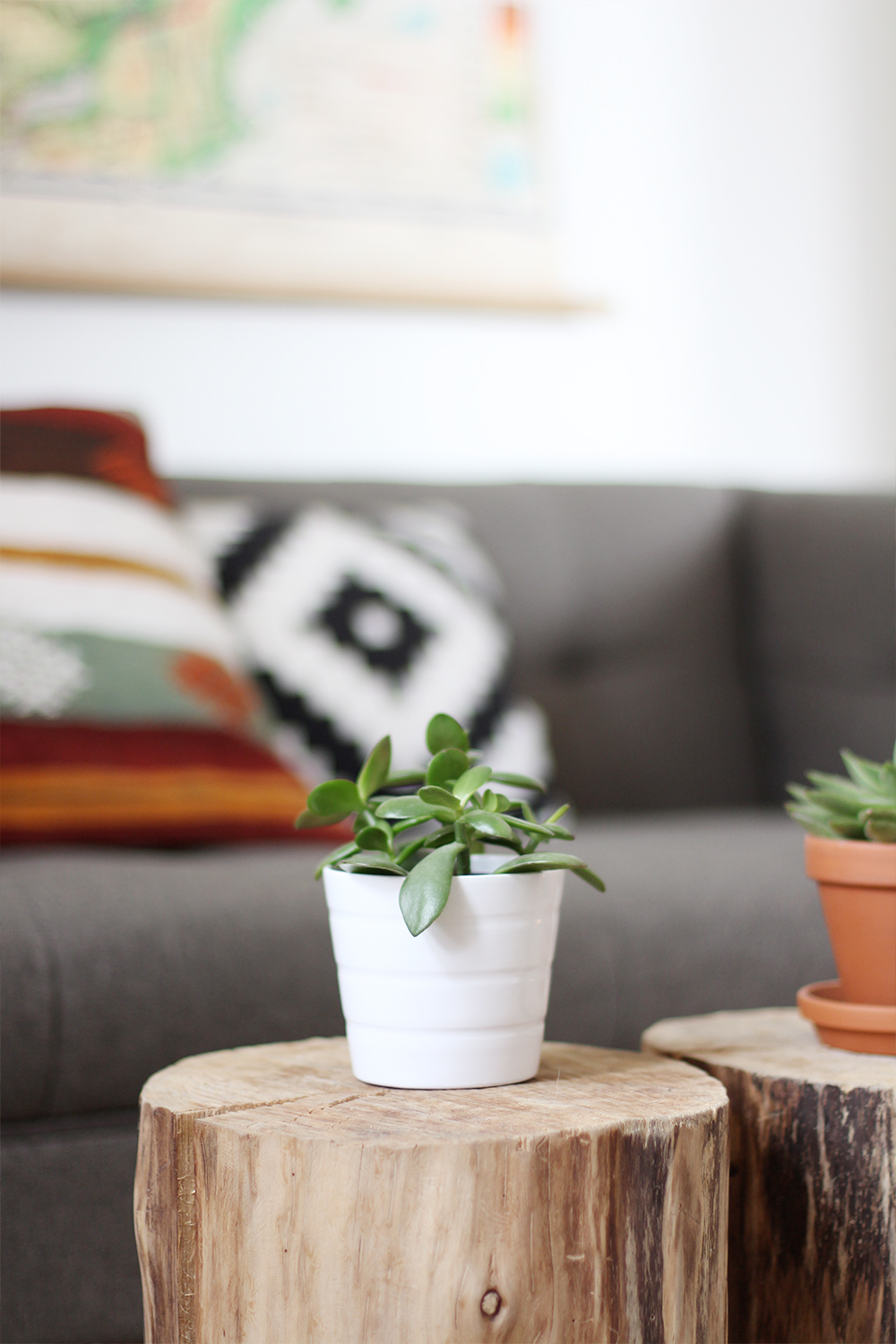 ---
STYLE 2 – BEDROOM
---
If you saw my Bedroom Reveal (last year) these photos will be familiar because not a lot has changed. Luckily, there's really been no need because we love how it turned out and have found that the space suits us very well. But I do love the transformative effect this pillow has on the room. It gives it a renewed sense of energy the little bit of sage green in the pattern really brings out the fresh green leaves that I love in our bedside plants.
See how that little pattern pairing technique works in here too? Call me crazy (or lazy) but this trick just does it for me! While I used a lot of the same colours and natural elements as the living room, our bedroom is definitely a much more calming space. Whenever I'm going for a sense of tranquility in a space or in an outfit, I go for lots of white paired with soft neutrals and textures. A few pops of warm hues in the planters, light fixtures and bed frame help to relax the black elements that serve as a focal point in the room. I like that it's not fussy at all and yet, at the same time, it's not bland either.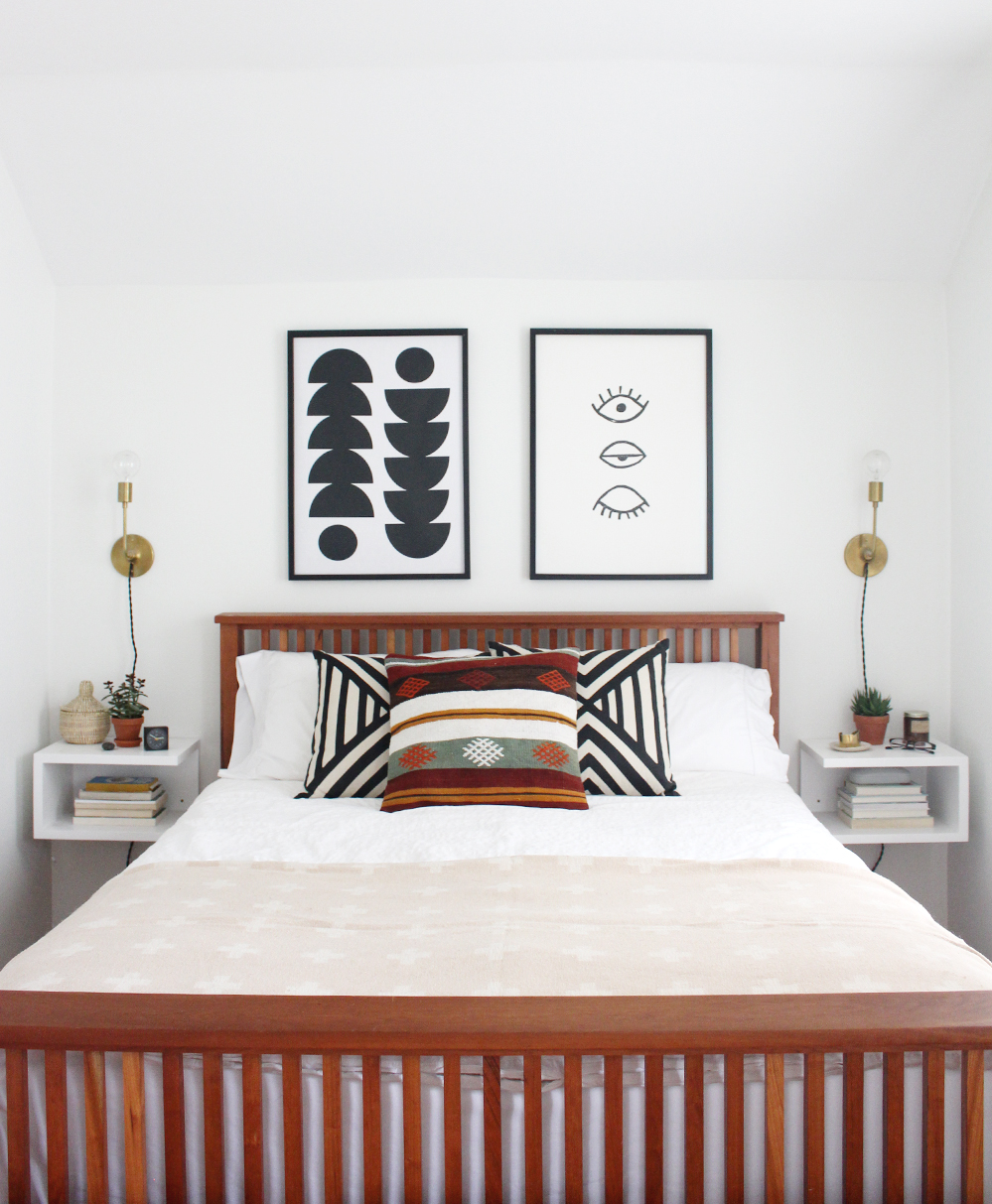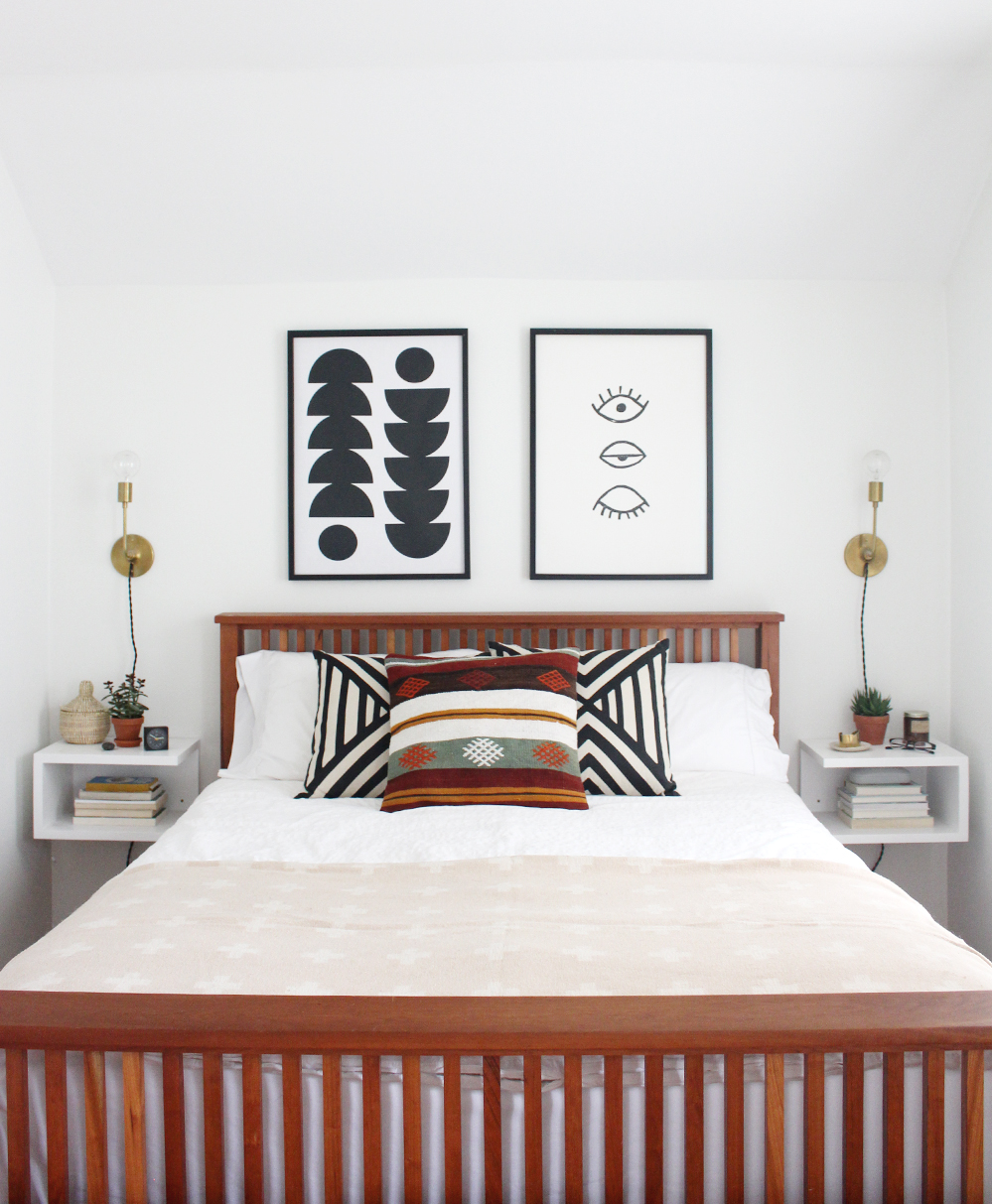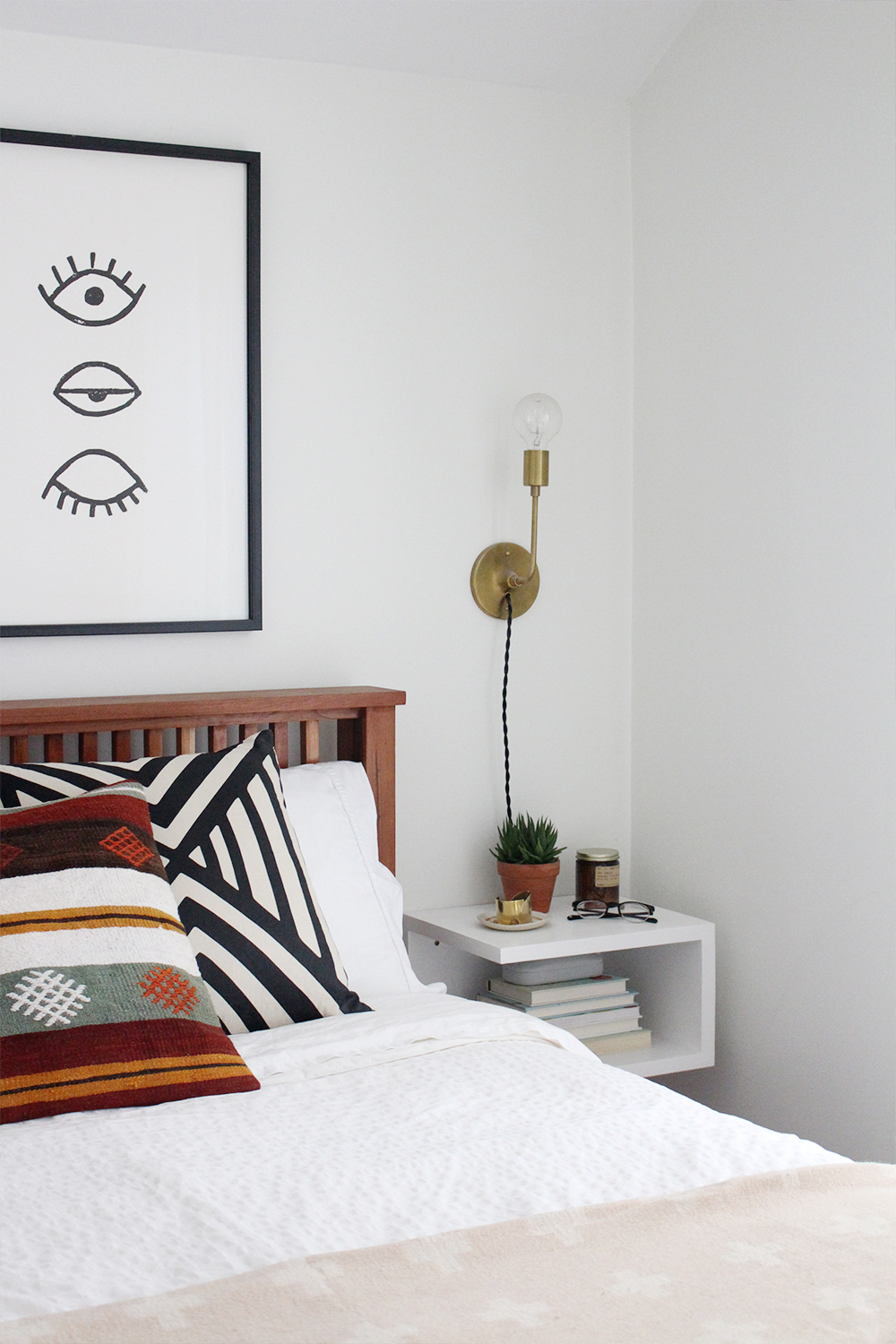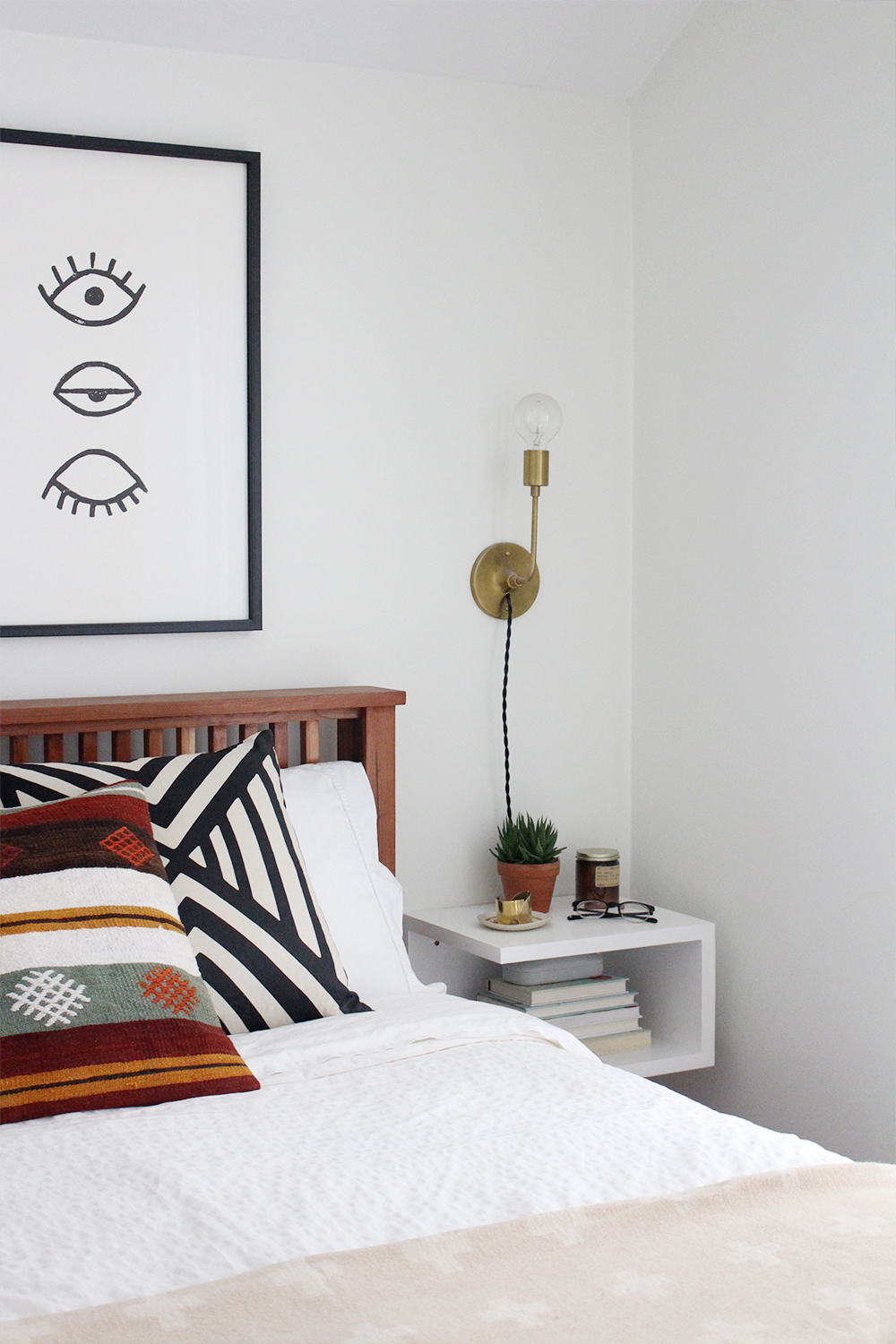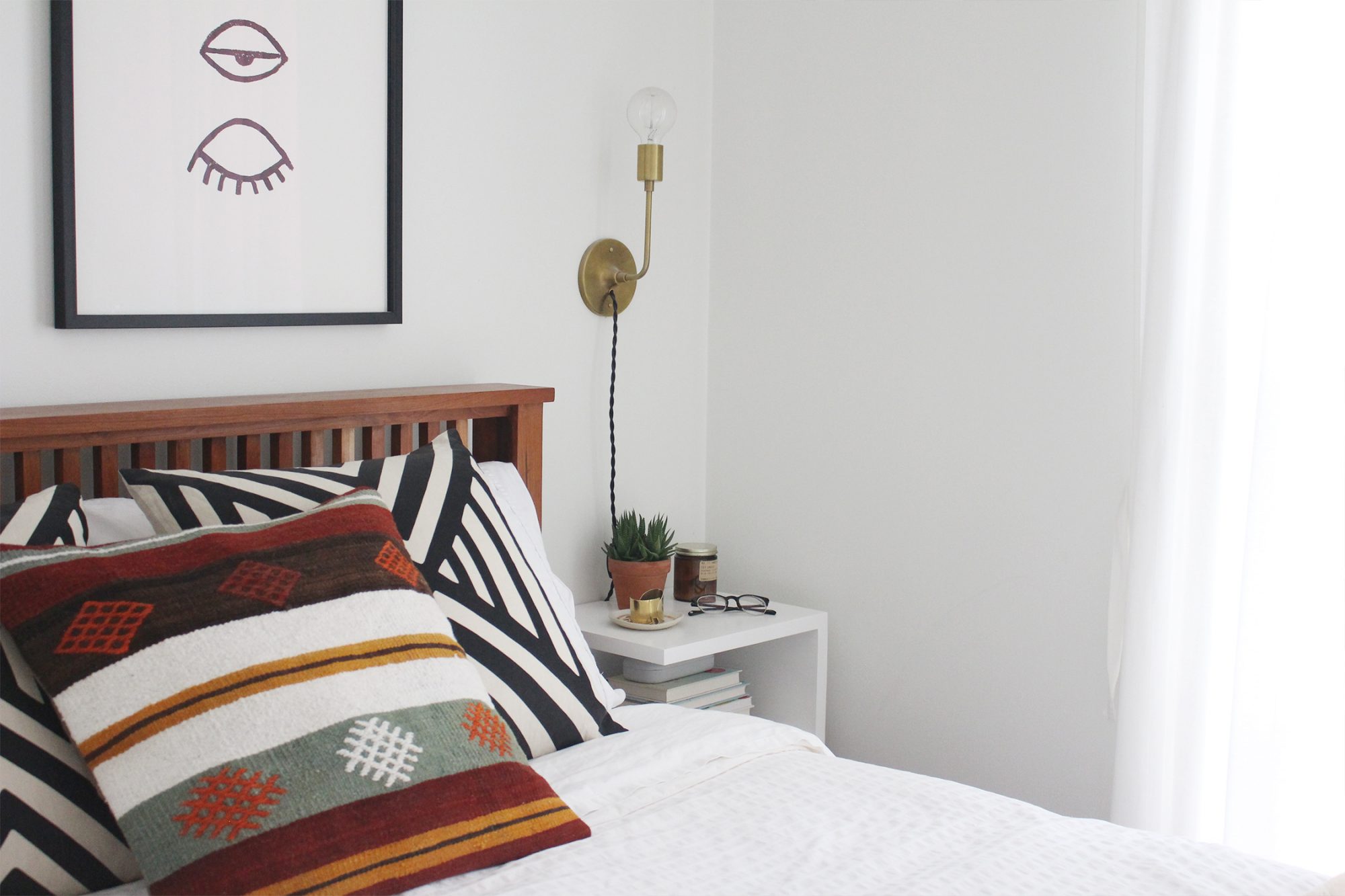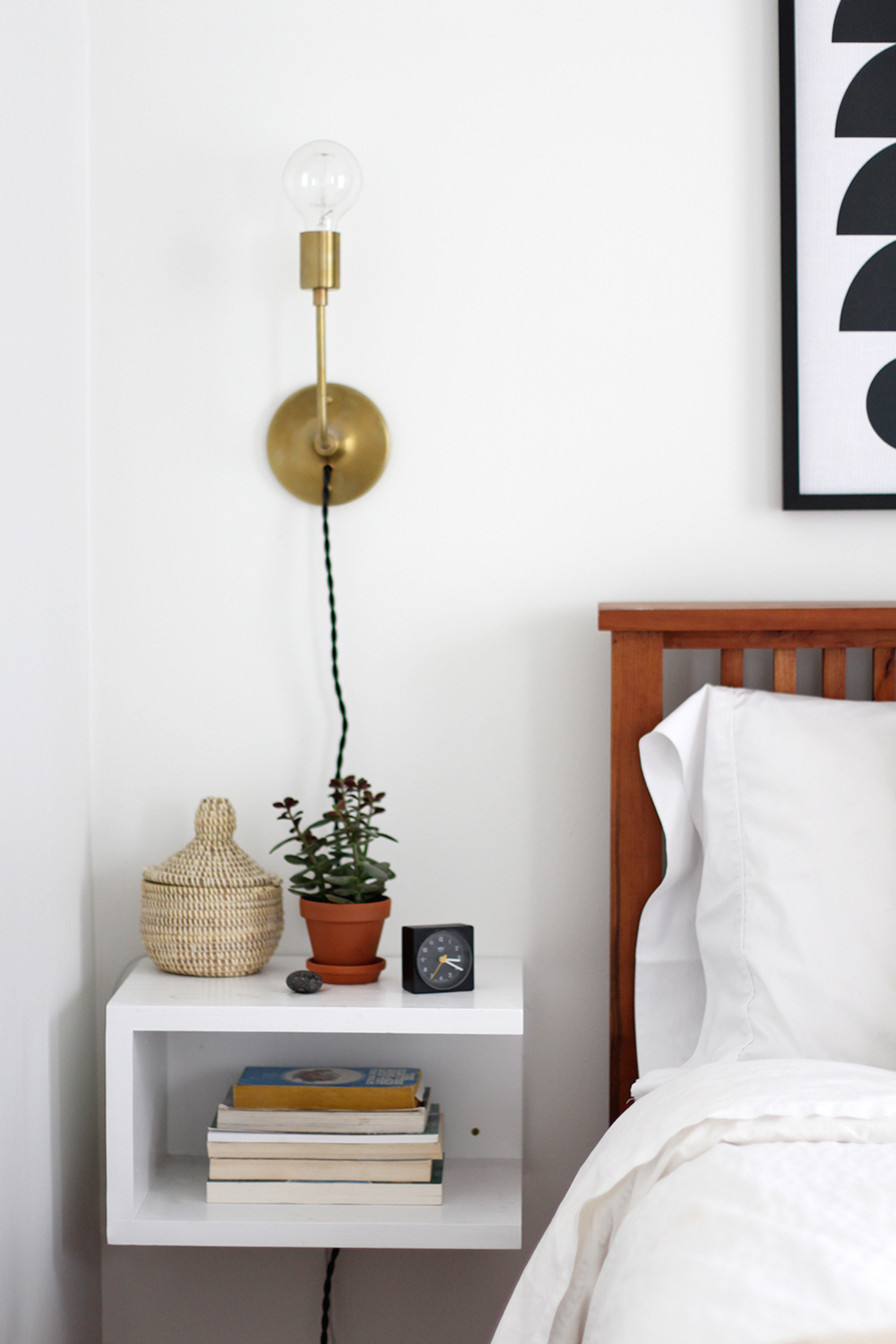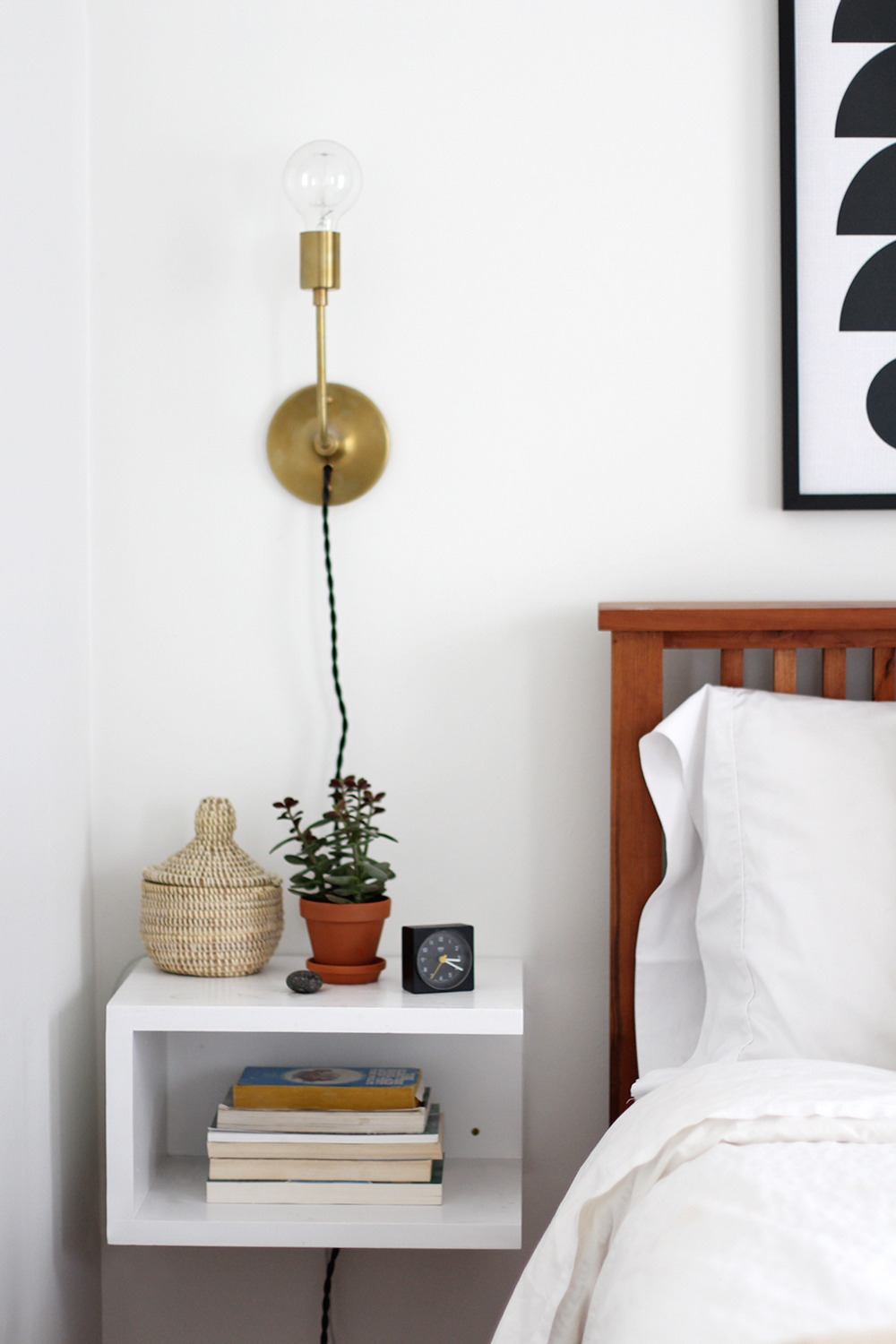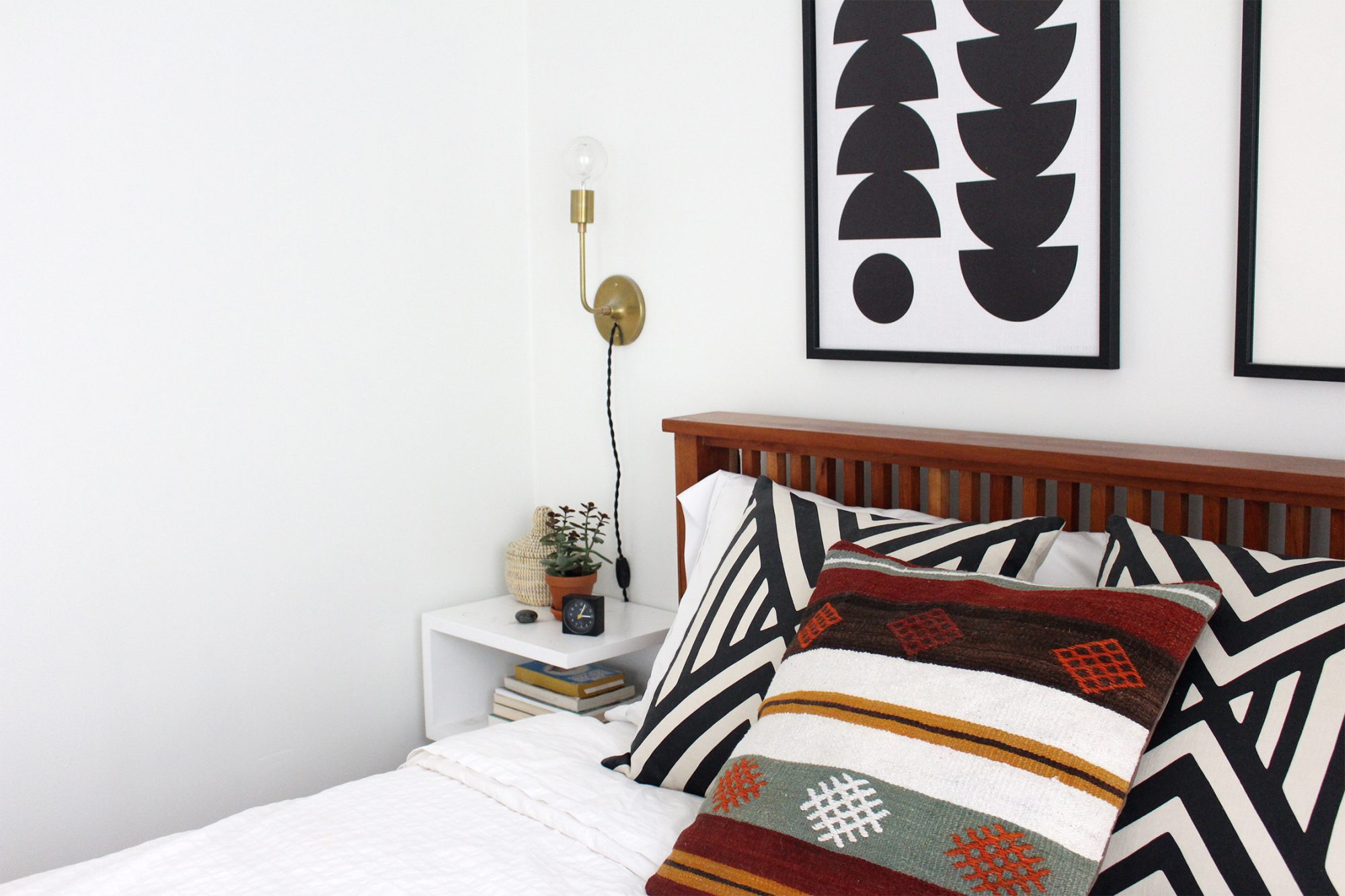 So before I forget, my top styling tips are as follows:
Pair graphic black + white patterns with colours and more intricate prints to add depth and interest.

Use repetition to create continuity throughout the room.

Create a calming space by using lots of white, soft neutrals and texture.

When in doubt, add more plants!
---
THE WANDERLY
---
"Based in Toronto, The Wanderly is an ever-evolving curated collection of well-crafted goods. In collaborations with artists, creators and business, both local and from around the world, it's our goal to seek out and showcase unique, high-quality items with interesting stories to tell."
If you're in the market for handmade goods, vintage textiles and accent pieces, you're in luck! The Wanderly just added a ton of new home goods to their online shop and I'm seriously swooning. The prices are really reasonable and the shops founder, Sarah is a delight to work with. Definitely check out the shop if you're inspired to add a little pattern to your spaces for Spring.
Here are a few more of my favourite picks from The Wanderly .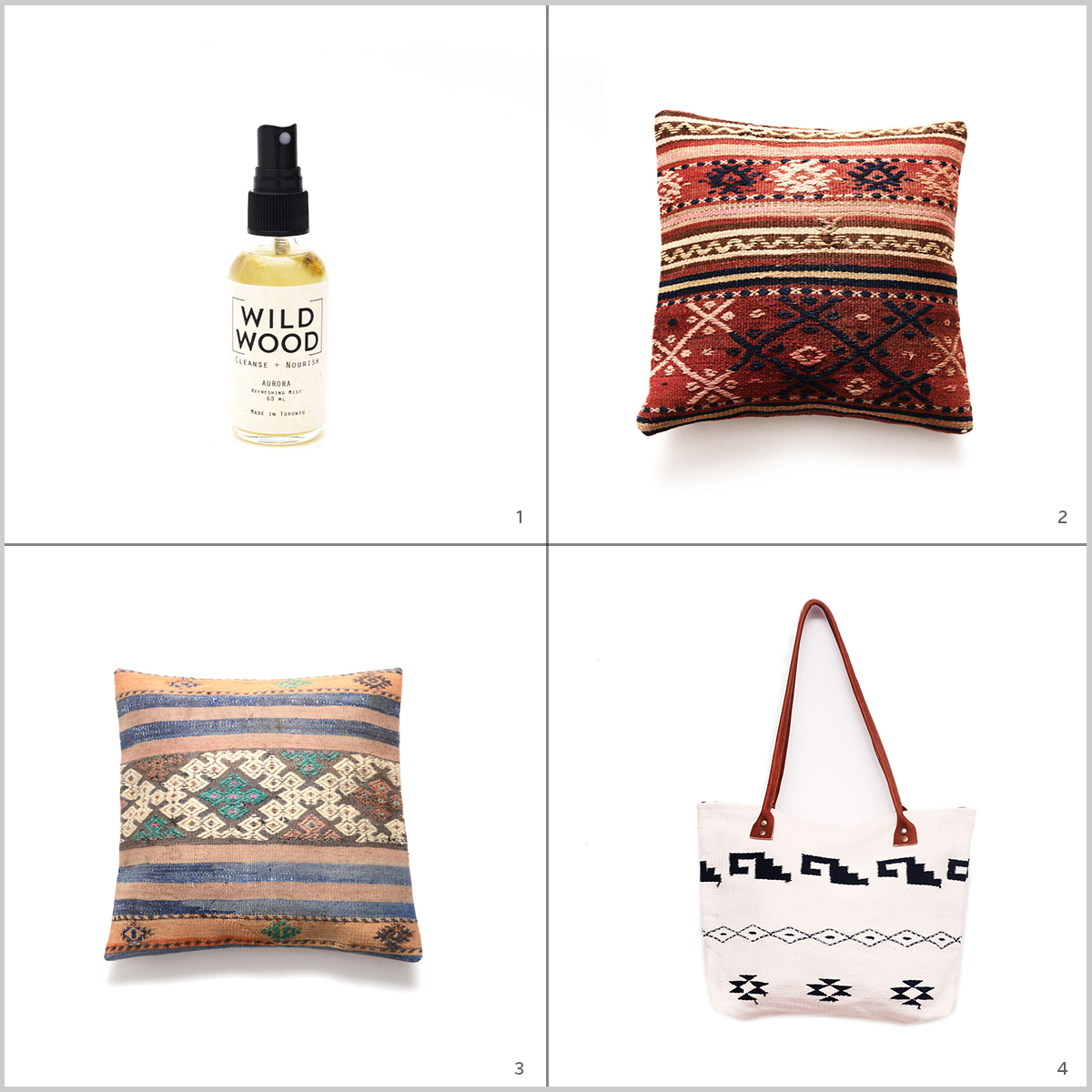 1 – Wild Wood Room Spray – This spray is my new favourite thing. It's light and refreshing with all the gentle earthy notes that I love.
2 – Marsala Vintage Kilim Pillow – Race you to this beauty! Ready, set, go!
3 – Pink + Blue Vintage Kilim Pillow – LOVE this option for a nursery or any space that needs a subtle feminine touch.
4 – The Oaxaca Tote – Hello perfect beach bag. Handmade in Oaxaca using traditional dying and weaving techniques.
---
OTHER SOURCES
Living Room: Kilim Pillows (vintage) lots of similar ones via The Wanderly, Couch + Chair Gus Modern, Map (vintage), Rug West Elm, Lamp Old (similar), Stumps naturally sourced, Mirror (vintage), Paddles hand made, Pia Wallen Cross Blanket, Black & White Pillows IKEA
Bedroom: Bed frame hand made, Sconces School House Electric, Prints The Poster Club, Black & White Pillows Lint + Honey, Pia Wallen Cross Blanket
---
Thanks to The Wanderly for partnering on this post! As always, all opinions are my own. Thanks for supporting the brands that support Style Bee.