As promised in my spring inspiration post, I've been working away on a piece all about hairstyles and accessories to try this season and beyond. As someone who is relatively inept at styling their own hair (a curling wand is advanced as I get), all these hair accessory trends have come as a welcome alternative to hot tools and bedhead.
For this post I've pulled together 4 of my favourite hair accessory categories at the moment, which are:
BARRETTES & CLIPS
HEADBANDS
HAIR PINS
SCRUNCHIES & SCARVES
These styles work great for a wide range of hair types and textures and I've pulled together visual inspiration for different ways to try each one. For the most part they're super approachable and I've compiled a list of both investment hair accessory brands and budget-friendly options. This post was a blast to source and create graphics for and I hope these ideas might inspire you to try out something new with your 'do too!
All images and items in photos above can be found at the end of the post.
---
BARRETTES & CLIPS
---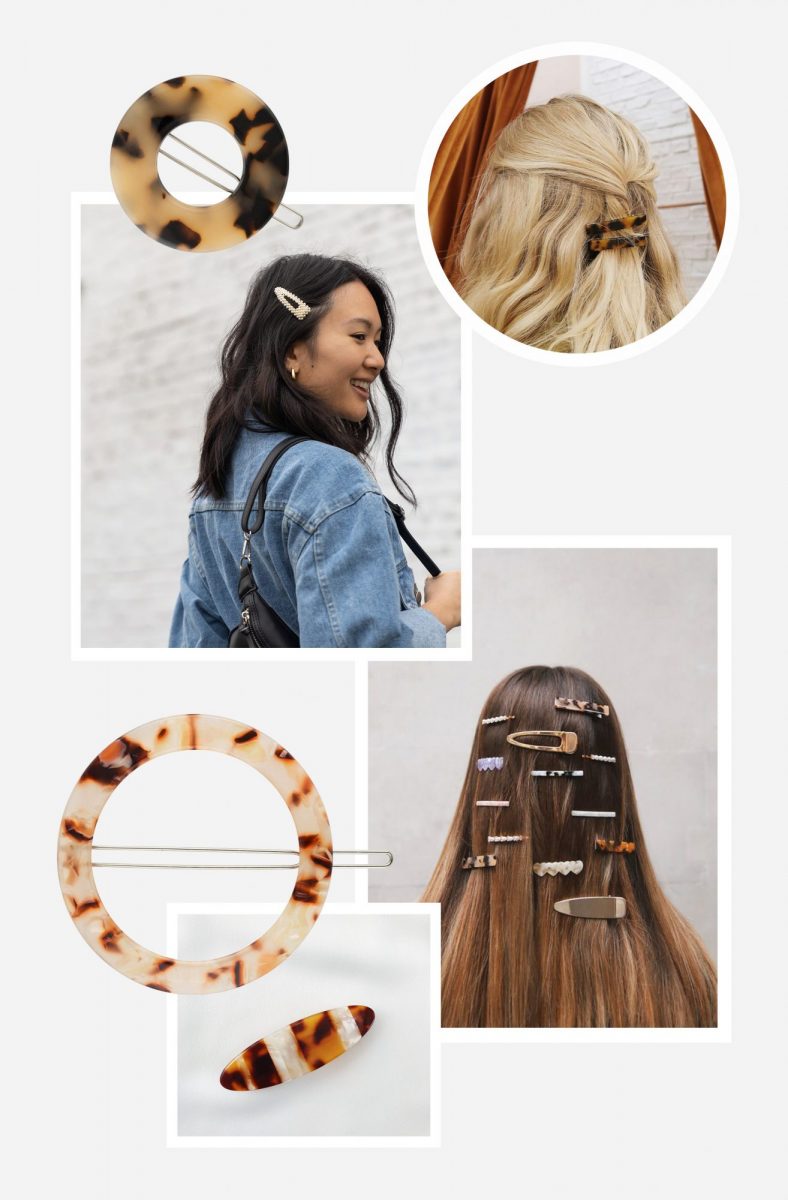 ---
Images/Items top left to right and down: Mini Circle Barrette* | Double Tortoise | Image by Sunkissed Steph & Pearl Clip | Multi-Clips Image | Large Circle Barrette* | Tro Oval Barrette | *Thoughtfully Made
---
Barrettes and clips are the hair accessory style I'm loving most right now. They're definitely a throw-back to my younger days and while it's fun to play with all the colours and textures out right now, a single circular barrette or a a set of simple clips can be just the perfect addition to a simple outfit.
---
TRY BARRETTES WITH:
HALF-UP

SIDE TWIST + DOUBLE BAR

SLEEK LOW PONYTAIL

CENTRE PART SIDE PIN
---
HEADBANDS
---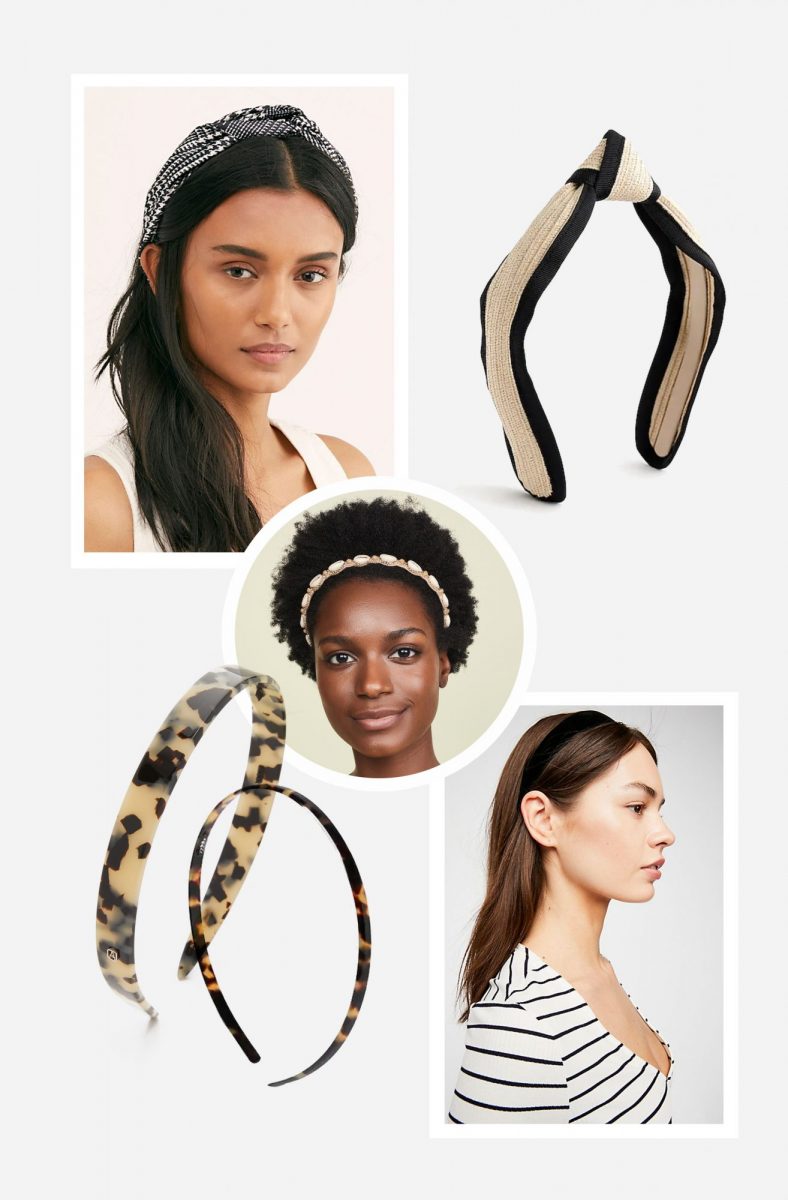 ---
Images/Items top left to right and down: Houndstooth Knotted Headband* | Black & Rattan Headband | Beaded Shell Hairband* | Wide Tortoise* | Narrow Tortoise* | Black Velvet| *Thoughtfully Made
---
Headbands take me right back to elementary school and I love it. While there are some pretty bold styles making their way around the blogosphere (this one and this one seem to be the 'it' bands) I'll be opting for something a little more timeless and subdued (a shock, I know). I've got this slim tortoise band in my cart at Shopbop right now and I love the look of this low(ish) profile padded velvet one from ETSY as well. They add such a touch of polish to a look and bring my usual boring hairstyle to life a bit. Now it's just a matter of avoiding the infamous headband headache!
---
TRY HEADBANDS WITH:
MESSY LOW BUN

LOTS OF TEXTURE & VOLUME

LOW PONY & FUN EARRINGS

SIDE PART & BEACHY WAVES
---
HAIR PINS
---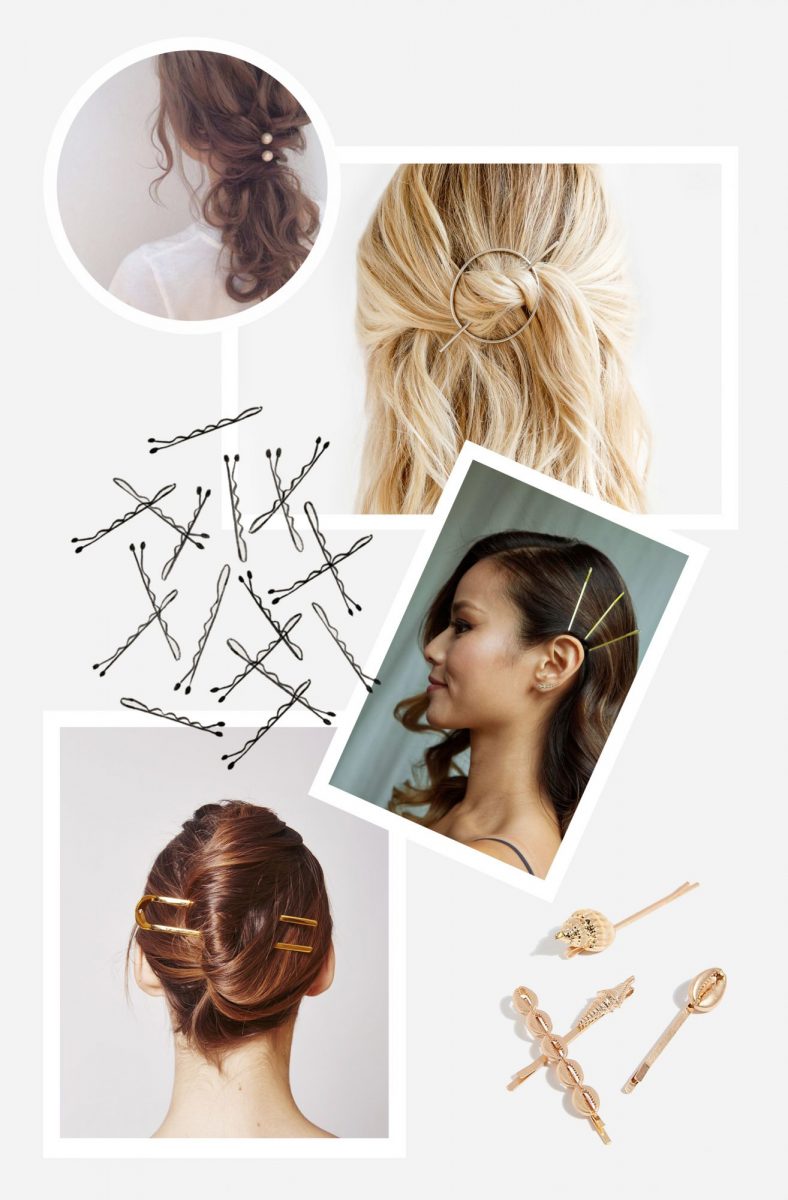 ---
Images/Items top left to right and down: Pearl Pins (Pearl Pin Set*)| Orbital Hairpin* | Bobby Pin Illustration | Gold Trio Pin (Gold Pin Set*)| Large Gold Hairpin* | Seashell Set* | *Thoughtfully Made
---
For the most part bobby pins take me back to ballet recitals and awkward bang grow-outs. That said though, there are some pretty inventive ways to use bobby pins now and beyond the basics there are so many chic and elegant hair pins to explore. Luckily there are also plenty of YouTube tutorials on how to actually make them stay! This accessory category is great for folks who want to keep things simple and would rather not invest in anything too trendy.
---
TRY BOBBY PINS WITH:
AS EMBELLISHMENT ON CURLS OR A BUN

FRONT PIECES PINNED BACK IN A TRIANGLE

SIMPLE SIDE PIN USING A FEW AT ONCE

A TWISTY UPDO TO ADD INTEREST
---
SCRUNCHIES & SCARVES
---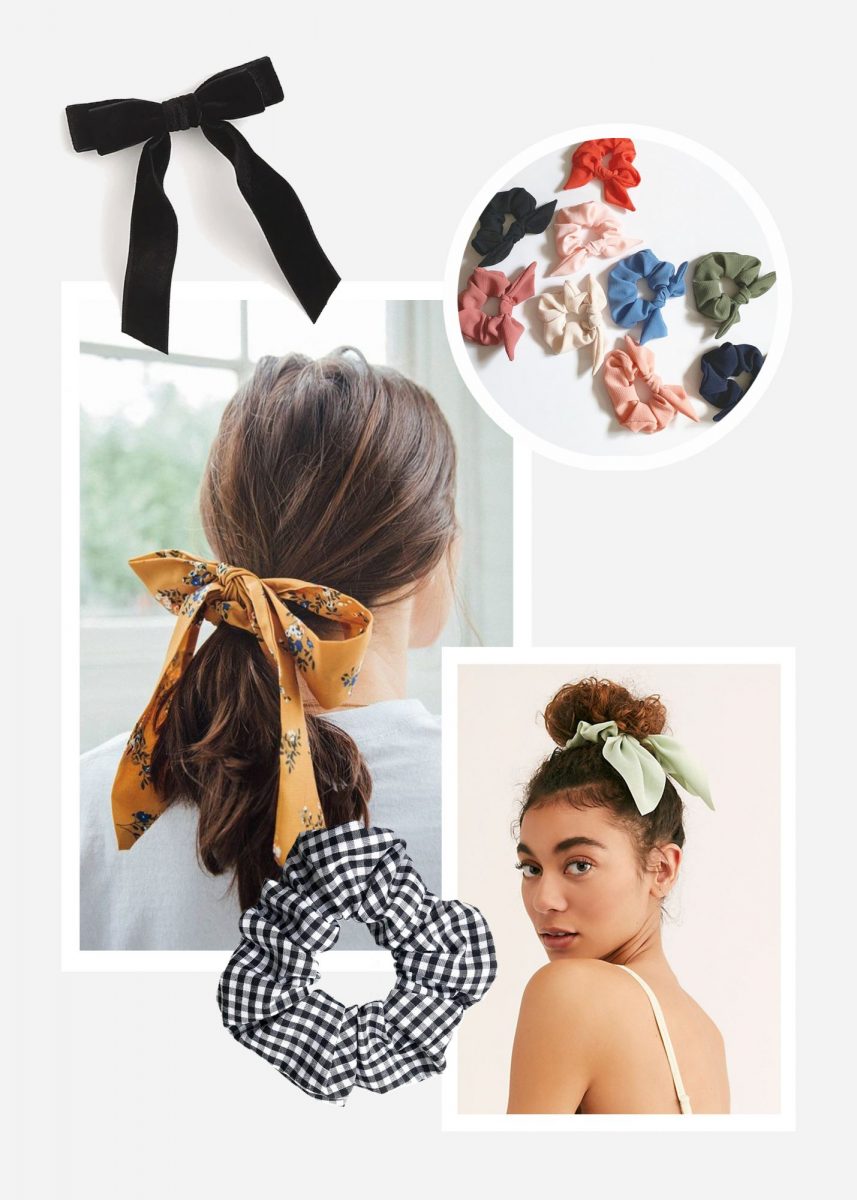 ---
Images/Items top left to right and down: Velvet Bow Hair Tie* | Crepe Silk Scrunchies* | Floral Ribbon (similar)| Gingham Scrunchie* | Green Bow | *Thoughtfully Made

---
When I first noticed that scrunchies were beginning to make a comeback I laughed out loud. Like, really!? Of course, the SATC scene with Carrie and Berger flashed through my mind too. Then I started seeing them more and more and realized scrunchies could actually be pretty cute and tasteful in the right fabric and pattern. They're also pretty practical and add a little bit of interest to an otherwise ordinary hair style like a top knot or low ponytail. I haven't bought one yet, but it's safe to say I'm firmly intrigued by the prospect!
On the other hand, I've always been entirely on board with hair scarves and ribbons and love how those look for spring and summer with a white tee, jeans and sandals. It's a touch feminine and a little youthful in just the right way.
---
TRY SCRUNCHIES AND SCARVES WITH:
A CUTE LITTLE KNOT FOR SHORT HAIR

A BOATER HAT & LOW PONY

LOTS OF TEXTURE & SHORT TIES

BRAIDED HALF UP WITH A RIBBON
---
INVESTMENT HAIR ACCESSORIES
THOUGHTFULLY PRODUCED | STARTING AT $25 USD AND OVER
---
Handmade in France | Starting at $25 USD | On sale via SHOPBOP

---
Handmade in India | Starting at $30 USD | On sale via SHOPBOP

---
Handmade in NYC | Starting at $98 USD | On sale via SHOPBOP

---
Handmade in France | Starting at $53 USD | Free shipping via Garmentory
I have a piece from this line and it's really well-made and beautiful. It has the capacity to hold all my hair (second or third day when it's flattened out a bit) and it hasn't tarnished or dulled in the several years I've had it.
---
HANDMADE IN FRANCE | STARTING AT $25 USD | Shop via Dreslyn

---
BUDGET-FRIENDLY OPTIONS
SEVERAL OF THESE ARE THOUGHTFULLY MADE | STARTING UNDER $25 USD
---
Imported | Starting at $11.90 USD | Free INTL Shipping over $70 USD
---
ETSY MAKERS
---
Handmade in Vancouver, BC. | Starting at $25 CAD

---
Handmade in Georgia | Starting at $12.40 CAD

---
Handmade in OHIO | Starting at $10 CAD

---
MANY MORE INVESTMENT & BUDGET OPTIONS TO EXPLORE AT:
J.CREW | FREE PEOPLE | URBAN OUTFITTERS | SHOPBOP | ANTHROPOLOGIE | ASOS | NET-A-PORTER

---
WOWZA! THAT'S WAS A LOT OF HAIR ACCESSORY ACTION BUT SO MUCH FUN!
WHAT DO YOU THINK ABOUT THESE HAIR STYLING IDEAS?
ANY PERSONAL FAVOURITES OR ACCESSORIES YOU'RE UP FOR TRYING OUT? Let's here 'em!
---
OPENING IMAGE SOURCES
---
---
Left graphic from top to bottom: Tortoise Clip Set | Pearl Barrette* | Gold Circle Clip | Scarf Ponytail Photo (Similar scarf here) | Bobby Pin Styling Photo | Gold Bobby Pins* | *Thoughtfully made
Right graphic from left to right: Gold Bobby Pins* | Pearl Barrette Photo (similar barrettes here) | Tortoise Circle Barrette | Silver hair pin trio | Pearl Bobby Pins | Gold Bauble Hair Tie | *Thoughtfully made
---
WISHING YOU A WONDERFUL WEEKEND!
I'll be back next week with a new designer intro, a product review and lots of spring style fun!
---
This post contains affiliate links. When you shop via the links above I may make commission on a sale at no additional cost to you. Thanks for supporting Style Bee this way! All opinions are always my own.