Stripes are a year-round staple in my closet and I love the way they can add interest while still being versatile. Typically, I gravitate towards a high contrast black and white stripe, however, this summer I've noticed a theme in the pieces I've been wearing a lot, which is a more neutral take on stripes. I've also realized that in these instances I'm drawn to a vertical pattern rather than horizontal. I'm not entirely sure if that means anything in particular but I thought it would be fun to share a few of the looks I've been loving lately.
Today I'm sharing three easy summer outfits with some notes on how I style striped pieces for fun events, work meetings and easy-going weekends. I hope these looks and tips might give you some ideas too! 
Now let's take a look!
---
LOOK 1 – FOR FUN
---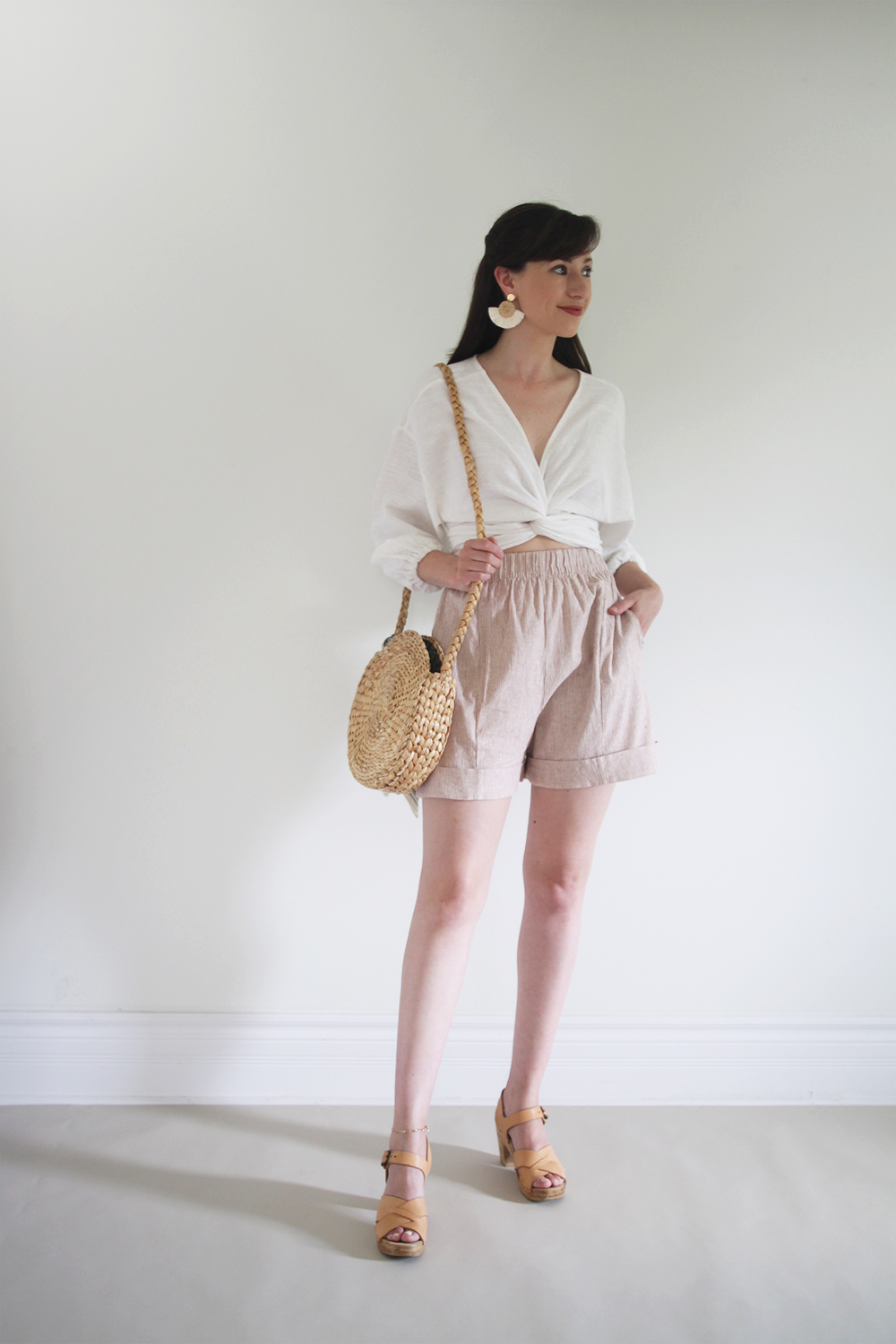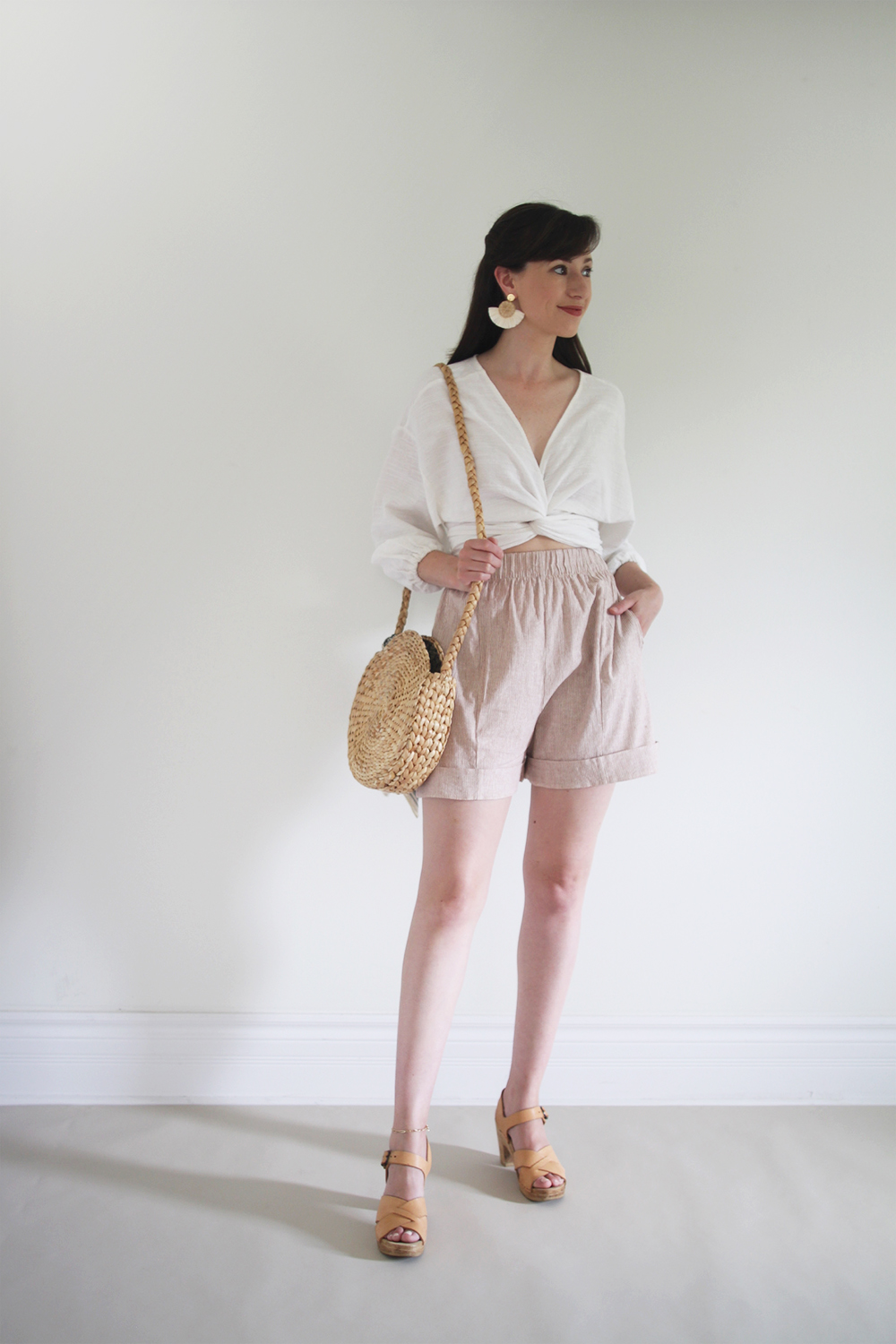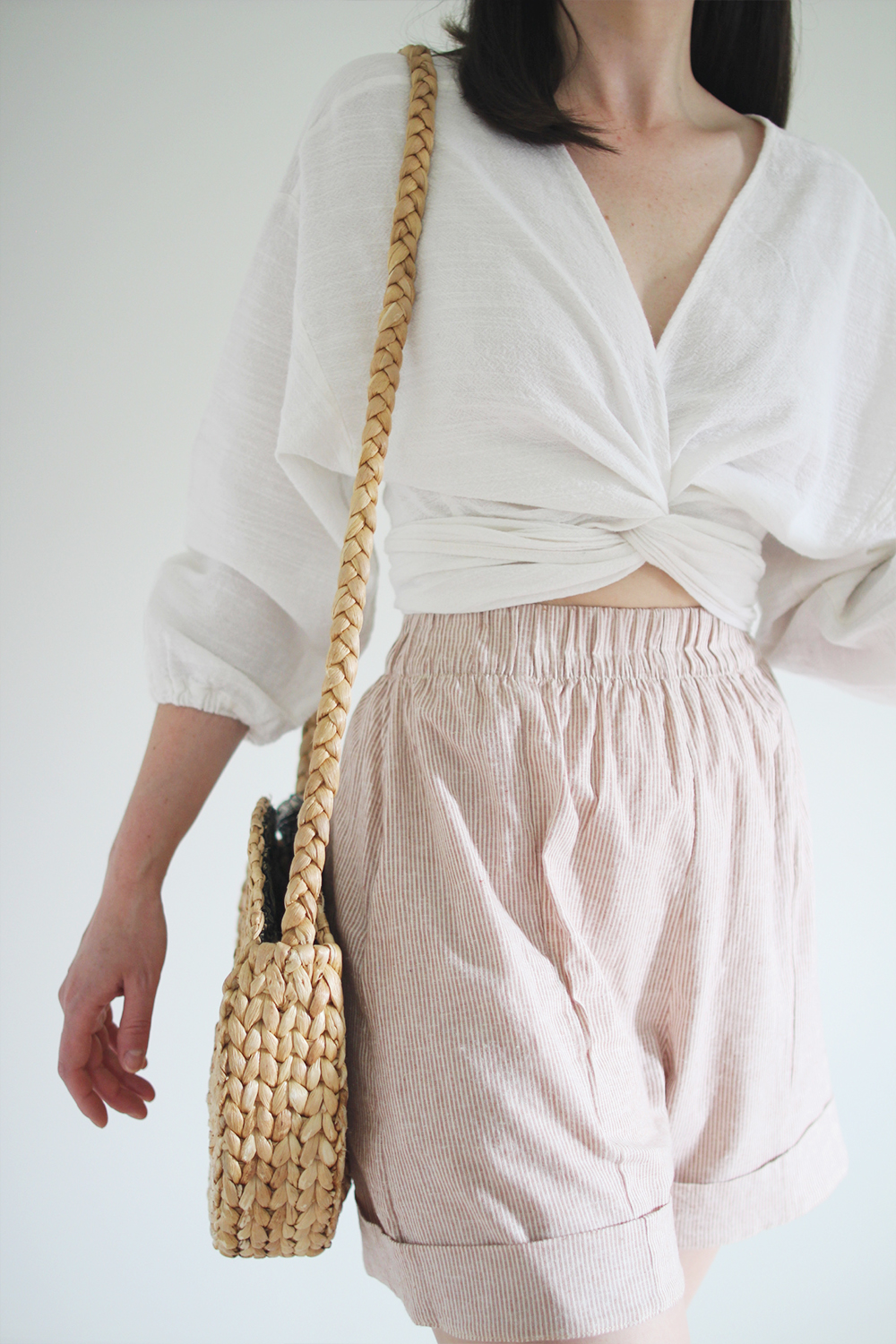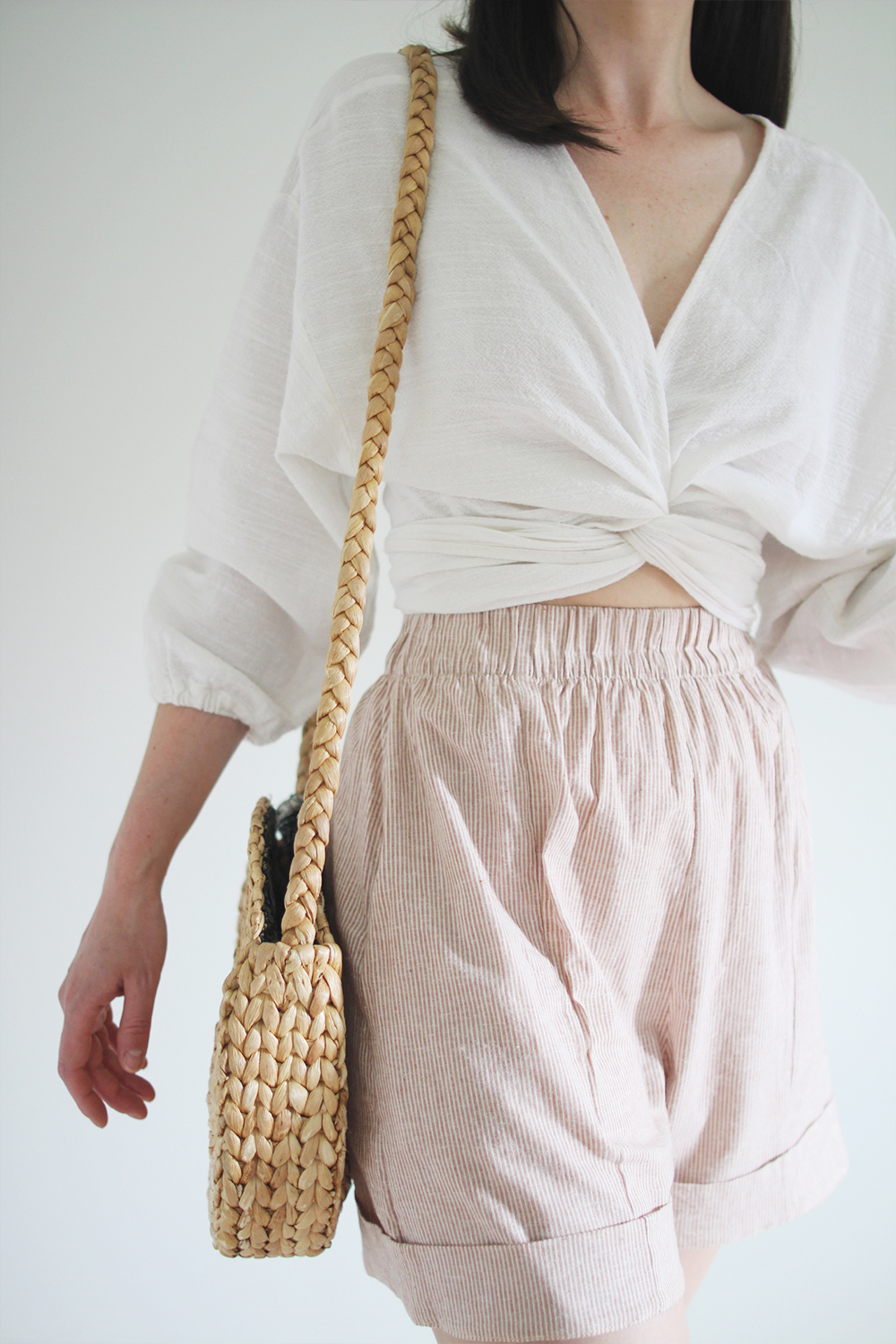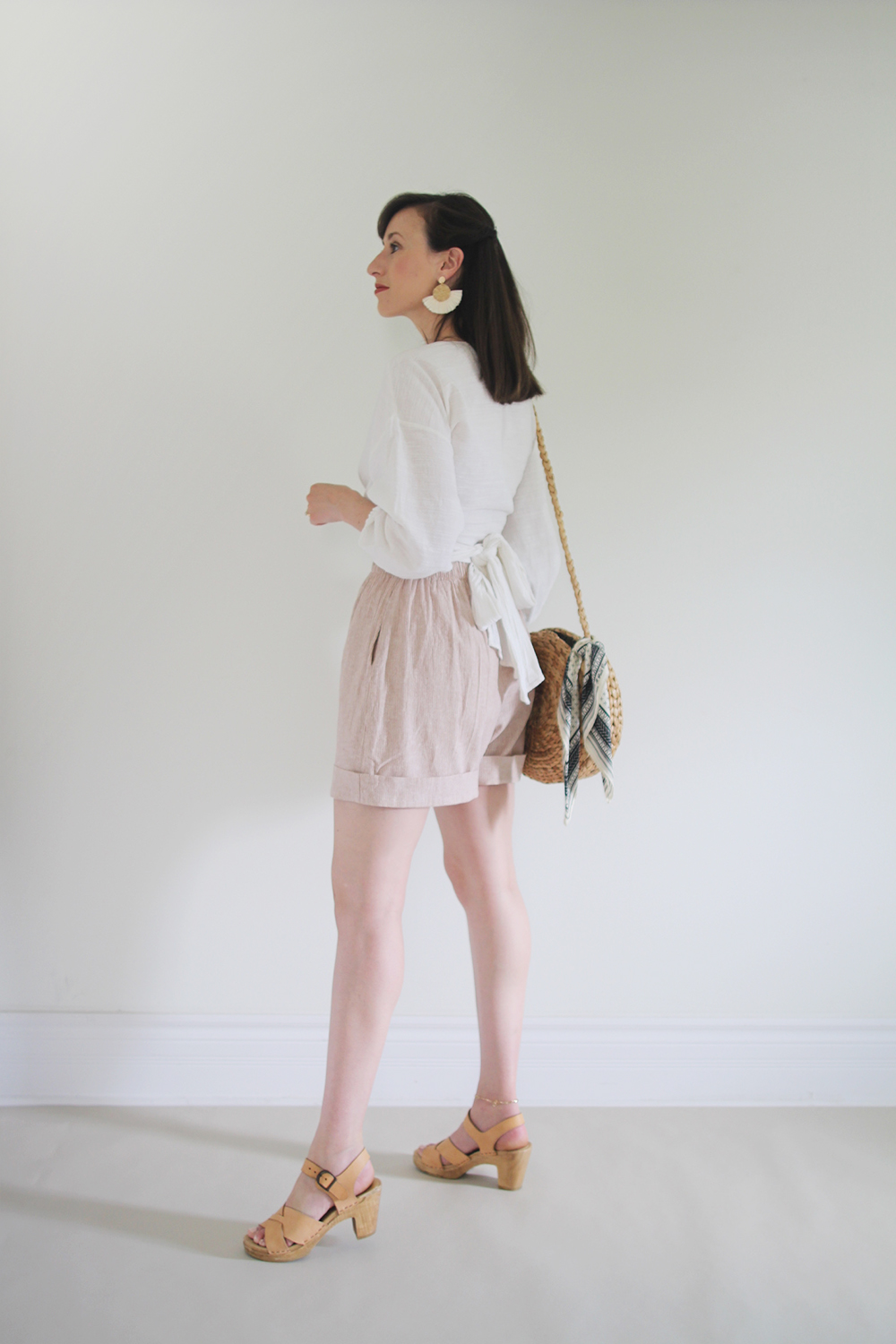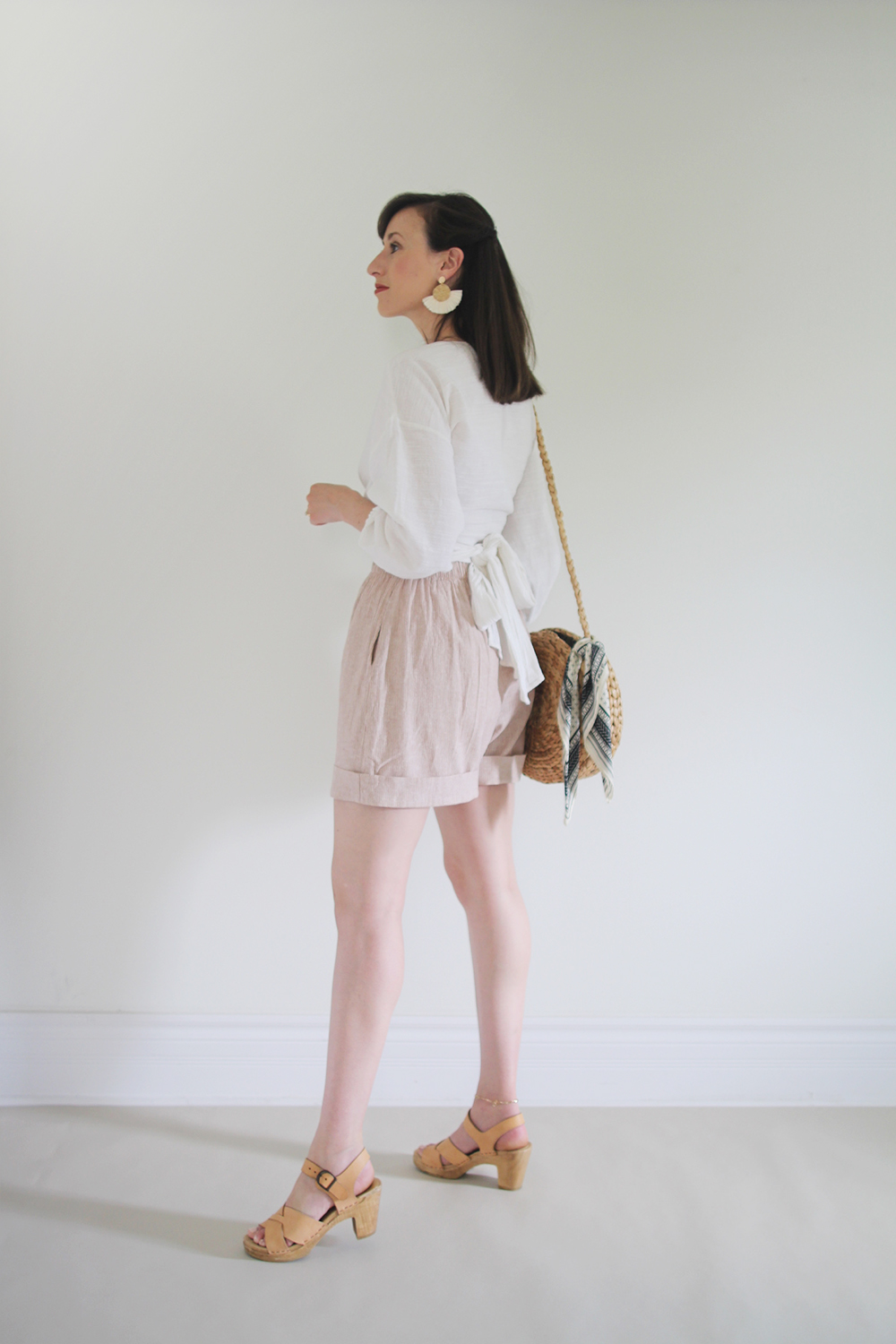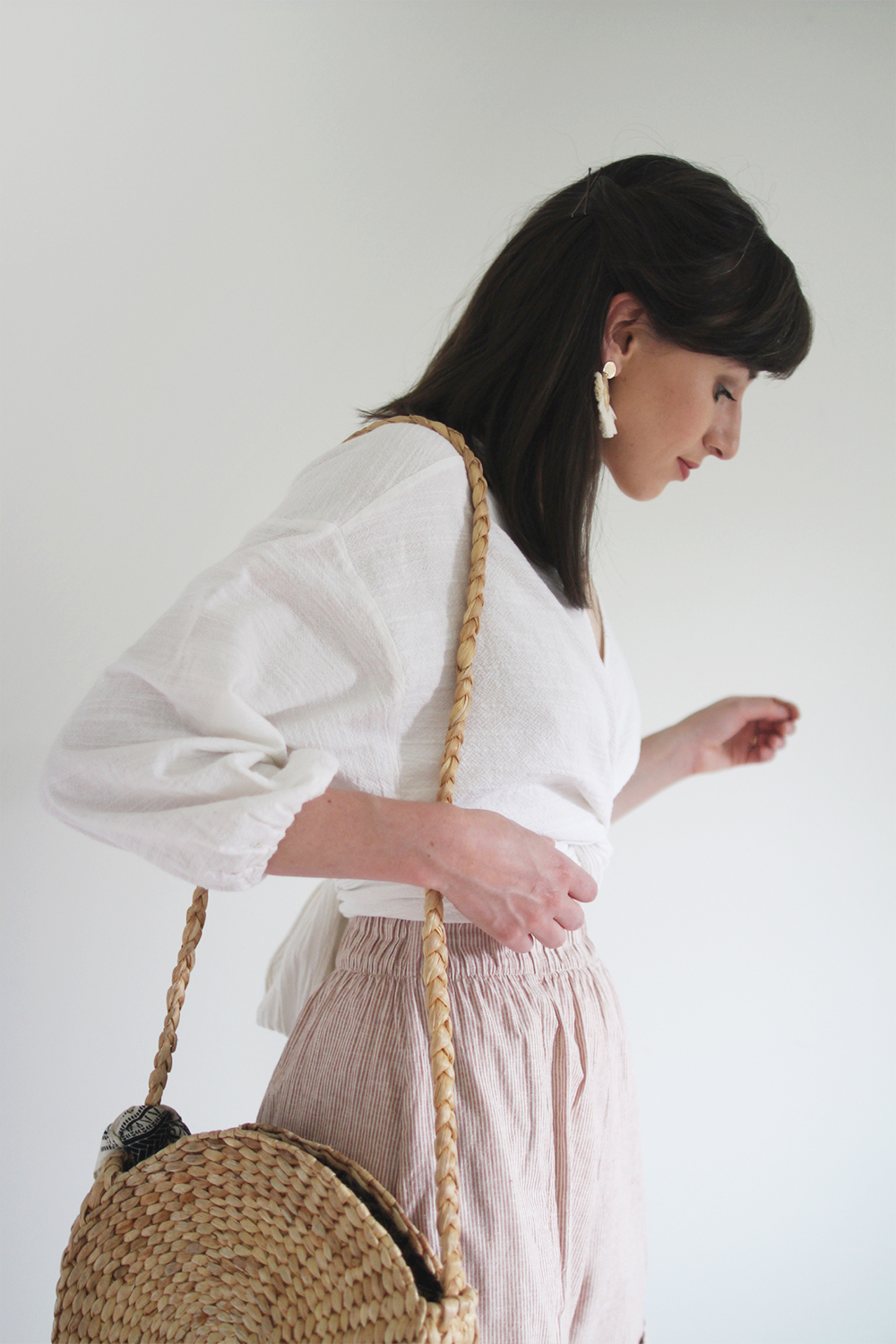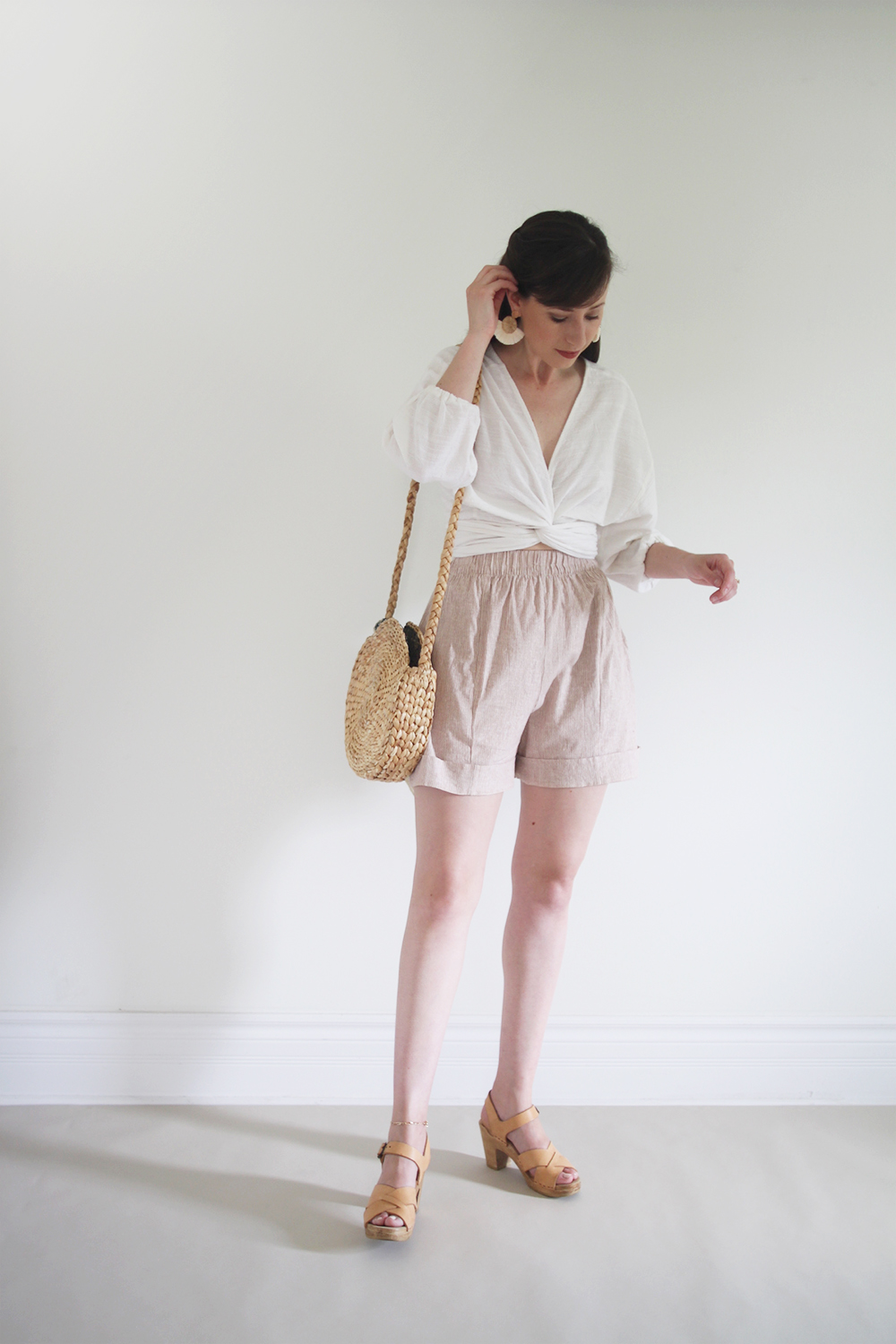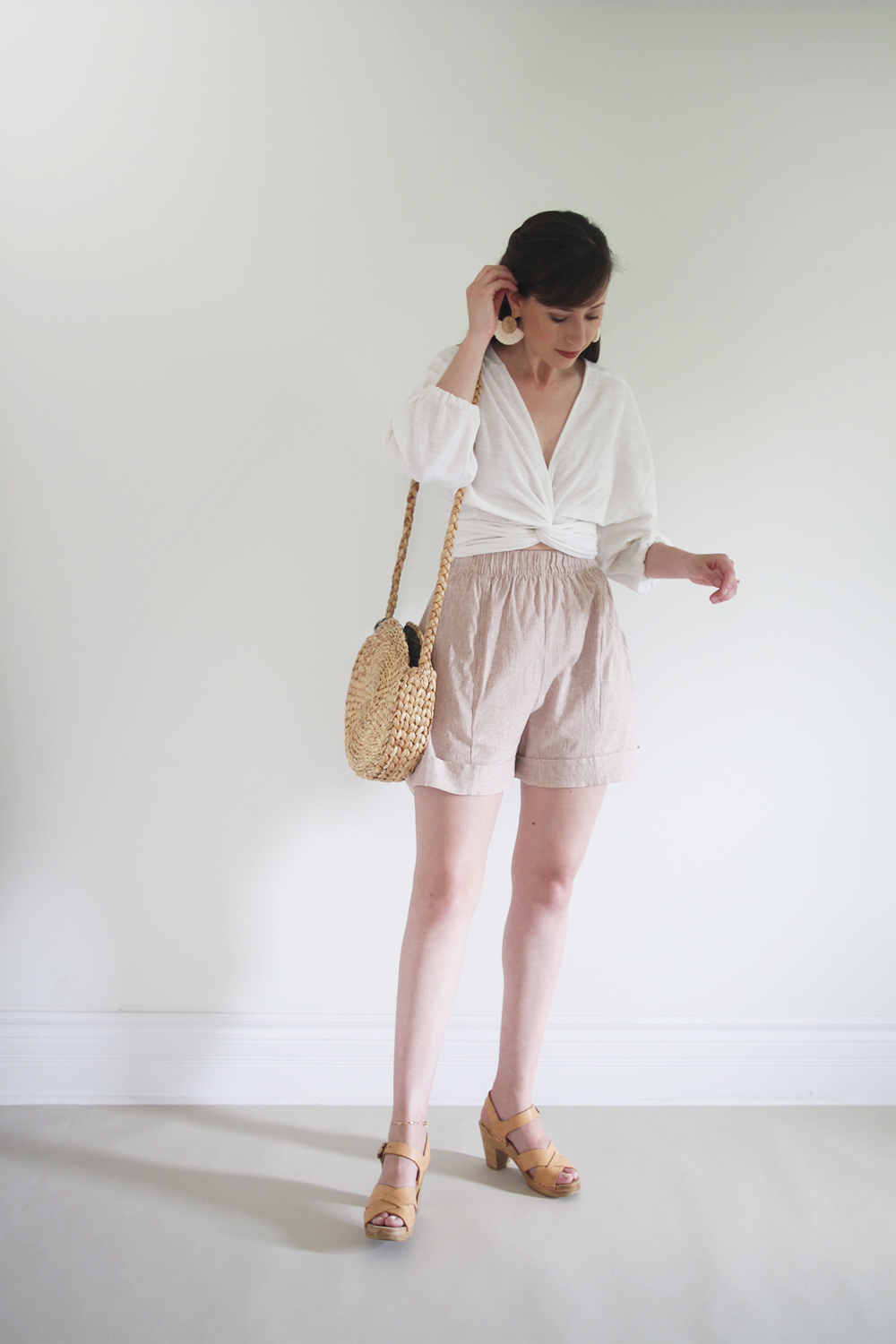 ---
ABOUT LOOK 1: I love this outfit for a fun summer event like a music festival, bachelorette party, day in wine country or even just a dressy brunch. It also happens to pair perfectly with those ridiculously spilly champagne coupes!

Sidenote: I also love how my friend Andrea has been styling these shorts!
---
STYLING NOTES
BALANCING ACT(S): This look may not seem like it, but it is an effort in creating balance. To start, these shorts have a fair amount of volume and to offset their fullness I cuffed the hem for a slightly shorter inseam. Then, to contrast the billowy sleeves of the top, I cinched the waist tight and positioned it slightly above the waistband of the shorts to really accentuate the mid-section.
MATCHING MATERIALS: Without even realizing it, I paired three accessories that are made of natural textures. My clogs are wooden and match the tones and texture of my braided grass bag and the woven wicker center of my statement earrings. Then, I noticed how the raffia on my earrings mimics the crinkled cotton texture of my top. I love when little details like this happen naturally (hehe) but you can also use this approach when you're building a cohesive look.
EASY UPDO: The hairstyle I wore in this look has been one of my go-to ways to wear my hair this summer with both front pieces twisted and pinned back. It looks deliberate without being too polished and makes room for statement earrings to be the focus. This bobby pin post changed my hair game completely!
---
SOURCES: WRAP TOP n/a (similar here and for less here) | SHORTS gifted | CLOGS (on sale) | EARRINGS n/a (similar here)| BAG old (similar here and here)
---
LOOK 2 – FOR WORK
---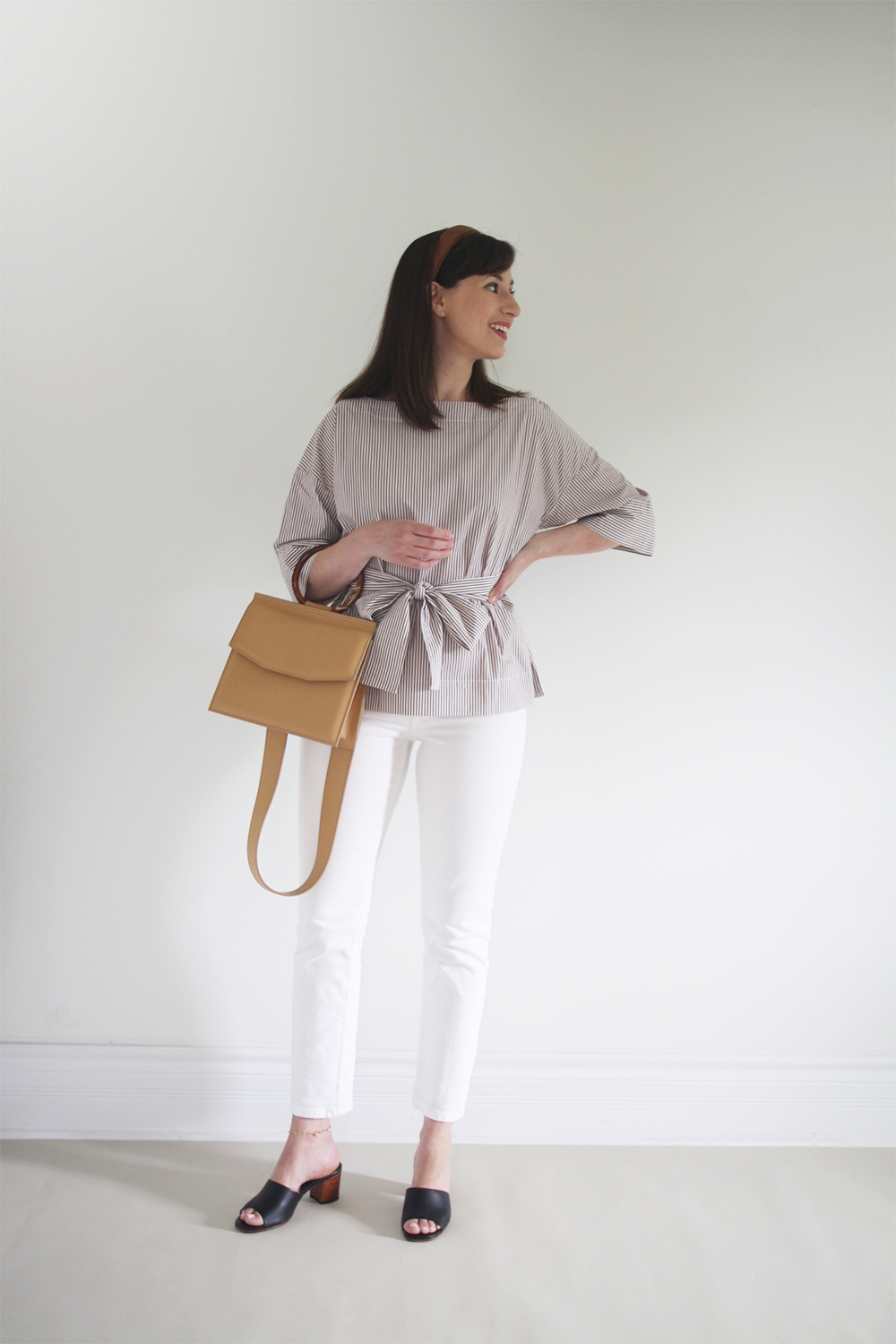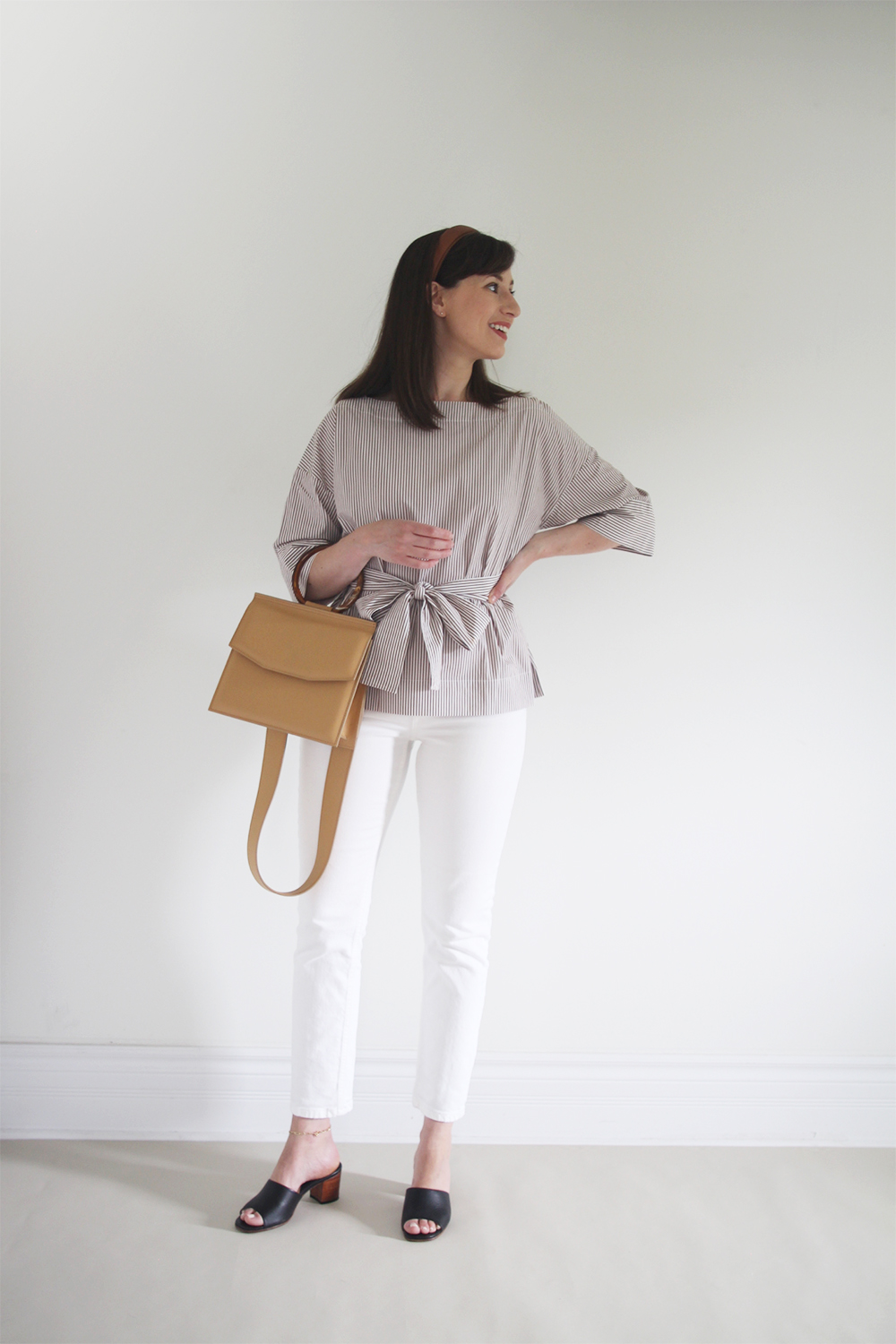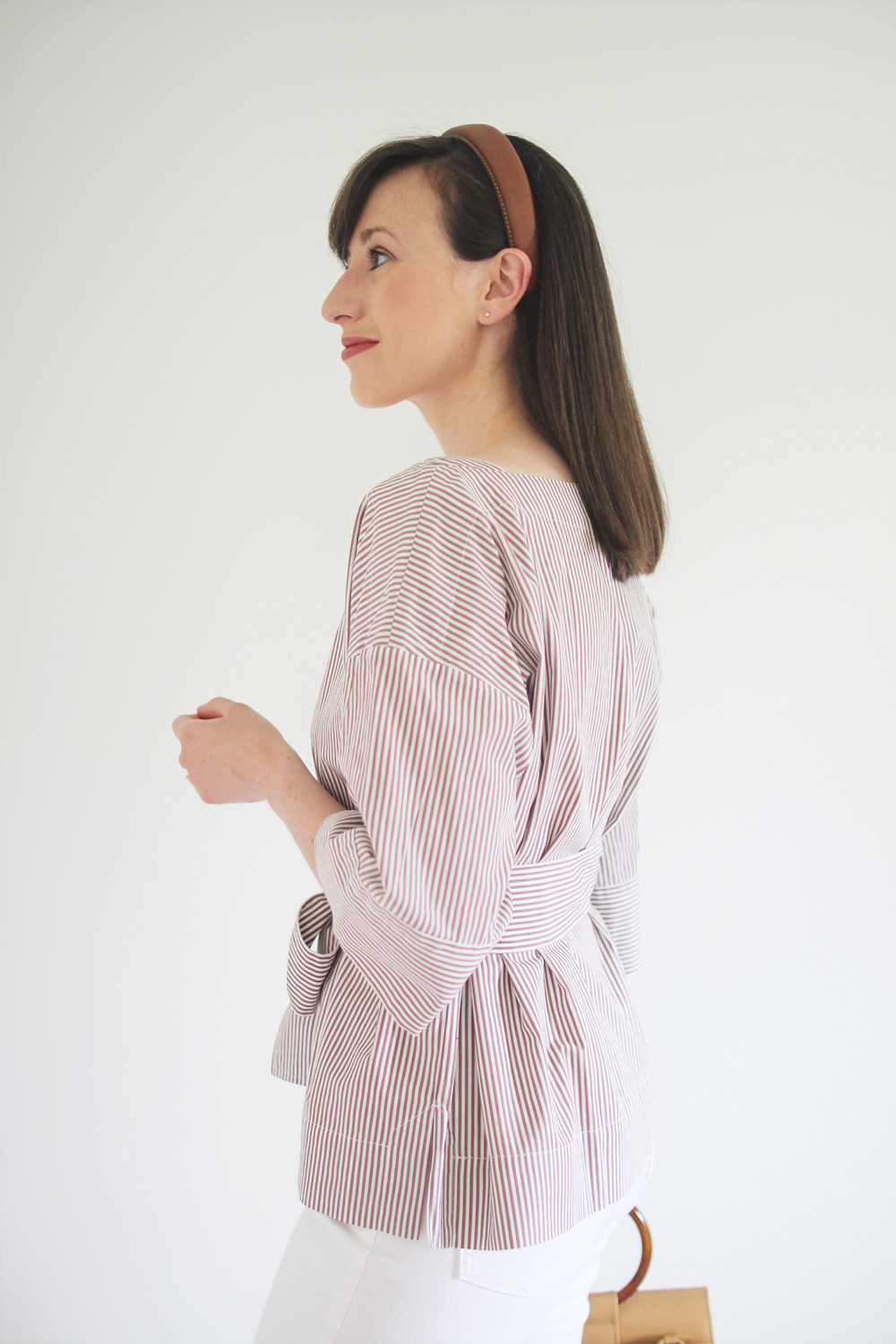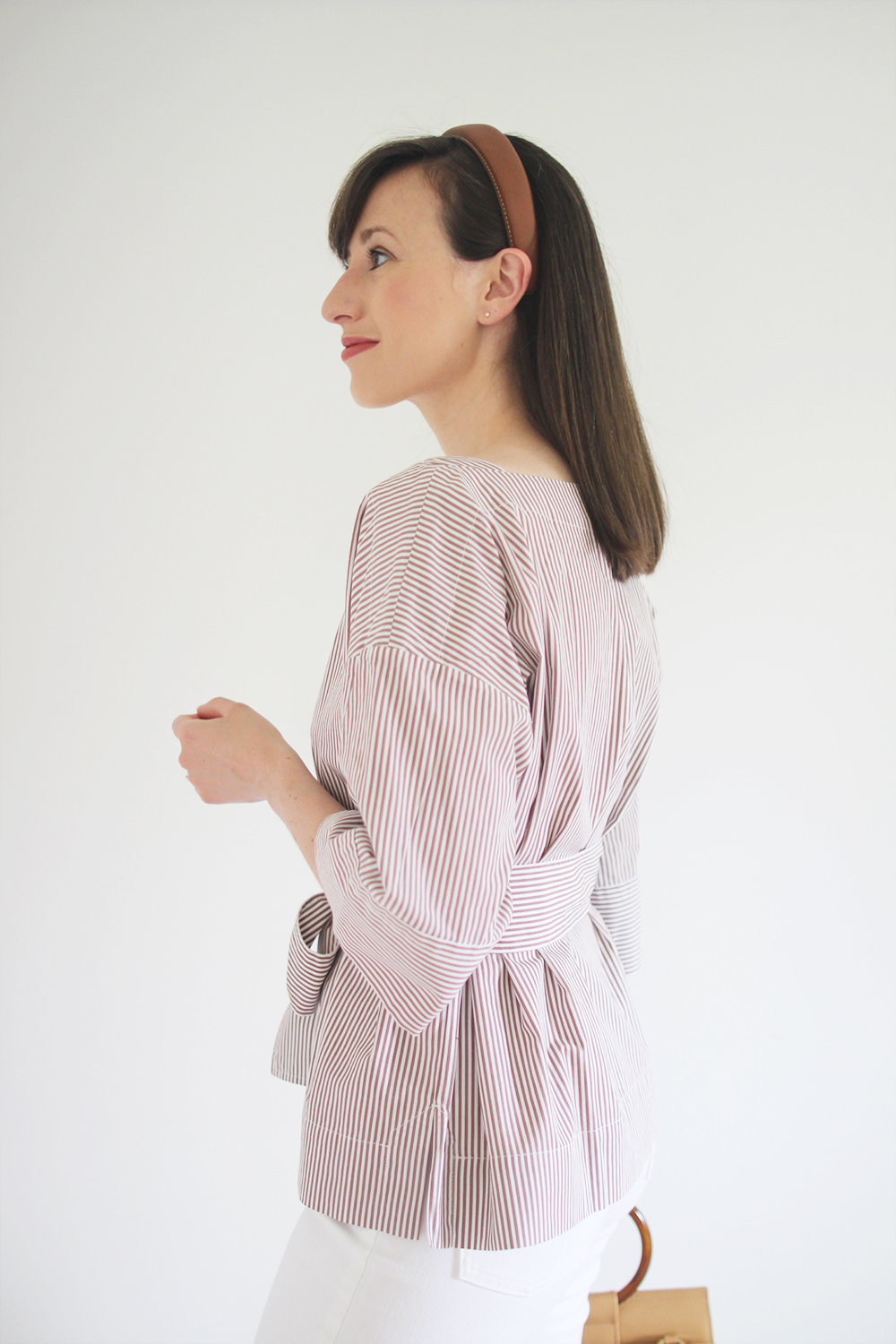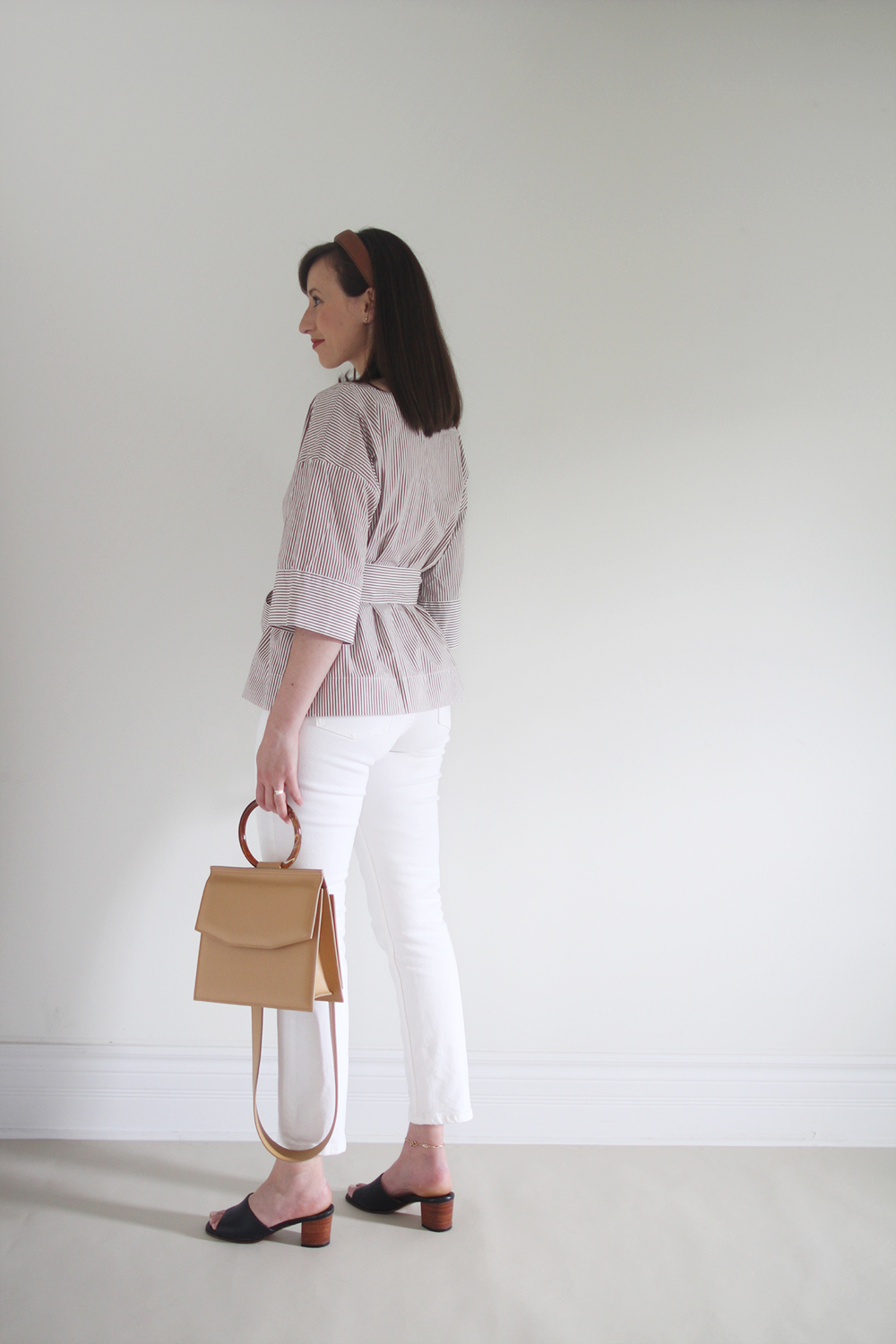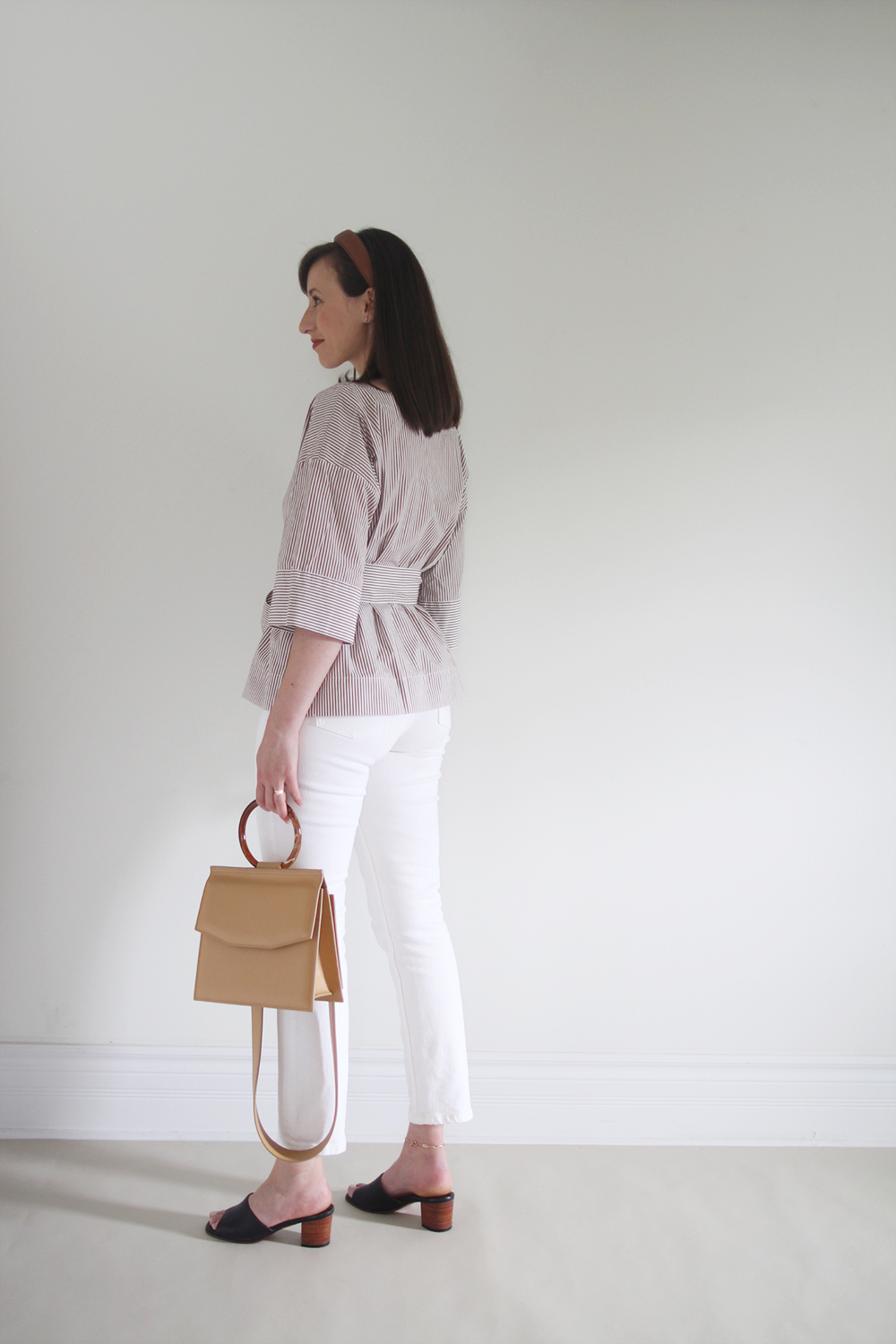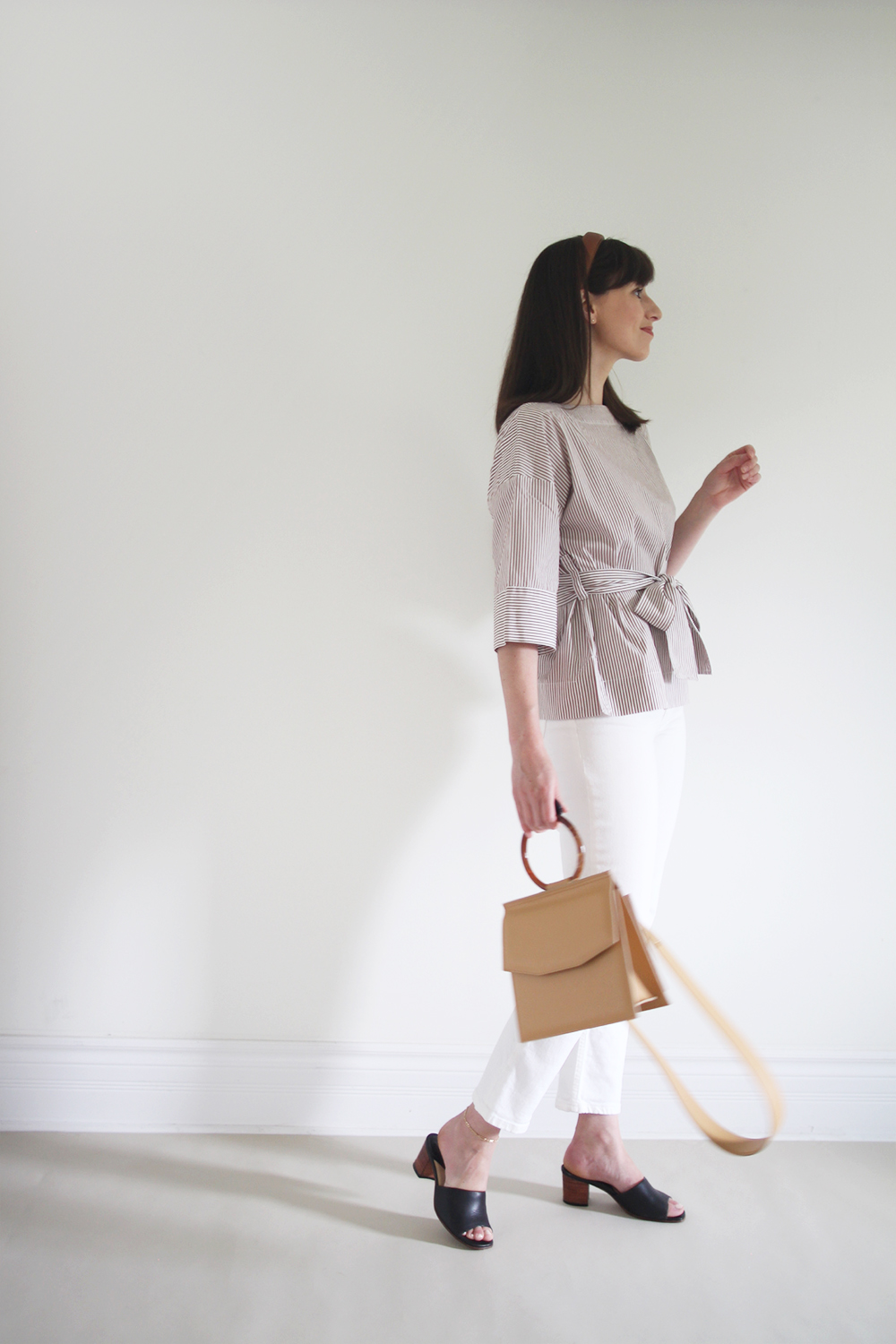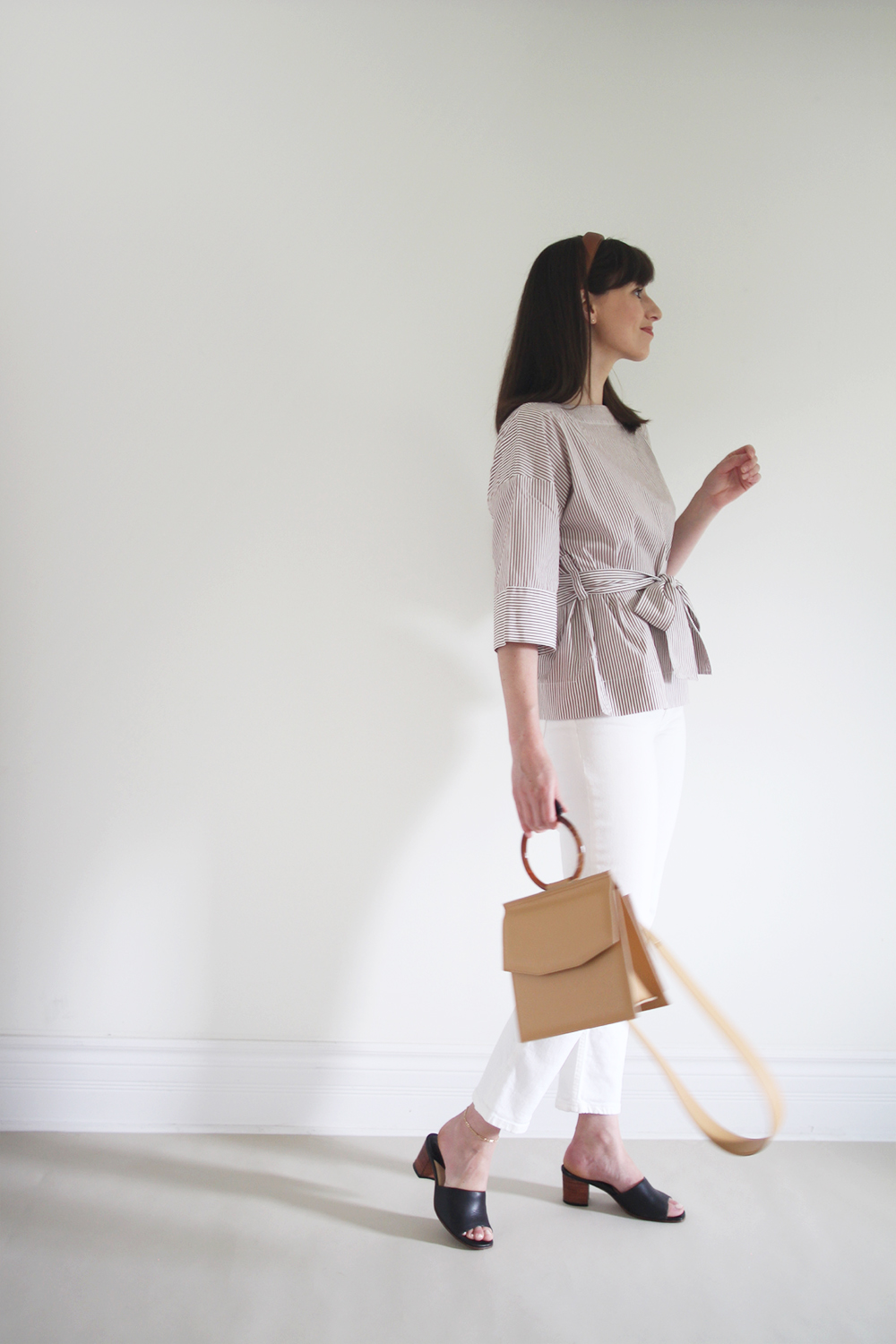 ---
ABOUT LOOK 2: I'd been on the hunt for a summer top to wear to meetings and other work events that was a bit dressy, a bit fun, lightweight and didn't require much fussing. Cue this poplin belted top, which has turned out to be the perfect option for just that. It's not like anything else in my closet and I've had lots of fun playing around with it. I love it over a cropped white jean with mules for the summer but I also love it with dark flares and boots for the fall!

Sidenote: I really like the white version of this top paired with the kick crop work pant too!
---
STYLING NOTES
HOW I MAKE DENIM MORE WORK APPROPRIATE: I understand a lot of work environments are not denim friendly but if your office dress code is a bit more relaxed then I say jeans are totally fair game. To keep them feeling professional I opt for a straight fit in a flat wash (no distressing) and pair them with crisp, structured pieces like a poplin top, minimal block heel and a sleek bag. A small stud earring and a padded headband add polish as a finishing touch.
SUMMER BROWNS: I love a warm, earthy palette any time of year and there is no reason you can't wear browns in the summer. This season I've been drawn to muted mocha (like this top), acorn leather (the headband) and the golden toffee of this bag stopped me in my tracks! My advice is to mix and match brown tones recklessly but pair them with swaths of white or cream tones to keep the palette feeling fresh.
THE BOOKEND TECHNIQUE: I've mentioned this neat styling trick my Mum taught me before but I noticed it at play in this look. The theory is that if you match the top of your look (ie: a hat, scarf or headband) with the bottom (ie: your shoes) then everything else will work too. In this case I love how the rich brown headband and my dark hair mirror the brown wood block heel and dark leather of my mules. One day I'll have to test that theory in more extreme outfit circumstances but so far it holds up!
---
SOURCES: POPLIN BELTED TOP gifted (size 2)| WHITE DENIM (I wear a 26) | STRUCTURED BAG | LEATHER HEADBAND | BLOCK HEELED MULE old gifted (similar option linked)
---
LOOK 3 – FOR WEEKENDS
---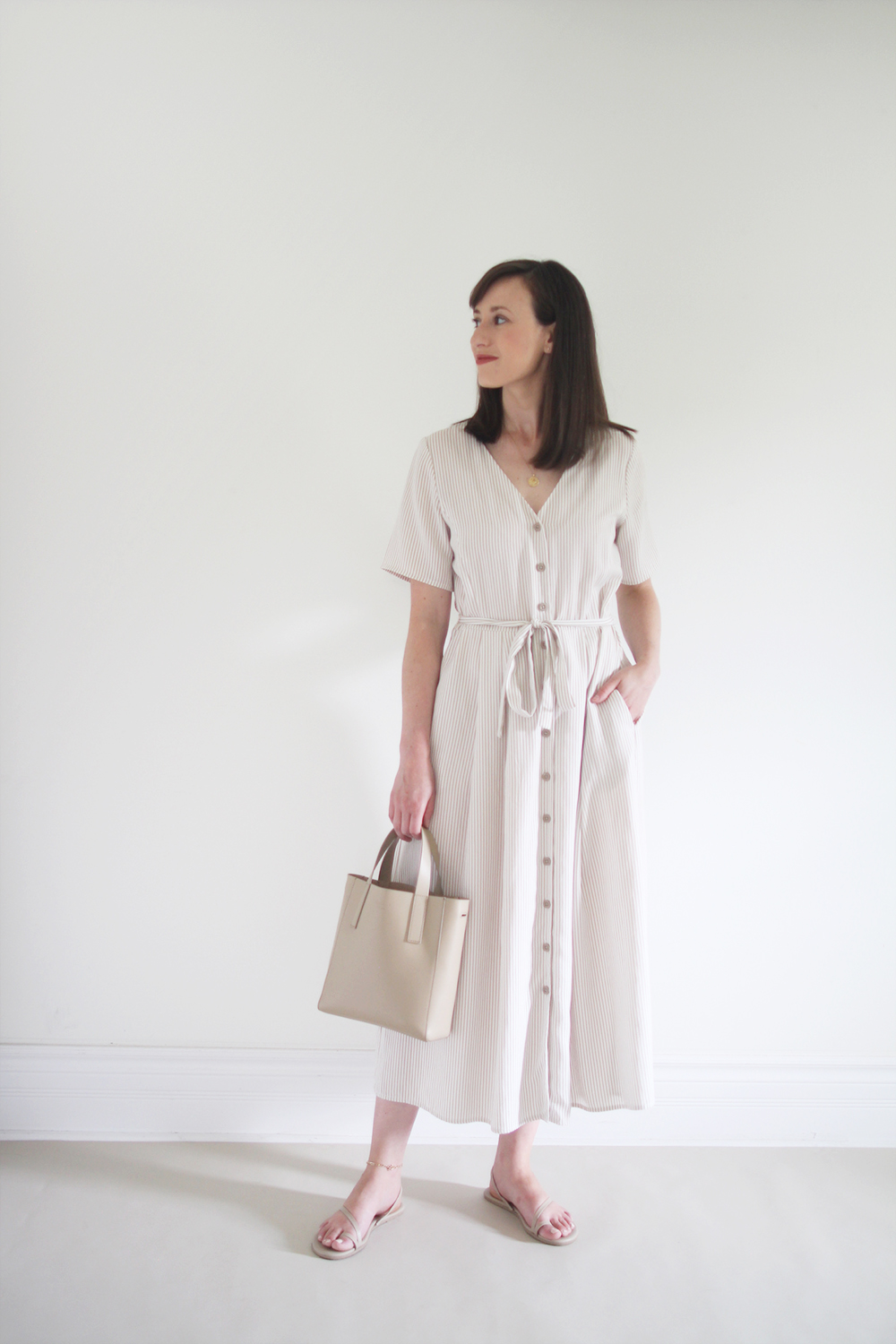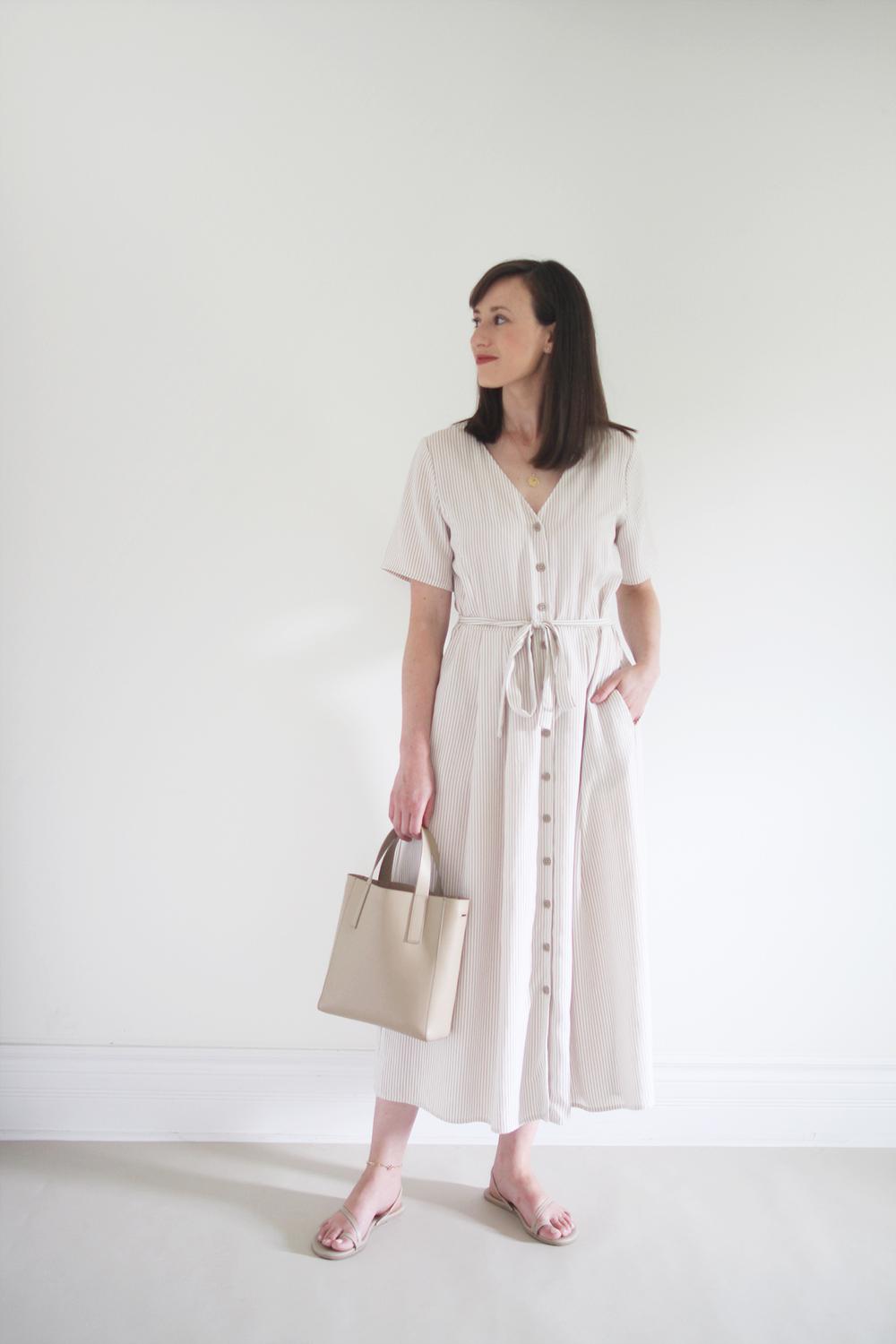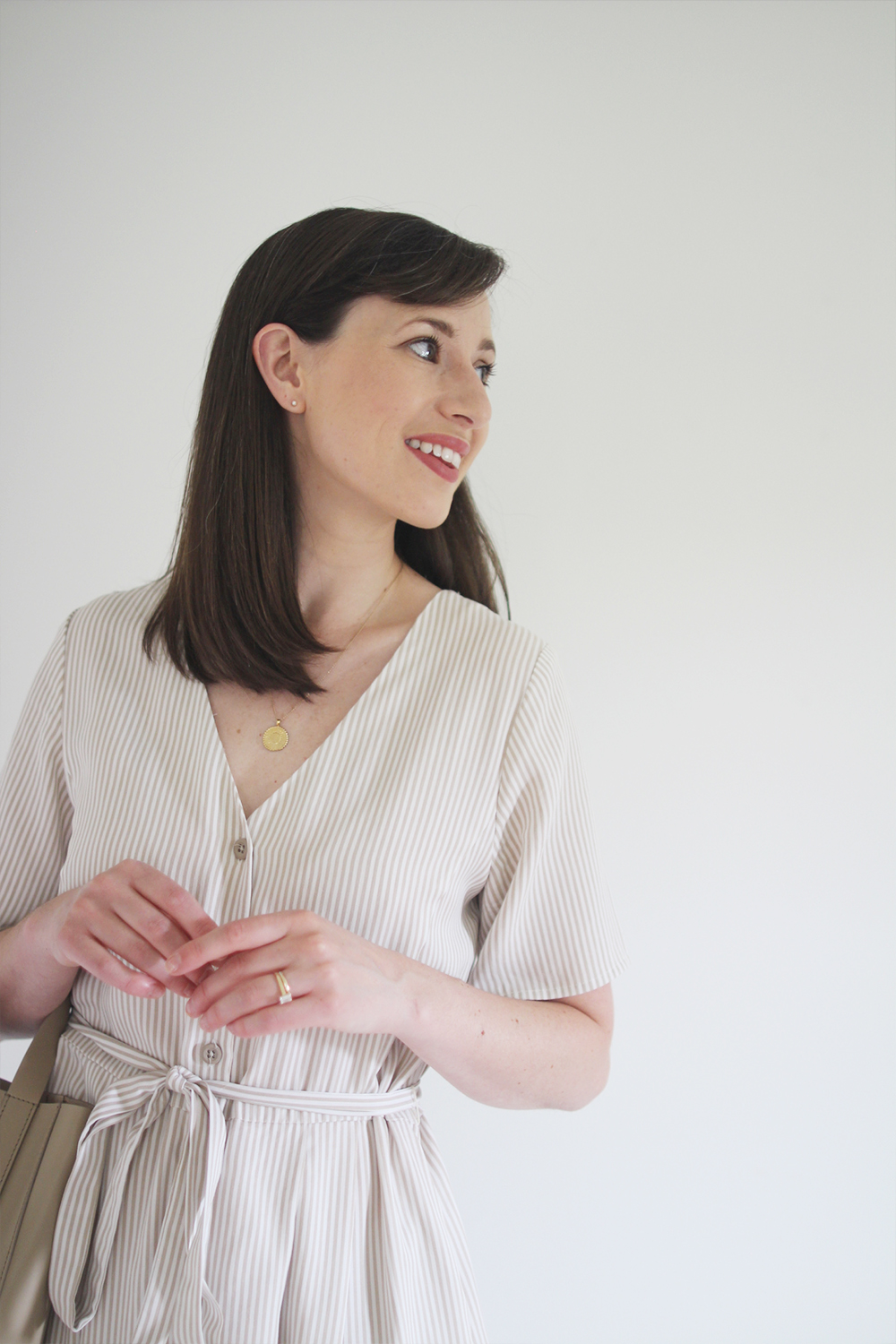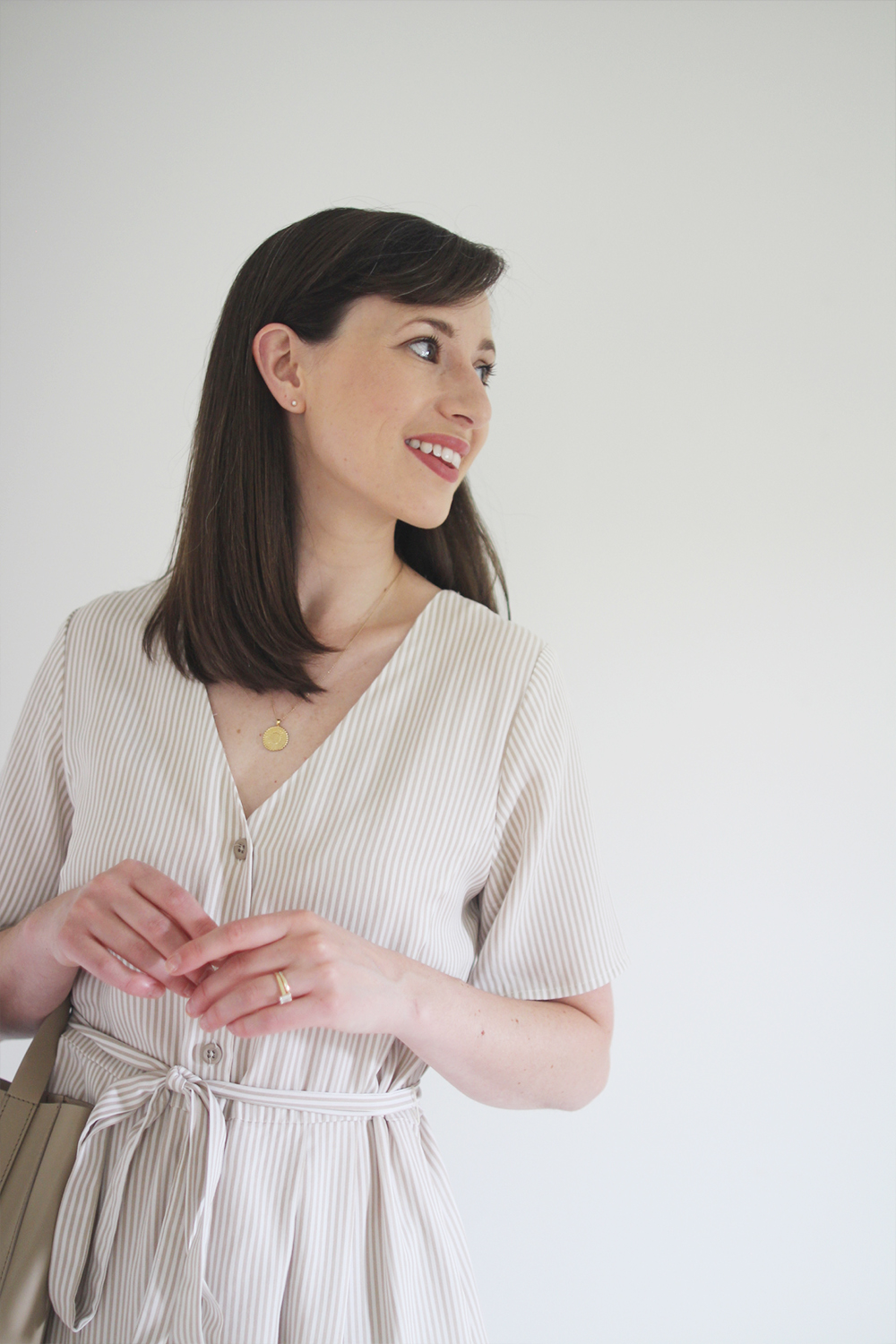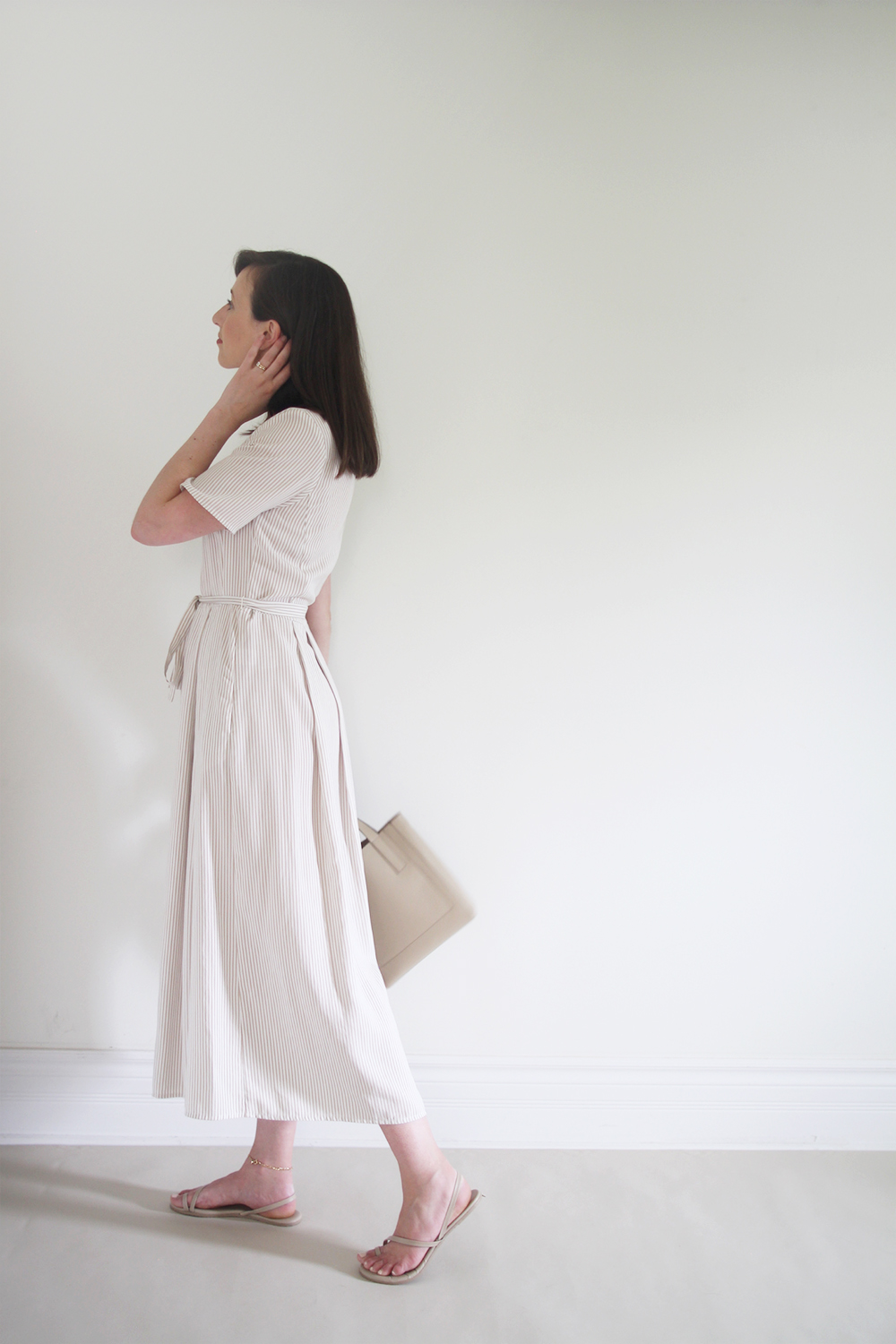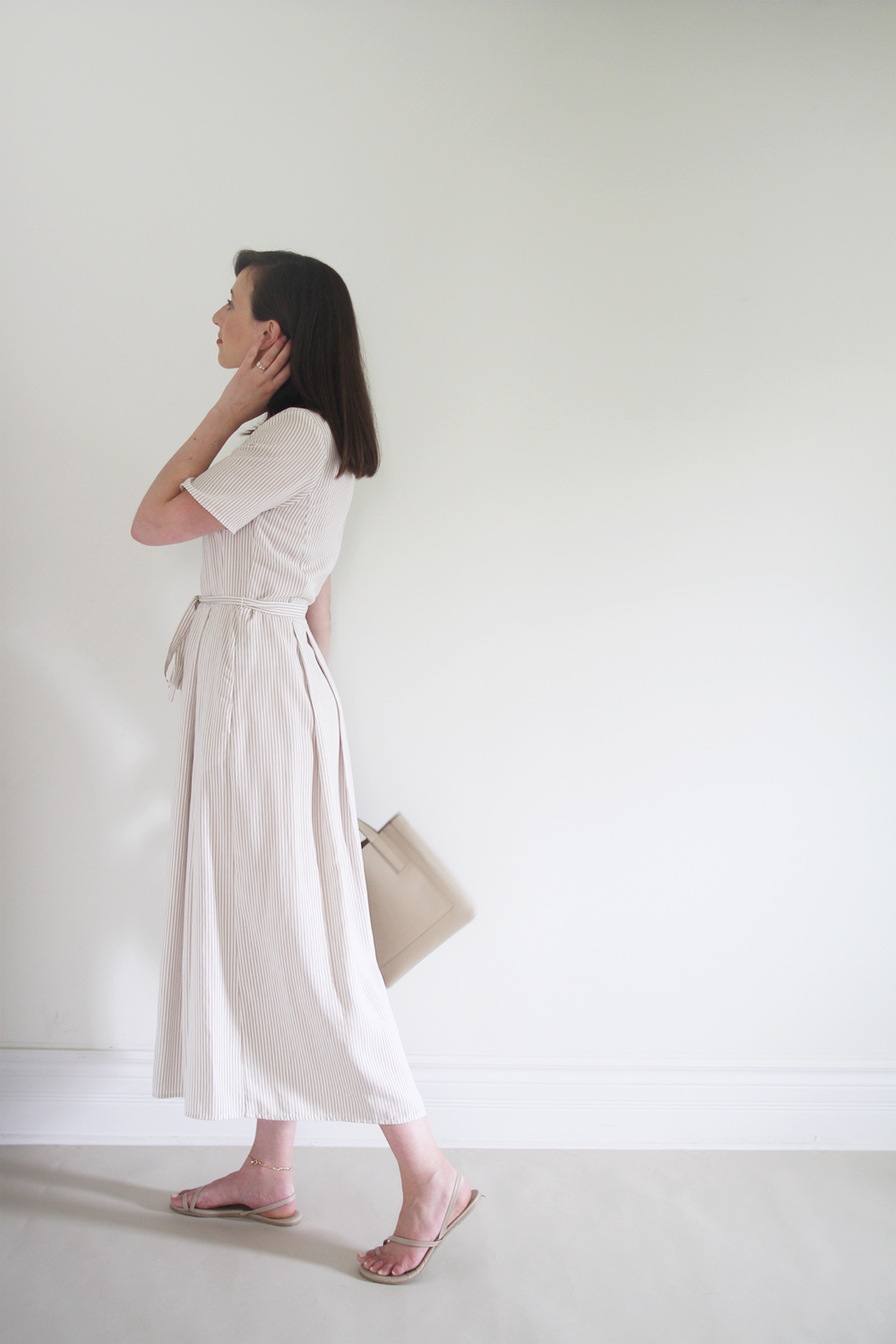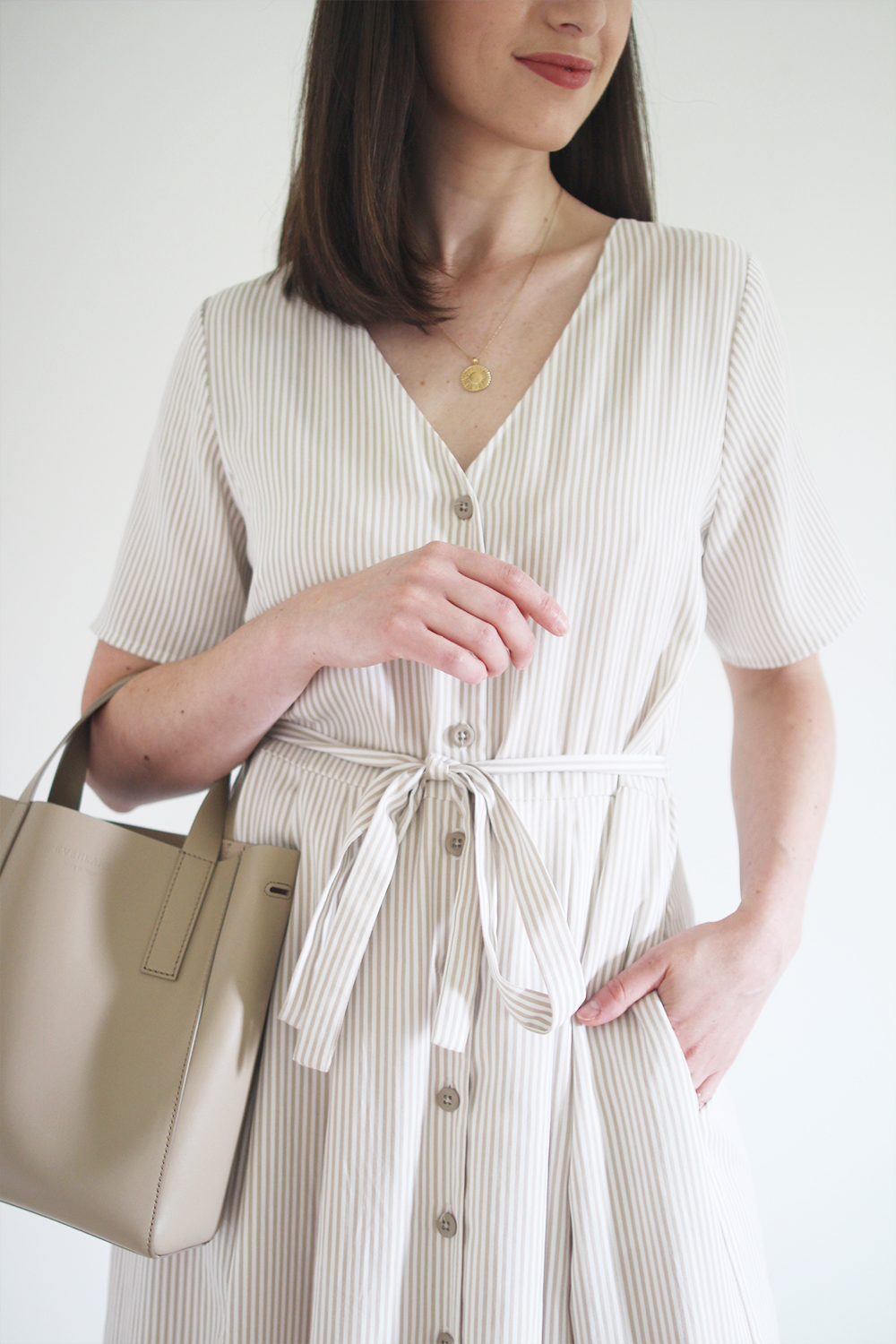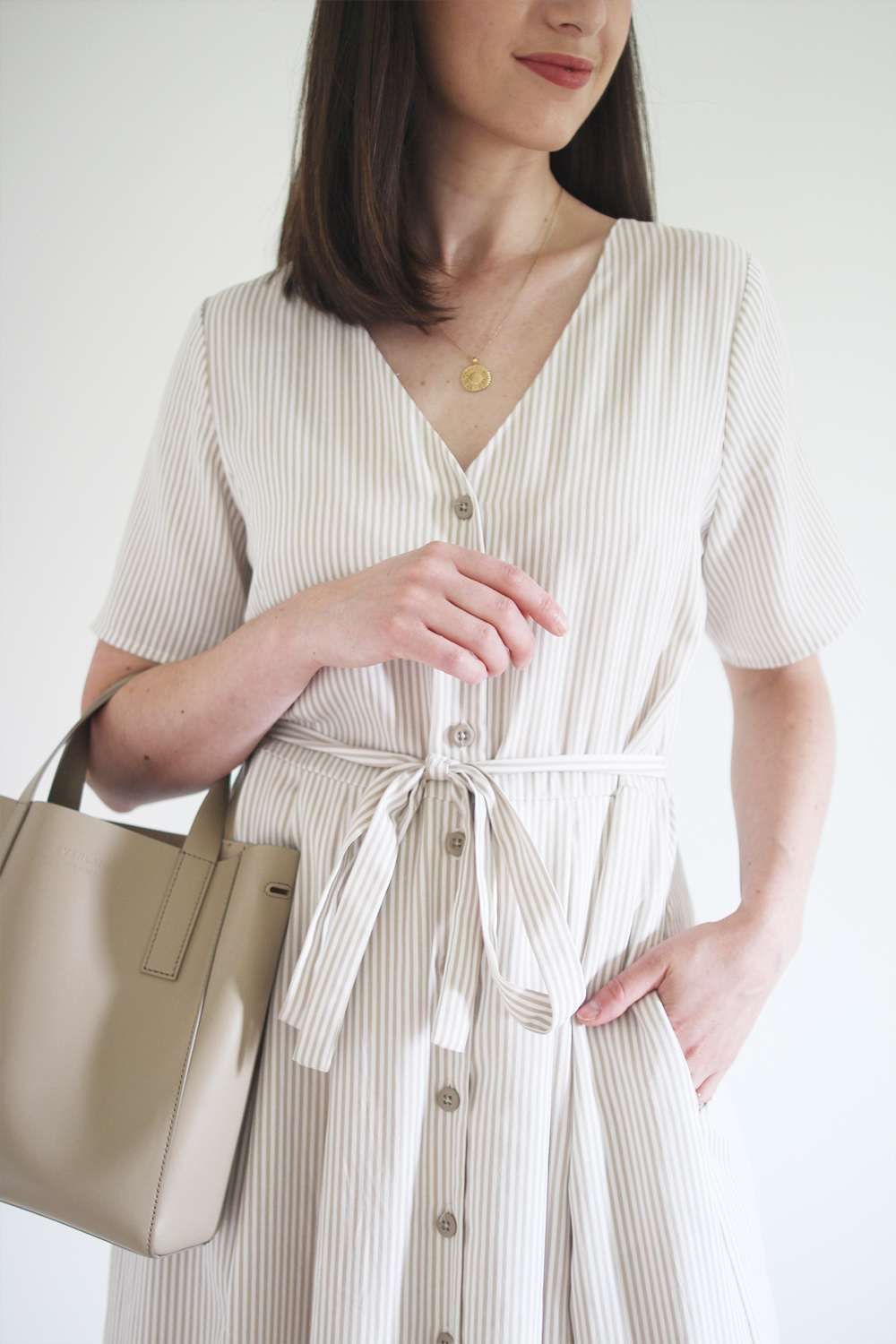 ---
ABOUT LOOK 3: I've been wearing some variation of this outfit at least once a week all summer. It's just so easy and breezy while still a little bit elegant and fun. Dresses are slowly but surely becoming a regular element in my closet these days and I've been leaning into this recent affinity for the feminine.
---
STYLING NOTES
GO MONOCHROME: Whenever I realize that I have all the ingredients for a monochrome outfit, I get excited! In this case I noticed that the grey/taupe from my dress paired perfectly with my sandals and new mini day tote. Lots of matching neutrals always creates an intentional and cohesive outfit.
DRESS IT DOWN: I used to feel to 'girly' or 'fancy' in a dress but I've learned to play down the typical idea of a dress by pairing them with casual, flat sandals so the overall vibe is much more relaxed. The great thing is that just by swapping the sandals for a heel suddenly makes this look an option for a night out or special event!
GO-TO SUMMER ACCESSORY: I've been wearing my gold chain anklet since the day it arrived and it's been one of the best summer accessories ever. It's not something most folks will even notice but I love the unexpected touch it adds to all my summer looks. Sun's out, anklets out!
---
SOURCES: MIDI BUTTON DOWN BELTED DRESS gifted | COIN NECKLACE | LC SANDALS | MINI DAY TOTE gifted | Petite Pearl Stud gifted | CHAIN ANKLET sold out (silver still available)
---
HERE'S A LITTLE OUTTAKE. I WAS WATCHING LOVE ISLAND UK WHILLE SHOOTING AND COULDN'T HOLD BACK MY FACIAL EXPRESSIONS!
---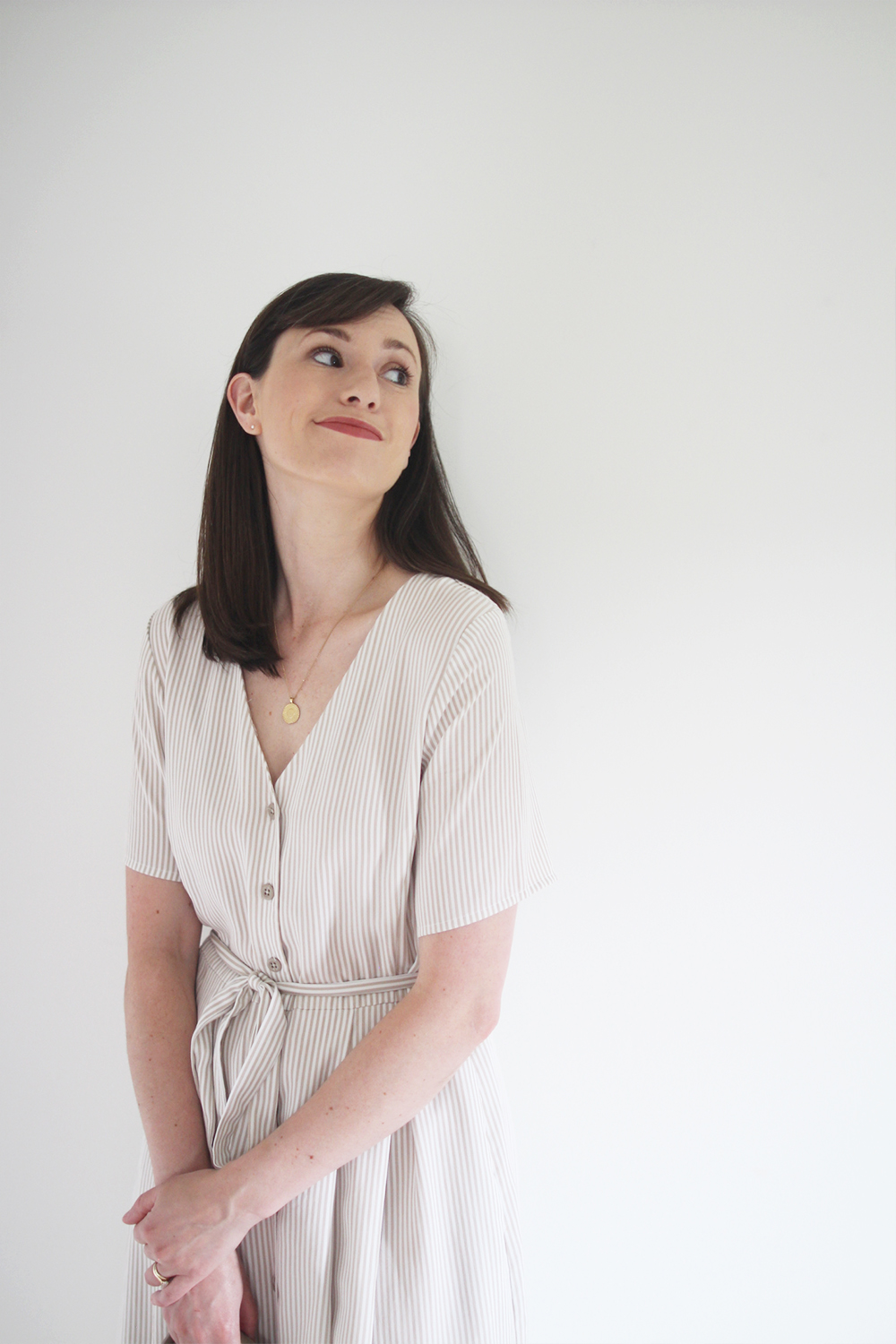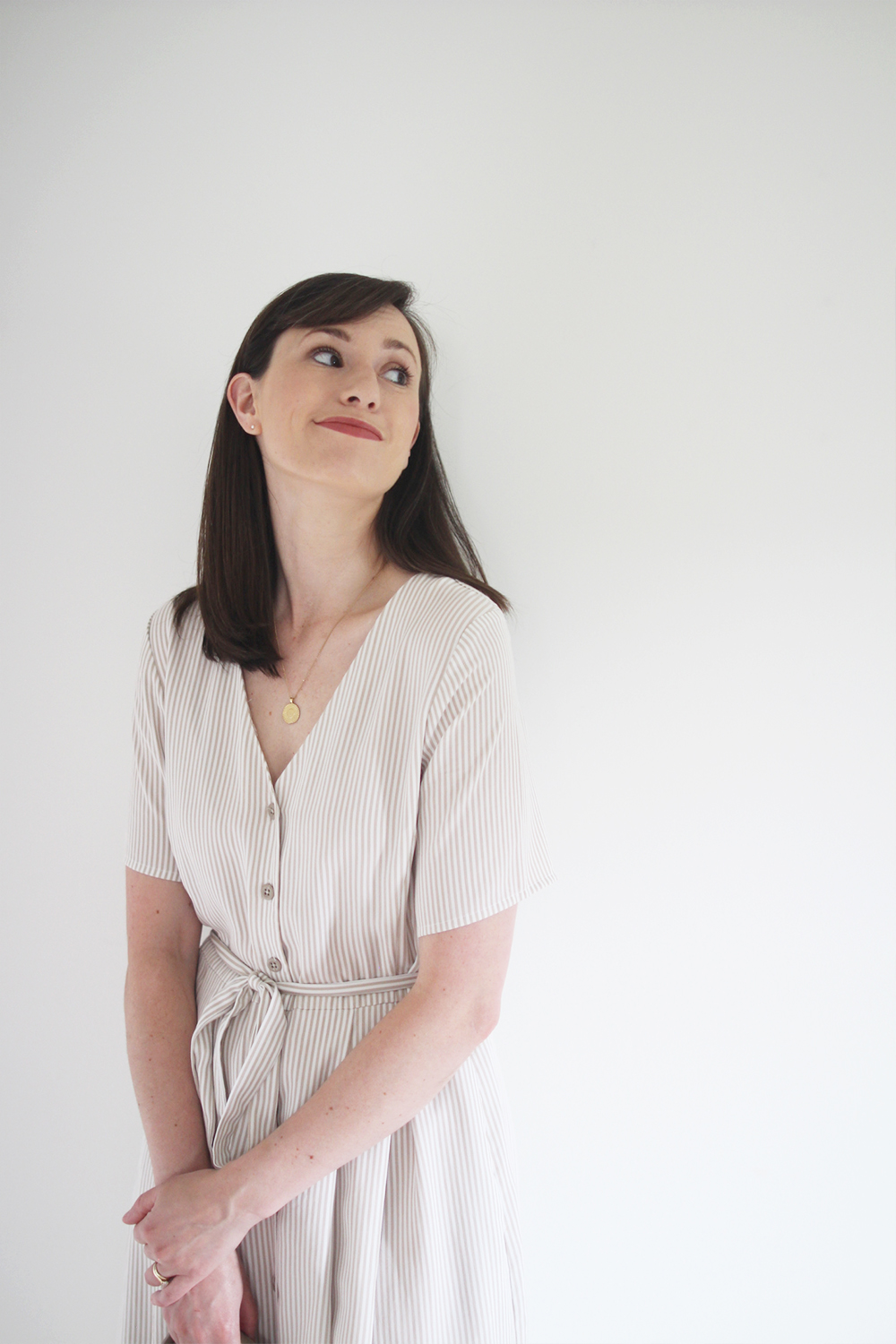 ---
THANKS FOR TUNING INTO MY THOUGHTS ON SUMMER STRIPES!
ARE YOU FEELING THIS MORE NEUTRAL TAKE ON STRIPES?
WHICH LOOK WOULD YOU TRY?
---
I'd love it if you checked out my IGTV channel for a short video of all these looks. It's under 2 minutes long and the soundtrack is sure to put you in a good mood!
---
This post contains affiliate links and gifted products. When you shop via the links above I may make a commission on a sale at no additional cost to you. Thanks for reading and supporting Style Bee! All opinions are always my own.