It feels slightly surreal to be heading into the last month of the summer and I'm determined not to let August slip by. In an attempt to savour what's left of the season, and all the style that goes with it, I thought I'd take the opportunity to share an outfit every weekday for the the month of August!
I've been meaning to try something like this for a while now and was inspired by my friend Andrea's 99 Days of Summer project. I'm excited to have some fun experimenting with my warm weather closet, share lots of outfits with you (22 if all goes well!) and see how a daily rhythm feels. I've been eager to let loose a little bit with my post format and I think this will be a great way to do so!
I'll be keeping the posts fairly light on copy so I can keep up with other projects and plans for this space over the next month. I'll simply be sharing a few thoughts and a style tip or two and my hope is that these short daily doses will be a good source for outfit inspiration and styling ideas!
Sound good? Let's take a look at outfit #1!
---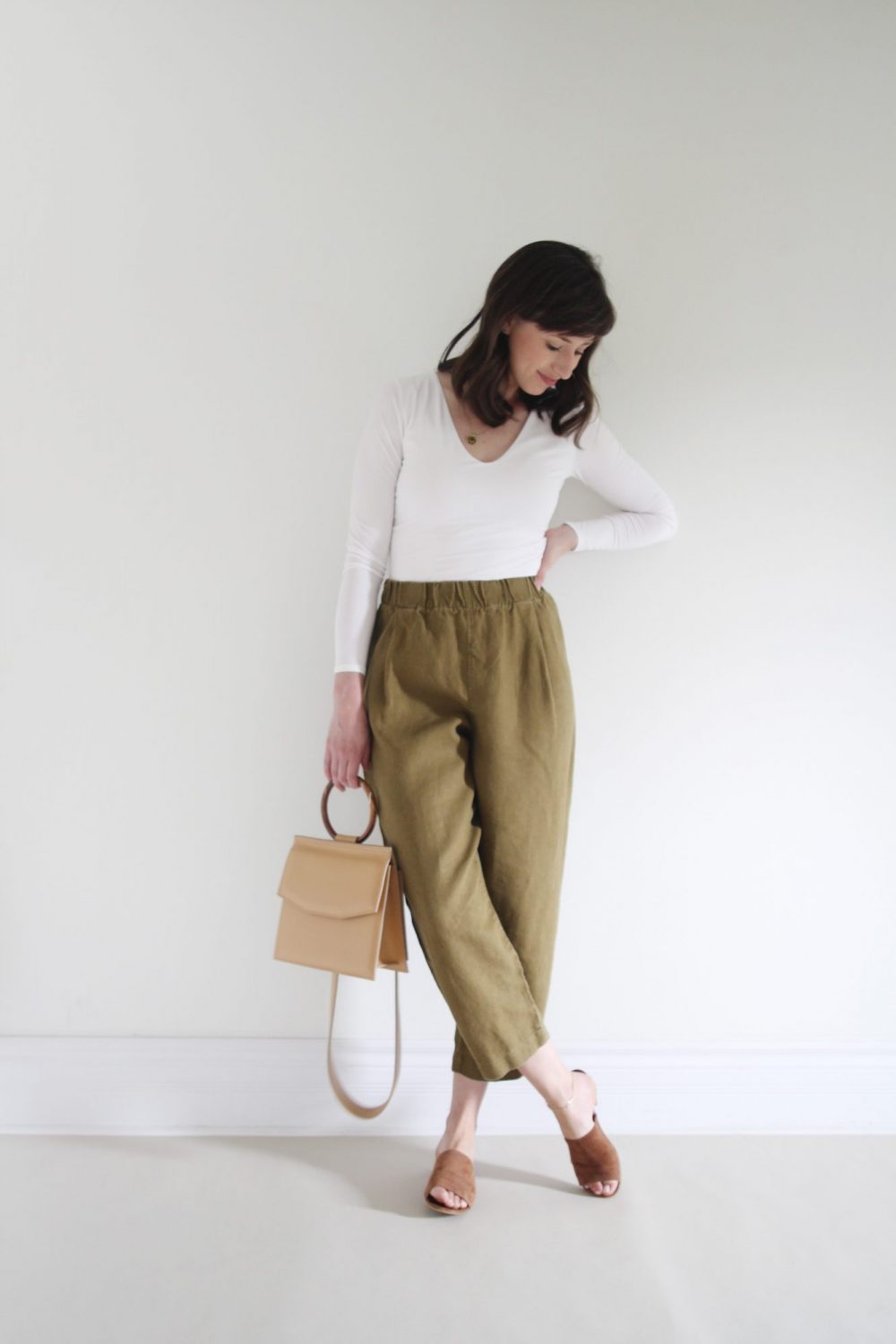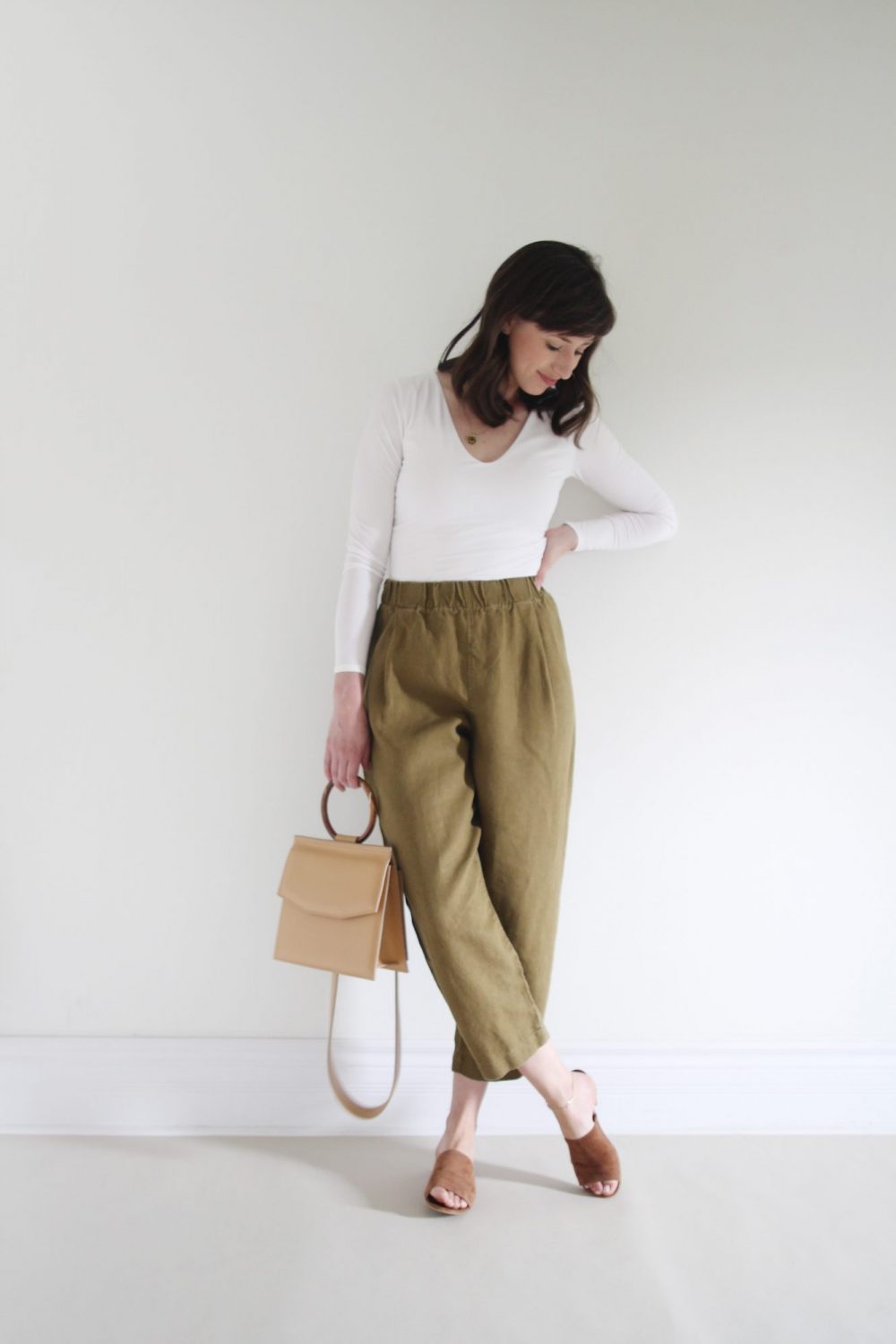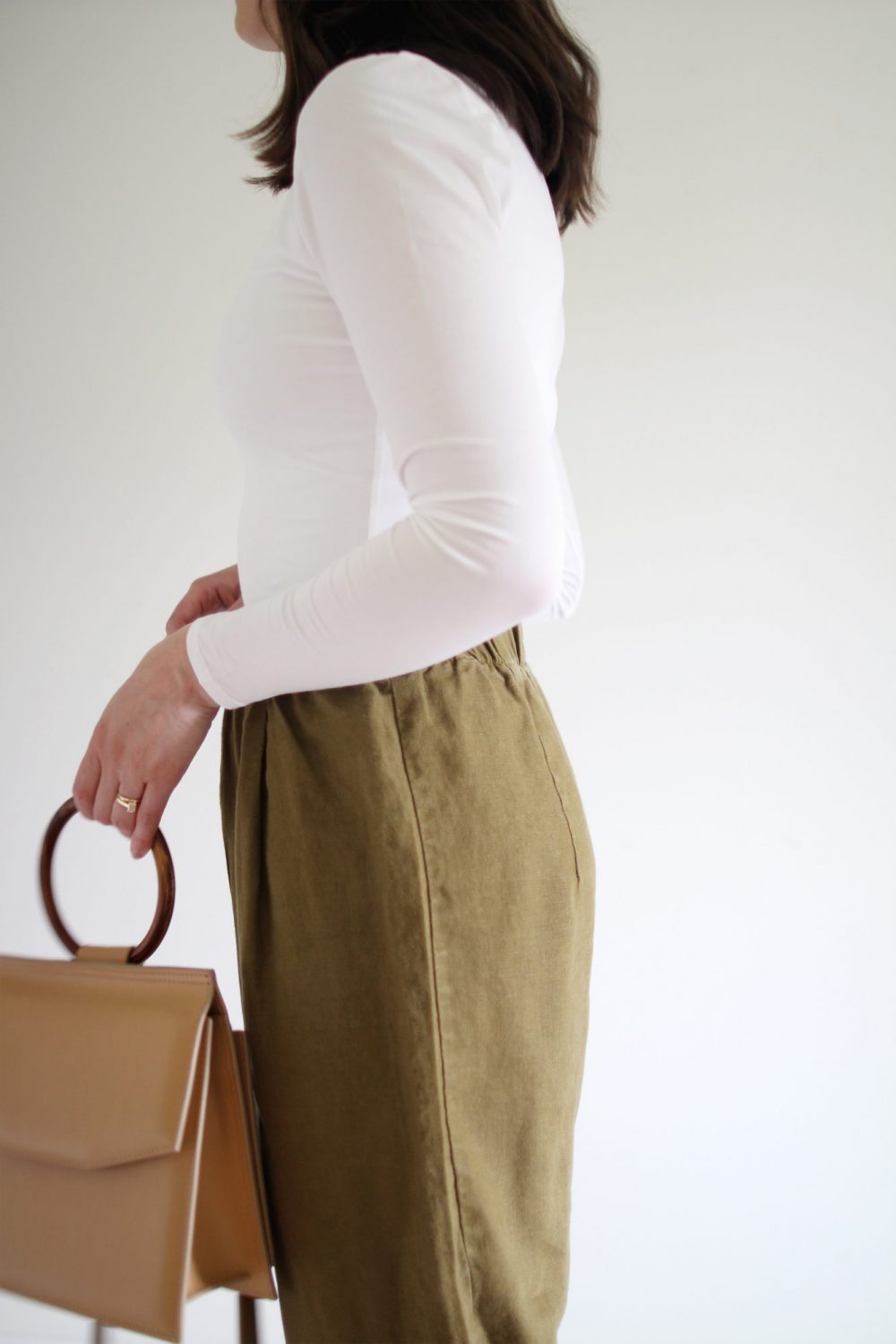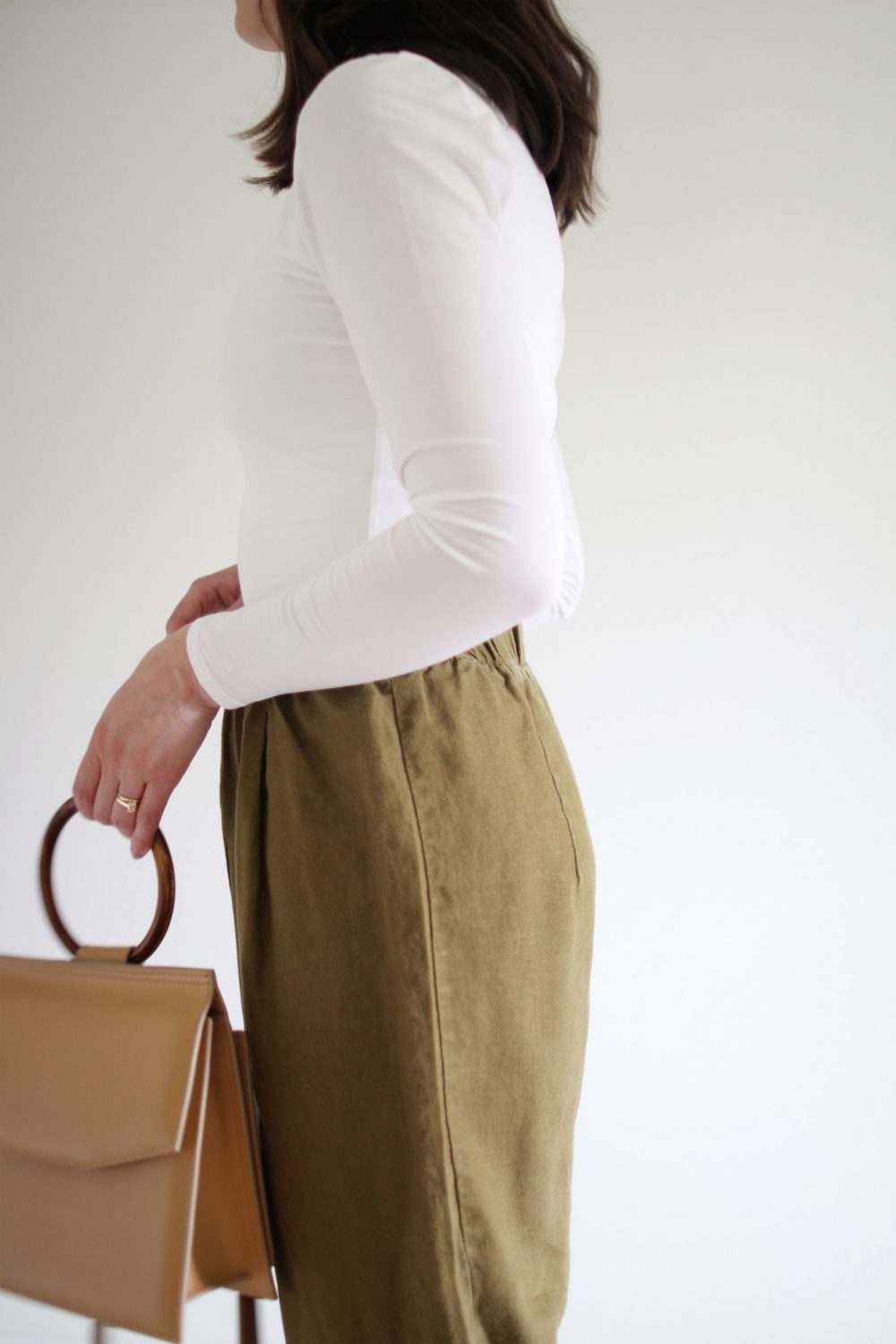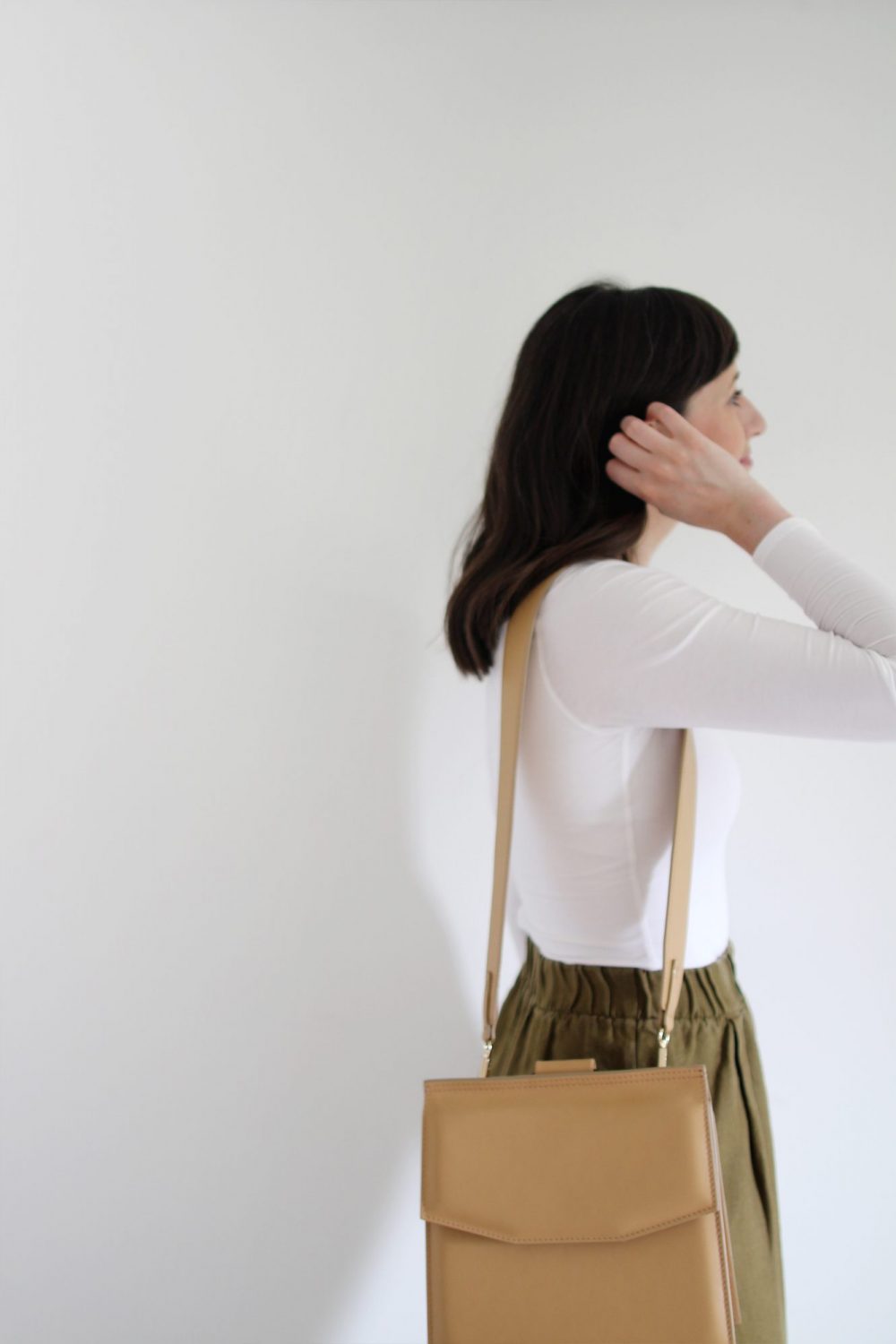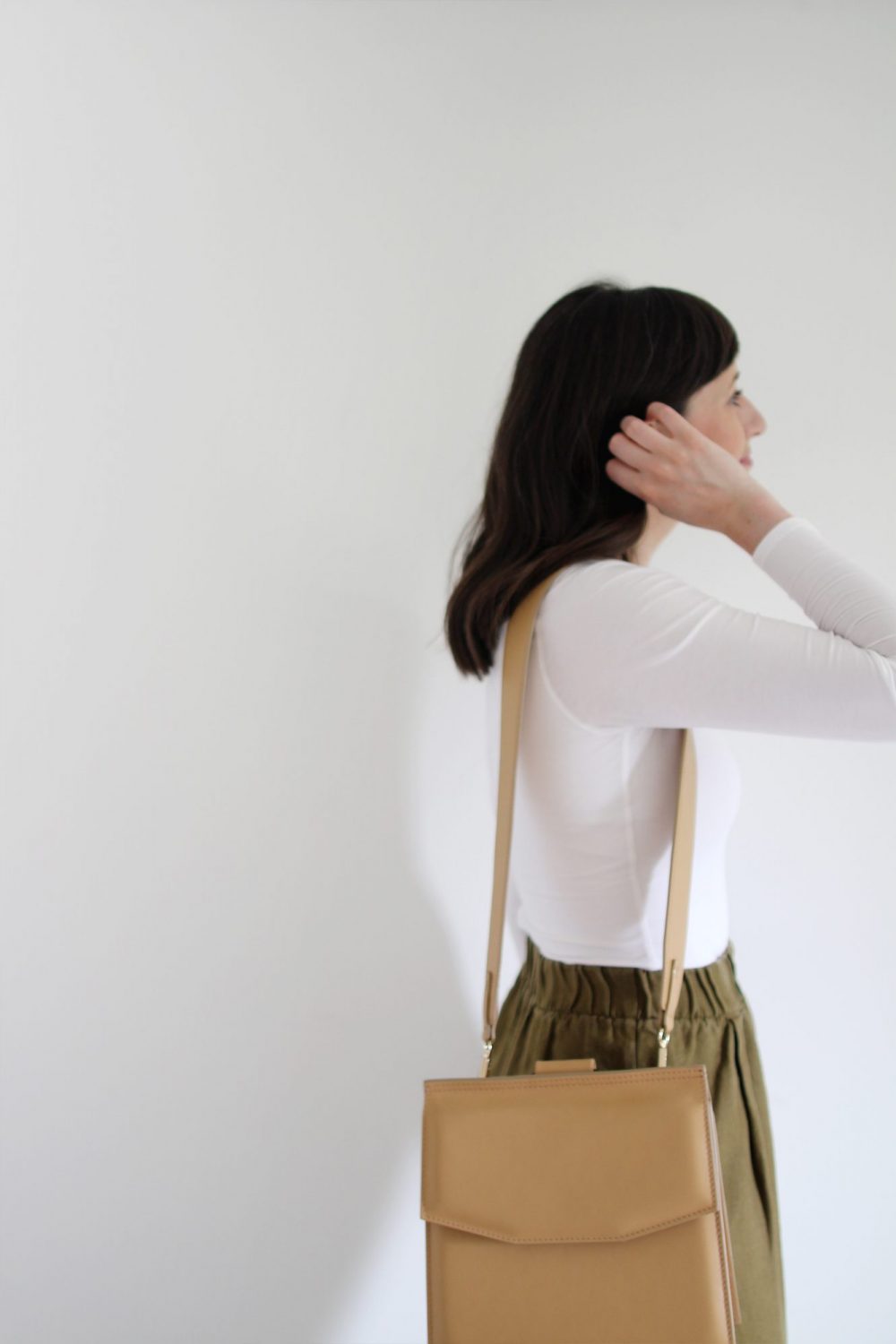 ---
TODAY'S TOPIC: BODYSUITS
You might have seen a style series I shared on IG earlier this week, which was all about bodysuits, specifically, the new styles from Everlane. I received lots of great feedback on it (thank you!) along with quite a few questions about how/why I like to wear bodysuits and I thought it would be helpful to share a quick Q&A about them here on the blog as well.
In this outfit I'm wearing the v-neck long-sleeve bodysuit (it runs TTS) and I love how it seamlessly tucks into my high-waisted Andy pants. This is the kind of outfit I wear on an average summer day while writing/editing at home, running errands or maybe grabbing a quick work sesh at a café.
Q: WHAT DO YOU LOOK FOR IN A BODYSUIT?
A: I like a well-constructed dome closure in the crotch (for easy bathroom breaks!). A soft & stretchy material that's easy to move in and hugs my frame. A comfy cut is key so I prefer a thong or high cut bikini and I look for versatile colours for easy mixing and matching!
Q: WHY A BODYSUIT OVER A FITTED TEE?
A: I love to tuck my tops into pants, skirts and under jumpers but they tend to ride up or get bunchy during the day. Bodysuits make styling so easy, fuss-free and require no adjusting as I move around.
Q: DO YOU WEAR UNDERWEAR WITH A BODYSUIT?
A: Usually no because it's more comfortable without, especially when the suit is well designed and lined. Sometimes if I'm wearing a knitted bodysuit and want to get a couple of wears between washes I'll wear underwear.
Q: WHAT BRA DO YOU WEAR WITH THEM?
A: Sometimes I go braless and Everlane's bodysuits are double lined so they offer a bit of support and good coverage. Usually I will wear a soft bra like this (with optional padding), which is the one I have on in these photos.
---
---
NOTE: The style series was produced in partnership with Everlane, however, this post is not, I just really like bodysuits!
---
OUTFIT SOURCES: BODYSUIT gifted | STRUCTURED BAG | ANDY PANTS gifted | SIMPLE SLIDE SANDALS* | GOLD NECKLACE* | ANKLET* | EARRINGS gifted | *Currently unavailable but linked to similar option
---

---
That's day 1 of my August outfits! Thanks for tuning in and see you tomorrow with look #2.
---
This post is not sponsored but contains some gifted items and affiliate links. If you see something you like and decide to shop through the links above I may make commission on a sale at no additional cost to you. All opinions are always my own. Thanks for supporting Style Bee!