We're cruising along here with lucky number thirteen! I wore this outfit to a recent coffee date and just had to shoot it for this outfit series. It's a mix of older summer favourites with a couple of new accessories to keep it feeling fresh.
Folks, I've been having so much fun with this outfit series. It was exactly what I needed to make the most of August, ie: summer's Sunday. I feel like these almost daily posts have helped me wear more of my summer closet, overcome some writer's block and push through social media anxiety that's been plaguing me all year.
I know I say this a lot but I always mean it, thank you for being here. I hope these posts have been (and continue to be) a positive dose of style and a source for applicable ways to get more out of your closet!
Now, onto the outfit and three easy styling tricks to try right now!
---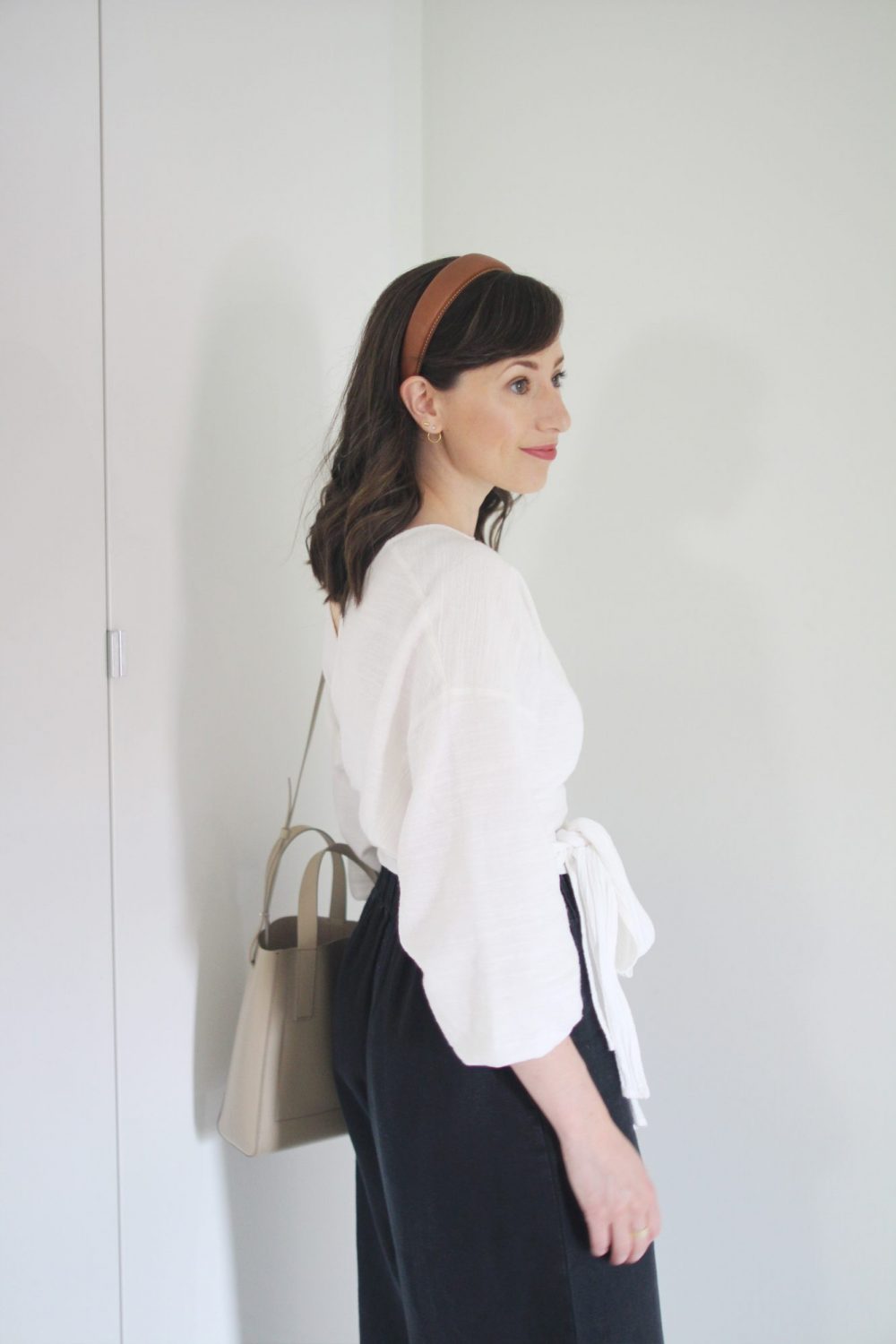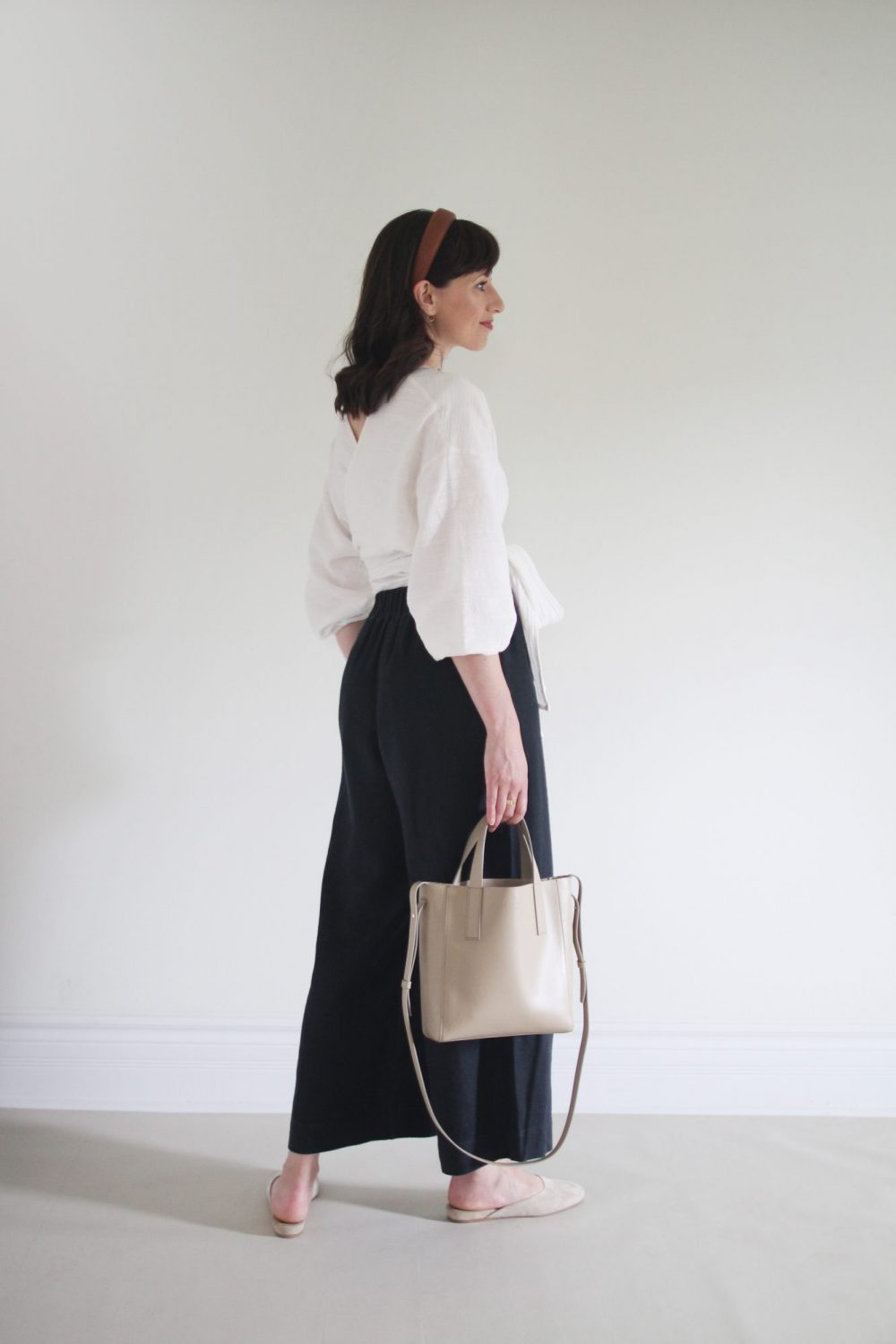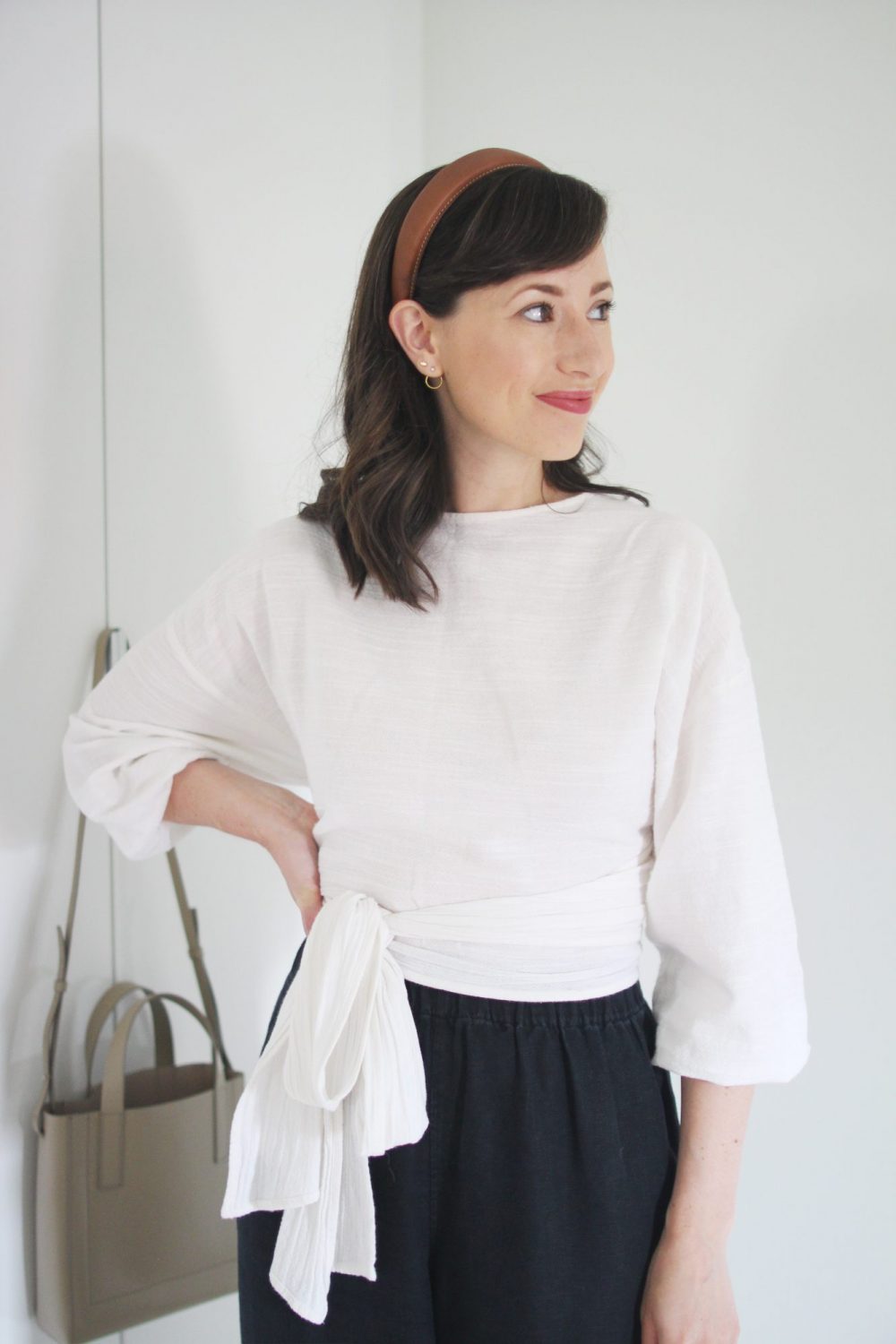 ---
TODAY'S TOPIC: EASY STYLING TRICKS TO TRY RIGHT NOW
I love combining fun items like a wrap top with a bit of business like a structured tote and casual elements like a linen pant. Sometimes pieces I never thought I'd wear together end up working out great. Here are some styling notes on this look that you can easily apply to your own closet too!
SAME BUT DIFFERENT: One styling trick that never seems to fail me, is to bring two elements of the same tone but with different textures into an outfit. This approach always adds continuity without the sense of overtly matching. In this look my warm grey tote in smooth leather pairs with the grey of my suede slides while the opposite textures add a subtle contrast and interest.
Try: Combining two elements of the same colour with different textures. This could be a bag and shoes or it could be a top and pants or a scarf and skirt!
UPDATED ACCESSORIES: Most of the items in this look are many seasons old and to keep them from feeling stale I pulled in a couple of fresh accessories. My leather headband adds subtle but on-trend note to the look and the structured tote in a modern mini size adds some clean lines to the soft base pieces.
Try: Adding a fresh accessory or hairstyle to an older outfit you love to give it an easy refresh.
PRE-FALL PALETTE: Much of the northern hemisphere seems to be aching for fall style right now and I definitely get it. Fall is my favourite season to dress for but I don't want to wish our short summers away, so I've been trying to use colour palettes to get my pre-fall fix. I love this soft colour combination of washed black and cream with stone greys and just a hint of autumnal brown.
Try: Getting a taste of fall with colour by mixing in some greys and browns to an otherwise warm weather look.
---
OUTFIT SOURCES: WRAP TOP* old (I wear a Small in HDH pieces) | FLORENCE PANT LINEN (I wear a Small Regular) | SUEDE SLIDES* old | DAY TOTE gifted | HEADBAND bought in Barcelona | EARRINGS gifted | *Linked to similar
---

---
I'll be back tomorrow with one of my all-time favourite brands and a special reader bonus!
---
This post is not sponsored but contains affiliate links and some gifted items. If you see something you like and decide to shop through the links above, I may earn commission on a sale at no additional cost to you. All opinions are always my own. Thanks for supporting Style Bee!